How Real Madrid Built the Best Defense in Europe
Be it José Mourinho's Centurions or Zinedine Zidane's three-peat winning side, Real Madrid have always been associated with attacking football and massive trophy hauls. However, everything changed after the departures of Zidane and Cristiano Ronaldo in the summer of 2018.
Real Madrid went through three managers in one season, were eliminated in the Champions League Round of 16, and scored a mere 63 league goals as they finished third in La Liga. Zidane took over shortly after Madrid were knocked out by Erik Ten Hag's Ajax in the Champions League, and has since rebuilt Los Blancos into one of the most fearsome sides in Europe.
It hasn't been easy; Real Madrid are still lacking in the goals department, in need of a talisman to revitalize their attack. Eden Hazard has missed the bulk of the season with injury, but even when he has been fit, he hasn't hit the same levels that saw him become a superstar at Chelsea.
Photo: Javier Gandul / Diario AS
Realizing these attacking deficiencies, Zidane has focused on keeping Madrid sturdy at the back, and it's worked wonders for a team that has currently scored 17 fewer league goals than 2nd-place Barcelona.
Los Blancos conceded 44 league goals (1.16 goals per game) in 2017/18, followed by 46 goals (1.21 per game) in 2018/19. This season, they've conceded just 21 goals in 34 league games (0.61 per game), boasting the lowest xGA of 25.3 among the top five European leagues.
Real Madrid has never boasted a better defensive record in over 32 years, but what has inspired this defensive revolution this season? What forced the erratic Real Madrid to take a more cautious approach? Let's take a look.
Personnel Changes
Vinícius Júnior vs. Cristiano Ronaldo
The most prominent change that occurred after Zidane's first spell as manager was the departure of Cristiano Ronaldo to Juventus. And while that has been extremely detrimental in attacking scenarios, it has helped them build a more stable and balanced side in defence.
As seen above, Vinícius outperforms Ronaldo in defensive metrics (all stats are per 90). On the other hand, Ronaldo's defensive statistics have regressed even further this season as he is not given any defensive duties by Maurizio Sarri.
With Ronaldo and Marcelo bombing forward on the left flank, it was considered a weak zone in Real Madrid's defense that every opponent tried to exploit. But with Vinícius providing enough cover and energy, that frailty has been eradicated.
Federico Valverde vs. Luka Modrić
Luka Modrić has served Madrid well since joining from Tottenham Hotspur in 2012, but at 34 years of age, he doesn't have the legs that saw him dominate the center of the pitch for club and country. In need of more solidity in midfield, Zidane has turned to Federico Valverde, who has provided the energy and dynamism that Los Blancos were lacking in the start of the season.
Modrić attempted more pressures than Valverde per 90 but had an inferior success rate. In addition, the World Cup finalist often tired during the final spells of matches. He has not been as mobile as he once was since his phenomenal tournament in Russia, and as a result, Zidane has gradually phased the Croatian out  and made Valverde a first-team regular. 
The numbers back Zidane up; Madrid have not lost a league game when Valverde has started.
Marcelo vs. Ferland Mendy
As mentioned before, Real Madrid deployed Marcelo and Ronaldo on the left wing to provide them with goal-scoring opportunities but it also meant that every time they lost the ball, they were under a threat of facing a counter-attack. Their biggest strength was also a substantial frailty.
Although these statistics are not completely reflective of Marcelo's positioning, they still give a decent idea as to how Mendy is a far better 1v1 defender compared to the Brazilian.
Thibaut Courtois
Thibaut Courtois had a horrible start to life in the Spanish capital, but he has completely turned around his form since the start of the season. Last year, Courtois allowed 36 goals, far more than post-shot expected goals of 32.8. This season, though, he has made a U-Turn, saving an additional 3.7 goals for Madrid.
Tactical Changes
Zidane's managerial brilliance lies in bringing out the best from the squad that he has at his disposal. This season, Zidane lacked a goal-scorer and inverted wingers, so he made up for it by providing more defensive solidity.
Although he has not made any revolutionary changes this season, he has made several tweaks with his personnel to improve Real's productivity when dealing with defensive transitions. 
The Mendy Effect
Real Madrid's left flank was a ticking time bomb waiting to explode with the Marcelo – Cristiano partnership – both for Real Madrid and the opposition. This season, however, Real Madrid has traded the goals for defensive solidity. 
With Marcelo exerting great emphasis on creating chances, the Brazilian finds it hard to recover when Real Madrid lose the ball. As a result, opponents love to target this area in order to disrupt Los Blancos's defence.
Whenever he is caught out of position, he often casually jogs back to defend. By doing so, he is not marking anyone in that phase, and it leaves opposition with a free man in their right flank.
In this example, Marcelo (red circle) follows Dani Rodríguez (black circle) and as soon as ball is played beyond him, Marcelo loses concentration and casually jogs back. Casemiro applies pressure on the player with the ball whole shadow covering Aleix Febas. Ante Budimir plays the ball into Rodríguez, who finds Febas. Lago Junior would go on to score the goal, which would prove to be the sole goal of the game.
If Marcelo had continued to mark Rodríguez, Budimir would be short of options and Real Madrid would've won the ball back. On the other hand, Mendy is quick and strong. He remains focused and doesn't give any room to the opponent.
As seen below, Mario Gaspar tries to feed a through ball to Samuel Chukwueze, but Mendy is quick to anticipate and sends the ball out for a throw in.
Even when Mendy is in attacking positions, he is always aware of defensive transitions. The Frenchman is always one step ahead (quite literally) thanks to his amazing recovering speed.
In this example, Alberto Moreno plays a ball into space for Chukwuze to chase, but Mendy is quick to anticipate. He beats Chukwueze in the foot race and sends the ball out for a throw-in.
As a result of this change, Real Madrid's backline is stronger than ever, and teams are finding it hard to bypass the defense. Consequently, Real Madrid is facing fewer deep completions (passes completed by opposition in 20 yards of goal except crosses) compared to the last two seasons.
Efficient Pressing
In previous seasons, Real Madrid used to press high, usually with little success. As the opposition could easily play through this pressure, it would leave huge gaps, causing Madrid to be vulnerable to attacks.
This season, Zidane has tried to counter it by improving the efficiency of his press, instead of pressing high. His players prioritize getting into defensive positions rather than pressing high when there is no chance of winning the ball. They try to force long balls rather than enforcing turnovers and creating goalscoring chances.
Whilst Real Madrid's pressures in the final third have decreased from 38 per 90 to 30.32 per 90, their successful pressures have gone up from 26.4% to 29.8% compared to last season. Whether this is a change to decrease Karim Benzema's workload or decrease the amount of opposition counter-attacks – it has worked wonders for Madrid's balance.
By dropping off the press, Real Madrid tend to drop into a mid-block in the second phase and try to win possession in deeper zones.The can be seen in the fact that Real Madrid have conceded just 13 shots this season from "fast" attacks compared to 25 last season and 33 from the season before.
Intensity
"We lacked intensity," said Zidane after Madrid were thrashed 3-0 by PSG in September. The media lashed out on him, claiming that Zidane was trying to hide his team's failure with the use of word "intensity." But what does intensity mean? Why is it Zidane's favourite word?
Intensity stands for Valverde's last-ditch tackle to stop Álvaro Morata from scoring in the dying minutes of the Spanish Super Cup. Intensity stands for winning every 50-50 ball in the park. Intensity stands for scoring at 92:48 in a Champions League final against your crosstown rivals. Intensity stands for never giving up.
Photo: GIUSEPPE CACACE/AFP via Getty Images
With fresher legs at his disposal, this season has seen a new wave of intensity from Zidane's side. This season, Real Madrid have made 88 recoveries per game, compared to 81 in 2018-19 and 80 in 2017-18.
In contrast to their disastrous 2018/19 season, Madrid are far more efficient in their pressures and tackling. And most of it can be brought down to an increase in intensity by the Los Blancos.
Weaknesses
Despite boasting the best defence in Europe's top 5 leagues, Real Madrid have glaring deficiencies. They are one point clear of a struggling Barcelona (with a game in hand and a chance to stretch it to 4 points today), who have already gone through a managerial change this season. The injuries to the likes of Hazard and Marcos Asensio have caused a lot of problems in the attack for Los Blancos going forward.
The side that scored 2.48 goals per game (94 goals) in the 2017-18 season has been reduced to mere 1.82 goals (62 goals so far) this season. The decline started ever since the departure of Ronaldo, as no replacement was signed for the Juventus forward.
Similarly to Jürgen Klopp's Liverpool Zidane has played with a 4-3-3 for most of this season, with Benzema dropping deep from his center forward position to connect the attack. But unlike Liverpool, Madrid don't have elite goal scorers on the wings such as Mohamed Salah and Sadio Mané.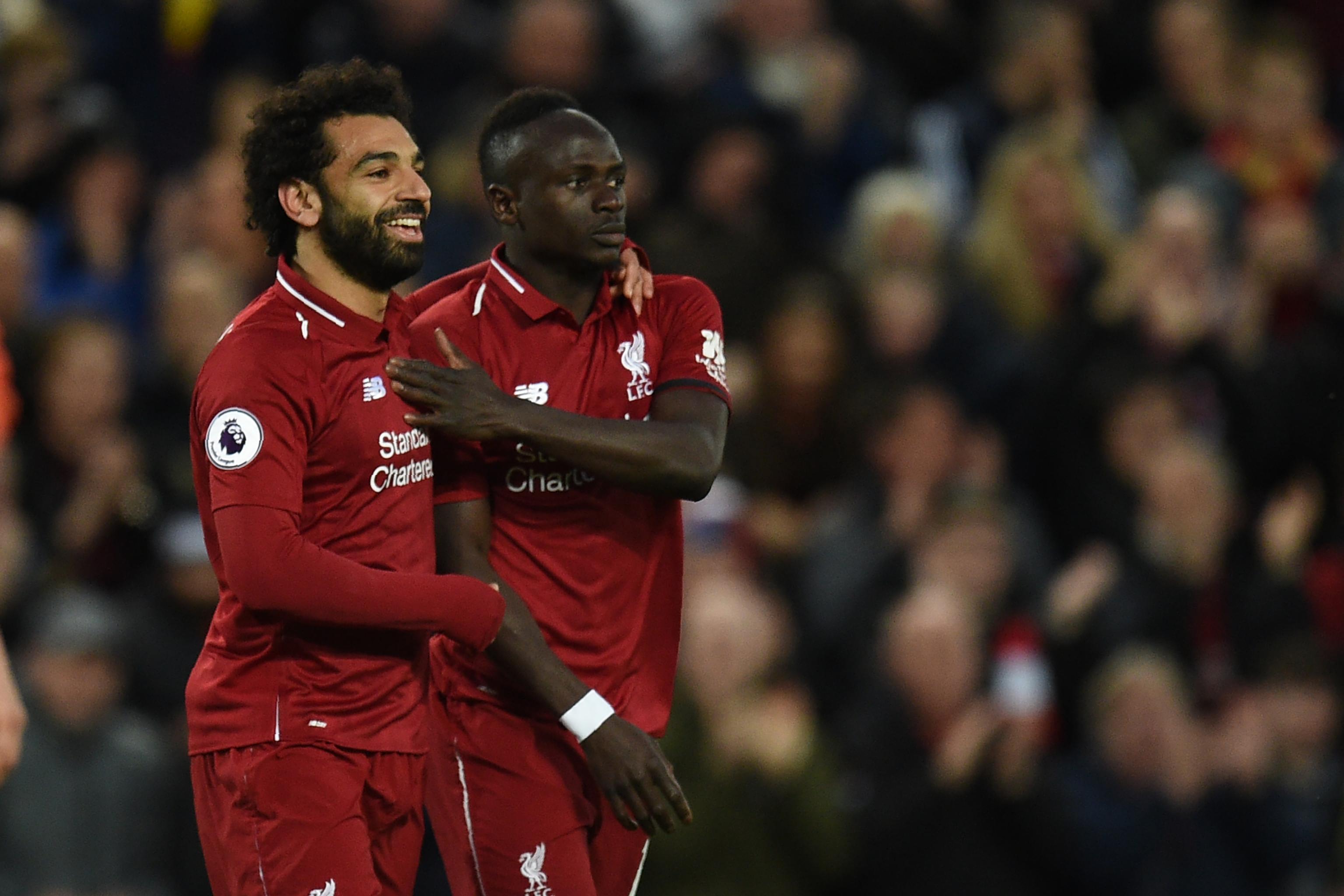 Photo: Oli Scarff / Getty
With Hazard and Asensio missing a bulk of minutes due to injury, with Gareth Bale and Lucas Vázquez consistently declining in production, and with Vinícius and Rodrygo still too raw in front of goal, Madrid have lacked production in the wings. This has caused Zidane to opt for a cohesive system that seeks to grind out results rather than try to score 3 or 4 goals each game.
Individual Errors
This season, Real Madrid have made 14 errors leading to an opponent's shot, or a whopping 0.41 mistakes per game. That has been a drastic increase from last season's 0.15 and 2017/18's 0.21 errors per game.
The most errors this season have been made by the captain Sergio Ramos. As age is catching up with the Spaniard, his athletic abilities have taken a toll and Ramos is constantly susceptible having defensive lapses. 
Ramos has always been an aggressive defender who tends to step out of his defensive line to force a high-risk, high-reward turnover. Although he has been solid at the back for Zidane in the form of a dependable leader, he has been more prone than ever to making individual mistakes this season.
In this example, Ramos looks to play a simple pass to Mendy but ends up mis-controlling the ball. Alberto Moreno wins it back and runs at the defence.
Moreno plays a through ball to Karl Toko Ekambi, whose shot is stopped by Courtois, but Moreno still scored on rebound. The game ended 2-2, as Real lost two points because of this one mistake.
This  has become a big worry for Real Madrid this season as they have lost several precious points in a tight title race due to individual mistakes.
However, the COVID-19 break has proven out to be a blessing in disguise as Madrid have come back with a renewed enthusiasm and Ramos looks fitter than ever.
Conclusion
After a painful bump in their otherwise glamorous journey, Real Madrid turned to Zidane to become their saving grace. The Frenchman has used every bit of his authority to instill the squad with a newborn intensity. Not only did he counter fierce opposition, he also had to weather the storm of injury crises. But the Real Madrid legend kept calm through it to see his team come close to winning their first league title since 2017.
By: Shaharyar Atique
Featured Image: @GabFoligno