How Real Madrid Claimed Their 14th Champions League Title in Saint-Denis
For the 14th time, Real Madrid have proven again why they are the kings of the UEFA Champions League; after eliminating Paris Saint-Germain, Chelsea and Manchester City on their road to the Stade de France final, Liverpool were their last victims. Let's put some spotlight on the most important game phases, and the main ideas applied from Jurgen Klopp and Carlo Ancelotti, starting with formations: 4-3-3 shape for both of contenders.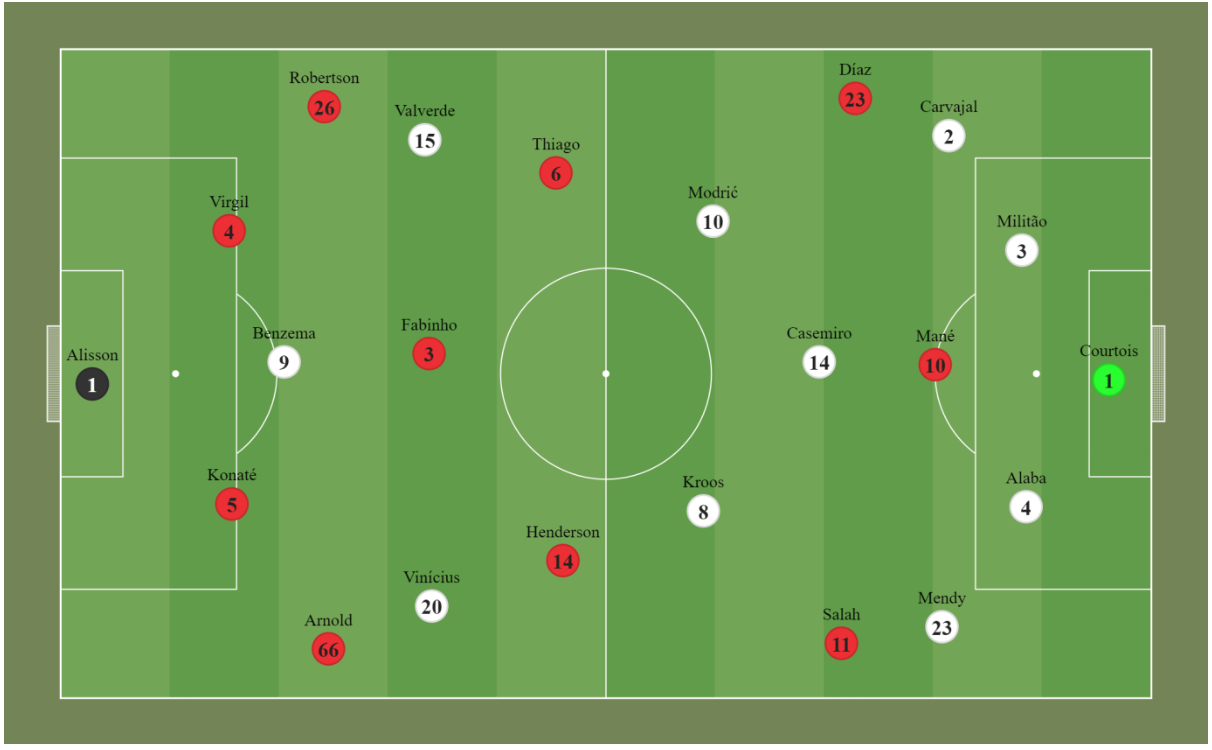 Let's start with Real Madrid's build-up, which was one of the most important game phases, as the Spanish team spent their most time of possession during the first half within this phase, and the victory goal was scored from the same even.
Ancelotti used more than a scheme during the build-up against Liverpool's high press: The first one was depending on the fact that Real Madrid usually delivers long balls through Thibaut Courtois or the centre backs to the offensive line players.
As Sadio Mane was directly pressing Courtois, Mohamed Salah and Luis Diaz were doing the same against David Alaba and Eder Militao, whilst Real Madrid's full-backs could be free to receive the ball as the Spanish team's wingers trio were pinning their opponent's full-backs, while Casemiro and Toni Kroos were drawing Thiago and Jordan Henderson; preventing them from applying pressure against Real Madrid's full-backs.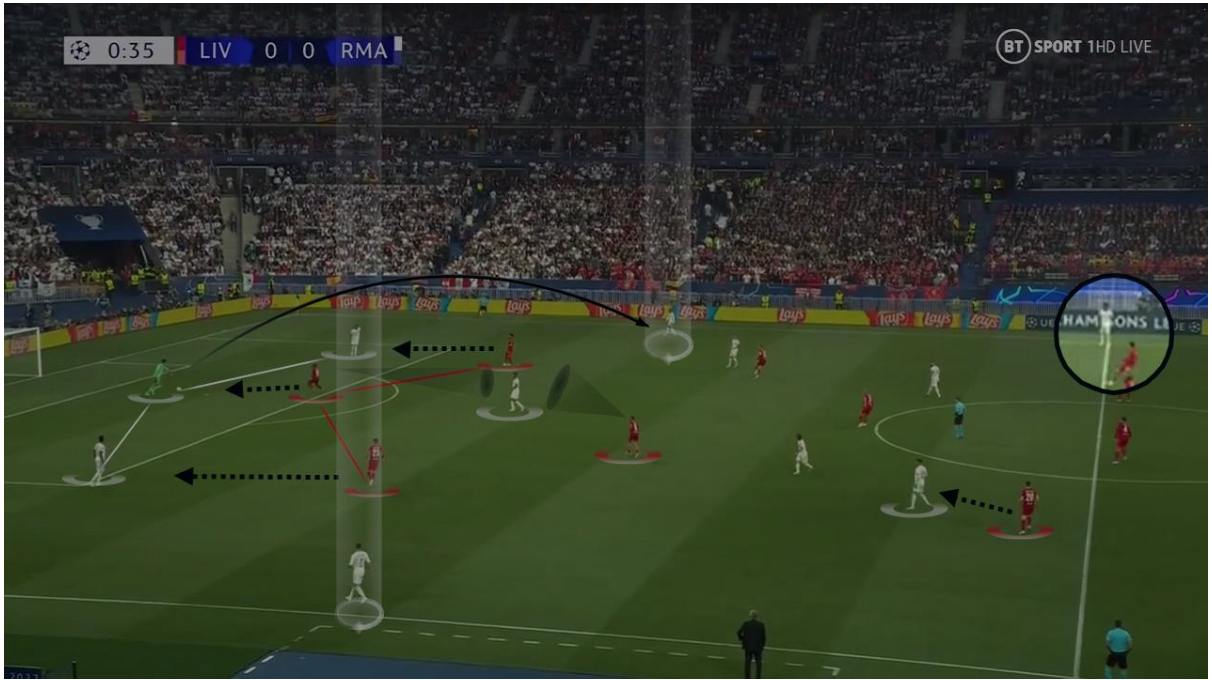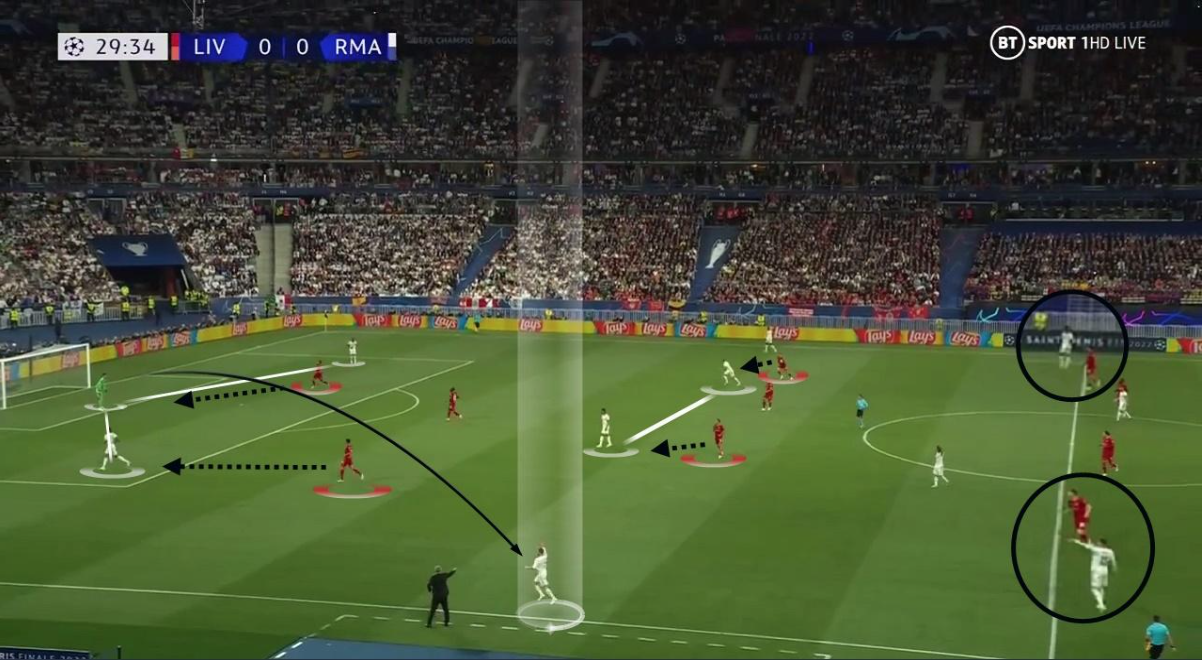 Real Madrid also used direct long balls from goal kicks or open play to break Liverpool intended high pressure, especially to the right side, maybe to prevent ball recovery from Liverpool's right side, which is usually the most threatening.
Ancelotti's side usually tries to get their opponents outnumbered in a small specific pitch area by winning the first or even the second ball, but Andrew Robertson and Virgil van Dijk won almost of these aerial duels preventing Real Madrid to benefit from such situations; and hence Liverpool were starting many transitions, delivering the ball to Luis Diaz but Dani Carvajal and Casemiro prompt recovers and interventions were successful.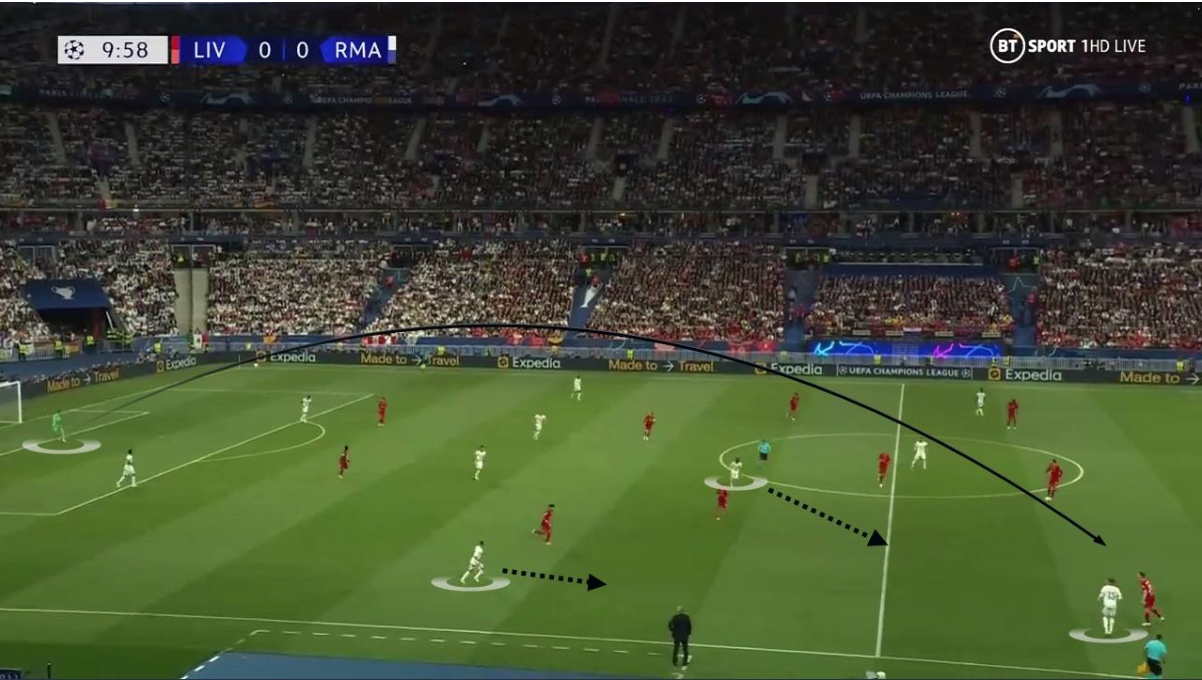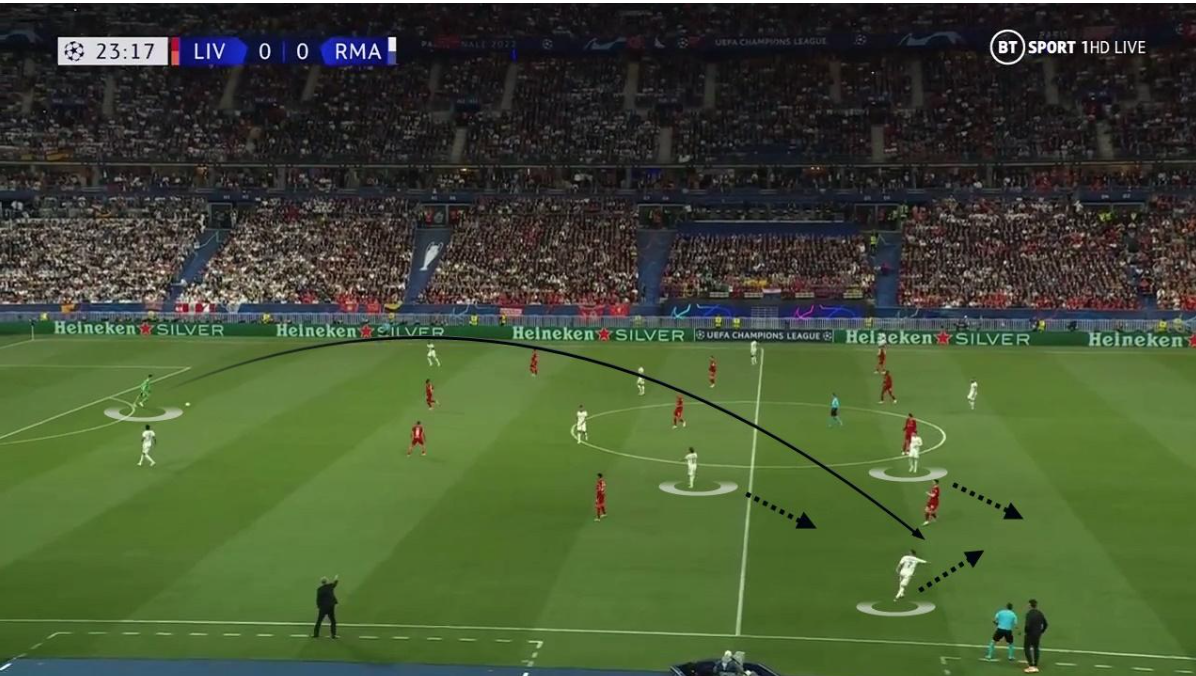 It is worth mentioning that those situations where a source of worry to Klopp, even his team could react well against them; this was very notable during the second half when Liverpool retracted back to mid-block phase against Real Madrid goal kicks.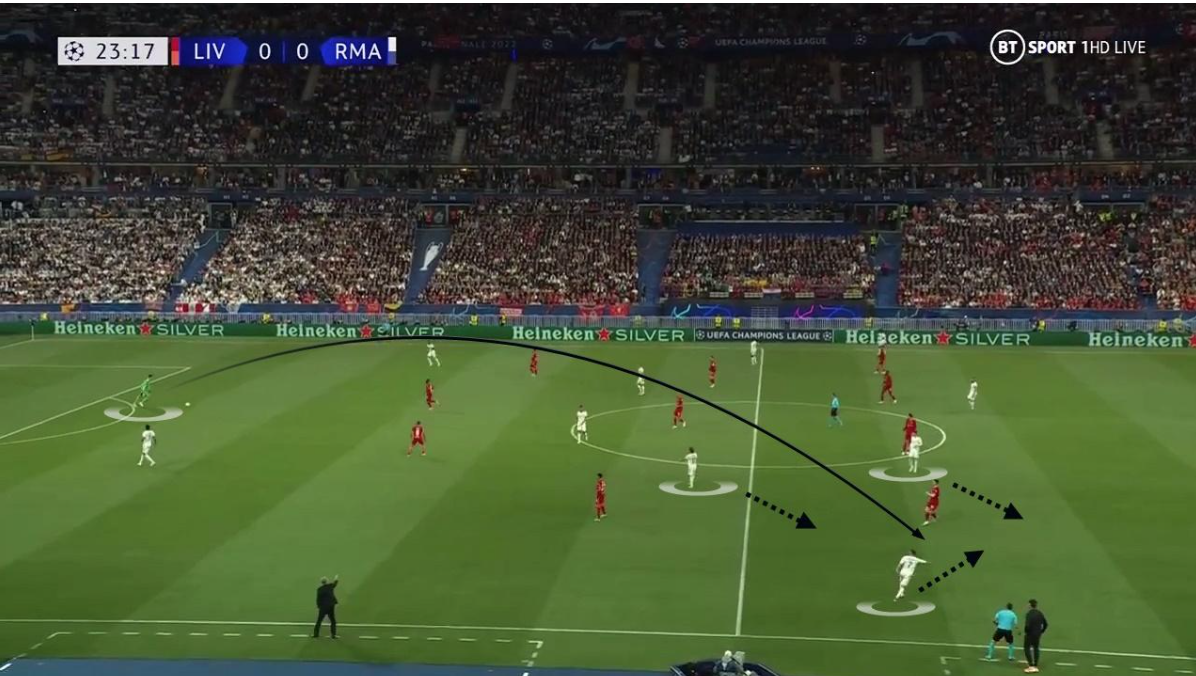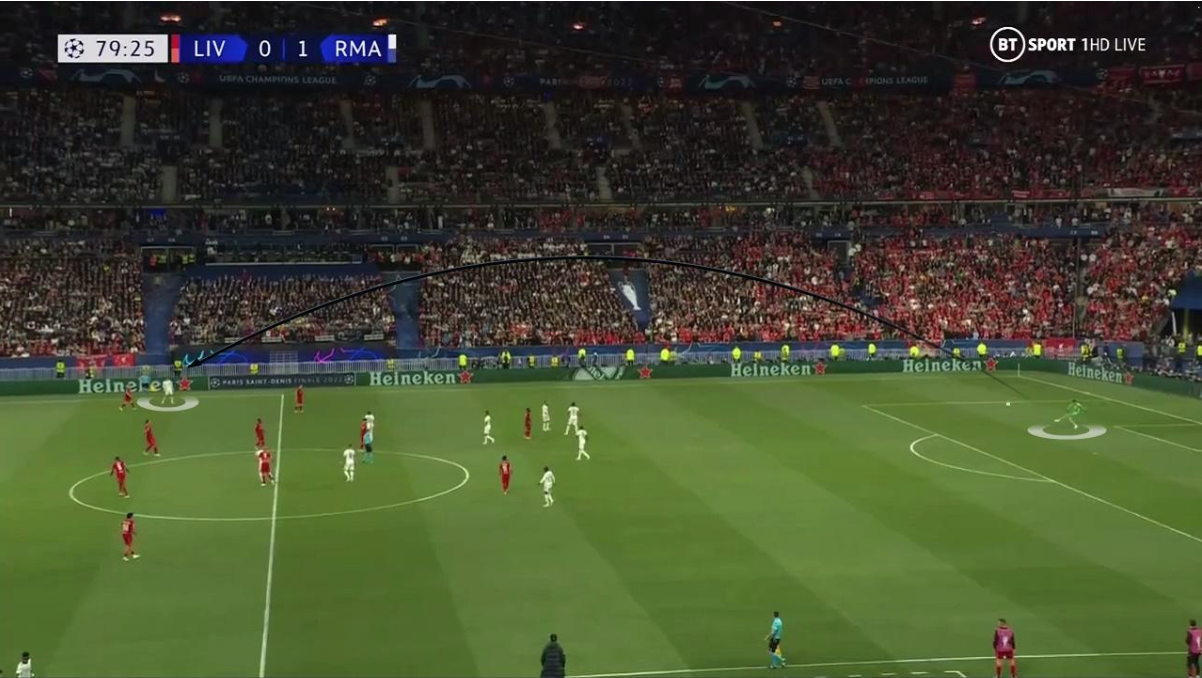 The same idea was also used on the opposite side but after making a few passes between Courtois and the centre backs to invite Trent Alexander-Arnold to press Ferland Mendy, and hence deliver the long ball to Vinicius; but Ibrahima Konate was also dominating the aerial and ground duels, or Alexander-Arnold could recover back at the right time.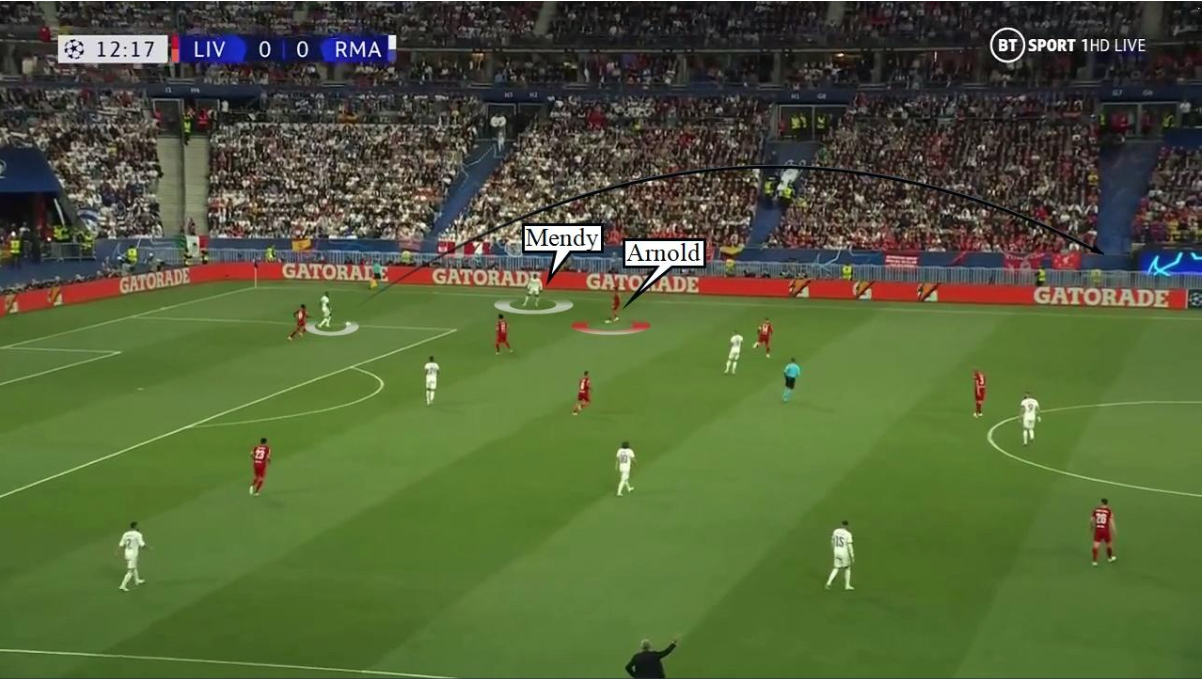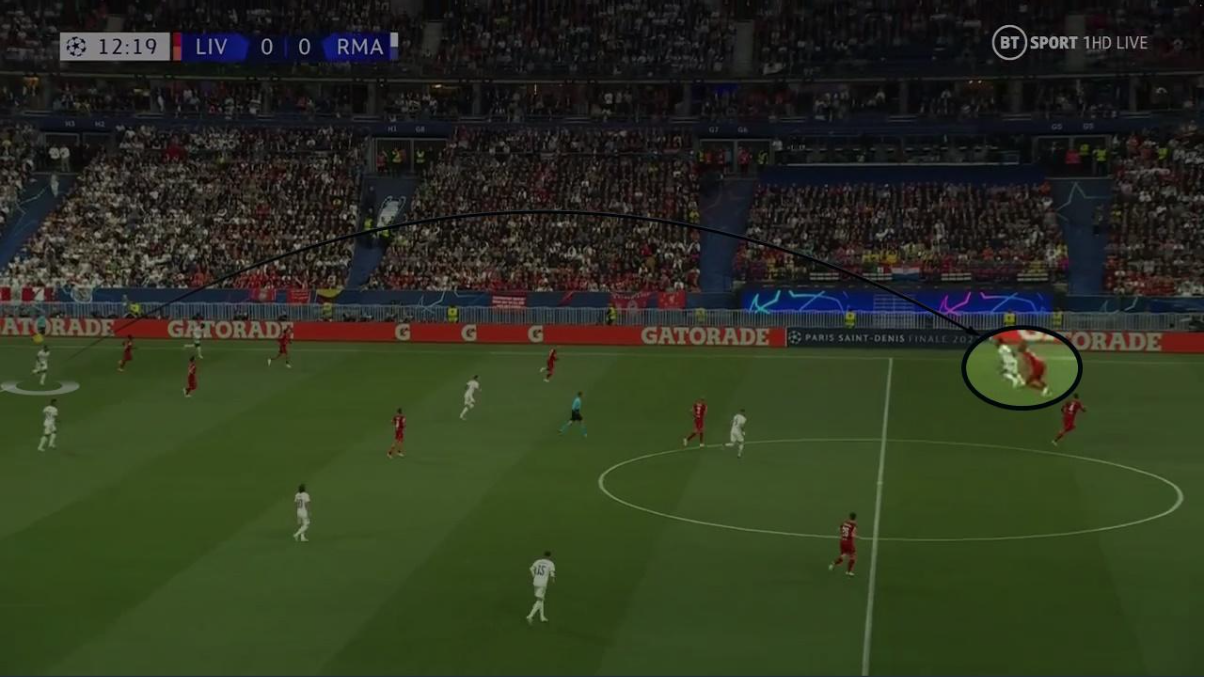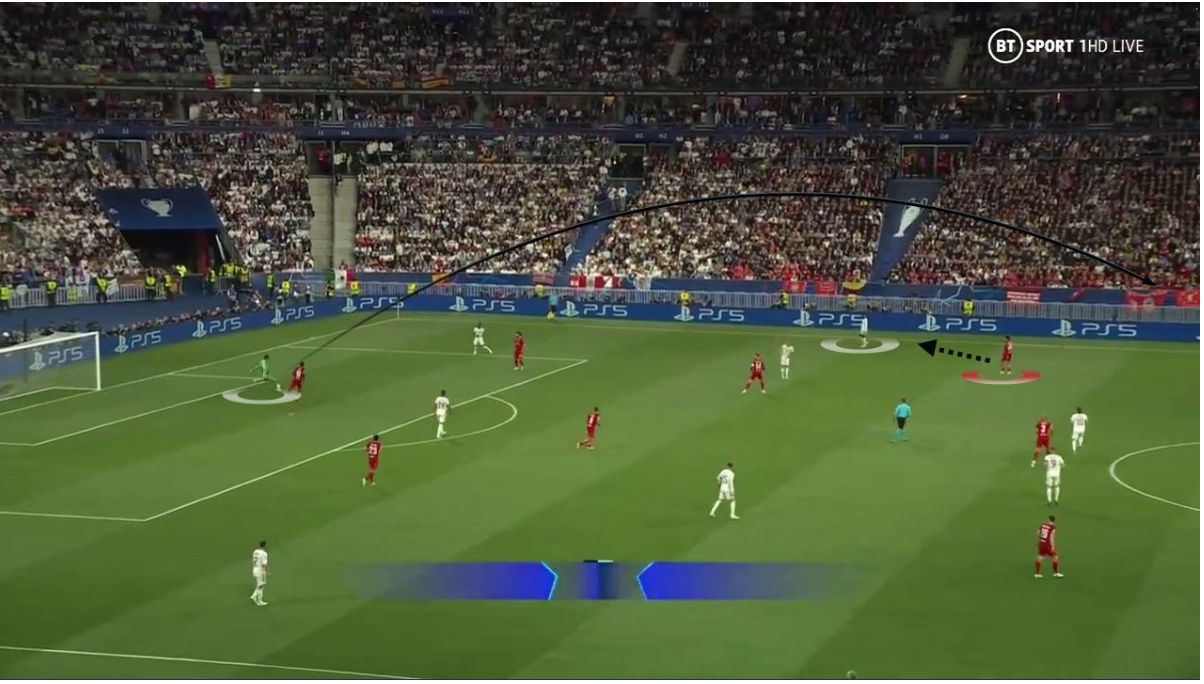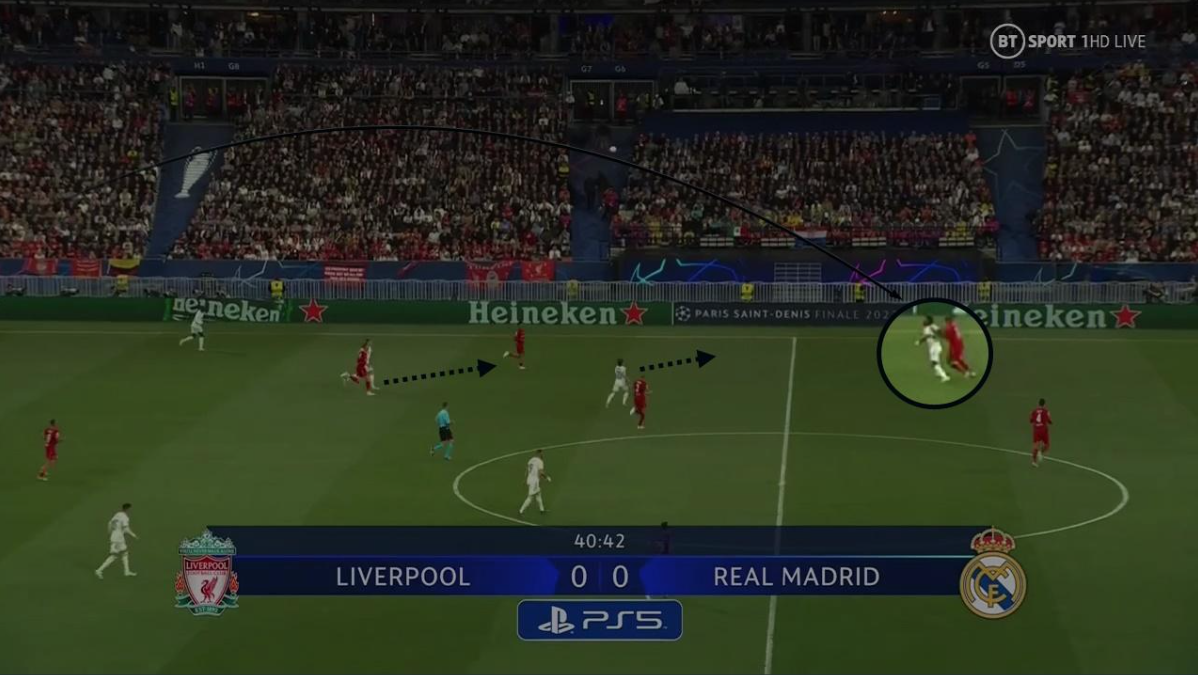 Let's move on to another phase, Real Madrid's possession against Liverpool low block, such situations were not many and took place almost during the first half; however, Real Madrid were able to create threat using them, given the fact that most of their big chances came from transitions in the last minutes of the second half, when Liverpool switch to all-out attack.
The main idea was to attack from an overloaded left flank where Ferland Mendy and Vinicius provided the width with the aid of Benzema and Kroos within the halfspaces, the latter was in a deeper position to receive the ball and release diagonal passes to Carvajal, who was isolated in the opposite direction, in order to create 1v1 situations against Andrew Robertson.
The fact that Benzema was drifting towards the left wing made Federico Valverde always positioned in central areas around the box, which deprived Dani Carvajal of an important supporting option to develop a direct threat against Alisson.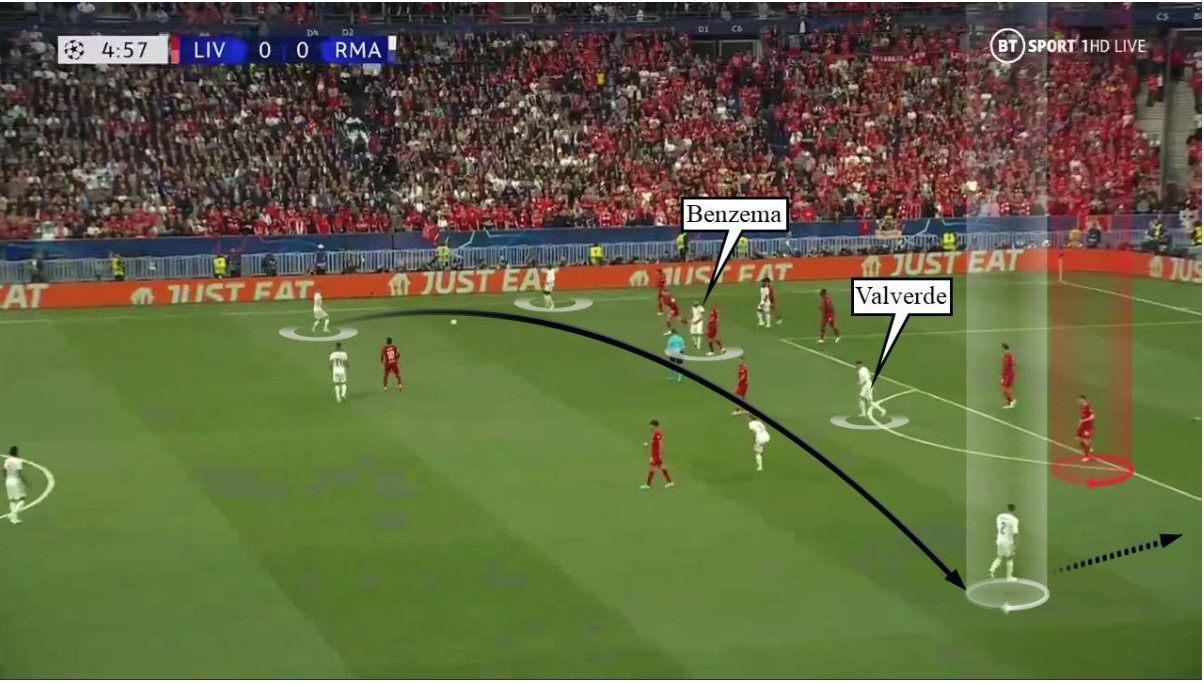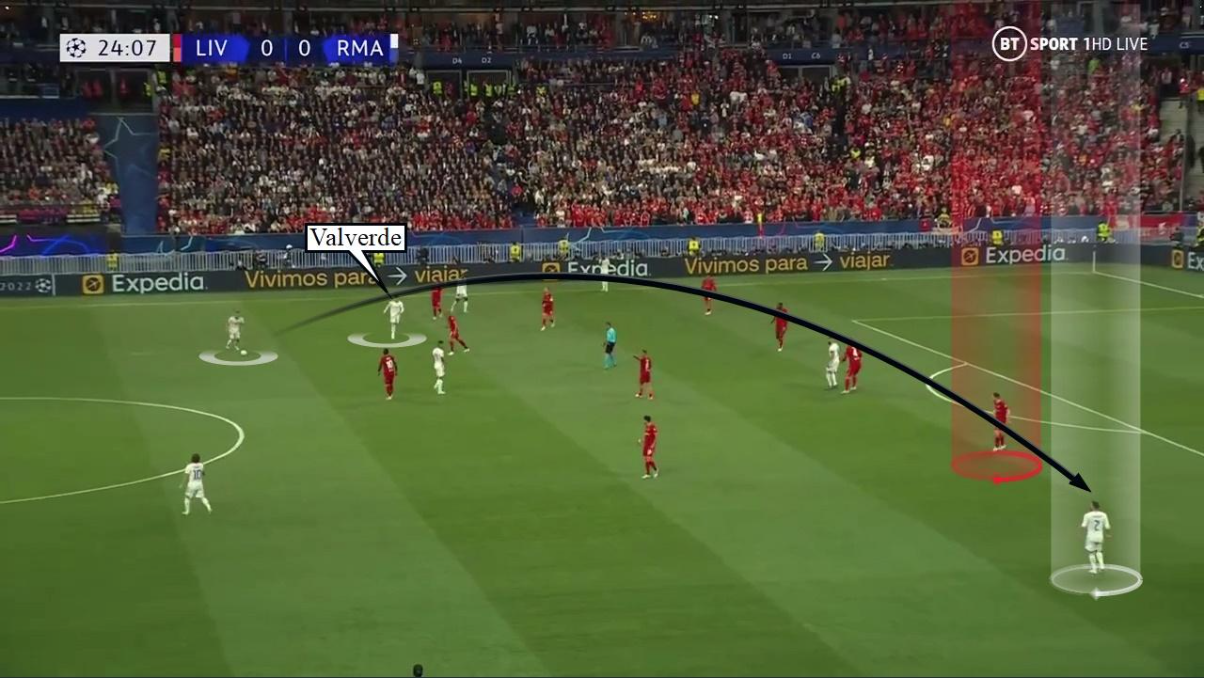 Such overloads have resulted in a split along Liverpool's defensive line when Benzema was lying in central areas, and trying to penetrate between Van Dijk and Robertson, as we can notice the distance between Konate and Van Dijk which also provided room for box penetrations from Federico Valverde and even resulted in Benzema's cancelled goal.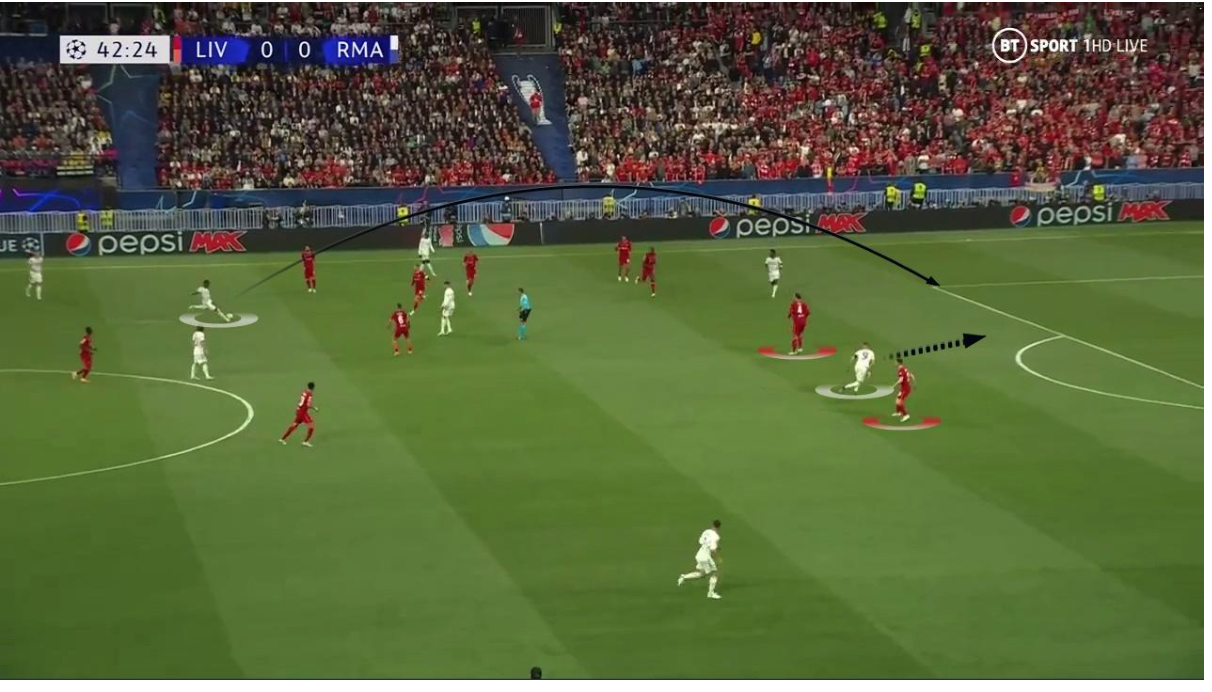 Talking about Liverpool's progression against Real Madrid's mid-block, this was quite successful for the English side, the main idea was providing numerical superiority when Alexander-Arnold moved more centrally to receive the ball while Kroos and Modric were pressing Fabinho and Thiago.
As Sadio Mane dropped to receive the ball as a false nine, this attracted Casemiro to stay deep in order to mark him, which provided the time and space either for Alexander-Arnold to carry the ball forward or even to Henderson to receive passes from his team mates.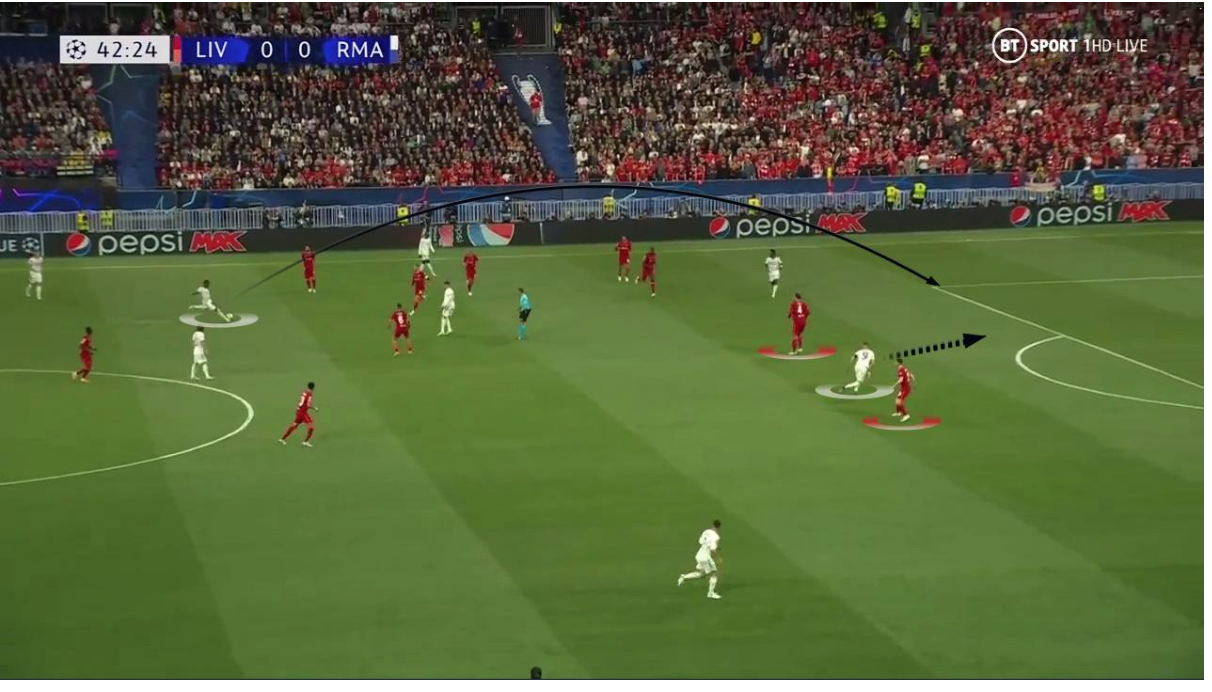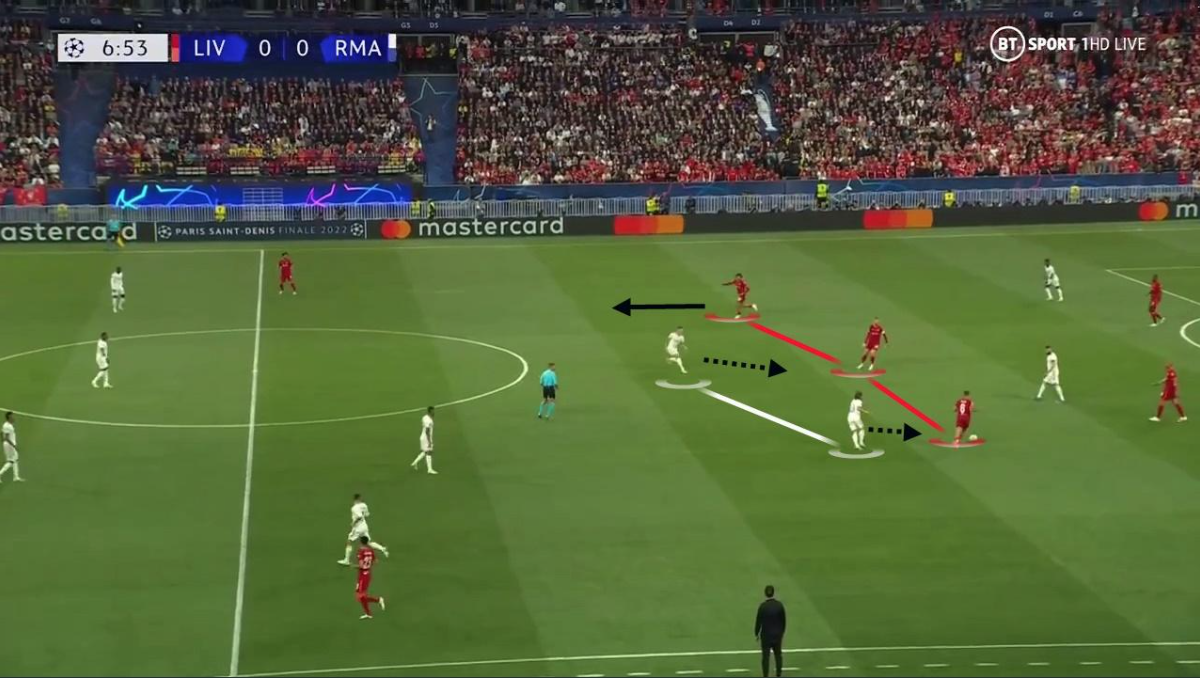 Moving to the game phase that took place during most of the match, Liverpool possession against Real Madrid low block. Liverpool tried always to provide numerical superiority against Real Madrid midfield as the latters shifted between 4-1-4-1, 4-5-1 and 5-4-1 shapes; the English team could be successful with such issue by crowding this area with Arnold, Diaz and Mane in addition to their midfield trio.
While Mane was dropping a false nine, this caused a real problem for Casemiro, who was confused who to mark: Mane, Henderson or even Diaz. The biggest problem was that Liverpool kept moving the ball around those areas instead of directing it wider, which made things easy for their opponent as they had the time to recover.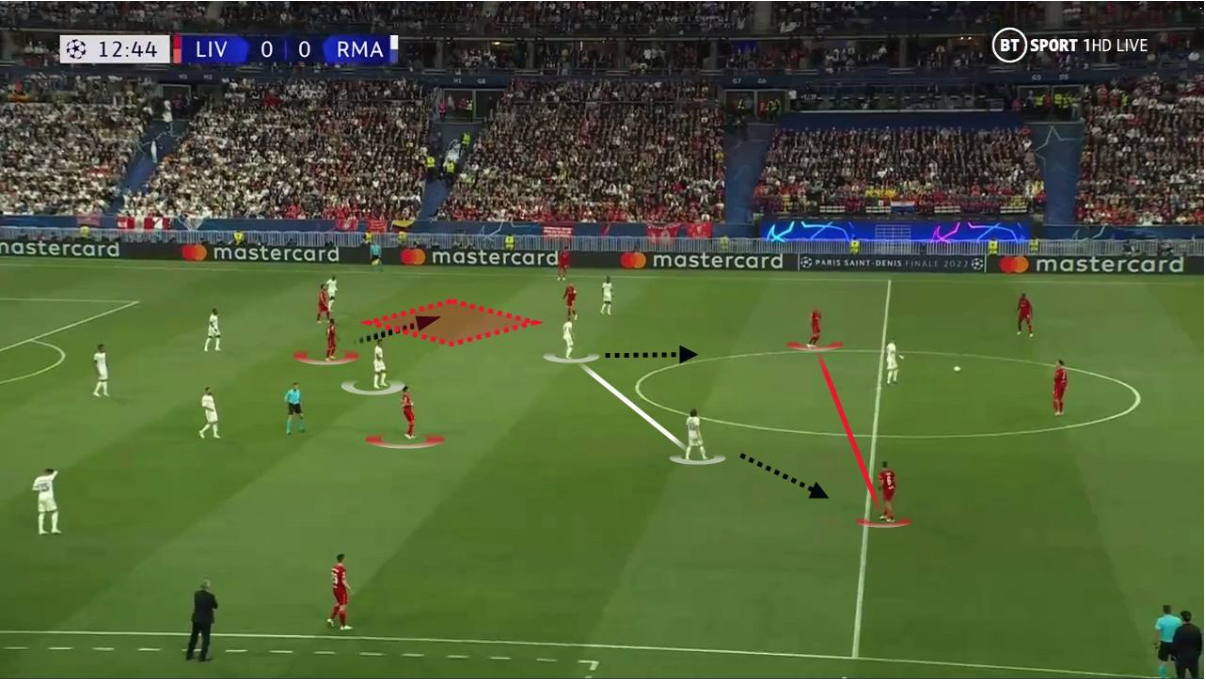 Even when Liverpool tried to attack from the wings (especially from right side), Alexander-Arnold was very late to support Salah and Henderson although Vinicius retracted back in almost of such situations.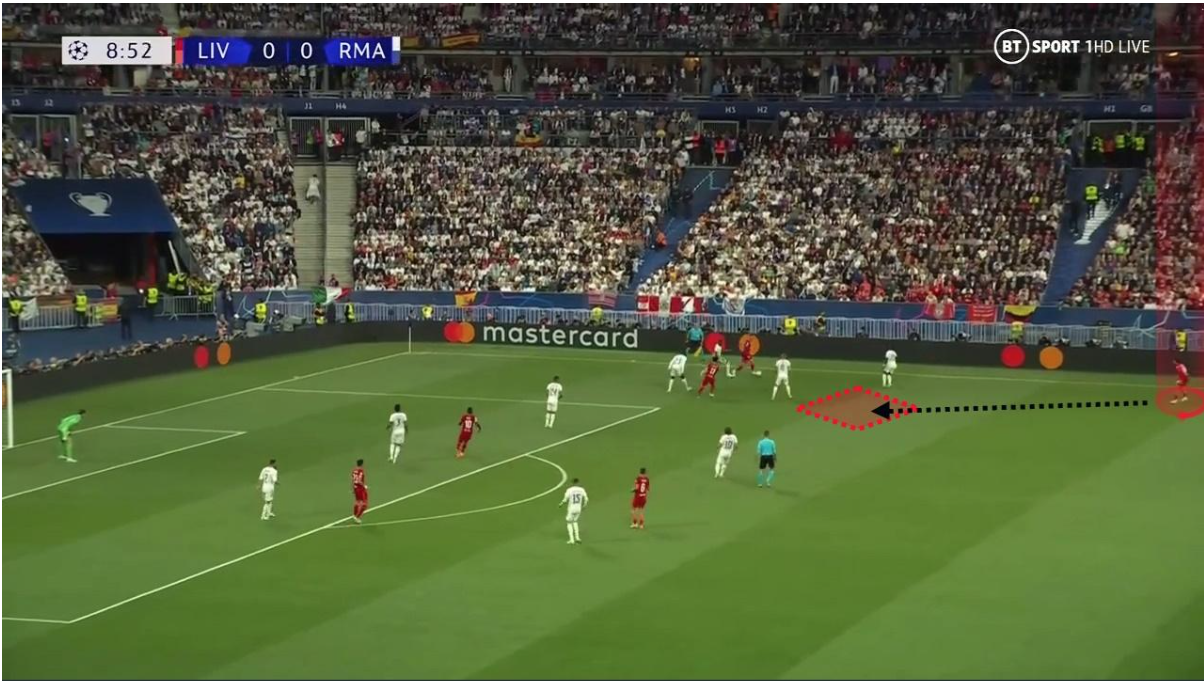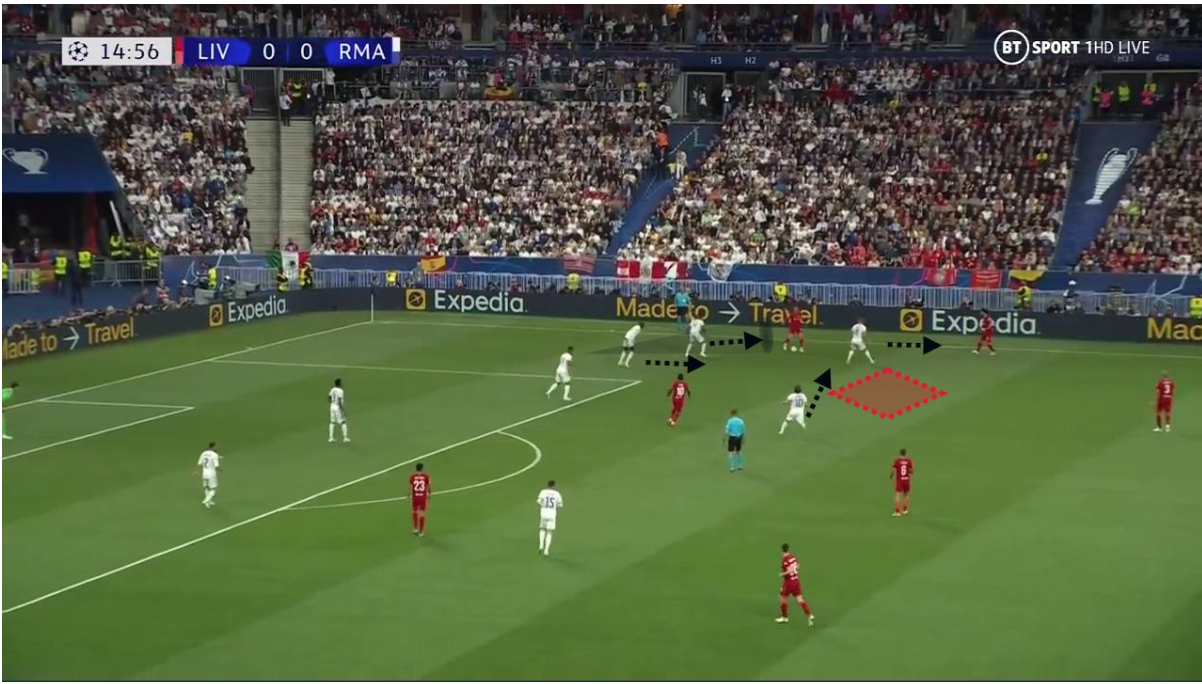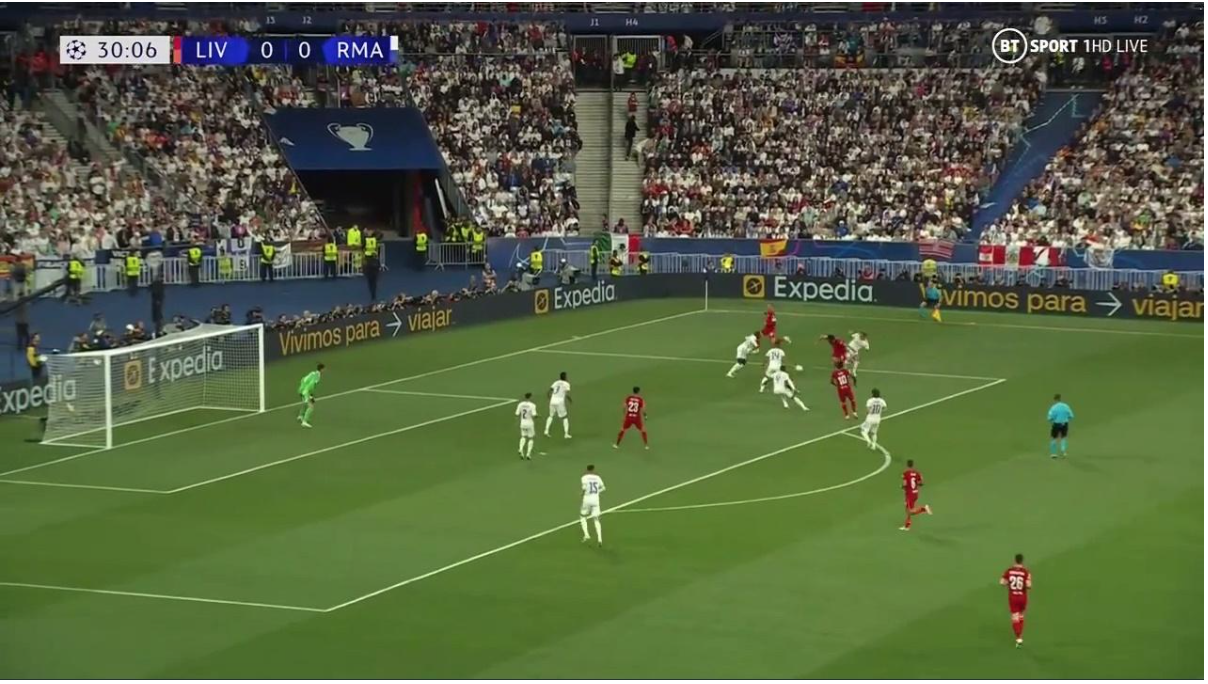 Maybe the strangest thing was when Liverpool could provide sufficient wing overloads they created real threat very easily; as Real Madrid's defence was lacking organisation but in the contrary the players have shown some moments of excellence during clinical interventions and duels. And for sure Courtois was playing one of the biggest matches of his career, as he kept his team alive against more than five big chances.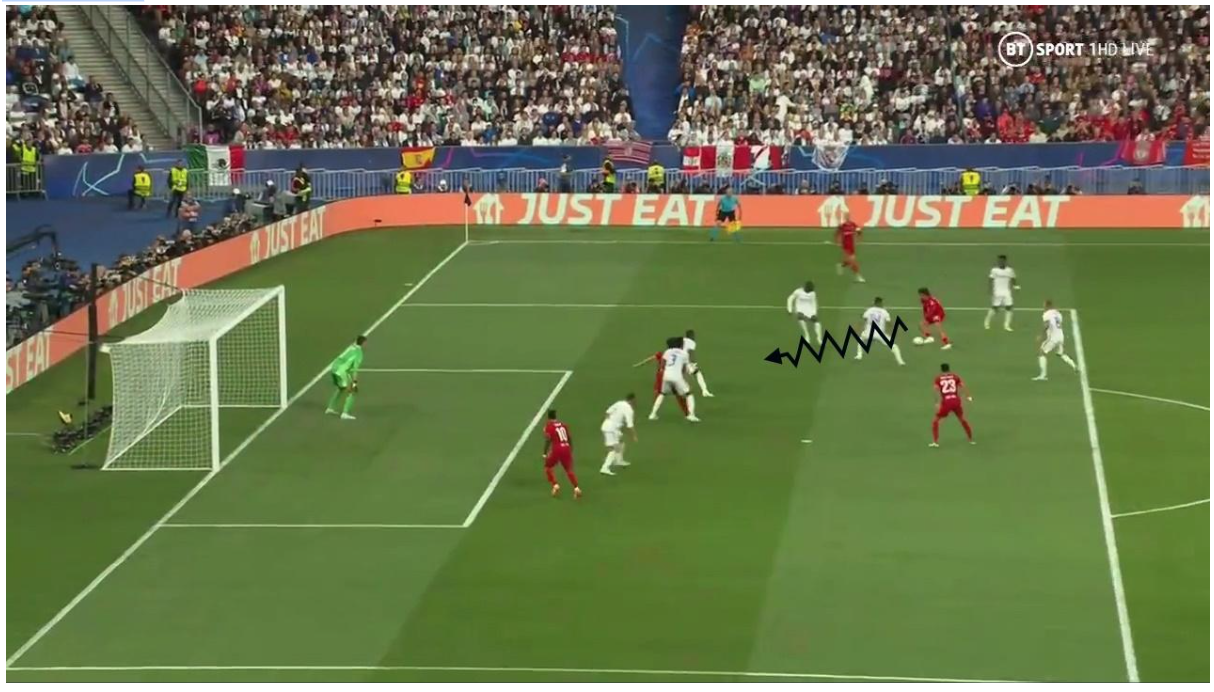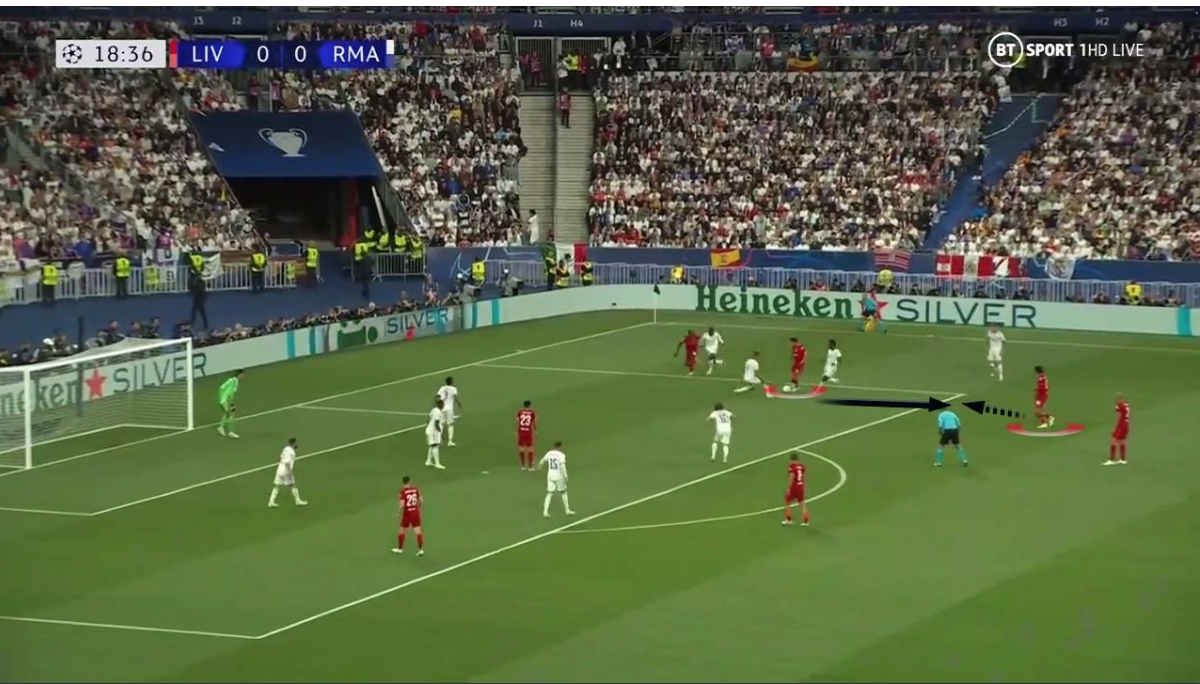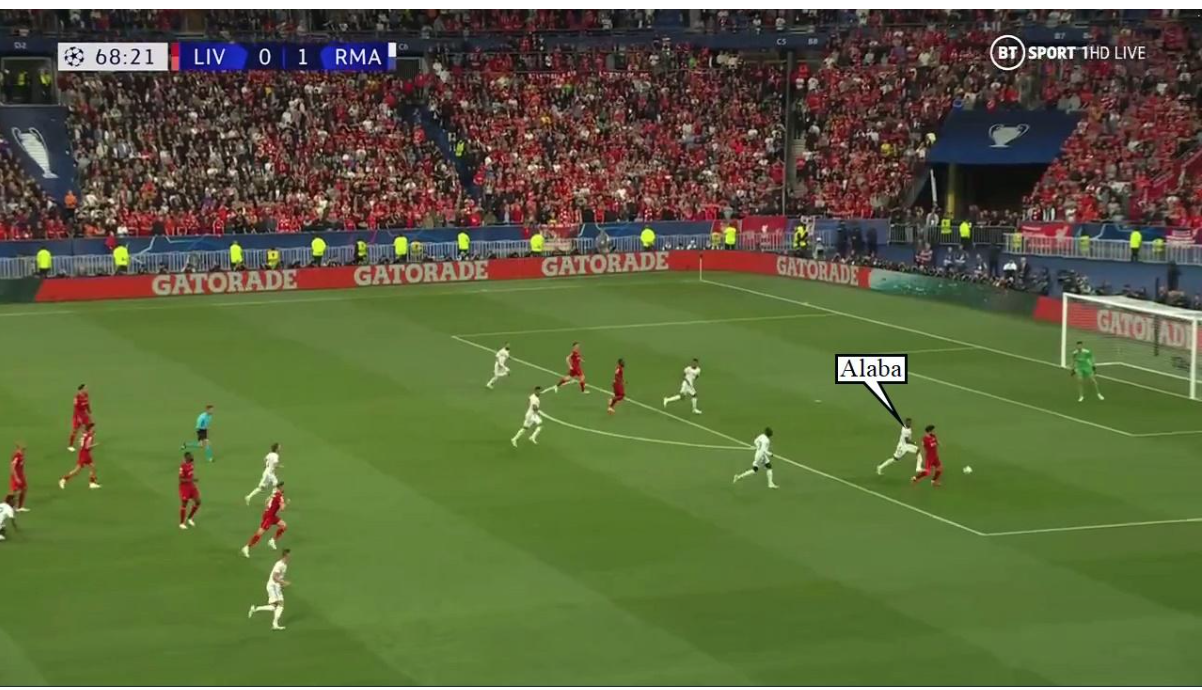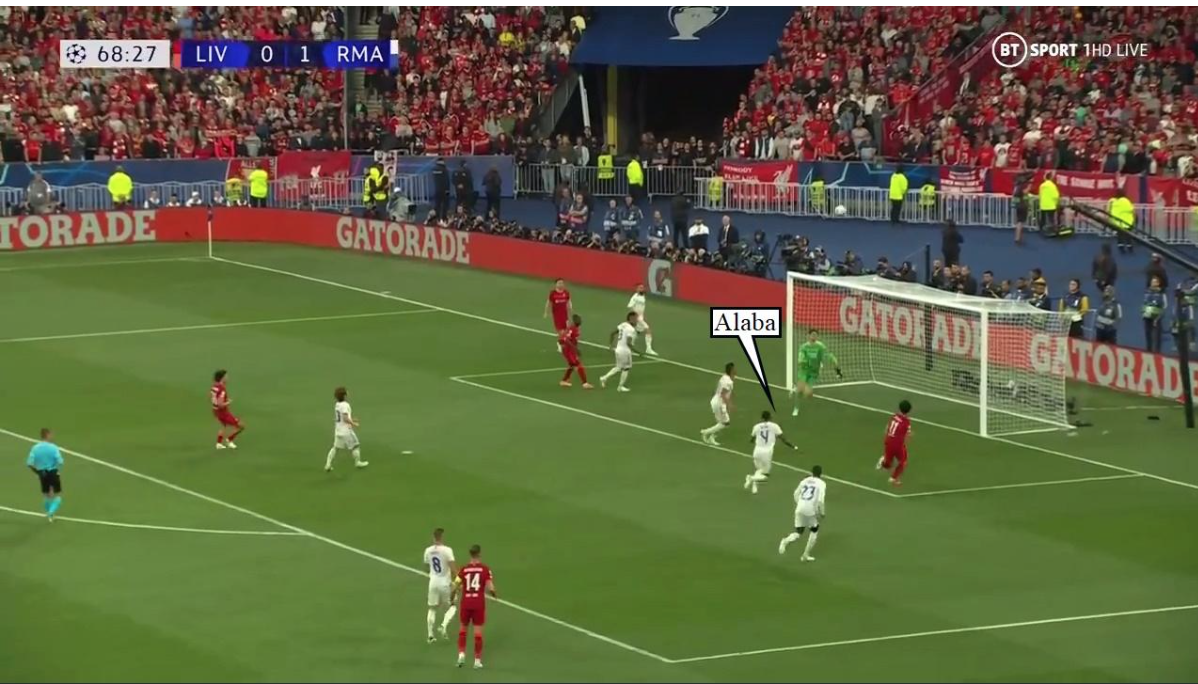 It is worth mentioning that Roberto Firmino's substitution was very useful for Liverpool, as the Brazilian could easily find spaces between the lines, more oriented to the left halfspace, which helped the team to create more than one big chance, but as usual, they were missed.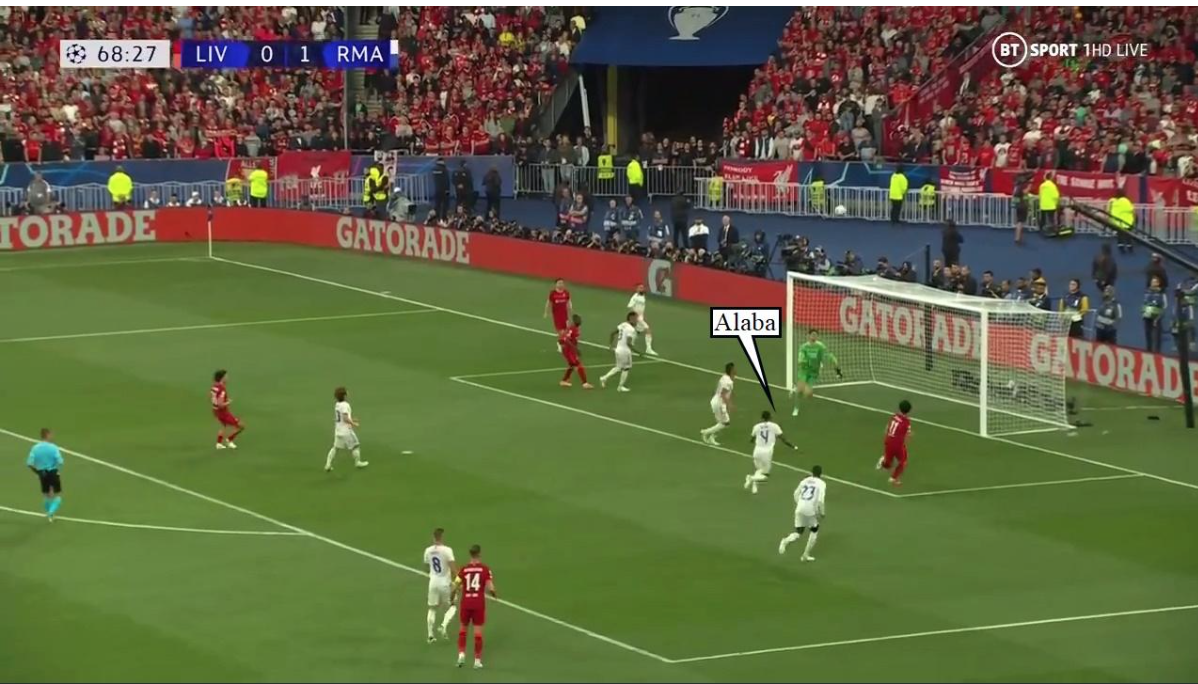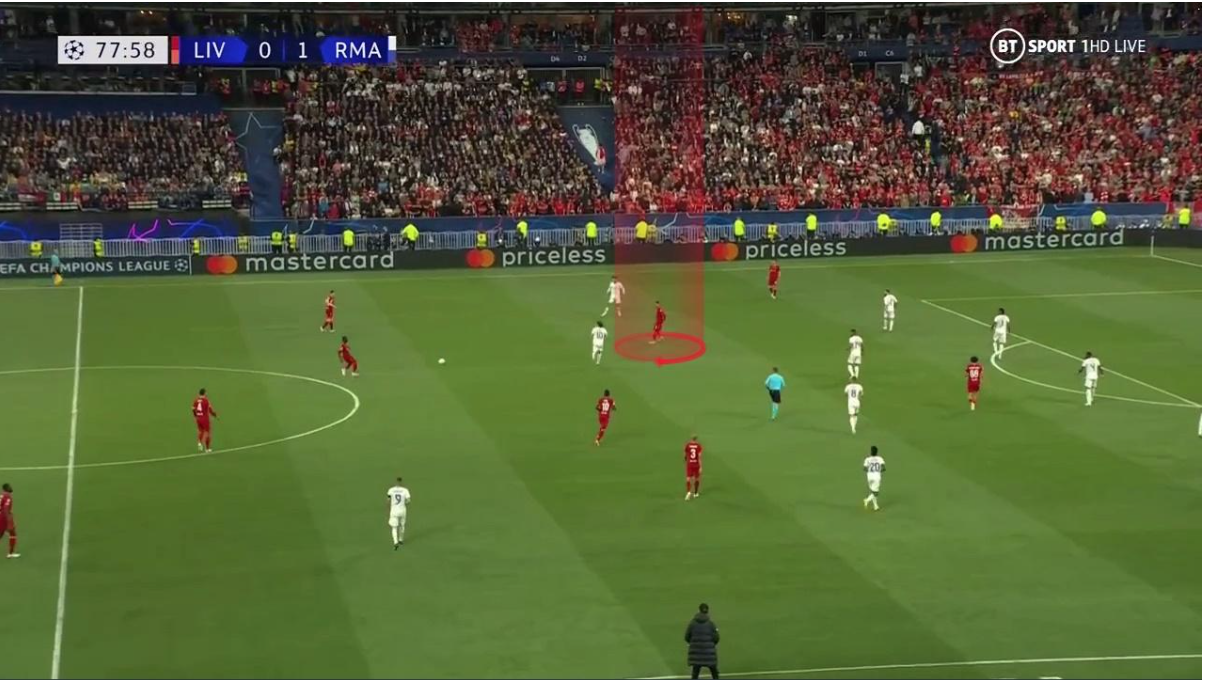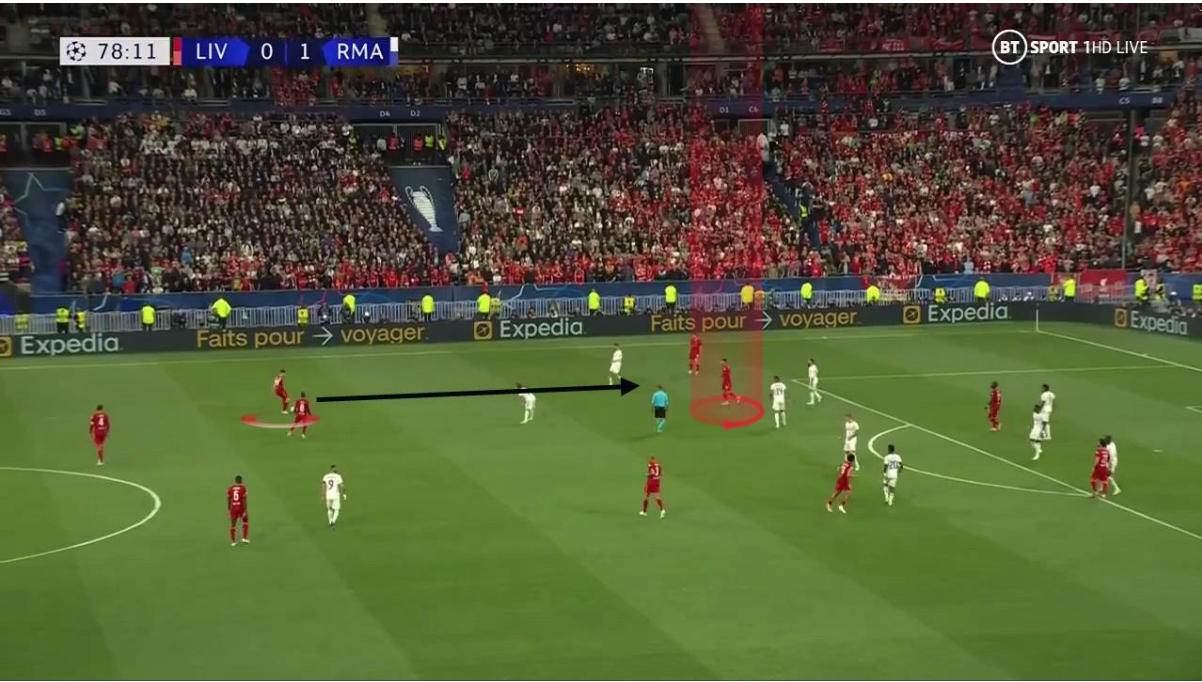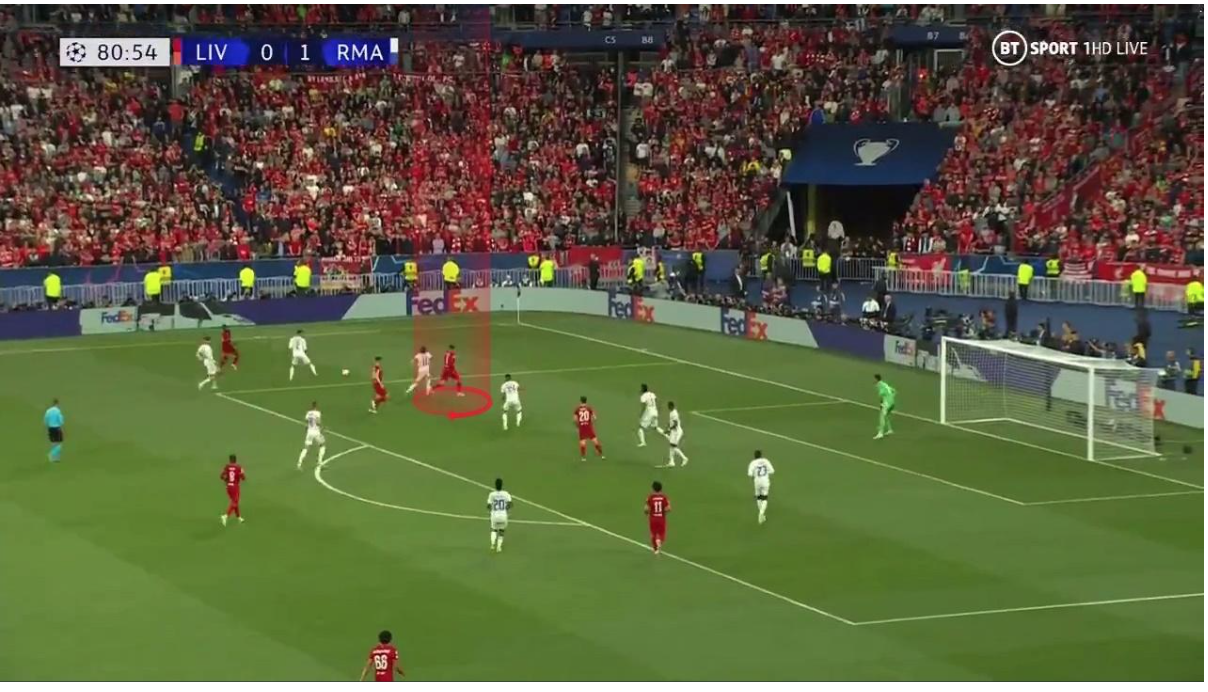 Finally, we come to analysing Real Madrid victory goal which was full of creative moments in addition to clinical errors from their opponents, and this is what the Real Madrid team focus on, and their players know well how to benefit from such moments.
Starting from Eder Militao's composure under pressure, Dani Carvajal's ball-carrying to the free space, Modric awesome pass under pressure, and benefiting from Liverpool players weak pressure against the ball holder and the fact that Andrew Robertson went out of position meaninglessly, all of these issues has resulted in the fatal 3 Vs 3 situation.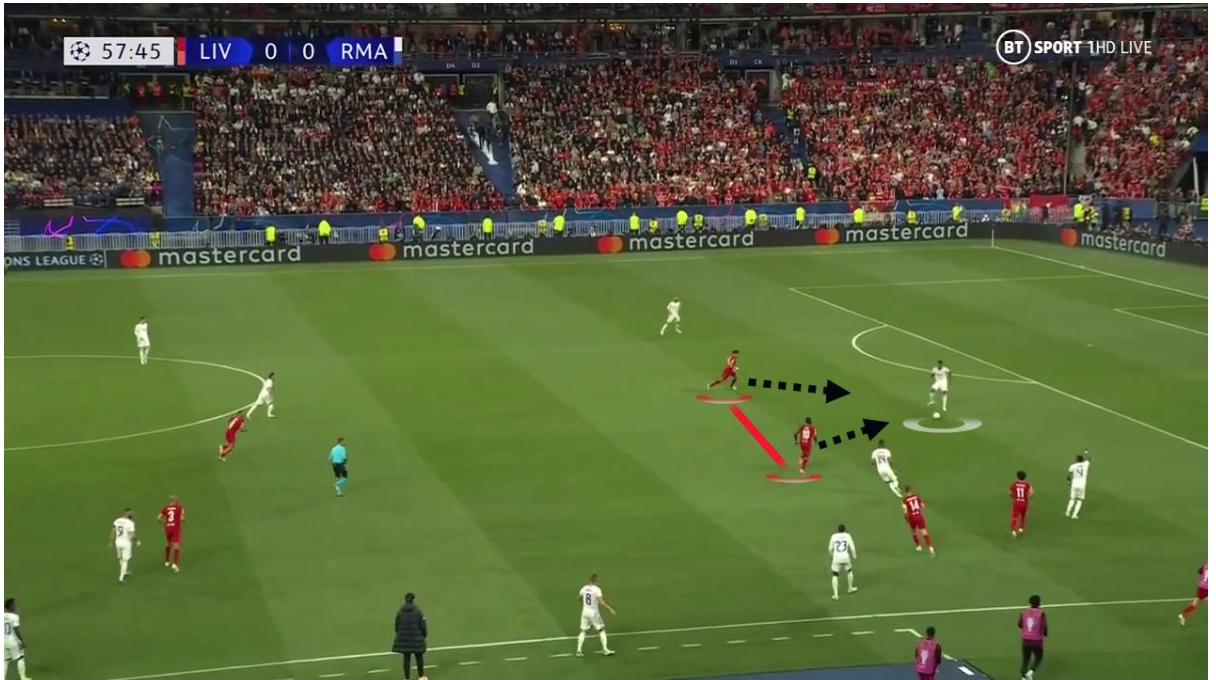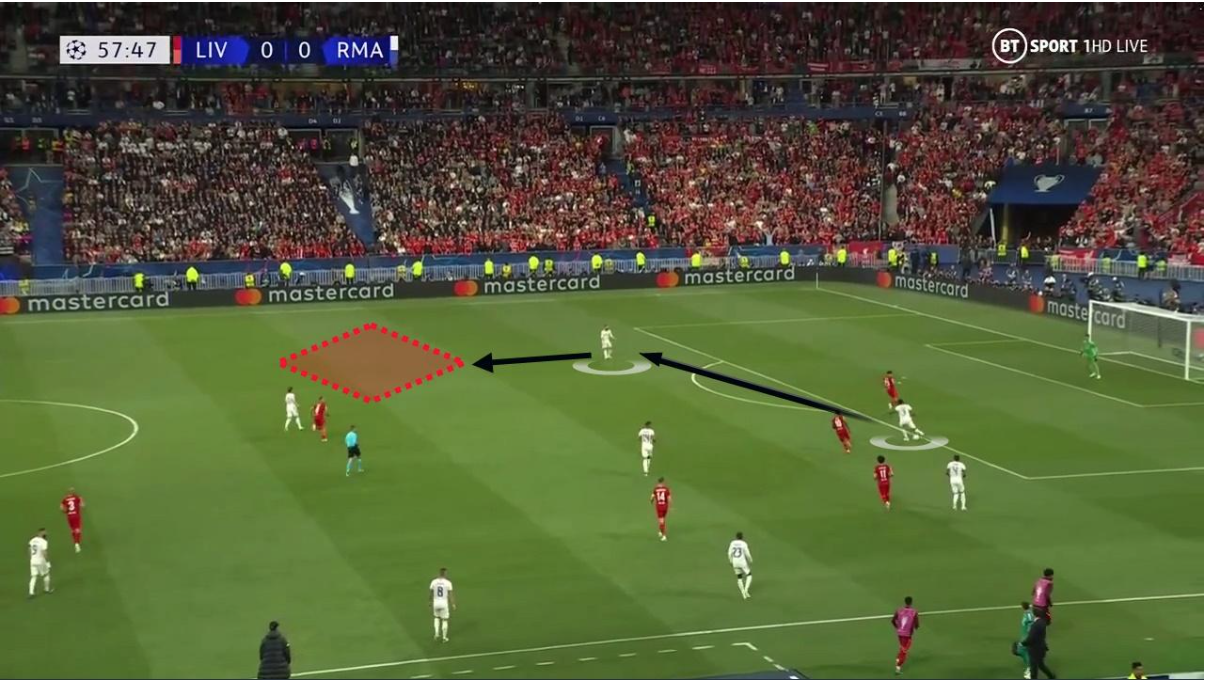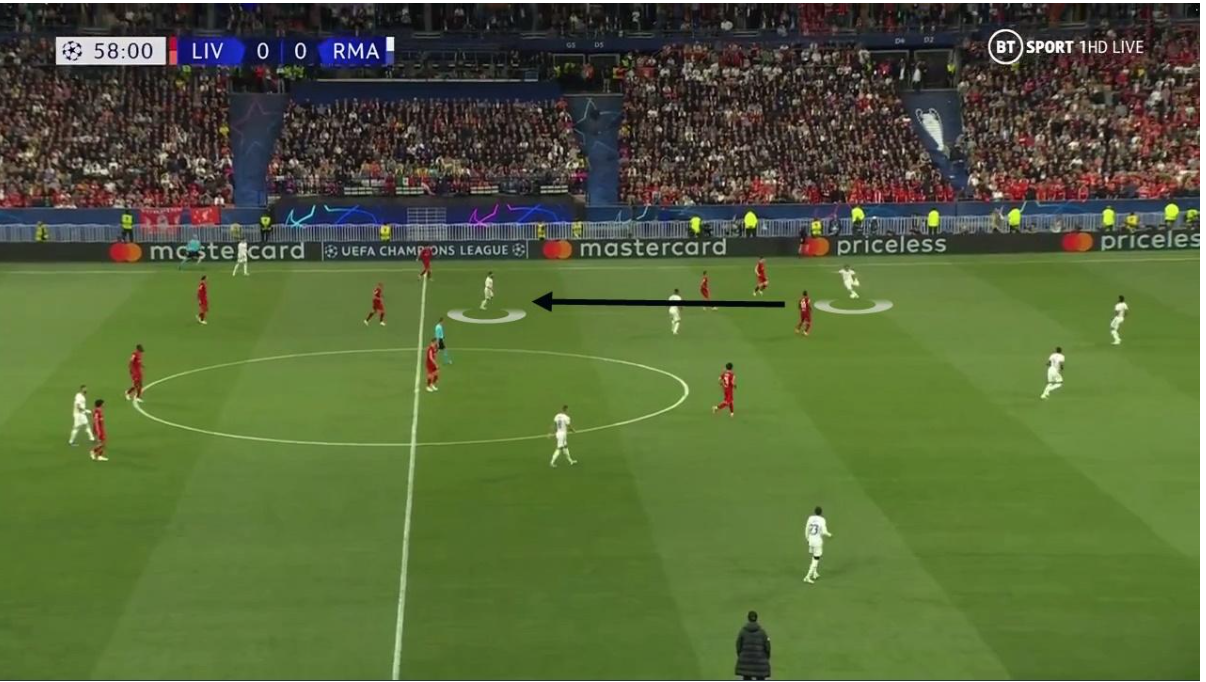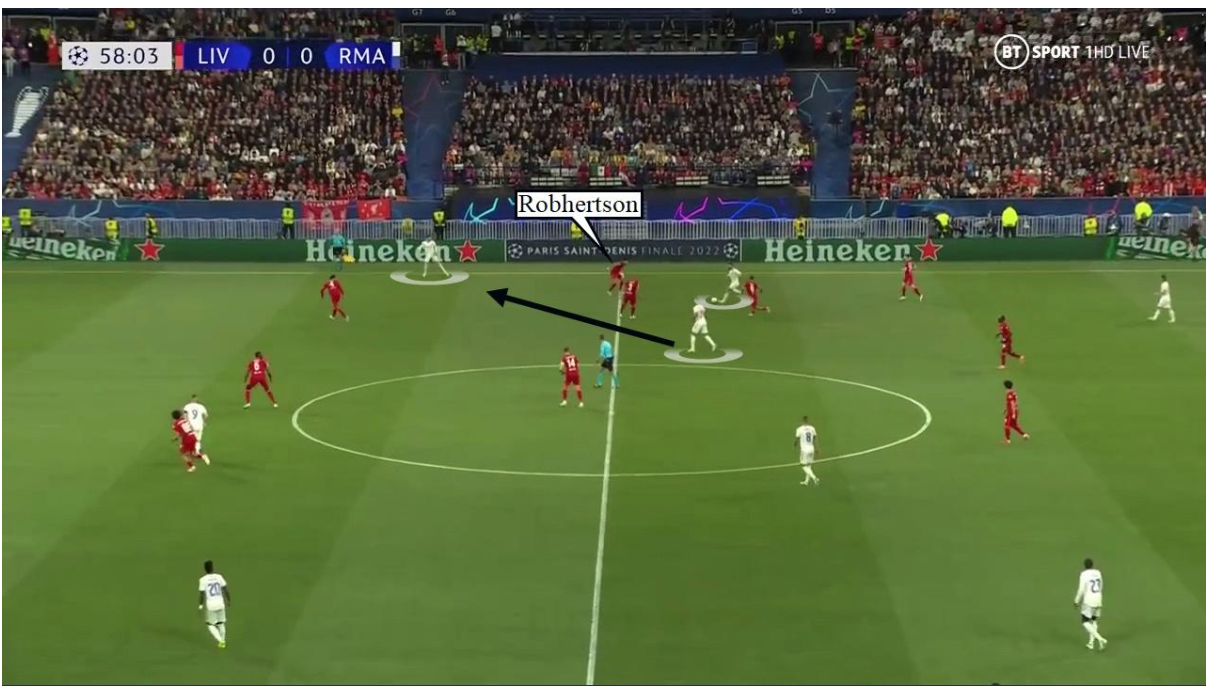 Liverpool's defence weak pressure against Federico Valverde persists as we can talk about Alexander-Arnold's body position with two points of view: The first states that he should pause and recover, turning around by 180 degrees to have enough information regarding the ball direction and also Vinicius' movement behind him and hence react accordingly.
While the second point of view insists on the way the team defends such situations using line defence shape to trigger offside traps in the suitable moments; but at least Alexander-Arnold lack of continuous scanning made things worse.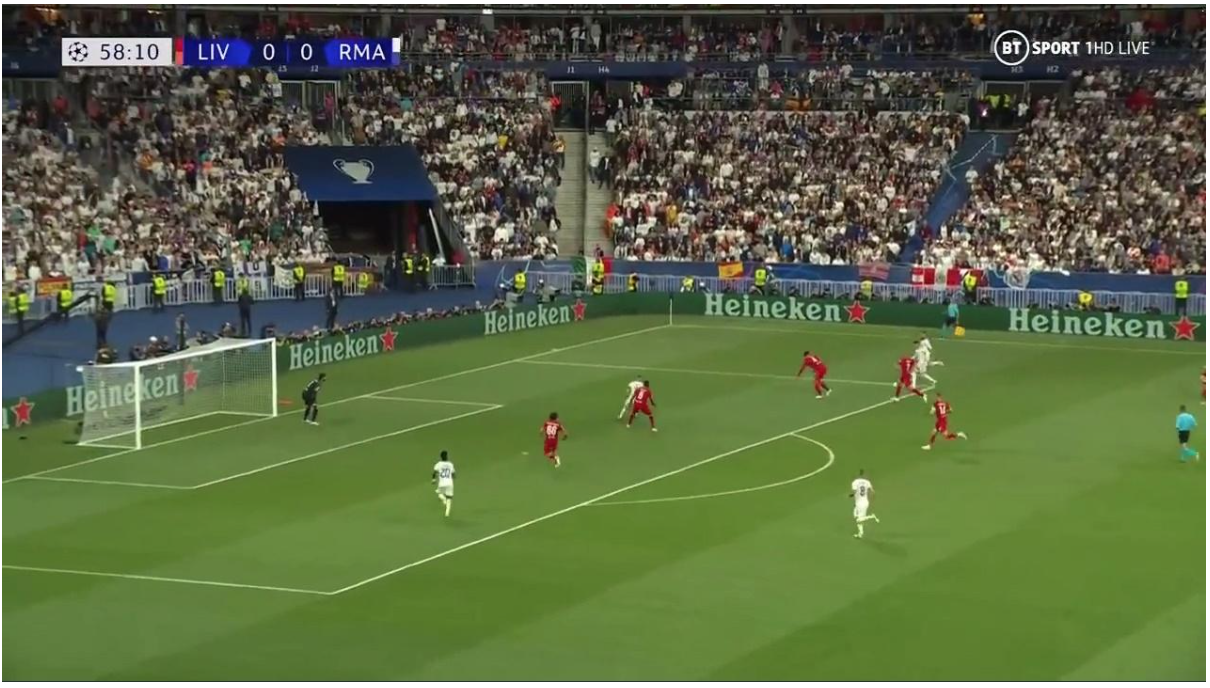 Conclusion
Real Madrid are now the UCL champions for the 14th time, although they were dominated by their opponent in many game phases as explained above, but the way they play, focusing on small details, their player individual skills, their composure and how they can benefit from every mistake of their opponents are very important factors that make them able to win the big matches.
Also, the way they can break their opponents' high pressure is impressive, as they are tended to direct play rather than verticality, which makes life harder for their opponents in such a phase. On the other side, Liverpool were the dominant side, who could excel in many game phases, were able to create big chances; but the excellence of Thibaut Courtois, individual moments of clinical interventions from Real Madrid defence and the lack of width in most of the match resulted in losing the final.
By: Loay Mamdouh / @loay_mamdou7
Featured Image: @GabFoligno / Angel Martinez / Getty Images