How Thomas Tuchel's Undermanned Chelsea Secured a Draw at Anfield
Jürgen Klopp and Thomas Tuchel share remarkably similar managerial paths. Both making their name under Bundesliga clubs Mainz and Borussia Dortmund, Tuchel succeeding Klopp both times displaying he was never in the shadow of his predecessor. 
Recognised for their fluid, innovative football epitomising the plethora of thriving German managers who have revolutionised the game with their vast tactical knowledge. Klopp and Tuchel have found success in Europe after cutting their teeth in Bundesliga winning coveted Champions League titles with English teams having appeared in the final with other European heavyweights.
Tuchel prefers a possession-based game and Klopp's trademark is the electric 'heavy metal' football Liverpool have become synonymous with, dispelling any myths that both play a similar brand of football despite their similar football journeys.
Liverpool and Chelsea would've been as happy as the neutral to have this match in game week 3 getting a big game out of the way early on is always better than later on in the season. The game was still earmarked to see where two of the last three Champions League winners are at, and where either team sit against a fellow title-chaser. With two of the world's best managers going head to head there were some fascinating tactical points to unearth:
Liverpool's Early Pressing 
Liverpool started the quicker of the two teams with Anfield providing a lift. Robust in the tackle and looking bright and sharp in attack. Honorable mention has to be given to Harvey Elliott who looks like an upcoming talent slotting into Liverpool's midfield and linking up with Mohammed Salah well.  There was a period in the first half where César Azipilicueta had the ball just past the halfway line right near Klopp on the touchline who signaled for Sadio Mané to push up and press, as he obliged, the German clapped the Senegalese forward's efforts. 
This is indicative of Liverpool using 'gegenpressing' that has made Klopp's Liverpool so successful and in the first half Liverpool counter-pressed Chelsea well to a point where they were limited in attacking opportunities on two occasions from open play where Liverpool were caught in possession in their own half.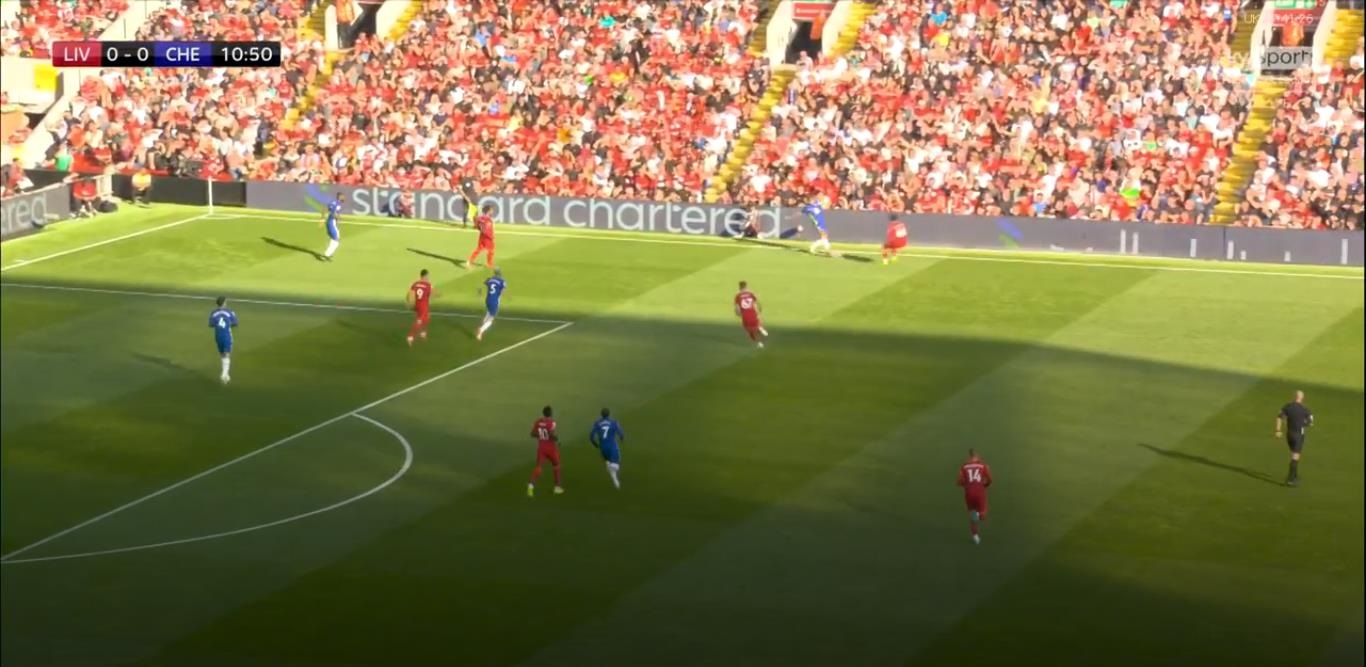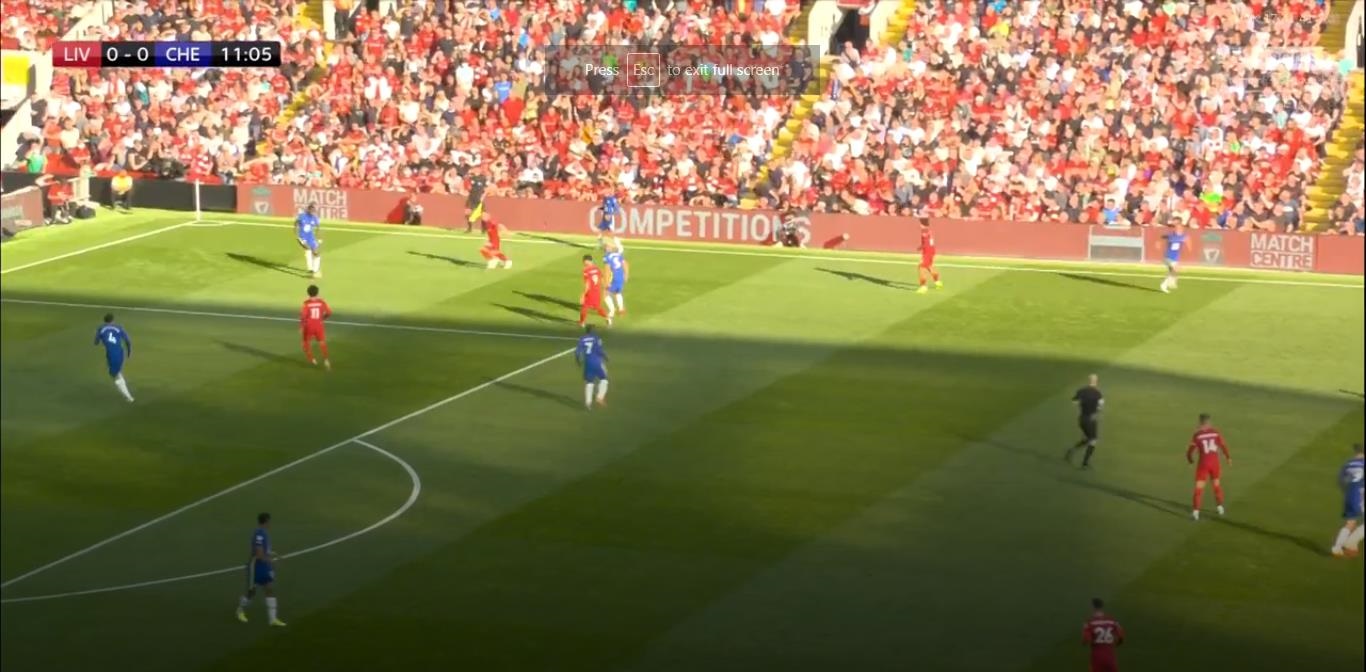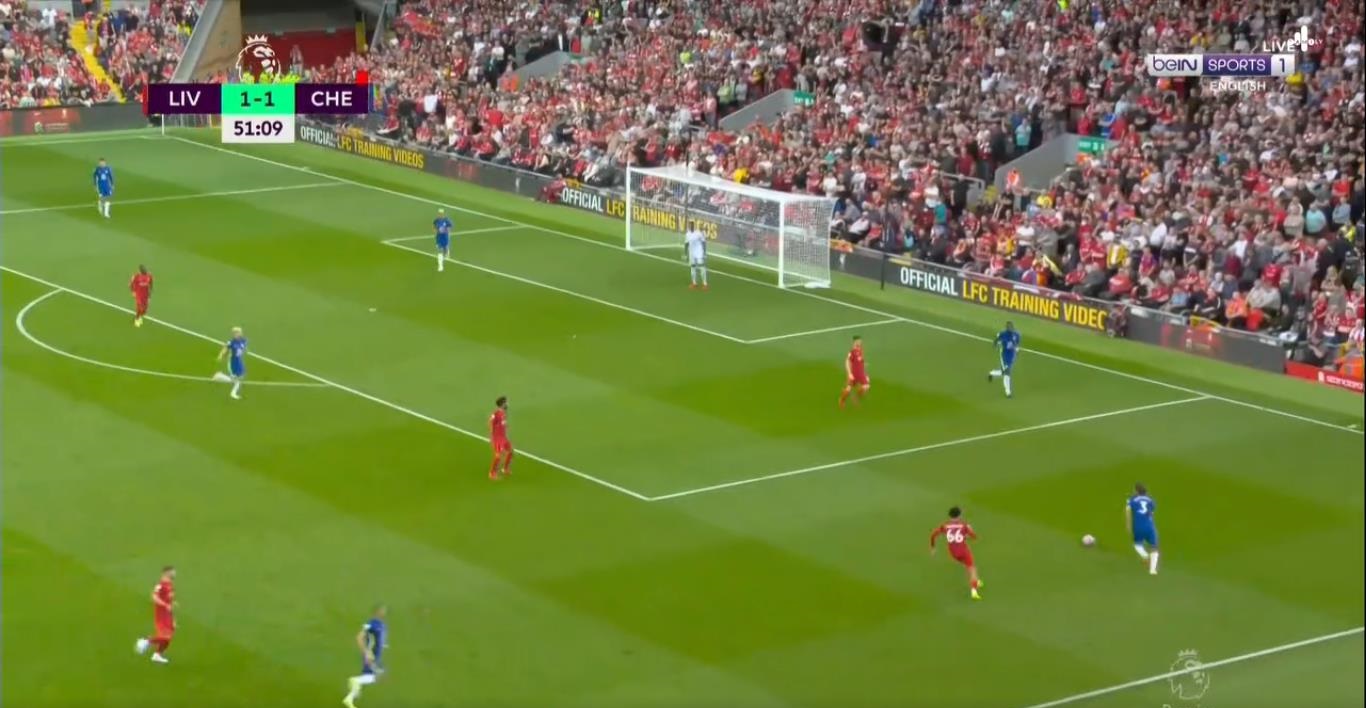 On this occasion, all three of Liverpool's forwards are positioned high up the pitch with Trent Alexander-Arnold exerting pressure on the ball carrier with Jordan Henderson and Harvey Elliott also not far from Chelsea's penalty area against Chelsea's back three and crucial midfield pairing of Jorginho and N'Golo Kanté.
Normally, Chelsea can pass and break through the press with Jorginho releasing Kanté who gallops away but Liverpool did well to limit space and made it hard for Chelsea to pass through the lines, pinning them back with their high shape resulting in them being better in the first half before conceding from a corner.  
Liverpool's Intriguing Use of Direct Long Balls
Something else really struck me about the way Liverpool attacked in the first half, noticeably their frequent and urgent use of direct long balls. Trying to use Salah's pace to isolate him between Andreas Christensen and Antonio üdiger, which bypasses trying to pass through the lines vs Jorginho-Kanté and attempts to exploit the fact that at least one of either Reece James or Marcos Alonso are normally pushed up trying to join the attack.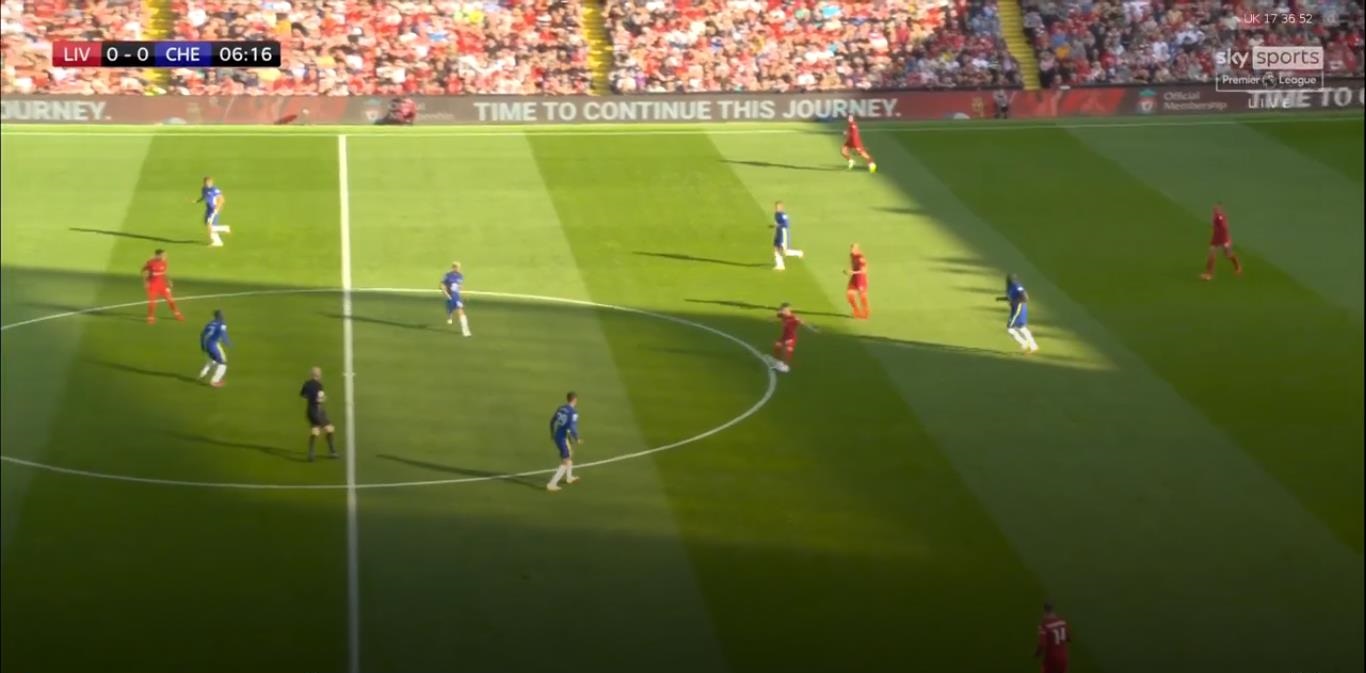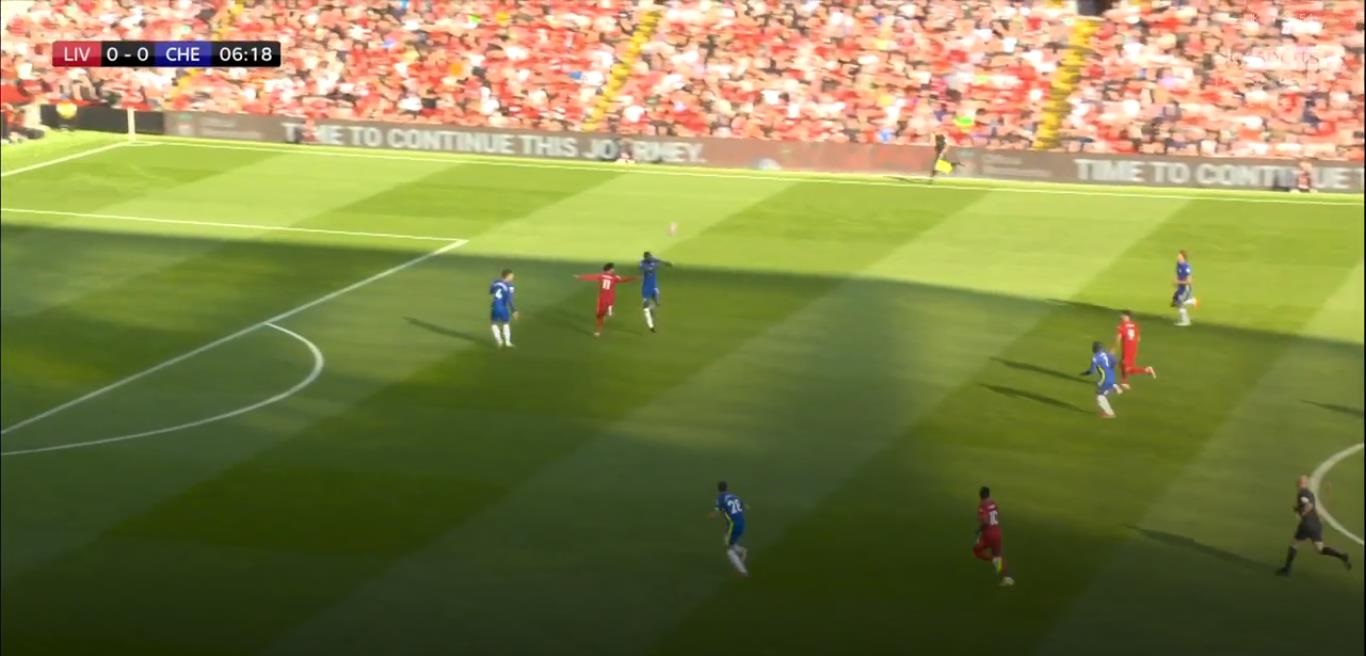 It was salient to me that Liverpool tried to use this as an avenue to disturb Chelsea as often as they possibly could. It wasn't as if one player or singular area in the pitch was utilised to do this, it was from all areas of the pitch as here we can see Andrew Robertson do it from full-back and Alexander-Arnold from the opposite wing.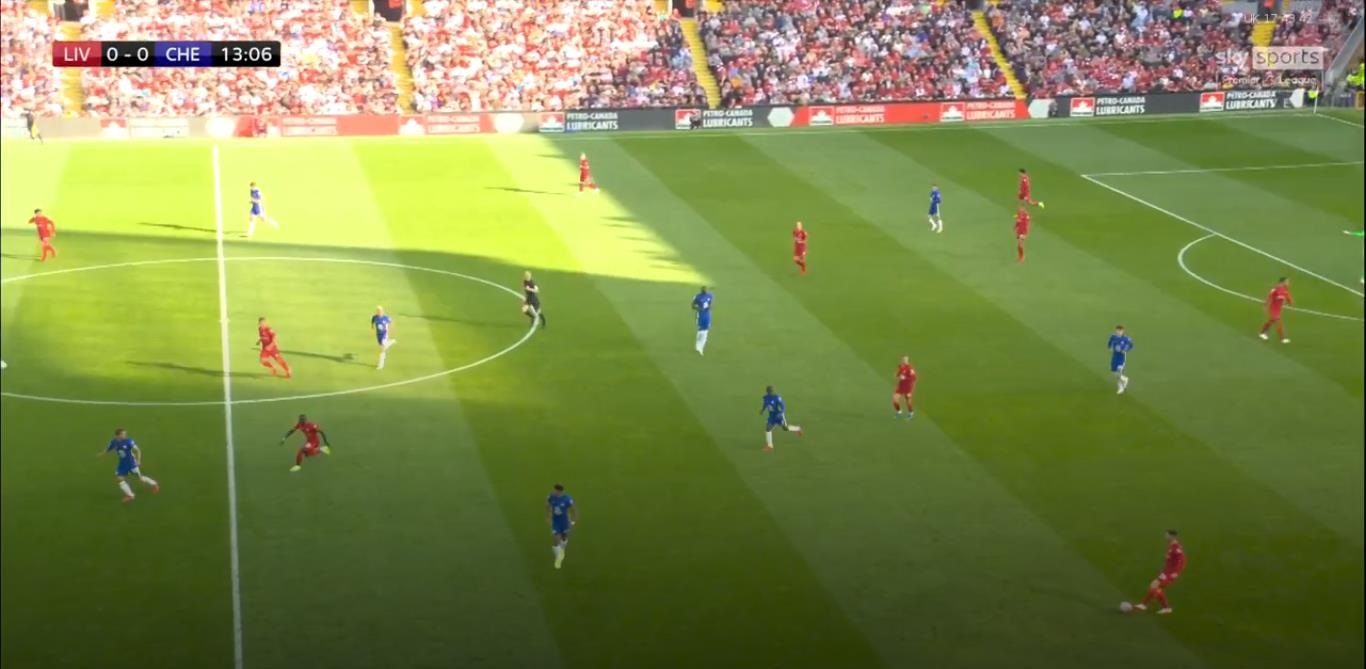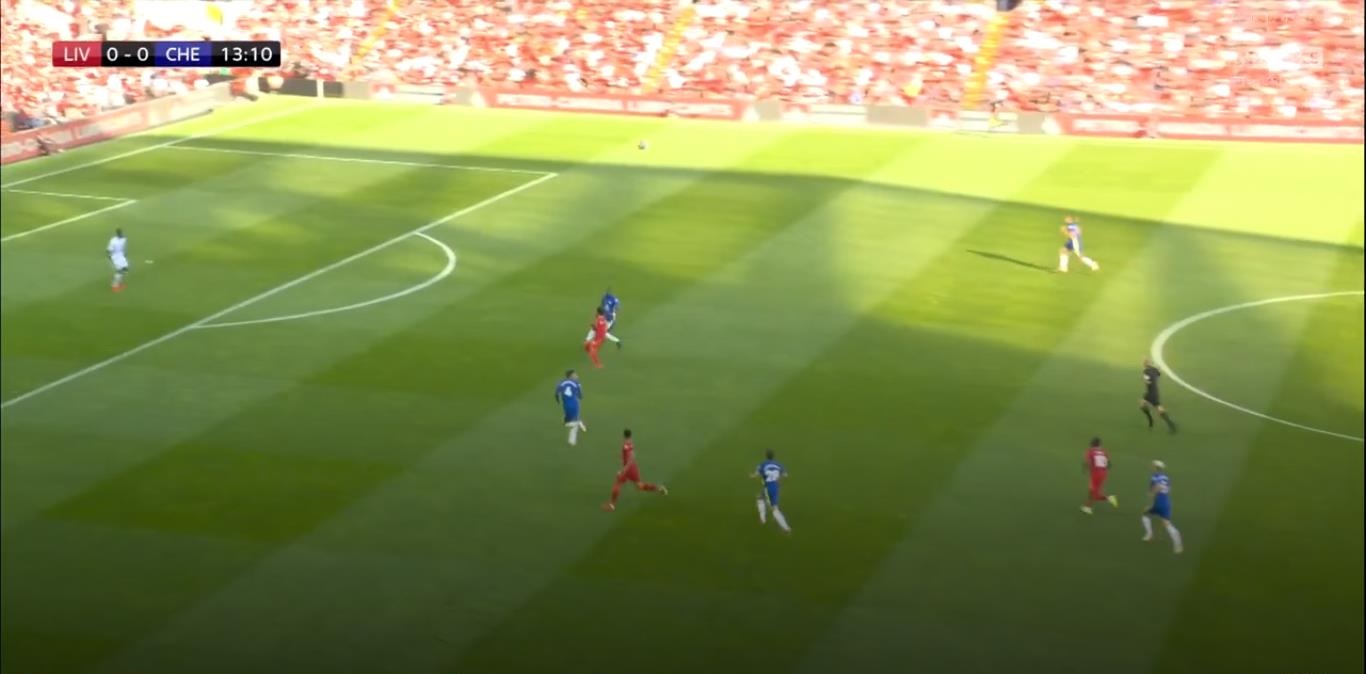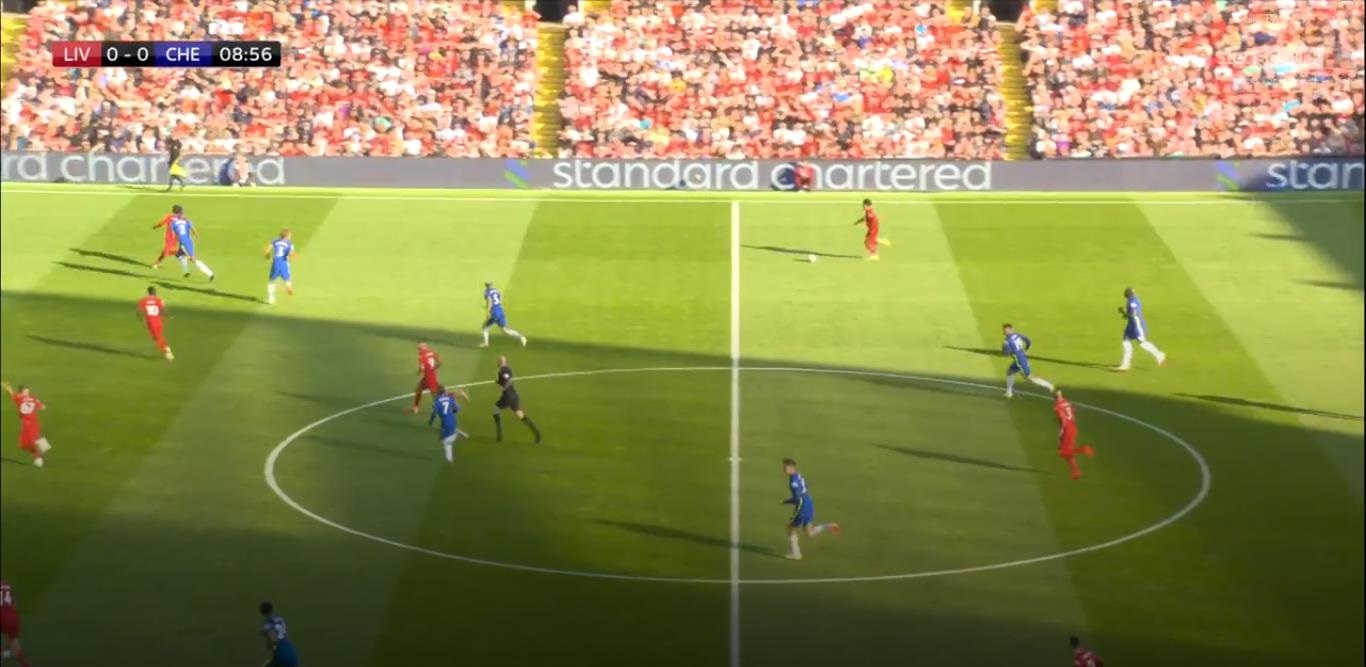 Klopp probably recognised how resolute Chelsea are with their shape so instead of wasting time and going through the central quick, intricate passes route, Liverpool attempted to go directly where not all their players are in position and are scampering back. Liverpool were bereft of this outlet last year as their personnel in CB was regularly altered but with Virgil Van Dijk back it is going to be interesting to see whether Liverpool use this as a tactic as the season progresses.
In the first half Liverpool through their pressing and the usage of trying to release Salah through long balls looked like the better team until a Kai Havertz header from a corner knocked the stuffing out of them. Liverpool then had their own set-piece resulting in a frantic scramble where Reece James was sent off for handling the ball on the line as Salah converted the penalty which changed the entire dynamic of the game.
Chelsea's Incredible Tactical Discipline
In the 2nd half, Liverpool came out and started the second half identically as they had the first, storming out of the gates and pressing Chelsea, not necessarily into an abundance of mistakes but it certainly helped the Reds keep momentum. 
This mainly resulted in Edouard Mendy performing some routine but necessary saves from long shots. After the first 15 minutes, it felt like we were watching Chelsea in the Champions League final once again when they were beating Man City, incredibly well-drilled, disciplined and ridiculously capable of snuffing out any danger as Liverpool barely threatened apart from the long-range efforts.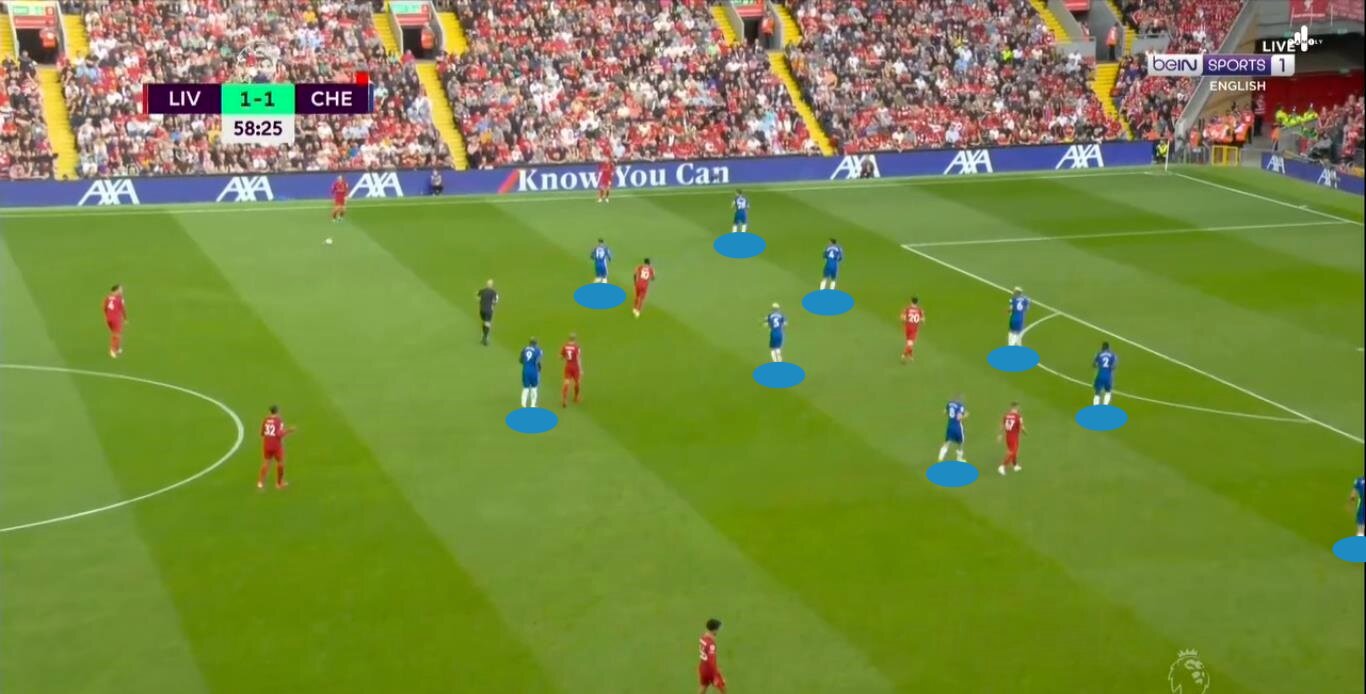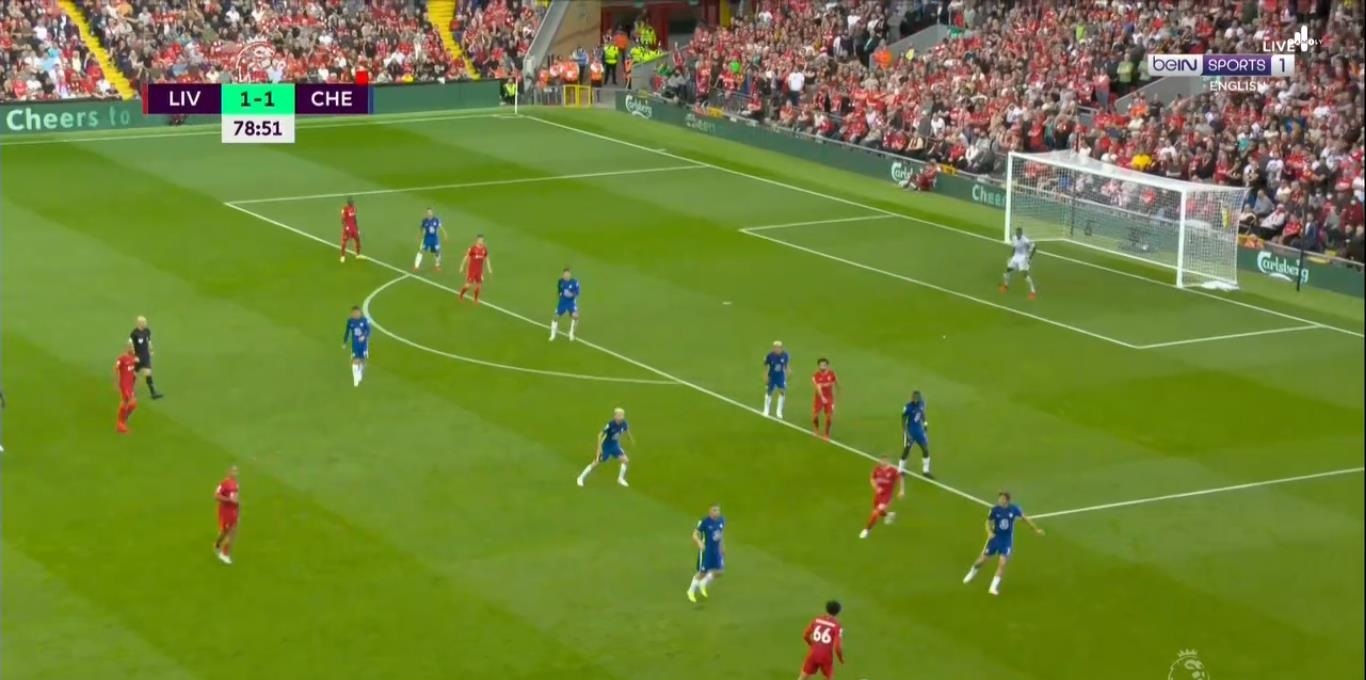 Chelsea went into a 5-3-1 shape and defended fantastically in the 2nd half resisting Liverpool's early pressure. Mateo Kovačić came on for an injured Kanté and Havertz made way for Thiago Silva restoring five at the back. On each occasion I have analysed Chelsea they are always particularly difficult to break down, getting into a back five shape quickly with the CDM's tracking in front.
Chelsea may be the hardest team in the world to play a low block against, mainly because each player is so smart in 1 vs 1s even if they take an extra touch and are in danger of losing it someone is close by to cover. Just like we saw against Liverpool on Saturday Chelsea players are not scared of being pressed and can play through pressure getting the ball to another teammate even with 10 men.
The one occasion Liverpool did catch Chelsea flat-footed in the 2nd half was once again when they used a direct ball to release Salah as Chelsea became more comfortable as the second 45 wore on, as you have to catch Chelsea when they are out of shape and get the ball up to forwards as quickly as possible. 
As for the Van Dijk vs Romelu Lukaku battle, it was a mere anti-climax as Chelsea countered less going down to 10 men just on the stroke of halftime. There were two occasions in the first half where Chelsea broke catching Liverpool in possession in their half where Havertz should've set Lukaku up but because of the red card Chelsea's priority was defence, and they performed to a tee. 
By: Dharnish Sizlak / @DharnishSizlak
Featured Image: @GabFoligno / Chelsea Football Club