Lyon Féminin Wide Play – Attacking Cues
There are very few teams in women's football that have the preeminent history of Olympique Lyon both domestically and in UEFA cup competitions.  Lyon are the most successful club in the history of French D1 Feminine, winning a total of 19 league titles since being introduced as the female counterpart of the club in 2004.  To accompany Lyons's tremendous domestic success, they have also won the UEFA Champions League a record 7 times, winning 5 successive titles from 2016 to 2020.  
With all of Lyon's past success and "dynasty"-like qualities, the 2021 season has seemed to be a year of frustration, with perennial rival PSG knocking them out of the Champions League at the quarter-final stage and snatching 3 points from them on matchweek 9 at the Parc Des Princes.  On top of the results, Lyon also parted ways with their 7-time European champion manager, Jean-Luc Vasseur and appointed Lyon's academy director Sonia Bompastor to lead a new era of Lyon football. Adding insult to injury, PSG are just one point ahead of Lyon in the French D1 league standings.
As a new era unfolds at Olympique Lyon, some aspects still remain the same as Bompastor's philosophy will take time to be digested by the Lyon players before being replicated on matchday.  Nevertheless, Lyon are an impressive side, scoring 70 goals in 20 D1 Feminine matches and only conceding a grand total of 6. 
These impressive numbers are only topped by none other than league rival PSG, who have scored 80 goals and conceded 4. Even with all of the changes the club has gone through, It is apparent that Lyon's attacking style has benefitted the club for a mere decade, but they will need to adjust some components before the weekend if they look to retain their French D1 title against league leaders PSG.  
The majority of this article will focus on Lyon's creation methods when advancing into the attacking 3rd using wide areas of the pitch.  Lyon is especially gifted in these areas with the likes of Delphine Cascarino, Nikita Parris, Ellie Carpenter, Sakina Karchaoui, and Eugénie Le Sommer gracing the touchline who can combine with lethal efficiency.  From the data shown below it is apparent that Lyon are one of the most cross-savvy teams in the league accounting for over 3,800 crosses with 30% accuracy, only behind league leaders PSG.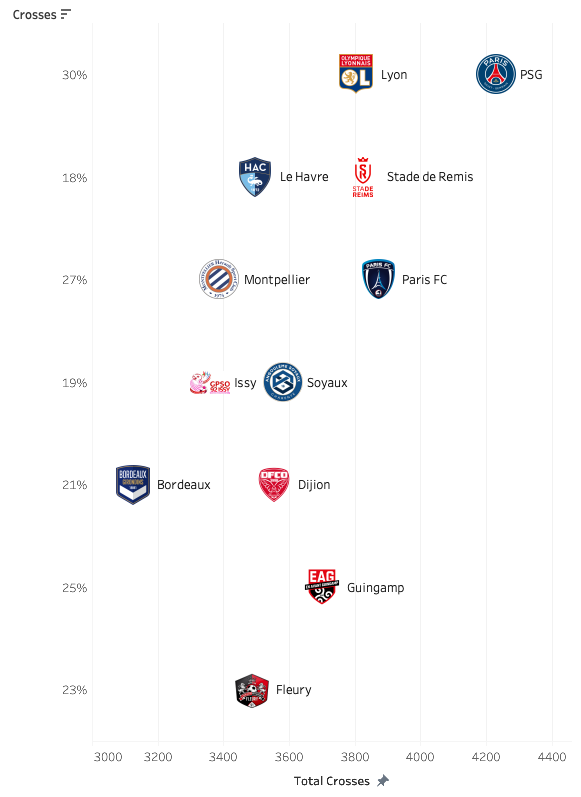 It must be observed that the interchanges and movements reviewed are all trends that have been created over time with a pre-contemplated means of progression into the attacking 3rd. Some attacking sequences will be identical while others will have a slight wrinkle which shows how Lyon's players have the capacity to handle complex in-game situations that need proactive thinking to adjust.  The location, trigger, and moment, will all be evaluated in accordance with Lyon's multitude of attacking patterns in the following discussion.
Formation
Lyon's shape under manager Jean Luc-Vasseur and newly hired Sonia Bompastor, typically consists of a 1-4-3-3 with two attacking central midfielders and one defensive.  This shape is integral to how Lyon's playing structure seeks to exploit wide areas through the manipulation of space higher up the pitch. Parris has been the season's top scorer, but has found it hard to beat out newcomer Catarina Macario's ability to combine in between the lines.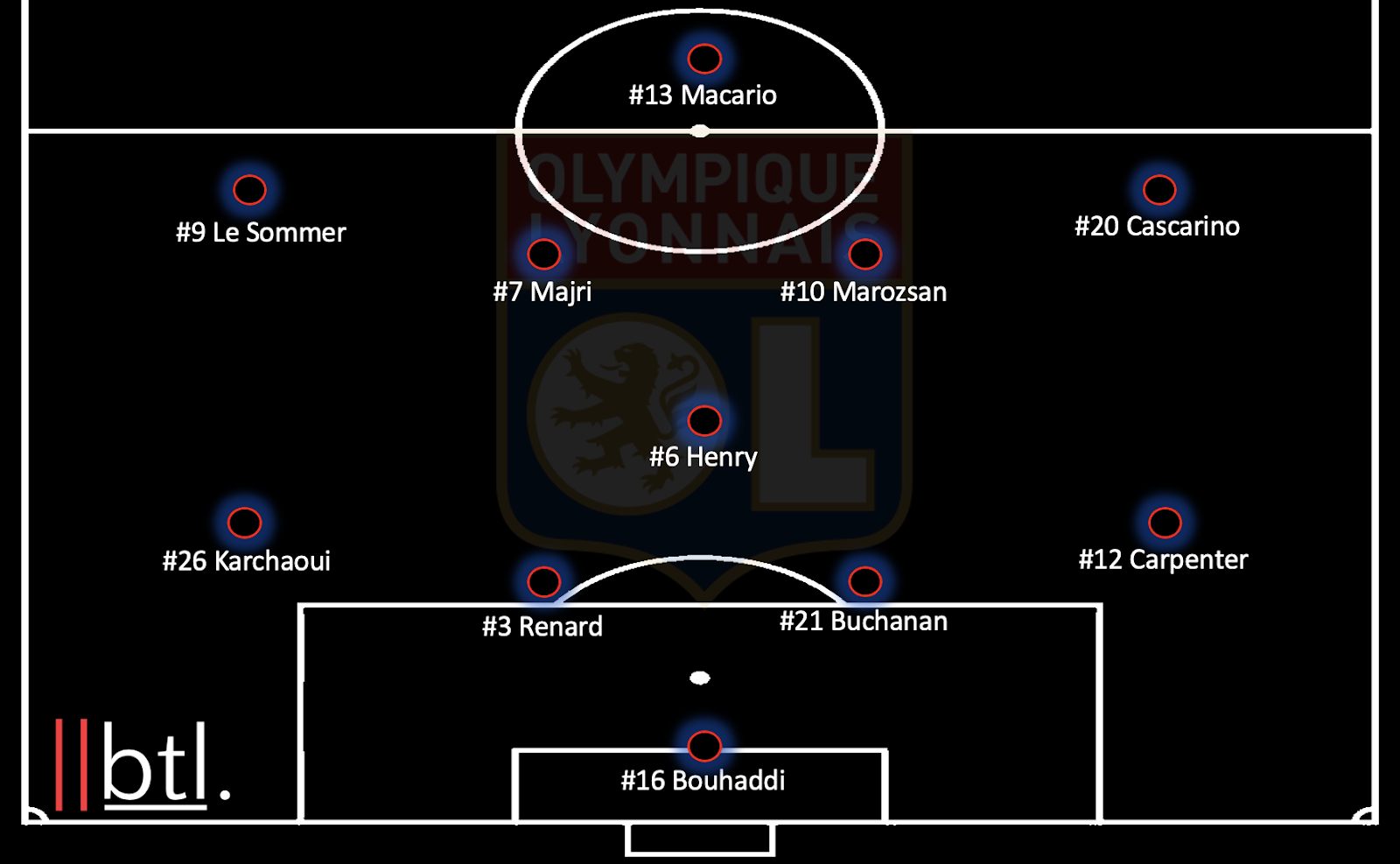 Lyon appear to have taken a leaf out of the books of Chelsea and Manchester City, with the use of positional play, which predominantly consists of having forward players occupy five designated "lines" of space.  These areas consist of two wide channels, two half-space channels, and a single central channel. These spaces are positioned specifically to be in between the opposition's defensive lines of space. 
For instance, the center forward is meant to occupy the space in between the two center backs, the attacking center midfielders are meant to occupy the space in between the center backs and the wing-backs, and finally, the wingers are meant to occupy the wing-backs to make a decision on whether to press them or cover the space that the attacking central midfielders are in.
The center forward acts in the same manner of manipulation as the attacking midfielders do with the wingers and vice-versa.  The image below highlights a brief in-game moment of this strategic positional play. Notice that angles are ever-present and there is depth in between the lines of players both horizontally and vertically.
When in possession, Lyon looks to occupy these spaces in order to "pin" the opposition's backs, generate numerical overloads/1v1's, bait the opposition to move out of a defensive structure, and to create 3rd player runs in behind.  This formation is commonly seen when Lyon progress from their own half and into the attacking third where teams typically look to occupy deep low-blocks to deny any central penetration.  
When in these areas Lyon's CB partnership of Wendie Renard and Kadeisha Buchanan typically provide an entry pass into these spaces which can be disguised as through balls on the ground, long balls over the top, and simply passes to feet. The CDM can also be a facilitator in these positions, as Dzsenifer Marozsán and Amandine Henry typically interchange to come deep along the backline to retain possession of the ball and distribute out wide.  Lyon's predisposed shape allows for width in the first line (CB's, depth in the second line (MIDS), and depth+width in the 3rd line (WING/FWDS).
Progression Orientation
With an understanding of Lyon's basic shape principles, a dive into the various wide patterns of play can now be viewed in the final 3rd. This is focused on how Lyon's wide players are oriented often in separate wing channels that allow them to combine with the use of an angled approach to progression in-between the highlighted vertical and horizontal lines.  
Credit & Source: Wyscout
These areas can be classified as the touchline-space and the inverted-space which consists of both the areas in between the touchline and the edge of the 18-yard box.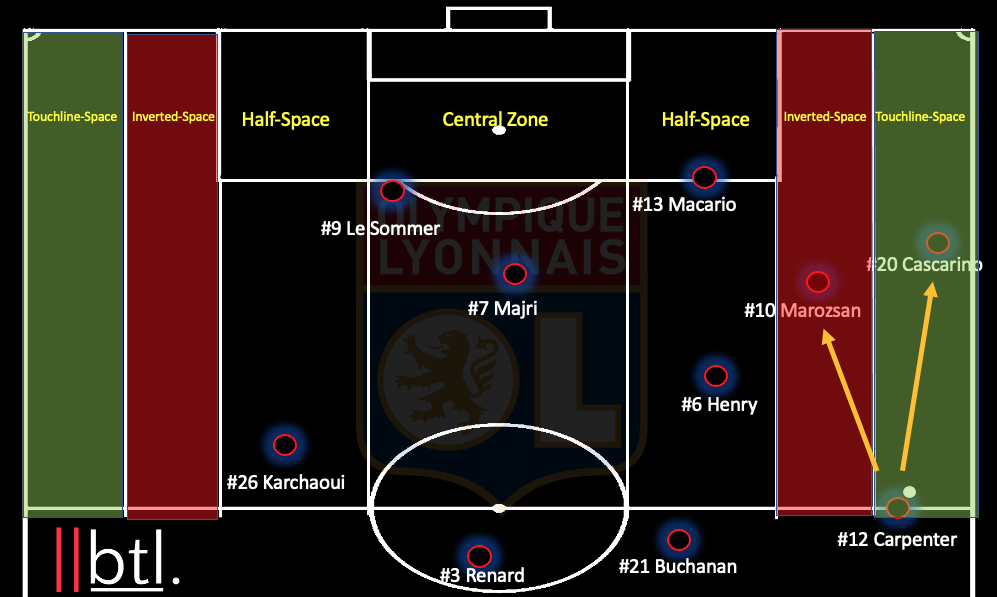 Highlighted in green and red, we can see how typically the outside winger occupies the touchline-space when the wing-back is in possession while the ACM and CF occupy the inverted-space and half-space in more central areas.  This helps players understand where space can be vacated or occupied to create overload or 1v1 scenarios. Players like Cascarino are particularly dangerous in these scenarios so it makes sense that Lyon look to manipulate these spaces.
Credit & Source: Wyscout
Another variation that is commonly seen with Lyon's approach play is a CDM positional interchange with a rolling wingback, which generally pushes the wing-back higher up the pitch into the touchline-space.  This in turn, shifts the winger into the inverted-space and the ACM/CF to be in the half-space but on different horizontal lines than the forward.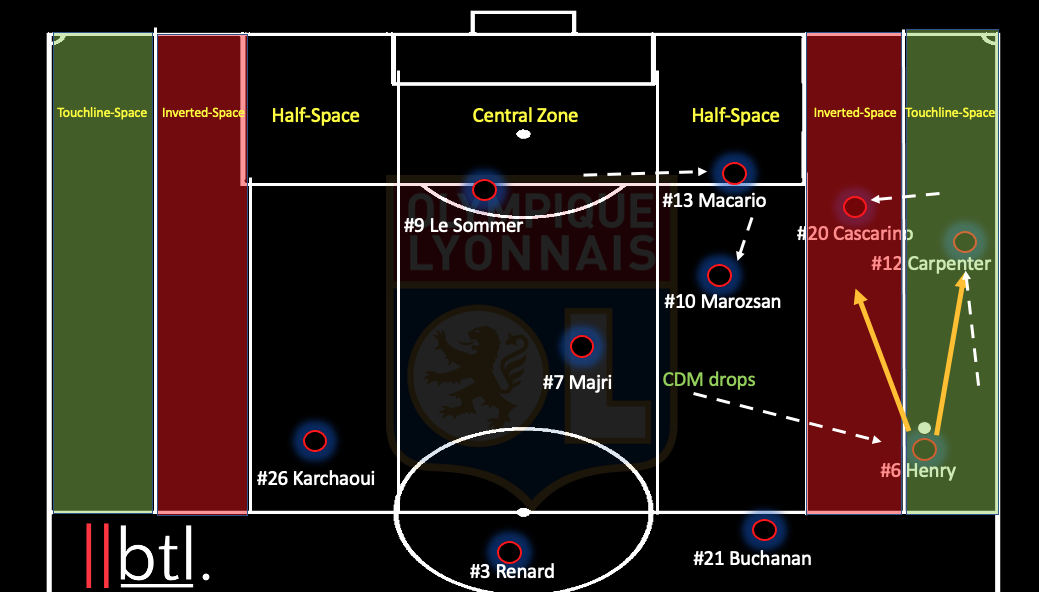 This not only provides added passing options, but also occupies space that defenders must now overshift towards in wide areas of the pitch.  The basic principle can be outlined in the animations-showcasing the trigger when a winger becomes inverted or shifts towards the touchline, the wing-back and ACM/FWD must do the opposite to provide structure to the wide build-up.
An example of positional play in relation to the wing-back in possession.
An example of positional play when the winger is in possession.
Finally, an example of positional play when the CDM is in possession. When in these positions, it allows Lyon to develop 1v1, 2v1, and 3v2 scenarios that highlight the technical abilities of Cascarino, Carpenter, Le Sommer, and Karchaoui.  
Wing Back/Winger Utilization
Lyon's most basic progression scheme typically consists of the utilization of high positioned wing-backs who are a focal point of attacking play in Lyon's adapted 4-3-3 shape. Ellie Carpenter and Sakina Krchaoui are both very technically adept attacking playmakers that also have an appetite to get forward with the use of overlapping and underlapping runs through their wing counterparts.
These movements are particularly advantageous due to the wing-backs ability to generate an overload scenario, see them play in front of themselves, and also build up a great deal of momentum going forward, which is typically hard for a static defender to cope with when facing ball side.
Overlap:
Perhaps the most common movement that is used to penetrate the opposition out wide, is the overlapping run.  This movement is largely dependent on the orientation of where Lyon's progression is being made as a unit and how well the winger "pins" the opposition defenders' space.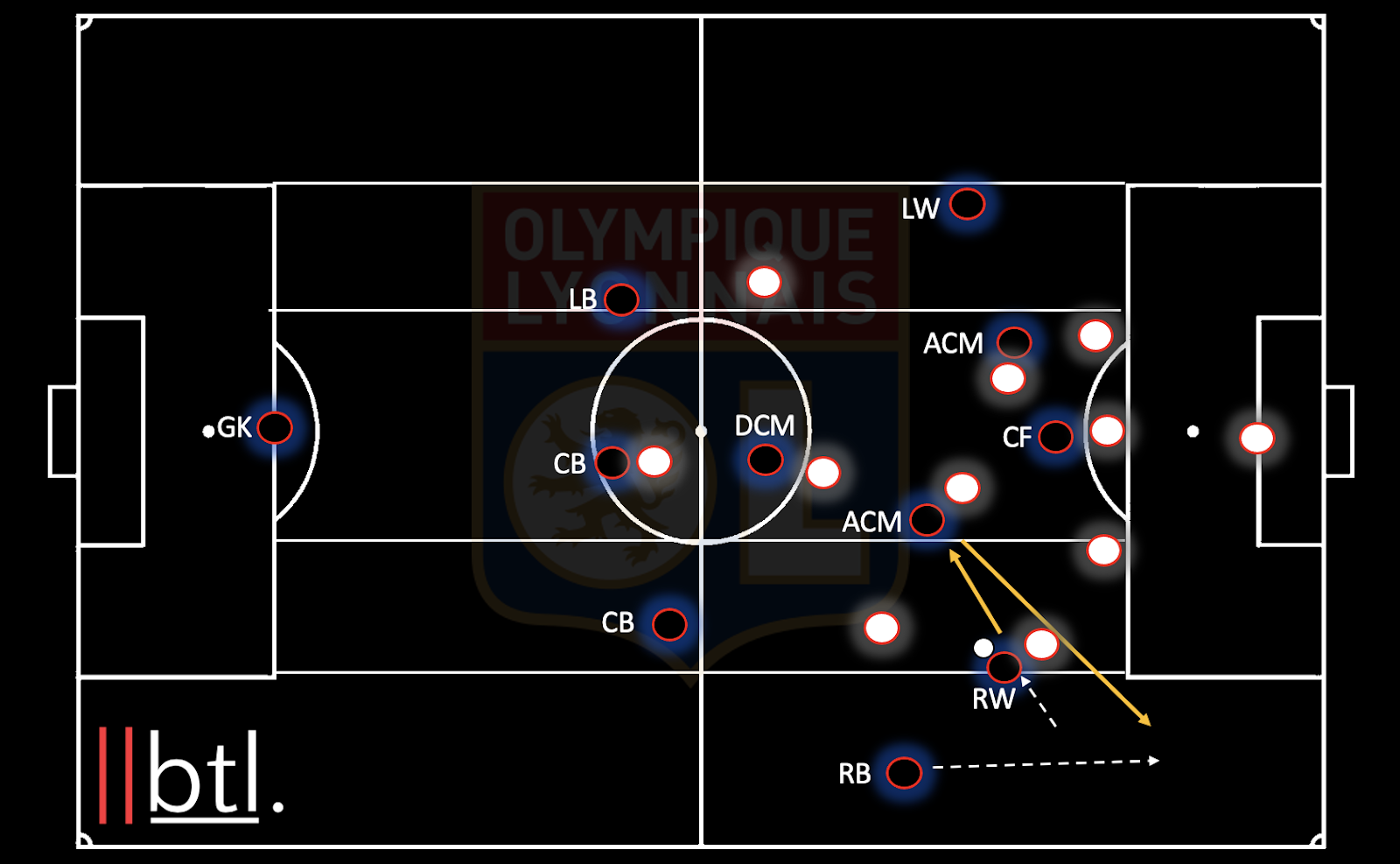 Generally, the wing players who are located directly in front of the wing-backs must drag the opposing marker centrally (typically a LB or RB) in order to create space for the overlapping wing back to run into.  Along with this movement, a central option must be available to generate a baited pass that has an advantageous angle to play the overlapping wing back into space. These outlets usually consist of center forwards and midfielders that help draw defenders back into central positions which conversely masquerade space out wide to play into. 
Credit & Source: Wyscout
A key component of the overlap is the timing of the run and how well the higher positioned winger can move the opposing defender (typically wing back) to create space.  When Lyon have possession in the opponent's half, this timing becomes more important as there is less space in behind to exploit.  It is paramount that players like Cascarino and Le Sommer utilize their technical ability to "pin" the overloaded wide player with added touches towards central areas to create a dynamic moment for the wing-backs like Carpenter and Karchaoui to overlap.
Underlap
Similar to the overlapping movement mentioned previously, is the concept of the underlap.  This movement is utilized well by Lyon's wing-backs which do an excellent job of positioning themselves in relation to where their wing partner is located higher up the pitch in correlation with the attacking central midfielders.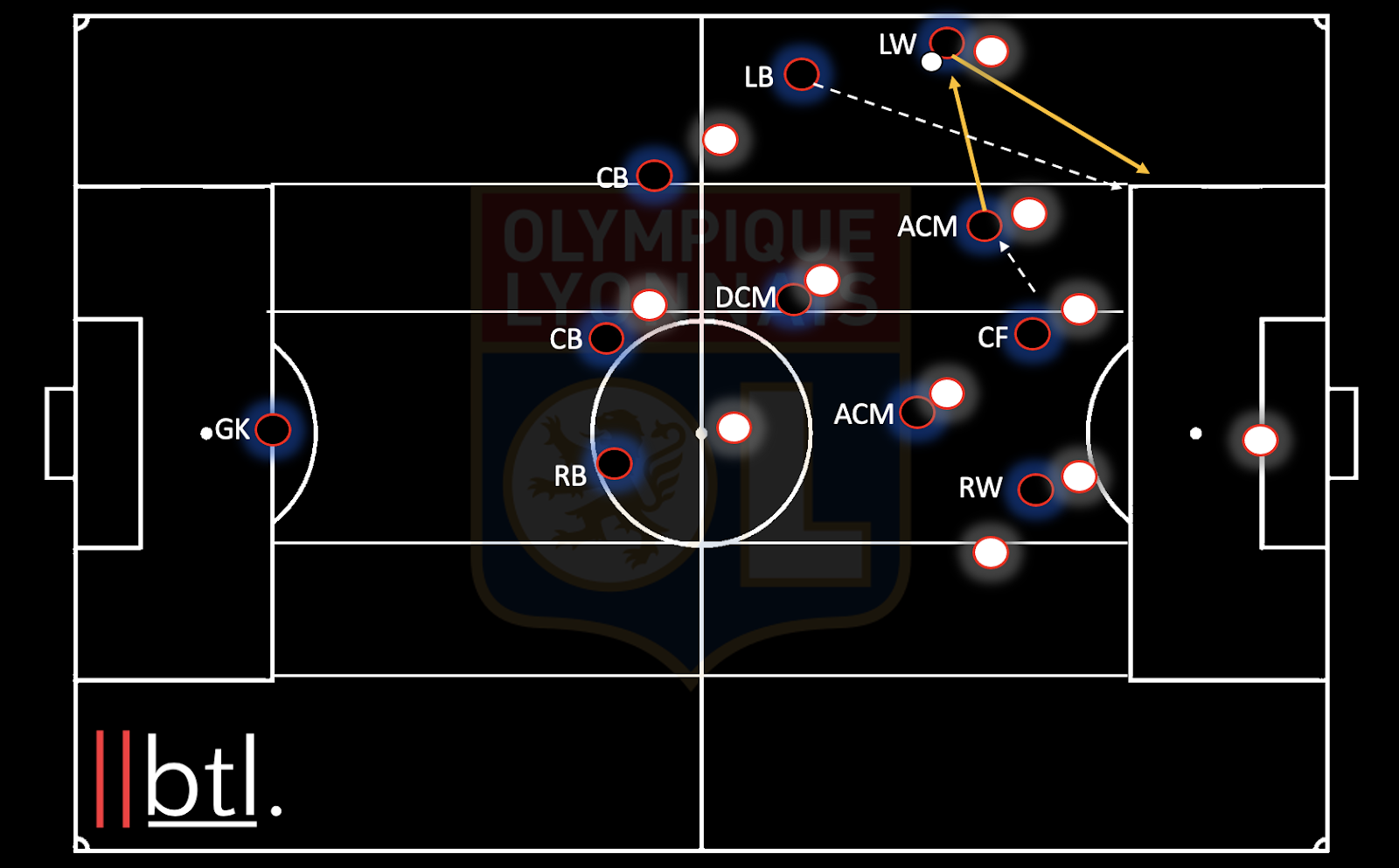 This dynamic movement consists of a run being generated from an attacking wing-back position (preferably in the opponent's half) and ending inside the half-spaces of the opponent's 18yd box or final third. This run generally exploits the opposition's midfielder and center backs as they are typically forced to either follow the player's run, or pass them on to a covering teammate.
When executed at pace, this dynamic movement is hard for defensive structures to cover as they must adjust to cover space early rather than following the 3rd player running in behind, as they have momentum going forward that is hard to combat.
Credit & Source: Wyscout
In order for the underlap to be effective the attacking midfielder must drag the defensive lying midfielder with them in order to create space for the underlapping wing back to run into. The overall objective of the underlap is to attack the half-space in between the center backs and wing backs of the opposition through the manipulation of numbers and space in wide channels.
One-Two
The classic "give and go" progression method is commonplace across a wide array of traditional attacking principles in the modern game.  Lyon utilizes this combination in wide areas to manipulate the qualitative abilities of certain individual players.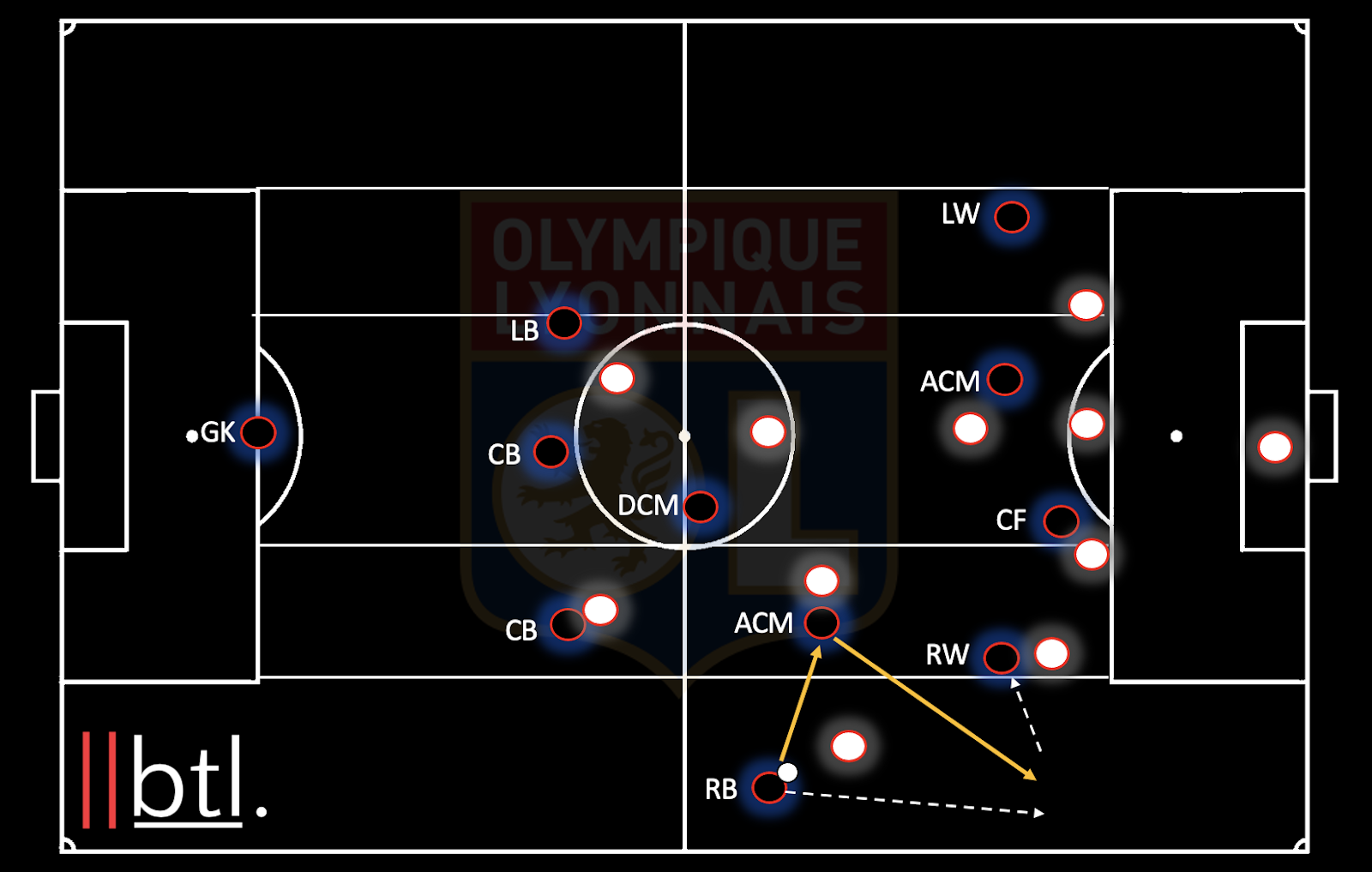 This method is particularly effective with players who have adept technical abilities and pace to get beyond markers in 1v1 situations, players that fit into this particular mold include the likes of Cascarino, Macario, and Carpenter.
Lyon's center forwards and attacking midfielders must also aid in the creation of space by occupying the opposition's backline to prevent any defensive overloads in the wide areas.  This positioning is still structured across the 5 vertical lines which occupy defenders in half-spaces as well as serving as positional cues to play forward with angles. 
Credit & Source: Wyscout
The use of the touchline-space and inverted-space can help create reference points to where players can position themselves to create an effective one-two moment.  These horizontal and vertical axes help provide cues for "counter-movements" to be made when wingers and wing backs essentially trade spaces in order to pull out defenders- a similar scenario is present in both the overlap and underlapping moments mentioned previously.
#6 Positioning
A unique tactical concept that previous manager Jean-Luc Vasseur implemented over the years from playing against various tough-to-beat low-block shapes is the integration of the defensive central midfielder in wide, playmaking positions.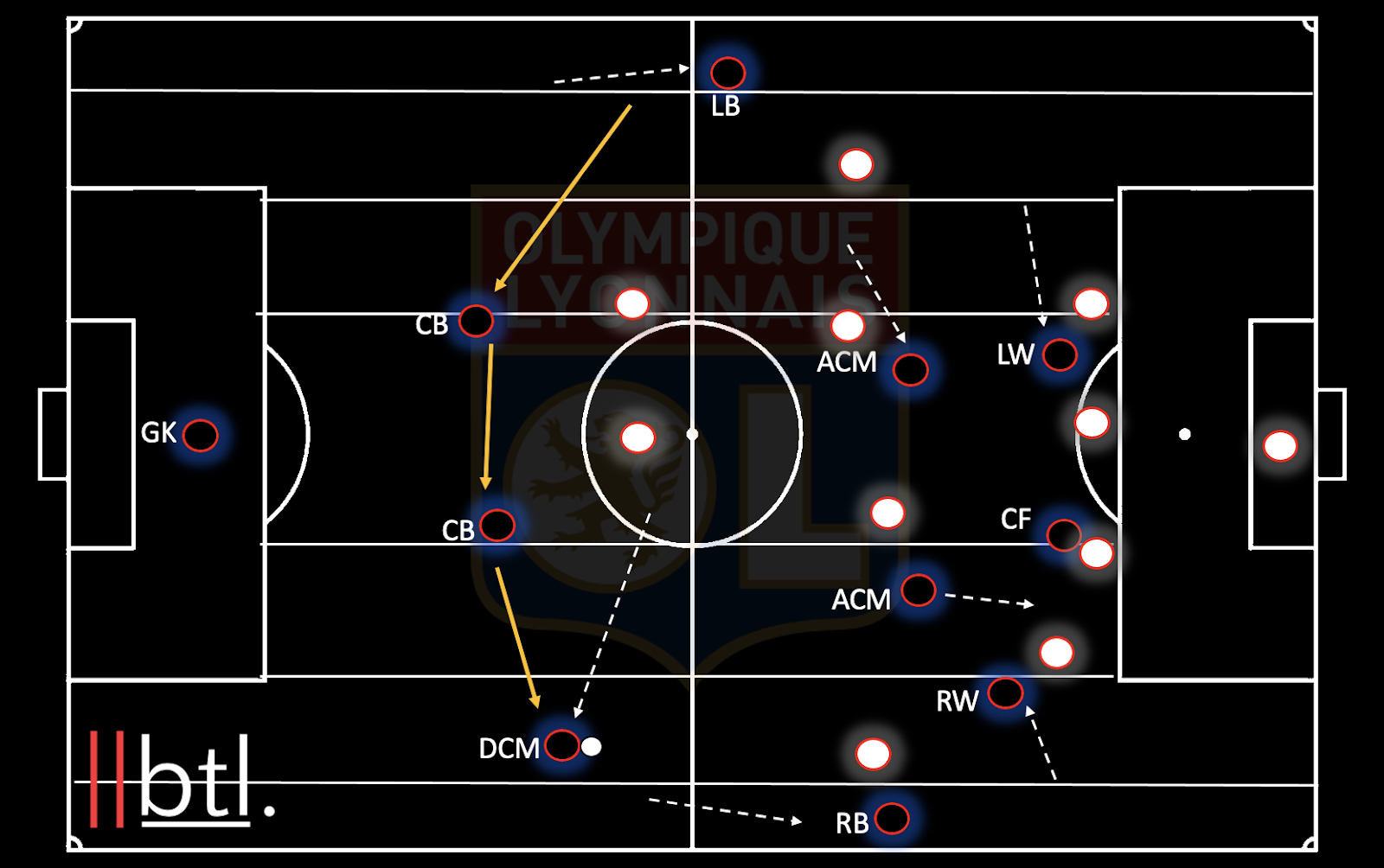 This tactic is used to create positional overloads in wide areas which pushes the wing back into higher attacking positions on the touchline along with the attacking center midfielders, strikers, and wingers.  Typically Marozsan or Henry drop into this deep area of the park when the point of attack is being changed, allowing them to play-make from deeper positions while also overloading one side of the pitch. 
Credit & Source: Wyscout
Once this action is made, a makeshift back 3 consisting of the 2 centre backs and the dropping central midfielder can now free up wide players to advance forward into the wide vertical channels.  From here spatial manipulation can be created with a variety of combinations that involve 3rd man runs into the wide areas from any of the other variations of play mentioned previously. 
Ball Over the Top
The final tactic that Lyon utilizes to bypass defensive structures is the ability to hit long balls over the top.  This is not seen as often as the more intricate combination play mentioned above but Renard, Henry, and Buchanan all have a great range of passing that can reach wide players in the channel.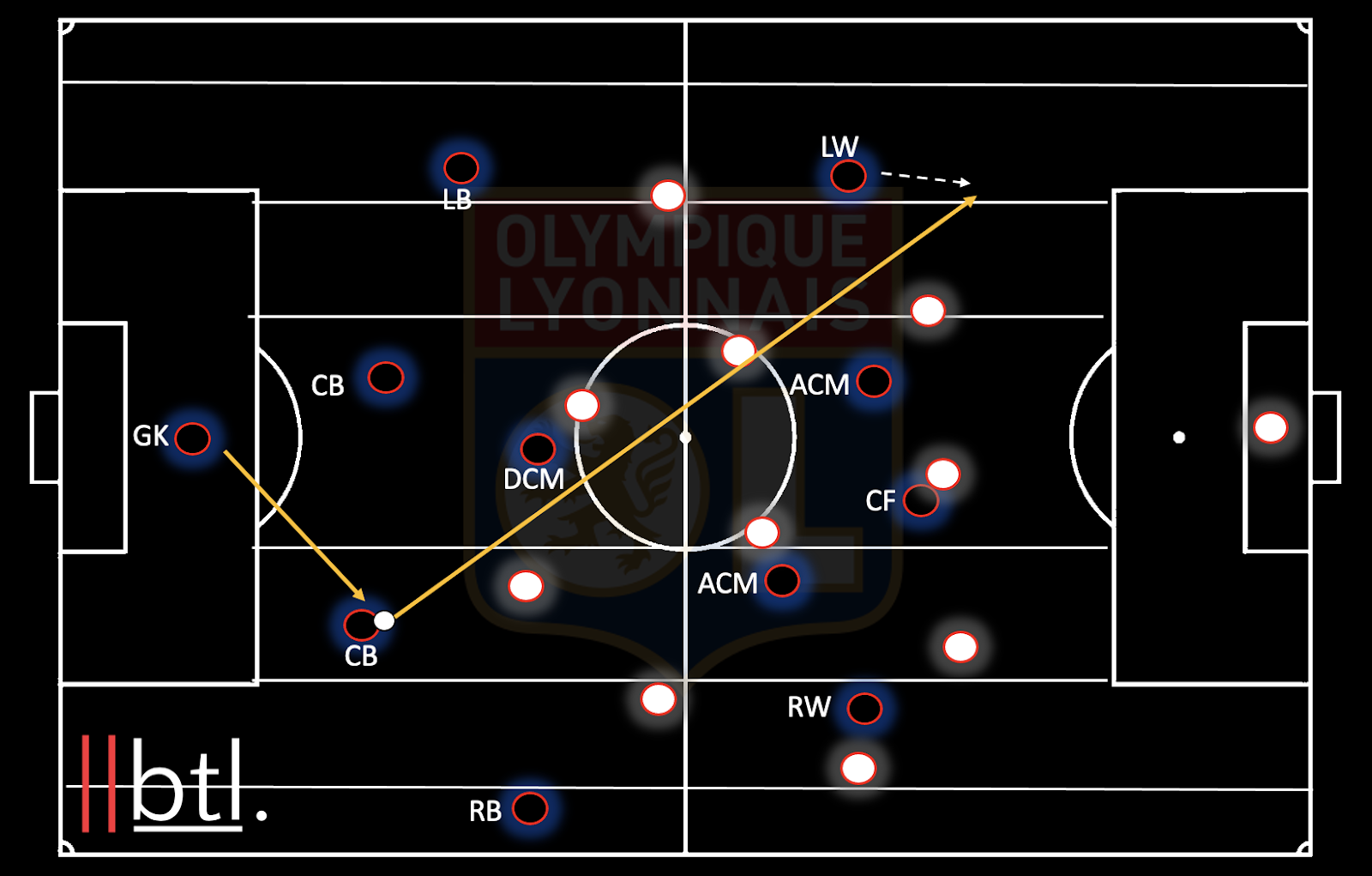 Perhaps a reason that this method of approach play is not seen as often as the others is that opponents choose to typically sit deep and cover spaces in behind rather than initially giving Lyon space to run into.  Nevertheless, Lyon look to play long diagonal passes into these areas with the likes of Cascarino and Le Sommer making diagonal runs across the face of back lines when present. Lyon only typically go long when they are building from their own half, as space is available behind the opposition only when they press into Lyon's building half.  
Credit & Source: Wyscout
The attacking midfielders and strikers must remain disciplined on where they position themselves in relation to the 5 vertical lines of position play, as they can create numerical overloads by attracting a wing-back to pressure them into the half spaces-leaving the wingers open to play in behind.
Improvements
In order for Lyon to remain French D1 League champions they will need to beat PSG at the weekend who have only conceded an astonishingly low 4 goals in the league so far this season.  For a squad as highly talented as Lyon, this will be a test nonetheless but they are capable of creating goals against this PSG side that may be feeling late-season pressure.
Statistically, Lyon and PSG are close in terms of chance conversion rate percentage and entrances into the final 3rd with Lyon producing a 35% conversion rate and entering the final 3rd 1,596 times, while PSG produced a 34% conversion rate and entered the final 3rd a total of 1,691 times- only 95 times more than Lyon.  This shows just how close both teams are in terms of offensive output. It will come down to the small details that will separate the two, with Lyon looking to improve their wide play manipulation.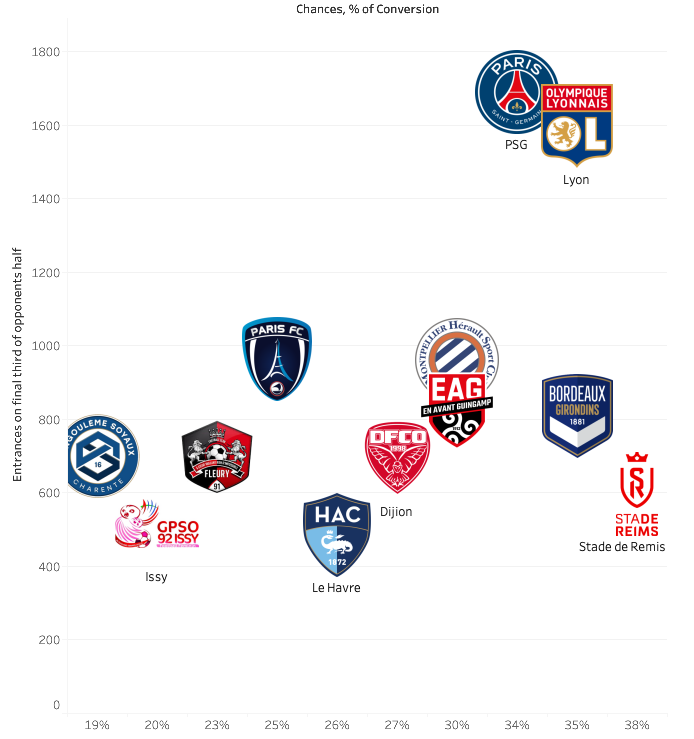 If Lyon look to improve their build-up play with the DCM, they could create multiple overload opportunities that favor Cascarino, Macario, Carpenter, and Le Sommer.  
Credit & Source: Wyscout
Once decision-making and speed of play are improved with the use of the extra pivot player out wide, then they may have more chances at PSG's robust backline.  Paris FC had perhaps the most success in League D1 when it came to scoring against PSG- scoring a total of 3 times on their league rivals.  Here we can see how quickly Paris FC countered in wide areas, which Lyon should look to do as often as possible in transition moments.  
Lastly, Lyon can look to improve their quality of positioning in the wide areas, with special detail focused on vertical positioning.  The creation of the touchline space and inverted space can help designate areas where players can understand what their roles are in each particular zone.
Understanding when and where a player is occupying a zone and vacating a zone can help determine movements that Lyon have already seemed to train.   These pre-determined movements can be taught further with a visual of these spaces being trained in each particular progression scenario (i.e. overlap, underlap, one-two, CDM overload, etc.).  
Credit & Source: Wyscout
This may help limit the confusion of space much like the examples shown above where the movement is there to be made but it is the execution and miscommunication that typically fails the patterned movement in relation to the opposition's adjustments.  
Conclusion
To conclude, it is apparent that Lyon has a wide array of pre-determined attacking movements that elicit certain traits in wide areas.  It will be interesting to see how Sonia Bompastor handles these traits and if she will look to improve these aspects or to restructure the teams playing philosophy from the ground up in the near future. Lyon's wide players have a truly unique relationship with one another that is brilliant to see when they are in sync. 
After winning the past 14 league titles, Lyon could be set for their first trophyless season since 2005. Having drawn 0-0 to Lyon last Sunday, PSG can seal their first-ever Division 1 Féminine title with a win against Dijon tomorrow; Les Gones, on the other hand, need nothing short of a miracle to continue their historic dynasty in French football.
By: Kyle Emerick
Featured Image: @GabFoligno / Romain Biard – Icon Sport