Manchester United's Slight Tweak in Build-up Structure and Its Ripple Effects
Injuries to Lisandro Martinez and Raphael Varane have meant Erik ten Hag has had to adjust his tactics in getting to the end of the season. Coupled with injuries, Manchester United have had a relentless schedule to combat and have clearly looked exhausted as the season draws to a close. At times, despite the clear success Ten Hag has had this season, it does feel as though the Dutchman doesn't have everything he needs nor the way he wants just yet for this United team.
Martinez is by far United's best progressor of the ball centrally from defence but with him out and David de Gea's obvious deficiencies at passing out from the back, United have relinquished control of games at times as they develop into chaos (West Ham, Tottenham). You can see how crucial the return of the calm head in Christian Eriksen is to this team. In order to perhaps sustain attacks and gain more control, Ten Hag has tactically tweaked a few things this year. But the causal effect in football is always fascinating to see especially when the Dutchman is so early into his reign as Manchester United boss. Change a small cog in the machine and it runs differently.
Normally throughout the season, United have built up in a 3-1 structure, allowing the '6' to pin opposition defences back and leaving gaps wide for a wide winger or fullback to exploit. Against Bournemouth, the structure was more of a 4-2.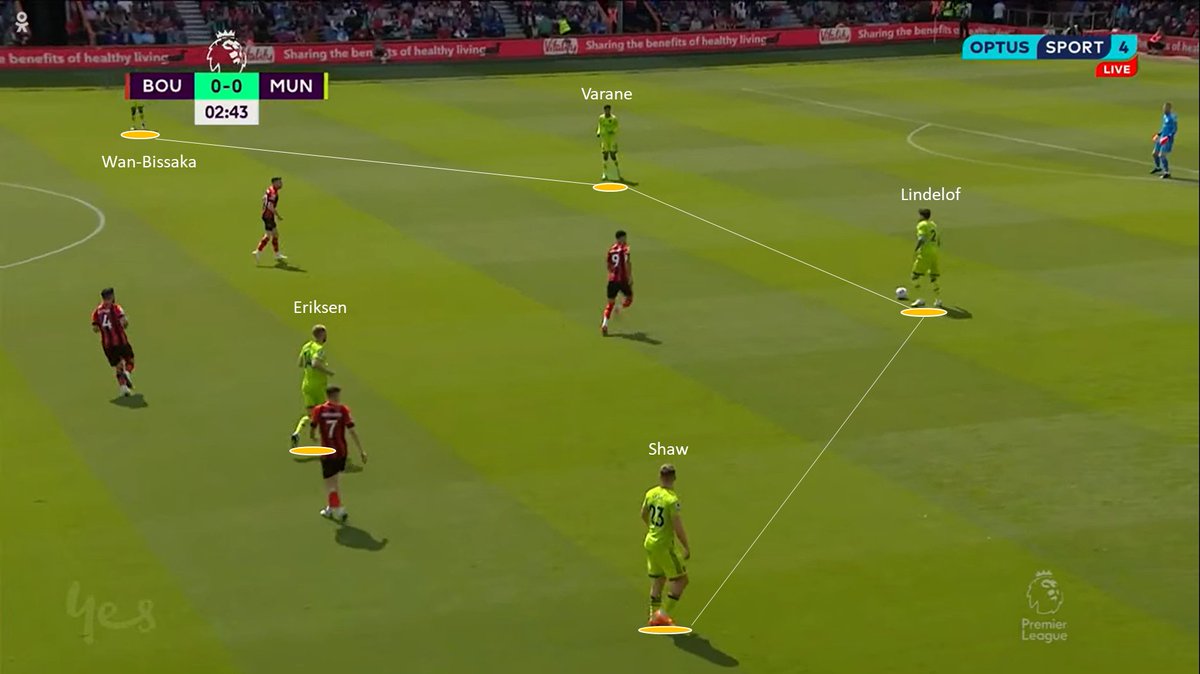 It isn't exactly what Ten Hag wants to be doing long term but it feels like the thing he wants to do now is to gain a little more control in the first phase of build-up. We may see a change in the summer depending on Ten Hag having more time with this Manchester United team and recruitment. There are more players in close proximity closer to their own goal therefore more passing options. Ten Hag has pointed out the build-up play specifically in the media previously as something United need to work on, with their best defensive progressor out and having to adapt to David De Gea's passing all season, more bodies in their own half gives the ball a little more security but crucially more easy passing options.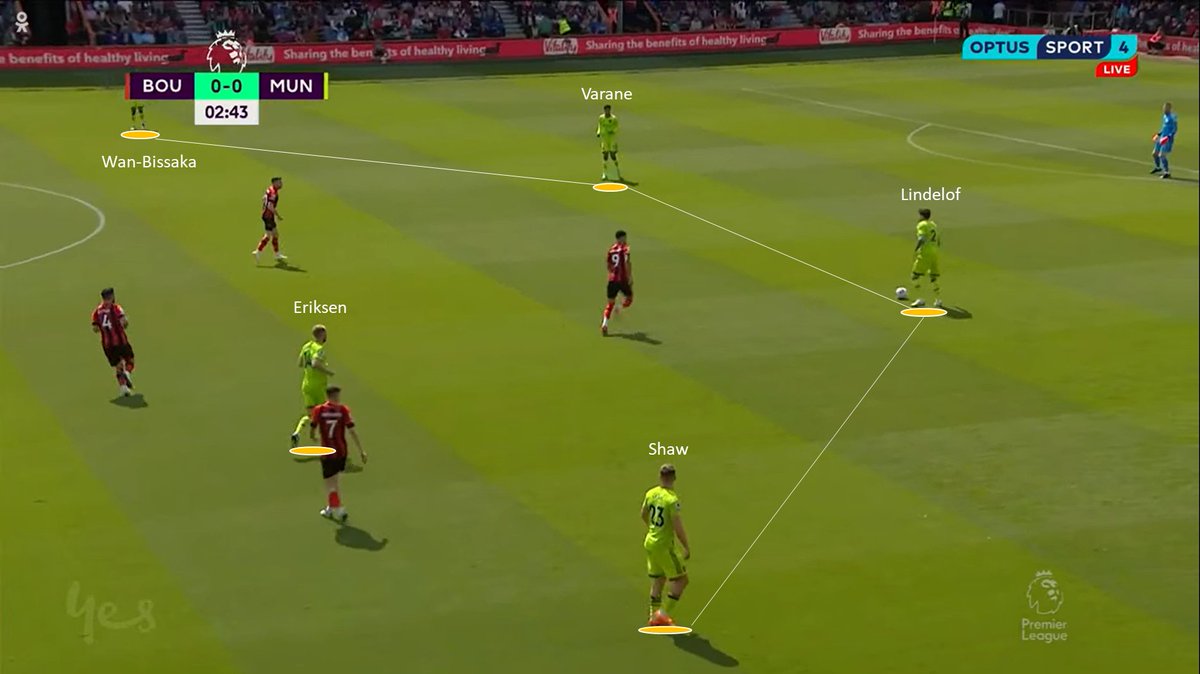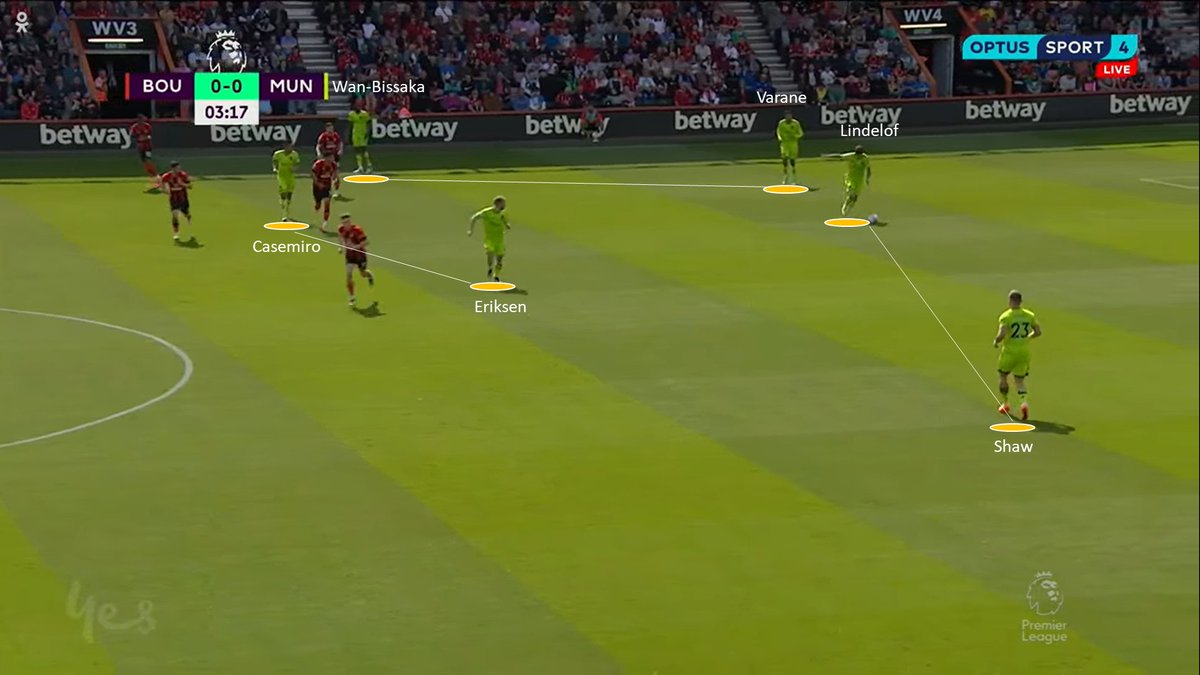 Eriksen's position in this regard is interesting, as he roams around simply being the most available, short man to pass to. Rather than the move slowing down Eriksen takes the ball and keeps it ticking.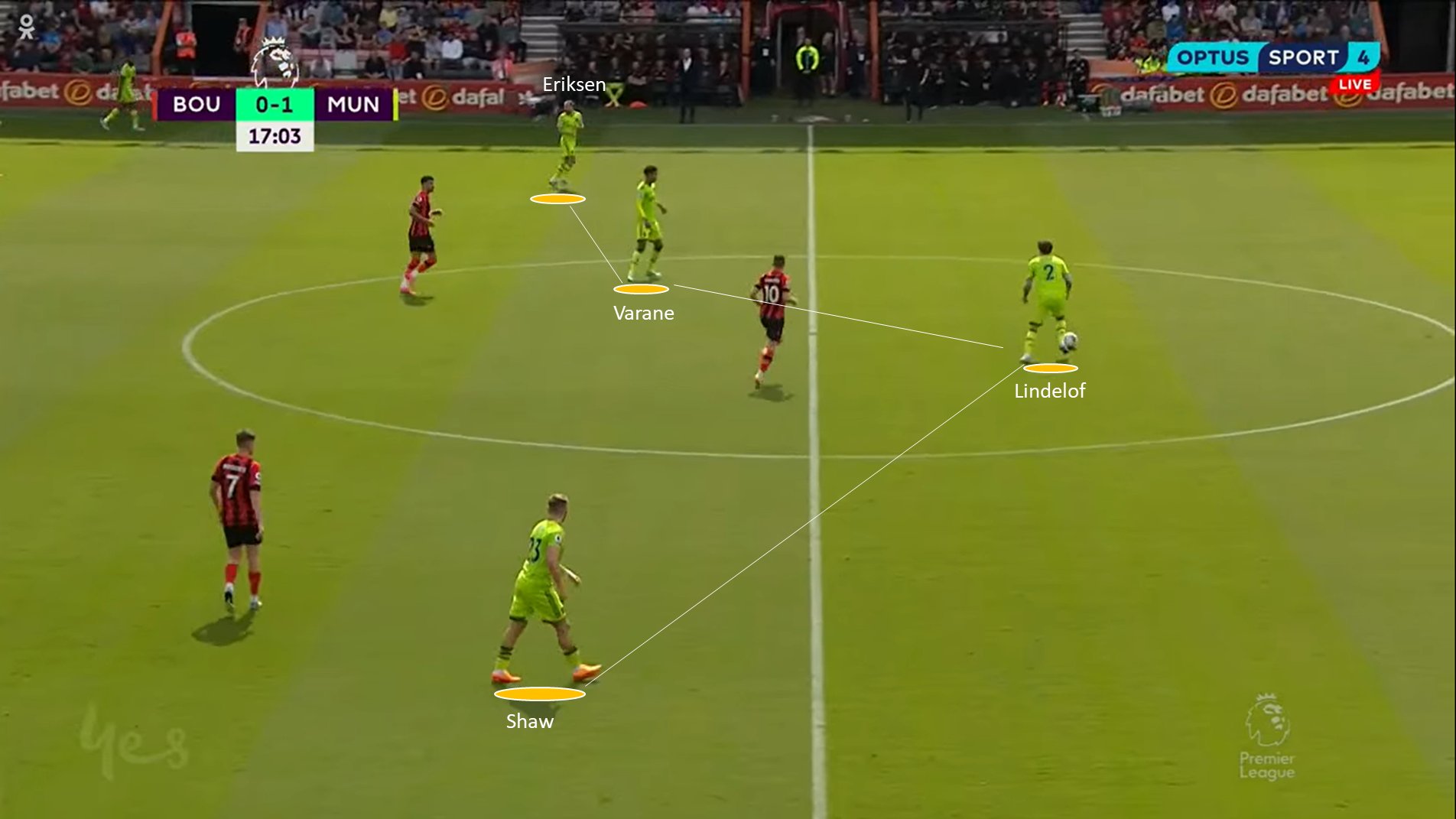 With this decision though, United do lose an extra man in their attacking 'six' in the 3-1-6 shape. Normally Casemiro or Eriksen interchange as the midfielder deepest receiving from the defence as the '1'. With the full-backs short as well it's harder to manipulate space on the wings using a defender and winger to invert and underlap, a key component of what has worked well when United have had more of the ball this season under Erik ten Hag.
We can use the game against Bournemouth as a salient strength of what United have found success with. United have been better at sustaining attacks against lower opposition this season, but you'd think over time he wouldn't need to chop and change to sustain attacks and would want to maintain this control over most opponents longer term.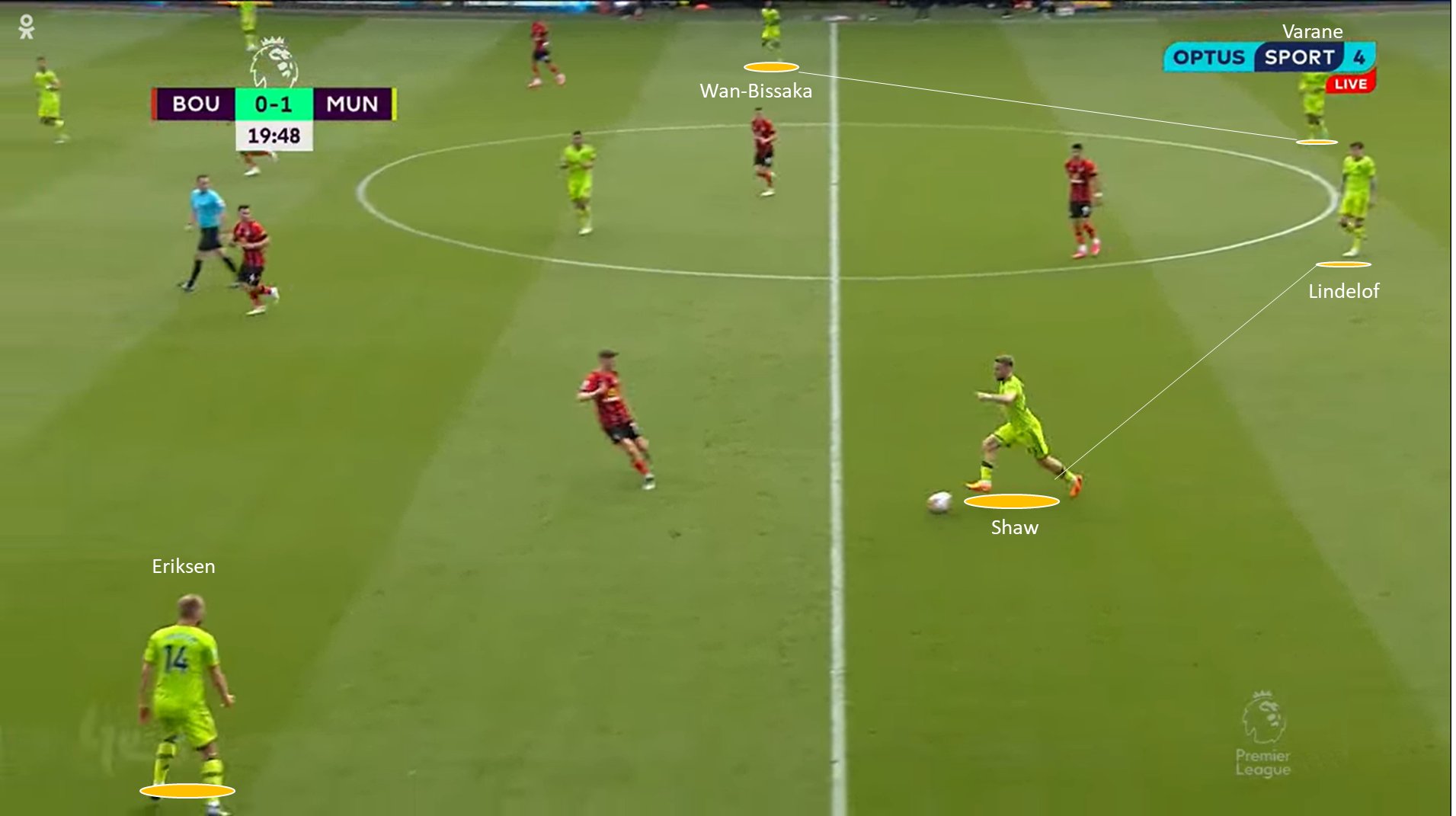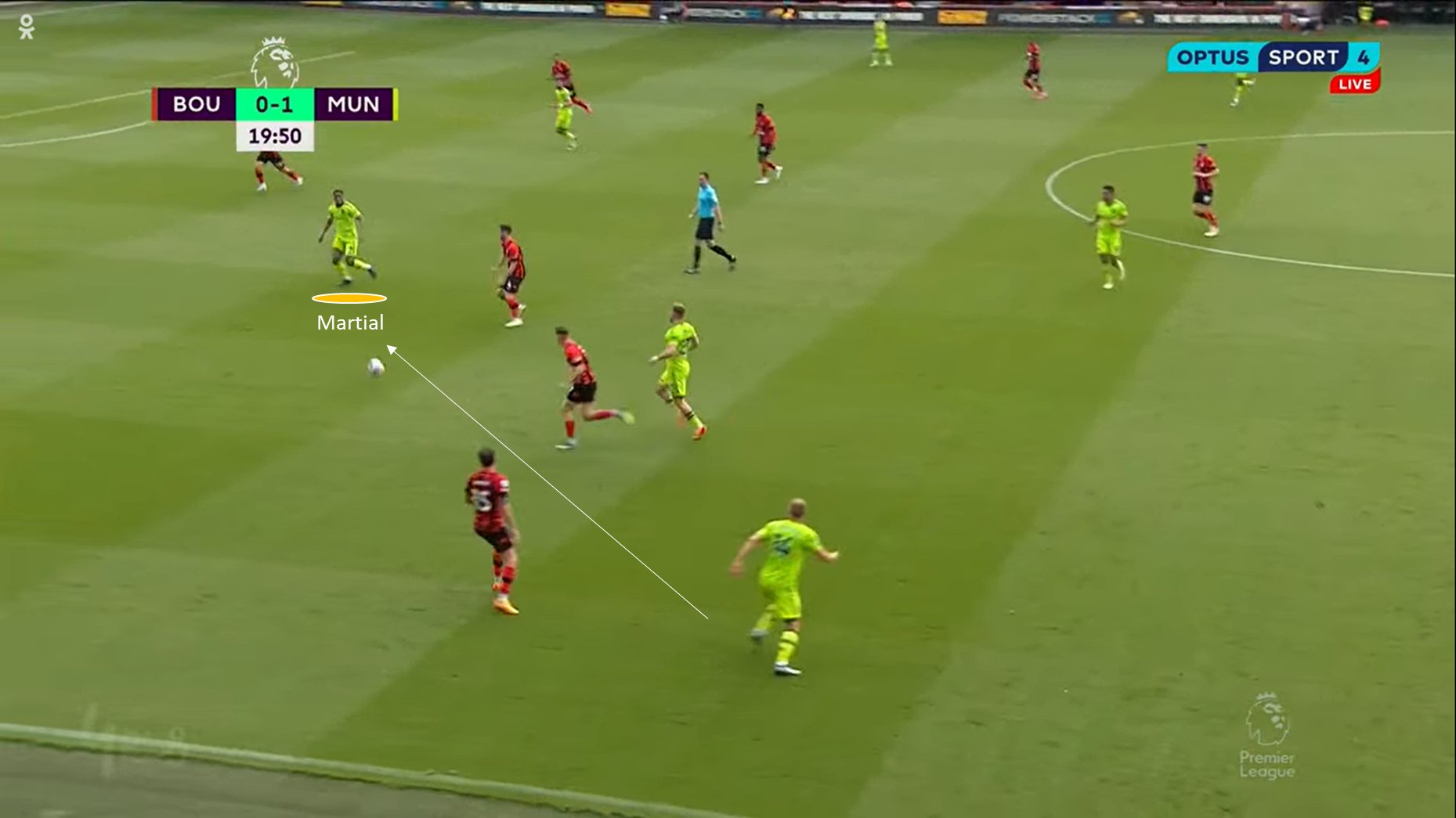 In the situation above, we can see the benefits of the 4-1/4-1 buildup, with Eriksen as the safest option to progress the ball, and Martial picking the ball up in the half-space in the gap between the full-back (who was drawn to Shaw) and the centre-back. The problem with this build-up structure however is that whilst the wing that Antony occupies is functioning how a typical Ten Hag winger does and operating the sequences correctly (interchanging with a full-back staying wide and inverting to manipulate space) the other flank is suffering with a full-back (Shaw) deeper in build-up. In a successful season, Ten Hag's tinkering is to be applauded. Whenever the Dutchman hasn't liked something he's tinkered but it does affect the overall output of Manchester United.
By: Dharnish Iqbal / @dharnishiqbal
Featured Image: @GabFoligno / Soccrates Images – Getty Images