Manchester United's Struggles in Set-Pieces
On January 6, Manchester City eliminated Manchester United from the EFL Cup semi-finals, taking a 2-0 victory at Old Trafford via two goals from set-pieces which were converted by John Stones and Fernandinho, and booking their ticket for the Final at Wembley against Tottenham Hotspur. Three weeks later, Manchester United lost at home to bottom-dwellers Sheffield United, with Kean Bryan opening the scoring for the Blades via a set-piece goal.
After previously topping the table, the second-placed Red Devils now trail their crosstown rivals by one point, with Pep Guardiola's side having a game in hand. It is clear that, if United are to win their first league title in eight years, they must fix their Achilles heel: defending set-pieces. Indeed, 29% of the goals that Ole Gunnar Solskjaer's side have conceded this season have come from set-piece situations.
Firstly, let's take a look at the set-up. United use a mix of zonal and man-marking, with the striker and the advanced midfielder remaining at the near post. Sometimes, there is an extra man when both Anthony Martial and Edinson Cavani are playing, as seen in the below examples against Paris Saint-Germain, West Ham, and Southampton.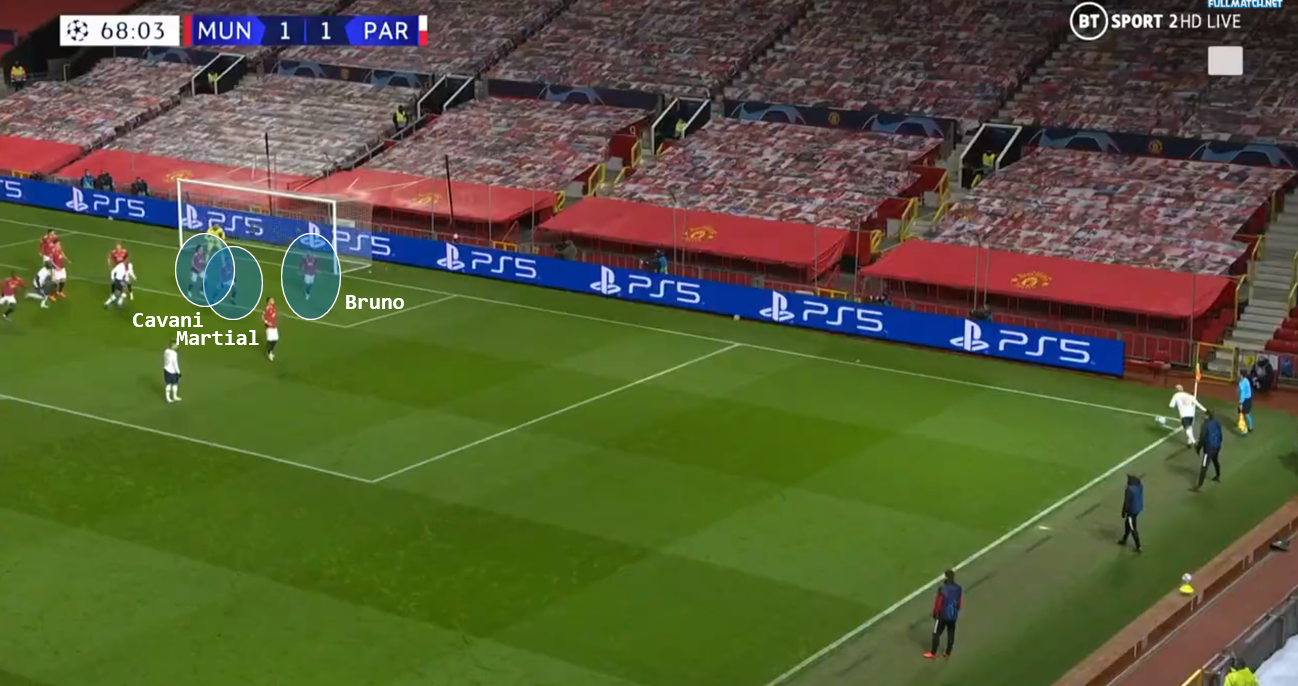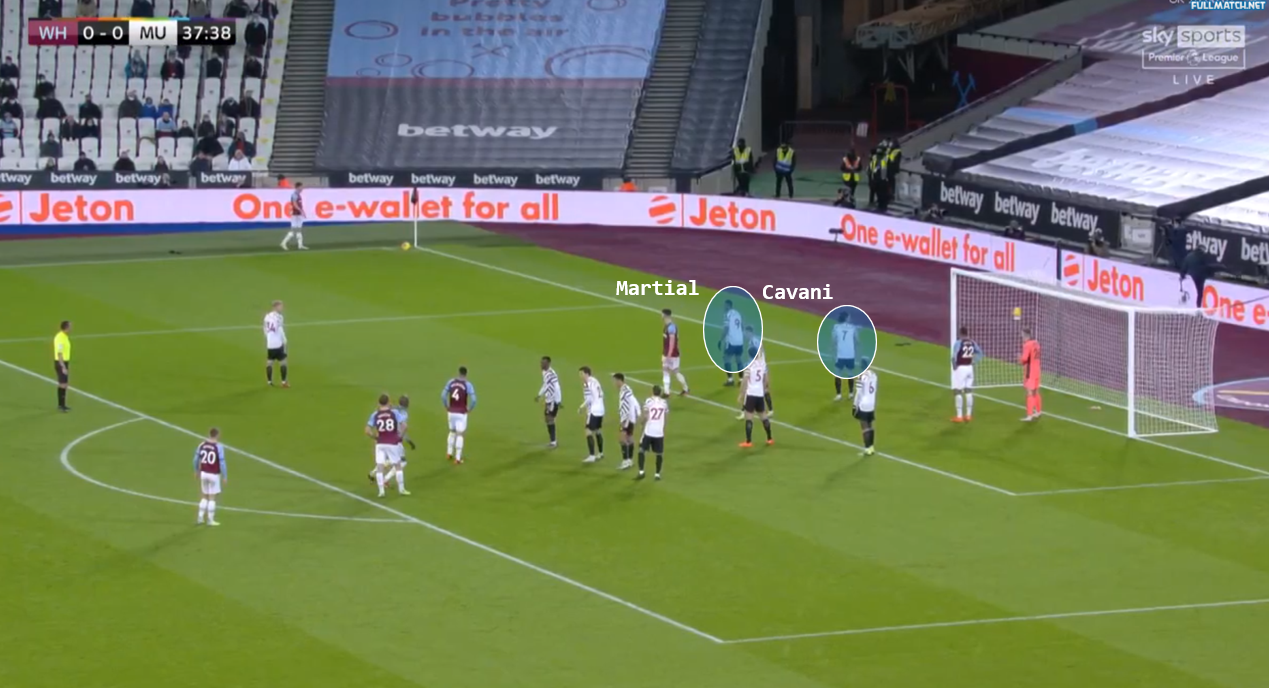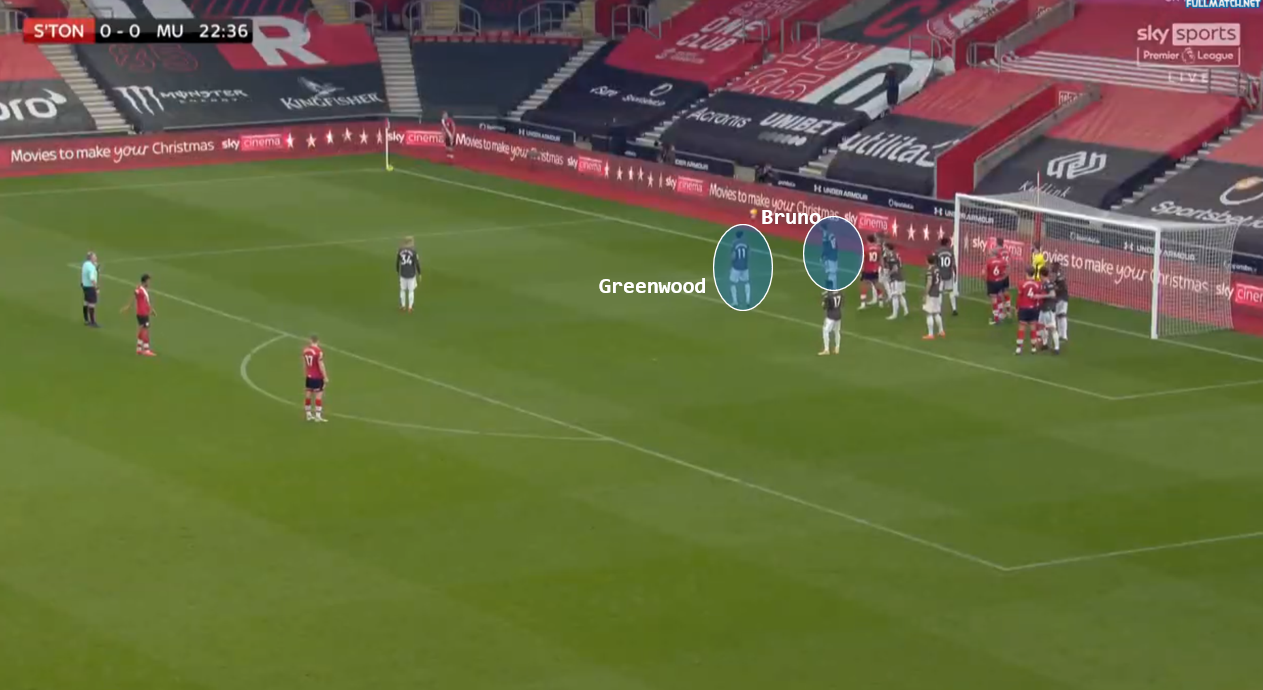 Whilst there are some benefits of having two players at the near post, this set-up can cost United dearly. The thinking behind this is that the first man will inevitably be beaten by the set-piece taker so there is no need for a player over 6 feet (i.e. Cavani or Luke Shaw) instead of Martial or Bruno Fernandes. This is seen below with Martial failing to jump high enough to make contact on the ball.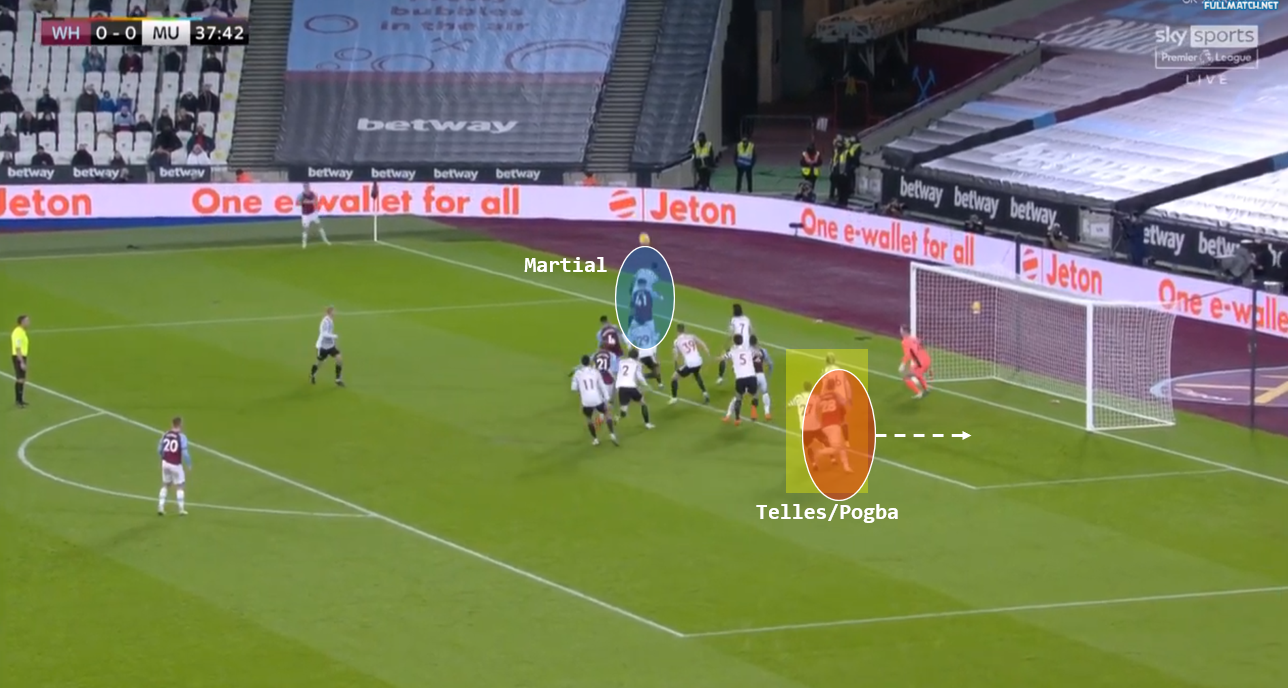 When you use zonal-marking, you need one of your three tallest players to be in the middle of the 6-yard box and one at the back post. You generally need one at the near post as well, but United instead decided to have two of their tallest players in the middle instead. When you add Victor Lindelöf to both Scott McTominay and Harry Maguire already in the middle, you can question why one of McTominay or Lindelöf isn't at the near post preventing the threat.
You might now tell me that zonal-marking is the issue, but most teams are now using a mix of zonal and man-marking, like United. Nearly two decades ago, Rafa Benítez's Liverpool gained plenty of notoriety for using zonal marking when defending corners as opposed to the traditional man-marking, but in the majority of cases, zonal marking proved to be more efficient than the conventional set-up.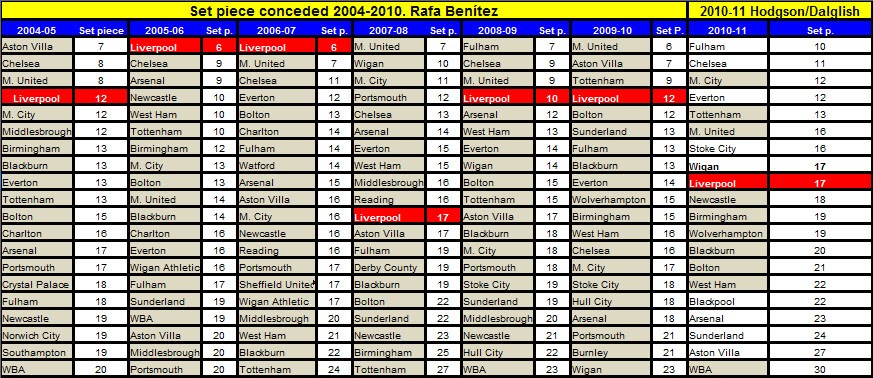 Benítez also said that the system shouldn't necessarily be blamed for conceding goals at set-pieces but it will always depend on the determination, concentration, and ability in the air of the players at the moment of the delivery of the set-piece. Even though it's proven to be more effective, zonal-marking will suppress something extremely important when defending set-pieces: Accountability. 
If you are marking a zone instead of a man, you can rapidly become distracted by a lack of focus: this is accountability, which was highlighted by Maguire against City on January 6. United were in a numerical superiority in the box but despite this numerical superiority, they conceded due to Maguire's lack of focus, which prevented him from clearing the ball.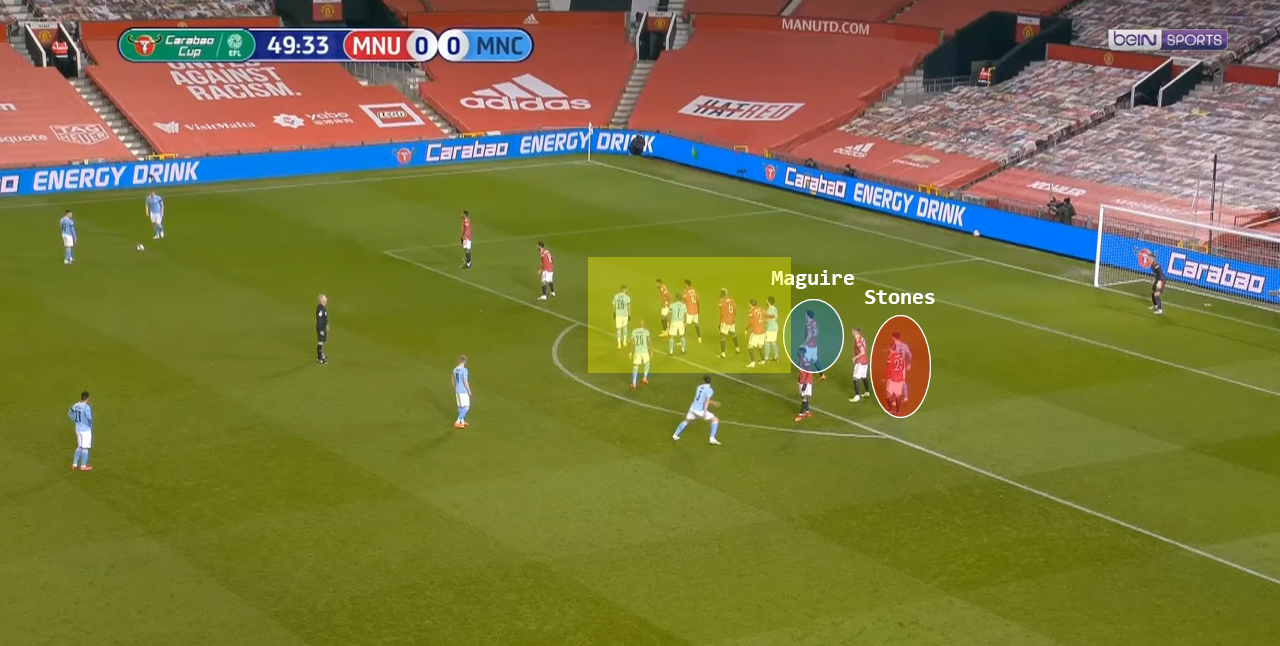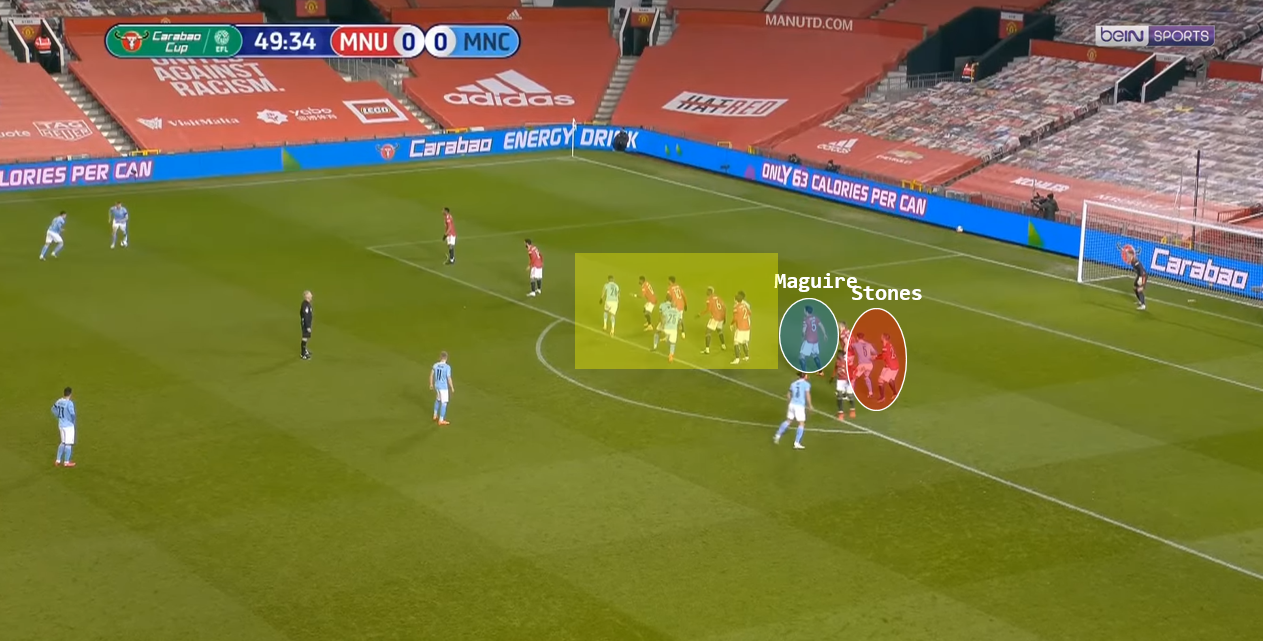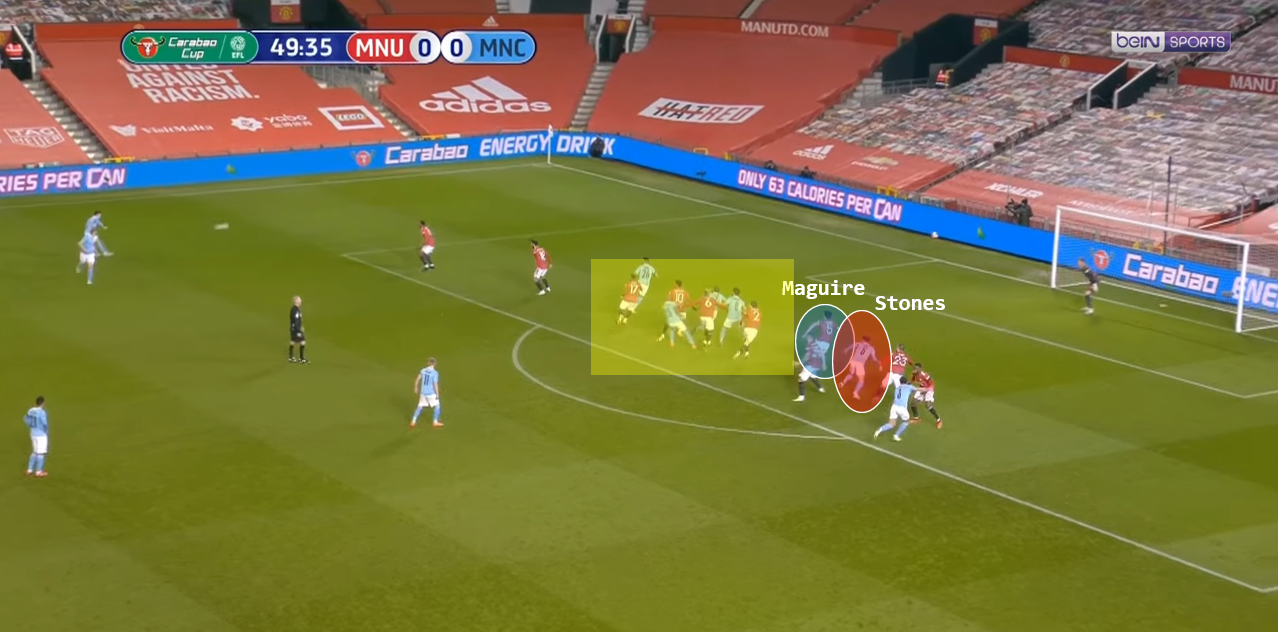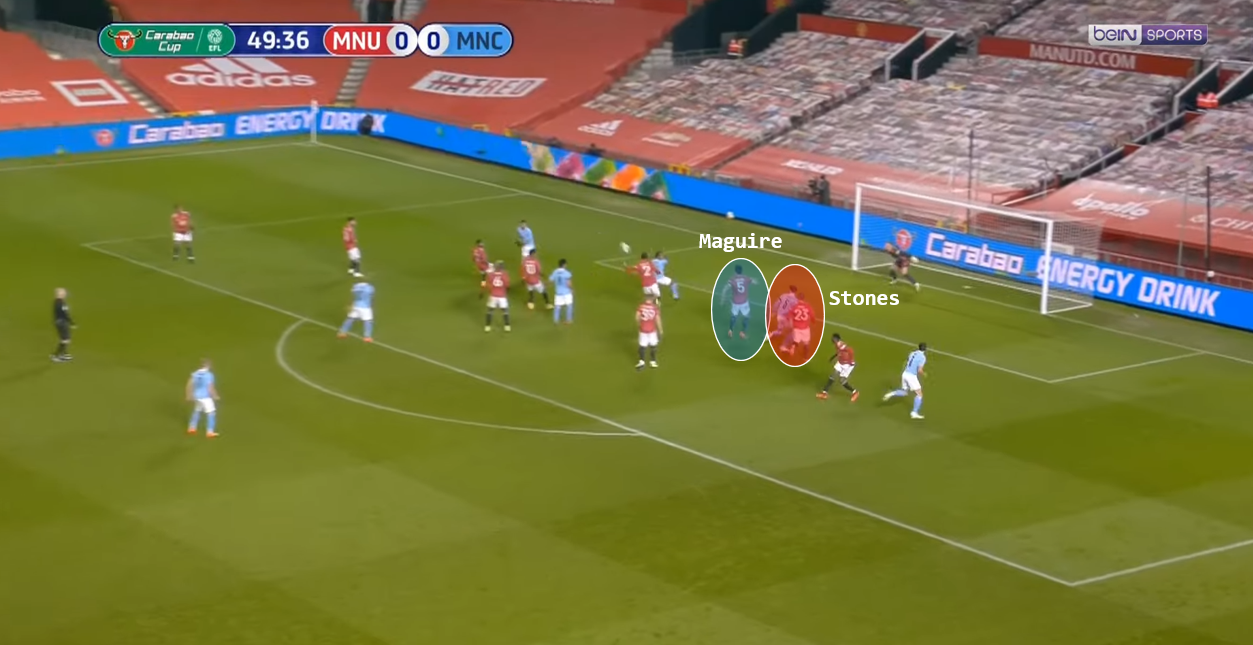 But accountability is something that is worked upon after a few months and United are definitely working on these situations, as the set-up is almost always the same; however, there have been little signs of improvement in this area under Solskjaer. Another case of lack of accountability is depicted below, against West Ham. Declan Rice beats Martial at the near post while both Alex Telles and Paul Pogba don't defend their areas and let Tomáš Souček alone at the back post.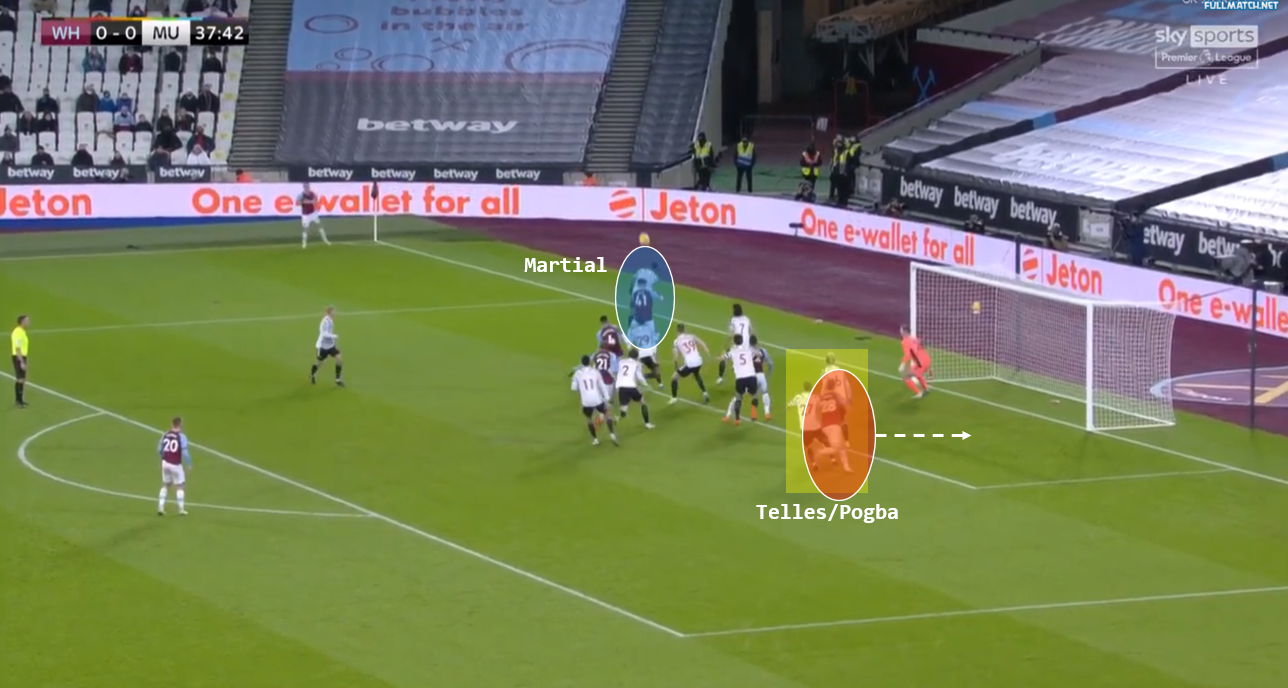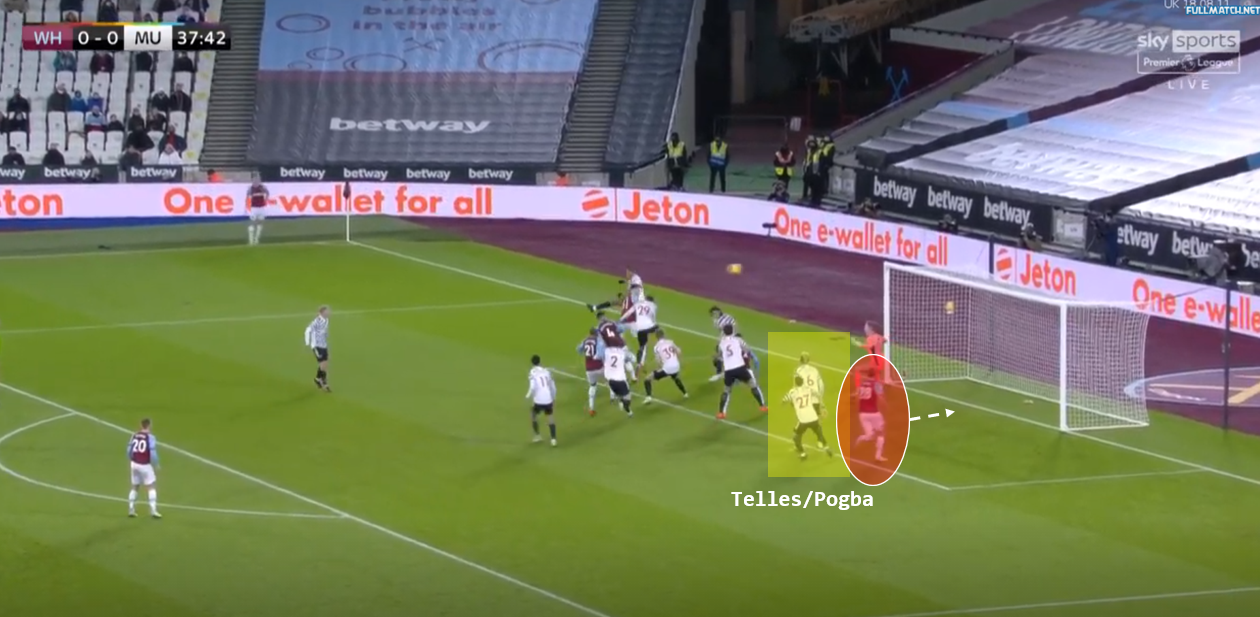 Against PSG, both Martial and McTominay didn't cover the area they should have covered, allowing Marquinhos to capitalize on a deflection and beat David De Gea from close range; Les Parisiens would go on to win at Old Trafford to go level on points with United and RB Leipzig in their Champions League group.
Going up against Southampton on November 29, Jan Bednarek beat every United player at the near post to score, utilizing his superior aerial ability and physical prowess to open the scoring at St. Mary's Stadium. James Ward-Prowse added another before halftime, but United stormed back in the second half to take all three points.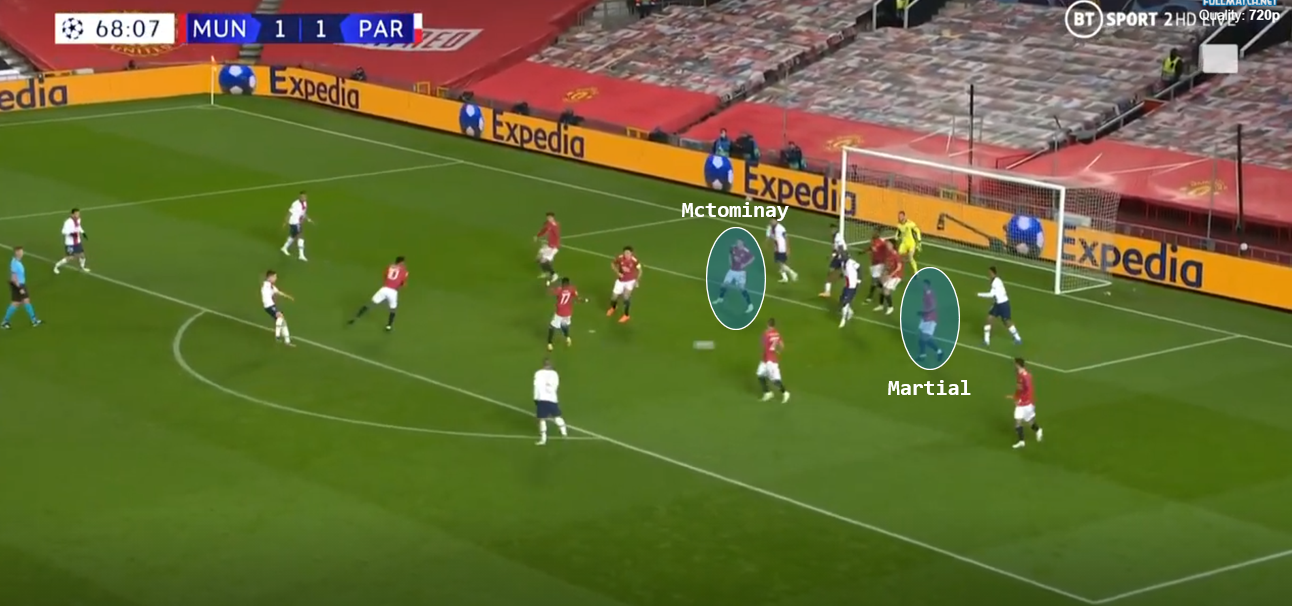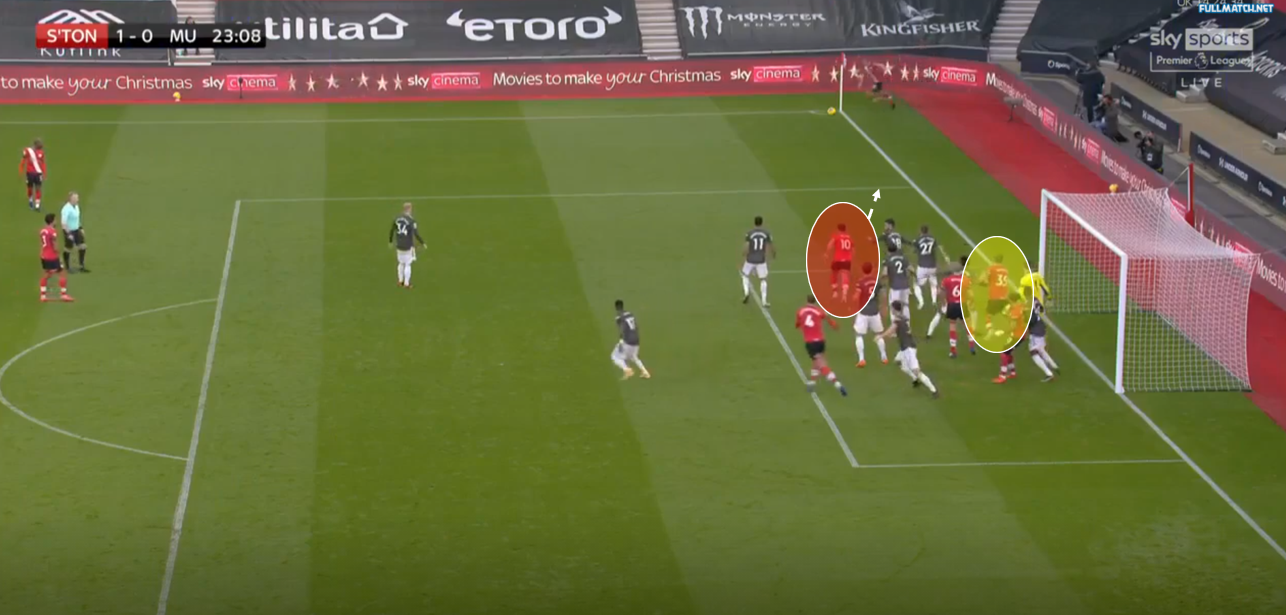 If United are to continue with their zonal marking set-up, then they need to at least drill down accountability on the training ground to make sure that each player knows their role and expected action to deal with set-piece situations. They should also place either McTominay or Lindelöf at the near post when neither Shaw nor Cavani are not playing; otherwise, Shaw and Cavani could be trusted to guard the area.
Whether against West Ham, Southampton, or PSG, Manchester United have paid the price for sloppy defending in set-piece situations. On the other end of the pitch, it isn't much better; United are in the Premier League's bottom five for their proportion of goals coming from set-pieces and also place in the bottom half when it comes to the proportion of shot-creating actions (SCA) from set-pieces compared to SCA from open play.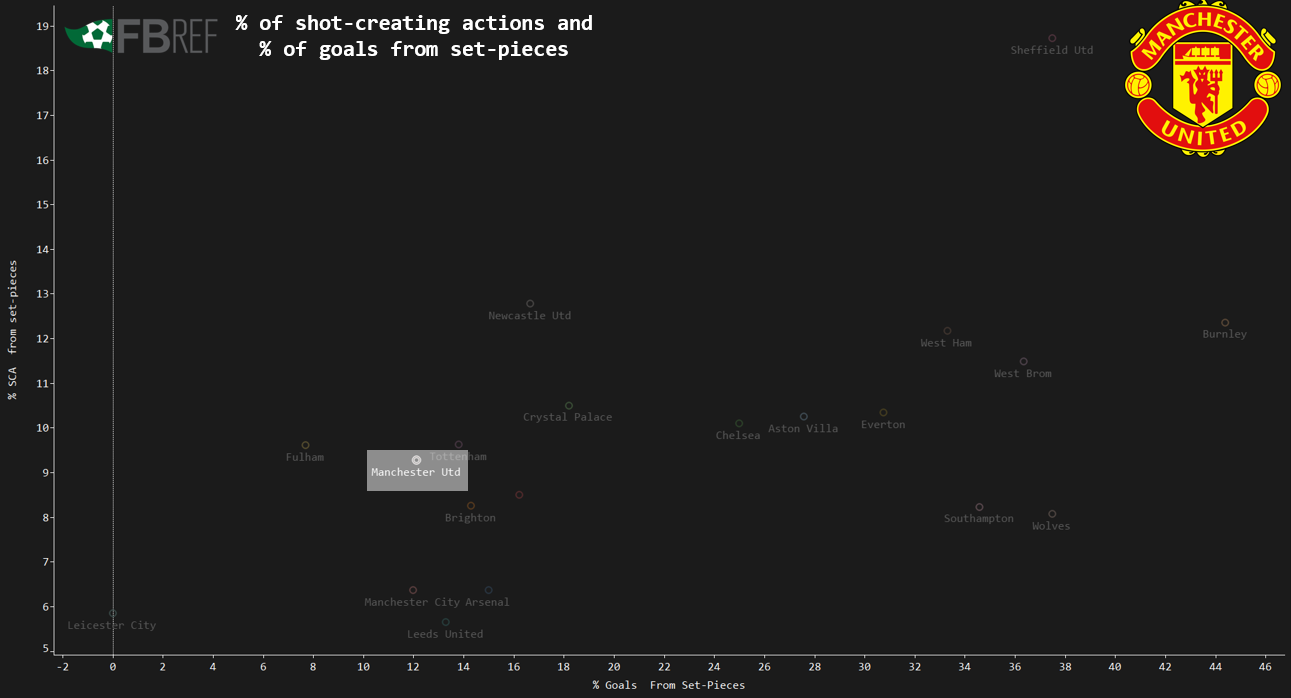 Photo: FBRef
Despite being eliminated in the Champions League group stage and despite losing to City in the EFL Cup, things are looking up for Manchester United. The Red Devils are within touching distance of first place, but they'll need to navigate a tricky run of fixtures including Everton, Southampton, West Brom, and a resurgent Arsenal side in order to keep pace with their crosstown rivals in the race for the league title. If they are to break their dry spell and win their 21st Premier League championship, however, they will need to fix their problems when defending set-pieces sooner rather than later.
By: @JKFootball
Featured Image: @GabFoligno / Ash Donelon – Man Utd