Peak Pochettino: Analyzing the Tactics Behind Tottenham's 2016/17 Season
The 2016/2017 season was the peak of Mauricio Pochettino's five-year reign in charge of Tottenham Hotspur. Tottenham finished with 86 points (their highest ever point total in the Premier League era), second place in the table (also their highest ever finish), and led the league in both goals scored and fewest goals conceded.
In the process, they tied a club record for consecutive Premier League wins (9), most wins in a Premier League season (26), and the fewest defeats in a Premier League season (4). Harry Kane scored 29 goals despite missing months due to injury and won the Golden Boot for the 2nd straight year, and Spurs had three players – Kane, Dele Alli, Son Heung-Min – score more than 20 goals in all competitions. 
Spurs were undefeated at home, closed White Hart Lane with a win over Manchester United, and finished ahead of Arsenal for the first time in two decades. Unfortunately, from some perspectives, they still failed: this wonderful team still failed to win some silverware, as a great Chelsea side led by Antonio Conte piped them to the league. Despite this, with this Tottenham side being their best since the 1960's – let's delve into the tactics of this dynamic, attractive high-pressing Pochettino side. 
Formation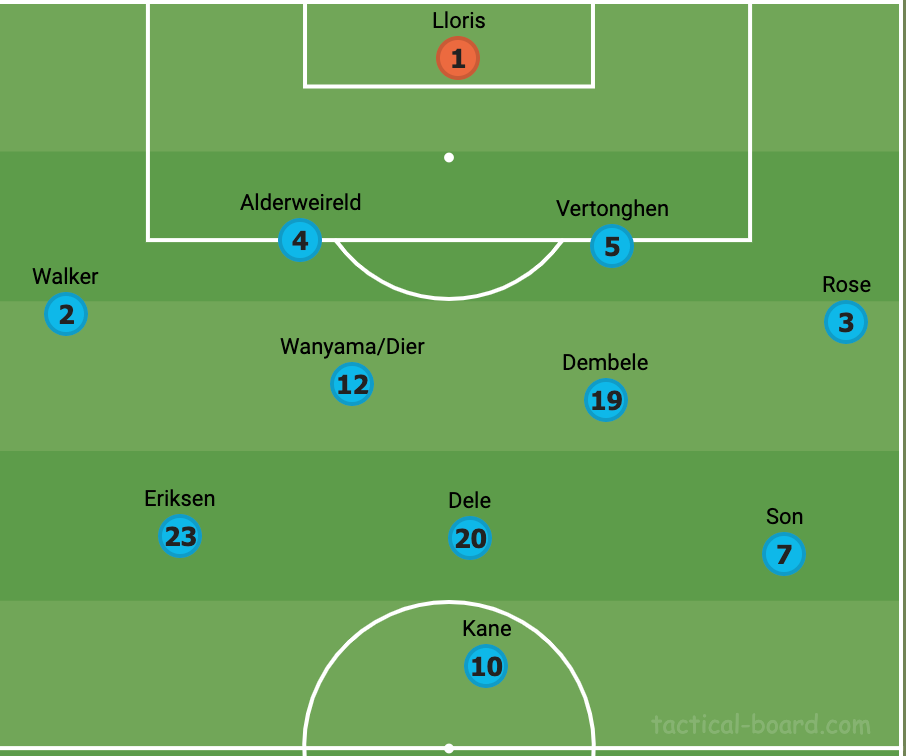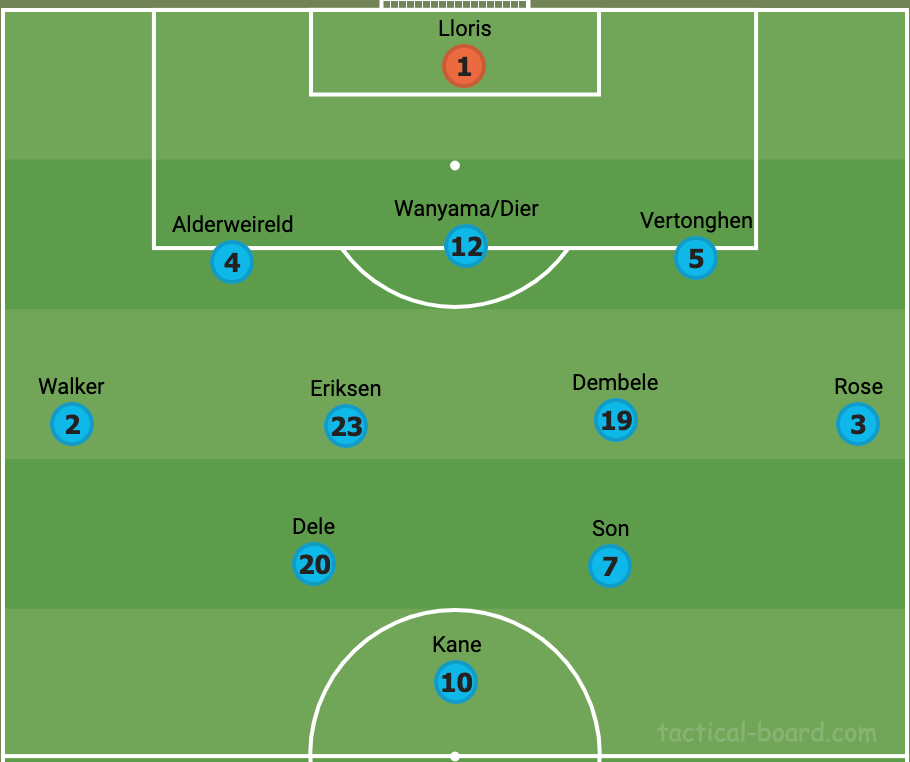 Spurs played with two main formations: the 4-2 3-1 or a 3-4-2-1 with the usual personnel as you can see above. Their style of play, with fullbacks pushing high and a central midfielder dropping deep means both systems could interchange during matches if required.
Use of Eriksen and the 'Anchor'
Indeed, as seen below, when in the 4-2-3-1 it was not unusual for one of the attacking midfield trio, usually Christian Eriksen, to drop off and create a spare man in the centre. This helped Spurs build-up play to progress as they rarely got outnumbered by a press.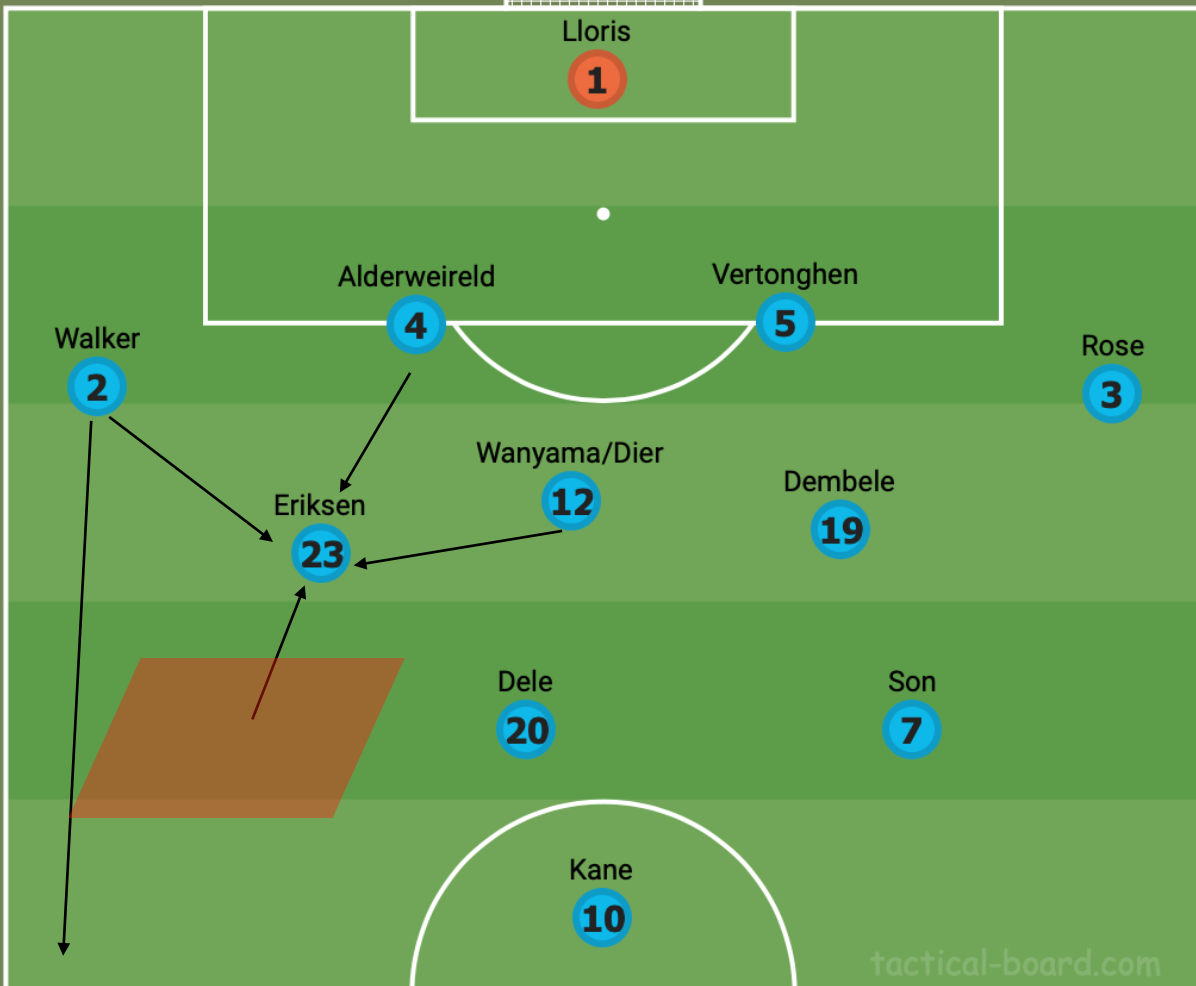 This movement from Eriksen also allowed one of Eric Dier or Victor Wanyama, both equally used in this campaign, to drop into a 'half-back' position, as seen below. Pochettino also used this tactic during his time at Southampton and also used Wanyama in this 'anchor' role. This left Spurs with an almost 1-2-2 in central zones of the pitch – and made sure they had complete control of the game in these areas, usually having the numerical advantage during the central progression of the ball. 
Defending Narrow/Pressing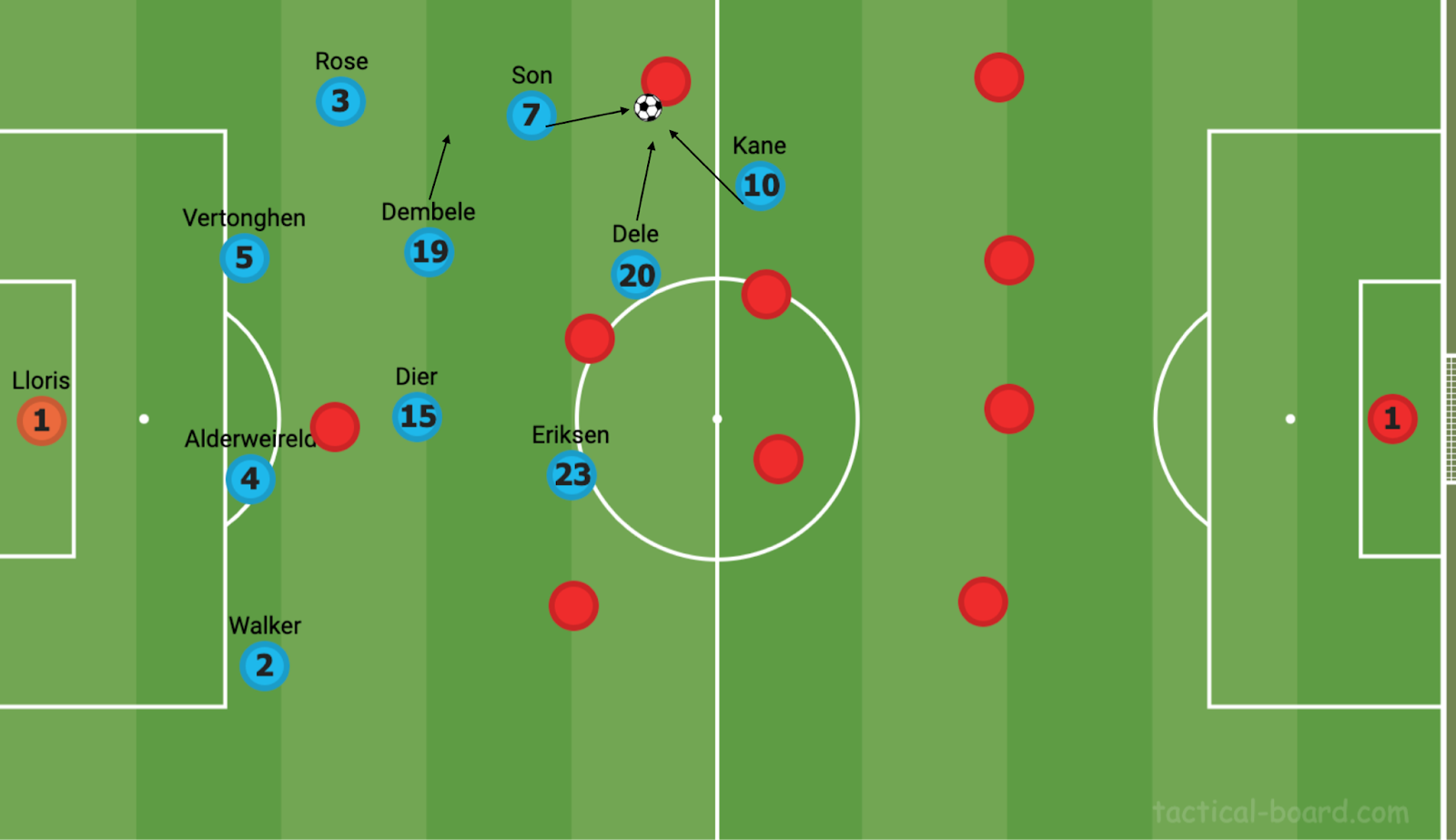 As seen in an example above, Spurs defend narrowly wherever possible with their four attack-minded players pressing aggressively and one of the two deeper central midfielders (Mousa Dembélé in the example above) happy to cover across in the half-space in front of the full-back on the side where the opposition is attacking. Spurs rarely held a true shape when off the ball; the aim is to shut down the player on the ball in packs (Son, Dele, Kane in example above) in the intention of winning the ball back in dangerous positions and to stop an opposition gaining a rhythm in build-up play.
Essentially, the man with the ball at feet and his immediate options will be pressed as and when applicable. The overall defensive shape is not a priority. Spurs' pressing was very local to where the ball was and was aimed at preventing the opposition from progressing up the field vertically as well as at times forcing them to play to isolated players on the touchlines.
This applies to anywhere on the pitch: whether the ball has just been passed out by the goalkeeper, or the ball is between the lines. It was not a very tactically complex press, it was more of a chaotic swarm that was effective due to Spurs' willing pressers and high-quality players.
In transition the fullbacks pushed high, often playing as high as wingers, but would be covered by one of the two midfielders again pushing deep (Dier in the example below). This is why when Spurs move to a three-man defensive system during the match, it is a simple transition. The full-backs are auxiliary wide midfielders in attack already and Dier/Wanyama are both used to dropping off. 
In Attack 
Spurs had a variety of options going forward. Their attackers were all comfortable on the ball and had the abilities to operate in spaces centrally or wide, especially with a centre-forward who not only has an incredible skillset but great lateral movement which meant there was space behind him for runs. 
Eriksen was the focal point in which the attack moves. He was, in my opinion anyway, a vitally underrated player in this period for Tottenham. He notched 20 goals and assists in the campaign, alongside an outstanding 101 chances created – the most of any player in the league that season. 
As described before, Eriksen dropping into space leaves the trident of Son, Dele, and Kane in advanced positions. The usual patterns of these three are explained below.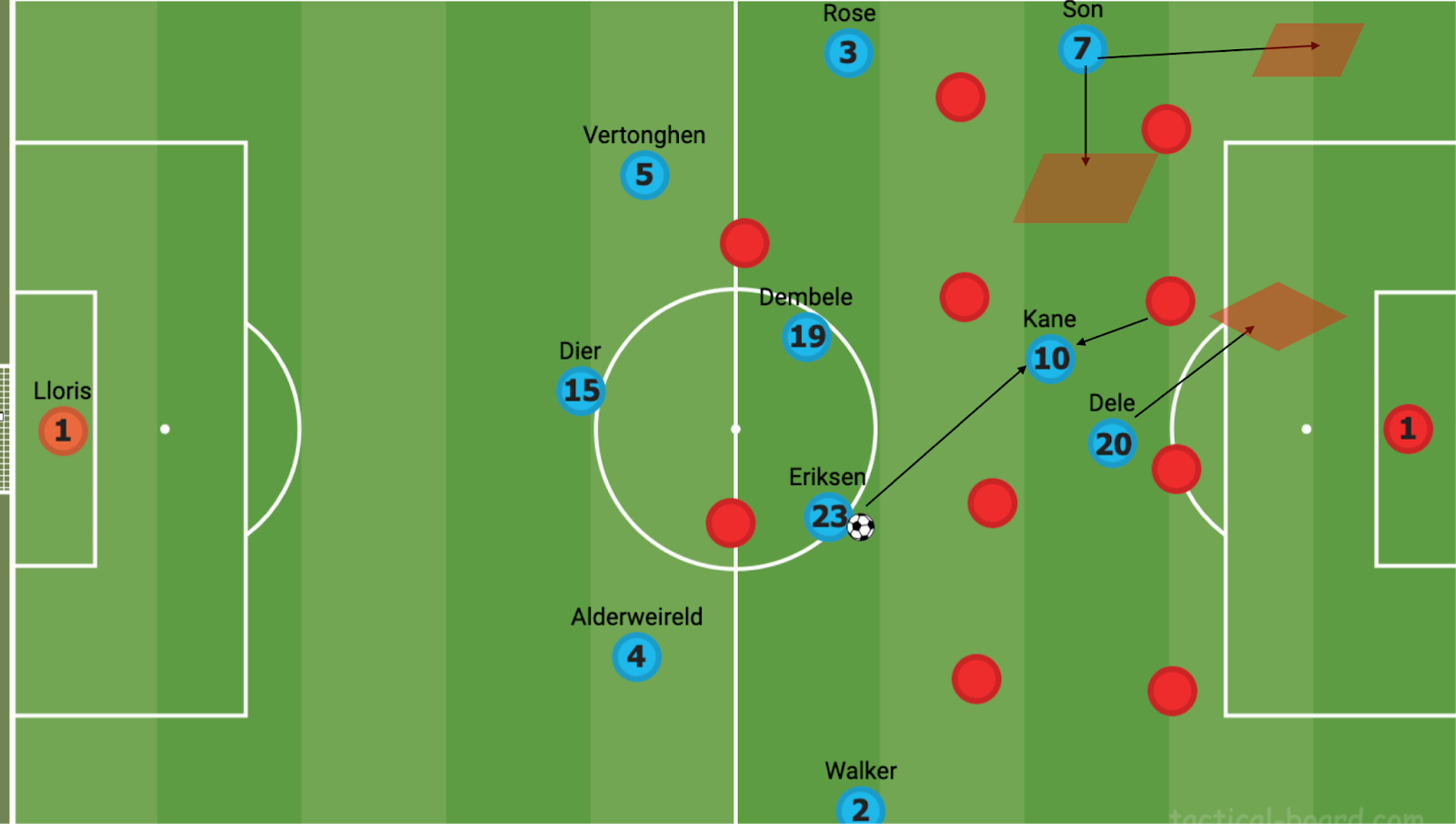 Son usually kept width, his runs involved taking on the right-back on or cutting inside: an option he has due to his great ability to play with both feet. Kane, a trait that has only developed more, often tried to receive the ball between the lines. Because of his ability, he warrants extra attention, so this either involved doubling up with a midfielder, or a defender coming out. Dele pounced on this, the attacking midfielder's runs beyond Kane in behind were deadly. His 18 goals for the season were largely down to his excellent off-the-ball movement which was guided around Kane; the pair had a great relationship. 
Kane could switch up his game depending on the occasion, he can play on the last line of defence if needed, or become a penalty box striker. His wide skill set means he can vary his game; a trait all top strikers have. This level of movement, combined with highly technical players who are very good at receiving, giving, and moving under pressure meant Spurs were very hard to defend against. 
The Importance of the Full-Backs
The full-backs, as briefly touched on before, were a vital competent in Pochettino's machine – especially when breaking down sides by how operated with low-blocks – which was a common sight. Many oppositions operated in this way: especially with the aim to clog and congest the middle of the park to nullify Kane and Dele. 
Kyle Walker and Danny Rose, with Kieran Tripper and Ben Davies at some parts of the season, were key to a Spurs width, and it also allowed Son and Dele to become narrow and try to overload the middle of the pitch, knowing there is still a balance to their play with the full-backs so wide. 
As you can see in the example below, on the right-hand side, Spurs would try to make triangles in possession to constantly keep the ball moving. The same would happen on the left-hand side. This movement also allowed Son and Dele to become narrow and try to overload the middle of the pitch, knowing there is still a balance to their play with the full-backs so wide. Walker and Rose were excellent all year; their constant energy and quality on the ball caused opponents a lot of problems – especially when given the license they were.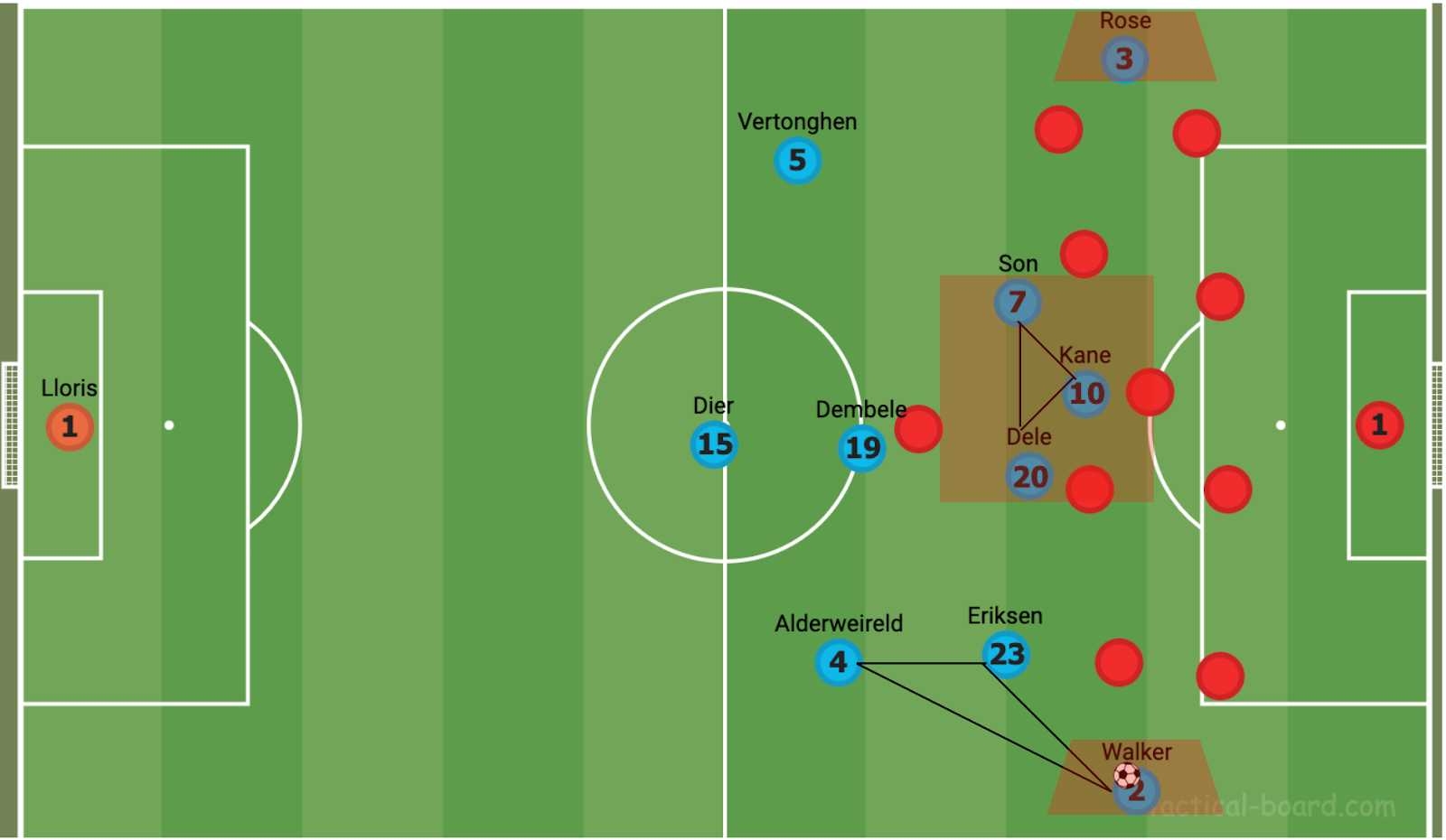 Conclusion
Tottenham, under Mauricio Pochettino in the 2016/2017 campaign, were superbly coached and organised. They had all the traits of a top team: a sound balance/strategy in defence, press-resistant midfielders, incredible attacking assets, and high, effective full-backs. This team will be always looked at as the team that was almost there, but for a football purist like myself, they were superb. 
Pochettino runs the risk of missing out on all three major trophies in his first season at Paris Saint-Germain, with Les Parisiens losing to Manchester City in the UEFA Champions League semi-finals and trailing Ligue 1 leaders Lille by a point with one match to go, while they will take on Monaco in the Coupe de France Final. Tottenham, on the other hand, will be looking for a new manager this summer after José Mourinho's tumultuous spell in charge.
By: William Furness
Featured Image: @GabFoligno / Michael Regan – Getty Images