Tactical Analysis: Bayern Munich 2-2 Bayer Leverkusen
The Bundesliga returned on Friday after the September international break, with defending champions Bayern Munich hosting Xabi Alonso's upstart Bayer Leverkusen side. Whilst Bayern had lost to RB Leipzig in the DFL-SuperCup, both teams had won every match in the Bundesliga, with Leverkusen leading Bayern on goal differential by just one goal. Bayern knew they needed a win in order to take control of the league, and it looked like they were going to pick up a routine victory early on with Leroy Sané delivering an in-swinger from a corner kick and Harry Kane opening the scoring within seven minutes.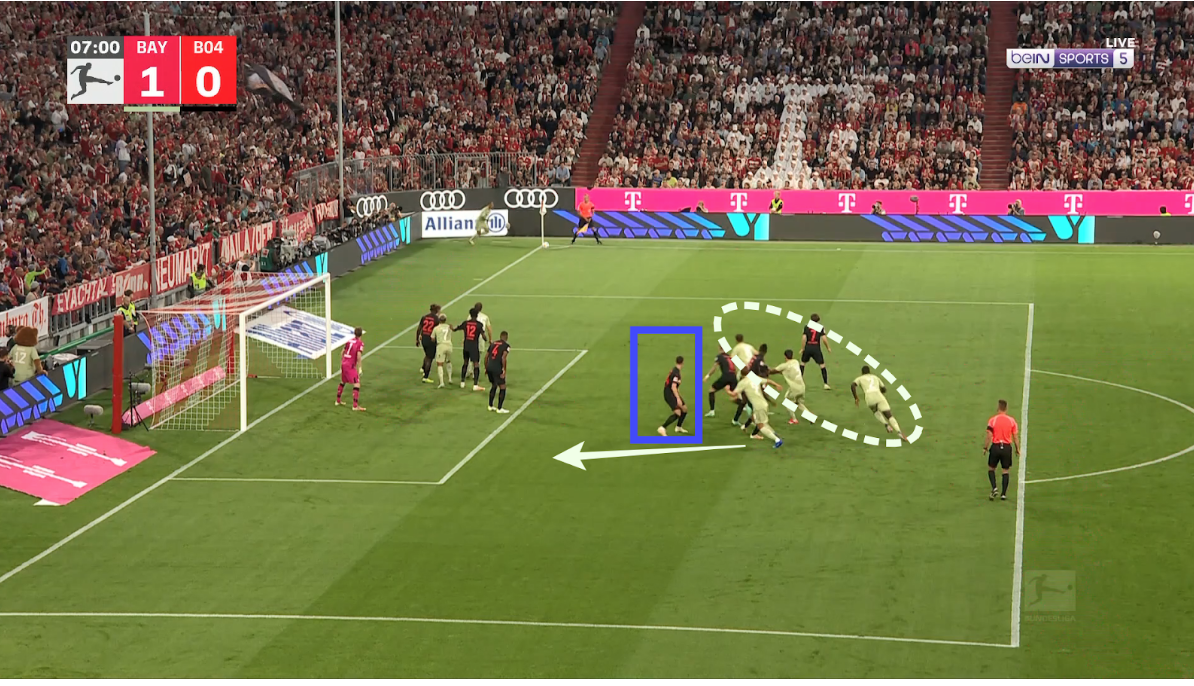 With Kim Min-jae, Leon Goretzka and Dayot Upamecano making a run towards the near post, Kane was free to attack the far post behind Granit Xhaka and break the deadlock. Leverkusen defended with four players zonally, 5 in the second line ready to track runners, and Bayern looked to exploit this mixed approach with Serge Gnabry and Thomas Müller occupying the near post initially. Xhaka's flat body positioning lets him down, as he is unable to track Kane and struggles to turn and see both the flight of the ball and Kane's movement, enabling Bayern to grab an early lead.
Leverkusen's Strategy out of Possession
Bayern would build in a 4-1 shape with Joshua Kimmich as a lone midfielder and Goretzka and Müller playing in front of him. Leverkusen's high pressing coincided with their asymmetrical shape, switching to 4-3-1-2 as Jonas Hofmann and Victor Boniface were ready to press Kim and Dayot Upamecano, Xhaka was behind them to take Kimmich, and Florian Wirtz was positioning himself between Müller and Konrad Laimer.
Jeremie Frimpong was pushing up to take Alphonso Davies and Robert Andrich with Goretzka, creating a 4v3 situation in the last line of defense as Edmond Tapsoba was free to push up and deal with Müller in case he received the ball, whilst Jonathan Tah was tasked with dealing with Kane and preventing him from turning towards goal.
Alonso alternated between a 4-3-1-2 and 4-4-2, and this hybrid shape would see Bayern struggle to play vertical passes into Müller, with Leverkusen constantly switching back between high pressing and medium pressing in their 5-3-2 shape as Xhaka alternated between Müller and Kimmich, whilst Hofmann was on the flank with Laimer whilst Wirtz was pushing high up with Boniface, forcing Sven Ulreich to play a pass to Upamecano.
Once Kimmich is free to receive, he can use Upamecano as a third man to carry the ball forward and progress Bayern's attack.
Leverkusen in Possession
Leverkusen tried to play vertically in possession, attempting to find Wirtz behind Bayern's second line and create positional superiority in the final third. They operated in a 3-2-4-1 on the ball, with Hofmann often dropping to be the free man to receive whenever Müller closed the passing lane to Xhaka, with the ball-near wingback — Alejandro Grimaldo in this case — positioning himself closer to midfield and Frimpong pushing high up the pitch to find himself in a 1v1 situation against Davies.
At 20 years old, Wirtz has not only emerged as a German international but one of the hottest young prospects in Europe at Leverkusen. He reflected on his unique skill set in a recent interview, stating: "First, I always make sure I position myself well. I want it to be very tough for the opponent to reach me, interfere with my body, or even reach the ball with my feet. But sometimes I don't even know why I do some things the way I do them."
Tuchel went with Upamecano and Kim ahead of Matthijs de Ligt, who has struggled in terms of zonal defending, and their lack of communication and staggered positions in the build-up process has meant that their play is often too vertical. Having failed to complete a deadline day deal for João Palhinha, there is no natural defensive midfielder in the team, and the Bavarian side often lacks the patience to lure opponents to press them before exploiting this by playing passes in behind the defense. As opposed to teams like Brighton and Manchester City, Bayern often fail to string together passes and create numerical support around the ball in order to penetrate their opponents' set-up, and they are desperately lacking that killer pass to unlock defenses.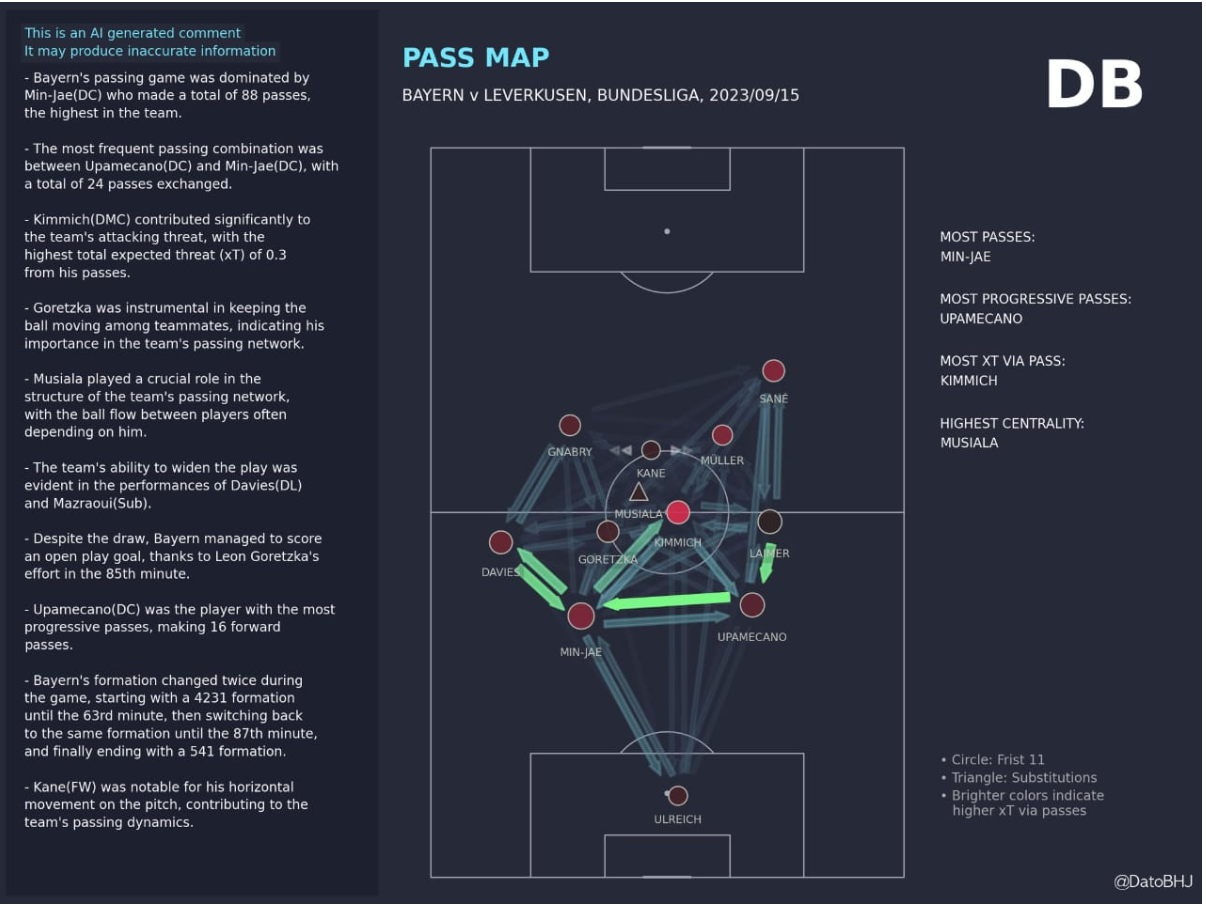 Bayern's passing map indicates a U-shape around Leverkusen with defenders struggling to link up with Thomas Müller and progress the ball into their attackers.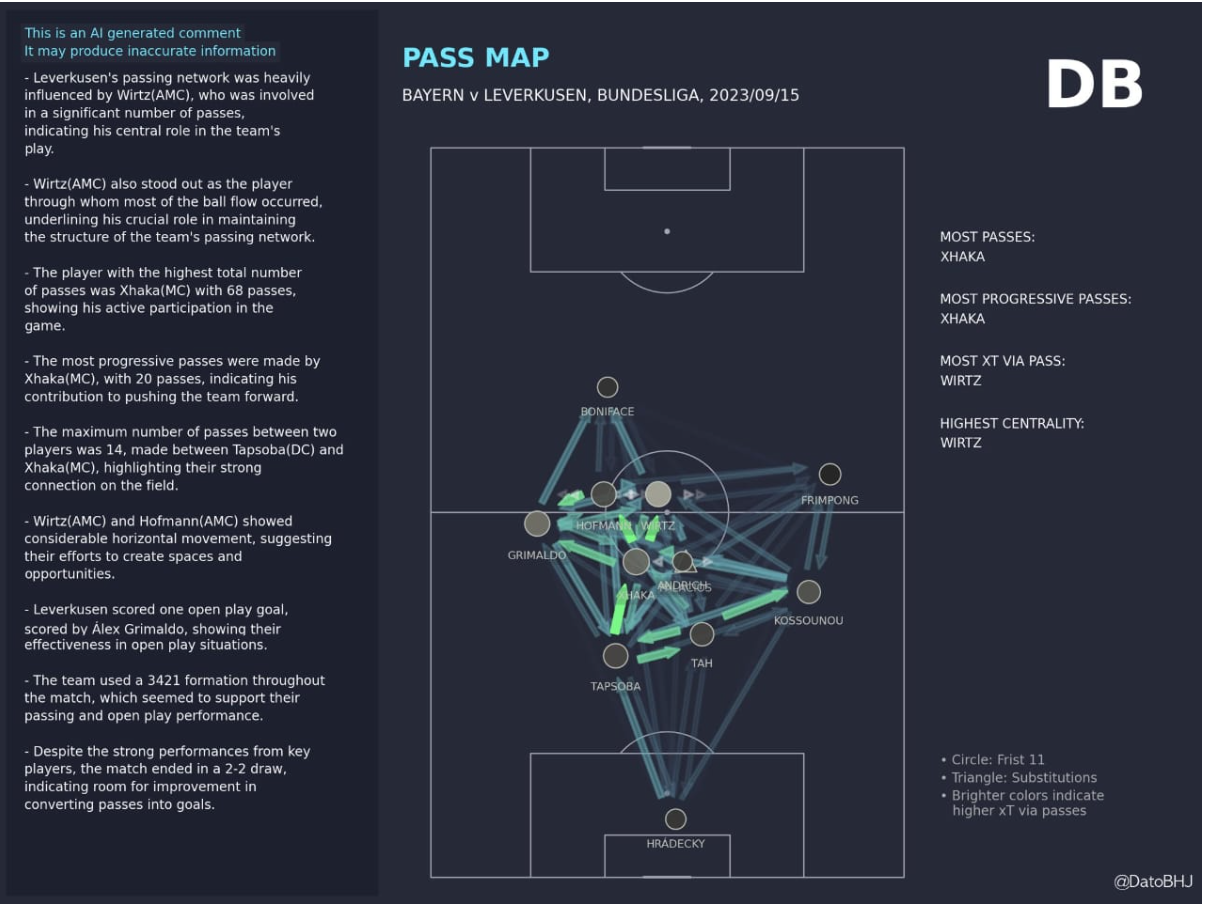 Leverkusen's passing map indicates their effective rotations in wide areas via triangles focused on the left side between Grimaldo, Hofmann, and Xhaka with Wirtz as the free man, who was once again creating the most danger with his sensational passing, whilst Frimpong was isolated and able to wreak havoc against Davies in 1v1 situations.
When Xabi Alonso took charge on October 5, 2022, Bayer Leverkusen sat second from bottom in the Bundesliga table with 5 points from 8.

Today, they sit atop the table on goal difference and level with Bayern Munich with 10 points from 4 after drawing 2-2 at the defending champs. pic.twitter.com/nAmAJmL3e7

— Breaking The Lines (@BTLvid) September 15, 2023
Bayern looked headed for a comfortable win when Kane gave them the lead early on, but Grimaldo would equalize shortly after via a free kick, his first Bundesliga goal since making the move from Benfica this summer on a free transfer. Goretzka would restore Bayern's lead in the 86th minute, but Davies clumsily bundled over Hofmann and enabled Exequiel Palacios — who replaced Andrich at the interval — to equalize from the penalty spot in the 94th minute.
The Bavarians will host Manchester United and VfL Bochum before traveling to third-tier SC Preußen Münster in the cup and closing out September with a trip to RB Leipzig. As for Leverkusen, they will host Swedish side Häcken before hosting newly promoted Heidenheim and ending the month with a trip to Mainz, as they look to put an end to Bayern's hegemony and win their first-ever Bundesliga title.
By: @Elbadry0198
Featured Image: @GabFoligno / DeFodi Images