Tactical Analysis: Bayern Munich vs. Barcelona
Two of Europe's biggest titans took on each other for a spot in the Champions League semi-finals on Friday. Both teams had sacked their managers and appointed a new manager midway through the season, but their fortunes couldn't be more different. Since joining as manager in November, Hans-Dieter Flick had revived Bayern's ailing season, with the Bavarians winning the Bundesliga and the DFB-Pokal and Flick earning a contract extension until 2023.
On the other hand, Quique Setién had replaced Ernesto Valverde in January, when the Catalan side was still in first place, and after a promising initial weeks, Barcelona fell apart. They lost the league title to Real Madrid and crashed out of the Copa del Rey to Athletic Club. By the time Barcelona kicked off against Bayern at the Estádio da Luz, it seemed that Setién's departure was a mere formality, no matter what happened in Lisbon.
Line-ups
Bayern Munich lined up in their standard 4-2-3-1 which was very flexible depending on which phase the team was in. Joshua Kimmich was deployed at right back due to Benjamin Pavard's injury, allowing Leon Goretkza to partner Thiago in midfield. Robert Lewandowski was at the tip of the attack, looking to build on his impressive tally of 13 goals in seven Champions League games this season.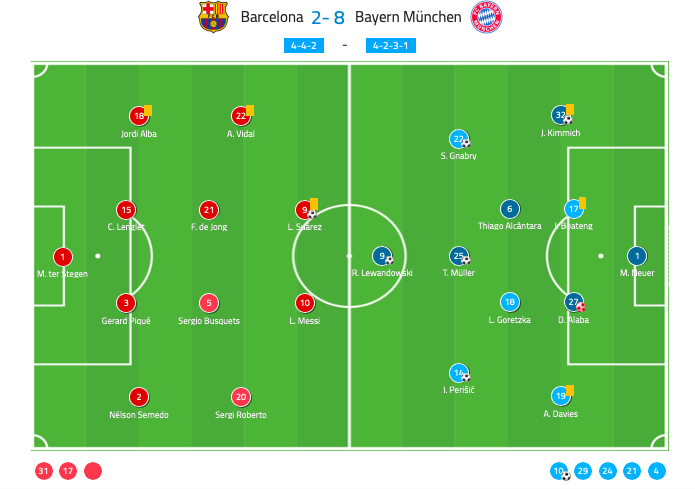 Setién oddly deployed a 4-4-2 that included four central midfielders, Sergi Roberto, Arturo Vidal, Frenkie De Jong and Sergio Busquets, playing ahead of a back four of Nélson Semedo, Gerard Piqué, Clément Lenlget and Jordi Alba. Lionel Messi and Luis Suarez would be the only two traditional forwards included in Barcelona's line-up. 
Bayern's 4-4-2 Diamond Press
One of the most interesting and effective elements of Flick's set-up was Bayern's pressing shape, as Barcelona attempted to play out of the back with a 4-4-2 diamond. Flick's staff must have studied Barcelona and noticed how they like to start the build-up play with their goalkeeper Marc-André Ter Stegen.
Setién's Barcelona places an emphasis on getting the ball to Busquets and utilizing two players in the half space, forming what resembles a 4-3-3. They've seen relative success in these sequences in La Liga, creating overloads and passing sequences. However Flick's tactics and Bayern's world class players tested them in a way they were not ready for. 
Thomas Müller eliminated Busquets in the build-up by constantly marking him and pressing him, whilst Goretzka and Ivan Perišić would occupy the midfielders in the right and half space. The Spanish side never looked comfortable facing the opposition press, moving the ball slowly from side to side, which resulted in Bayern defenders never being shifted or stretched.
When a back pass to the goalkeeper occurred, it set off a pressing trigger; one of the Bayern forwards would attack Ter Stegen and with his immediate passing options covered, the German would play a long pass. This played right into Flick's plan as Thiago would be set to receive these passes in midfield, and the 3v4 that was created in midfield through the diamond gave Bayern a fantastic chance at winning second ball situations.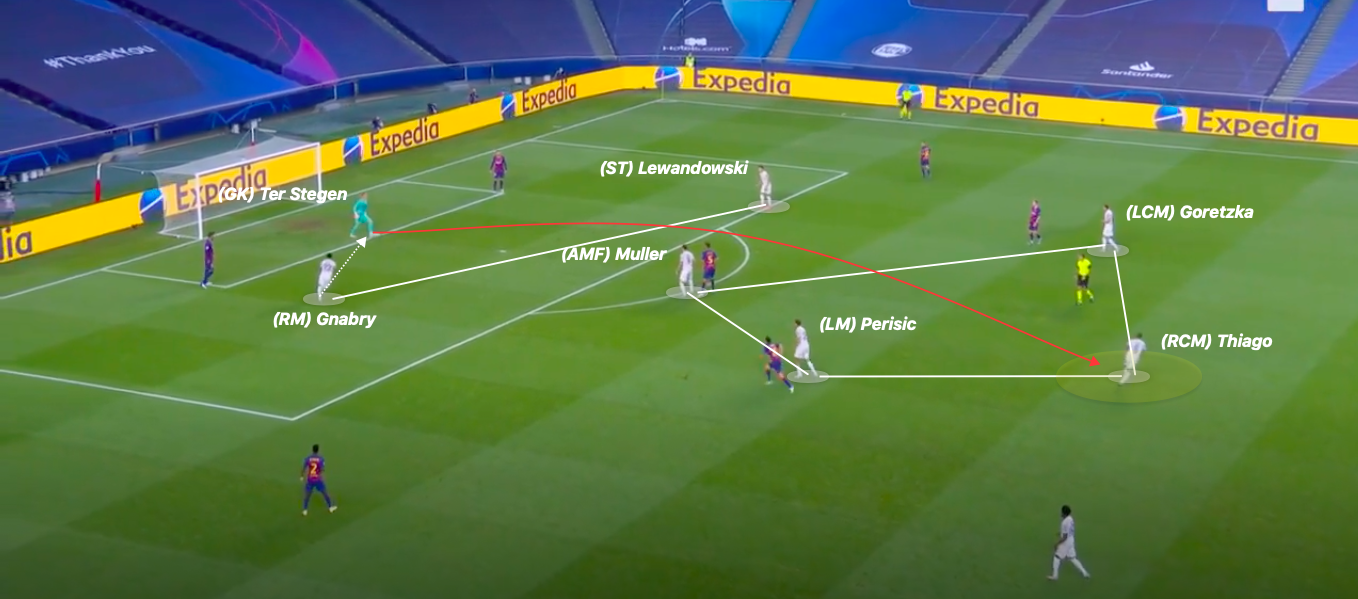 Here we see an example where a ground pass is made into De Jong in the left half space. Despite the Dutchman's fantastic technical qualities as well as his composure under pressure, he would be closed down quickly and coughed up the ball, with the physicality and aggression of Goretzka being too much to handle.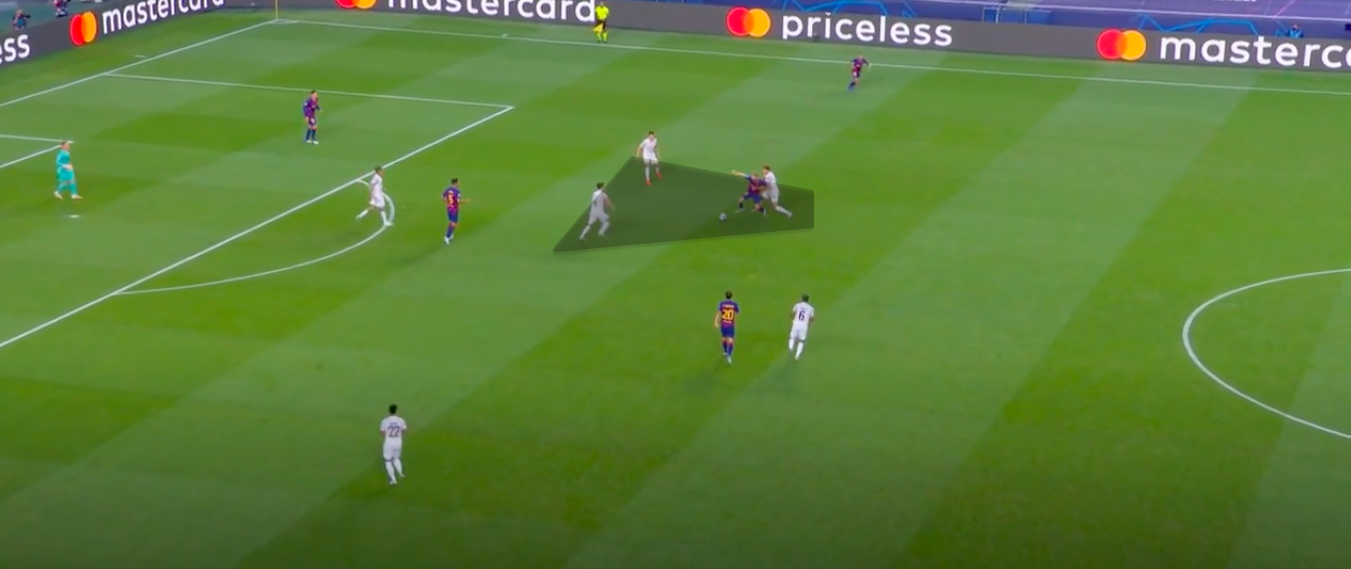 From an individual perspective, Flick challenged the passing range of Barcelona's goalkeeper and it gave favorable results. Ter Stegen only completed 5 of 13 long passes; it was a challenging night for the man who has already struggled to displace Manuel Neuer from his starting spot in the German national team.
But it would be unfair to single out the goalkeeper who in many cases was left with little to no options. When we compare the two team's unsuccessful passes, we can further see the huge difference and the problem point that the defensive third was on a collective level for the Blaugranas.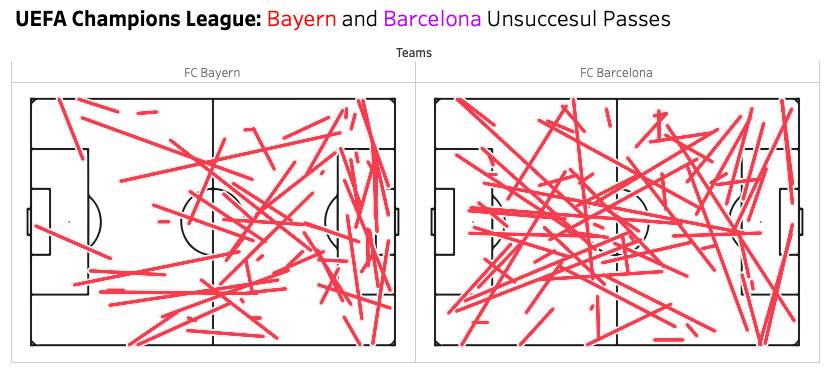 Risk and Reward for Flick
The overall goal of Bayern Munich's tactics was to overwhelm Barcelona with and without the ball. However, by pressing aggressively, Bayern also ran the risk of being exposed on the counter. Their defensive line was positioned high up, contributing to their attempt at winning the ball in advantageous zones high up the pitch.
Flick made a calculated risk that Messi and Suárez would be unable to exploit the space in behind, especially with the likes of Alphonso Davies and David Alaba being able to recover and close down space in behind. That risk paid off, with Barcelona failing to exploit the space in behind Bayern's high line.
Barcelona's 4-4-2 shape in possession was extremely narrow, meaning that width was provided from the fullbacks. In the first half, these fullbacks would prove to be the most reliable avenue of attack. Bayern would not press the center backs in the middle third, which allowed Piqué to find Semedo via a long pass, with the Portuguese running in behind the defensive line.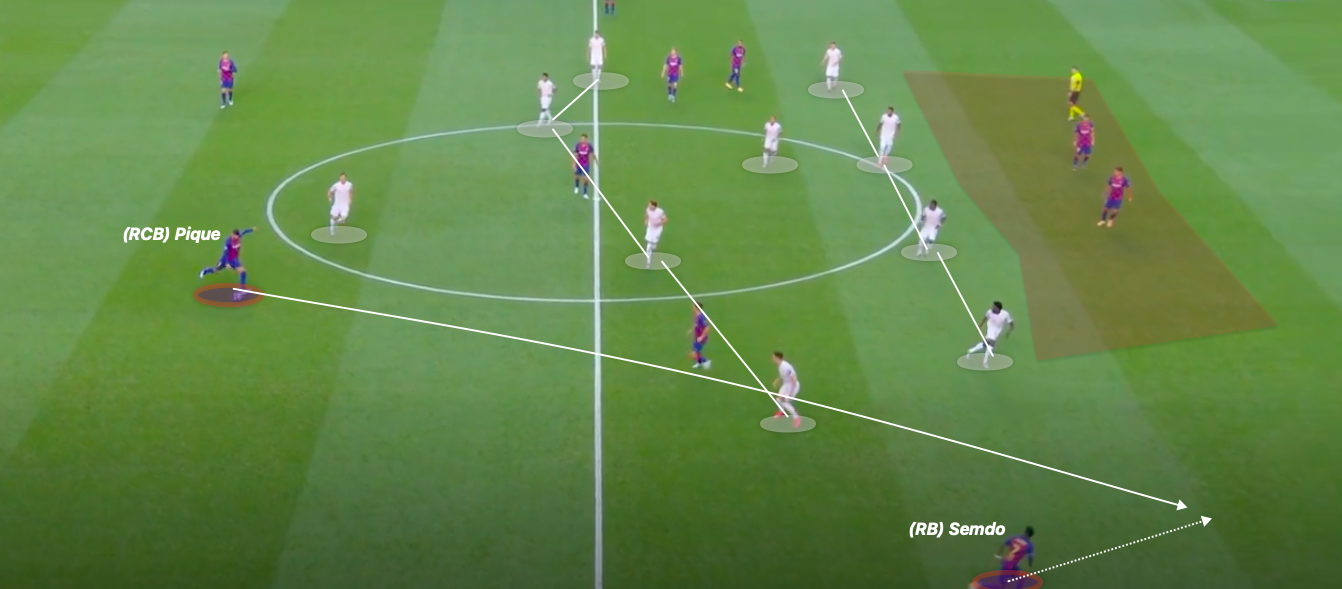 With Bayern opening the scoring in the 3rd minute, it looked as if Barcelona were on a one-way trip to a drubbing but they would find an answer through this pattern. Kimmich was positioned a step too high, which allowed Alba to run in behind and latch onto Lenglet's pass. The left back's low cross into the penalty box was turned in by Alaba for an own goal.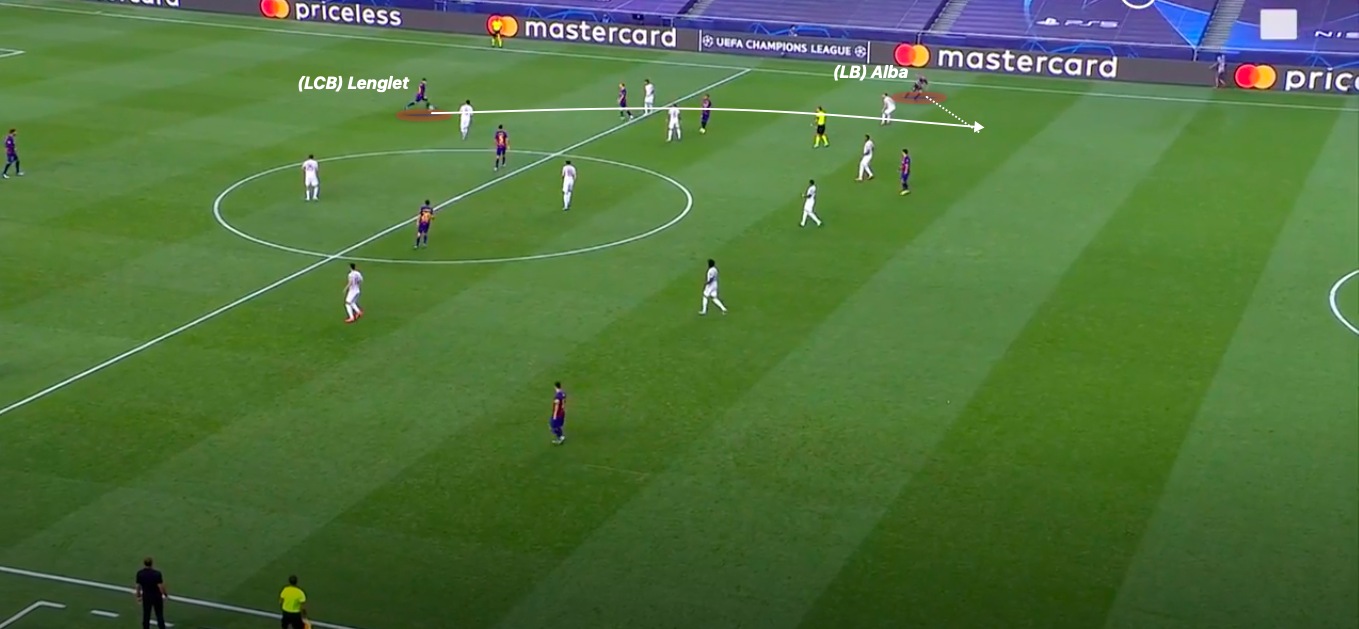 Similarly in their second goal, Alba makes the same movement to get onto a pass this time from Messi to cut the ball back to Suárez.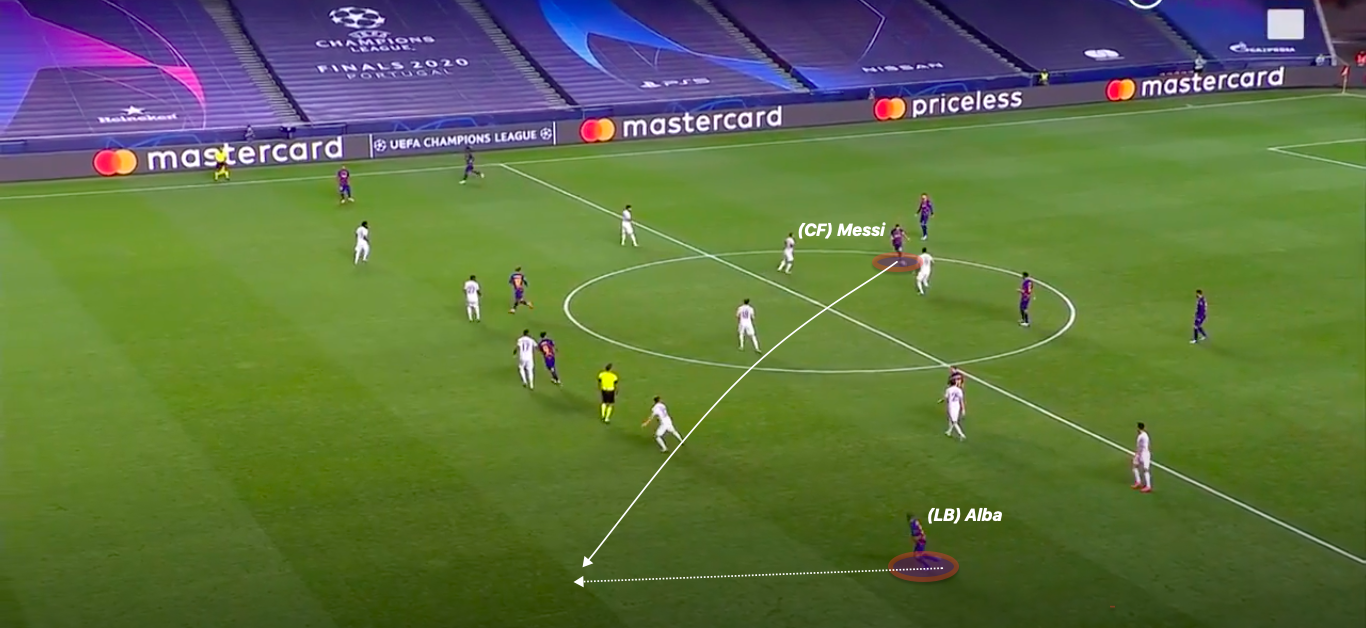 But there was still plenty of reward for the Bavarians to reap in their proactive approach. As a result of their high positioning out of possession and the numbers that they committed forward, Bayern created an effective counter press.
Whenever Barcelona regained possession in their defensive third, they were at risk of immediately giving it away due to be significantly outnumbered and their lack of short passing options. This was also useful during transition phases as the amount of players so close together created many short passing options.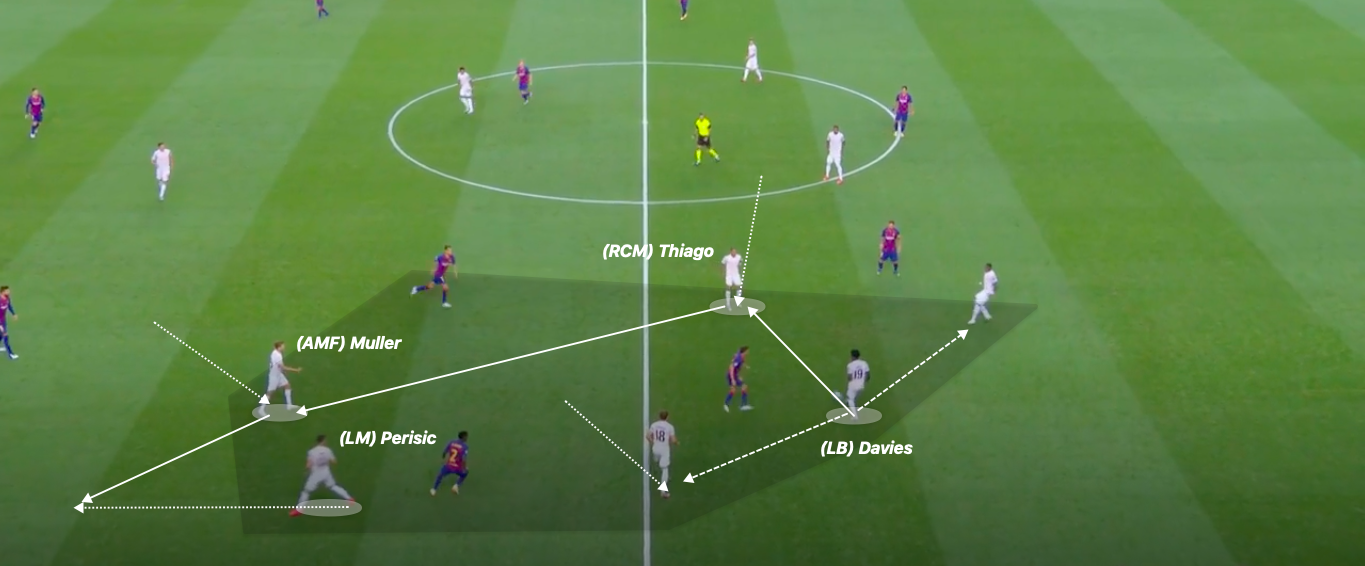 When Barcelona equalized early on, Bayern were not as courageous, but 15 minutes later, they would break the deadlock due to their counter press. In this scenario, Barcelona players are left in a 2v4 against the collapsing white shirts. From winning the ball, Bayern players can then attack an unsettled defensive line.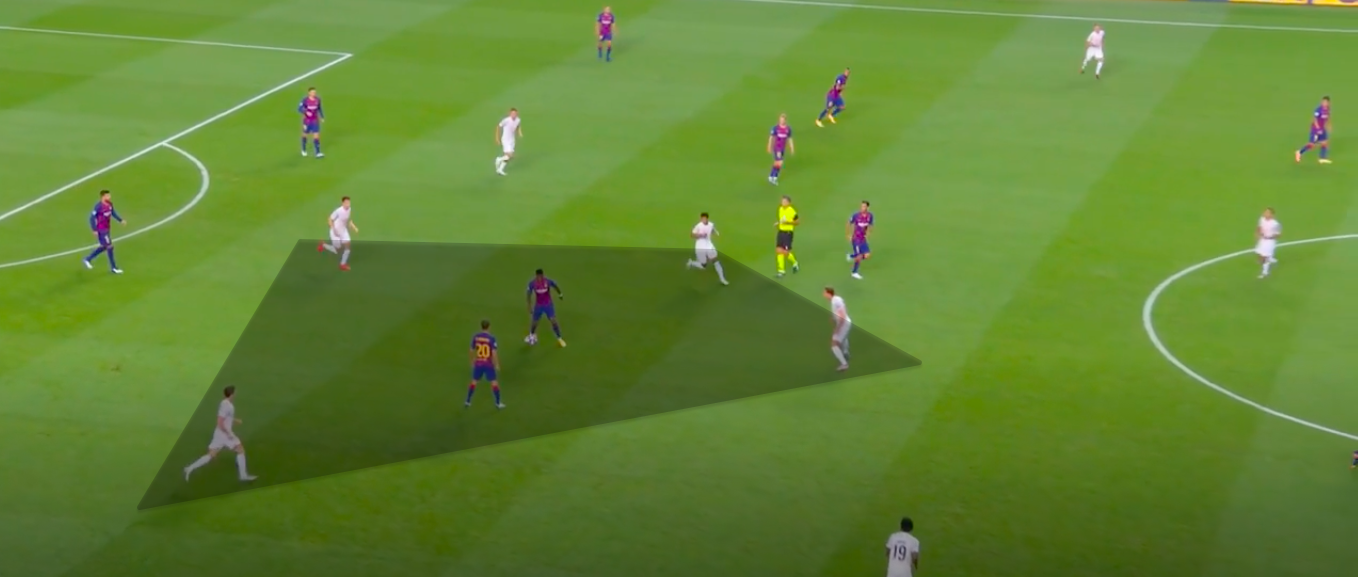 Disfunction for Setién
We already identified the defensive third as a weak point for Barcelona and their utilization of fullbacks as a strong point. But another significant weak point for them in this game was the lack of vertical penetration in the middle and attacking third.
In this example, as Barcelona look to play through Bayern's 4-1-4-1 out of possession shape, only Sergi Roberto found himself behind the second defensive line, making himself available to receive making it a 1v1 here, albeit very difficult for Busquets to find him due to Goretzka, Perišić and Davies's tight marking.
If one of the midfielders was positioned between the lines along with Roberto in this sequence, it could have also created space for Busquets to pick out the players between the lines. But this zone was overcrowded with players trying to receive a pass, and it played into the favor of Bayern's 4-1-4-1.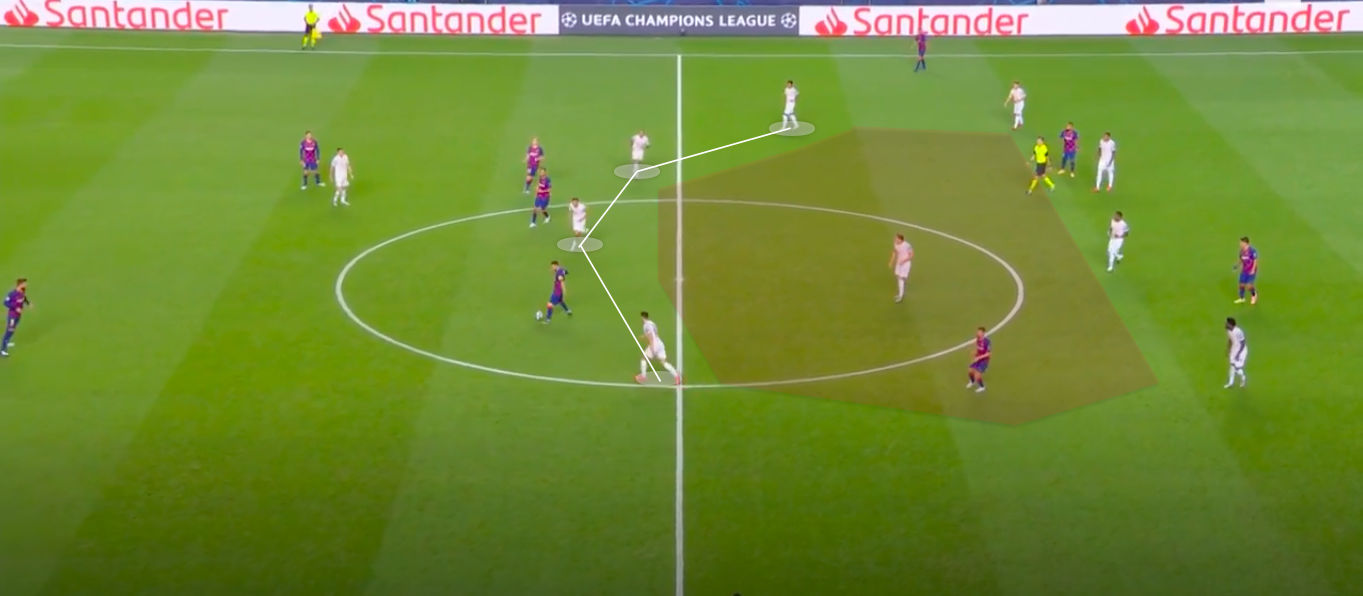 In the second half, Messi would often drop into this space, attempting to provide an extra passing option. This in theory was very positive, as a Bayern center back would follow Messi, thus leaving the defensive line. It would open space to exploit, but Barcelona's forwards failed to recognize these offensive opportunities.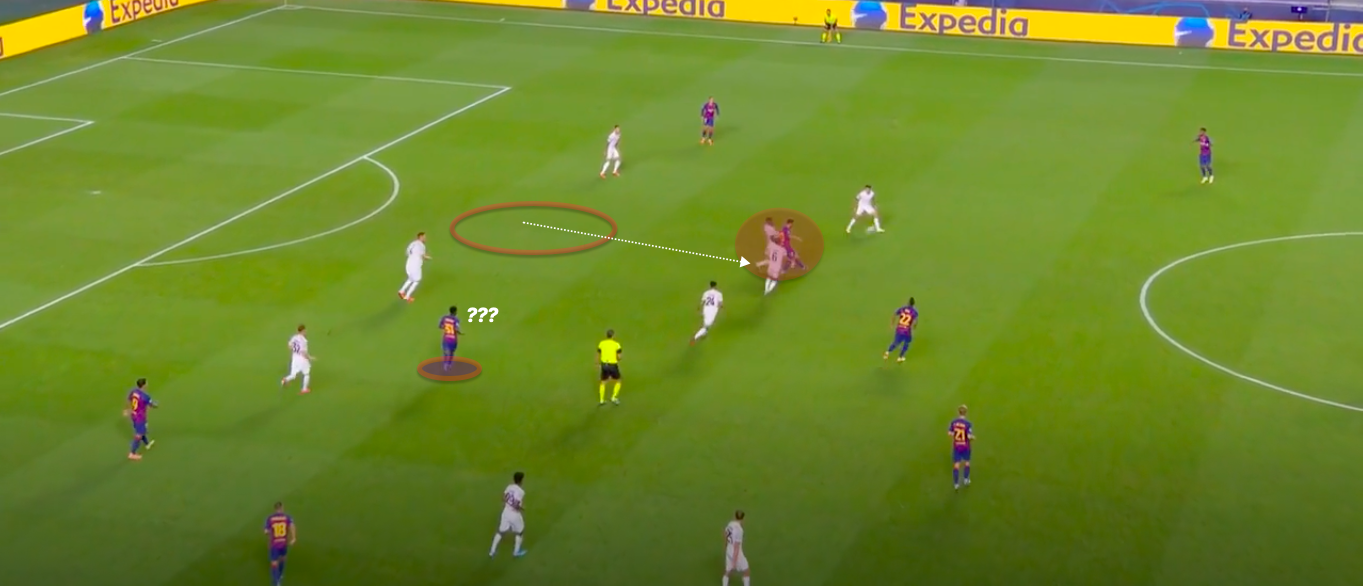 Bayern in Possession
In the Bundesliga, Bayern Munich have been relentless this season, scoring 100 goals against domestic opposition. This ruthless mentality has carried into their form in Lisbon, as we saw them ship seven past Chelsea (across two matches) and shred Setién's men to pieces.
After the 90 minutes, they had scored eight goals against Barcelona with an xG of 5.1. Flick's positional play was too much to handle for the Blaugranas, as he deployed his team within a 3-1-6, continuing with his theme of offensively overwhelming the opposition. They showcased exemplary understanding of positional rotations and penetration through vertical passing sequences and runs. 
In this image we can see the general concept; one of Thiago or Goretzka would drop into the defensive line while one would become a single pivot. This would allow Kimmich and Davies to push on while Müller, Perišić and Gnabry were more narrow. Additionally, it created numerical superiority against Barcelona's first line of pressure, causing a 2v3 and allowing for optimal ball circulation from side to side.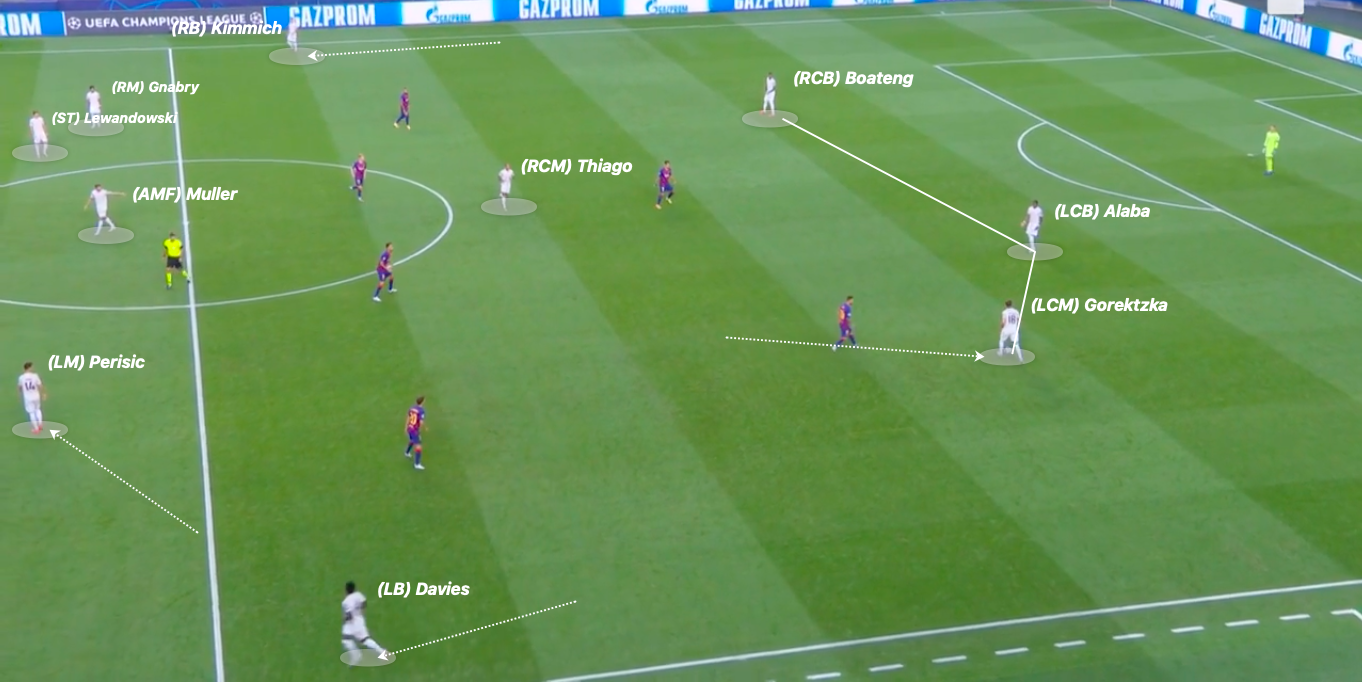 When playing within the middle third, every Bayern player would be spoiled for passing options. With many players ready to receive between the lines, Bayern constantly had optimal scenarios in passing sequences to progress the ball.
Situations like the one below were commonplace throughout the match: Boateng has four passing options, with three of them being vertical enough to play past a defensive line and two being directly into the feet of forwards. In theory, this also created numerical superiority in these zones for Flick's men as they were playing in a 4v6.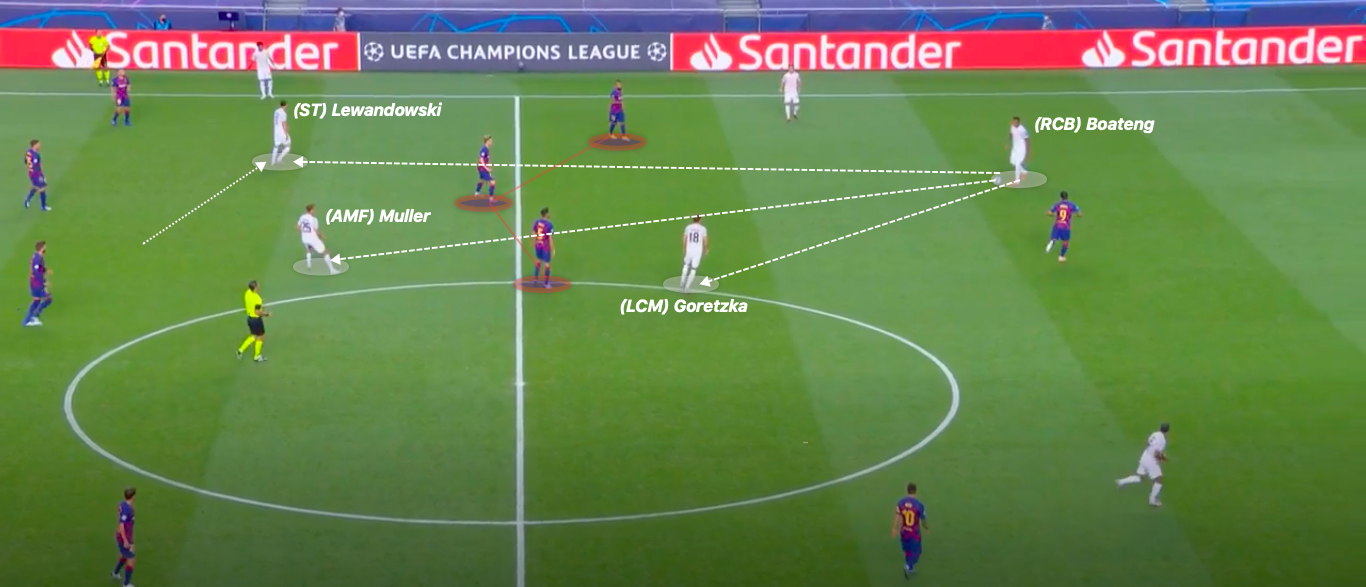 No player's position was set in stone, not even the central defenders. With players constantly interchanging throughout the thirds to manipulate the positioning of the opposition defensive shape, they constantly had space to play into.
This was particularly effective against Barcelona's defensive line due to the fact that on paper they were in a 4v6 situation against Bayern's attackers. Every time a Bayern forward received a pass, it posed an immediate question that most of the time would not be answered correctly by the Blaugranas. 
In Bayern's  third goal, Kimmich stays back while Goretzka enters the offensive line, now occupying the attention of Lenglet. By making counter movements, Goretzka drops to receive and Serge Gnabry begins to run beyond the defensive line. Goretzka cleverly makes a pass to Gnabry over Lenglet who was already stepping towards Goretzka, meaning he could not turn to stop Gnabry.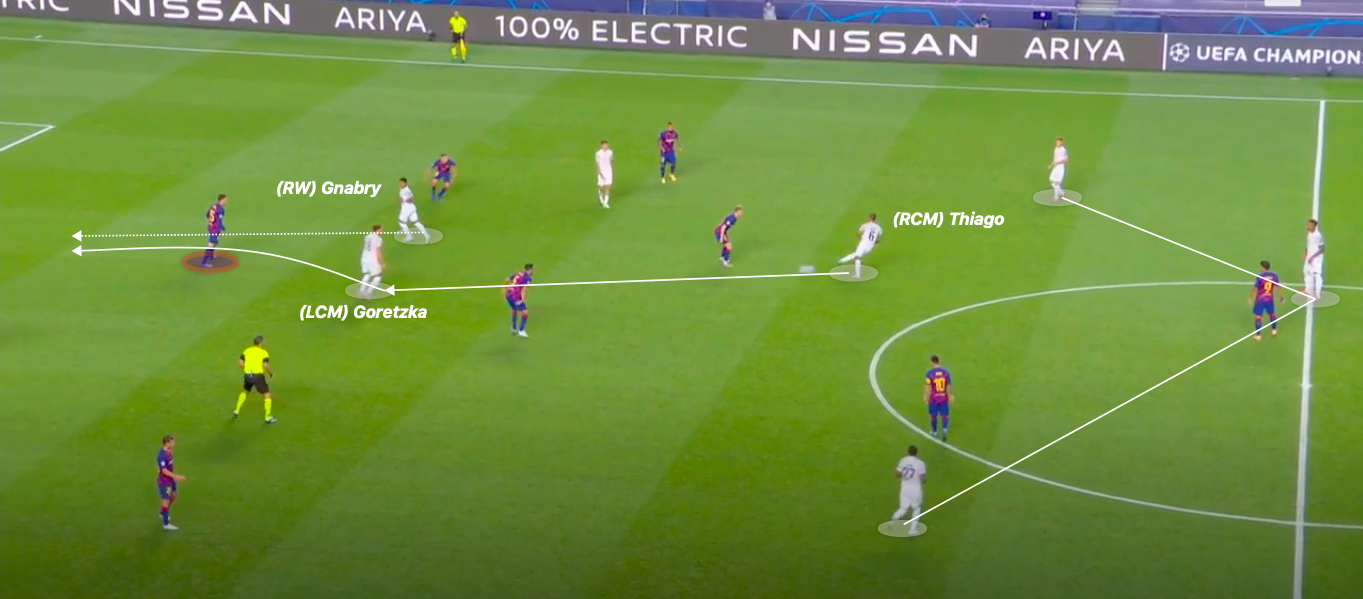 These sequences where a defender would be isolated against multiple players would pop up throughout the match. Here, Müller shifts out wide, dragging Alba with him. Kimmich begins a movement to the now vacant space within the right half space to make a run, while Müller receives the ball from Thiago and makes a pass over Alaba into the run of Kimmich, who bypasses the entire defensive block.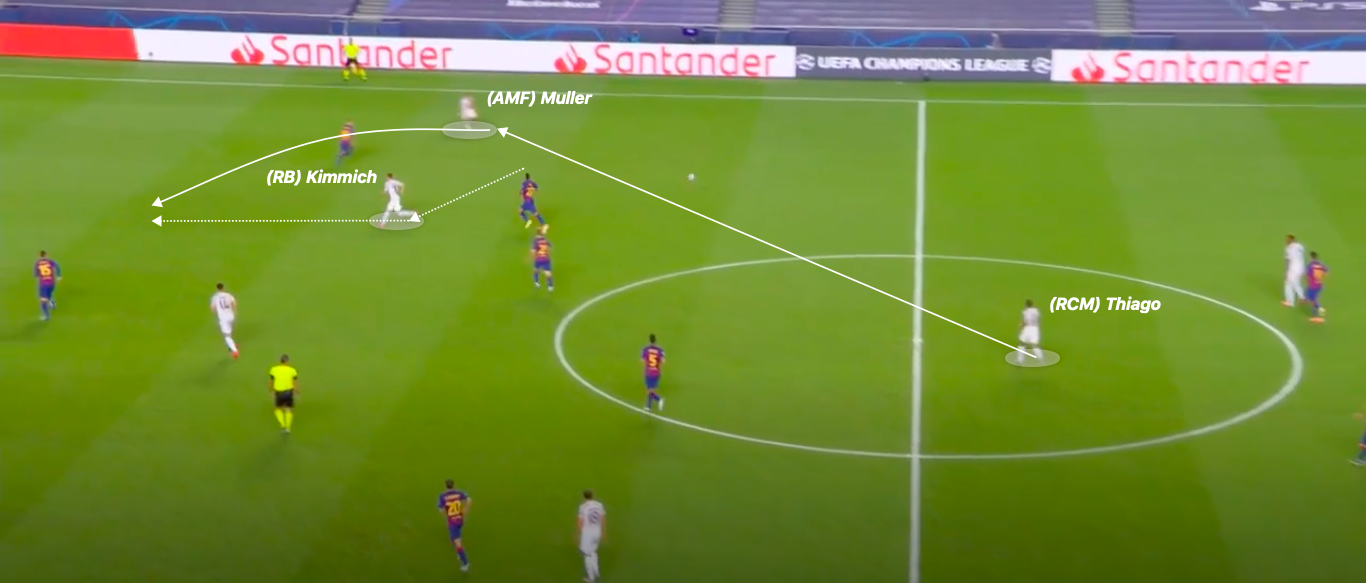 If Barcelona ever crowded the right side of the pitch, they always had a reliable and extremely dangerous option in Davies on the underloaded side. Boateng would target him the Canadian with long diagonal passes, and Davies would carry the ball forward, attack a defender with his tricky feet, or make a cross into the penalty box.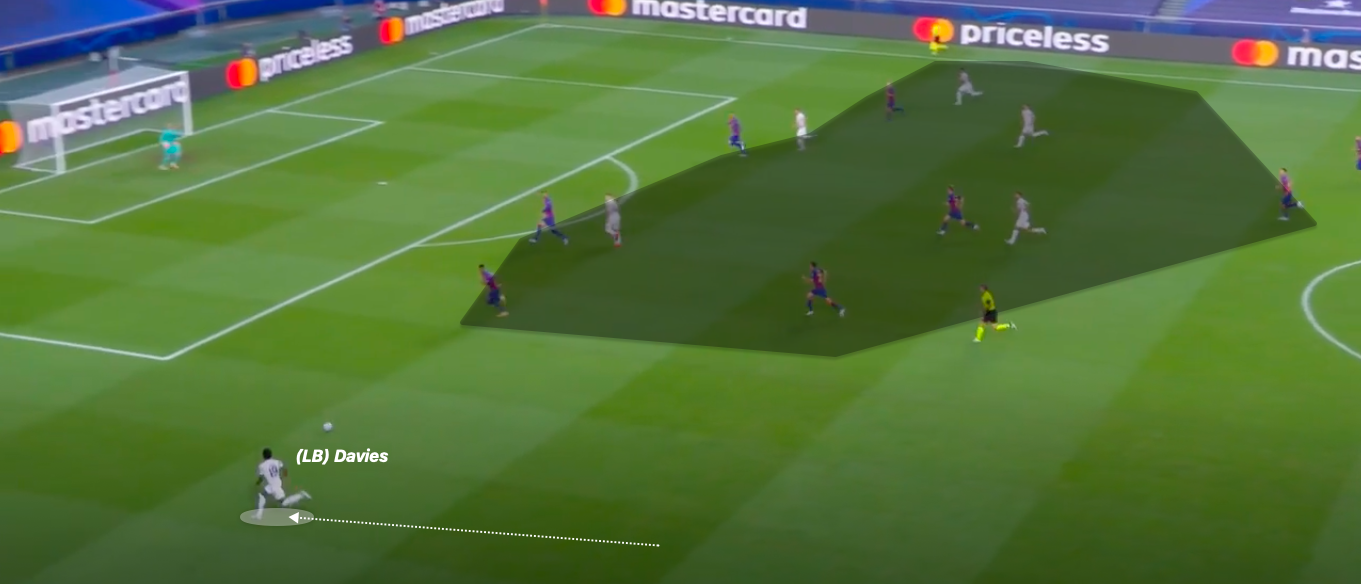 Conclusion
Setien's tactics largely ended in disaster, resulting in a dysfunctional team when playing throughout multiple thirds. Despite some great set pieces that were not taken advantage of, he fed his defensive line to the dogs. On the other hand, Flick's strategy made life a living hell for the Blaugranas. Bayern are just two games away from their first treble since 2013.
By: Craig Moniz
Featured Image: @GabFoligno / Rafael Marchante / AFP