Tactical Analysis: Bayern Munich vs. Borussia Mönchengladbach
Matchday 15 of the 2020/21 Bundesliga season began with a premium appetizer on Friday, as reigning European and German champions paid a visit to North Rhine-Westphalia to take on Borussia Mönchengladbach. Whilst Bayern got off to an early 2-0 lead via goals from Robert Lewandowski and Leon Goretzka, Gladbach mounted a fierce comeback to claim all three points against the league leaders, who lost their first match in all competitions since September 27.
Line-ups
Bayern manager Hans-Dieter Flick used his tried and trusted 4-2-3-1 formation with Leroy Sané starting in the absence of Serge Gnabry, who missed out due to a shin injury. While Kingsley Coman returned from injury this week, he started the game on the bench before coming on for Douglas Costa in the 68th minute.
On the other hand, Marco Rose went with a 4-3-3 with Lars Stindl and Breel Embolo starting in the attack in the absence of Marcus Thuram and Alassane Pléa. Although Gladbach originally began with a 4-3-3 off the ball, they quickly changed to a 4-4-2 with Jonas Hofmann dropping into the four-man midfield.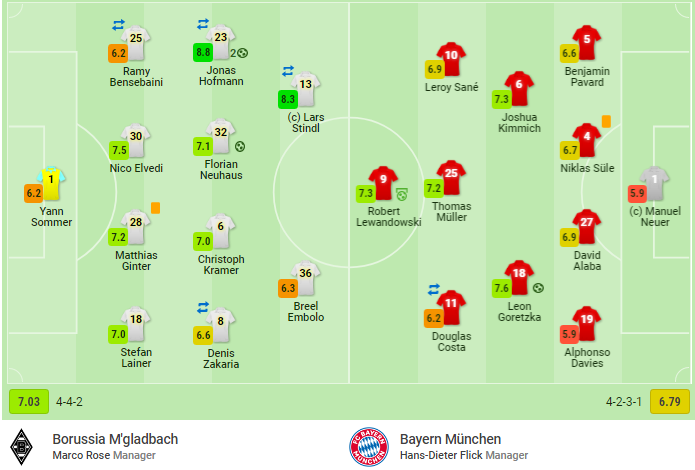 Photo: SofaScore
Whilst Flick went with a 4-2-3-1 in the attack, Bayern shifted to a 4-1-4-1 in the defensive phase. Using a rigid man-marking system, each Bayern player was assigned to pressing a single Gladbach player and closing the passing lane to force him out to the sides.
Flick's ideas were predicated on suffocating the Gladbach player in possession, swarming them in the press, and breaking on the counter, and with the likes of Alphonso Davies and Robert Lewandowski playing close together, they could quickly launch counterattacks after winning the ball back in dangerous areas.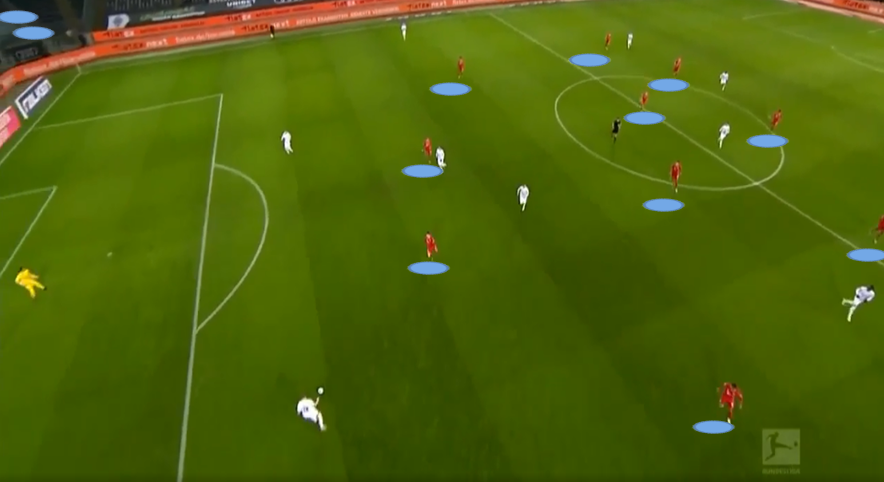 In the first phase of build-up, Bayern went with a 2-4-1-3, with Manuel Neuer, Niklas Süle and David Alaba spreading out to form a makeshift back three whilst the fullbacks push higher up the touchline. The two midfielders (Leon Goretzka and Joshua Kimmich) drop back to the ball side to ensure numerical superiority whilst Thomas Müller dropping into the half-space.
On the other hand, Rose chose to use a position-oriented zonal marking pressing system in the defensive phase, where it changed into a 4-4-2 so that there would be no active pressure on the Bayern player who carried the ball, but an area that controls their positioning.
Rose continuously directed the pressing trap into the space in which Kimmich or Goretzka would likely receive the ball, where he made Lars Stindl mark Goretzka or Kimmich (according to who was stationed behind him) and cover-shadow him to prevent any possible vertical passes as well as horizontal ones from Benjamin Pavard and Davies. When the ball reached them, Rose used pressing triggers to close down players on the wings and start attacking transitions.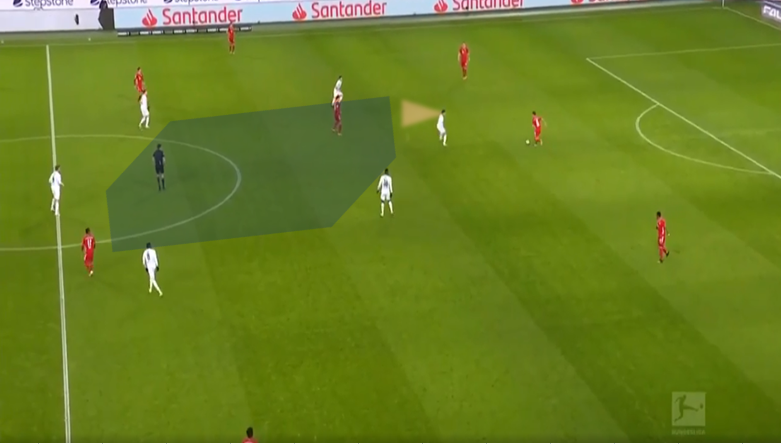 In the offensive phase, it was turning into 4-2-3-1 so that Matthias Ginter and Nico Elvedi were spread on the sides for Stefan Lainer and Ramy Bensebaini to occupy space in wide areas, while Christoph Kramer and Florian Neuhaus were positioned as a double pivot in front of them. Denis Zakaria, Hofmann and Stindl in the half-spaces, whilst Embolo would drop into the middle to create numerical superiority, provide passing angels, and pull one of David Alaba or Niklas Süle out of position.
Flick's idea was always looking for space in Gladbach's defense, and Kimmich was used by Flick as the progressor of the build-up. Kimmich would drop between the lines to offer himself as a passing option for the back four and Neuer. Rose counteracted this by making his players focus on closing down passing angles around Kimmich, forcing the German to drop between Süle and Alaba to create 3v2 overloads against Stindl and Embolo and create the possibility for Goretzka to play a vertical pass.
Jonas Hofmann played a vital role in this, constantly shifting from left winger in a 4-3-3 to left midfielder in a 4-4-2 to cover Goretzka, and if he did go to mark the Bayern midfielder, Pavard would have plenty of space to exploit going forward. In turn, Bensebaini would go to press Pavard whilst Neuhaus would mark Müller in the right half-space, whilst Elvedi focused on shutting down Sané. Bayern struggled to play out from the back, as their two center backs were forced to pass horizontally between themselves; Alaba had 135 touches, whereas Kimmich and Süle had 115 and 114 touches, respectively.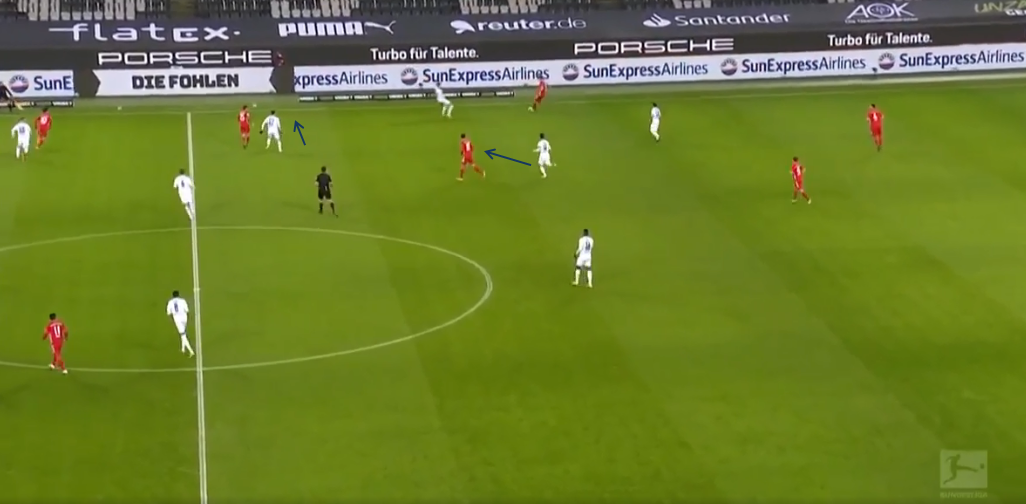 Rose found success in the first 15 minutes with his plan, but Flick called an audible to play around this; noticing that Hofmann would leave his position as a left winger to mark Goretzka, Rose sought to exploit the space on Gladbach's left flank that would be even greater after Bensebaini came to press Sané in a 1v1 situation.
Flick instructed Costa to go deep into the field with Davies sticking to the flank to stretch the pitch and keep Pavard from advancing forward. Costa's central positioning next to Lewandowski made Ginter stick to his position more and created space for Sané, with Alaba taking advantage by playing more long balls towards the ex Manchester City forward. 
In turn, Rose instructed Bensebaini to stick closer to Sané and adjusted the team's mid-block, with Hoffmann vacating space in the middle to mark Pavard on the right. In order to increase the intensity of the press, Flick moved Müller into an advanced position, playing almost as a second striker off the shoulder of Lewandowski. This allowed Bayern to counteract Rose's strategy and gave Pavard ample space to roam forward and play crosses into the box.
Bayern took an early lead via goals from Lewandowski and Goretzka, and Rose responded by using a trick from Julian Nagelsmann's playbook. The Leipzig manager has used box-to-box midfielder Amadou Haidara in a wide role, and Rose decided to use Denis Zakaria in a similar role in order to pull Davies out of position and increasing the distance between Alaba and the Canadian youngster, and in turn, engineering 3v3 attacking situations.
By using Zakaria in a wide position, Ginter and Stefan Lainer could have a constant vertical passing option whilst Christopher Kramer and Florian Neuhaus would also have a horizontal passing option. Finally, Zakaria's positioning would also force Goretzka to vacate his central position and move closer to Kimmich, thus creating more space in the half-spaces and in behind Bayern's double pivot.
As usual, any system has its advantages and disadvantages. At times, Bayern's attackers were not quite coordinated and in-sync in their pressing movements, which allowed Gladbach's defenders to bypass the press by using numerical overloads. Ginter was especially key in this, disguising his body positioning to make it seem that he would pass to Lainer before changing direction and bypassing Costa, thus creating a better passing angle to Lainer, who is unmarked due to Zakaria keeping Davies busy with his wide positioning.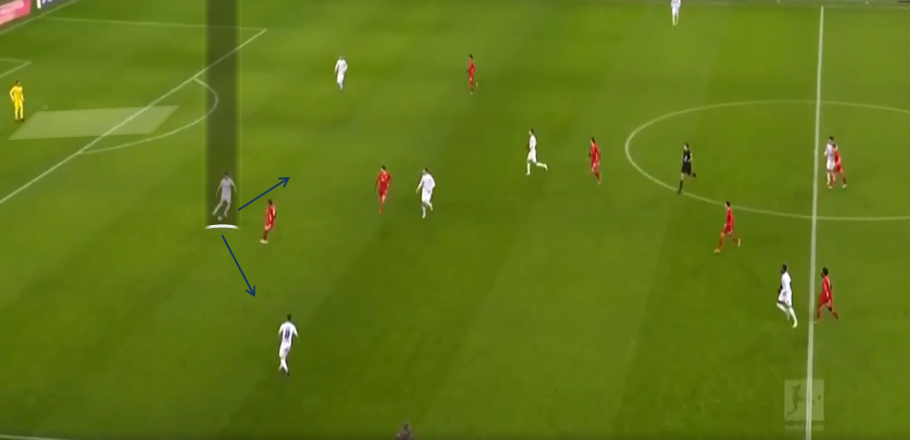 The second flaw in Bayern's system is that it can easily be picked apart by switches of play. In this example, a simple cross-field diagonal pass from Lainer completely exploits Bayern's lack of compactness, finding Bensebaini in the final third to create a 4v4 situation in the final third.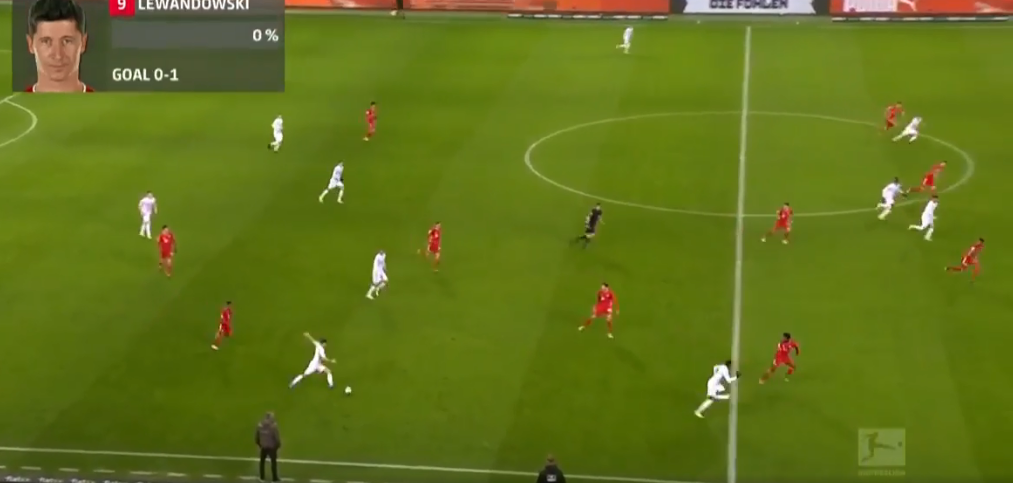 Bayern's counter-pressing structure has been incredibly effective over the first 14 months of Flick's reign, but it also leaves them vulnerable to certain situations. Their high line was left exposed against the likes of Stindl and Embolo, who took advantage of Alaba and Süle's slowness to anticipate the attack and exploited miscommunications between the two Bayern defenders.
Indeed, whilst Süle is an incredibly promising defender, he hasn't yet developed the same chemistry with Alaba that his compatriot Jérôme Boateng has. The two Bayern center backs were often out of sync in tracking the opposing forwards, and this allowed Gladbach to quickly come back and even the score before halftime via a brace from Hofmann.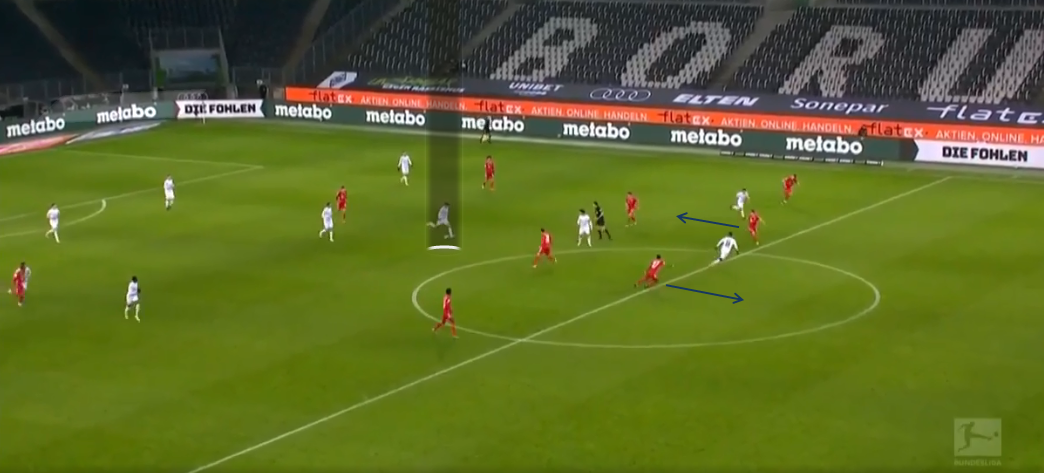 Gladbach's pressing method forced Neuer to play several long balls and the German goalkeeper had no issue finding his attacking teammates in advanced positions with his direct passing, but the hosts did an even better job of preventing them from creating damage with long balls. Rose employed a pyramid shape with one of Ginter or Elvedi dealing with Lewandowski and the other center back playing further back to make an intervention if necessary, whilst Kramer was there to win back the second ball and deal with potential danger from Müller.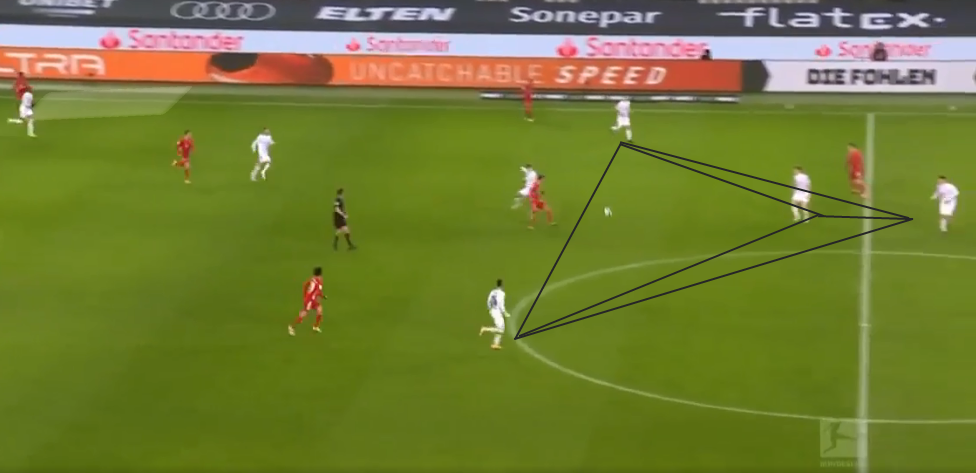 Whilst Flick subbed on Kingsley Coman for Costa to provide some attacking dynamism in the final half-hour, Rose made a few changes of his own, bringing in Patrick Herrmann for Zakaria to help track Davies' runs as well as Hannes Wolf for Stindl to provide fresh blood in attack. He also subbed on defenders Tony Jantschke and Oscar Wendt in the dying minutes, and in the end, Gladbach held onto all three points.
Conclusion
From sealing qualification to the UEFA Champions League knockout round to coming back from a two-goal deficit and defeating Bayern Munich, Marco Rose is proving why he is one of the most exciting managers in football at 44 years of age.
Whilst Die Fohlen currently sit 7th in a jam-packed race for Champions League football, they can certainly use this match to fuel them going forward as they go up against the likes of Stuttgart, Werder Bremen and Borussia Dortmund in the coming weeks. On the other hand, after losing their first match since September 27 and being eliminated from the DFB-Pokal by second-tier Holsten Kiel, Bayern will be looking to bounce back with a win against Freiburg on Sunday.
By: Omar Mokhtar
Featured Image: @GabFoligno / Wolfgang Rattay – AFP