Tactical Analysis: Bayern Munich vs. RB Leipzig
In their two relatively short managerial careers, Hans-Dieter Flick and Julian Nagelsmann have built a reputation for themselves as two of the most exciting coaches in Europe. After a 14-year hiatus from management, Flick took charge of Bayern last year and led them to their first treble since 2013. On the other hand, Nagelsmann led Hoffenheim to their first UEFA Champions League finish in history, before leading RB Leipzig to the Champions League semifinals in 2019/20.
Nagelsmann's Leipzig paid a visit to the Allianz Arena on Saturday with the mission of picking up three points in Bavaria and leapfrogging the league leaders at the top of the Bundesliga table. Leipzig went into the game without Benjamin Henrichs, Hwang Hee-chan, Konrad Laimer and Lukas Klostermann, whilst Bayern were forced to cope with the absences of Joshua Kimmich, Alphonso Davies and Corentin Tolisso.
Flick retained his tried and trusted 4-2-3-1/4-1-4-1, with Javi Martínez being given the start at the holding midfield position over his younger compatriot Marc Roca, whilst Nagelsmann opted for a 4-3-3 with Emil Forsberg playing in a False 9 role over traditional center forwards Yussuf Poulsen and Alexander Sørloth.
Photo: Wyscout
Both Teams Initially Counter One Another
Within the first 20 minutes of the game, it was clear to see how both teams attempted to stop one another in possession. In their last meeting, Nagelsmann's approach was more timid than usual. On this day, Leipzig attempted to be more proactive in order to stifle the defending champion's build-up play. 
Leipzig's 4-3-3 shape would remain distinct and defined when defending in the middle third against Bayern's more asymmetrical 4-1-4-1. Leon Goretzka would come forward, as Martínez acted as the single pivot. David Alaba would be positioned in line with the single pivot as Benjamin Pavard acted as an auxiliary center back.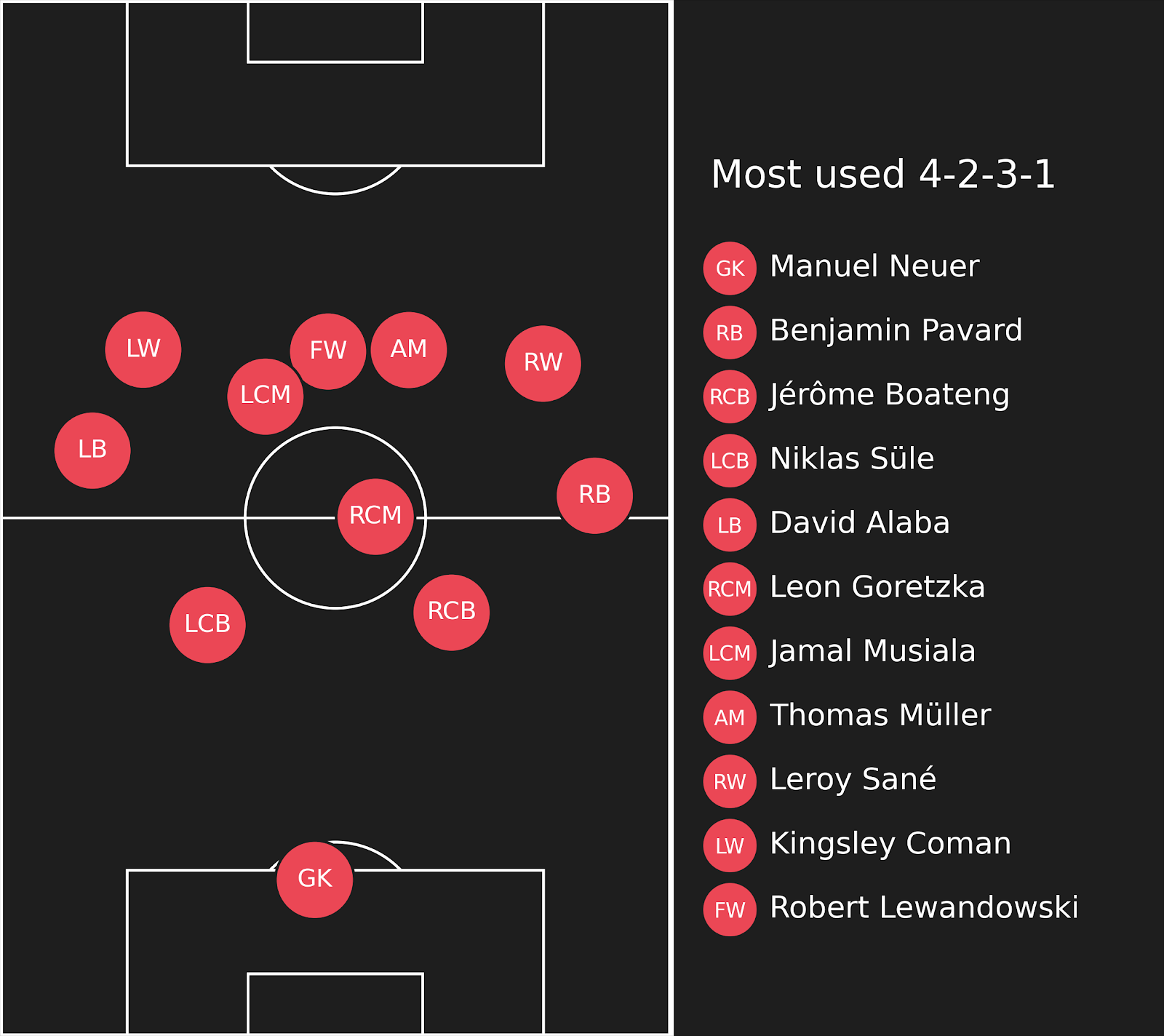 Photo: Twenty3 / Wyscout
Leipzig's first line kept pressure on the ball while keeping Martínez in their cover shadow to prevent him from receiving the ball. By pressing with three forwards, they also prevented Bayern's makeshift back three from having numerical superiority in the first phase.
Naturally, Leipzig would have three players  positioned within the half spaces, making it difficult for the forwards to drop deeper to support. As such, Alaba would often be the only free progressive passing option, and whenever he received the ball, this would trigger Leipzig's second line to shift and the nearest outside midfielder to engage the fullback, forcing the Austrian to pass the ball backwards.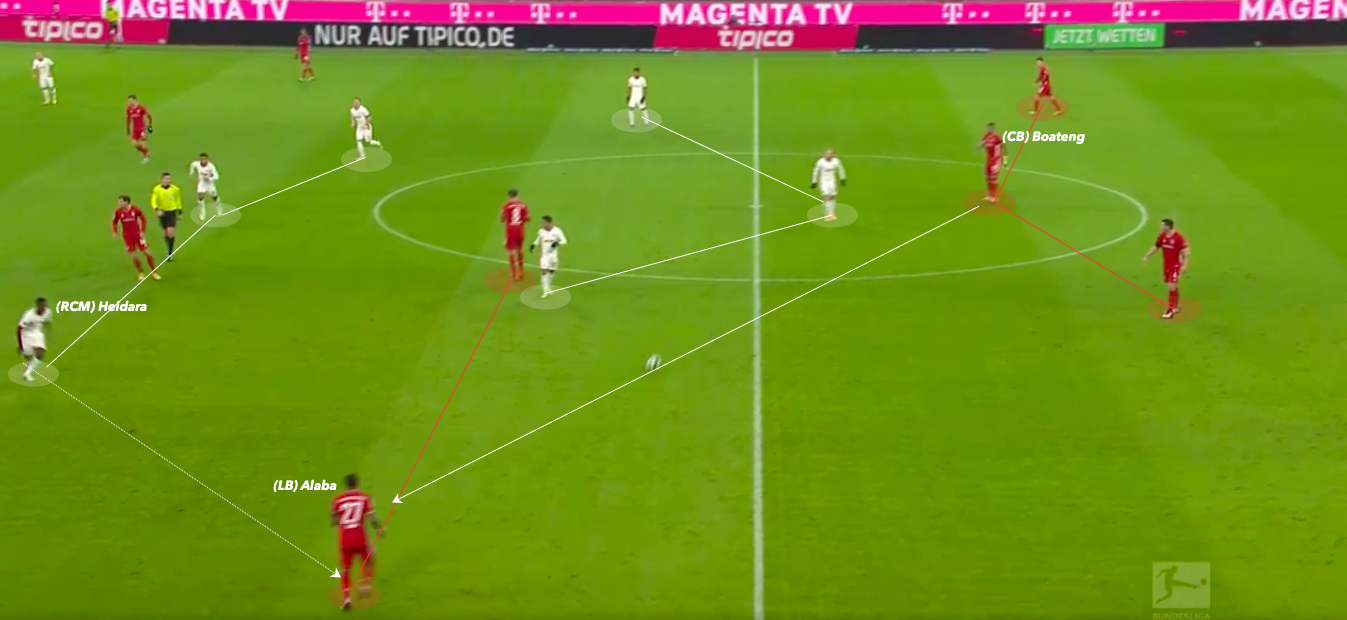 When Alaba was forced to pass backwards, Martínez would look deceptively free but this would not be the case and play into Nagelsmann's trap. Before Martínez can even realize it, he is being closed down from every direction.
Tyler Adams would be the one to win the ball and carry the ball forward, as Leipzig attacked Bayern in defensive transition after losing possession. Martínez struggled to deal with the intensity of Leipzig's press and was forced to come off in the 25th minute after picking up a knock, with Jamal Musiala replacing him in midfield.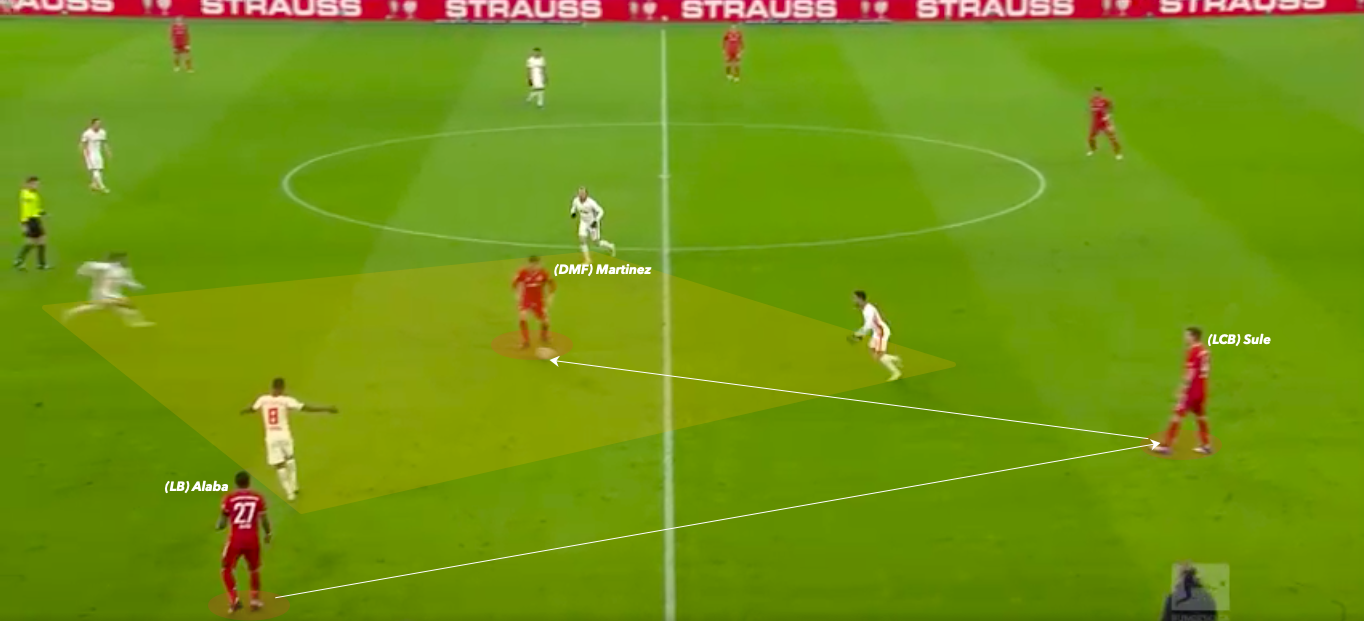 When Amadou Haidara was late to close him down, Alaba could play a pass in behind Leipzig right back Nordi Mukiele into Kingsley Coman, but due to the fact that this relied on an opposition player making a mistake or failing to do his job immediately, this was an unsustainable solution for Bayern.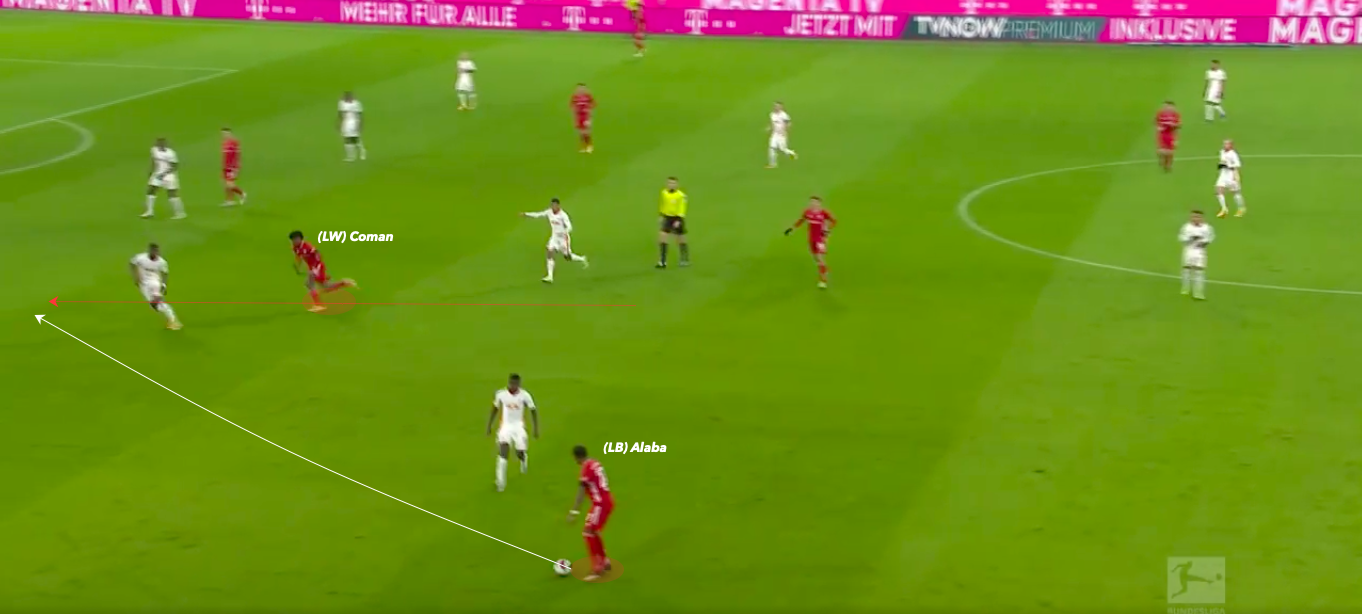 As the game went on, Leon Goretkza would begin to come deeper in order to drag a Leipzig player with him and open up a passing angle into the half space directly from the defensive line, a common occurrence for both Bayern and Leipzig as they seek to play vertically. However, in this example, Adams reads the play perfectly and intercepts this pass before it can reach Thomas Müller.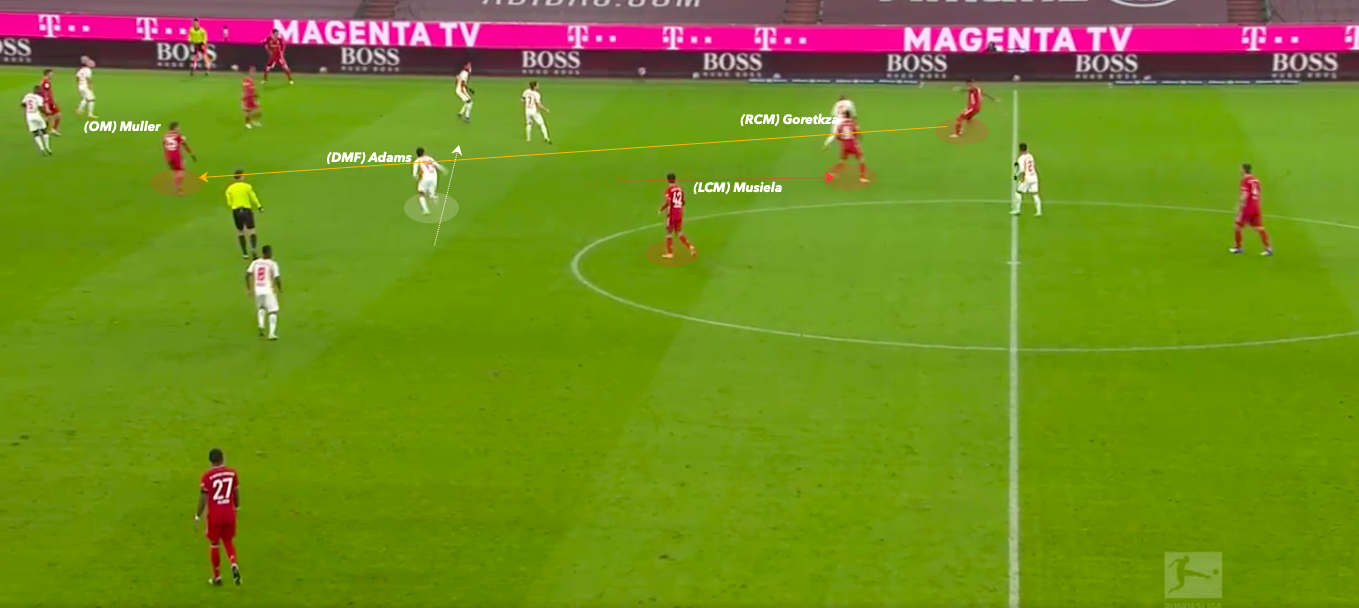 Flick would see more success on the day in shutting down Leipzig's possession periods at their root. Their shape morphed into more of a 4-2-3-1 as Leipzig's 4-3-3 became a 4-4-2 diamond. Robert Lewandowski covered the defensive midfielder, Müller the left midfielder, Martínez the center forward and Goretzka the right midfielder. 
Dayot Upamecano would play a pass to Angeliño, who would be pinned to the touchline without a free man to find, and most sequences ended with a long switch of play that did not reach its target. There were some moments where Angeliño would have space to carry the ball forward and find Forsberg, although Upamecano would be able to find Christophe Nkunku whenever his compatriot dropped deep.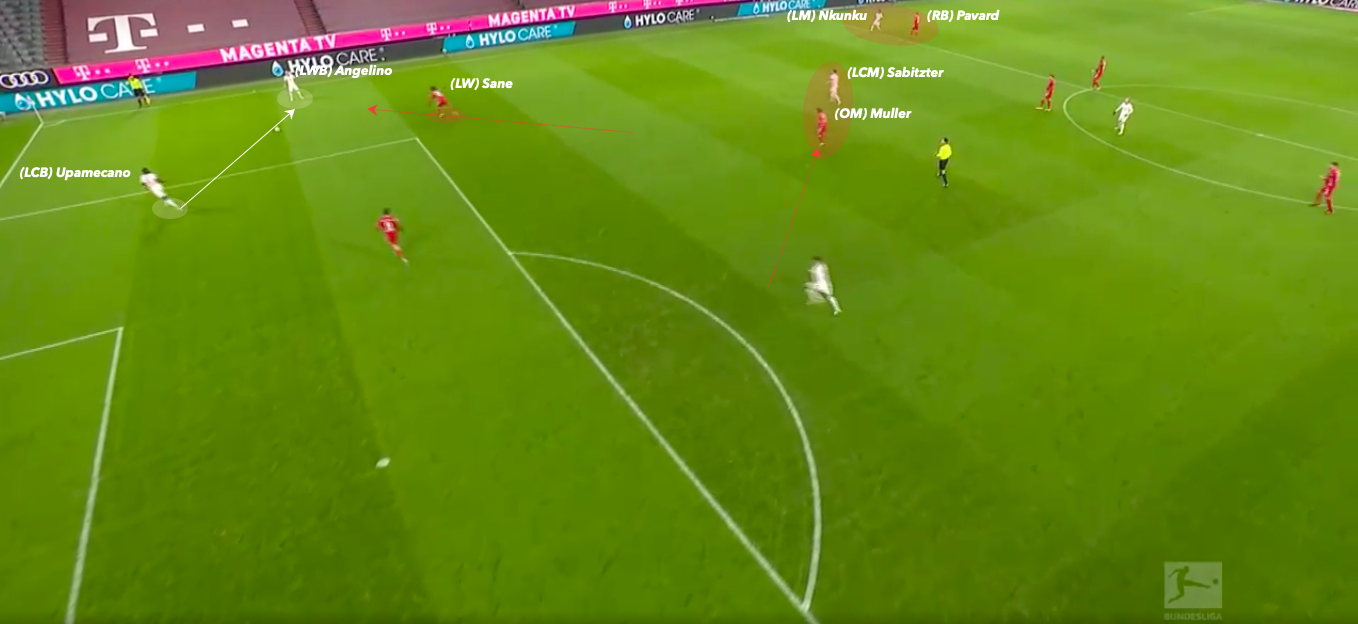 Leipzig's 4-4-2 Rhombus Causes Problems in Transition
Since Flick's appointment on November 6, 2019, Bayern have overwhelmed opposing teams through their high-pressing strategy predicated upon their high defensive line in possession. Whilst Alaba and Davies have been crucial in holding up this strategy, 32-year-old Jérôme Boateng (purple) has also been incredibly proactive at engaging the opposing forwards, as seen below.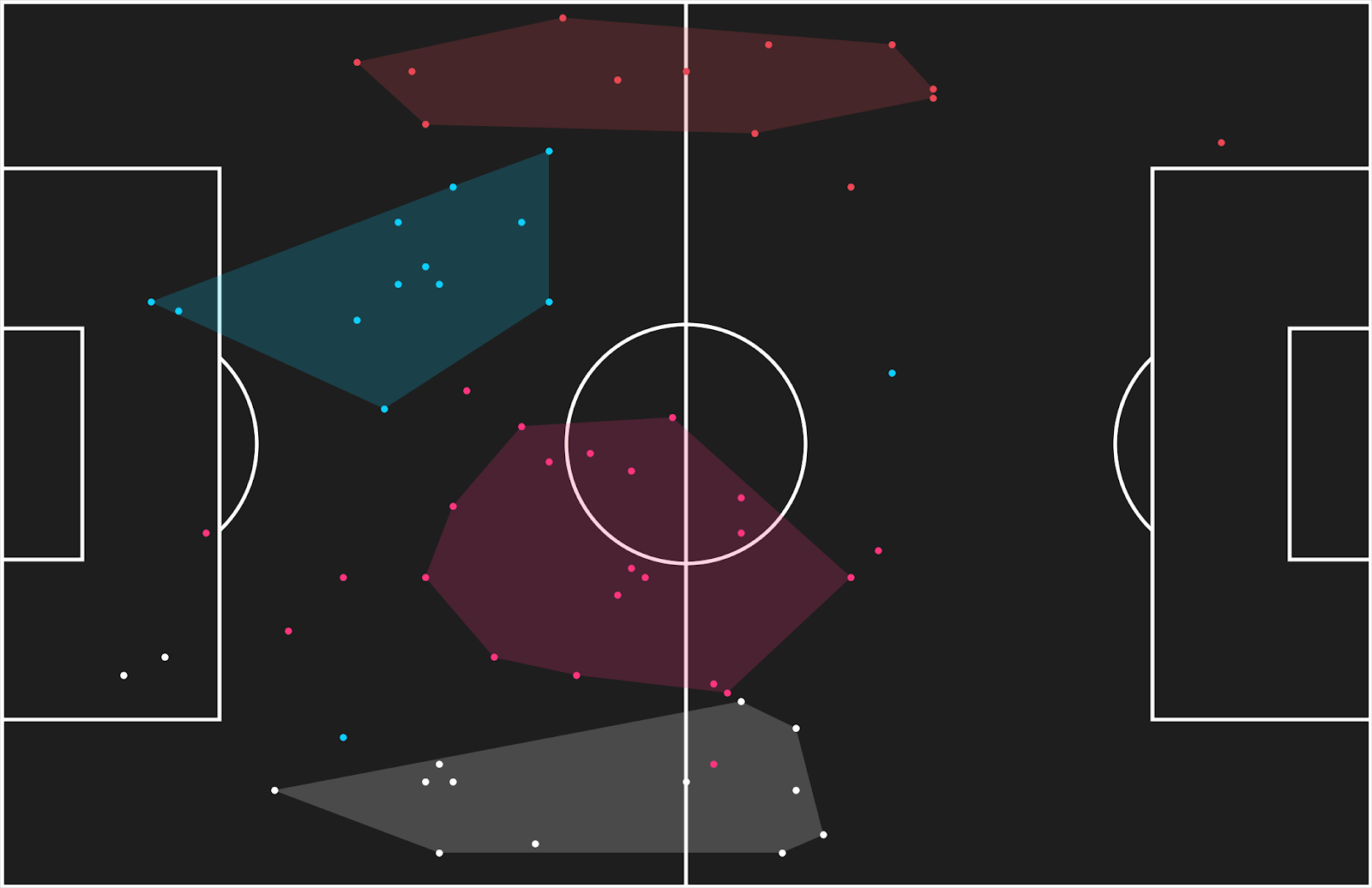 Photo: Twenty3 / Wyscout
By using Forsberg as a false nine and Nkunku and Justin Kluivert as inverted forwards, Leipzig's 4-3-3 looked like a 4-4-2 diamond/rhombus at times. This pitted Boateng's proactive style of defending against him and opened up space for Kluivert and Nkunku in behind Bayern's defensive line.
With both teams's build-up play being staggered by the opposition's strategy, the opening goal would come in the 19th minute via an attacking transition. As the two forwards were in a 4v2, Boateng would step forward and track Forsberg into midfield, allowing Nkunku and Kluivert to advance onto the blind sides of Niklas Süle and Pavard. Forsberg had the time and space to play a through ball to Nkunku, who gave Leipzig an early lead.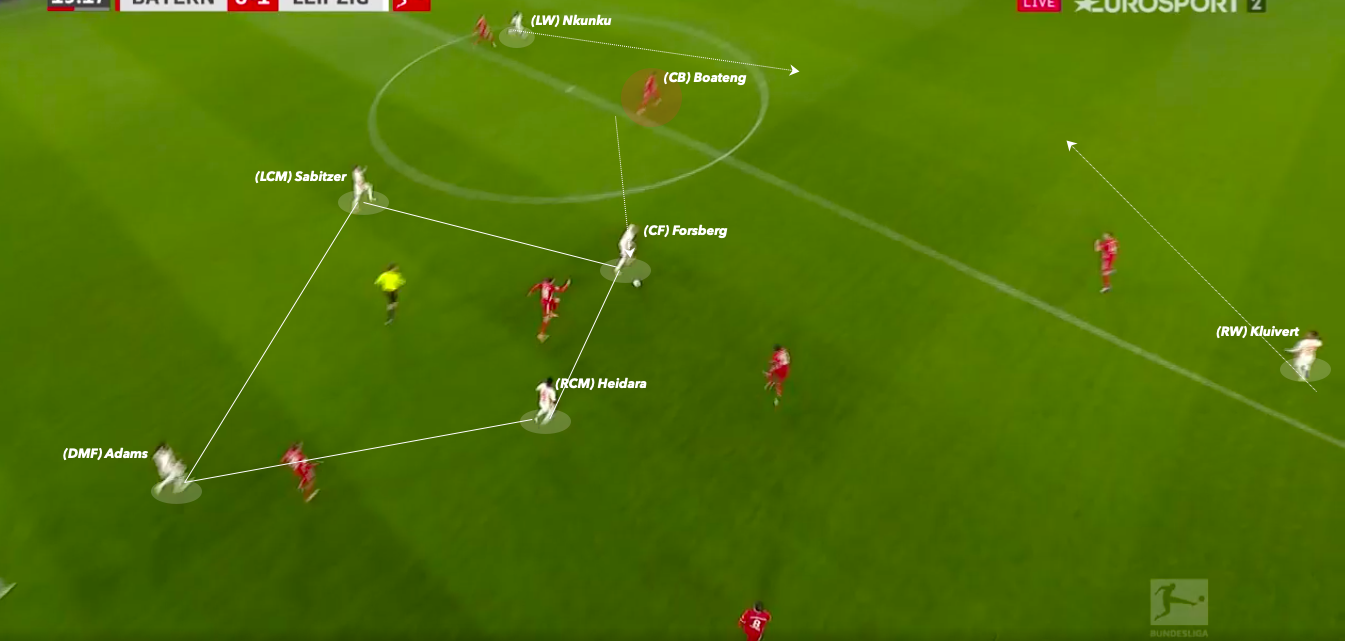 Bayern Respond and Make Changes
After conceding, Bayern would bypass the first and second line of pressure more often and picked apart Leipzig's 4-3-3 defensive shape. They mainly attacked through the flanks, overloading the ball side; Lewandowski held the height of the attack which gave Müller the license to roam. The 'Raumdeuter' played a quick pass to Coman, who found Musiala at the edge of the box, and the 17-year-old curled in the equalizer into the bottom right corner.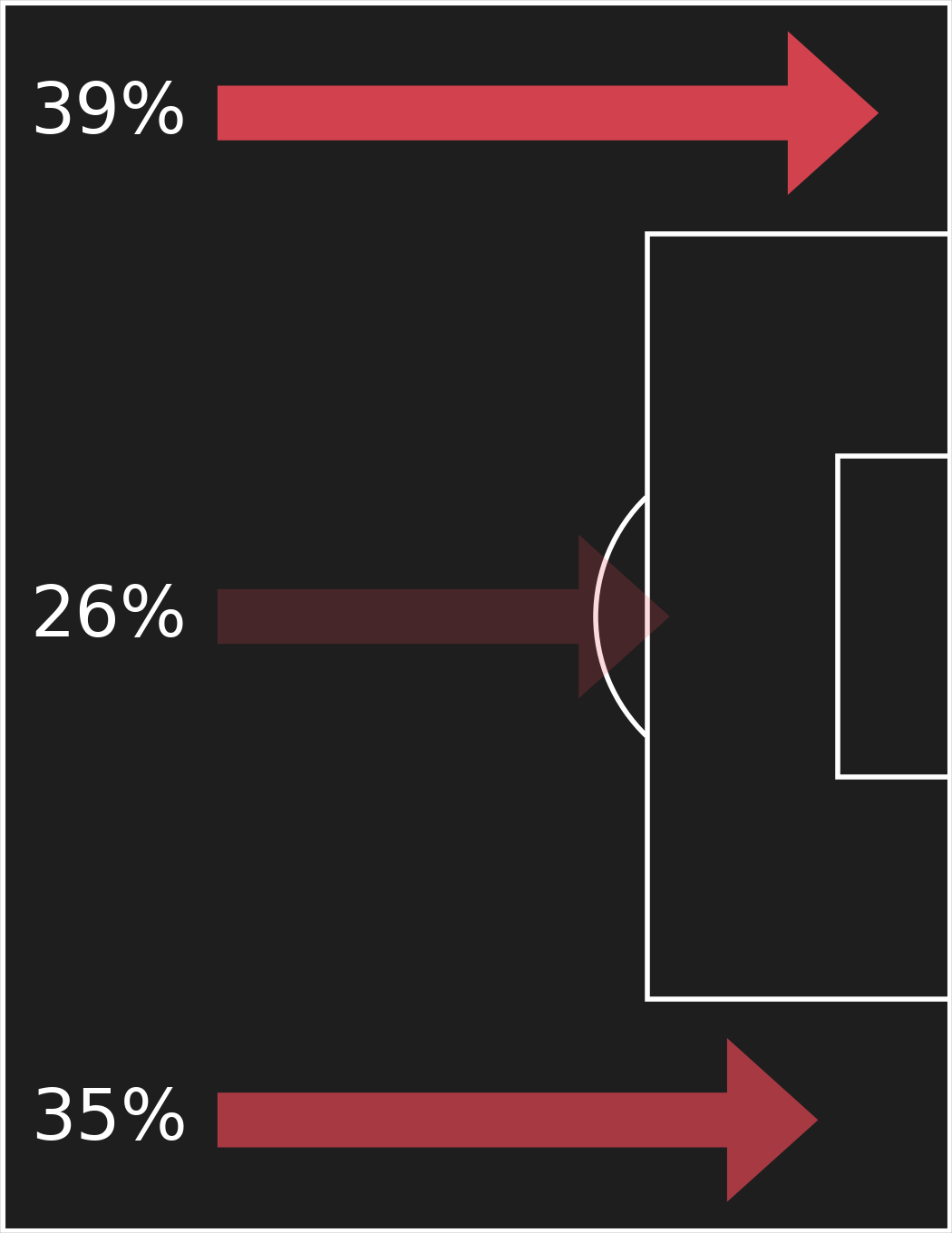 Photo: Twenty3 / Wyscout
With six Bayern attackers between the lines at times, the lack of a spare man was exploited and Leipzig's midfield line was stretched. Similarly to the opening goal, Lewandowski received behind the midfield which prompted Upamecano to step out of position.
This gave Bayern a 4v3 numerical advantage, and Coman made a darting run into the vacated space to receive a pass, before playing an inch-perfect through ball into Müller who grabbed the go-ahead goal. However, Kluivert equalized immediately after, sneaking in behind Süle and smashing the goal past Manuel Neuer.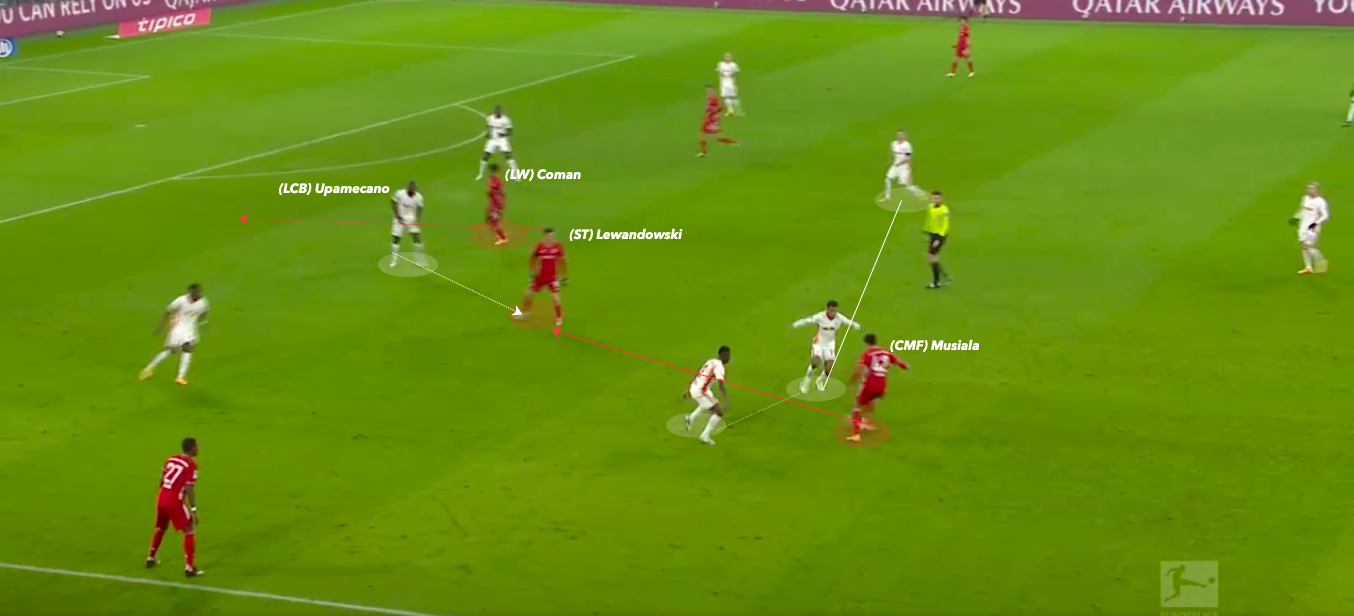 It was easy for Bayern to play back inside into a free man after pulling Leipzig's defensive shape one way. In pursuit of greater coverage across the channels, Nagelsmann switched to a 4-5-1 out of possession in the second half and the spacing between the midfield and defensive line was tighter. It worked like a charm; Forsberg found acres of space in the box and headed home a cross from Angeliño shortly after the break.
Despite having greater settled periods of possession, Bayern had to shift into another gear, focusing on playing through the flanks and making positional rotations and countermovements to shift defenders out of position and create space for Coman.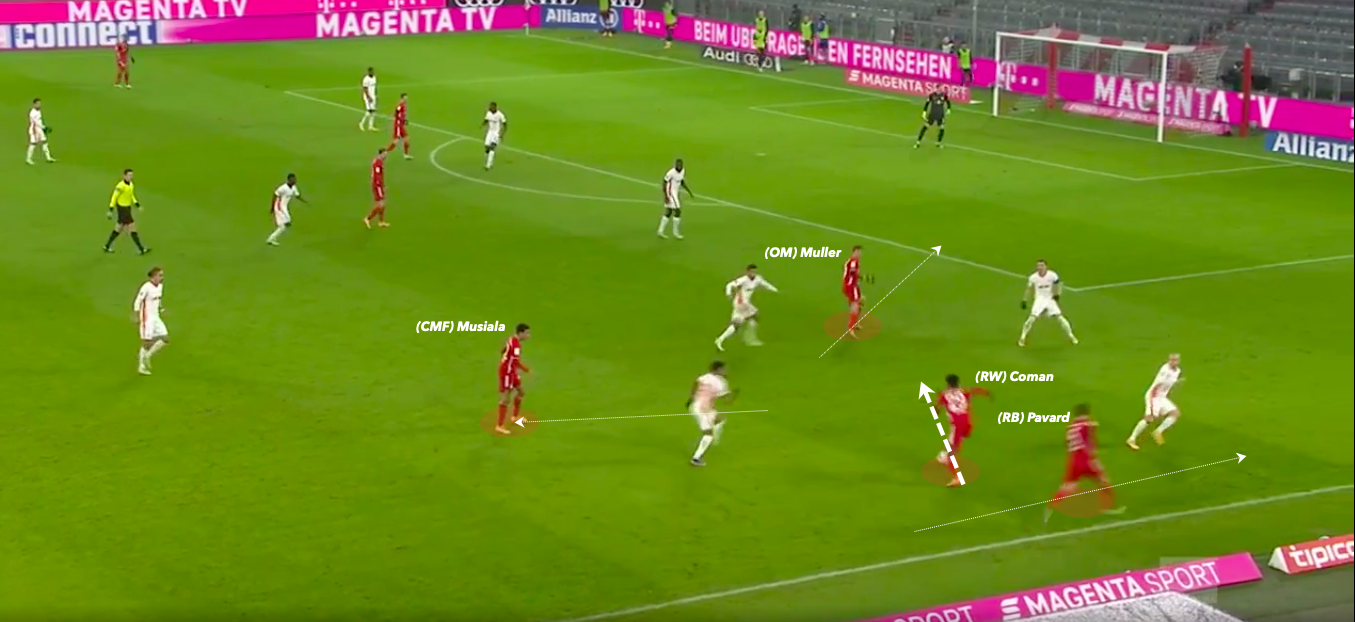 Leroy Sané was given the start on the right wing, and the German had an ineffective performance in attack before making way for Serge Gnabry in the 64th minute. Sané always stood high, wide and away from the ball, and he didn't actively seek to make a difference, as seen by his offensive actions in the below diagram.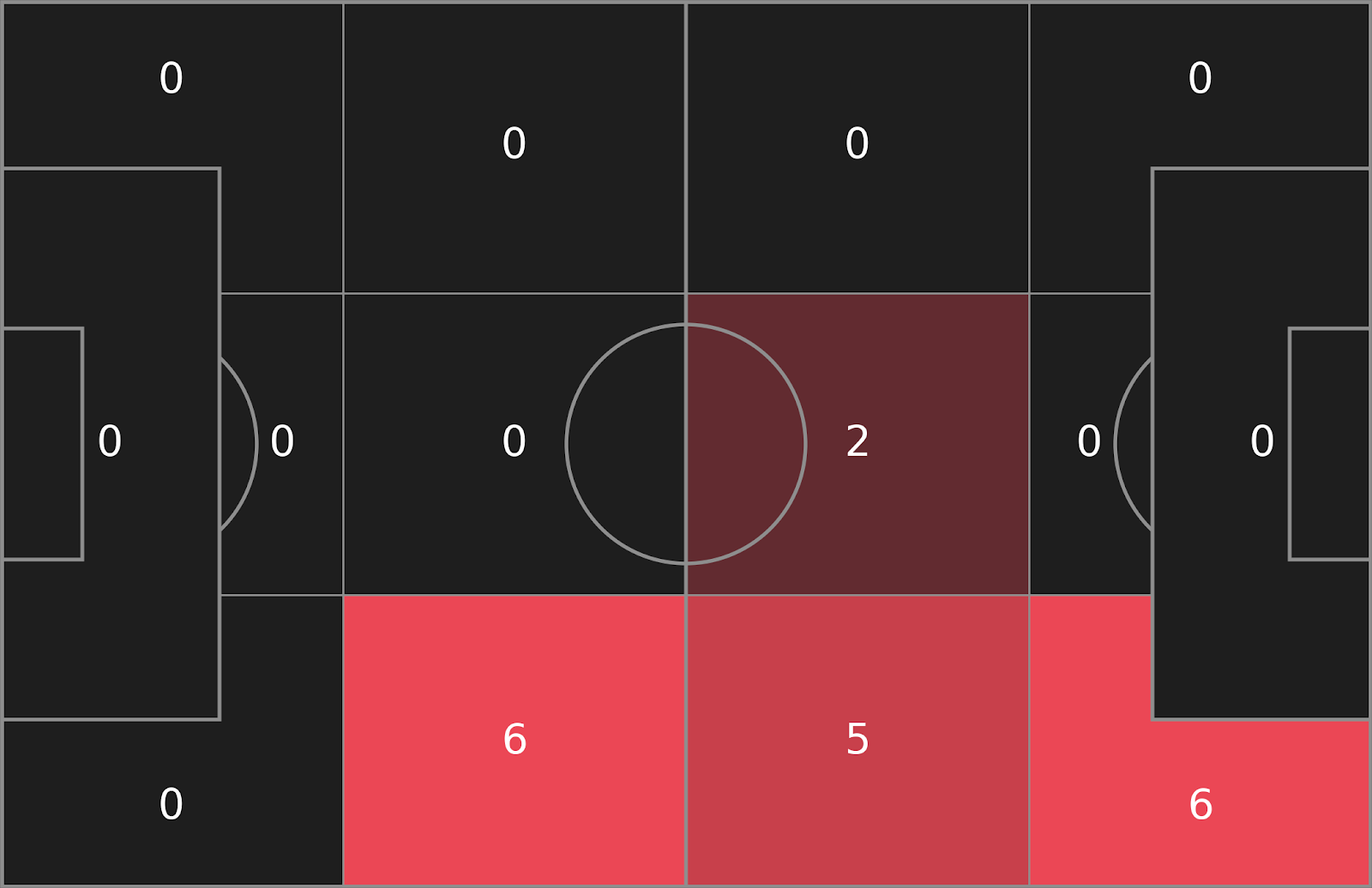 Photo: Twenty3 / Wyscout
Unlike Sané, Gnabry tended to cut inside to allow Alaba to push forward, whilst also putting another attacker in a vertical channel. Goretzka began dropping into the defensive line to split the center backs, encouraging Boateng and Süle to push forward into Leipzig's half in order.
This would ultimately lead to Bayern's third goal, as the defenders were able to pull strings from deep and play passes into the forwards. Musiala found Coman at the right edge of the box, and the Frenchman's cross soared past the Leipzig defense and into the path of Müller, who headed home the equalizer.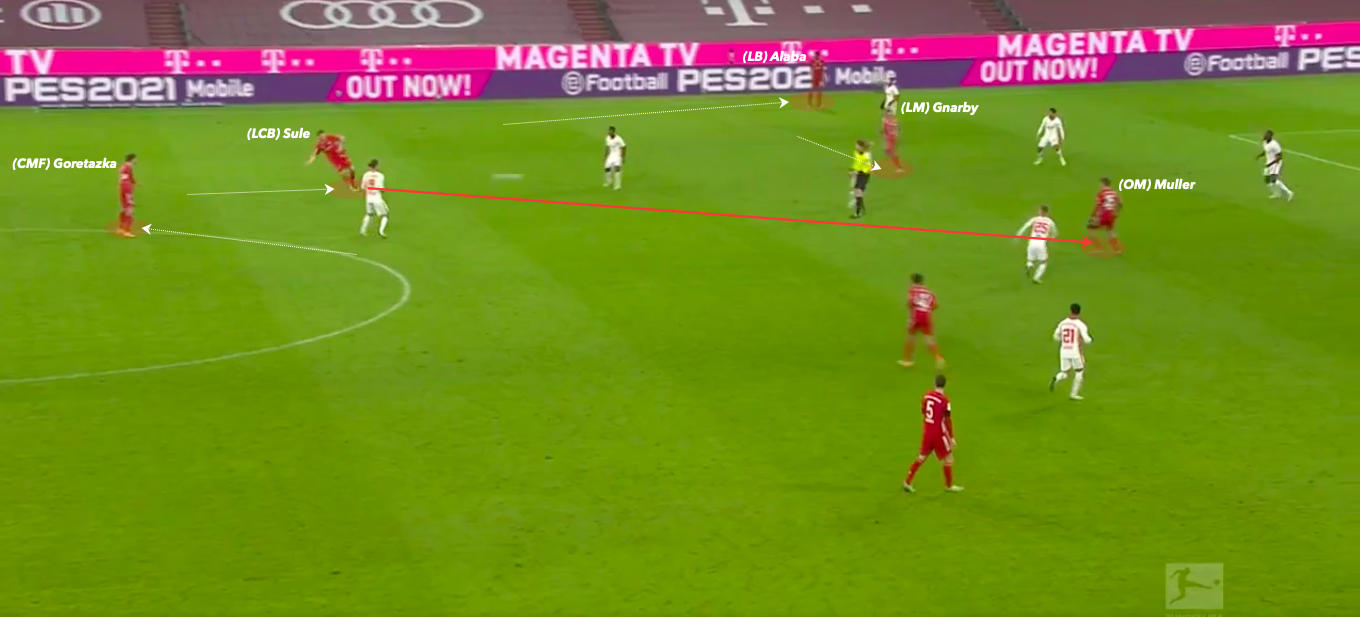 Conclusion 
Julian Nagelsmann's big-game management has been called into question at times, with the German manager often being accused of being overly reserved and naïve, but he got his initial tactics perfect, and with a bit more quality in attack, his side would have gotten the three points. However, the entrance of Gnabry and the heroics of Müller saw Bayern take three points to remain atop the Bundesliga table.
By: Craig Moniz
Featured Image: @GabFoligno / Alexander Hassenstein / AFP