Tactical Analysis: Borussia Dortmund vs. RB Leipzig
Matchday 15 of the 2020/21 Bundesliga season saw Borussia Dortmund travel to RB Leipzig looking to improve on their last away game where they lost 2-0 to high flying Union Berlin. RB Leipzig were the in-form side going into the game, having only lost once in the Bundesliga so far this season. The last time RB Leipzig lost at home was in Matchday 33 of last season which, ironically, was against Borussia Dortmund.
Going into the game, both sides recorded a win and a clean sheet in their first games of 2021, which made for an exciting battle. With Bayern Munich losing to Borussia Monchengladbach in the first game of the weekend, both sides set out to try and make up ground at the top of the table. 
It was Dortmund who came away from the game with all three points after securing a 3-1 win over Julian Nagelsmann's side, advancing themselves into the UEFA Champions League places. A Jadon Sancho goal and an Erling Braut Haaland double saw the away side continue their strong run of form in 2021.
Line-ups
Julian Nagelsmann set out his side in a 3-4-2-1 formation which he has used on numerous occasions this season. Experienced goalkeeper Péter Gulácsi started in goal, with a back three made up of Marcel Halstenberg on the left of the three, Dayot Upamecano in the centre, and Willi Orban on the right side.
The midfield four consisted of Angeliño as the attacking left-back, Amadou Haidara and Marcel Sabitzer in the middle, and Tyler Adams as the attacking right-back, while the front three was composed of Emil Forsberg, Dani Olmo, and Yussuf Poulsen.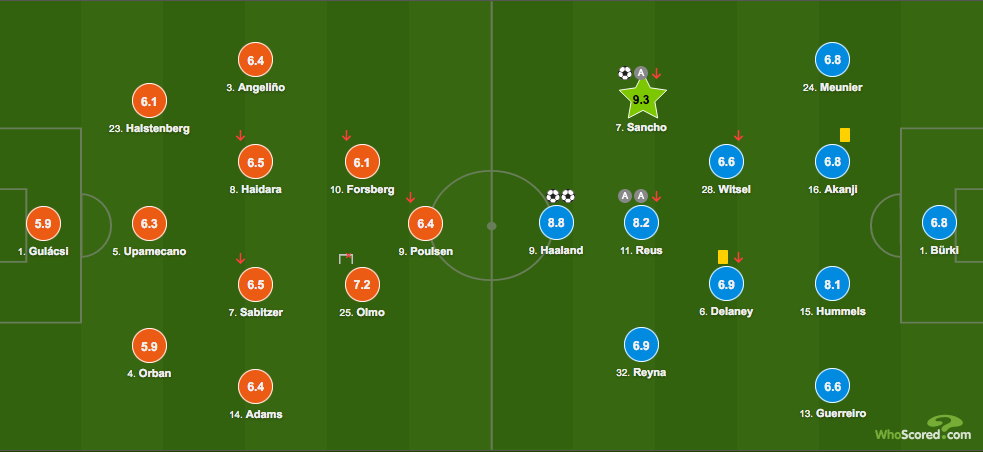 Photo: WhoScored
As for Borussia Dortmund, Edin Terzić set up his side in a 4-2-3-1 shape for his 4th game in charge. Roman Bürki started in goal, with a back four of Thomas Meunier, Manuel Akanji, Mats Hummels and Raphaël Guerreiro. In the defensive midfield roles were Axel Witsel and Thomas Delaney, while Jadon Sancho, Marco Reus and Giovanni Reyna were the attacking midfielders. Prolific striker Erling Haaland led the line for Dortmund.
Dortmund's Out of Possession Structure
Going into the game, Borussia Dortmund had conceded 18 goals so far in the Bundesliga this season, 14 under old boss Lucien Favre in 11 games, and four under Terzić in four games. They have already surpassed their xGA tally of 16.3, and currently hold an xGA per 90 of 1.27. However, a deeper look at the defensive statistics this season show Dortmund in the top 20 for defensive actions and in the top 10 for defensive duels won.
Photo: Twenty3/Wyscout
Currently sitting 2nd in the league for the most clean sheets gained this season, Terzić needed to continue to make sure Dortmund were hard to breakdown when out of possession and their structure as a unit during the game against RB Leipzig showed this is an area that he deems vital if Dortmund have any chance of challenging for the title this season. 
In the first 15 minutes of the game, Dortmund's showed their structural organisation which prevented RB Leipzig from being able to play the ball into forward areas to penetrate or play to attacking players in between the lines.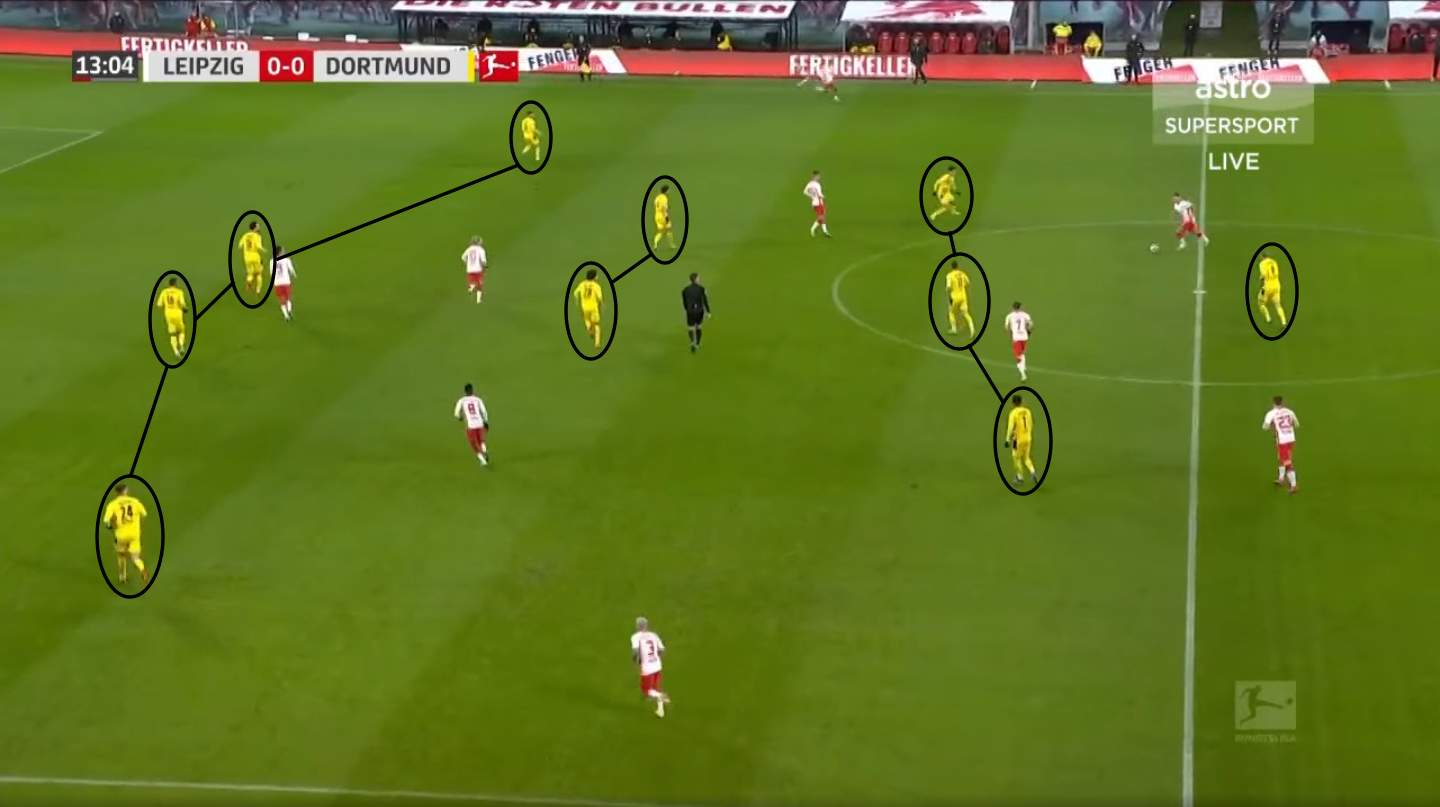 RB Leipzig used a back three in possession on numerous occasions in the game, and this allowed Dortmund to be structured off the ball. Their two central defenders, Hummels and Akanji were compact together to prevent the ball being progressed into Leipzig striker Poulsen. Dortmund's two defensive midfield players, Witsel and Delaney were again compact to prevent a forwards pass through the central space into Poulsen or Forsberg who were moving in between the lines to try and receive. 
When RB Leipzig's defenders were in possession, Dortmund's attacking three were compact together as a unit, preventing RB Leipzig's single pivot player when in possession, Sabitzer, to receive to play forwards. This structure forced RB Leipzig to find alternative routes forward with the ball, which saw them try and use their wing-backs to advance into the Dortmund half and towards goal.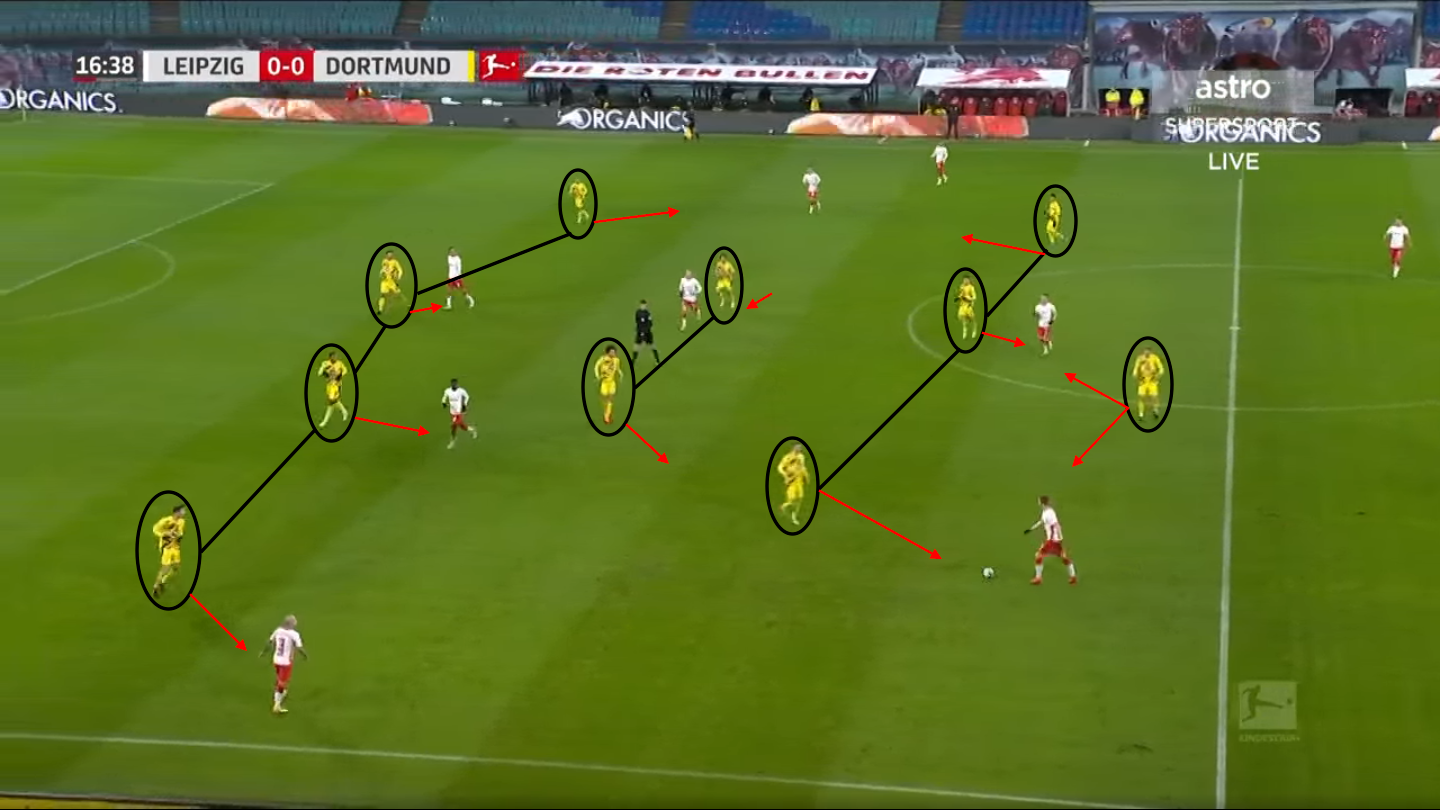 Even when RB Leipzig's left-sided defender Halstenberg had possession and looked for a route to progress the ball, Dortmund were structured once more in their 4-2-3-1 shape, with each player engaged with an RB Leipzig player. As we can see, there is no route through the central area due to Dortmund's compactness and narrowness as a defensive unit, with Witsel and Delaney preventing Halstenberg from playing a direct pass into Poulsen. 
RB Leipzig seek to play with players occupying the half-spaces and allow their attacking players the freedom to move in between the lines as seen with Haidara making a move into the left half-space above. However, Dortmund's compactness, organisation, and structure as a unit prevented RB Leipzig from penetrating the lines, especially in the first half. 
Although RB Leipzig finished the game with 53% possession as opposed to Dortmund's 47%, they only managed to produce eight total shots all game, of which only four were on target. Whereas, Dortmund managed to produce 13 total shots with 6 being on target. Shortly before half-time, as RB Leipzig tried to play out from the back, Dortmund's structure was on show once more, carrying out a high press which isolated RB Leipzig's pivot player which forced them to play long and risk losing possession.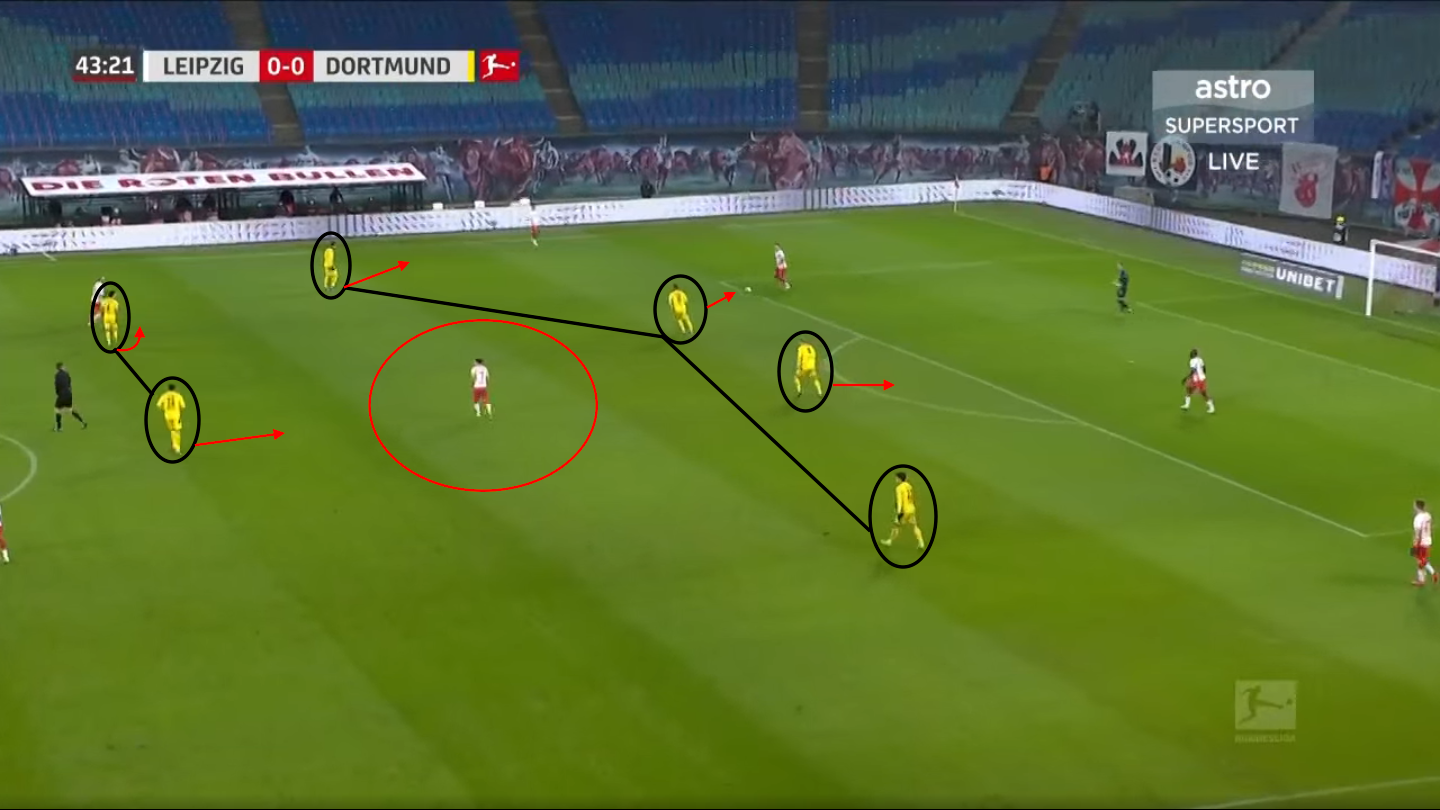 As RB Leipzig looked to play out from the back with Orban on the ball, Dortmund's organisation as a unit isolated Sabitzer as RB Leipzig's pivot player, meaning they couldn't progress the ball for him to then turn and create an attacking situation. 
The timing of Dortmund's press as a unit gave supporting players limited time to receive and the player closest to the ball instigating the press in Dortmund's unit forced the RB Leipzig player, in this specific situation Orban, to play a long ball which was dealt with by Dortmund's defensive players.
As the game changed in the second half in terms of creativity and quick attacking play by both sides, Dortmund's organisation out of possession was still organised to prevent RB Leipzig from taking a lead in the game.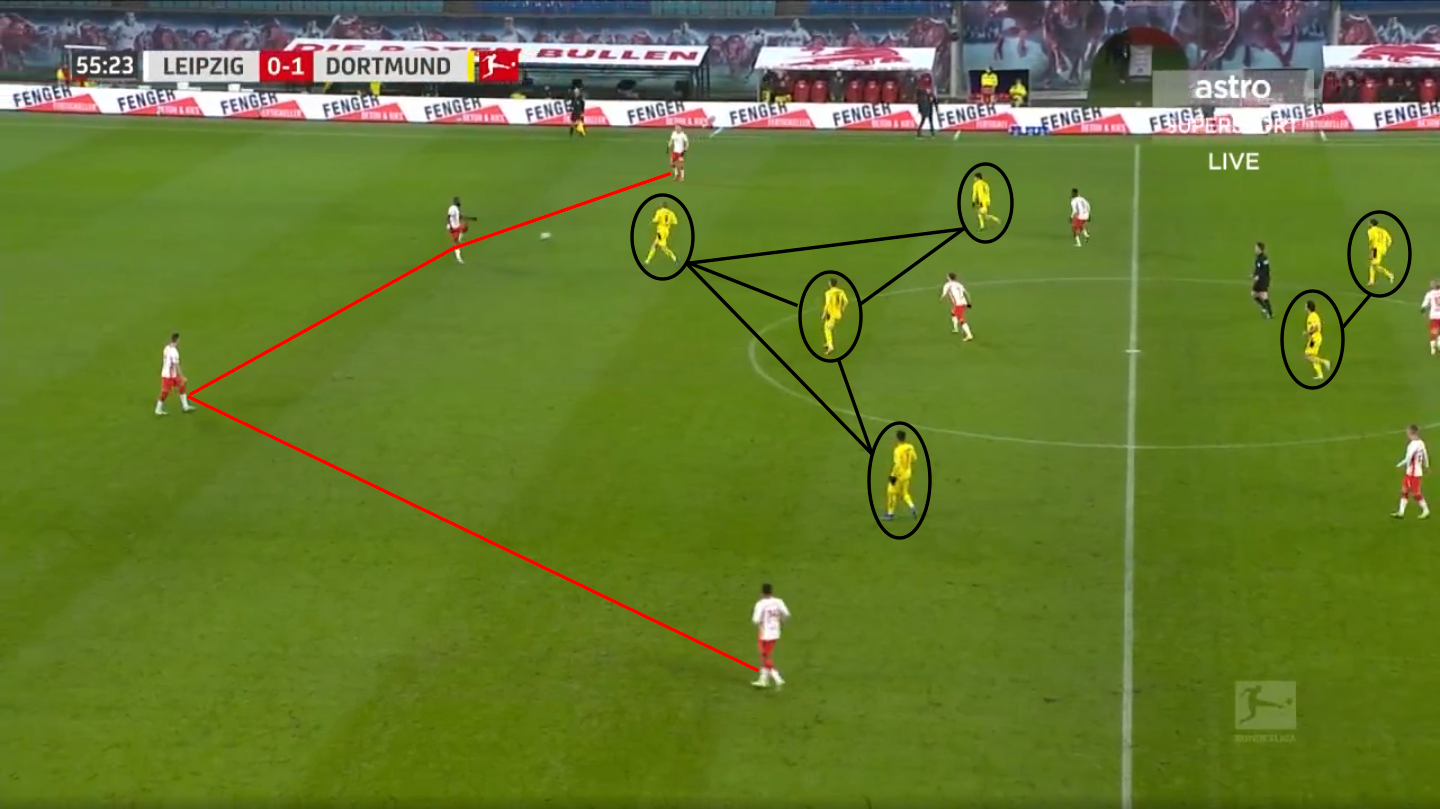 In the first phase of build-up, Leipzig used a back three with their wing-backs playing high and wide to prevent width to give space for the defending three to progress the ball. Dortmund's front defensive unit was seen to be organised and compact, with Haaland instigating the press, followed by Dortmund's attacking midfield three to be narrow to prevent the ball from being penetrated through central zones. This forced Upamecano to play a sideways pass, preventing RB Leipzig from playing into their attacking players and finding routes back into the game. 
Even at 2-0 towards the latter stages of the game, Dortmund's defensive line was once more compact and narrow, preventing RB Leipzig from playing into their main striker to create goal-scoring opportunities.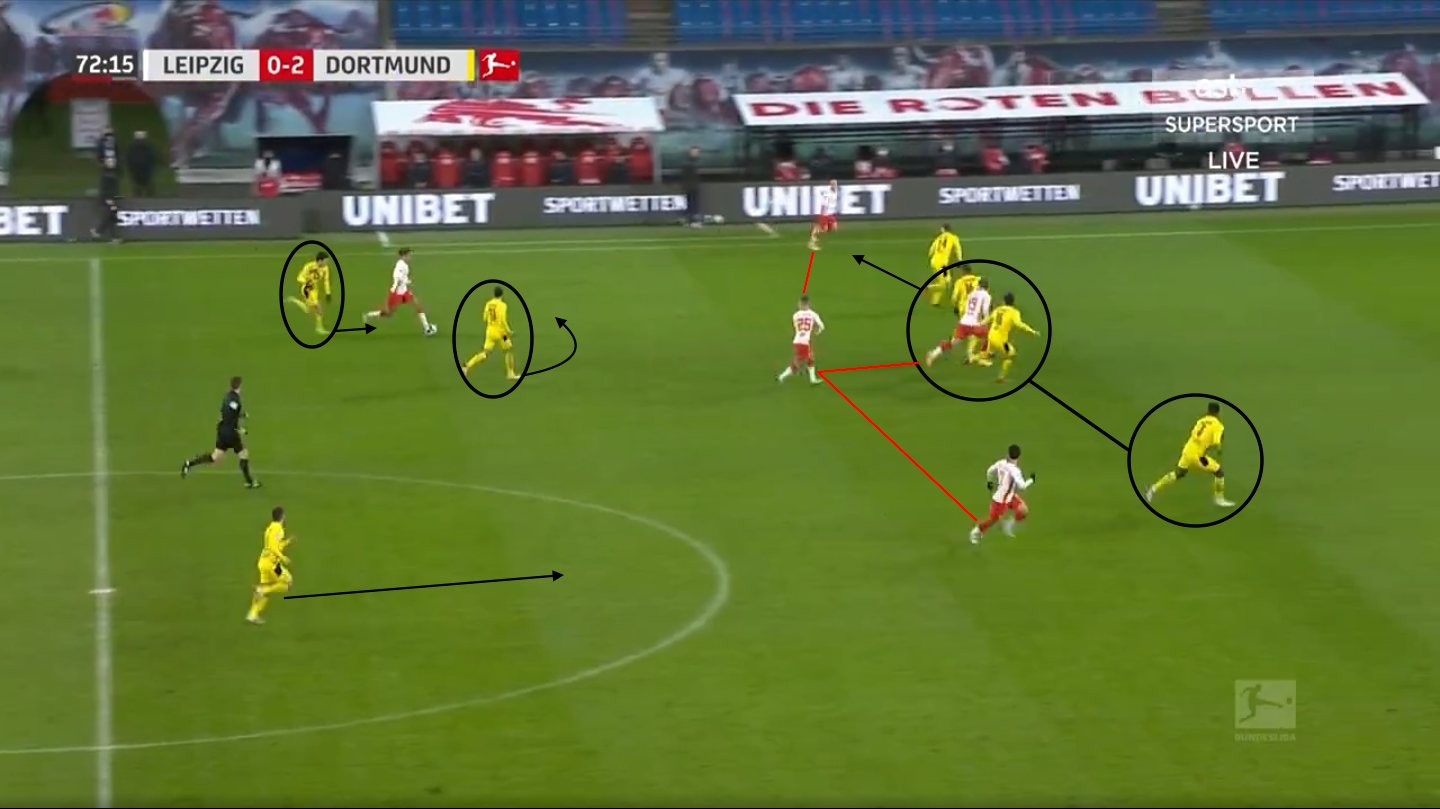 Dortmund's back four were all the correct distance away between one another, and to opposition players, to prevent a pass from being penetrated through into space behind. Players closest to the ball carrier provided quick pressure, forcing the player on the ball to make a rushed decision which caused possession to be given away. 
There is no doubt that Dortmund's organisation and structure as a unit when out of possession prevented RB Leipzig from finding ways to create chances on goal. It also could be argued that RB Leipzig lacked creativity and bravery in the final third which also contributed to their lack of chances created in the game. 
RB Leipzig's Positional Build-up Play
What was very fascinating during this game was Naglesmann's tactics in the build-up phase. Although RB Leipzig only achieved an xG score of 0.01 at half-time and created fewer chances than in previous games this season, they have scored 26 goals so far this season, 8th highest in the league. The statistics below show how effective their attacking play has been so far this campaign.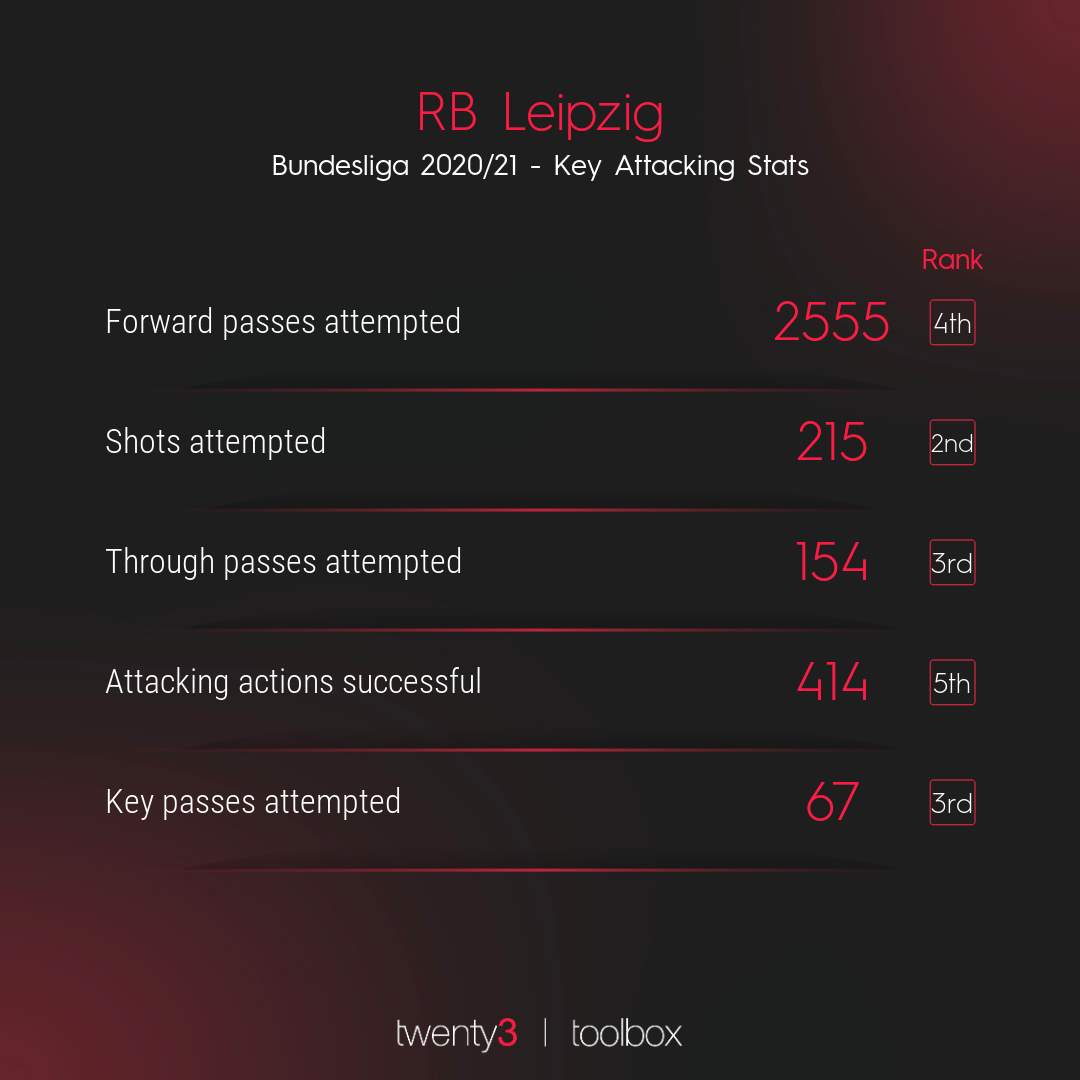 Photo: Twenty3/Wyscout
RB Leipzig currently sit in the top 5 for many different areas of the attacking phase and are the second-highest team in the division to have had the most shots attempted so far this season. They currently sit in third for the most key passes attempted and third for their through passes attempted. 
During the game against Dortmund, Nagelsmann used a different, yet creative way to attack. When in the attacking phase of the game, they set up in a 3-1-5-1 shape, occupying both the half-spaces, providing width on both sides, using a single pivot to support which saw them use a back three to build.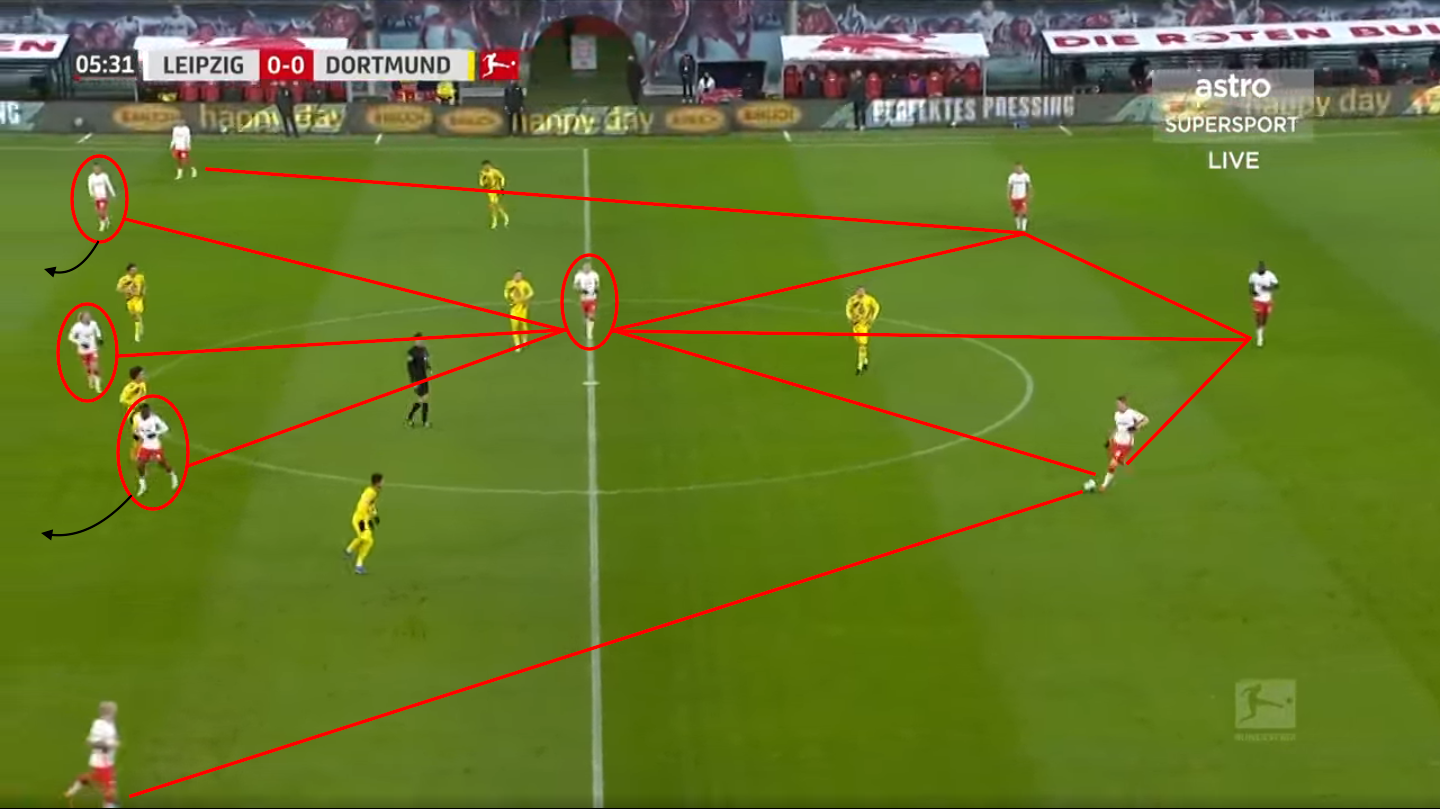 In the early stages of the game, Nagelsmann's positional build-up tactics were clear to see. They opted for a back three when looking to progress which gave the outside central defenders the opportunity to progress the ball vertically, and also gave them options into midfield with the wing-backs on both sides providing the width. 
Both the left and right half-spaces were occupied as well as the wide areas, meaning that if the ball was played into any of these areas, RB Leipzig could have created overloads to penetrate the lines.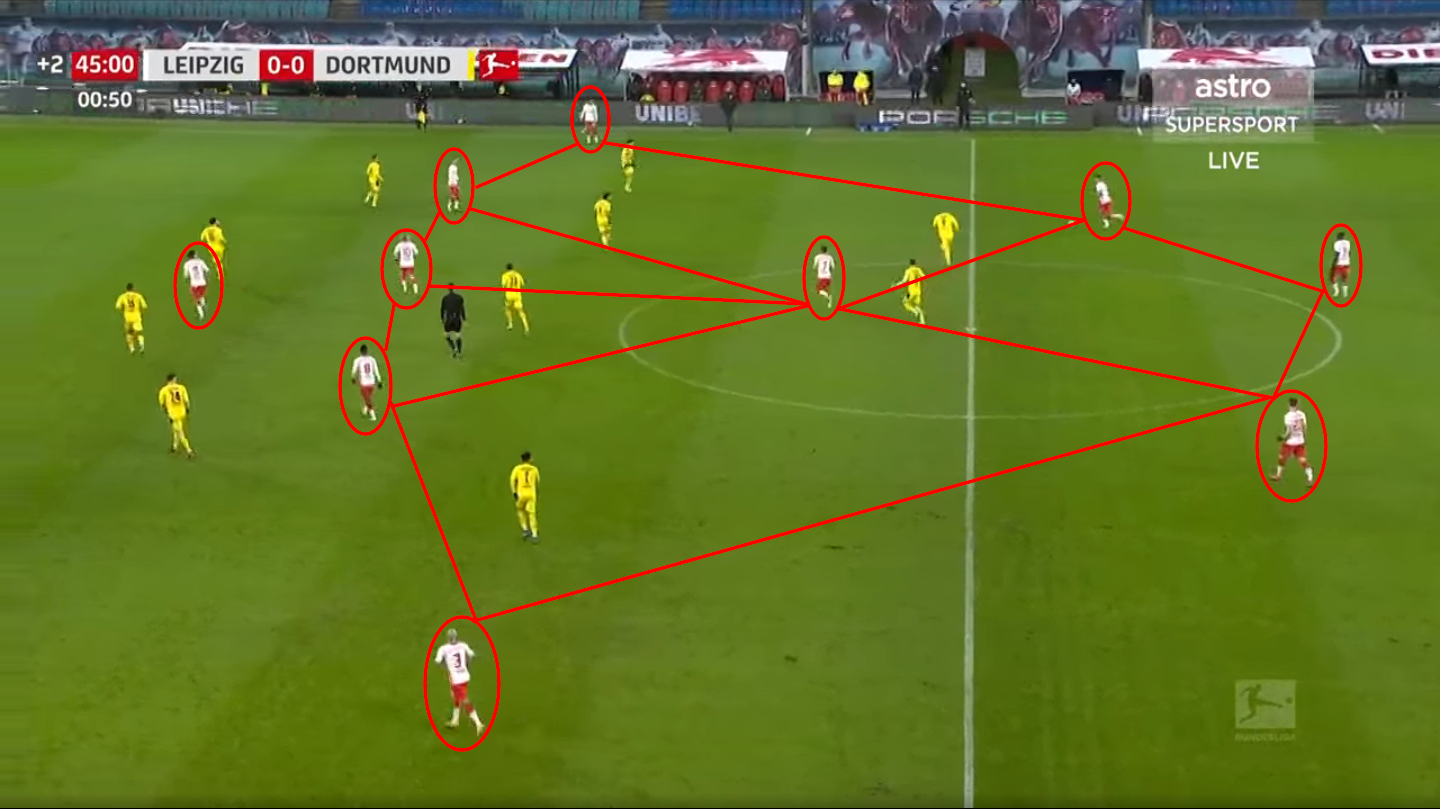 RB Leipzig's right central defender, Orban, had possession and was able to attack vertically as opposed to horizontally, forcing Dortmund out of shape. As both half-spaces were occupied by Olmo and Haidara, it forced the Dortmund fullbacks to follow their run inside, leaving Angeliño on the far left flank in space.
On numerous occasions, we saw the ball being switched to Angeliño who was able to take the ball forward and isolate the Dortmund right back Meunier. RB Leipzig looked to switch the ball to Angeliño who was providing the width on the far left side which then isolated Meunier in a 1v1 situation.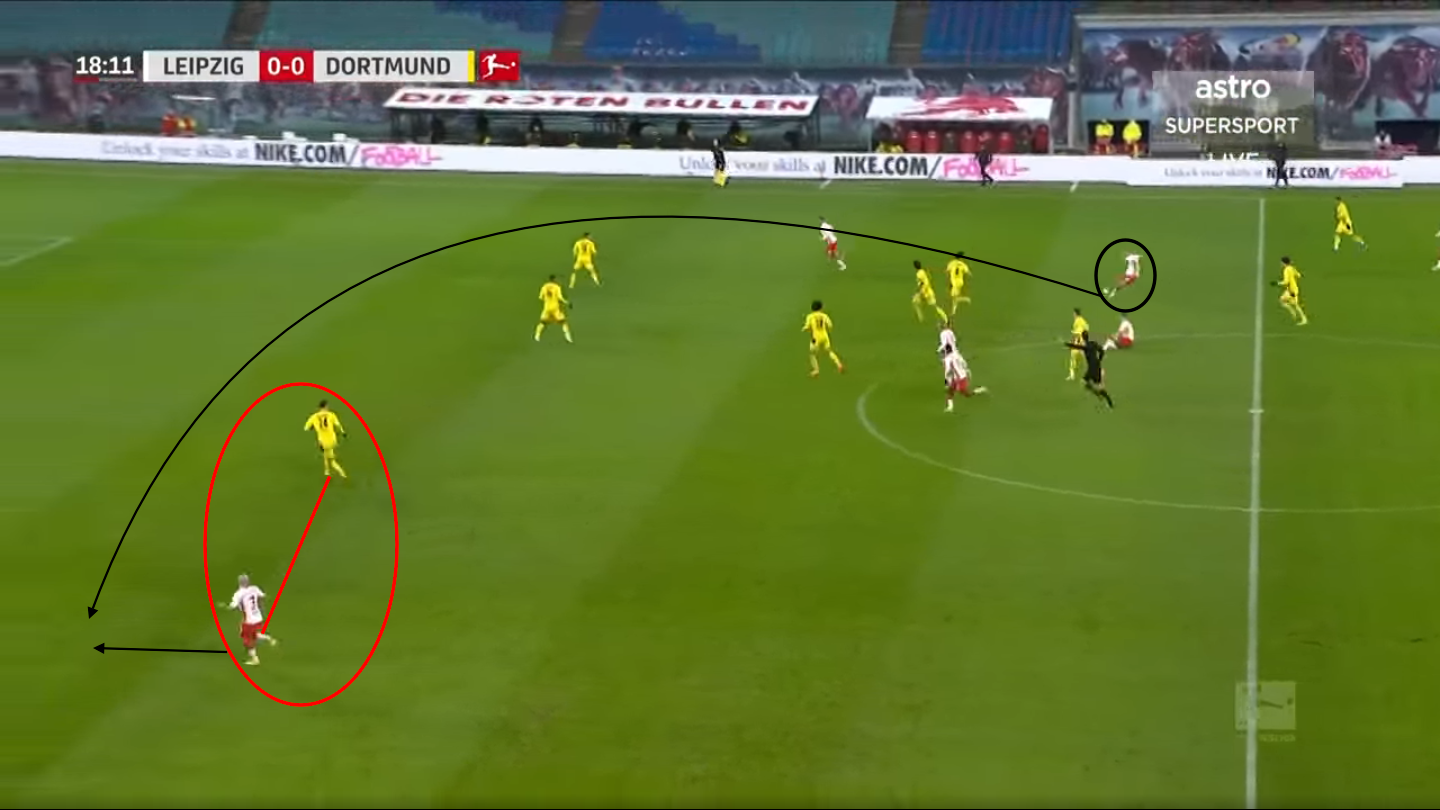 Although Dortmund's shape was organised when they didn't have the ball and compacted the central space forcing RB Leipzig into the wide areas, it could be argued that this played into the hands of Nagelsmann, as he utilised the left wide area and Angeliño's quality on the ball as a way to attack. Angeliño was the player who produced the most crosses throughout the whole match, having crossed the ball seven times, five more than Poulsen who was the second-highest crosser for Leipzig with two. 
So far this season, Angeliño has scored for goals, producing 66 crosses in total. When in the build-up phase, RB Leipzig heavily used the left side as a means of attack to create any form of chance during the game.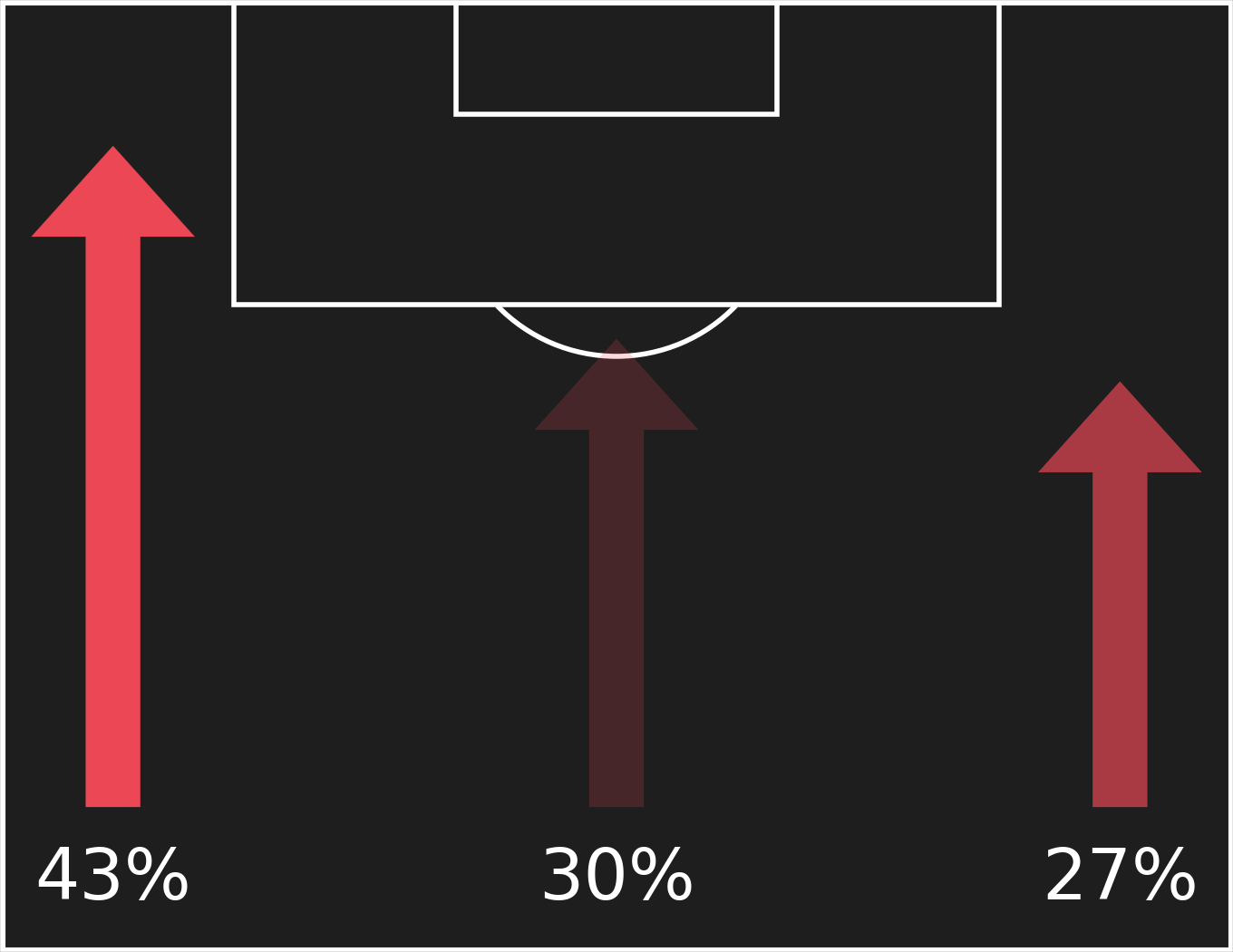 Photo: Twenty3/Wyscout
On many occasions when the ball was on the right side, RB Leipzig would look to switch the play to isolate and the above graphic shows hat the left side was heavily used and favoured than the central or right hand side. 
When RB Leipzig did manage to build the play past the first line of Dortmund pressure, they used an 'Up-Back-Through' combination to then advance the ball into the next stage.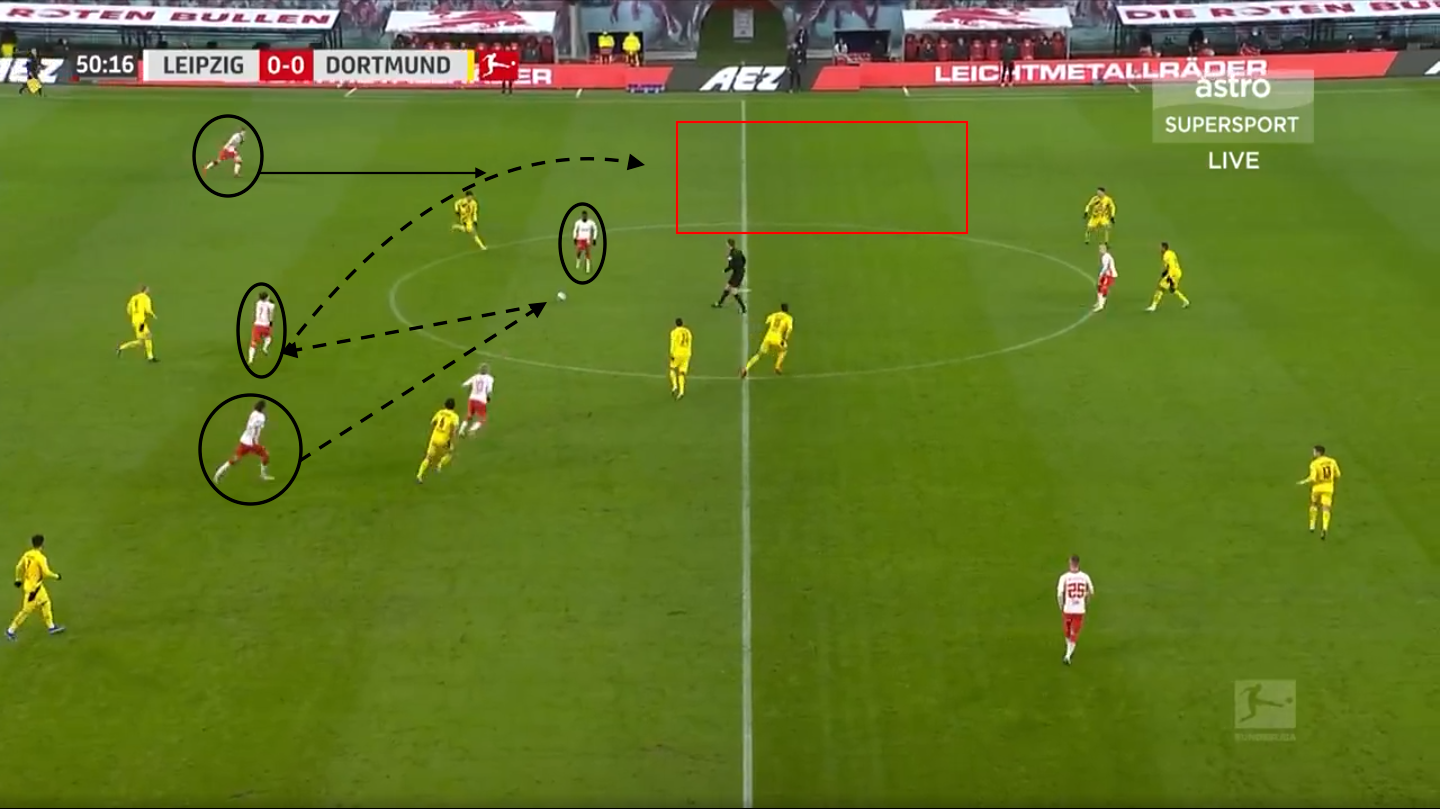 As RB Leipzig built the play on the right side, it drew the Dortmund unit across, leaving the left side free for RB Leipzig's left central defender, Halstenberg to make a vertical forward run into the midfield third. The use of the central space to perform the combination with the pivot player caused Dortmund to become narrow, leaving the wide left area open to play the ball into to attack forward. 
In the second half, the game changed with Dortmund being the more creative and quicker in their attacking play. However, even when RB Leipzig were trailing by two goals, they kept their build-up shape, occupying the wide areas, but this time the half-space rotations were more visible.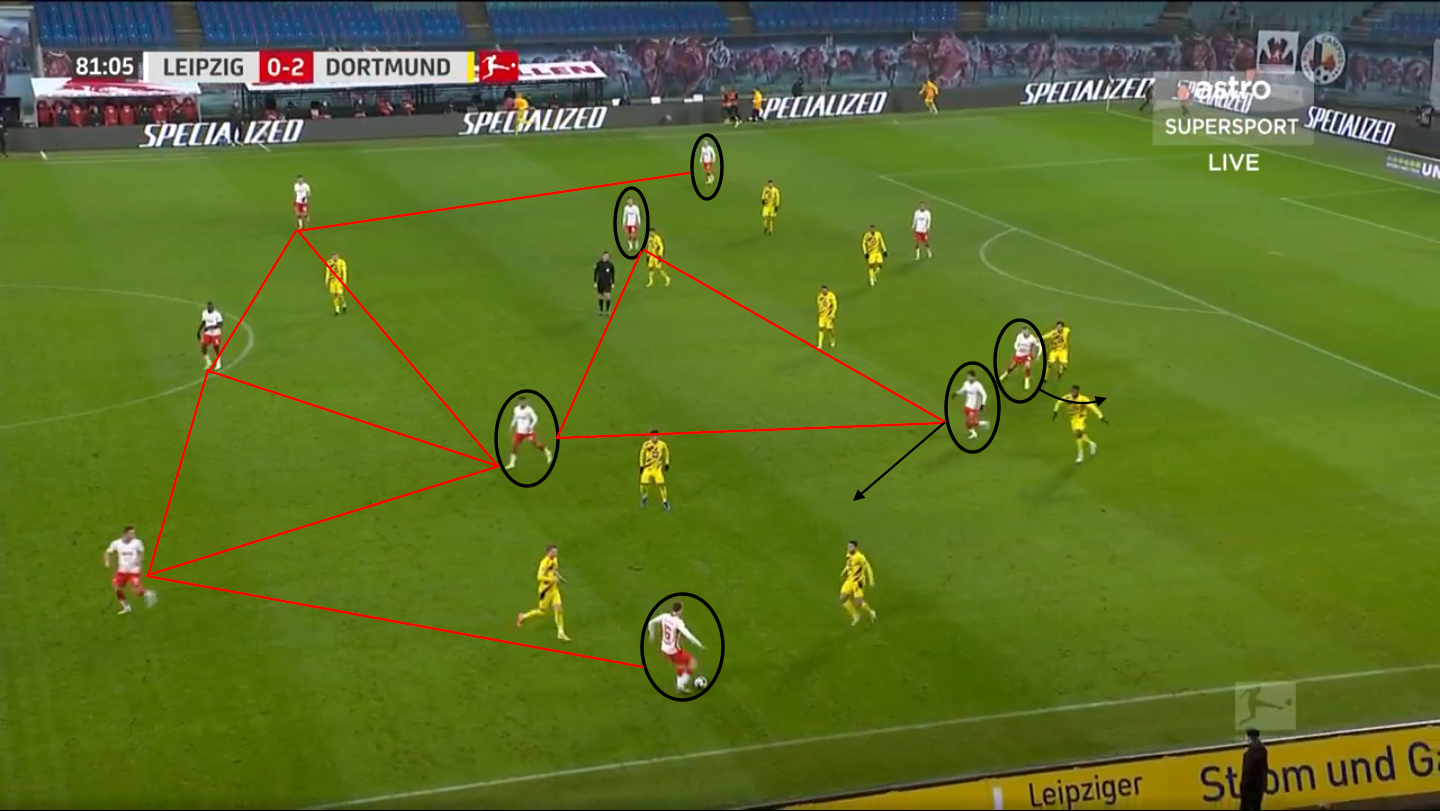 This time, RB Leipzig's pivot player was Tyler Adams. However, what we saw here was RB Leipzig performing rotational movements in the right half-space, with Hwang Hee-chan dropping deep to receive, which then created space for Alexander Sørloth to make a run into, causing Hummels to follow this run. This movement by Sørloth created space in the central area and split the two Dortmund central defenders further apart. 
Although Nageslmann's positional build-up was a fascinating watch which saw his players occupy both the central area with the pivot player, half-spaces and wide areas, RB Leipzig failed to penetrate the Dortmund lines on a consistent basis and lacked quality when in attacking areas. 
RB Leipzig's Aggressive Press
A favoured part of Naglesmann's out of possession style of play is the way he sets up his team to aggressively press the opposition when they are in possession. RB Leipzig have only conceded 12 goals this season and currently hold a 0.80 xGA tally per 90. This season as a whole squad, they have applied pressure to an opposition player who is either receiving, carrying or releasing the ball 2190 times, but only 35.3% of these pressures have been a successful pressure in being able to gain possession from the opponent. 
Olmo is the highest RB Leipzig player to have produced the most pressures this season at 207 times, closely followed by Kevin Kampl who has produced 184.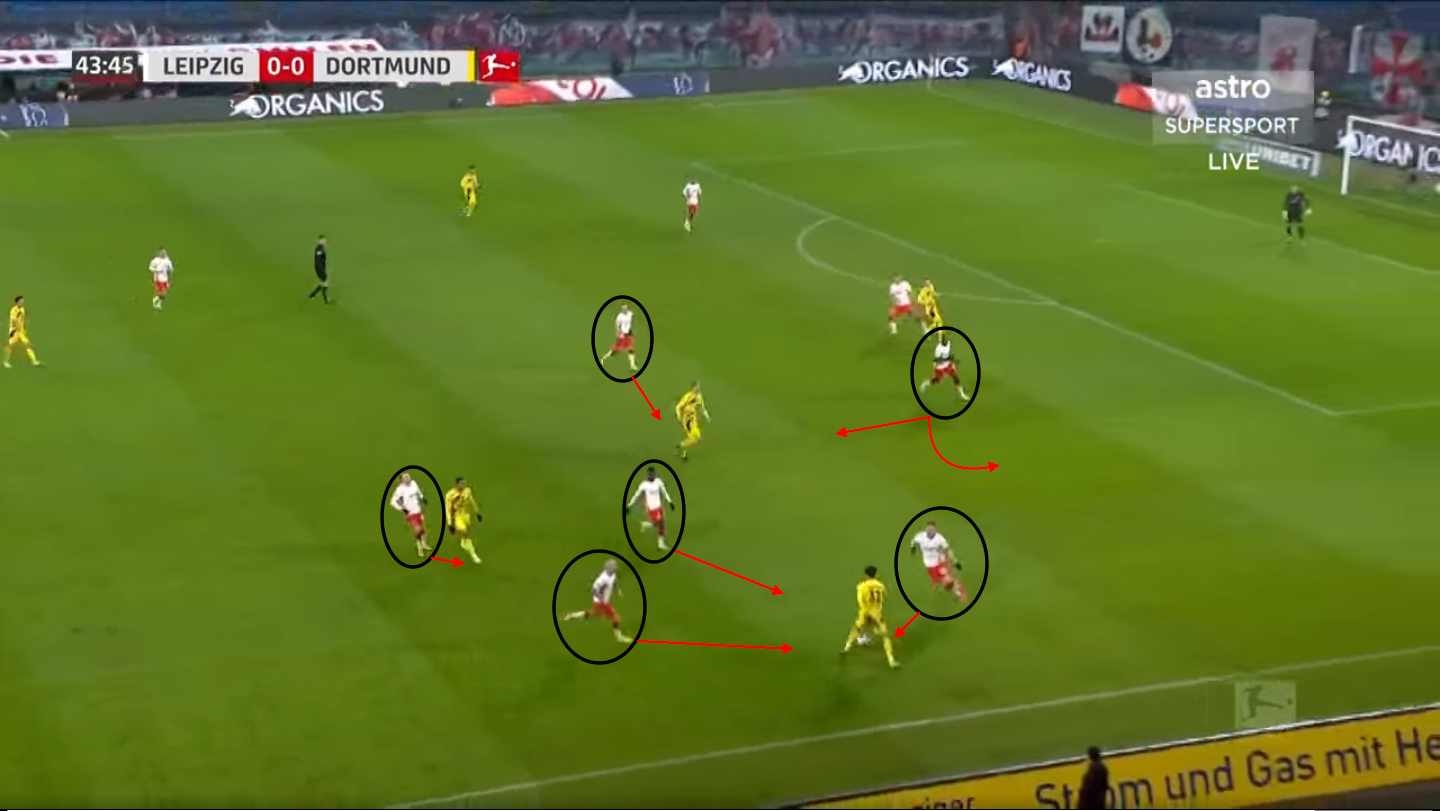 On many occasions during the game, RB Leipzig aggressively pressed Dortmund when they had the ball, especially when Dortmund were in the attacking half. When Raphaël Guerreiro had the ball on the right and looked to play into the central attacking players, RB Leipzig adopted a fast, aggressive press to try and win the ball back and quickly as possible to prevent Dortmund from penetrating forward spaces. 
In the scenario above, there were three RB Leipzig players pressing the player on the ball, cutting off a backwards, forwards and sideways passing option. Even though three players went to press including Halstenberg, Upamecano provided cover to prevent the ball from being played into the half-space. In the second half and even at 2-0 down, this relentless RB Leipzig pressure was evident once more.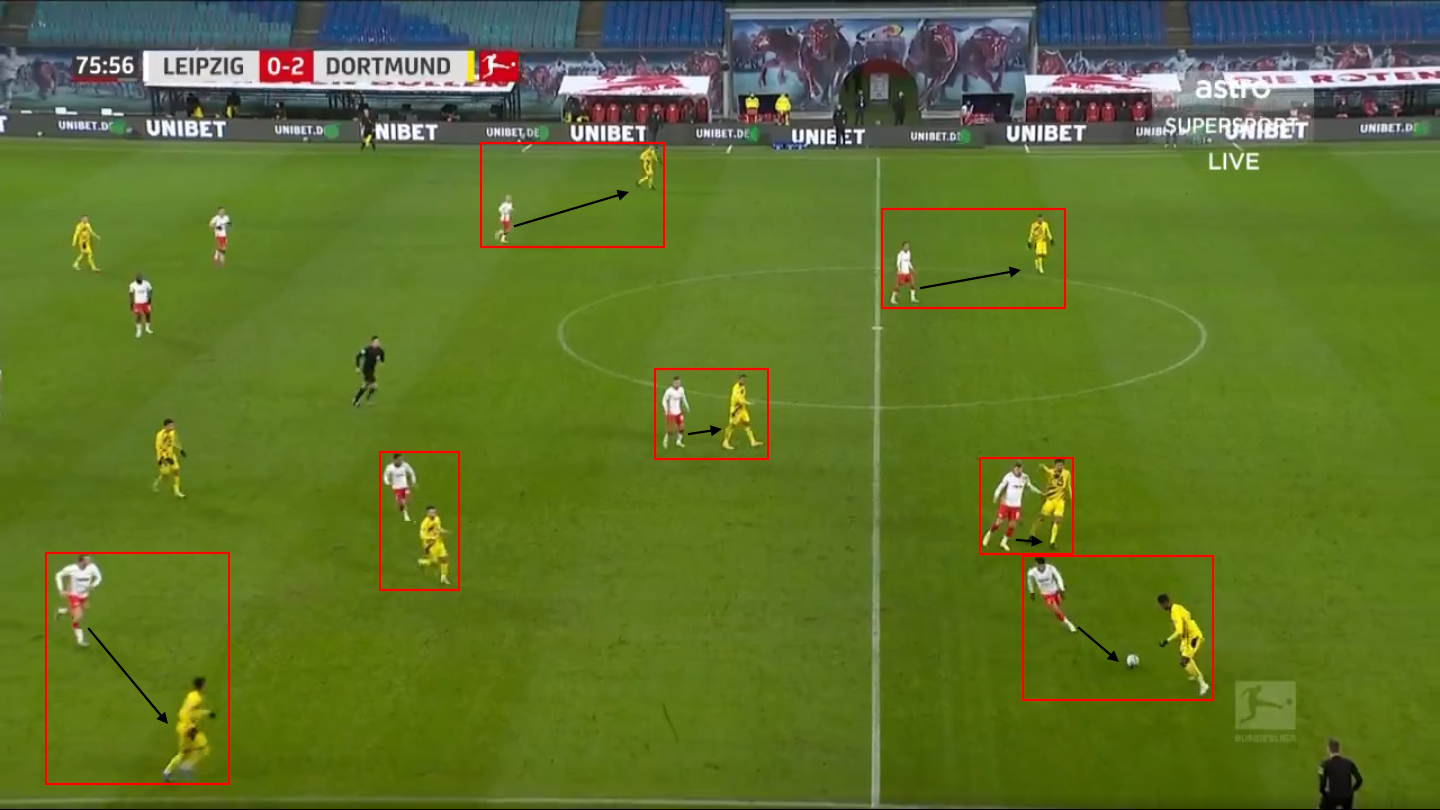 What we saw here was each RB Leipzig player in different positions across the pitch occupying a Dortmund player which meant that any player receiving would be under pressure straight away and would have a minimal amount of time to receive and play forward. From this situation, Dortmund tried to play forward but the pressure from RB Leipzig meant possession was lost in the attacking half. 
Although RB Leipzig did press aggressively, they lacked the cutting edge when in possession in the final third in all stages of the game. In the second half, Dortmund were quick to counter and penetrated the space in behind the RB Leipzig defence which ultimately cost them in this match. 
Dortmund's Final Third Play
So far this season, Dortmund have scored 31 goals, which is an average of 2.07 per game but just below their xG tally of 32.3. In attack, they have numerous outstanding players, with their main striker Haaland 2nd in the leaderboard for goals scored with 12, behind Lewandowski with 20. 
In the RB Leipzig game, Dortmund's final third play was ineffective in creating clear goal-scoring opportunities, with lack of support for the player on the ball and failing to recognise when to play forward into space.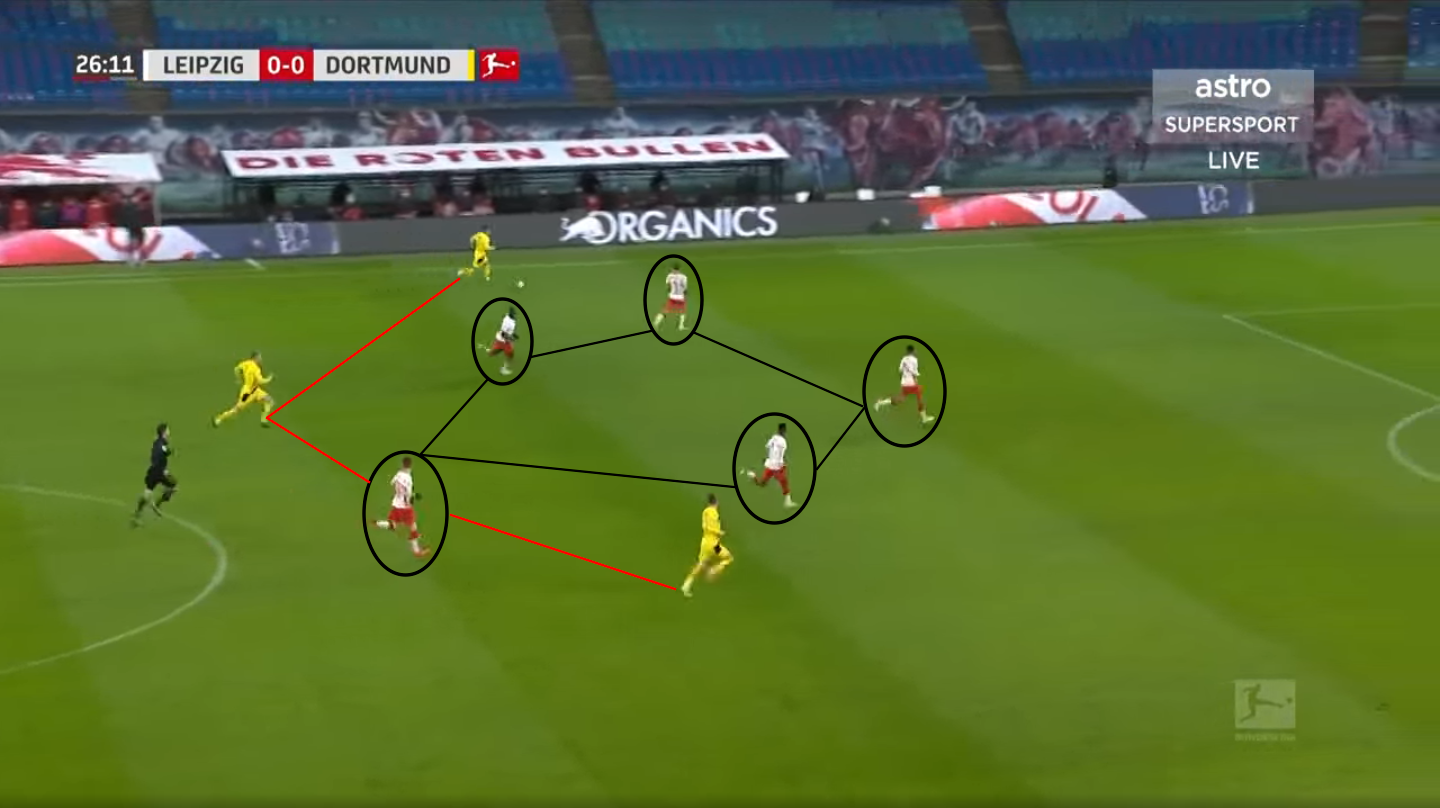 In the first half, Sancho latched onto a Reus switch of play that saw him on the left-hand side in the final third. When he had controlled the ball, he was surrounded by a number of RB Leipzig players who were initiating a press against him. 
Due to being in an attacking outnumbered 3v5 situation and lack of support off the ball, Sancho had to revert playing a backwards pass which changed the point of attack and placed Dortmund under pressure in their own half. In the second half, however, Dortmund's attacking play in the final third changed, with them being more unpredictable, offering support off the ball and the ball player being more creative in his ideas.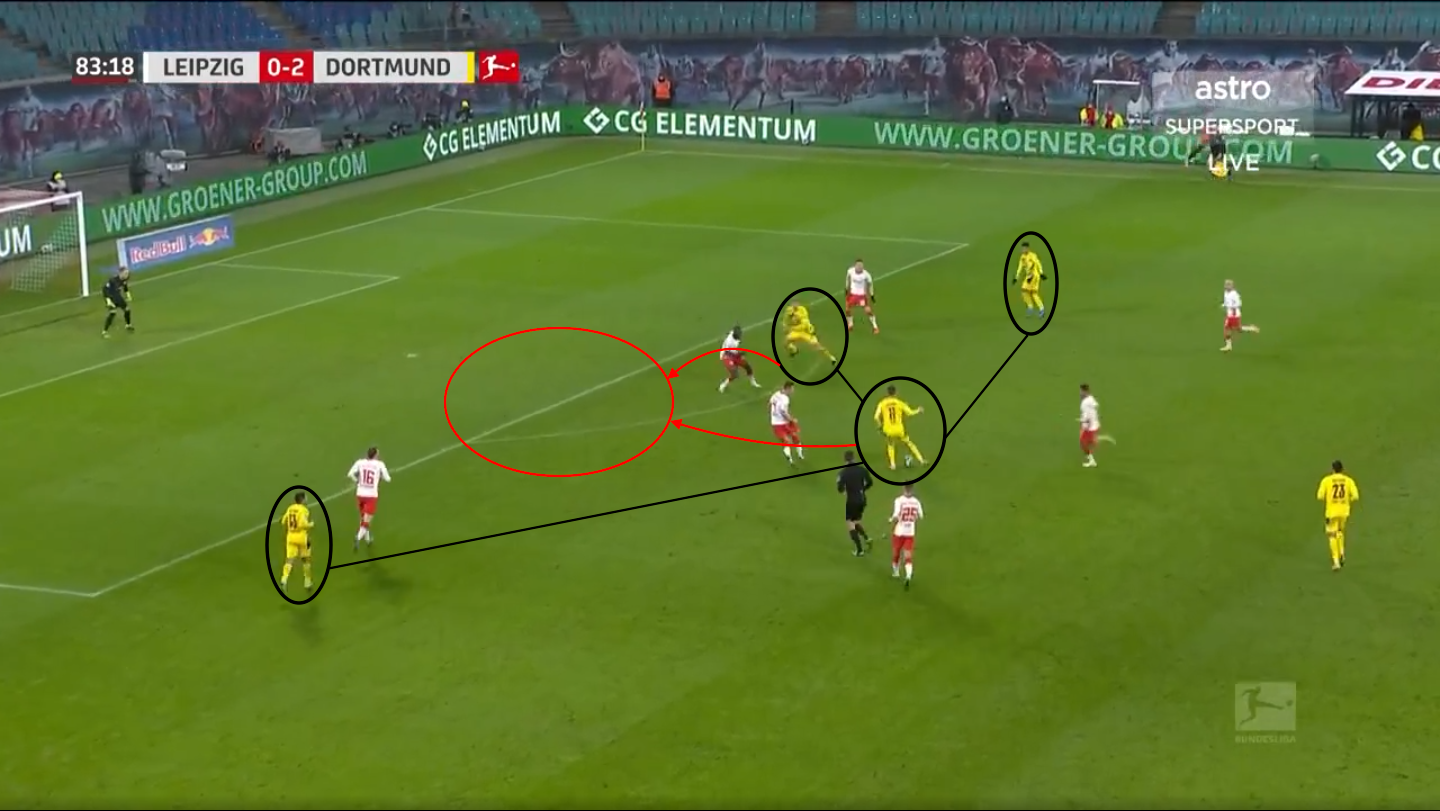 Dortmund's third goal and Haaland's second came from a fantastic timing of the pass by Reus and Haaland's timing of his run to attack the space in behind Upamecano. What was also noticeable about this situation and Dortmund's final third play in the second half was their use of the half-spaces to support the ball player. 
We can see above Sancho and Reyna both occupying the right and left half-spaces in support of Reus with the ball. This caused the RB Leipzig defensive unit to be stretched, isolating Haaland and Upamecano in a 1v1 situation. Upamecano was in a tricky situation whether to go and press Reus or track Haaland's run in behind. A great pass and run saw Dortmund get in behind the backline of RB Leipzig and finish the game off for a well-deserved victory. 
Conclusion
This match was a game of two halves which saw both sides cancel one another out in the first half and both teams failing to create many chances. However, the second half was a more lively affair with Dortmund being more creative and creating more chances in the final third. 
An Erling Haaland double and a Jadon Sancho goal saw Dortmund victorious in Leipzig, with RB Leipzig having the most possession but failing to capitalise on this by struggling to breakdown the Dortmund defensive unit and a lack of creativity in the attacking half. It is all the play for now at the top of the Bundesliga with Bayern Munich dropping points away to Borussia Mönchengladbach at the start of the weekend. 
By: Sam Hough
Featured Image: @GabFoligno / picture alliance