Tactical Analysis: Brighton vs. Arsenal
In a must win game for both teams, Brighton & Hove Albion ended up surprise victors through Neal Maupay's goal in the 95th minute. Graham Potter's side came back from a one goal deficit in the second half to grab a crucial 3 points in their battle against relegation. Here's how it unfolded:
Arsenal's Shape on the Ball
For the second game in a row after the Premier League's restart, Mikel Arteta opted for a 4-3-3, as opposed to his usual 4-2-3-1. His side used a 3-2-2-3 shape in the build-up, something we have seen in the past; however, the personnel was different.
Instead of assuming an overlapping role, the left back Sead Kolasinac joined the center backs, forming a back three, and in turn, creating a diamond with the number 6, Matteo Guendouzi. This diamond helped with ball progression when Brighton pressed high, as Holding who operated in the center of it, had more angles to work with.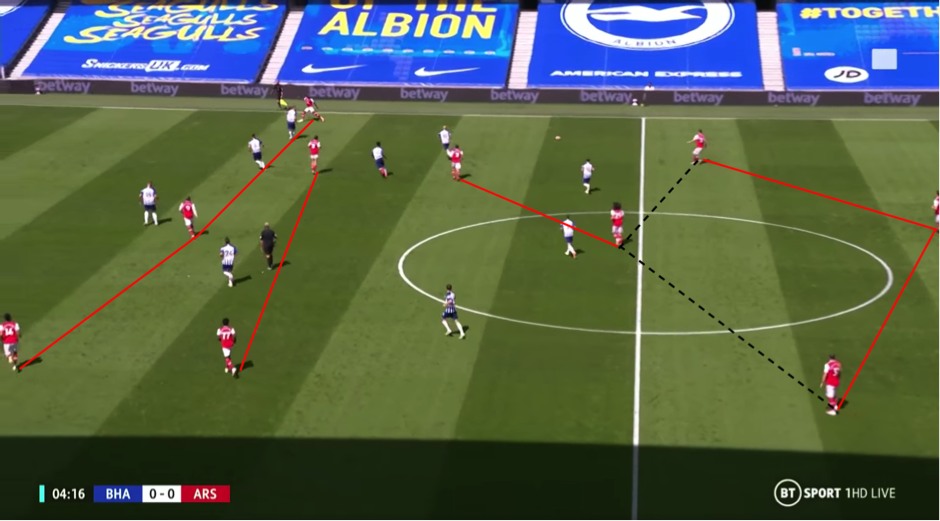 Hector Bellerin took on the inverted right back role, joining Guendouzi in a midfield two. Dani Ceballos and Bukayo Saka operated as high 8's in the half-spaces, reminiscent of Arteta's former side, Manchester City. Pierre-Emerick Aubameyang and Nicolas Pépé were the touchline wingers, joining Alex Lacazette in the front three.
Arsenal looked to play out of the back, where the goalkeeper became a part of the back three, allowing Kolasinac to push higher and wider to provide a more direct option.
Brighton pressed in a 4-2-2-2 shape, that turned into a 4-4-2 mid-block when Arsenal progressed in the middle third of the pitch. The positioning of Bellerin and Kolasinac was crucial, as it commanded the attention of Brighton's wide midfielders, Aaron Mooy and Pascal Gross, leaving Arsenal's wingers isolated 1v1 against the opposing full backs out wide.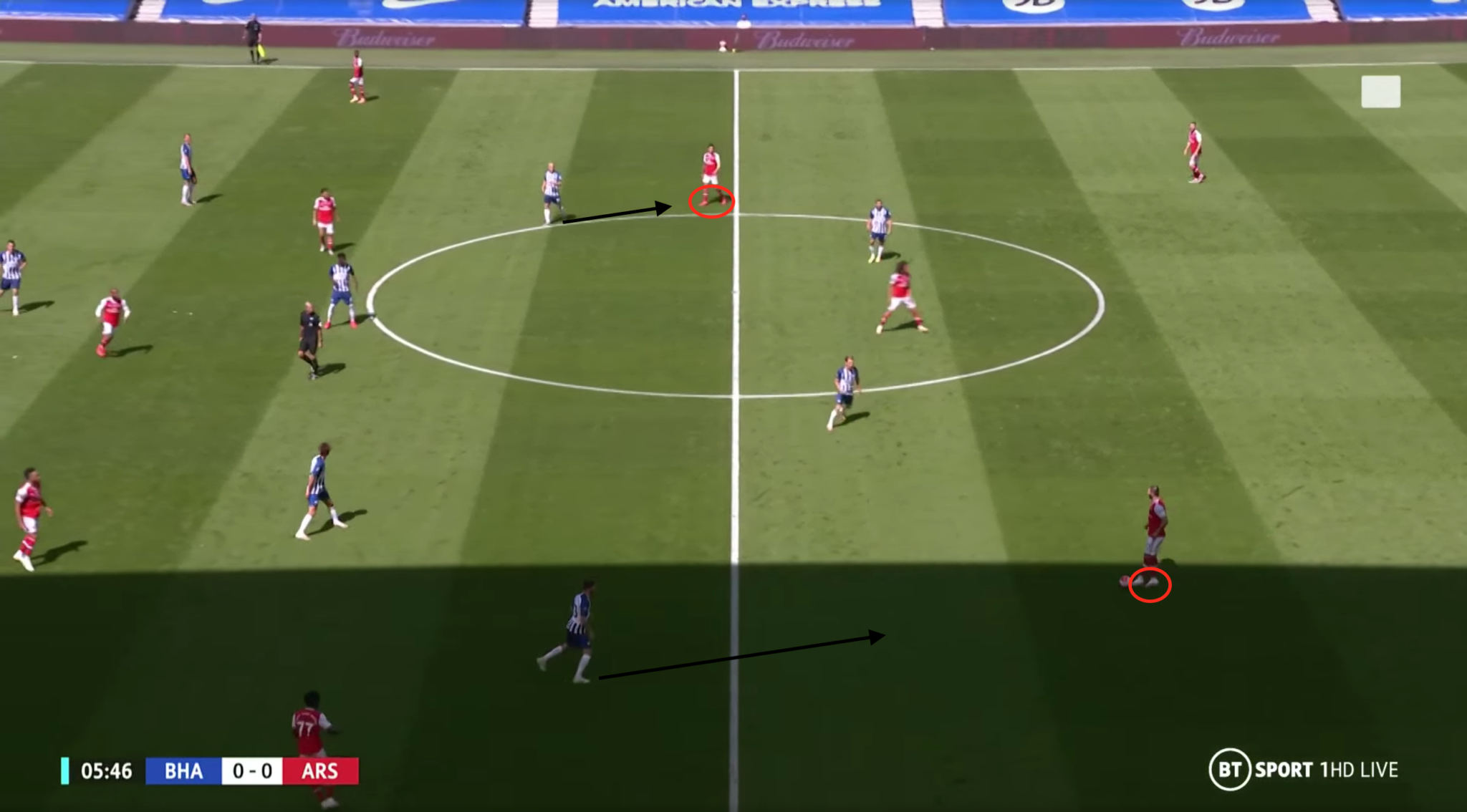 Arteta's attacking game plan revolved around creating overloads in the wide areas. Down the left, central midfielder Saka would frequently drift out wide, while Aubameyang the winger, would cut in centrally.
Arsenal created a big opportunity in the 31st minute, by getting Saka in a crossing position from the left. The 18-year-old then had the choice to pick out either Aubameyang or Lacazette's run.
As usual, Lacazette operated in a false 9 role. At times, he was able to drop deep towards the left half-space and combine with the other two, as happened in the 8th minute, when Saka hit the bar from just outside of the box, after combining with Lacazette from deep.
Arsenal also tried to create overloads on the right, through a triangle of Bellerin, Ceballos and Pépé. The aim was exploiting the lack of foot speed of the Brighton left back, Dan Burn, by either getting Pépé isolated 1v1 against him, or by playing the Ivorian winger in behind.
Brighton's Shape on the Ball
Brighton also attempted to build up short from the back. The center backs, Adam Webster and Lewis Dunk, split wide in the first phase, allowing one of the double pivot, usually Davy Pröpper, to drop between them and provide an option for ball circulation.
The full backs Ezequiel Schelotto and Burn pushed high and wide. Arsenal pressed in a 4-1-3-2 shape, with Ceballos joining Lacazette in the front two, essentially creating a "cage" around the double pivot. This way, they forced the Brighton back line to clear long on multiple occasions.
When Brighton managed to break out of the press, they looked to attack quickly in transition. At this phase, Potter's game plan was simple: exploit Leandro Trossard's and Neal Maupay's pace against the slow-footed pairing, Holding and Mustafi, by attacking the channels.
To do that, he instructed Mooy and Gross to tuck in towards the half-spaces and operate like dual 10's, in order to force Arsenal's full backs out of position. When they received the ball in those areas, they would look to play the two CF's in behind. Burn and Schelotto also pushed high up in order to provide the width.
Potter's Half-time Change
After a poor first half in creative terms, Brighton's coach shuffled the team's personnel, by introducing Solly March in place of Mooy. This also meant a change in formation, as they now lined up in a 3-4-2-1 in possession, with Burn moving to left center back, Schelotto and March playing as high wing backs, and Trossard and Gross behind Maupay.
Brighton's focus turned to the wide areas in the second half, as they tried to pack Arsenal's box and get their wing backs into crossing positions, as seen in the example below:
Other than changes in possession, the substitution helped defensively, in an effort to combat Arsenal's wide attacks, as Brighton now defended in a 5-4-1 shape. The extra man at the back mostly nullified the wide threat.
Despite the change, Arsenal managed to break the deadlock due to a moment of individual brilliance by Nicolas Pépé. 1v1 on the right wing against March, he cut in on his left foot and picked out Matthew Ryan's top corner.
It is worth noting, that in response to Potter's 5-4-1 in defense, Arteta switched his attacking system to a 3-4-3 around the 65th minute, with Saka and Bellerin as wing backs, and the front three operating much closer together. This led to opportunities through the link-up play of Lacazette and Aubameyang.
After Pépé's opener, Potter subbed in center forward Aaron Connolly in place of Gross, as well as a straight swap of Schelotto and Martin Montoya.
In yet another change of shape, Brighton now returned to a back four, and attacked with a front four, with Trossard on the left, March on the right, and Maupay and Connolly up top. This change proved the most crucial of all, as the Seagulls turned the game on its back and won 2-1.
The equaliser came in the 75th minute from a smart set-piece routine. The corner taker March played a quick 1-2 with Trossard, and the former's cutback was scrambled in by Lewis Dunk.
Fast forward now to the 5th minute of additional time, when a clever first time pass from Connolly met Maupay's run, and a quality finish from the French man stole the 3 points for the side from East Sussex.
Conclusion
On the one hand, while Mikel Arteta's tactics looked effective for the most part, his game management after Arsenal took the lead left a lot to be desired, resulting in a terrible result that left them six points off fifth place.
On the other hand, Graham Potter's adjustments paid off, as Brighton showed superb fight to come back from behind with a little more than 20 minutes remaining, elevating them five points ahead of the relegation zone.
By: Nicholas Stephanatos
Featured Image: @GabFoligno