Tactical Analysis: Carlo Ancelotti's Top-of-the-Table Everton
As we approach the return of club football following October's international break, Everton sit top of the Premier League, having won four out of four games and creating the most big chances in the league along the way. They have not managed such a feat since 1969, a season in which they lifted the English First Division title.
The club as a whole deserve a lot of credit in being ambitious enough to gain the services of Carlo Ancelotti as manager and then the outstanding summer transfer window that saw them bolster their options in midfield headlined by James Rodríguez, who arrived on a free transfer from Real Madrid.
Ancelotti's 4-3-3 formation is producing the results on and off the pitch, as the team are 3rd in xG for and 1st in xG against, making them statistically the best team defensively whilst one of the best going forward. During this analysis, we will look into the tactical details and individuals within the shape leading their charge for European football.
Formation: 4-3-3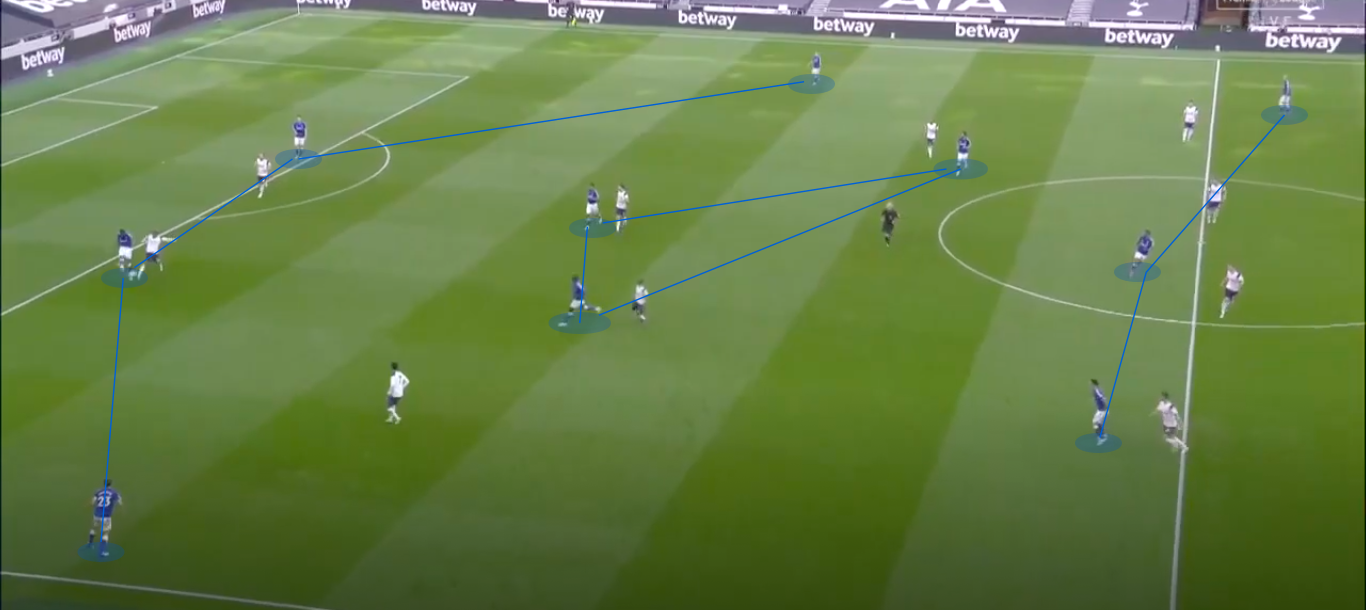 Right side dynamic
Along with Rodríguez came Allan from Napoli and Abdoulaye Doucouré from Watford. A lot of expectation and excitement came with these signings and they have validated the hype so far. The Brazilian, who played under Ancelotti at Napoli, acts as the deepest of the midfield three most of the time. On both sides, the team forms triangles with Doucouré on the right and André Gomes on the left.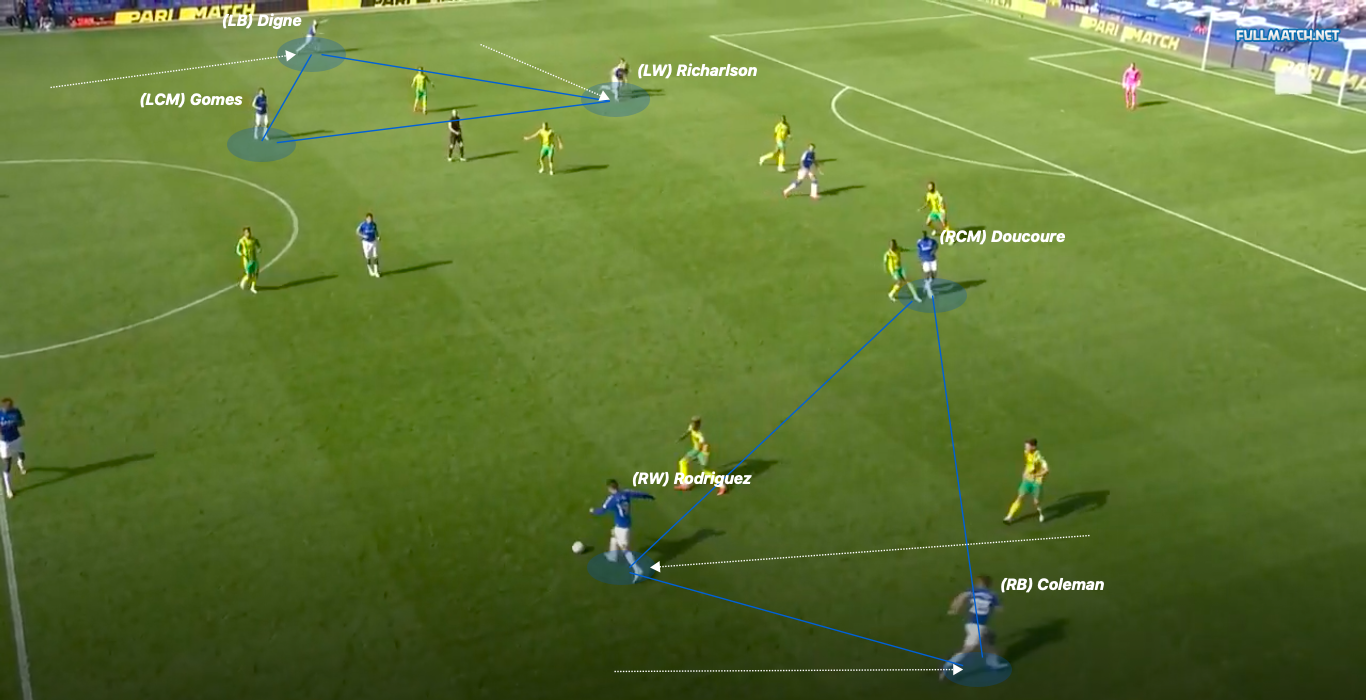 But the right side has undoubtedly been the most effective of the two. With Seamus Coleman being the last piece, they make positional rotations between them to disorientate the opposition defenders. When Coleman receives the ball, he immediately looks forward to his Colombian teammate to trade positions. Rodríguez drops towards the ball to receive and Coleman overlaps.
Using his quality left foot, he can make cross-field diagonal passes to Lucas Digne on the opposite flank as Richarlison moves inside. This sequence is very common and helps in getting the most out of everyone involved.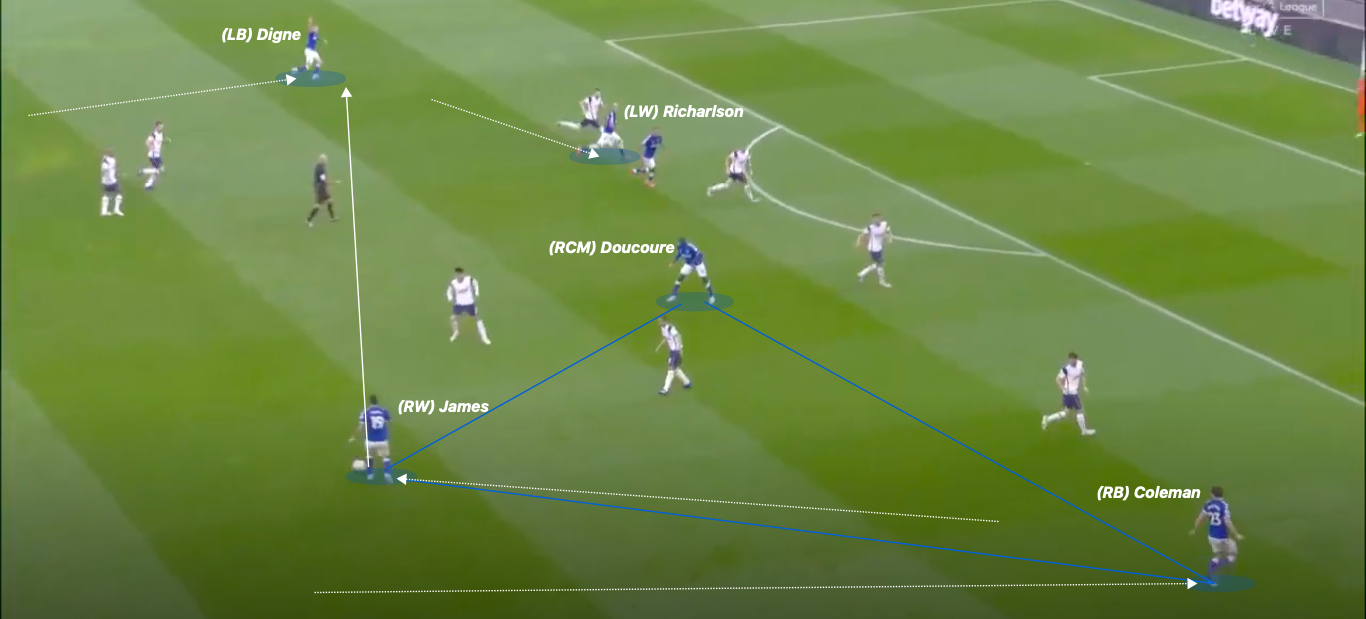 Even when Coleman is not on the ball though they can rotate positions to get each other into favorable positions and move defenders such as below.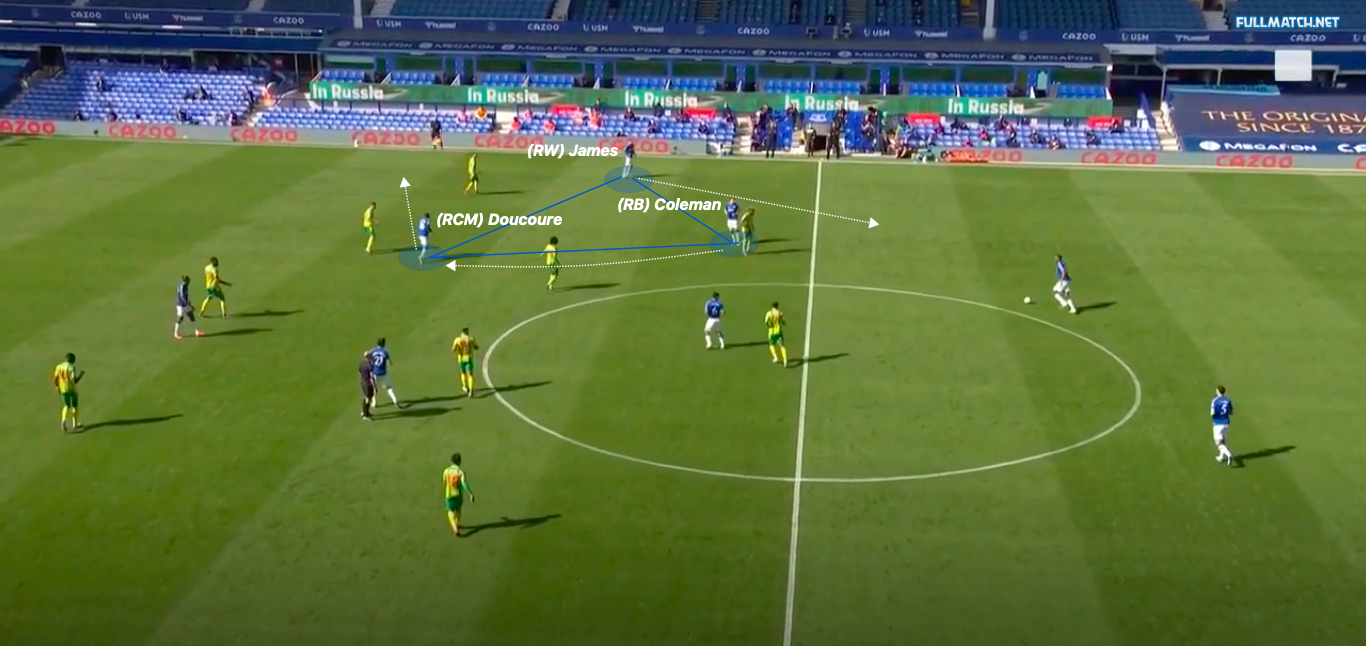 Doucouré is very active on the pitch making it hard for the player tracking him. Against Brighton, Steven Alzate was tasked with following him in midfield.
Making his own solution to make space, he passes to Rodríguez and moves dragging Alzate with him making space for Coleman to burst into from the blindside of Neal Maupay and receive from Rodríguez, then carrying the ball forward eventually leading to him getting a shot on goal.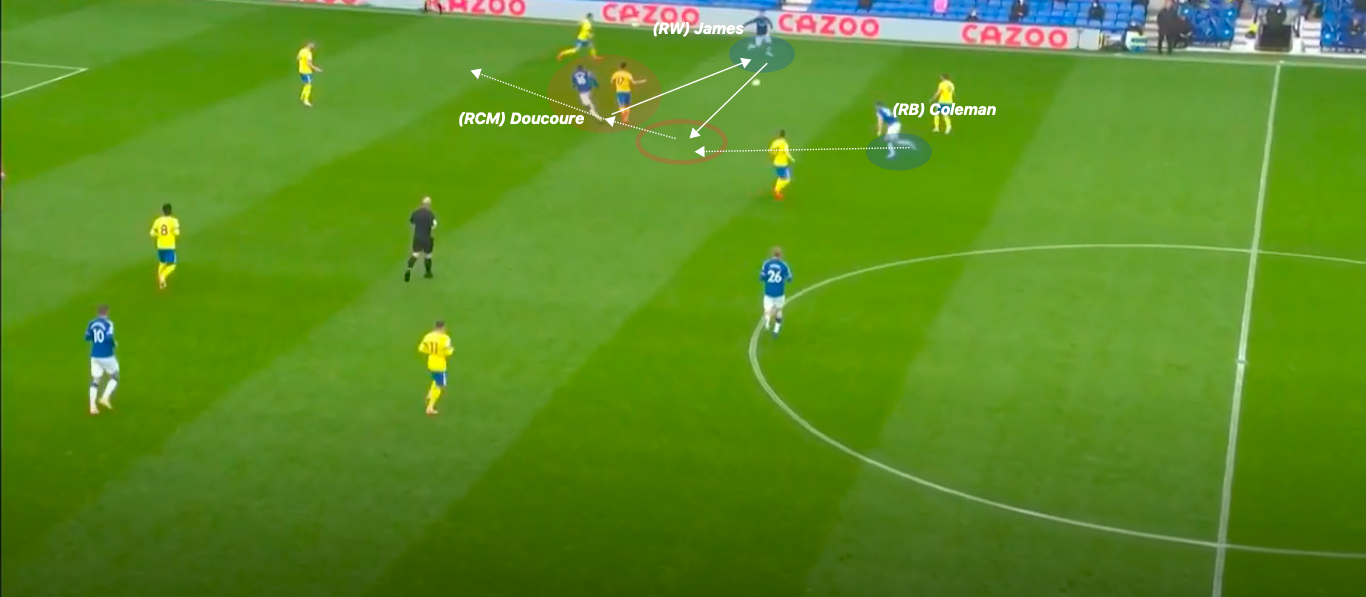 When building up, one of the midfielders, usually the defensive midfielder will drop into the defensive line which allows the fullbacks to come forward. Sometimes Doucouré will do this action, dragging a midfielder with him in this case.
We can see how this then creates an overload in midfield with a 3v2 advantage. As Rodríguez comes inside a West Brom defender even leaves his line in an attempt to compensate but it still creates a free man centrally in Allan.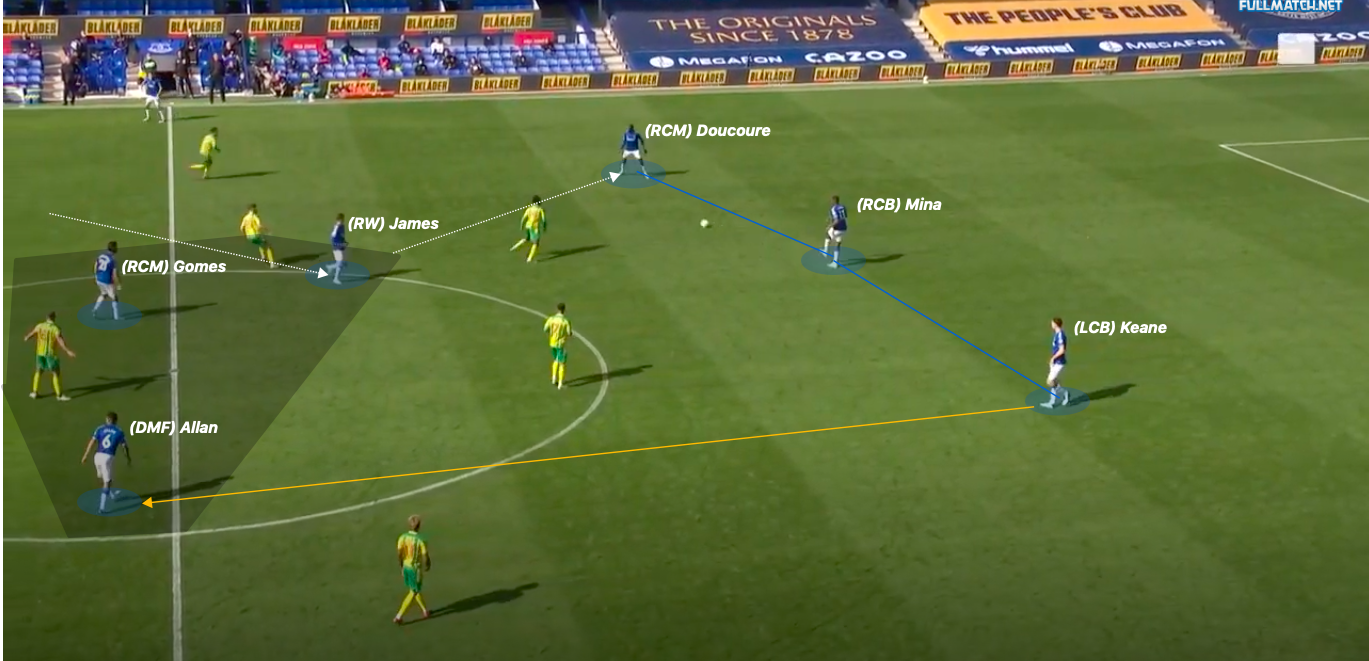 Rise of Dominic Calvert-Lewin
Despite midfield and defensive being bolstered, one position they did not look to buy players in was at striker. With Moise Kean going out on loan to Paris Saint-Germain the stage was Dominic Calvert-Lewin and he has grabbed the opportunity with both hands, being named the Premier League Player of the Month for September. 
"Beforehand I was guilty of doing a lot of my best work away from goal and now I'm focused on getting between the sticks and putting the ball in the net." (Guardian)
This new focus on his movement within the penalty box has paid off as Calvert-Lewin has scored in all four of their Premier League games and has a total of six. Additionally he leads the league in total non-penalty expected goals.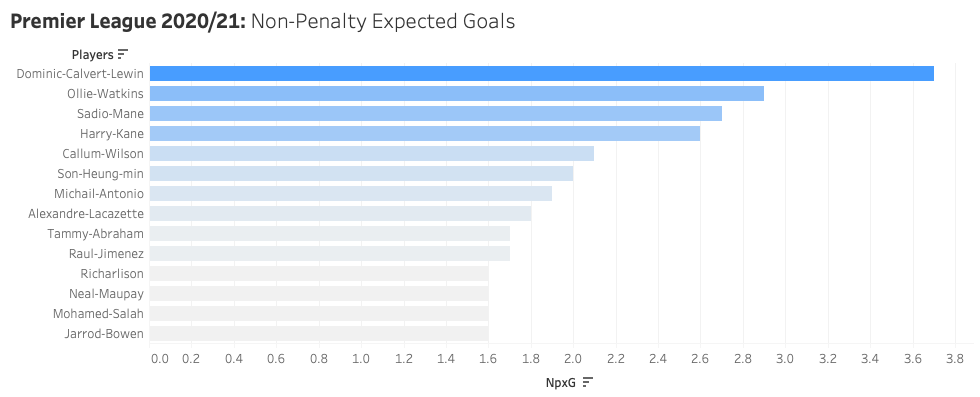 Looking into the goals he has scored, we can see examples of the Englishman's improved goal scoring exploits.
Notably during set pieces where he can utilize his height and leap to great effect while the coaching staff can direct his movement. Similarly in open play, he's just as great, clicking with the rest of the attack in his movements to get into great goal scoring positions by exploiting the blindside of defenders.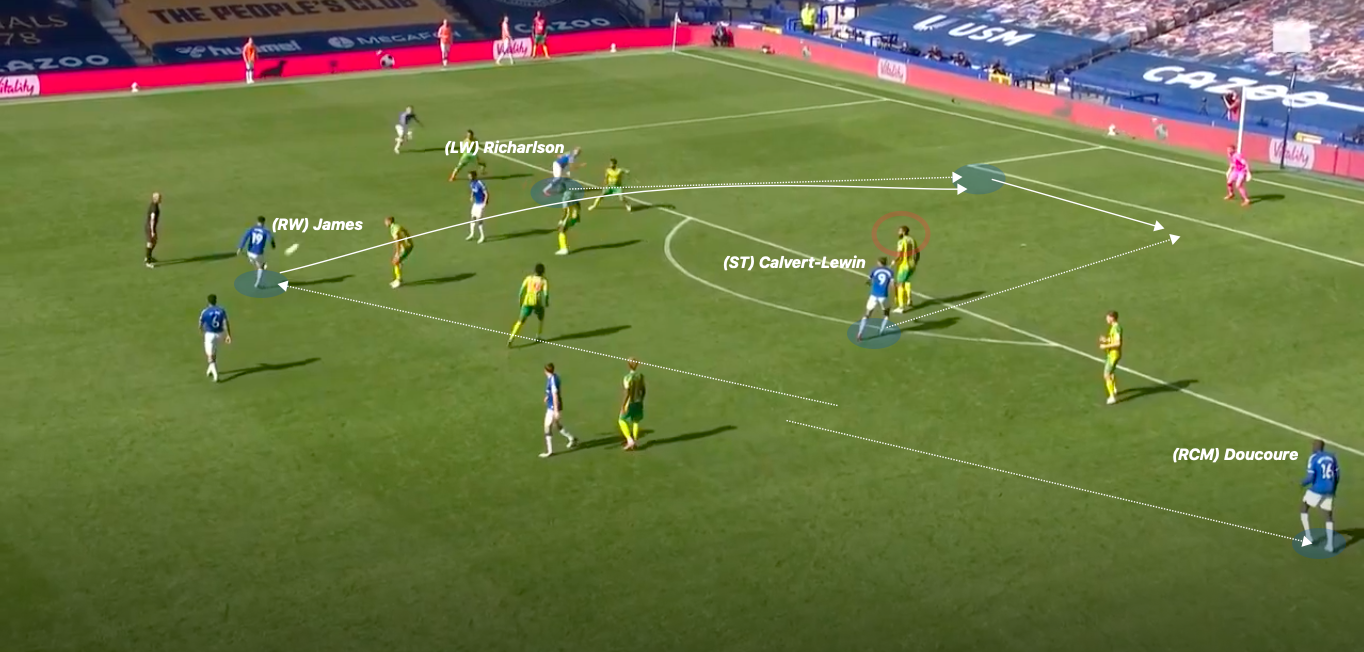 Potential Weaknesses: Jordan Pickford
When watching Everton the team collectively reeks confidence. Moving the ball at a quick tempo and playing with great intensity. But Jordan Pickford's actions at goalkeeper are quite the opposite.
Uncomfortable with the ball at his feet resulting in some sticky situations when playing within their defensive third, along with some relatively dodgy shot stopping as we can see in Everton's goalkeeper advanced metrics.
Looking at goalkeeper's post-shot expected goals minus goals allowed, we can gauge Pickford's shot stopping. Via FBRef, a positive number suggests an above average ability to stop shots. Therefore, making a negative number reflect a player underperforming. Despite maybe conceding one or two wonder goals, it highlights Pickford's shortcomings in goal prevention ranking the fourth worst in the league.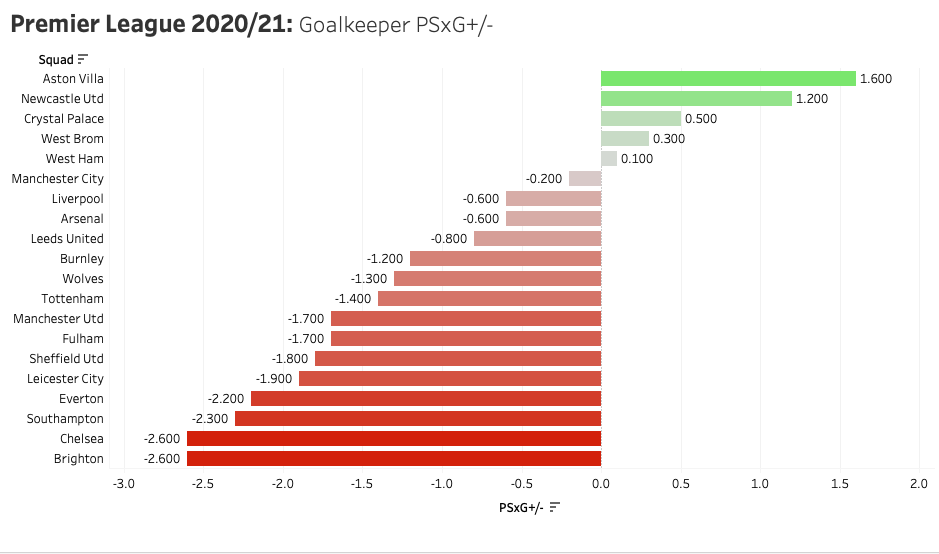 Conclusion
Everton are a highly functional side under Ancelotti. With multiple avenues to score from including well rehearsed set-piece routines, they are an extremely dangerous team when attacking the opposition goal.
As the season goes on and the pressure builds problems could continue to arise going the other way. All-in-all, the blue side of Merseyside can be ecstatic with the direction the club is moving in as they're building for long-term success under Ancelotti. 
By: Craig Moniz
Featured Image: @GabFoligno / Justin Setterfield / Getty Images