Tactical Analysis: Celtic 3-2 Lille
Neil Lennon's Celtic have experienced a subdued start to their season in both the Scottish Premiership and the UEFA Europa League, currently trailing bitter rivals Rangers by 13 points (Celtic have two games in hand) in their hunt for a 10th successive league title, and finishing bottom of their Europa League group after taking one point from their first five fixtures.
Whilst coming up empty-handed in both fixtures against Sparta Prague and Milan, Celtic had given Lille a torrid time at the Stade Pierre-Mauroy, mustering a 2-2 draw in France after a late fightback from the hosts cancelled out a first-half brace from Mohamed Elyounoussi. They did themselves one better in Celtic Park, taking all three points from Lille, who are currently two points behind Paris Saint-Germain in the Ligue 1 title race.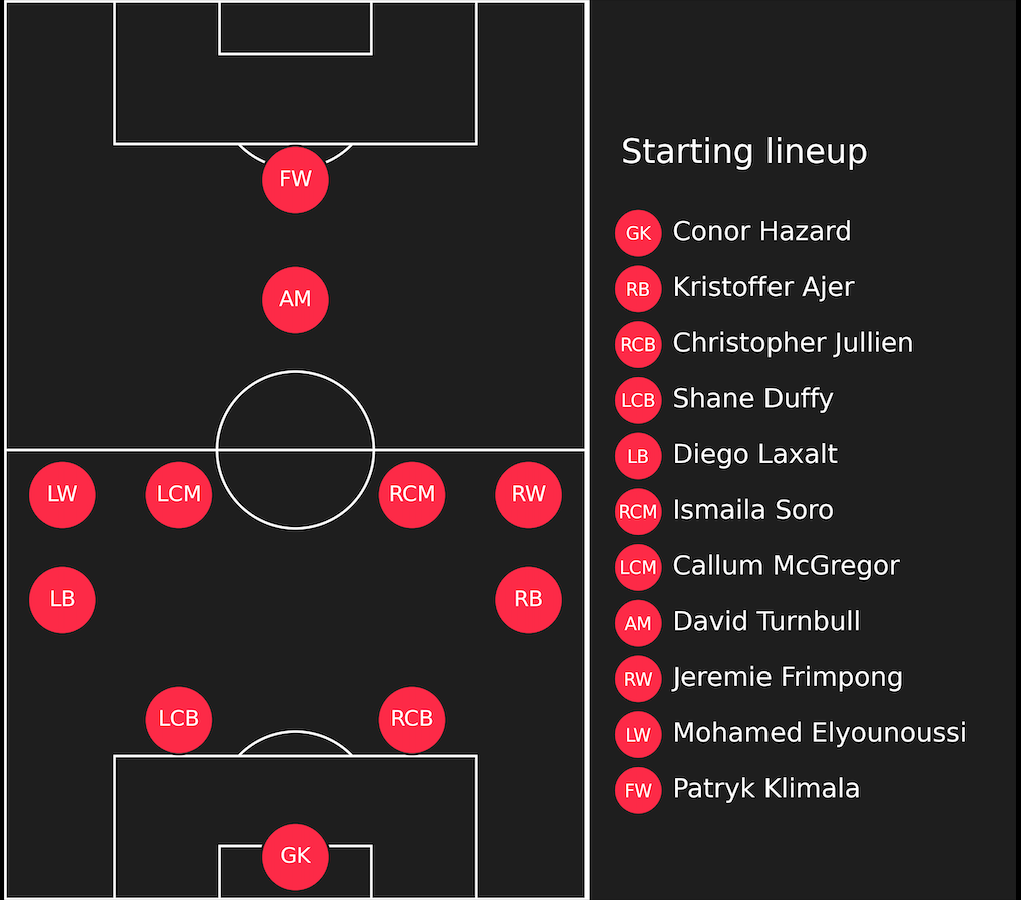 Photo: Twenty3 / Wyscout
Celtic initially lined up in a 4-4-1-1 or a 4-3-3 formation depending on the match situation. Lennon had been experimenting with a three at the back system in the games prior, but he decided to go with a four at the back on paper.
With Kristoffer Ajer, who is naturally a centre-back, playing at right back, it limited their attacking prowess down the right-hand side, whilst meaning that Celtic reverted to a three at the back at points during the match with Ajer taking up central positions and Jeremie Frimpong shuffling back from the right wing to create a back five.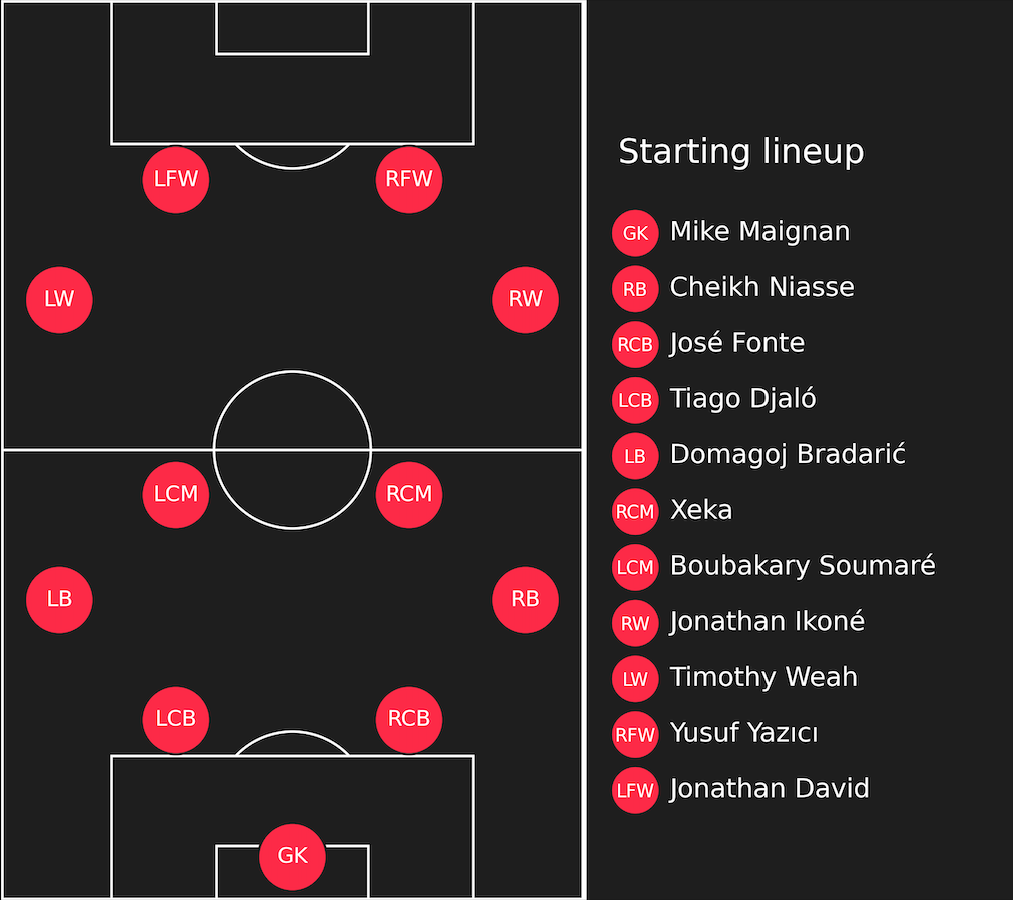 Photo: Twenty3 / Wyscout
Christophe Galtier's Lille lined up in tried and trusted 4-4-2 formation, with 20-year-old Senegalese midfielder Cheikh Niasse making his full Lille debut at right back. Despite looking quite rigid on paper, Lille were far from it in the game.
The French side incorporated a lot of movements and rotations to try and tear apart the deep and compact Celtic defence. The movements of Yusuf Yazıcı epitomised this with delicate rotations that saw him the Turkish attacking midfielder free to either pick up the ball from deep, or shift out wide to link up with the fullbacks or wide midfielders.
Lille in Possession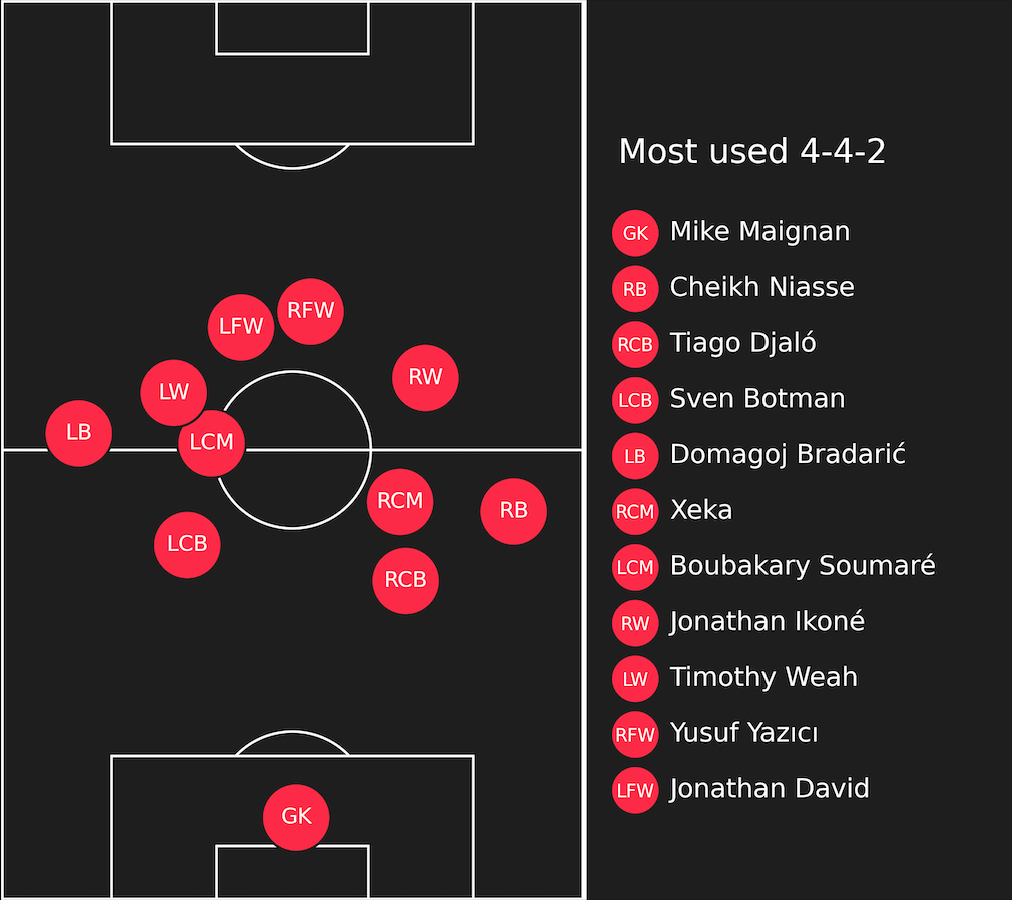 Photo: Twenty3 / Wyscout
In contrast to Celtic's 278 passes, Lille had 537 passes and boasted 66% possession in Glasgow. The average position map from above demonstrates a few key tactical factors. Firstly, it is clear to see how the wide midfielders would narrow their positioning to overload the central areas and provide space for the onrushing fullbacks, with Timothy Weah often inverting his position to allow Domagoj Bradarić to overlap.
Secondly, Lille also looked to overload the half-spaces on the left-hand side in order to expose the out-of-position Ajer. Lastly, and perhaps more noticeably, the average positions map shows how high Lille's back four were playing, and demonstrates how much possession the French side had. especially in the middle and attacking thirds.
Lille Building the Attack
When Lille looked to build the attack from deep, one of the centre-backs would receive the ball from French goalkeeper Mike Maignan. When this happened, this triggered the two central midfielders to shuffle into deeper spaces to create a passing angle, and when they did this, they created a box to outnumber the Celtic players 4v2.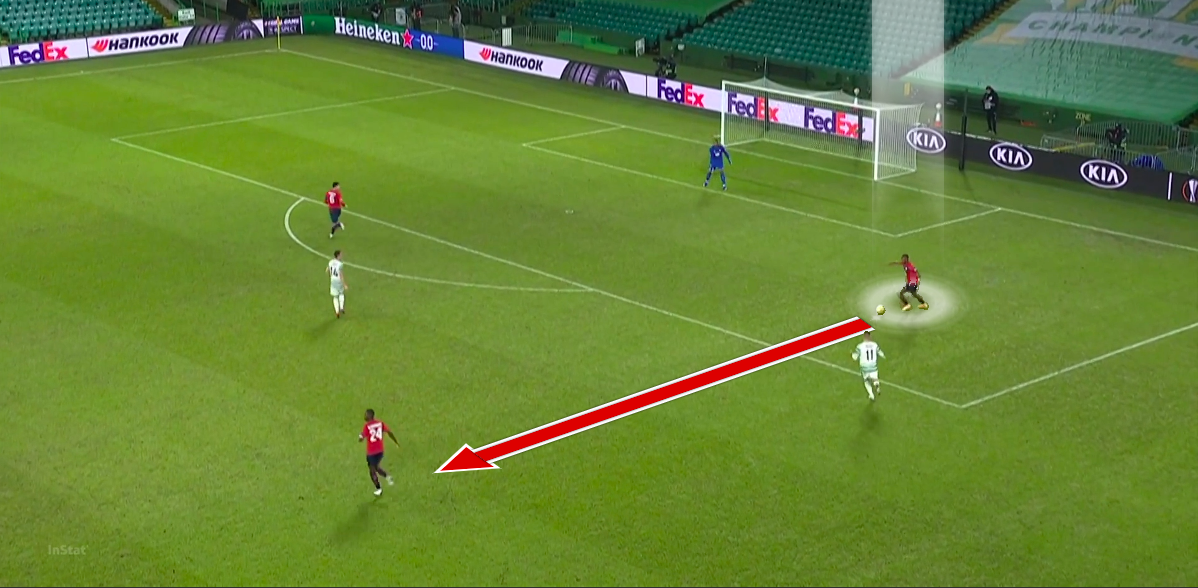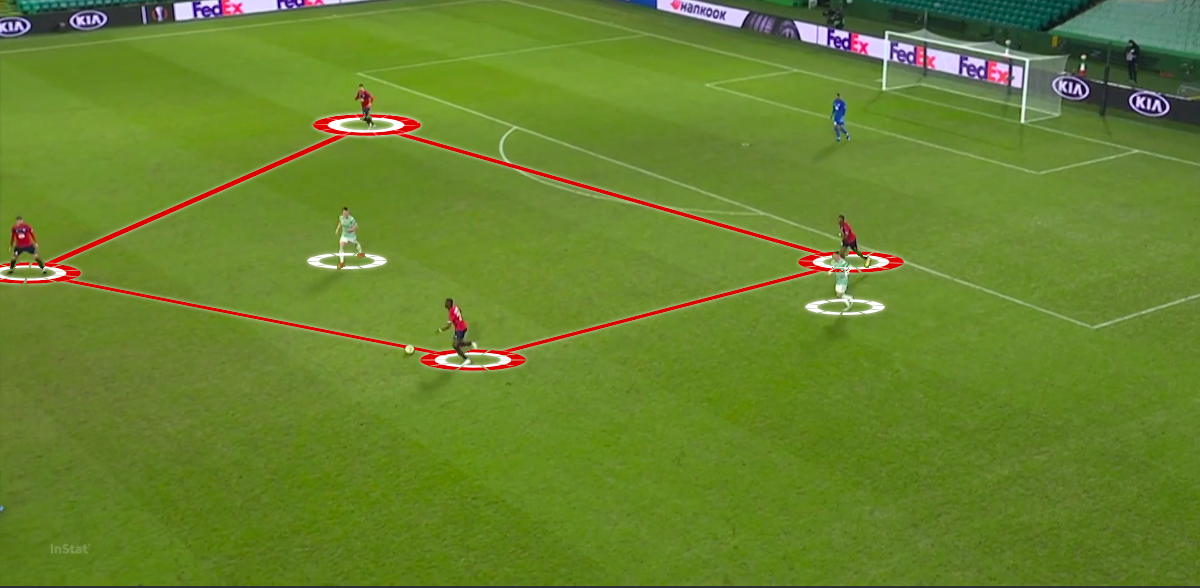 Lille were largely allowed to play out from the back, with Celtic only initiating pressure with one or two players as opposed to a full-team press high-up the pitch, preferring to engage Lille in the middle third. As a result of this, Lille were able to build their attacks more meaningfully from the back without the risk of entering defensive transitions or losing the ball close to goal.
Another factor when Lille built their attacks is for the wider midfielders to invert and show for the ball in the half-spaces. Jonathan Ikoné excelled in this function due to his ability to receive the ball and make penetrating runs from deep.
This also opened up space out wide that could expose a 1v1 situation with a Lille fullback against another fullback, especially after Ikoné forced the opposing wide midfielder to make a choice whether to mark him or leave him free.
Another theme of Lille's attacking movements and rotations was that one of the two centre forwards came short to look to receive the ball, resulting in Lille's formation adapting to somewhat of an extremely narrow 4-2-3-1. Yazıcı thrived at this and helped to create a passing angle whilst penetrating from deep with piercing runs.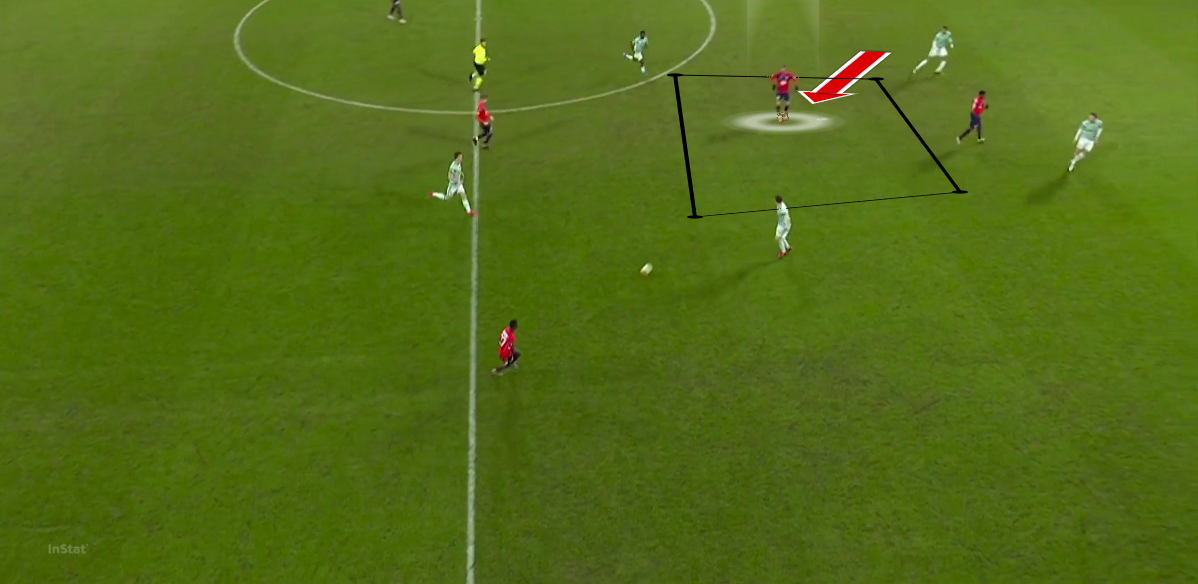 Lille Attacking Transitions
In the instance of an attacking transition, Lille looked to penetrate early, and as soon as winning the ball back, they aimed to play vertically towards the Celtic goal. If they couldn't penetrate Celtic early, only then did they look to recycle the ball.
Christopher Jullien opened the scoring for the Hoops in the 21st minute, rising above Tiago Djaló to head home a corner kick from David Turbull. However, Lille immediately equalized after Yazıcı pounced on an errant back pass from Callum McGregor, drove forward, and found Ikoné in ample space in the box.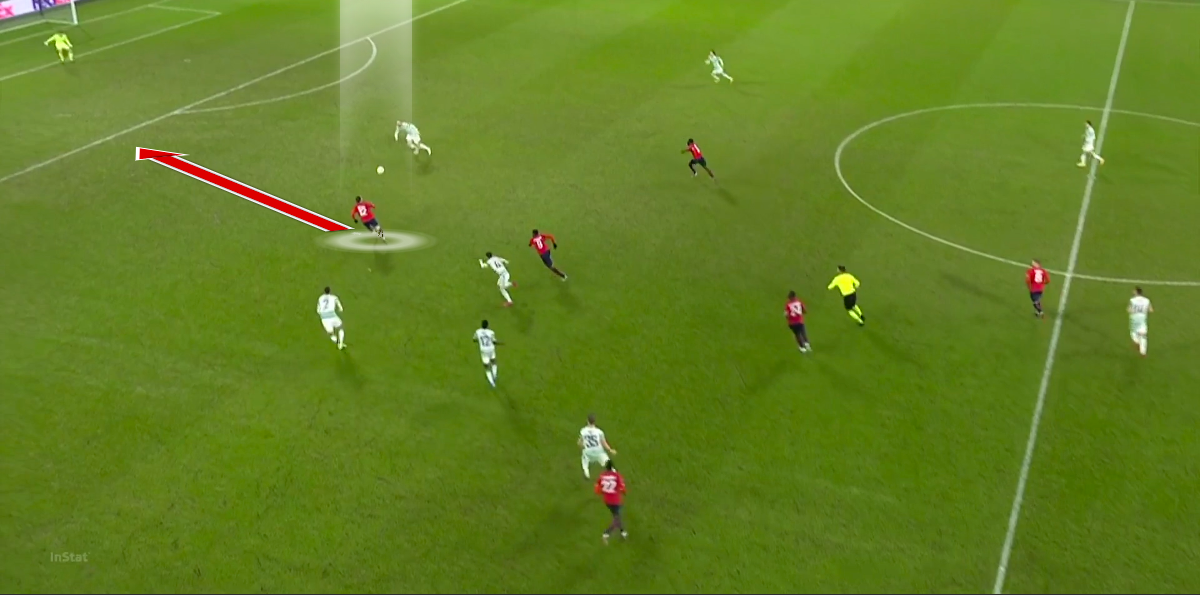 Lille Defensive Transition
When Lille entered a defensive transition, they sought to immediately win the ball back, particularly in the wider areas where they could use the touchline as an extra defender. In addition to this, Lille guaranteed a numerical superiority when engaging the opposition player when in a defensive transition to ensure that the opposition cannot play a meaningful pass to expose them.
This is defined below where Lille creates a 3-man pressing trap on the Celtic player, which makes it hard for the Celtic player to escape from it.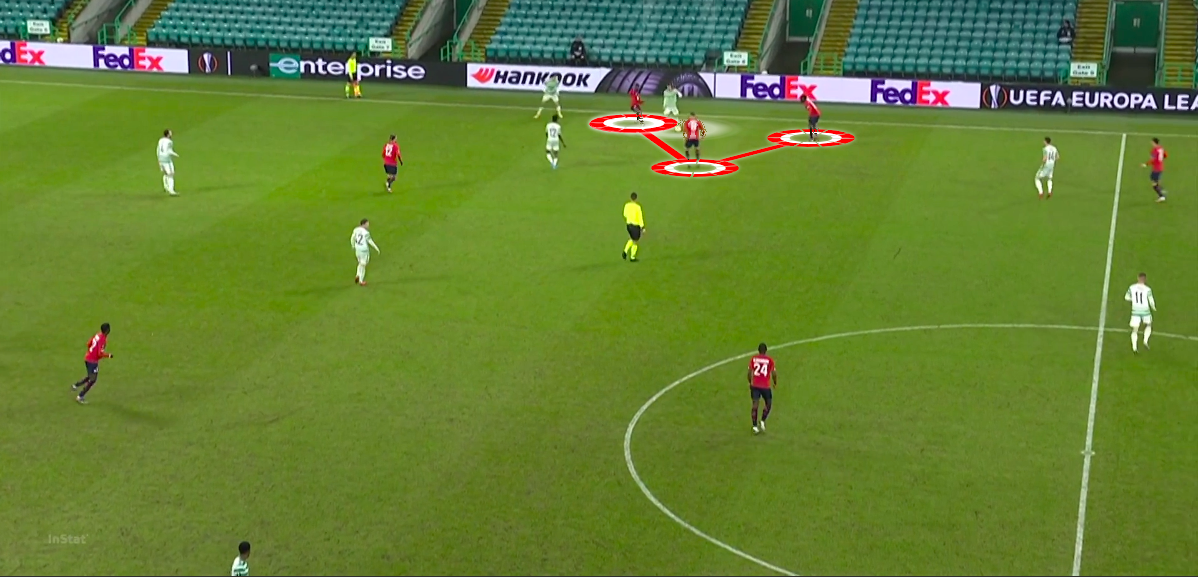 Lille were effective at reacting to the defensive transition, limiting Celtic in exploiting their lack of organisation as a result of entering a transition.
Lille Out of Possession
Lille's defensive shape was very much a standard 4-4-2, providing sufficient coverage across the pitch. In this formation, it allowed the two Lille midfielders to match up with the two from Celtic, and in wider areas forced a lot of 1v1's which Lille were good at during the match.
The 4-4-2 allowed the wider players to press, knowing there was sufficient cover in the central areas of the pitch, defending with two banks of four. When out of possession, Lille looked to press Celtic, but not particularly high or aggressively, instead looking to remain vertically compact and press in specific areas of the pitch, such as wider areas.
Despite this, Lille did look to apply pressure, particularly to Celtic's left-sided centre back Shane Duffy looking to force him to play a risky ball to penetrate or play a safer ball out wide, where Lille could press, using the touchline as an extra defender.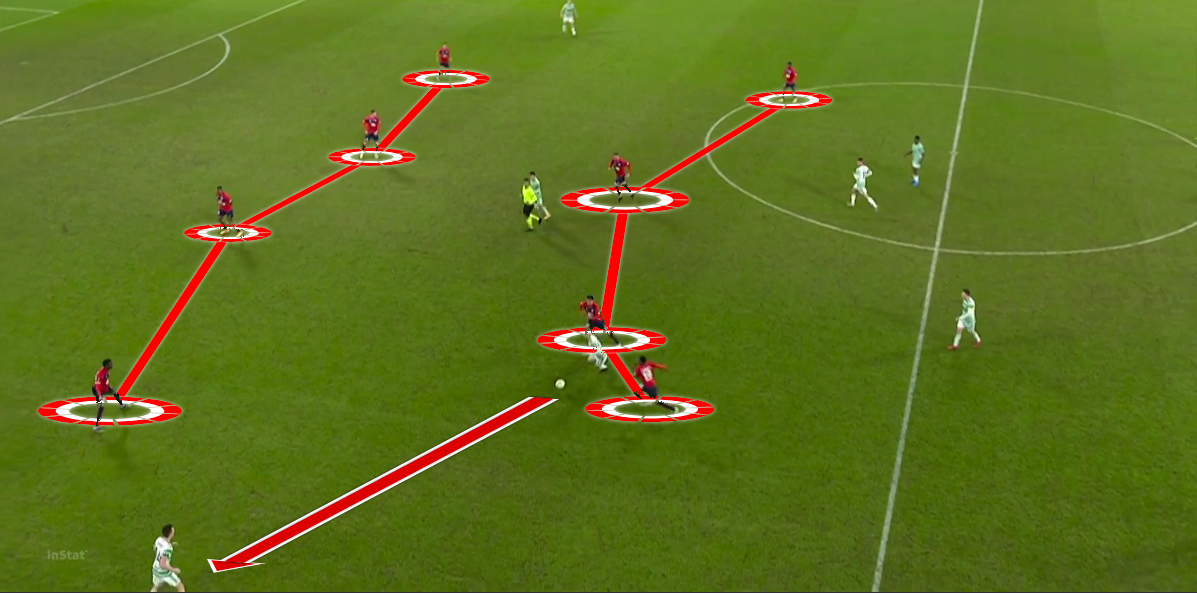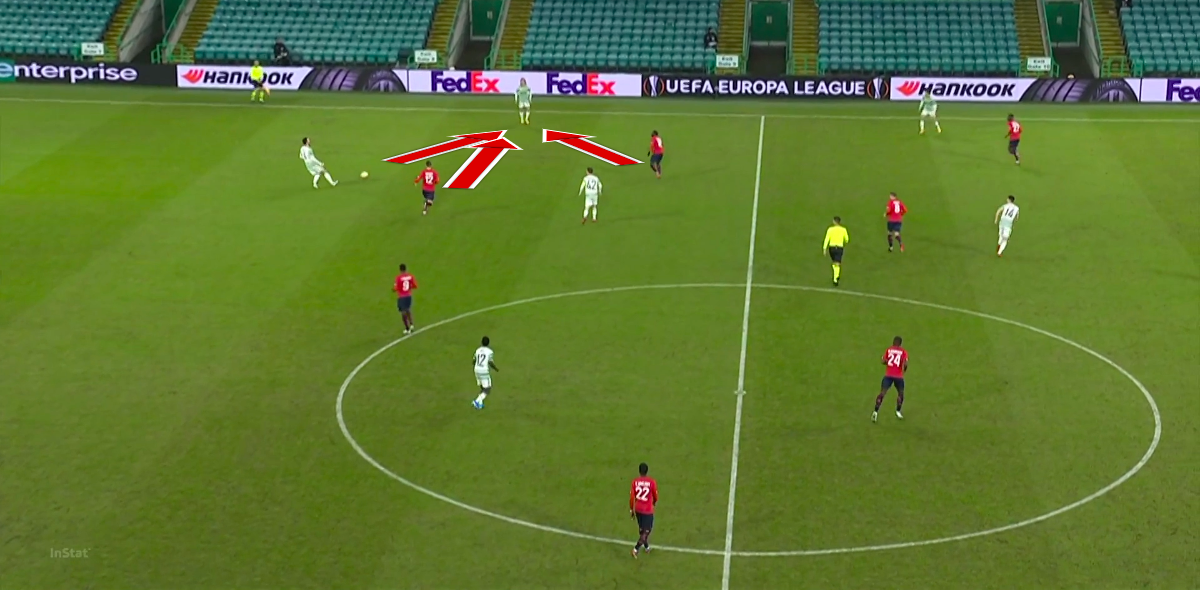 Celtic in Possession
When in possession, Celtic looked to play direct to the forward players being extremely vertical with a mix of short and long passes, the latter in which aimed to beat Lille's initial press. Celtic tried to use the right hand side to progress their attacks, playing longer passes. In particular, Ajer looked to progress the ball directly to Frimpong or Ewan Henderson, who replaced the former in the 30th minute.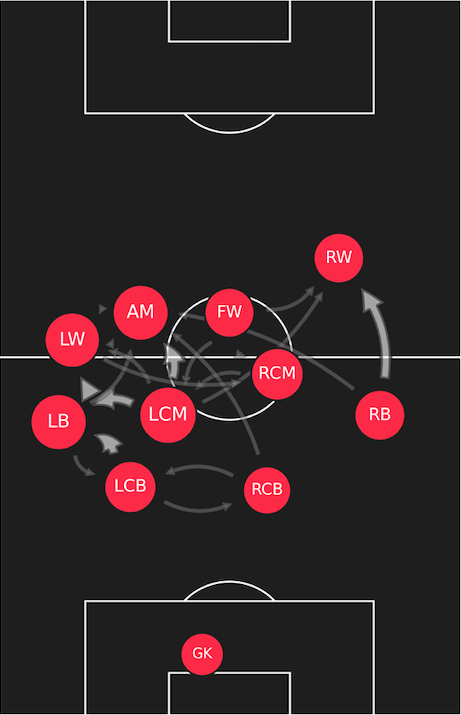 Photo: Twenty3 / Wyscout
Celtic Building the Attack
Celtic were somewhat cautious when going forward, preferring to attack with three or four players as opposed to pushing up as a unit, this came as a direct consequence of Lille's attacking force. As a result, Celtic were reliant on individual skill and flair when aiming to penetrate Lille's defence, as opposed to numerical superiorities.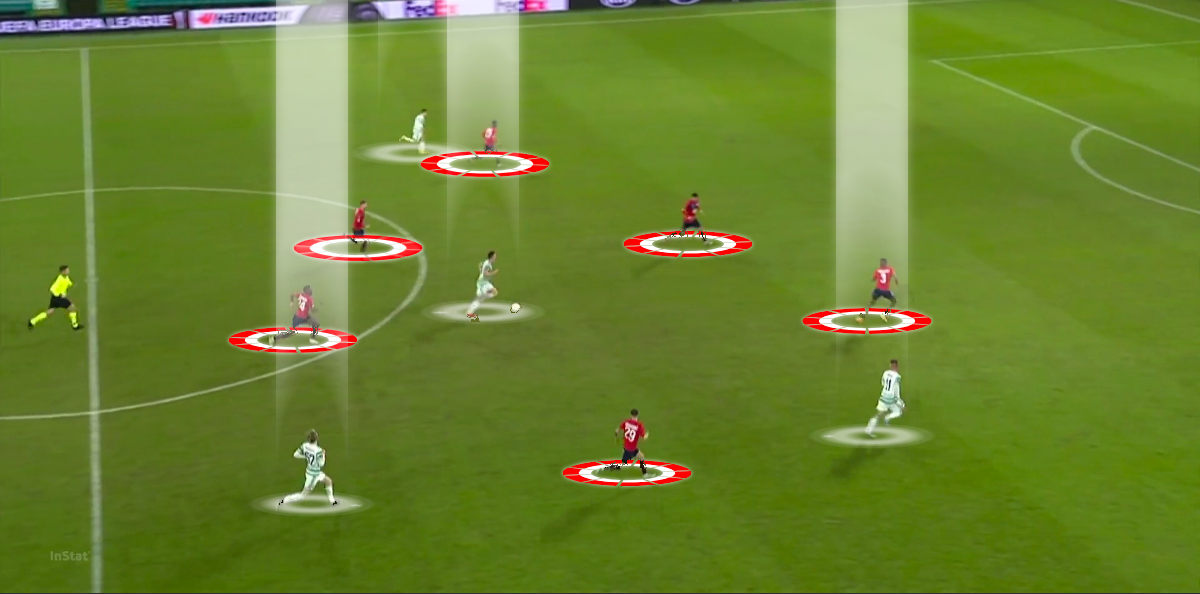 Celtic in Transition
When entering a defensive transition, Celtic often opted to retreat into their defensive block as opposed to initiate an outright press, however Celtic applied heavy amounts of pressure when losing the ball in the middle and defensive third.
When attacking the transition, Celtic aimed to counter and play vertically, but limited the numbers they committed forward, this is reflected in the extremely deep positions the Celtic central midfield duo took up, as per the average positions map. As a result, the attackers became very isolated.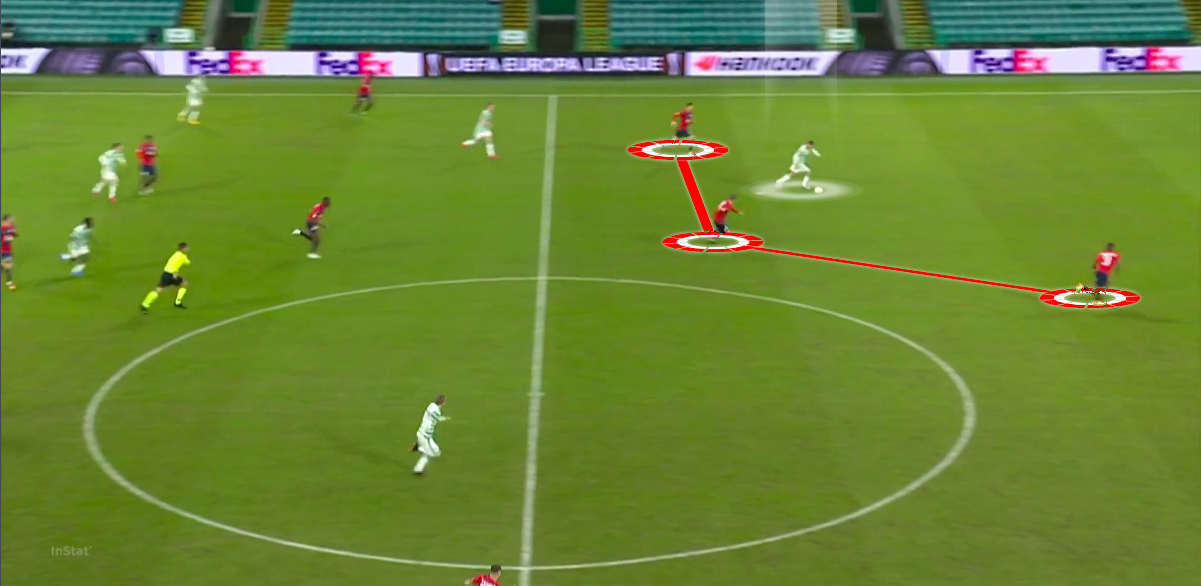 Celtic Out of Possession
Celtic set up to be very compact and difficult to break down, and whilst they conceded two goals, one came from a defensive error from McGregor that cannot be legislated for. Aside from that, Celtic looked fairly comfortable when defending against the ball.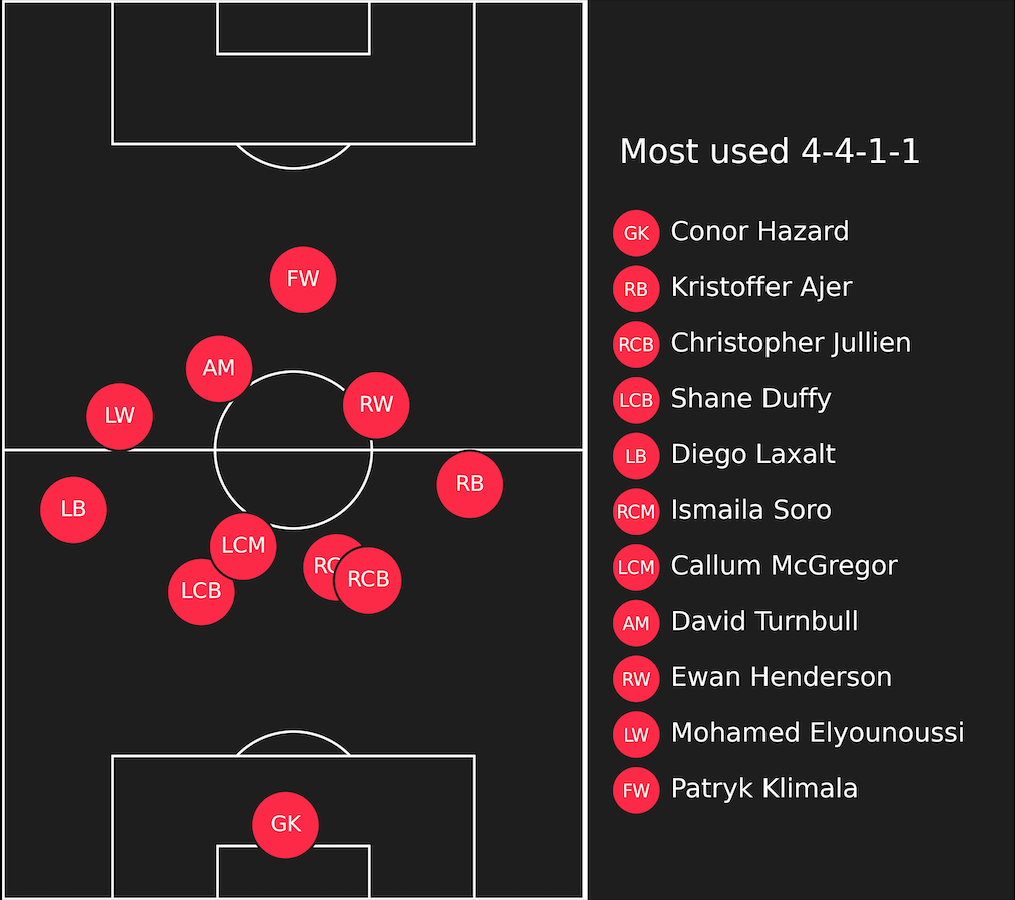 Photo: Twenty3 / Wyscout
From the average positions chart, you will be able to see that a large portion of Celtic's game focus was playing without, with the two central midfielders Ismaila Soro and McGregor sticking close to the two central defensive pairing to limit the space in and around 'Zone 14' and to directly combat the inverted runs from Lille's wider midfielders.
When defending deep, the wider midfielders in Celtic's system often dropped their positioning to help the Full-back, making a back five at times, especially on the right-hand side of their defence.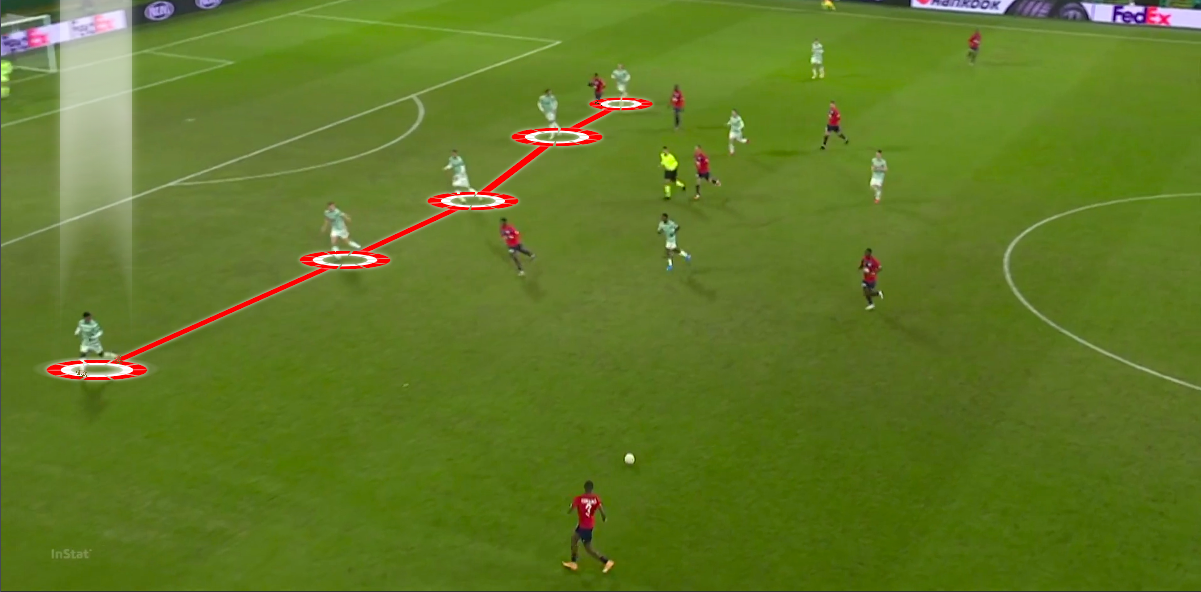 When engaging Lille higher up the pitch, Celtic defended in a 4-4-2, in this instance, they were happy to show centrally to try and limit the influence of the full-backs and the wider midfielders in Lille's system.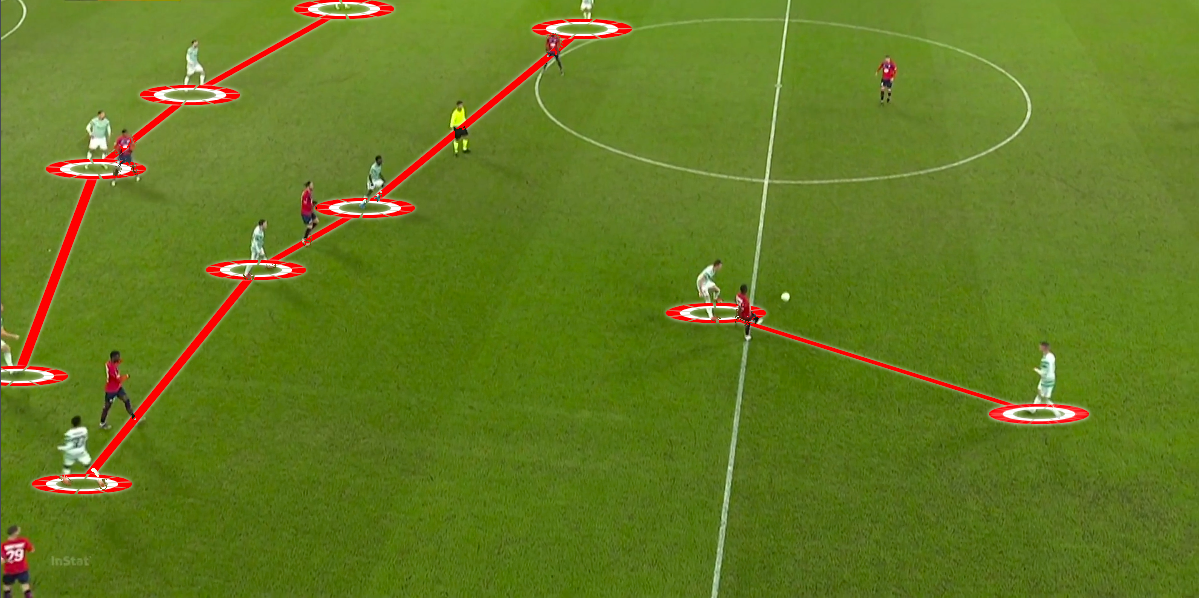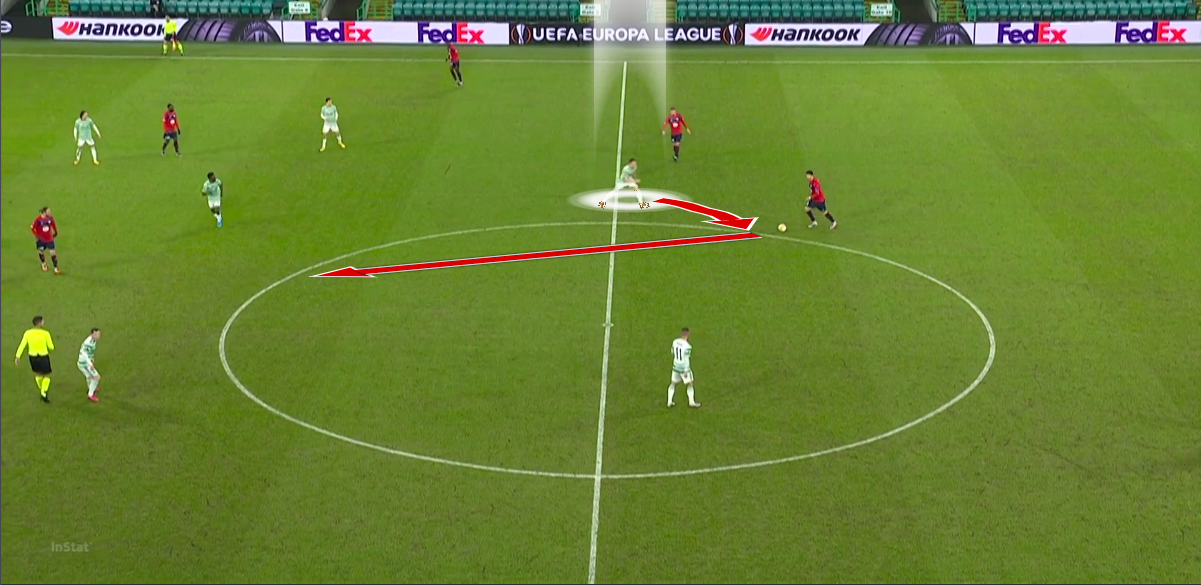 Conclusion
Despite Celtic only having 39% of the ball and lacking a bit of guile when attacking, Celtic managed to notch their first and only win in this season's Europa League group stage. Celtic relied on goals from a well-worked corner routine when Christopher Jullien headed in and a penalty from Callum McGregor, who atoned for his error that led to Lille's first equaliser, as well as a strike from just inside the box from David Turnbull after a cute cut-back from Kristoffer Ajer, who ventured forward.
Out of possession, Celtic were largely impressive, limiting the space between the lines for Lille attackers. Yusuf Yazıcı and Jonathan David had to drop deeper to try and receive the ball and have an impact on the game. The game was a case of Celtic converting the chances they had whilst maintaining their defensive structure throughout the game, and were able to hold onto somewhat of a coup against the French side.
By: Russell Pope
Featured Image: @GabFoligno / Rob Casey – SNS Group