Tactical Analysis: Chelsea 2-2 Tottenham Hotspur
Chelsea hosted crosstown rivals Tottenham Hotspur during the second gameweek of the 2022/23 Premier League season. Whilst this is a fixture that often sees tensions rise and emotions boil over, this particular game became especially heated as the opposing managers spent much of the second half antagonising one another. And whilst the potential cinema of Thomas Tuchel and Antonio Conte coming to blows is objectively fascinating, I will be analysing the tactical approaches both sides undertook throughout this clash.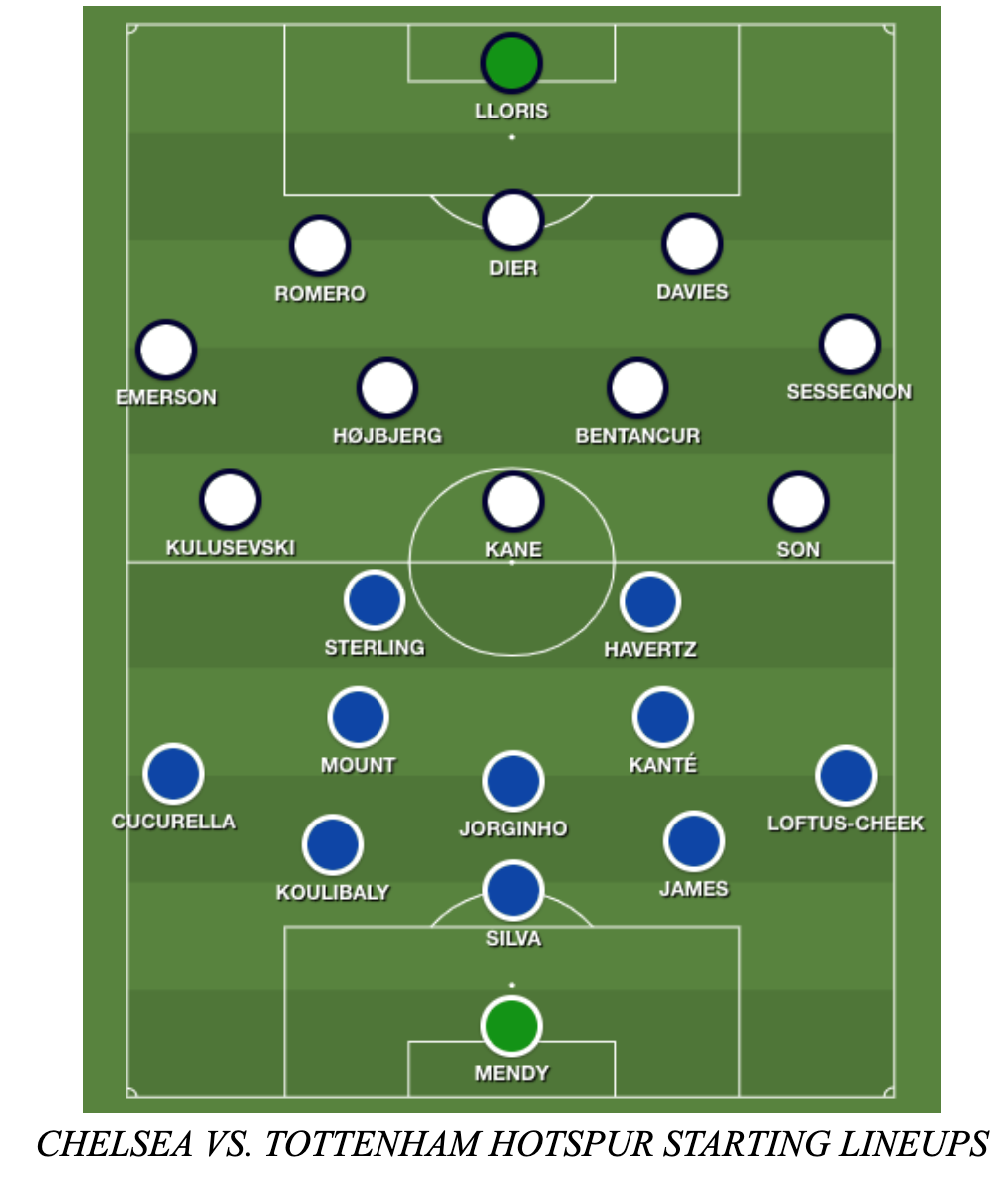 Tottenham Hotspur set up in a more traditional 3-4-3 shape with aggressive wing-backs and two dynamic inside forwards flanking a centre-forward as has largely been the case under Antonio Conte. Chelsea, on the other hand, set up in a 5-3-2 shape defensively which then transformed into a version of a 4-2-2-2 offensively. It was a fascinating, fluid system deployed by Thomas Tuchel and, as this analysis will attempt to show, it was extremely effective for large parts of the game. 
Ruben Loftus-Cheek played as the right wing-back defensively but would then invert in advanced positions and play as a right attacking midfielder when Chelsea were in possession. Reece James played as somewhat of an overlapping right centre-back à la Sheffield United's centre-backs under Chris Wilder. Mason Mount played as the attacking midfielder on the opposite flank, with Raheem Sterling and Kai Havertz operating as split strikers and running the channels.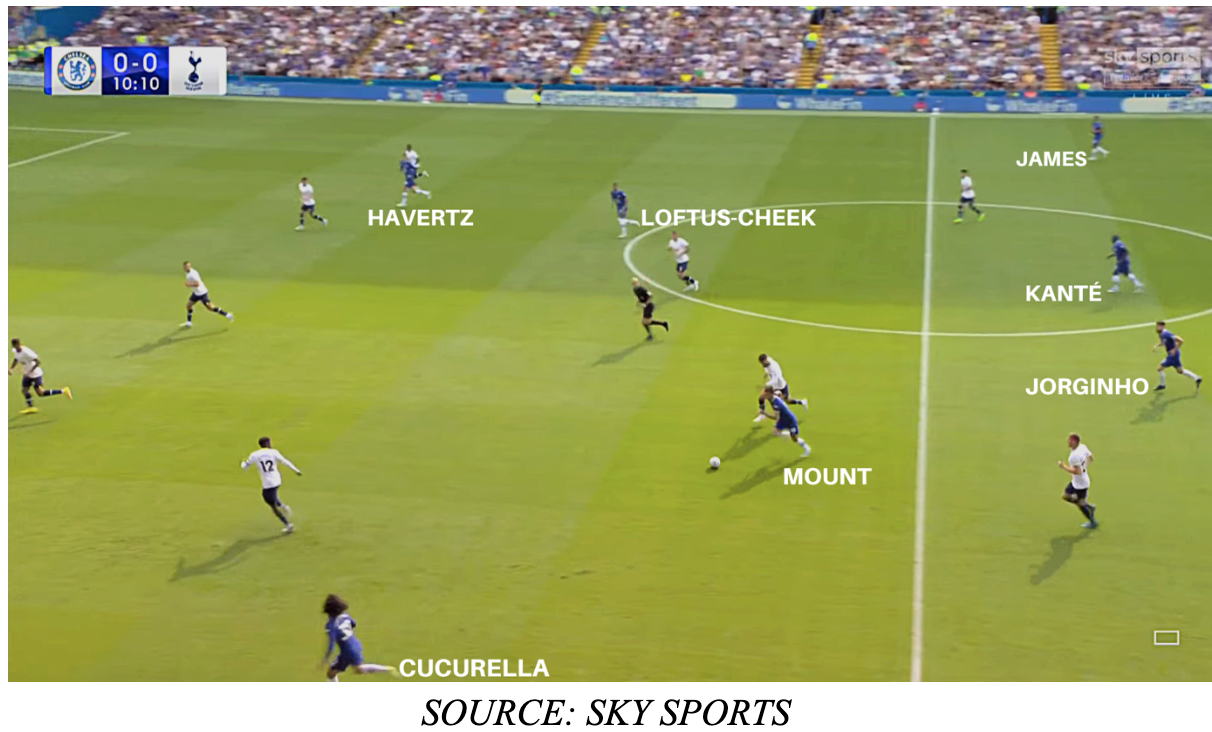 The image shows Chelsea's 4-2-2-2 shape and the space it created in wide areas for Reece James. Spurs struggled to track Loftus-Cheek's central movements and Tuchel's men were able to create central overloads as a result. Chelsea did a great job occupying the half-spaces and preventing Spurs from having a comfortable rest defence.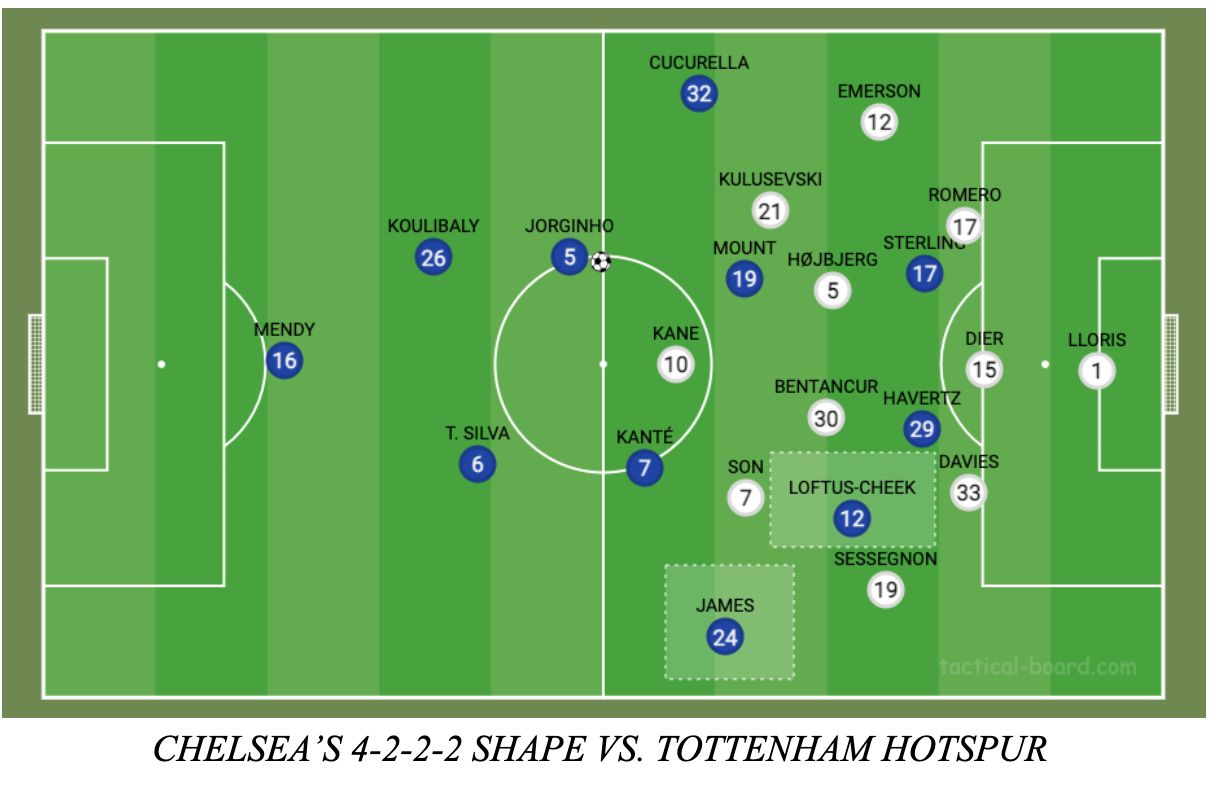 Sterling and Havertz were given considerable freedom to roam from their positions and find optimal spaces in the final third. Sterling, in particular, drifted into wide positions and used his pace and 1v1 abilities to cause indecision in the Tottenham defence.
The structure adopted by the Blues also allowed them to press and counter-press high up the pitch. This high press led to Chelsea winning possession in a dangerous area of the pitch, resulting in a shot for Kai Havertz which was saved and subsequently led to the corner that gave the West London club the lead.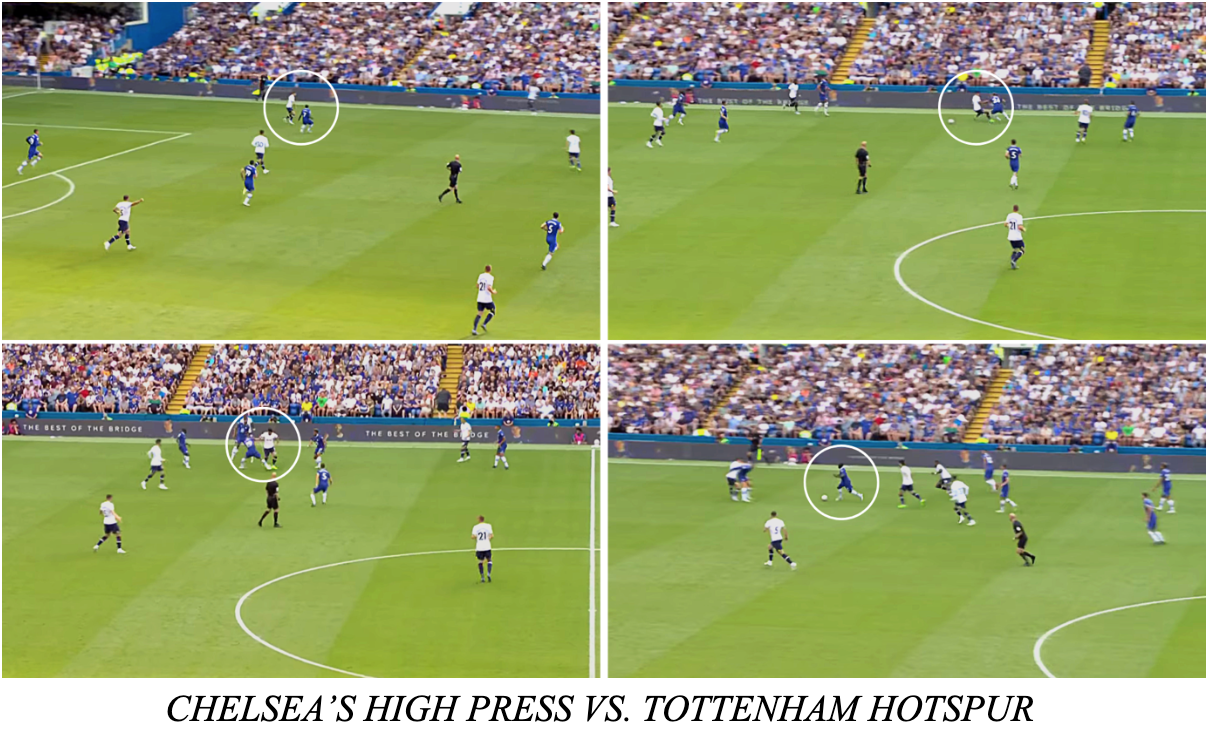 Chelsea were aggressive and coordinated in their press and rarely allowed Spurs the opportunity to play out from the back. The presence of Thiago Silva and Kalidou Koulibaly also meant that long passes weren't much of a viable option for Antonio Conte's men and this led to Chelsea's possessional and territorial dominance throughout the first half.
Spurs were forced to focus on opportunities in transition and even these were few and far between. One of the main reasons Reece James was deployed as a right centre-back defensively was likely to deal with the danger that Son Heung-min posed in transition.
The South Korean forward's pace and dynamism likely would have greatly troubled César Azpilicueta due to his comparative lack of quickness. Reece James possesses the speed, strength and defensive awareness to deal with Son's strengths.
Evidently, Chelsea's first-half approach largely stifled their London rivals and prevented any genuine threat on their goal. Antonio Conte allowed the second half to play out for approximately ten minutes before making extensive changes to his side's approach, which ultimately proved to be very effective.
The first major change made by the Italian coach was to bring on Richarlison for Ryan Sessegnon and change to a 4-2-4 formation. This was the catalyst for his side's vast improvement in the second half of the contest.
Dejan Kulusevski operated as a wide right winger, whilst Son Heung-min played as an inside forward on the left with the freedom to roam into central zones. Harry Kane and Richarlison were deployed as centre forwards and largely ran the channels; Richarlison in particular was charged with stretching the defence.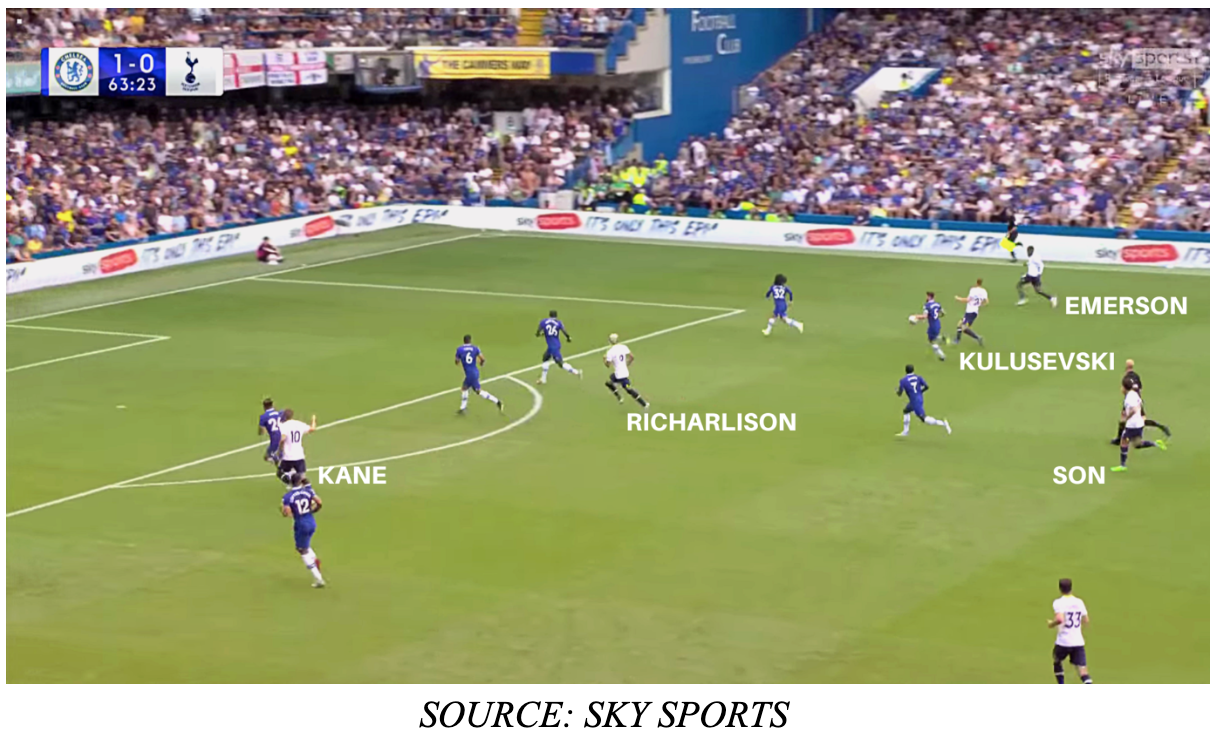 The full-backs alternated their attacking movements, as one of Ben Davies or Emerson Royal would attack or sit depending on where the ball was. This gave Spurs a 2-3-5 shape in possession, allowing their forwards to be expansive whilst having insurance behind them.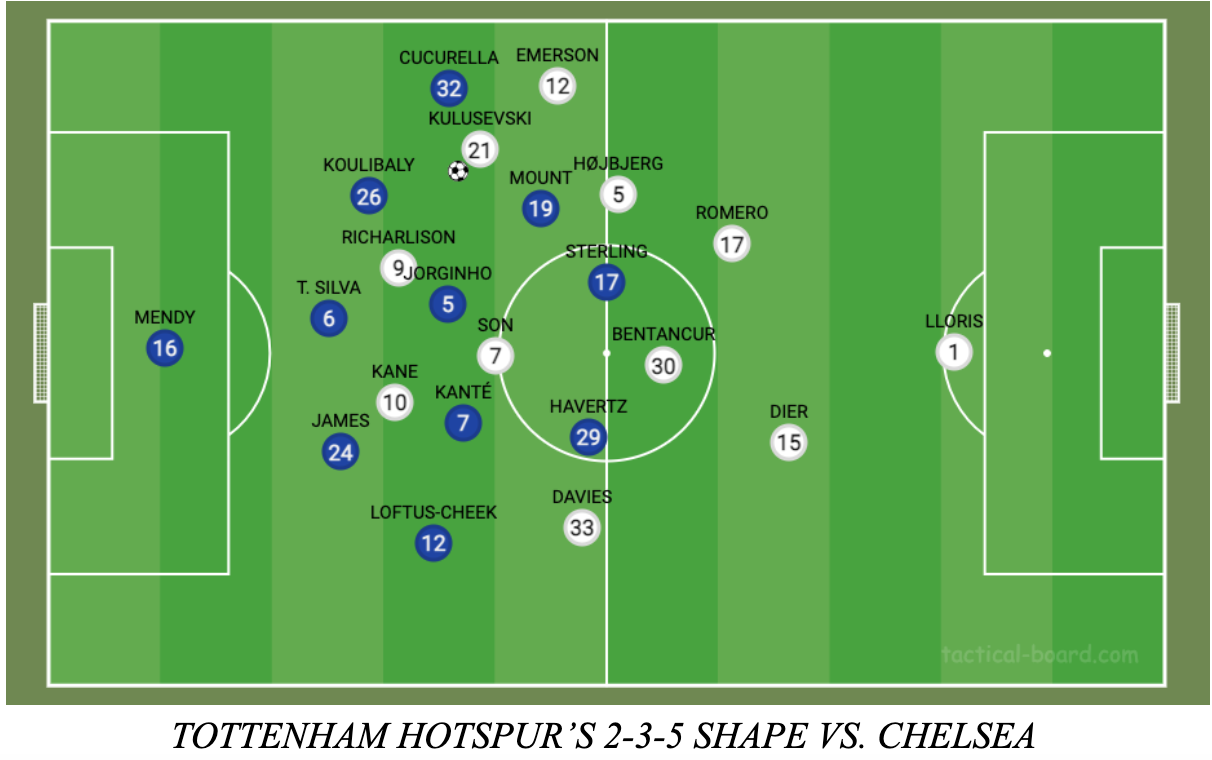 This change in system also gave the North London outfit more opportunities and initiative to press high up the pitch. This aggressive pressing eventually led to their contentious equaliser via Pierre-Emile Højbjerg.
The increased intensity and effective system change from Tottenham forced Thomas Tuchel to make further changes of his own to allow his side to regain the upper hand. This change came in the form of bringing on César Azpilicueta to play right centre-back, moving Ruben Loftus-Cheek into midfield and deploying Reece James in his preferred right wing-back position.
This change also allowed Chelsea to operate in their favoured 3-4-3 formation. The central overloads created by this change, as well as Tottenham's 4-2-4 shape, afforded Marc Cucurella and Reece James more space in wide areas and in more advanced zones. This led to the latter creating a gilt-edged chance for Kai Havertz who failed to convert the opportunity.
Chelsea would receive another opportunity to strike and, this time, the supplier would become the finisher as Reece James would make a patented forward run and finish with aplomb to allow the home side to reclaim the lead.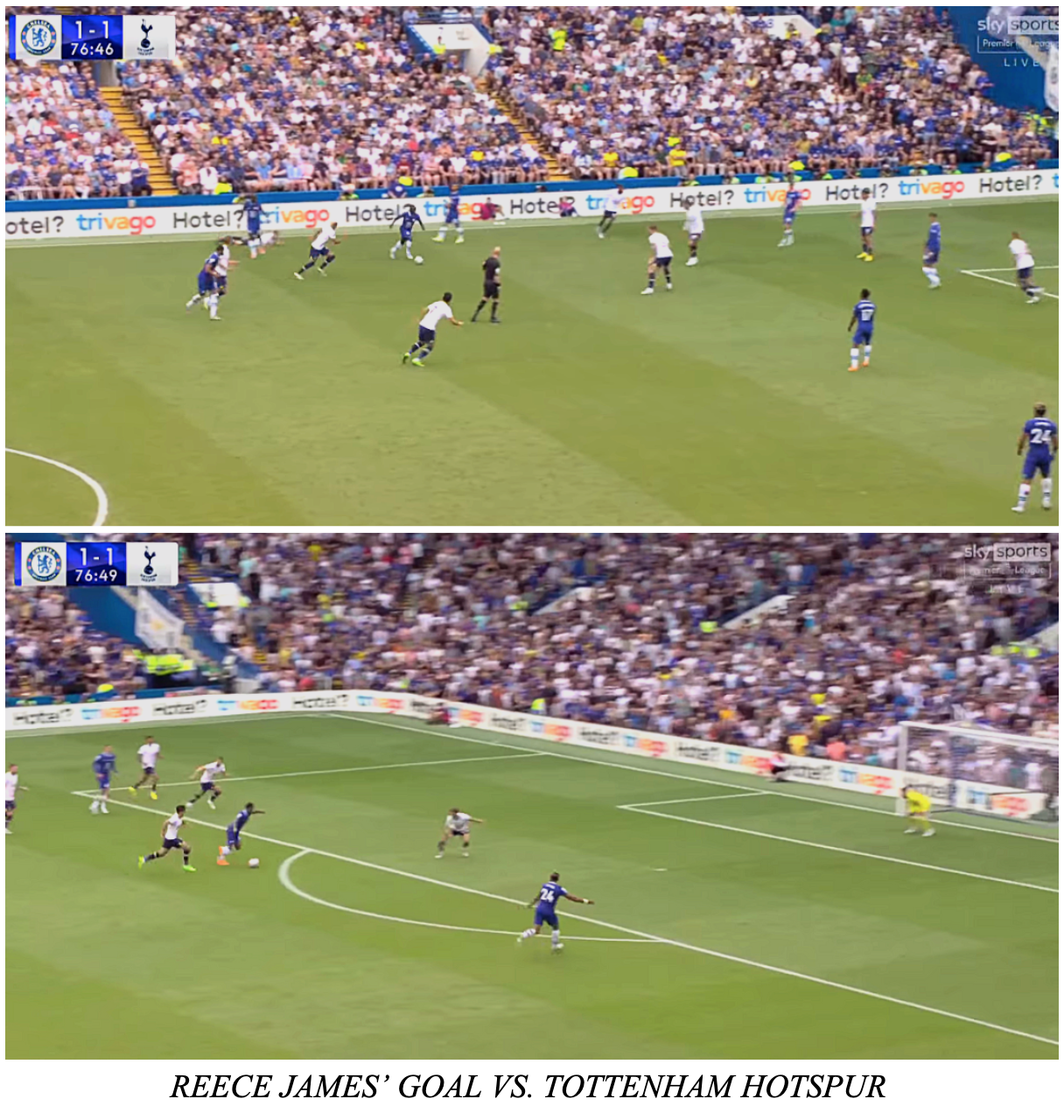 On this occasion, Chelsea have a left-sided overload that creates space for Reece James on the right. Spurs' change to a back four prevents their defenders from adequately covering the wide spaces in deeper zones and the Redbridge-born wing-back takes advantage of the copious amount of space left.
Chelsea remained largely in control for the remainder of the game before Spurs snatched a controversial point in stoppage time through Harry Kane, much to the chagrin of Thomas Tuchel and the Stamford Bridge faithful. The full-time whistle was met with feisty scenes as the two managers exchanged an aggressive handshake and strong words — an encounter that felt inevitable based on how the game had unfolded.
According to The xG Philosophy, the final expected goals (xG) between the two teams saw Chelsea finish with an xG of 1.87 to Tottenham Hotspur's 1.57 xG. Despite these fairly close numbers, Chelsea largely looked the better side for the vast majority of the London derby.
The days and weeks to follow will likely focus on the dubious decisions made by Anthony Taylor and the bad blood between Thomas Tuchel and Antonio Conte, but the real intrigue was in the form of the tactical battle between the elite coaches that took place on the pitch. A game between Chelsea and Spurs is rarely without animosity and conflict, but I do hope that this game is remembered for the tactics as much as it is for the controversy.
By: Lebohang Mwamuka / @lebzygold
Featured Image: @GabFoligno / Chelsea FC