Tactical Analysis: Chelsea vs. Real Madrid First Leg
In a repeat of last year's fascinating Champions League semi-final, Chelsea and Real Madrid met again this time with the welcome return of fans in the stadium.
Off-the-field issues have dogged Chelsea in the last few weeks though the Blues still have so much to play for this season under the steady tutelage of Thomas Tuchel. The European Champions were dealt a major blow at the Bridge, as the German admitted in his press conference after the game that 'he got it wrong' as the game was lost during the opening 46 minutes.
Real Madrid are synonymous with the Champions League. The 'Big Ears' trophy is the symbol of excellence in elite European football, similarly at Madrid excellence isn't applauded or greeted with glee it is more expected.
There is just something different and complex when it comes to Real Madrid and its relationship with this competition, an obsession almost. It is worth unpacking where the game was lost and won, in particular Real's surprising 1-2 punch in the first half, it wasn't just the excellence of a certain French striker at his peak.
Chelsea's High Shape and Poor Press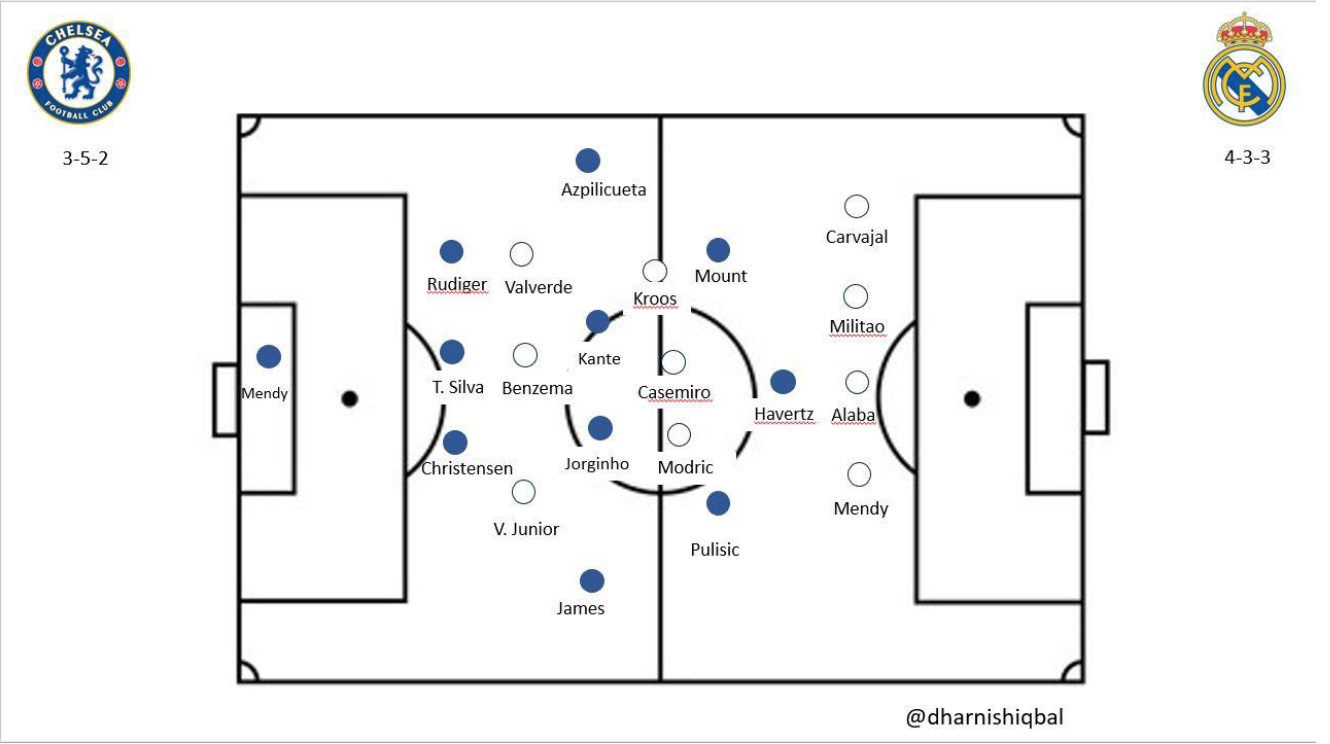 Chelsea lined up in their favoured 3-5-2 with Mason Mount and Christian Pulisic flanking Kai Havertz with Real Madrid lined up in a 4-3-3.
The most interesting thing formation-wise from Carlo Ancelotti was Federico Valverde dropping in to create a back 5 to halt César Azpilicueta from pinning Madrid back, and often dropping in midfield to aid build-up as well as winning the ball frequently in midfield often outnumbering Jorginho and N'Golo Kante.
The flexible positioning of Valverde allowed Madrid to either play with a back five at times or a midfield four wherever the versatile midfielder was needed he helped out.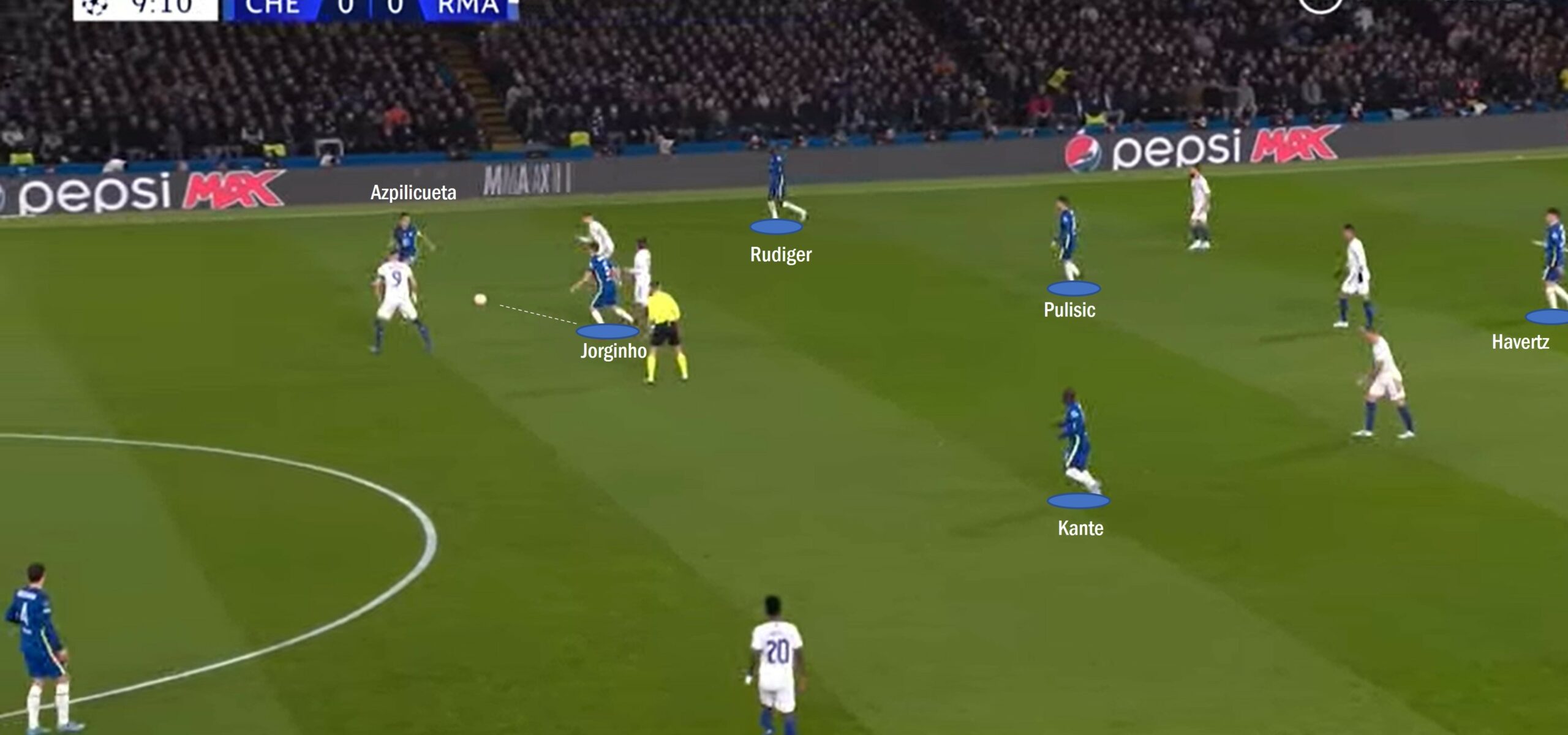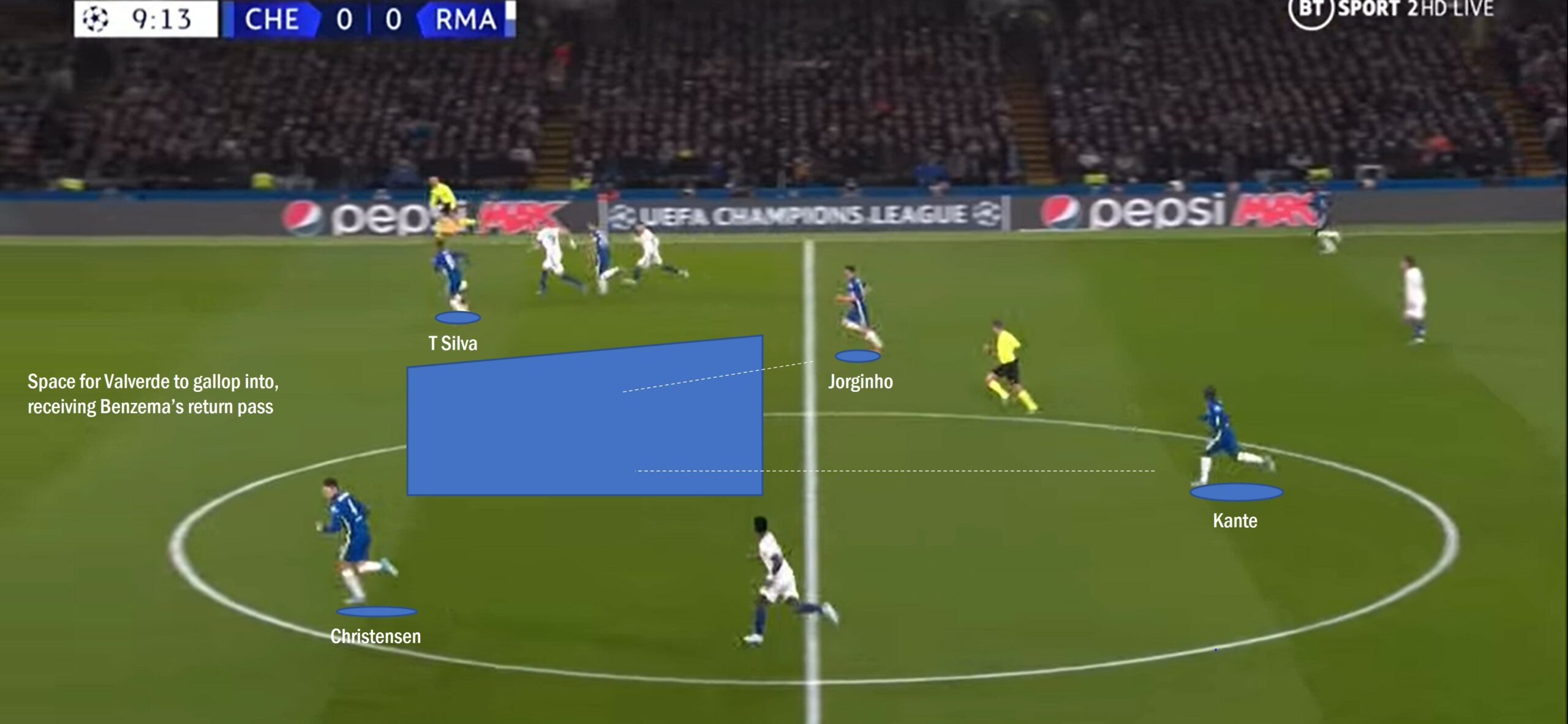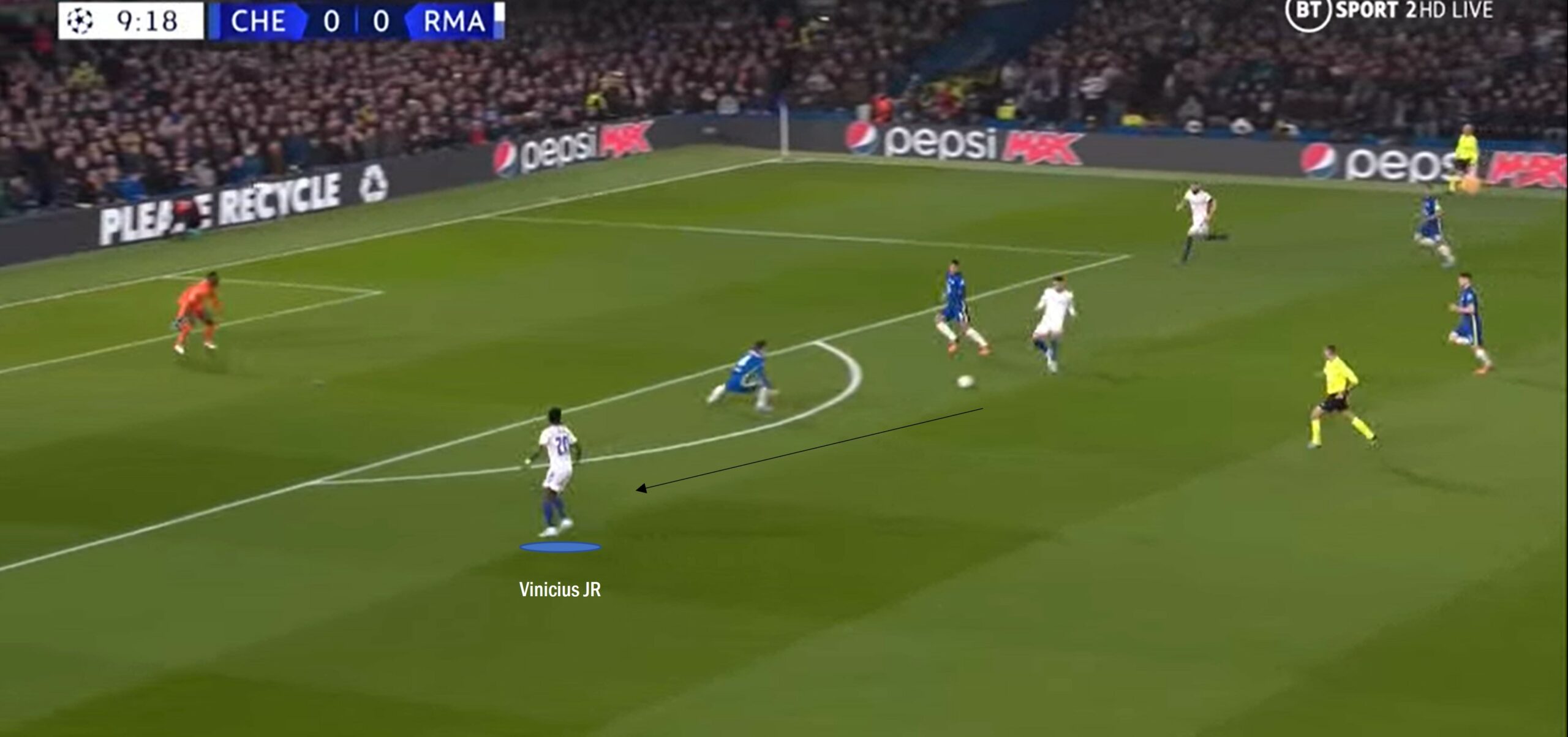 Chelsea had plenty of the ball but never looked penetrative in the first half apart from when Reece James managed to appear high and wide as Vinicius Junior isn't the most defensively disciplined winger. Antonio Rüdiger has pushed up to add numbers in build-up to try and break Madrid's low block, with the attackers and midfield two.
César Azpilicueta is attempting to receive a loose pass from Jorginho, with seven Chelsea players pushed up including Reece James out of picture, it means the wing-backs, forwards, midfield two and even one of the three centre-backs are positioned high up the pitch, as Madrid threaten in transition bearing down on Thiago Silva and Andreas Christensen. 
A quick return between Federico Valverde and Karim Benzema has Madrid chasing a breakaway goal, but luckily for Chelsea Vinicius Junior hits the crossbar. Nevertheless, seeing Kanté and Jorginho scamper back in desperation is an odd and displeasing sight for Chelsea fans. 
This was a warning for Chelsea and the instigator for Thomas Tuchel to change things up. It didn't need to be personnel, it could merely be the instruction to keep Jorginho back or stop Rüdiger from pushing up as it wasn't like he was creating overloads on the wing.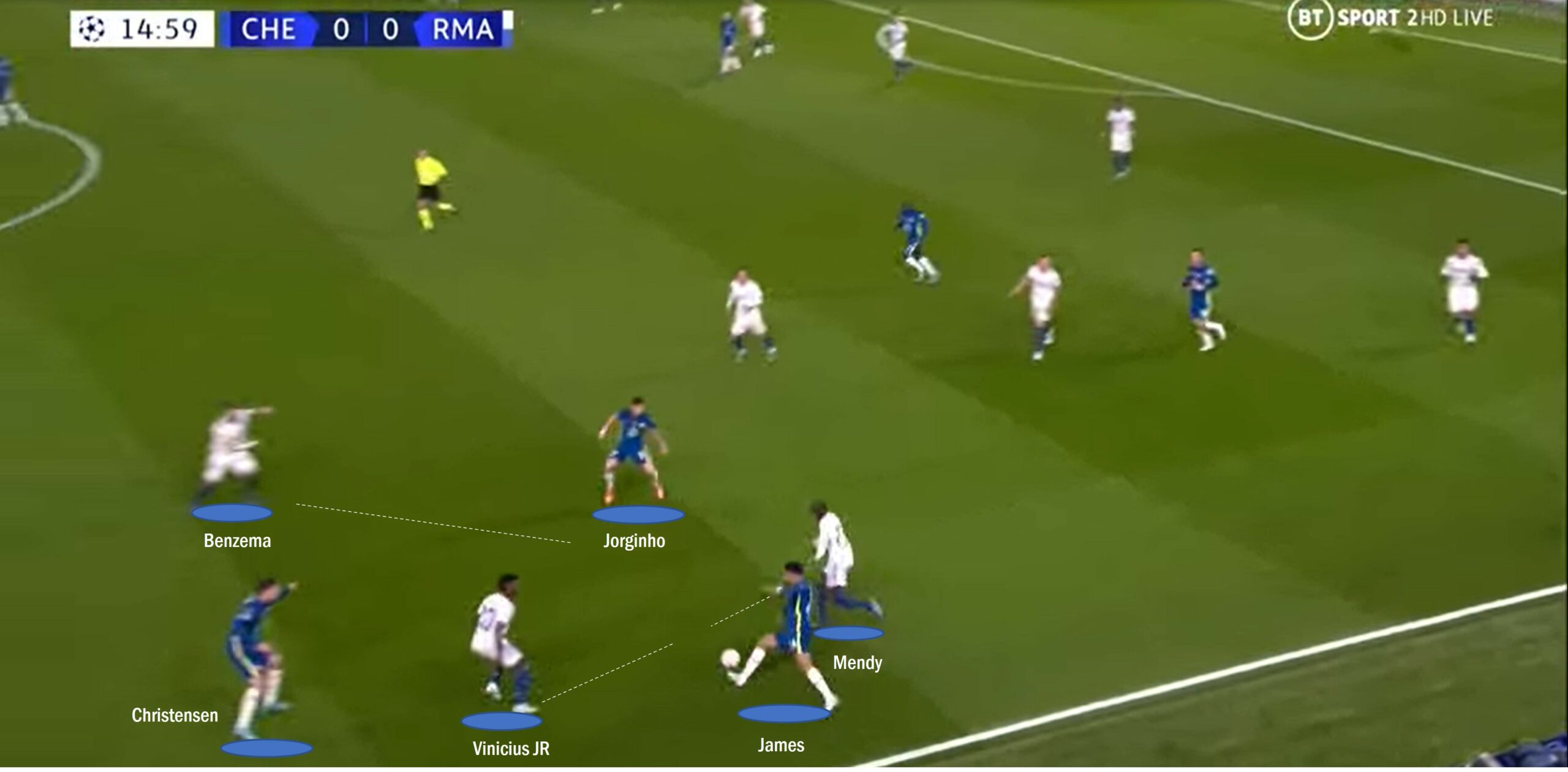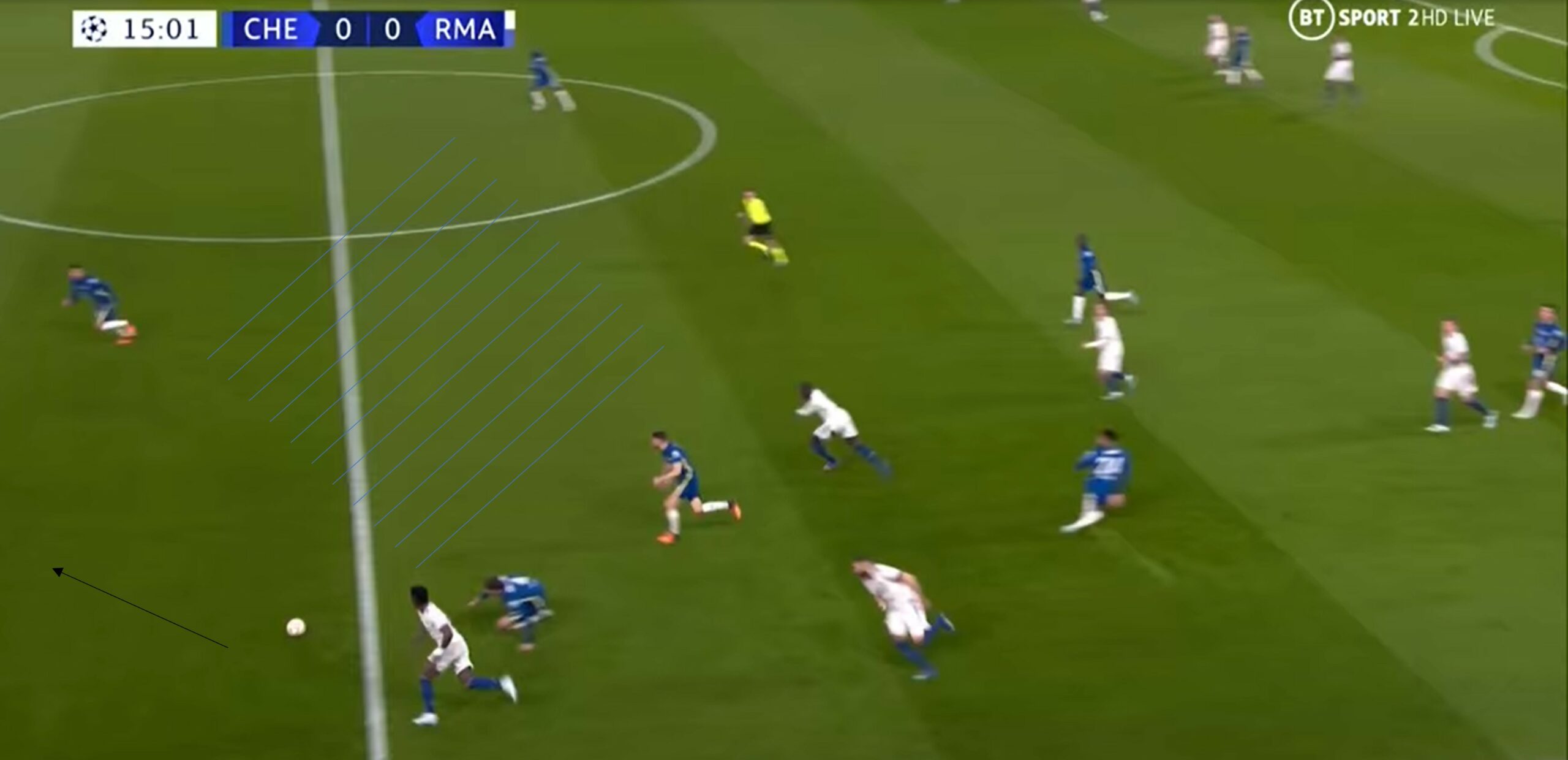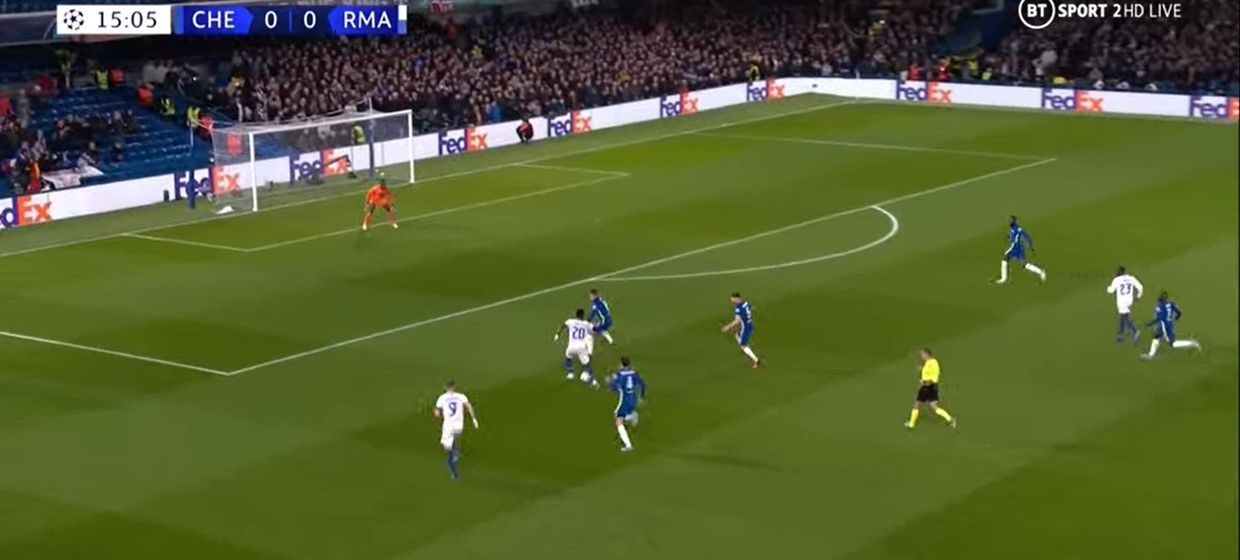 Above is another situation Madrid manage to steal it just after the half way line due to poor passing from Chelsea, look at the space it leaves for Vinicius to run into but also look at the space in the centre that is vacant.
Vinicius was constantly 1 on 1 with Christensen who he bypassed easily as James' positioning tended to be in Madrid's half resulting in the Dane having a torrid time containing Vinicius, the midfield two weren't able to come across and help out either. 
Chelsea's system is normally fantastic as full-backs can double as attacking threats and defensive cover or one of Kanté-Jorginho can mop up. It was so odd, particularly in the Champions League where we saw the system work so well last year to see Chelsea lose the ball poorly but have such scant men back.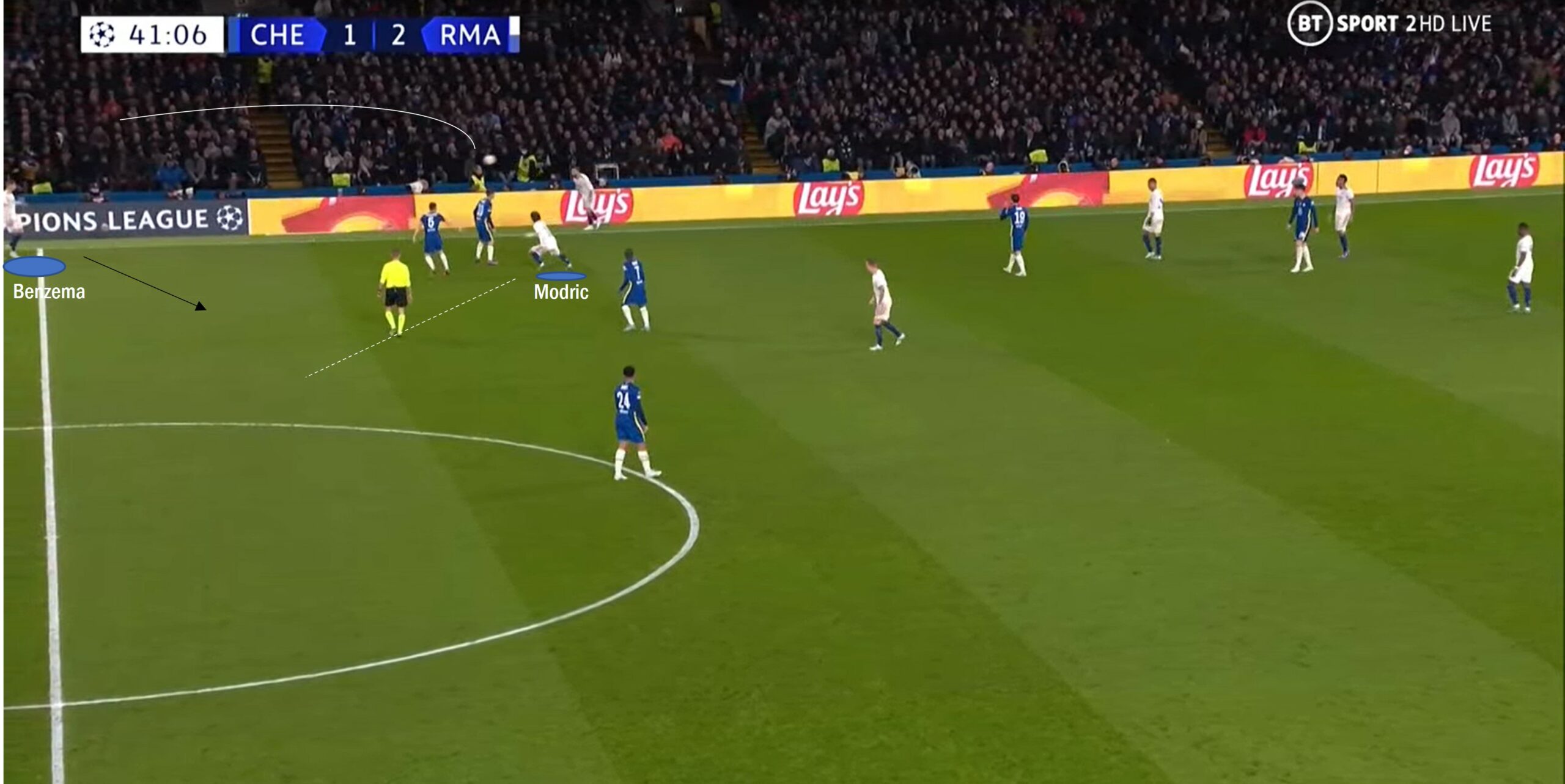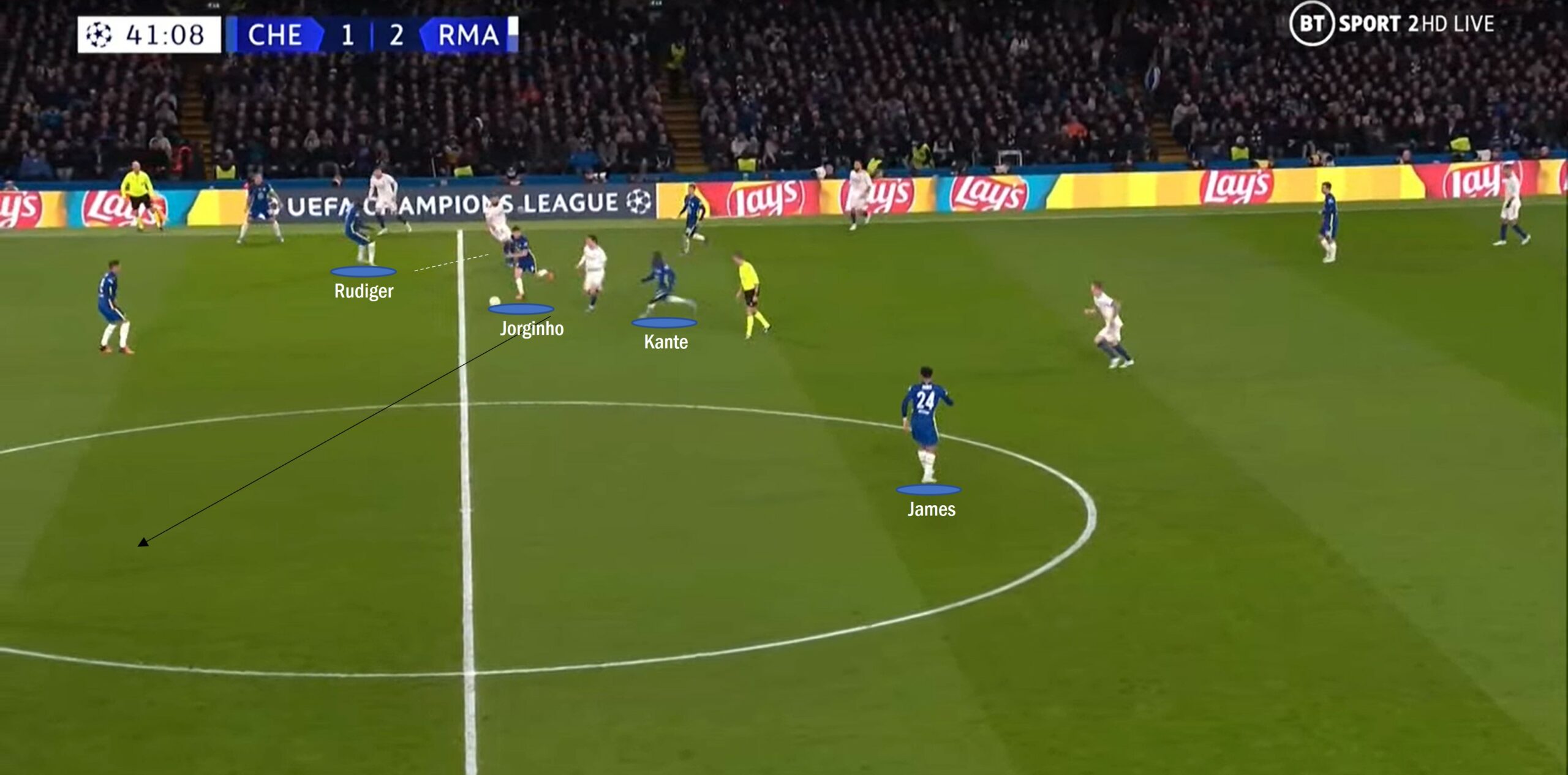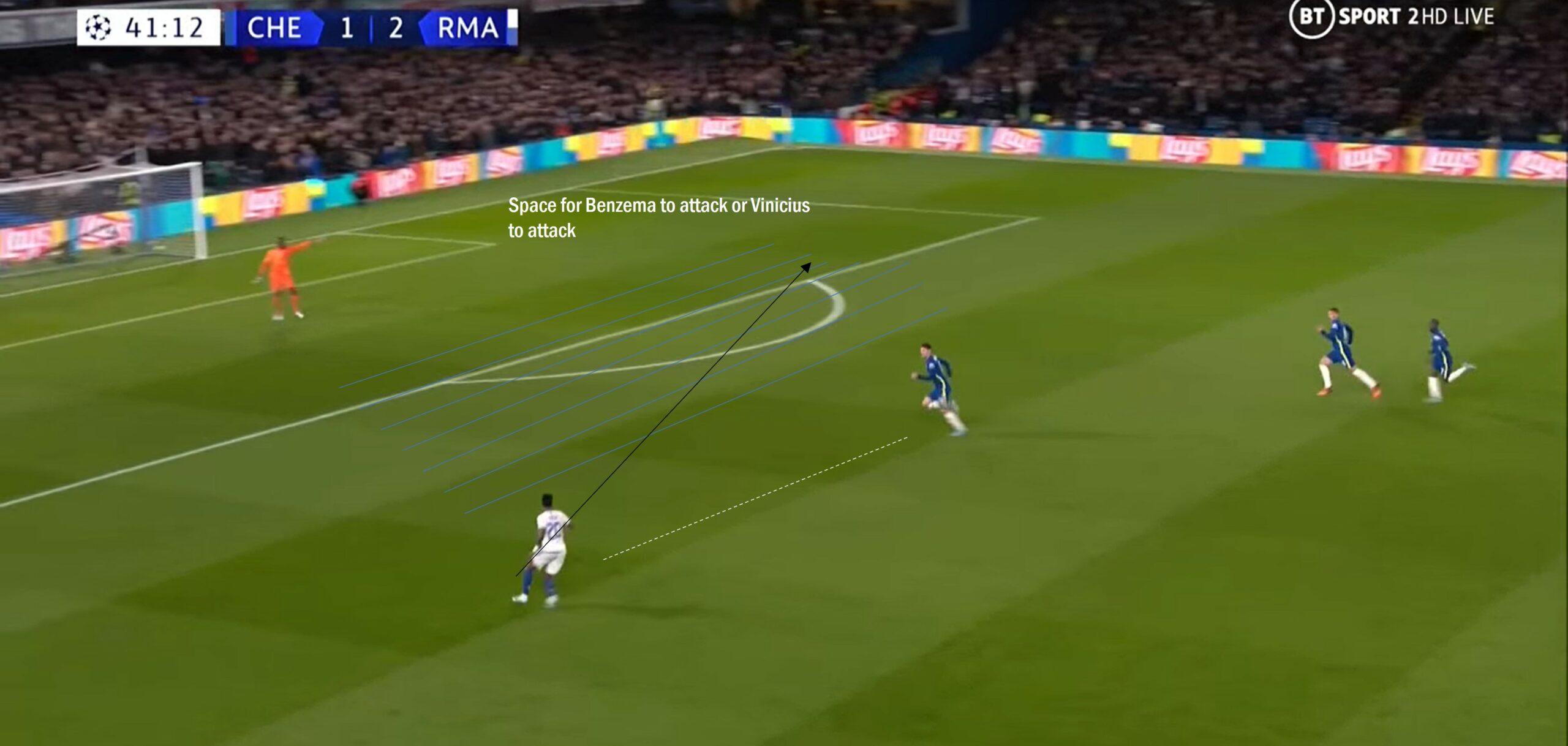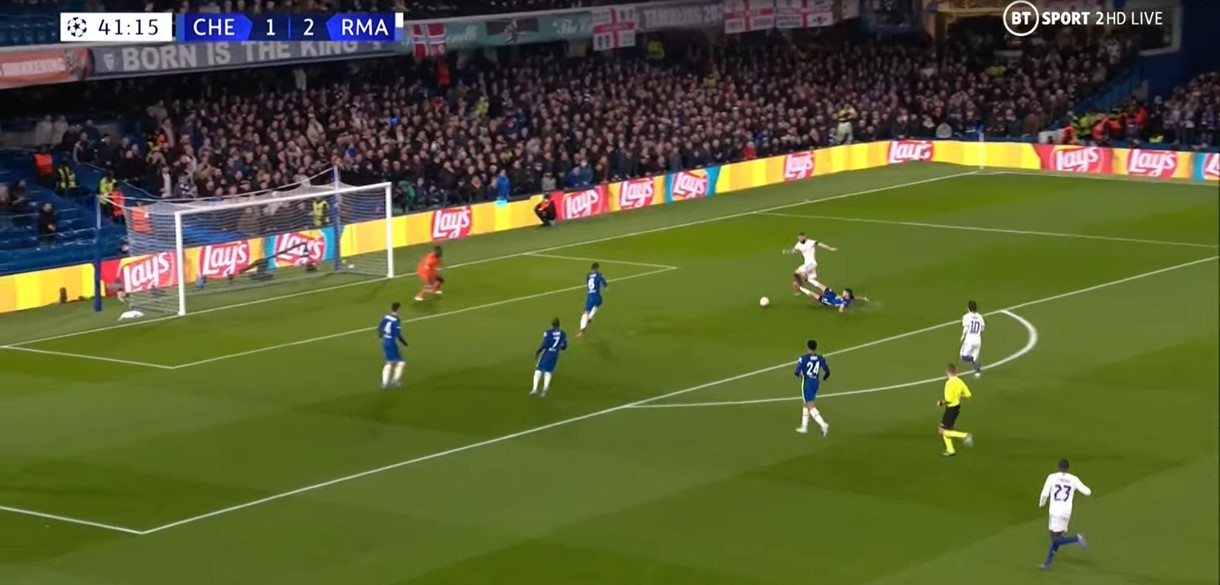 This time a quick throw-in routine with Chelsea out of position is enough and Karim Benzema fantastically drops deep dragging Rüdiger with him laying it off to Luka Modrić who can then spray a pass out to Vinícius who has stayed wide, exploiting the large gap left by Reece James who is in the middle of the pitch.
It has to be said Benzema put on a clinic in forward play not just with his stupendous finishing but in the way he dragged Chelsea's centre-backs out to link-up play but then arrive in the box to be a threat.
To give a patent example, Manchester United have had a conundrum with Cristiano Ronaldo this season with him dropping deep to link-up play but then there being no one in the box. Madrid also used a ball over the top to exploit Chelsea's high positioning.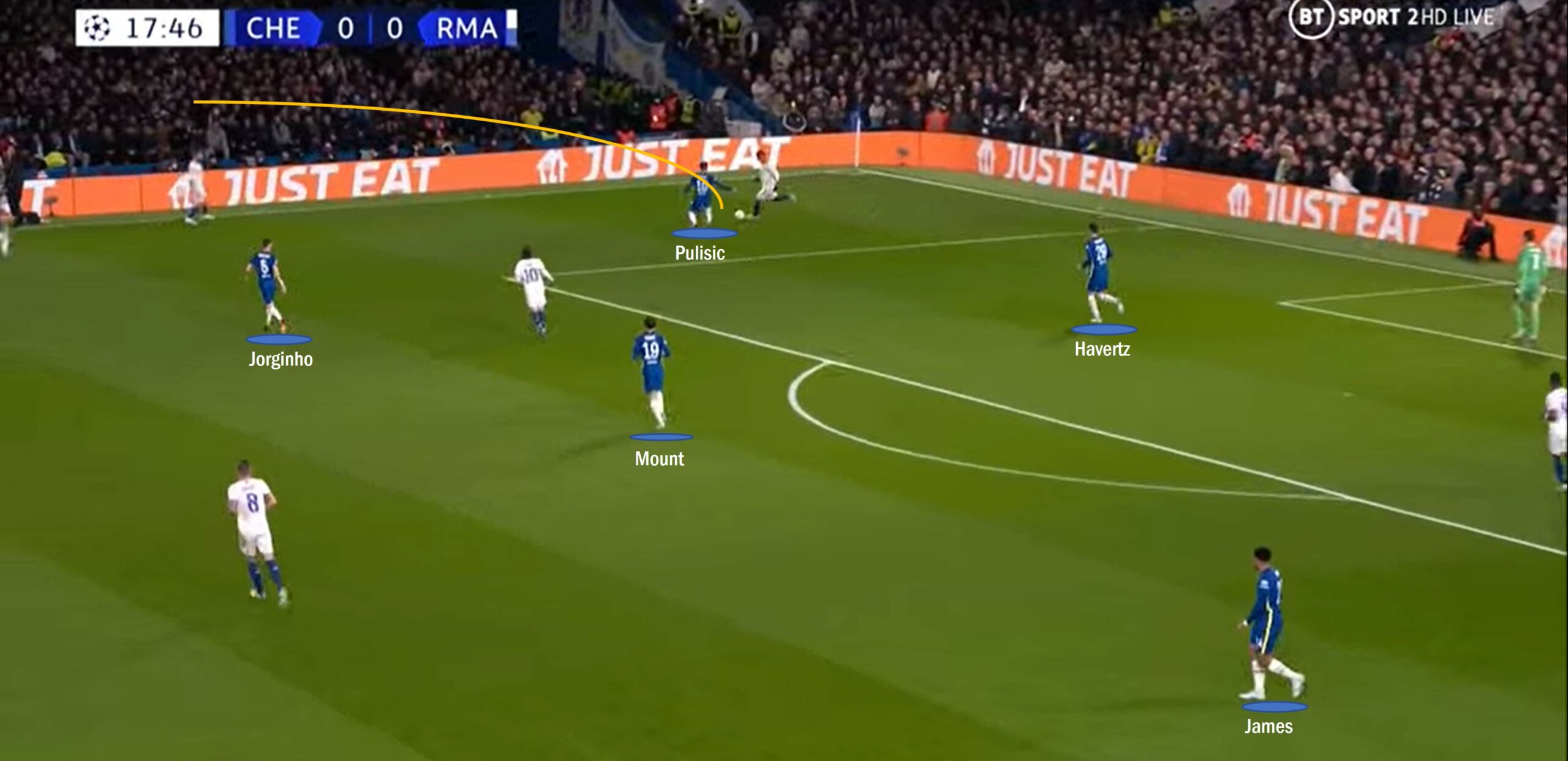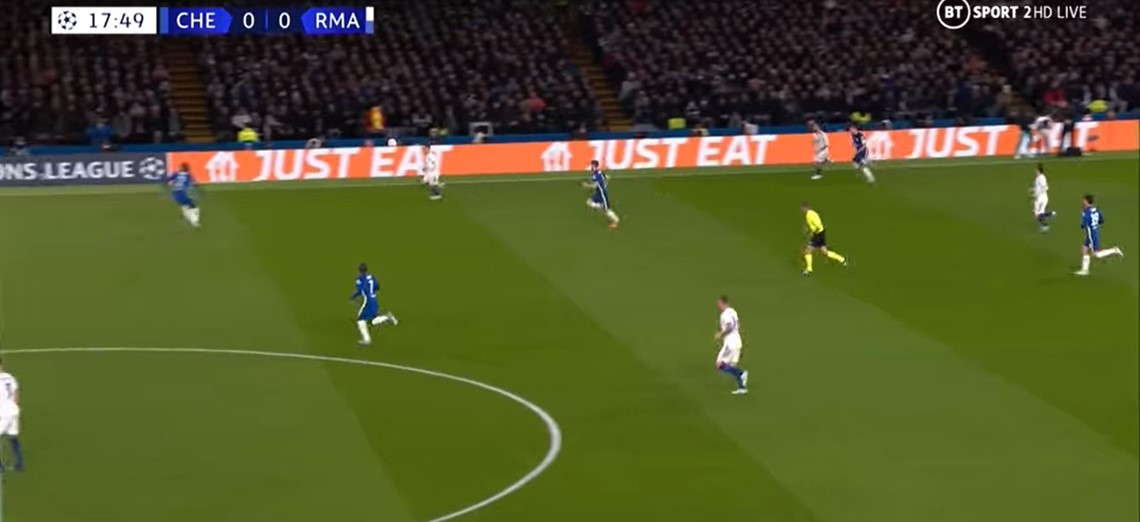 Chelsea's Lacksadaiscal Press
Chelsea's lazy press meant they allowed Madrid's midfield a staggering amount of space. For the goal, not once is Kanté close to the ball whether to Valverde or Kroos with no attackers helping by dropping deep, it isn't a surprise that he was taken off at half-time.
James' positioning left Vinicius 1v1 again, so he is able to play a simple 1-2 with Benzema releasing him down the left to cross for the goal.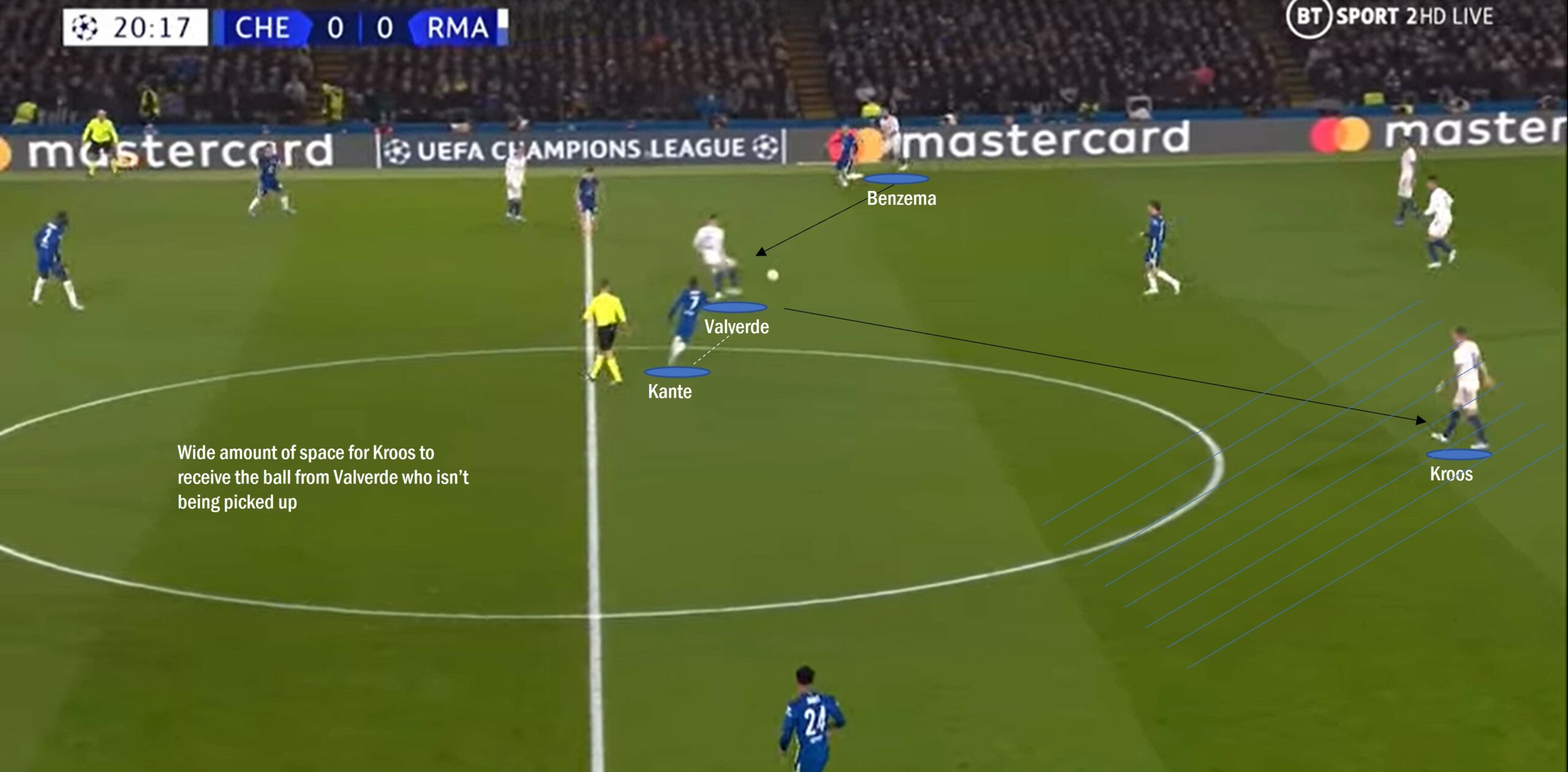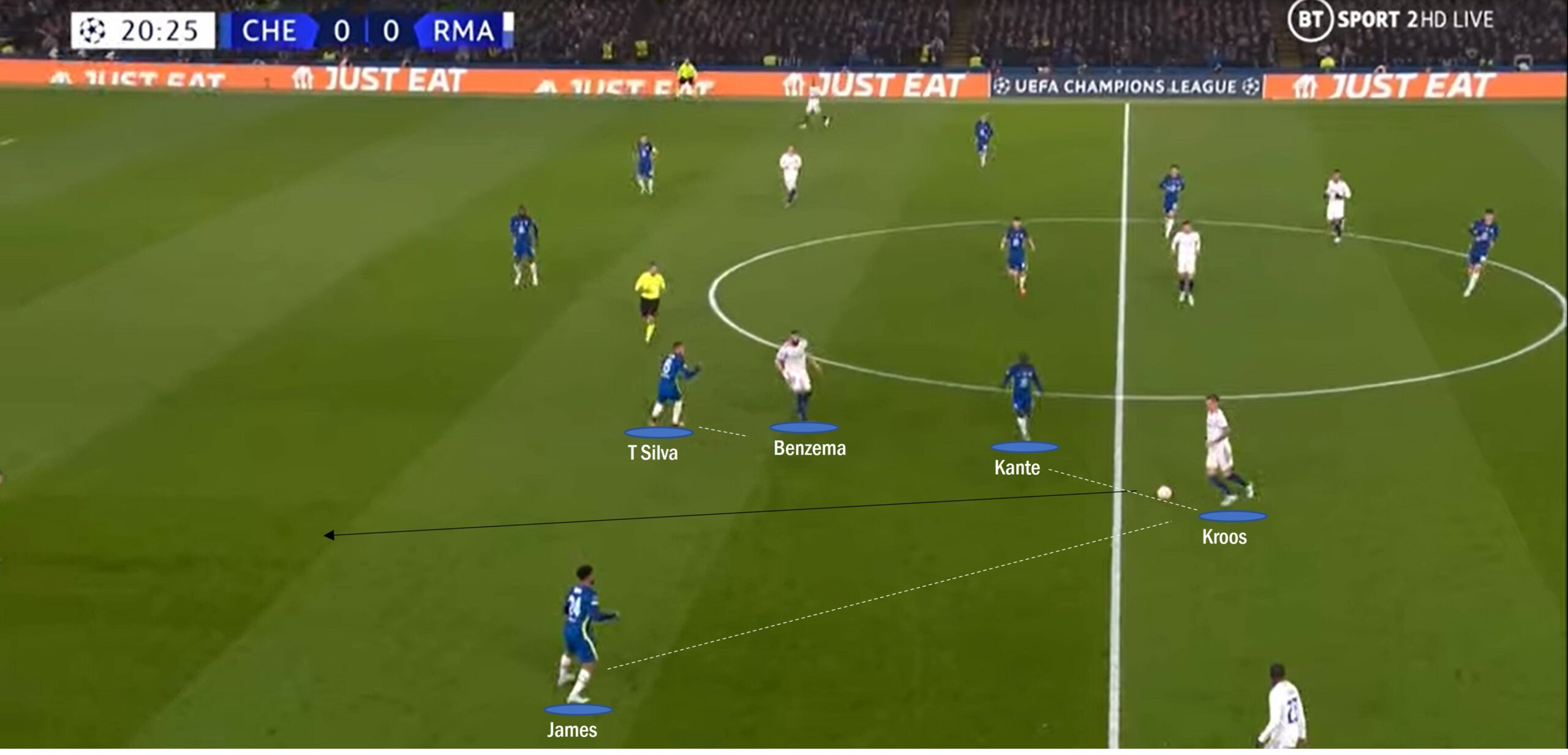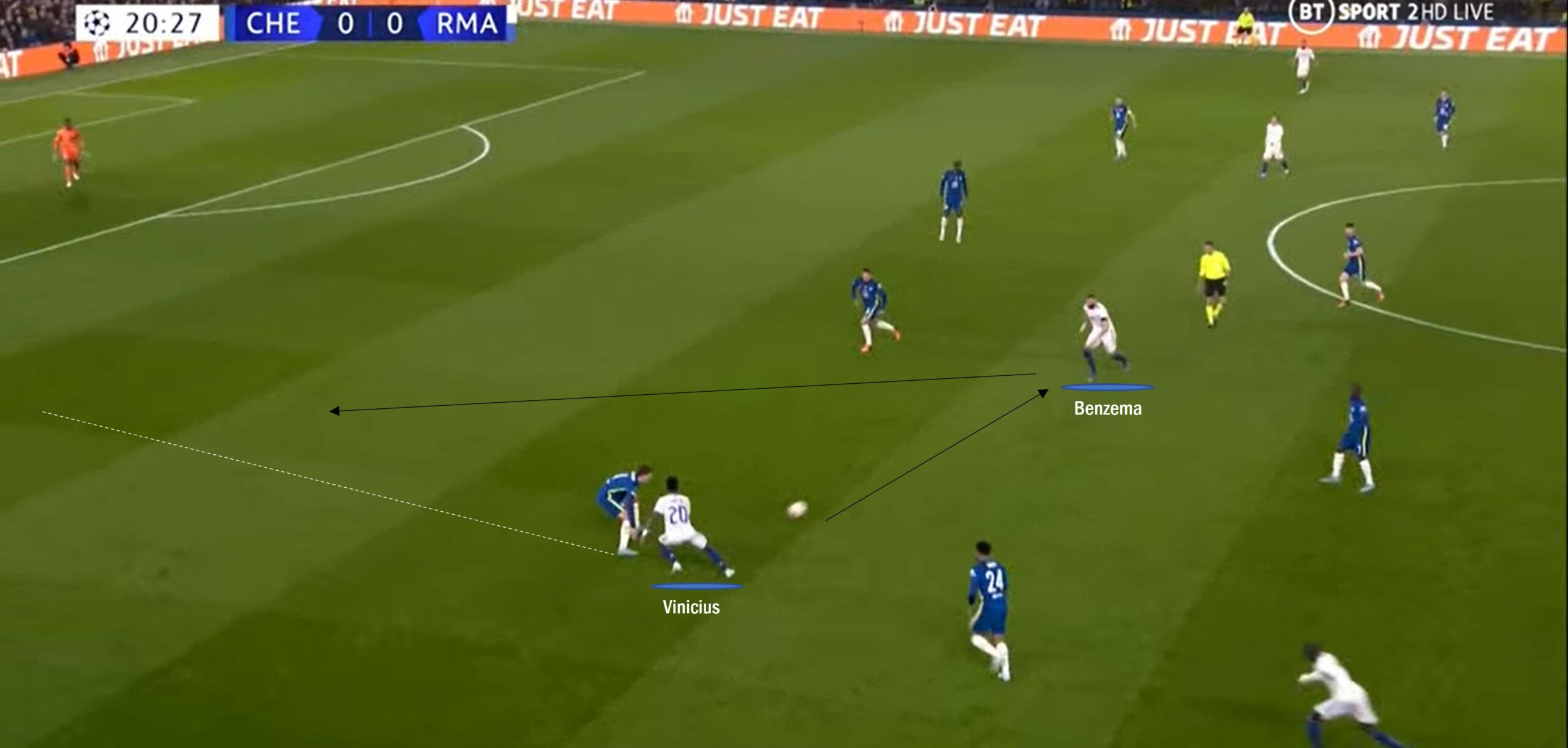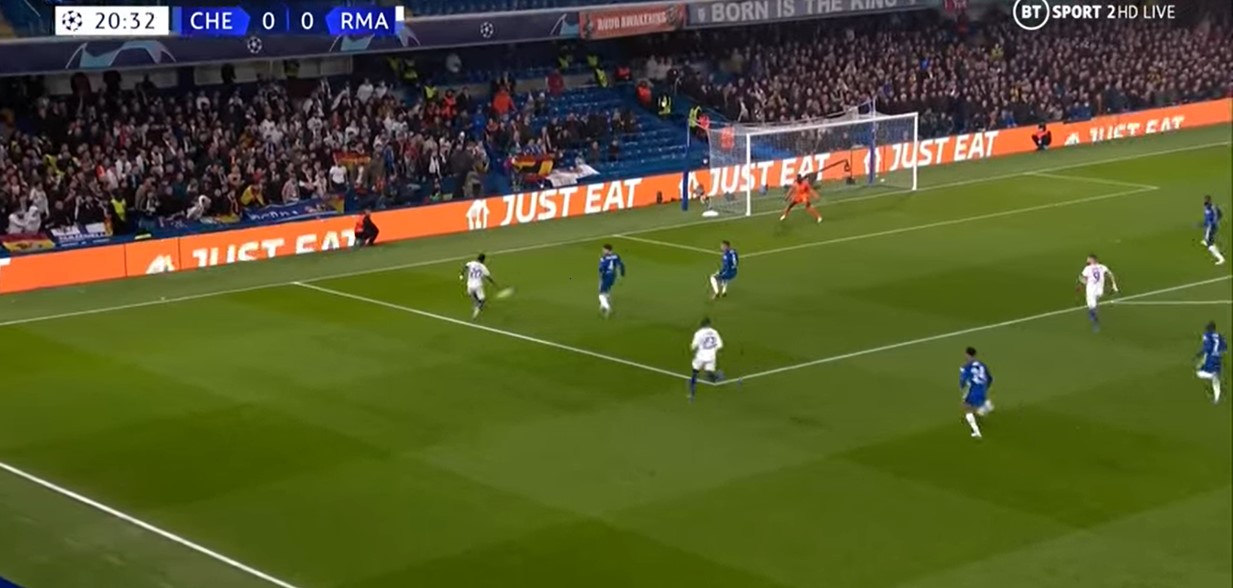 Benzema once again drags out a Chelsea centre-back and it is simply criminal to afford a midfielder like Kroos that amount of time and space on the ball, which is just so strange when you have a midfield two of Kanté and Jorginho who can nullify this or players in a Chelsea team that made a habit of keeping the best teams in the world at arm's length.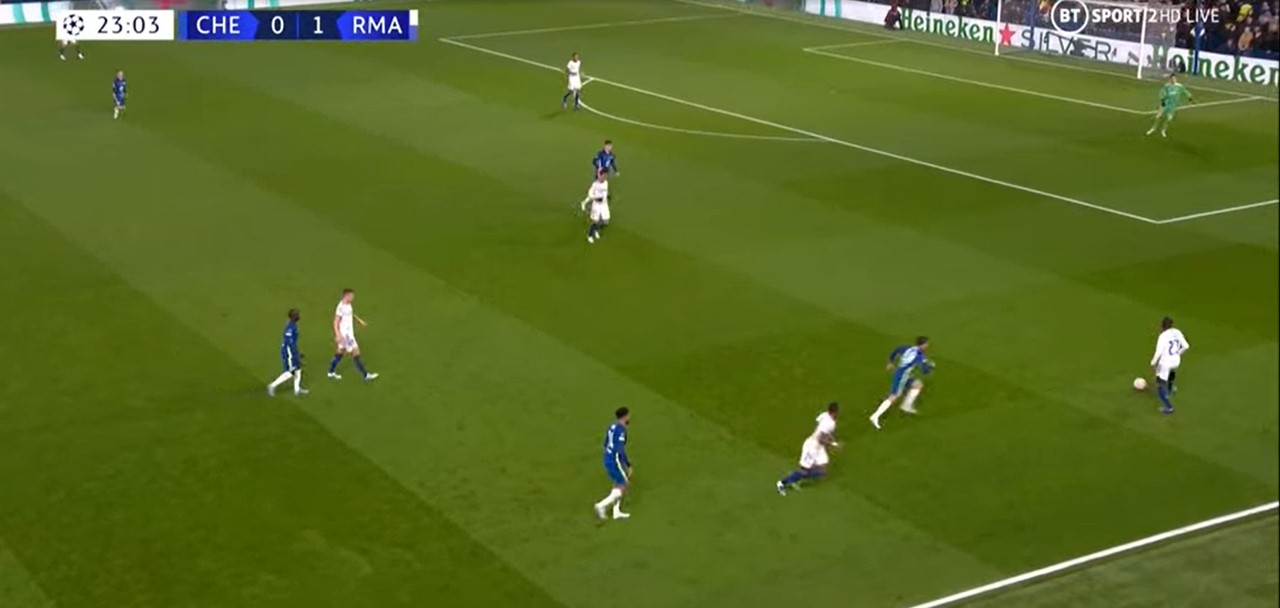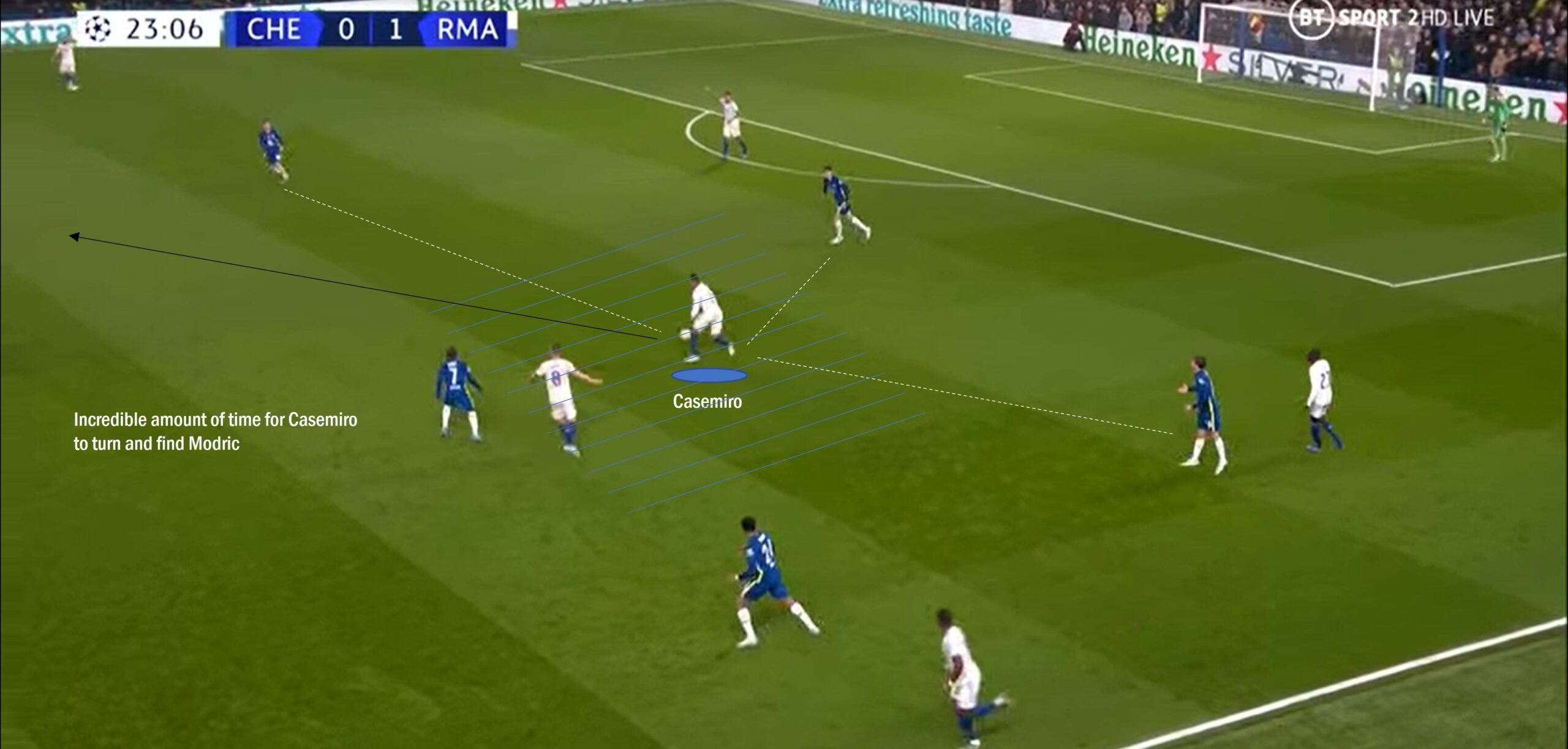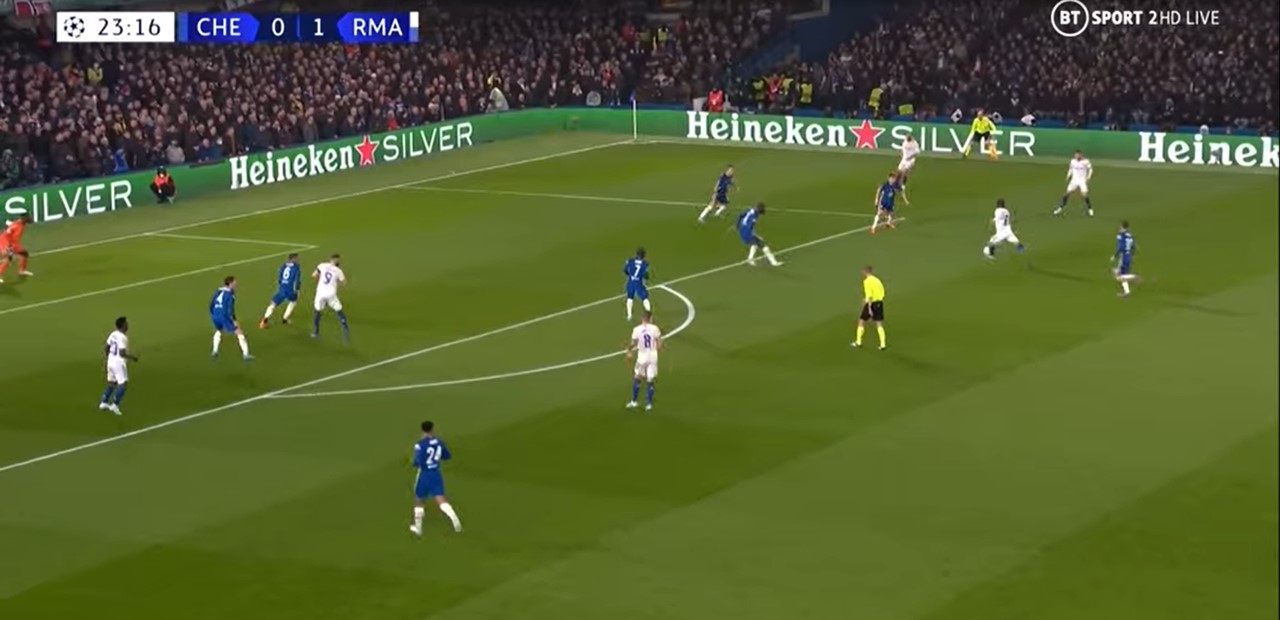 Chelsea's man oritented press is bypassed and as they have committed men to press which has been unsuccessful, it leaves them short at the back.
Reece James' frequent, wandering positions exposed Chelsea throughout the game allowing Vinícius to occupy Christensen wide and there is no one who can pick up Benzema in time as Chelsea are busy running back to be in position. The Frenchman gets in a 1v1 situation in the box, simply loses the defender and nods home.
Look at the situation below, if you utilise a poor press it gives some of the best midfielders in the world who are used to thriving on the big stage space and time, but coupled with that because you are pressing you have committed players high up the pitch when you haven't won the ball. Toni Kroos easily finds Dani Carvajal in the middle and can then run into the space vacated by Reece James.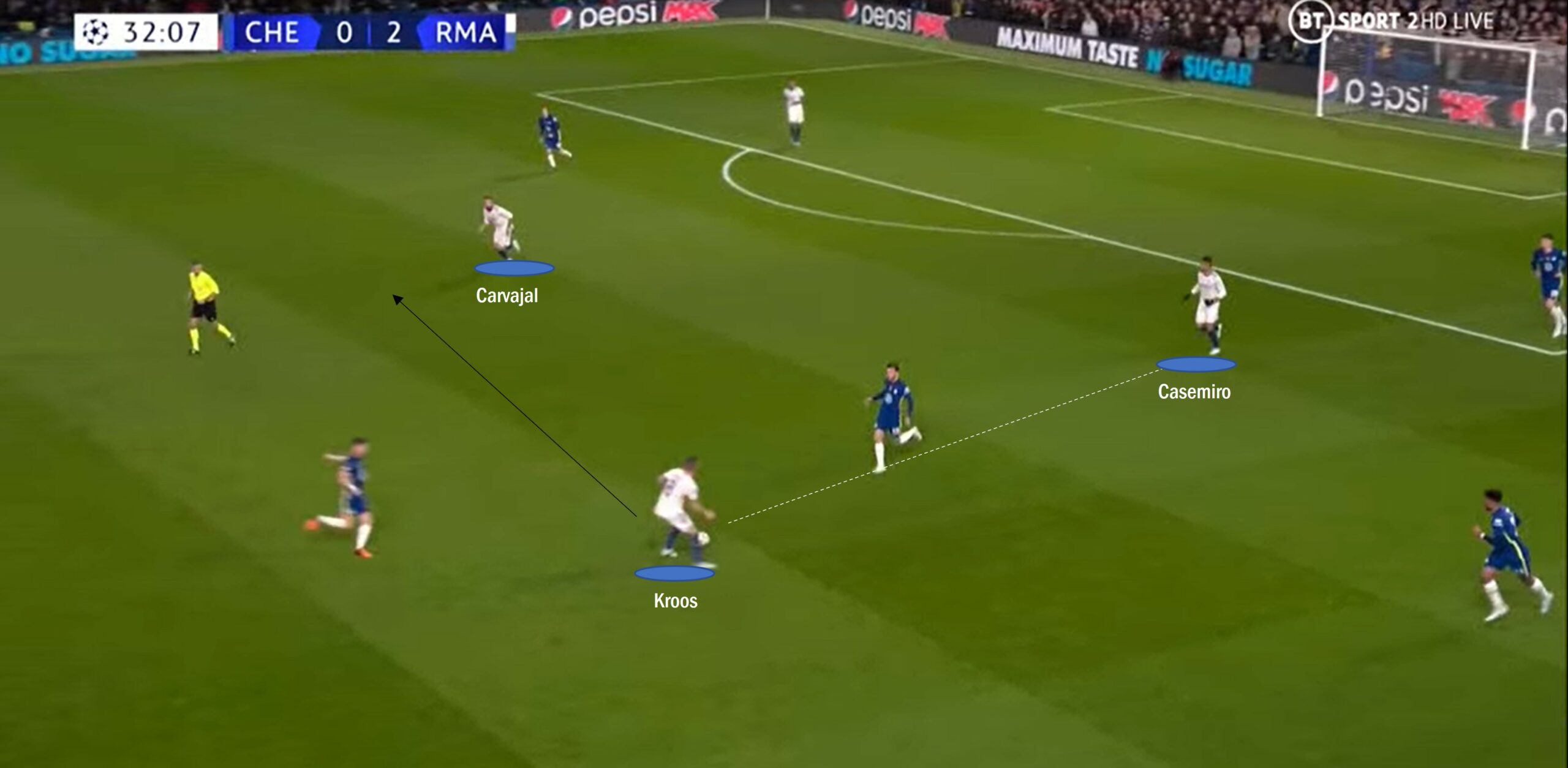 In certain situations Kroos became so relaxed and unfazed in the knowledge Chelsea were not going to steal the ball from him he instructs Modrić to come closer in his direction of the ball and then collect a return pass.
 It's ironic that in the 20-21 season away at Madrid in the UCL knockout almost this time last year, Chelsea utilised the same tool as Madrid last night, bypassing a poor press brilliantly using Kanté as a ball-carrier then creating havoc with the forwards. 
Chelsea now have it all to do in the second leg at the Santiago Bernabeu where Madrid will be comfortable and perhaps utilise sitting off, playing on the counter like Ancelotti did at Stamford Bridge, but the onus will be more on Chelsea to chase the game.
Tuchel could've in-game avoided this threat by instructing Mason Mount to drop back into midfield and not be overran or even instructing Reece James or César Azpilicueta to hold back and drop in with the centre-backs. As it so happens he moved to a back four in the second half and changed things but the damage was already done.
By: Dharnish Iqbal / @Dharnishiqbal
Featured Image: @GabFoligno / John Walton – PA Images