Tactical Analysis: Chelsea vs. Southampton
Returning from the October international break, Chelsea hosted Southampton on Matchday 5 of the Premier League. Having lost 2-0 to Ralph Hasenhüttl's side on Boxing Day, Frank Lampard was looking to come up with a victory this time around, and with six new players in the line-up, Southampton faced a different beast at the Stamford Bridge, but still managed to grind out a 3-3 draw to take them to 12th in the Premier League.
Line-ups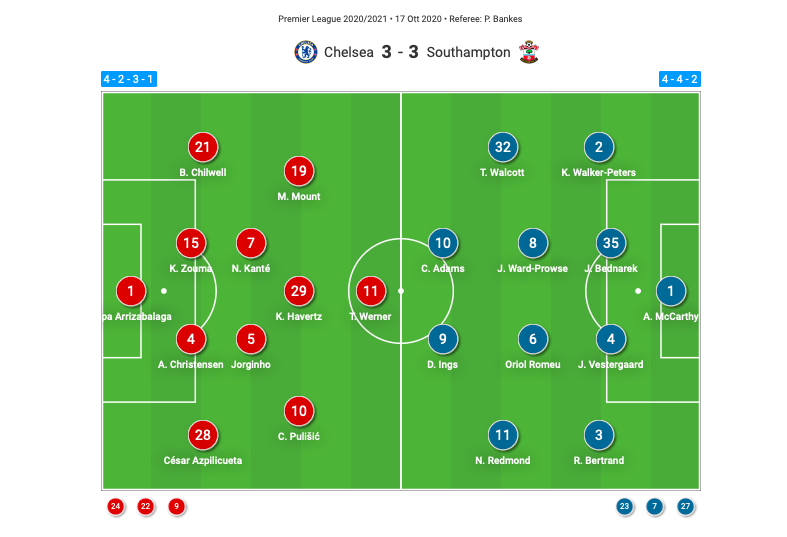 Photo: Wyscout
Lampard's initial solution to Southampton's 4-4-2 mid block 
Over the course of his career, Hasenhüttl's sides have been famed for their high pressing and off-the-ball work, so much so that the Austrian manager has been nicknamed the "Alpine Jürgen Klopp." Typically pressing in a 4-4-2 shape, Chelsea deployed their own variant of the 4-4-2 in possession, with Christian Pulisic and Mason Mount playing through the wings and Kai Havertz and Timo Werner operating in the half spaces.
The key to playing through Southampton's formation was the fullbacks. In the middle third, Southampton's 4-4-2 remained narrow and compact, with Theo Walcott occupying N'Golo Kanté and Nathan Redmond focusing on Jorginho, rather than their double pivot pushing forward to meet Chelsea's. The goal was to limit space centrally or bait passes into the fullbacks, but Walcott often struggled to close down Ben Chilwell.
Throughout the first half, Chilwell was able to pull the strings and make effective passes into the forwards who were occupying in the half spaces. With Mount and Pulisic stretching the back four and occupying the flanks, Werner was often found in the left half space with ample room to exploit. 15 minutes into the game, Werner received a pass from Chilwell, flicked it past Jan Bednarek with a magnificent dummy, drove into traffic in the box, sliced to the right, and slotted the opening goal past Alex McCarthy.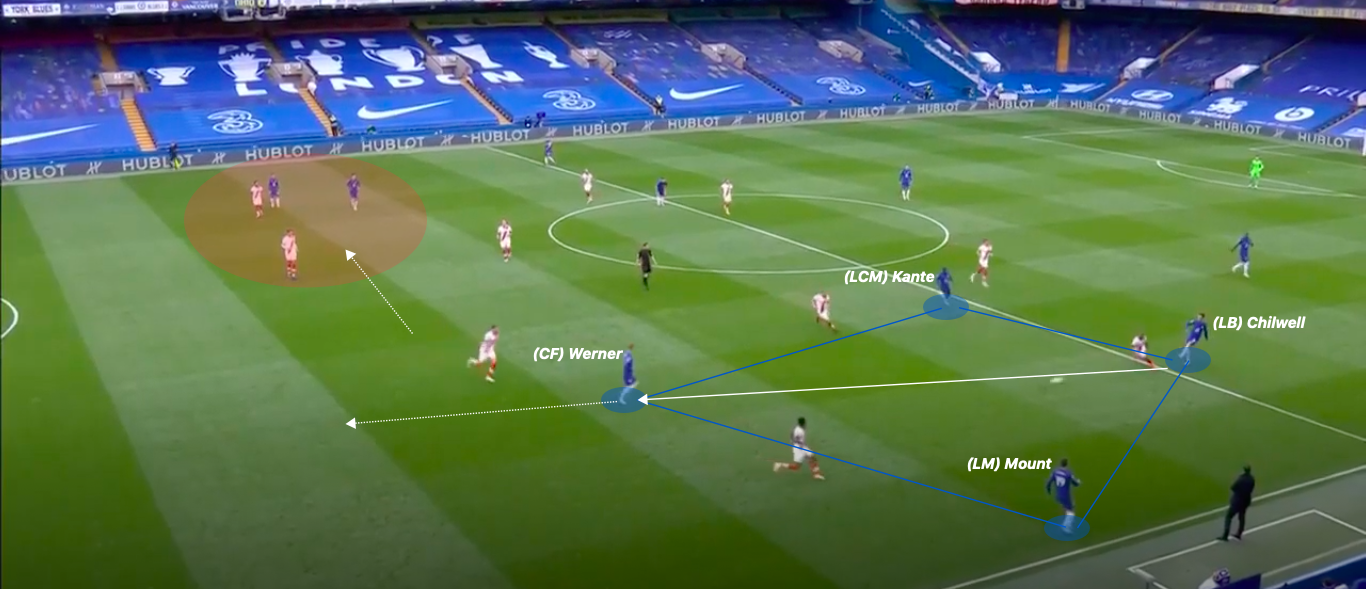 Similarly on the opposite side, César Azpilicueta's excellent quality on the ball helped to bypass Southampton's pressure. Here Jorginho drops deep, allowing the Basque fullback to enter the midfield line on the right flank. Before Redmond can close him down, Azpilicueta is able to make an incisive pass to Havertz, beating the opponent's second line of pressure.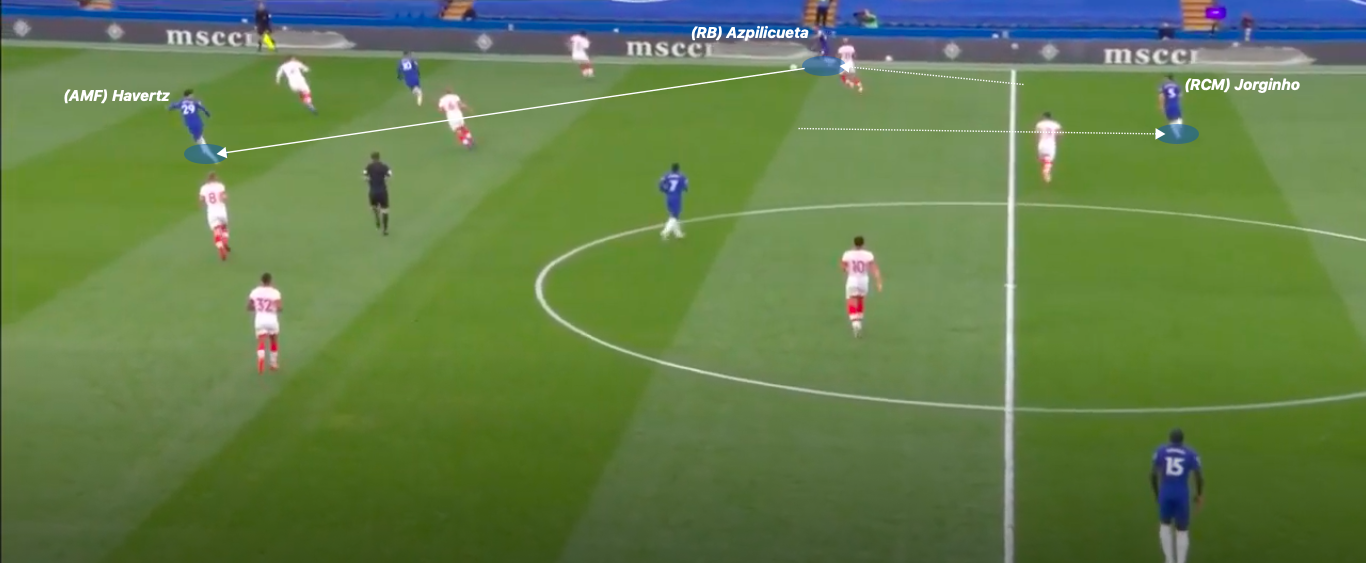 Chelsea's attacking four click  
One of the biggest challenges for Lampard this season will be fitting all of his attacking pieces together with the arrivals of Hakim Ziyech, Havertz and Werner, along with the likes of Mount, Tammy Abraham, and Callum Hudson-Odoi. Against Southampton, Havertz was given license to roam and showcase his extraordinary tactical intelligence and decision-making.
The German created overloads and found gaps between the lines, making 71 touches (the most of any Chelsea forward) and contributing to the fluidity of the team's passing sequences and attacks. Whenever he moved to one of the flanks, Chelsea created a 4v3 overload with either Mount or Pulisic hitting the seam between the fullback and center back, thus giving them a chance to get in behind the defensive line.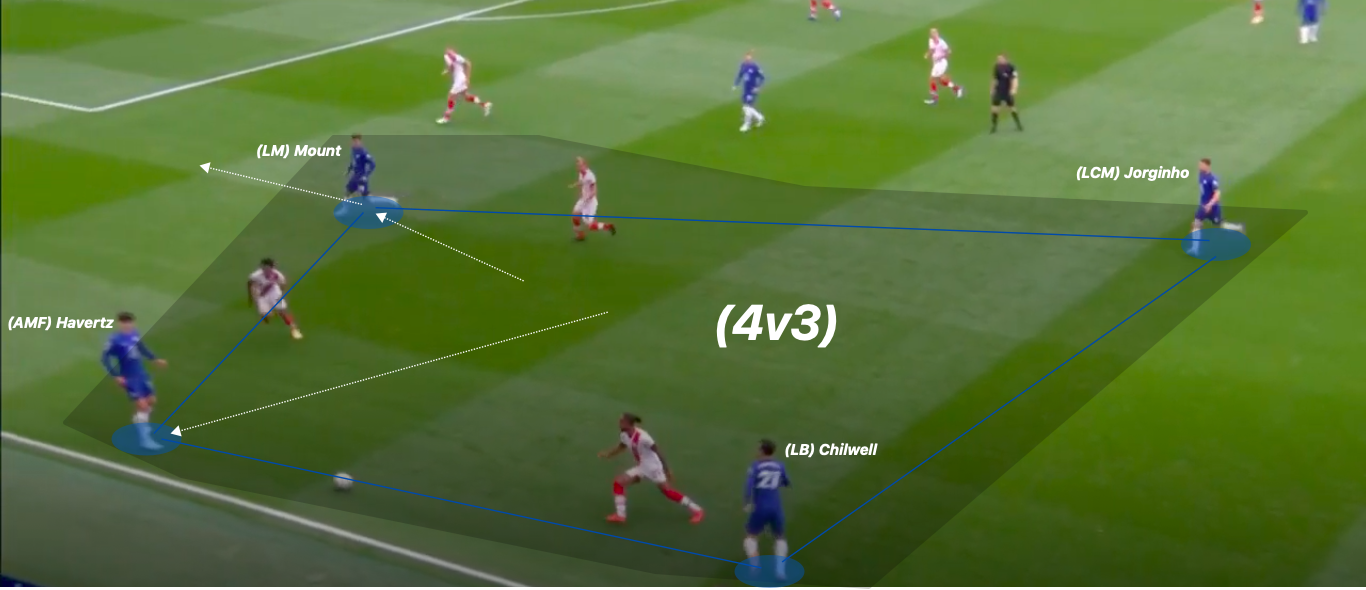 Through Chelsea's positional dynamics, Chilwell constantly advanced forward whilst simultaneously pushing Mount between the lines. As Mount inverted his positioning, he attracted the opposing fullback (Kyle Walker-Peters) with him, allowing Chilwell to advance vertically down the wing.
On the other hand, Kanté was tasked with taking up space as the English left back burst forward. In the below scenario, Havertz spots the play developing across the field and makes a diagonal pass to Chilwell, as he did on multiple occasions on Saturday, allowing Chilwell to take a shot on goal or set up a teammate with a cross into the box.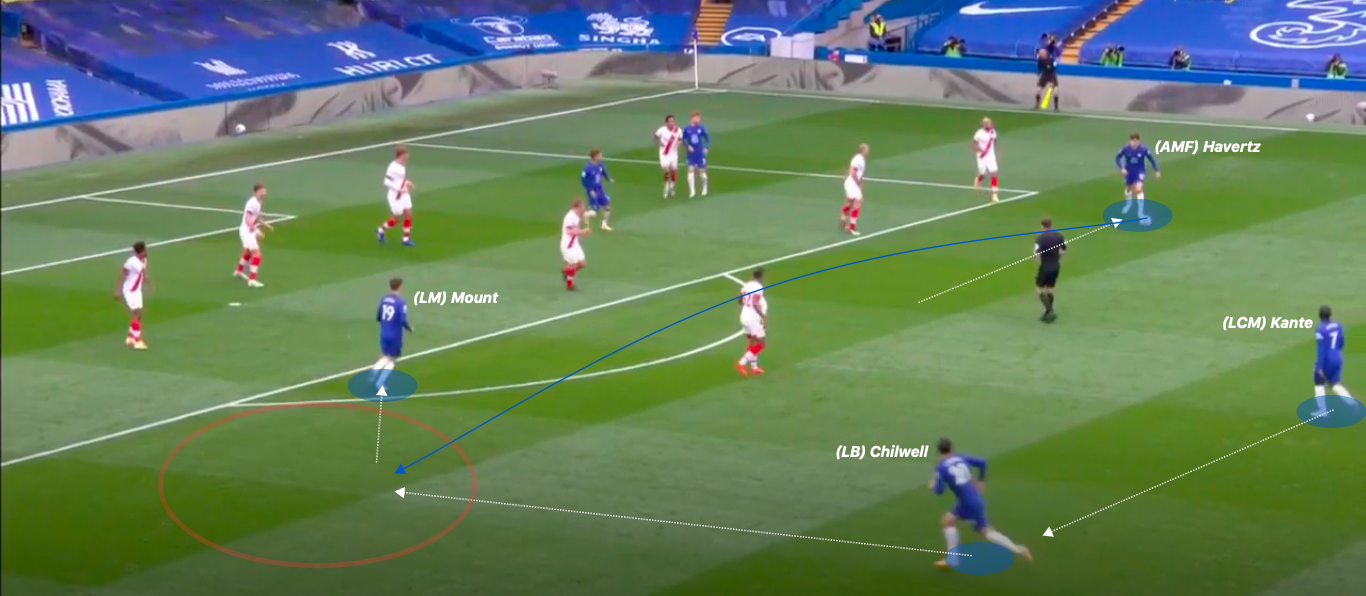 Mount was sensational at finding the tightest pockets of space between the midfield and defensive line, and in doing so, he brought others into the game around him and caused great issues for Southampton's defense.
Playing close to Pulisic in the example below, he opens an avenue for Azpilicueta to play directly into the forwards from the right flank. When receiving, he can lay the ball off for Pulisic, who can continue his run into the box.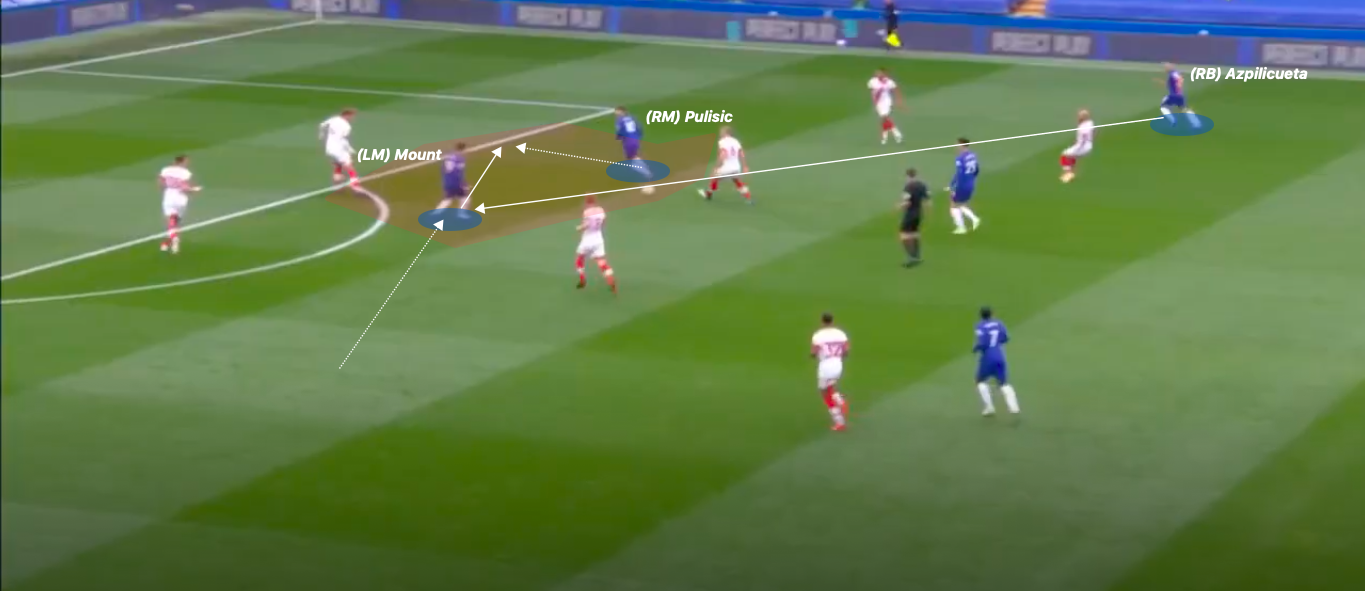 With this freedom, Mount was constantly able to find the space that others do not. In this example below, he offers help to Havertz who is being closed down by six Southampton players with practically no option to pass to. Mount quickly comes across the pitch and finds the angle past all these players, preventing a turnover of the ball.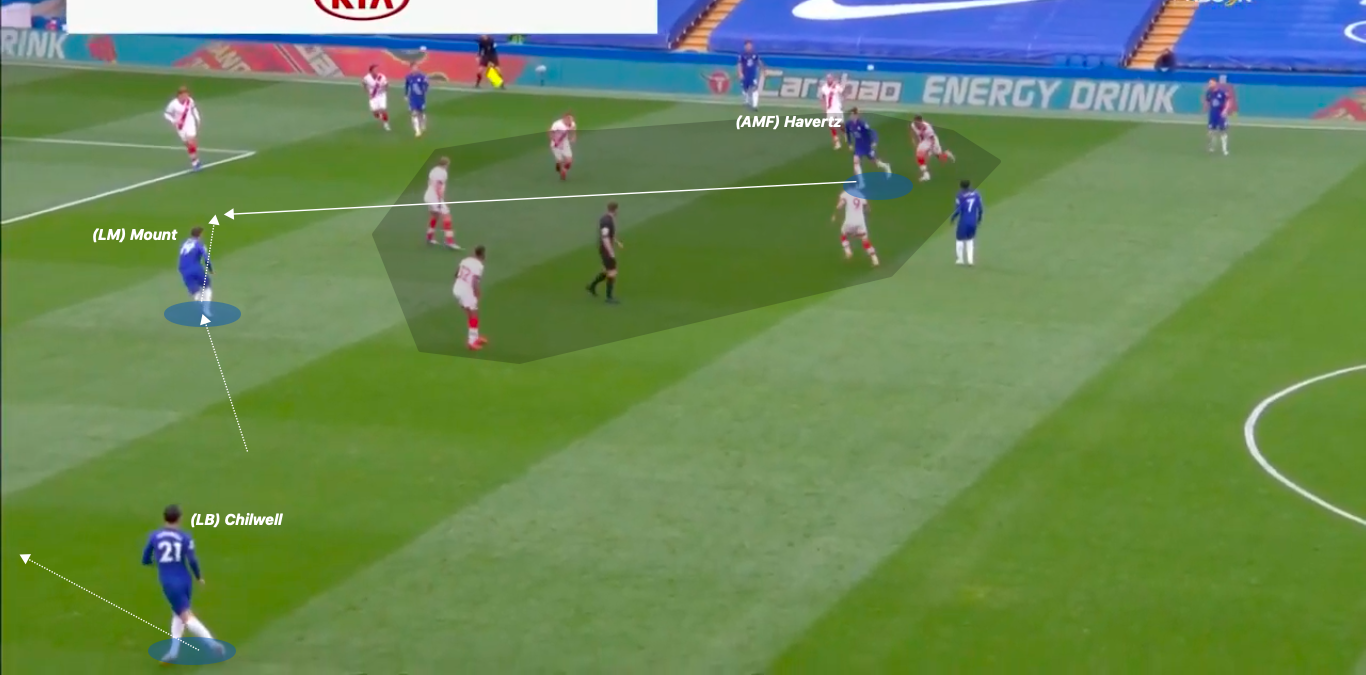 As the lone center forward, Werner constantly torched Jannik Vestergaard and Bednarek with his pace, as his teammates constantly played the ex Leipzig striker into space. In the 28th minute, Jorginho played a gorgeous first-time pass in behind the defense, and Werner sprinted past Vestergaard, flicked the rebound past McCarthy, before heading it into the empty net.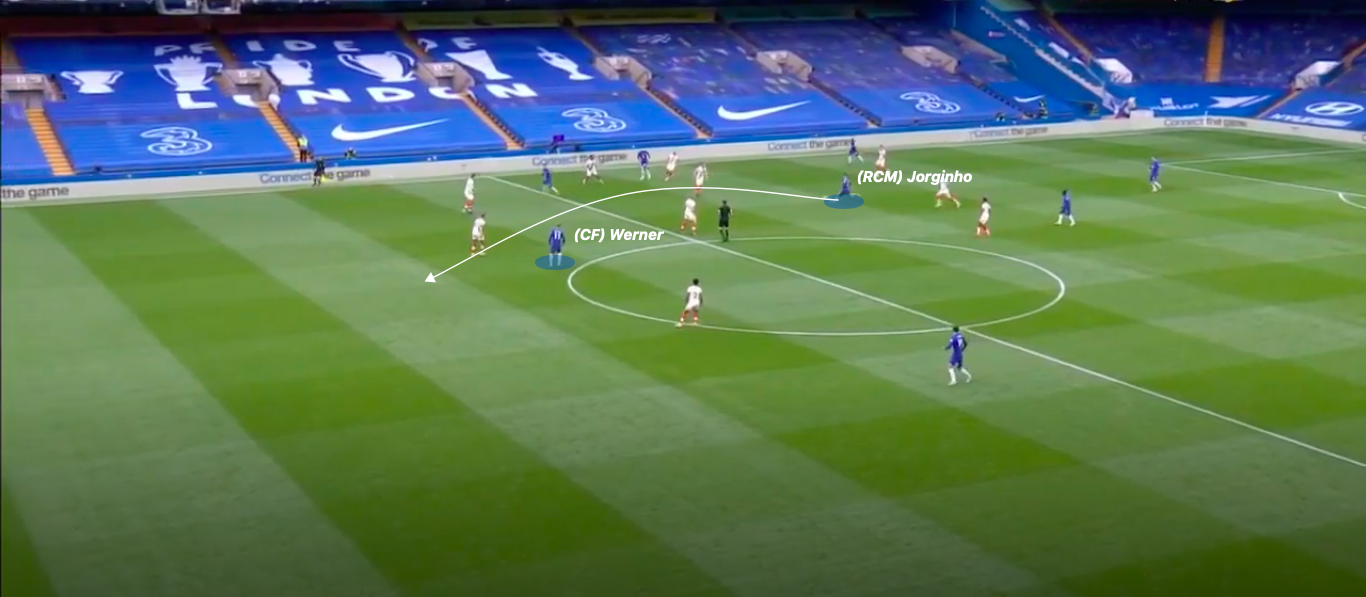 Southampton look for response in second half 
After going down 2-0, Southampton clawed their way back to a draw by sticking to Hasenhüttl's philosophy of high pressing. Although their mid block was initially exploited, they made Chelsea uncomfortable whenever they would play in their defensive third. As Chelsea's central defensive pairing would be closed down by Southampton's front two, they would play backwards, gaining support from their goalkeeper as an extra outfielder.
In theory, they should have created a 3v2 overload, but by continuing to press forward toward the goalkeeper, they could force Kepa Arrizabalaga to play long or make a mistake because of how both center backs would be eliminated from his passing options. Generally this trend continued and worsened as Chelsea played out the back more in the second half.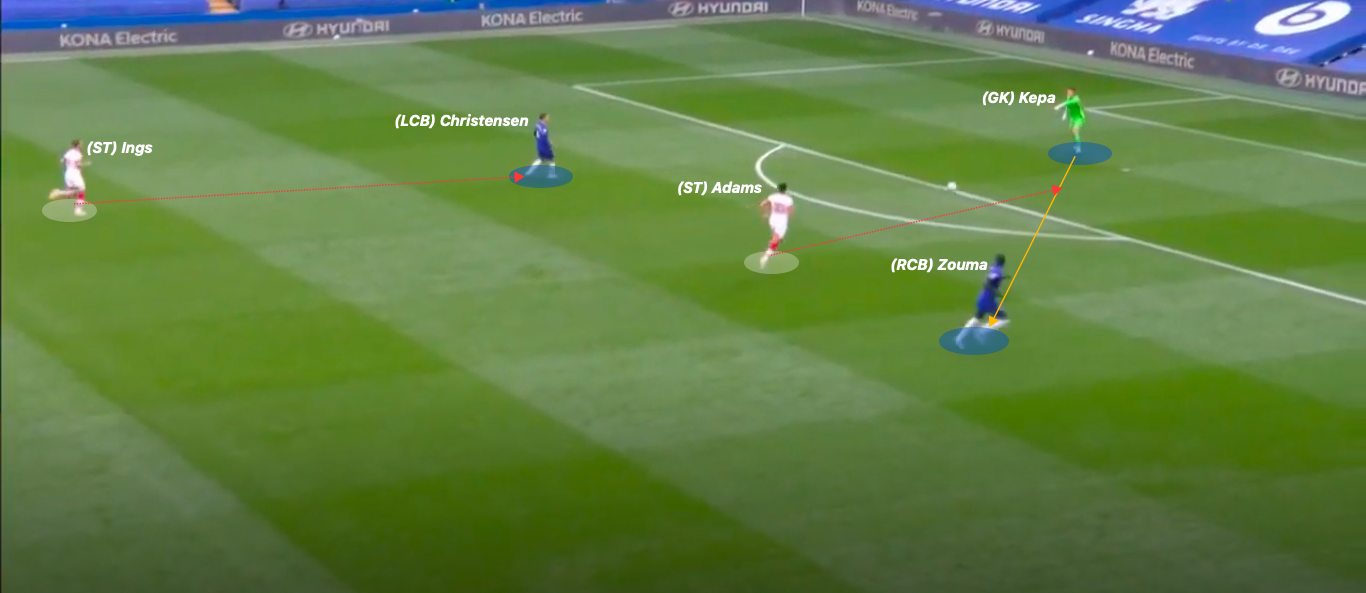 Shortly before the break, Havertz coughed up possession after being closed down by several Southampton players, allowing Che Adams to thread a pass into Danny Ings, who was making a run in between Chelsea's center backs. Ings took a touch to dink it past Kepa, before calmly slotting it into the empty net.
Coming out of halftime, Hasenhüttl made some tactical adjustments to prevent Chilwell from playing Werner into space. Instead of Walcott marking Kanté tightly, one of Southampton's two forwards kept a close watch on Kanté. This allowed Walcott to close down Chilwell quicker, whilst James Ward-Prowse could come across and cut out the passing option.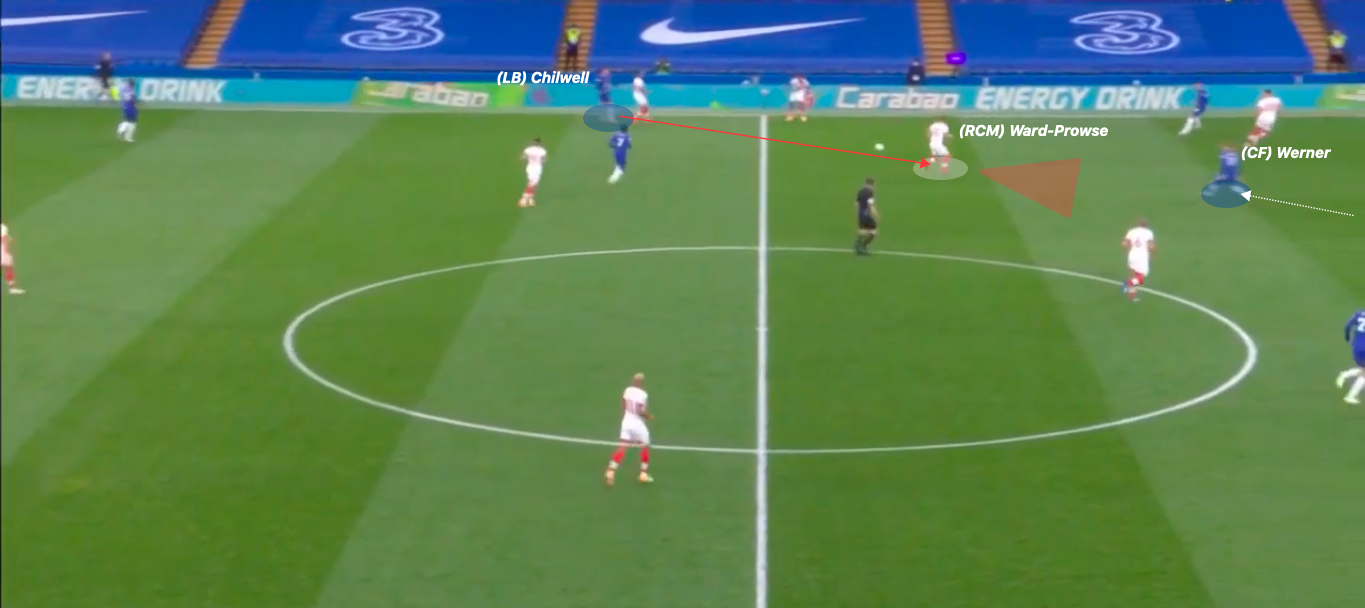 Southampton's equalizer came in the 57th minute; Oriol Romeu played a marvelous cross-field ball before Jorginho reached him, and his pass reached the right wing. Kurt Zouma's errant back pass saw Kepa come off his line and make a naïve tackle on Adams, and after a few awkward bounces, the ex Birmingham City man slammed home the goal into an empty net.
In possession, Southampton created an overload against Chelsea's first line of pressure, with Ward-Prowse dropping between the center backs and allowing Southampton to play into their right and left midfielders, who would be positioned in the half spaces. But Chelsea's own 4-4-2 would compress the space these players occupied in order to prevent Southampton's access to these zones.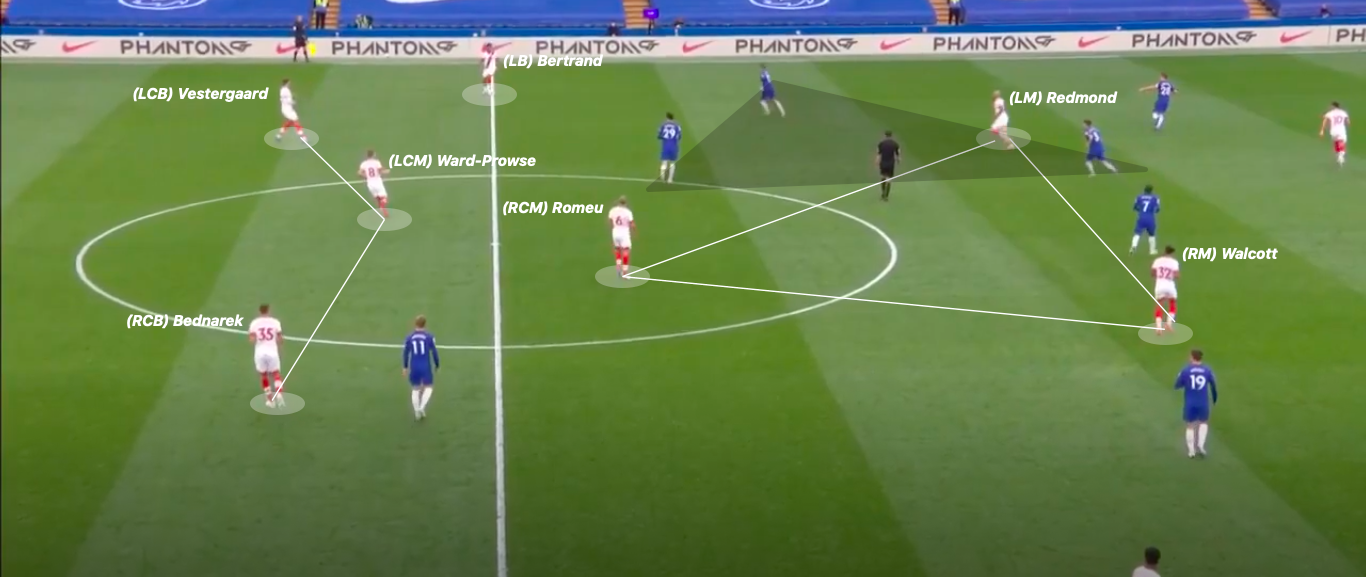 As the second half progressed, Southampton would attempt to support these players by positioning the fullbacks further forward, but these sequences would not possess any substance due to the lack of penetrative runs and lack of access to the forward line.
Once receiving a pass from the left midfielder, Ryan Bertrand doesn't actually have an option to play anywhere forward. Ings does not make a run into the channels or move to be a short passing option in any way, thus forcing Bertrand to pass backwards.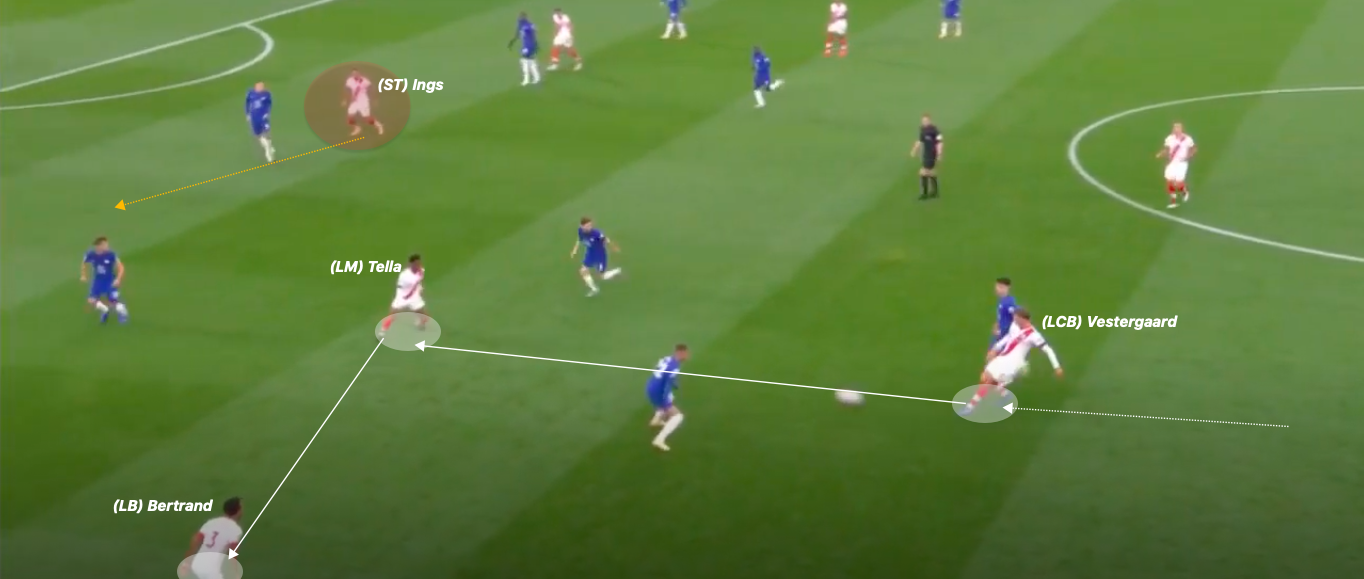 Aside from their lack of creativity from open play, Bertrand's run opened up space for the dangerous Werner and Havertz to exploit in transitions.
Lampard allowed Werner to "cheat" and not track back to defend. In doing so, he could be utilized as an outlet once the ball was recovered, and players immediately knew where to look and play into, as Jorginho does here in the sequence for Chelsea's third goal.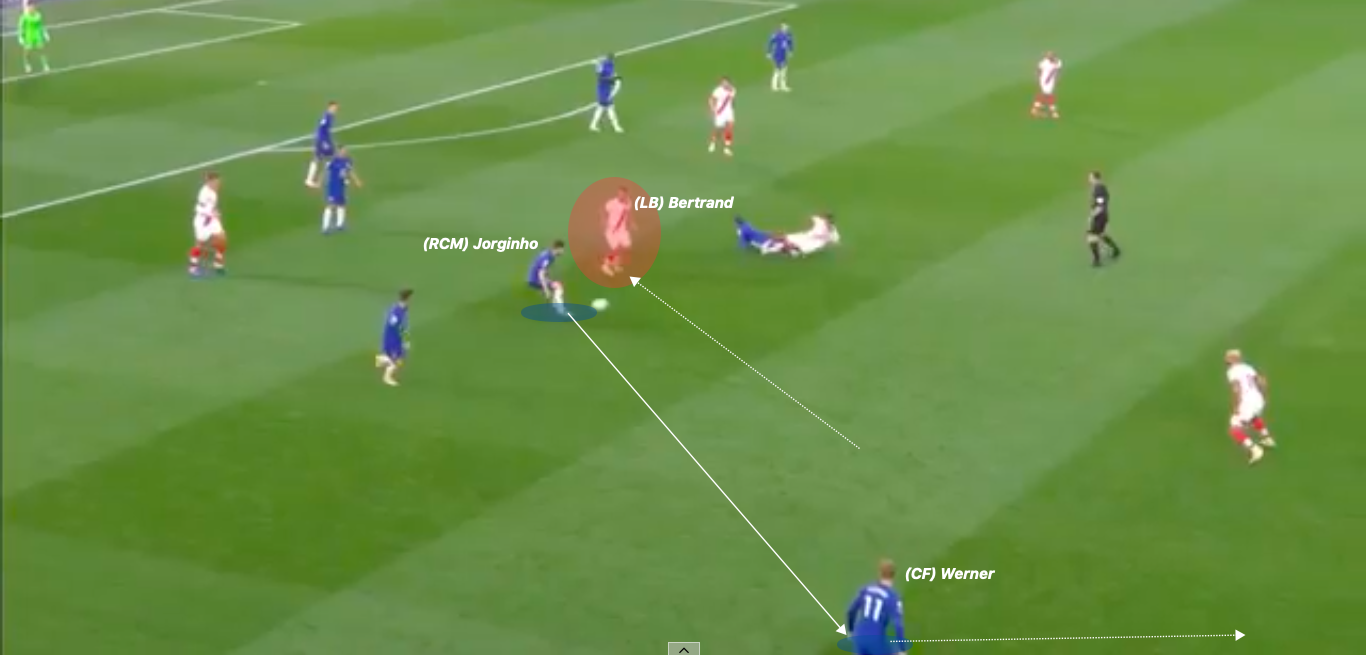 During attacking transitions, when the ball is being played through the middle, Werner's starting position could be made even more dangerous and effective. Starting from the outside, while Southampton's central defenders are dragged toward the ball carrier, this creates space for him to run on Redmond's blindside. Werner slid in a deft pass to Havertz, and his compatriot made no mistake with the first-time finish.
Southampton continued to chase an equalizer, and their prayers were answered in the 92nd minute. Bertrand's curved free kick was cleared by Zouma, but his header rebounded into the path of Walcott, whose half-volley bounced past the onlooking players and past the hapless Kepa in goal.
Conclusion 
From Chilwell to Havertz to Werner, Lampard will be happy with how Chelsea's new signings performed, as their dynamics on the left flank created a constant threat in the first half, but Lampard will be looking for more variation in his team's build-up moving forward, as the fullbacks failed to provide a reliable source of vertical progression in the second half.
It was too easy for Southampton to press Chelsea's build-up play in their defensive third and force turnovers just by simply going man-for-man. There will be big positives to take from how the team attacked against a settled defense and in transition, as the attacking four's quality shined through and on a collective level, although their individual errors and set-piece shortcomings saw another three points slip away.
Southampton will continue to be a threat to any team they play, having won the battle of xG 2.0 to 1.9. However, there is still plenty of room for improvement, and as Mohammed Salisu nears his return to full fitness, Hasenhüttl will be hoping the Ghanaian will help shore up a defense that has conceded 9 goals in 5 matches.
By: Craig Moniz
Featured Image: @GabFoligno / Ben Stansall – PA Images