Tactical Analysis: Club Brugge 2-2 Lazio
Matchday 6 in the UEFA Champions League group stage often comes around with little reason for excitement, with the majority of clubs having already sealed progression into the knockout round, but that was anything but the case this week, with 13 of the 32 clubs's Champions League lives hanging in the balance.
Two of those clubs were Club Brugge and Lazio, and the two clubs faced off in the Stadio Olimpico on Tuesday with a chance to advance from Group F. Lazio needed a win or a draw in Rome to qualify for the Round of 16 for the first time since 1999, whilst the Belgian side needed a victory to advance to the knockout round for the first time in eight attempts.
Currently second in the Jupiler Pro League behind league leaders Genk, Club Brugge were largely dominant throughout their home fixture at the Jan Breydel Stadium, but they were forced to settle for a 1-1 draw following goals from Joaquín Correa and Hans Vanaken. On the other hand, Lazio had won two and drawn three from their opening five matches, with talisman Ciro Immobile scoring in each fixture so far.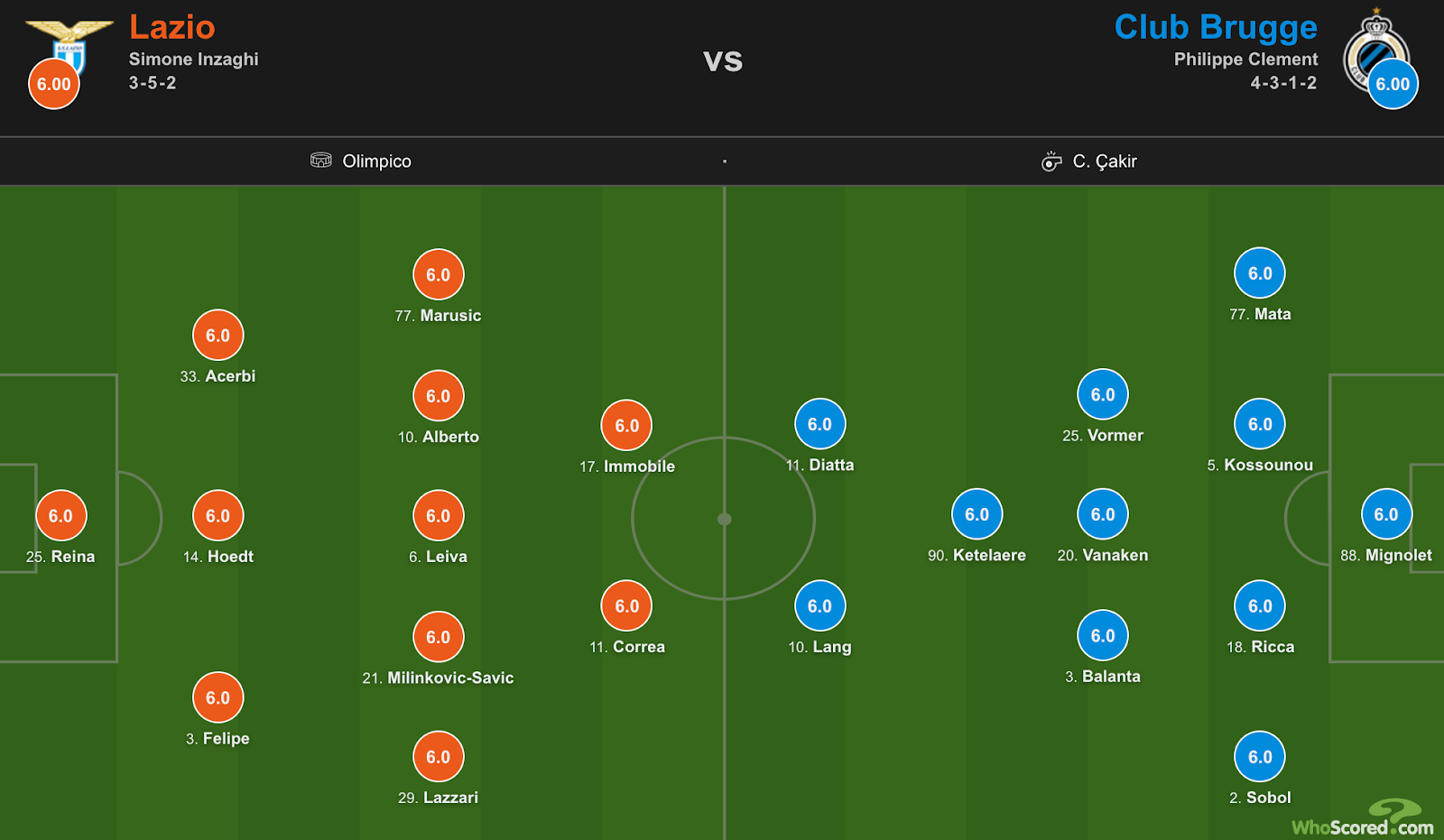 Photo: WhoScored
Lazio manager Simone Inzaghi made two changes to the side who earned a 1-1 draw in Dortmund last week, with Luiz Felipe and Manuel Lazzari coming in for Mohamed Fares and Patric at the back. Club Brugge manager Philippe Clement also opted for two changes from their resounding 3-0 victory over Zenit Saint Petersburg. Brandon Mechele and Emmanuel Dennis dropped to the bench with Krépin Diatta and Eduardo Sobol returning to the side.
Lazio lined up in a 3-5-2 that they have used in every match so far this season, whereas Clement opted for a 3-1-4-2, a replica of the formation he used against Lazio in October. For Inzaghi, the 3-5-2 remained for all of the match, with the only notable change being Wesley Hoedt's substitution at halftime for Stefan Radu, a like-for-like switch at centre half.
On the other end, Clement was forced to tweak his plans after Eduard Sobol received a second yellow shortly before the break after pulling down Lazzarri. He promptly replaced 21-year-old forward Noa Lang with veteran defender Simon Deli, opting for a 4-4-1 in the second half.
Clement's Selection Headache
Clement's two changes to the line-up that cruised past Zenit last week did not have the positive impact the Belgian manager would have been hoping for, with both Diatta and Sobol encountering a turbulent first half. Set up as a right wing-back in a 3-5-2, Diatta was the more offensive of the fullback pairing, often the furthest man forward in Brugge's few ventures into Lazio's half in the first 45.
Although the 21-year-old Senegalese international did provide some exciting sparks throughout the match, his defensive deficiencies became clear from the first whistle, with Lazio targeting his side throughout the first half. It came as little surprise when Clement withdrew Diatta in the 84th minute for David Okereke to provide a physical threat up front.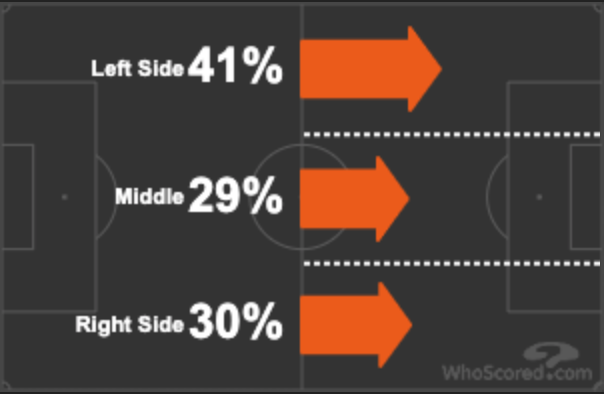 Lazio clearly favored the left-hand side throughout the match against Brugge, largely due to Diatta's inabilities to grasp his defensive duties in an unfamiliar RWB role. [WhoScored]
Not only did chances arise from Diatta's failure to track back from attacking positions, but both Lazio goals came over the winger's side. Particularly in the second goal, Diatta seemed to slowly saunter back, failing to recognize the potential threat Immobile would cause as he gets into Brugge's box and draws a penalty.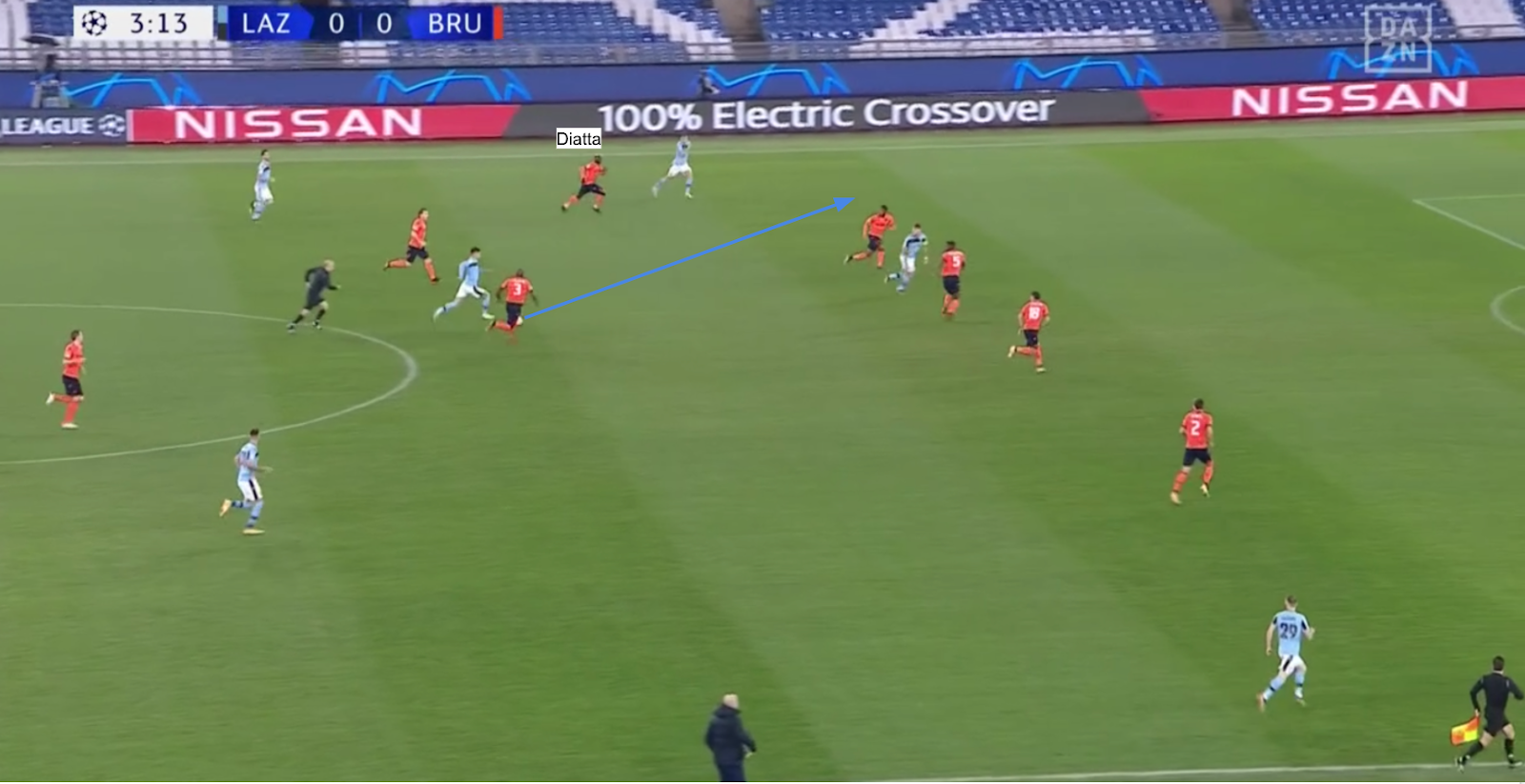 Just minutes into the match, the shortcomings in Diatta's positioning out of possession became evident. A better decision from Correa (who tried to find Immobile through the middle) could have led to a dangerous chance for Lazio.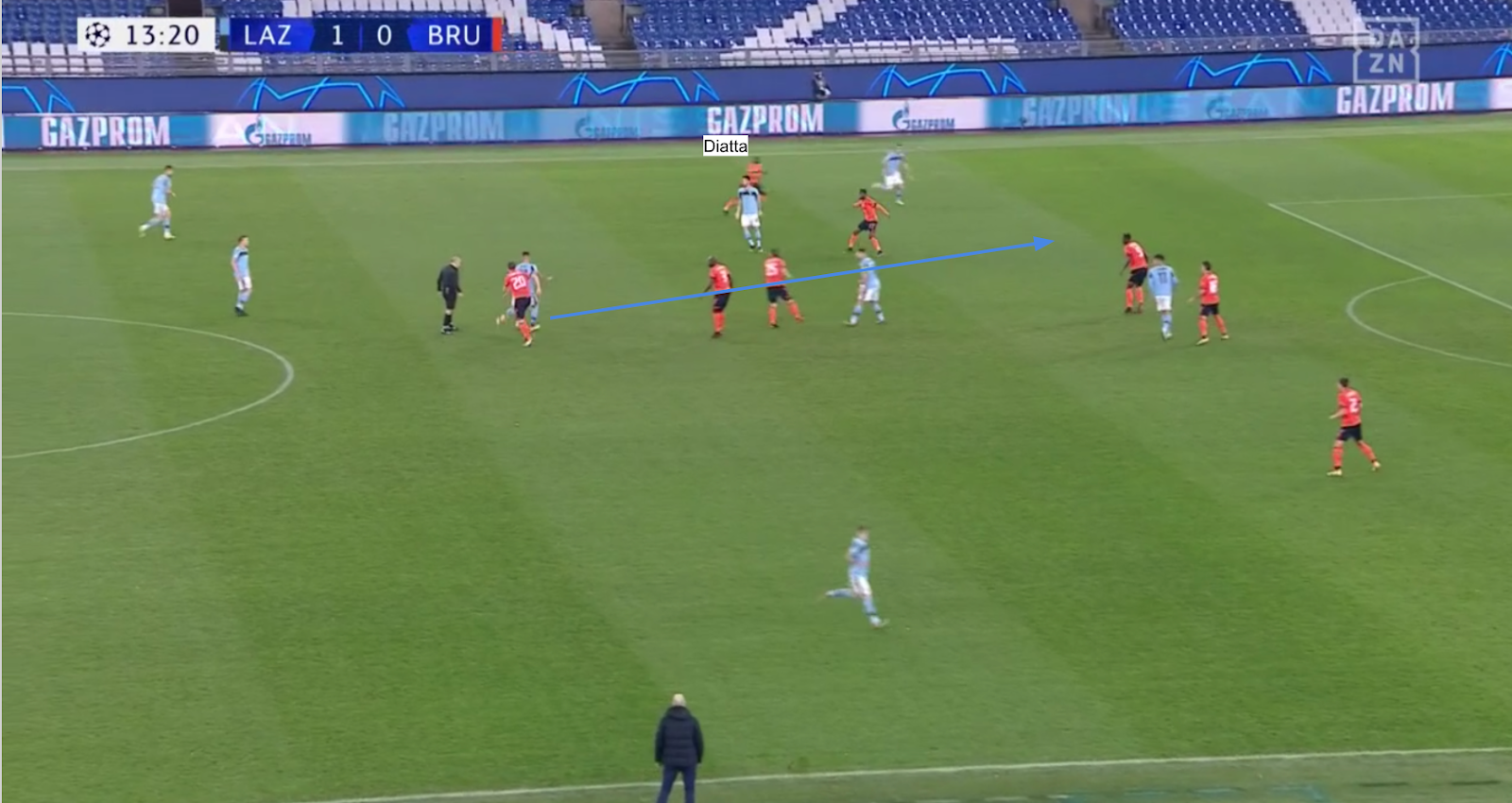 Clement's other change for this game, Sobol, found himself stranded in a highway of Lazio attacks down their right flank. The Shakhtar loanee picked up a yellow card after just two minutes after pulling down Immobile, treading a fine line for the rest of the evening that did not seem to resonate with the fullback.
Following a horrendously late tackle 34 minutes in, the 25-year-old Ukraine international finally got his marching orders just 5 minutes later after a tactical foul on Lazzari. The first half was one to forget for Clement, with both of the players he had chosen to bring back into the side for this crucial game letting him down.
On the other side, Inzaghi's men had played out the game plan to a tee, shutting down Brugge's midfield technicians Vanaken and Ruud Vormer with an impeccably executed midfield press. Although not completely sitting off of Brugge's defense, Lazio were happy to afford the Belgian's center backs time in possession, aware that none of the three were capable of a pinpoint long ball or incisive through ball that could break through the home sides's midfield.
This forced Vanaken and Vormer to search for the ball in deeper positions where they weren't able to set Brugge's attackers into motion, or look for the ball behind the lines, which the Brugge center backs proved incapable of providing.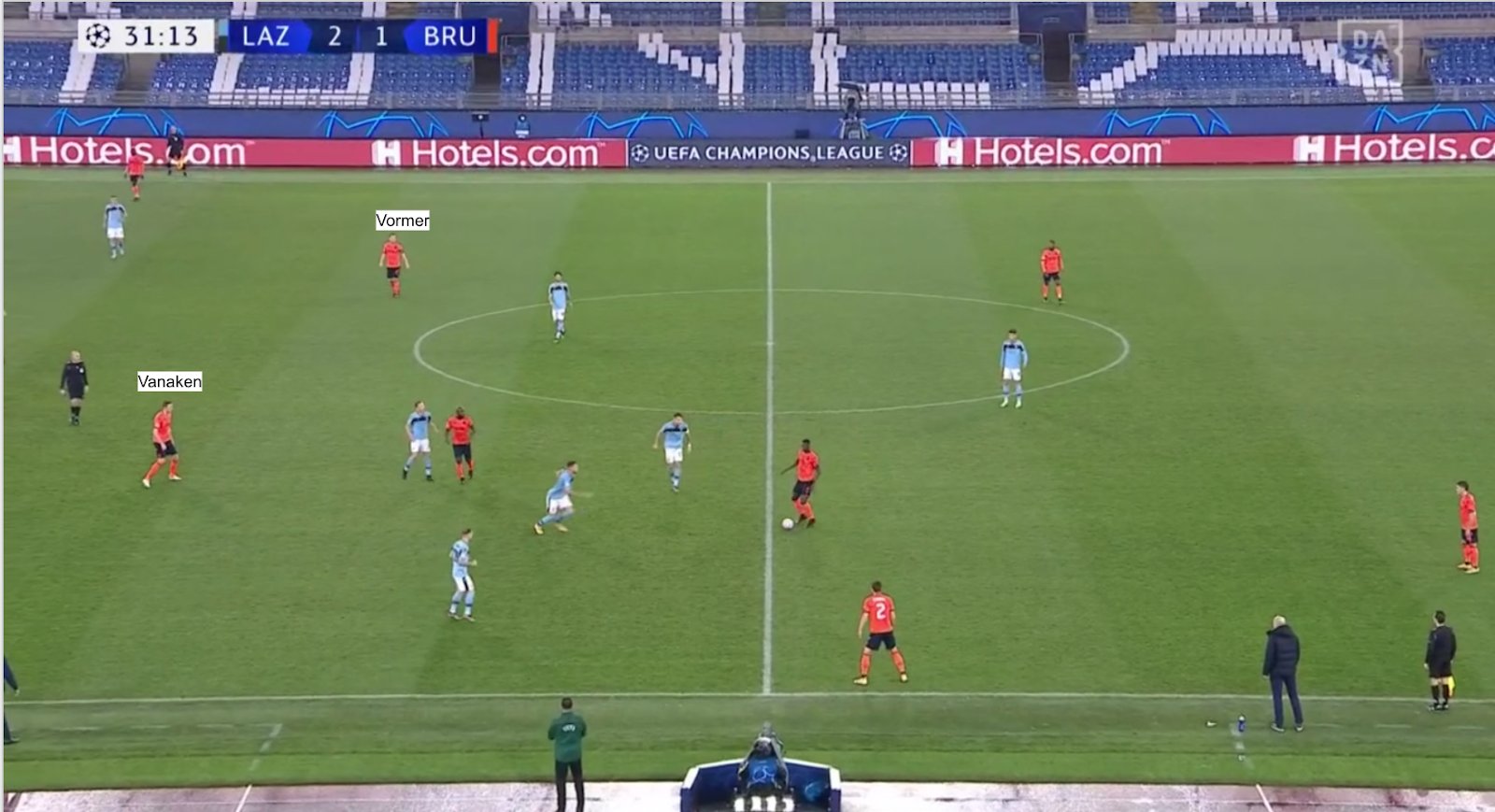 Odilon Koussounou is unable to find a forward pass, with Lazio's compact midfield cutting down any vertical passing lanes.
A Tale of Two Halves
Clement used halftime as an opportunity to reorganize his side, changing to a 4-4-1. This formation allowed Brugge to maintain the full width of the field, whilst freeing up Diatta to push higher up the pitch, as well as giving Charles De Ketelaera and Vanaken more freedom to interchange in order to receive passes in offensive pockets.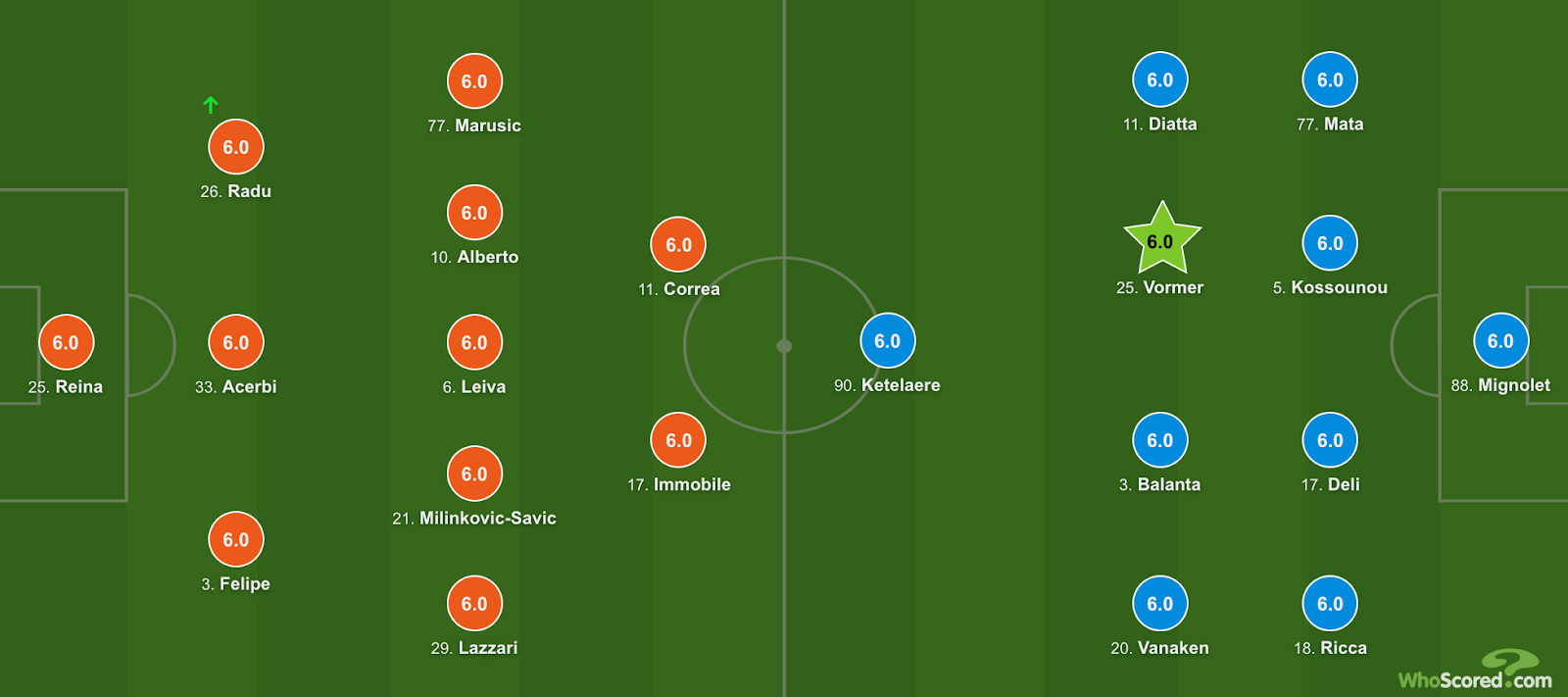 Photo: WhoScored
Down to 10 men, the Blauw-Zwart profited from the tactical switch, taking the game to Lazio in the second 45' and narrowly missing out on qualification when De Ketelaera smashed a 90th minute strike against the bar. Although Brugge's 10 men deserve credit for their dominant display in the second half, fingers must also be pointed at Lazio, who relied solely on counter attacking opportunities with their press dropping far deeper.
Perhaps Inzaghi felt that with the extra man and the amount of fixtures his side had been playing, using a more conservatory approach would benefit his side in the long run. However, the risk of missing out on knockout stage football and the financial benefits it brings with it should have made him demand a similar intensity for another 45 minutes to put qualification beyond doubt.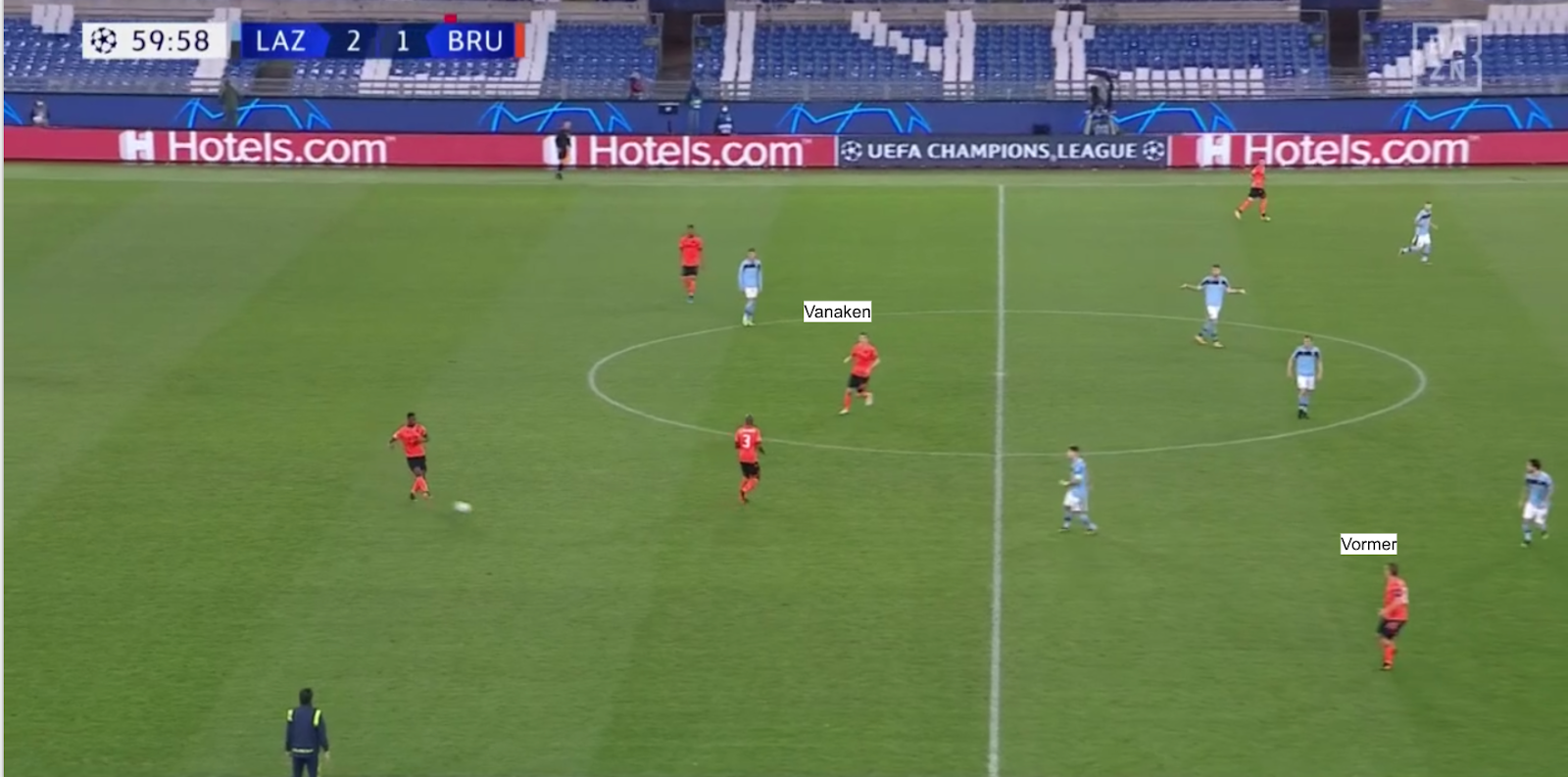 Both Vanaken and Vormer are easy options for Koussounou in the second half, with Lazio's midfield and forward line failing to make the extra yards to close down Brügge's key creative outlets.
Vormer and Vanaken were key factors in the second half, dictating possession, and even linking up for Vanaken's 76' minute equalizer. Perhaps most impressive though was 19-year-old De Ketelaere who led the line for the away side. Although his only shot in the second half came from his last minute strike against the woodwork, the Belgium international's tireless running in the channels opened up space for Brugge to exploit, as well as his pressing from the front forced Lazio into long balls that handed possession back to the Belgian champions.
Particularly his movement in possession was impressive, dropping deep into the midfield or pulling out to the channels. These movements helped negate the man disadvantage that Brugge faced in the second half, as well as put Lazio's center backs in the uncomfortable situation of either going with De Ketelaere, or staying in their position and giving him the time and space to receive possession.
In Vanaken's equalizer, De Ketelaere's movement played a major role. For much of the second half, De Ketelaere had pulled out to either channel, creating man advantages that would allow Brugge to work a crossing opportunity. Although the young Belgian wasn't the one who converted Vormer's cross on 76' minutes, his role in the goal was massive.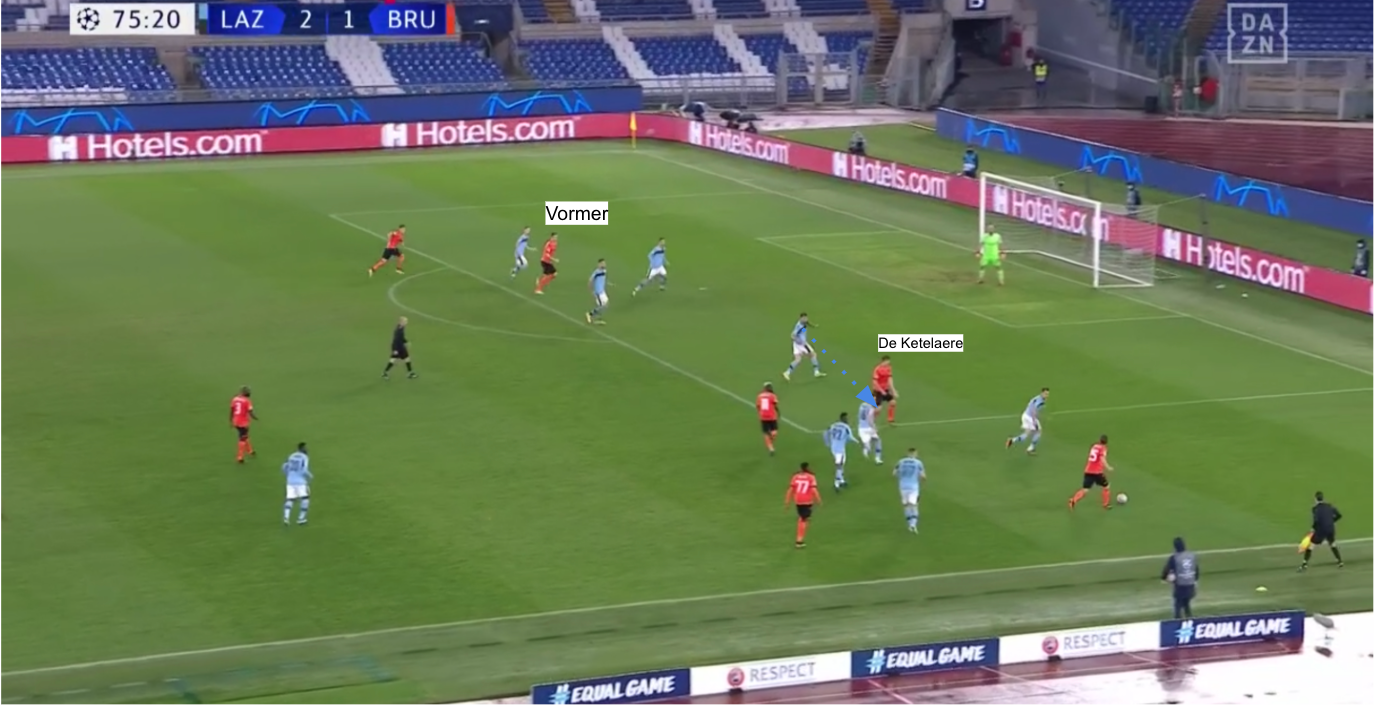 De Ketelaere's movement initially creates an overload that allows Brugge to craft an opportunity to cross. It also pulls out Lazio's best aerial presence in Francesco Acerbi to an area of the pitch where he is unable to defend against a cross, thus making Vanaken's header easier.
Conclusion
Tuesday evening's fixture between Lazio and Club Brugge presented an exciting tactical match, with both managers getting the better of the other in respective halves. In the first, Inzaghi's side exploited Brugge's fullback pairing, attacking quickly over Diatta's right side, as well as drawing contact in duels with Sobol, whose rash tackling and early yellow card led to his sending off.
Clement's Brugge could bow out of the Champions League with their heads held high though, putting on a 10 man masterclass in the second half, which saw the Belgian champions get the ball into their creative midfielders more often in positions where they could threaten Lazio's goal.
Were it not for the woodwork in Pepe Reina's goal, we could be speaking of Club Brugge as just the second Belgian side to progress to the Champions League knockout stage. Yet ultimately Lazio qualified through Group F in second place behind Lucien Favre's Borussia Dortmund, whereas Club Brugge will feature in the Europa League knockout stages once more next year.
By: Adam Khan / @XxAdamKhanxX
Featured Image: @GabFoligno / NurPhoto