Tactical Analysis: Croatia 0-0 Morocco
Morocco opened their 2022 World Cup campaign against the defending finalists in Croatia, with the Atlas Lions holding their own and securing a tense 0-0 draw at Al Bayt Stadium. This game was largely played in midfield with neither team willing to take many risks — Morocco did not create much in the way of goal-scoring threats, but they did succeed in neutralizing Luka Modrić, Marcelo Brozović and Mateo Kovačić in midfield and preventing them from controlling the tempo of the match.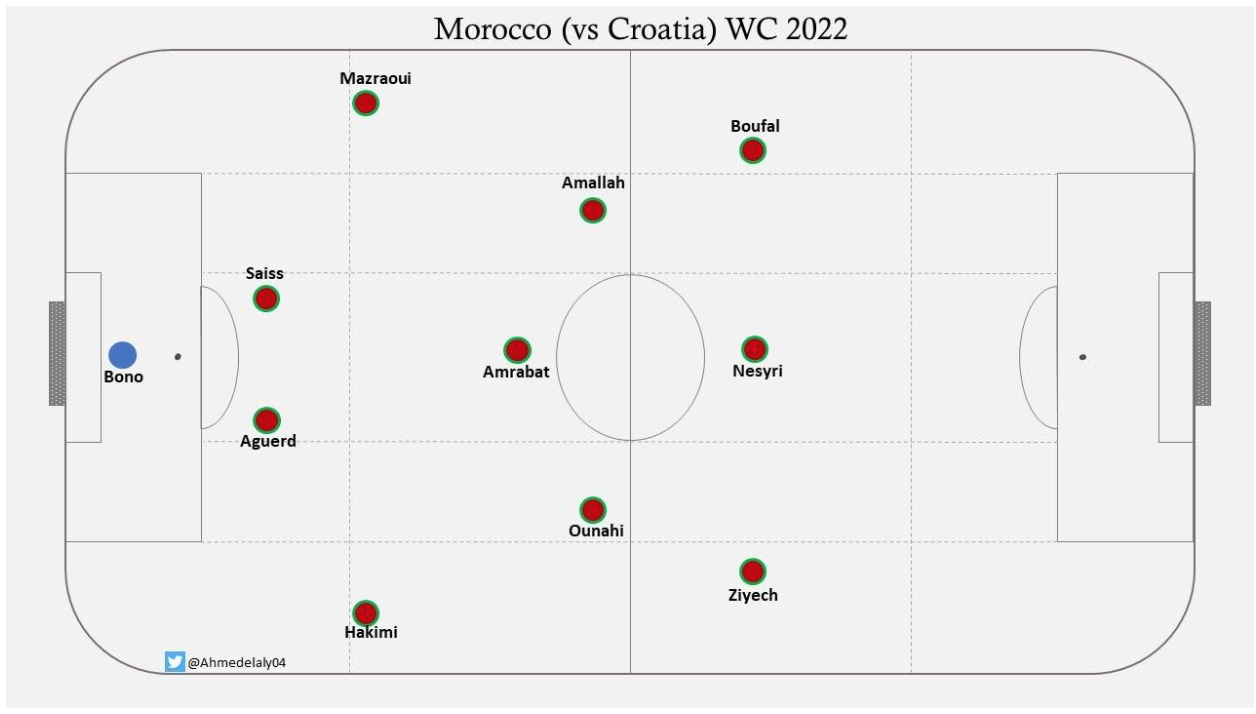 Morocco attempted to combat Croatia's 4-5-1 defensive block with Sofyan Amrabat dropping in between Romain Saïss and Nayef Aguerd to create a 3v2 overload and allowing them to progress past the first line of pressure and enter Croatia's half, as Modrić or Kovačić would typically step forward from midfield to help Andrej Kramarić press Morocco's defense. They would typically vary their structure from a 2-3-5 to a 3-2-5, and by building this back three, they could create an overload and bypass Croatia's front two.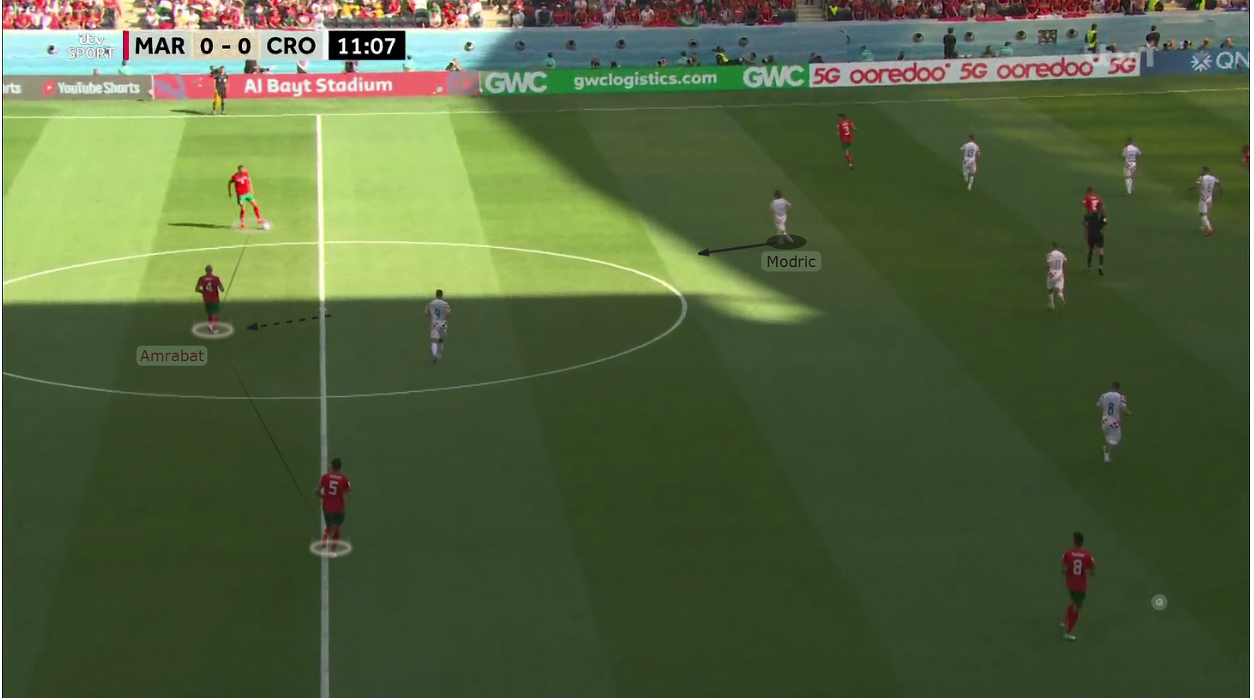 With Amrabat dropping deep, this would attract one of Croatia's front two and open up a channel for one of Morocco's center backs to carry the ball forward and progress the ball into the opposing half.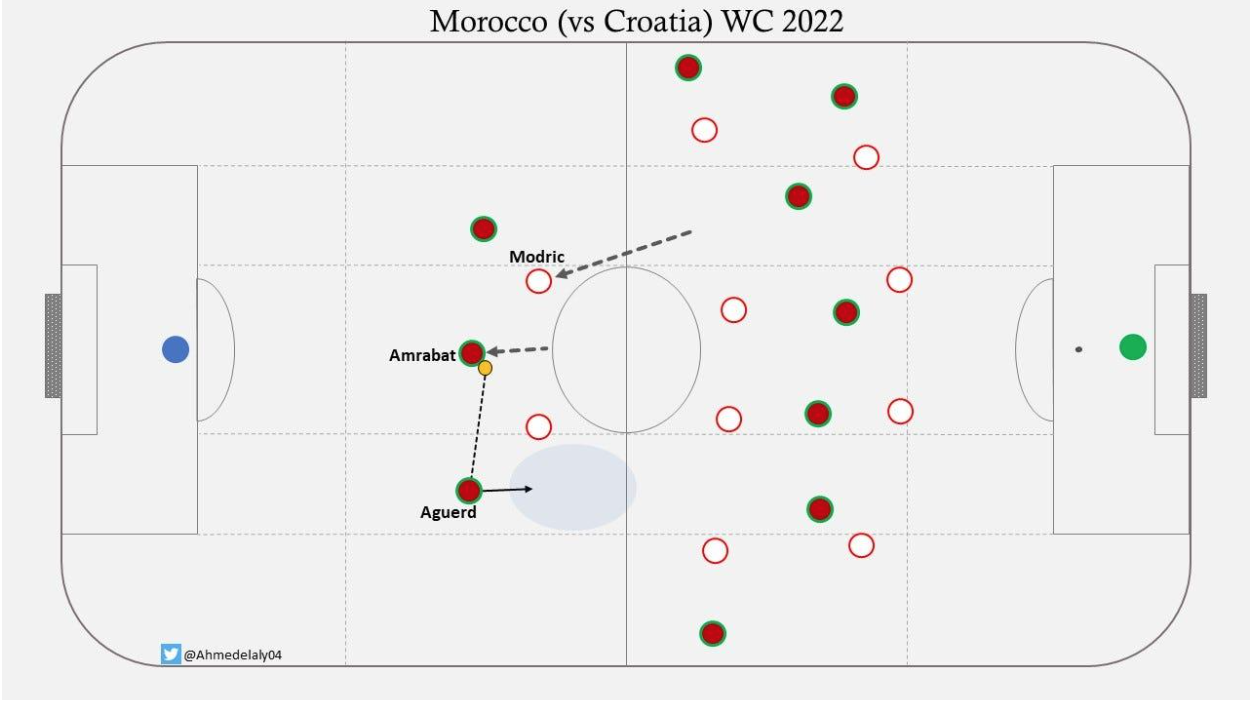 If the ball comes to Saiss, Modrić would often push up to press him while keeping Selim Amallah in his cover shadow, whilst Kramarić would mark Amrabat. After dropping deep, Amrabat could push high up the pitch again, moving between the two to create a diagonal passing laine for Saïss or opening up space for Aguerd.
Azzedine Ounahi or Hakim Ziyech dropping would enable Achraf Hakimi to push forward, but in many cases, both of Morocco's interior midfielders could push wide to receive through a dynamic rotation with the fullbacks and wingers, thus giving their opponents a dilemma on which player to mark.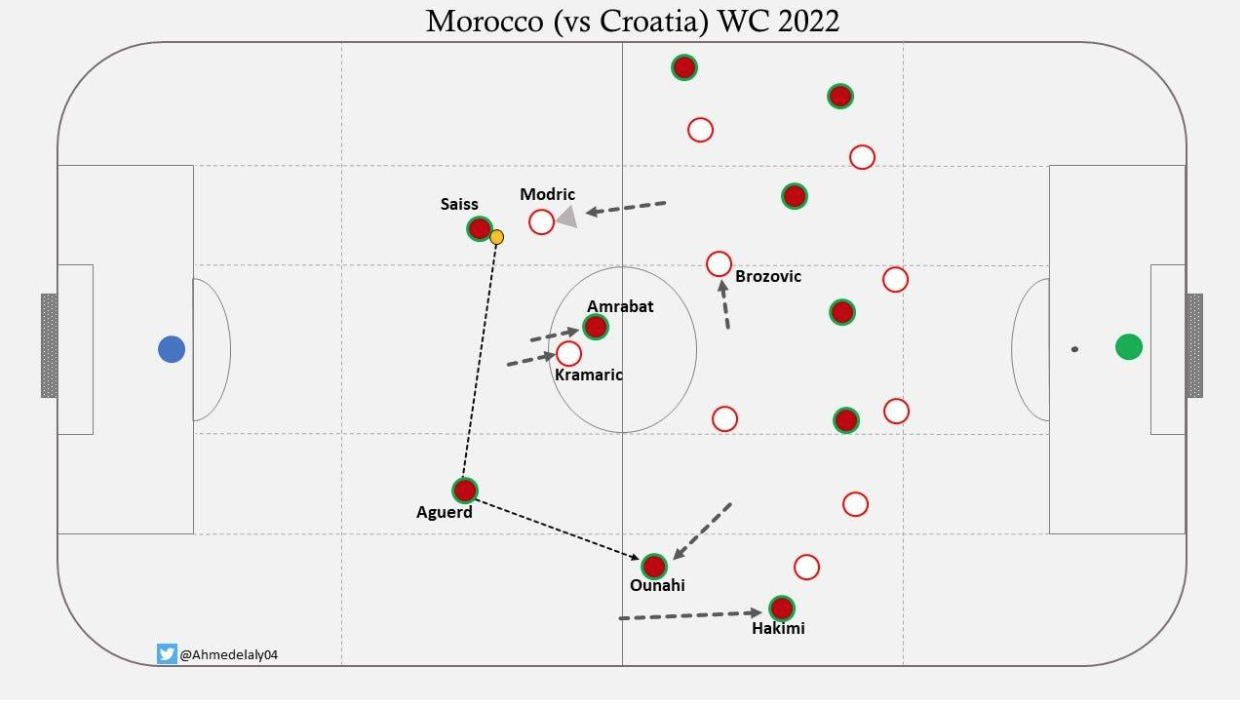 Morocco would handle Croatia's pressure with ease and Amrabat's dynamic movement meant that Croatia were constantly trying to adjust. This impressive execution would force Croatia to revert to their 4-5-1 low block.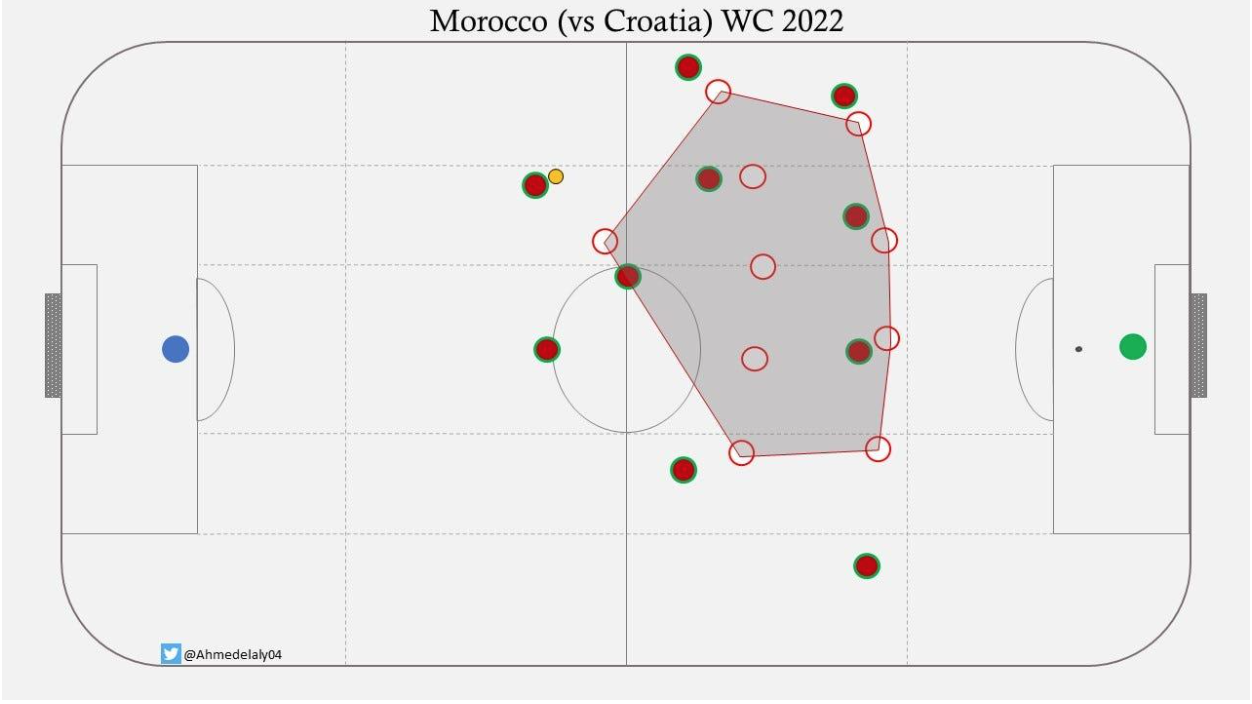 Morocco manager Walid Regragui instructed his side to execute triangular combinations through the wings and half-spaces on both flanks in order to penetrate Ivan Dalić's defensive block. In the below example, Morocco applied this combination to reach the final third, as Noussair Mazraoui overlapped whilst Sofiane Boufal had the ball and Amallah was in the half-space. Croatia would hold firm in their defense on the flank and held a 4v3 numerical superiority with Modrić offering late support.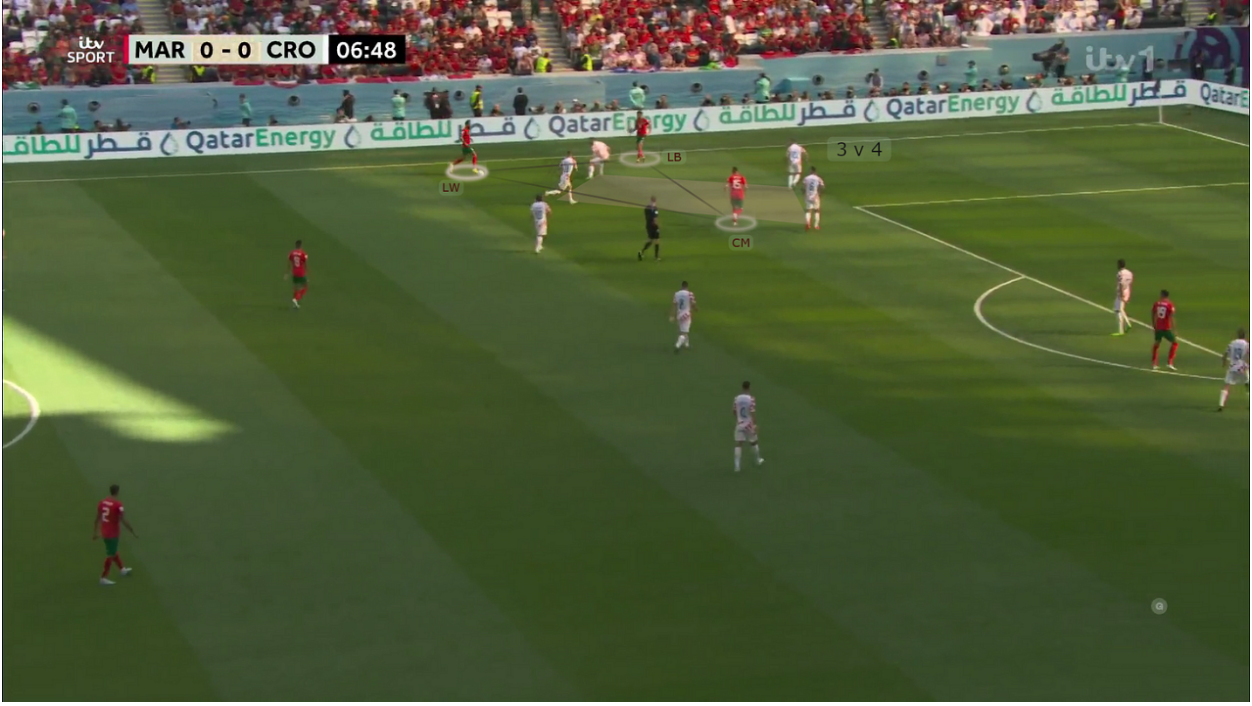 Boufal passed to Mazraoui who delayed his pass whilst Boufal started his third-man run behind the backline, dragging out two of the four opponents in front of him. This opened up the passing lane to Amallah who was positioned in the half-spaces, who received it and tried to bypass Dejan Lovren and shoot from long range.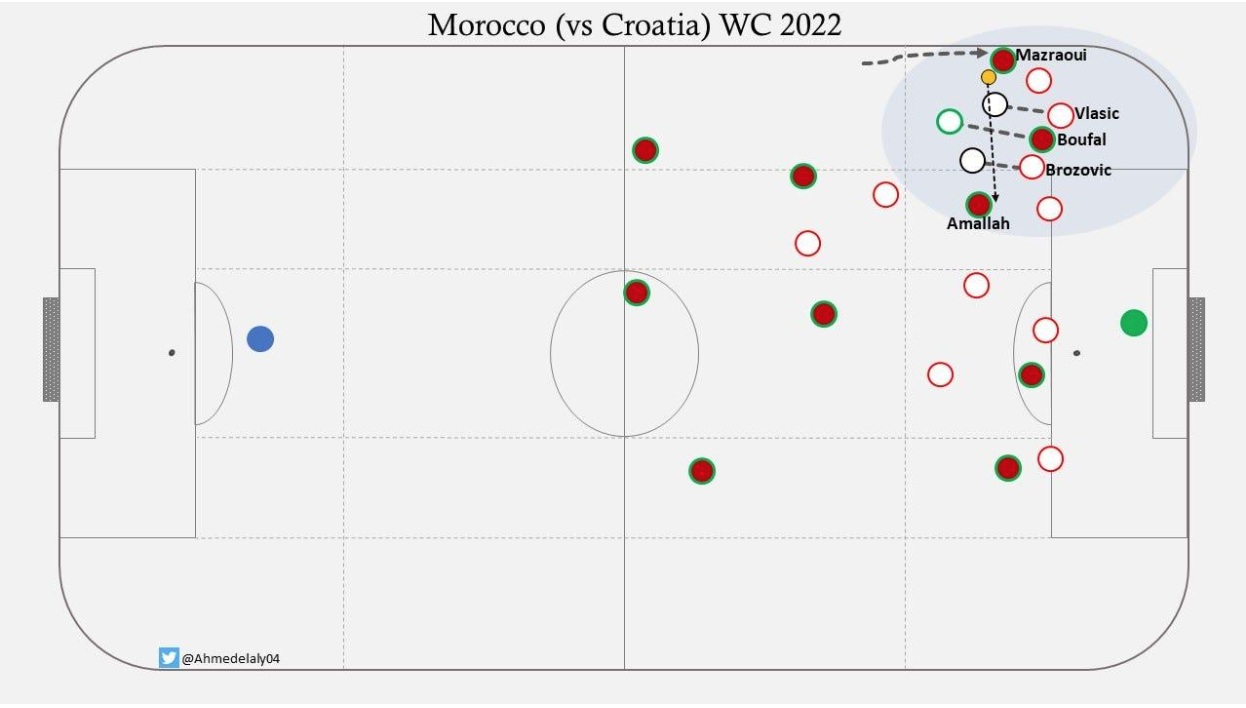 Morocco also tried to make right-side combinations between Hakimi, Ounahi and Ziyech. After a good circulation from the left, they could then switch to the right, with Hakimi overlapping, Ziyech delaying his pass, and Ounahi making a vertical run into the box and receiving in a dangerous area, before passing it to Ziyech who made a diagonal run inside, but Ounahi's execution left a lot to be desired and Croatia won the ball back.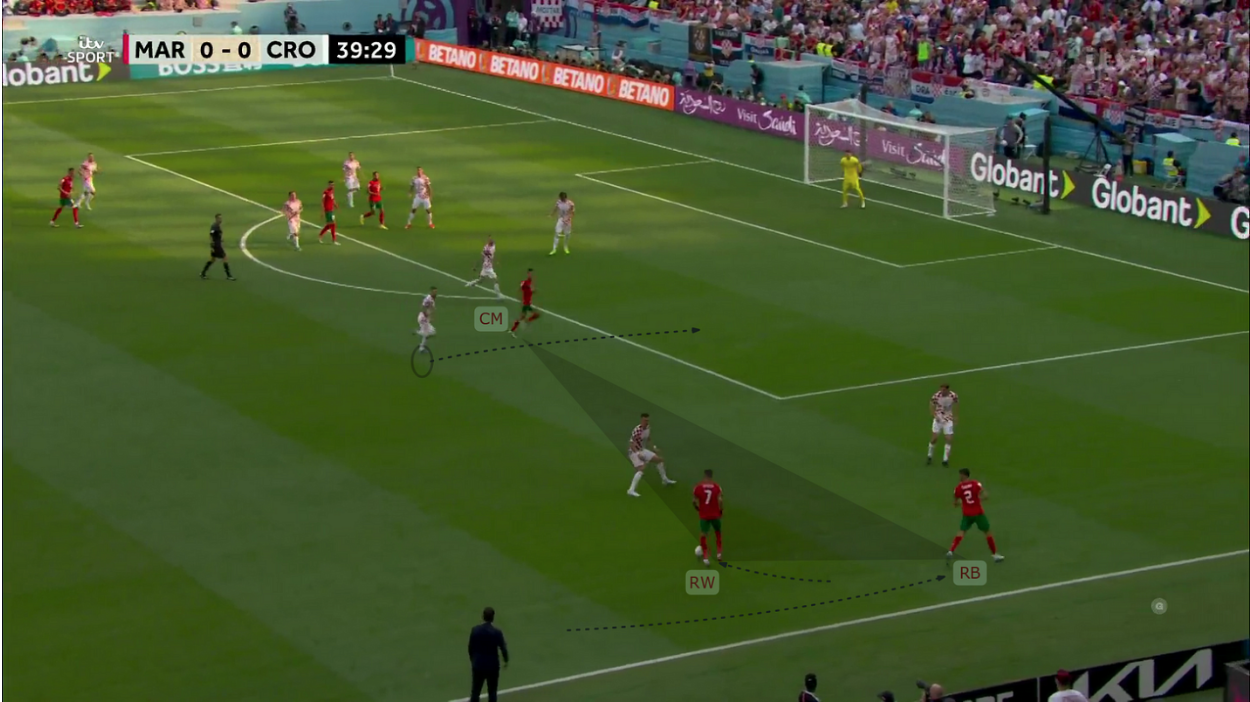 Morocco applied this concept well by having an outlet to maintain possession and switch the ball from side to side. This player can then be used to get out of the tight situation, acting as a safe option, such as a winger who would then be stuck in an underload. This diagonal positioning in the half-space would allow them to reach the middle and access a player in a central area or complete a switch.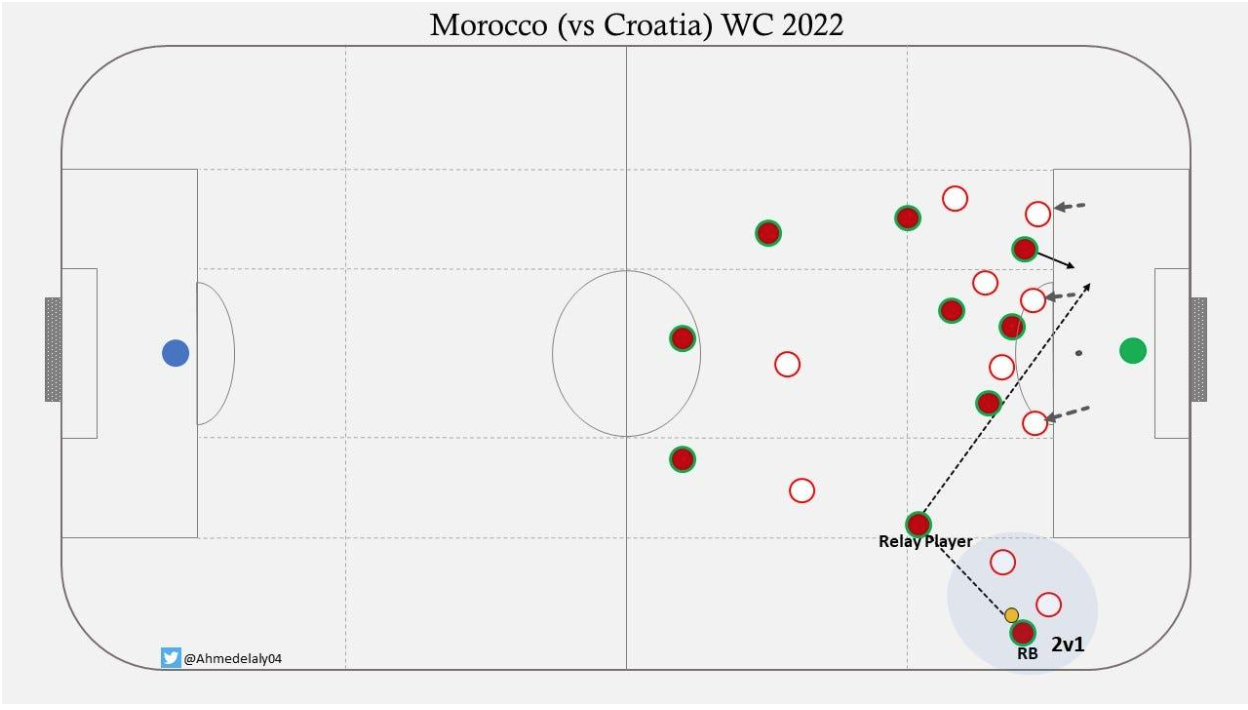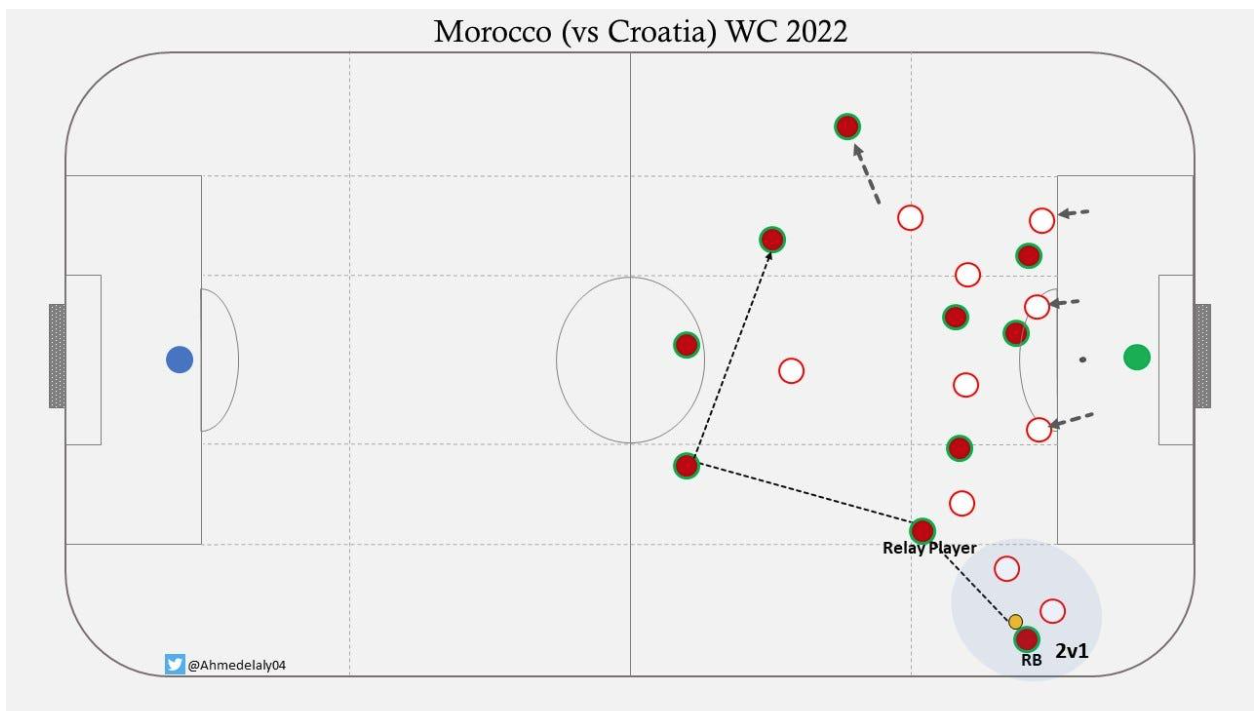 Morocco attempted to penetrate the spaces in behind Croatia's fullbacks with long balls from the back. We saw an example of this in the 35th minute when after a good switch of play from the right side, Saïss would take the ball and try to play it long towards Ziyech behind Croatia left back Borna Sosa, whilst the Morocco striker Youssef En-Nesyri would run towards Sosa to take up his attention before moving inside again.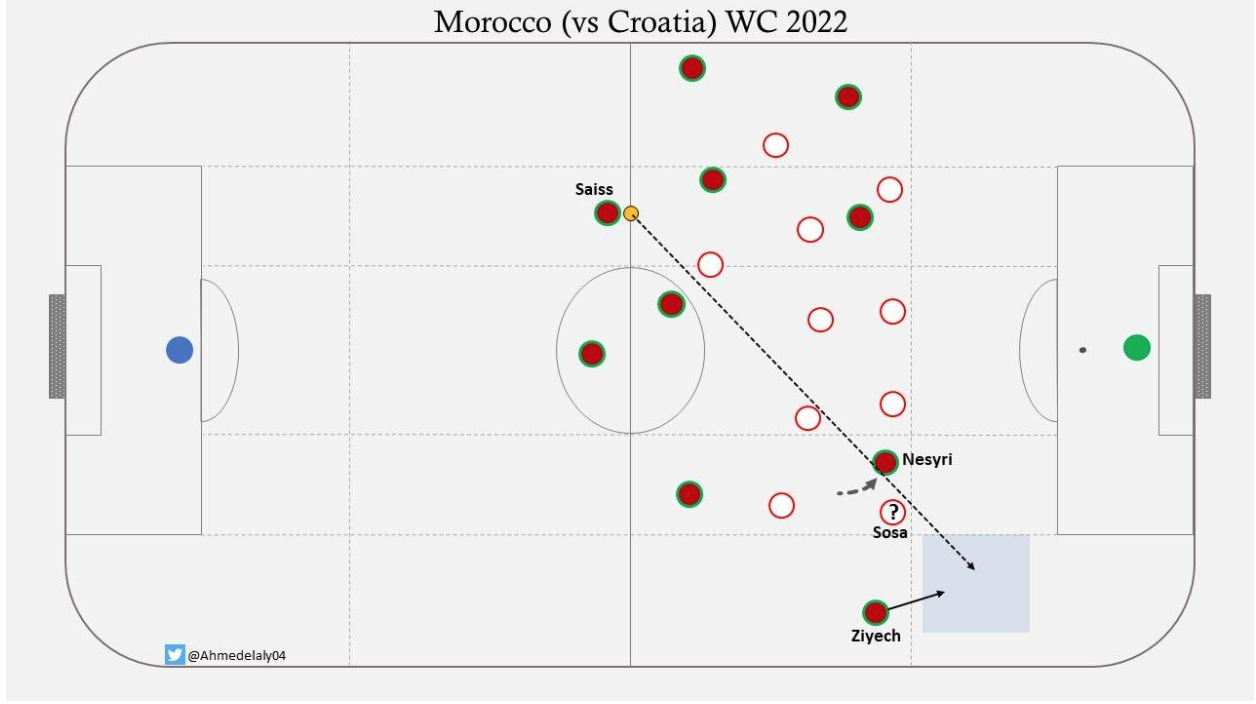 Earlier on in the 13th minute, after a rotation between Ziyech and Ounahi, Ziyech dropped deeper and switched the ball towards Saïss who would target the spaces behind the fullbacks, this time right back Josip Juranovic. Saïss would play a long ball whilst Boufal had completed a body feint and exploited Juranović due to his poor body orientation. Boufal received it in vacant space in the final third and crossed it to the far post, exploiting the blind side of the defender and giving it to Hakimi, who received it and passed it to Ziyech who was unable to get a shot off.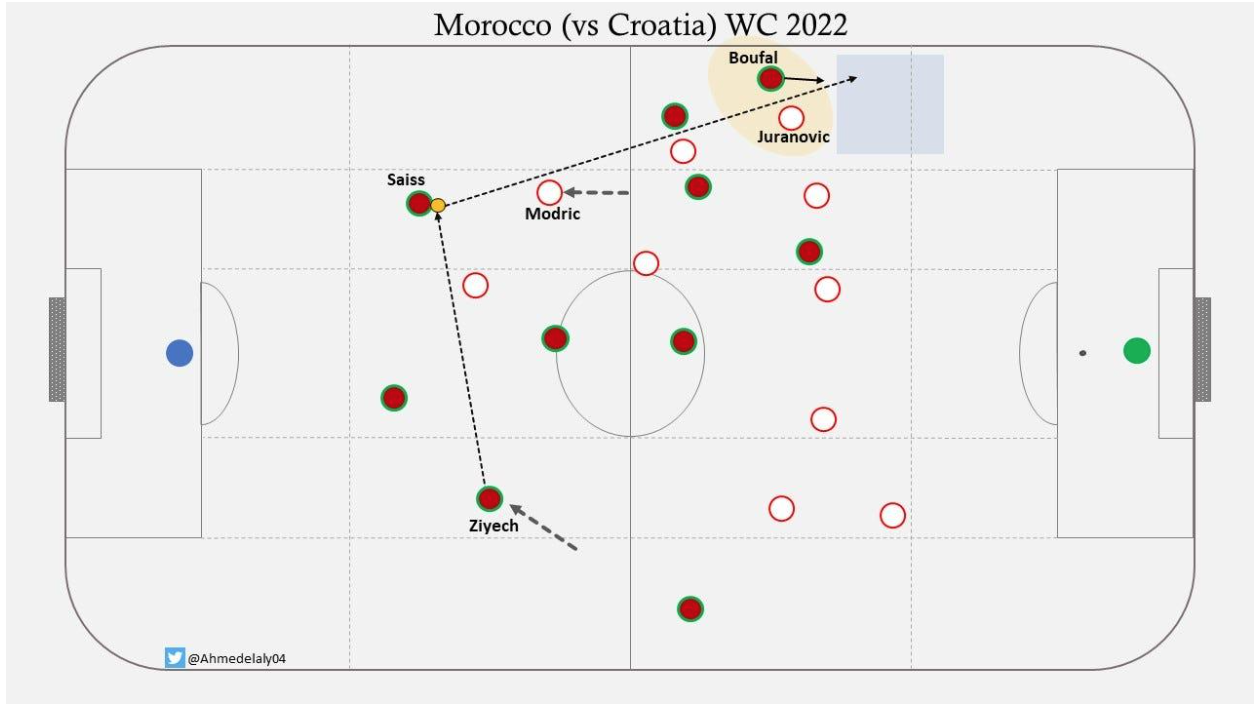 Morocco ended up achieving a well-deserved point against the runners-up of 2018, with smart positional rotations allowing them to break down Croatia, but their poor decision-making in the final third cost them dearly.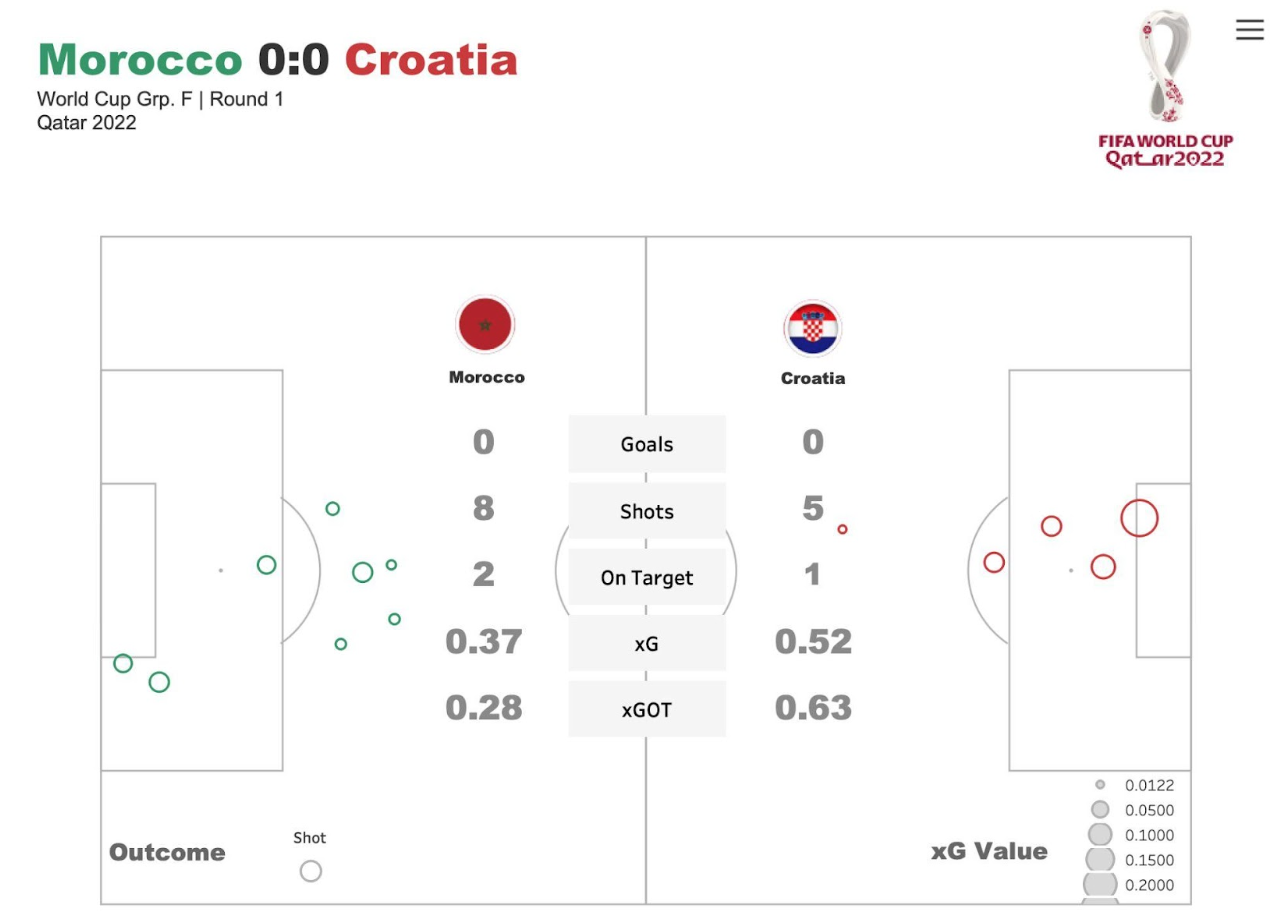 Morocco have made it to the FIFA World Cup on five occasions, but only once have they managed to reach the Round of 16 (1986). After holding their own against Croatia, the Atlas Lions will be looking to follow it up with strong performances against Belgium and Canada.
By: Ahmed El-Daly @Ahmedeldaly04
Featured Image: @GabFoligno / Matthew Ashton – AMA / Getty Images