Tactical Analysis: Czech Republic vs. Denmark
First off, it would be appropriate to finally bury the common narrative that this Danish team has made it this far into the Euros as a response to the Eriksen situation. Apart from being almost cynical in nature, that argument does Kasper Hjulmand's side a huge disservice. Denmark are very, very good.
They overcame an extremely difficult group thanks to a valiant, relentless display in a 4-1 win, then they steamrolled a Welsh team that looked solid in defense to set up this quarterfinal game against an odds-defying Czech side. And, with their 2-1 win, they once again proved to be an adventurous unit, with flying wingbacks who create overloads and find pockets of space (as shown by Joakim Maehle's deep run and exquisite trivela cross to set up Kasper Dolberg for the second goal).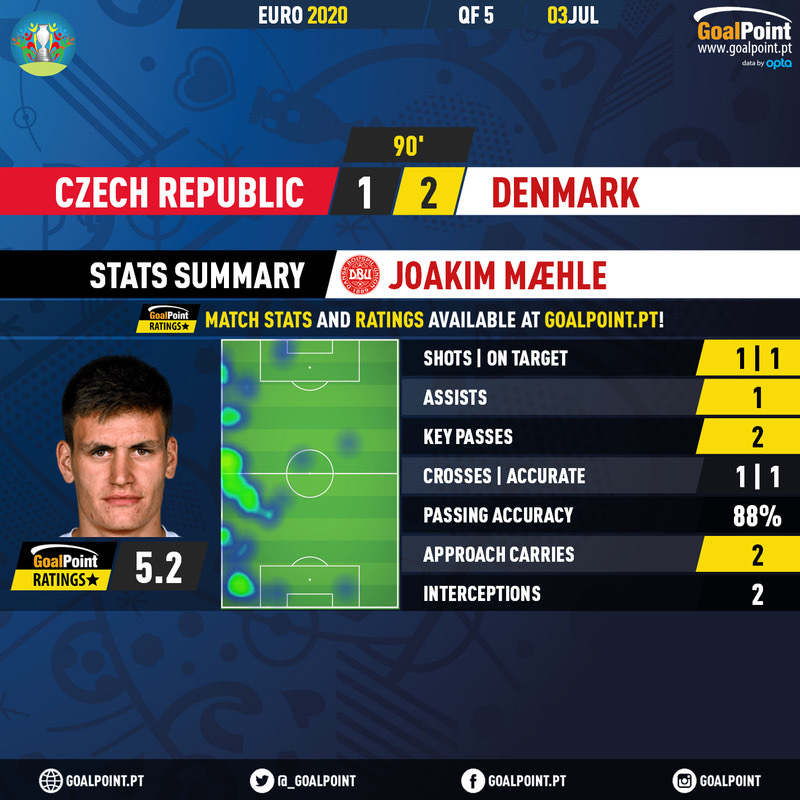 While not as consistently threatening as in previous games, Joakim Maehle proved to be a thorn in Czechia's side with his involvement on the wing, culminating in a cracking assist to Kasper Dolberg.
Moreover, they have a defence that can deal with anything and an all-action midfield engine consisting of Thomas Delaney and Pierre-Emile Hojbjerg. Racing to an advantage thanks to Kjaer's off-the-ball movement for Delaney to head it free, they set out to dominate the game early and exploit Jan Boril's flank, and while they had to sweat in the second half after Schick's consolation, they held onto the lead.
Man of the Match: Pierre-Emile Hojbjerg
This game had very different dynamics in both halves. In the first one, Denmark set out to overwhelm the Czechs, winning the ball quickly, keeping it until their movement opened spaces in behind the opposing fullbacks to be exploited. In the second, with Schick's early goal, the Danes defended deeper and tried to shut out the many crosses sent in by Coufal and substitute Jakub Jankto, while taking their chances to hit Czechia on the counter.
Therefore, Denmark's midfield engine and its capacity to balance both facets of their play was crucial to keep the Czech Republic at an arm's length, and this is how Pierre-Emile Hojbjerg was so important. Focusing his efforts on covering the right hand side, the Tottenham midfielder was key to stopping Czech ball progressions on their tracks, recovering possession seven times and making three tackles.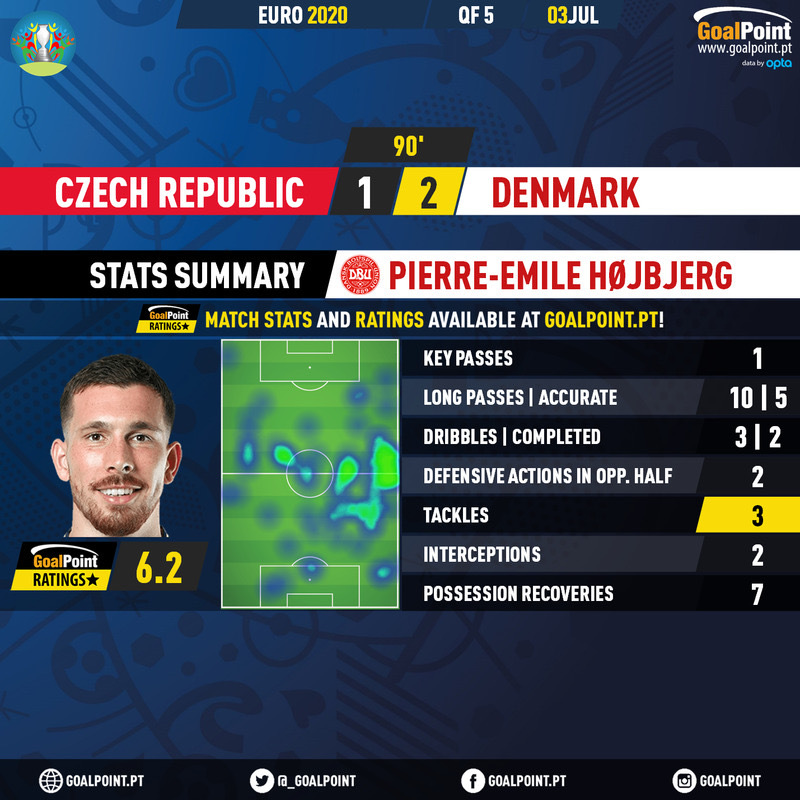 While not as flashy as his midfield partner, Thomas Delaney, Hojbjerg's contributions were key to withhold the Czech barrage, managing more tackles than anyone else on the pitch and recovering possession seven times.
The former Southampton and Bayern Munich midfielder also completed another two defensive actions in the opposition half, while also helping to progress the ball for his own team, managing one key pass, completing two dribbles. In addition, Hojbjerg also made for a commanding presence for the team, coordinating brilliantly with Thomas Delaney and even riling up the Danish fans in Baku just before the final whistle.
Conclusion
From their perspective, the Czechs can be proud of their performance. They challenged low expectations preceding EURO 2020 to leave a big mark on the tournament, with Patrik Schick channeling his inner Milan Baros, Tomas Soucek bossing the midfield and earning the captain's armband and Vladimir Coufal offering real quality and danger from the right.
And they were defeated by a truly special Danish team, one that overcame huge trauma by playing to their strengths, peaking at the right time and becoming a truly unstoppable unit. England now awaits as their biggest challenge yet, and they'll be up for it.
By: Santiago Bauza / @santi_bauza
Tactical Points of Interest
Denmark lined up with their familiar 3-4-3 system against the 4-2-3-1 setup of the Czech Republic. In possession, Denmark attempt to build from the back by keeping their wingbacks high and using Christensen and Vestergaard in slightly wide positions in order to horizontally stretch the Czech press and create spaces through which they could find Delaney or Hojbjerg in midfield.
The Czechs settled into a 4-4-2 shape when defending higher up the field. Barak joined Schick in the forward line and they attempted to shut down the passing lanes into midfield while exerting some pressure on the Danish centrebacks while they were on the ball. Holes and Soucek in the Czech midfield, were man-oriented to the Danish midfield pivot of Hojbjerg and Delaney, staying tight to them to deny them space to receive and turn.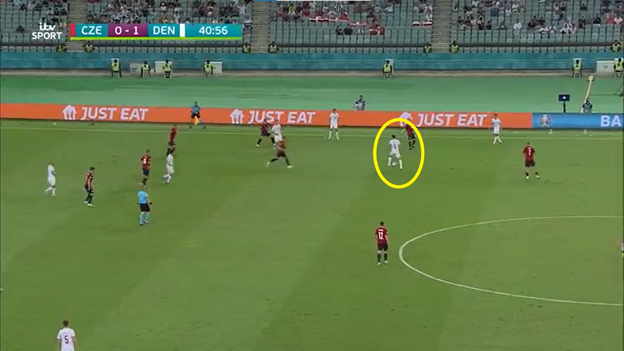 Christensen (circled) in an advanced position. Czech defence drawn towards their left flank. Maehle (5) in a lot of space.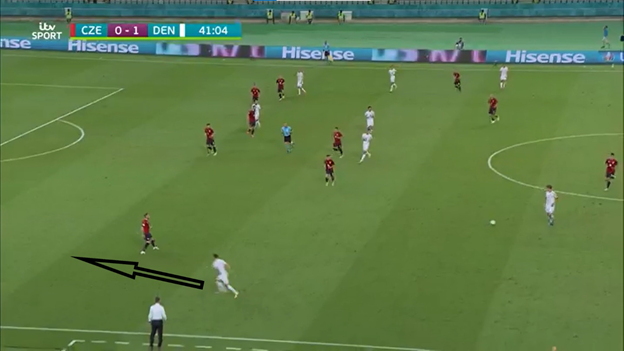 Maehle able to exploit space in behind fullback and take advantage of the lack of cover to deliver an assist for Dolberg.
Denmark, however, have an extra dimension to their setup which has proved beneficial throughout the tournament. Christensen, who is a very capable ball-carrier and distributor steps up into the midfield to create an overload there for the Danes. This creates a problem for the Czech Republic's man-oriented midfield and in trying to cover that superiority, spaces open for in the Czech defence block allowing Denmark to move through it.
It is a dynamic system and at times Vestergaard plays the role of the more advanced centre back, giving Denmark different angles through which they could progress the ball.  Denmark were very right-side heavy especially in the first half. Stryger Larsen was quite influential as a result of that. Apart from his assist from the corner his combinations with Christensen and Hojbjerg as well as the Danish forwards caused the Czech Republic a number of problems.
This right-side bias had the added benefit of drawing more Czech attention towards that flank leaving the left-hand side – where Joakim Maehle was holding the width – underloaded. This was also exploited by the Danes in a very decisive fashion.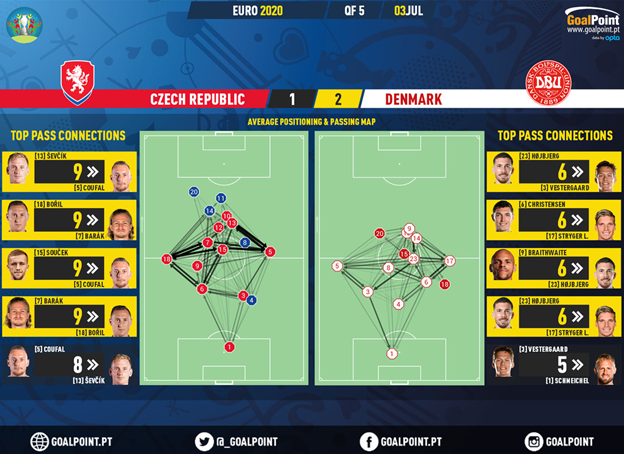 Christensen (6) regularly advanced and combined with Hojbjerg (23) and Stryger Larsen (17) in midfield. 
The Czechs had a preferred strategy of their own in the buildup and it involved keeping both fullbacks high and then spreading the midfield two very wide almost into spots as auxiliary fullbacks. This stretched Denmark's midfield two and created space into which one of the front four could drop, receive the ball and then drive towards the Danish goal.
This approach was quite effective especially in the first 15 to 20 minutes of the second half when Schick was given license to drop deeper due to the introduction of more orthodox striker, Michael Krmenčík. A recurring pattern within this game for the Czechs was an extreme willingness to cross the ball into the box. Now this makes sense, looking at the fact that they have some very capable players when it comes to aerial duels as well as some very decent set-piece takers and crossers of the ball.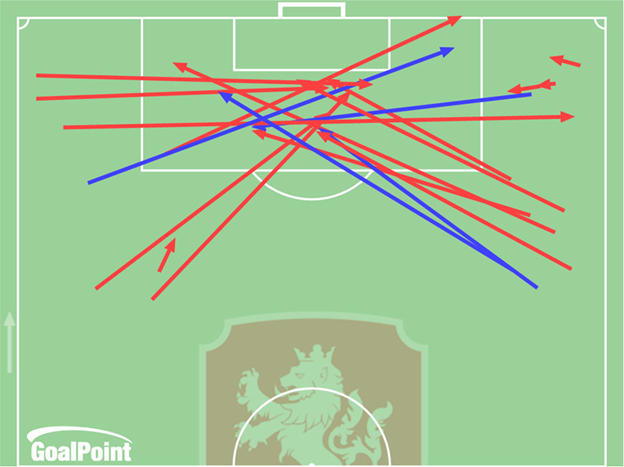 A meagre 22% of Czech crosses were successful today (blue), that did not deter them though, they kept putting balls in.
The Czechs attempted 18 crosses during the game, almost three times the number that Denmark attempted. This obviously comes with the caveat that hoofing the ball into the area is something a lot of teams do when they are trying to get a needed goal however, this seemed like a more deliberate attempt from Jaroslav Šilhavý's men to create opportunities.
The 3 physically imposing centrebacks available to Kasper Hjulmand however, Kjaer, Christensen and Vestergaard were a good antidote to the progress Czech Republic were seeking to make down the wide areas. Even though the Czechs will be disappointed it's fair to say that they have exceeded exceptions having reached the quarter-finals and they will leave with their heads held high. As for Denmark, it will be interesting to see how their setup changes against one of the most adaptable and high-quality teams in the competition.
By: Wepea Buntugu / @Wepea_
How the Game Shaped Up to the Preview
For many fans keeping an eye on the Euro 2020 quarter-final between the Czech Republic and Denmark, it will be with a view to who England would play should they reach the semi-final. Certainly, compared to other quarter-finals on show, it includes the 'smallest' nations. Yet that would be a dismissive claim.
Denmark have put aside the devastating circumstances surrounding their tournament performance following the 42nd minute against Finland. The collapse of Christian Eriksen has not dominated the spotlight though, as Danish-born coach Kasper Hjulmand's Denmark side have performed spectacularly since the disaster.
They have conceded the least shots per game at Euro 2020, while attempting the second most behind Italy. Their opponents though, have perhaps been the surprise of the tournament. Ukraine and particularly Switzerland overcame weak odds to progress through to the quarter-finals, but every bit of the Czech Republic's progress has been surprising. Many expected Jaroslav Silhavy's team to be compact, technically strong, and well-disciplined. They were expected to finish 3rd in their group or possibly 4th.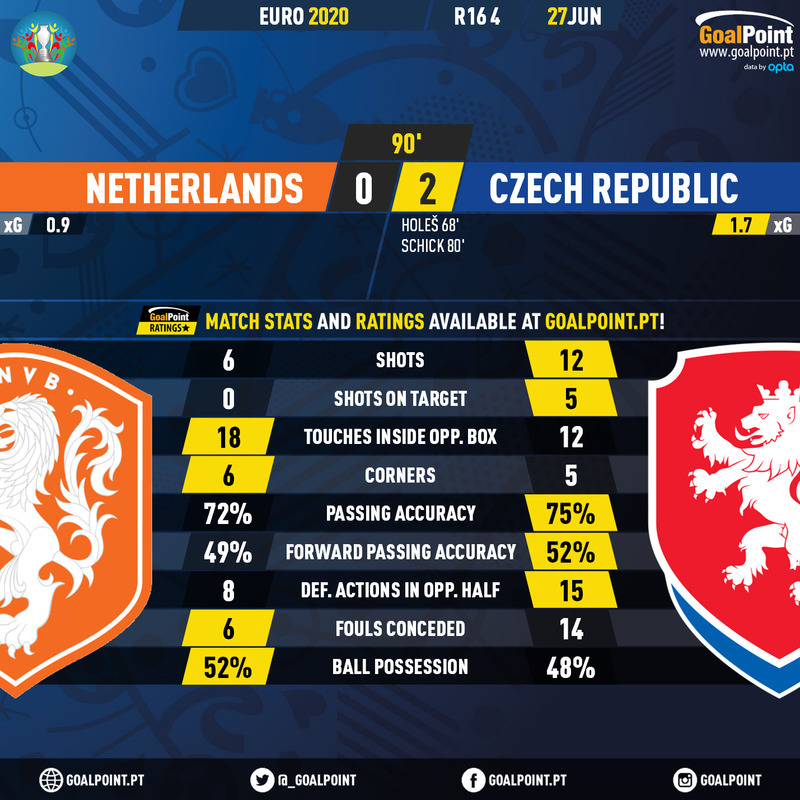 Despite being the underdogs, Czech Republic outshot, outpassed and created the better chances over the Netherlands.
Players like Patrik Schick and Thomas Holes have performed to a level no one expected though. After they progressed past group C, they were passed aside by fans expecting the Netherlands to steamroll them in the round of 16. The Czechs won 2-0 though, and won convincingly.
With both sides in hopeful spirits, conceding just six goals between them across their 8 games each, this is possibly the hardest game to call. The last time these sides faced in a tournament fixture was in Euro 2004, seeing the Czech Republic cruise to a 3-0 victory. It is unlikely the scoreline will be so one-sided this time.
Denmark will then mostly likely deploy their 3-4-2-1, which has remained since matchday two. Both Simon Kjaer and Yussuf Poulsen remain the only injury doubts, but the Danish pair are in contention to return to the starting XI by Saturday early afternoon.
After thumping Wales 4-0 though, Kasper Dolberg looks likely to keep Poulsen on the bench. The OGC Nice striker was man-of-the-match against the Welsh, scoring two very well taken goals. If Kjaer is missing from defence, you can expect Joachim Andersen of Lyon, or Christian Nørgaard of newly-promoted Premier League side Brentford to step in.
The Czech Republic are harder to read. With a near fully fit squad (Lukas Provod being the only injury, and who is yet to make a tournament appearance), the Czechs played in a 4-2-3-1 in the group stage, but they switched to a 4-1-4-1 against the Netherlands.
It allowed Slavia Prague midfielder Thomas Holes to thrive as an all-action midfielder, defending deep and pushing high. As well as scoring and assisting both goals, he completed the most tackles on the pitch. On paper, it's an incredibly even set of lineups, both coming off the back of similar tournament form. There are a couple of key battles though, that could completely sway this match. 
Czech Republic's Key Man: Patrik Schick
Going into the tournament, Patrik Schick was quoted by some betting outlets as 250/1 to be Euro 2020s top scorer. Fast forward a few weeks, and those odds have been slashed. Cristiano Ronaldo may still lead the way on 5 goals, but Schick has the most goals (4) of any remaining player in the tournament. For someone who scored 9 in 29 league appearances for Bayer Leverkusen, it's been an explosive tournament for the 25-year-old.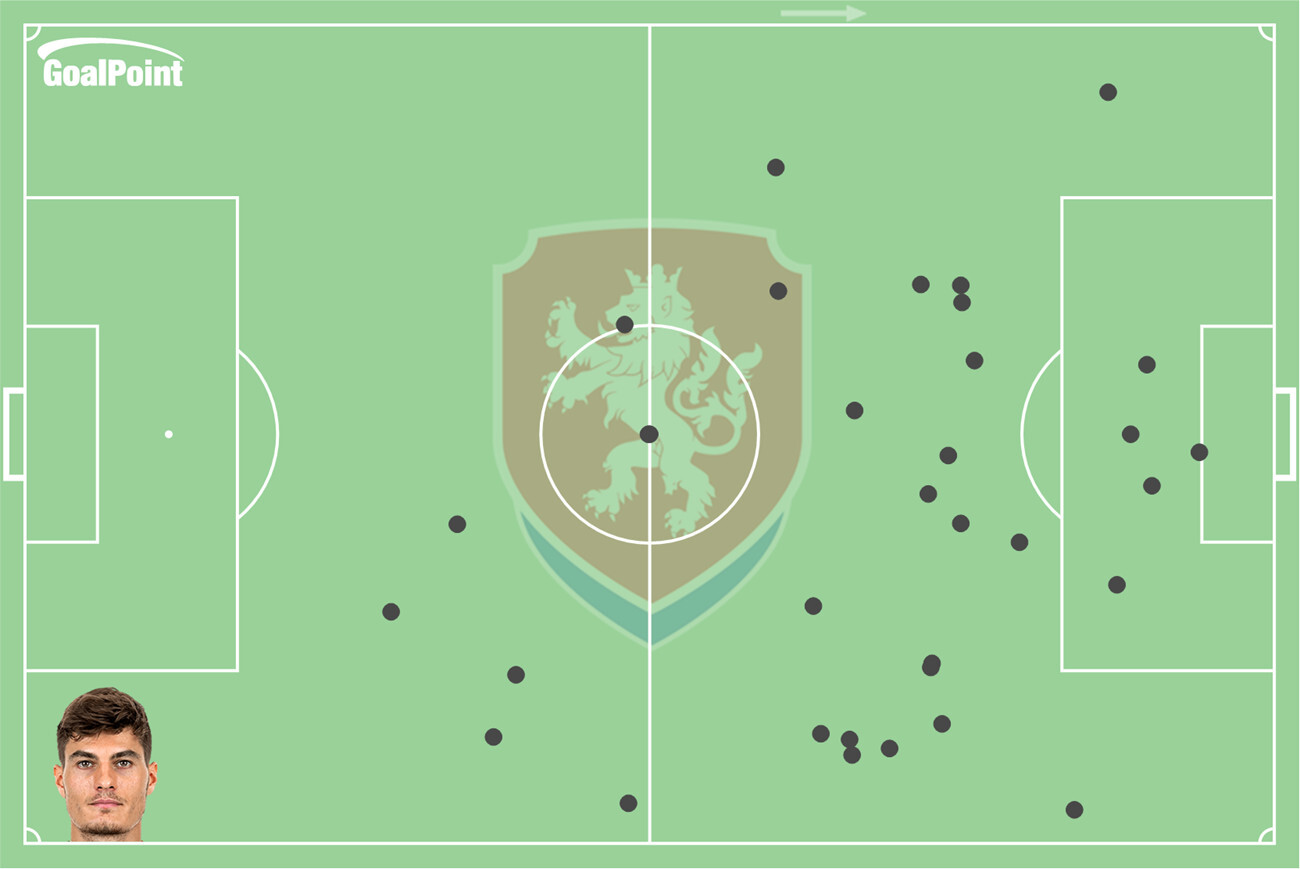 Patrik Schick has been fantastic at dragging his team up the pitch, as seen in his touch map against Croatia where he consistently received the ball in the final third.
He has been responsible for all but one of the Czech Republic's goals, leading the line expertly. At 6ft 2, Schick has used his body very well, holding off defenders and completing 4 dribbles upfront. His goals have come from all places too, from the wonder-effort against Scotland to the intelligent calm finish against the Netherlands. Schick is in superb form; Denmark will have to do well to keep the former Roma forward quiet. Only Gareth Southgate's England have managed that task so far.
Denmark's Key Man: Joakim Maehle
Denmark have had several standout players emerge this tournament. Kasper Dolberg proved lethal against Wales, while Mikkel Damsgaard has been electric since scoring against Russia. Against the Czech Republic though, Joakim Maehle is no doubt the key player. Euro 2020 has elevated the Atalanta defender's profile to a new level. Maehle has scored 2 goals for Denmark. He has also completed 11 dribbles, top only behind Frenkie de Jong in the tournament statistics.
His positioning under Hjulmand has been intriguing though. Rather than be stationed on his favoured right side, Maehle has been operated as an attacking Left-wing-back. This has seen Maehle cut inside for Denmark onto his right foot, while defending less than used too. He has only attempted 3 tackles across 4 games, highly unusual numbers for a defensive player.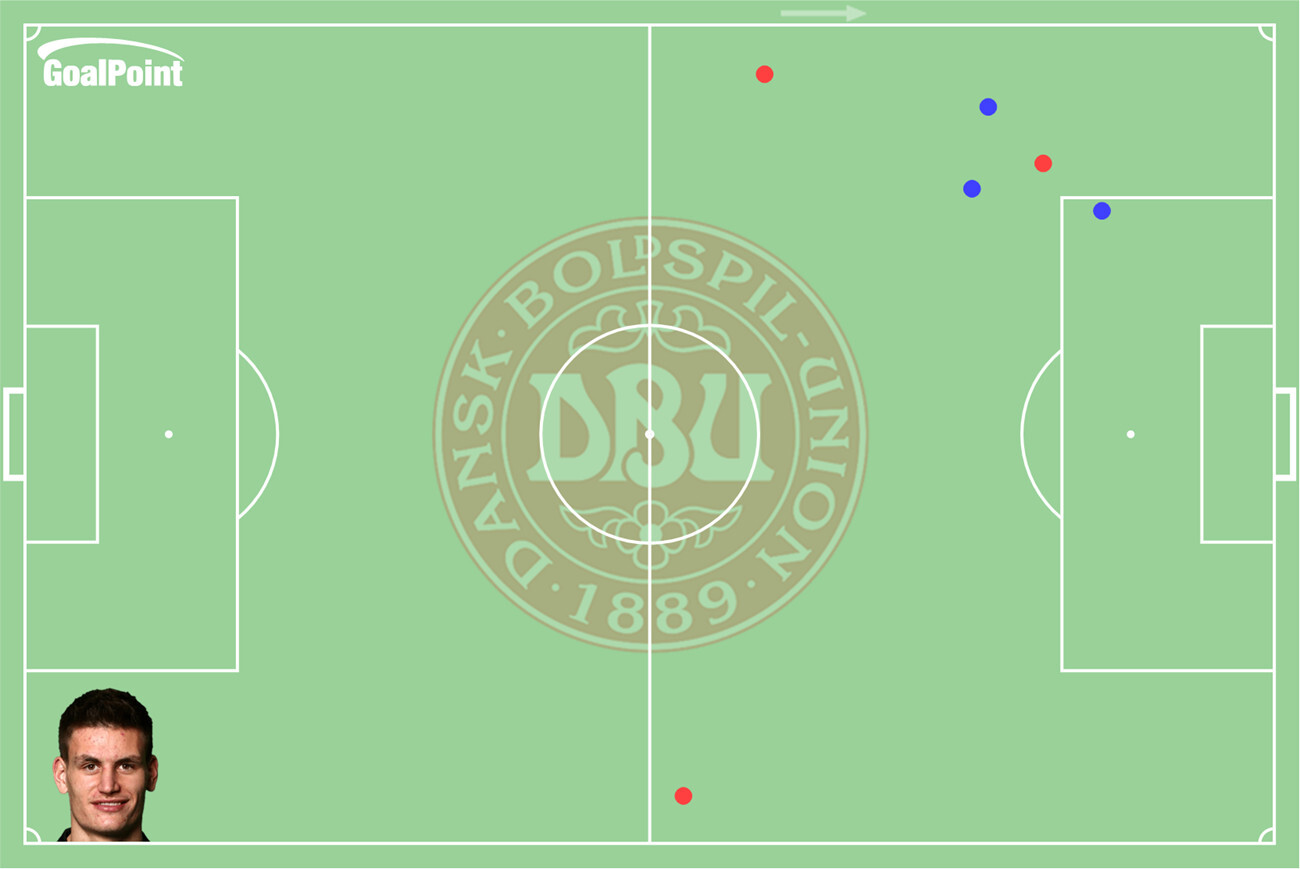 Joakim Maehle caused Wales nightmares tearing in from the left wing, completing 3 successful dribbles and consistently tormenting Neco Williams and Connor Roberts.
This has been mainly because, as outlined, Maehle has been an attacking weapon for Denmark. Against the Czech Republic though, his opposite full back will be Vladimir Coufal. The battle between the two traditional right backs will be unusual, and key to the game. Coufal has already attempted 13 crosses at Euro 2020, grabbed himself an assist and completed 100% of his dribbles.
Maehle will potentially need to up his defensive work this game, and track Coufal harder. Whether Maehle manages to sustain his attacking threat while keeping Coufal quiet could be the difference between the semi-finals, or failure. 
Tactical View
Away from the battle on the left wing, the interesting dynamic will be to see how much time the Czech Republic allow Denmark to have on the ball. Denmark have averaged the 4th most possession at Euro 2020 (55.9%), while the Czech Republic have held 47.2% possession. That difference has largely been because the Czechs have looked to stifle creative sides. Against Croatia in the group stage, they made life extremely hard for Luka Modric and Mateo Kovacic, as both midfielders struggled to break Czech defensive lines.
Silhavy set his side out to do the same against the Netherlands in the Round of 16. Even before Matthijs De Ligt's red card, the Dutch had managed to create just two chances from open play. Unlocking a well drilled defensive block is a task Denmark have not been tasked with completing so far at Euro 2020. Though Wales set out to defend deep, their defensive organisation pales in comparison to that of Coufal, Celustka, Kalas and co. It will be a huge test for Pierre-Emile Højbjerg.
Hojbjerg has been a visionary midfielder this summer, as Russia found out when they failed to stop him from controlling the game. By looking at his high value attacking passes, we can get a sense of how effective he is at penetrating the final third.
Højbjerg has carried the ball into the final third 12 times for Denmark, the 9th best in the tournament, and he has made a pass into the final third 34 times, again the most for Denmark & 8th best in the tournament. Then even more impressively, Højbjerg has made 9 key passes so far at Euro 2020, and made more-shot-creating-actions than anyone else.
While at Tottenham Højbjerg was enacted as more of a destroyer, for Denmark he has been the fulcrum of their side. Stopping his ball-progressive actions will be vital for the Czech Republic. In general, the midfield is where the game could be won or lost. The prospect of Thomas Delaney and Højbjerg matching up against Tomas Soucek and Tomas Holes is tantalising. The Czech pair have been superb so far, with Soucek winning more headers than any other midfielder at Euro 2020.
There have been a few tactical shake-ups already this summer. Most noticeably, France against Switzerland. Perhaps we can expect some more subtle changes for this game. Maehle may move to the right hand side to have more attacking freedom. The Czech Republic may even switch to a back three, although this remains unlikely. What is clear though, is that the approach taken to stifle Denmark's ball progression will be thoroughly interesting. 
Conclusion
With both teams convincingly progressing through to the quarter-finals, it is impossible to call a clear favourite. While most bookies are backing Denmark, the Czech Republic were certainly underdogs against the Netherlands before winning. As outlined, there are a handful of players from both sides who could be key to playing either England or Ukraine in the semi-final at Wembley. Højbjerg, Schick, Maehle, Soucek, and Dolberg have the chance to put their names up in lights in Baku at 17:00 (GMT) Saturday evening.
It is also impossible to ignore the emotional undercurrent surrounding Denmark. The collapse of Christian Eriksen has binded the team and nation together, and that combined with a solid tactical setup is a lethal concoction. Kasper Hjulmand has handled his team incredibly well, with the Guardian detailing how he has become a leader to his side, with players like Joakim Maehle praising his coach following the Eriksen collapse.
The Czech Republic have been professional and tight too at Euro 2020. This is a side with strong international pedigree, having reached the semi-finals of Euro 2004 and the quarter-finals in 2012. Jaroslav Silhavy has also quietly gained plaudits even before the tournament, maintaining a strong relationship with his players. On his first evening with his team as manager in 2018, the Czech-born 59-year-old drank beer with his players, gaining instant respect.
Though Denmark may be the slight favourites, the Czech Republic have proven to be a defensively sound team with talent and technique across every player. They have been tactically sound throughout the tournament, and it could be an evening where they sink the dreams of their Danish counterparts.
Prediction: Czech Republic 2 – 1 Denmark
By: Alex Barker / @EuroExpert_
Featured Image: @GabFoligno / Aziz Karimov / Getty Images