Tactical Analysis: Denmark 0-0 Tunisia
Less than an hour after Saudi Arabia pulled off the shock of the tournament by beating Argentina, Tunisia pulled off a shock of their own by drawing 0-0 against Denmark. Tunisia would operate in a 3-4-3 formation, with Jalel Kadri eager to counteract the 3-5-2 of Danish manager Kasper Hjulmand.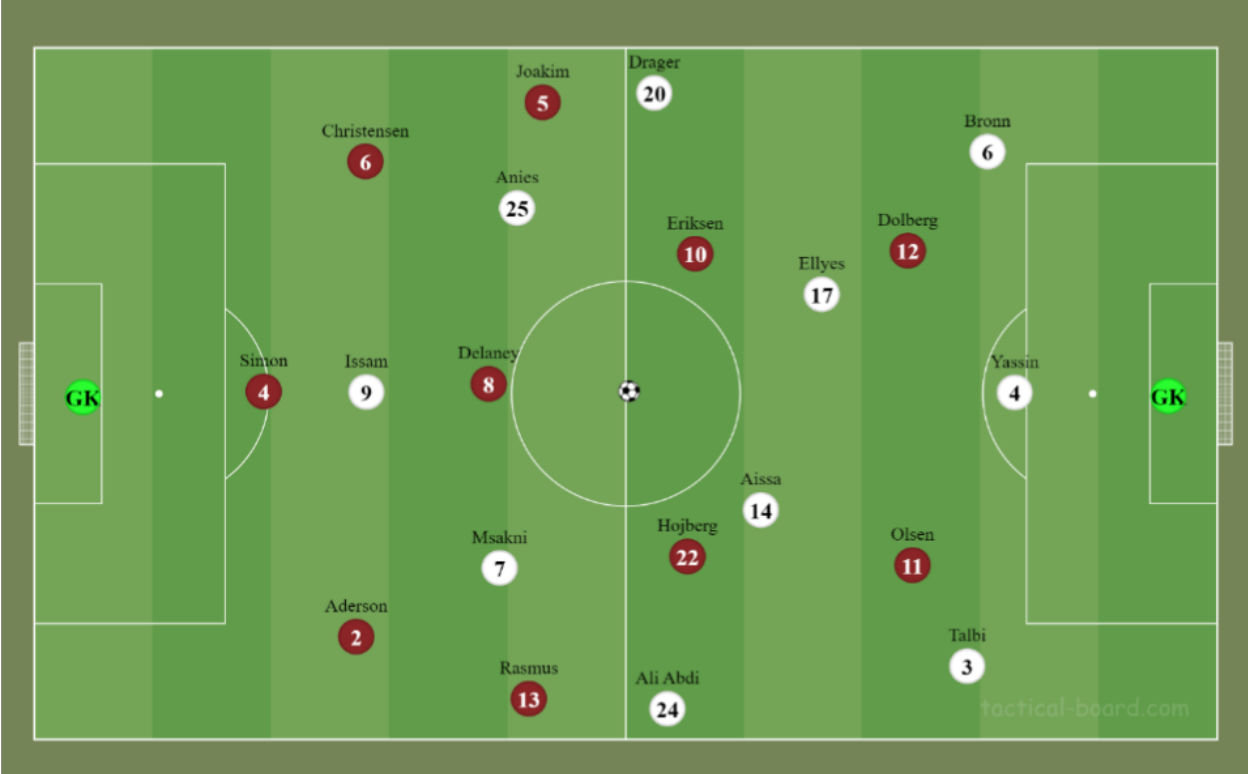 Tunisia's Build-up Play
Tunisia were trying to progress the ball from the back with their three center backs and one fullback in Ali Abdi and their double pivot of Ellyes Skhiri and Aïssa Laïdouni, whilst Mohamed Dräger would push higher. On the opposite side, Denmark went with a 5-2-3 high press, with Christian Eriksen pushing higher to join Andreas Skov Olsen and Kasper Dolberg in the first line of pressure against the Tunisian center backs, with Skhiri man-marking Thomas Delaney.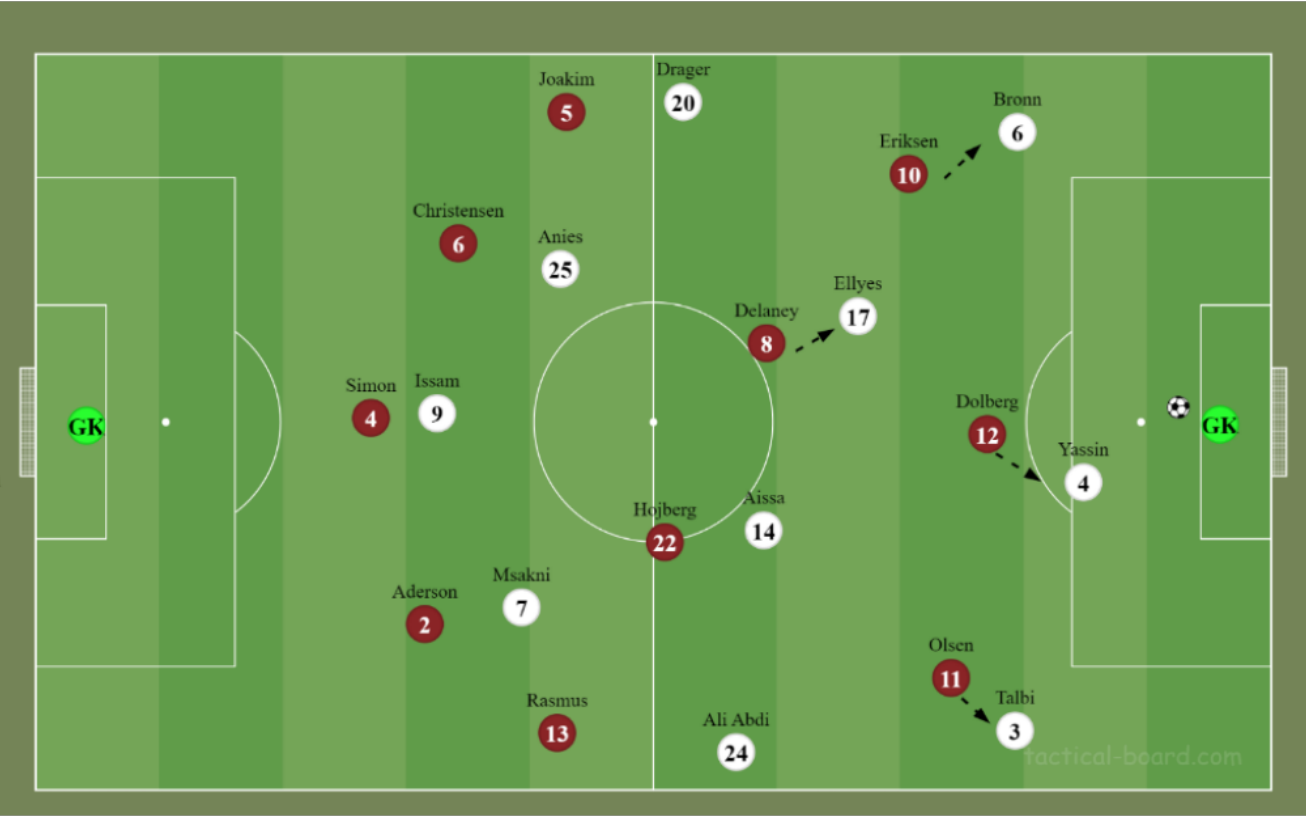 With Dolberg pressing Tunisian goalkeeper, Aymen Dahmen was forced to boot it out, often making long passes towards the right side, with the Tunisians looking to win the second ball.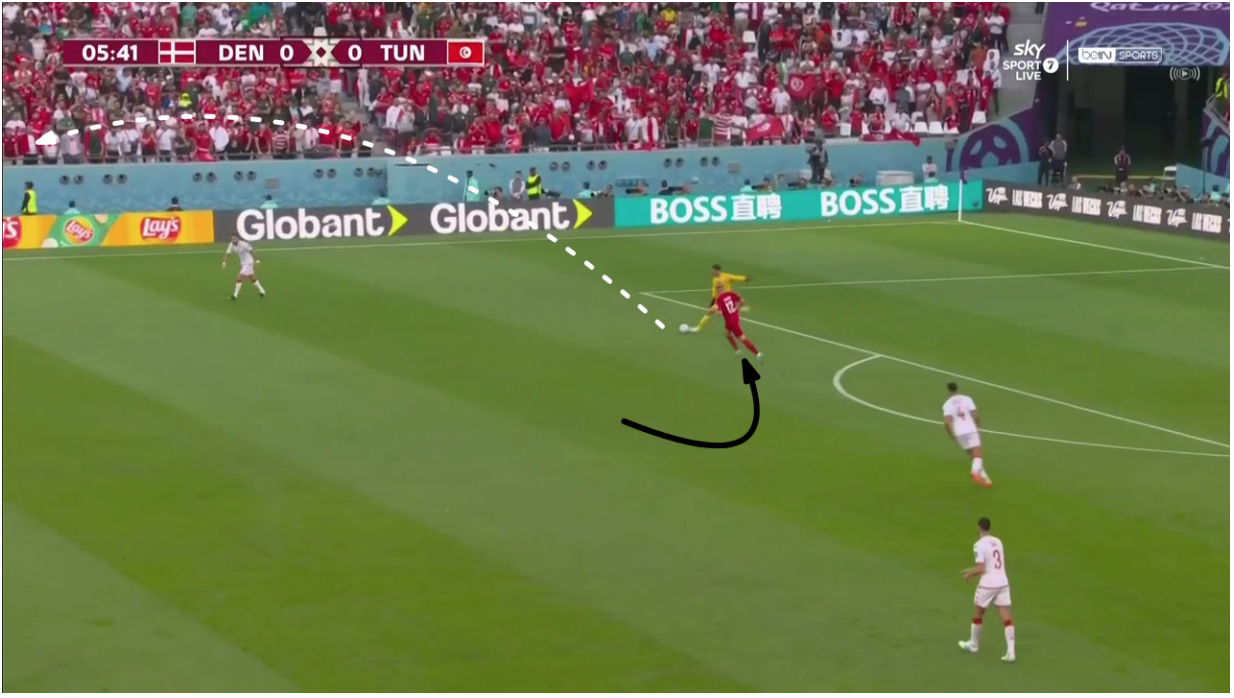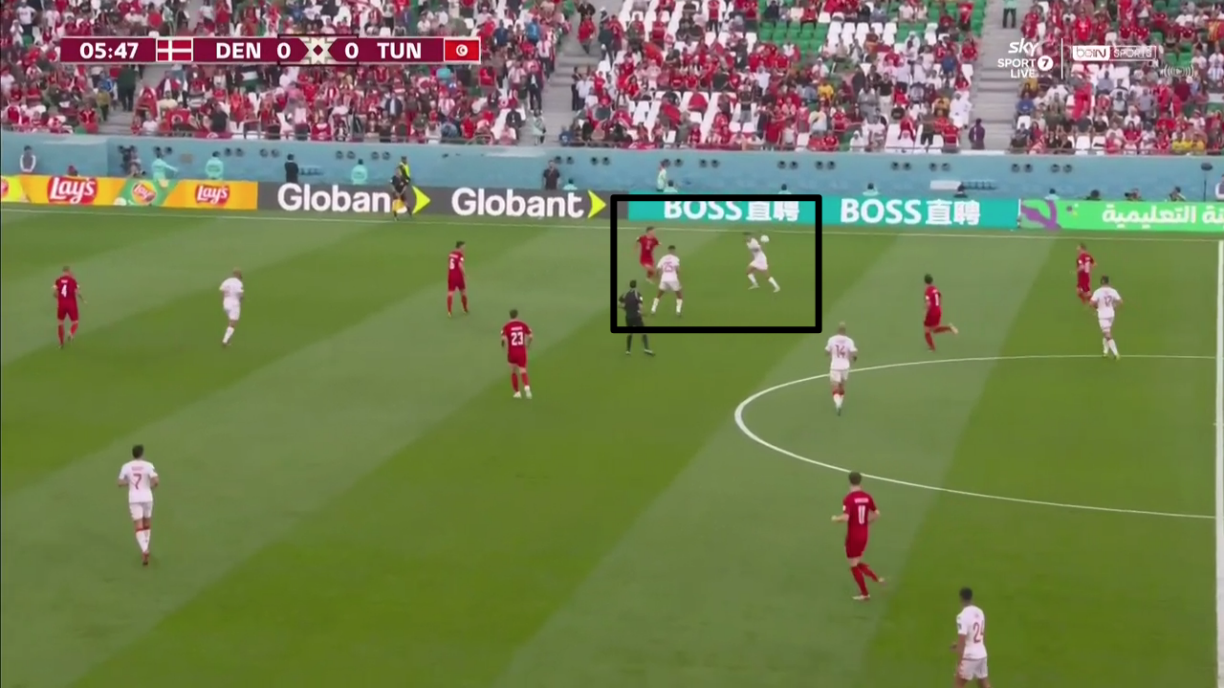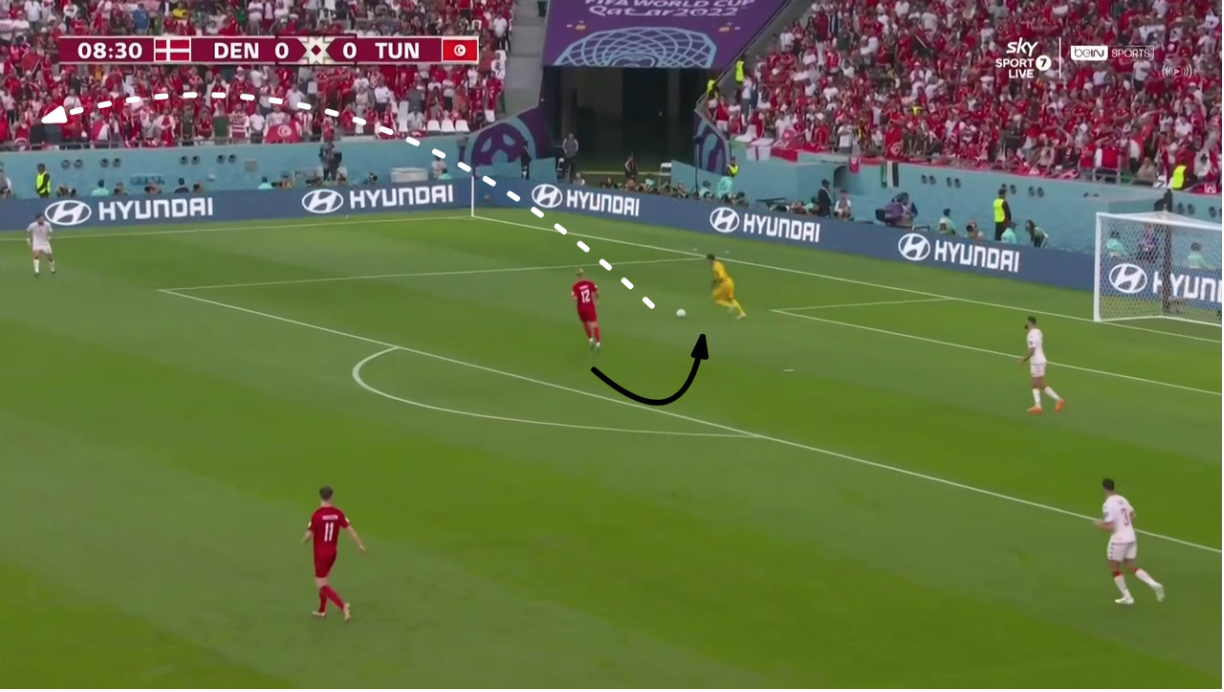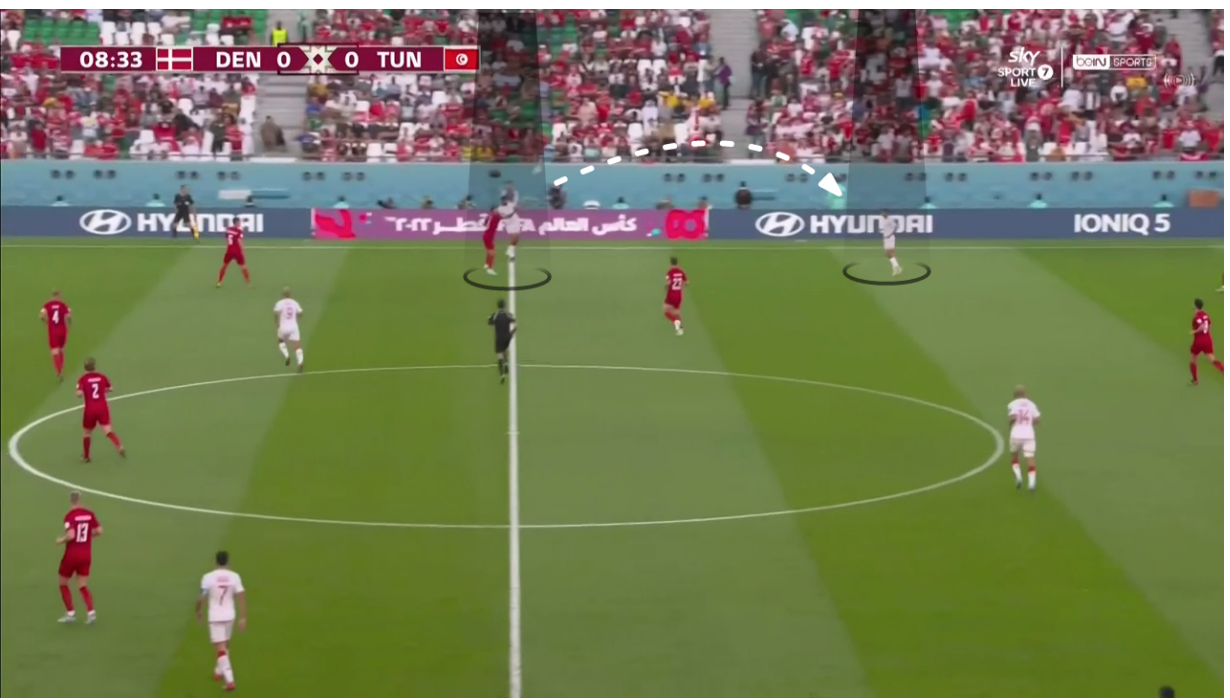 Desperate to not be dominated in the possession game, Tunisia sought to make their build-up play more effective with Laïdouni dropping closer to Skhiri to create 2v1 situations against Delaney and progress the ball forward.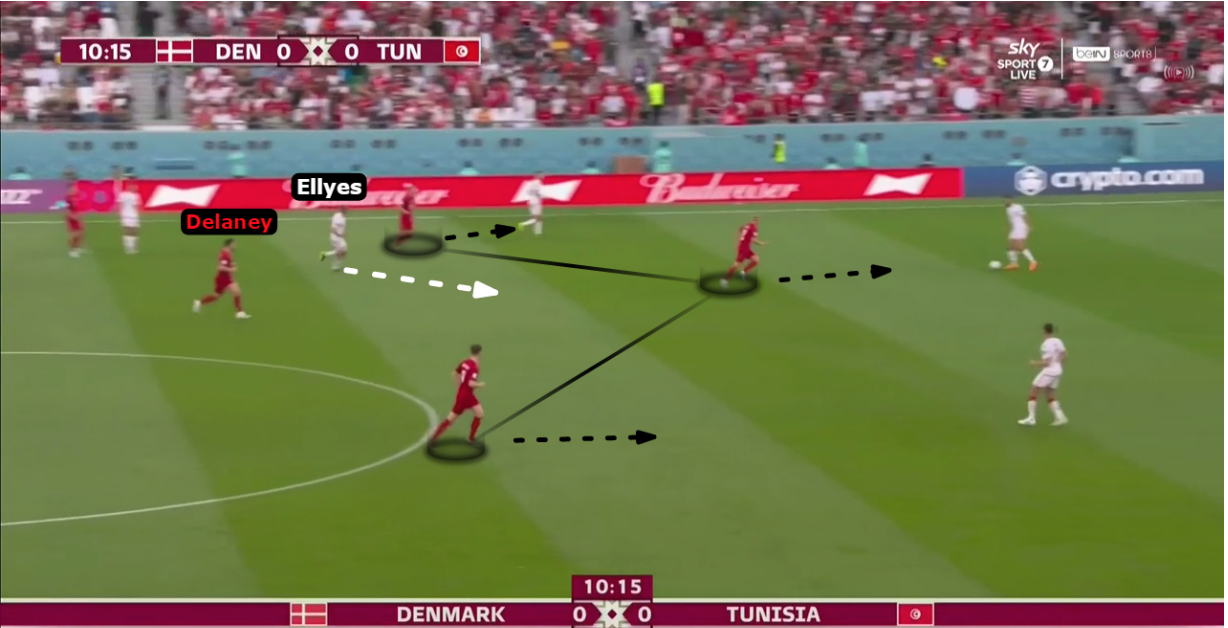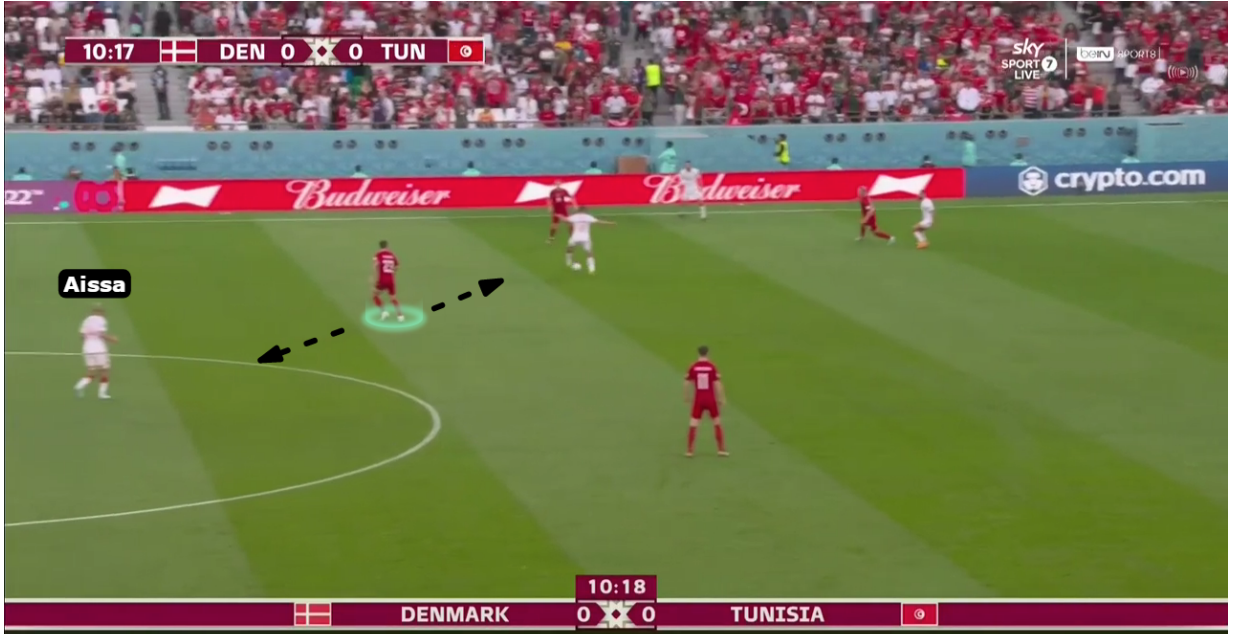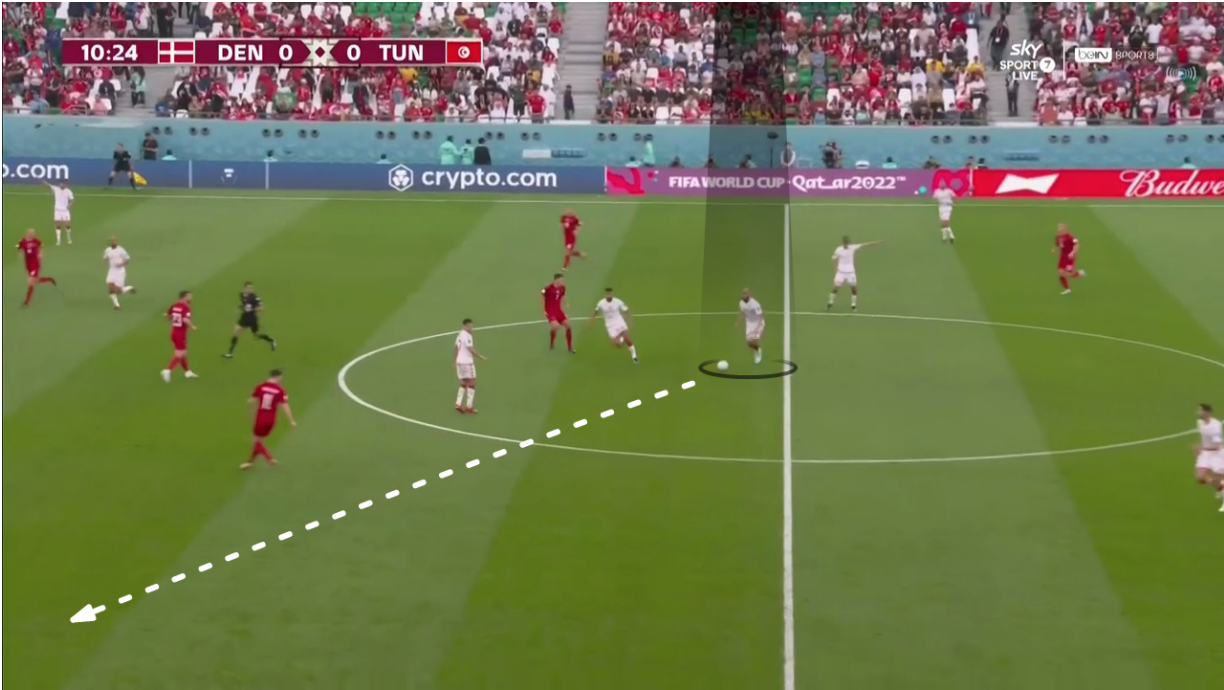 We can see another example of how the Tunisian double pivot broke the opponent's press here. When Delaney became more aggressive in closing down Skhiri, Laïdouni would drop back more to receive the ball rather than his teammate in order to shift the play towards the left.
Here, the Danish right back Rasmus Kristensen would be forced to push up and press Abdi, giving Laïdouni the chance to attack space in behind, drawing Delaney to free Skhiri from the Sevilla midfielder's man-marking, and enabling Skhiri to find Laïdouni in the space that was vacated by Kristensen moving up.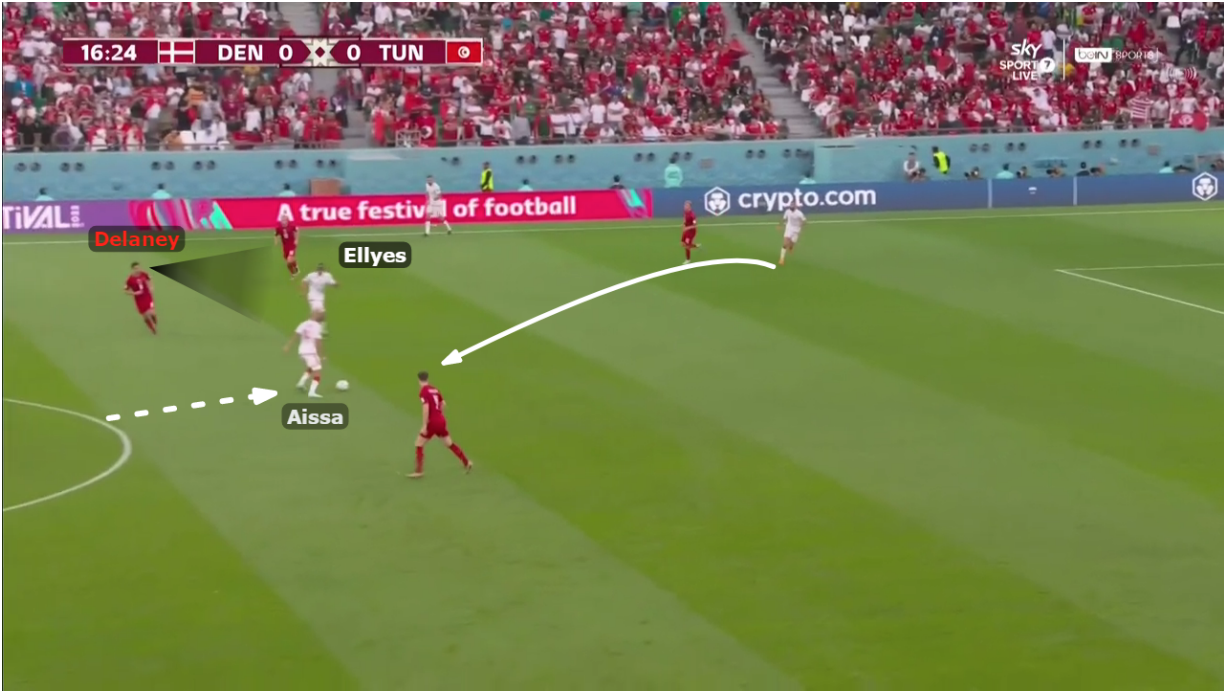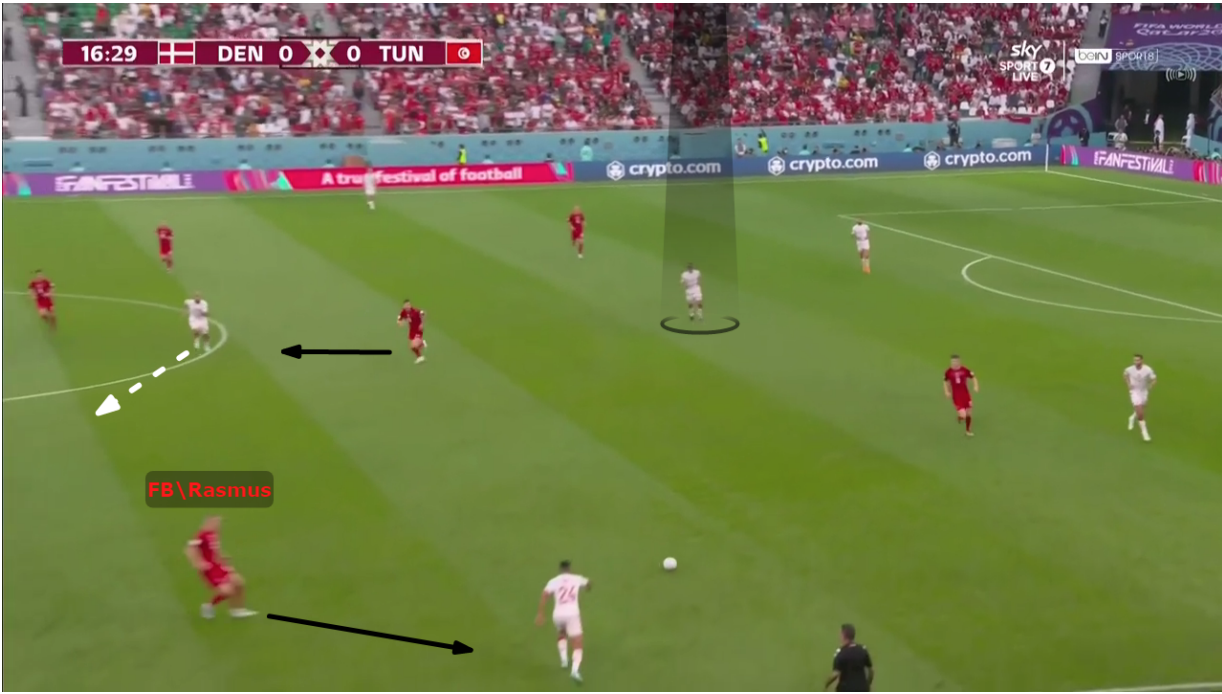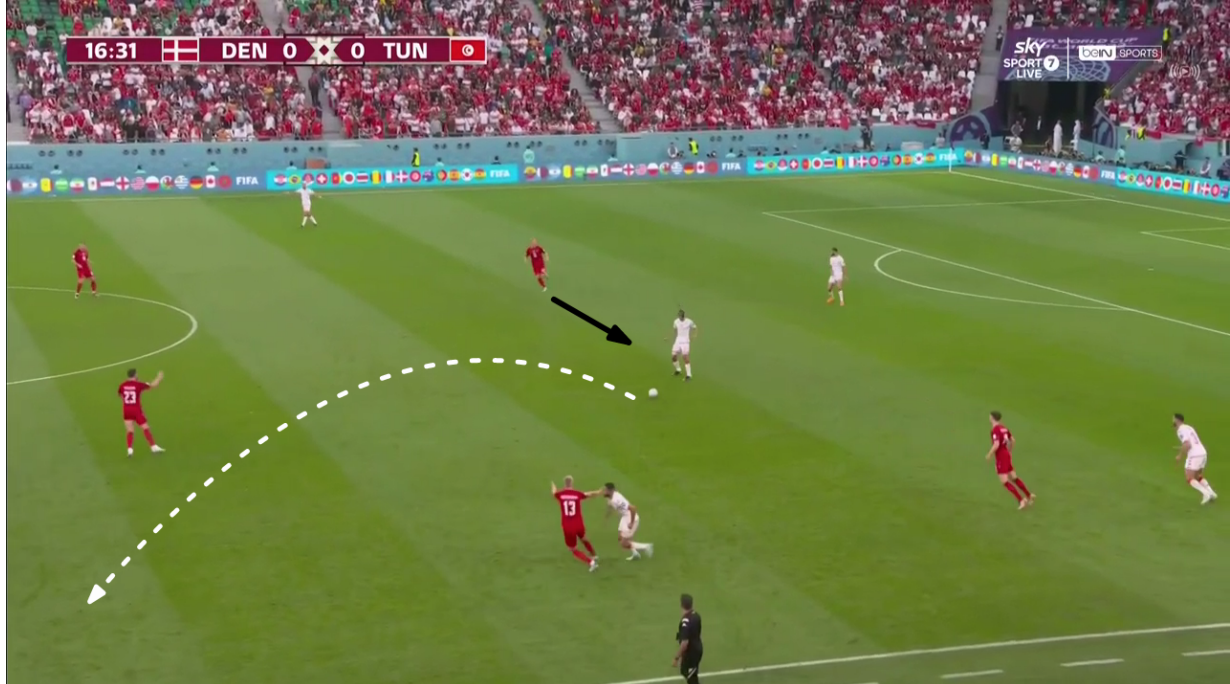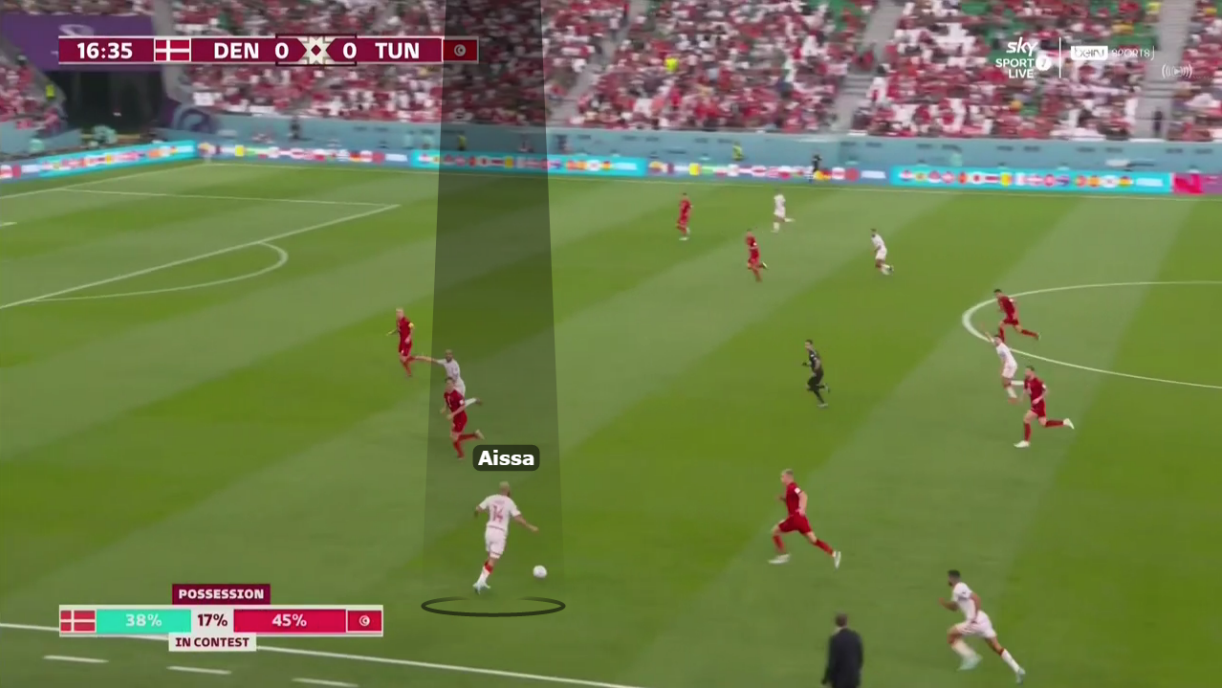 It should come as no surprise, then, that on a pitch that featured the likes of Christian Eriksen, Joachim Andersen, Pierre-Emile Højbjerg and various other big-name players, it was Aïssa Laidouni who received the Man of the Match award. The 25-year-old Ferencváros midfielder ran the show and allowed the Eagles of Carthage to open their campaign with a desperately needed point, completing 46 passes with an 80% accuracy and making four passes into the final third.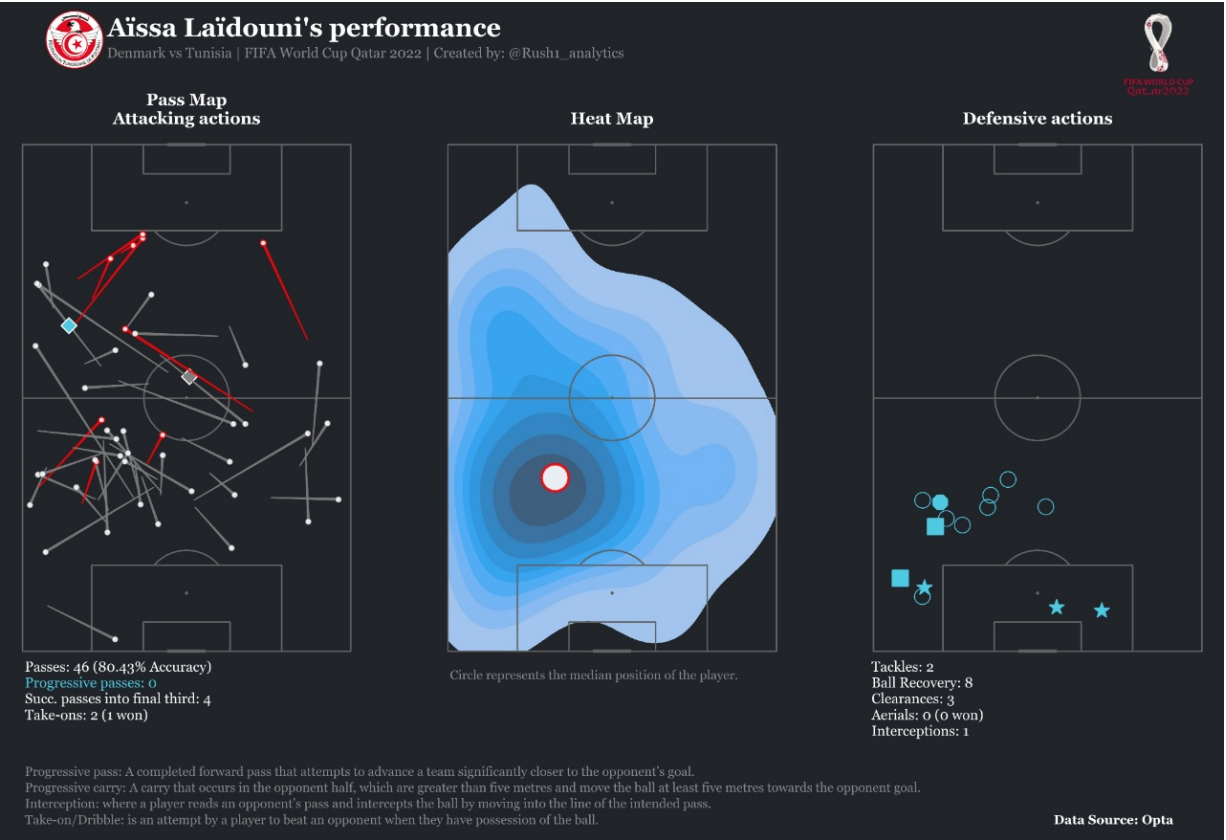 Created by @Rush1_analytics with data from Opta
Attacking Transitions
Youssef Msakni played a crucial role in Tunisia's attacking transitions as the focal point of their counters. He was constantly trying to position himself in the free spaces, mainly the middle third of the pitch, and was a solid passing option for his teammate. The 32-year-old was responsible for ball progression between the defensive line and attack during transitions and delivered two key passes that were squandered by the center forward Issam Jebali.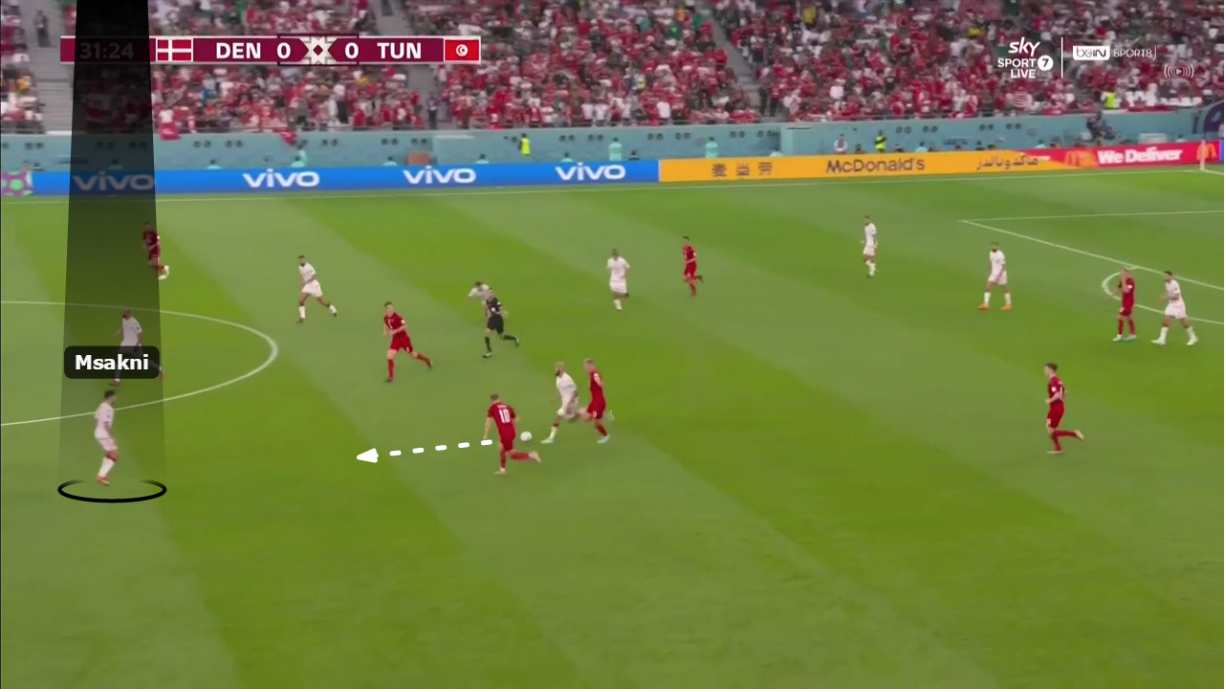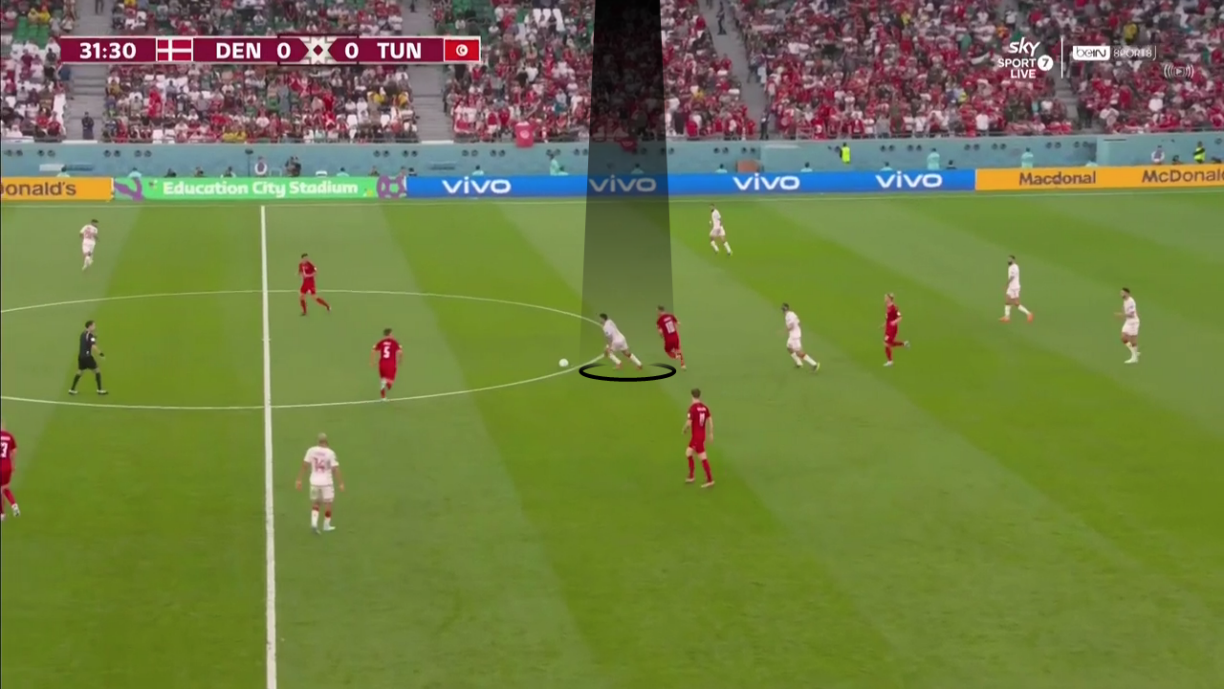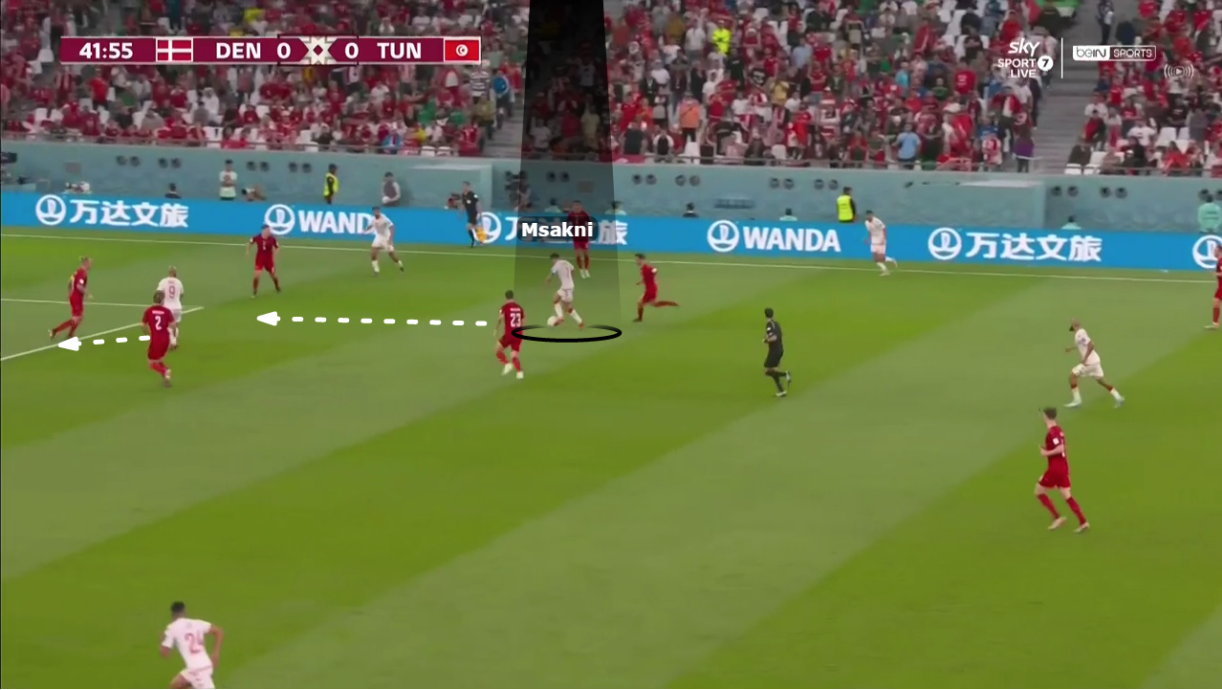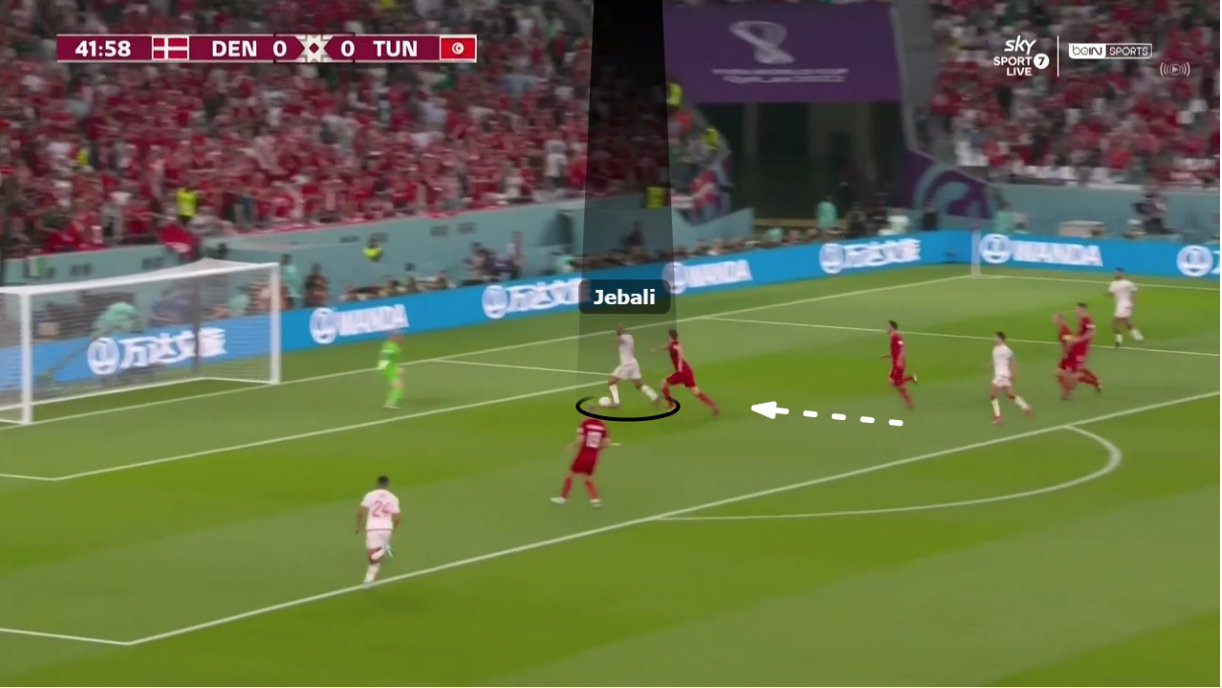 By taking a look at Tunisia's passing network, we can get an even better understanding of Msakni's importance in their attacking transitions.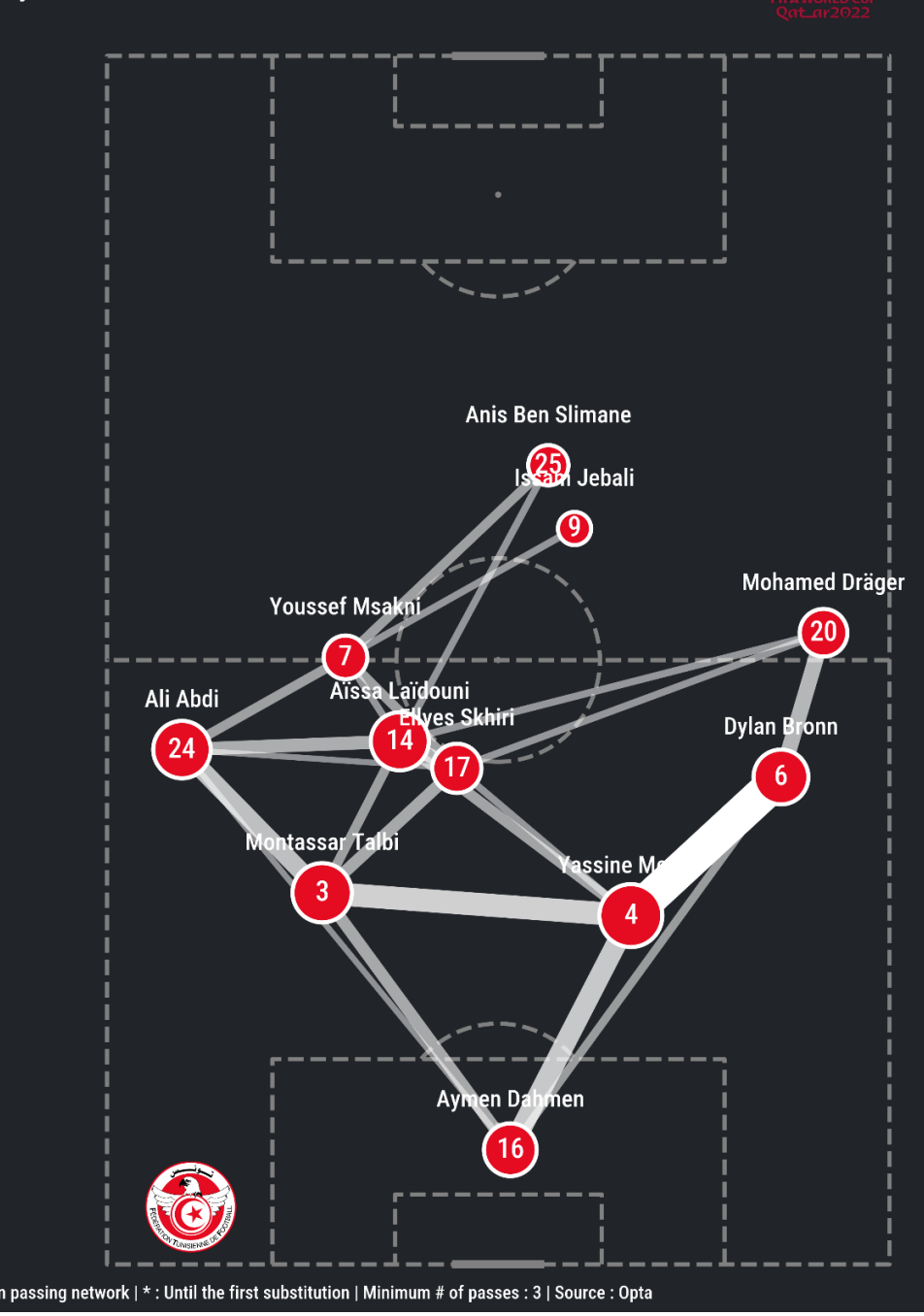 Created by @Rush1_analytics with Opta data
Tunisia's Mid-block
During mid-block situations, Tunisia were keeping a 5-2-3 shape against Denmark's 5-3-2 with Msakni, Jebali and Anis Ben Slimane — a Danish-born player who plays in Denmark — pressing the three Danish center backs whilst cutting off the passing lane towards Højbjerg by keeping him in their cover shadow, whilst Eriksen and Delaney were being man-marked by the two Tunisian midfielders.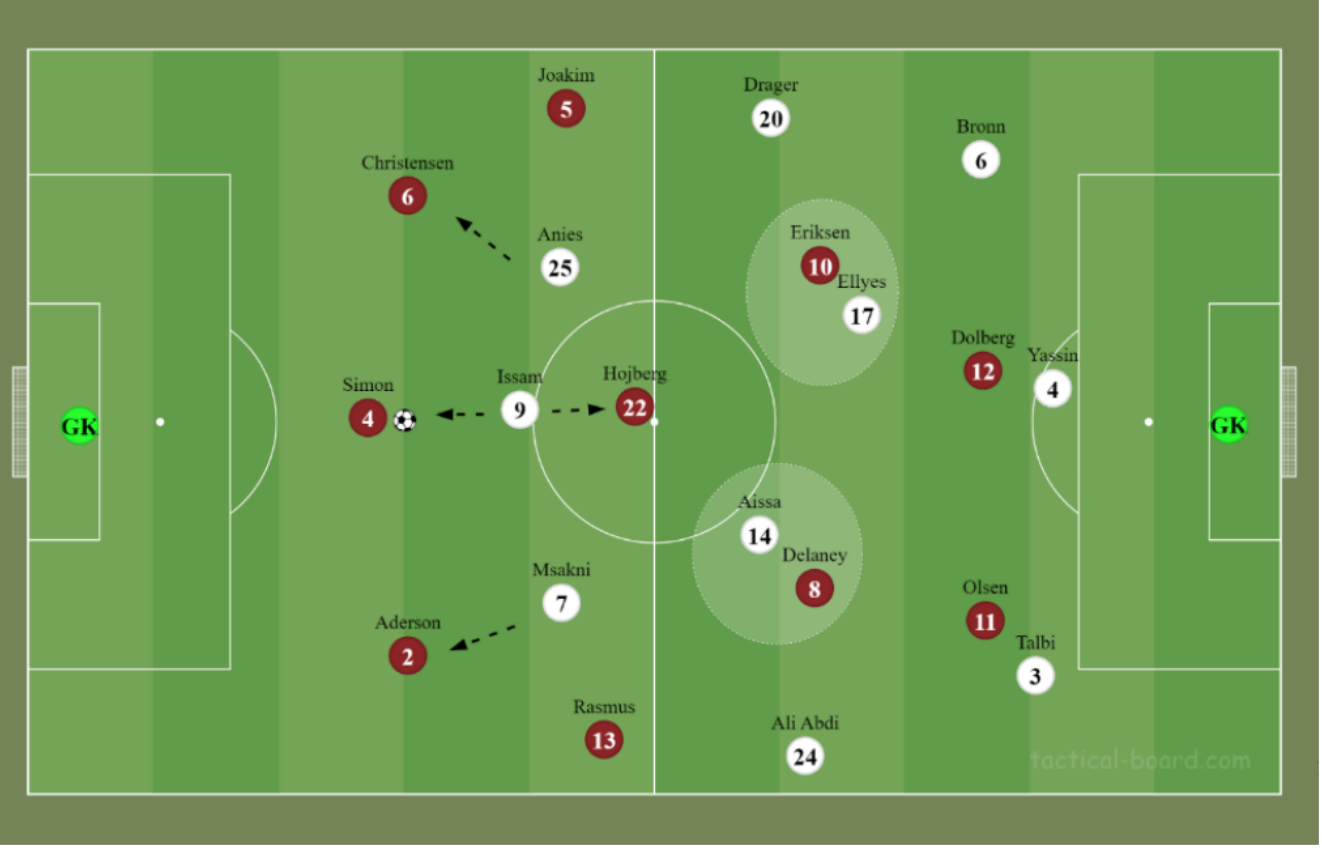 Even when Eriksen dropped down to receive the ball, Skhiri always kept an eye on him. Without any forward passing options, Eriksen was forced to return the ball to the center backs who attempted to deliver accurate long balls.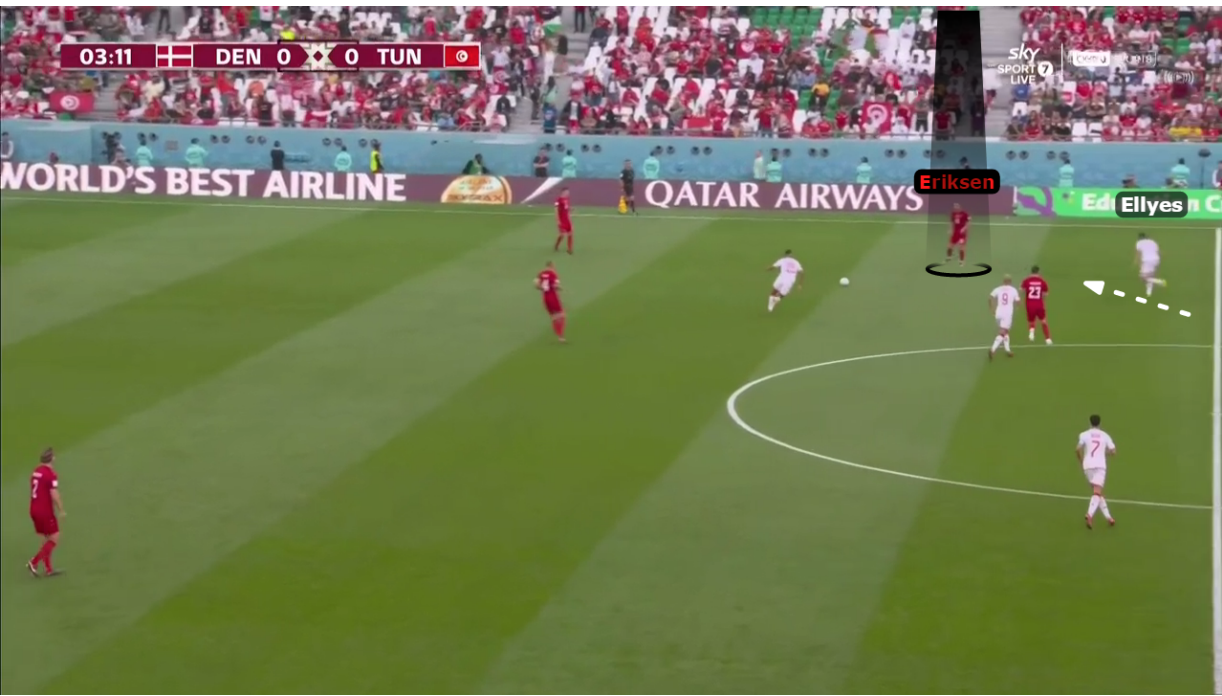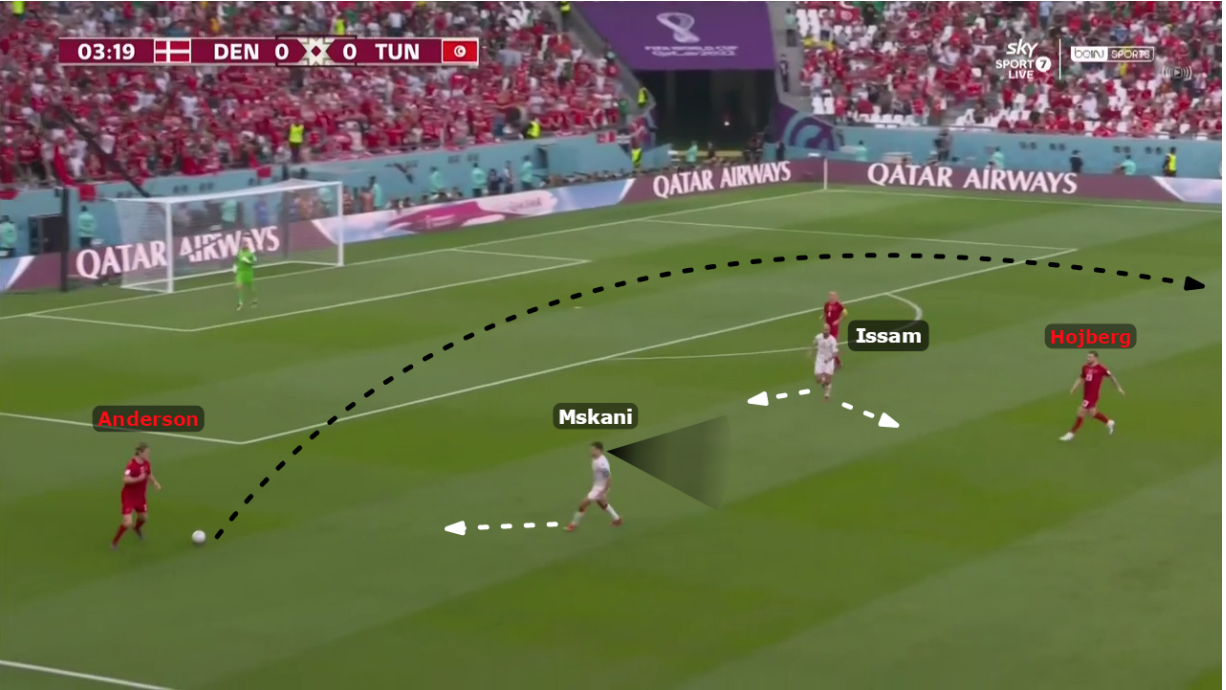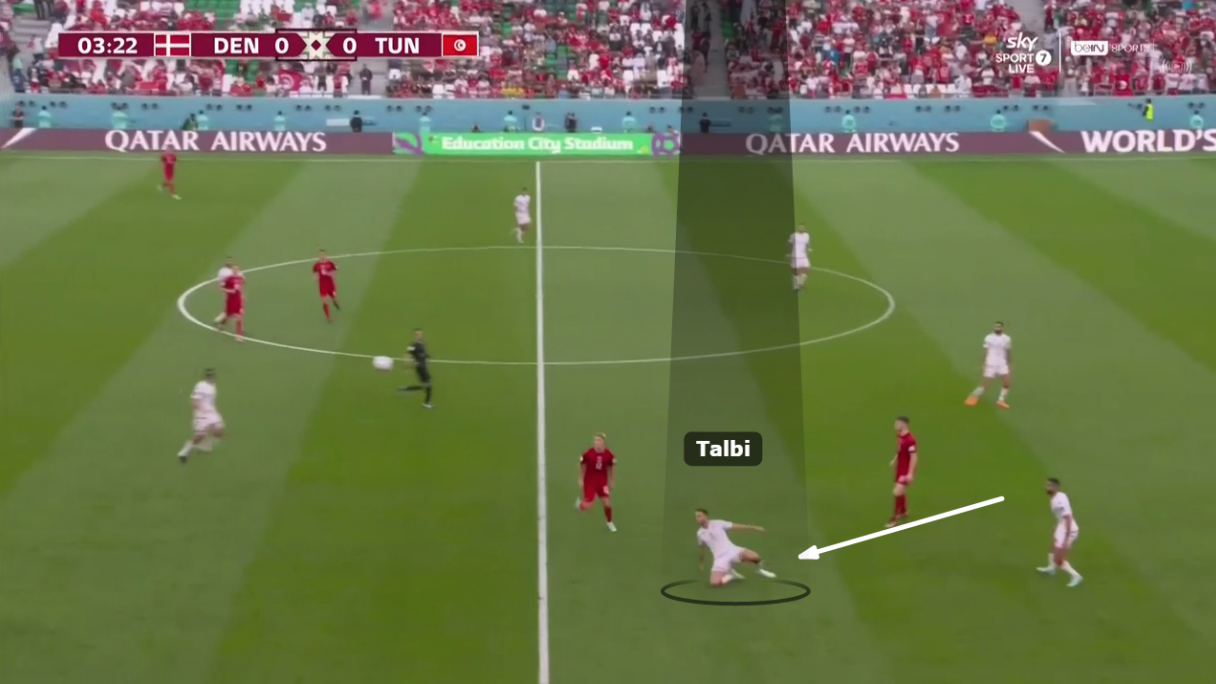 Denmark would then try another scheme to create numerical superiority by stretching Tunisia's first line of pressure, with Højbjerg drifting wide to free up Delaney as a second passing option. This would ensure Denmark's superiority in the defensive half of the pitch, creating a 5v3, but it would nevertheless reduce the passing options up front and making Tunisia's players press higher up without fear.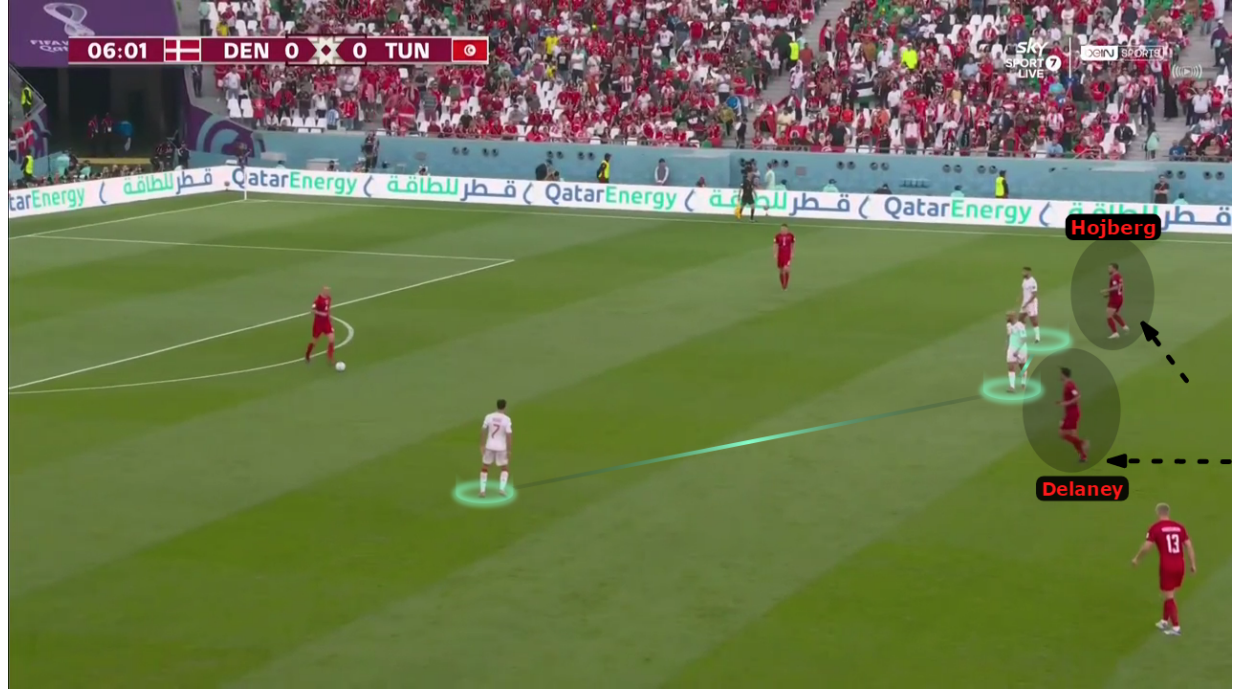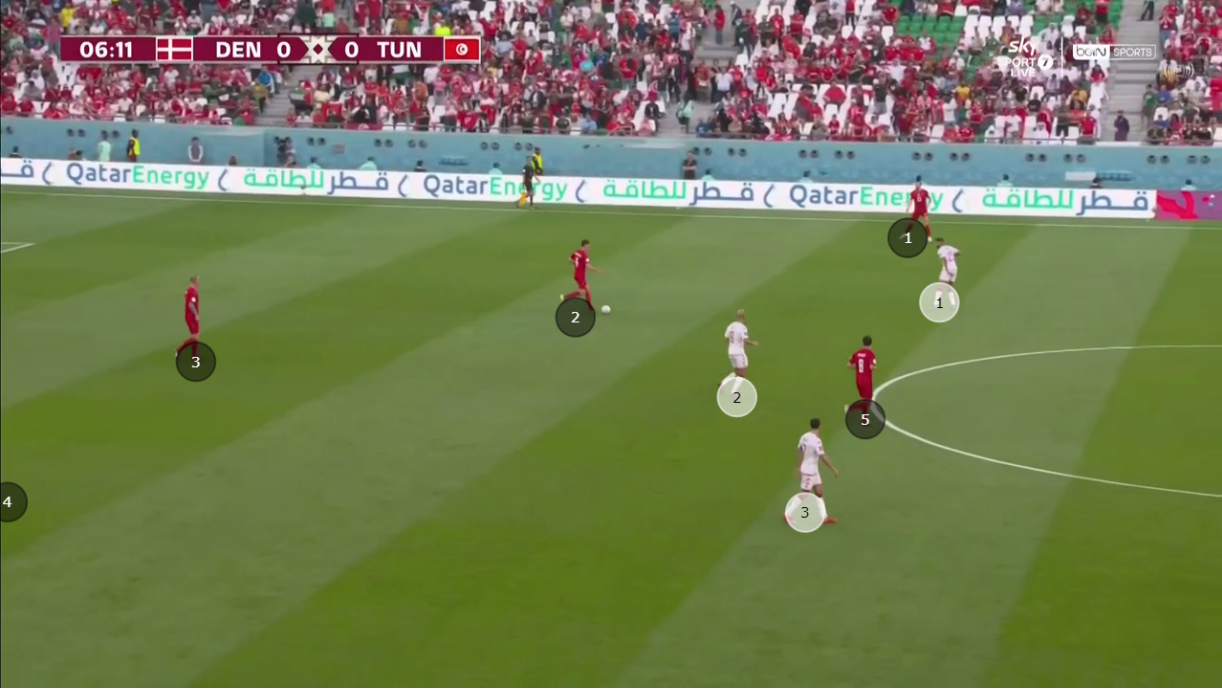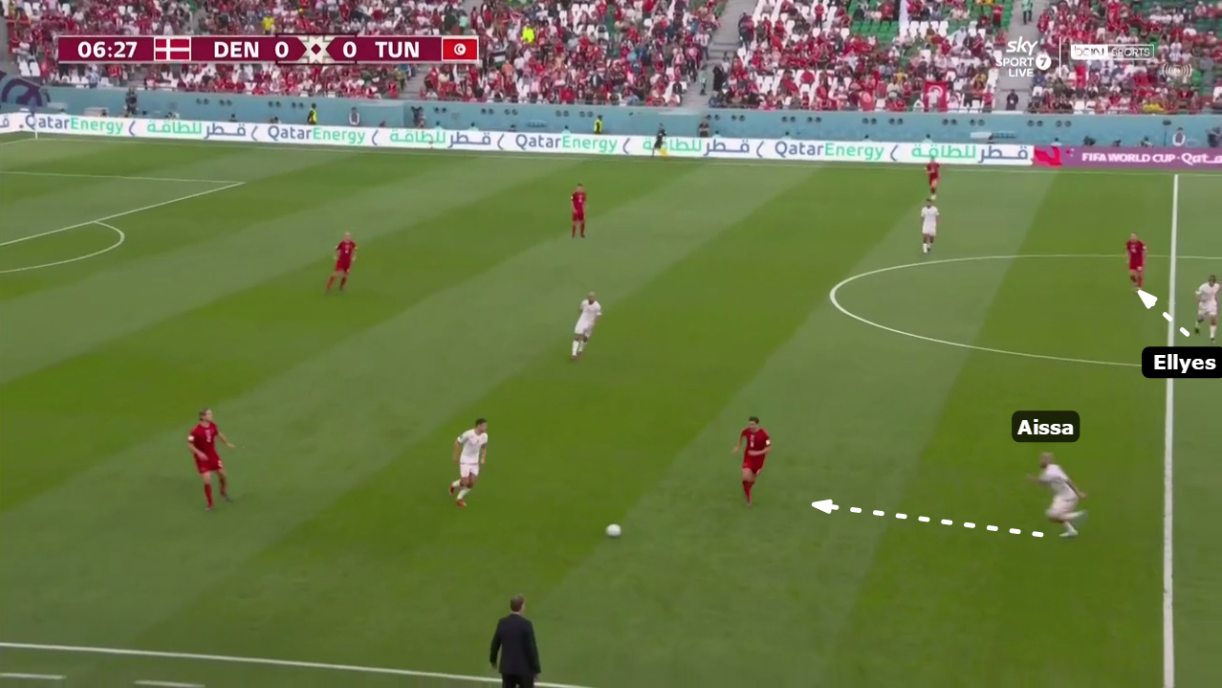 With a 2v1 situation in the wide areas with no passing options, it is easy to cut the ball out. Even when Eriksen dropped as a third midfielder to support the ball progression, a Tunisian center back would step up to press him. Denmark would have seven players behind the ball, thus making things easier for their opponents.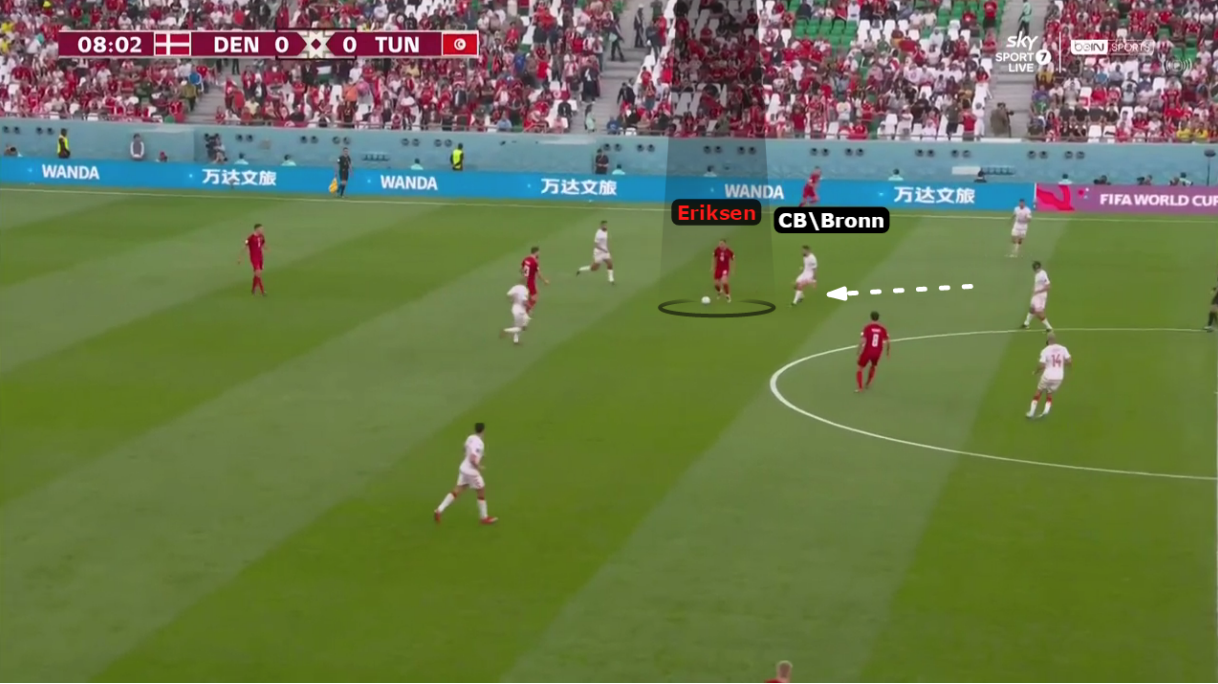 Tunisia's Shift to a Low Block
With a five-man low block, it is easy for one of them to jump high up or wide to engage the player in possession, knowing that they have enough players back to ensure numerical superiority on the flanks and in the center. This meant that Tunisia were not left exposed by one player pushing up to press the opponent.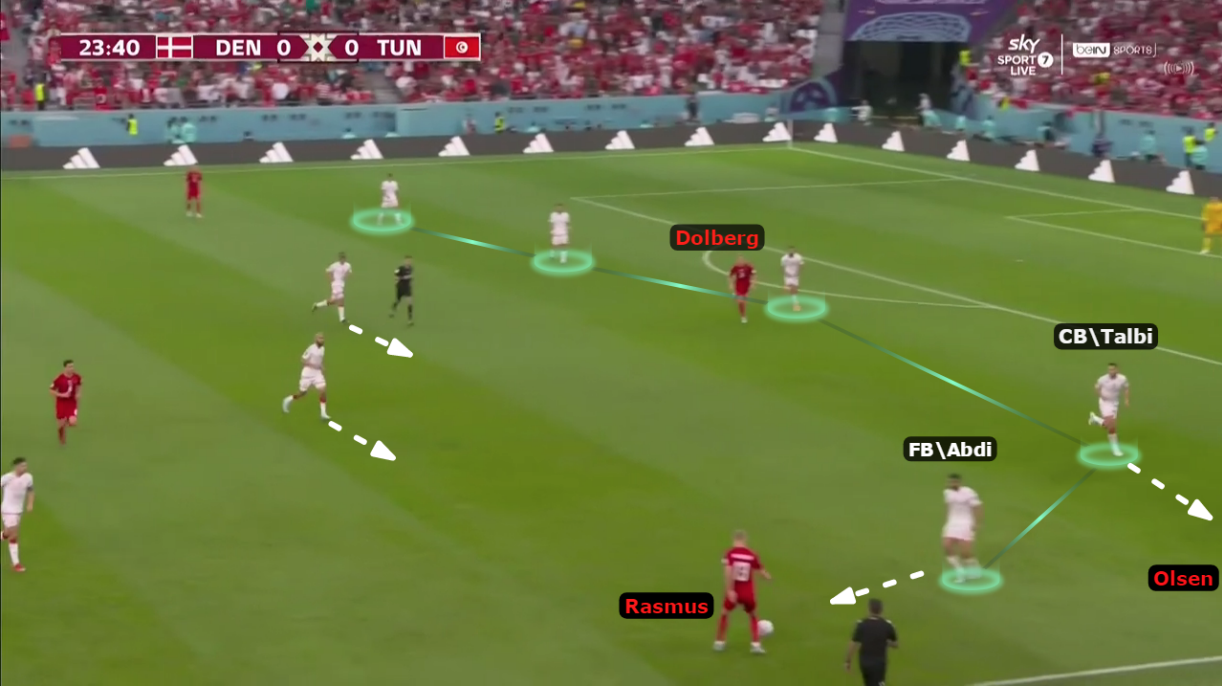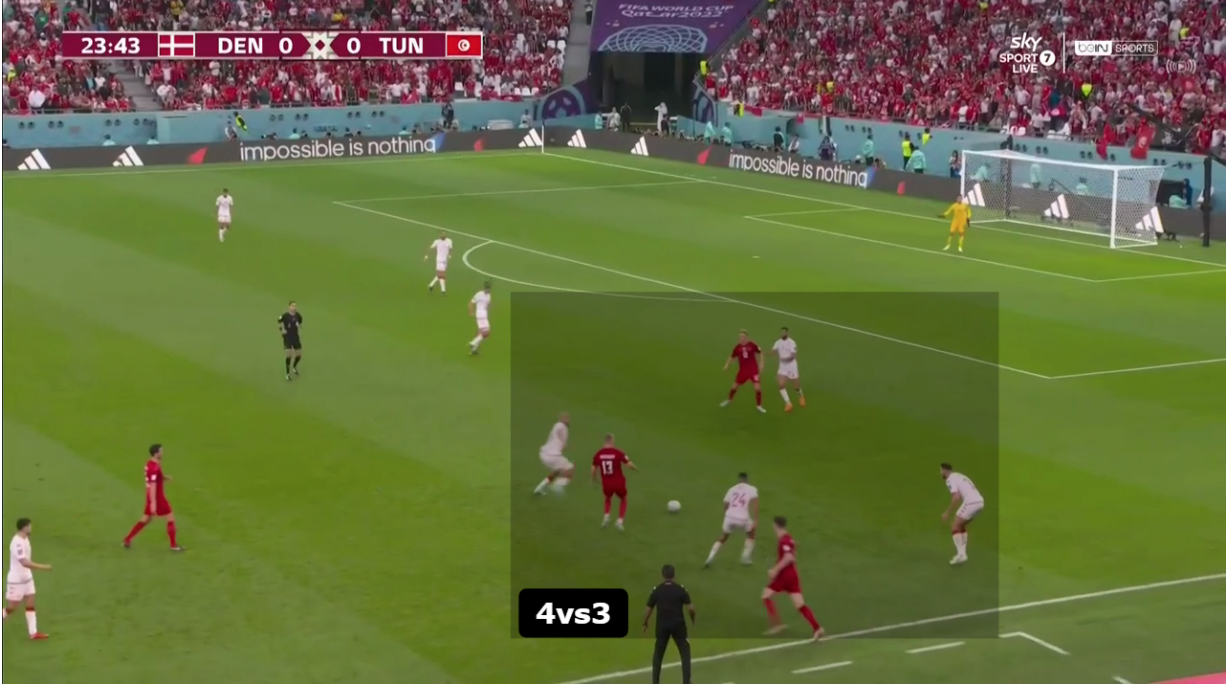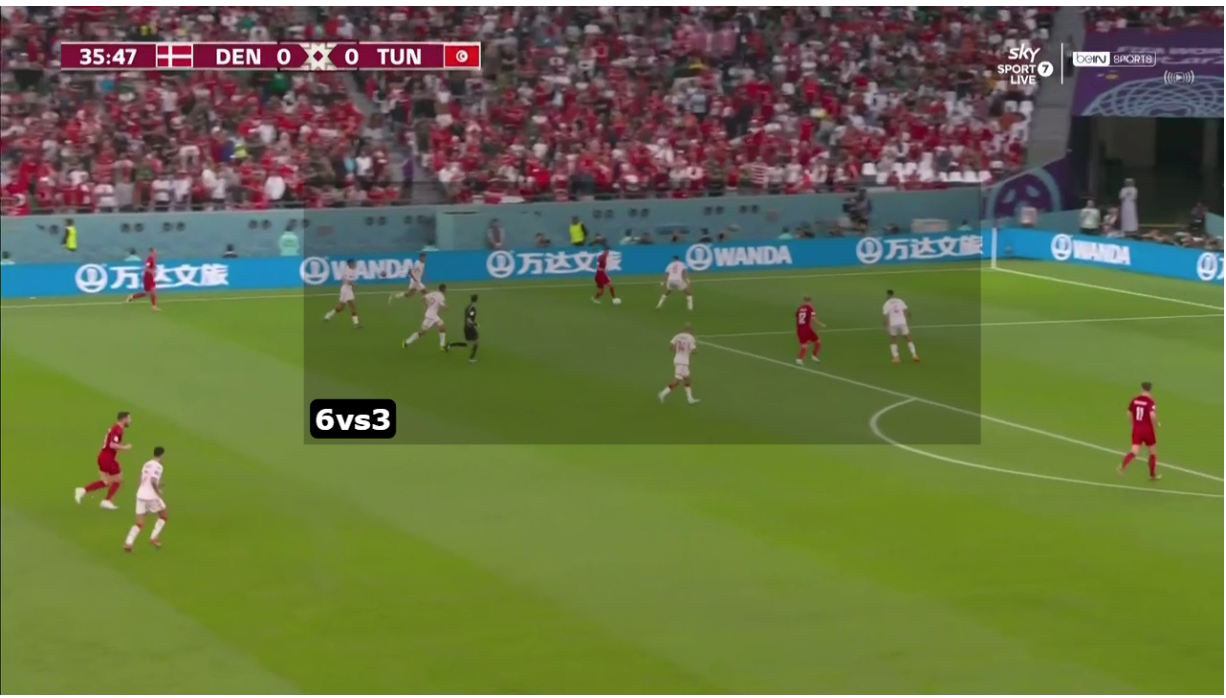 Prior to the halftime whistle, Hjulmand subbed on Mikkel Damsgaard after Delaney picked up a knock from a slide tackle by Msakni. Denmark change the shape to attempt to overcome Tunisia's mid-block, as Damsgaard became the free player against Tunisia's double pivot to receive the ball in between the lines to start progressing the ball forward. However, Tunisia's defensive shape stayed resolute and prevented Denmark from creating a golden chance to win the game.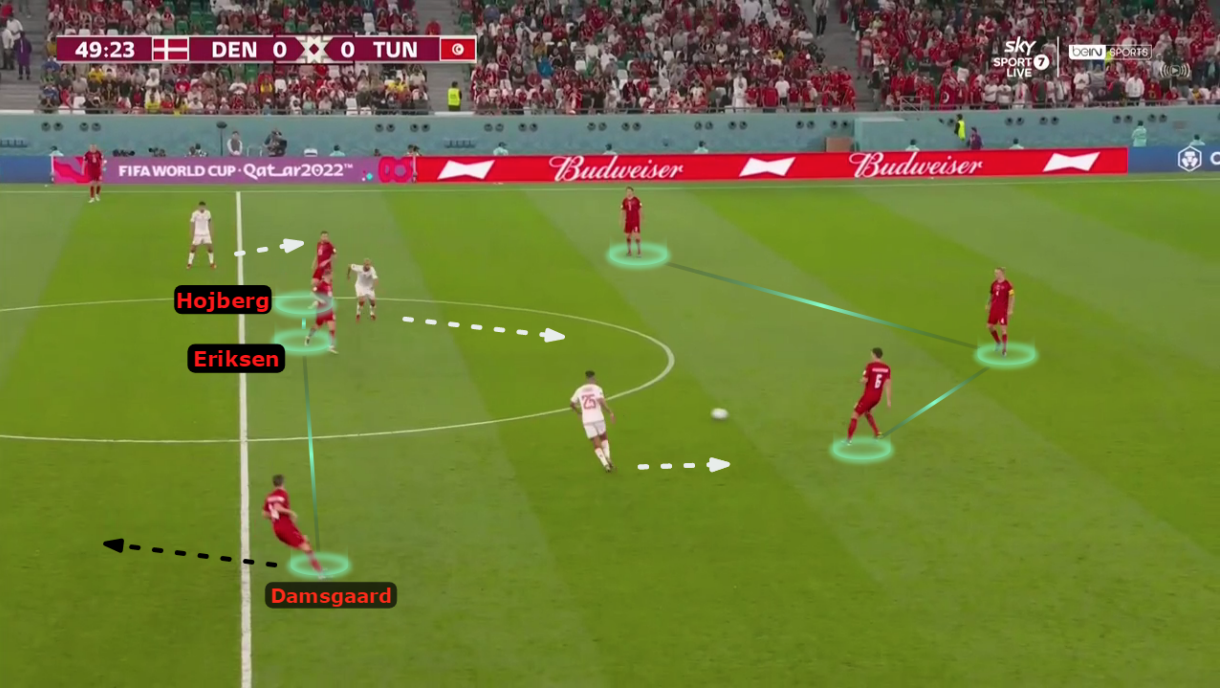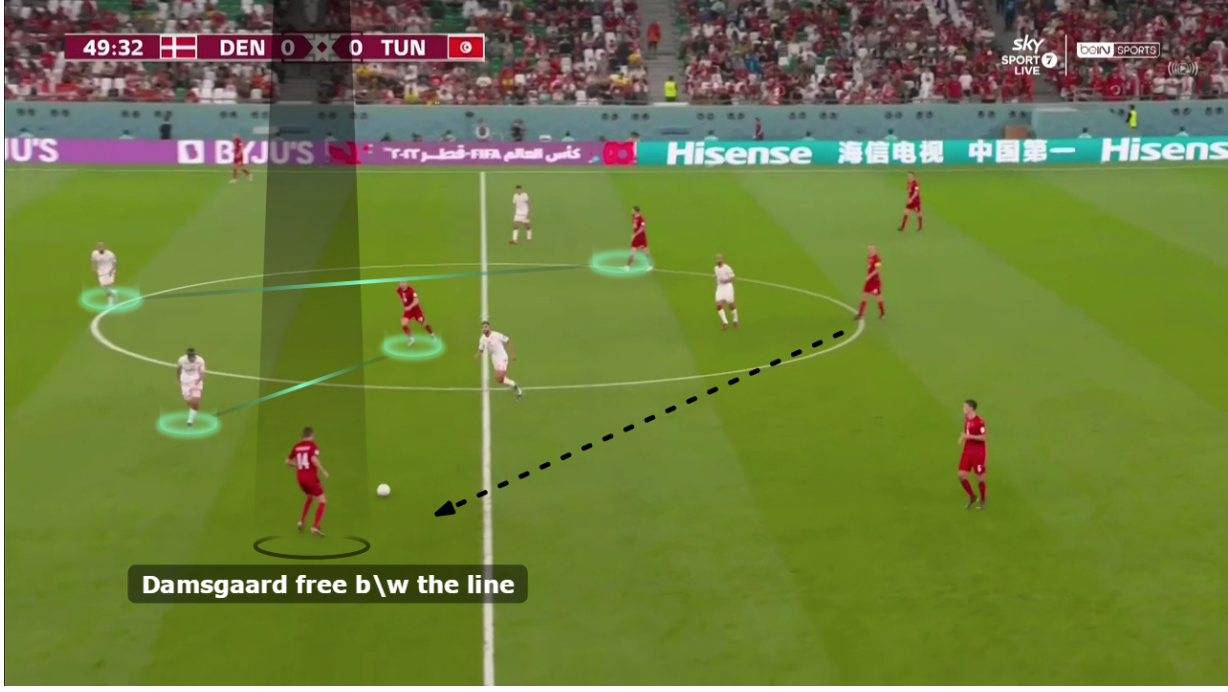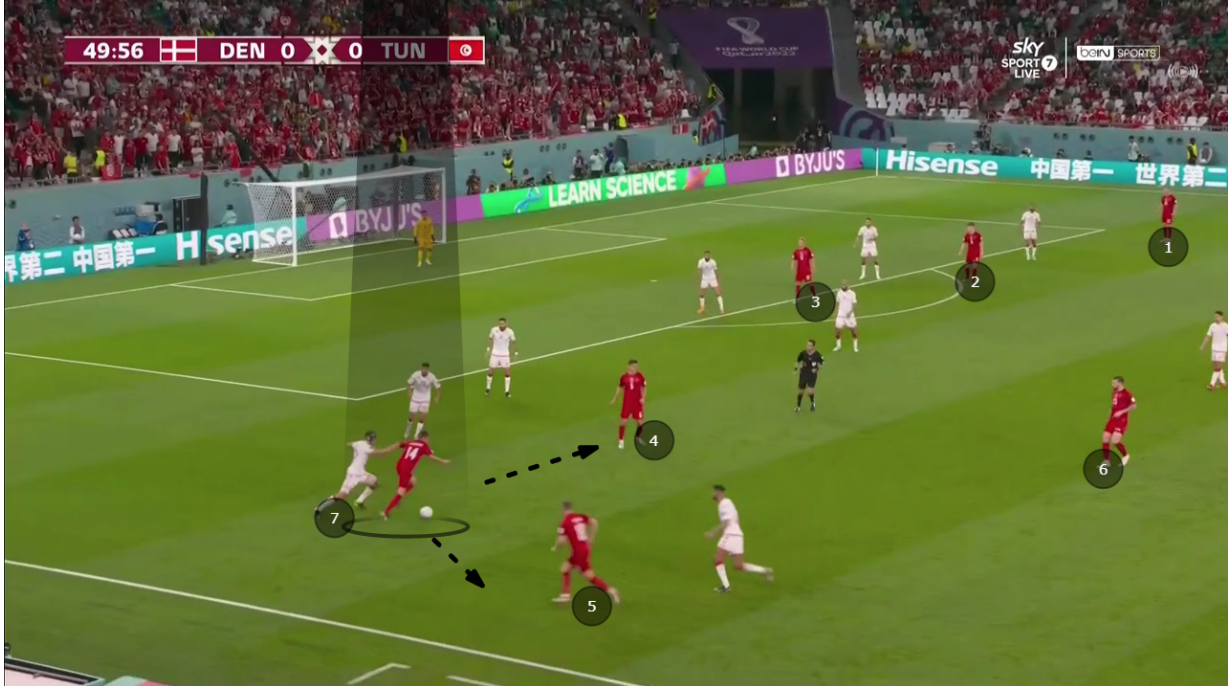 Conclusion
Tunisia enjoyed a strong first half and had their fair share of chances to grab an opener, but their lack of stamina showed in the second half as their pressing line dropped back, allowing Denmark to create several chances. But despite Mathias Jensen, Andreas Cornelius and Jesper Lindstrøm coming on, the Eagles of Carthage held on and settled for a point against the Danes, with the North African nation picking up their first clean sheet in a World Cup match since 1978.
By: Mohammad Bani Atta / @TacticalZone14
Data by: Yahia Rashwan @Rush1_analytics
Featured Image: @GabFoligno / Martin Rose – Getty Images