Tactical Analysis: Der Klassiker
Over the past decade, few rivalries have lived up to the hype on such a consistent basis as Der Klassiker. Bayern Munich and Borussia Dortmund's clashes tend to provide a heaping dose of excitement and nerves, and in the most recent fixture on November 7, the match between Hansi Flick's Bayern and Lucien Favre's Dortmund did not disappoint.
Coming into the match, 2nd-placed Dortmund had lost one match and given up a league low of two goals. On the other side of the field, top-of-the-table Bayern Munich touted the best goal scoring record in the league by a wide margin.
Whilst the Bavarians went with their traditional 4-2-3-1 formation, Favre decided to switch from his trusted 3-4-2-1 and revert to the 4-2-3-1 in order to cope with major absences in defense, with Dan-Axel Zagadou unavailable for selection and Łukasz Piszczek and Emre Can returning from injury, whereas for Bayern, both Niklas Süle and Alphonso Davies missed out due to injury.
Immediately as the game started, it became clear that both teams came to win. Bayern's pressure was relentless, regardless of where Dortmund had possession. The pressure that Dortmund applied was similar, attacking them in both the central third and the defensive third.
With Bayern, their pressure was not only intense, but it was also very calculated and intentional. Out of possession, they lined up in a 4-4-2, where Thomas Müller came level with Robert Lewandowski. The wingers on the other hand, dropped into the half spaces, creating a narrow midfield that cut off easy progression routes, as seen below: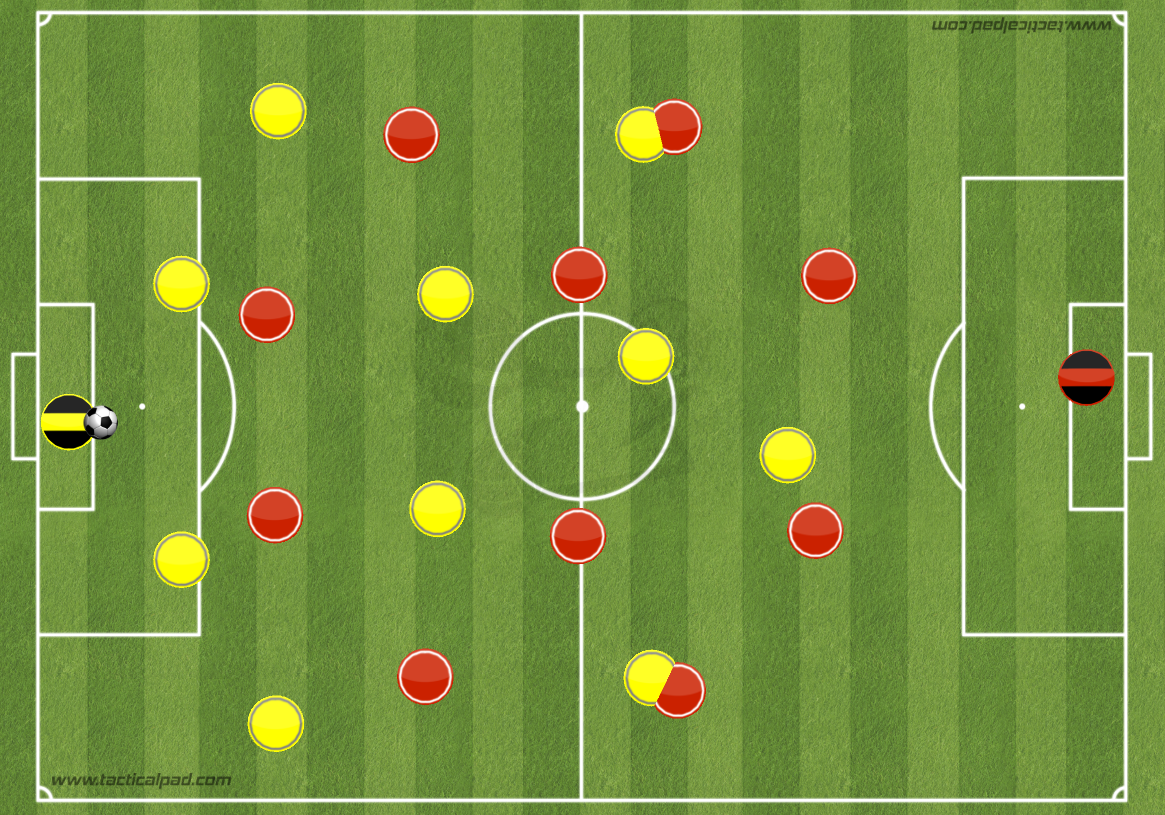 To deal with this pressure, Dortmund used three main methods. The first was using their defensive midfielders, fullbacks and wingers to combine and escape. The second was a long ball from center-backs to Erling Haaland who acted as a target man. The final method used was deep crosses from their fullbacks, as seen below from Thomas Meunier to Giovanni Reyna.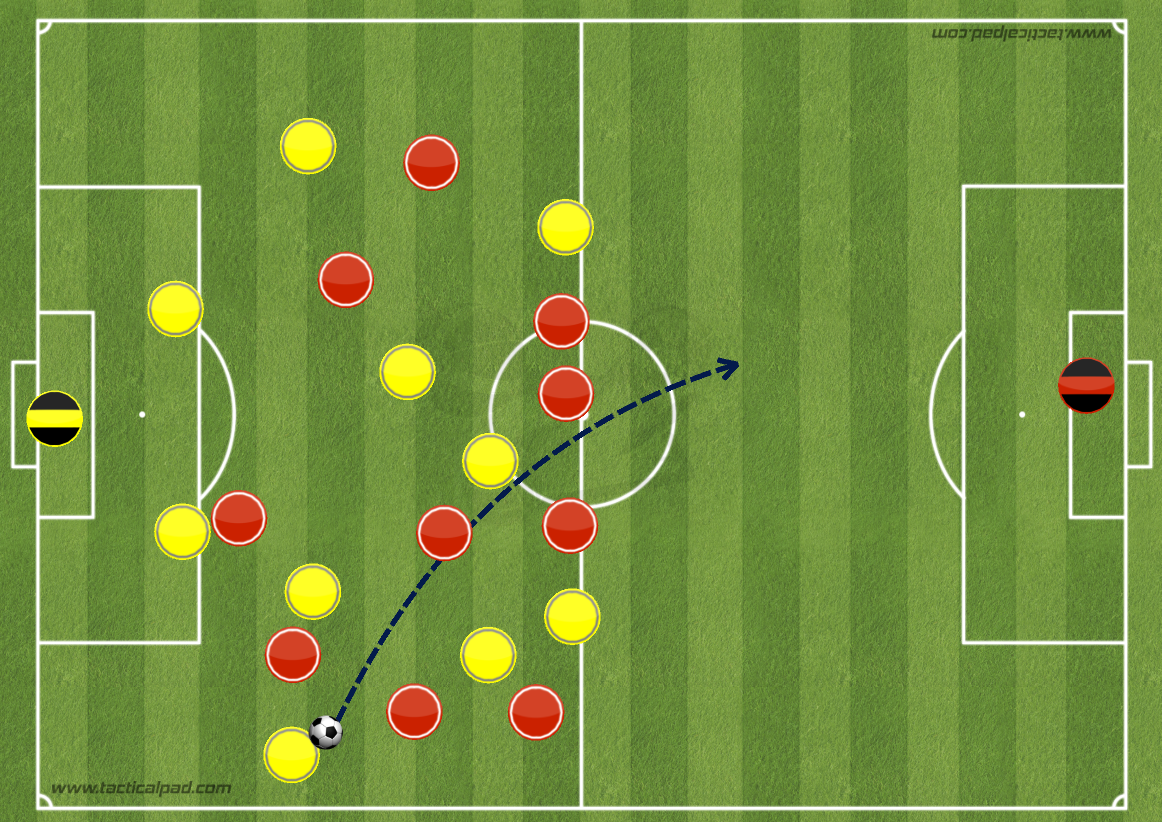 By using these methods, Favre was able to exploit the strengths of Dortmund's squad with fast paced attacks that pass through the lines. Dortmund also used their own pressing as a means of attack, by winning balls through numerical advantages in the center of the field. 
In the attack, Dortmund would win the ball and break quickly, looking for places that they could exploit the high line of Bayern. Often, this was done on the wings, where Reyna and Jadon Sancho operated.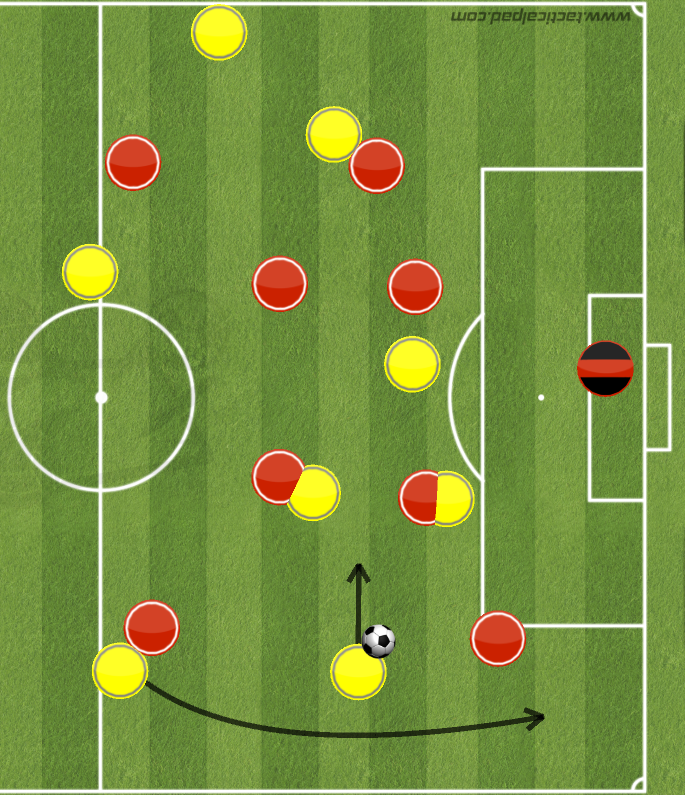 Despite playing wide, both Sancho and Reyna have spent a majority of their season playing central as attacking midfielders. This meant that whenever Dortmund were moving down the field, Sancho and Reyna would naturally move infield, giving space for Meunier and Raphaël Guerreiro to overlap.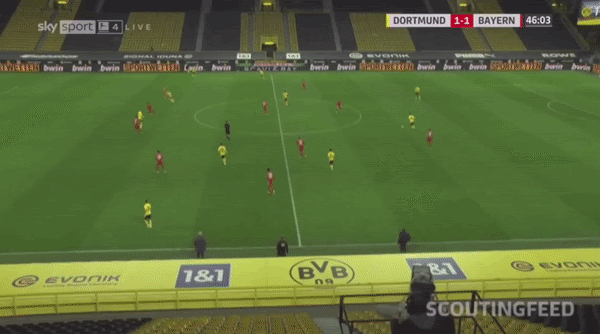 By prioritizing these situations, Favre and Dortmund were able to create ample chances to win this game, as demonstrated through their cumulative xG that surpassed Bayern's by 0.84.
In the opposite phase of play, Dortmund defended in a 4-2-4, with their wingers pressing high and wide in order to put pressure on the fullbacks. This was done as a way to 'corner' Bayern into an uncomfortable situation where they had nowhere to go. This meant that their main pressing trigger was when the ball went wide, and both Marco Reus and Haaland pressured in a way that kept the ball on those sides. While risky, this is a big part of why they were able to create so many chances on the counter. 
To deal with this pressure, Bayern used similar methods as Dortmund. Their main avenues out of the pressure were to switch the play across the field and to use numerical advantages out wide with overlapping fullbacks, and it nearly caused a goal, but it was annulled for offsides. This wasn't the only impact Bayern's fullbacks would have though, as they would also frequently drift central, inverting their positions.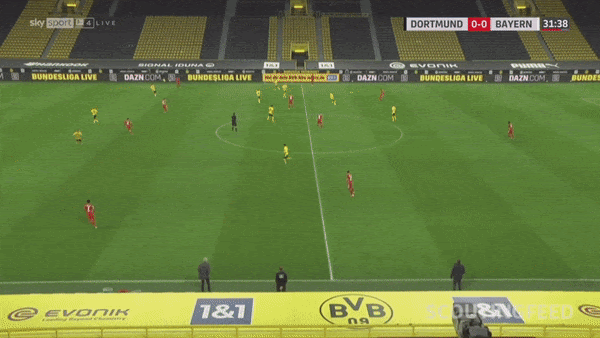 Both teams also attempted to switch play whenever they were in the central third, evading pressure and giving players the chance to attack down the wings. This was normally done through the defensive midfielders, although the center-backs could contribute as well. Both teams did this frequently to get out of the high pressure that both teams were using.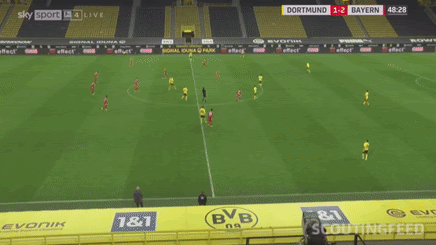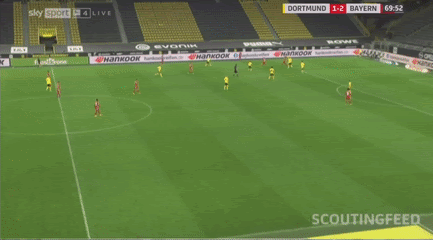 As the game wore on, tired legs became obvious and substitutions were made by both managers. Five substitutions were made between the 60th and the 70th minute, where Dortmund used three and Bayern used two. The most important ones were Leroy Sané coming on for Kingsley Coman, Julian Brandt on for Sancho, and Thorgan Hazard on for Reyna. 17-year-old Jude Bellingham also came on as well as 32 year old Javi Martinez, but their impact was not as visible as the other three.
These three substitutions gave the attack new legs and suddenly the pressing had begun again, but this time labored legs were being pressed by fresh ones. This caused both teams to eventually net one more goal each, ending the game in a 3-2 win for the Bavarians. 
In the end, both Hansi Flick and Lucien Favre set their teams up for victory, and they both believed in the tactics given to their team before the match had even begun. Despite losing Joshua Kimmich to a painful knee injury, Flick's men were the ones who managed to pull off the win. Despite going home with zero points, Favre can have hope for the season, knowing his boys were up to the task, despite their young age.
This is a game that Dortmund fans will have been frustrated to lose, and Bayern fans will be relieved to have won. Thus closes another fascinating episode in the ongoing saga between two German juggernauts, as Bayern fight for their record ninth straight Meisterschale. 
By: John Zuidema
Featured Image: @GabFoligno / M. Donato / FC Bayern