Tactical Analysis: FAI Cup Final: Shamrock Rovers vs. Dundalk FC
Europa League side Dundalk FC managed to win back the FAI Cup from rivals and League of Ireland champions Shamrock Rovers after a 4-2 extra time win at the AVIVA Stadium. David McMillan, who deputised for the League of Ireland's top scorer Patrick Hoban who missed out with an ankle injury, scored a hat-trick to help the Lilywhites overcome a Rovers team who had only lost to AC Milan in the Europa League qualifiers in an otherwise blemish free season.
It has been a remarkable turnaround for Dundalk, who had looked to be falling into a terrible season before unknown Italian manager Filippo Giovagnoli, who had previously coached at AC Milan's summer camps and as the head of coaching at Metropolitan Oval Academy in New York.
Giovagnoli led Dundalk through the UEFA Europa League qualifiers to secure Dundalk's second ever Group Stage berth and win back the FAI Cup from the dominant Shamrock Rovers side. So how did Dundalk manage to stop what seemed like an unbeatable Shamrock Rovers team on the big stage?
Both teams set up in a 3-4-3 shape, with Dundalk looking to match the system that has led to so much success for Arsenal youth player Stephen Bradley's Shamrock Rovers side. The switch to the 3-4-3 thrust a lot of responsibility onto Dundalk's midfield pivot, as they had to deal with Rovers's Irish internationals Graham Burke and Jack Byrne who are the key men in Bradley's side.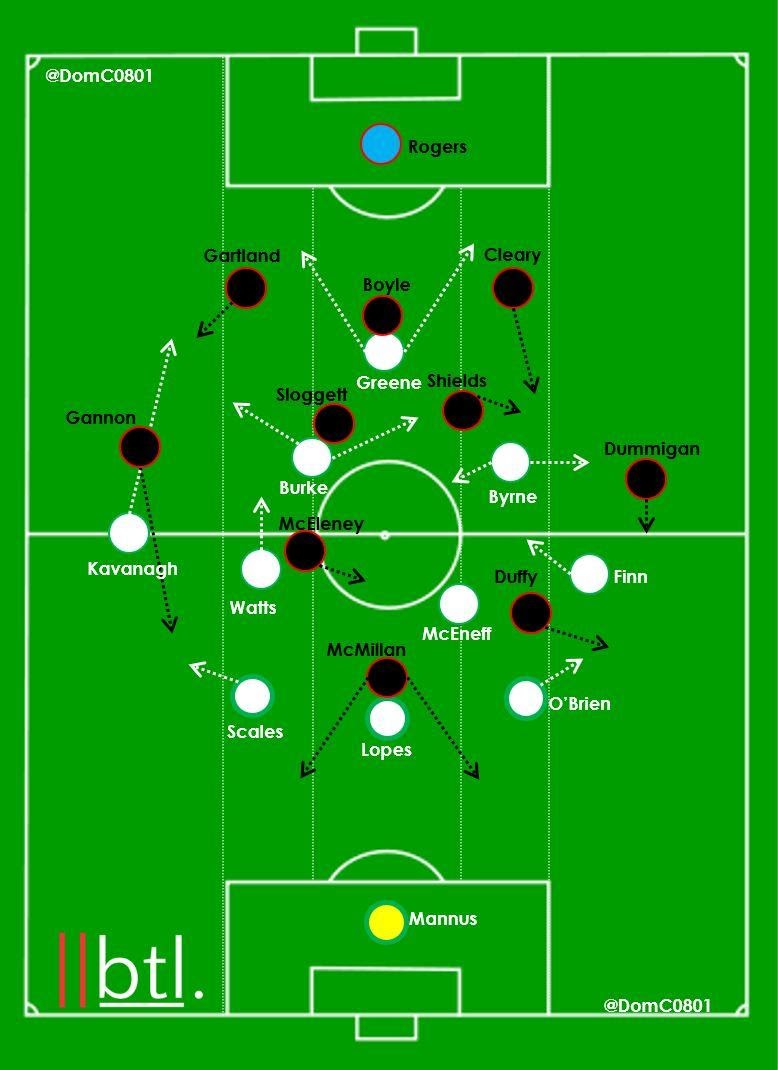 Dundalk deployed Michael Duffy and Patrick McEleney behind McMillan, with Duffy offering an outlet to the left and McEleney dropping in behind McMillan allowing Sean Gannon to push passed him. Rovers's wide CB's pushed into the spaces vacated by the wing-backs, with Seán Kavanagh pushing up the left wing and captain Ronan Finn pushing in-field to form a midfield 3.
This left Roberto Lopes one-on-one with McMillan, and although the Cape Verde international put in a good showing, Dundalk were still able to use this 1v1 to their advantage.
In possession, Dundalk looked to take advantage of the natural spaces formed behind Rovers's 3-4-3 press. Firstly they looked to capitalise on the wide spaces behind the Rovers wingbacks, drawing Rovers's wide CB's out of position which allowed them to create numerical superiority in the box as the opposite wide man and a CM would commit to the box.
Dundalk found particular joy down the right-flank, with McEleney dropping between the RCB and RWB into the space between Gannon and the CM's to pull Rovers out of shape and allow Gannon more freedom to go forward.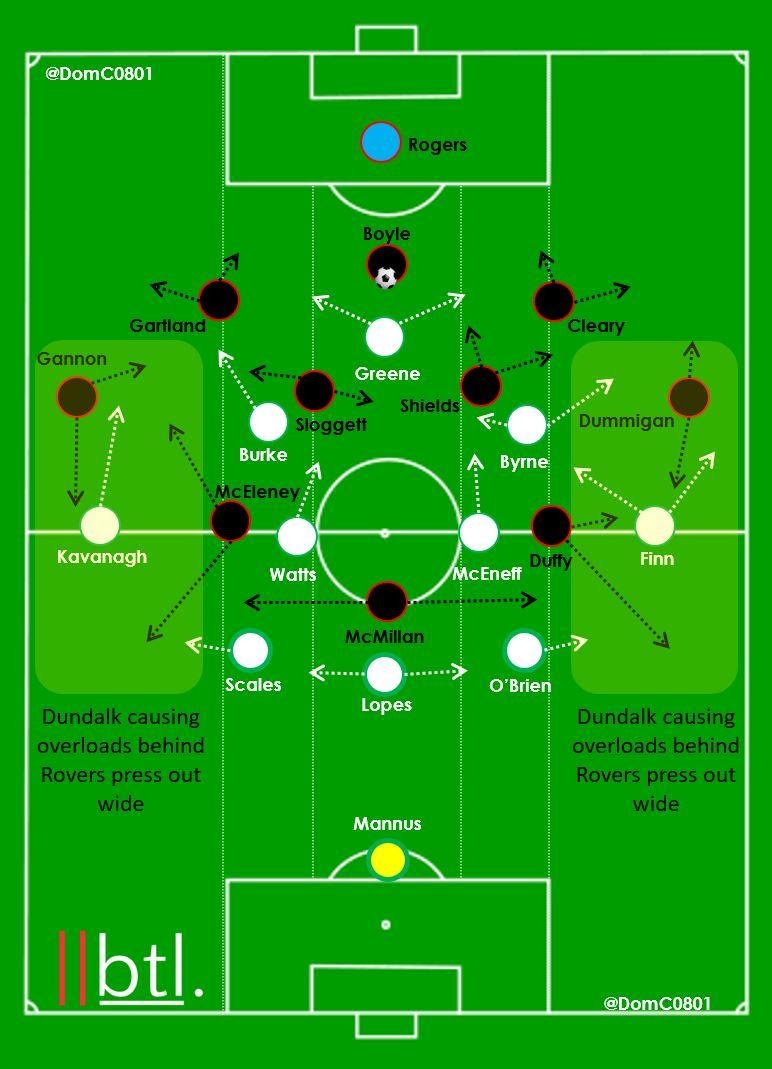 This is shown below, with McEleney dropping in beside the CM's to draw the Rovers pressing CM, allowing Gannon to push forward and RCB Brian Gartland to push wide. In doing so, Dundalk created an instant 3v2, with Byrne rushing to try and even the numbers for Rovers.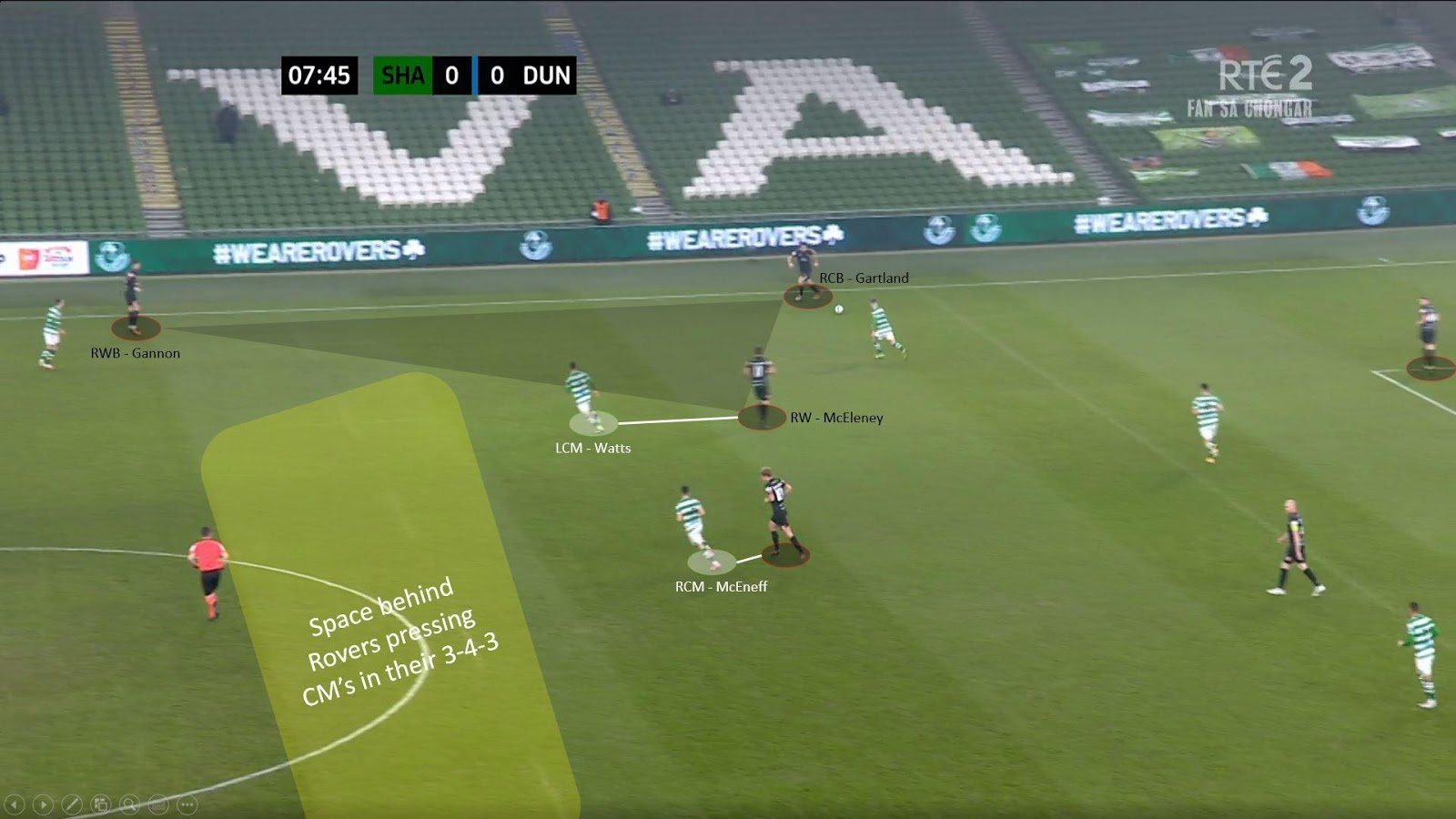 McMillan offers a passing option in behind as he pins the LCB Liam Scales and makes a blindside run off the back of him. McEleney's positioning has stopped Watts being able to affect possession and the LCM is unable to cut off any passing lanes due to having been drawn towards McEleney.
This right-side overload has also led to Michael Duffy (LW) being 1v1 against former Bolton and West-Ham defender Joey O'Brien (RCB) although Dundalk fail to capitalise on this.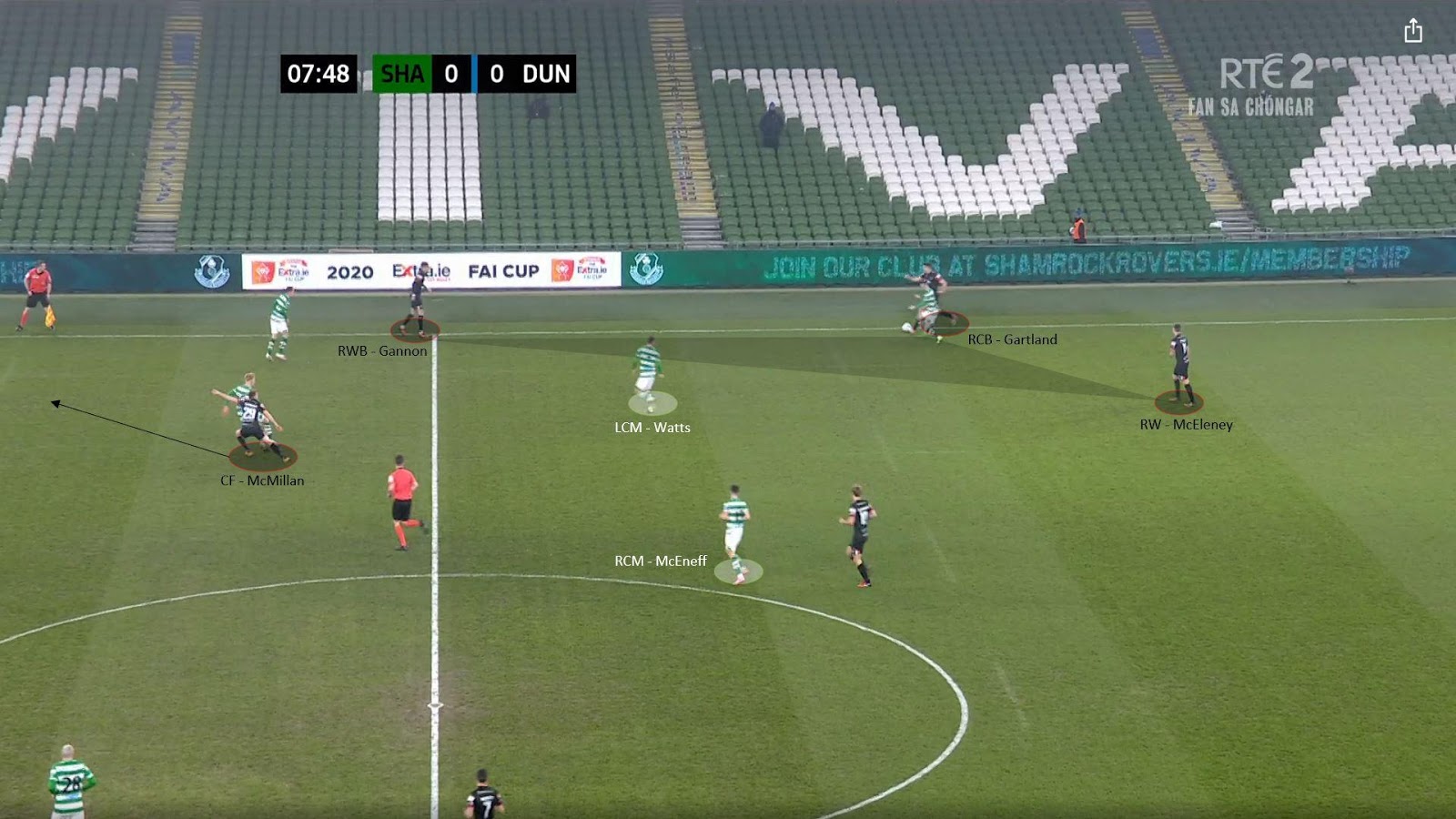 Dundalk were also able to exploit the spaces behind Rovers's central midfielders when they tried to press Dundalk's build-up play, with McMillan moving into the spaces behind either CM and holding the ball up.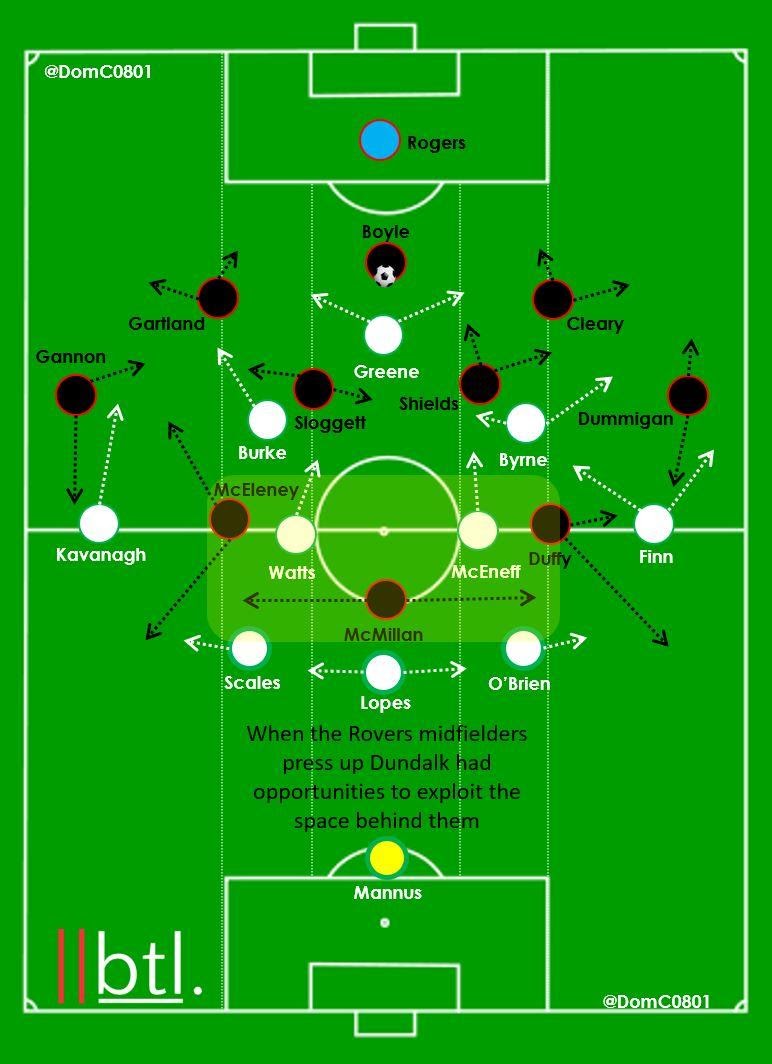 Dundalk's ability to get behind the CM's and wingbacks can be seen in their 1st goal. Dundalk utilised the 'up-back-through' principle as Gannon played the ball to McMillan who had pulled the LCB Scales out of position as he moved into the space behind Dylan Billy Watts (LCM) who had been pressing Shields.
McMillan lays the ball back to Shields who chips a through ball over the top of the Rovers defence into the space behind Scales, with Gannon (RWB) runs onto as he makes a blindside run off the back of Kavanagh (LWB).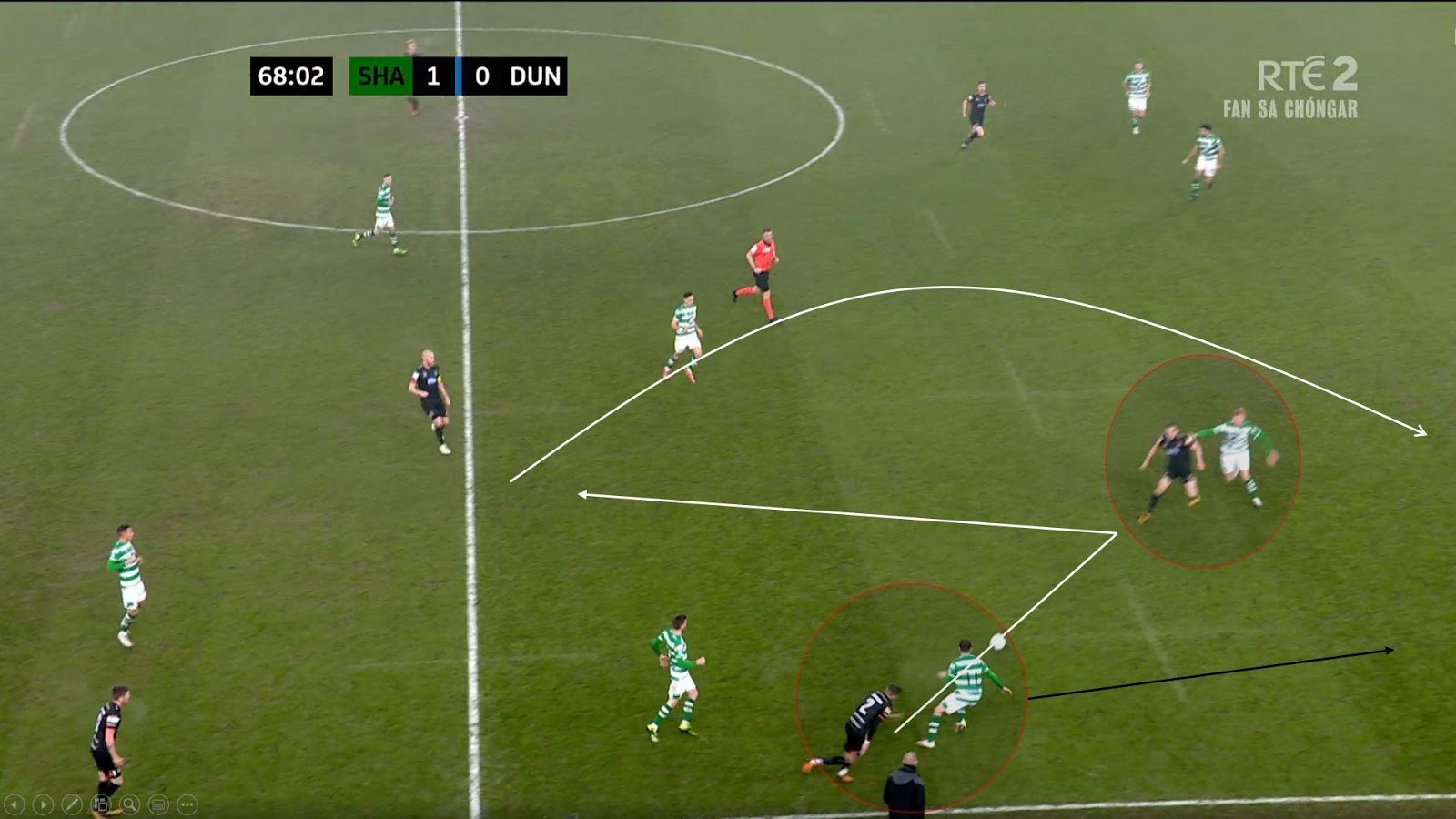 This allows Gannon to push up the wing and draws 4 Rovers defenders, including CB Roberto Lopes, out to the left wing to close down Gannon. This allows Dundalk to create a 4v3 in the box and Gannon passes back to McEleney who is supporting him and who instantly crosses in to capitalise on an unset Rovers defence. McMillan capitalises on a sloppy clearance to finish past Alan Mannus in the Rovers goal and draw Dundalk level.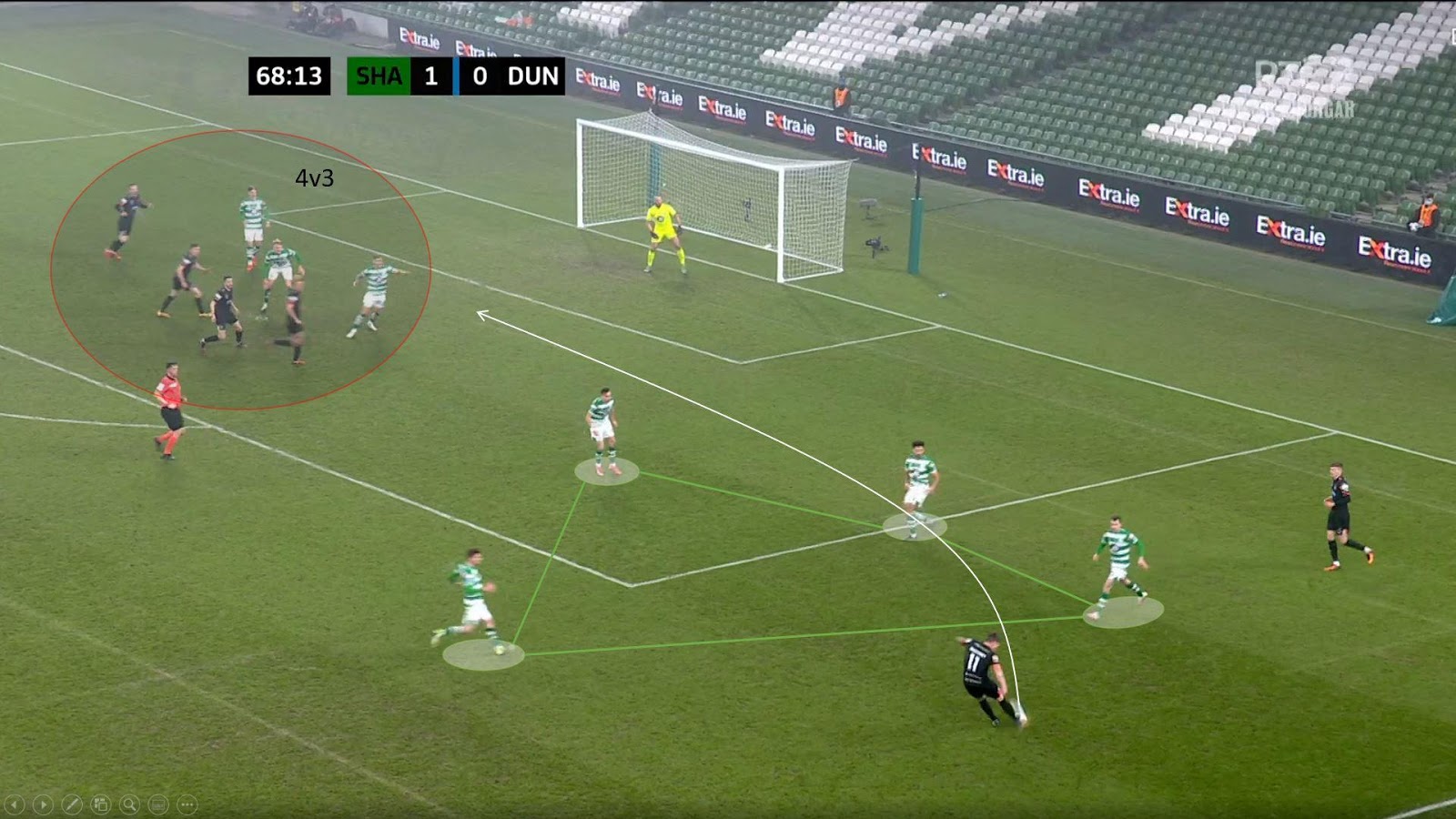 A key to Dundalk's victory was their ability to mark Shamrock Rovers star player Jack Byrne out of the game. Dundalk consistently utilised 3 players to shadow cover Byrne and discourage his teammates from passing to him.
They did this early on in the game and continued throughout, with Byrne only able to effect the game through set-pieces. In the below instance Burke tries to play the ball to Byrne, but the positioning of Shields means Burke must direct the pass towards Greg Sloggett, who manages to intercept and draws a foul from Byrne.
If Burke attempted to pass to the other side of Shields then Daniel Cleary (LCB) is in position to do the same. This does however leave Rovers with some 'spare' players as Dundalk commit 3 players to stopping Byrne. In this instance they leave Finn free but Burke decides to try and force the ball to Byrne anyway.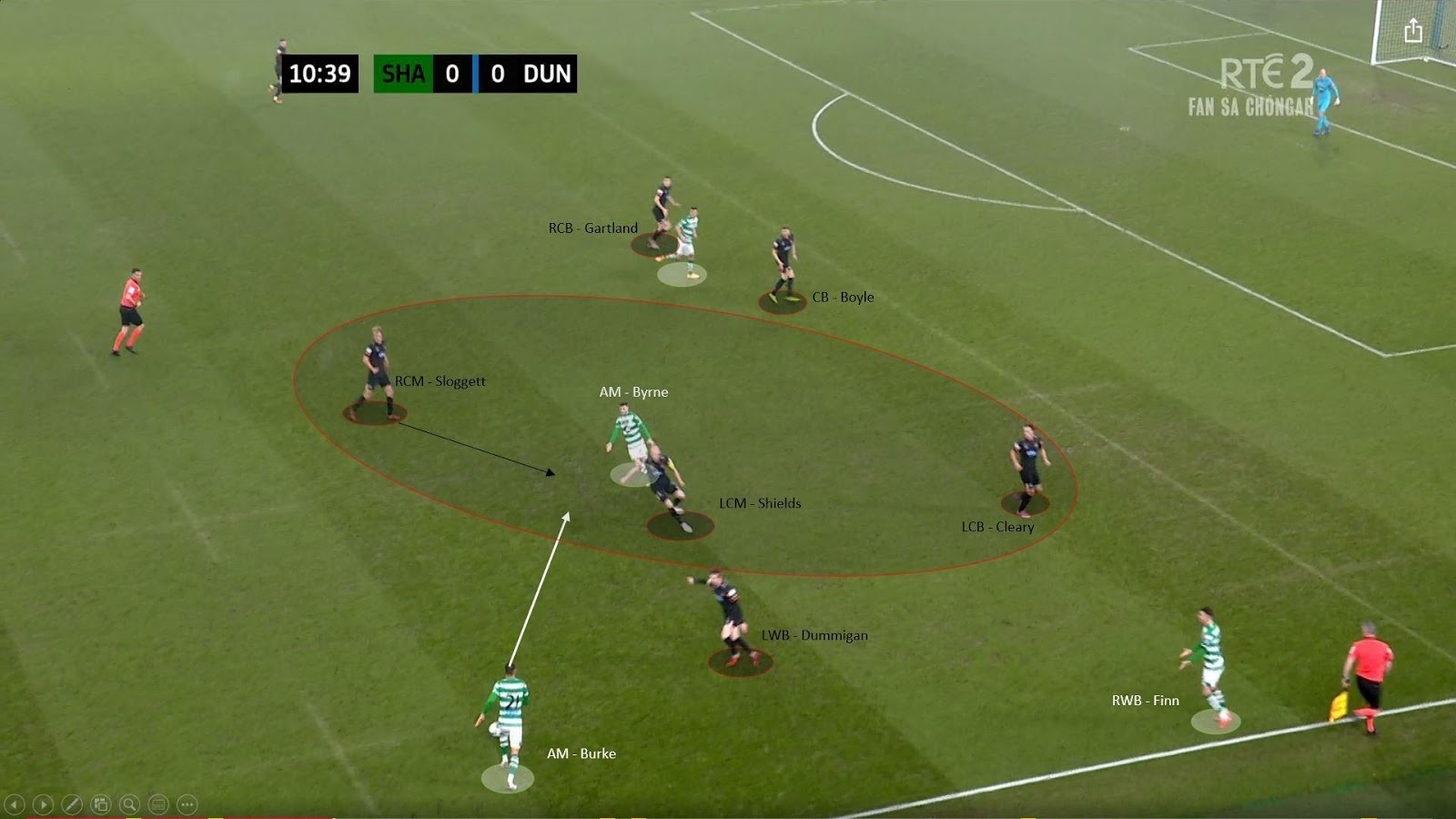 The same happens on the other side of the pitch, with Byrne being shadow covered by 4 players, with 3 of them within range to directly prevent him from easily receiving possession. Kavanagh again tries to force the pass to Byrne, but Sloggett and McEleney win the ball back from Byrne.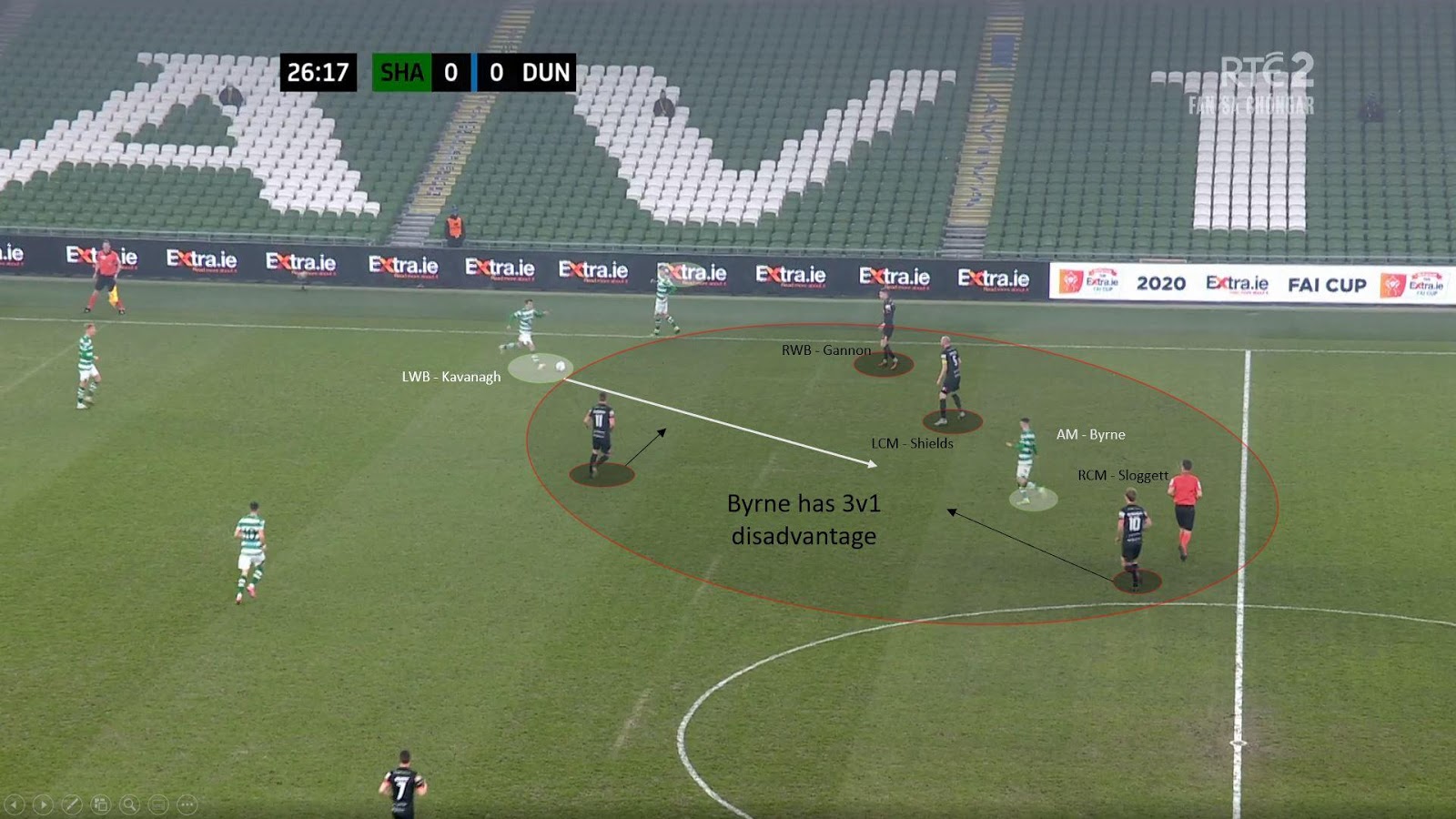 Byrne could not receive possession on the half-turn all game, with Dundalk's pivot of Sloggett and Shields as well as a combination of Cleary, Brian Gartland, Gannon and Cameron Dummigan helping to nullify the Irish international's threat.
Rovers attempted to take advantage of the space behind Dundalk's press. Dundalk shifted to a 4-3-3 when Rovers had the ball deep as Gannon pushed forward to form a front 3 with McMillan and Michael Duffy. This left Rovers with space to exploit in front of Dundalk's full-backs as the CM's were given the responsibility of covering both the wide spaces and central areas when Rovers were building up from deep.
Dundalk focused their manpower on Byrne which forced Rovers to come up with alternative creative options, with Finn and Graham Burke in particular attempting to step up and create something.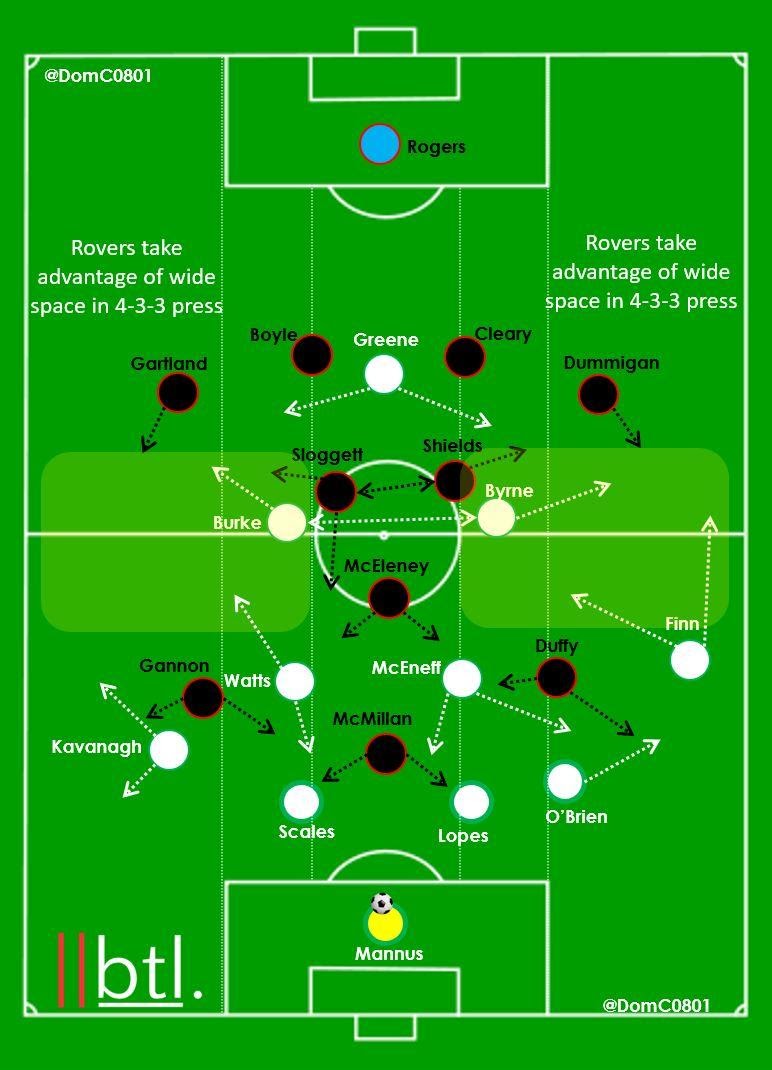 Byrne did however manage to effect the game through his brilliant set-piece delivery, which led to both of Rovers goals and their most dangerous chance.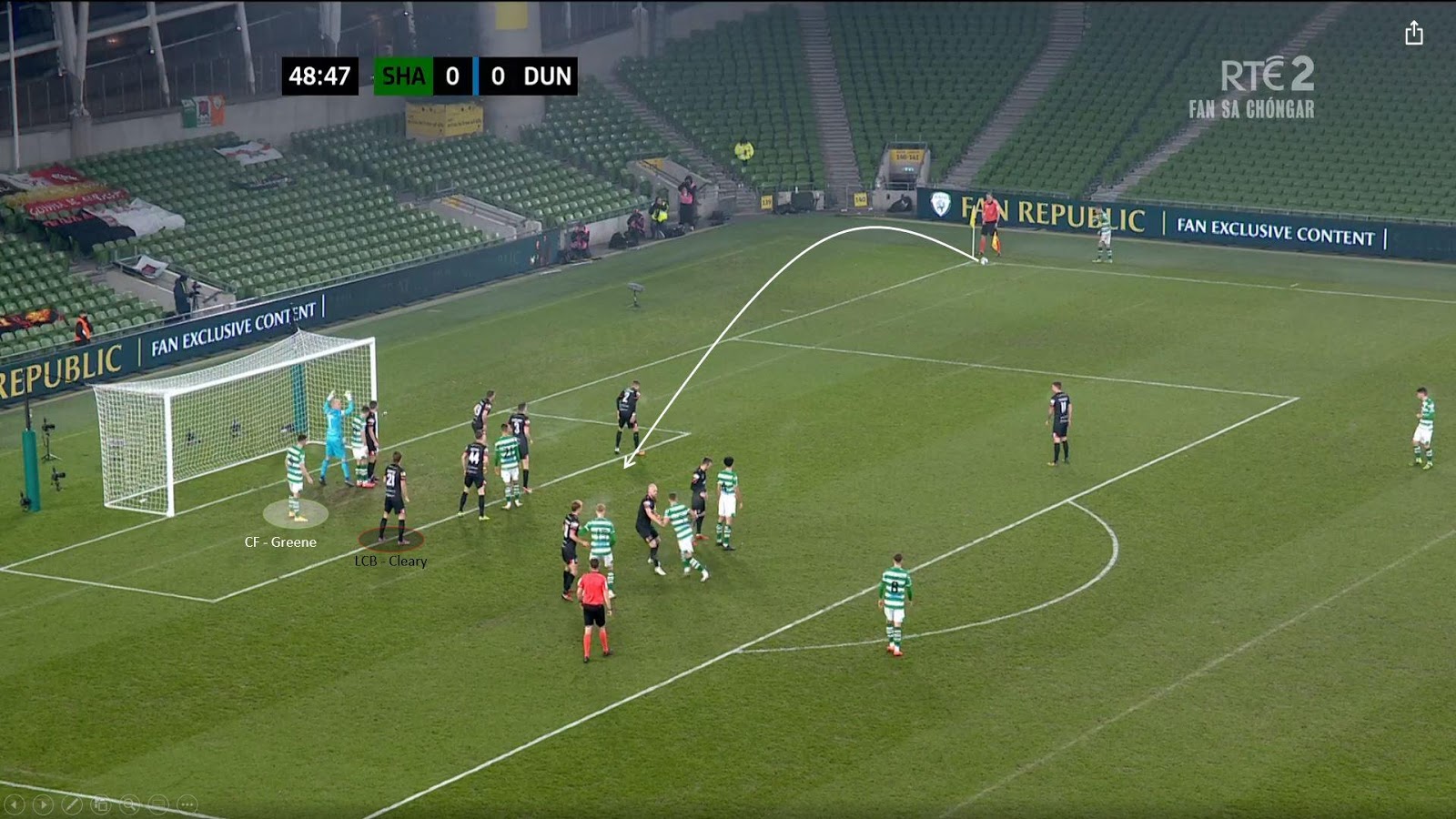 Byrne takes corners from both sides, with the Manchester City youth academy graduate a threat with both in-swinging and out-swinging corners. Here Byrne's out-swinging delivery is aimed towards the area just in front of Dundalk's zonal markers. Aaron Greene (CF) positions himself behind the back-post zonal marker (Cleary) in anticipation of a flick-on.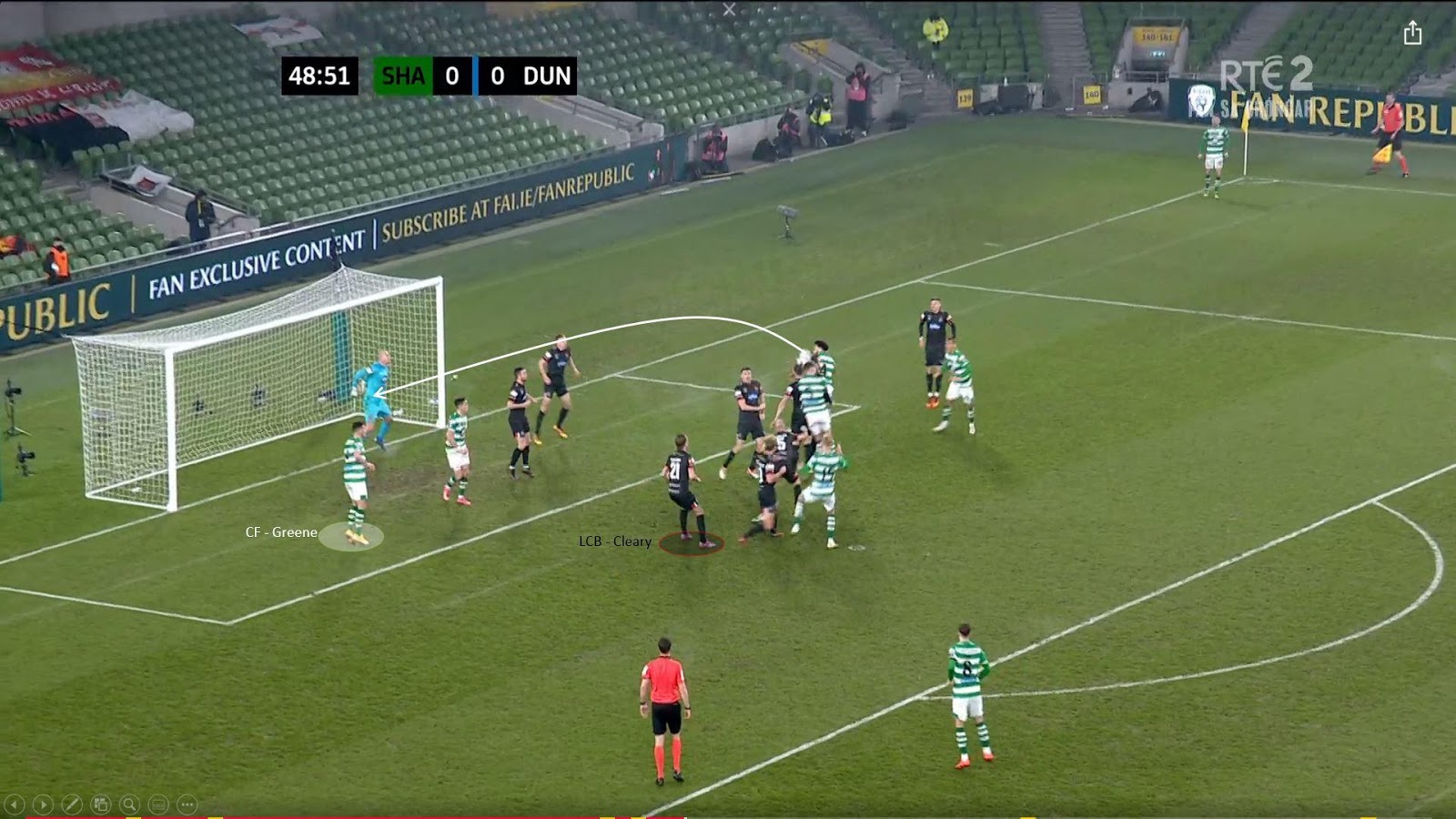 Byrne's delivery is met by Lee Grace (a half-time substitute for Joey O'Brien) who's header goes towards Aaron Greene who is now completely free as Cleary has stepped up to try and affect play but misjudges the flight of the ball.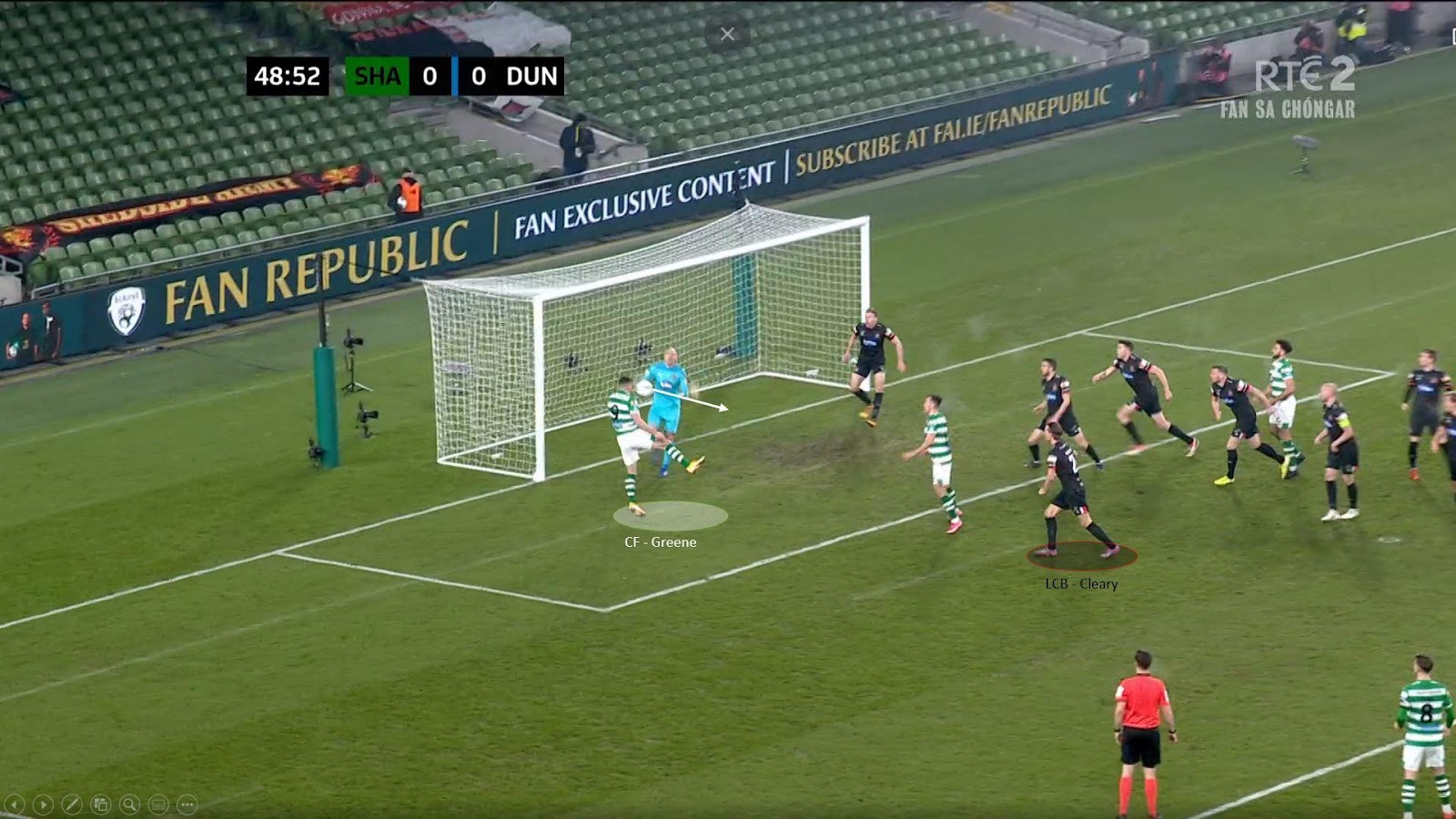 Greene is left completely free and is far enough away from Gary Rogers in the Dundalk goal to get a free header which he directs past the Dundalk keeper to give Rovers a second half lead.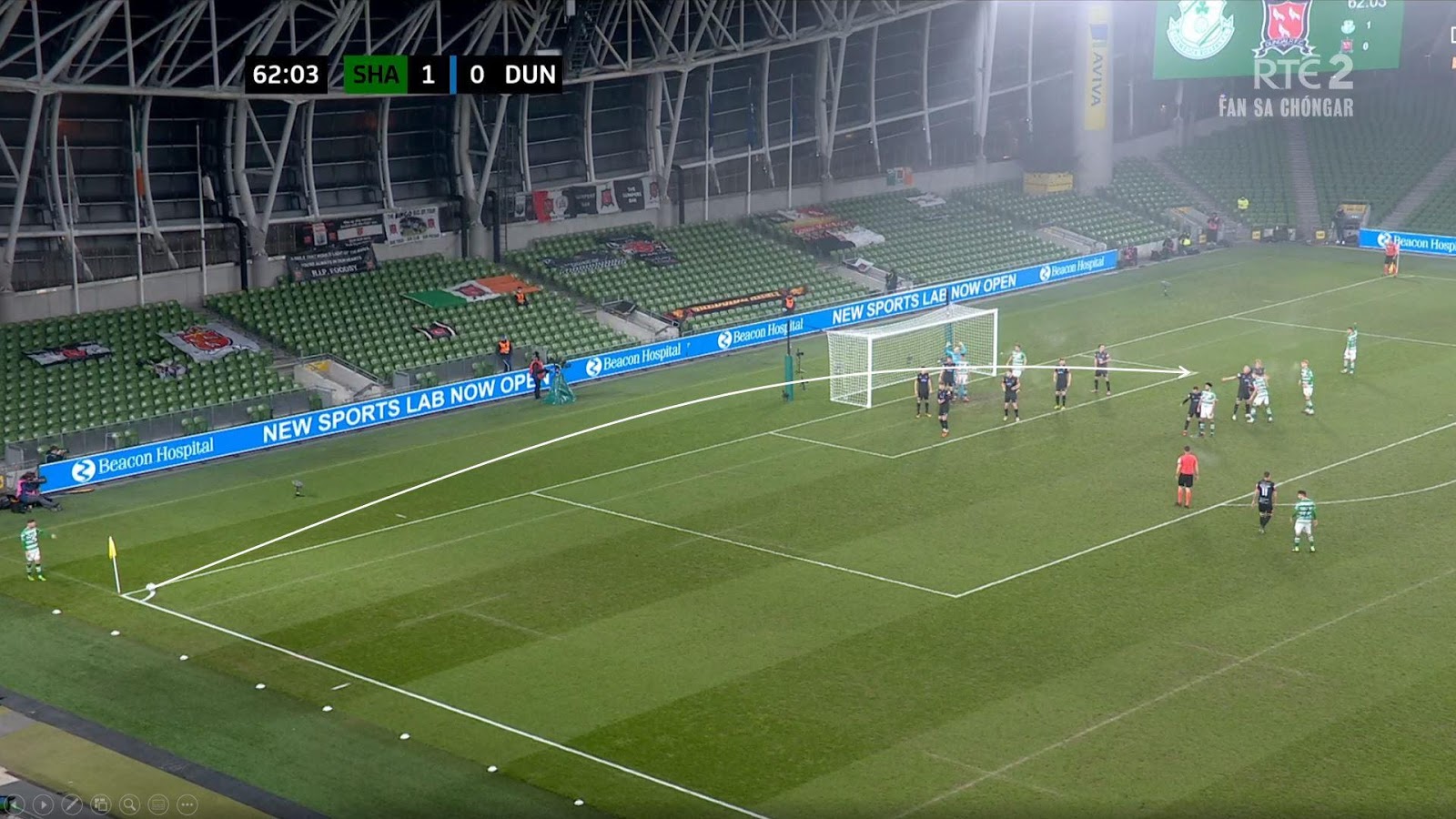 Rovers continued to create good chances from their corners, with Byrne's in-swinger creating a good chance here. Byrne again targeted the area in front of Dundalk's 6-yard box zonal markers, indicating a clear ploy from Rovers to exploit this space.
The Hoops set up with their runners from deep spread out to isolate the Dundalk blockers 1v1, and Scales is given space to get a clear run at the ball.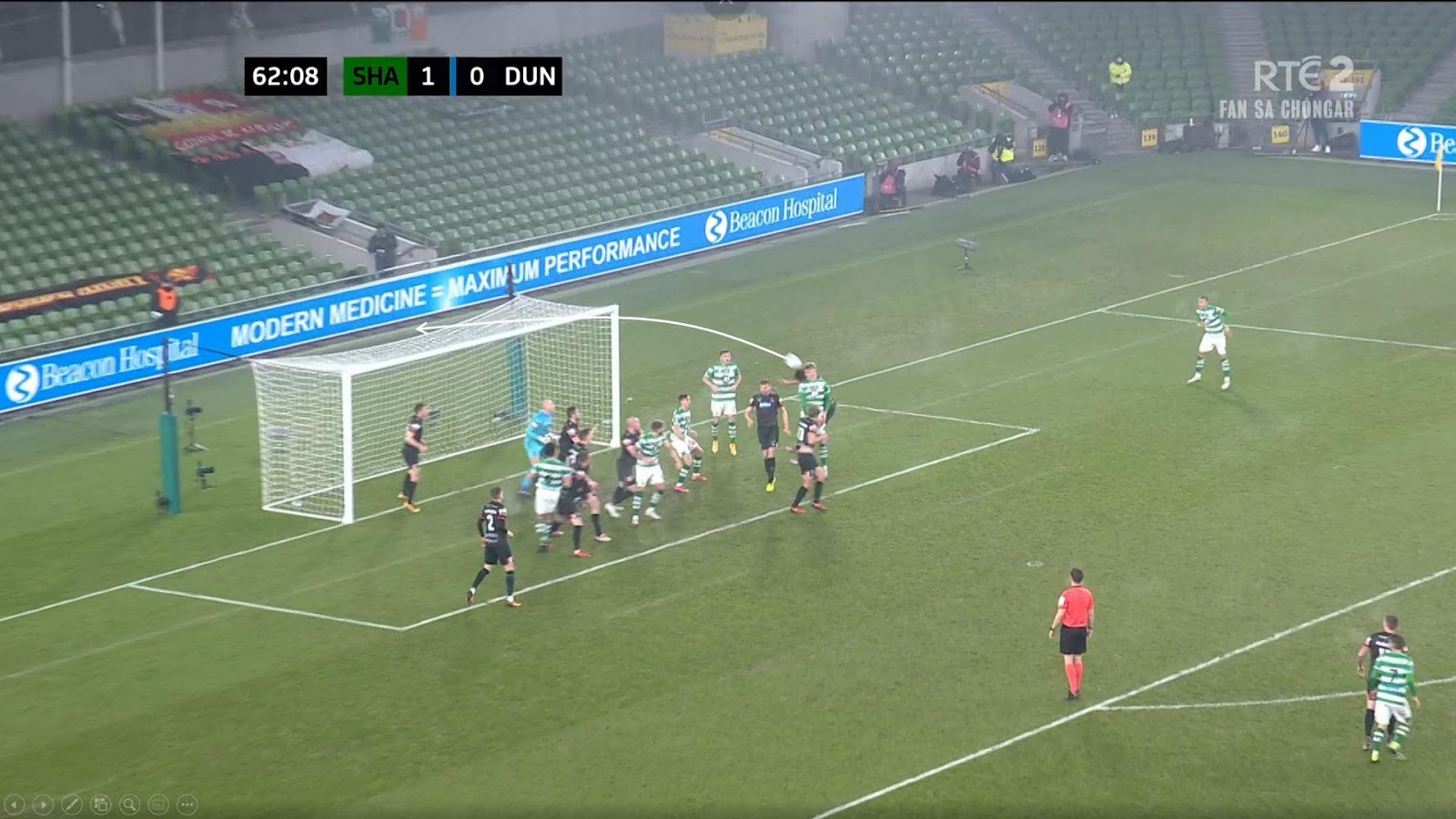 Byrne's delivery is a good one and Scales rises high to meet the ball, but the Irish U-21 international is unable to get his header on target. This weakness at corners continued to plague Dundalk and it appeared to be Rovers's clearest route to go as they struggled to deal with Dundalk's hybrid 4-3-3 press / 5-4-1 block.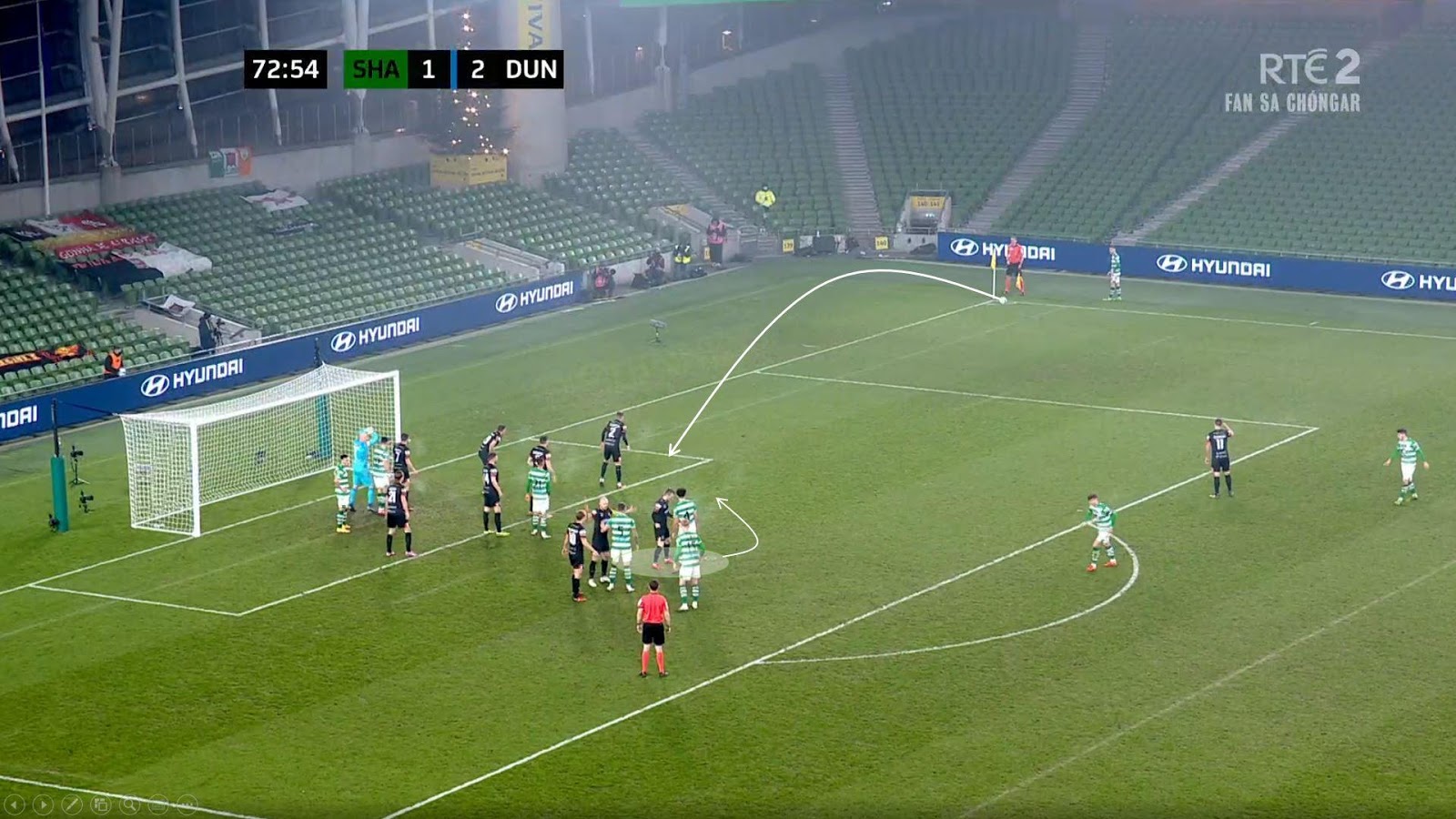 Rovers's second goal came through Lopes from another Byrne in-swinger. The Cape Verdean equalised for Rovers after McMillan put Dundalk ahead from the spot after an unnecessary foul by Scales from a Dundalk corner. Byrne again targets the area in front of Dundalk's 6-yard box zonal markers, and Lopes uses a smart out-and-in movement to get ahead of his blocker.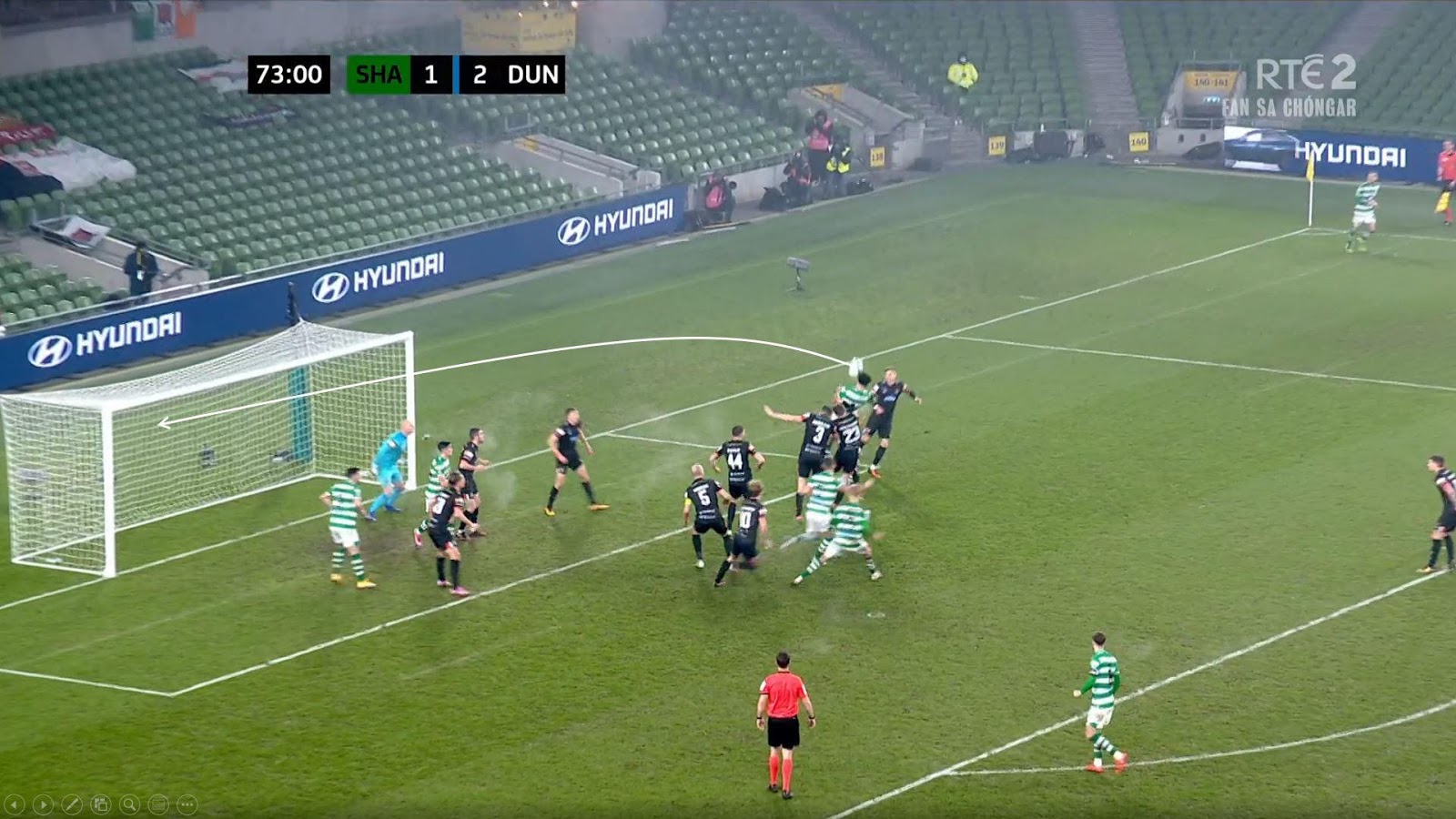 Lopes is able to get to the ball first, however his finish is still a brilliant one given the difficulty of the chance. Dundalk's main problem all night was winning the first header, as the Lilywhites defenders struggled to get out to Byrne's deliveries quickly enough to make any decisive impact.
Rovers's threat from set-pieces kept them in the game and shows how useful a varied and threatening set-piece arsenal can be as even if your team performs below their usual standards, set-pieces can still act as a reliable source of chances.
Dundalk meanwhile showed that no matter how threatening you are and how well you nullify your opposition's attacking threat, that if you are vulnerable at set-pieces your opponent will always have a route back into the game.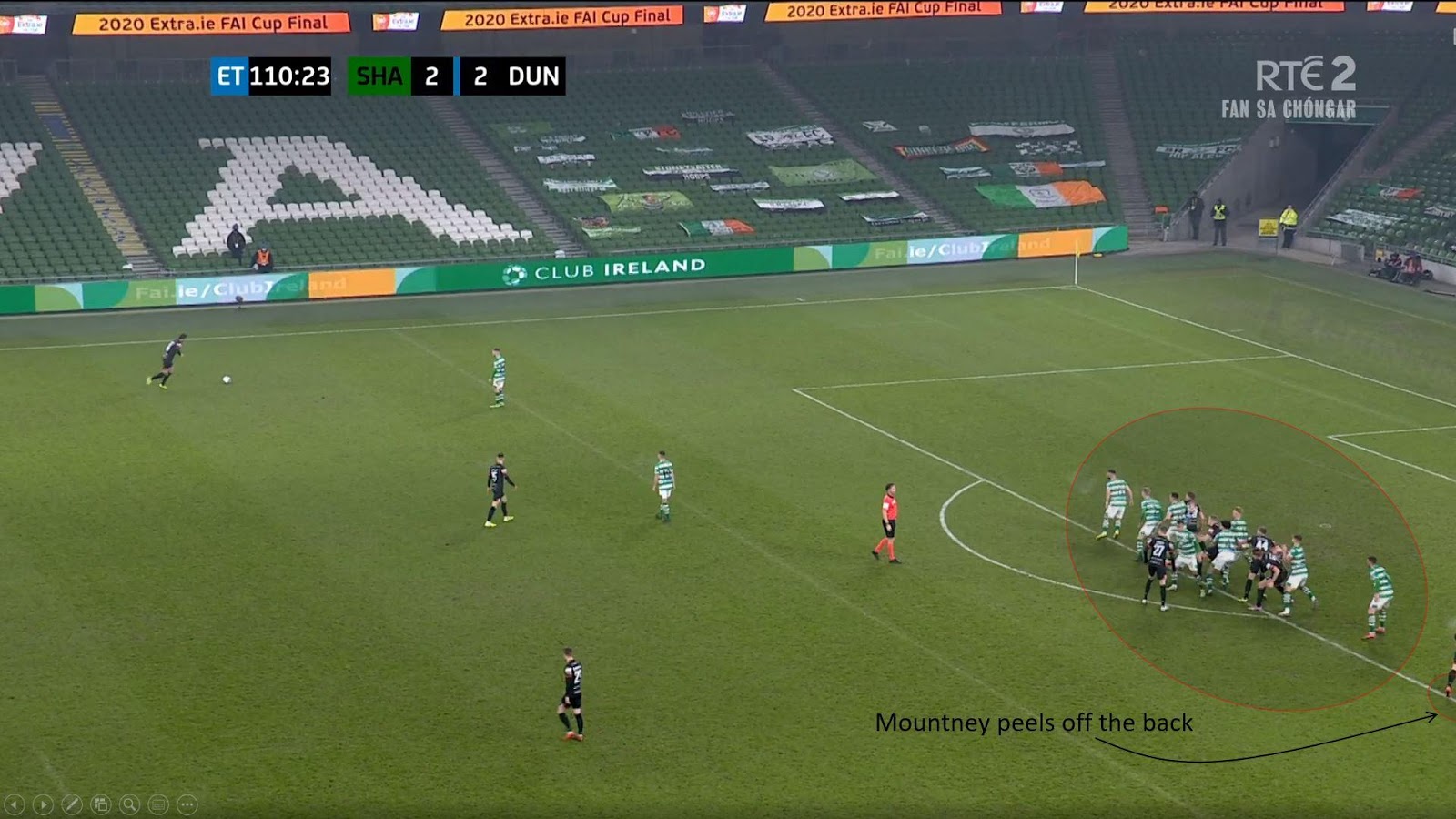 The game finished 2-2 after 90 minutes and so extra time was needed to find a victor. Extra time was a very cagey affair, with the first half being uneventful as both sides looked to try not to lose rather than trying to go for the win.
It took until the 110th minute for Dundalk to take the lead courtesy of a goal from Sean Hoare who replaced Brian Gartland as extra time began. The goal came from a Jordan Flores (substituted on for Sloggett) free kick as John Mountney, another substitute, managed to peel off the back of the Rovers defence as they set up against a very clustered Dundalk attack.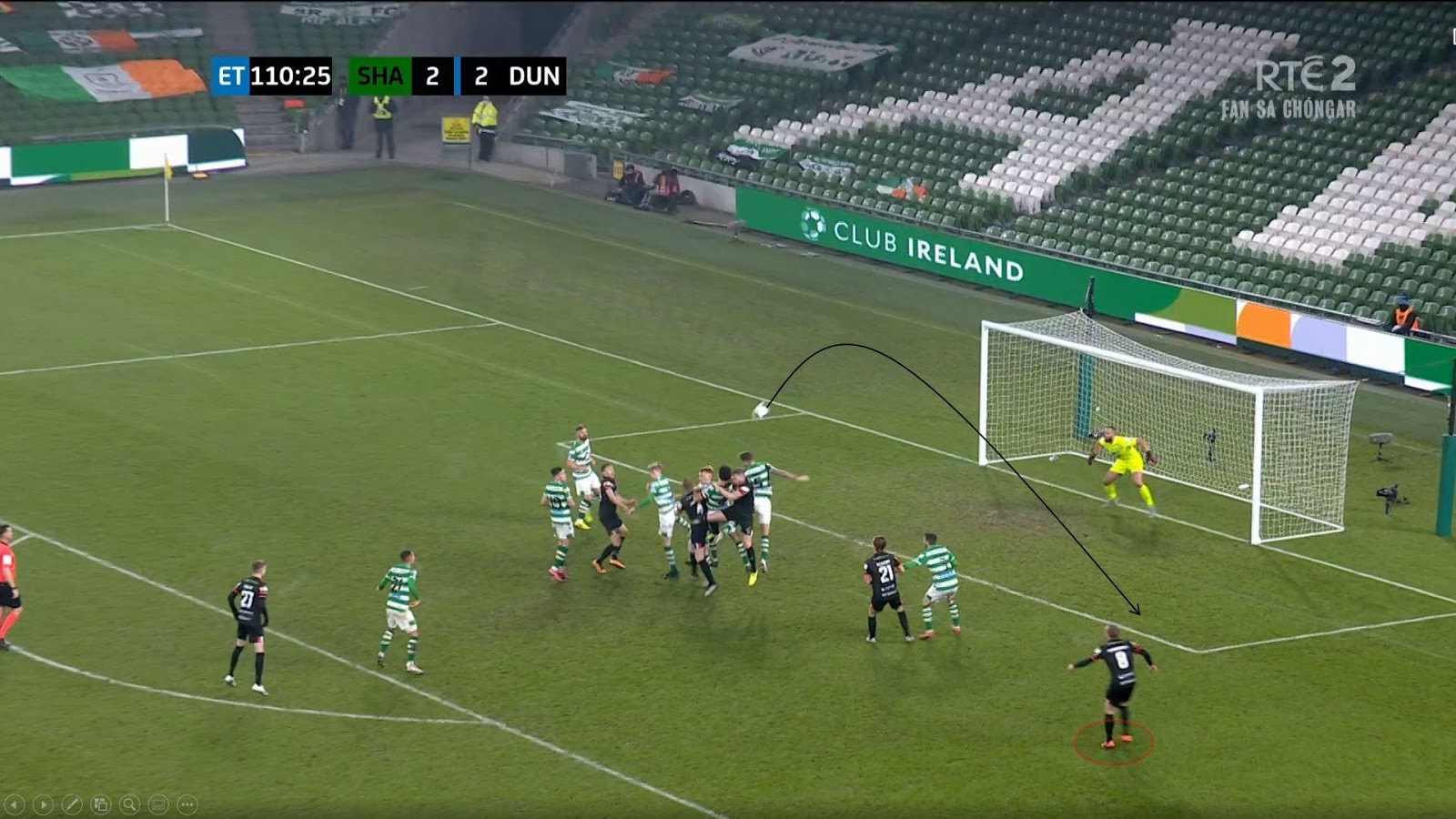 Mountney managed to get a lot of free space in the box and was able to pick up the loose ball from Rovers's defensive header. He had worked himself enough space to be able to not only take the ball down, but also to be able to look to put it straight back into the danger zone.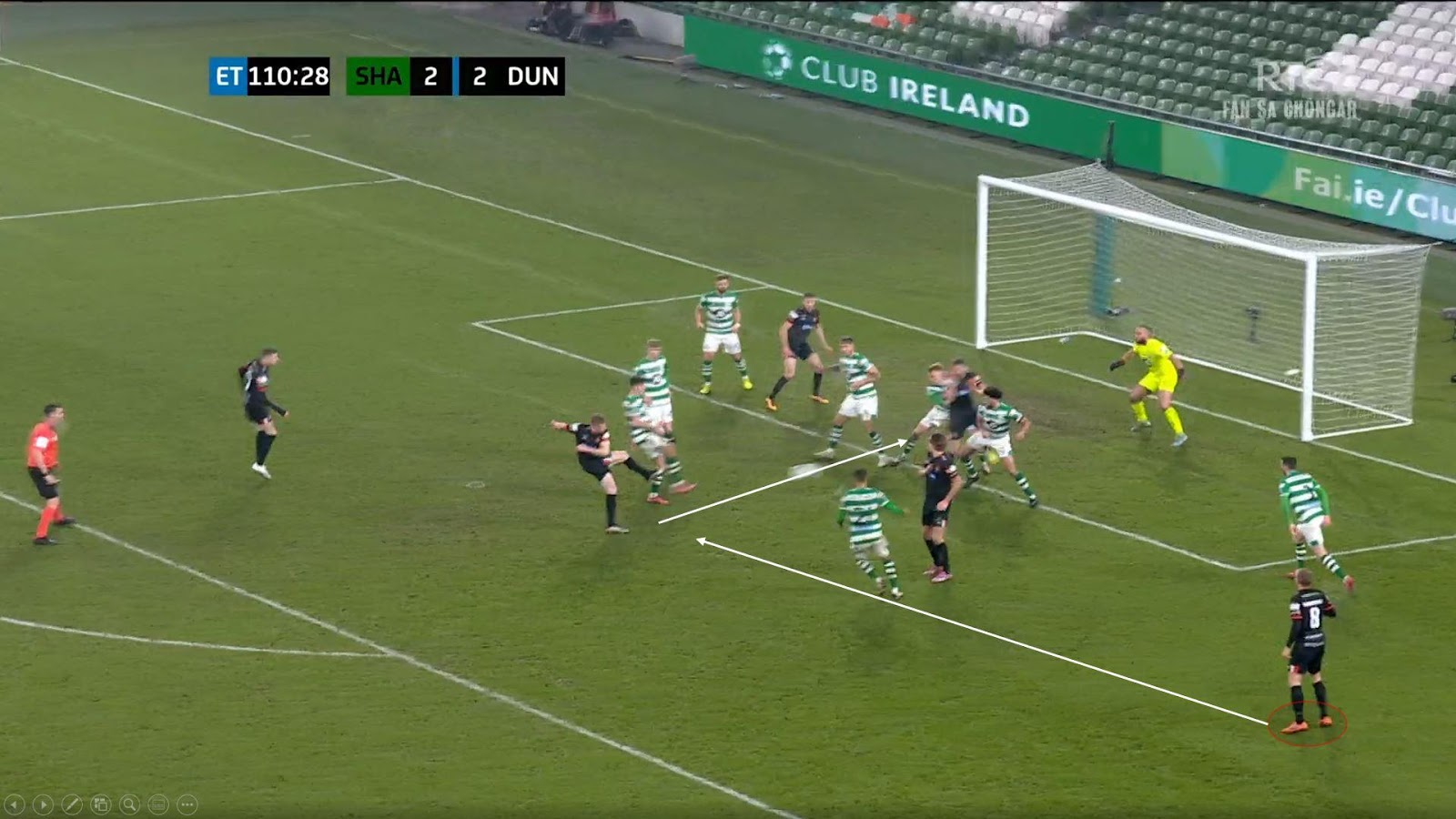 Mountney picks out Hoare who's shot deflects off of Scales to give Dundalk a late lead. After this the game became stretched and Dundalk introduced Daniel Kelly, a pacy winger, who came on to provide verticality to Dundalk's attack and an option to run into the channels to take advantage of Rovers overcommitting to the attack. This was evident in Dundalk's 4th goal.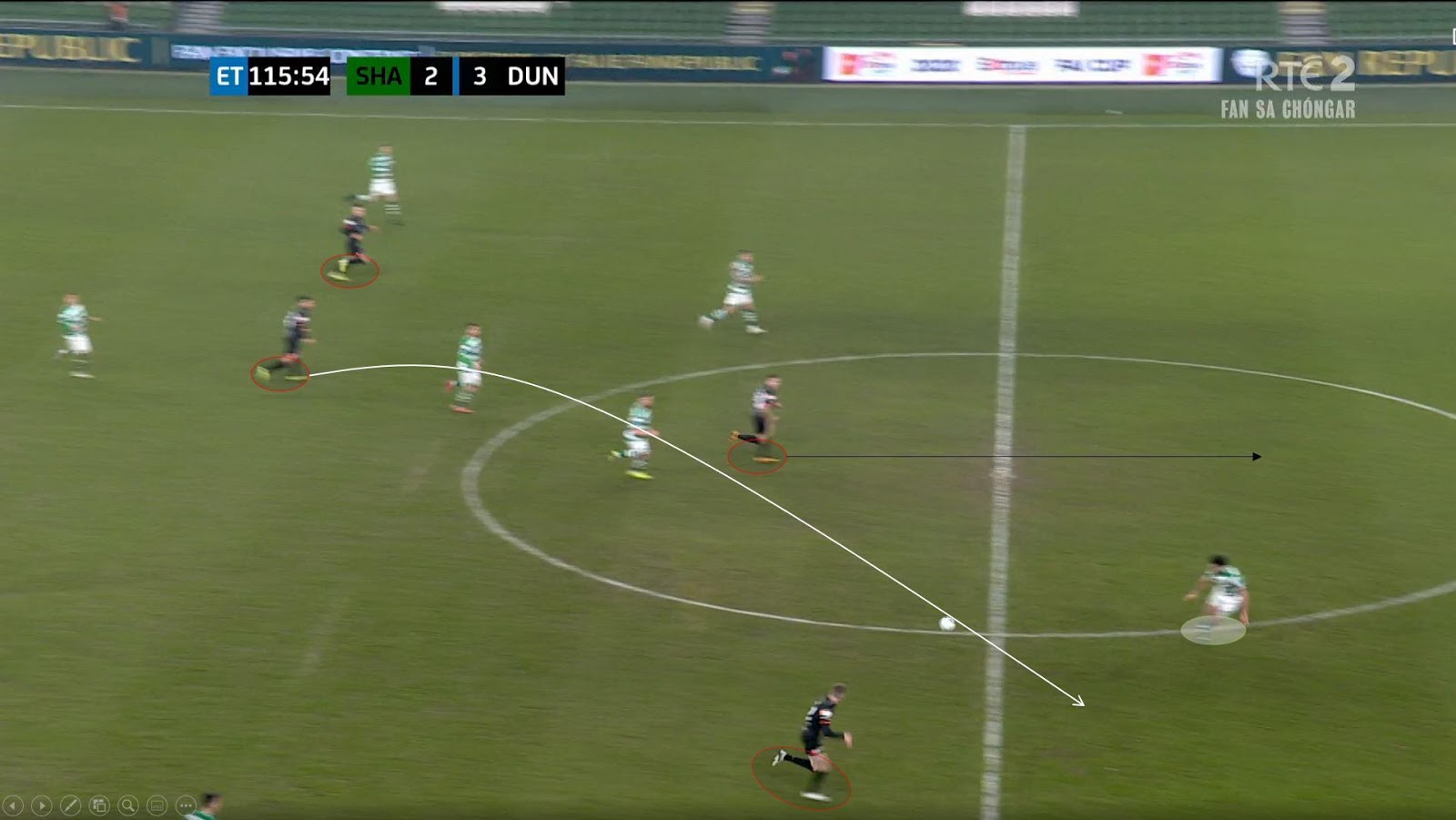 Dundalk win the ball back and Rovers's wide CB's Scales and Lee Grace are caught up-field leaving Lopes to cover the entire width of the pitch himself. Flores finds himself on the ball and spots Daniel Kelly racing up the right wing.
Flores curls a pass into Kelly's path, which forces Lopes to push out of his position to try and win the ball back and stop Kelly from putting the game out of sight. McMillan notices this and redirects his run to move into the space Lopes has vacated.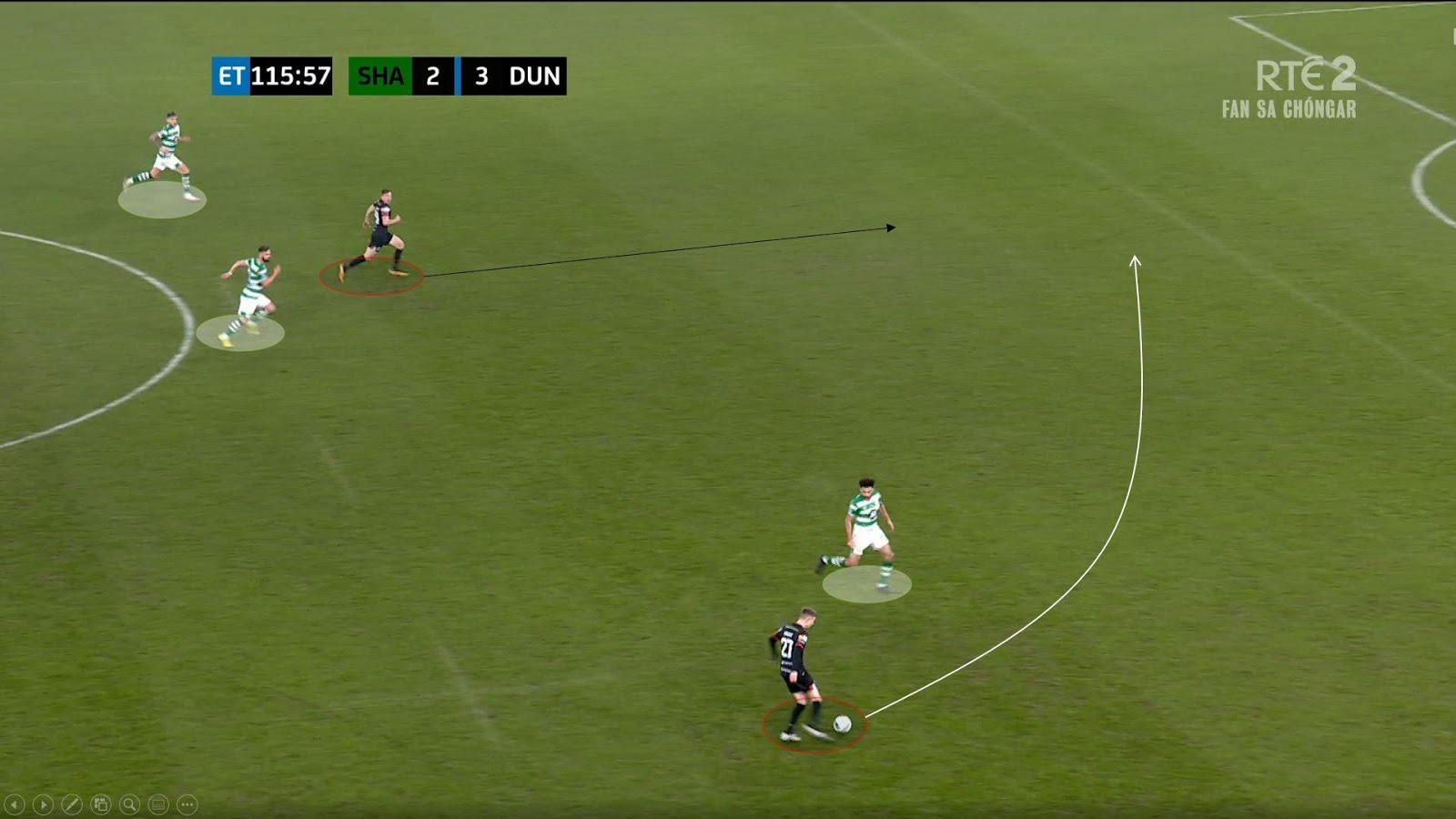 Kelly sees McMillan's run and sets himself to curl a brilliant through-ball into McMillan's path. The Rovers defenders simply don't have the legs to catch up with McMillan who races clean through on goal.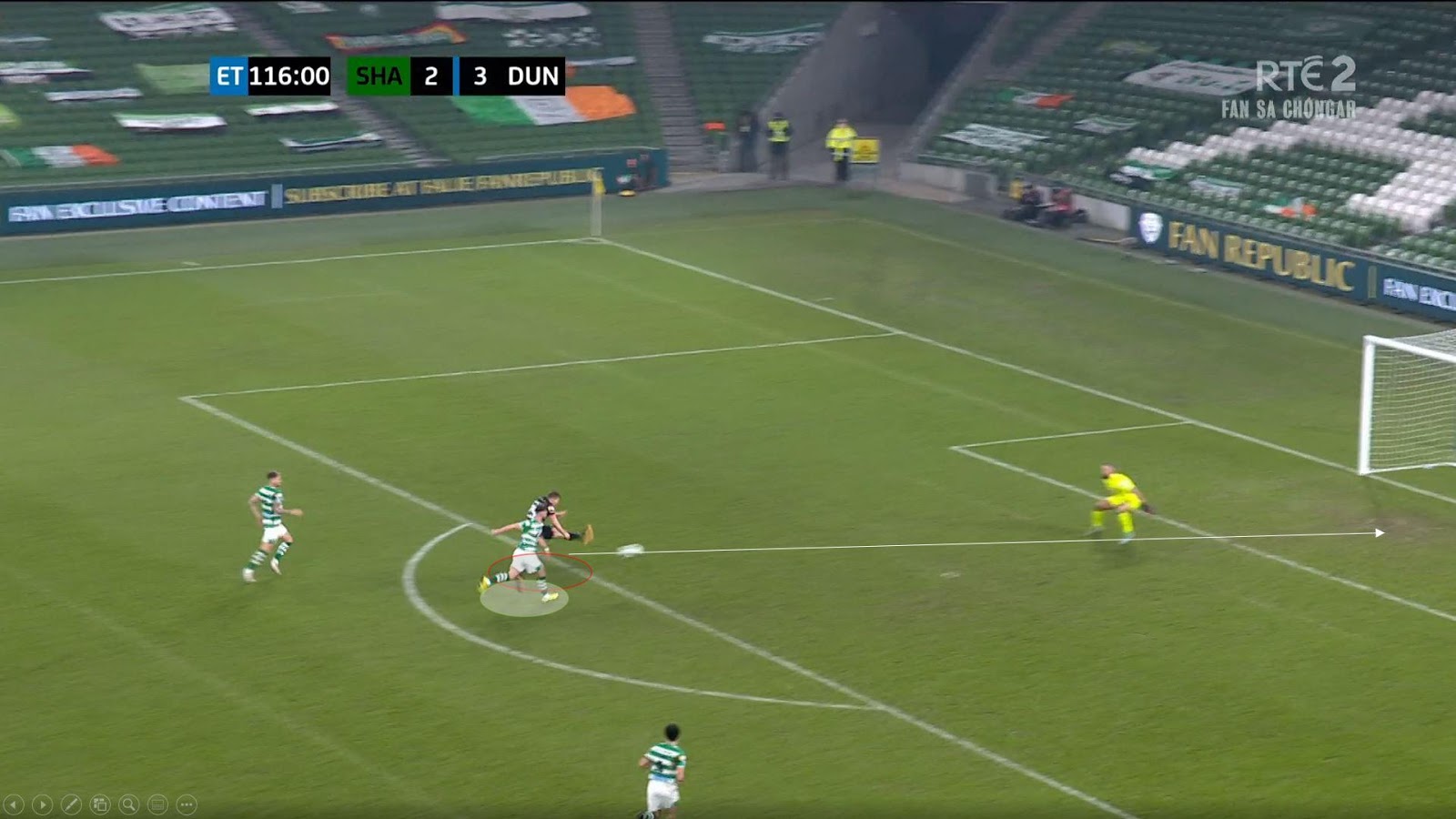 Kelly's ball is perfect and McMillan takes one touch before shooting early which stops Rovers keeper Alan Mannus from being able to set himself and McMillan's shot flies into the bottom right hand corner to put the result beyond doubt and seal Dundalk's 12th FAI Cup.
Dundalk evidenced how to effectively limit a teams creative capabilities by marking their star man out of the game as well as continuously taking advantage of the space their pressing affords. The combination of these factors forced Rovers to have to come up with alternative chance creation methods which they struggled to do on the night.
In the end, it was Dundalk's night and they continued a trophy-winning run which stretches back to 2014 when current Republic of Ireland manager Stephen Kenny was in charge. Whilst the Lilywhites finished third in the League of Ireland Premier Division behind Shamrock Rovers and Bohemians, their triumph in Dublin will provide a sweet consolation prize to the club's players and fans.
By: @DomC0801
Featured Image: @GabFoligno / Eóin Noonan / Sportsfile