Tactical Analysis: Flamengo vs. Atlético Mineiro
The 2020/2021 Brasileirão Série A season kicked off on Saturday night and the highlight fixture of Matchday 1 was the match between Flamengo and Atlético Mineiro at the Maracanã Stadium. The Alvinegro went on to beat the defending champions in a fixture that lacked its predicted galore of goals, but certainly not a lack of entertaining football.
Both teams were led by new coaches, with former Chile manager Jorge Sampaoli replacing former Venezuela manager Rafael Dudamel at Mineiro, and Domènec Torrent replacing Jorge Jesus after the latter returned to Benfica.
"You can win in any fashion, but you have to create your own style," said Torrent, who served as Pep Guardiola's asssistant from 2007 to 2018 before accepting a job with MLS side New York City FC. "You can lose with any style, but if you also lose your style, you are left with nothing when you lose."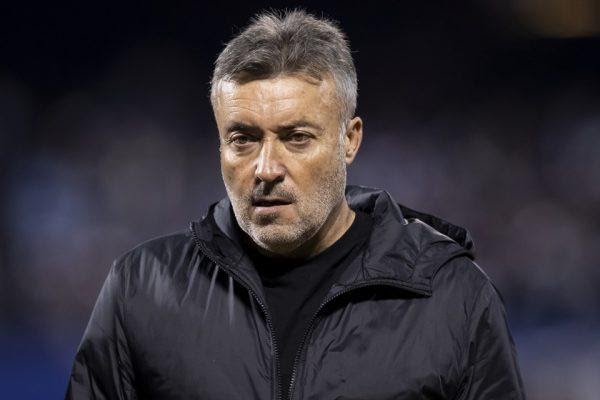 Photo: Getty
Sampaoli came into the game with far more experience than his Catalan counterpart with regard to the Brazilian league, having finished second with Santos the prior season, and it paid off. Throughout the game, he managed to contain Flamengo's high-octane attack and went home with all three points.
Prior to the match, Atlético Mineiro had not lost in their last eight matches, having scored nine goals in their last three, whilst Flamengo had managed to score at least a goal in each of their last 12 matches.
Under Jorge Jesus, the Mengão won their first league title since 2009, whilst also winning their first Copa Libertadores since 1981. Moreover, they had not lost a single match all season at the Maracanã. Atlético Mineiro, on the other hand, had finished a disappointing 13th under Dudamel, placing 42 points behind Flamengo.
Line-ups
Flamengo's line-up remained unchanged from the team that swept through domestic and international competitions last year, with the exception of Léo Pereira, who has effectively replaced Pablo Marí on the left side of the defense following the latter's departure to Arsenal.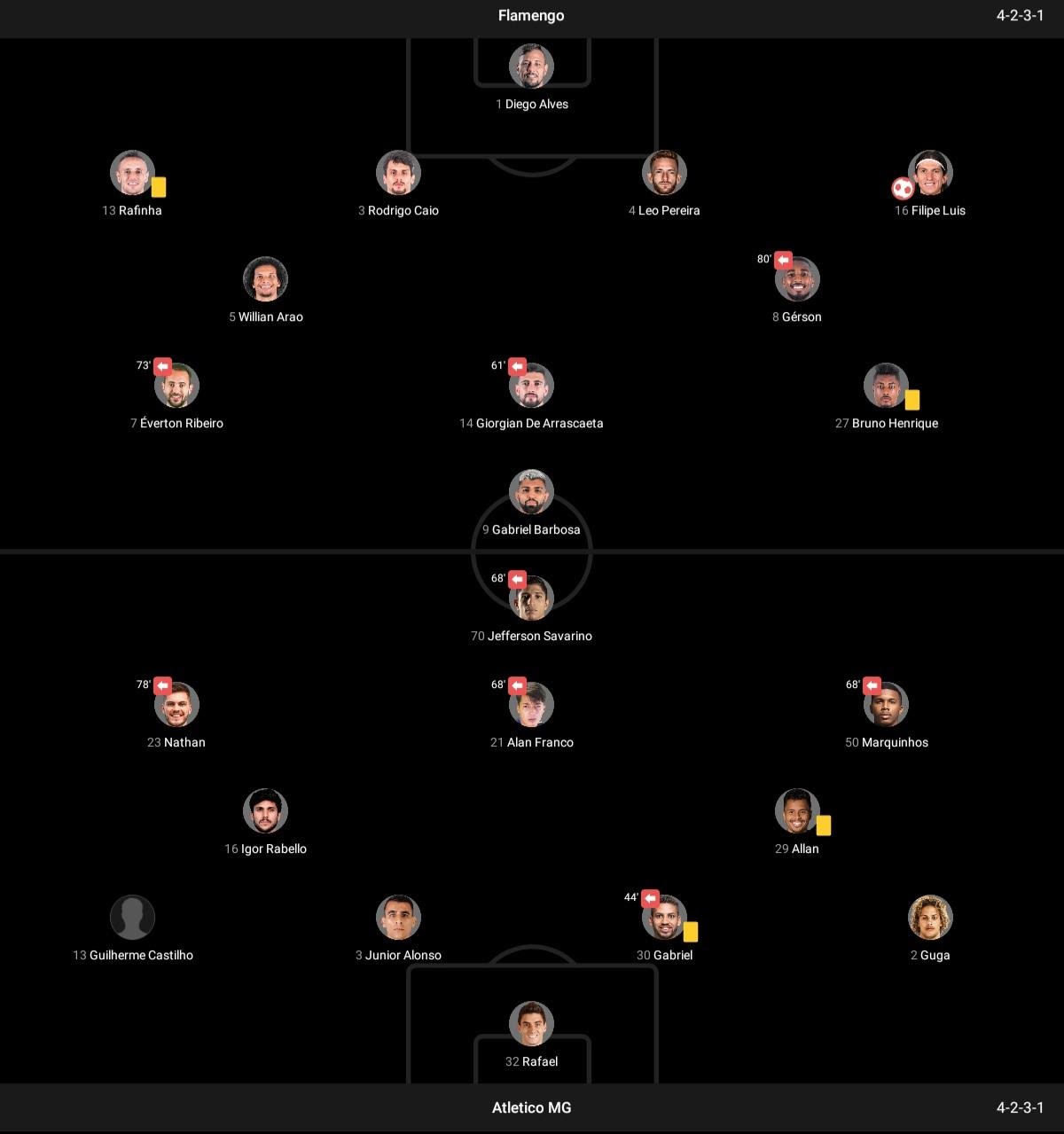 On the other hand, it was a fairly new-look Mineiro side in contrast to that of last season. Júnior Alonso started on the left side of defense, having joined in the summer from Lille for a fee of €3 million. Alan Franco, who impressed in Ecuadorian side Independiente del Valle's Copa Sudamericana-winning campaign last year, started up top along with ex Chelsea man Nathan, ex Real Salt Lake winger Jefferson Savarino, and Mineiro youth production Marquinhos.
Flamengo's Dynamic Switches
Bruno Henrique and Gabriel Barbosa utilized their pace in the attacking third, constantly switching positions and freeing space for themselves. 'Gabigol,' who finished as Flamengo's top scorer last season with 25 goals, looked to be playing as a lone center forward on paper, but on the pitch, him and Bruno Henrique created space for each other and combined in the final third, as if they were a strike pair.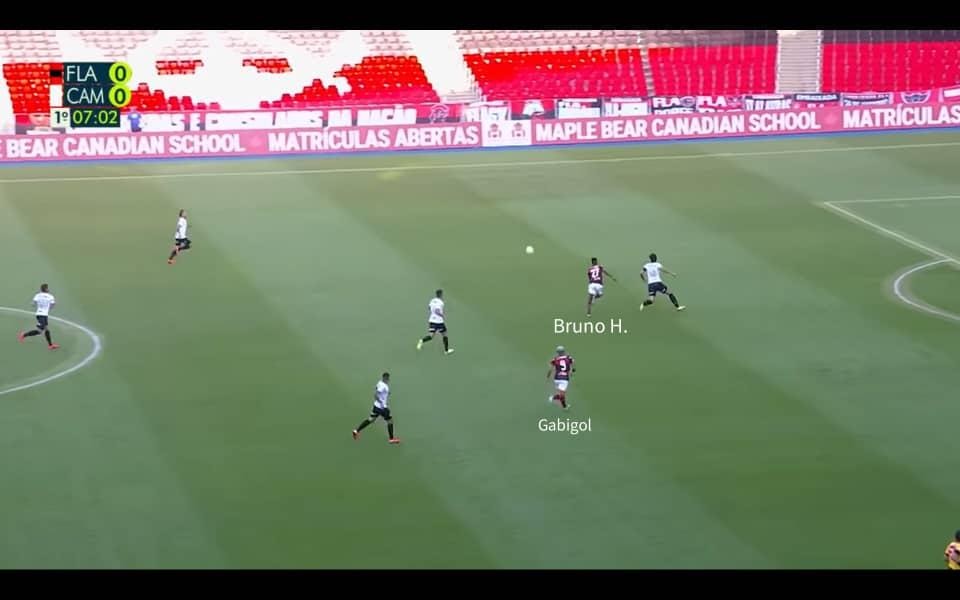 Bruno Henrique drifts into the center, pulling both center backs in and freeing Gabigol.
In the above image, Gabigol assumed the right wing position and moved inwards, with Henrique playing as a makeshift striker. This led to Gabigol being in a free space and finding himself open to receive the ball in space and have a clear goalscoring chances.
Thanks to their lethal combination play, Henrique managed three shots in the game (two on target and one hitting the woodwork).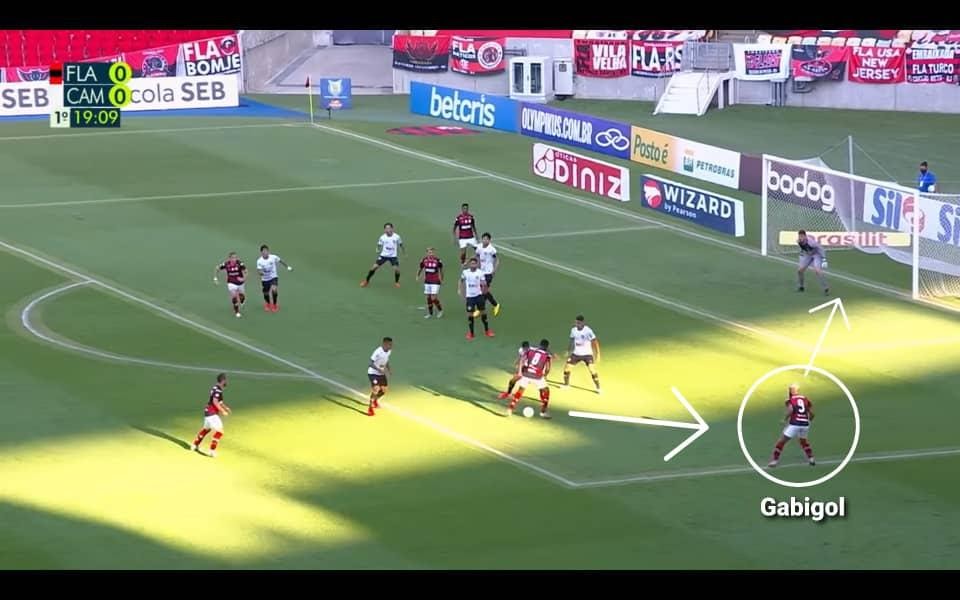 Gabigol switches to the right wing to find himself in open space, giving him a clear sight on goal whilst Gerson weighs up a pass.
Flamengo's Offside Trap
Playing with two fullbacks in Rafinha and Filipe Luís who tend to advance forward on a whim, Torrent knew he needed to devise a tactic to safeguard against his fullbacks being caught out of position on the counter with line-splitting passes.
In order to minimize these chances, Flamengo's defense maintained a high line in order to remain compact as well as be able to catch the opposition offsides with an offside trap. They congested the central areas and remained close to Mineiro so as to intercept short passes.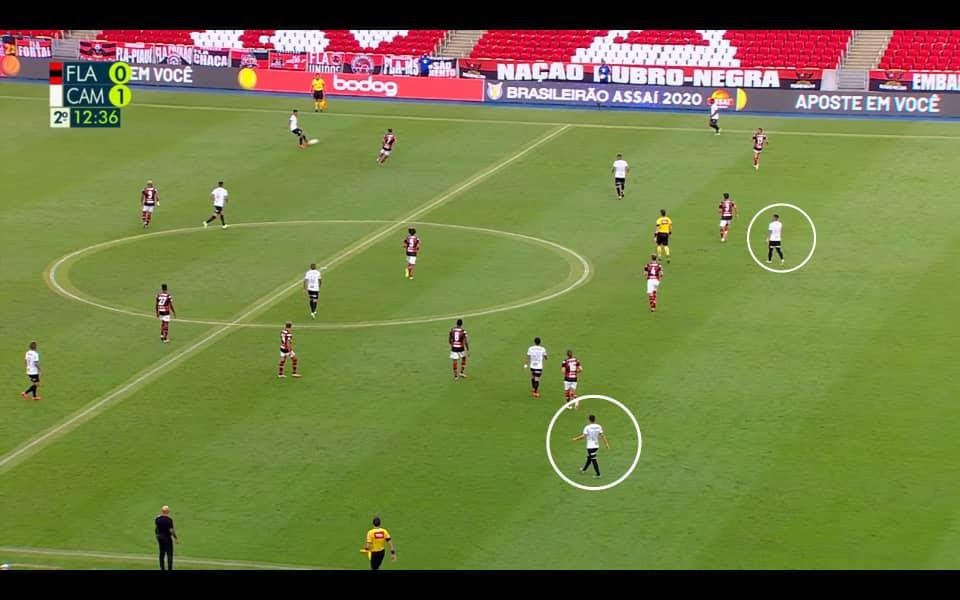 Flamengo's defensive line kept a flat shape to set Savarino and Marquinhos on offside positions.
Flamengo's Intense Pressing
Just like his former boss Guardiola, Torrent adapted an aggressive pressing scheme, even when Atlético Mineiro had possession in the defensive third.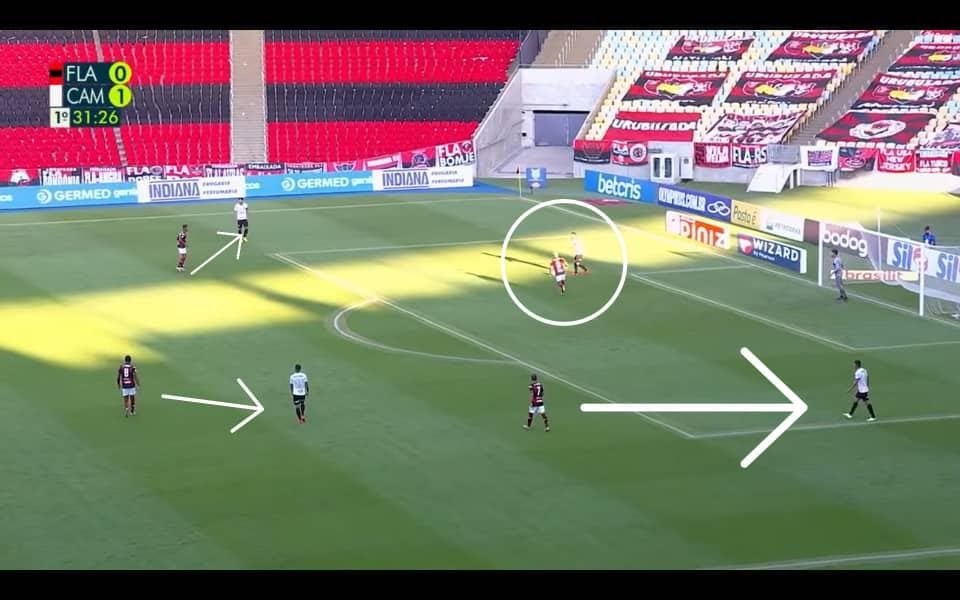 They remained close to any passing option, making things harder for their opponents to progress possession. In the below image, Galo's right-sided center back Gabriel Costa França had possession in his own box, yet Gabigol went directly to tackle him, forcing him to offload the ball without hesitation.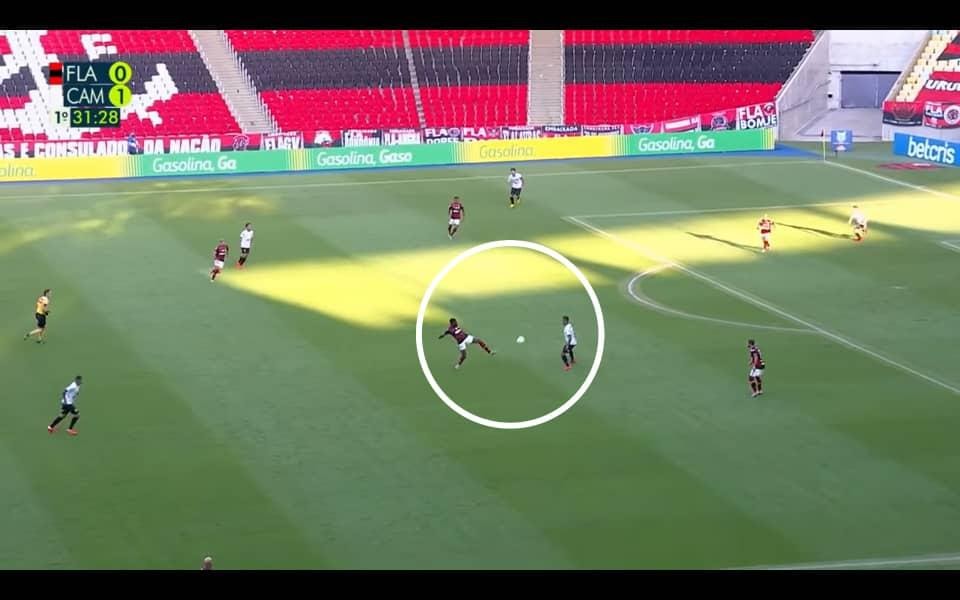 Gerson intercepts the pass from Gabriel after Gabigol presses him in the box.
Atlético Mineiro's Wide Penetration
Atlético Mineiro finished the game with just 38% possession, but they made use of it with this sequence of play in the 23rd minute. Flamengo were caught off guard when Marquinhos and Savarino shifted to the right side of attack, pulling both center backs apart and creating a free channel for Arana, whose cross bounced off Filipe Luís and into his own net.
.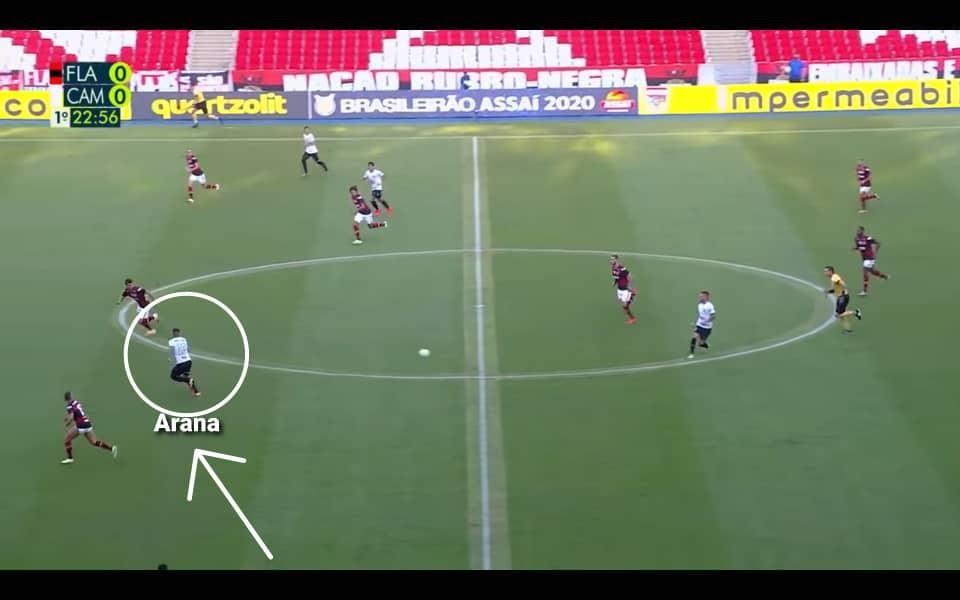 Arana makes an underlapping run to break on the counter, before latching onto Marquinhos's through ball and launching a cross into the center of the box.
Conclusion
Despite the losing start, Flamengo looked like the better of the two sides, although the lack of match fitness played a crucial role behind the result; Atlético Mineiro had played four matches in the past two weeks, whilst Flamengo had not played a match in 25 games, in which Jorge Jesus's Urubu defeated Fluminense in the Campeonato Carioca Final.
Flamengo's xG of 3.1 surpassed that of their opponent's 0.7, and although only two of their 17 shots were on target, there were plenty of opportunities where they could have not only equalized, but gone ahead. Early on, Bruno Henrique latched onto a hopeful lofted pass from Gerson, heading it past Igor Rabello and goalkeeper Rafael Pires, who collided against each other. The Brazilian attempted to tee up Gabigol, who was ready to tap home from an open net, but the winger's pass hit the woodwork.
Credit must go to Sampaoli, who set his side up for victory, but Torrent's Flamengo have the individual quality as well as the tactical adaptability to push for more silverware this season.
By: Leroy Okyere
Featured Image: @GabFoligno