Tactical Analysis: How Coventry City Reached the Playoff Final
Coventry City is a win away from a return to the Premier League after beating Middlesborough 1-0 on aggregate in the EFL Championship playoff semi-final. A win against Luton, who were promoted to League One in the 2017/18 season alongside Coventry, in the final dubbed as "one for the romantics" by Coventry manager Mark Robins, would see his team reach England's top division just 5 years on from promotion out of League Two. Reaching the final is an incredible achievement in its own right, and these are the tactics that got them there.
Structure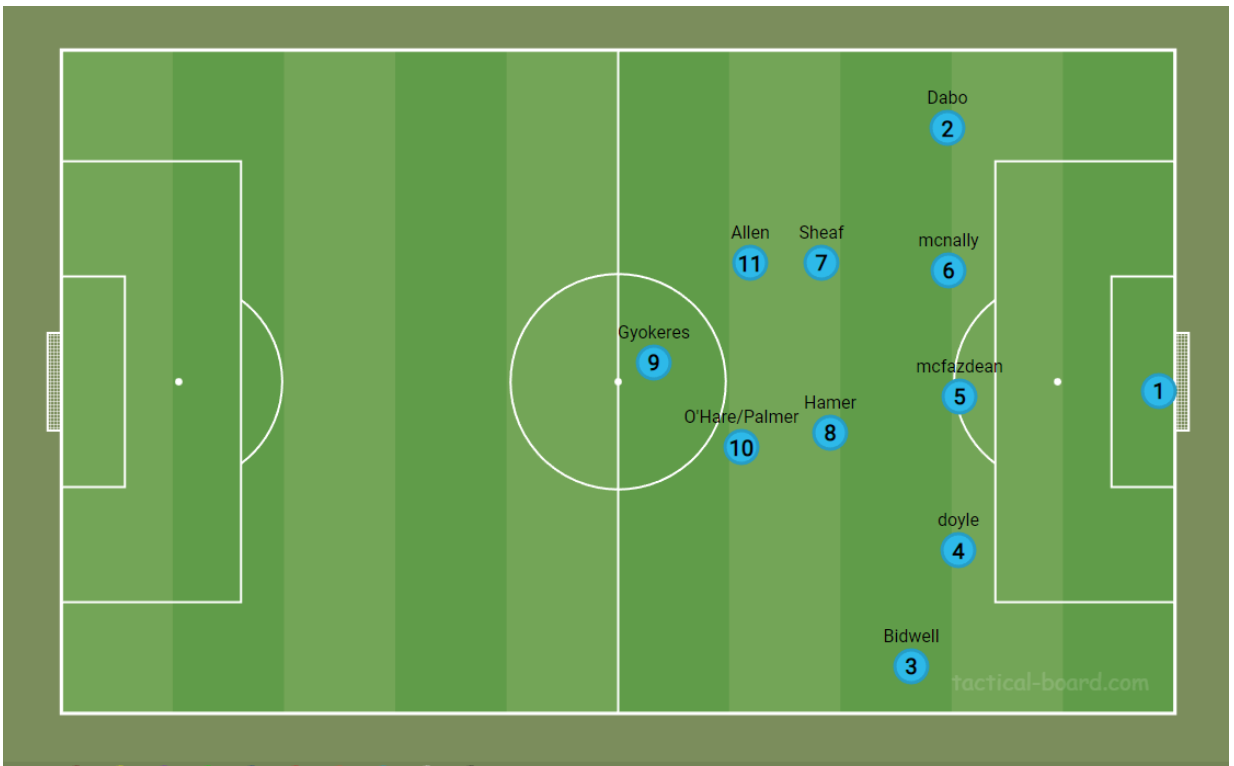 Coventry's 5-2-2-1
With a clean bill of health, Coventry line up in a 5-2-2-1 which moves into a 5-4-1 out of possession. With the ball, they transition into a 3-2-4-1 with two "10s" and wing backs holding the width. This system has given them success going forward and allows them to be more effective with the ball, but has, at times left them open to counter-attacks.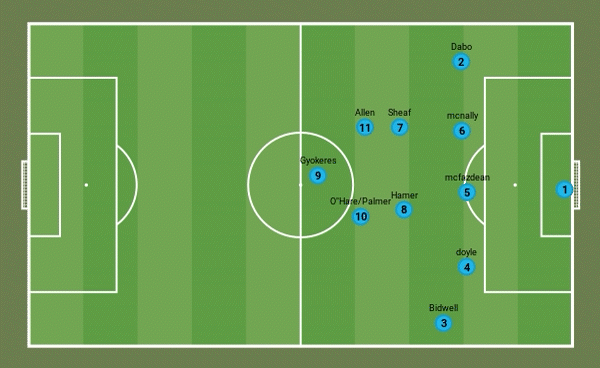 Coventry's different shapes within the 5-2-2-1
This has been adapted to a 5-3-2 or 5-2-1-2 recently to deal with the absence of Callum O'Hare and Kasey Palmer.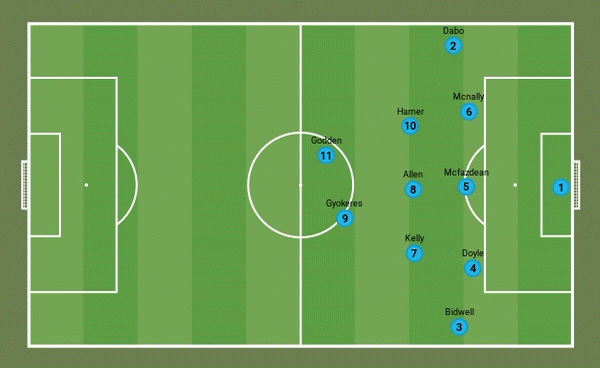 5-3-2 and 5-2-1-2 shapes
These formations transition to a 3-5-2 in possession with Gustavo Hamer given more responsibility to make things happen with the ball.
Coventry's Swedish Pressure Valve
Mark Robins has based his style of play at Coventry on getting the best out of his players as opposed to an overarching tactical philosophy. A part of this is giving Viktor Gyokeres space to attack in transition. The Swedish international is the most complete forward in the league, he can hold the ball up and beat defenders using his pace and power. He dribbles with the ball well and has completed 33 more carries into the penalty area than any other player in the division (143). His hold-up play and ball-carrying ability allow him to release any pressure Coventry is under and turn it into an attack. 
He has the end product too. This season he has scored 21 goals, assisted 10, and has more goal contributions than any player in the league. He weighs his passes well which makes his ability to commit to defenders incredibly dangerous. He often picks the ball up on the counter and drives at a defender waiting for them to commit to the tackle. Once the defender(s) have committed he will play his teammate in on goal.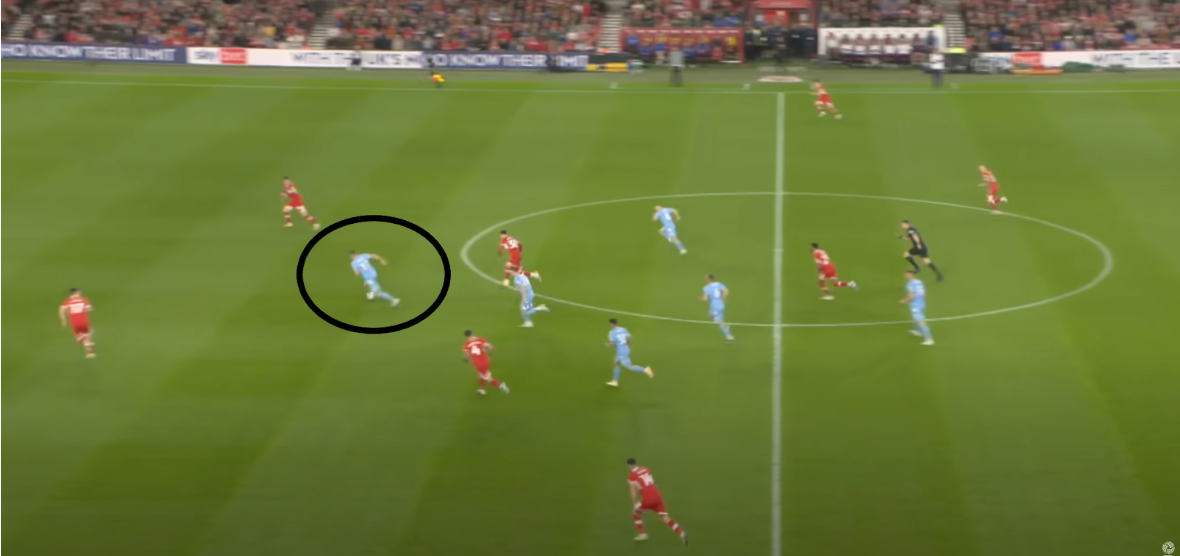 Gyokeres picks up a loose ball in midfield.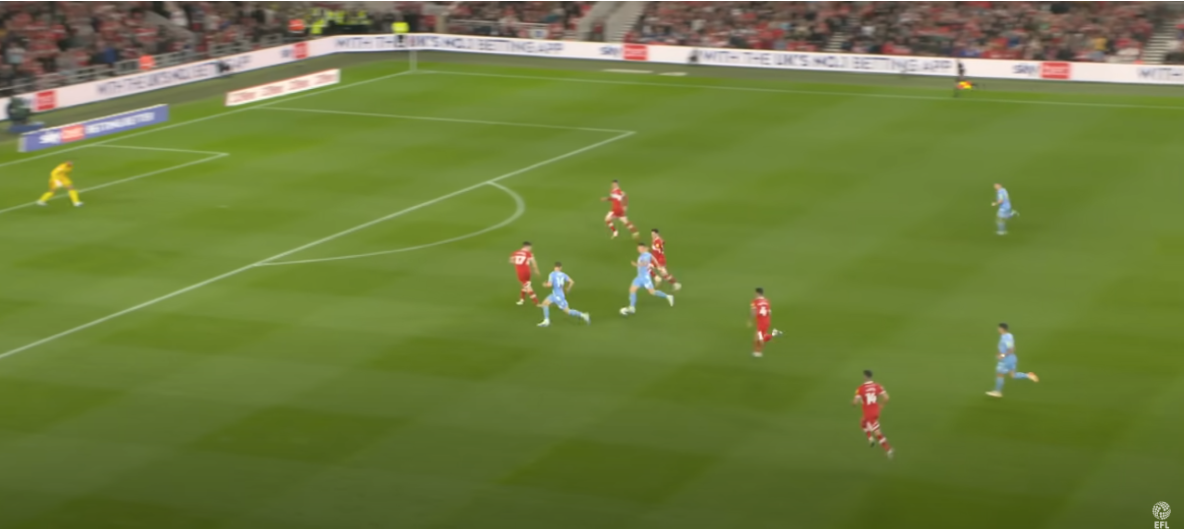 He takes a touch inside to avoid being tackled. After this touch, he begins to drive at the centre back and spots his teammate to the left.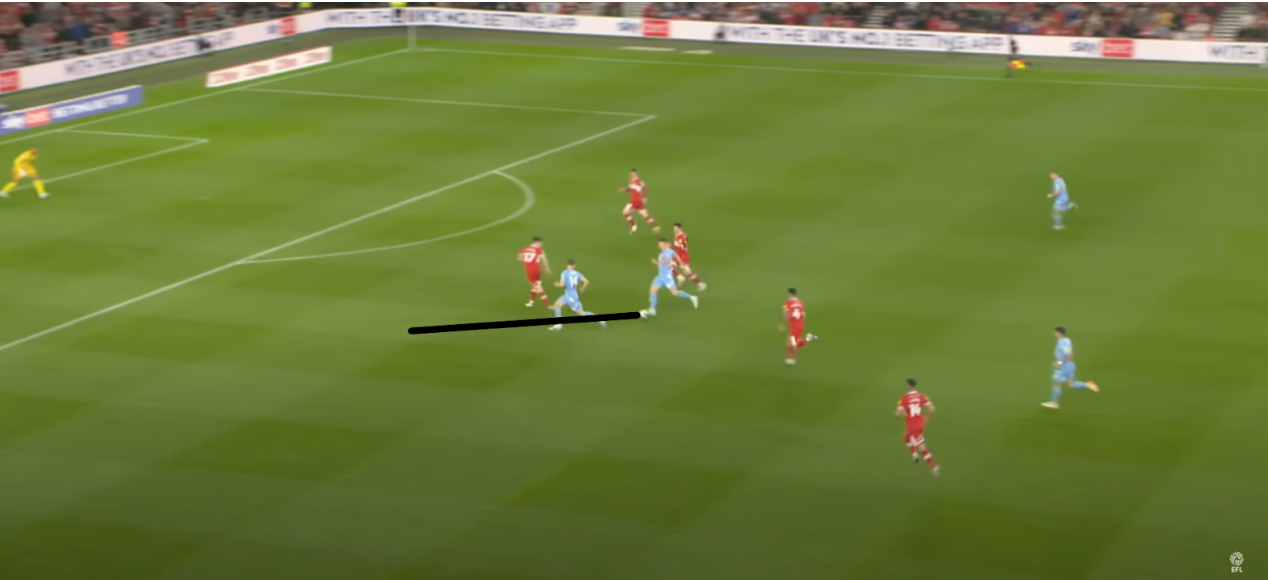 He touches the ball with the outside of his boot, meaning the defender changes his body position, before playing a deft pass into his teammate's path.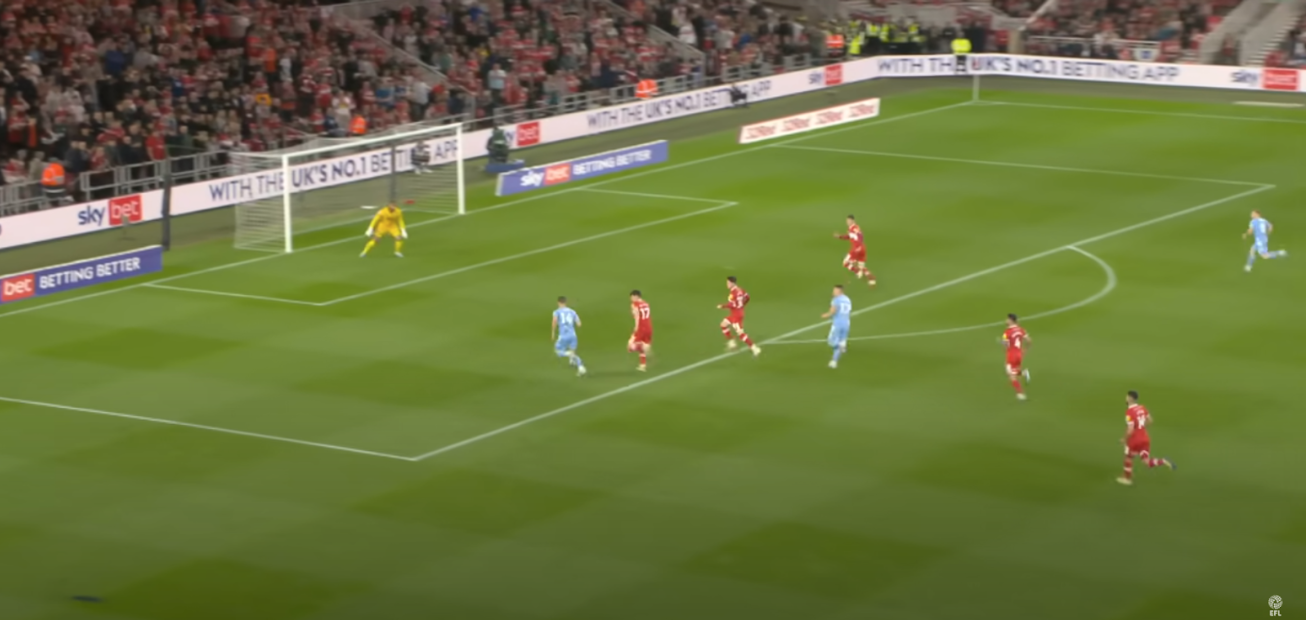 Despite his impressive goal-scoring record, he doesn't finish well one-on-one with the keeper and if he steps up a division he will see more of his shots saved.
Build-up Phase
Ben Wilson has launched 46% of his goal kicks this season, showing how eager Coventry are to go long from goal kicks. When going long, they push their players as close together as possible. This helps them win second balls.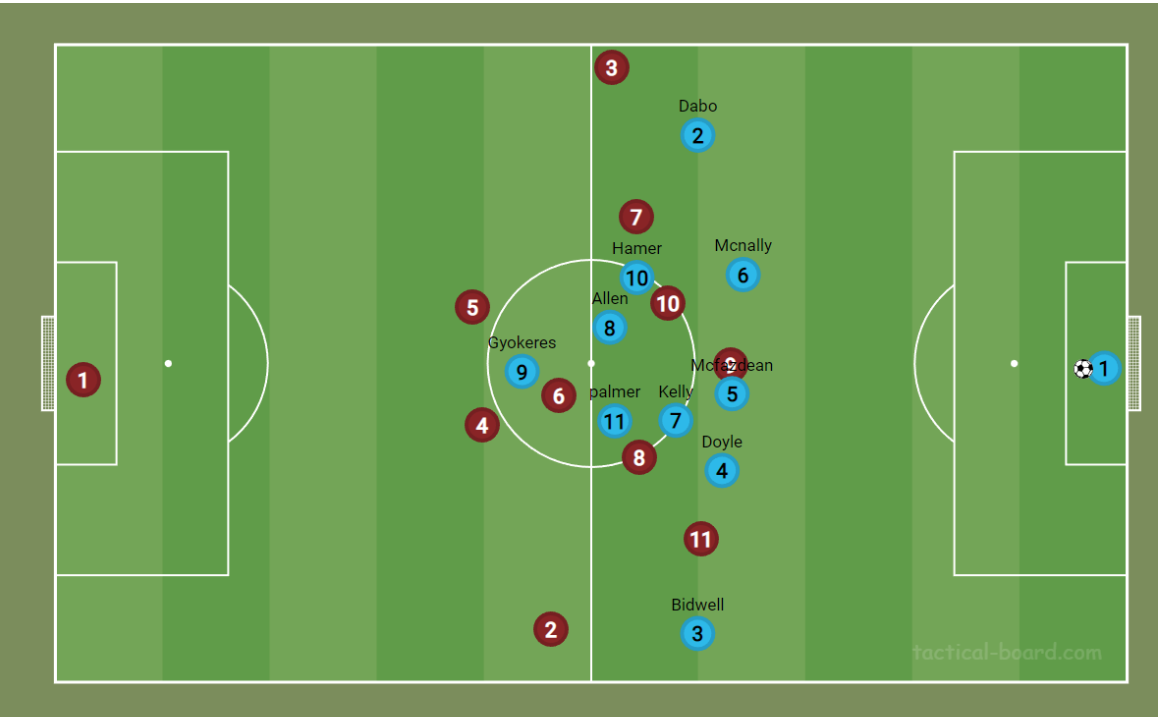 Coventry set up for a long goal kick
It's worth noting that the Coventry defenders aren't bad ball players too. Luke McNally was signed by Burnley in the summer in part due to his ability to carry the ball out from the back and pick out a pass, Callum Doyle is a product of the Manchester City academy and Jonathan Panzo can carve through opposition presses with his intelligent pass selection. 
On the rare occasion they do attempt to play out a press, they do it well. They overload one side of the pitch, leaving a few players on the opposite side. They then play quick forward passes through the overloaded side of the pitch. After this, they look to switch the play to one of the players remaining on the opposite side. An example of this in their match against West Brom: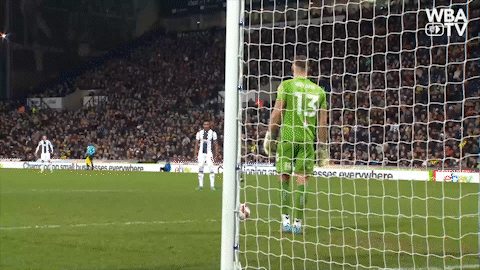 Their directness in the build-up is a stylistic choice and isn't due to player quality. Any talk of them being one-dimensional is rubbish.
How Do They Attack?
The principles in the final third are similar to the ones in the build-up – Pass and move at a high tempo. Players remain close to each other to ensure quick short passing. When playing in a 5-2-2-1 they hurt teams with their combination of speed, movement and precision. One of the features of the 5-2-2-1 is its "box midfield" which is created by the two "10s" (Palmer and Jamie Allen) and the double pivot (Hamer and Ben Sheaf).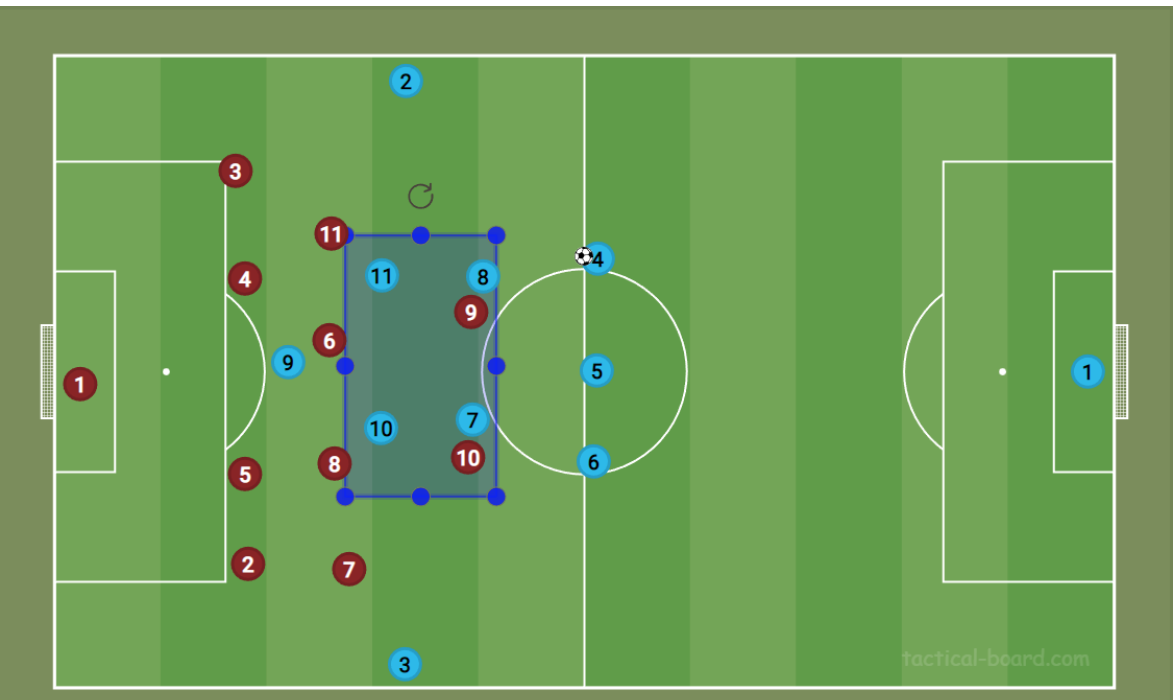 Coventry's box midfield
Hamer is impressive in his role at the base of midfield. His creativity allows him to dominate the midfield and is one of the reasons he's among the team's most important players. The verticality in his passing exemplifies Coventry's desire to play through the central thirds quickly.
This has been made a lot more difficult with the recent switch to a 5-3-2. Instead of having two "10s" they've relied on the two "8s" on either side of the midfield three which has made them less effective going forward. Despite this Hamer has handled this added responsibility well, scoring three goals in his last five games including the winner in their playoff victory vs Middlesbrough. This system relies heavily on Gyokeres being the best outlet in the division though.
Force Them Wide
Coventry has kept 20 clean sheets this season, mainly due to their ability to stay disciplined in a defensive block. They usually set up in narrow 5-3-2 or 5-4-1 formations off the ball. They look to push teams wide and force crosses as their back five give them a numerical advantage in the penalty area. It helps that their defenders are relatively good in the air too.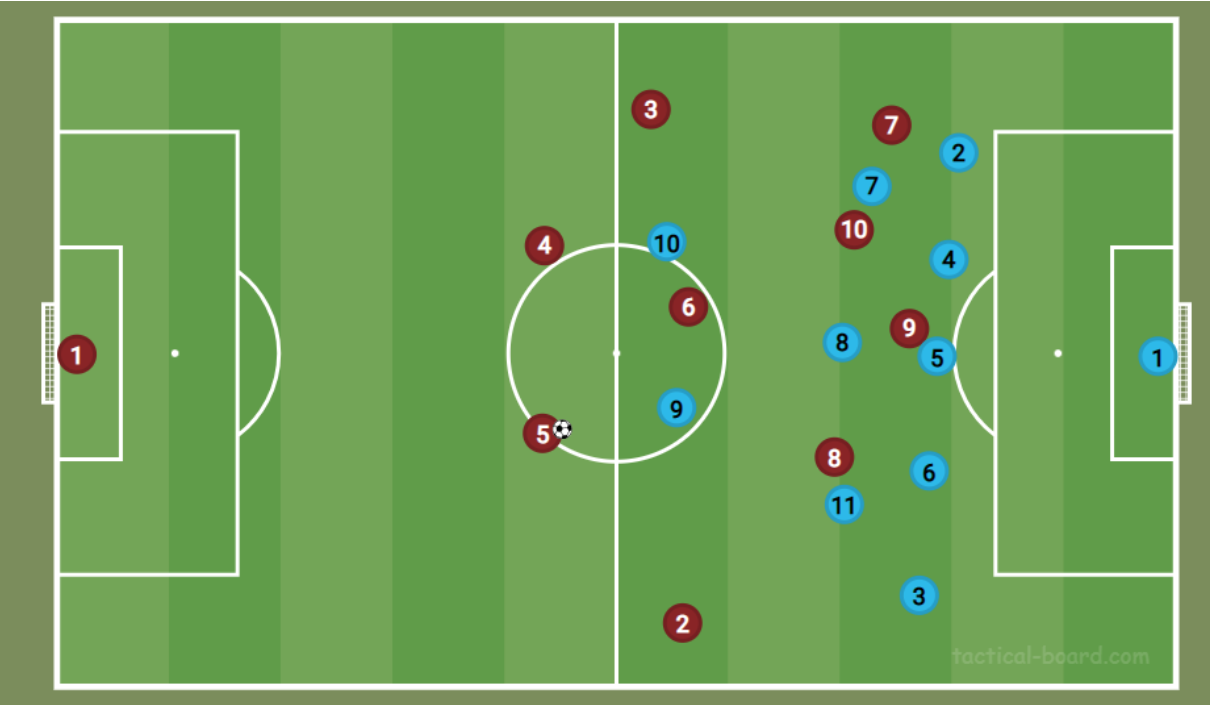 Coventry's 5-3-2 out-of-possession structure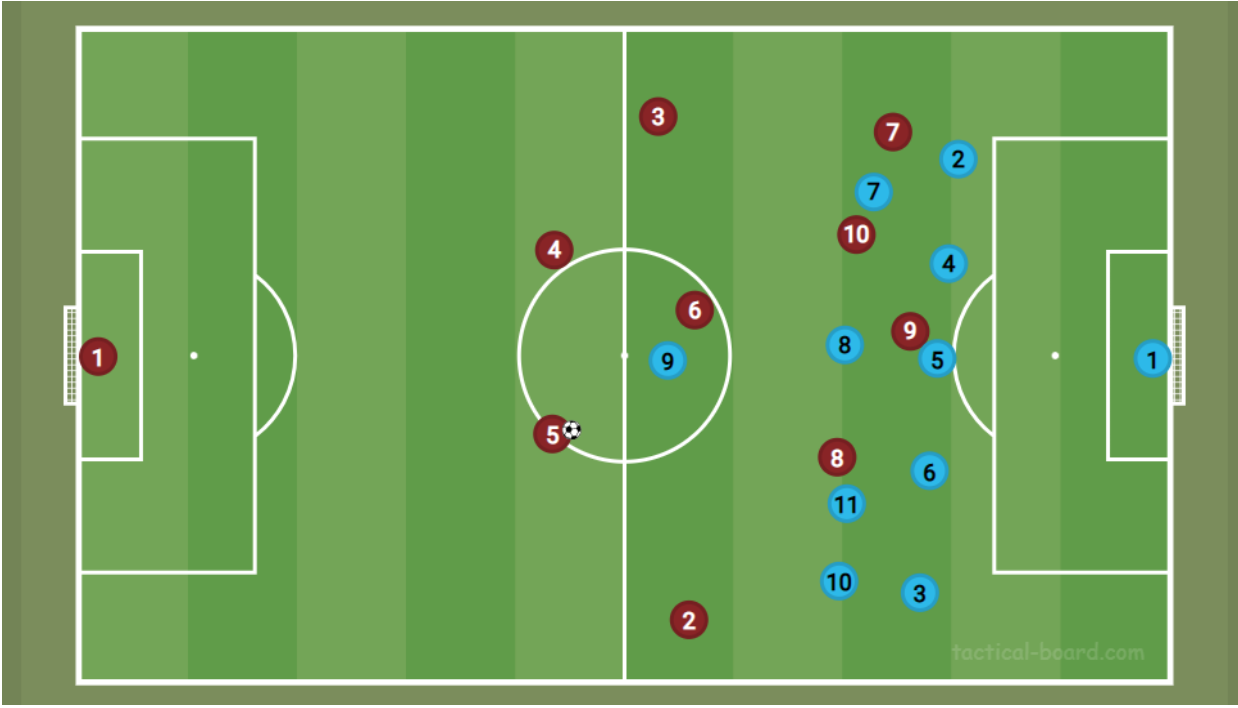 Coventry's 5-4-1 out-of-possession structure
 The midfielder's job positionally is similar in both of these systems. This player is instructed to stay narrow in an attempt to protect central areas and the edge of the box. 

Coventry in their 5-3-2 low block against Middlesbrough (other striker out of view to the left). They force teams wide by having the forwards block central passing lanes too.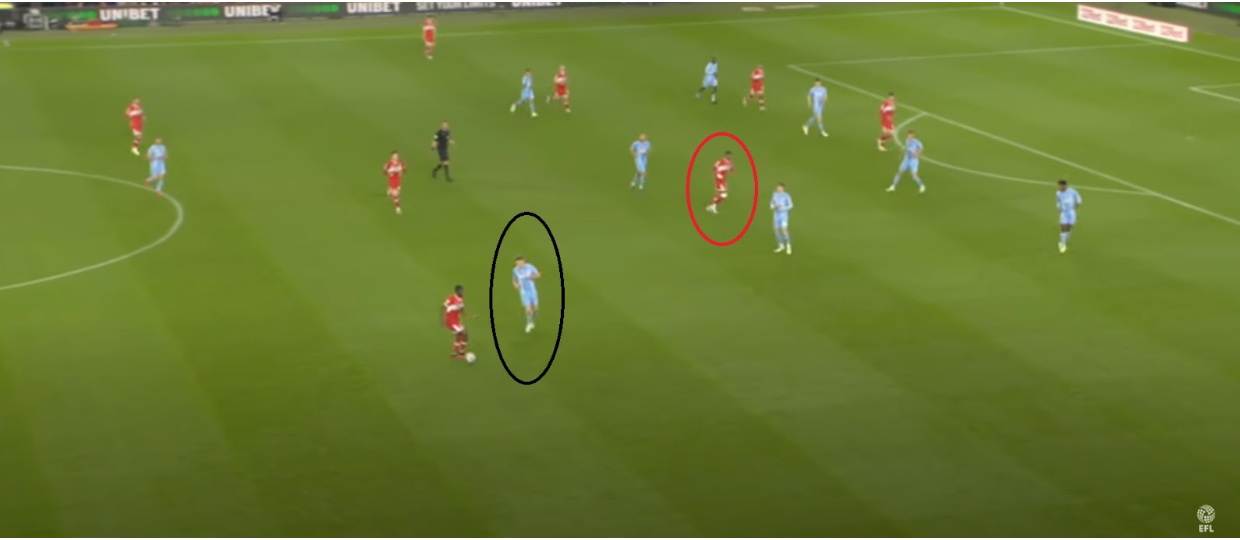 Earlier in the same move, Gyokeres (circled in black) presses the defender at an angle that blocks the pass into the Middlesbrough attacker (circled in red), thus forcing Middlesbrough wide. The wing-backs are instructed to aggressively step up to players receiving the ball out wide and immediately show them the outside. This prevents players from moving infield, where they're more vulnerable defensively.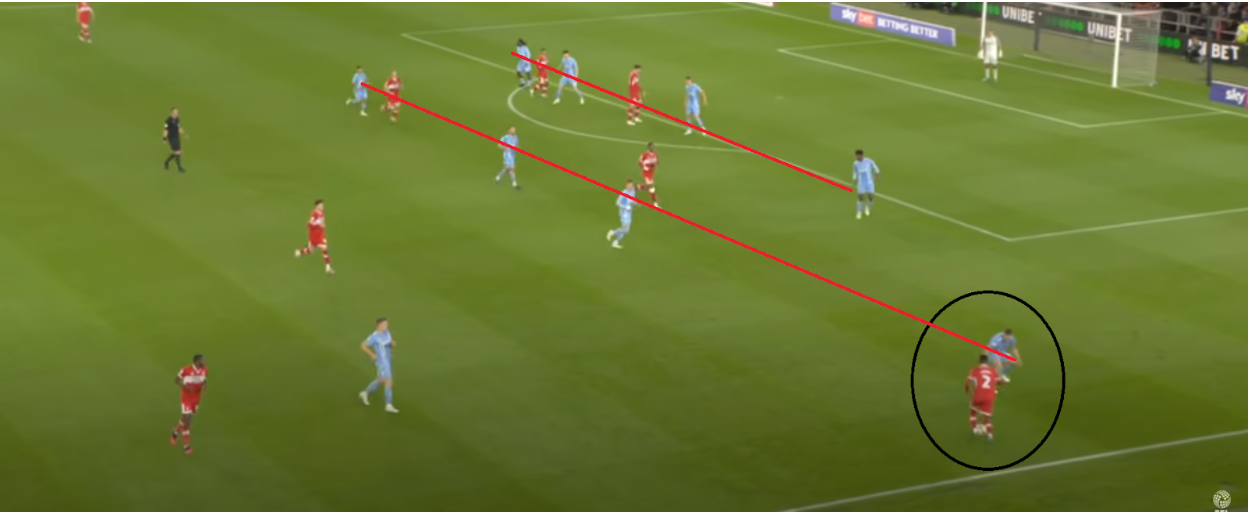 Immediately after the Middlesbrough player receives the ball, Jake Bidwell steps up. His positioning wasn't perfect as he left himself exposed on the inside but, it's not punished due to the Middlesbrough players' one-footedness. Him stepping up momentarily creates a 4-4-2 shape for Coventry.
Their wing-backs take up the role of wide midfielders when dealing with wide players, but the downside to this is that it leaves space between the wing-back and wide centre-back which could be exploited by higher-level opposition. Here's West Brom doing just that earlier in the season: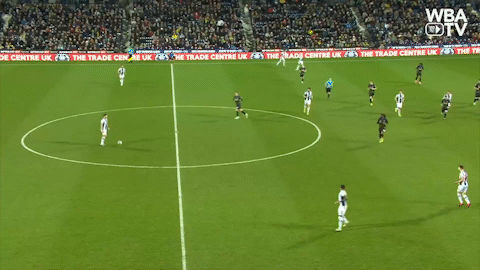 As the Middlesbrough player attempts to dribble into the box, Bidwell takes up a lower body position ready to make a tackle. The player's only options from this position are to pass backwards, attempt to nutmeg Bidwell, or go on the outside and cross from an unfavourable angle.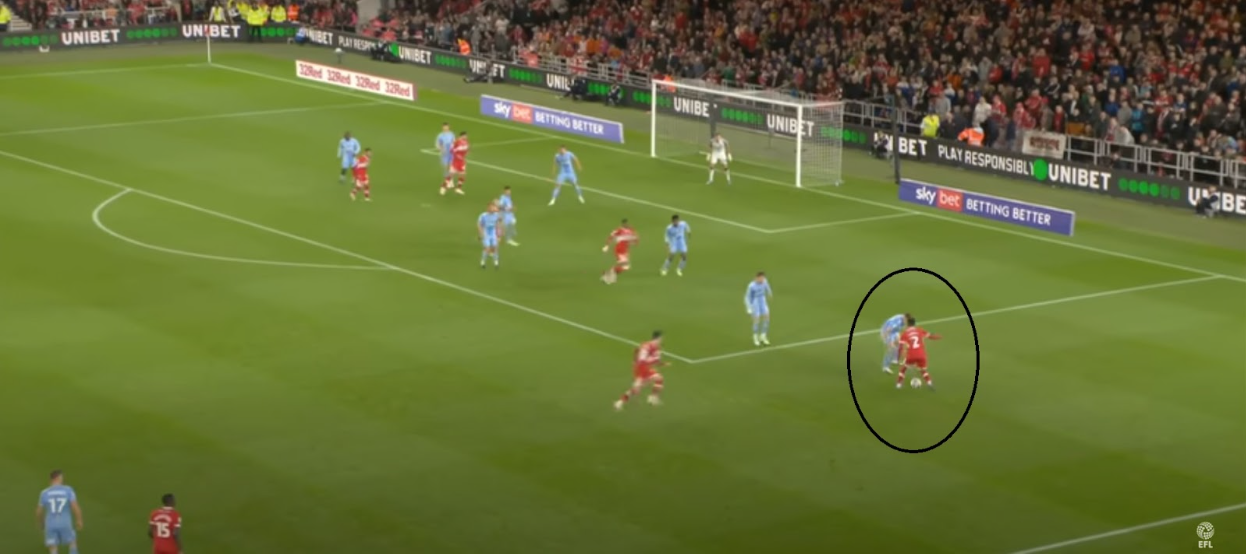 He chooses the latter and, on this occasion, his inaccurate cross nearly catches Coventry goalkeeper Ben Wilson out and he is forced to tip the ball over the bar. This is just one example of something that has happened virtually every game for Coventry. Their success this season shows how effective a team that knows how to work to their strengths can be.
Pressing High
When pressing opposition goal kicks, they operate in a narrow 3-4-3 with both wing-backs stepping up onto opposition full-backs.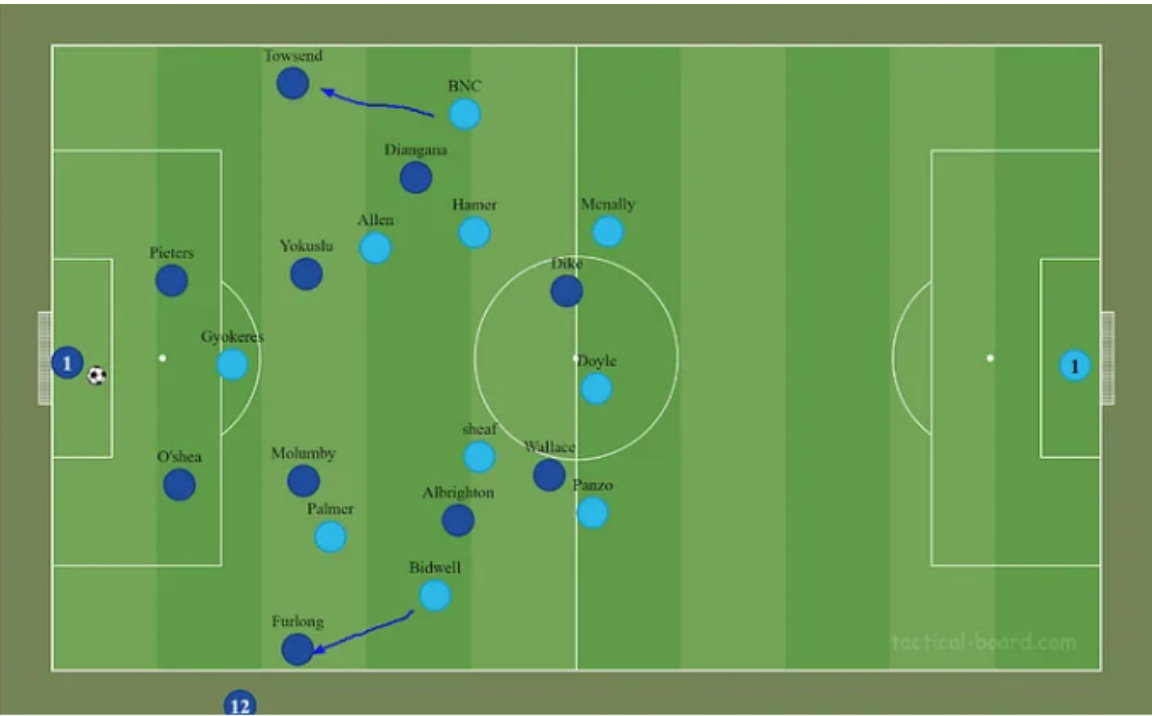 This works well against teams that use a lone defensive midfielder in the build-up as they can crowd them out effectively. They did this well in their 1-0 win against West Brom in December.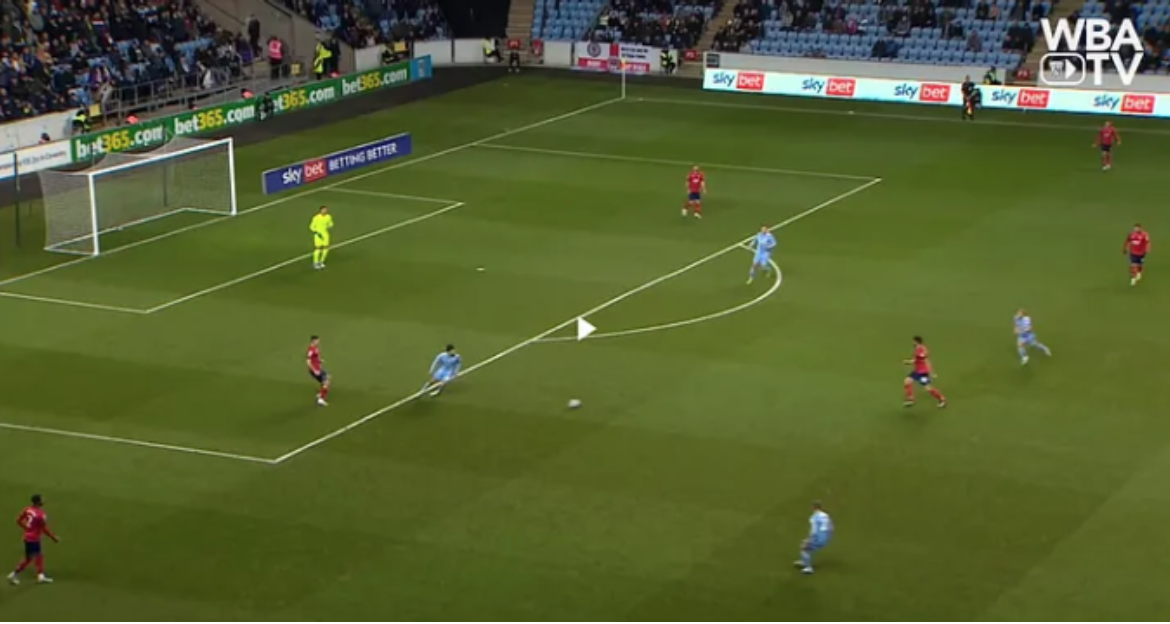 Coventry pressing the West Brom defensive midfielder.
In this image, the West Brom player is forced to receive the ball in a crowd of four players. This happened repeatedly throughout the match and stunted the West Brom build-up. The return fixture was a different story. West Brom built out in a 4-2 and outnumbered Coventry. Coventry struggled to find an answer to this and struggled throughout the match. Their press was ineffective and they were played through with ease.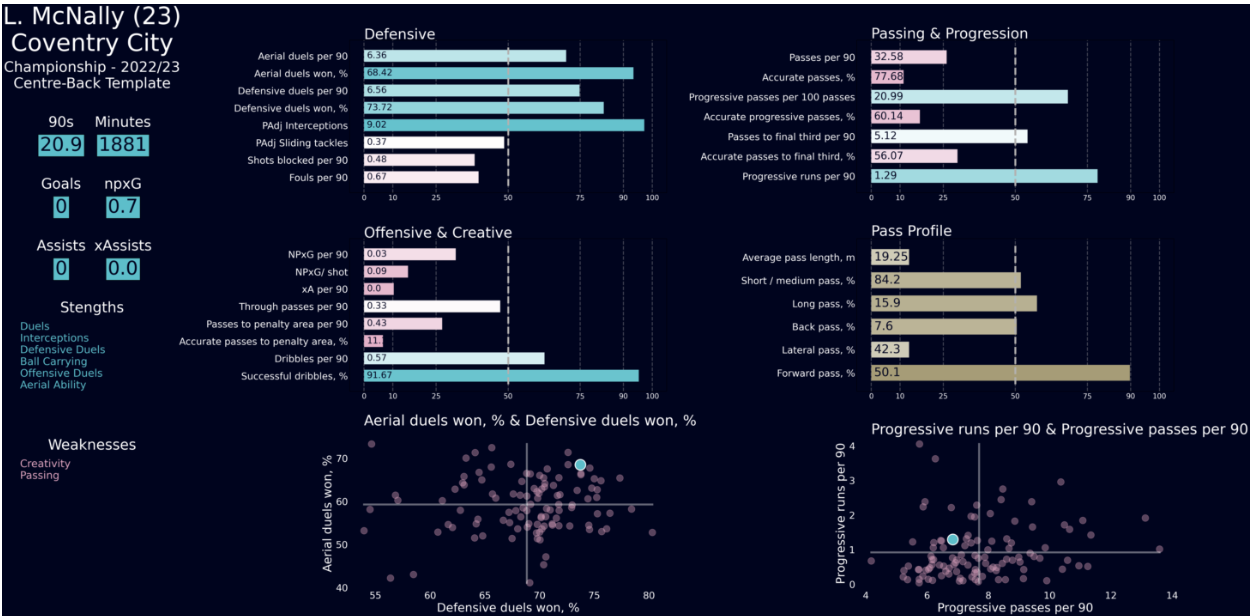 Luke McNally 2022/23 percentiles amongst Championship centre backs with 10 or more 90s completed [@anayticswba]
Luke McNally was an excellent addition and an example of how well Coventry uses the loan market. He is an incredibly well-rounded defender which is shown by his ranking above average in every defensive metric besides slide tackles and shots blocked. 50% of his passes going forward suggests he wants to get the ball from back to front quickly. That paired with his ball-carrying ability is why he is such a good fit for Coventry in and out of possession.
Conclusion
Coventry is from a two-man team. They're a well-coached team who know what they have to do to win football matches. They play to their strengths and are more than worthy of a Premier League place should they be promoted on Saturday. With that being said, they do possess some of the best players in the Championship in Viktor Gyokeres, Gustavo Hamer, Luke McNally and Ben Sheaf. Can they return to the top-flight for the first time since 2001 and end the long-awaited wait? Stay tuned for what promises to be an enthralling final at Wembley.
By: Rickylee Griffiths / @rickyleegriffi2
Featured Image: @GabFoligno / Richard Sellers – PA Images