Tactical Analysis: Inter vs. Shakhtar
Antonio Conte's Inter Milan trounced Luís Castro's Shakhtar 5-0 in the Europa League semi-finals courtesy of two braces from Romelu Lukaku and Lautaro Martínez as well as a goal from Danilo D'Ambrosio. The Nerazzurri pressed Shakhtar high up the pitch, forcing them to play either risky short passes or wayward long balls.
Inter closed down the center of the pitch, forcing Shakhtar to play via the flanks, where they would then focus on hassling them through the wide areas via an effective half-pressing and shifting of defenders to maintain numerical superiority.
Let's take a look at how Conte's Inter dominated Castro's Shakhtar.
High Pressing
Inter sought to render Shaktar's build-up play predictable and force them use more risky passes or long balls. Even so, Shaktar tried to play out from the back even while under huge pressure, and after Inter intercepted those risky passes, they quickly broke on the counter.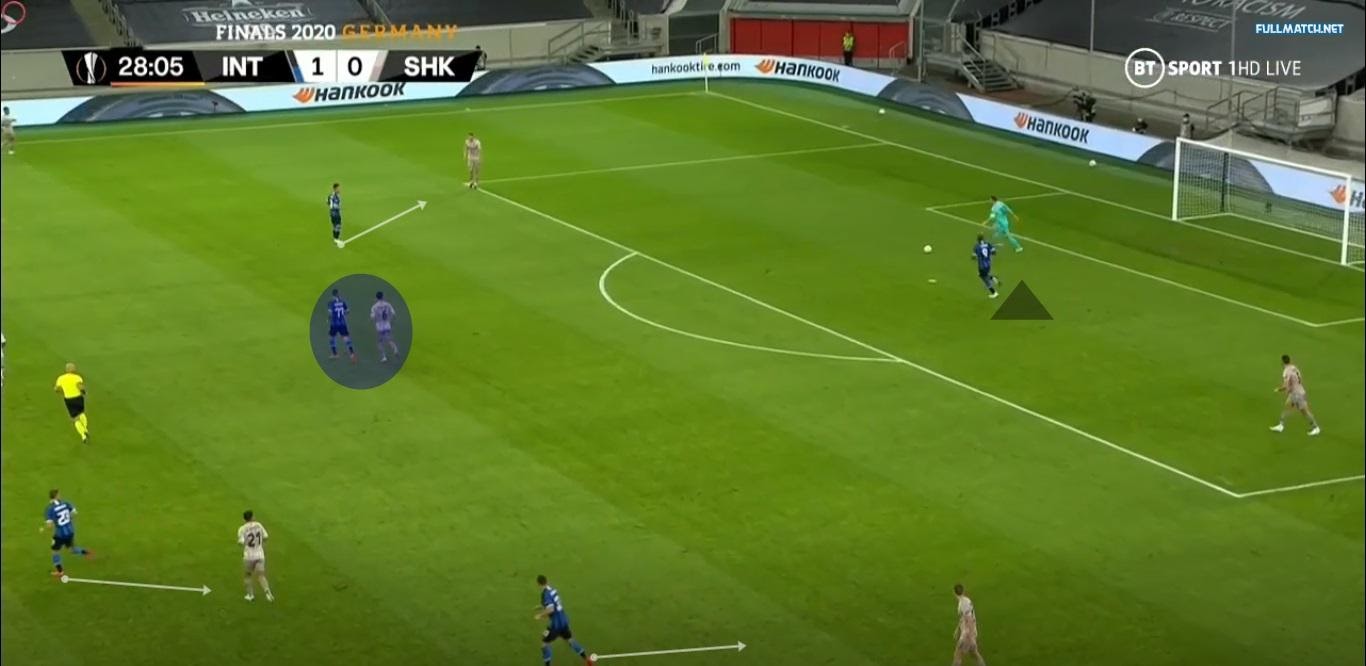 We can see Inter's positioning in their high press in the above picture. With Shakhtar goalkeeper Andriy Pyatov searching for a passing option, Martínez closed down the passing lane to right center back Serhiy Kryvtsov, ready to intercept a short pass from Pyatov.
In the center of the pitch, Marcelo Brozović tightly marked to Taras Stepanenko, whilst Nicolò Barella remained close to Alan Patrick, while also following the direction of the ball. D'Ambrosio advanced forward to mark Mykola Matviyenko, and Lukaku pressed Pyatov whilst also using his cover shadow to eliminate the passing option to Davit Khocholava. In the end, Pyatov had no choice but to play a long ball high up the pitch.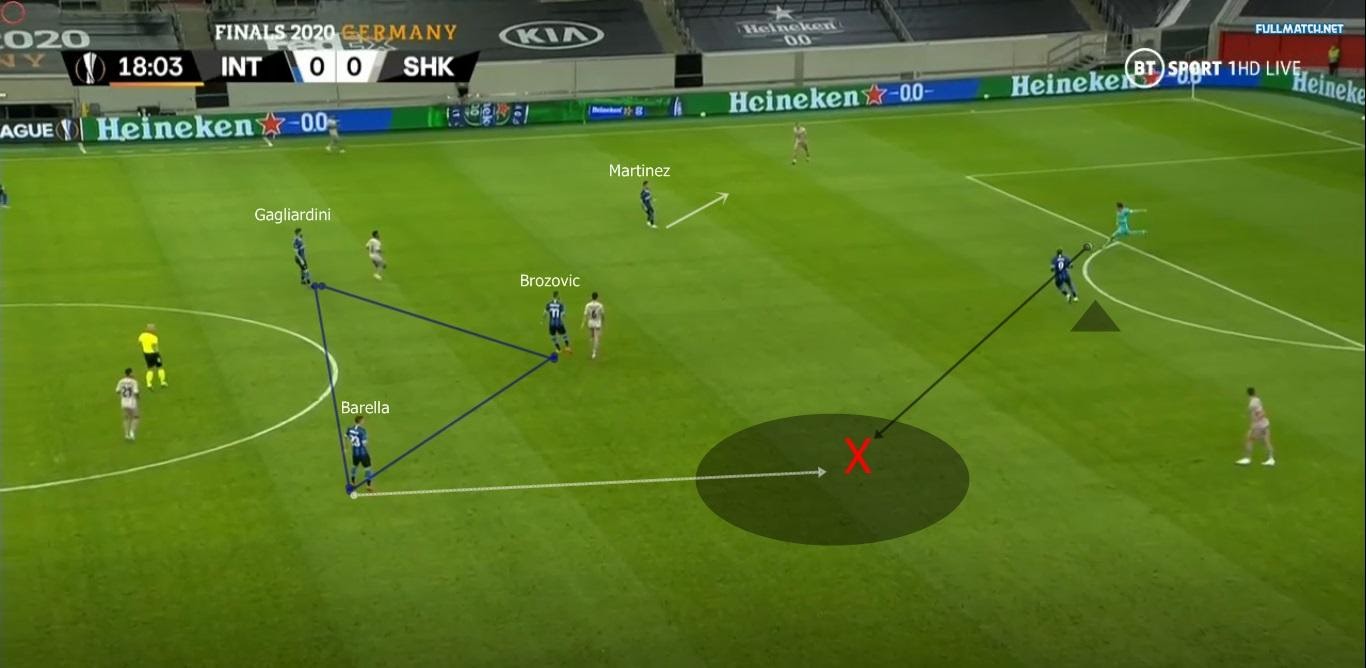 Apart from playing long balls, Inter also sought to force Shakhtar into playing risky passes that could lead to a loss of possession. In the above example, Martínez remains close enough to Kryvtsov to close him down in case he receives possession, whilst Roberto Gagliardini and Brozović man-mark Marcos Antônio and Stepanenko, respectively.
Barella positioned himself in a way that he was ready to press Matviyenko, whilst Lukaku pressed Pyatov while simultaneously blocking the passing lane to Khocholava. Pyatov went for the risky pass to Matviyenko, and Barella read the pass and intercepted it. After winning the ball, Barella dribbled past the Ukrainian before firing an excellent cross to Martínez, who headed it into the bottom corner.
Throughout the game, Shaktar struggled to play out of Inter's press, but when they succeeded in doing so, they attacked the flanks. When they went through the flanks, Inter created numerical superiority around the ball, shifting from side to side to prevent Shakhtar from progressing through the defense.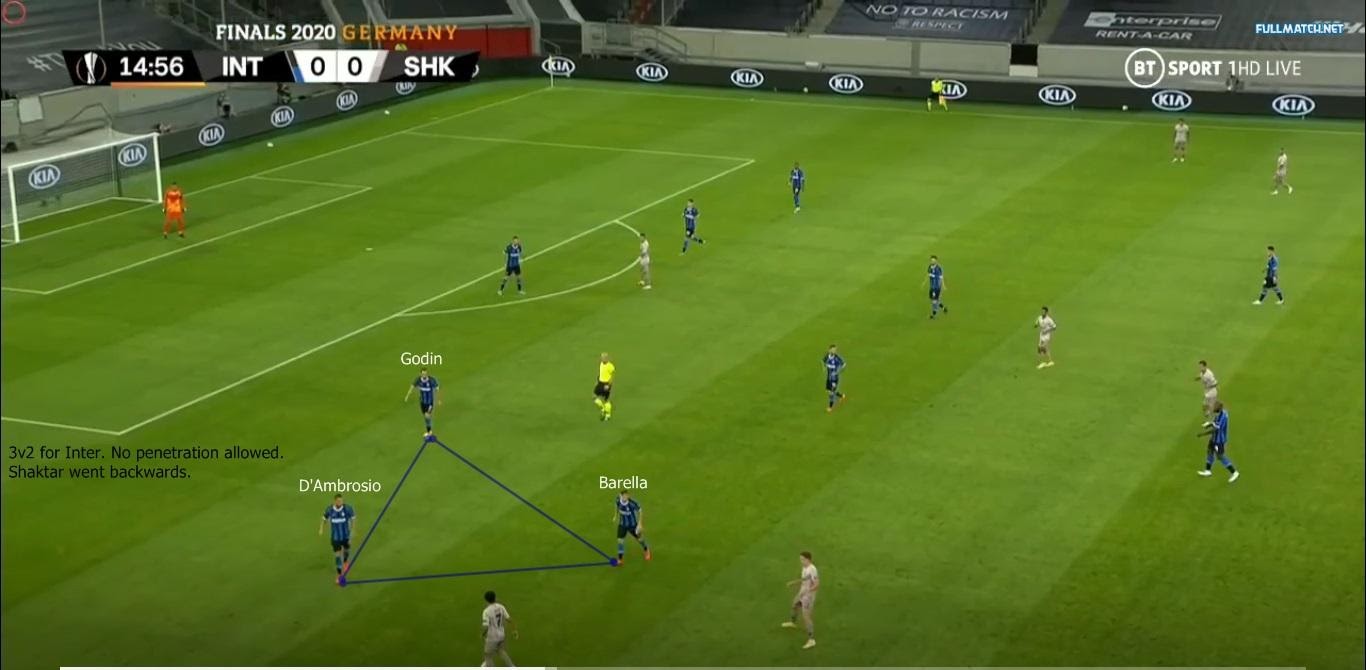 In the above picture, we can see how Inter created numerical superiority around the ball. Shaktar were unable to penetrate through the wide areas, as Inter created a 3v2 in the left flank, with Diego Godín, D'Ambrosio and Barella surrounding Taison, who had no choice but to play it backwards.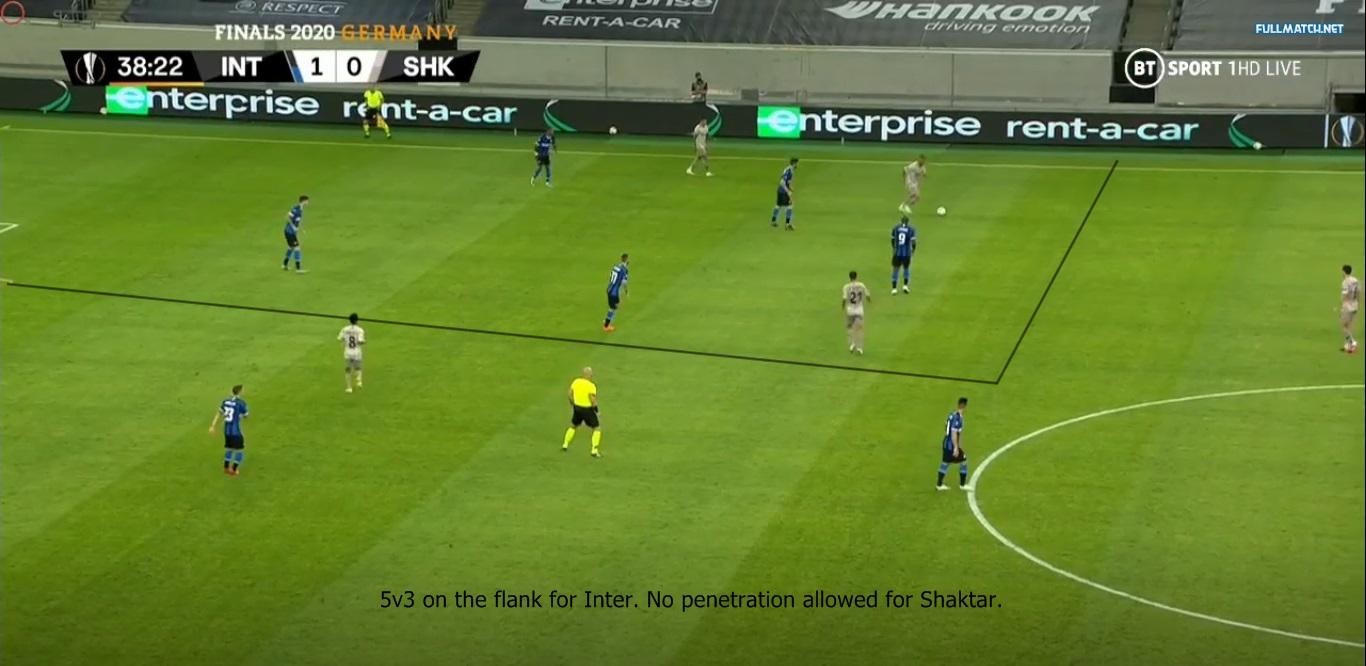 Once again, Inter created numerical superiority with a 5v3 scenario, remaining compact when out of possession and preventing Shakhtar from progressing the ball. With no gap between the lines, Shakhtar's entire attacking strategy was nullified.
Inter pressed Shakhtar deep in their own half, forcing Shakhtar to play backwards to Pyatov and preventing them from playing through the flanks. Three of five Inter's goal came from pressing and transition plays.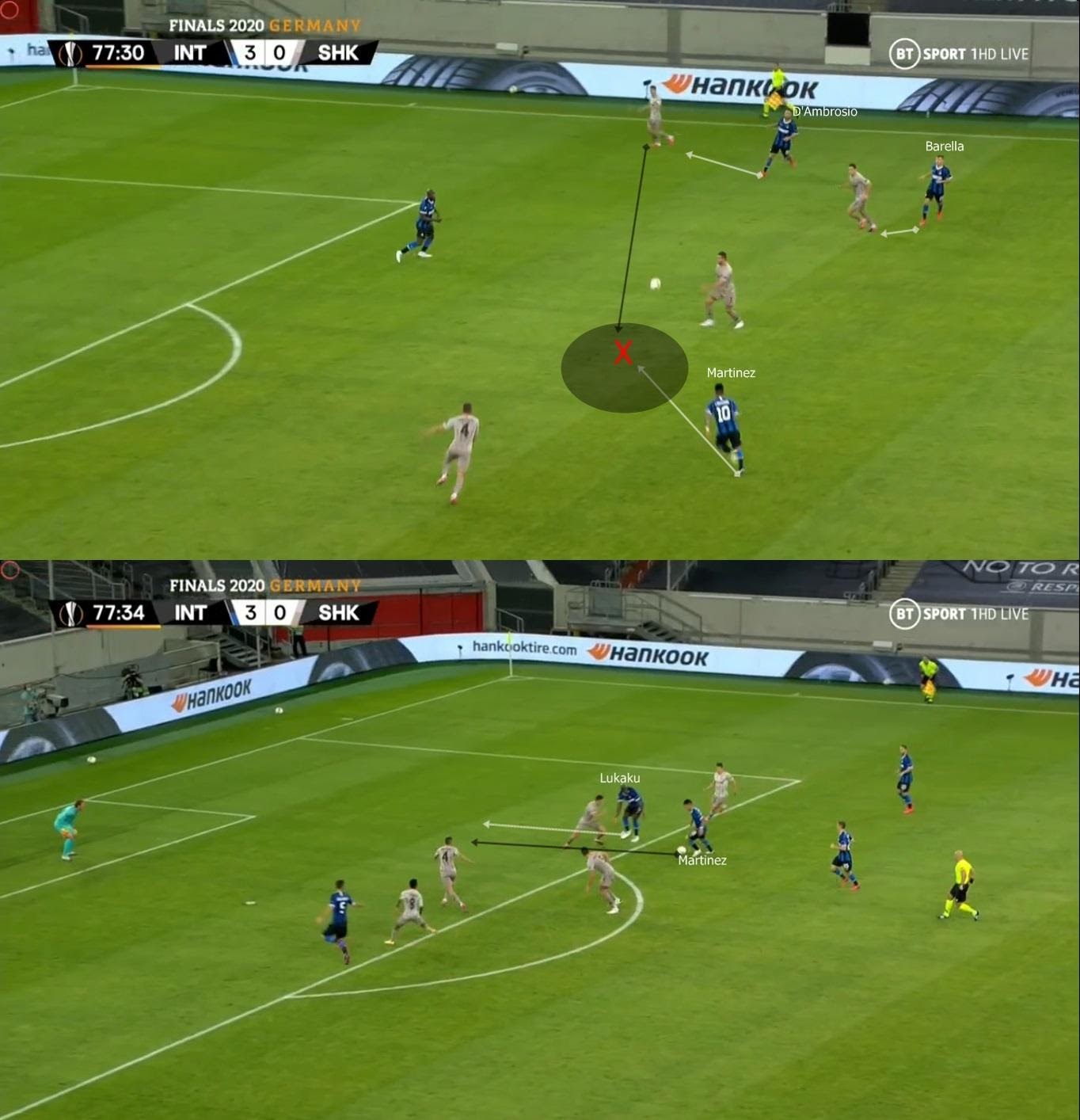 For the fourth goal, Shakhtar were forced into playing another risky pass which bounced into the path of Martínez, who danced past several defenders to slot it in for Lukaku. The Belgian controlled the pass before sliding it past Pyatov into the corner of the net.
Possession With Purpose
In the first half, Shakhtar rarely pressed Inter's build-up play. However, after going behind, Shakhtar tried to apply high pressure to disturb Inter's build-up. Whilst Inter were successful in stifling Shakhtar's build-up, Inter had no issues playing through Shakhtar's press, with the ability to quickly circulate possession and advance through the flanks.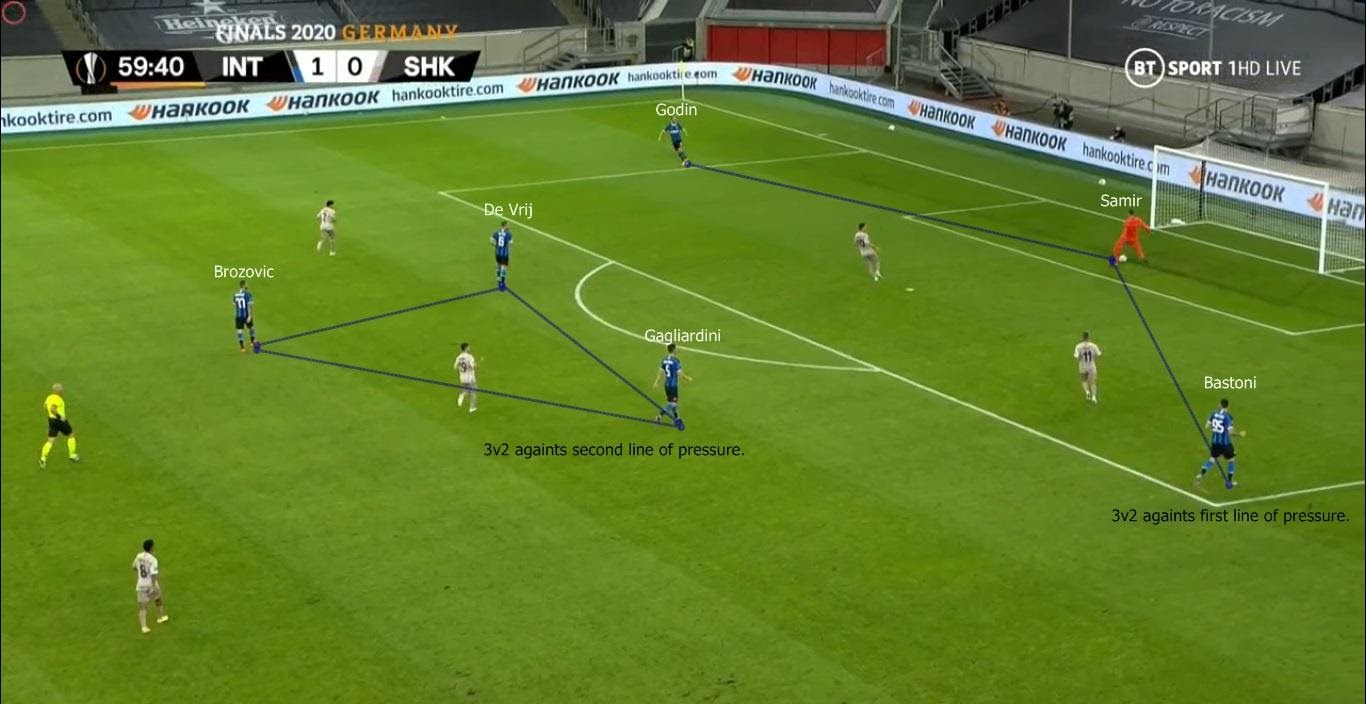 Inter created a numerical advantage in the first and second line of pressure. Here, Stefan De Vrij stepped up to form a double pivot with Gagliardini, whilst Samir Handanović actively participated in the build up play and created a 3v2 in the first line, allowing De Vrij to step up into the second line.
No matter what, the Nerazzurri always had a free option between the lines, which allowed them to play out of Shakhtar's press.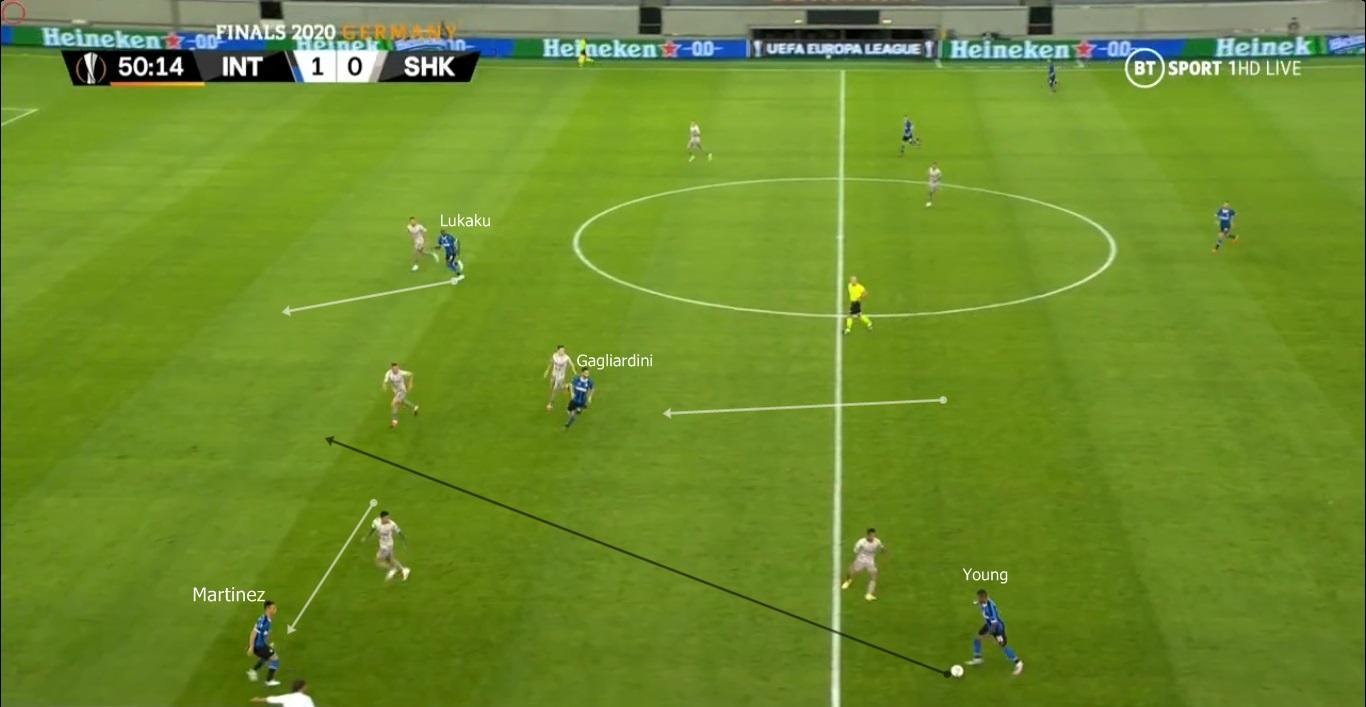 Here, we saw the use of depth when in possession from Inter. After Handanović played a middle range pass to Ashley Young, Young had three options in front of him on the left. Martínez drifted wide from center, Gagliardini pushed high from midfield, and Lukaku ran in behind the defence.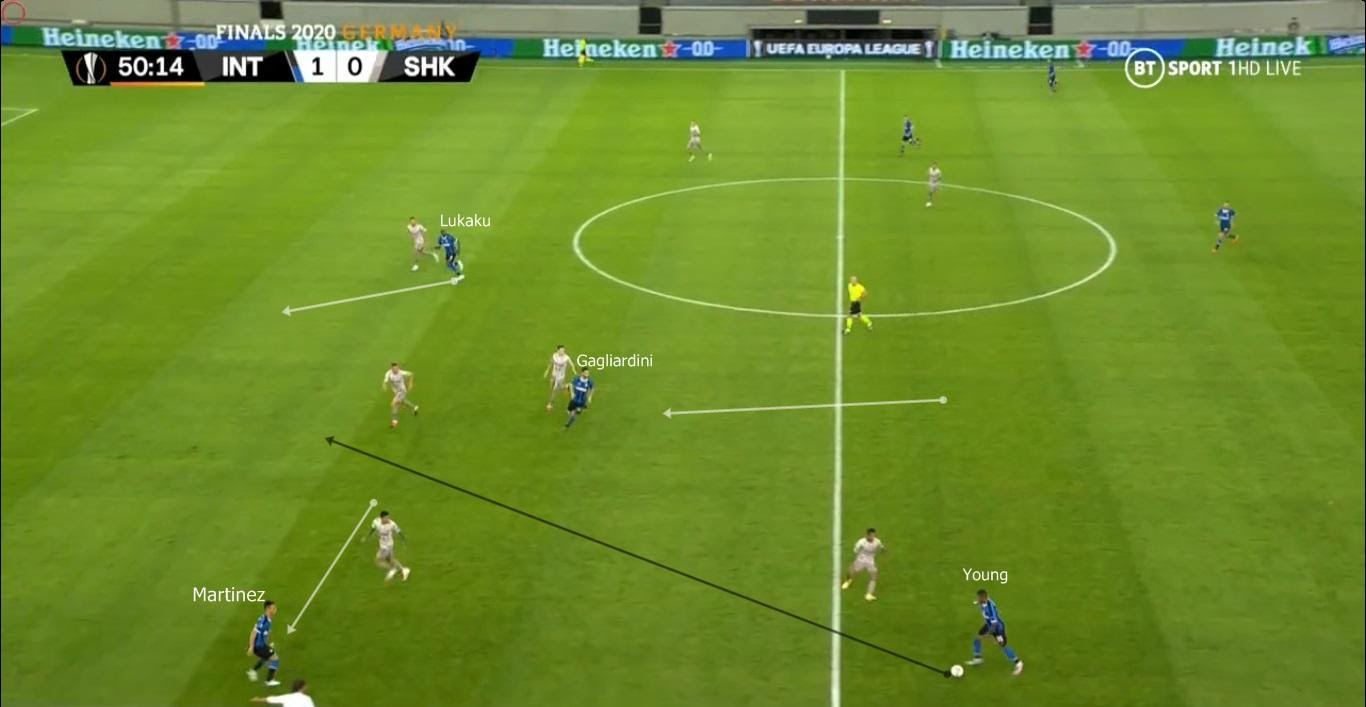 Conclusion
Conte's plan worked to perfection; while they had just 38% possession, they had 12 shots as opposed to Shakhtar's 7. Inter will be looking to push on and carry on their momentum today against Sevilla in the Europa League Final.
By: Arslan Kurt
Featured Image: @GabFoligno / Ina Fassbender