Tactical Analysis: Iran's 'Hazfi' Cup Final Match
The last match of the Iranian football competition in 2020/2021 was held Sunday in the " Naqsh-e Jahan" Stadium in Esfahan, between Esteghlal & Foolad. Esteghlal finished the Iranian league in third place, and Foolad finished it in sixth place. This match was the final match of the Iranian " Hazfi " Cup, and the winner could become the champion and went directly to the AFC Champions League competition for the next season.
Although Esteghlal had 56% possession, the match finished 0-0 in 120 minutes, and in the penalty kicks, Foolad won the match 4-2. Mohsen Foruzan, Foolad's reserved goalkeeper in this match, who was substituted for Ehsan Moradian in the 120th minute, saved a penalty and was the Foolad's star. On the other hand, in Esteghlal, Dariush shojaeian, who was substituted for Farshid Esmaeili in the 120th minute, lost her penalty kick. (so similar to what happened for Sancho and Rashford in the semi-final of Euro 2020).
This was Foolad's first experience in the final match of the Hazfi cup and they succeeded to win their first trophy in this competition. Also, this was the first trophy of Javad Nekounam, Foolad's head coach, in his coaching career. Let's see what happened in this match.
Line-up & Formation
Esteghlal was formed in 3-4-3 and Foolad was formed in 4-2-3-1.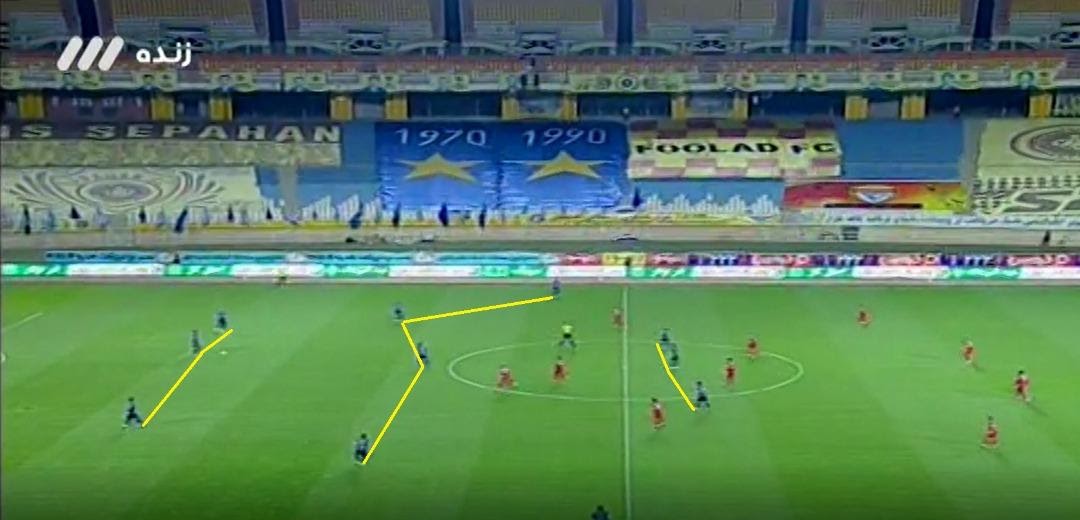 Esteghlal's starting line-up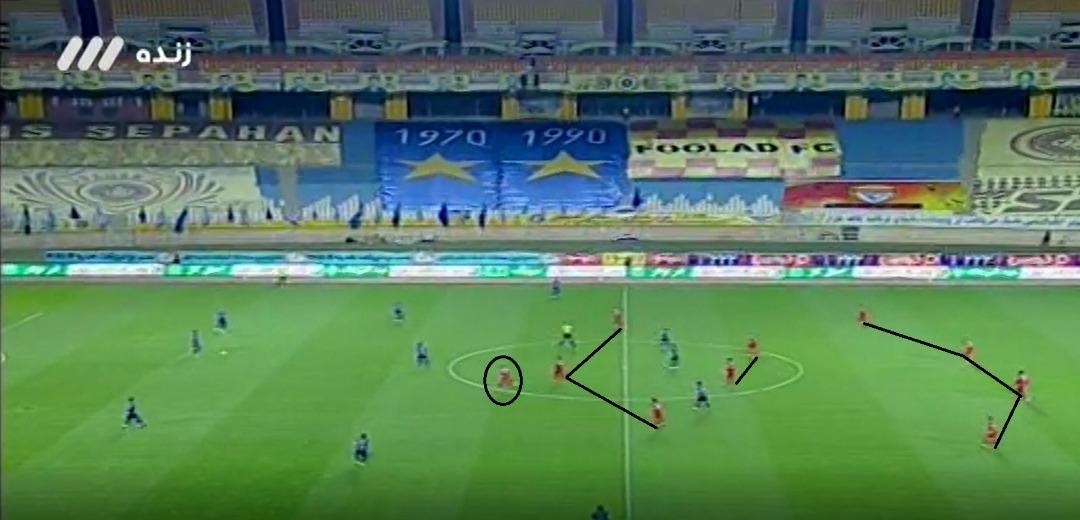 Foolad's starting line-up
Esteghlal's line-up
Goalkeeper: Rashid Mazaheri
Defenders: Moradmand, Yazdani, Naderi.
Midfielders: Vouria, Rezavand (Mehdipour, 91), Rigi (Dariush, 120), Matin (Moradi 67)
Attackers: Farshid, Khaghani (Arsalan, 46), Ghayedi
Foolad's Line-up
Goalkeeper: Ehsan Moradian (Foruzan, 120)
Defenders: Hardani, Sh.Abbasi, Koulibali (Mousavi, 120), Heidarieh
Midfielders: Abshak (Abdollahzdeh, 117), Niknafs, Farshad, Patosi (Miri, 115), Sasan
Attackers: Chimba
Esteghlal was trying to build up from the back with two formations: 3-2-5 and 3-1-2-4. In their first formation, Rezavand and Rigi stayed in front of their back three, and Vouria, Khaghani, Ghayedi, Farshid, and Matin were their front five. They weren't very successful in their attacking phase with this formation, because Yazdani, Moradmand, and Naderi, their three CBs, weren't ball-playing defenders.
So, against Foolad defending in a Mid-block 4-4-2 ( with Patosi & Chimba in their pressure line), these three couldn't carry the ball up to the halfway line or send a pass to Rezavand & Rigi, who were positioned between the Foolad's attacking and midfield line.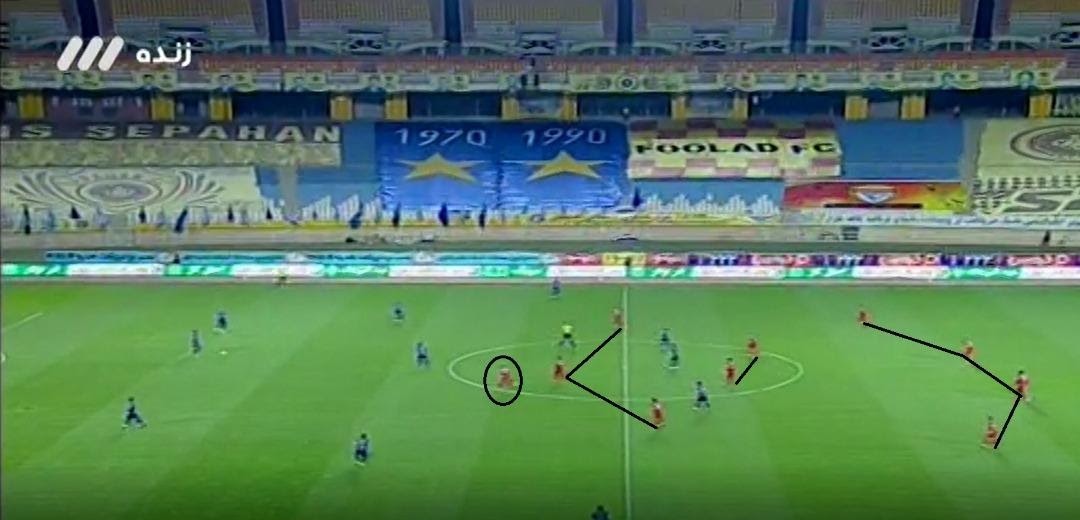 Esteghalal's build-up with 3-2-5. "3" and '2" in the above picture, "5" in the below picture
So, the Blues were forced to change their build-up formation; Masoud Rigi got out of Foolad's midfielders and attackers' pressure and built a diamond with Esteghlal's back three. But, this change made Arash Rezavand alone in front of Foolad's four midfielders. Farshid Esmaeili needed to take over a hybrid role; he constantly shifted between the Esteghlal's attacking and midfield line.
When he was staying near Rezavand, in front of Rigi, and changing the Esteghlal's formation to 3-1-2-4, the Blues were able to break the Foolad's block by using vertical passes from Esmaeili to Ghayedi, sent to the back of the Foolad's defensive line. But, unfortunately for the Blues, they didn't use 3-1-2-4 formation so much.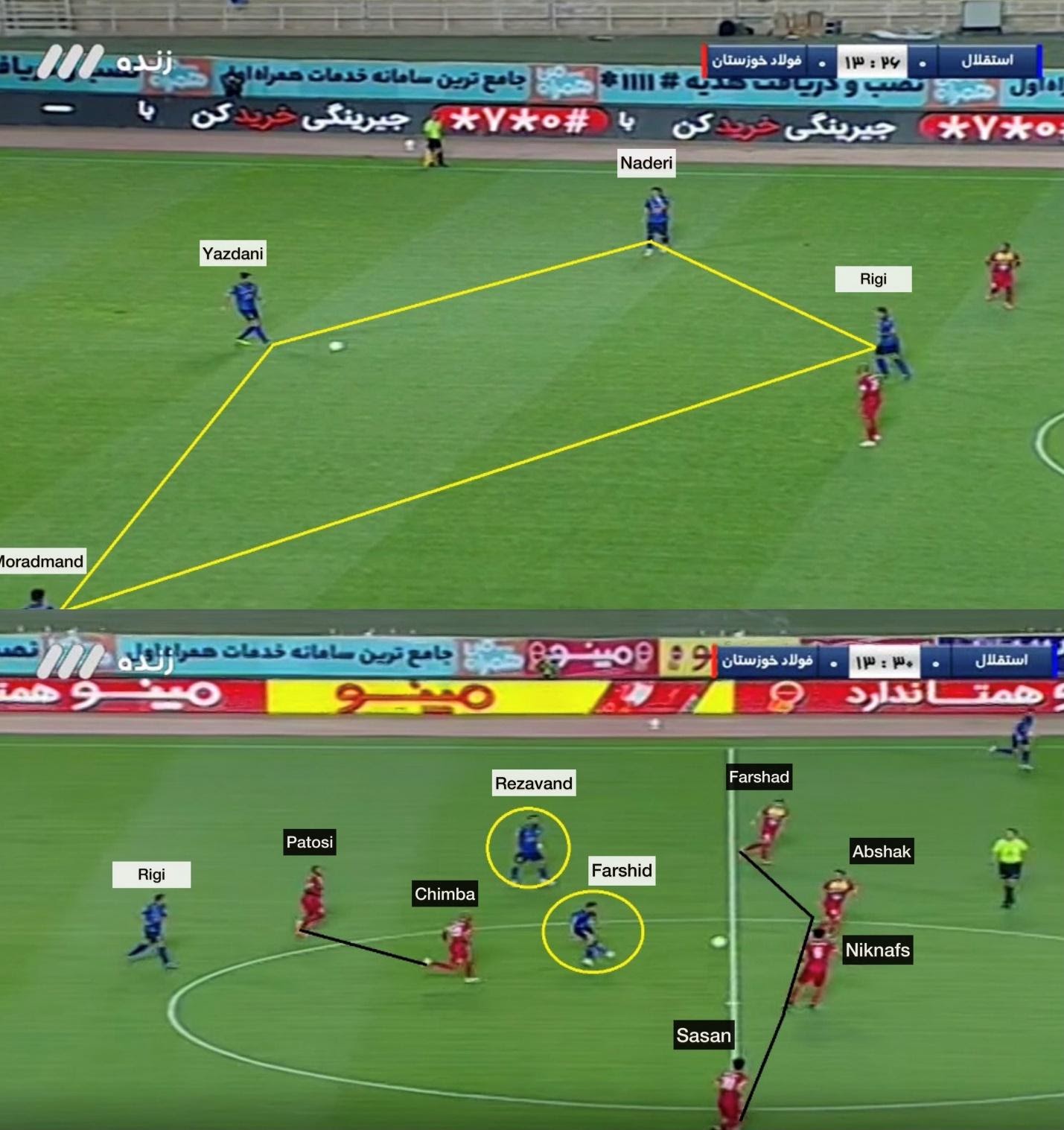 Esteghlal's build-up with 3-1-2-4; A diamond has been made with Rigi and back three ( above picture), Farshid has positioned himself near Rezavand ( below picture), so he can send a through pass for Ghayedi, to the back of the Foolad's defensive line.
 Most of the time they were trying to build from the back with a 3-2-5 formation. Although due to the suspension of Mohammad Daneshgar, their most ball-playing defender, they weren't able to go from their first to the second phase of build-up with this formation. In defending phase, most of the time Esteghlal was formed in a Mid-block 5-3-2 or 5-4-1. Sometimes they were looking for a High press with a 3-4-3 formation, but they didn't get something special. So, they sat back again in their Mid-block formation.
Foolad with Javad Nekounam is not a possession-based team. Nekounam, their head coach, is influenced by the ideas of Carlos Queiroz, former Iranian national team head coach. They just conceded 7 shots per game on average this season and have a very structured defense. Also, they are very good in positive transitions due to Farshad & Sasan's speed. In this match, they only have 46% possession, but they made equal shots & shots on target to Esteghlal (13 shots, 3 on target). During defending phase, they were formed in a Mid-block 4-4-2.
During this season, they were formed in a Mid-press 4-4-2 most of the time and were one of the Iranian's best teams in pressing too, but in this match, Nekounam had chosen a more conservative attitude. So, they were defending with a position-oriented zonal marking 4-4-2. In this kind of defending, the players' reference point are their teammates and they should try to cover teammates in every possible situation.
However, when the opponents enter the team's block, the nearest players to the owner of the ball should try to press the opponent and win the ball back. During the first half, when Esteghlal was using a 3-1-2-4 formation in their build-up, Farshid & Reazavand were staying in front of the Foolad's second defensive line (Including Farshad, Abshak, Niknafs, and Sasan).
When Farshid or Rezavand was on the ball, Foolad's second defensive line should have immediately pressed him. Instead of that, they stepped back with Rezavand or Farshid and gave him time and space on the ball. Because of that, some great opportunities were made for Esteghlal in the first half. (like image 4) In the second half, Foolad's defensive block was more structured than the first half.
Foolad were trying so hard to keep their vertical and horizontal compactness and were almost successful. The distance between their pressure line and their second defensive line was reduced, so they were able to put pressure on Rezavand and Farshid.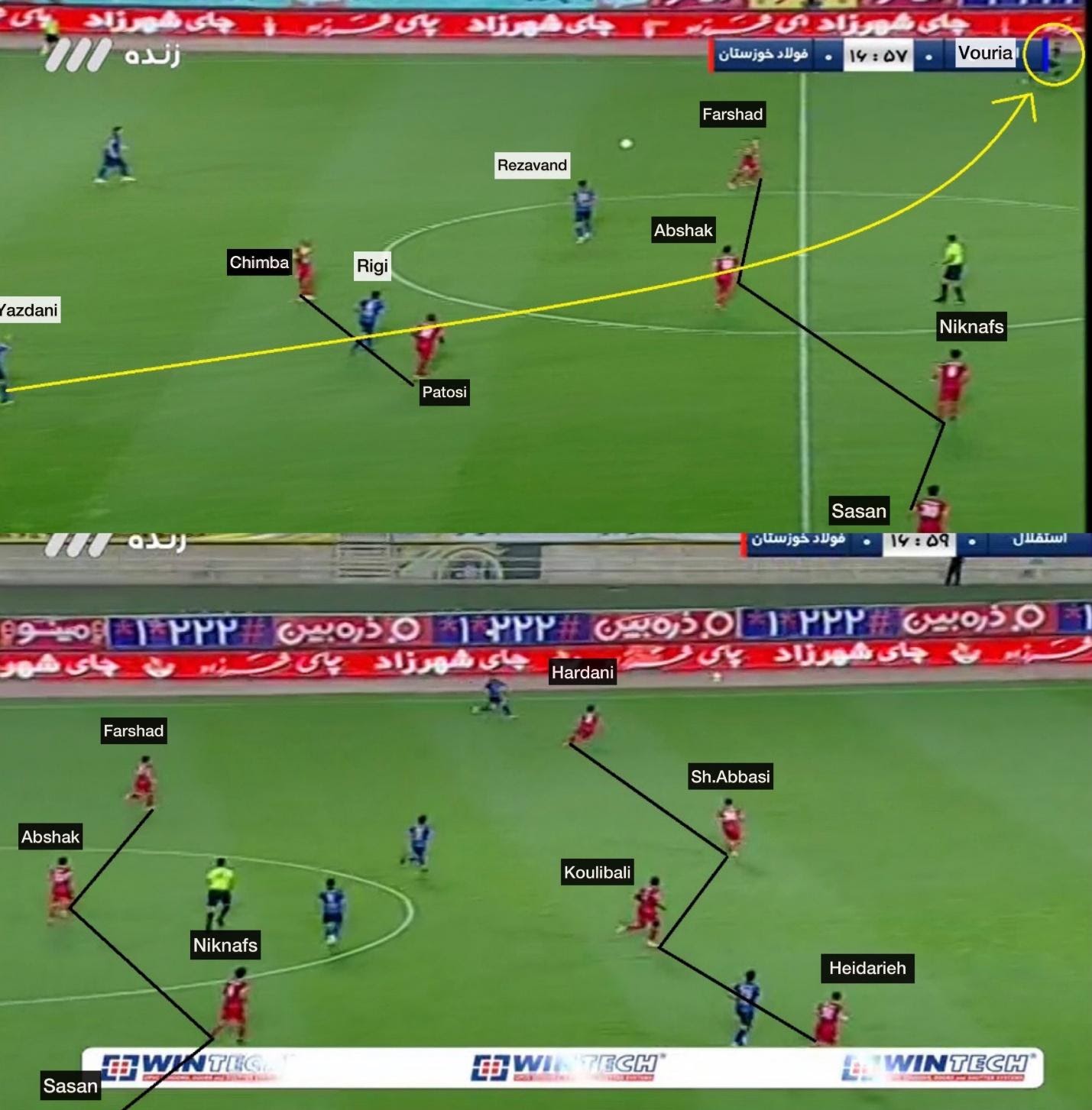 This was one of the scenarios in that Foolad had a good vertical compactness, so there wasn't enough space behind its pressure line for Farshid and Rezavand. So, Yazdani was forced to send a diagonal pass to Vouria, but matin wasn't able to control the ball.
In the attacking phase, Foolad had planned to build up from the back with a 2-4-4 formation. Hardani, Abshak, Niknafs, and Heidarieh were staying in front of their 2 CBs, Farshad, Patosi, Chimba, and Sasasn were in their front line. Hardani, Foolad's right fullback was participating more actively in the attacking phase, so Farshad could cut inside and position himself in the right half-space.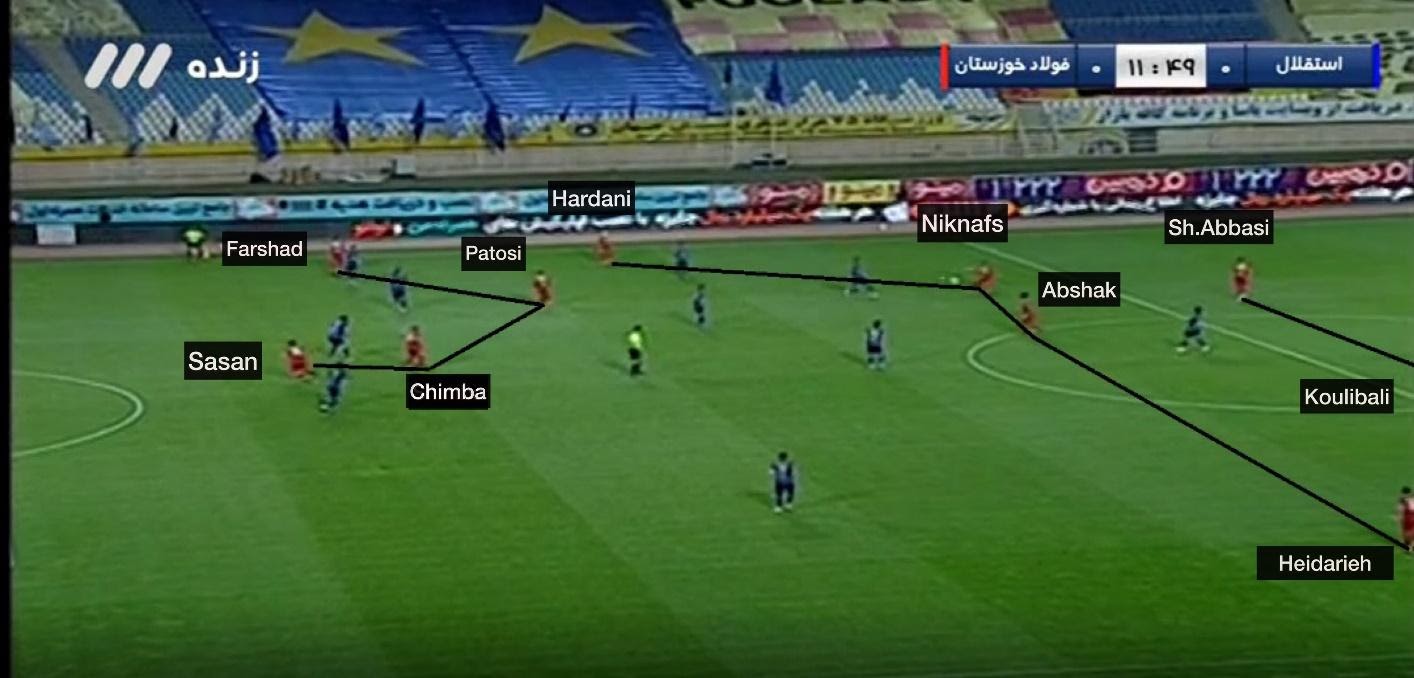 Foolad's build-up with 2-4-4
Conclusion
It was a very close match. Two teams had the same number of shots (13), shots on target (3), and Foolad only created one more chance than Esteghlal (3vs2). Esteghlal tried so hard to create chances with their possession, but they weren't able to break the Foolad's defensive block so much. On the other hand, Foolad, due to their more conservative attitude in this match in comparison to their other match in this season, couldn't make enough interceptions or successful tackles in Esteghal's half, so they weren't able to create enough dangerous counterattacks.
In penalty kicks, Farshid and Dariush lost their penalty for Esteghlal, but Foolad's players scored all of their four penalties. It seems that Farhad Majidi and his coaching staff, chose wrong decisions in penalty kicks because Farshid had lost some important penalties before (against Perspolis in the Iranian most important club game) and Shojaeian had not been familiar with the atmosphere of this game ( because he only played 2 minutes before the penalties).
Nekounam's substitution, Foruzan, saved a penalty, exactly like the quarter-final match against Sepahan, where Foruzan had been substituted before the penalty kicks and had saved a penalty too. We had heard before that in these kinds of close and important matches, some small decisions would make big differences. This thesis became true in this match!
By: @alikamangariii
Featured Image: @GabFoligno / DeFodi Images