Tactical Analysis: Italy vs. England
As the glitz and glamour of Wembley Stadium drew out at 8 pm, all of the nation started on as England kicked off their first final in 55 years, and a first European one at that. No matter the result, the nation was proud of their team. As for the Italians, the Azzurri's contrast in form from over 3-4 years ago from not qualifying for the World Cup, to reaching the final of the Euros was also an astounding feat. The match was set up as historical, between 2 sides of equal admiration. 
The action started off early, with bells of 'It's Coming Home' bellowing down from the Wembley stands, a cross from Kieran Trippier, found itself laid perfectly on a plate for Luke Shaw who blasted it past Gianluigi Donnarumma in the 2nd minute. Continuing on from the blistering start, England had a good first half, with a stubborn and pragmatic approach aiding the English, tidy at the back and well made up top. The result looked good at HT. 
However, as the ascendency for England looked good in the first half, the second half was a totally different story. The Italians came out rampant for the second half. Light changes to the system from Roberto Mancini, with the replacement of Ciro Immobile and Domenico Berardi and Nicolò Barella for Bryan Cristante, the Italians looked dangerous going forward and had the majority of the ball.
As the match continued, the Italians continued marching on, and in the 67' minute, their efforts came to the fore, a corner taken by Emerson found itself on the head of Marco Verratti who had a header saved by Jordan Pickford, to the feet of Leonardo Bonucci who scored a tap in. The game found itself level, and the Wembley crowd was silenced. As the game continued, the Italians controlled the match, and the English looked void of ideas, but the dream was still alive.
As the 90' drew out, extra time loomed over the horizon and the Wembley crowd still dreamt on. As the English looked sharper going forward, they could not break down the sturdy Italian defence which has proved formidable all tournament. Southgate's decision to bring on Marcus Rashford and Jadon Sancho 2 minutes before the end of extra time in preparation for penalties summed up the English attitudes that this match was to be won via a penalty shoot-out.
It started well for the English, as Harry Kane and Harry Maguire both scored the first two whereas Andrea Belotti missed Italy's second. It was in England's hands to score more, but the 2 subs Jadon Sancho and Marcus Rashford, and 19-year-old wonderkid Bukayo Saka missed. The Italians coolly finished 2 more penalties via Federico Bernardeschi and Leonardo Bonucci which ended English hopes of their first Euro Championships. 
Man of the Match: Leonardo Bonucci
Whilst the match was played out in pragmatic fashion, low scoring and with much respect between both sides, the work of Leonardo Bonucci has to be commended. Bonucci's lion-hearted spirit and flexible capabilities saw him positionally to be in the centre of the pitch mostly, further up from his defensive position.
Whether grabbing a vital equalizer, or breaking the lines with his pinpoint passes, or keeping Raheem Sterling and Harry Kane under wraps, Leonardo Bonucci reigned supreme at Wembley Stadium.
Moreover, Bonucci's goal and several key passes served to represent the difference, with a potent threat from set-pieces but also a great ball-playing defender, Bonucci helped Italy to their 2nd European Championships. His performance was also rounded off with the all-important penalty which he tucked away in cool fashion.
Conclusion
Though England mourn their loss at their first chance of winning the Euros, Gareth Southgate's men have done themselves proud, and the nation proud given the national consensus. Reaching their first final in 55 years is something to be proud of for this young English team who look forward to the World Cup next year.
As for Italy, they ruined the hopes and dreams of Englishmen across the World who hoped there would be a fairy tale ending at the Home of Football in London, the contrast in performances from the Italian side is also something to be proud of. After failing to qualify for the World Cup in 2018, the Italians have now gone on a run of 34 matches unbeaten under Roberto Mancini who has reinvigorated Italian football with another honour and the Italians will look to keep going for Qatar 2022.
By: Arnov Paul Choudhury / @ArnovPaul01
Gareth Southgate's Change of Approach
Gareth Southgate has been the target of criticism throughout his entire tenure as England manager. Apart from the usual topics that tend to fall on anyone in his position, such as squad selection, the perceived stifling of his players' attacking talent in favour of a more restrained, compact setup has been a recurring theme since his appointment in 2016.
In fairness, that setup has led the Three Lions to some of their best tournament performances in over fifty years. At the EURO 2020 final, however, Southgate essentially failed to exploit Italy's clearest weaknesses by staying loyal to that setup.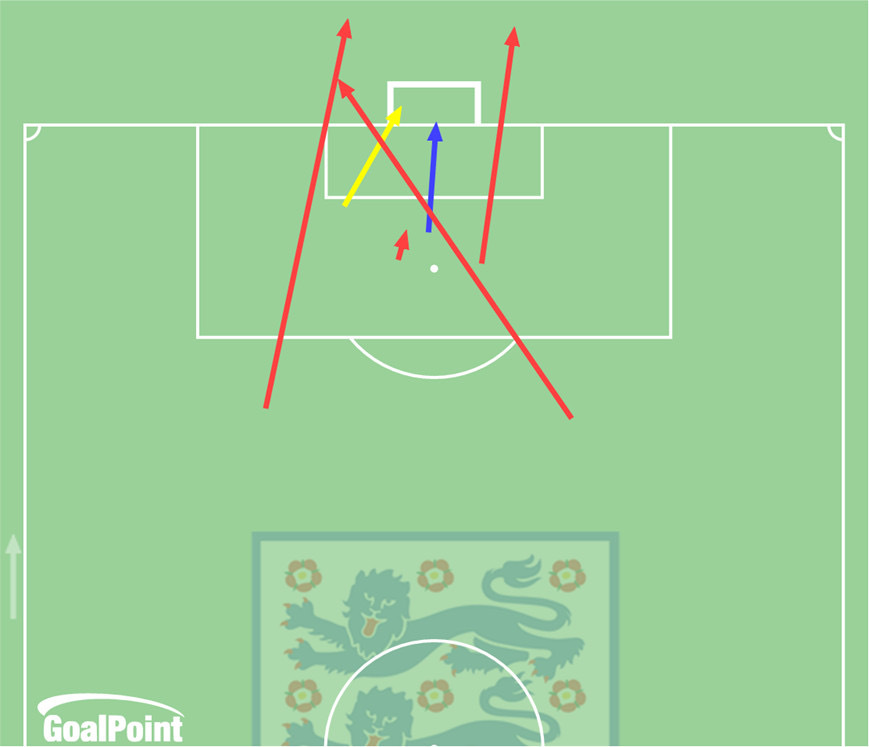 England managed just six shots throughout the 120 minutes of the game. Just two of them were on target, and none came from either Harry Kane, Raheem Sterling or Mason Mount.
England actually had a barnstorming start. Targeting Italy's fullbacks, their weakest links, by playing with two attacking wingbacks in Shaw and Trippier, Southgate's men stretched out their opponents' defence, leading to Shaw's opener, and Kane drove Bonucci and Chiellini crazy in a withdrawn role, just like Dani Olmo did.
However, the decision to give possession back to Italy and once again retreat into their own half proved severely costly. Despite the Azzurri's lack of ideas, they were given enough time to persevere in driving forward, leading to the equaliser.
Southgate's changes also came too late; Grealish could have provided much more bite earlier in the second half, and to deem Sancho and Rashford only worthy of making a difference from the penalty spot was shocking, as was also the decision to strip Henderson, Sterling and Shaw, on-pitch leaders high on morale, from penalty duties in favour of 19-year-old Saka.
Federico Chiesa's Impact
Leonardo Bonucci was rightly awarded Man of the Match by UEFA after his relentless display to stave off any ounce of an England attack. On the other end of the pitch though, there was not a single Italian who played with more desire and determination to score than Federico Chiesa. Even at Mancini's men's lowest point during the first half, he kept demanding the ball, taking on Harry Maguire and serving as the sole creative force in the side.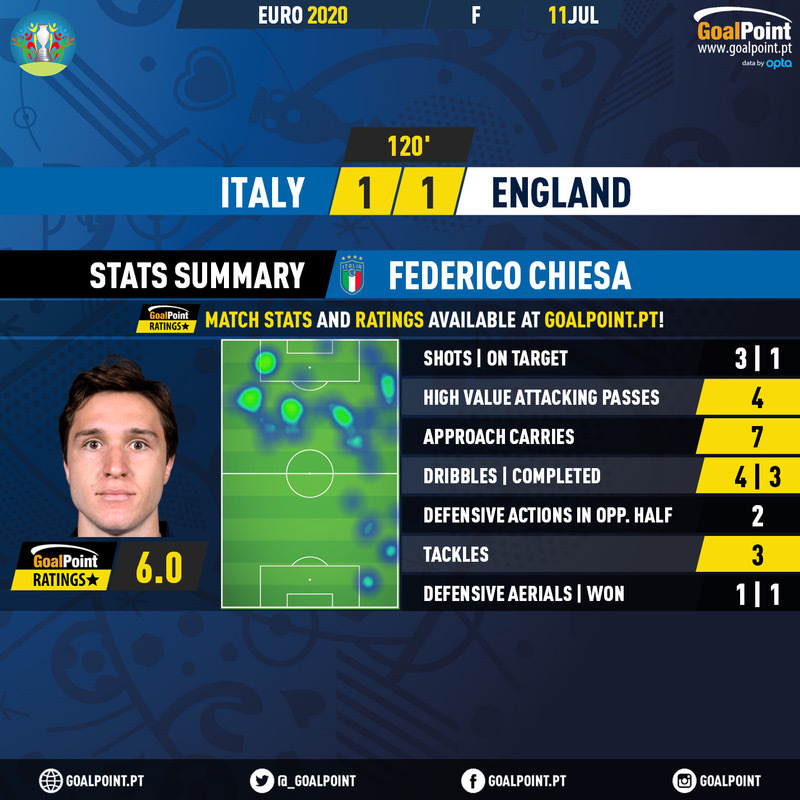 Federico Chiesa was Italy's main threat by a landslide, completing 3 out of 4 dribbles, and 7 approach carries, while roaming all around the opposition box.
While he did not have a direct role in Bonucci's equaliser, it was his perseverance that kept Italy in the game. All of which made his forced 86-minute substitution due to injury all the more painful. His departure, along with Insigne's just five minutes later and for the same reason, deprived Italy of their two most talented players, and much of their attacking prowess too.
Although it is still perplexing that England failed to capitalise on their exits due to Southgate's ill-timed substitutions, Italy laboured through the extra time, with their players looking absolutely knackered. Fortunately, in the end Italy did manage to hold on; Chiellini and Bonucci managed to weather the storm of a few England balls into the box and Donnarumma came up big time on penalties with two saves. Still, this should have been Chiesa's final, and Italy almost suffered dearly in his absence.
By: Santi Bauza / @santi_bauza
Featured Image: @GabFoligno / Claudio Villa – Getty Images