Tactical Analysis: Juventus vs. FC Porto
Ah, the day of a Champions League knockout stage second leg. A rare sort of occasion in which you'd expect me to bounce out of bed, consume a hearty jentacular breakfast and buzz around in excitement all day long. It was a tough decision to make on Tuesday, but Juventus vs Porto got the nod. Cristiano Ronaldo in a close do-or-do tie like this is narrative enough, but against a team from his home nation and after defeats to fellow smaller sides in the past two years… the match was set up beautifully.
Porto won the first leg 2-1, with a dominant display of pressing, but Federico Chiesa's late away goal ensured that Juventus retained slight favouritism at the half-way stage. Would Sérgio Conceição's side fade into a low block at the Allianz Stadium, or would they come out firing in search of an away goal?
Respective Tactical Set-ups
Juventus lined up in an asymmetrical 4-4-2 shape, with Juan Cuadrado the more attacking full-back and the Bianconeri's number one source of creation on the night. Aaron Ramsey was the right-midfielder in the defensive shape, but while Juventus had the ball he'd take up more familiar central positions and allow Cuadrado to isolate himself on the flank.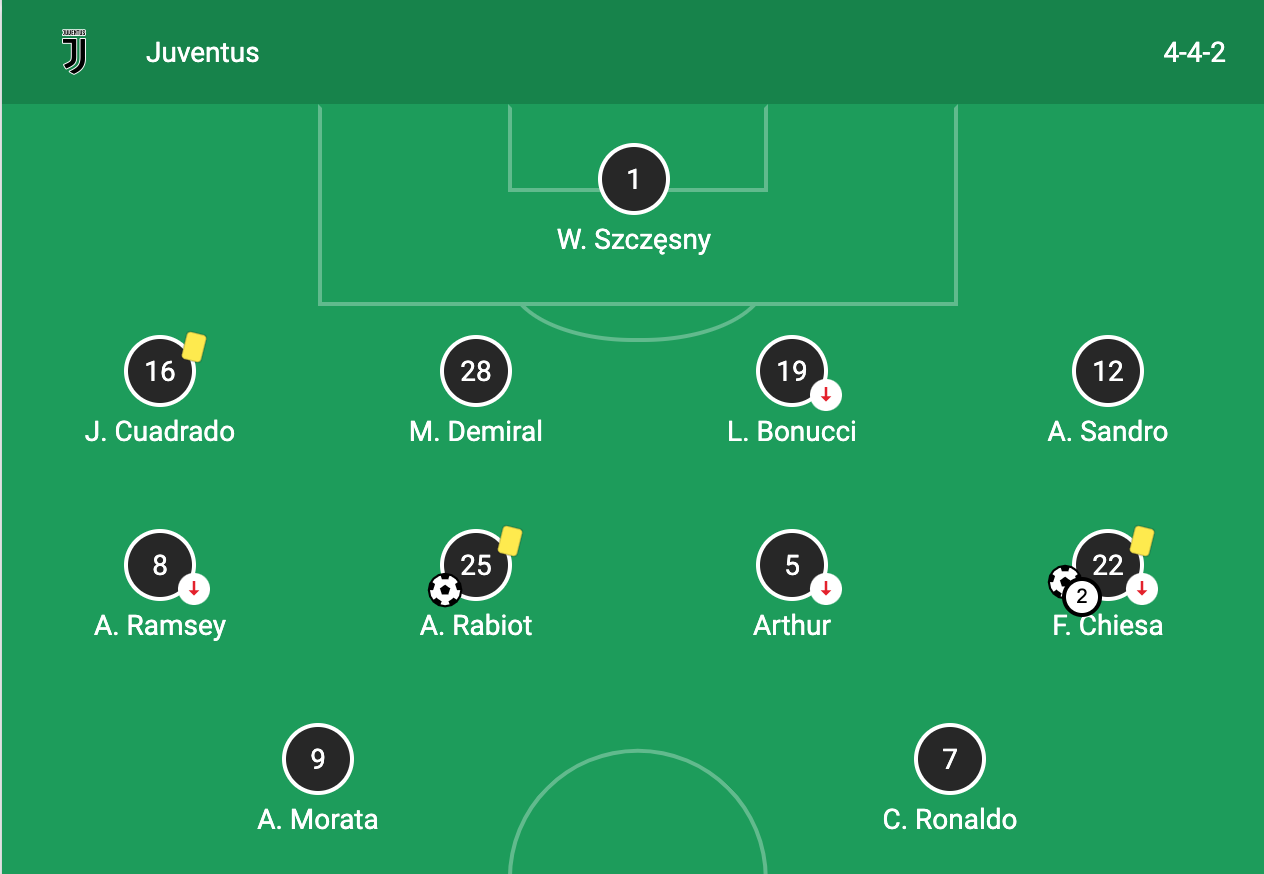 Porto's formation also resembled a 4-4-2 on paper, but it was more reserved than their tedious aggressive pressing setup in the first leg. When Juventus had the ball, wide midfielders Otávio and Jesús Corona would drop in to support full-backs Zaidu Sanusi and Wilson Manafá – forming a ball-side back five and even a back six at times.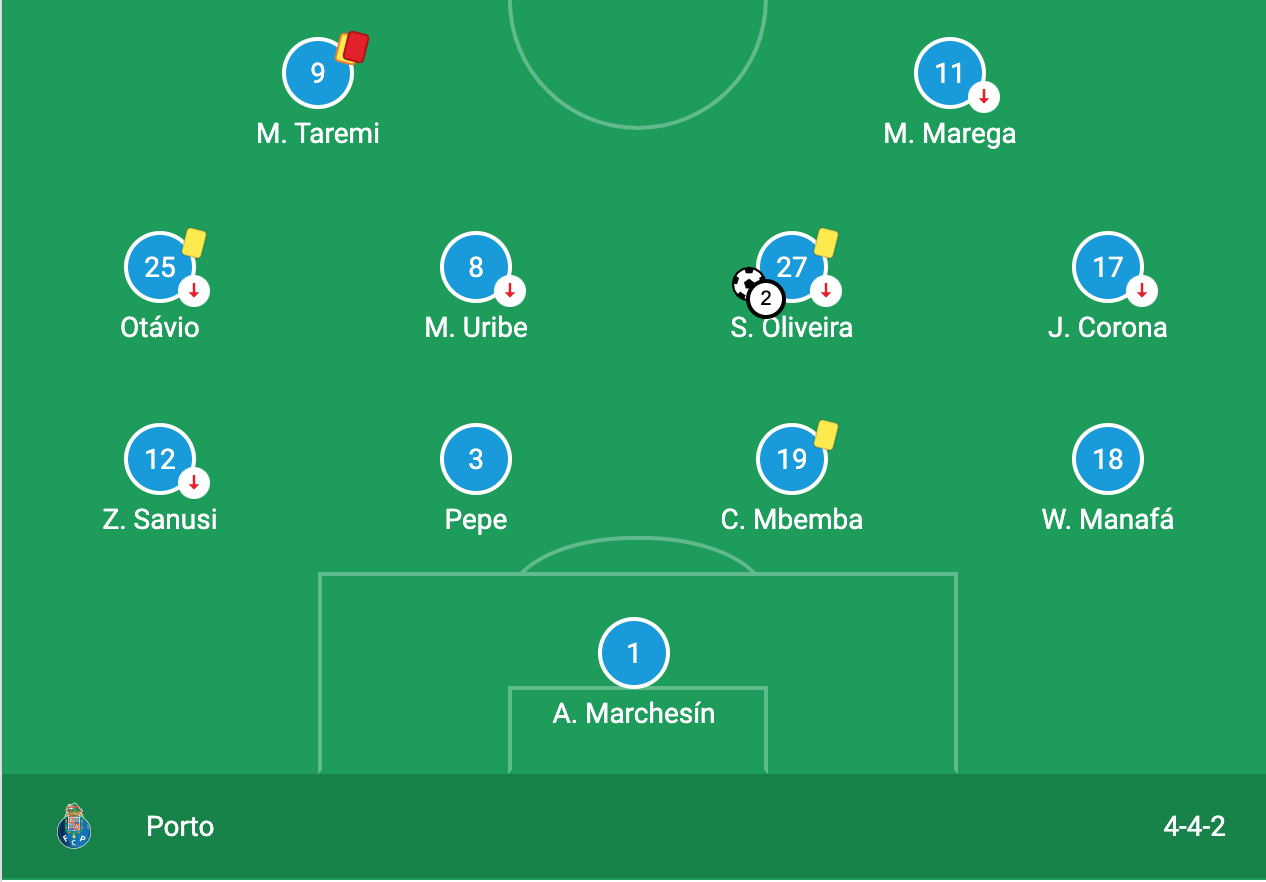 The away side kept a high line and looked to press Juve's build-up at times, but the depth of their block was not consistent throughout the game and it often fell very deep, as the Dragãos were forced to adjust following Mehdi Taremi's expulsion in the 54th minute.
Porto Proactivity
While it is easy to reduce Porto's defensive dominance to purely the result of their overloads, we should consider how their defenders capitalised on these overloads to best prevent space and create opportunities to recover the ball. When an attacking player has the ball, he often has a two-step process in his mind. It might be a cut inwards towards the goal and a cross or shot. It might be a fake one way, to then dart in the opposite direction. 
Whatever it is, if a second defender can read and make a jump on the attacker's second move, while he is still in the process of completing his first move, then he should be well placed to make an aggressive play and prevent the danger. See in the below situation as Federico pulls wide, dragging right-back Manafá with him.
This initial wide movement serves as the first of Chiesa's two-step process, as it creates space for a first-time through-ball to the space vacated by Manafá. Porto have a 2v1 overload with Corona here – but if he does not read Chiesa's intentions and make a dart into that space before the Italian receives the ball, Cristiano Ronaldo could be through on goal.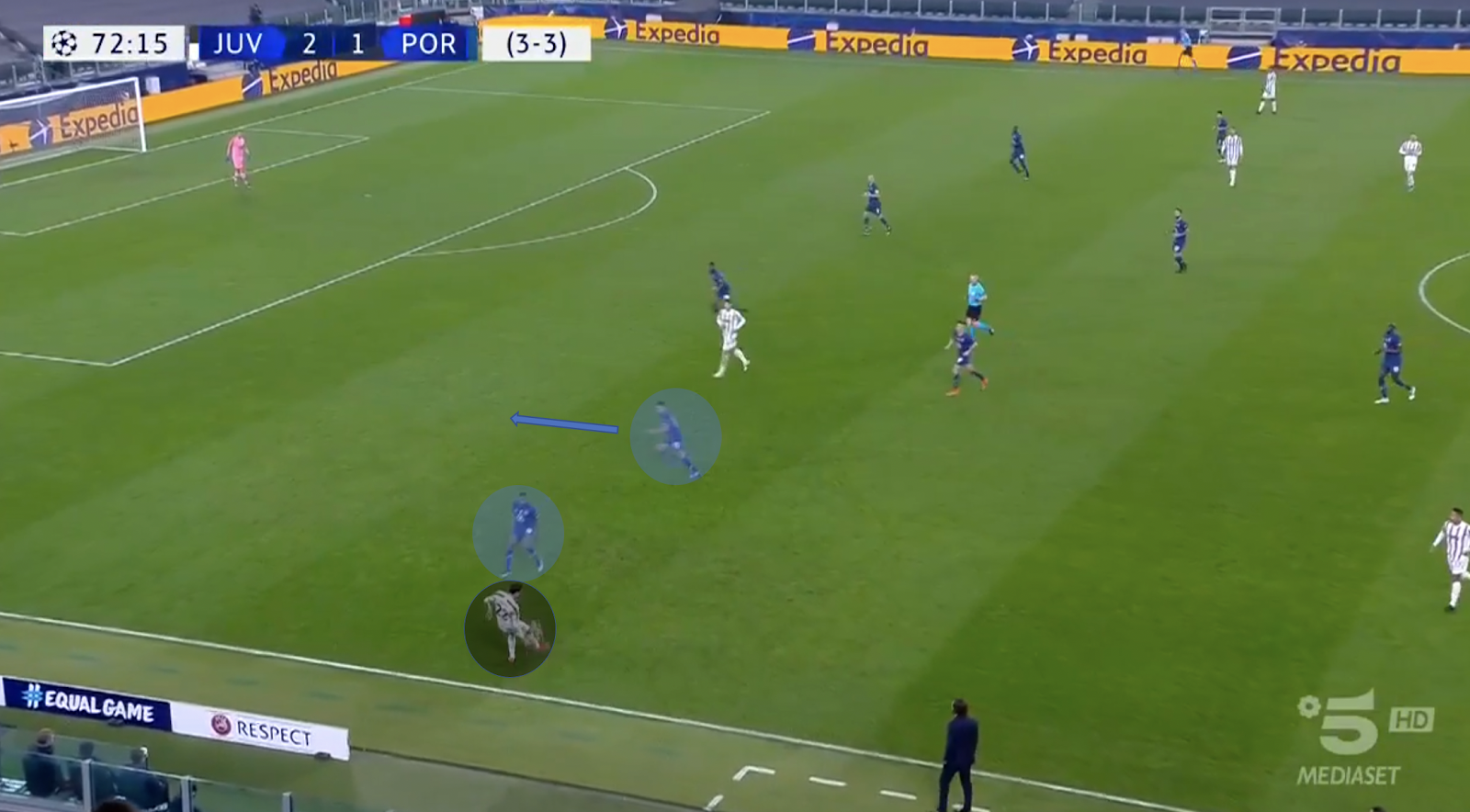 This concept is a regular feature of the Indian sport Kabaddi, as displayed here in a match between Tamil Thalaivas and Bengaluru Bulls. The Thalaivas raider looks to complete a two-step move, as he must touch a Bulls defender before rushing back to the midline.
The advantage for the Bulls here is that, because they have a defensive overload, while the raider leans in to touch his target, the near defender can begin to reach in on the raider and make a tackle before he has time to hurry back to the midline.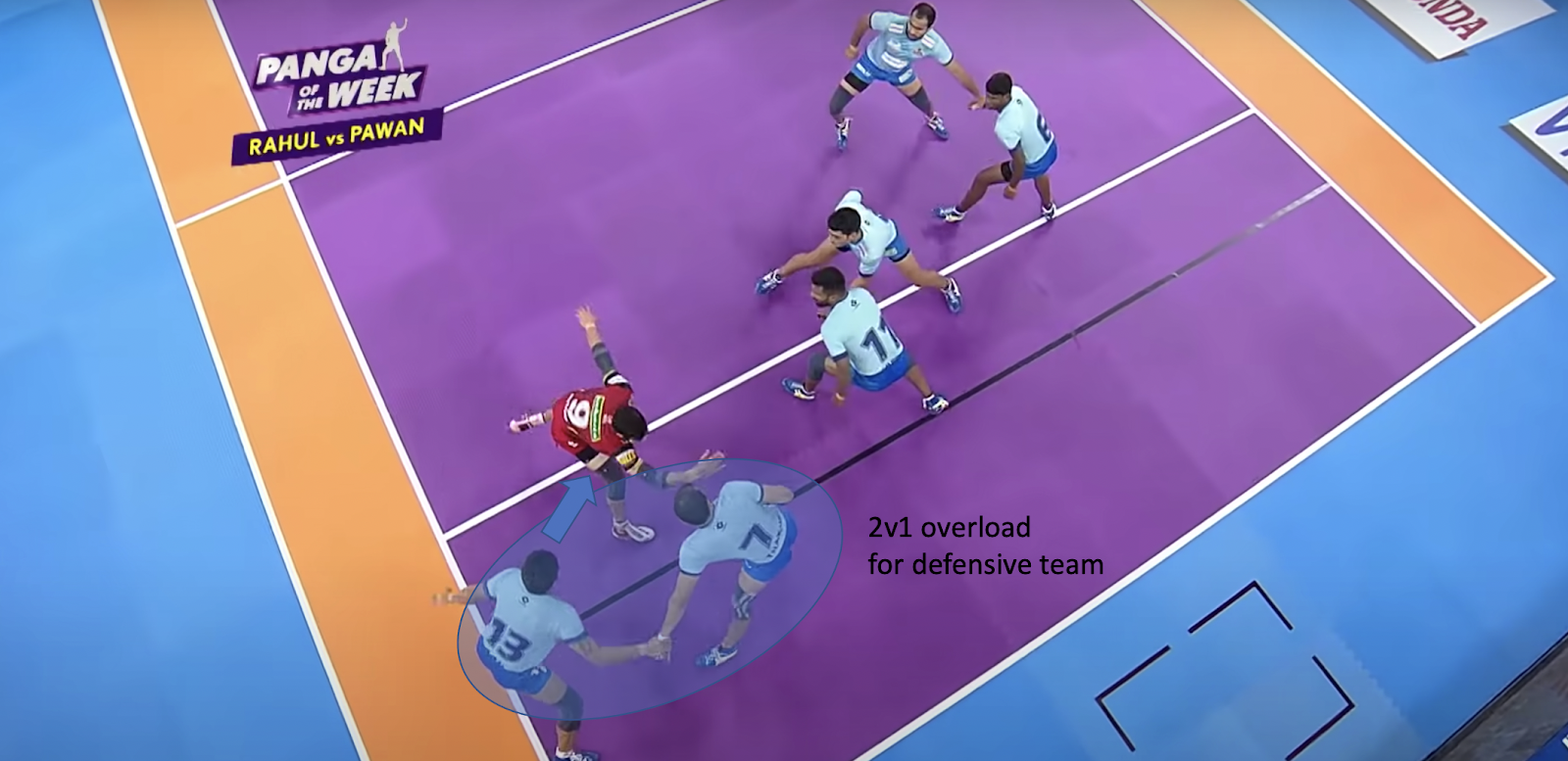 Pirlo's Attempted Solutions
When Porto did sit in their 4-4-2 shape or 4-4-1 after Taremi's red card, Juve would look to find a quick pass to Cuadrado high up the pitch. I mentioned that the depth of Porto's block was not consistent throughout the match, and it's true that even when they went down to ten men they had high pressing moments that forced them to play with a mid to high line. 
Andrea Pirlo looked to capitalise on this, by bringing on space-interpretation master Weston McKennie. See below a situation in which Adrien Rabiot picks out Cuadrado, which drags Malang Sarr wide, and triggers McKennie to attack the widened gap. Cuadrado found Cristiano Ronaldo in space with a pinpoint cross; however, Ronaldo's header went wide of the target and bounced out of bounds for a goal kick.
A player for which this movement is natural is described in the Italian tactical analysis community as a pensatore robotico, which roughly translates to "robotic thinker." It's a title that could also be credited to somebody like Donny van de Beek or Kai Havertz and that overlaps with the more popular German word – raumdeuter.
Overall, though, this section will be fairly short. Juventus and Pirlo were short of ideas on the night, as they have been all season. A quote from Stoic philosopher Epictetus comes to mind: "Don't explain your philosophy. Embody it."
Conclusion
This was one of the more thrilling second legs in recent UEFA Champions League history. Porto took an early lead, before two goals from Federico Chiesa either side of Mehdi Taremi's red card saw Juve force extra time. With the away goals rule in place during extra time, Porto knew they needed just one more goal to qualify and when Sérgio Oliveira fired a free-kick through Cristiano Ronaldo's legs and in, that looked to be that.
Adrien Rabiot would head home from a corner just minutes later, and Juve pushed for a winner in the remaining minutes, but Porto eventually prevailed – and, to be objective, deservedly so. One week after being eliminated from the Taça de Portugal semifinals by 10-man Braga, Porto managed to prevail and advance to the next round of the Champions League despite playing a man down for over an hour.
It has been a trying season for the reigning Primeira champions, who sit 10 points behind league leaders Sporting, but on Tuesday night in Turin, they pulled off an achievement that will last in the memory of their supporters for the rest of their lives. On the other hand, Juventus find themselves eliminated from the Champions League Round of 16 for the second straight year, and ten points adrift league leaders Inter in the Scudetto race.
By: Liston Colaco
Featured Image: @GabFoligno / Jonathan Moscrop / Getty Images