Tactical Analysis: Lazio 3-2 Roma
The 177th Derby della Capitale saw José Mourinho's Roma face off against Maurizio Sarri's Lazio at the Stadio Olimpico. It had been nearly three years since the last match-up between the two managers, with Chelsea snatching a 2-2 draw against Manchester United at Stamford Bridge as a late equalizer from Ross Barkley cancelled out Anthony Martial's brace.
Both managers participated in their first-ever Rome Derby with the mission of securing three points on September 26. Mourinho's side entered the match on a strong run of form with seven wins from their first eight games, marred only by a loss to relegation stragglers Hellas Verona. Lazio, on the other hand, were enduring a woeful September that saw them lose to Milan and Galatasaray and head into the match with consecutive draws to Cagliari and Torino.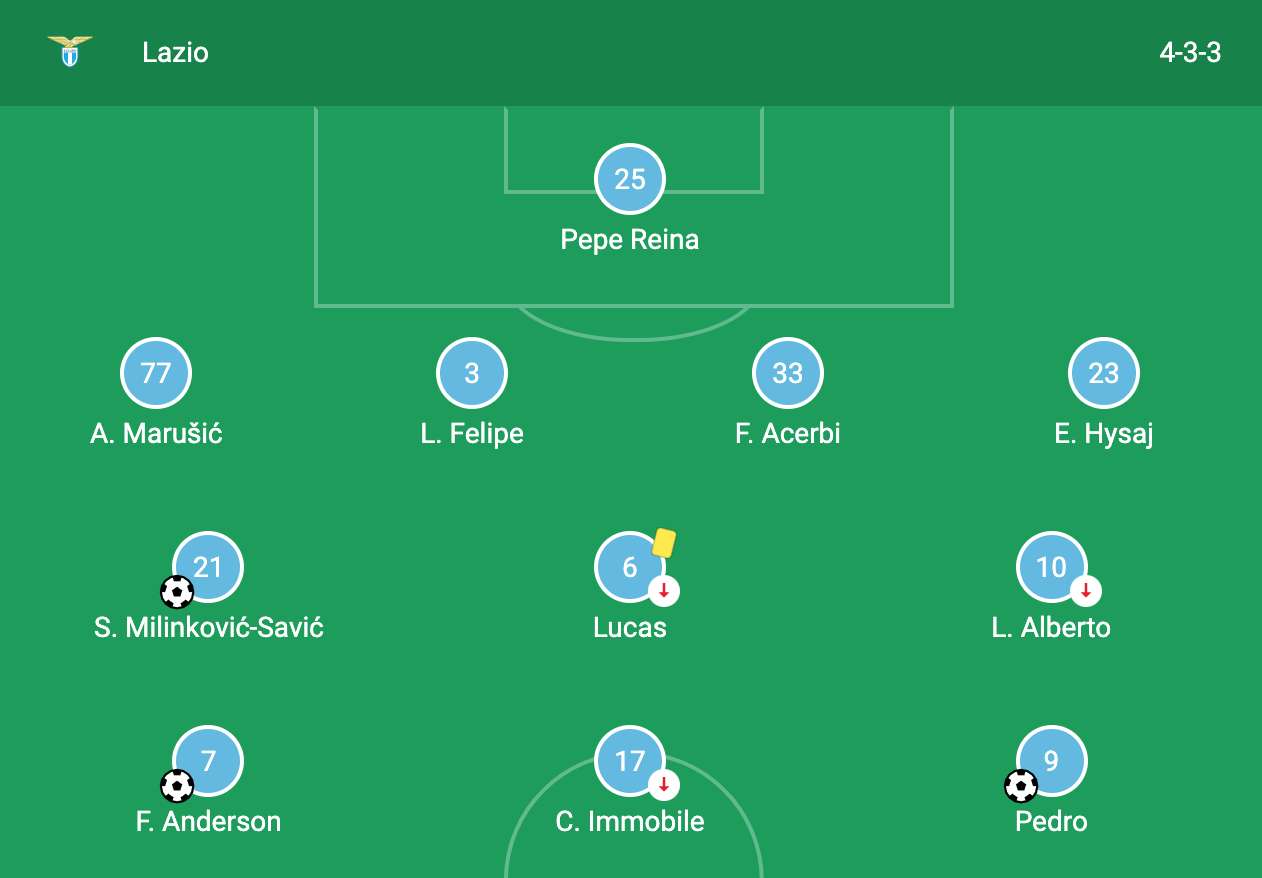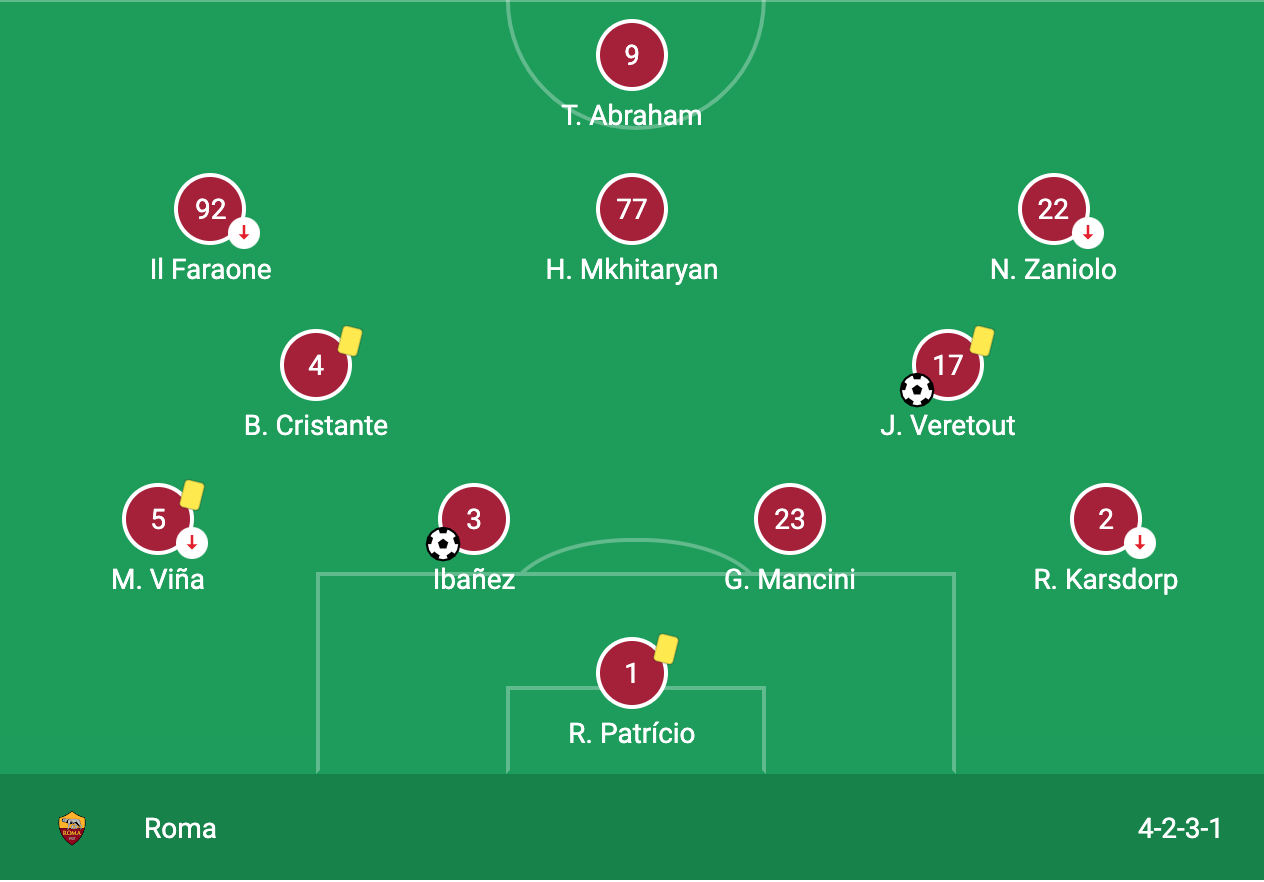 Whereas Mourinho set out with a 4-2-3-1 formation with Bryan Cristante partnering Jordan Veretout in the double pivot of midfield, Sarri went with his traditional 4-3-3 formation. As we've seen previously against the likes of Spezia and Galatasaray this season, Lazio often kick off their matches with a long ball from veteran center back Francesco Acerbi into the attacking players.
The end goal of this is to win the first ball via Sergej Milinković-Savić's physicality and aerial prowess and flick it on to the outlet players such as Felipe Anderson or Pedro Rodríguez. The plan B, however, is to win the second ball if they just so happened to win the ball back first by putting various players in the opposing half and by also aggressively pressing them to win the second ball.
We can see how 'SMS' is already preparing to run as fast as he can to the right side of the pitch before the referee has even blown his whistle. The Serbian midfielder succeeded in winning the first ball but failed to control it, resulting in a throw-in for Roma.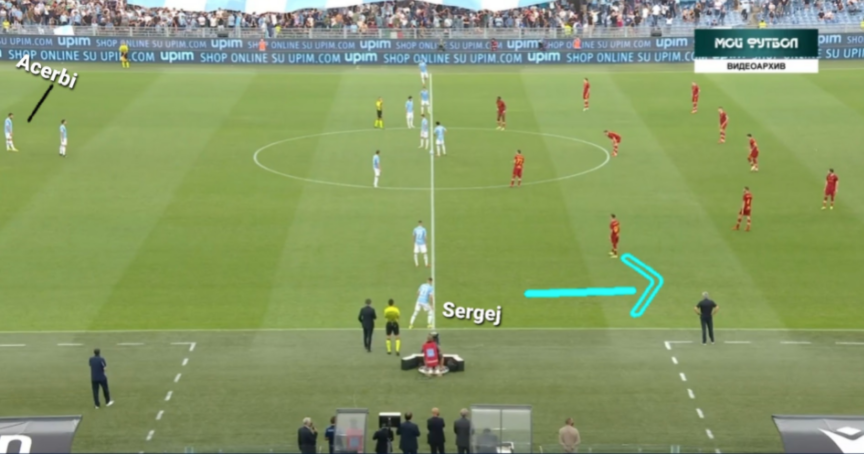 Lazio's Off-the-ball Shape
Just as they had done in their previous games under Sarri, Lazio operated in a 4-5-1 shape off the ball, maintaining a high block and attempting to congest the center of the pitch. In wide areas, however, this would shift to a 4-4-2, although at times, the latter was seen through the center as Milinković-Savić joins Ciro Immobile in pressing high up the pitch.
Despite this, Lazio's pressing structure has left plenty of room for improvement as it frequently allows teams to retain possession and carve up their defense time and time again. As Roma started to build up from the back, there was only one Lazio player who was trying to press them alone.
Roma were using a defensive box which was created by the players in the double pivot and the center backs. This was happening in the past games too, but Lazio pressing shape was far more disorganized on this occasion; Ciro Immobile was the only Lazio player trying to press and found himself outnumbered by four Roma players, an ineffective pressing structure that threatened to derail Sarri's entire plans for the game.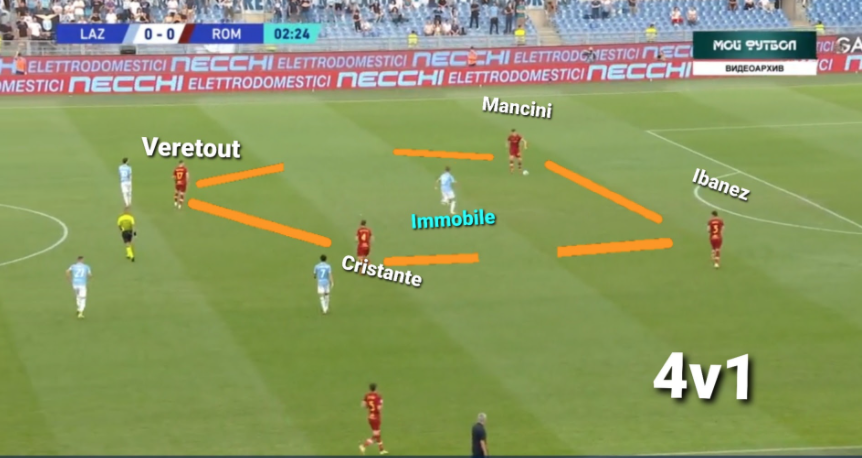 From there, it was easy for Roma to break through the disorganized and nonexistent Lazio press. They could have easily built from the back with calm and composed passing, but they instead choose to have Gianluca Mancini play a long ball to pick out a runner in Rick Karsdorp.
There is one unwritten rule in this game: if you are putting a high block but never put a good amount of pressure on your opponents, they'll just kill you with the one superb long pass to their outlet. That was what Mancini tried to do too and Roma was successful on it as that run disrupted Lazio's shape. Even though Roma failed to get anything from that move, the alarm bells were sounding for the Biancocelesti.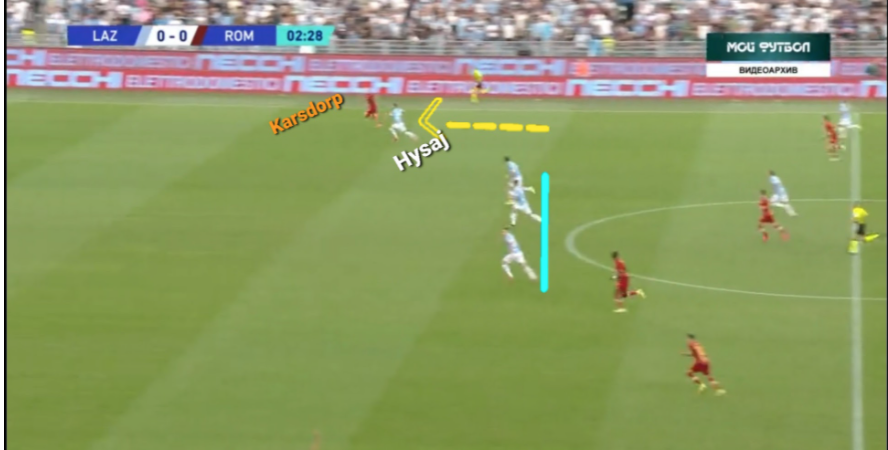 Roma in Possession
José Mourinho implemented a 3-2-4-1/ 3-2-5 shape with the ball as the left back Matias Viña joined Mancini and Ibañez as the 3rd CB. The players in the double pivot (Cristante and Veretout) stayed still in their positions, Karsdorp held the width on the right flank, whilst Stephan El Shaarawy would stretch the pitch on the left flank. Nicolò Zaniolo and Henrik Mkhitaryan operated as free 8s in the half-spaces, whilst Tammy Abraham once again led the line from the center forward position.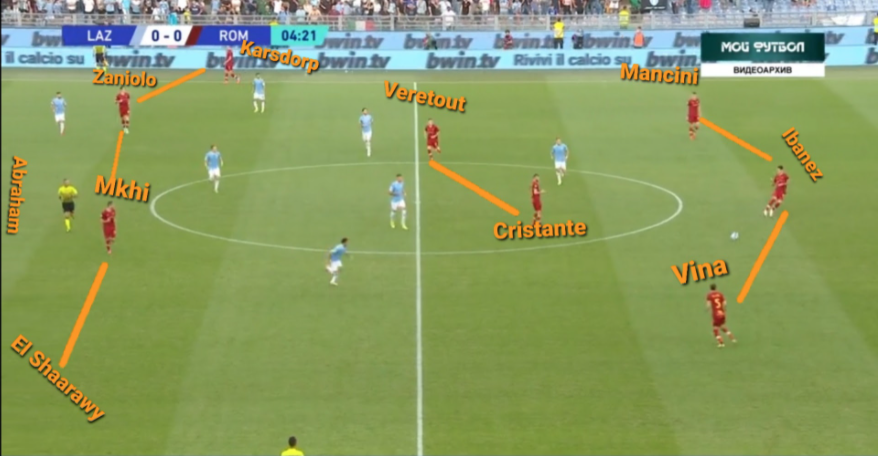 Lazio in Possession
Lazio kept their 2-3-5 shape with the ball that they have used under Sarri, but this shape was far from stationary. One of Luis Alberto or Milinković-Savić would drop deep to shift the formation to a 2-4-4, with the intention of dragging opponents out of their position to create and exploit space.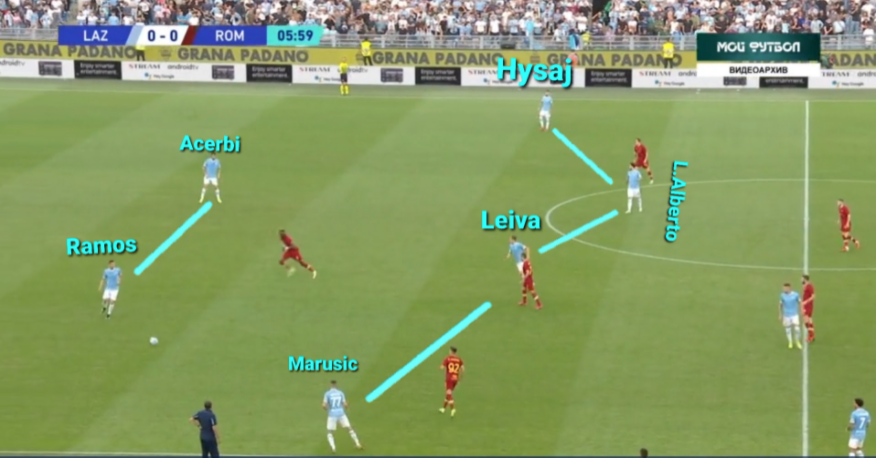 As we see above, Tammy Abraham would typically press Lazio center back Luiz Felipe Ramos Marchi, who is in turn left with three options: 1. turn around and pass the ball to Pepe Reina, dribble past Abraham and switch the ball to Elseid Hysaj, or pick the closest passing option in Adam Marušić.
There were some problems for Lazio here as a result; Roma players are closely marking the various Lazio players by the right touchline. Tammy Abraham was stuck to Luiz Felipe, Henrikh Mkhitaryan on Lucas Leiva, and Bryan Cristante on Sergej Milinković-Savić.
Stephan El Shaaraway was tasked with marking Adam Marušić, but he made a mistake by giving him far too much time and space to receive the ball under minimal pressure and find a new passing option. Whilst Il Faraone made a severe error, the Montenegrin fullback's ability to not get fazed under pressure also deserves some appreciation.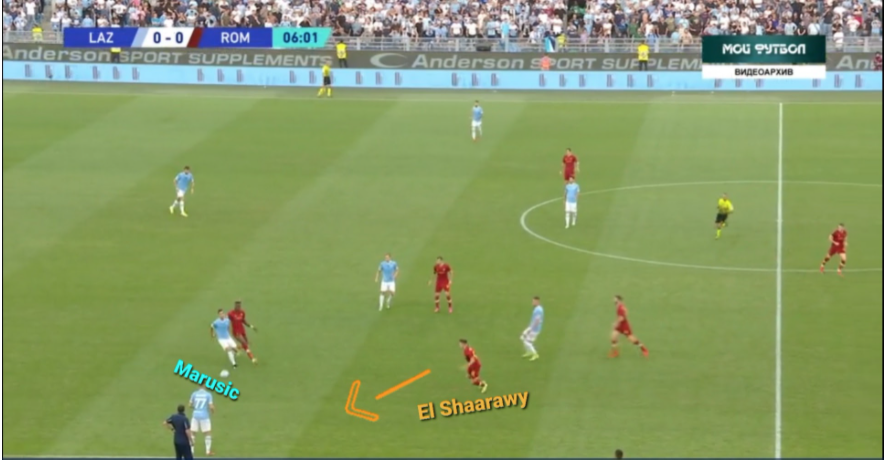 Communication 
Communication is a term I use most of the time in my analyses, and it makes a huge difference on the teams, whether they do it vocally or on signs. Oftentimes, we appreciate players who scan a lot of times and collect the info they need before they make a pass or dribble or even shoot the ball, but there's one thing we forget most of the time: the players who give signs or info for their teammates are crucial too for their teammates.
In this case, Marušić was under pressure from two Roma players and found himself at risk of giving away possession in a dangerous area, but instead, Luiz Felipe stepped out of position to create a space and show that the passing lane to Reina was open. Moreover, Acerbi is also pushing him to pass the ball backwards to Reina.
SMS, on the other hand, indicated that Marušić should pass the ball to Lucas Leiva. All of this helped the fullback, but as mentioned previously, El Shaarawy's failure to press him as aggressively as he should've been gave the ball-carrier the space and time that he needed to pick out an accurate passing option.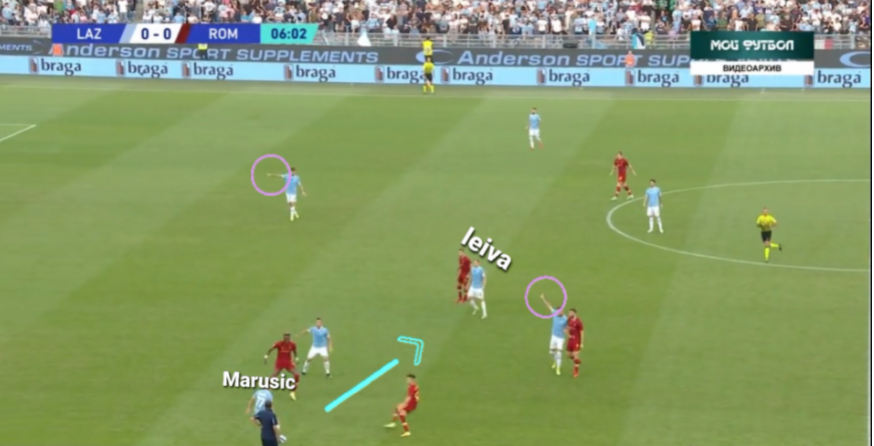 While this passing option looked a bit risky, he nevertheless chose to pass it to the ex Liverpool midfielder, who was marked by Mkhitaryan. However, due to the Armenian's lackadaisical pressing, Leiva was able to shield the ball and quickly pass it to Milinković-Savić, who utilized his impressive physique to shield the ball from Cristante and play it to Acerbi, who was unmarked.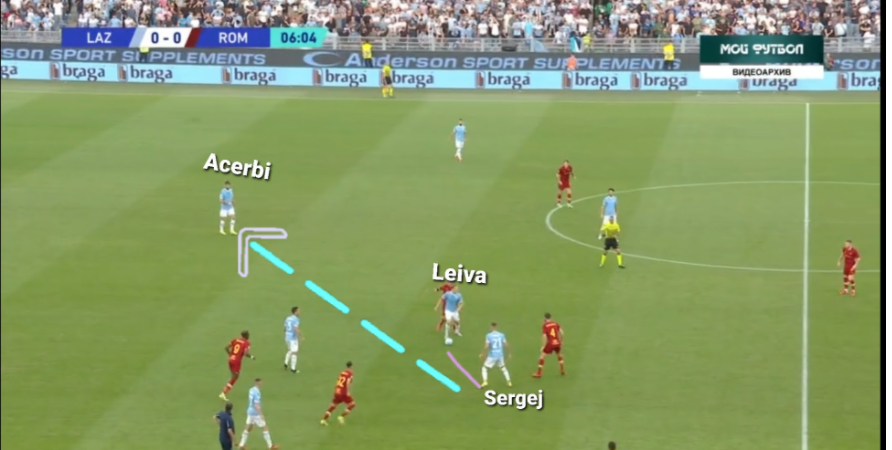 Right after this, Lazio players attracted Roma down the right flank and escaped the pressure, allowing them to enjoy a mini-transition with a well-worked sequence, a Rondo-style combination to evade the pressure and switch the ball to the free player, thus allowing them to attack Roma's isolated area.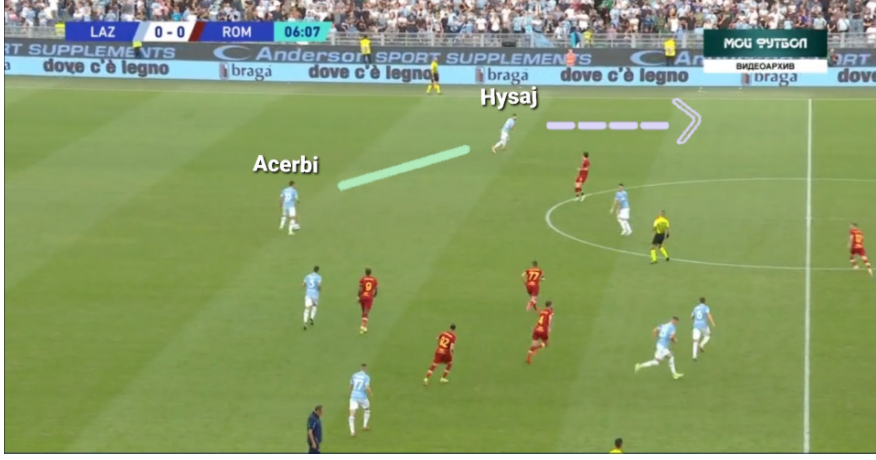 Lazio's Opening Goal
Lazio players maintained their 2-4-4 shape again here, perhaps a surprising choice given that in previous games, only one of the two fullbacks would drop back whilst the other would push up the flank. In this case, both fullbacks remained in their wide starting positions..
There are two reasons for this: in their last 'big game' against Milan, Leiva was taken completely out of the game because of Brahim Díaz's positioning, with the young Spaniard putting him under his cover shadow and taking away the passing option. As such, Luis Alberto would drop deep to help Leiva circulate the ball and allow his teammates to lose their markers. Roma players did not follow Alberto as that would have opened up a big hole in their mid-block.
The second reason behind this is to prevent counter-attacks. Roma had a 4-4-2 midblock shape without the ball, as Mkhitaryan pushed up from midfield and joined Abraham in a strike pair. They weren't pressing high, they would just sit in a mid block and try to close the space's in the center, leaving up the wide areas vacated. This was a combination of zonal and man-oriented defending/marking.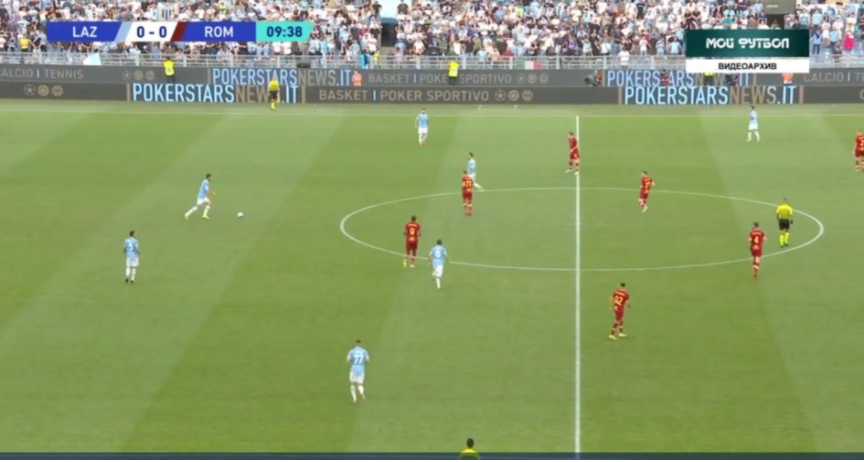 As football has evolved over the years, teams will always find a way to attack you and there is one thing you shouldn't do; whether it's in the middle or the flanks, you should never concede ample space to a team like Lazio. Roma were successful in taking away Lucas Leiva's passing option as both Abraham and Mkhitaryan held up their end of the bargain and kept in their cover shadow.
Nevertheless, Lazio still maintained a passing option out wide and weren't dependent on the Brazilian regista thanks in part to Luis Alberto dropping deep and joining Luiz Felipe and Acerbi as a third center-back, providing them a numerical superiority in the build-up.
Luiz Felipe had ample space in front of him and can drive forward with the ball, as Milinković-Savić is clearly instructing him to do. This was where communication came into place again for both teams, as Cristante smelled the danger and asked Tammy to close the spaces and mark Luiz Felipe.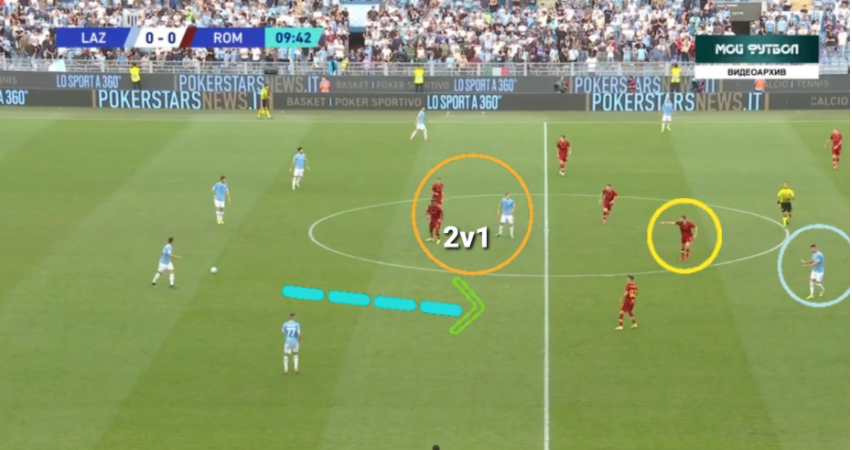 Tammy tried to close the space but it was too big for him and the short time window did not help him either. Luiz Felipe then arrived in the right place and made a great pass to the captain and striker Ciro Immobile.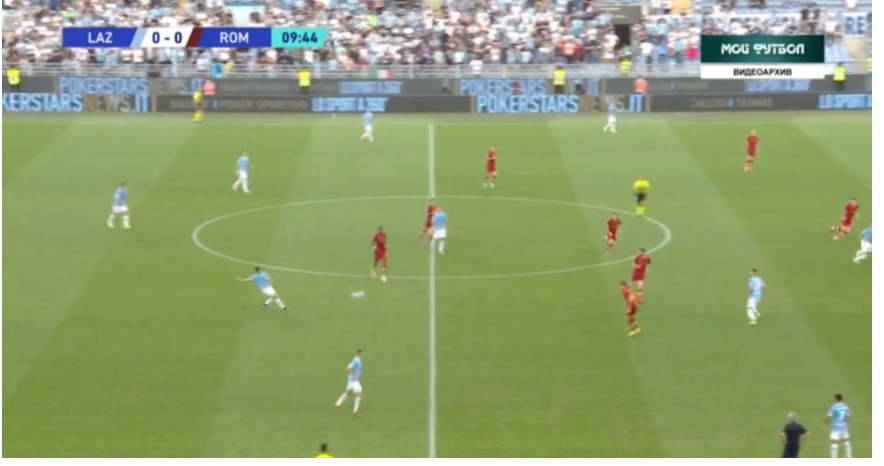 Immobile received the ball and made a one-touch pass to Milinković-Savić who fed it back to the Italian striker with a single touch. Immobile then found Felipe Anderson on the touchline.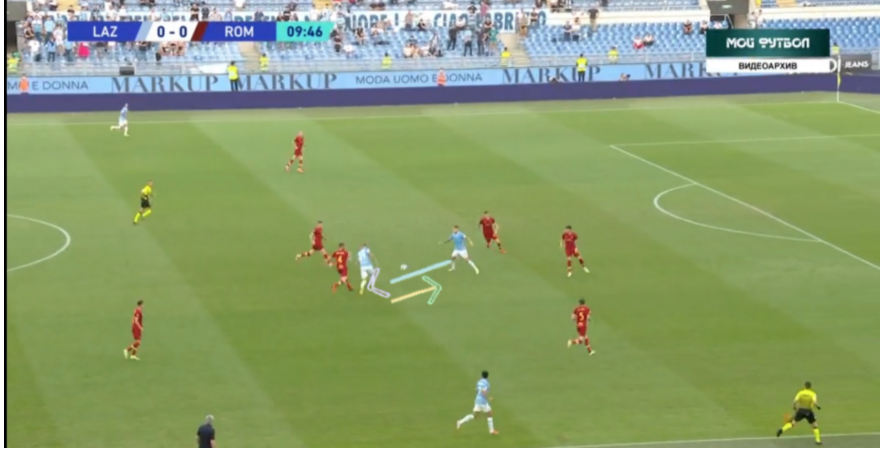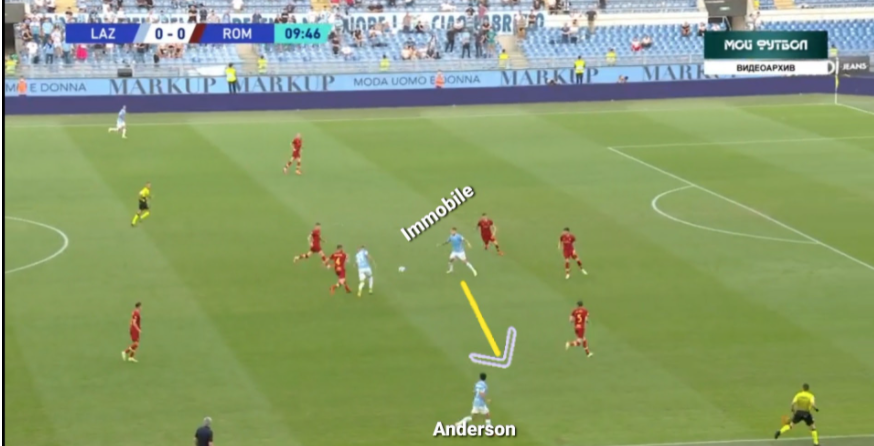 While all this was going on, Milinković-Savić was making a blindside, curved run behind the Roma players and not a single one of them caught him. There was a big gap created in Roma's backline and the Serbian worked diligently to attack this space.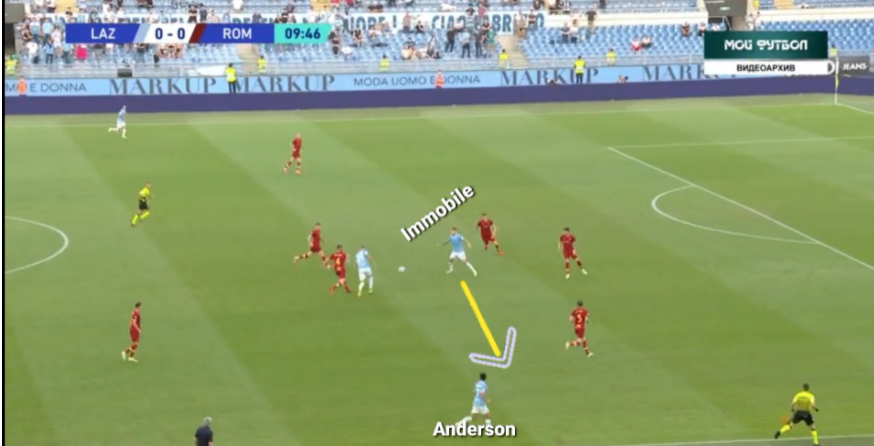 The Roma players were focusing on Immobile's movements. He made a run to the byline which dragged some of them out of position, but they failed to execute in both zonal and man-oriented defending, only focusing on Immobile and not even following him closely at that. 
That was a terrible defensive approach that cost them a goal, and a painful reminder of the backline's youth and inexperience. Felipe Anderson had two options from there: cross to Milinković-Savić or play a pass to Immobile. He went with the first choice as SMS could then use the time, space and his height to attack the ball and get on the score sheet.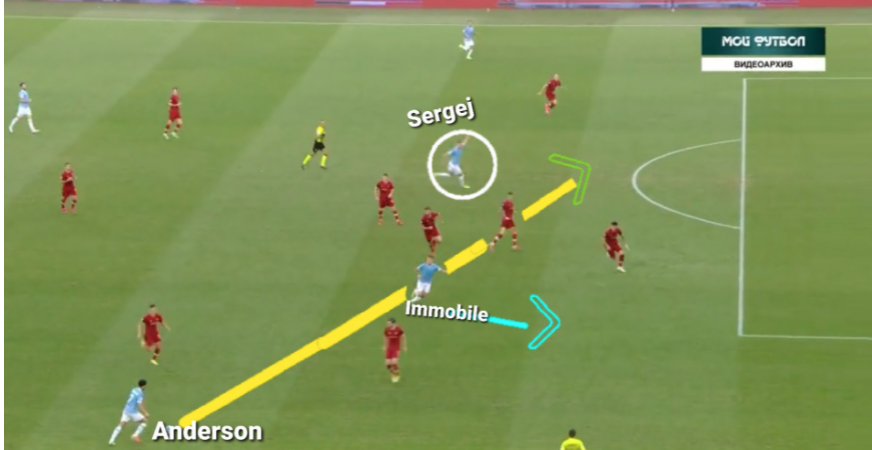 Felipe Anderson chose the first option and made a decent cross to Sergej who arrived in the right place at the right time to do damage on Roma, heading the ball into the back of the net to give Lazio the lead. The ex Genk man gave Sarri a scare after he clashed into Rui Patrício, but he was nevertheless able to continue throughout the rest of the game. After going behind, Roma were happy to build out of the back slowly with patient, precise passing and maintained their 3-2-5- shape, which they utilized to their advantage to exploit Lazio's unstructured press.
Immobile currently sits level atop the Capocannoniere leaderboard with 6 goals alongside Edin Džeko, but the non-goals part of his game is extremely underrated. He has made 14.56 pressures per game in this season's Serie A; only Antonio Sanabria has made more. 7.89 of those pressures were registered in the attacking third, and Immobile has 3.33 overall successful pressures per game, and 0.88 tackle + interceptions per game.
In the below picture, we can see Mancini passing the ball to Ibañez, who Milinković-Savić should have been marking before the pass was even made. Instead, he allowed the Brazilian defender ample space between him and the ball carrier, allowing Mancini to pass it to Ibañez who was able to pass it to Viña with ease. Just like his Serbian teammate, Anderson failed to do his job properly and allowing Viña ample time and space, a clear indication of Lazio's ineffective pressing structure.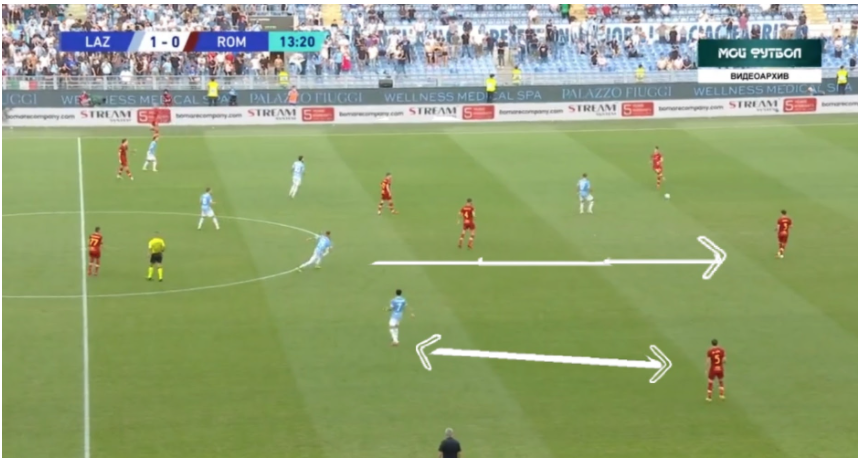 From there, Roma easily played through Lazio's unstructured press to find men in between the lines. After he received the ball, Viña had two options: 1) pass it to El Shaaraway on the left flank or play it to Cristante in the middle.
If Roma were playing against the likes of Liverpool, Bayern Munich or even Brentford, Viña would not be allowed both passing options, but the Uruguayan was nevertheless able to exploit Lazio's disorganized press and play a pass to Cristante.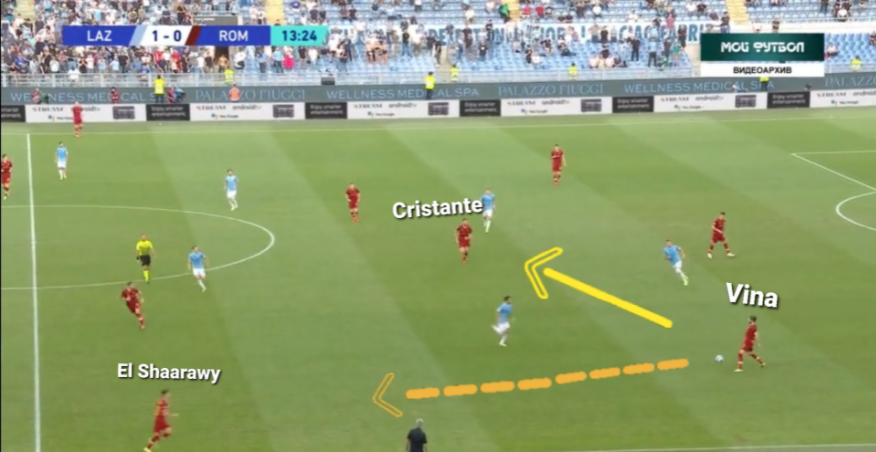 In turn, Cristante then finds Tammy with a pinpoint long pass, who could then find Zaniolo, who quickly played it to the onrushing Mkhitaryan.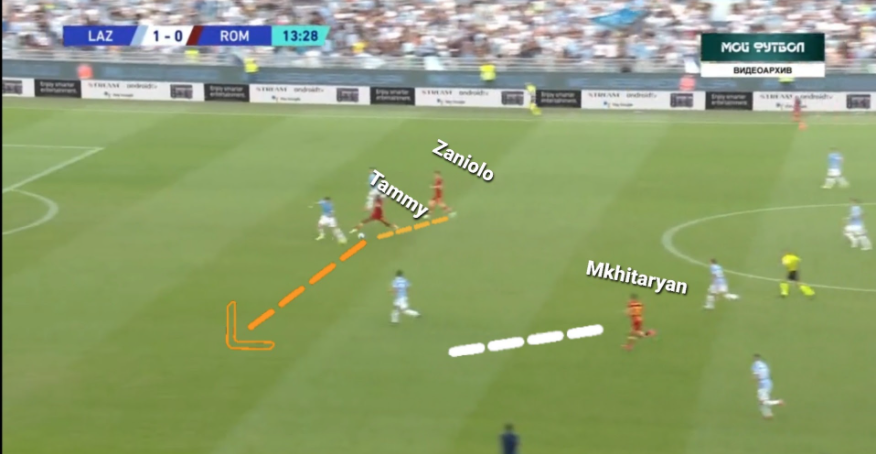 Mkhitaryan arrived in the box but didn't receive the ball in a great condition as he was a tad late. There were more than three Lazio players in the box trying to close the spaces with their narrow shape, and this in turn opened up space behind Hysaj the left side of Lazio's defense, where Mkhitaryan could then place the pass, finding Karsdorp alone on the far right post with a quick switch of play, but the Dutchman failed to convert.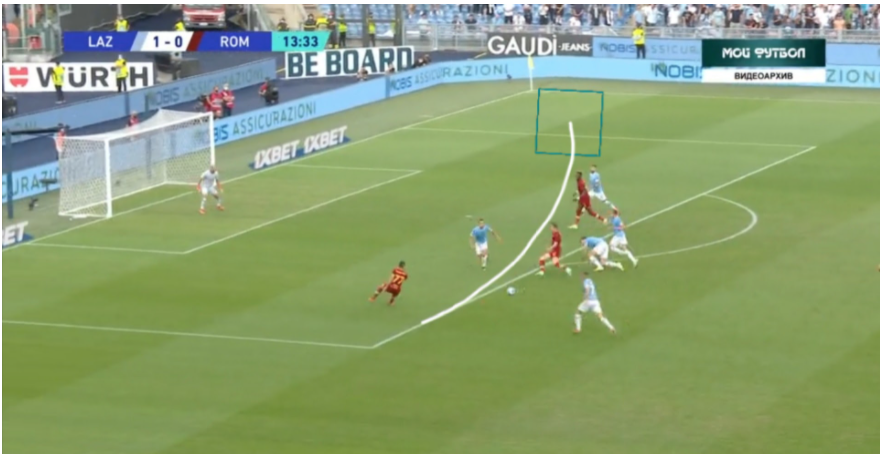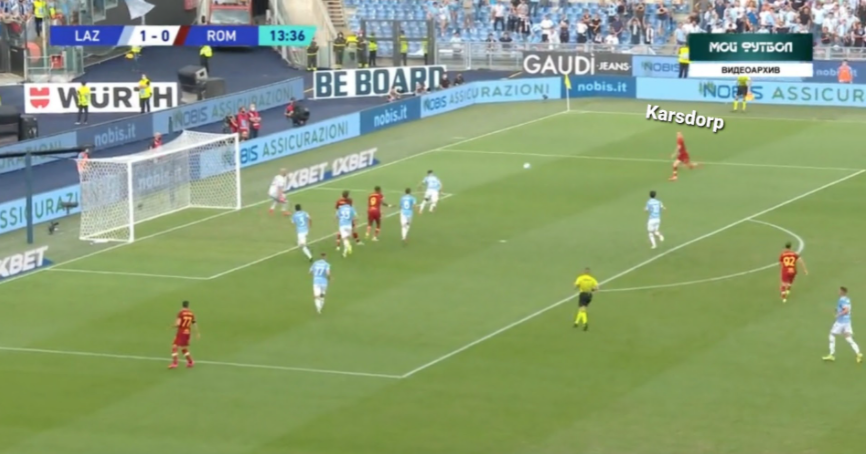 Lazio were willing to continue their attacks after their early lead, arriving in their opposition's half but often losing the ball. Due to their disorganized position and lack of aggression, Lazio failed to regain possession via their counterpress, and as soon as Roma won the ball, Veretout released it quickly to Mkhitaryan.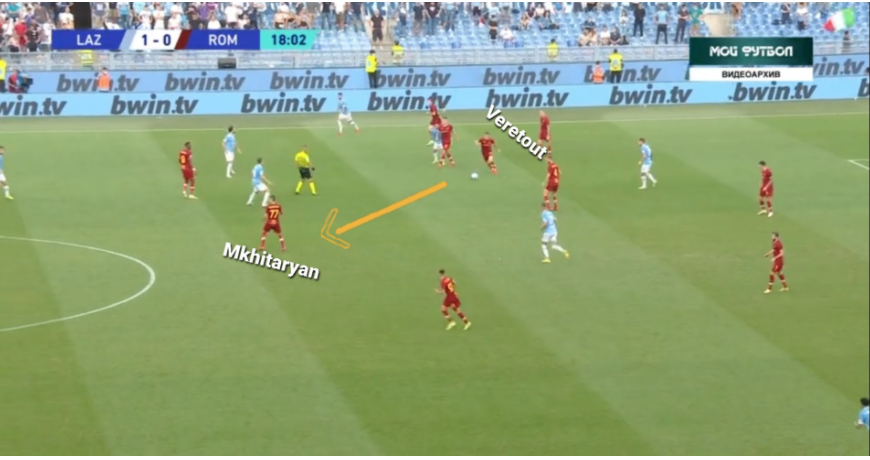 Mkhitaryan carried the ball 30-40 meters into the final third before passing it to El Shaarawy on the left flank. When El Shaarawy received the ball, a cross wasn't an option there so he decided to delay the ball and pass it to Viña and close proximity.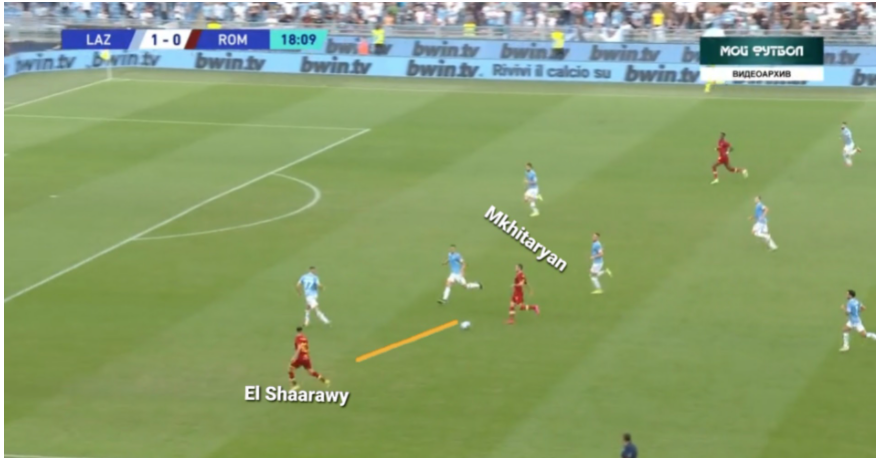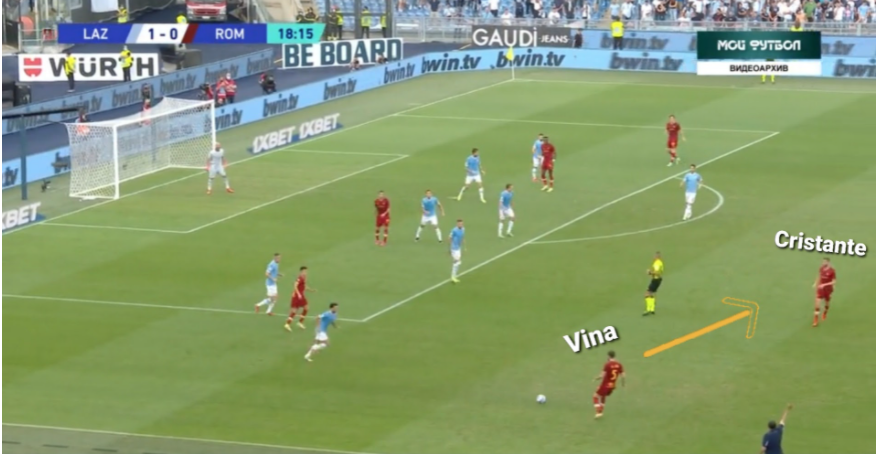 Viña passed it to Cristante, and now, Lazio players were defending in a low block, but unlike in the past, this time Roma had players in the box. As such, the option to cross was now available, and Cristante elected to attempt this after receiving the ball from Viña, playing a cross towards Zaniolo.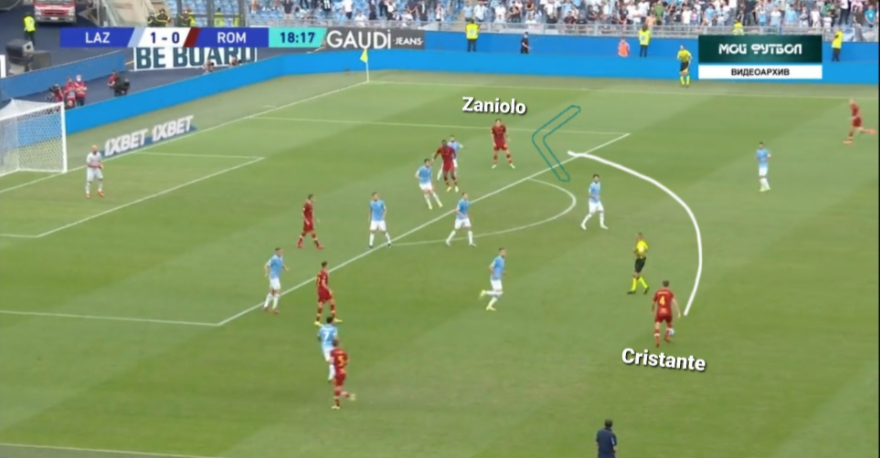 Cristante's cross to Zaniolo was accurate, but as soon as the winger recieved the ball, Hysaj pushed him down and won the ball to start Lazio's counter this time, quickly playing it to Pedro, who passed the ball to Immobile as he was running in behind the Roma defense.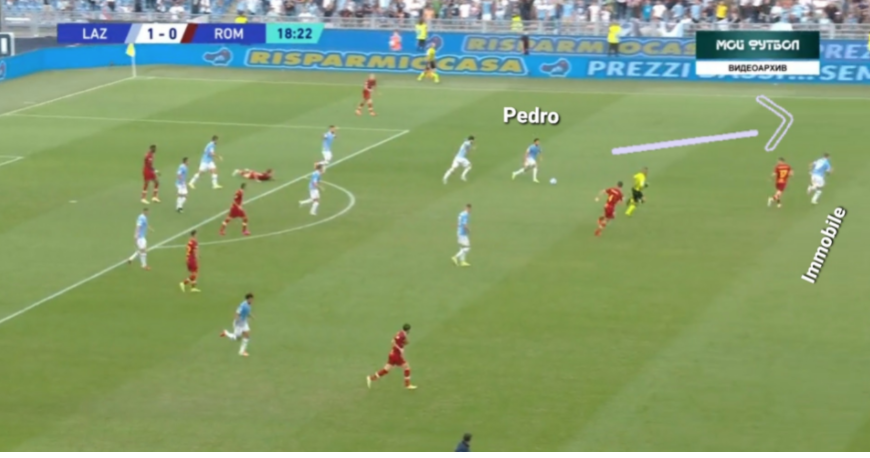 Just like they conceded the first goal, Roma's two young center backs found themselves under pressure and were making the same rookie mistakes as before. Their lack of awarenes, anticipation and experience should have been obvious for everyone again; as Mancini was tracking Immobile, his CB partner should have made sure he closed the spaces but he didn't.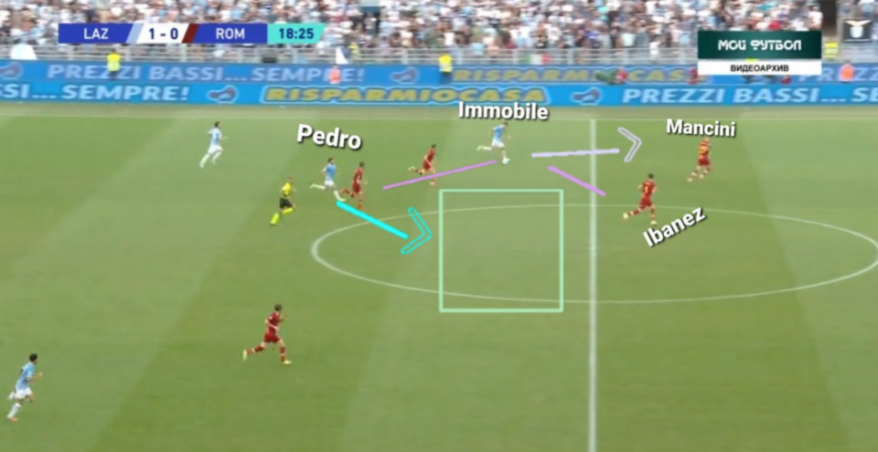 As seen above, almost four Roma players were focusing on stopping the ball-carrier but none of them managed to do so. Instead of pressing him or trying to close the spaces, they continued to drop deep, opening up a massive gap between the two.
Immobile kept his head up and spotted Pedro's run into the vacated space, and he passed the ball to the Spanish winger at the right time in the right place. The La Masia product made no mistake with the finish and hit the ball with his first touch to double the Biancocelesti's lead.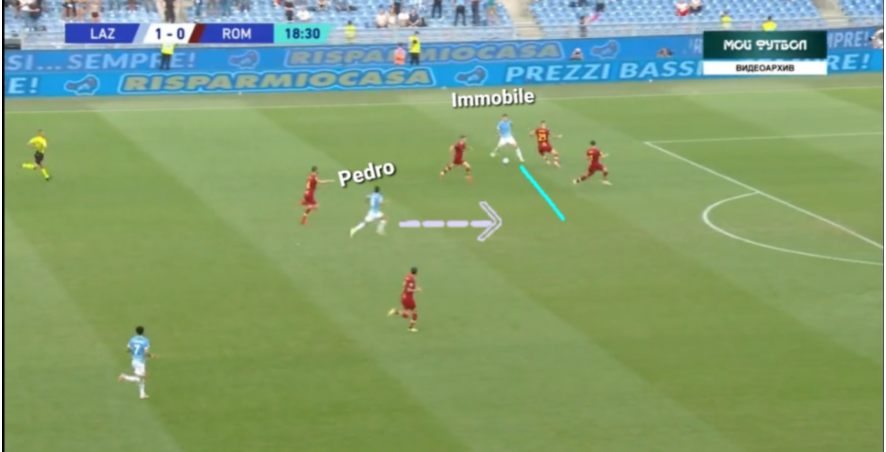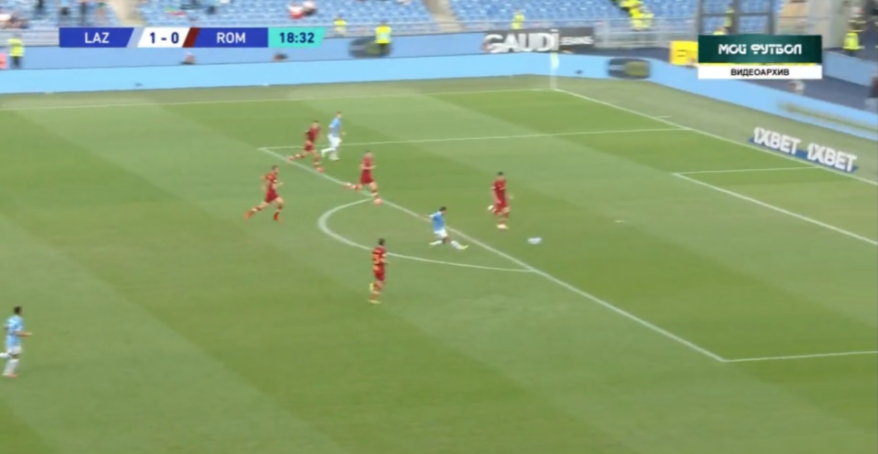 Roma's Off-the-ball Structure
Before they conceded those two goals, Roma were playing in a 4-4-2 mid-block and did very well in terms of closing the spaces in the center and denying passes to the regista, but that wasn't enough to stop Lazio's ball dominance and constant attacks both in the center and the flanks as Abraham and Mkhitaryan were tasked to close the spaces in the center and put Leiva in their cover shadow.
Spaces were created in the half-spaces due to Lazio's numerical superiority in the build-up. El Shaarawy faced a dilemma: if he tugs in, he will allow both Marušić and Anderson to receive the ball with ease, whilst if he moves out wide, they will exploit the space in the center just like they did in the first goal.
In order to stop the bleeding, Mourinho made a reasonable tactical change midway through the game, changing Roma's off-the-ball structure from a 4-4-2 to a 4-3-3 with Zaniolo playing alongside Mkhitaryan and Abraham in attack and Veretout, Cristante and El Shaarawy all in close proximity in midfield.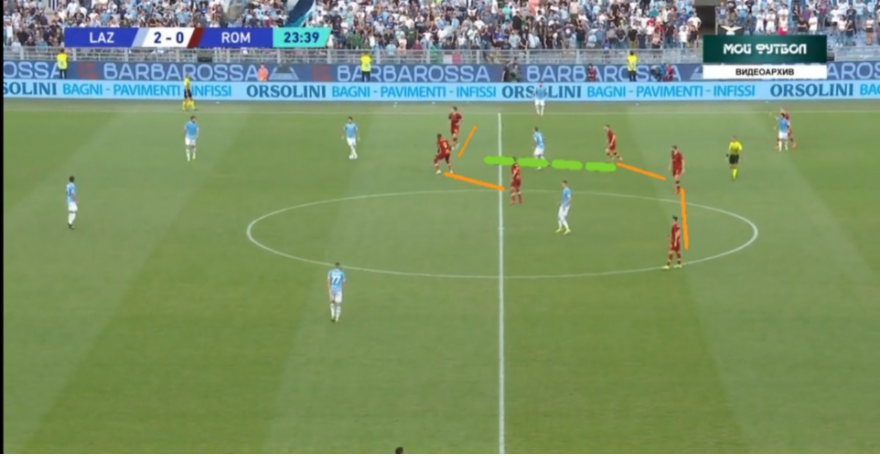 Mourinho would have surely been inspired by the 4-3-3 press of 2019/20 Premier League champions Liverpool, but he failed to execute it in the same way due to a lack of individual quality as well as an absence of pressing triggers and traps, a must for any team that wants to aggressively press, and one area where his philosophy and strategy differs from Jürgen Klopp.
One just needs to take a cursory look at the below picture to see Roma's half-hearted effort at pressing. If Luis Alberto passes it to Marušić, Mkhitaryan will have plenty of ground to make up to press the Montenegrin fulback. When he evades the pressure from the ex United man, Marušić is now isolated and has plenty of space to pick out a pass.
In order to fix their ineffective positioning, Roma should have kept a narrow space between their midfielders and attackers whilst also involving the fullbacks in the press. However, thanks to the Giallorossi's leaky mid block and Lazio's numerical superiority in build-up, the Biancocelesti can progress further up the pitch.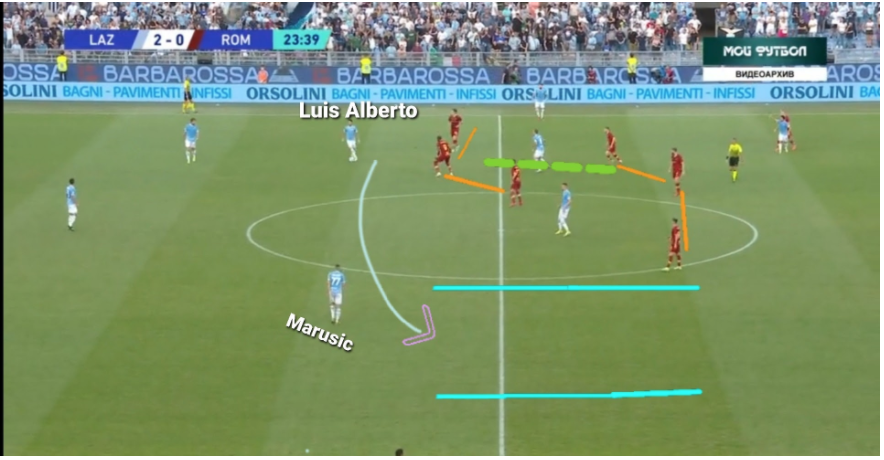 After the Spaniard switches the play to Marušić, Lazio are now looking to break the lines and play through the middle but Roma's disciplined shape forced Lazio to play wide. Nevertheless, Lazio were able to bypass the opposition's two lines with two quick passes to isolate Viña 1v1 against Pedro. Lazio constantly attempted to find 1v1 and 2v2 scenarios and create qualitative superiorities against Roma defenders.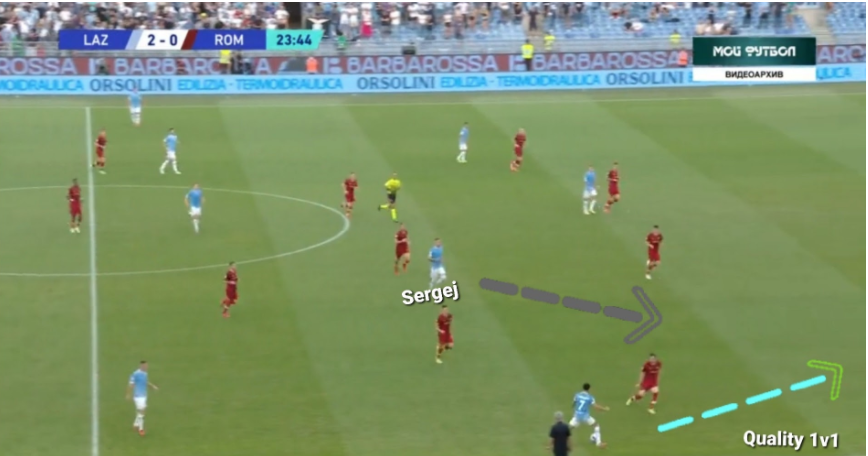 When Felipe Anderson got the ball, he saw the Roma left back was isolated but he was looking to see if SMS was going to make a diagonal run to make himself a passing option or to drag out Roma players to vacate a space. He didn't do that, so Anderson decided to take on Viña and caused the ex Palmeiras man some problems.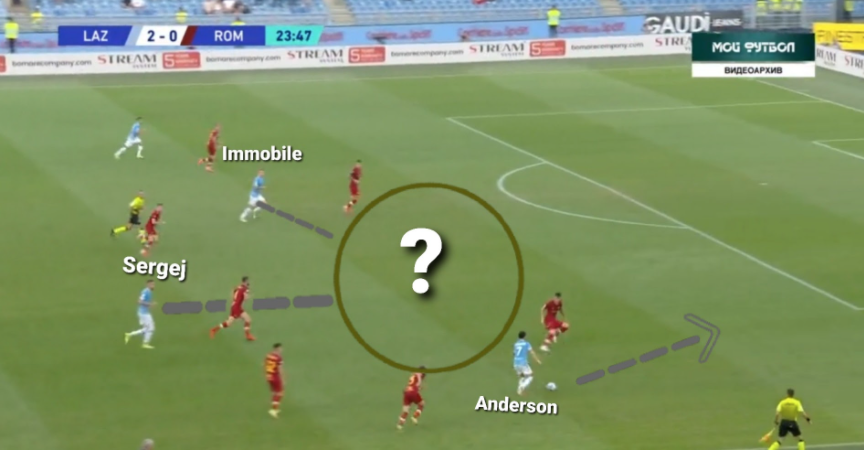 After taking on Viña, Felipe Anderson found himself another 1v1 vs Ibañez. There was a big hole in between the Roma defence, but the Lazio players failed to anticipate this and occupy the vacated space — neither Immobile nor Milinković-Savić managed to exploit this. Anderson looked up and had no passing option, so instead he tried to take on Ibañez, who stepped in and dealt with his compatriot.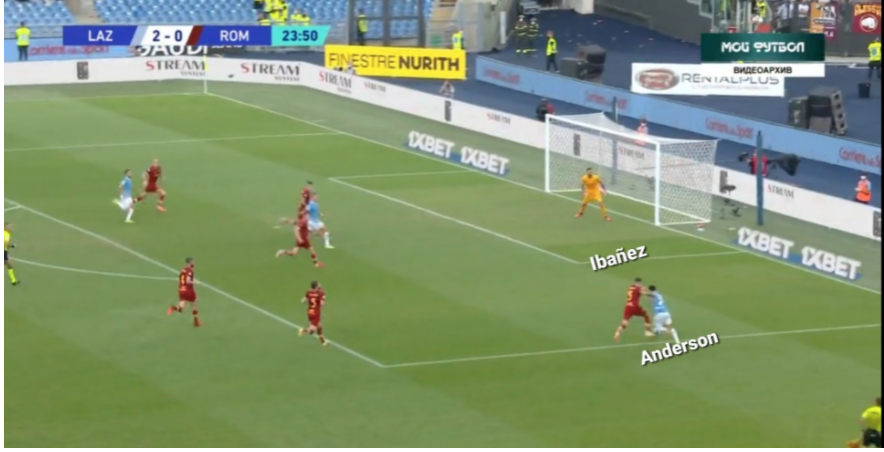 Acerbi x Milinković-Savić
In their loss to Milan, Milinković-Savić often made clever runs in behind the defense to get out of pressure and find himself in dangerous positions to attack the opposition, but failed to make it work as the timing between Acerbi's passing and the Serbian's run was off. This time, however, it clicked. Milinković-Savić gave a sign to Acerbi and made a run in behind Cristante, similarly to when he tried to make the run behind Kessié, and Acerbi was quick to spot the run and released the ball.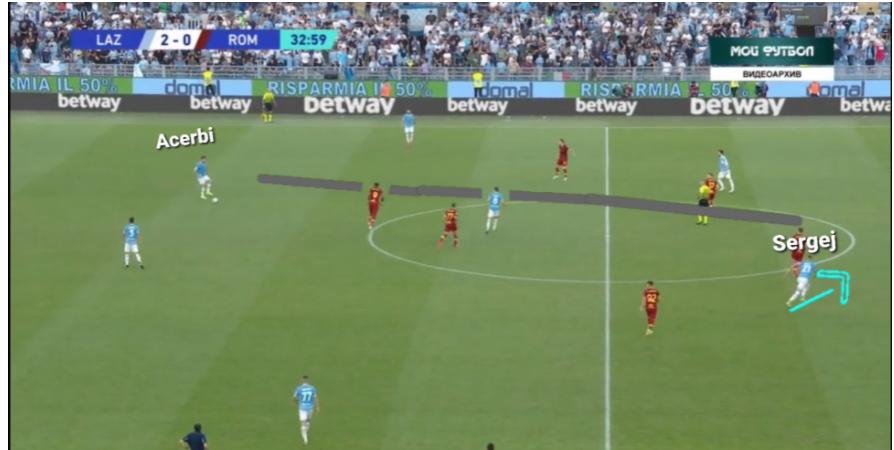 Cristante wasn't aware of that run so he failed to track him back from there, and Acerbi's long-range pass was also superb, he finds Milinković-Savić in the opposition's box. It was Cristante who was tasked with marking him, but SMS was quicker than him both mentally and physically. Cristante had a slow pace by nature and that didn't help his case too, as Sergej controlled the ball in the opposition's box but failed to convert it.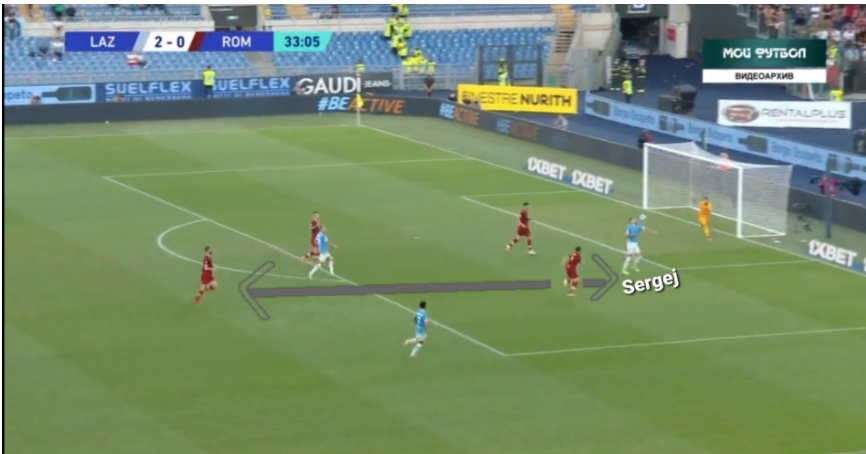 This was an interesting sequence of play from Sarri's team and another growing sign of the automatisms and combinations that should flourish with more time under the Italian manager. Lazio often try to play through their opposition's press but when they face compact sides like Roma, playing out of the press might be one of their ways forward. This particular occasion deserved a thumbs up.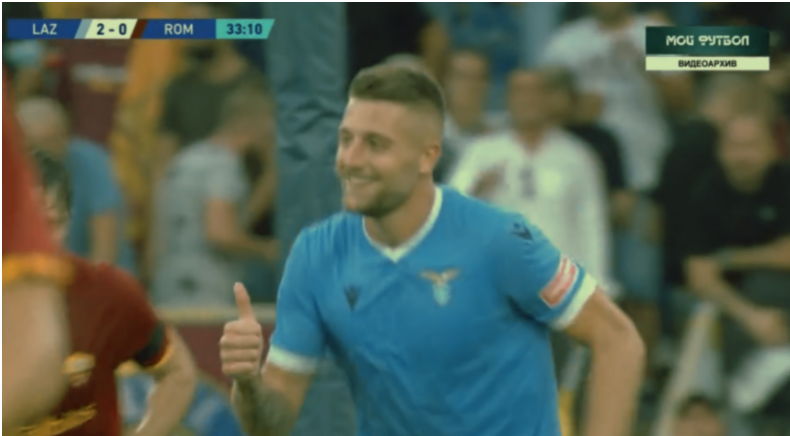 Acerbi delivered an impressive derby in central defense alongside Luiz Felipe and even came close to scoring a goal from a counter-attack. It was 8 minutes before the halftime whistle when Roma lost the ball in Lazio's half and as soon as the ball got to Luis Alberto, he was looking for runners to pass the ball to. 
However, most of the Lazio players were not willing to make that run as the end-to-end game was tiring them so they wanted to stay in their own half and start to build again. Instead, Acerbi chose to begin his run and make himself a passing option on the counter, a risky decision considering his lack of pace.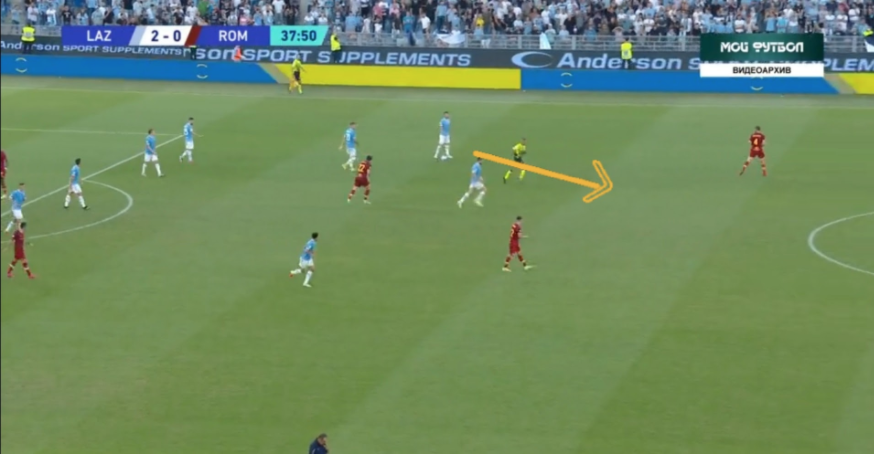 Luis Alberto passed it to him and the Italian defender drove forward with the ball for more than half of the full pitch, and when he looked to his right, a helping hand was coming from Felipe Anderson. There were spaces for Acerbi to attack in the gaps between Mancini and Karsdorp, but he knew his limits and passed it to Anderson.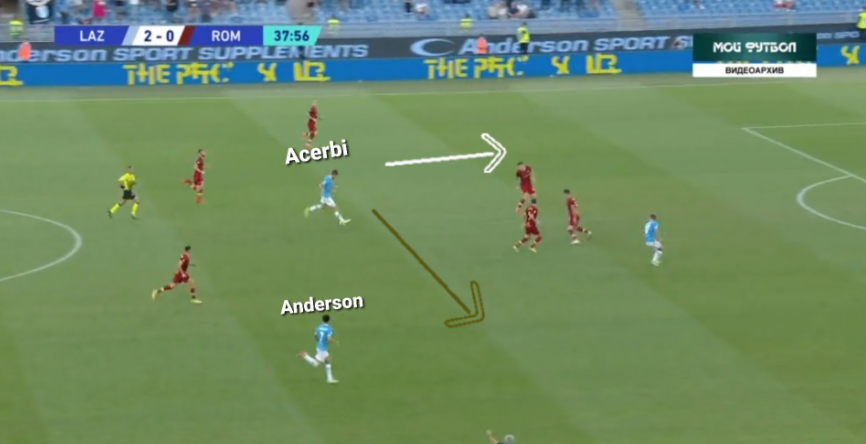 After that, he made an incisive run in behind like SMS did for the first goal, but what makes this one different is that this time, the box was crowded by Roma defenders. Anderson picked out Acerbi with a decent cross, but he failed to convert.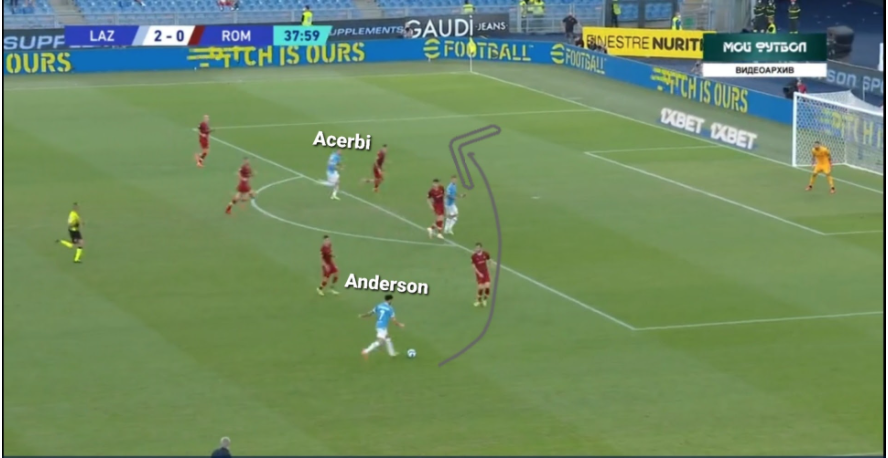 Roma's Positional, Numerical and Qualitative Superiority
Whilst it's true that Lazio found themselves up 2-0 early on, Roma's positional structure on the ball proved a headache for Lazio, who were trying to close the spaces in the center and they were successful on it but spaces were there for Roma to exploit wide.
In the first phase of build-up, Mourinho used Viña as the third center back to easily bypass the opposition press and build up from the back, and higher up the pitch, the Uruguayan was used in his natural position of left back in the third phase. Mourinho's two fullbacks held the width to stretch the opposition and put their attacking players through the center; we see here how Veretout finds Viña in space and puts Marušic in a dilemma.
Roma's structure allows them to get an isolated 1v1 qualitative superiority and a 2v1 numerical superiority, as well as positional superiority. Marušić is trying to defend Viña, but when he did that, a massive space opened up between him and Luiz Felipe which El Shaarawy can then run into and attack. The Montenegrin fullback is faced with a decision: stay in his position or step towards Viña and commit.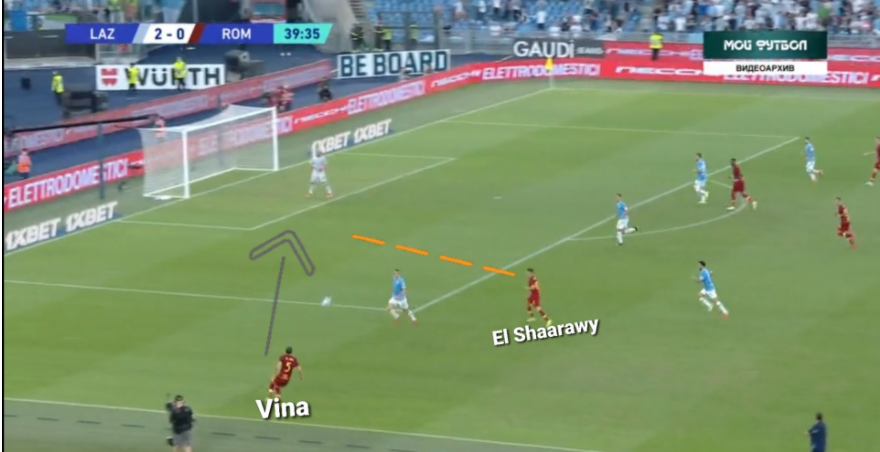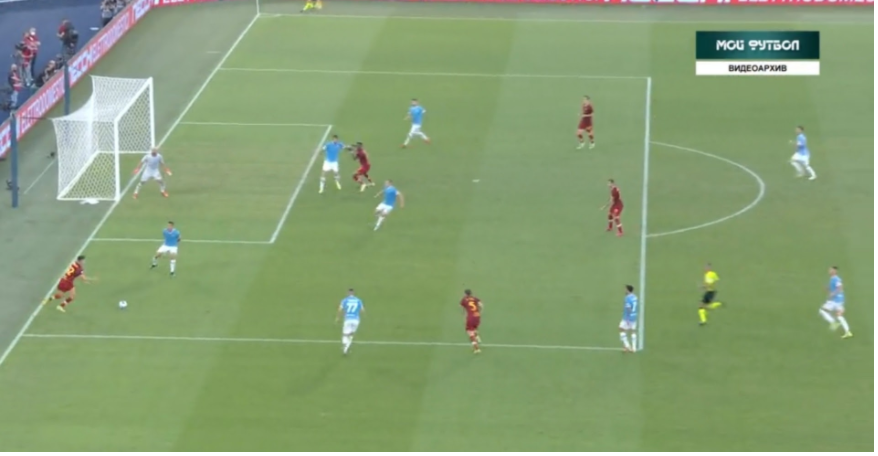 Viña decided to take on Marušić and picked out a pass to El Shaarawy, who arrived in the box at the right time with a brilliant late run, controlling the ball and trying to find Abraham with a pass, but Lazio defenders did well to clear it. The resulting corner kick saw Ibañez head into the back of the net to pull one back for Roma before the break.
Roma's Build-up Play
Roma attempted to find an equalizer before halftime and in this instance, Rui Patrício plays a pass to Ibañez. Anderson saw that Viña wasn't being marked and he knew that if he received the ball, Roma could pick apart their terrible pressing structure. The Brazilian curved his run to put Viña in his cover shadow and press Ibañez, whose body positioning was poor.
If Ibañez had oriented himself into a more open receiving position, he could have found Viña quickly, but he nevertheless found Cristante in midfield. Immobile should have curved his run and taken away the passing option to Cristante whilst also pressing the ball carrier, but it is clear that this is more of a tactical problem than an individual one. Cristante made a touch-pass to Viña who was able to escape the pressure and attack the ample space.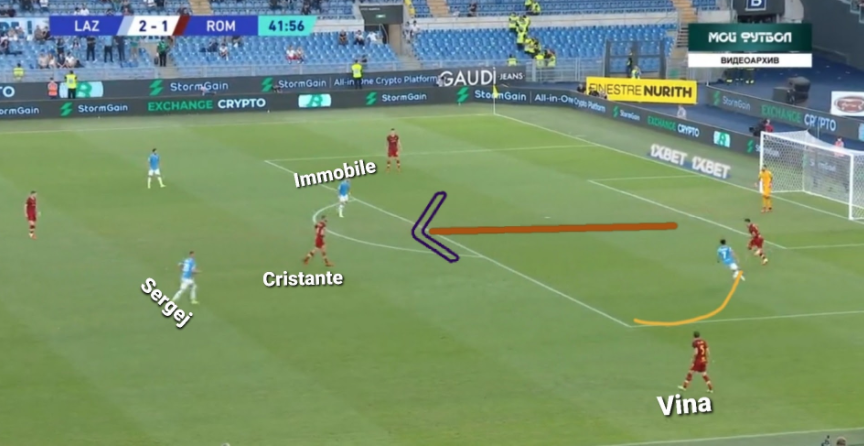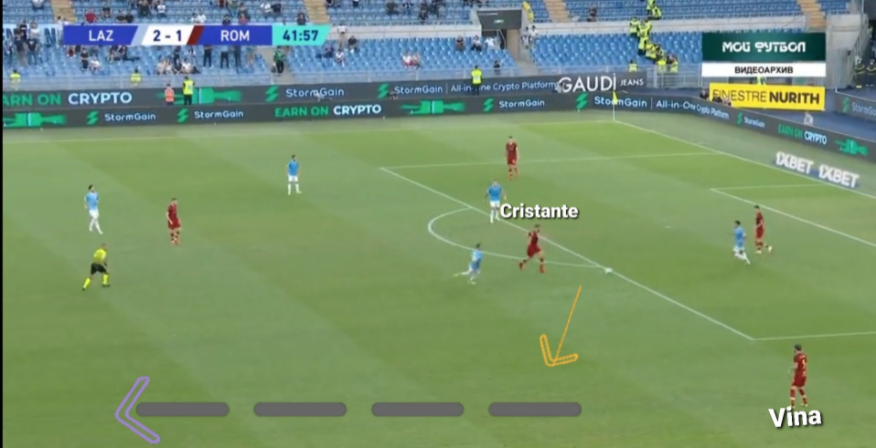 Lazio allowed Roma to enjoy a quick attacking transition thanks to their unacceptably poor pressing structure, a weak point that Sarri must rectify sooner rather than later. Viña then passed the ball to Cristante, and from there, you can see no Lazio player was trying to stop and close him down so he just drove with the ball until the halfway line. Cristante then passed the ball to Abraham who dropped to the flank and attempted to take on Marušić.
Before he passed it to Abraham, the other Roma players were already trying to notify Cristante that a switch to the underloaded right flank where Karsdorp was located was ready for the taking. He can't see Viña as he is behind him, but both Veretout and Karsdorp were indicating the passing option; instead, he chose to pass it to the ex Chelsea striker.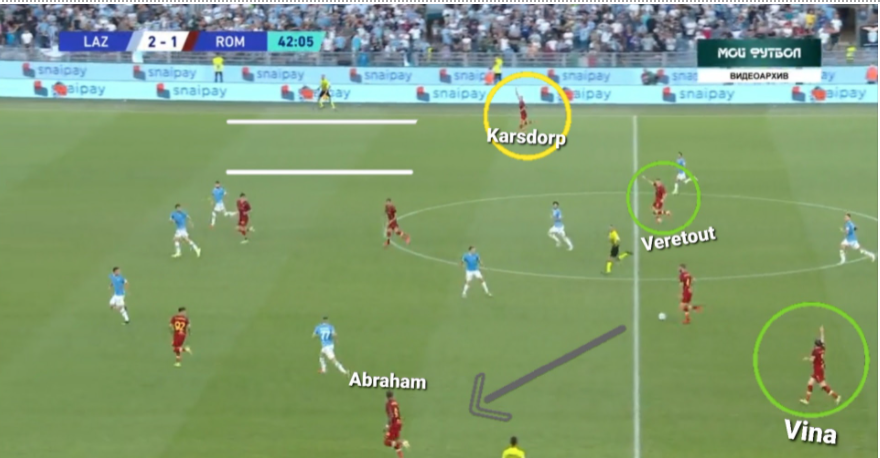 Abraham used his combination of speed, physicality and technique to take on Marušić and advance to the byline, but his cross made its way to a Lazio defender and failed to create any danger whatsoever.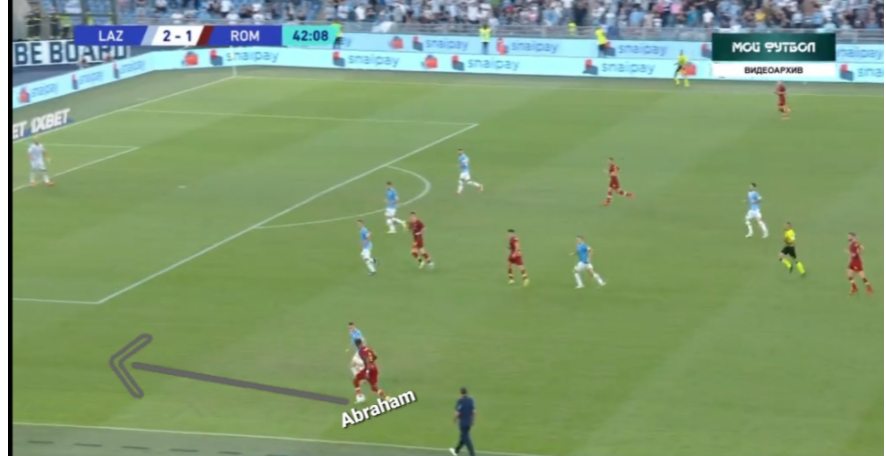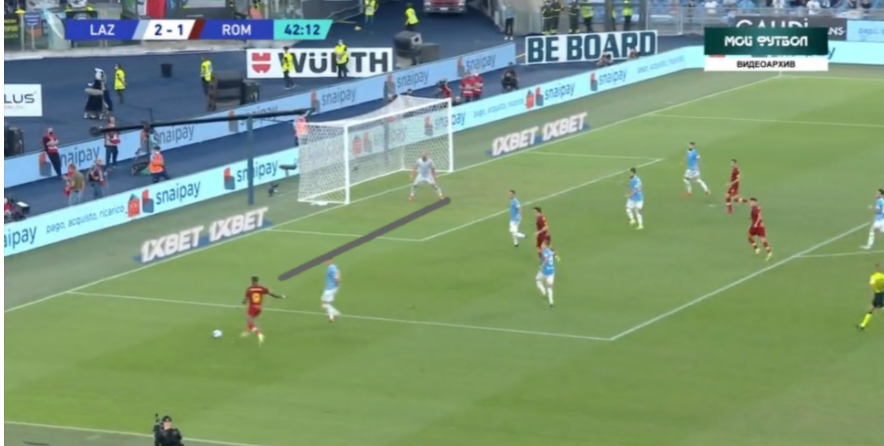 Lazio's Set-Piece
The second half kicked off in an intense fashion as Lazio received a free kick in the 48th minute. Luis Alberto placed a pinpoint free kick into the box and picked out Milinković-Savić, who made a clever well-timed run into the box and flicked it into the path of Immobile, who failed to convert the chance.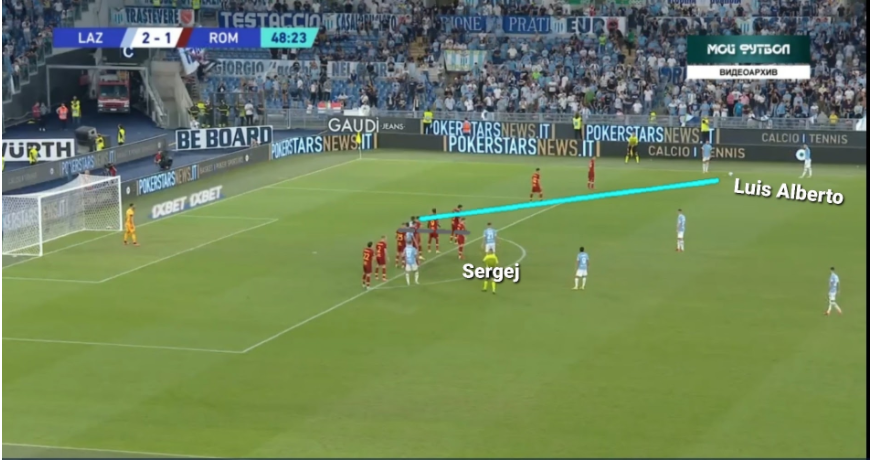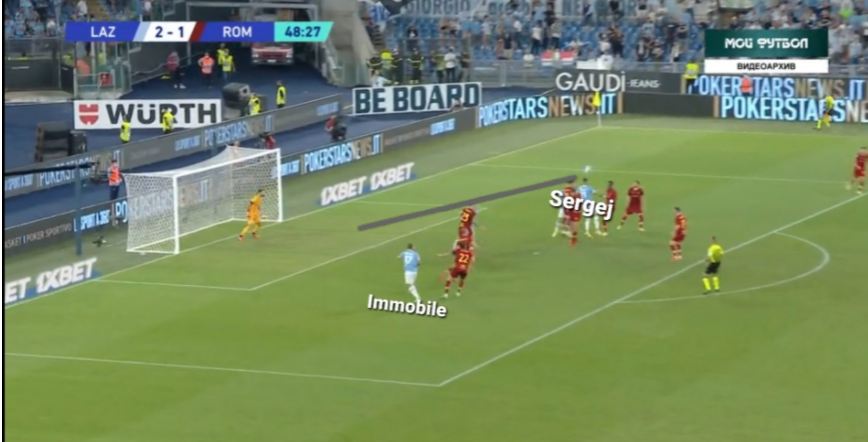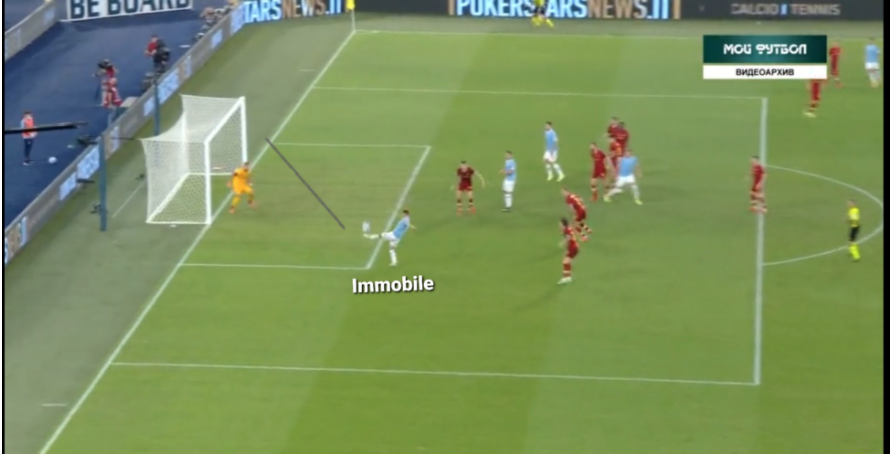 Lazio's Third Goal
Roma had been pushing for an equalizer since the second half and now, Ibañez found himself on the halfway line and broke the lines, picking out El Shaaraway in space, who won the first ball, but his attempt to find Mkhitaryan was unsuccessful and Luiz Felipe did well to regain the ball.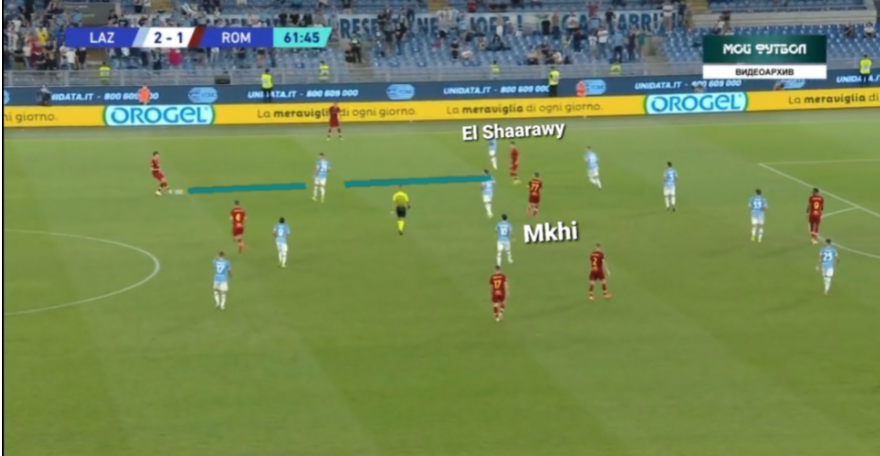 The Brazilian defender made a pass to Luis Alberto to start the counter-attack to get the third goal. Luis Alberto quickly changes his body shape and makes a very good pass to Immobile. The ball was played in front of him which made it easy for Immobile, who gets into the box without feeling pressure from the Roma players, and he faked a shot to take on the center back.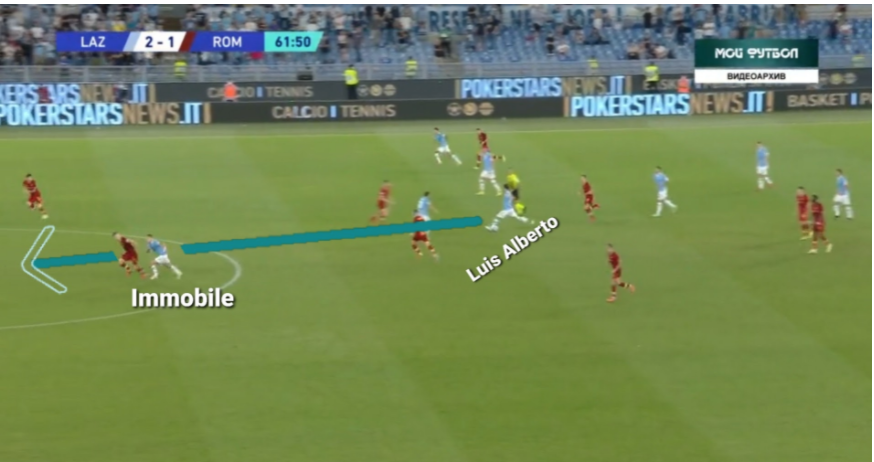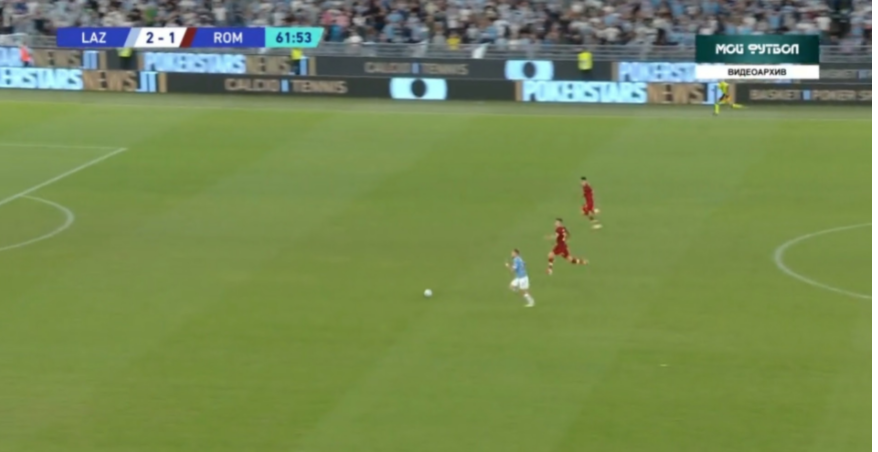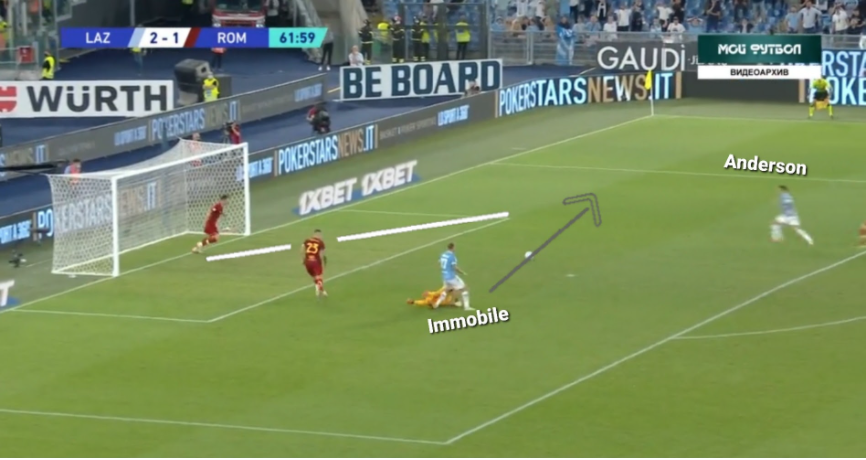 Now both center backs are trying to defend the net as their goalkeeper stepped out to stop Immobile but failed to do, so Immobile raised his head and found that Anderson is making a very good run and decided to selflessly pass it to Anderson, who shot the ball with his first touch to give Lazio a 3-1 lead. Immobile, on the other hand, got his second assists of the night.
Three minutes after the third goal, Lazio elected to substitute Luis Alberto out for Jean-Daniel Akpa Akpro. It is clear that Sarri was trying to protect the result and provide more physicality in midfield, much to the chagrin of the Spaniard. This was their second change after Danilo Cataldi came on for Lucas Leiva, and Sarri's third change came in the 90th minute as Vedat Muriqi came on for Immobile.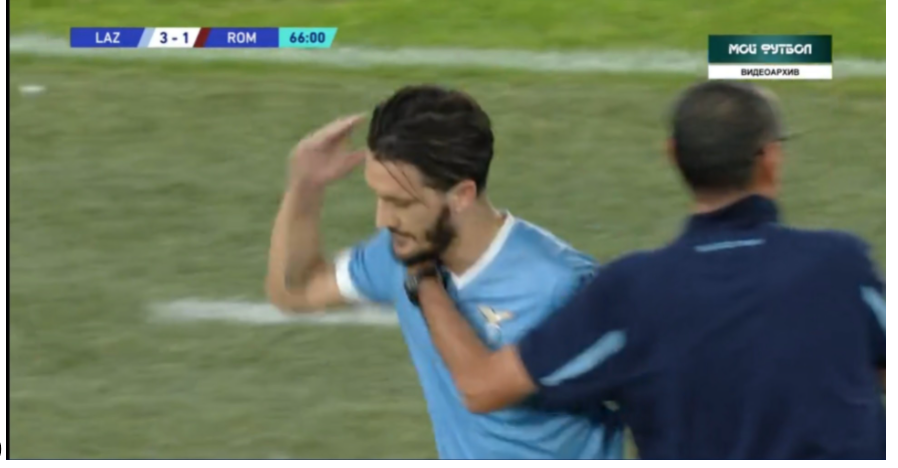 Six minutes later, Roma received a controversial penalty as Akpro lightly pushed Zaniolo, which allowed Veretout to make it 3-2. However, they were unable to find an equalizer, but the xG statistics also suggested it was a balanced match.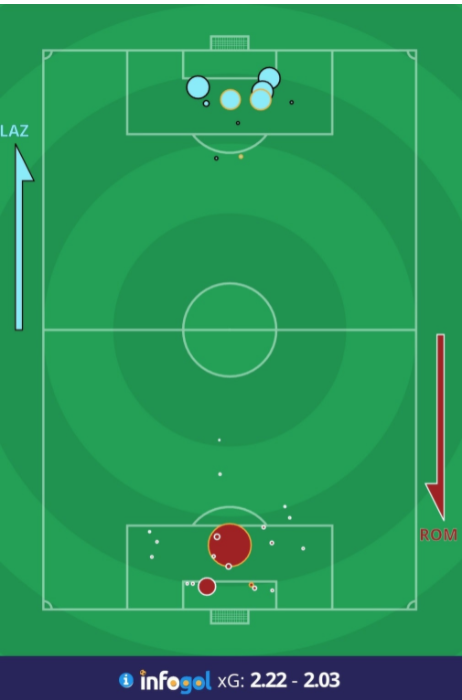 Conclusion
It is clear that both teams need to improve on plenty of things: Lazio must fix their ineffective pressing structure which has prevented them from attacking as well as they can, as their poor off-the-ball structure prevents them from retaining possession and winning the ball back. Roma, on the other hand, have impressed with their build-up play in the first phase and their positional rotations higher up the pitch.
The Giallorossi sit fourth in Serie A with 15 points from their first 7 games, whilst Lazio trail their crosstown rivals by four points. Even though Roma's narrow 4-3-3 mid block has the advantages of closing the spaces in the middle, it has also exposed them in wide areas and we saw this against Lazio. Moreover, whether Ibañez and Mancini can improve as a young center back duo and gel together in defense will be another make-or-break concept to Roma finishing in the Champions League spots this season.
By: @HalfSpaceNatt
Featured Image: @GabFoligno / Marco Rosi – SS Lazio – Getty Images