Tactical Analysis: Liverpool 2-2 Manchester City
The league's best two teams for the last few years with two of the world's best managers matched up on Sunday to set up a pulsating encounter. In a breathtaking, enthralling Premier League on steroids classic we were reminded of the level Jurgen Klopp and Pep Guardiola have elevated not only both teams but the quality of the league in football's current uber tactical environment. 
This has been deemed the blockbuster fixture to circle on calendars in recent years and never for a second did it disappoint, watching another chapter of two prime heavyweights unfold was fascinating. On many occasions last year perhaps because football was devoid of that oh so precious big-game atmosphere, the biggest games were a damp squib, but this clash was enrapturing.
Like witnessing two of the world's fastest cars driven by the best drivers who know exactly how to get the most out of their engines, the quality of both teams emphasises they are the cream of the crop. Now, enough of my love fest for these two and time to digest the ins and outs of the fixture.
O Striker, Where for Art Thou?
'I was the most happy probably in my career to hear the halftime whistle." Klopp coyly recalled in his post-match interview the Manchester City onslaught the Reds had survived somehow in the opening period. Guardiola's frenetic pursuit of a striker for Cristiano Ronaldo and Harry Kane now makes so much sense, as Guardiola said himself in games vs Chelsea, PSG and most saliently against Liverpool City created chance after chance and should've had at least one goal to show for their dominance. 
What surprised me the most about Liverpool in the first half is their decision to not press City or have the decision to drop off, Gary Neville remarked in commentary that they could have possibly looked a little 'leggy' but it seems it was a clear tactic from Klopp and his staff to conserve energy in a mid-block to avoid being scant at the back if the press was unsuccessful. This backfired completely and City should've exploited this rapaciously and they had chances to do so.
As Bernardo Silva crosses from the left the ball is begging to go into an area to be attacked by a typical goal poacher, think Edison Cavani or Didier Drogba a frontman with height who can attack the crosses City can put in from the positions they create or even a Harry Kane or Cristiano Ronaldo? Wink wink. Even as Kevin de Bruyne latches his head on the cross with a diving header he is unable to hit the target.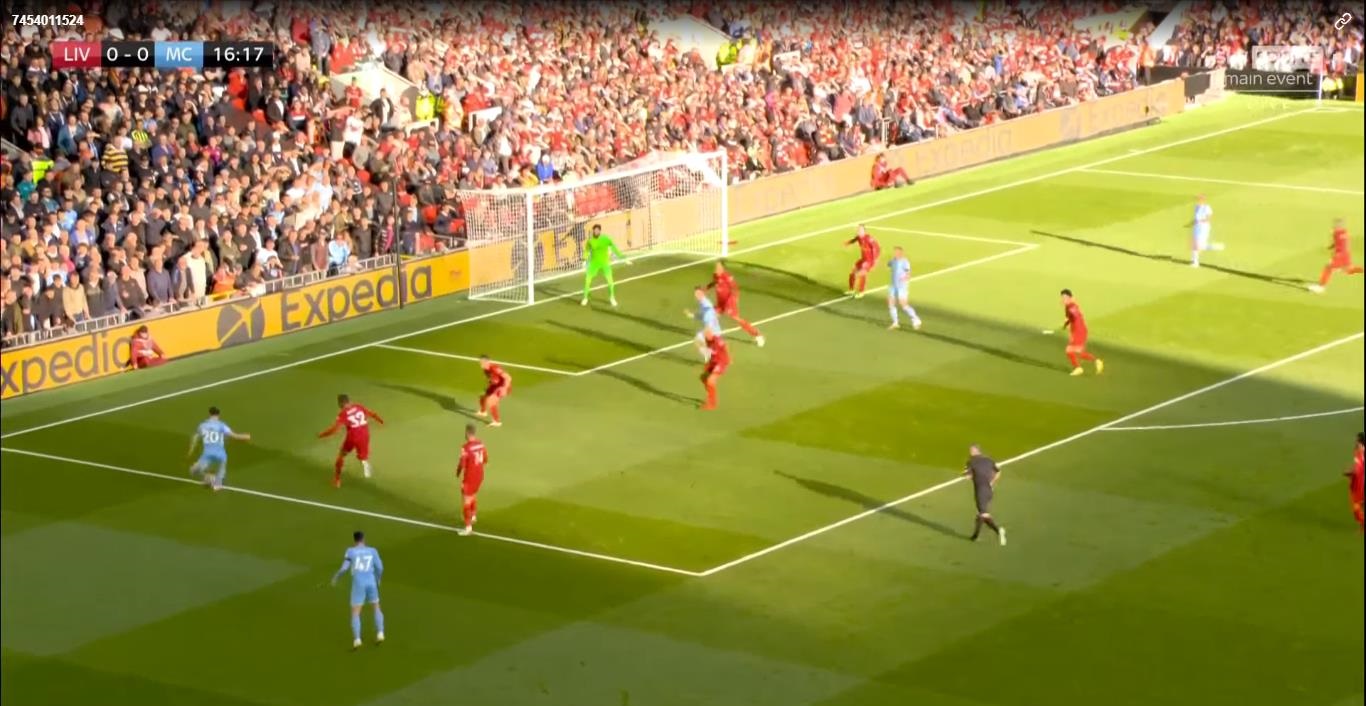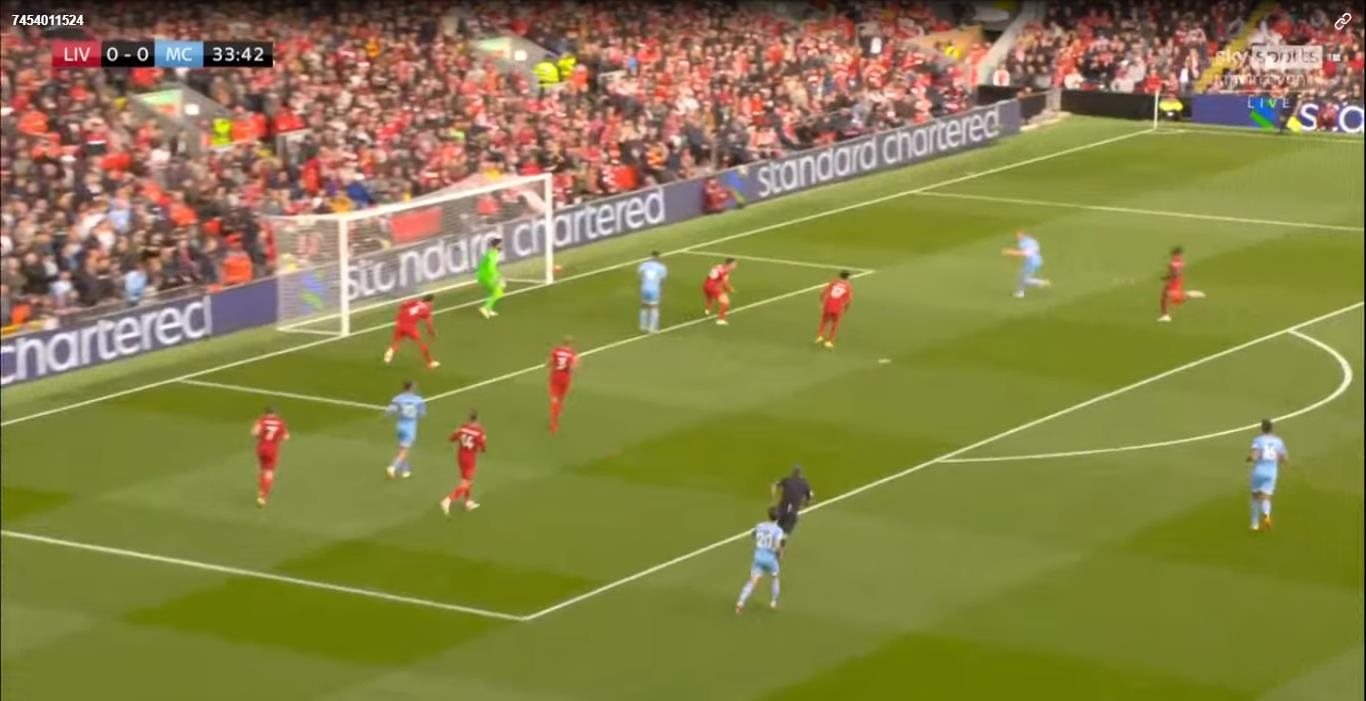 City's noticeable need for a striker isn't just limited to aerial situations, as the ball came to Phil Foden on the left one on one with Alisson he takes just a touch extra needed which allows Allison to close him down quicker when you feel a seasoned striker like the Argentinian they sold currently residing in Catalonia would've known what to do to give them the lead.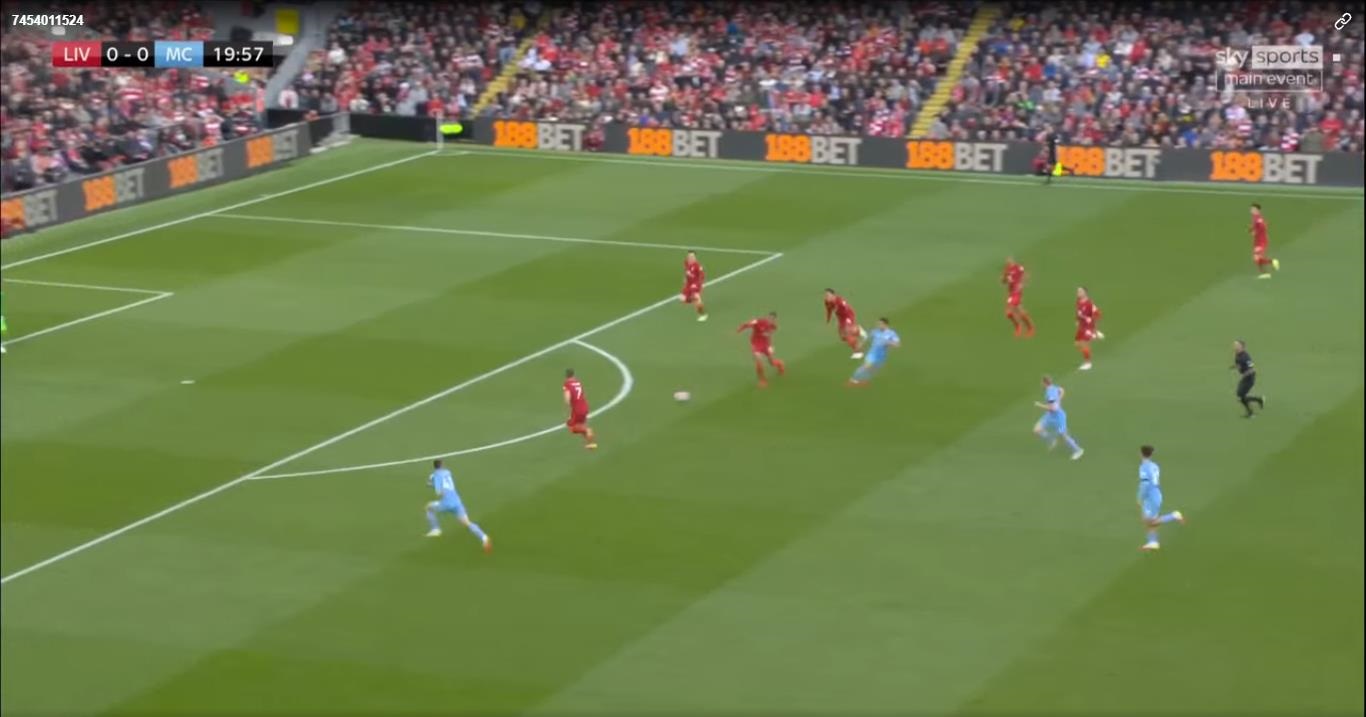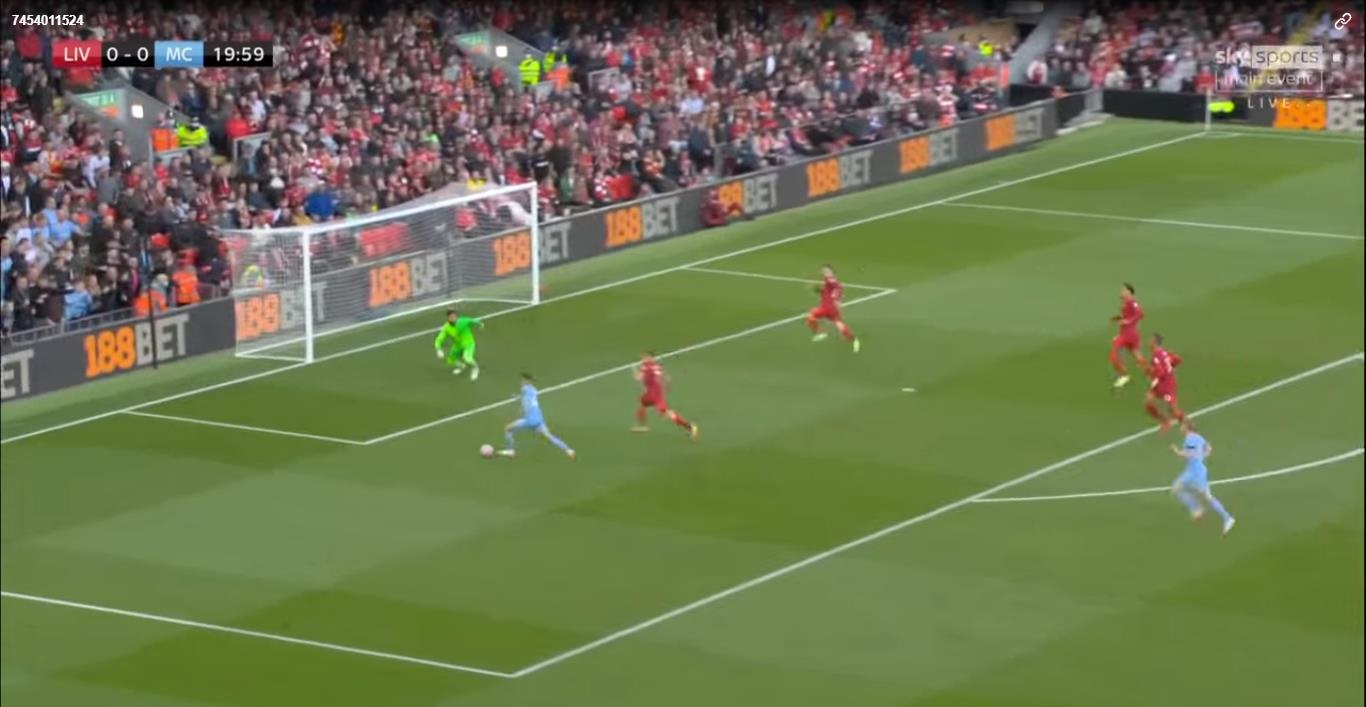 In another example, City once again found space on the left with Kevin De Bruyne having a shooting chance inside the box but was unable to find the target once again, though De Bruyne scored it wasn't actually one of his best games and in crucial moments he made the wrong decision and just had an off day.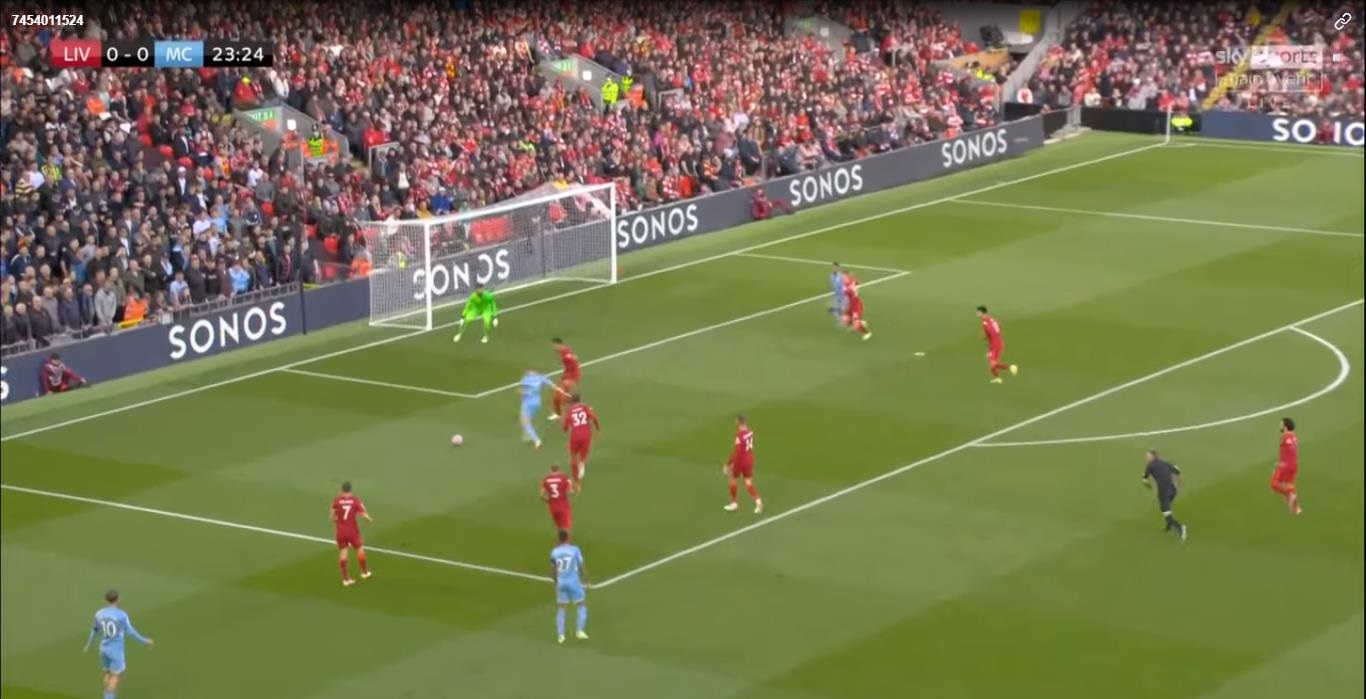 Even still, you can't rely on your playmaker to always put chances away with the amount City create,  a recognised striker who is selfish and eat, drinks, and sleeps goals would make them even more devastating. City's chance creation is bigger than most other teams ranking 2nd last year with 79 and 2nd this year thus far with 18.
They were also 2nd in big chances missed with 60 last season and are 2nd once again this year with 14, all behind their opponents Liverpool. City's behaviour in the summer is a salient action that they are still aware this team can get better, or more appropriately more clinical. 
Phil Foden Wreaks Havoc on James Milner 
Within the first ten minutes, there were two occasions where City immediately passed directly long to the left side looking for Foden, whilst the passes didn't work out it was a good, early indication of what was to come, and what worked best for City in the game.
Foden was constantly galloping down the left, isolating and often beating James Milner who wasn't the usual full-back with Trent Alexander Arnold unavailable you felt Guardiola had specifically targeted the Englishman as the Mancunian ran riot on the ex-City player giving him a hellacious game he was unable to cope with.
Jack Grealish ostensibly playing in the centre of the front three roamed and frequently changed position keeping Joel Matip or Virgil Van Dijk occupied so they were unable to aid or double up on Foden.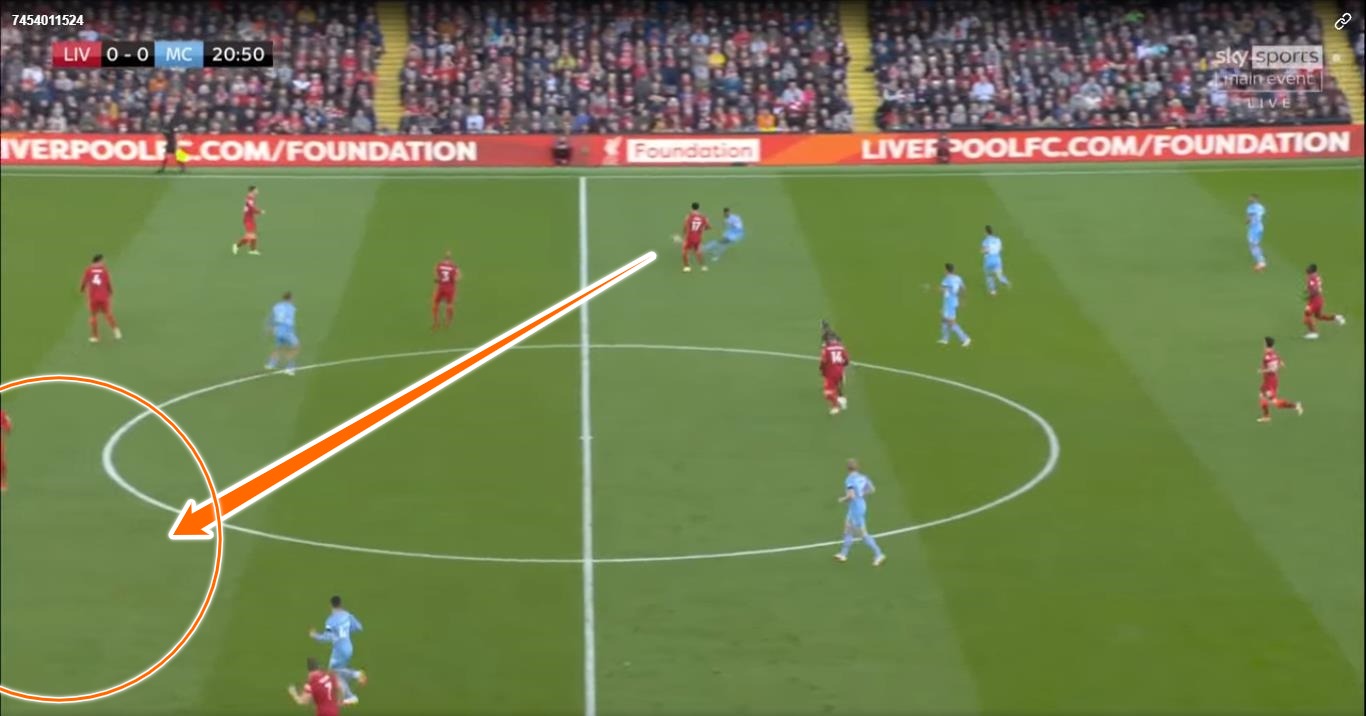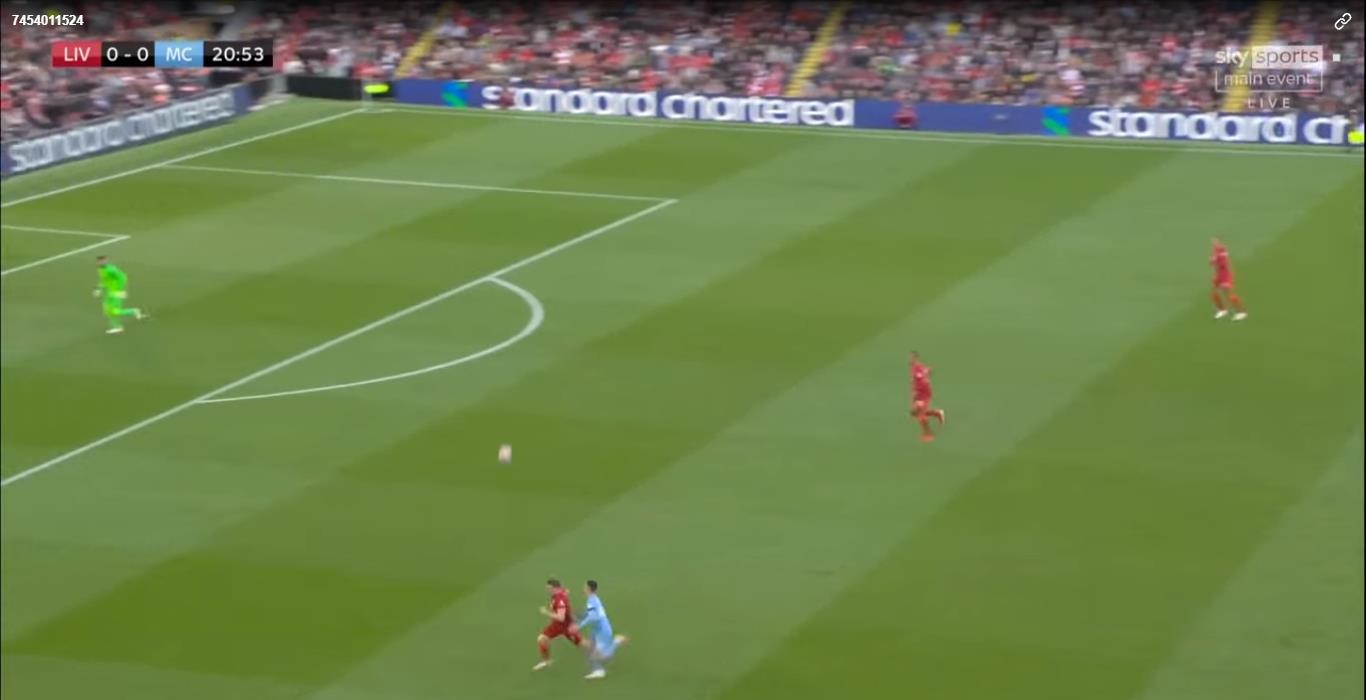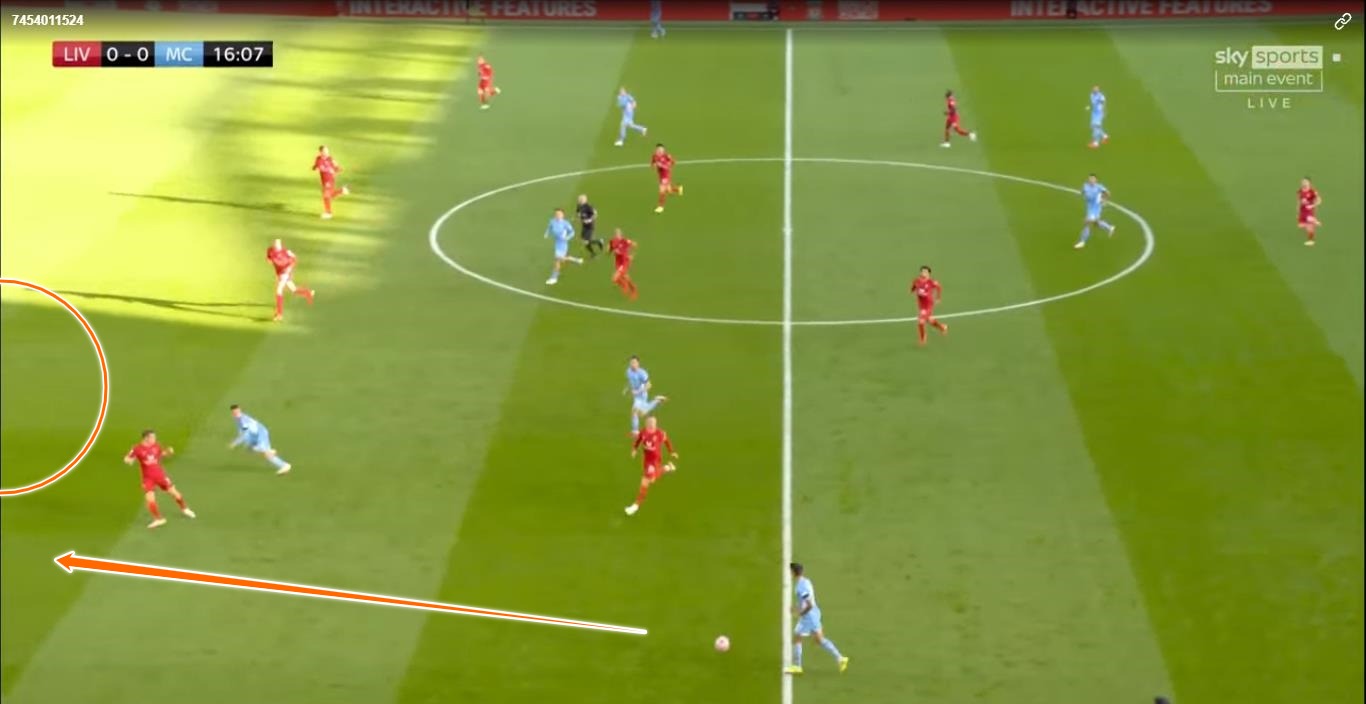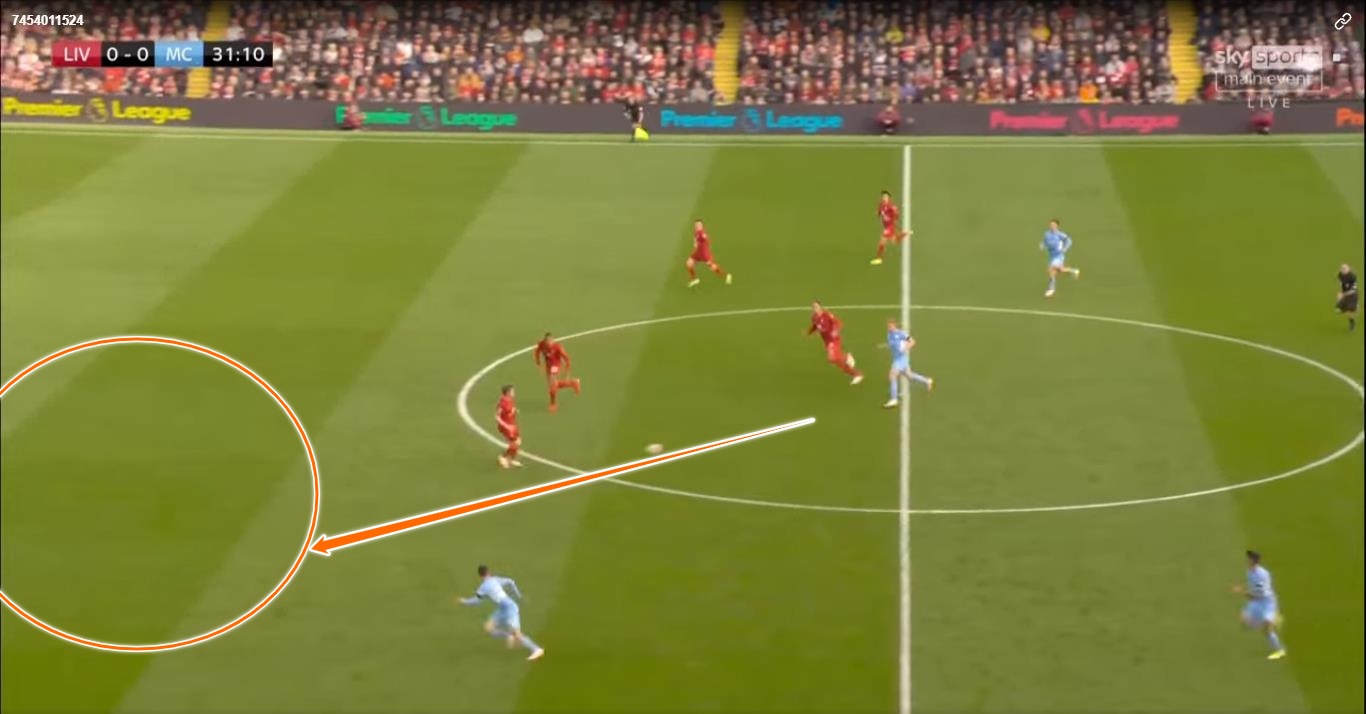 It meant the young English forward was always gaining the upper hand over him allowing him to cross, provide threw balls or cut in from the left, which he did for City's first equaliser. Meanwhile, the midfield of Jordan Henderson-Curtis Jones-Fabinho wasn't defensively disciplined enough or preoccupied with the incessant, jinky movement of the imperious Bernardo Silva or Joao Cancelo overlapping.
Look at the overloads all the players mentioned are creating on the left, especially in the 2nd screencap, it is dragging Liverpool players all over the shop as they all enjoy hoarding the left channel, it occupies all the midfielders and creates all sorts of issues.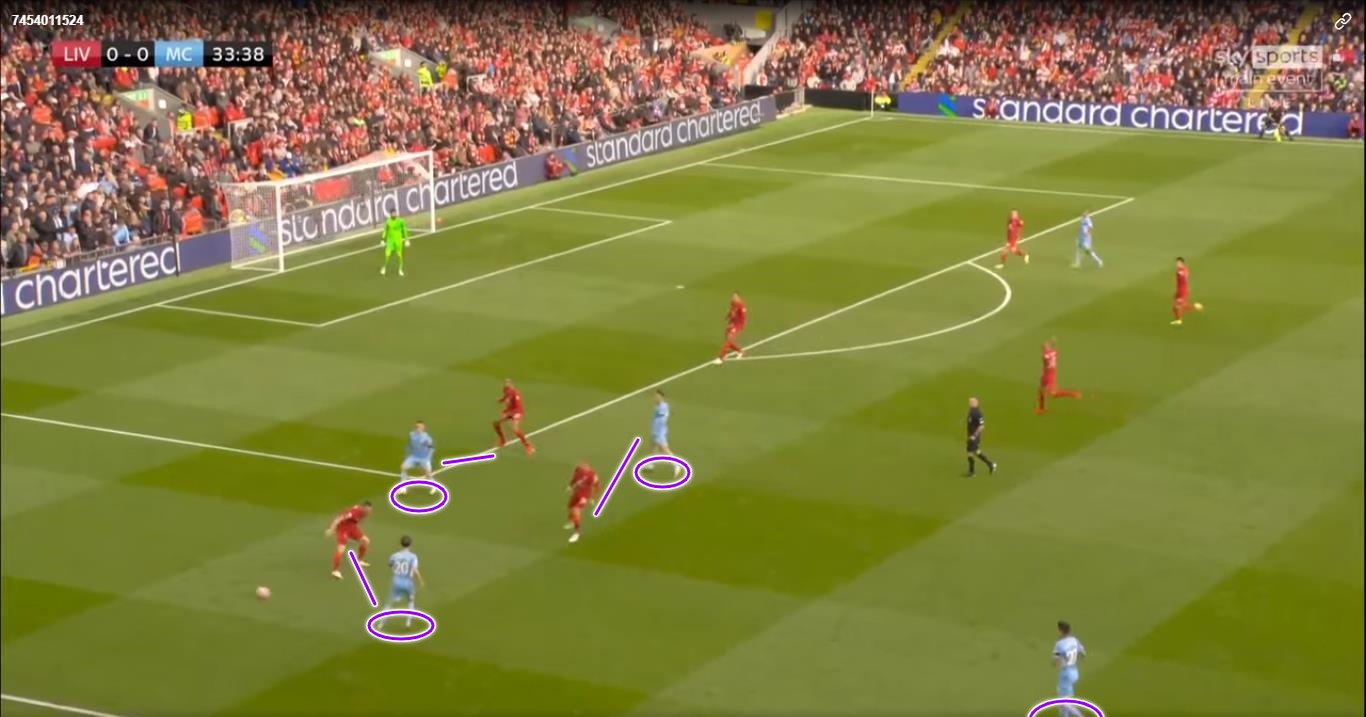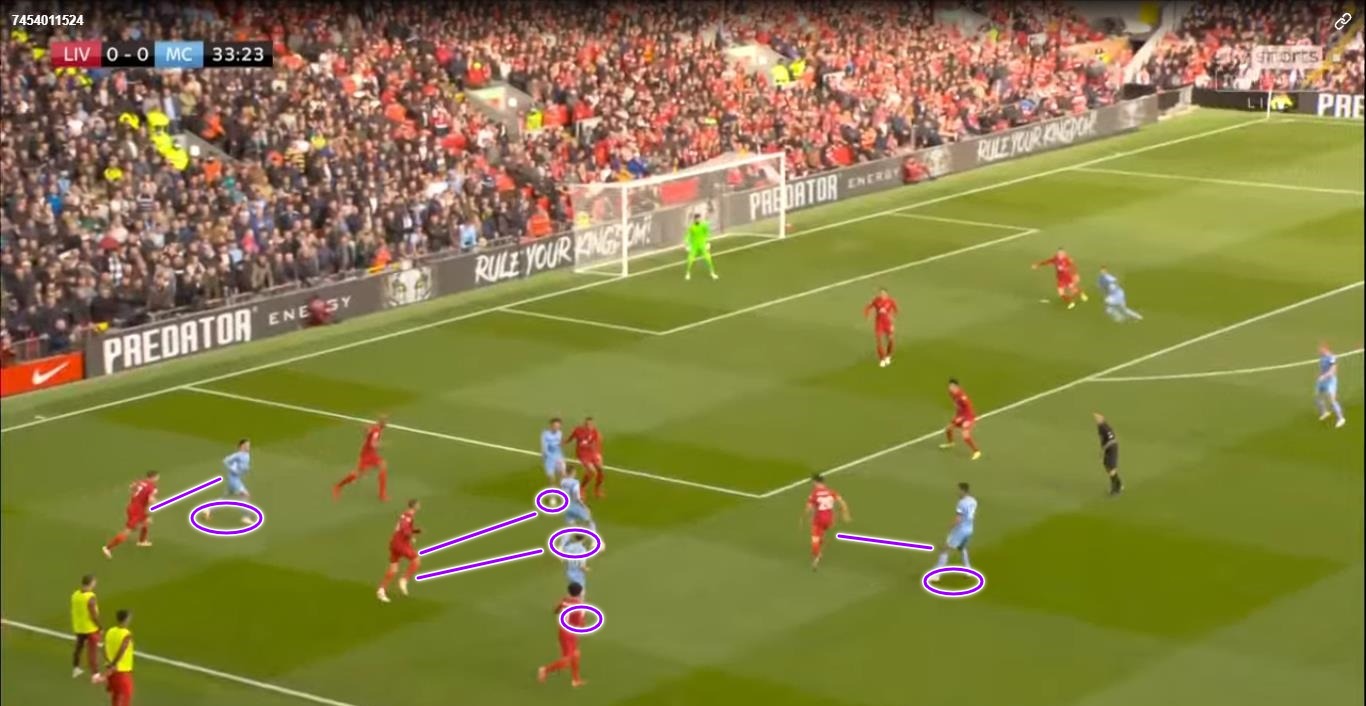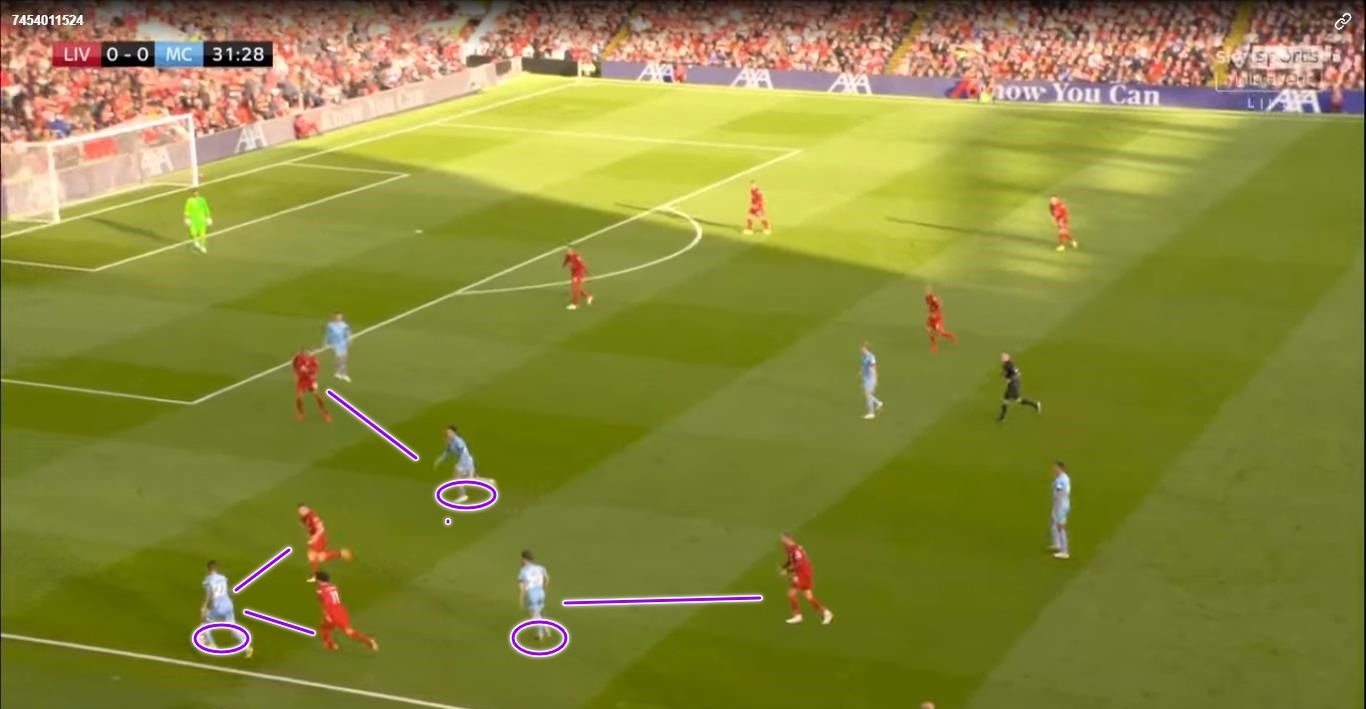 City Breaking The Lines to Perfection
"We called the midfield line back, so neither Hendo nor Curtis could step out so we were passive and easy to pass through. I'm not sure I ever saw Man City play so easily through the half-spaces."
I found it intriguing Klopp explained exactly what went wrong in the first half in his post-match interview, admitting he instructed the midfield to not press or step out so they were routed to their position in being passive in midfield as Man City were exploiting the left channel and then also causing major predicaments through line-breaking passes in the centre. 
Liverpool were not gegenpressing like they normally do and showed no inclination of doing so which resulted in Man City also taking the aerial route with one of their attackers dropping deep to pass between them and create space from there. As you can see, Bernardo Silva was particularly hard to track all game and after a quick interchange with Grealish and receiving the ball from defence City have bypassed Liverpool's midfield.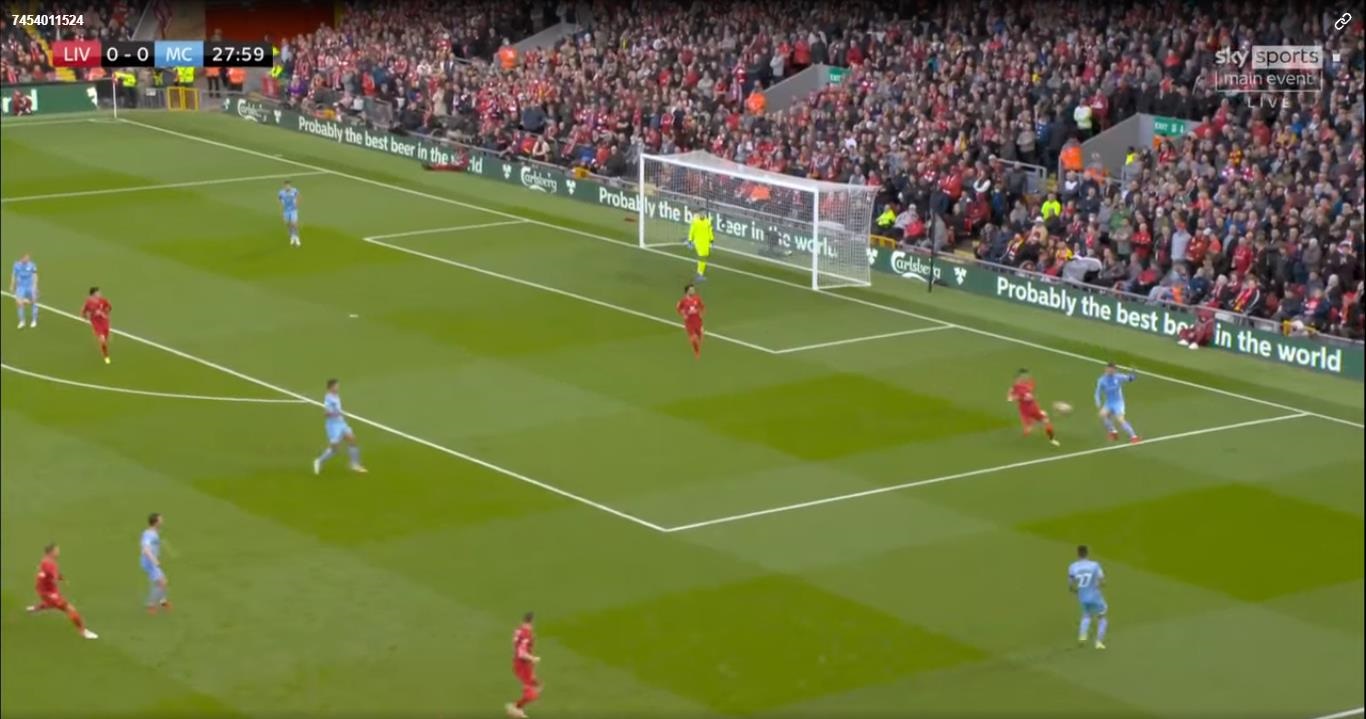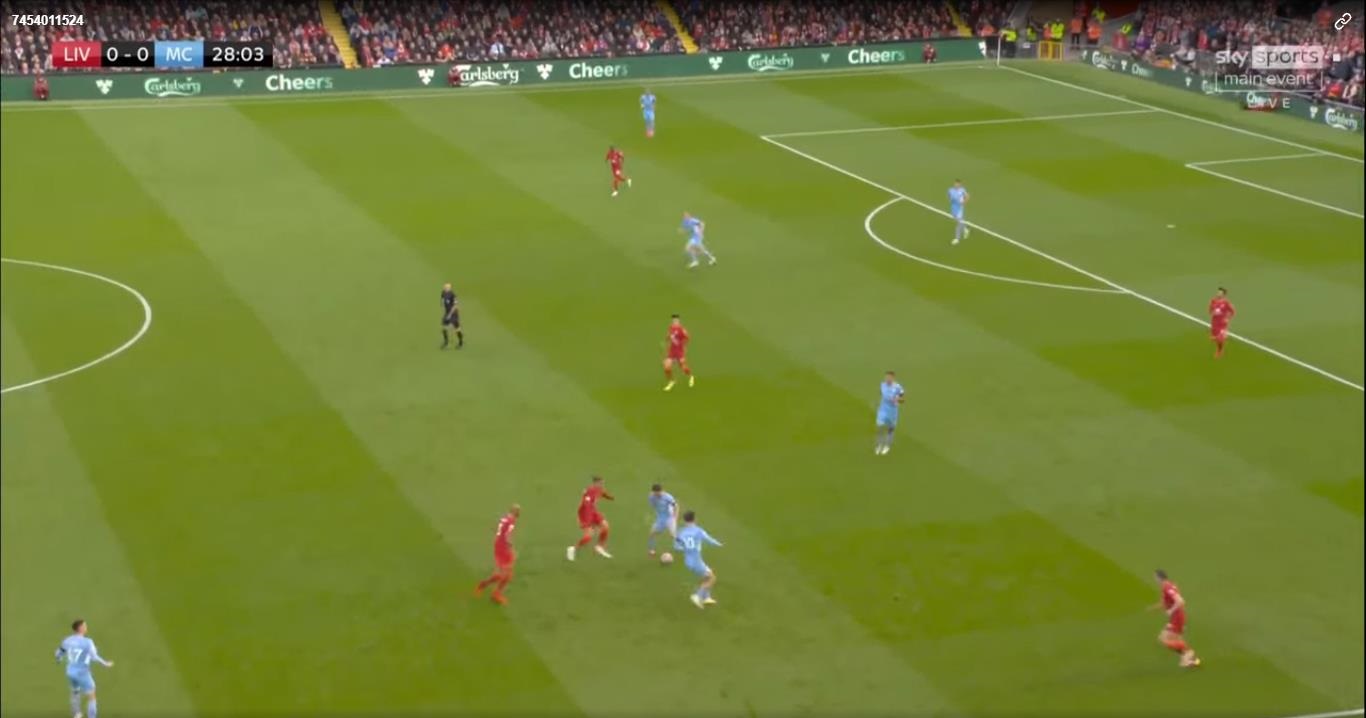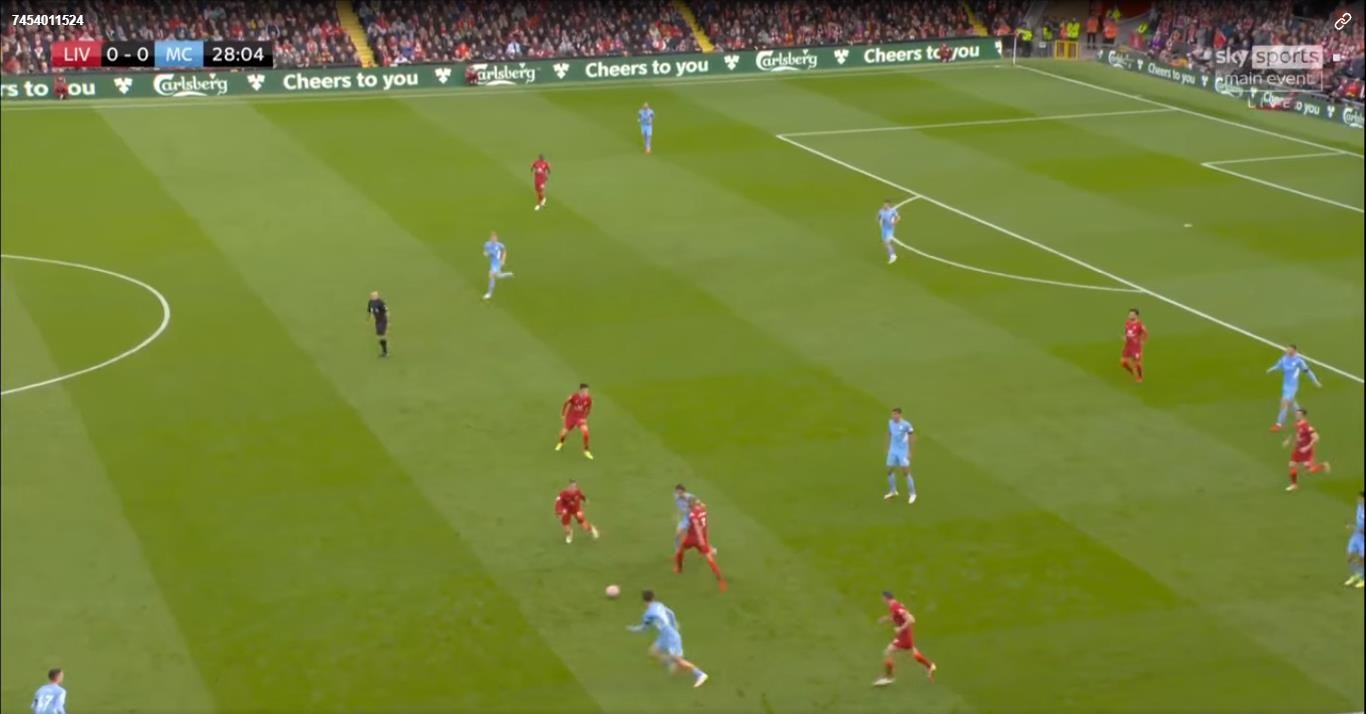 When a team like City whose bread and butter is possession-based football you cannot give them the time to pick passes as they did, but a lack of a press from Liverpool afforded the Cityzens this luxury. De Bruyne in particular was able to pick up passes in half-spaces and then turn on the ball, advancing the attack from there.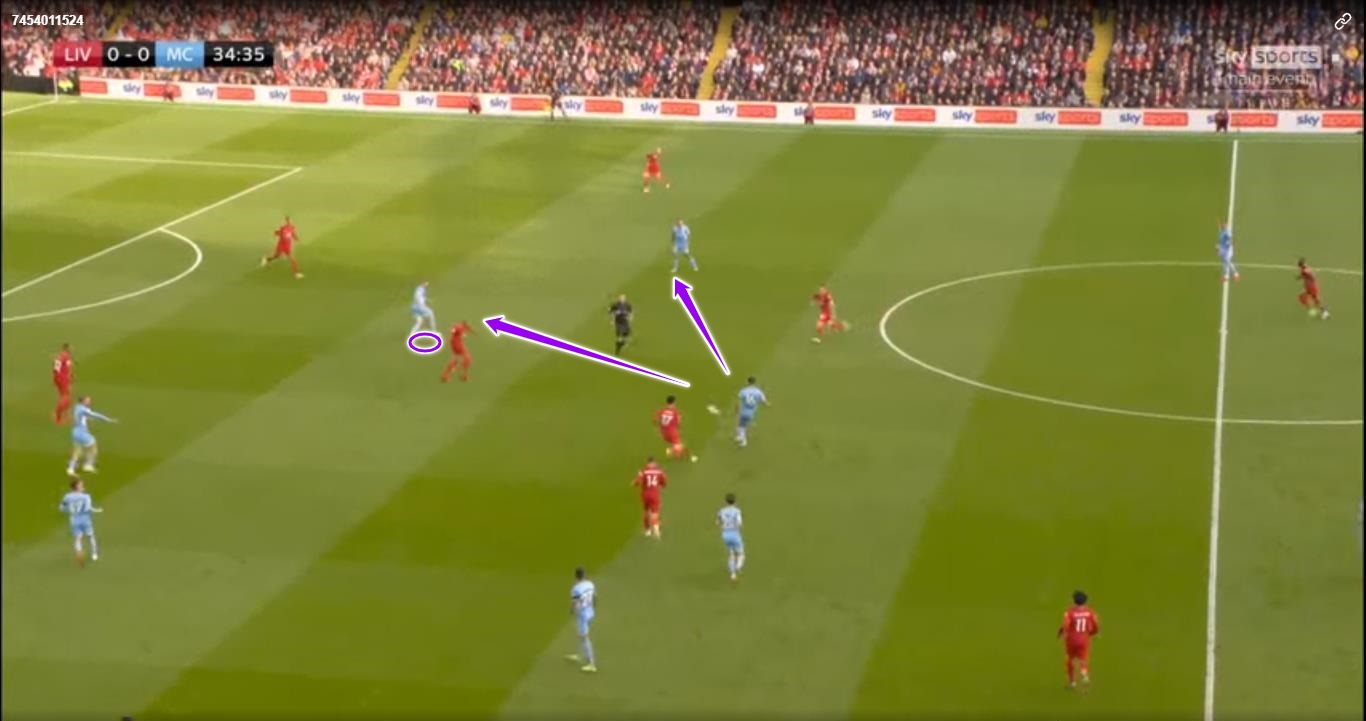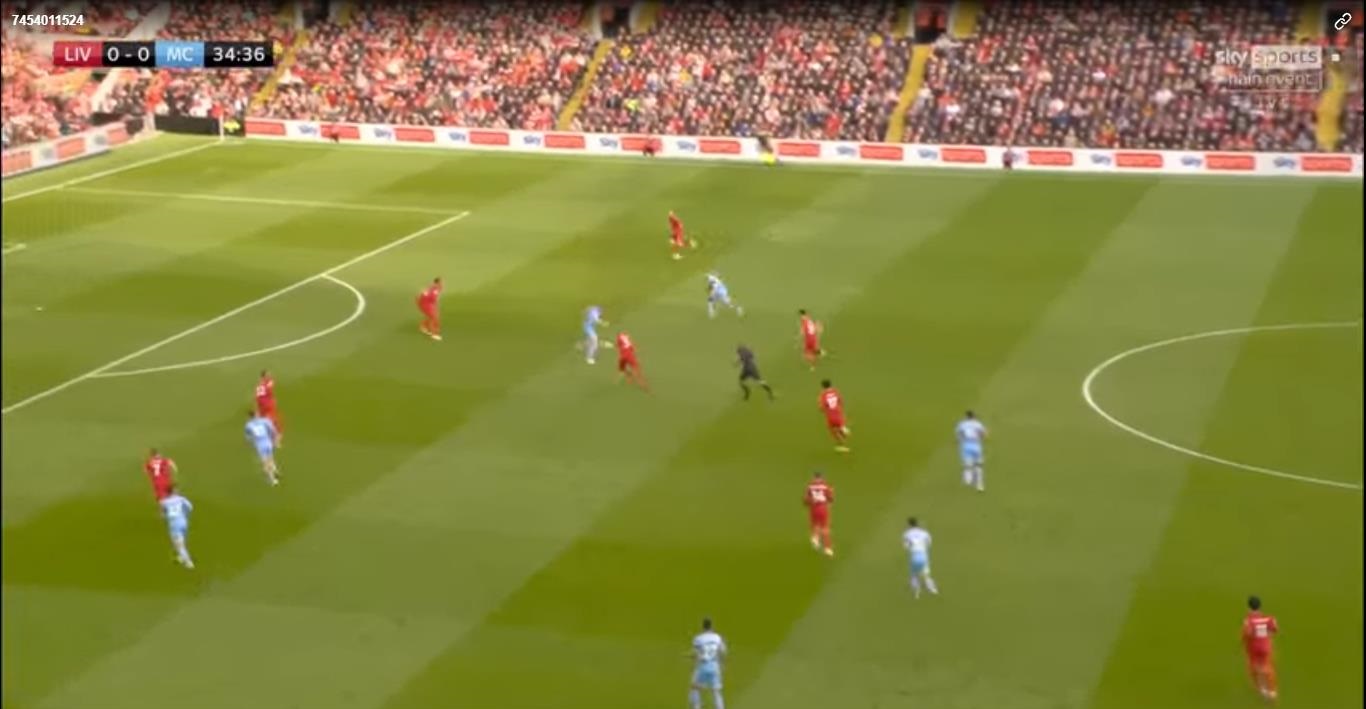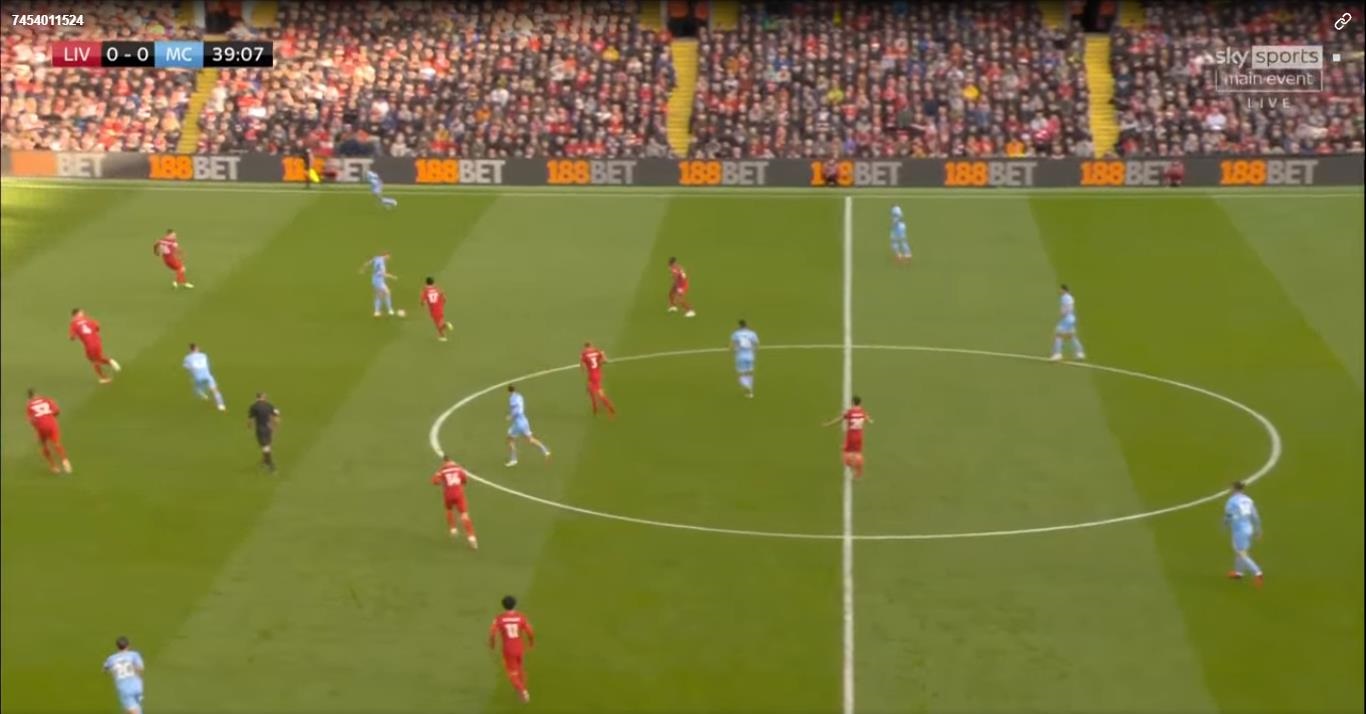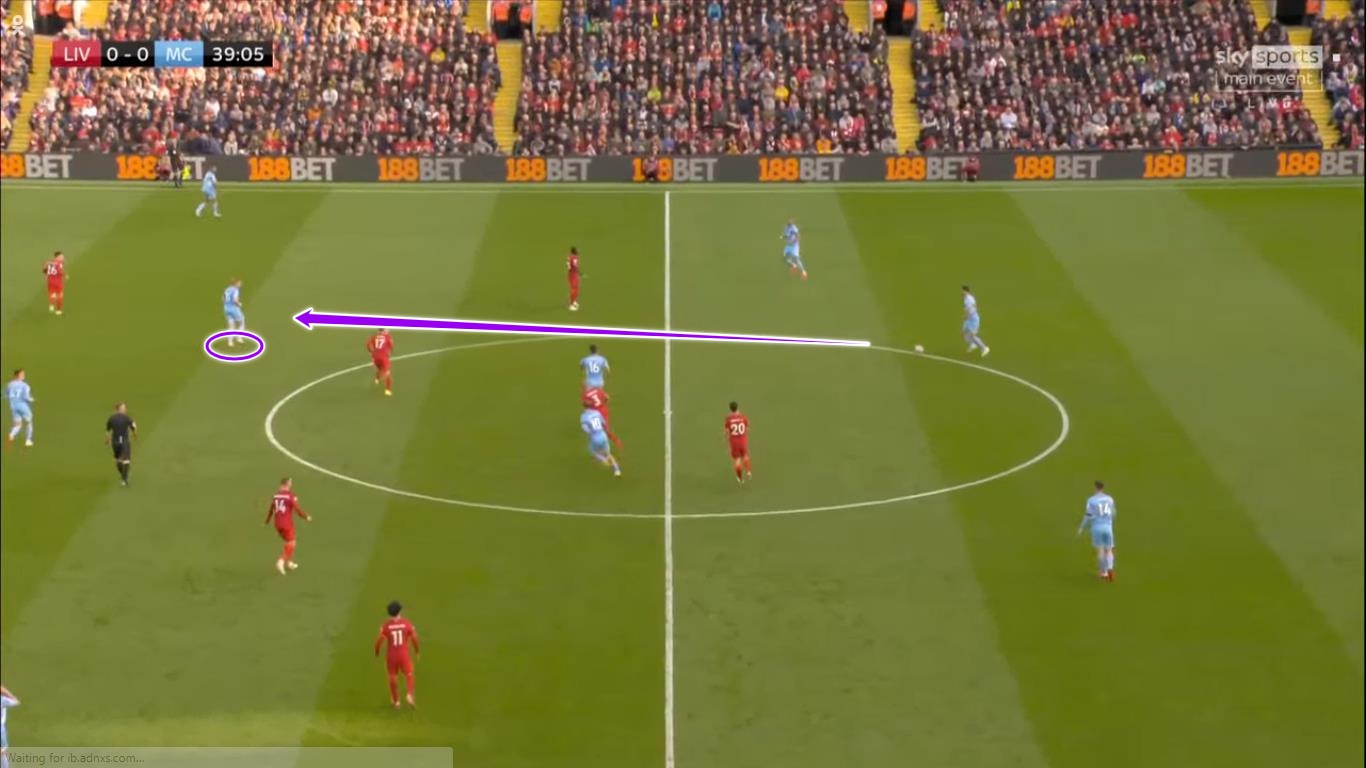 It must be said even when Liverpool woke up in the second half it was a woeful midfield performance that was always easy for City's stalwarts to pass through and Bernardo to run through as City broke lines and created opening in the 2nd half too, the ever-reliable Henderson had an out of sorts, discombobulated game and there was a lack of protection for the defence.
Magic Mo Awakens Liverpool
In City's dominance in the first half, they exploited Liverpool's main weakness and benefitted from a tactical decision but whenever their attacks didn't result in a goal in the first half they were lightning quick in transition in winning the ball back. Not that there was any real method to this they were just quick to the loose ball whereas Liverpool were sluggish or simply gave the ball away cheaply, but it allowed City to keep the pressure on.
Liverpool were never going to be as bad as they were in the first and they made City pay for failing to take advantage. Liverpool gained control of the ball, calmer and more assured in possession at the beginning of the half perhaps feeling they had weathered the City storm no longer shell shocked as City sat off in a 4-5-1 shape at times. 
Through this phase of play, it led to two fabulous pieces of skill from Mohamed Salah, arguably the best player in the world right now. The sheer brilliance of picking up a difficult Matip pass from the byline then linking up with Fabinho before bursting down the channel to feed Sadio Mane for the first goal is an ode to his 'create a moment from nothing' skill he possesses in abundance at the moment.
Becoming Inevitable – Mohammed Salah's Premier League Rebirth
The opening 15 minutes in the second half was accurately described as 'red revival' by Martin Tyler as Andy Robertson nicked Rodri in possession in his own half as the Kop roared, it had taken a while but Liverpool had got the game going.
The second is a Messi-esque chasing shadows run from Salah as he danced and tricked his way past four City players before unleashing a rasping drive into the top corner. A true Premier League great of astounding consistency coming to fruition in the last few years.
What is so impressive about the Egyptian is he can do it all as a forward, create, press, track, have a predator's snout for goal and be al lynchpin in an attack of three deadly musketeers that conquered the world, even if the other two of Firmino and Mane have waned slightly, Salah never dropped off.
The game descended into joyous chaos at breakneck speed because City were able to hit back by being allowed to pass impressively through the lines of Liverpool's midfield and use the left channel for space as both goals began from situations on Milner's flank whilst de Bruyne kept being found by City, we were able to see two titan heavyweights go tooth and nail like an NBA game. 
Whilst City possess incredible depth and lack a striker, Liverpool may have the best 11 in the league but more importantly the best 11 back in swansong and will pray a more settled fixture list means fewer injuries to upset their balance. As Guardiola said after the game 'This is why we love the Premier League.' This is why we love it too Josep.
By: Dharnish Sizlak / @DharnishSizlak
Featured Image: @GabFoligno / John Powell – Liverpool FC