Tactical Analysis: Liverpool's Struggles in Front of Goal This Season
As we have seen this year, Liverpool's lack of goals has been evident in comparison with the last two seasons in which the team was in great form and was able to score consistently. After 25 matches, Liverpool currently sit sixth in the Premier League — level on points with crosstown rivals Everton — having scored 45 goals thus far, behind Manchester United (53) and Manchester City (50).
While it's clear that the long-term absence of Virgil van Dijk and their injury crisis at the back has been an overarching reason behind their decline in form, it is also evident that in comparison to the previous two seasons, which saw Liverpool win the Premier League and the Champions League, Jürgen Klopp's once-fearsome attacking trio is lacking bite in front of goal. Let's take a look at the reasons why the Reds are struggling in attack this season.
The Tactical Approach of the Opponents Affecting Liverpool's Game Model
In football, it is known that the way the opponent decides to play can have a significant impact on the way that your own team will play. If you want to have a more transitional and direct game, however, the opponent decides to always retreat to their own half and utilize counter-attacks as their main way to attack you, that will result in your team having more possession of the ball than originally expected and that will affect the style of play.
It looks like this is exactly what is happening with Liverpool so far this season. Many teams have started to drop their lines even more and face Liverpool with a much lower block than in the past, allowing them a lot of possession but extremely limited space in the attacking third. Jürgen Klopp has been unable to see his team play his favorite transition "Heavy Metal" style that has been known for since his early days at Mainz, and later at Borussia Dortmund. 
The quality of Liverpool's team has constantly improved during Klopp's time, which has resulted in their average possession per game increasing each year. If we compare Wyscout stats since 2017-18 season, when Liverpool had brought in all the core players that led them to success, we notice that the average possession has increased from 58.94% in 2017-2018 season to 62.94% so far this season, with the last 5 games having more than 65% in each and even going past 70% against Newcastle.
While overall possession might not tell the whole story if we look at the PPDA (passes per defensive action) we see a similar trend where the number has gone from 17.6 in the 2017-18 season to 21.3 this season.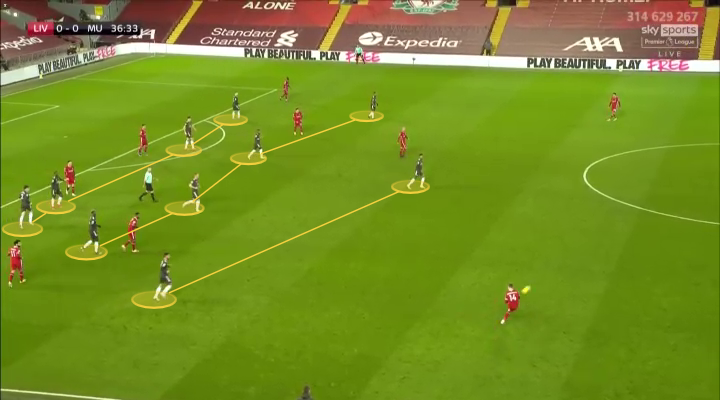 In this picture, we see how Ole Gunnar Solskjaer's Manchester United is willing to drop very deep and let Liverpool control most of the possession of the game.
Movements of the Front Three in the Attack
With the change in the style of play from the opponent's affecting Liverpool's style as well, that means that certain movements that worked well for their front 3 in the past might not be as effective anymore. This has become evident from Roberto Firmino's contributions this season. His "false 9" role in the past 3 seasons at Liverpool has been effective and a great way to create space as well as help attacking partners Mohamed Salah and Sadio Mané get on the scoresheet in the past.
While Firmino has often sacrificed his own goal-scoring record by dropping between lines and serve more as a link player to help Salah and Mané score more, he has been praised for the role he played in Liverpool's amazing attacking game. However, recently it seems as if "the false 9" role is not working anymore. The opponent is so deep and there is very little space between the lines, that when Firmino drops he gets picked up by a midfield player.
When that happens, it seems that this only helps the opposing defenders now focus more on Salah's and Mané's movement which is not hard to predict since they mostly attack their respective half-spaces without a lot of positional rotation between them. This has made Liverpool be a lot more predictable in the attack and fail to create as many clear chances to justify their possession.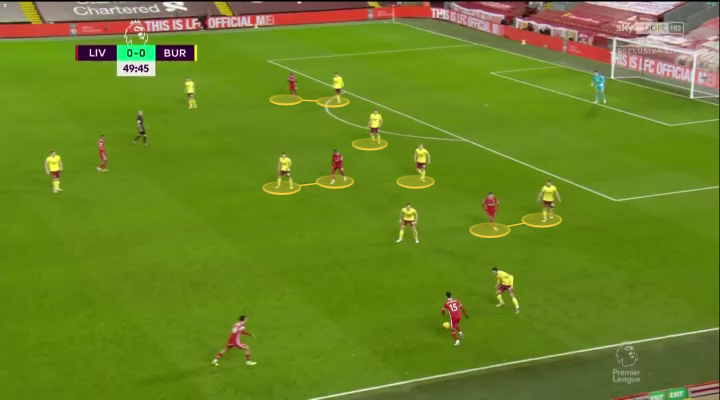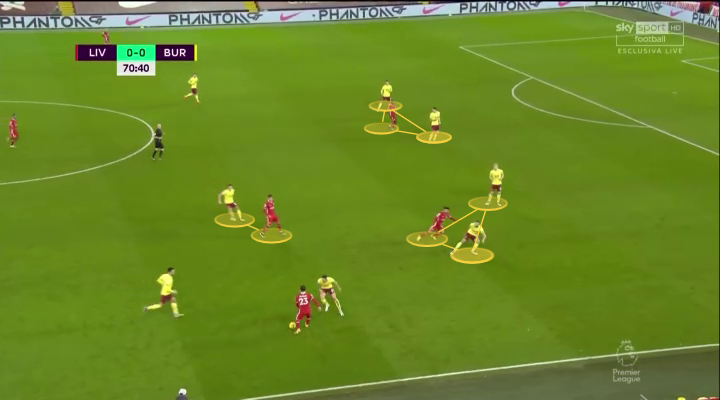 In both these pictures, we see how a midfielder picks up the "false 9" in both Firmino's and Divock Origi's case, which allows the defenders to focus on Salah and Mané to mark them closely.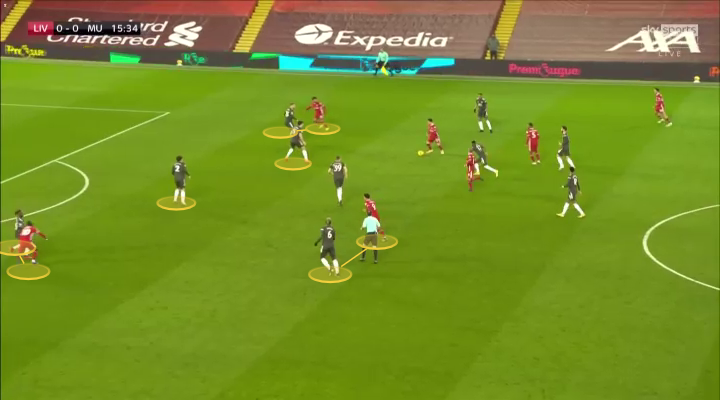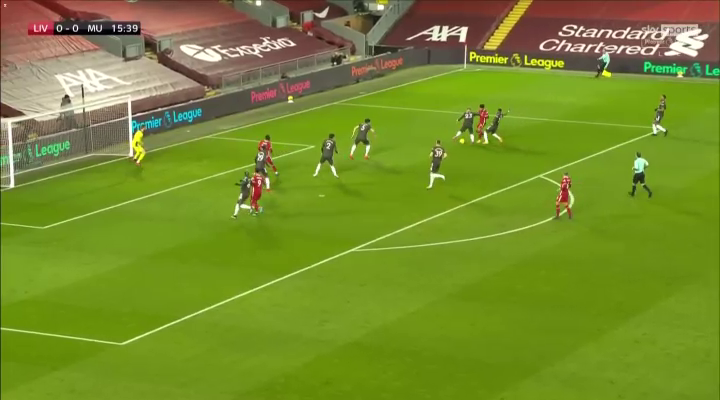 Another example of a midfielder (in this case Paul Pogba) dealing with the Firmino dropping between lines and following him to the box, which allows Manchester United to have many players in the backline to deal with Salah dribbling at them.
Not Enough Variability of Player Profiles for the Attacking Positions
The changing game model requires players that fit into the new style that is becoming increasingly more dominant in possession for Liverpool. When looking at Liverpool's attacking personnel, you cannot help but notice the similarity between players: Salah, Mané, Takumi Minamino and new signing Diogo Jota, are somewhat players with similar characteristics. The same goes for Firmino and Origi.
While all of them are incredibly talented and have been the key players to the team's success in the past 2-3 years, it looks like Liverpool are lacking a #9 with more presence in the box, who is explosive, and a specialist in the air, that you can rely on to keep the center backs occupied and create space for the wingers and attacking midfielders to get into shooting positions. But a player like this can also serve as a focal point in the box for crosses.
Liverpool are relying more and more on crosses recently with the teams waiting for them in a low block, they are sending on average 21.89 crosses per game including 41 against both Burnley and Southampton and 39 against West Bromwich in the last few games. Having an explosive player who is dominant in the air inside the box could increase the threat of their crosses especially when the game requires it in the last few minutes, which is something that as of now they are missing.
Another profile of a player that can bring something fresh to this Liverpool team is an attacking midfielder that can make a late run in the box to be unmarked and get at the end of a cross. All of Liverpool's attacking midfielders lack height and do not provide much in the aerial game, so having a player of these characteristics can add an extra layer of threat from crosses.
Georginio Wijnaldum, Alex Oxlade-Chamberlain, Xherdan Shaqiri and Minamino have all played in the most attacking center midfield position and while they offer a lot with their dribbling and creativity, the one thing that they cannot offer is making that late run in the box to get at the end of a cross. A good example of this is Frenkie de Jong for Barcelona who has scored six important goals in all competitions by making late runs into the box.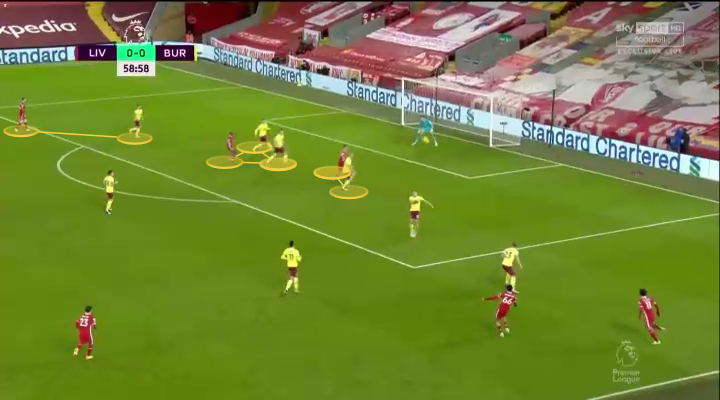 This image is among many situations when Liverpool is crossing the ball. We can see that usually, the opponent's defensive line has a qualitative superiority on aerial balls against the Liverpool attacking players.
Since their 7-0 victory at Selhurst Park on December 19, Liverpool have taken nine out of a possible 33 points in the Premier League, scoring just nine goals in the process and losing their past four matches. While they are likely to progress to the UEFA Champions League quarterfinals after winning 2-0 in Leipzig, they will need to improve their efficiency in front of goal if they are to get back into the top four. If they fail to do so, they will risk missing out on Champions League qualification for the first time since 2016.
By: Ridi Dauti / @rdauti88
Featured Image: @GabFoligno