Tactical Analysis: Manchester City 6-3 RB Leipzig
This week the Champions League season got underway and on Wednesday night Manchester City dismantled RB Leipzig in a 6-3 win.  Despite Christopher Nkuku bagging himself a hat-trick, it wasn't even close to being enough to get anything from the game as Pep Guardiola's City ran riot against the Germans. 
Typically in a piece like this, I'd look at two or three tactical patterns from the game, but I only really want to talk about one – a really naive defensive setup by Jesse Marsch and his side. 
In the last few years, more and more coaches are looking to bring elements of positional play into their game and it has seen a spike in sides utilising a five-man frontline when in possession. You could see City were doing it against Leipzig after just a couple of minutes.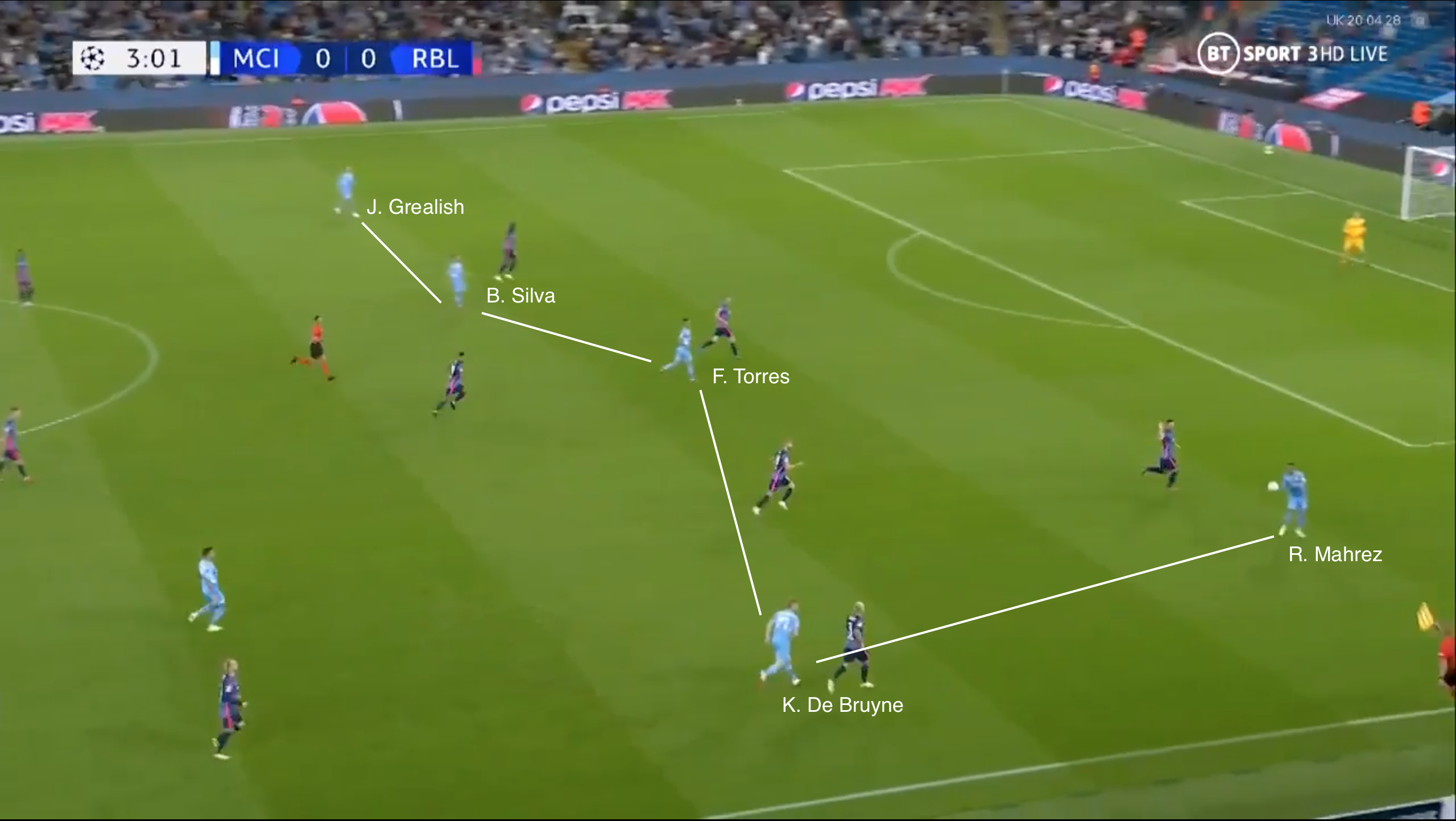 There are of course multiple ways to achieve this. Guardiola's City have used really wide wingers with two 'free-8s' moving forward, Jurgen Klopp's Liverpool have used inside forwards with two extremely attacking full-backs, Roberto Mancini's Euro 2020-winning Italy used a combination of both, and that's just a handful of examples. 
The reason for doing this is it creates a natural overload against four-man defences, and as a  consequence of its increasing popularity, football audiences have become more aware of the importance of stopping that overload.  If the only game of football you've ever seen in your life was Germany's 4-2 win over Portugal in the summer, then you know how dangerous this overload can be if not dealt with. 
This is why it frustrates me so much when elite-level managers and football teams seemingly make no effort to stop it. City's first three goals on Wednesday night came as a direct result of this overload. Let's look at them all.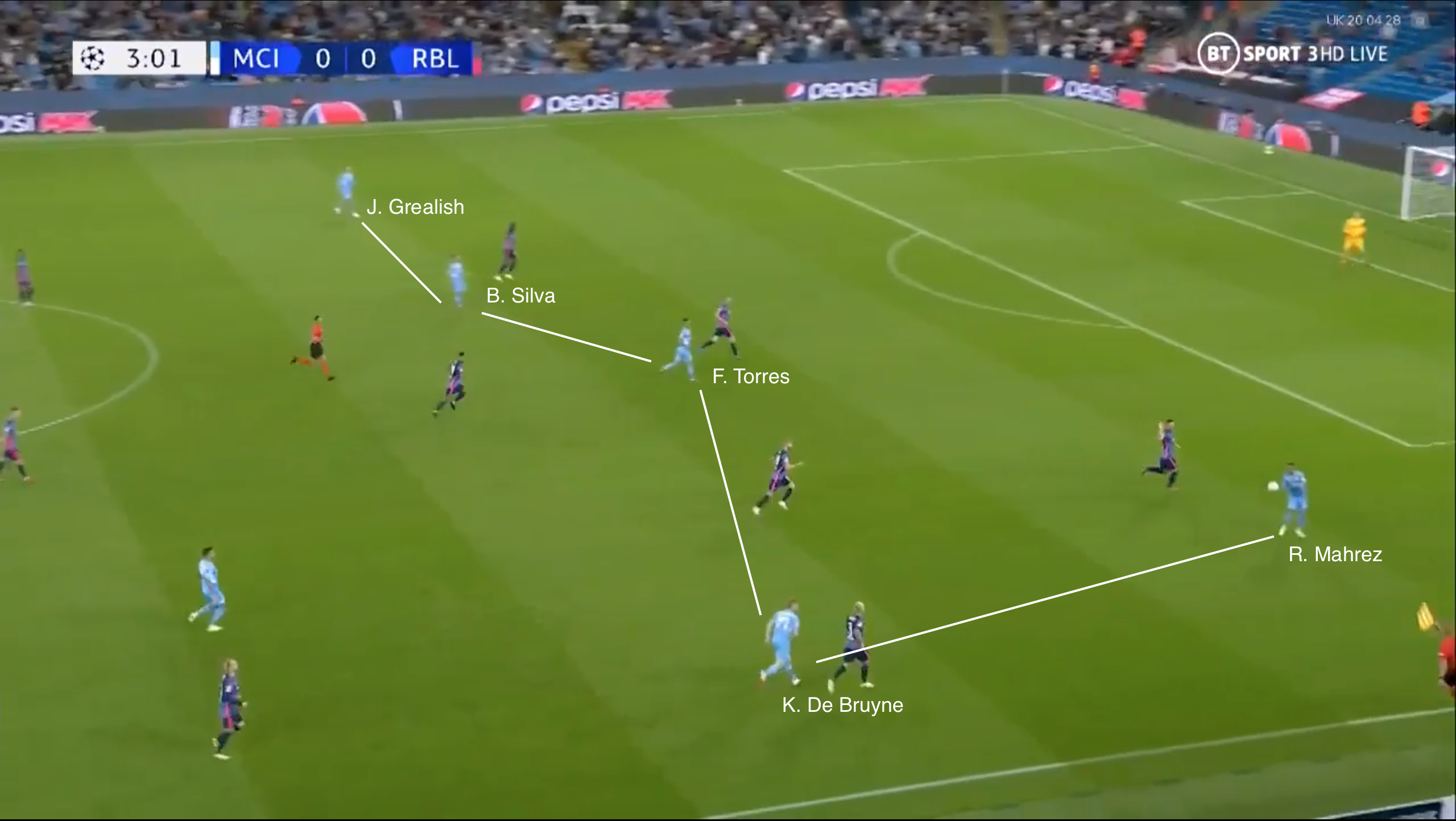 Here, the ball is played through Leipzig's first line of pressure and into the feet of Rodri, who is able to turn and spray a pass out to Riyad Mahrez in a ton of space down the right. From here, the Leipzig back-four shuffles across to deal with him, which means when he cuts inside and prepares to deliver his cross, it's Jack Grealish in way too much space at the back post. This forces Nordi Mukiele to put the ball out for a corner, from which Nathan Ake opens the scoring.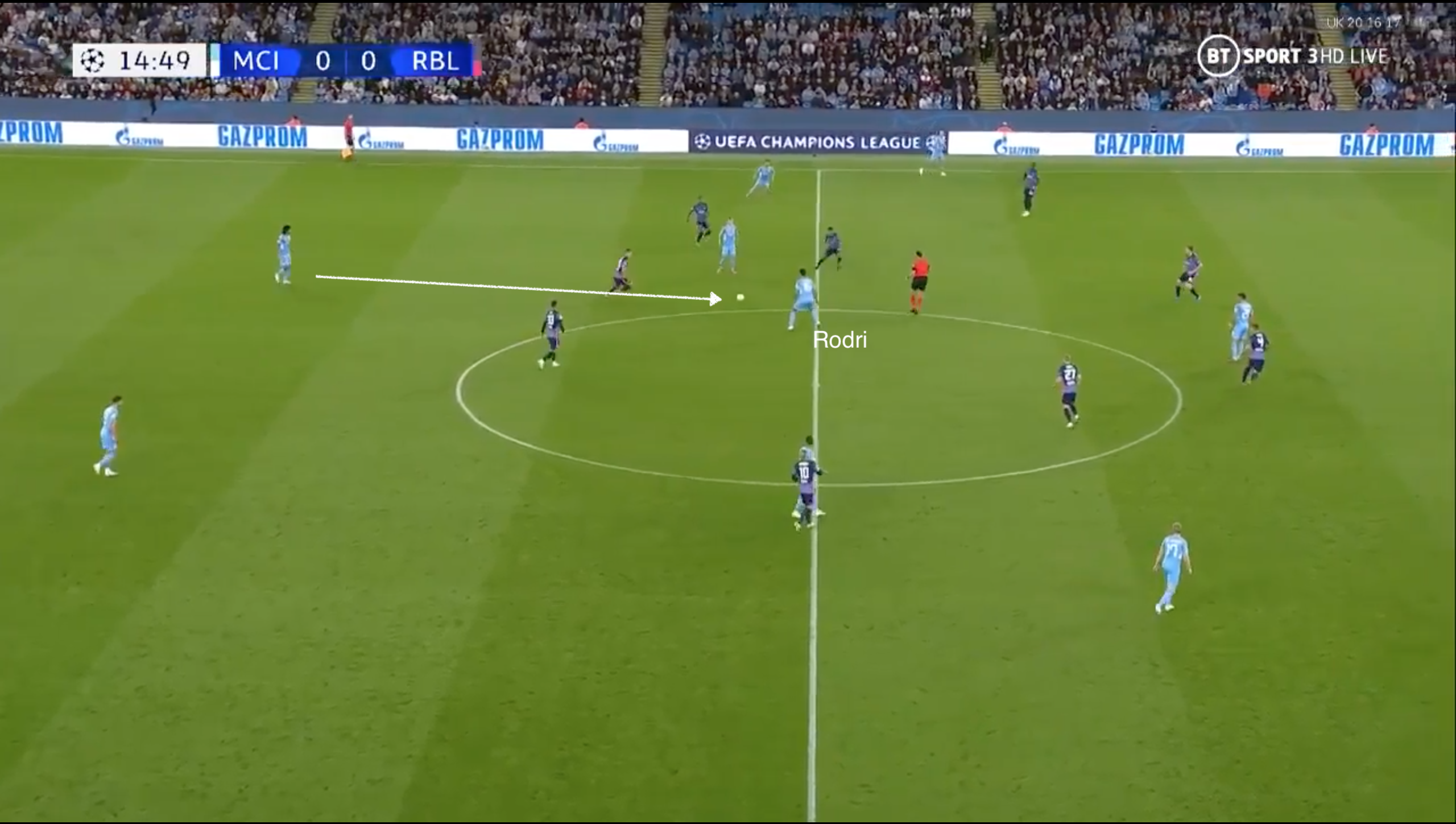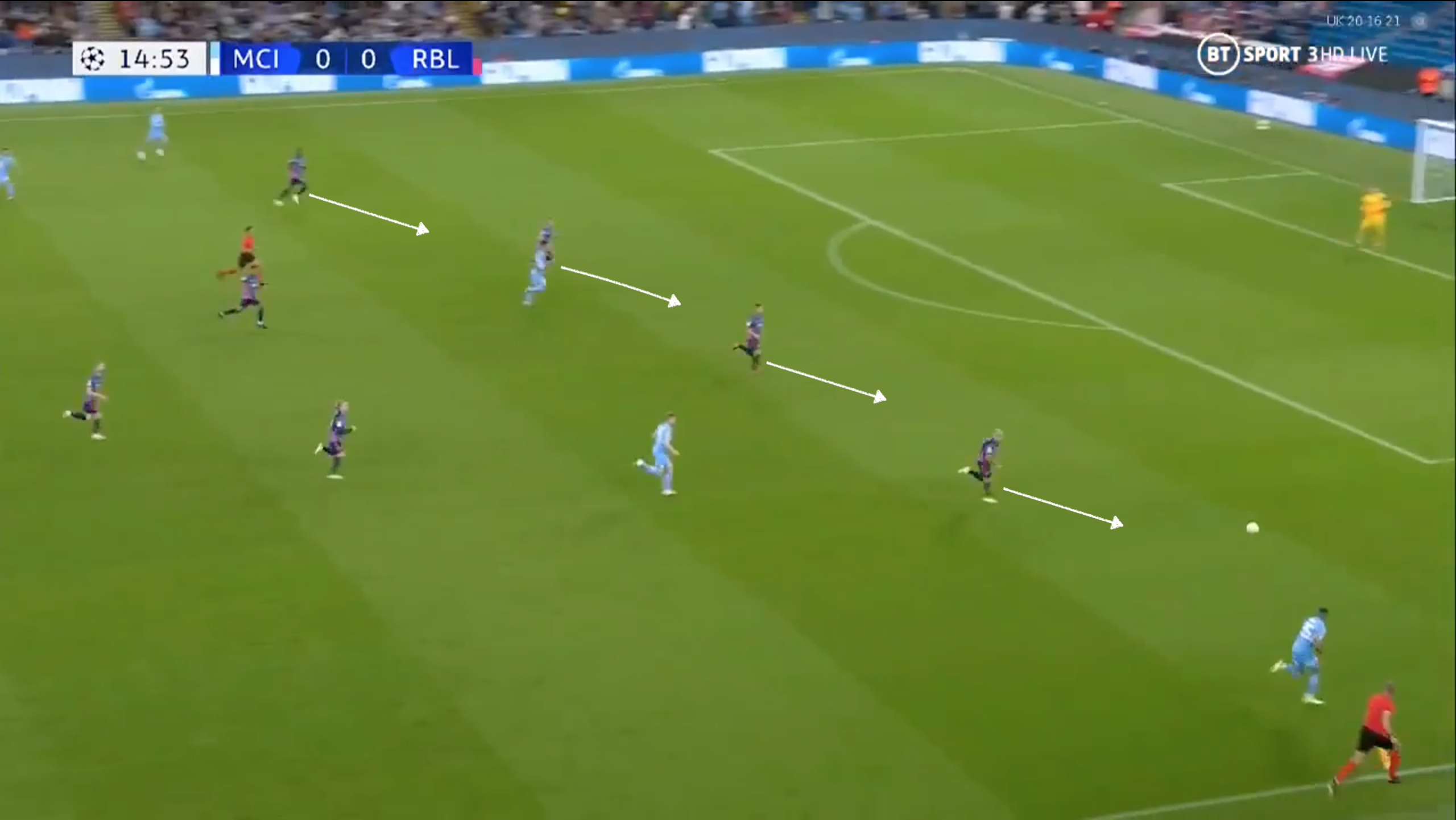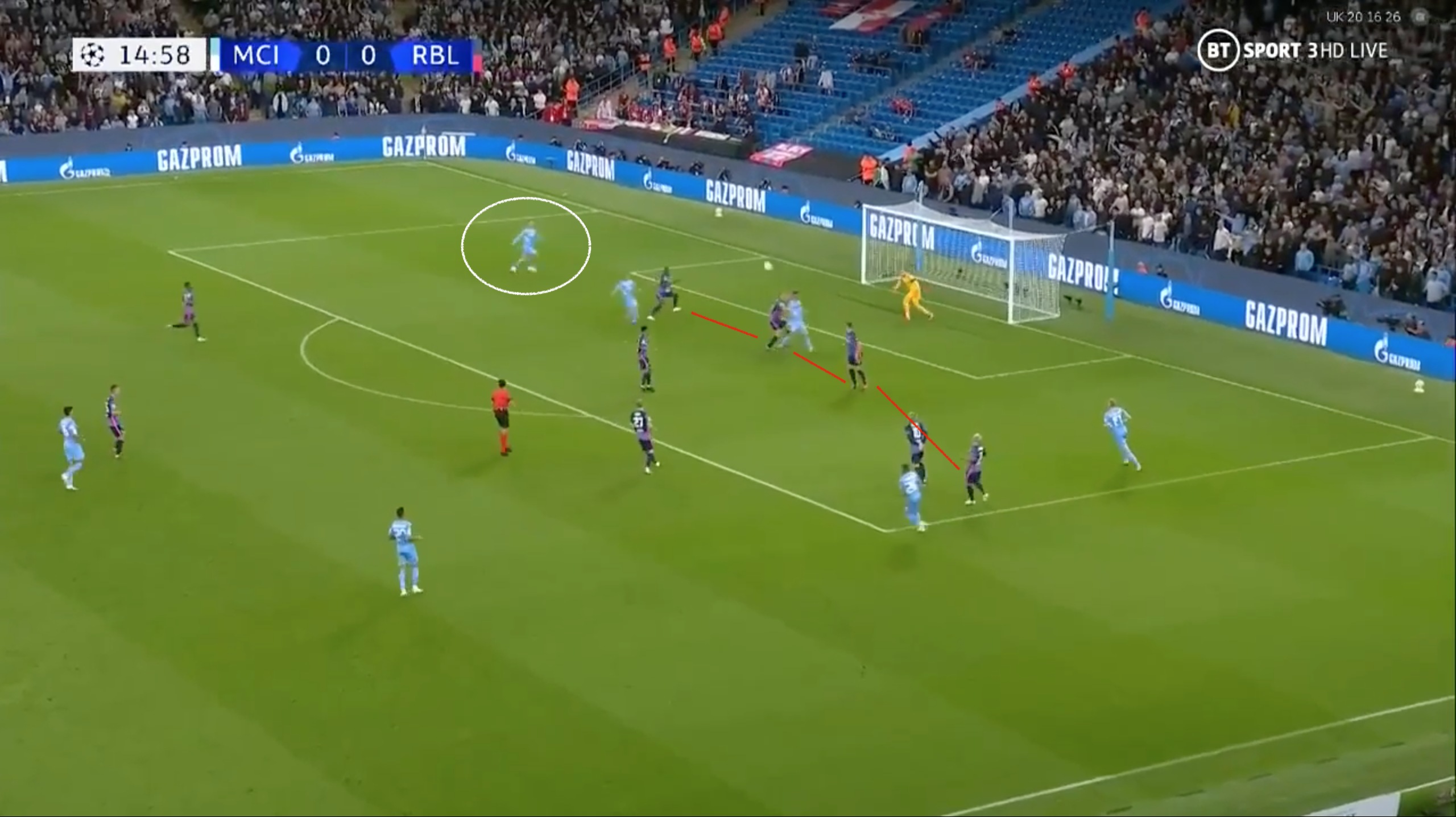 This time, Kevin De Bruyne brilliantly gets himself in a position to cross on the right-hand side, and who's that completely free at the back-post again? The ever-threatening Grealish, who caused Leipzig big problems all evening on his Champions League debut. 
Again, a cross comes in and Mukiele is forced to make a decision. He knows Grealish is behind him so he can't leave the ball, the cross was brilliant from De Bruyne so goalkeeper Peter Gulasci isn't sure whether to claim it or not, and so the young defender panics and unfortunately turns it in for an own-goal.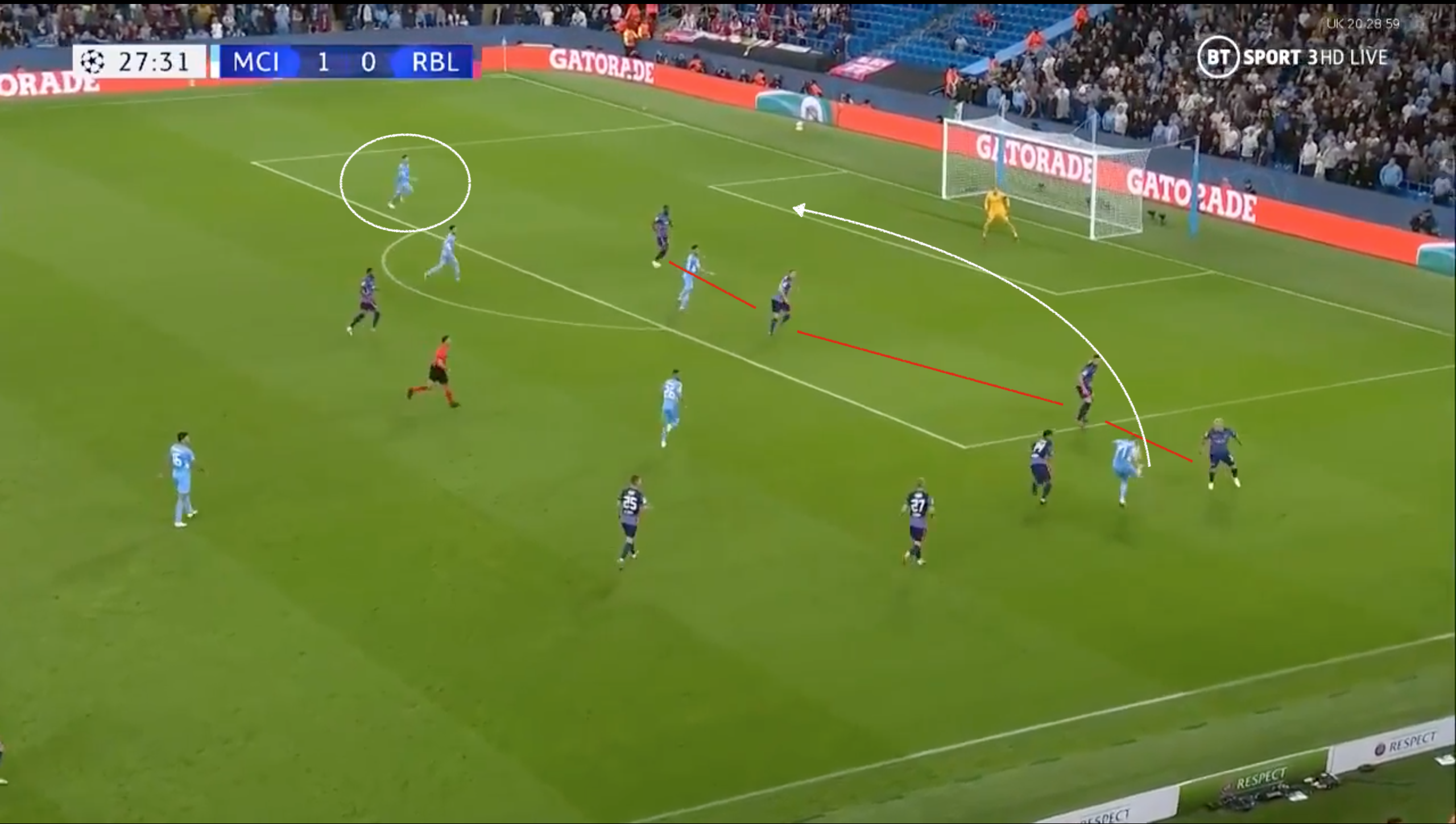 It's Deja-Vu! Again the ball comes over to the right-hand side, this time to Joao Cancelo, and again there is  plenty of time to cross. However this time it's not just Grealish at the back-post, there are three players with a ridiculous amount of space. THREE! 
Seriously, who are those defenders marking? Throughout the first-half they were constantly getting pulled across and pulled apart, and at this point they are lost.  Cancelo's ball isn't perfect but because it's into a dangerous area, Ferran Torres stretches to get a head on it. The ball hits the flailing arm of Lukas Klostermann, City have a penalty, Mahrez puts them 3-1 up. 
In my opinion, there really is no excuse for allowing this to happen so repeatedly in such a high-level game. We see it happen all the time.  I'm not suggesting here that Marsch should set up his team in a 5-2-3 or 5-3-2 and sacrifice an attacker for a defender in order to match up with City, but there are plenty of ways to stop the numerical disadvantage from happening, even in his preferred 4-2-3-1. 
Ironically, his predecessor Julien Naglesmann is one of the best around at doing this by coaching his sides to be fantastically fluid when transitioning into a defensive shape. We saw Nagelsmann do it regularly during Leipzig's run to the Champions League semi-final a  couple of years back. In his system, Konrad Laimer would regularly shift his position from holding midfield to right-wing-back depending on whether his side had the ball or not.
He was able to do this because both Mukiele and Klostermann are extremely capable at playing either right-back or centre-back. Konrad Laimer, Mukiele, and Klostermann were all on the pitch on Wednesday night.  When Leipzig took the score to 3-2 and 4-3 on Wednesday night and it looked like a miraculous comeback was on, I remember thinking to myself – winning this by just one goal would be really harsh on City. 
Despite scoring three, the away side were never in the game and in the first-half especially it looked like a question of how many for the home side, because the defending was so naive by  Leipzig. For me, the big takeaway from this game was that Jesse Marsch is really struggling to make his team do the things that Julien Nagelsmann had Leipzig doing brilliantly, and that doesn't bode well for the rest of the season. 
It wouldn't surprise me at all if there is an Arsenal 3-0 Chelsea, Antonio Conte-style rip-the-system-apart-and-start-again moment coming very soon.
By: Jake Lane / @jakerslane
Featured Image: @GabFoligno / Matt McNulty – Manchester City