Tactical Analysis: Manchester City vs. Arsenal
Manchester City took on Arsenal at the Etihad Stadium on Saturday evening. In the last meeting between Pep Guardiola and Mikel Arteta, Arteta's side restricted City with their 5-4-1 formation and punished them on the counter, resulting in a 2-0 win and taking Arsenal through to the FA Cup Final.
In truth, Saturday's match was quite conservative. Neither side attacked particularly well and the game felt lethargic. However, there was a reason for this. Guardiola employed an unexpected tactical plan which proved successful on the night. 
The Catalan manager's game plan helped City effectively press Arsenal and made Arsenal struggle to advance possession for large periods of the game. City also reduced the effectiveness and the frequency of Arsenal's counter-attacks, especially down Arsenal's effective left side. Saturday's match was a timely reminder that Guardiola is still capable of a tactical masterclass.
Line-ups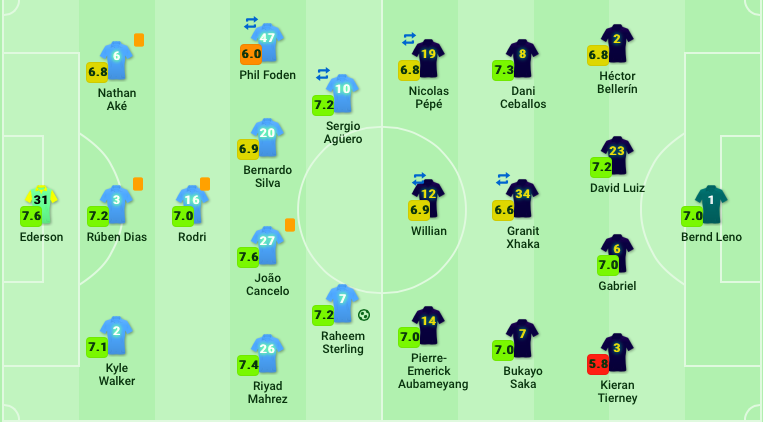 Manchester City's Set-up
On the rare occasions that Arsenal managed to sustain possession in the opposition's half, City defended in a 4-4-2.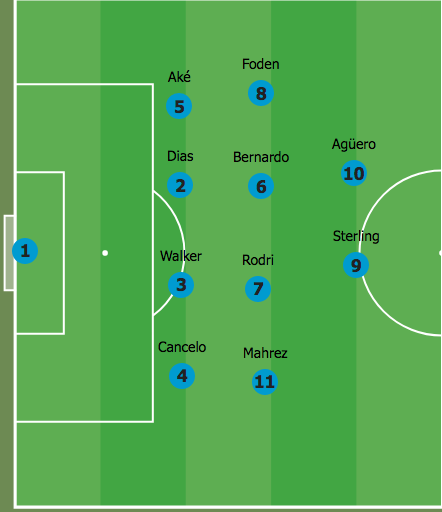 City's Pressing Structure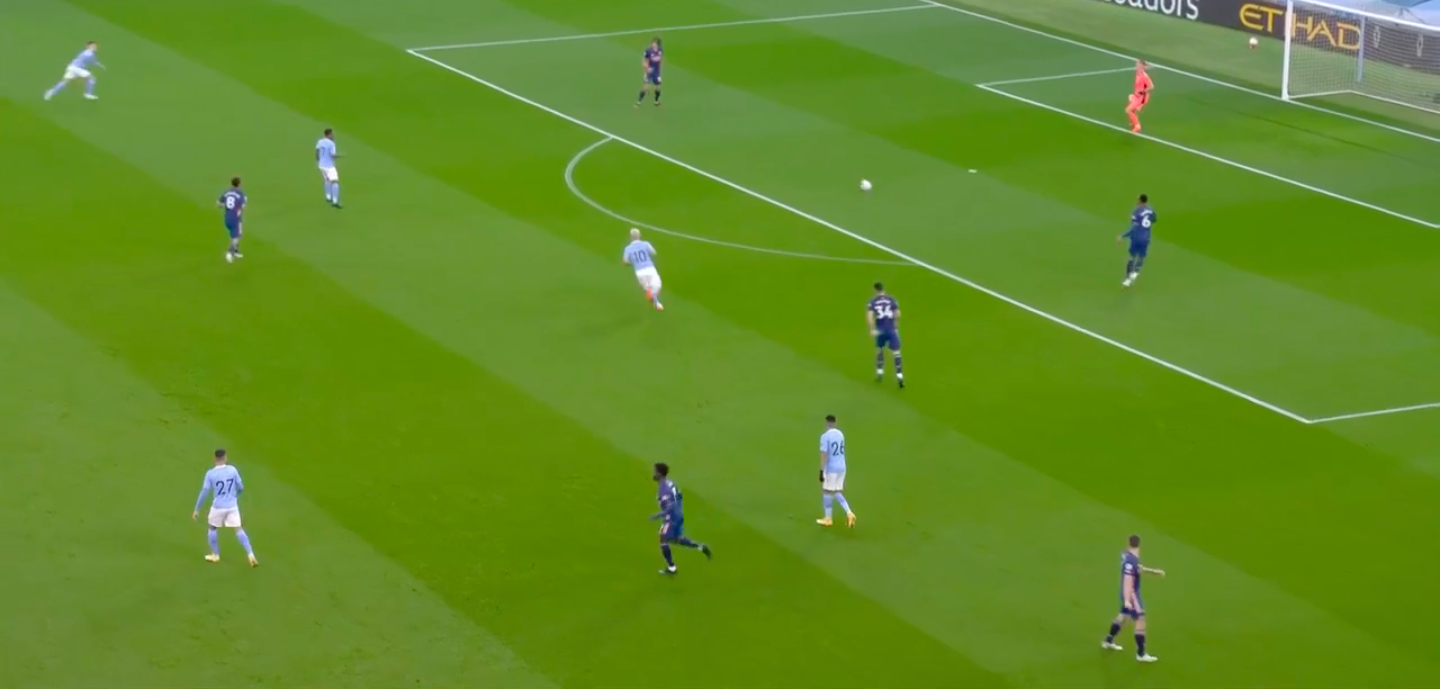 City pressed with a front 4 which was made up of their front 2 (Sergio Agüero and Raheem Sterling) and their wingers (Phil Foden on the left and Riyad Mahrez on the right).
The front 2 blocked passes into Arsenal's double pivot (Dani Ceballos and Grani Xhaka) whilst the wingers blocked passes into the full-backs and pressured the full-backs whenever they had the ball.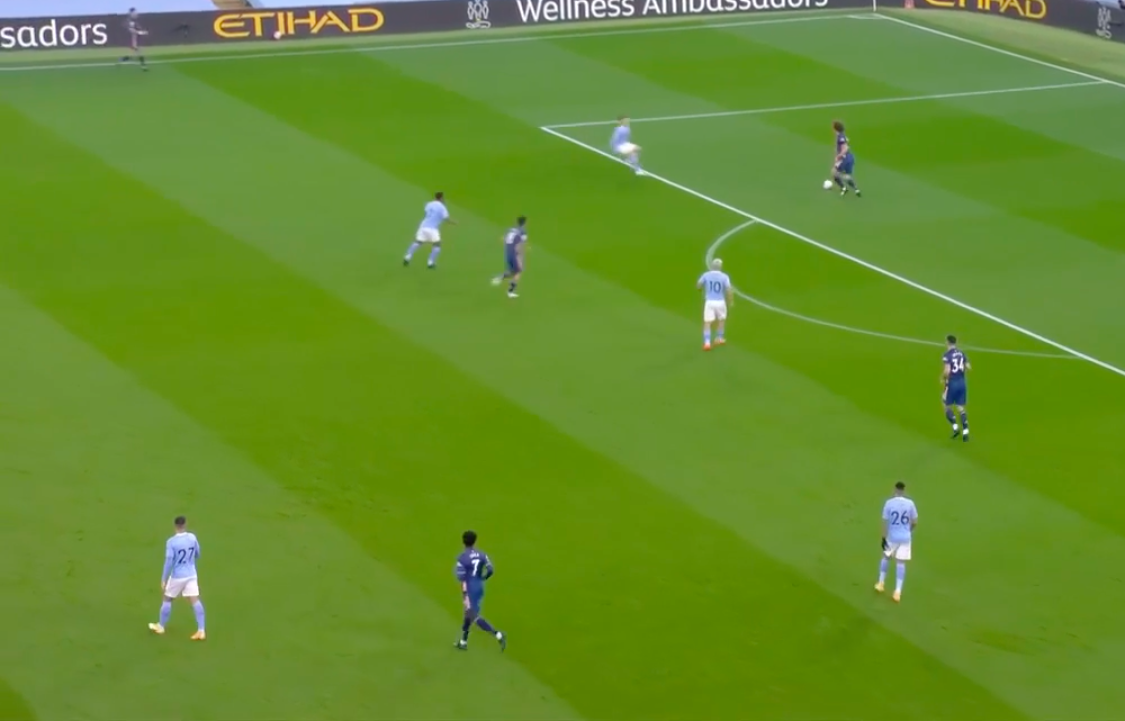 Here's an example of David Luiz having nowhere to go (other than a risky pass over the top of Foden and into Héctor Bellerín). In order to understand why Guardiola did this, we have to look at how Arsenal play out from the back.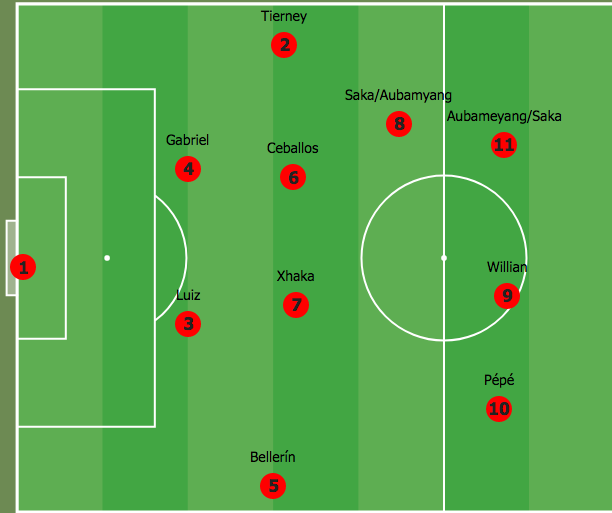 Arsenal build with a back 4 and a double pivot. Kieran Tierney takes up the left back position whilst Bukayo Saka inverts and pushes forward into the half-space. Saka often picks the ball up in the left half-space and draws players to him. This can leave Pierre-Emerick Aubameyang isolated or 1v1 with a defender which often spells danger for the opponent.
Furthermore, Arsenal's left side is far stronger in attack than their right side is because Arsenal overload the left flank. Tierney, Saka and Aubameyang combine well together and are usually the source of Arsenal's attacks.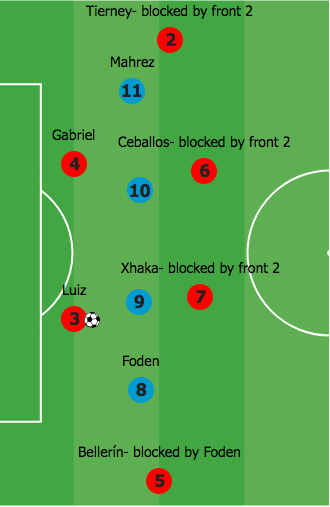 This is how City's front 4 blocked off Arsenal's centre-backs' options in possession. Gabriel Magalhães and David Luiz were often forced to play long balls into their forwards.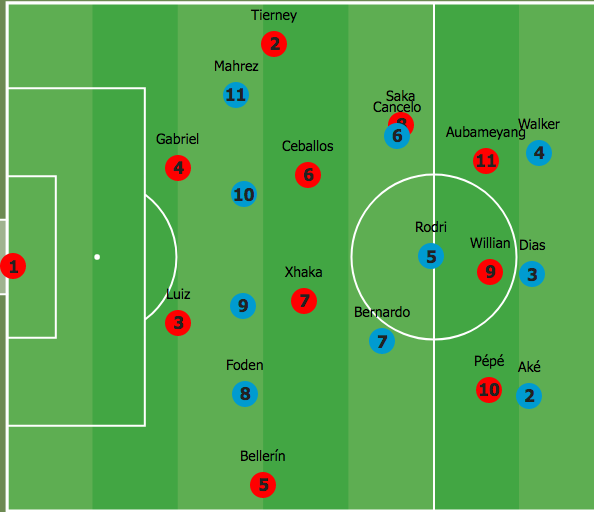 Arsenal being forced to go long played into City's hands because Arsenal were using 6 players in their build-up and City were nullifying them with 4 players. This meant that when Arsenal played long passes into their forwards, City had a 6v4 situation against Arsenal.
Even if Arsenal managed to win the first ball, City had numerical superiority, allowing them to protect against potential counters. Arsenal won the long ball at times, but City's advantage in numbers meant they mostly won the second ball and extinguished the danger.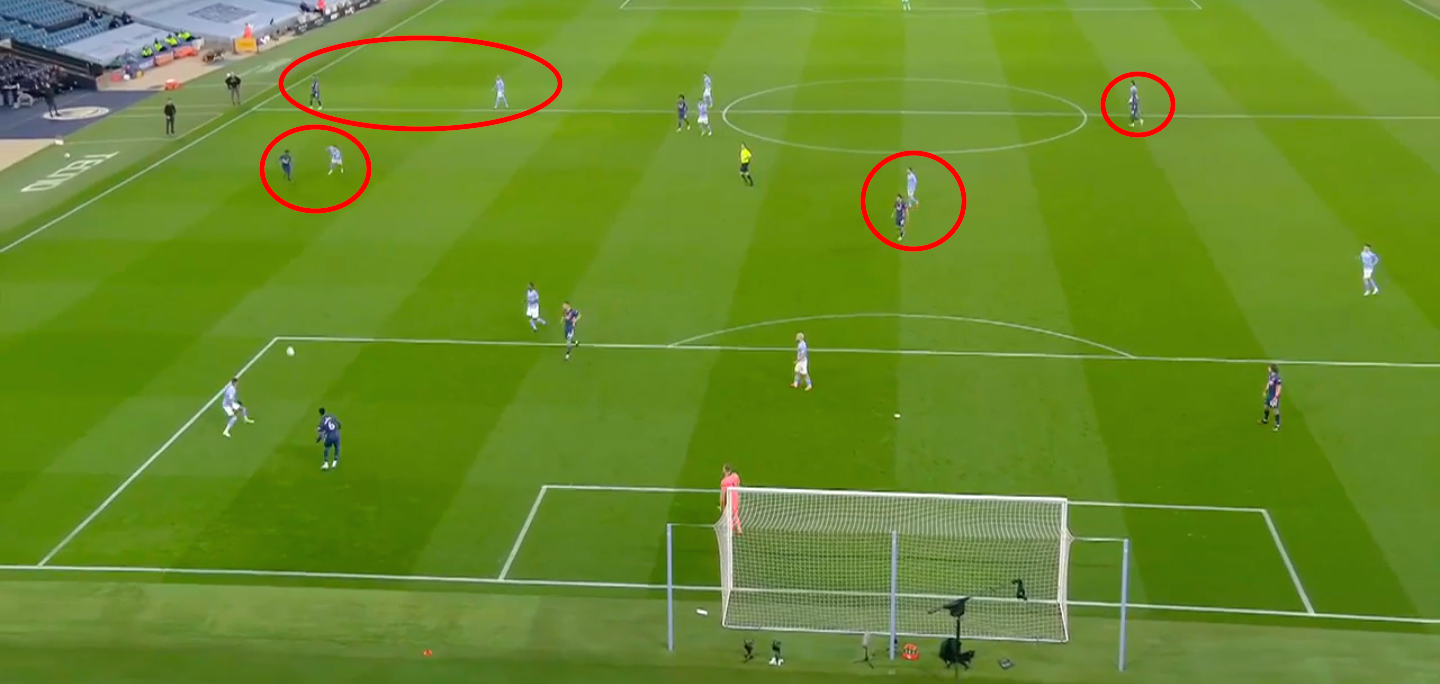 Here's an example of how Manchester City's press worked. Kyle Walker stays close to Aubameyang (top left), João Cancelo marks Saka (below Walker and Aubameyang), Bernardo Silva marks Ceballos, Rúben Dias and Rodri deal with Willian and Nathan Aké mark Nicolas Pépé. This set-up makes a 3-3-4 shape (from defence to attack). 
Willian playing at #9 didn't help Arsenal as he's less suited to winning aerial balls and holding play up than the likes of Eddie Nketiah and Alexandre Lacazette. Arsenal's front 3 didn't particularly do a good job of dropping deep in build-up or rotating their positions to test themselves against different defenders.
Cancelo played in the right half-space which meant he was up against Saka all night. He stuck with him when Arsenal were in possession which reduced the Gunners' threat and allowed City to get Mahrez 1v1 with Tierney. Mahrez was involved in City's opening goal and enjoyed a few of City's best opportunities.
Walker's extremely useful defensive skill set allowed Guardiola to leave him 1v1 with Aubameyang, and his speed and athleticism enabled him to keep the Gabonese striker in his pocket all night.
City's Build-up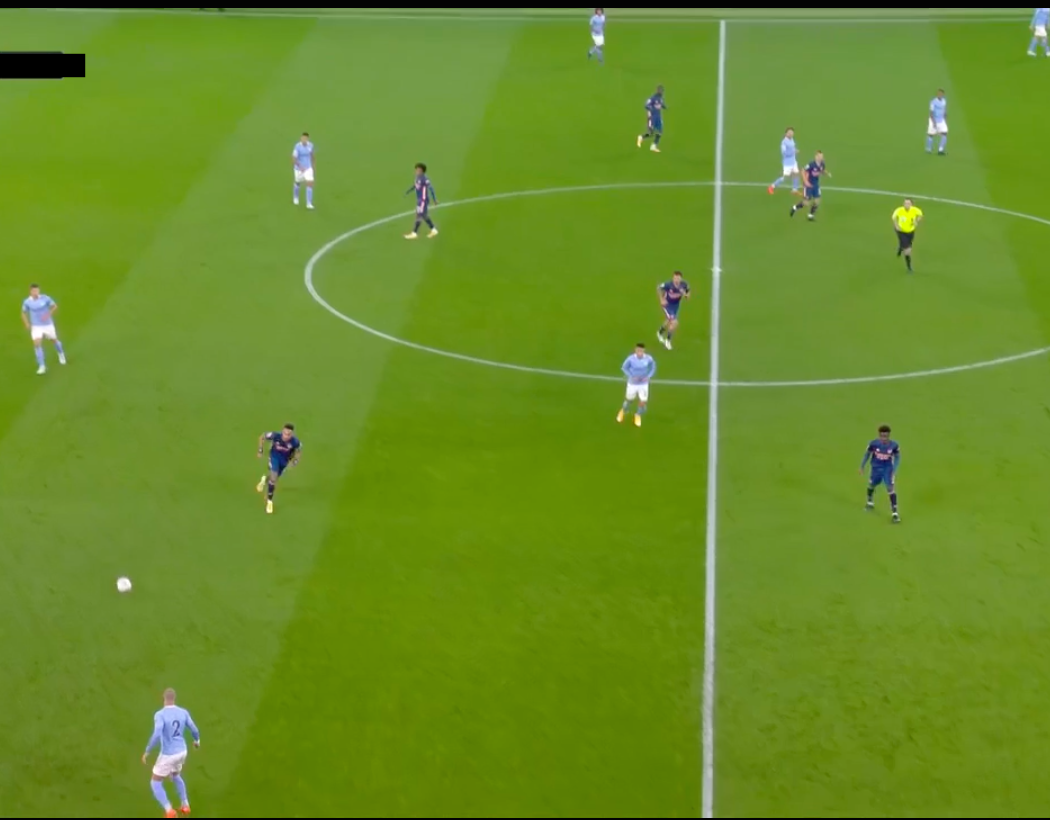 City built possession with a back 4 made up of Walker, Dias, Rodri and Aké. Cancelo would push up into the right half-space whilst Silva roamed on the left side of midfield. Foden would hold the width on the left whilst Mahrez held the width on the right. Sterling roamed and often dropped deeper in build-up.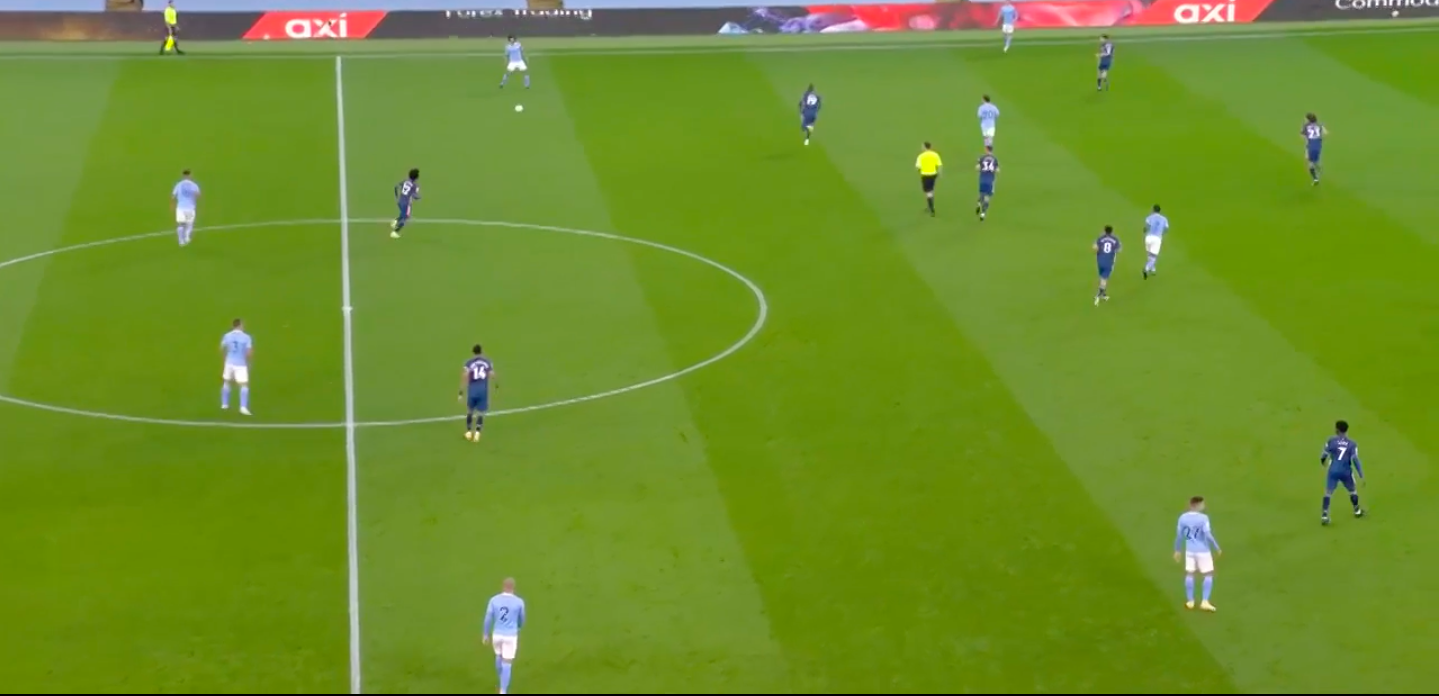 Here's an example of City not having anyone in the #6 position. Here you can see Cancelo in the right half-space with Saka, Silva in the left half-space, Foden holding the width and Sterling roaming.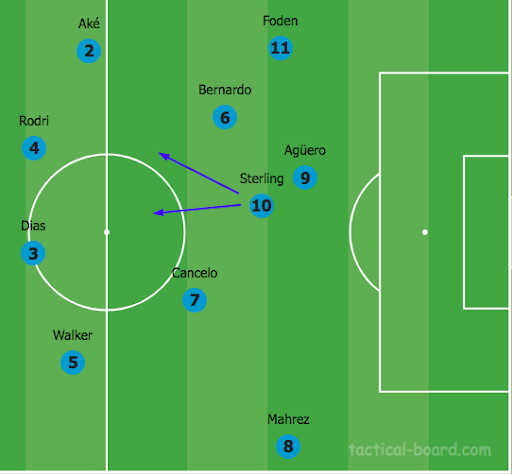 This was the structure City formed when they had the ball. Sterling did tend to drop deeper and roam but he didn't receive passes in between the lines in settled possession. City didn't build possession down their right flank; they almost exclusively built down their left flank.
This was likely due to Arsenal's strength down their left, Guardiola felt that attacking down Arsenal's left side would have increased the number Arsenal's opportunities to counter from their strong side. Instead, Guardiola attacked Arsenal's right which caused them less concern defensively as Arsenal pose less of a threat on the counter on the right flank.
It was also clear that City were instructed to not play passes in between the lines. City barely played any passes into central midfield in order to avoid Arsenal winning the ball back in the congested midfield and breaking on the counter.
As seen in the image above, Arsenal congest the central areas which makes playing passes in between the lines more risky as passes are more likely to be intercepted and there's less margin for error.
Ederson's excellent passing was key to Guardiola's game plan. City didn't pass out from the back when Arsenal pushed up the field to engage them; instead, Ederson constantly tried to play balls into midfield as City's forwards dropped deep for passes or fired balls into one of the forwards who were playing on the edge of Arsenal's backline.
Although this gave Arsenal the opportunity to win the long balls and/or the second balls, Ederson's pinpoint passing meant he usually found a City player. City's goal came from Ederson playing a ball into Sterling (who had dropped deeper).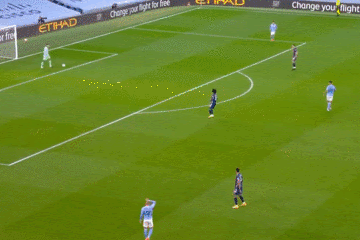 On this occasion, Gabriel makes a mistake as he is too worried about getting back into position and leaves Agüero open for a pass from Mahrez which leads to City opening up Arsenal's defense. The pass finds Foden on the left flank, who shoots and Sterling finishes the rebound (Bellerín lets Foden shoot too easily by failing to close him down).
Arsenal did create a few on the night but City succeeded in nullifying their attack throughout the 90 minutes. Their players struggled to sustain attacks on the night, as City barely had to defend in their 4-4-2 shape and comfortably managed a 1-0 victory.
Conclusion
Coming into the game, Mikel Arteta would've felt the most likely methods of hurting City were:
Arsenal's left flank causing City problems in transition

Arsenal's compact 5-4-1 forcing turnovers which would trigger Arsenal counter-attacks

Arsenal pressing City and forcing errors
Pep Guardiola created a game plan to reduce the likelihood of all these things. Whilst City didn't create as many chances as they usually do, they managed to successfully nullify Arsenal's attacking plan and did enough to come up with all three points.
By: @Tacticalnovice1
Featured Image: @GabFoligno / Pool / Getty Images