Tactical Analysis: Manchester United 1-0 Southampton
Manchester United battled to secure a 0-1 away win against Southampton, recovering from their early disappointments during the first two Premier League game-weeks by collecting their first six points in two consecutive games after a valuable home win against Liverpool. 
Crucially, there were plenty of important ideas and tactical plots throughout the game that deserved to be picked apart. Erik ten Hag chose to stick to the starting eleven who granted the first three league points for the team, and Southampton matched Utd up and also started the game with a 4-2-3-1 formation.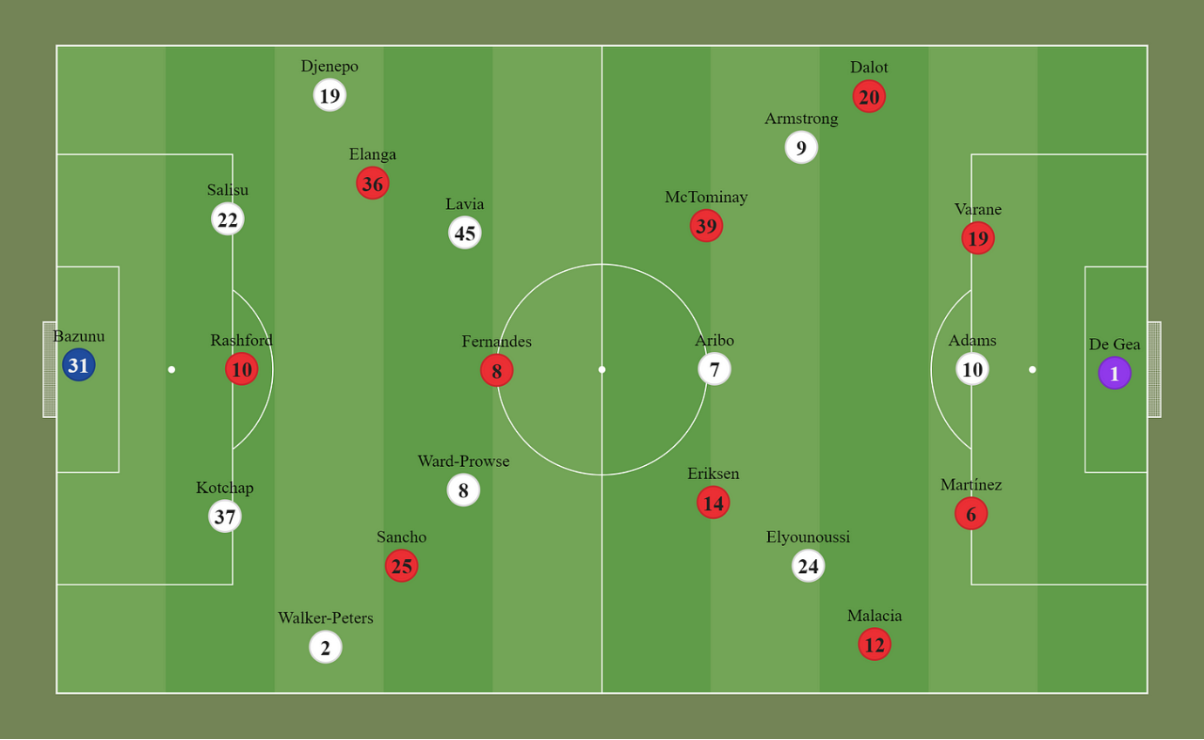 It was very clear throughout that Ten Hag was willing to forgive his possession-heavy principles, especially in the build-up phase in order to adapt to his team qualities and recent form.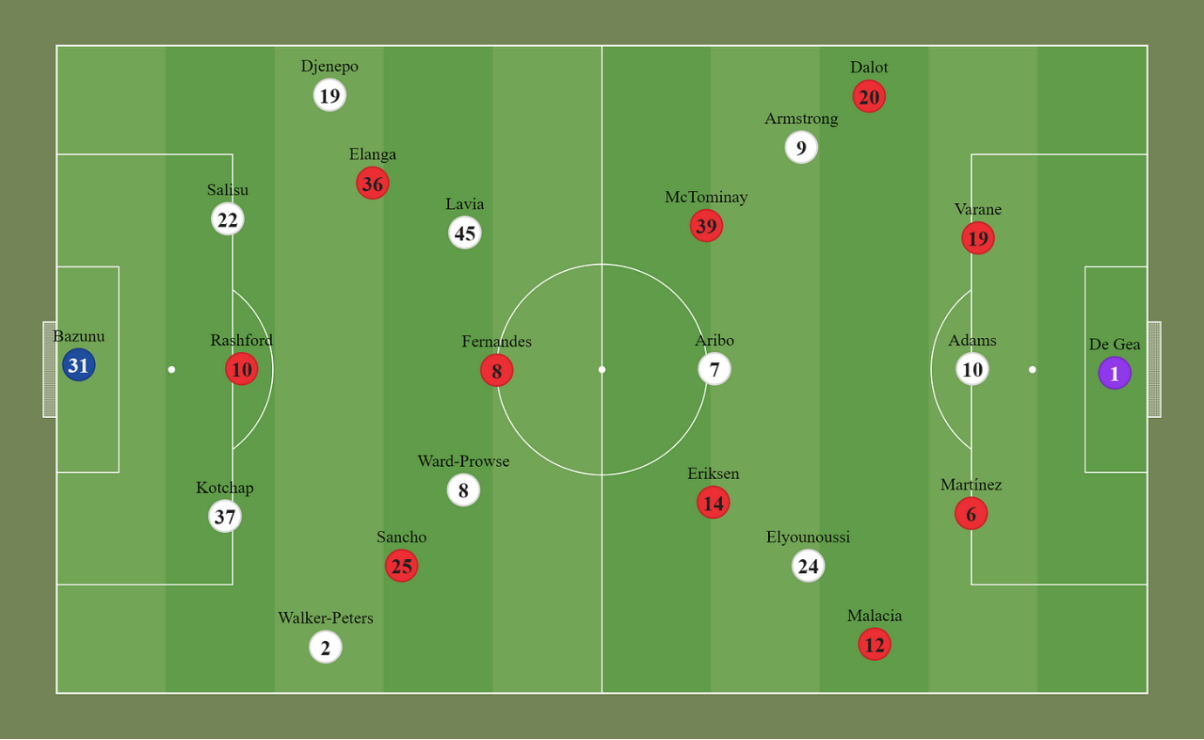 As shown above, Ralph Hasenhüttl has urged his front four men to press Manchester United's four defenders during the build-up phase, Joe Aribo was also cover-shadowing Scott McTominay while pressing Raphael Varane directly, Christian Eriksen was aggressively followed by James Ward-Prowse or Kyle Walker-Peters when he tried to drop or drift to receive the ball. This strategy may follow from areas highlighted by Thomas Frank's Brentford, whose intense pressing directly resulted in a goal and numerous opportunities in their 4-0 demolition of Utd.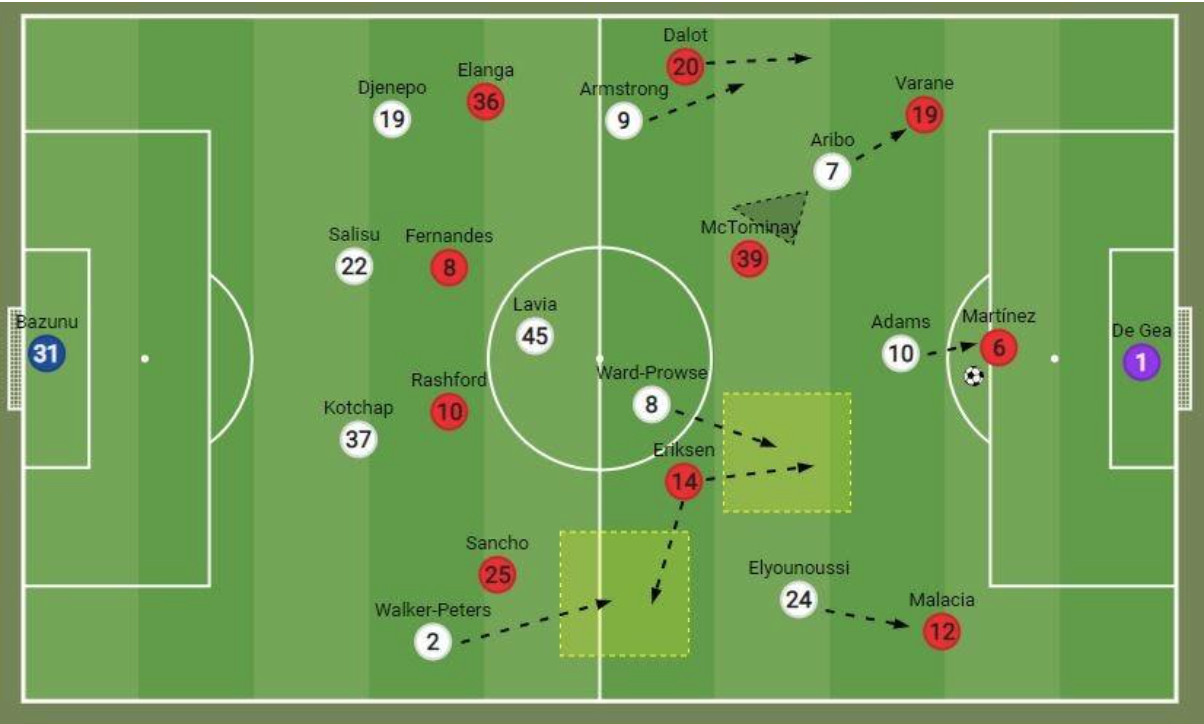 This strategy led United's defenders to seek out long balls to the wingers as a means of creating chances. Consequently, United weren't able to create the quality of chances needed to threaten Saints. Firstly, Jadon Sancho suffering from Walker-Peters and Armel Bella-Kotchap doubling up on him along United's offensive third, and Romeo Lavia helped with this being the extra player giving his defenders the numerical advantage, as Tyrell Malacia was late to support Sancho as he was a key player during the low build-up phase.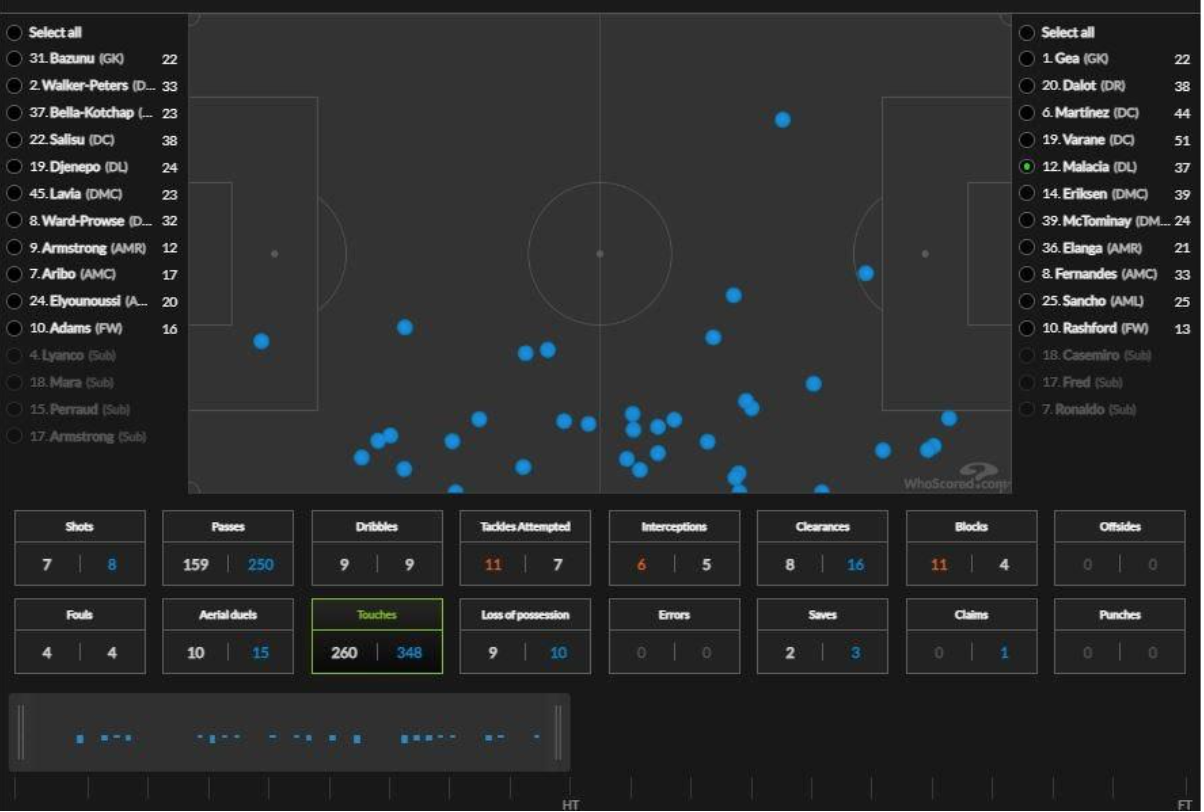 Malacia's touches in the first half [WhoScored]
The second reason was the failure of Anthony Elanga to deal with 1v1 situations against Moussa Djenepo as the Swedish youngster recorded zero successful dribbles of four attempted and only won one ground duel of six during the match; he failed then to retain possession until the arrival of support from Diogo Dalot who was in a higher position (compared to Malacia) in Manchester United's asymmetrical build-up shape.
Of course, a key component that lead to Elanga's emergence at Old Trafford was his tendency to run in behind defenders, making clever runs but this was hampered against Southampton because of the tight marking from Djenepo.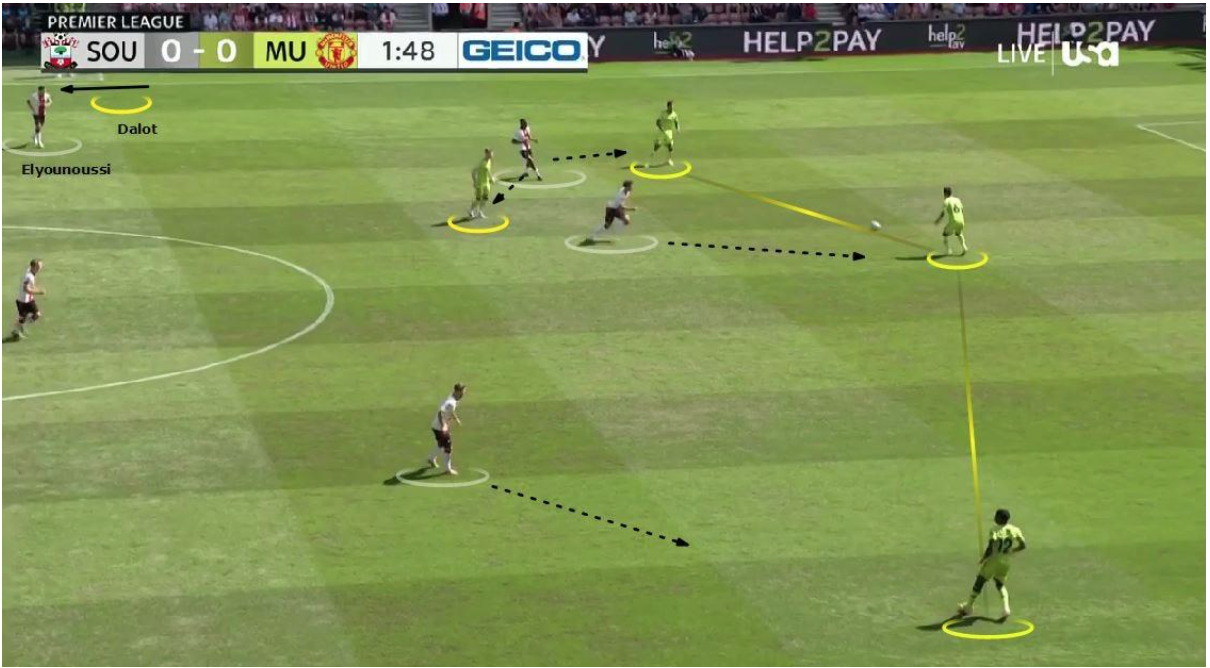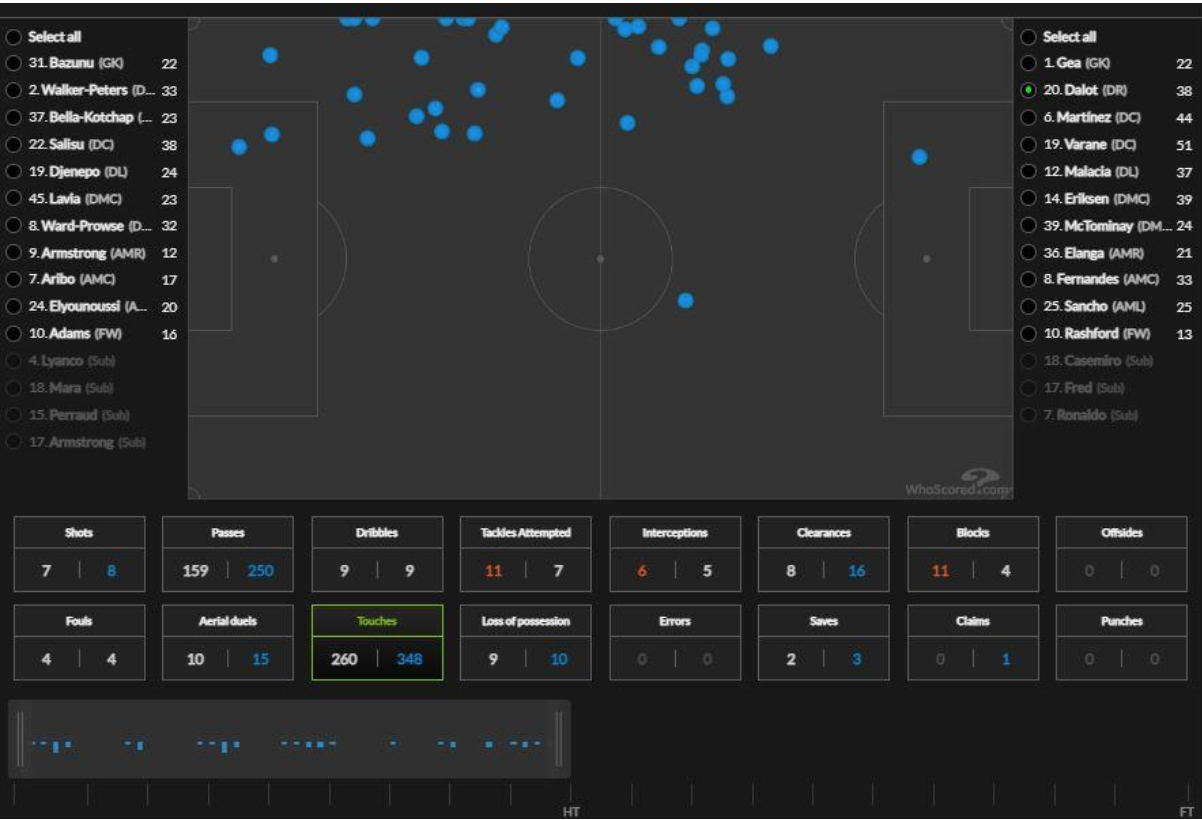 A similar idea was applied by the home team during the progression phase for their opponents, a compact mid-block to close up the central pitch areas in the middle third.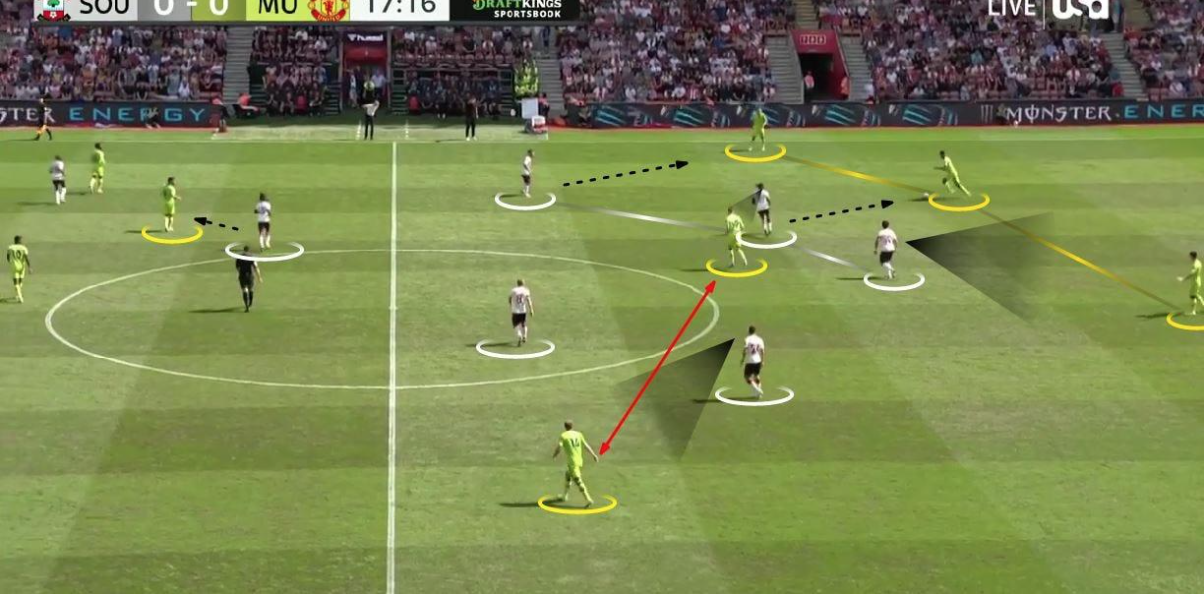 It is clear from the above shot that Eriksen's positioning was notably far away from McTominay, as the first tried to cover Malacia's off-ball progression down the wing or in left half-space.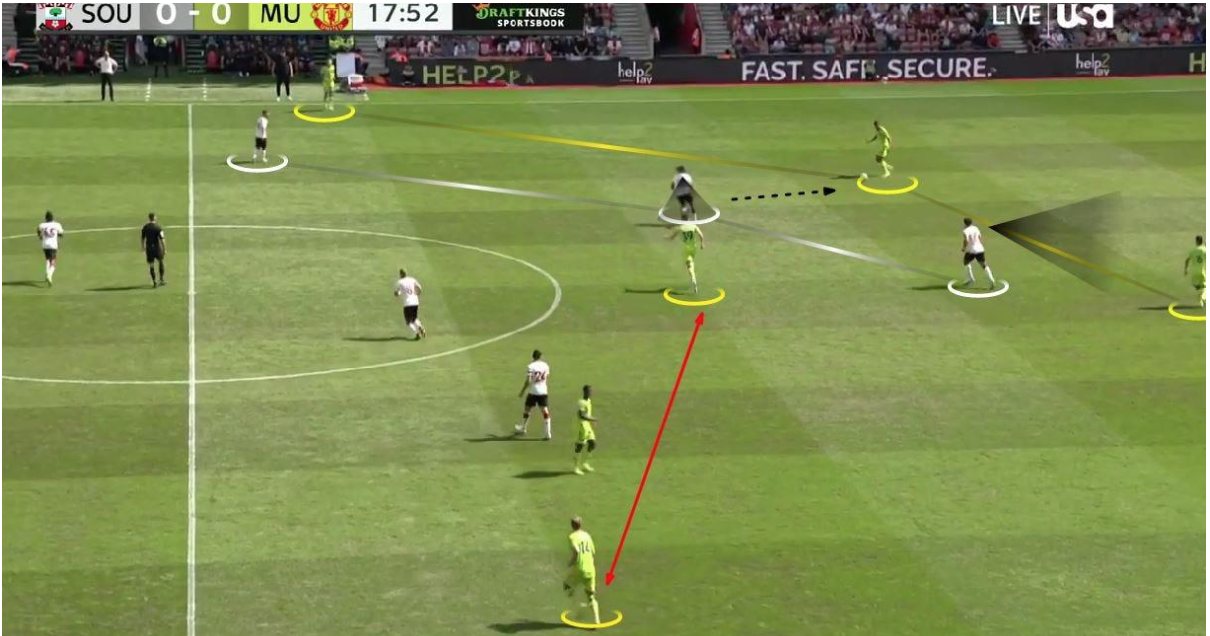 This caused a structural disconnect through Manchester United's progression system, and led to ball progression almost always towards the wing areas, as Lavia was comfortable with dealing with any of United's attackers when dropping in central areas or in half spaces to provide extra support. United were able to score from one of the rare situations they were able to deal with such a dilemma…When their double pivots stood near each other, as shown below.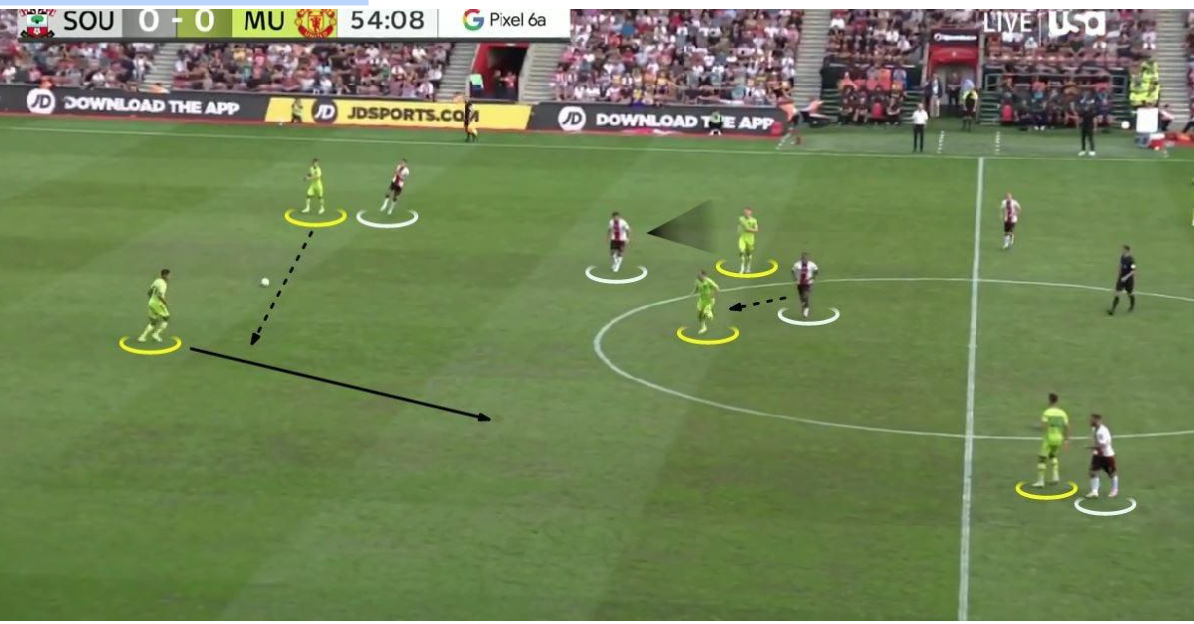 A similar positioning for McTominay and Eriksen could provide time and space on the ball for Varane, with the help from Dalot who went higher by the center circle drawing Stuart Armstrong away from Varane's ball-carrying path.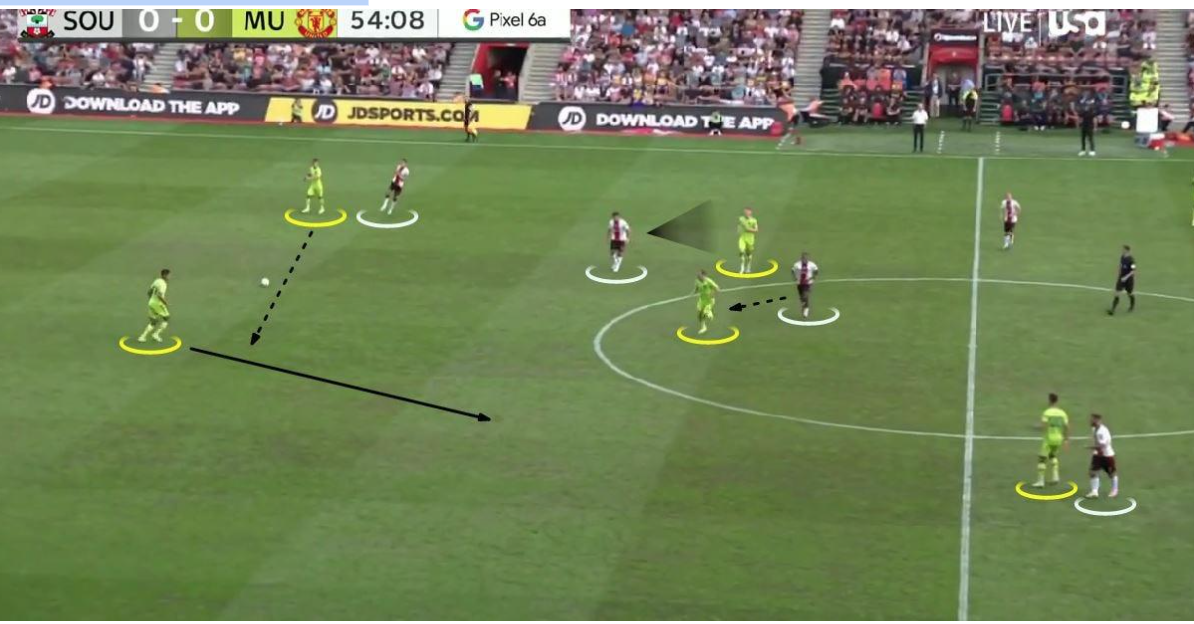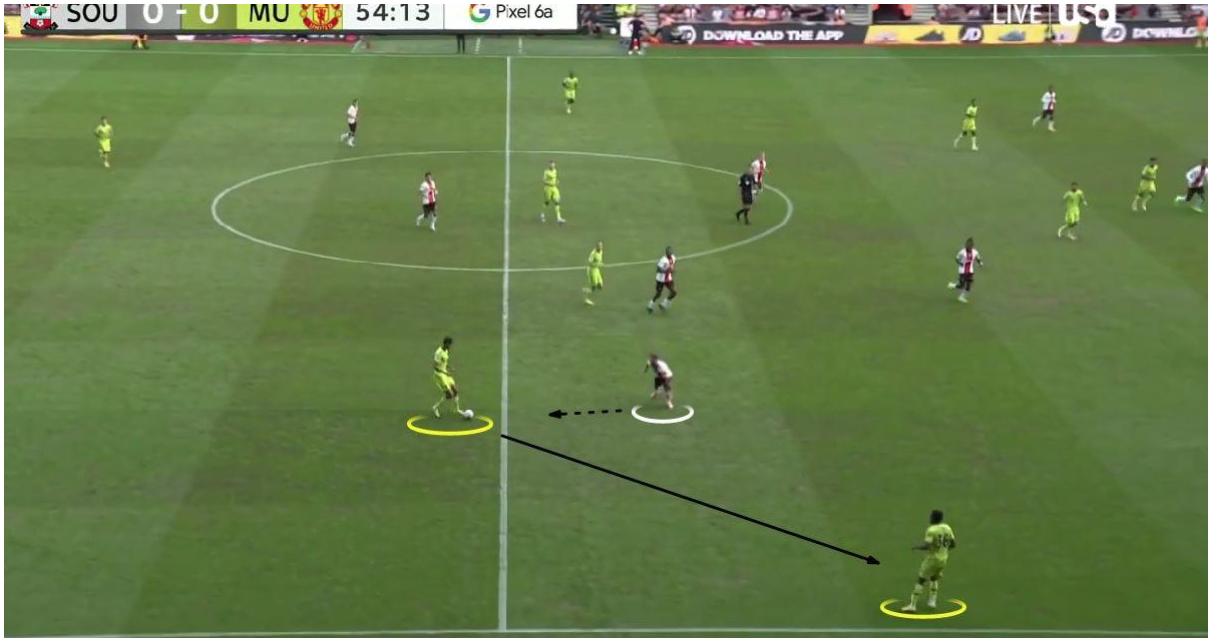 As Dalot went higher again to provide extra support in the right half-space along his side offensive third (as shown above), this was more than enough to pin Djenepo from jumping higher to press Elanga, who dropped to provide a passing option to Varane against Armstrong. We can see also the extra option that Sancho provided as he moves to the ball side, drawing Bella-Kotchap and hence providing a bit of free space for Bruno Fernandes.
Sancho even dropped a little while his opponent's defenders were all focusing on the ball, providing a passing option to Elanga before laying off the ball to Dalot who excellently exploited the free space down the wing to deliver the cut-back cross to Bruno Fernandes who was free to score finally.
It is not of less importance to magnify the performance of two defenders: One from each team during their opponent's transition phases: Lisandro Martinez's rest defence positioning helped him much to be comfortable in showing his front-foot defending qualities, especially against Che Adams, as shown below. It is worth also mentioning that the Argentine defender could win all of his five contended aerial duels, which refutes the claim that he would be always the team's weakest link in such attributes.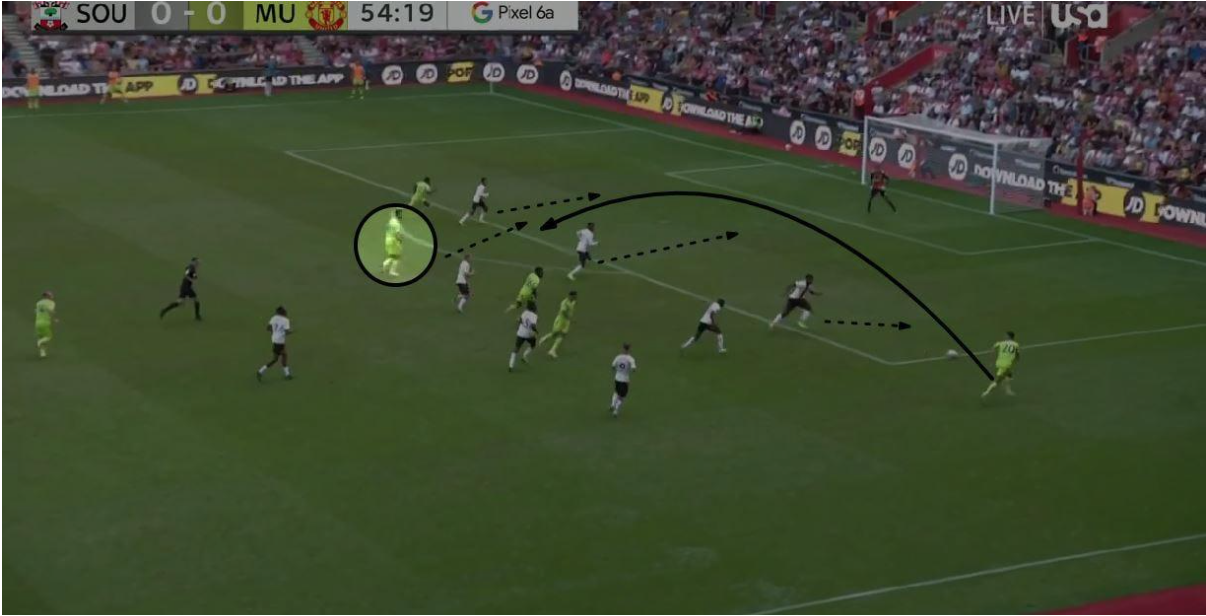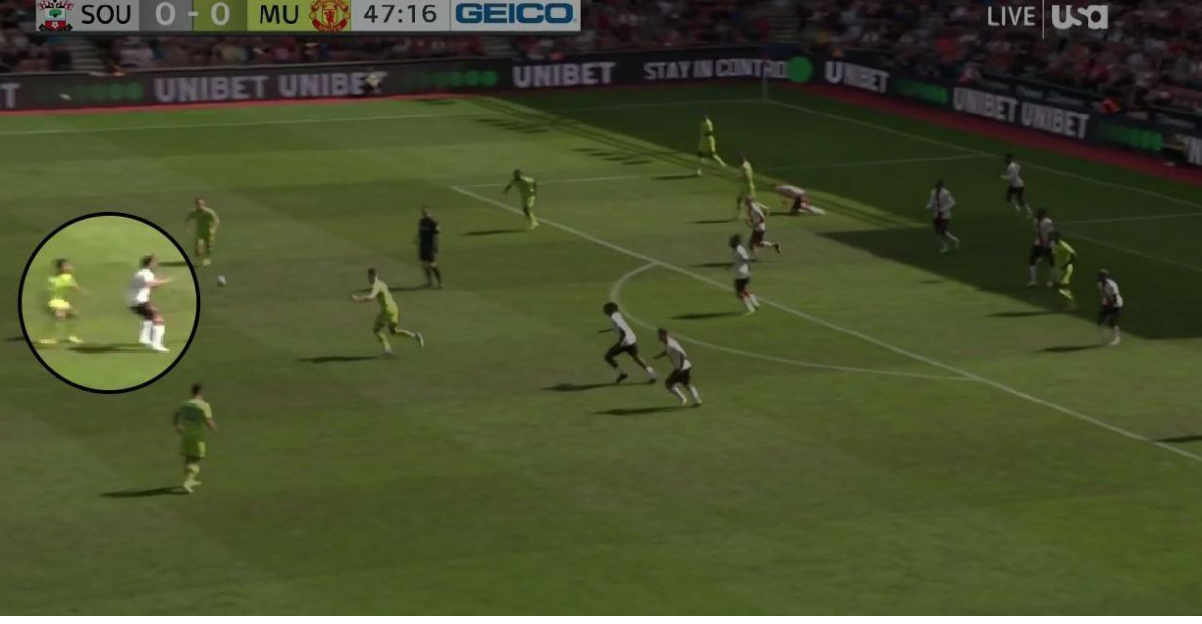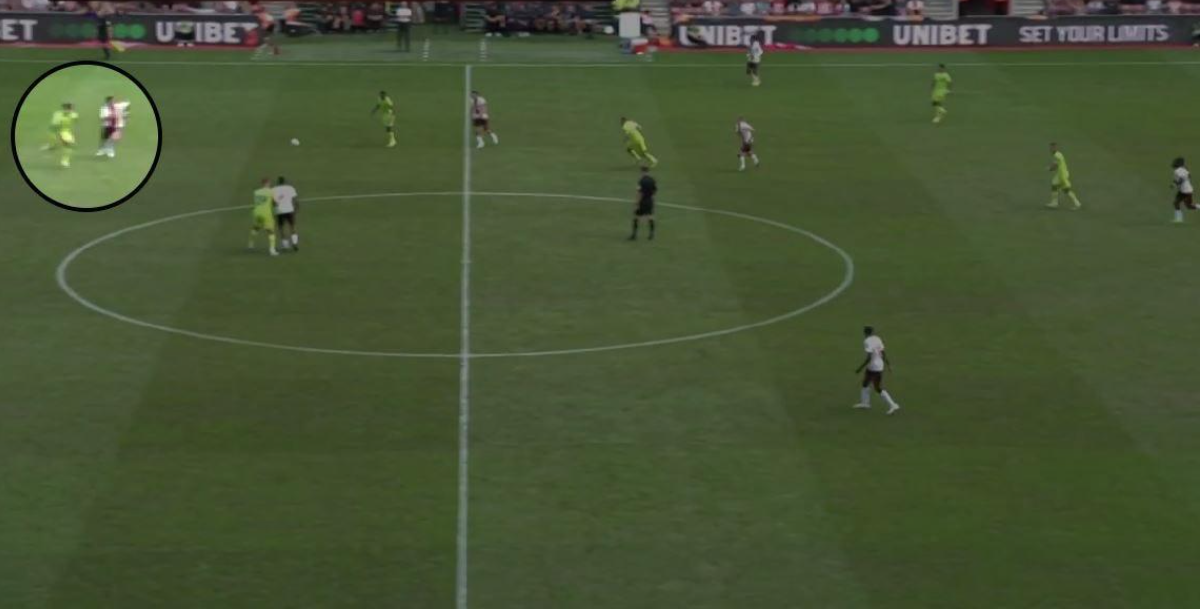 Another player worth mentioning is Southampton's new arrival: Armel Bella-Kotchap. The 20-year-old German defender displayed an excellent positional awareness, speed, body orientation and angles to make successful interceptions or cover the space behind Walker-Peters, which the opponent was targeting, especially using Sancho's sprints and out-to-in runs.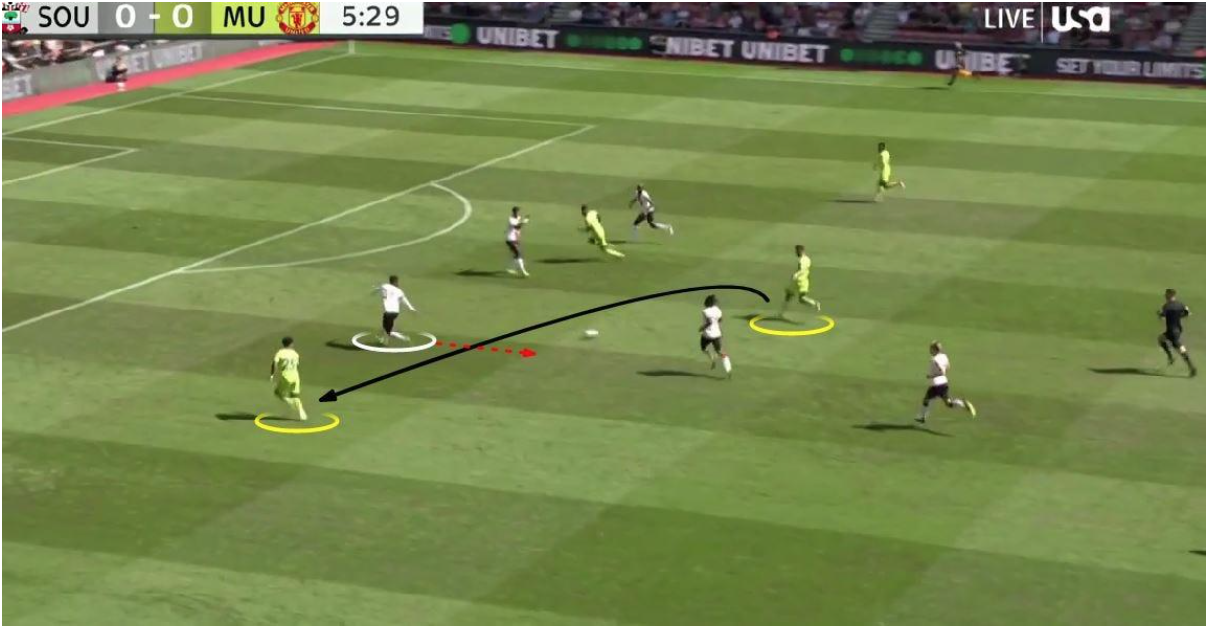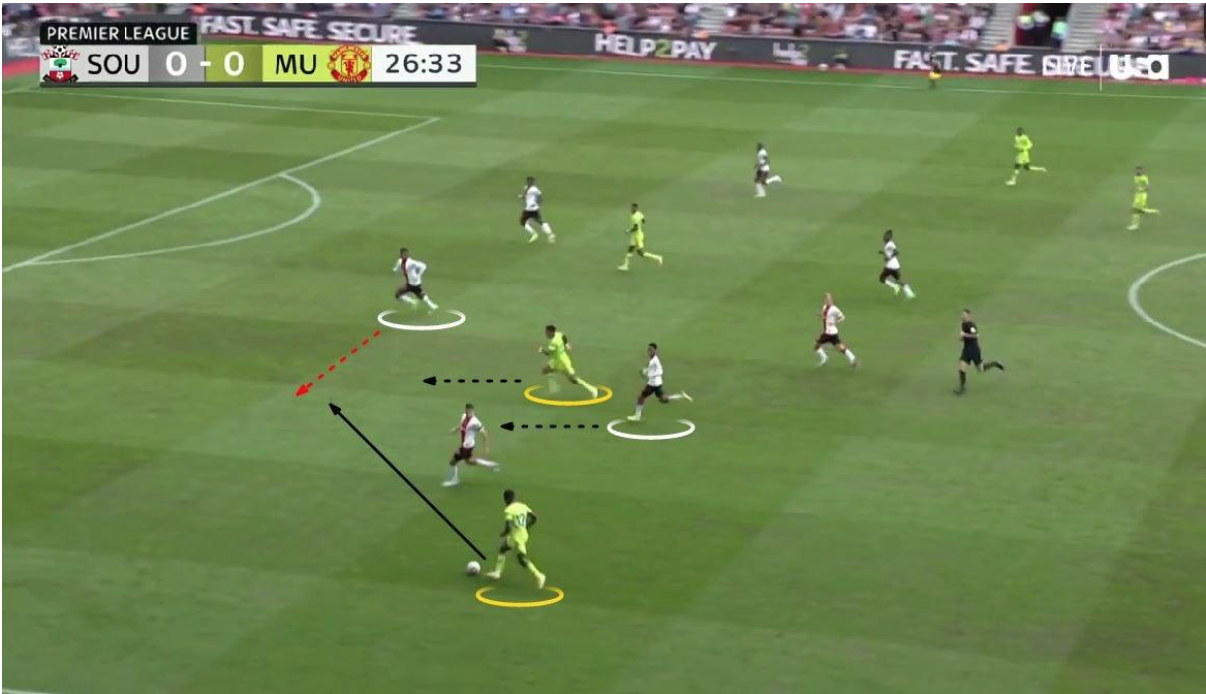 After losing their first two matches to Brighton and Brentford, Manchester United have bounced back with four straight victories against Liverpool, Southampton, Leicester City and Arsenal, with Erik ten Hag proving capable of adapting his tactics to help his team secure a result. United are clicking on all cylinders at the moment, and it seems as though their Dutch manager might just give them a fighting chance as they look to reclaim their spot in English football's upper echelon.
By: Loay Mamdouh / @loay_mamdou7
Featured Image: @GabFoligno / Ash Donelon / Man United