Tactical Analysis: Manchester United vs. RB Leipzig
After beginning their Champions League campaign with a statement victory in Paris, Manchester United welcomed RB Leipzig ahead of what would prove to be another huge European night for Ole Gunnar Solskjaer. 
Last season's semi-finalists dominated possession at Old Trafford, but the Red Devils in a rare 4-4-2 diamond formation dominated the match – eventually prevailing 5-0 courtesy of a Marcus Rashford hat-trick and goals from Mason Greenwood and Anthony Martial. Let's take a further look at United's tactics. 
The ball-side press
As is natural with a diamond, Manchester United employed a strong ball-side press with the near full-back jumping up the line to provide defensive width – while midfielders jammed central passing lanes. 
See below as United set up a pressing trap, with Greenwood and Fred's positions forcing Leipzig towards their right. Once Ibrahima Konaté has received the pass, he only has one option which is the ball to his wing-back – who is closed down by United's near-side full-back Luke Shaw.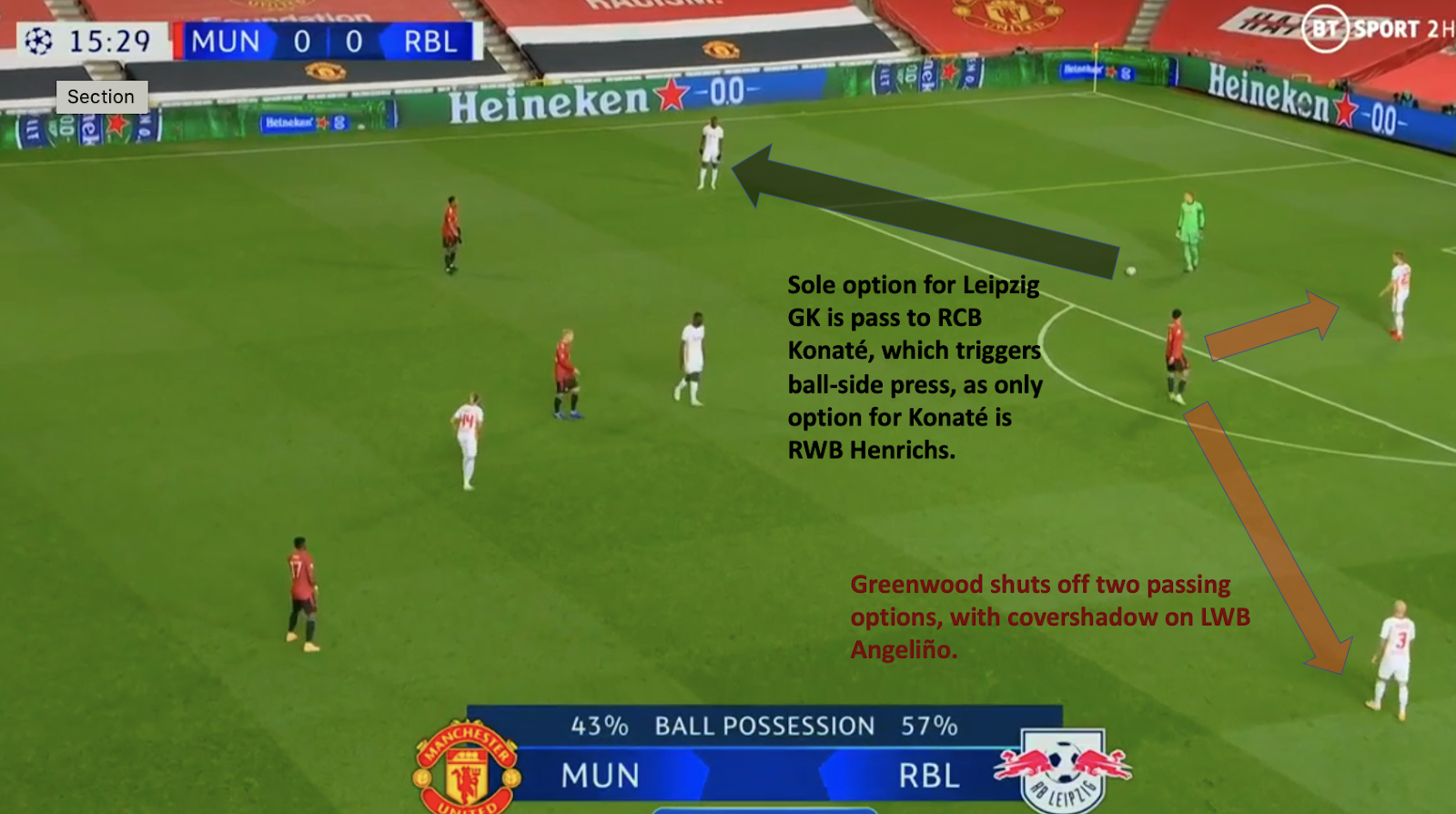 Leipzig could have utilised better movement in these situations, but ultimately United's pressing was effective in forcing Leipzig's hand during build-up. Following the above scenario, Benjamin Henrichs plays a hopeful long ball and Yussuf Poulsen loses out, but even when United weren't regaining possession directly via their pressing – they were thwarting the German side's threat.
The biggest risk of a ball-side press in a diamond is that it leaves the weak side especially weak, with the midfield actively engaged towards the flank and the defensive line shifted over to provide cover for the high full-back. A switch of play would force the weak side full-back to contest a 1v1 duel in large space.
But for United and their personnel, this was a fairly safe worst case scenario. While much pre-game conversation questioned the use of Shaw and Aaron Wan-Bissaka in an offensive system that traditionally requires full-backs to be the sole providers of width, fans failed to highlight the defensive demands of a diamond full-back – and how the role would play particularly to Wan-Bissaka's strengths. In isolated situations out wide, the former Palace man is perhaps the best 1v1 defender in football.
Forward rotations
Solskjaer cut an interesting figure on United's bench. Often the motivator, all-smiles, the Norwegian sat stoic and quiet as his team poured it onto Leipzig. The aesthetic contrast between he and dressed to impress counterpart Julian Nagelsmann was amusing, but the Norwegian's lack of instruction to his players compared to assistant coach Kieran McKenna was perhaps telling of something deeper.
34-year-old McKenna is believed to be United's key man when it comes to coaching attacking patterns. It's an area of their play that has been criticised for a long time – but how United's forwards moved in accordance with each other in this match was something to behold. 
An evident feature of the Red Devils play in this match was Paul Pogba drifting wide left, and Fred drifting wide right high up the pitch. This of course reduced the offensive burden on Shaw and Wan-Bissaka, but it also cleared space for Martial and Greenwood to drop deep – dragging Leipzig's CBs out of position. Leipzig do not defend in a strictly man-oriented fashion, but they do press actively all over the pitch looking to regain possession. 
See as Leizpig's right wing-back Henrichs presses Shaw, and Pogba drifts towards the flank – dragging Konaté with him. This frees up Martial to drop and draw Dayot Upamecano high up the pitch. Simple positional occupation, that is made much more dangerous via the use of rotations dictating the positions of aggressive defenders.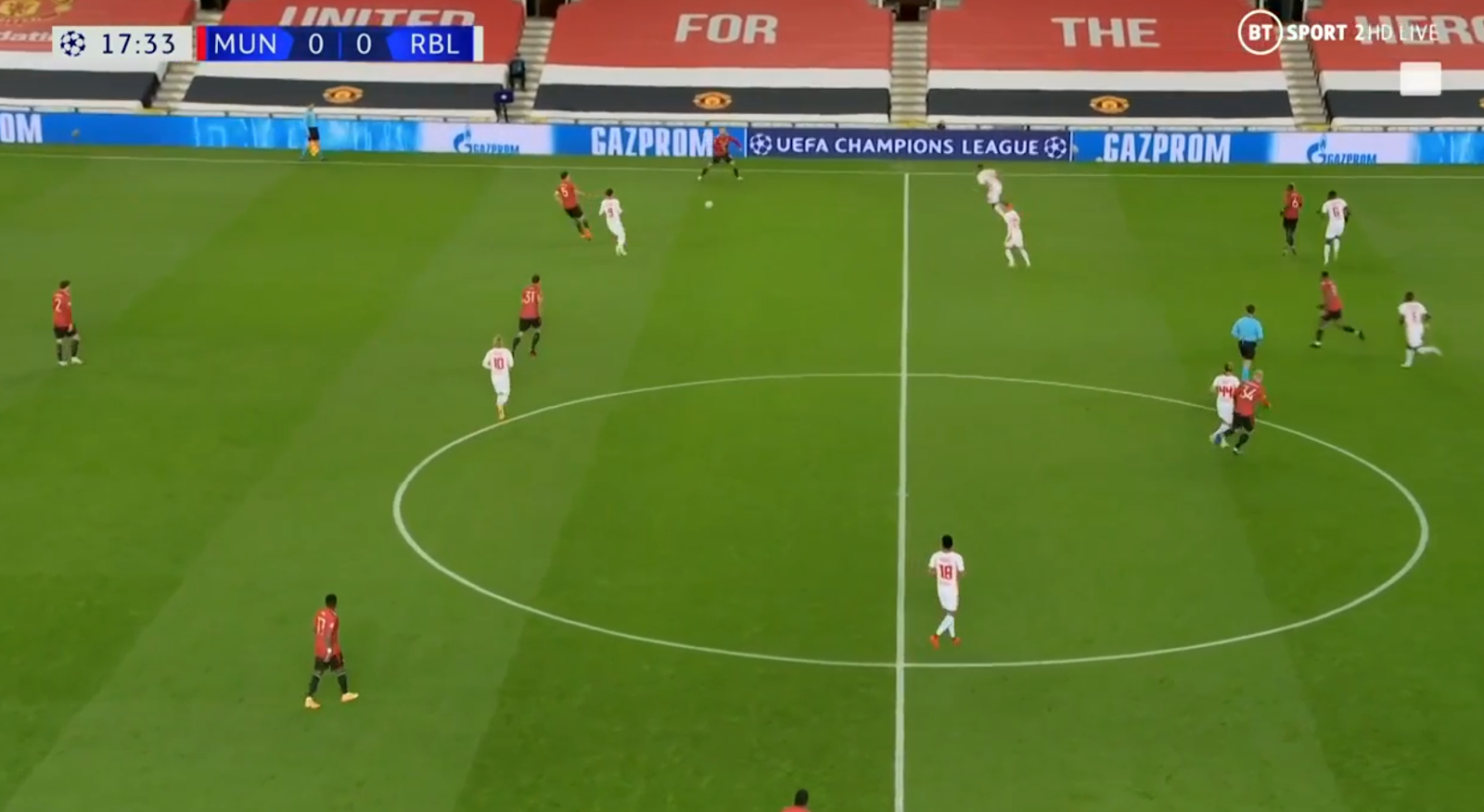 McKenna was surely the mastermind here. It can't have been a coincidence that he was the most vocal man on United's bench, during a performance that defined attacking fluidity. It might not even have been a coincidence that United's midfield shape in possession often resembled the box that Nagelsmann and Leipzig used to great effect last season. 
While Nagelsmann looked to flex his image on the big stage, might United's much-attacked coaching staff have been flexing their tactical competence?
Donny van de Beek – Chess on the football pitch
Donny van de Beek is a player that constantly scans the pitch looking for spaces, and his third-man movement in this match is worth studying by all young players. The previously highlighted passage of play is relevant again. See as Van de Beek signals for a pass in the vacated space, after Martial has dragged Upamecano away from goal with deep movement.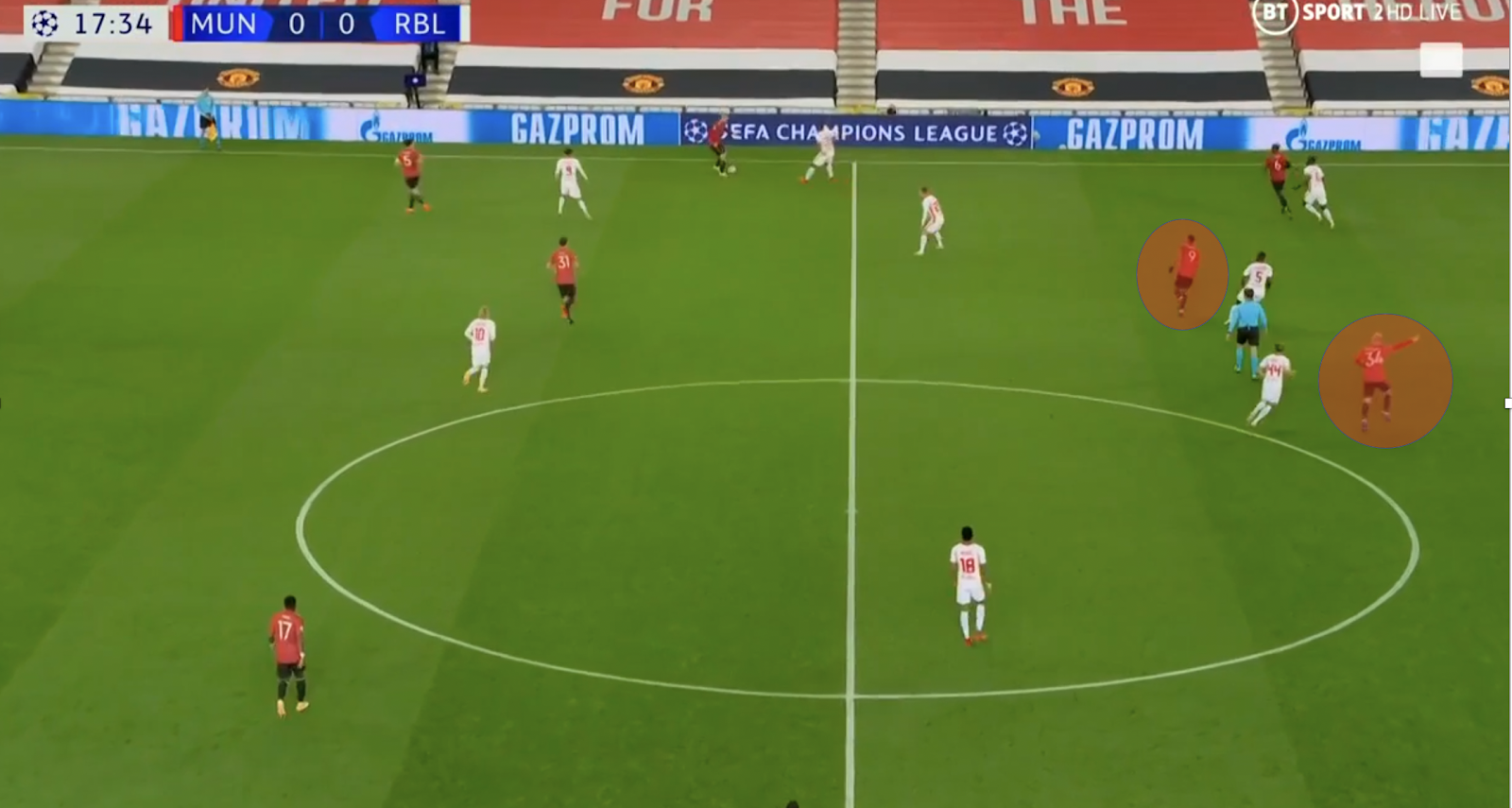 Van de Beek plays the game with great understanding of this one principle: football is about dragging a defender away from a space – and then invading said space. The above example is great because, while it's unlikely that he was ever going to receive the ball in this situation, he demonstrates that it is a natural response for him to make this run. Automatism. 
See below another situation in which Van de Beek plays chess on the football pitch. Fred's pass to Wan-Bissaka is a trigger for the Dutchman to run in behind, because he knows Angeliño will step to press.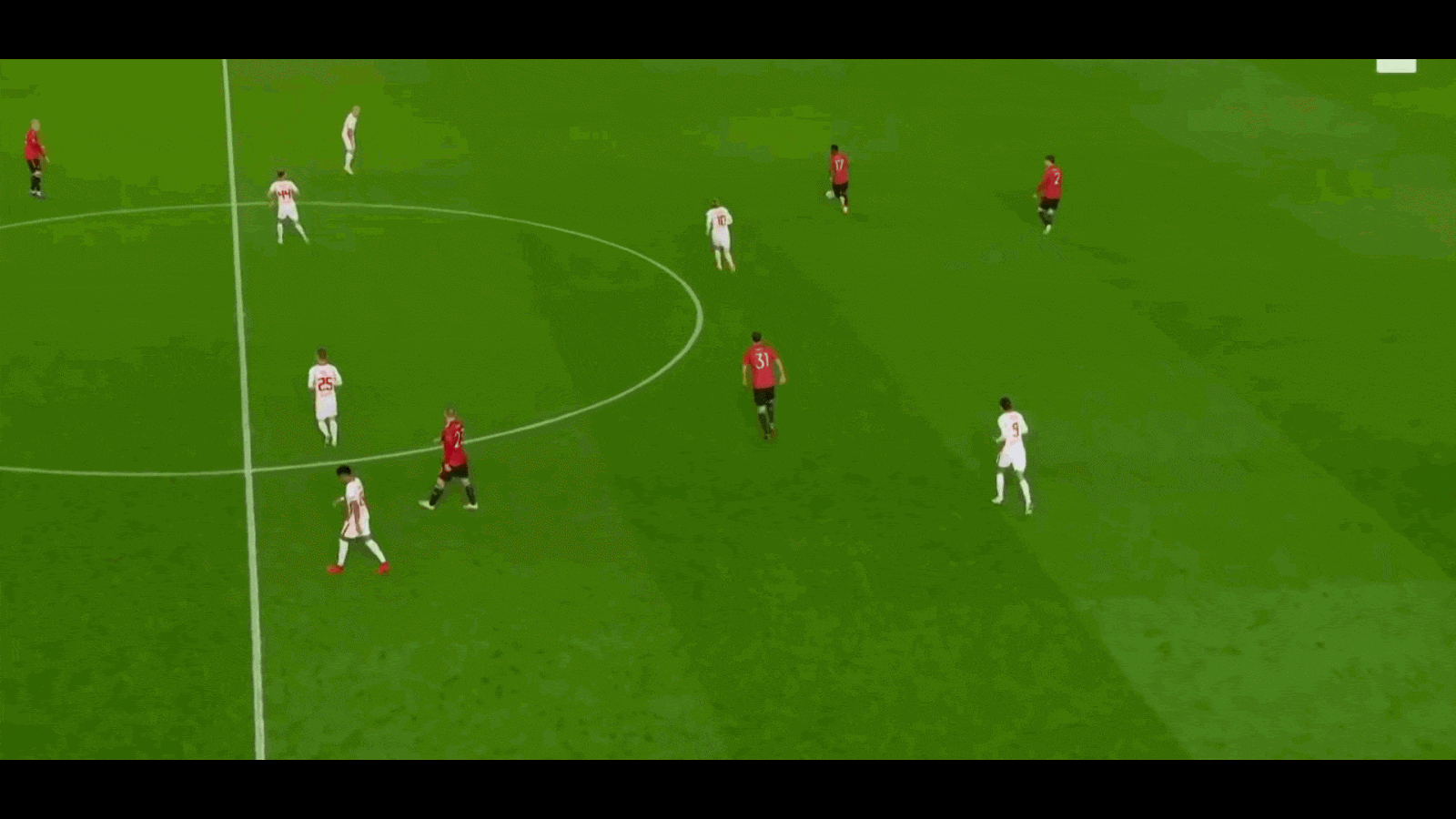 Greenwood also shows great understanding of the aforementioned principle here, as the Leipzig defender's shift towards Van de Beek becomes a trigger for him to invade the vacated space. 
Late onpour
While Van de Beek was the most influential starter for United, Rashford's directness from the bench helped add glitter to the scoreline – as Leipzig crumbled during the final 20 minutes. There was no excuse for Leipzig's defensive line being inside the Manchester United half on 74 minutes, and Rashford would punish the German side for that after an alert through pass by Bruno Fernandes. 
Individual brilliance from the Englishman followed. It was Fred's recovery that led to Pogba slipping in Greenwood for the night's opener, and this time he would poke the ball through to Rashford – who turned Upamecano and slashed the ball into the bottom corner. 
From then on, a penalty won and converted by Martial after a counter attack in wide open space, and another ruthless Rashford strike to seal the hat-trick. It would be overanalysis to describe Manchester United's late onpour as anything more than the exploitation of momentum, and high level forward players.
Likewise, it is reactionary and dismissive of context to hail this diamond as the permanent solution moving forward. United's press was effective in halting Leipzig's build-up, and their shape in possession encouraged fluidity of movement against a side that press with intensity all over the pitch.
After two matchdays, United find themselves atop Group H with six points and could further their lead with a victory at the Fatih Terim Stadium on Wednesday, facing off against an İstanbul Başakşehir side that has lost each of its opening matches. On the other hand, Leipzig find themselves below Paris Saint-Germain on goal differential, making Wednesday's clash at the Red Bull Arena all the more vital.
By: Matt Torez
Featured Image: @GabFoligno / Peter Powell / EPA – EFE / Rex / Shutterstock