Tactical Analysis: Manchester United's First Half of the 2020/21 Season
It has been quite the hectic season for Ole Gunnar Solskjaer's Manchester United, to say the least. After defeating Paris Saint-Germain at the Parc de Princes and humiliating RB Leipzig at Old Trafford, the Red Devils relinquished their lead on their UEFA Champions League group after losing to İstanbul Başakşehir, PSG, and Leipzig, setting up an early exit and a Europa League showdown with Real Sociedad in February.
Since that humiliating defeat at Leipzig on the final group match, United have rebounded in form, beating Leeds United, Sheffield United, Wolves, Aston Villa and Burnley in the league and advancing past Watford into the 4th Round of the FA Cup. United currently sit first in the Premier League, and if they manage to defeat Liverpool at Anfield on Sunday, they will have a six-point lead over Jürgen Klopp's side. While there has been plenty of improvement from Solskjaer and his men, there are still plenty of things that need to be fixed if they are to win their 21st Premier League title.
Build-up and General Offensive Principles
When building out the back, United have a wider range of variations compared to last season. For instance, Aaron Wan-Bissaka is more often used as a third centre back than last season in order to mask his flaws going forward (we shall speak about this again later on in this piece). 
I took an example from the game against West Bromwich Albion. United formed a back three with Wan-Bissaka as the third centre back while Juan Mata provided a passing lane by dropping in United's half. Now that Nemanja Matić has dropped deeper, Wan-Bissaka can take a higher position which pushes Mata further up the pitch and inside.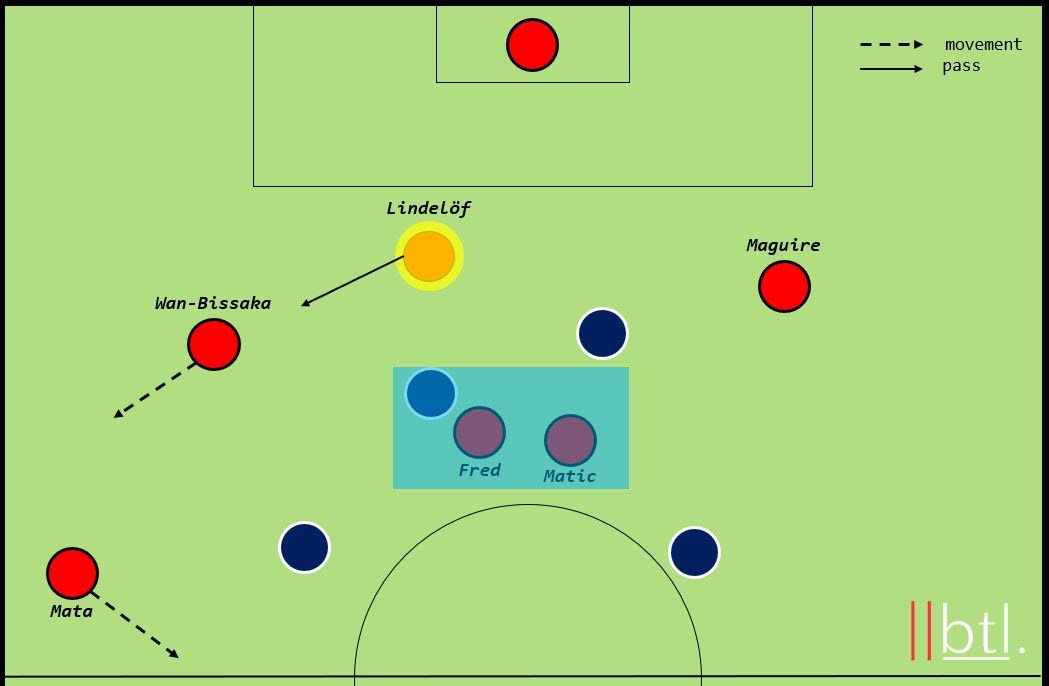 Wan-Bissaka receives the pass from Victor Lindelöf and has different options at his disposal. He can carry the ball and disrupt the opponent's shape (something he rarely does even though he is a decent dribbler, probably because he isn't a good carrier) but he can also try to find Fred inside.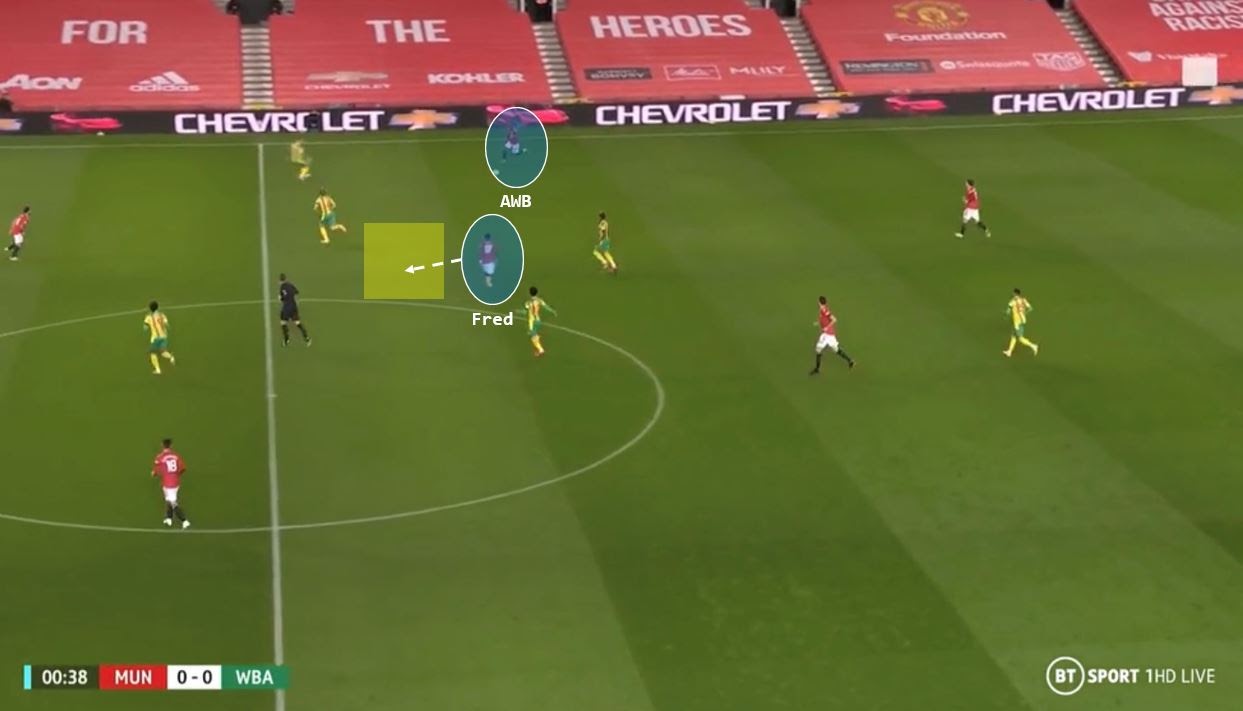 Unfortunately, it's Fred that didn't allow this to happen as he decided to drop deeper instead of advancing further to open the angles for Wan-Bissaka's pass. Instead, the ball went back and United couldn't progress the ball. It forced Lindelöf to drive up the pitch while Anthony Martial decided to drop deeper to provide a passing option.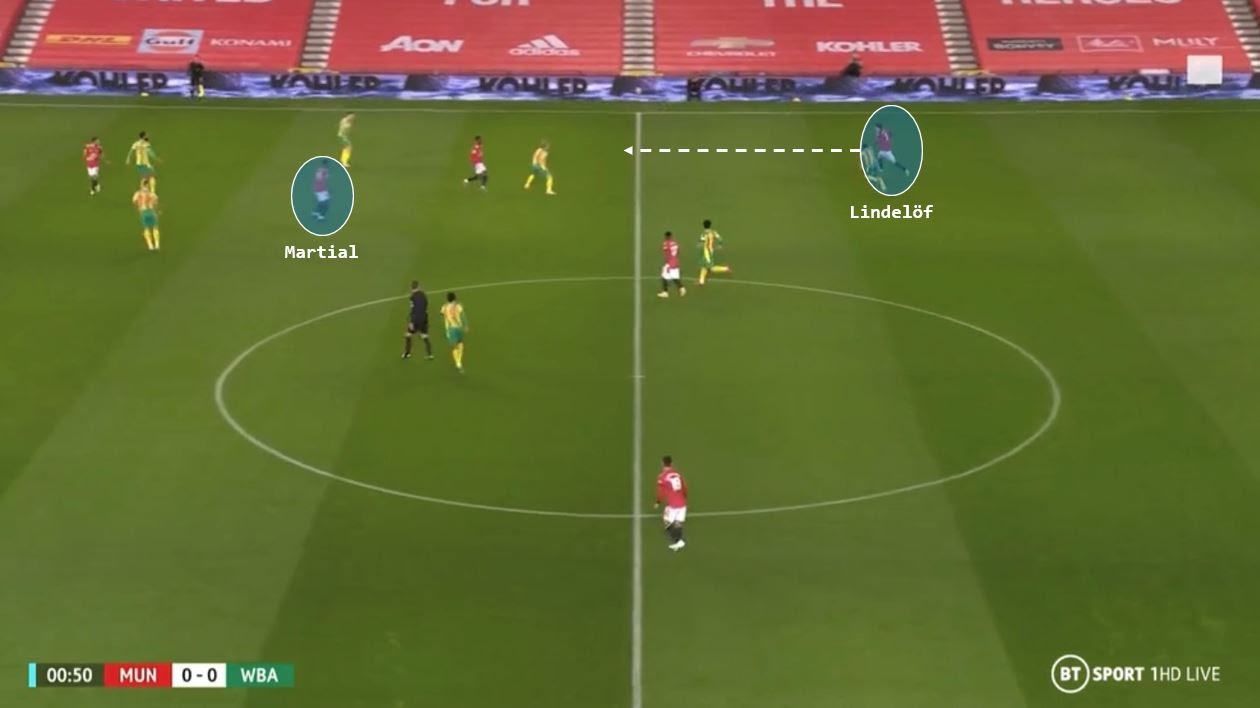 Lindelöf found Martial alone. Martial eventually progressed the ball and got fouled close to the box. Despite their structural and individual issues, United were still able to progress. Even though individuals didn't take enough risks in this instance, you will see that it often happens, hence why I think the lack of coaching in these situations hammers the structure given by the coaches themselves.
When United have three players in deeper areas, Wan-Bissaka is not the only one slotting in as the third centre back. In similar fashion to the first 18 months under Solskjær, Matić splits the centre backs, consequently making the centre backs drift to the half-spaces while the fullbacks are going higher up the pitch. The positioning of the fullbacks higher up the pitch will also enable the wingers to come in the half-spaces, consequently offering a direct passing lane to both centre backs split wide.
Scott McTominay or Fred when Matić doesn't start are tasked to slot in as a third centre-back in the half-space of their side. In similar fashion to Matić dropping deeper, they push the full-backs higher up the pitch and the wingers into the half-spaces.
When they build out the back with two centre-backs, the goal is to form triangles on both ends of the pitch to help ball progression. Unfortunately, they often struggle to bring the ball higher up the pitch from central areas. They often rely on their full-backs to progress the play and they often put themselves into trouble by doing so, which was also something they did last season. 
On the picture below that is taken from the game against Leicester, you can see both McTominay and Fred being cover-shadowed by Jamie Vardy and James Maddison. Since United centre backs are in a 2 against 2 situation here, they only have two options, either to pass the ball to one of their full-backs or to immediately go long to gain the second ball. The former happened in the second picture below.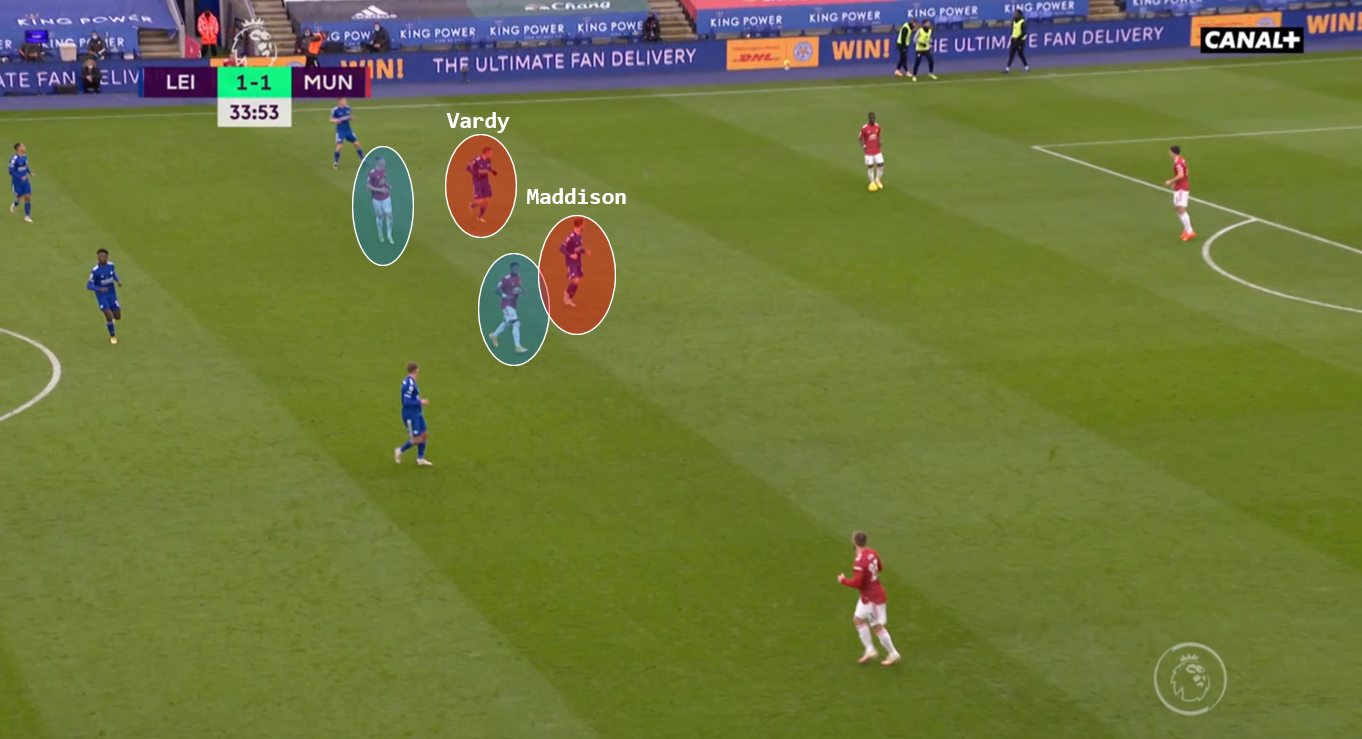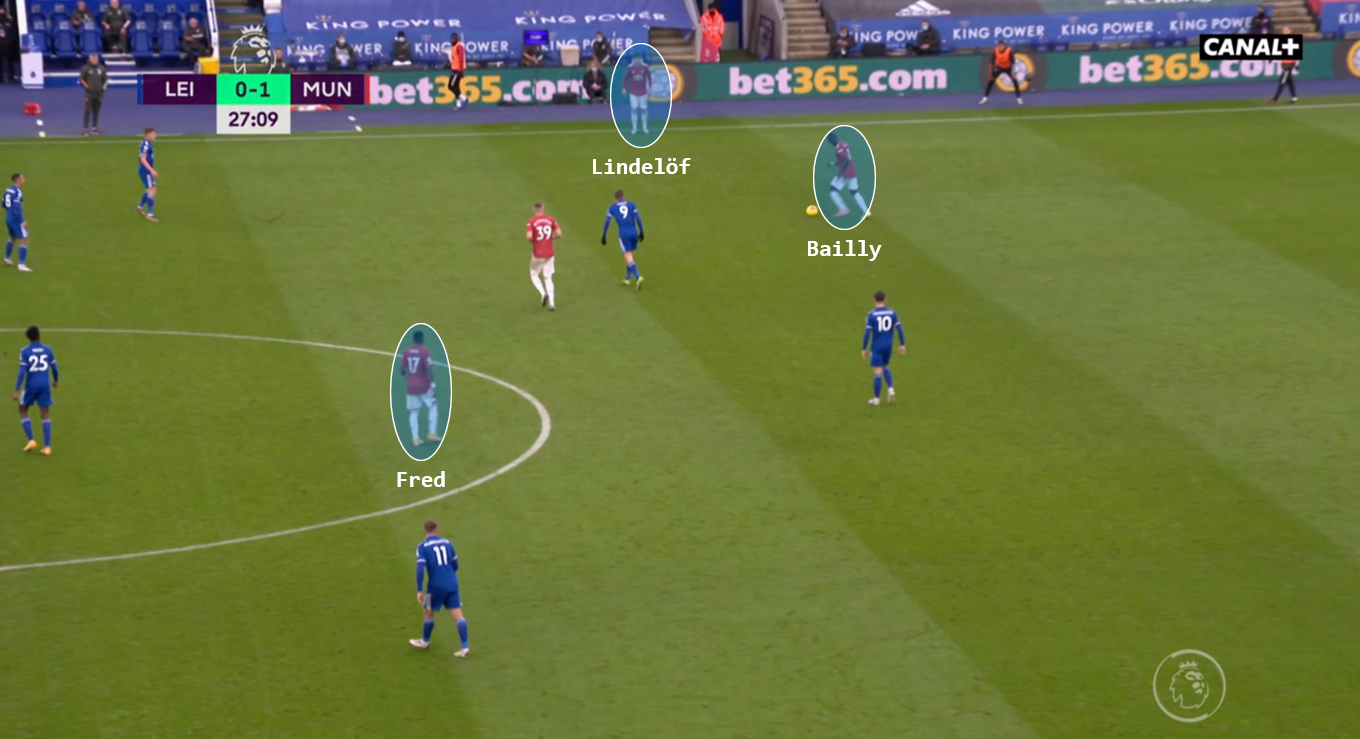 Fred does well in drifting wide to form a back three, consequently rendering Leicester's first line ineffective. However, McTominay should come closer to him to provide another passing option in central areas but instead decides to drift in the opposite way. This particular still provides evidence towards my judgement of United's build-up strategy: their principles are good but not thought about enough.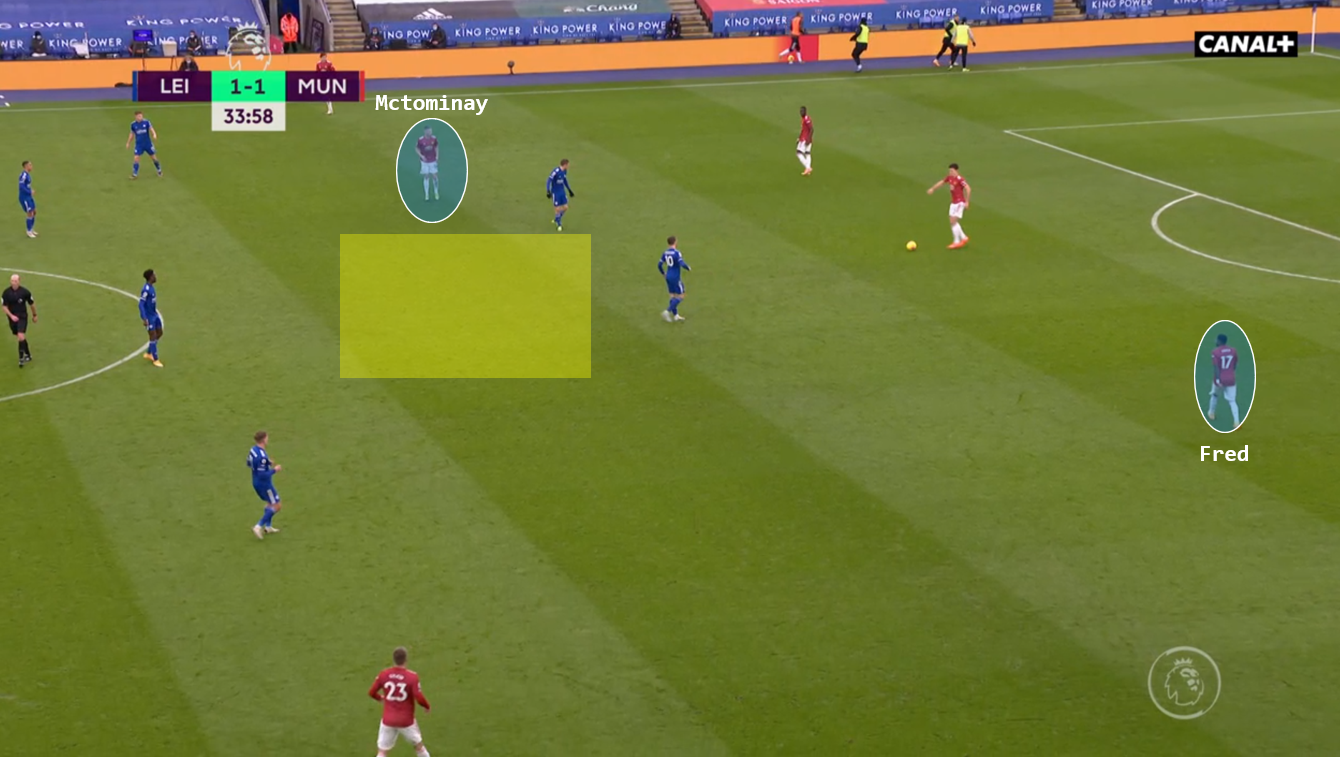 The same issue where the double pivot is not on the same line occurred multiple times last season but also this season, against Brighton, Crystal Palace and twice against Manchester City.
Against City, United didn't concede from an error in the build-up but City were orienting them towards wide areas to set pressing traps and recover the ball high up the pitch. In a similar fashion to Mata against West Brom, Bruno Fernandes dropped to provide overloads in order to facilitate ball progression but it didn't always work, as highlighted below.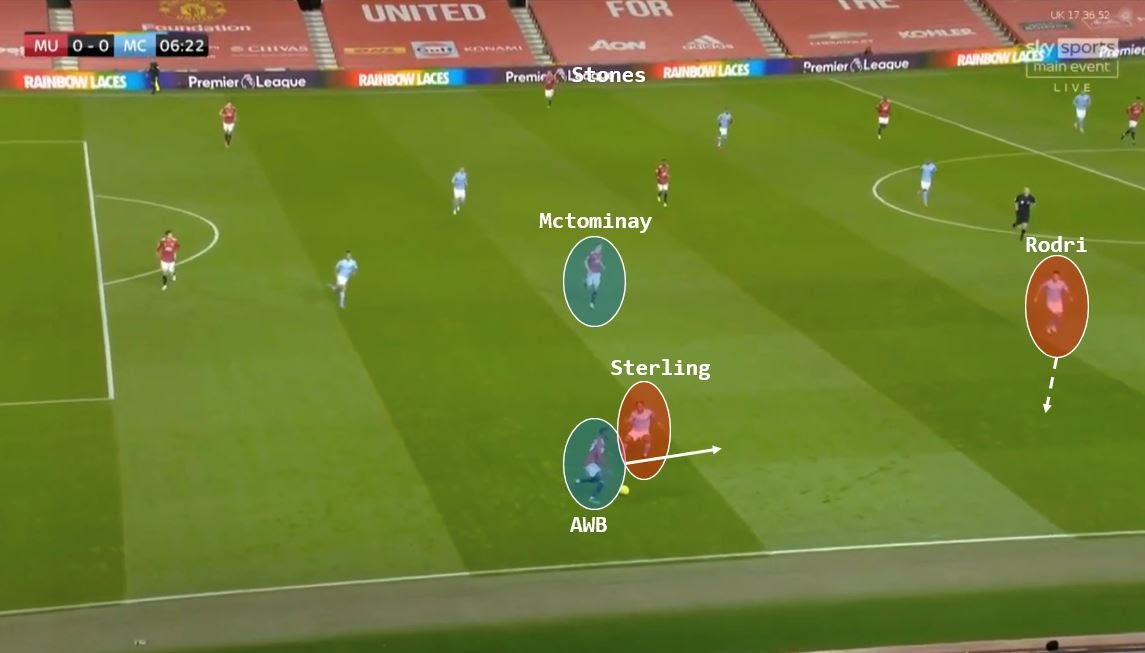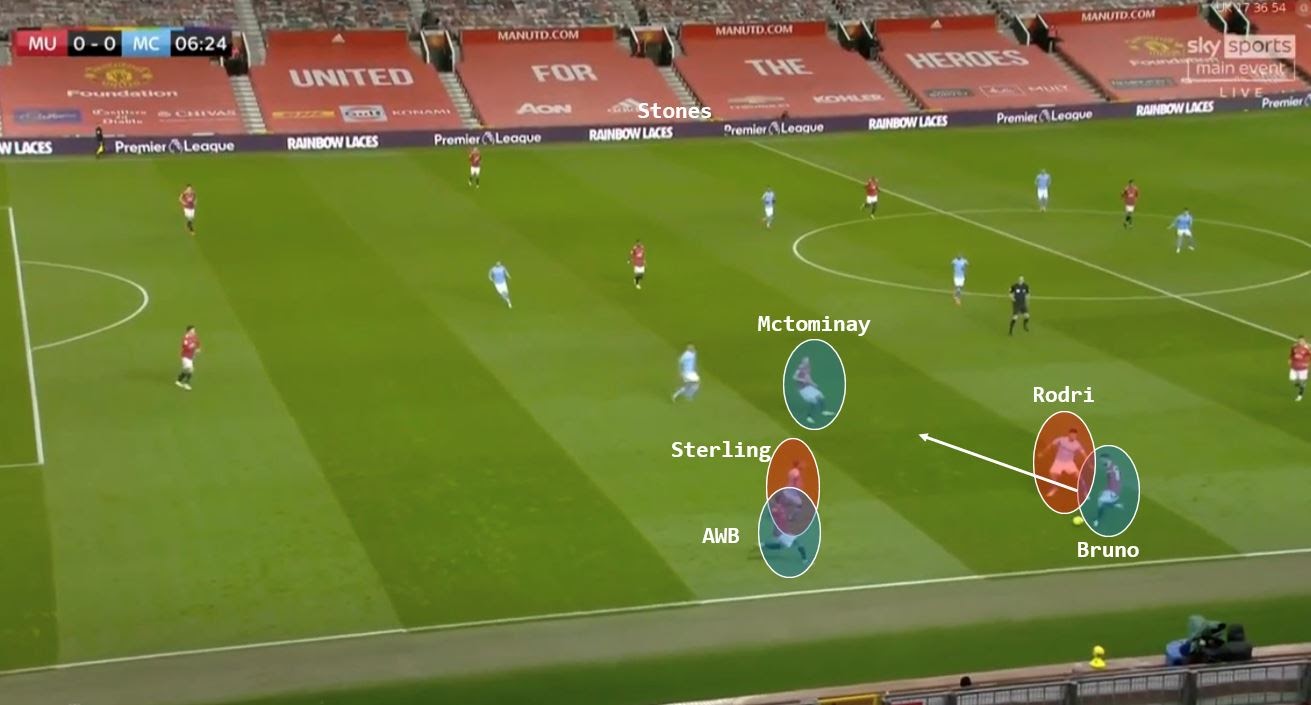 Against Brighton however, these issues within United's build-up were highlighted on Brighton's first goal. Brighton were able to man-mark United's back four and their pivot to avoid ball progression. Matić subsequently had to drop deeper to get the ball but he struggled to get the ball higher up the pitch.
Paul Pogba had the same issues at progressing the ball and both relied on long balls. These long balls led to nothing since United don't have forwards good enough in the air. These struggles to get the ball out the back cost United on the action which brought Brighton's penalty.
Harry Maguire couldn't progress the ball higher up the pitch because no passing lanes were open. Therefore, he decided to pass the ball to Luke Shaw. However, if Maguire was left-footed or thought about putting the ball into space to Matić with his right foot, United could've progressed the ball centrally. United's poor offensive shape combined with Maguire's lack of risk-taking resulted in Shaw receiving in wide areas.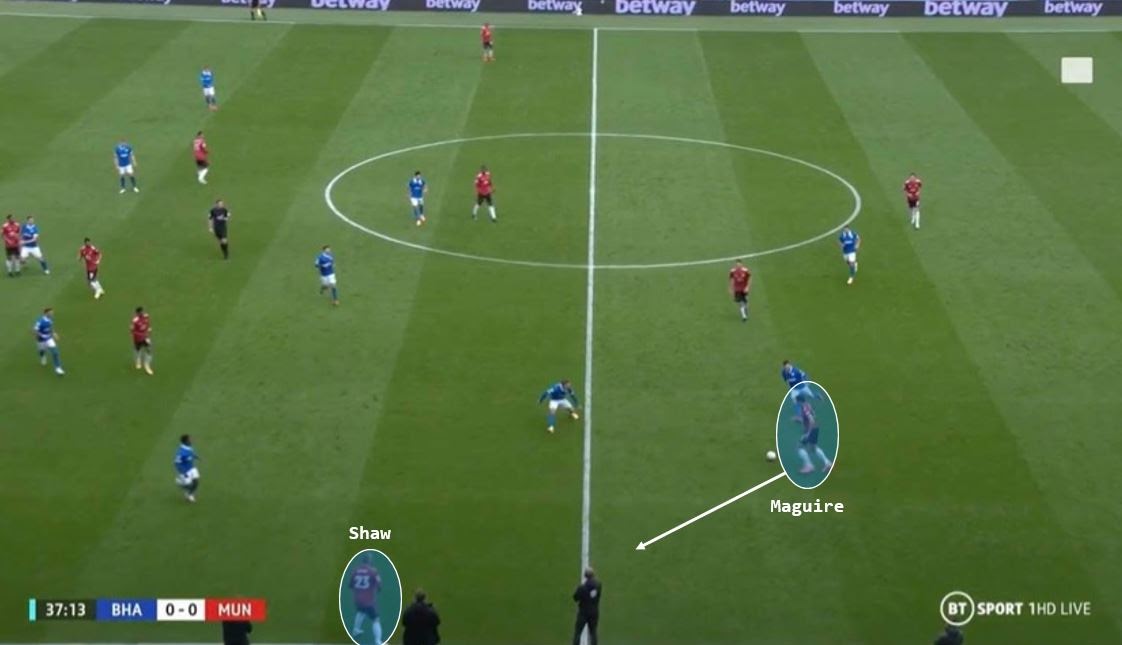 Shaw immediately faced a Brighton player and had to pass the ball back to Maguire, which meant this buildup from United lead to nothing.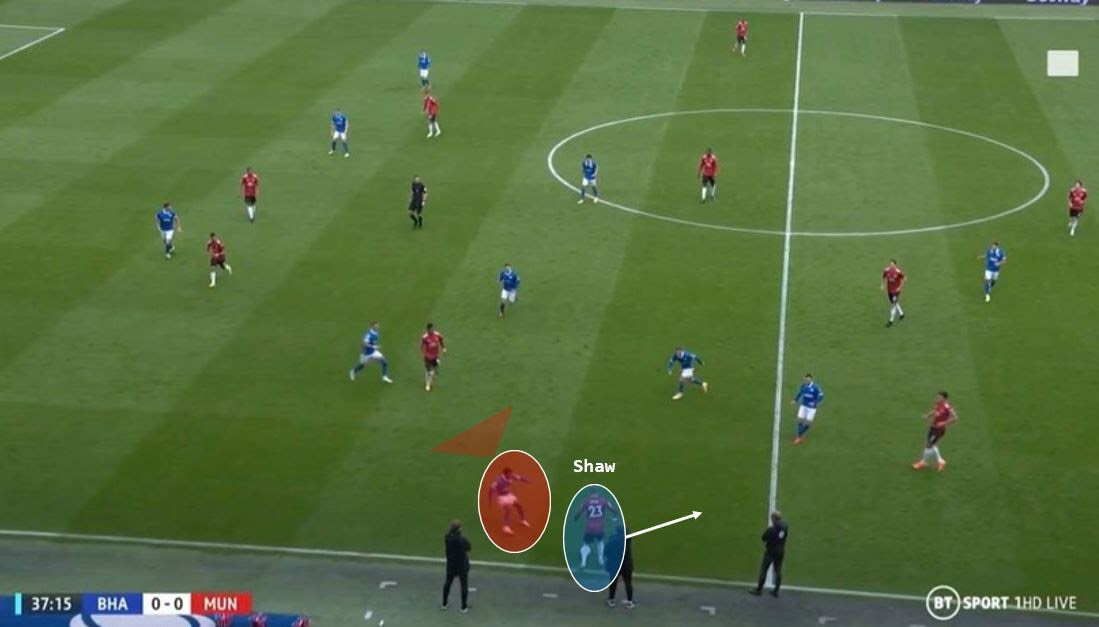 Maguire was pressed but saw Wan-Bissaka on the opposite side. However, by the time he received the ball, the young full-back was pressed by a Brighton player and lost the ball which led to the penalty for Brighton. This action is the epitome of United's ball progression issues since the start of the season.
With United's struggles to progress the ball centrally, Martial often decides to drop deeper to open passing lanes to his teammates. Against Brighton, for instance, he was the only forward asking for the ball and he tried to make things happen. Both disallowed goals from United against Brighton were initiated by Martial.
After dropping deeper to ask for the ball, Martial was able to bypass an entire line of pressure on his own to then find Marcus Rashford alone on the left. However, his English teammate was offside and Mason Greenwood's goal was disallowed.
The same thing happened against Everton. United had a bad start to the game and were finding it hard to progress through the middle after they conceded the first goal. But for their first goal, Martial recognized space between Everton's lines and asked for the ball. By asking for the ball and receiving, Martial helped United advance the play and secure possession for a longer amount of time.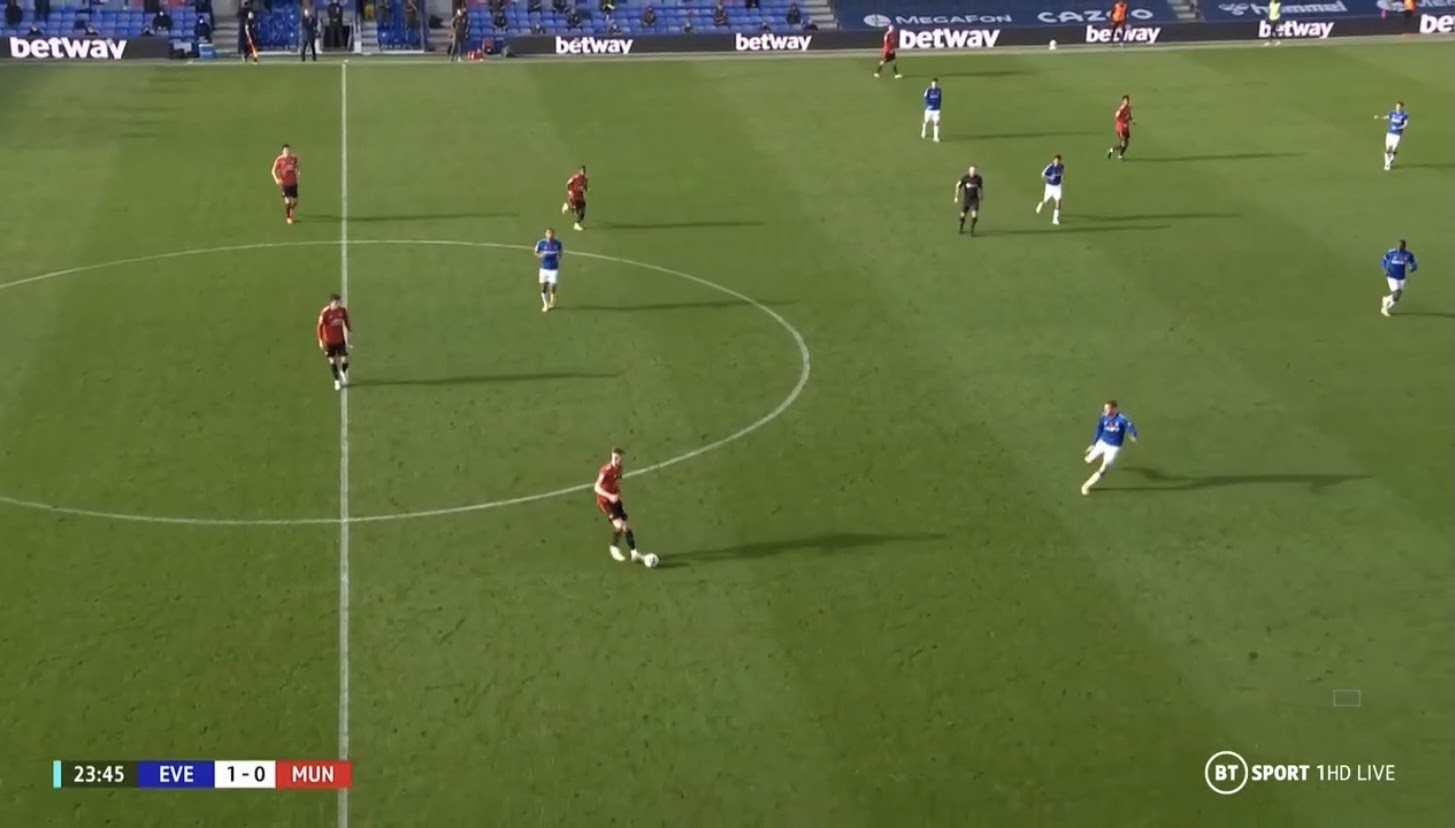 It has to be noted that Martial is receiving around 32 passes per 90 minutes at a success rate of 92%. As a comparison, Liverpool's Roberto Firmino receives 38 passes at a success rate of 68%. Martial is extremely valuable for United in this manner because it helps United progress through the thirds but he is also doing it on a consistent basis. United don't move the ball quickly enough and this is mainly because of the movements from their players.
While it is definitely a positive to see Martial contributing without scoring a goal, Solskjær should be worried that the French forward is not in a position to finish. Indeed, one of the massive benefits of buying Fernandes from Sporting in January 2020 was that the Portuguese pushed Martial higher up the pitch and was the new link between midfield and attack. 12 months forward and he has to drop deep again to be the link within this United side.
The 3-1-6 (or 3-3-4) shape in build-up United used this season could be a viable solution as it suits the profiles United have at their disposal in order to sustain pressure better. So far, they only have 52% possession, 2% less than last season, which is an issue if they want to finally become more consistent. This season, United used the 3-1-6 at the start of the season until it became clear Pogba wasn't suited to being played deeper as the Frenchman wants to influence the play higher up the pitch.
United decided to field four midfielders against Aston Villa, but they didn't use a diamond and went for a 3-1-6/3-2-5 with Pogba higher up the pitch. This system United played against Villa isn't new since they used it multiple times this season with Martial instead of Pogba and Edinson Cavani instead of Martial. They also used it after the restart but the profiles were completely different from those of this season.
Something that was the key to United's improved build-up after the restart was Matic's positioning between the two centre backs. It allowed United's fullbacks to push higher in wide areas and to connect with their wingers and Fernandes to drift on the ball-side when they received it. It also allowed Pogba to have more space to run into in the middle of the pitch.
Finally, the centre backs were wider so the centre back on ball-side provided an extra-passing lane while not being exposed in the middle of the pitch on the break. It also allowed the centre back on the other side of the ball to provide an extra-passing lane for a quick switch of play.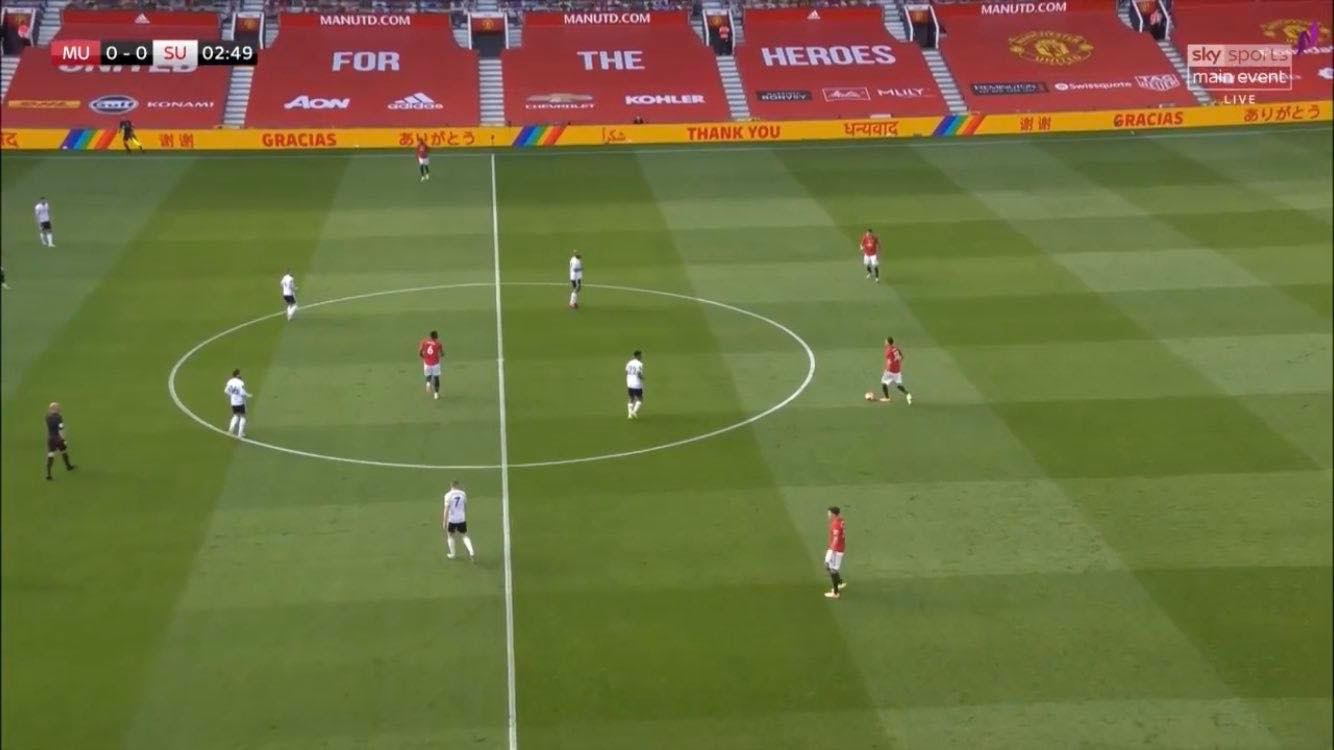 This season, it is much more balanced and the new depth in the team can allow injuries without changing the system. Now, I will look at the various profiles United have upfront to explain why this new system can fit United well.
Marcus Rashford drives at players better but also his shooting technique and the way he attacks the channels suit the right well. His goals between 2014/15 and 2020/21 in the Premier League – except the last one where he solely played off the left – are seen below. You can see that Rashford has quite a lot of goals from the right side even though he has almost never played off the right wing according to Transfermarkt (20 games compared to 120 off the left and 110 upfront).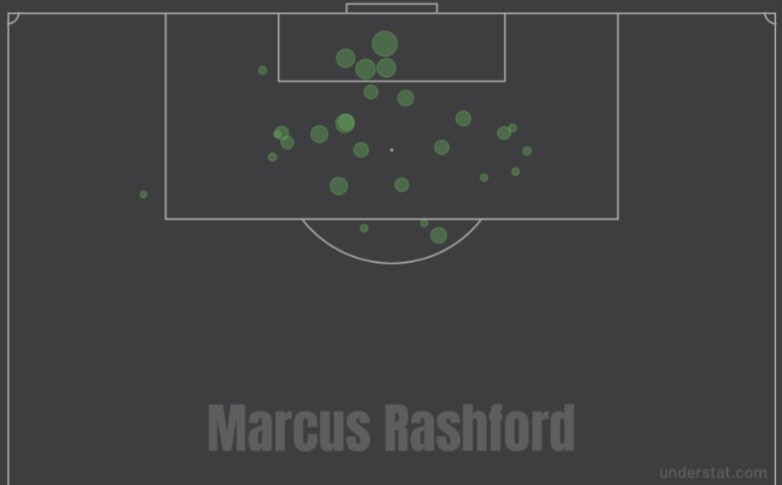 Photo: Understat
We saw another example of this in one of Solskjaer's first matches in charge when Rashford provided the sole goal in a 1-0 victory against Tottenham Hotspur at Wembley Stadium, using his goalscoring instinct whilst playing off the right.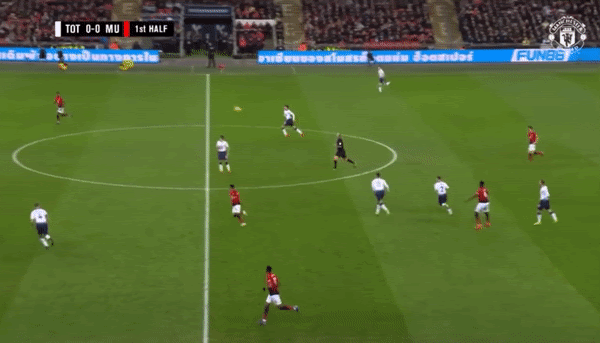 Going up against Aston Villa, Rashford's pass towards Fernandes gives dynamism to United's attack and Pogba helps Martial by his runs into the box as the latter won't be alone within the box despite Rashford being wide right in this 3-2-5 system.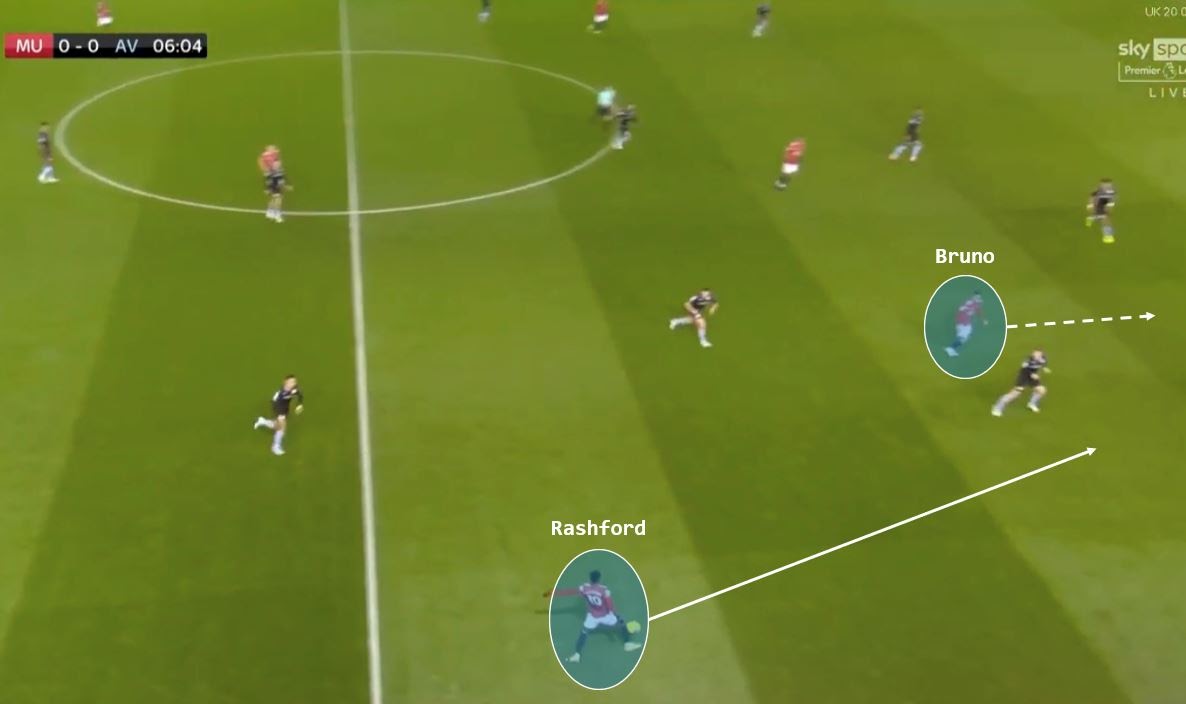 Pogba can now play higher up the pitch where he is afforded more freedom in his movements, which players like him thrived off. The Frenchman is now able to receive the ball either wide and allow Shaw to underlap or connect with Martial and Fernandes in tight spaces when inside.
It also allows Fernandes, Pogba, and Martial to find space when there aren't any thanks to their technical facilities. But, more importantly, you can now replace Pogba by either Jack Grealish or Jadon Sancho without seeing any difference to your system.
Finally, I will talk about what the system really means for United in deeper areas. When they play in a 3-2-5 with Wan-Bissaka as the third centre-back off the right, the latter can connect easily with Rashford as Rashford will provide the width due to his direct profile on this side. They have two holding midfielders that prevent transitions but one of them (Fred) can open passing lanes thanks to his movement.
When Rashford comes inside and allows Wan-Bissaka to get forward, it becomes a 3-1-6. There is access towards Pogba in the left half-space from Fred with his left foot. McTominay can sometimes drop deeper off the right to allow Fred to receive as the lone pivot as well.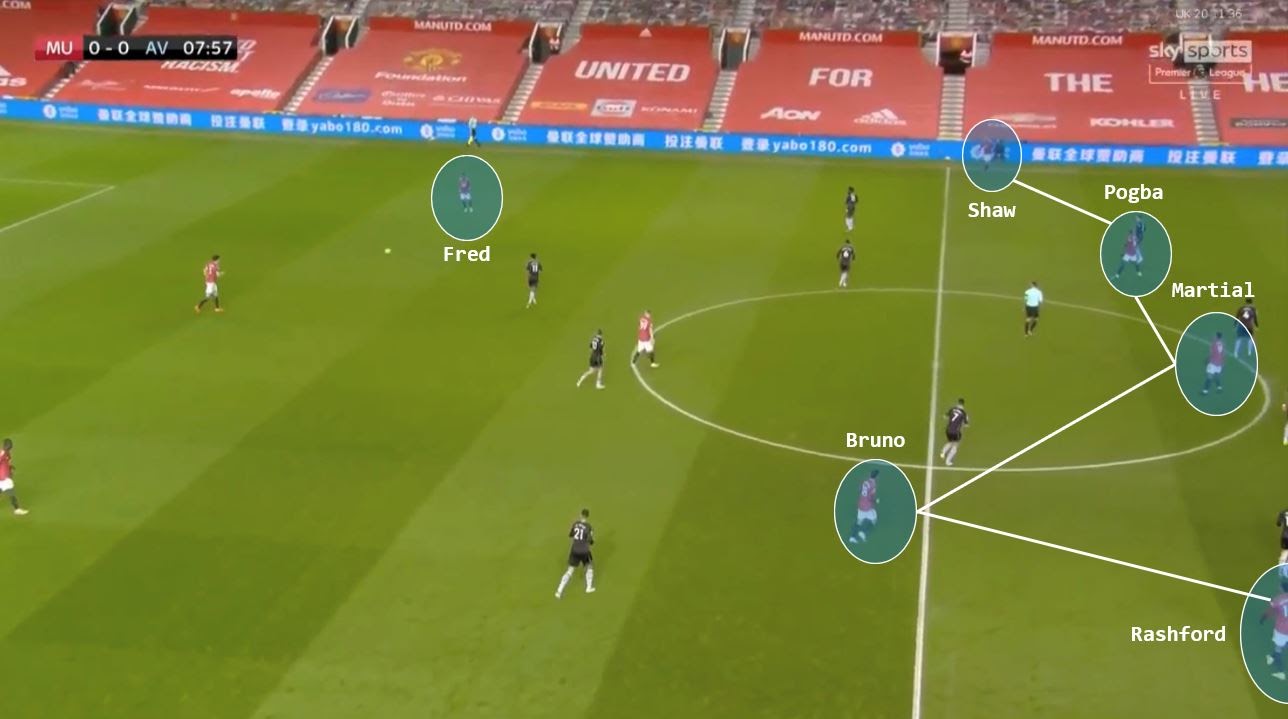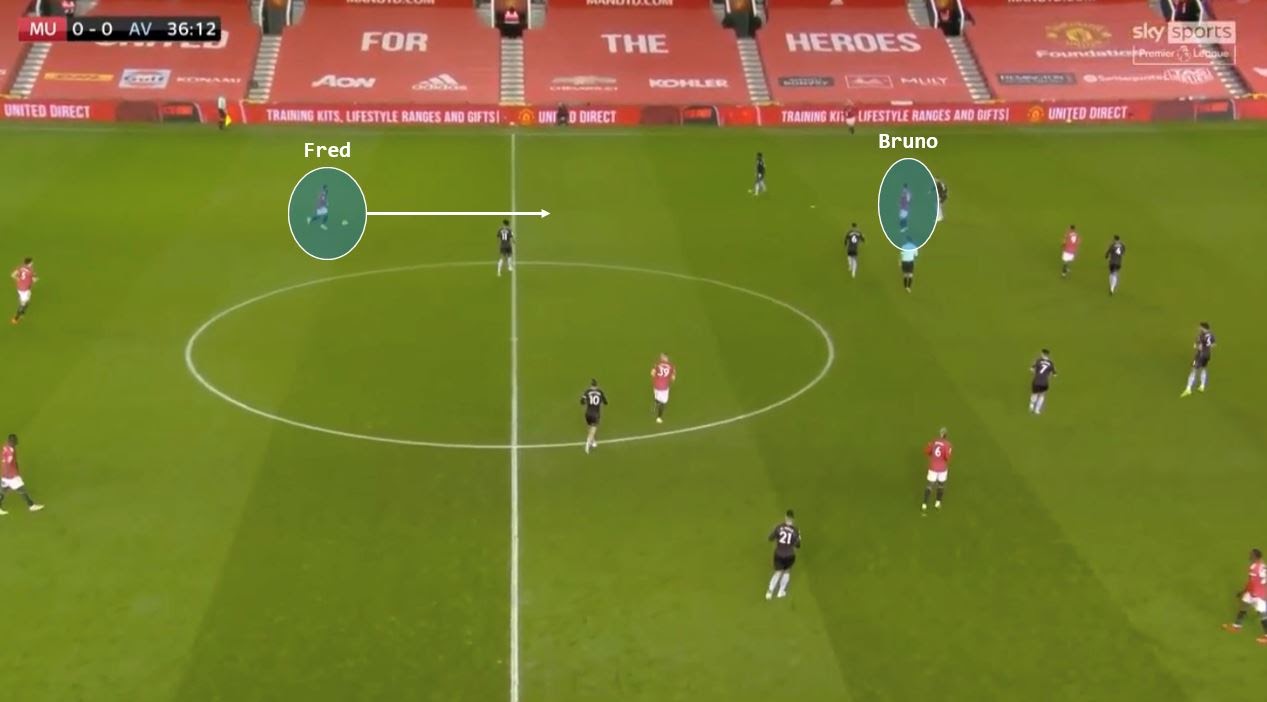 It also happened when Pogba came in against Leicester; Fred was easily able to access to Pogba through the left half-space.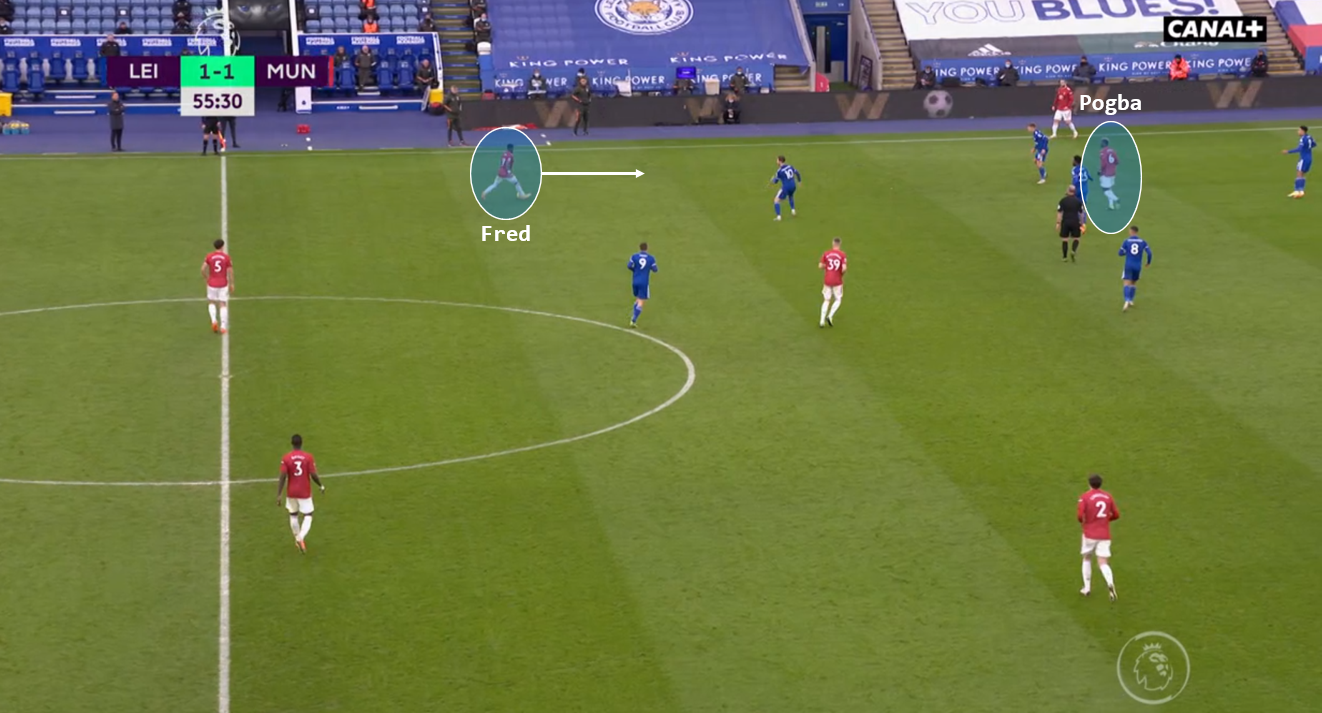 The 3-1-6 gives you three major things; firstly, it gives you extreme width at any time thanks to your two full-backs being wide.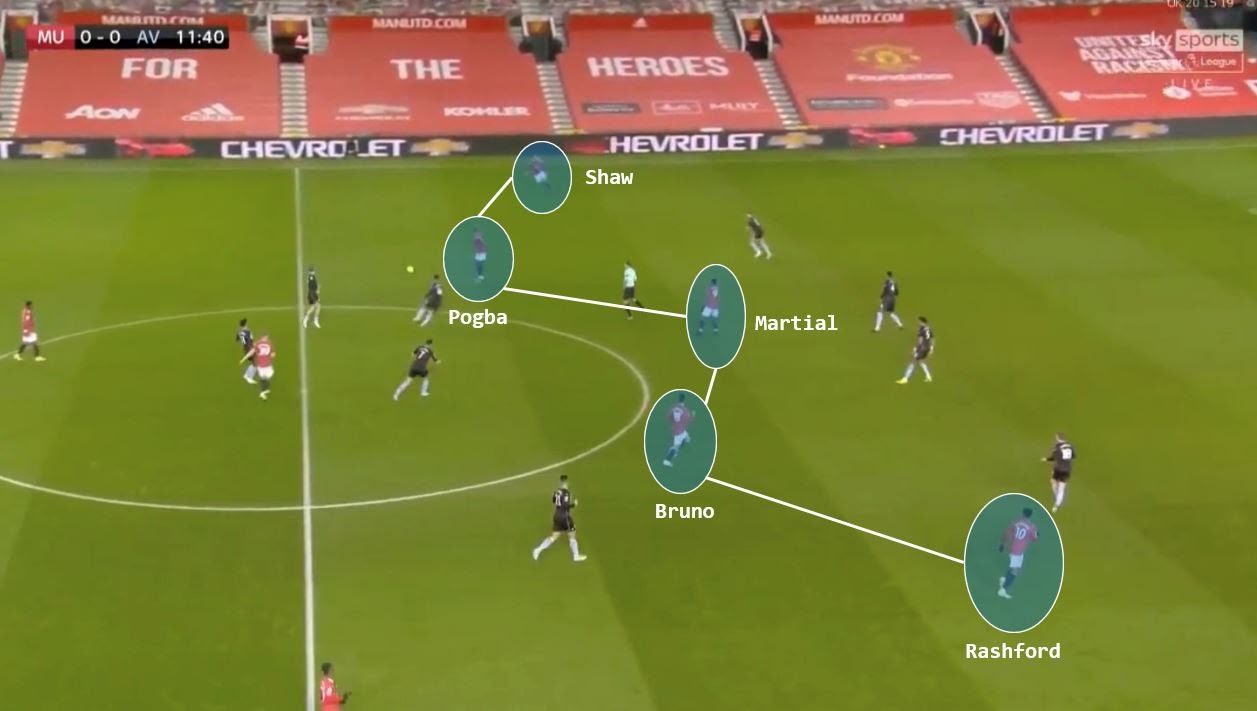 When you look at United in sustained possession with only five forwards, they mainly play through the left, hence why Wan-Bissaka will be alone off the right.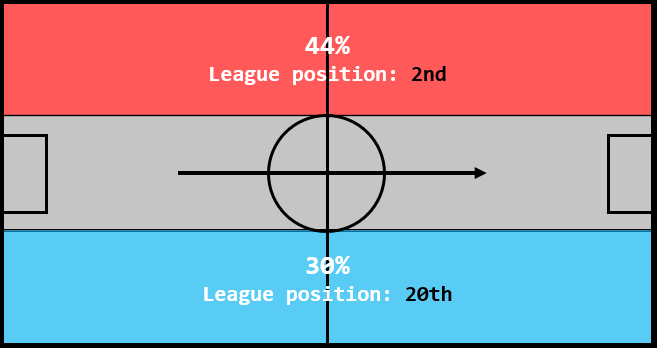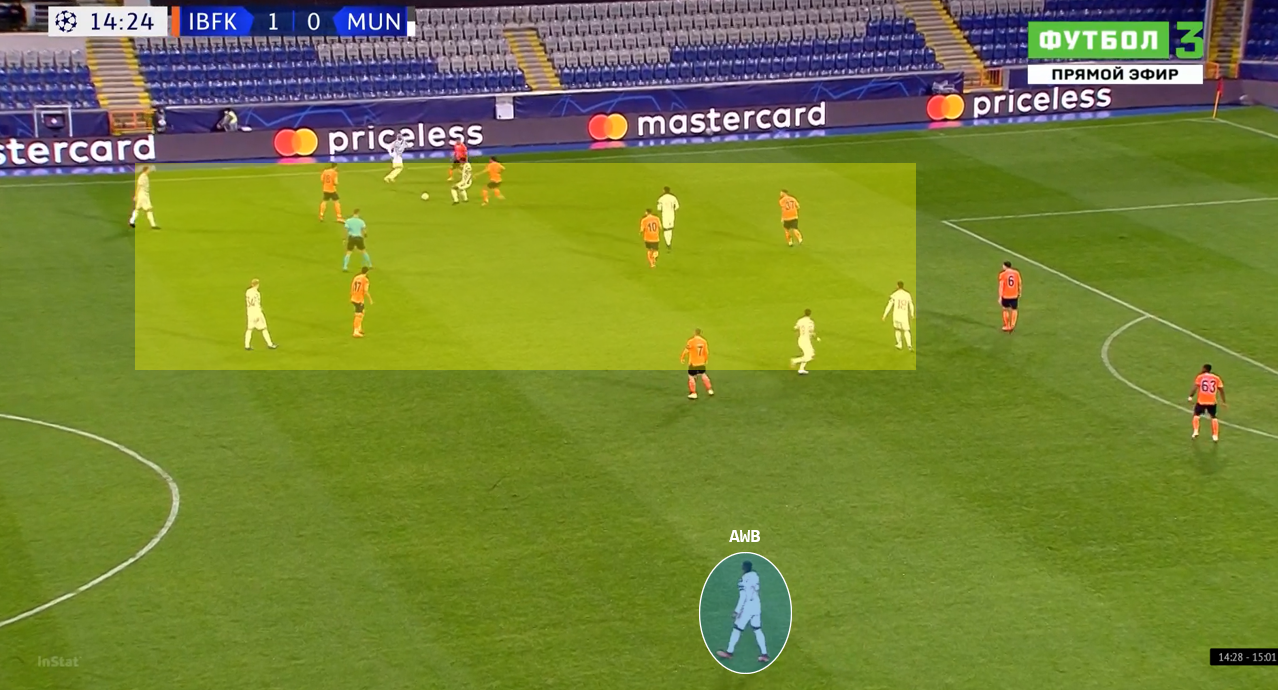 This is why the right back has to stay inside, as seen above. Indeed, the right back has to be close to his other teammates to prevent the efficiency of any possible transition from the opponent but it's also a way for his teammates to easily connect with him if they want to circulate the ball to the other side. The 3-1-6 solves this thanks to the extreme width from Wan-Bissaka as it pushes him wider, as said above.
This also gives you more space to attack inside for four players who thrive off interchanges as it stretches up the opponent's backline, and finally, it gives you more players into the box. You now have four players who have the instincts to get into the box, which means your fullbacks have more options to cross to. United scored from a cross against Villa.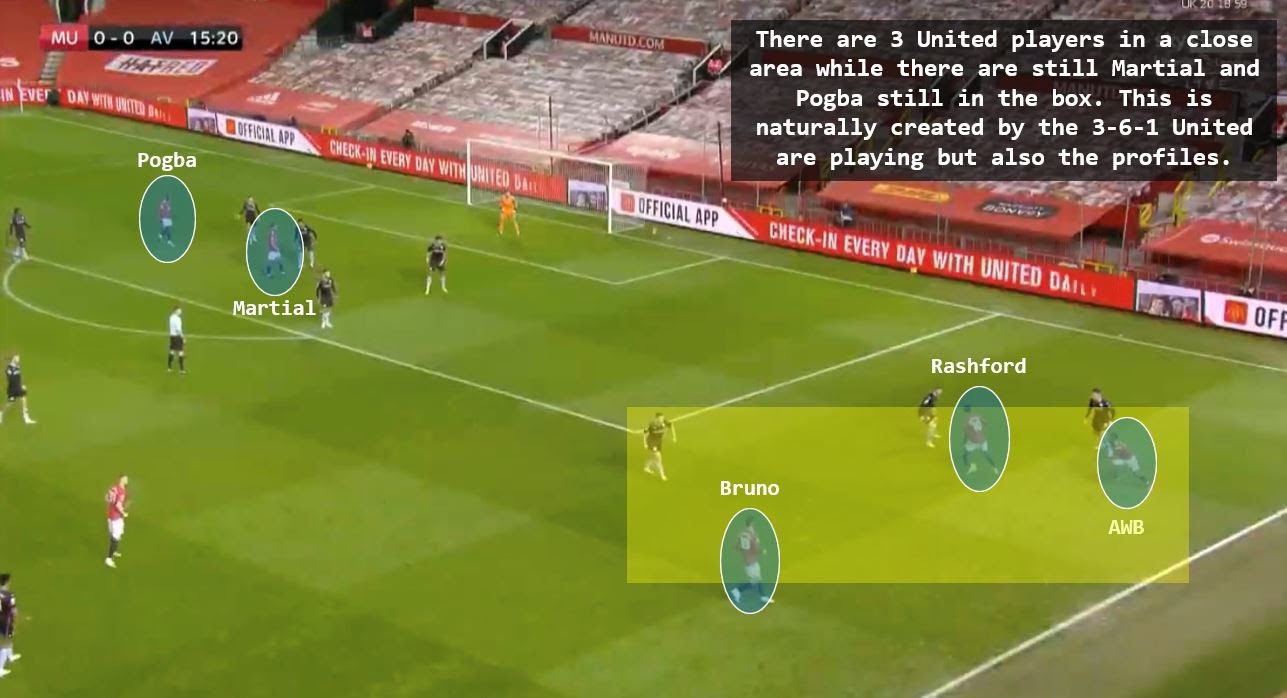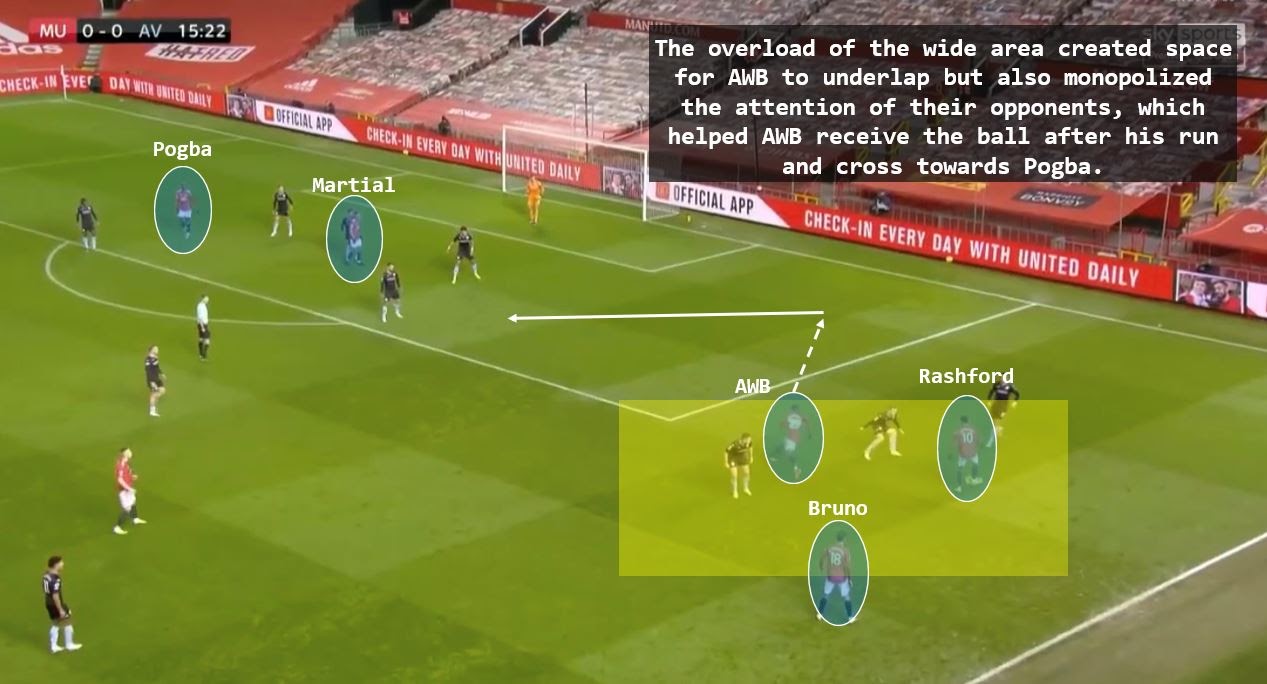 You can see below that Shaw is free as the opponent doesn't defend with 6 players on the last line. Maguire is able to reach Shaw into space, which created dynamism. And now, four players are close to or inside the box.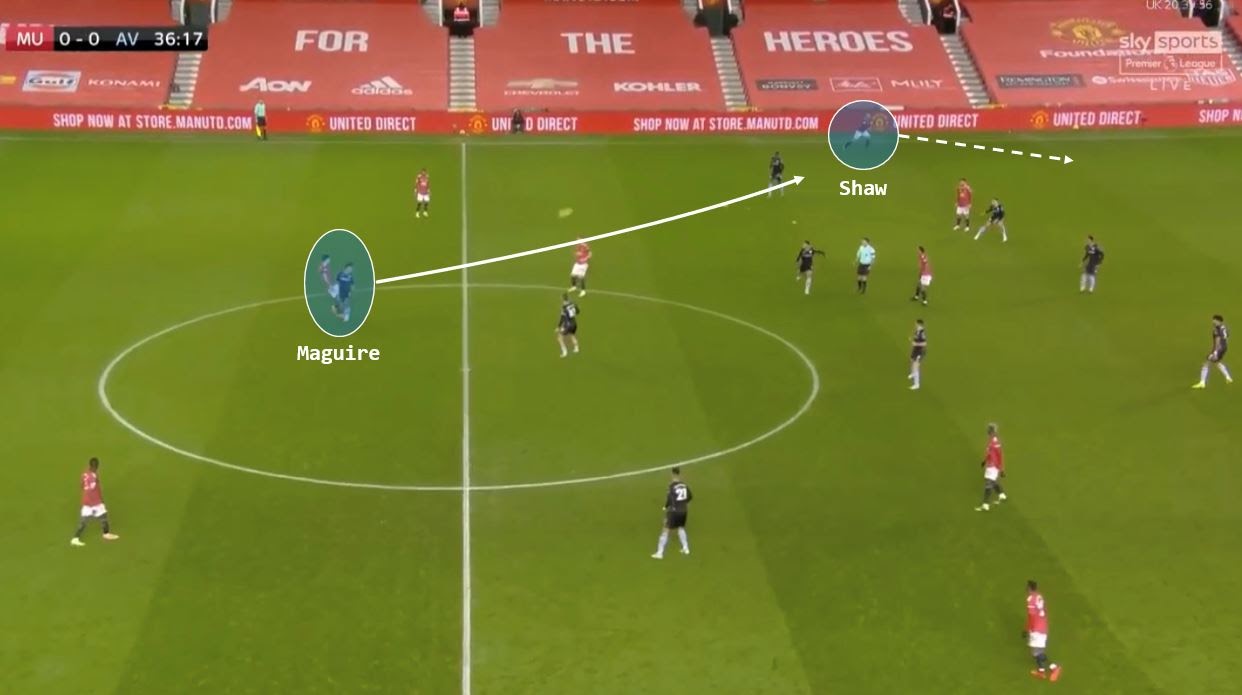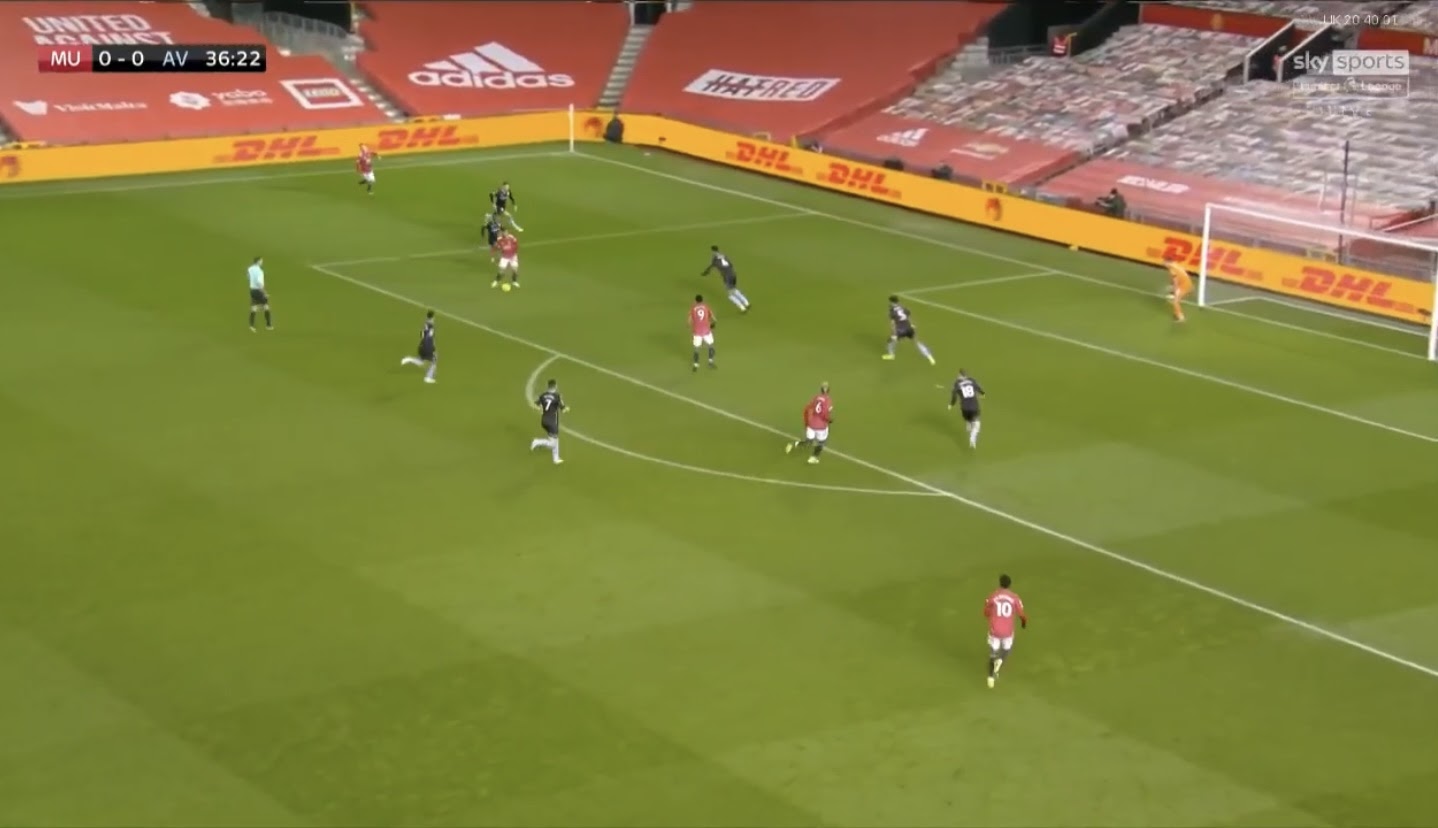 An added benefit to this system is the possibility it can give the coaching staff if someone is out. If Pogba is injured, Martial can replace him in that role. If Rashford is injured, United now have Amad Diallo in that role. The former Atalanta winger loves to keep the width off the right despite being left-footed, as seen below.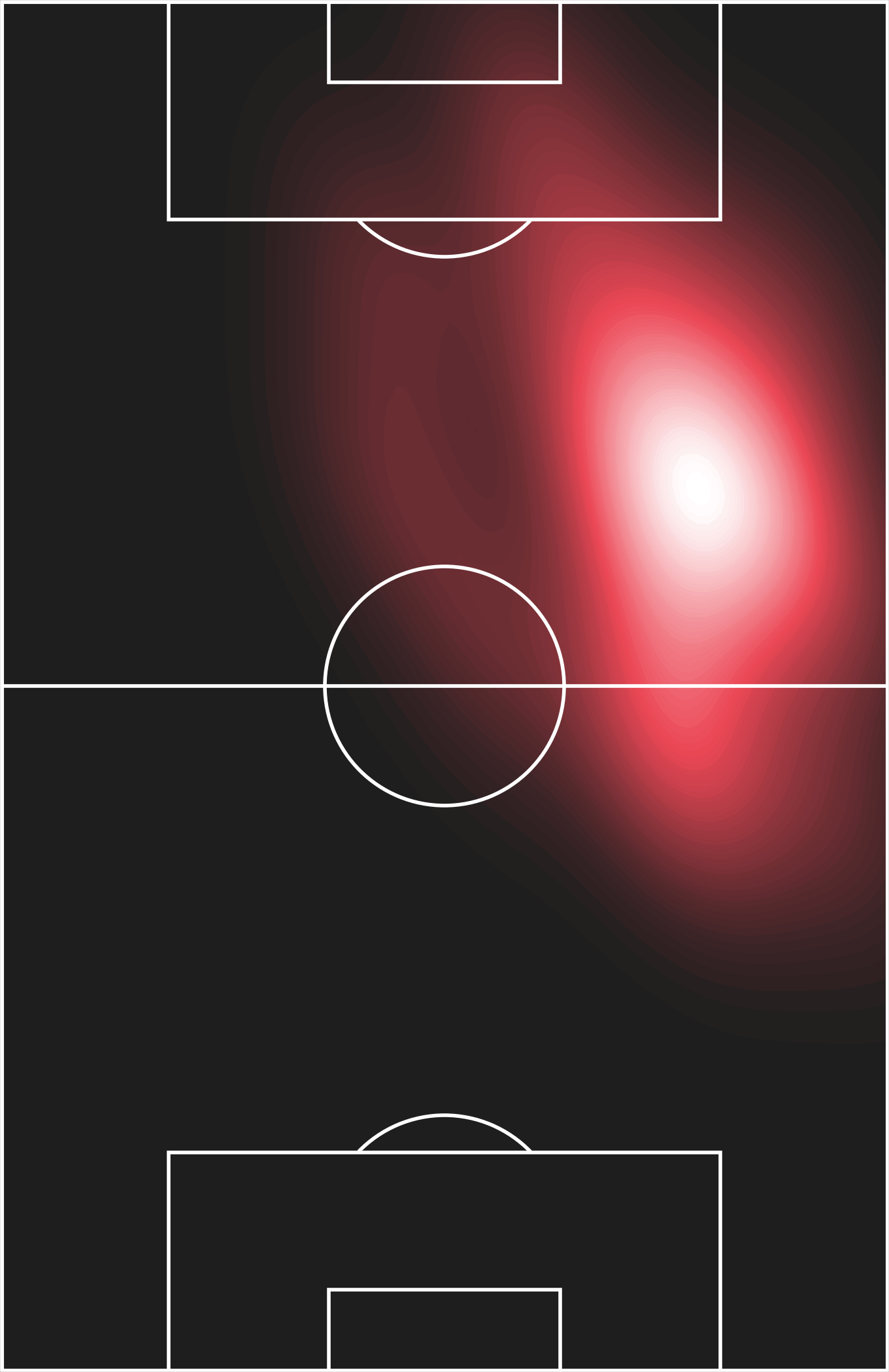 Photo: Twenty3/Wyscout
This system United played against Villa isn't new since they used it multiple times this season but not only it's the best system to get the best out of Pogba, it's also the best system to get the best out of Rashford. Martial and Fernandes who thrive off little flicks and interchanges will also benefit from this.
United's Defensive System
A massive change I have noticed this season is in their press. United are now able to press according to game state and team shape, even though it is still inconsistent (this bloody word doesn't seem to go away in this piece). 
Against Manchester City this season, United were able to either defend in a 4-4-2 or in a 4-3-3 according to the movements from their opponent. If João Cancelo was inverting, Pogba followed him. If Fernandinho formed a back three, Pogba was also coming inside and a front three with Fernandes, Rashford and Martial was formed.
Now, let's talk about the variations in their pressing. When you press your opponent in their defensive third, you can do two things. You can force your opponent to play in wide areas by closing the middle of the pitch or you can force him to play in the middle of the pitch (either by a long ball or a ground ball) where it's more crowded, hence the greater chance to recover the ball and immediately create a goalscoring opportunity if you are in your opponent's defensive third when the recovery occurs. United are now able to do both and pick between both according to game state.
In their 5-0 win against Leipzig, United decided to close the middle of the pitch to force Leipzig to find wide areas. In the stills below, you can see Martial deny the pass towards the right centre-back while Donny van de Beek closes the inside, effectively forcing Péter Gulácsi to find his left-sided centre-back. Once the Leipzig player has received, Van de Beek moves accordingly and closes the passing lane inside. Greenwood's positioning prevented the opponent from carrying the ball and getting out of the press, hence why the Leipzig player decided to play long and United recovered the ball in their own half.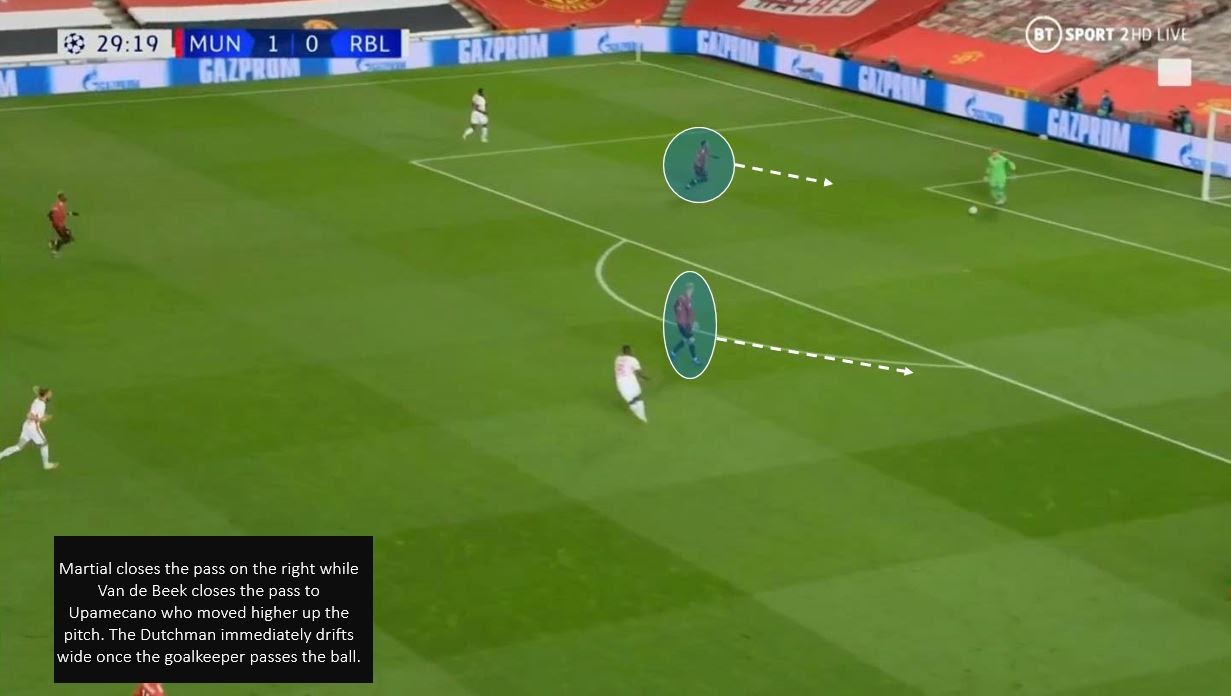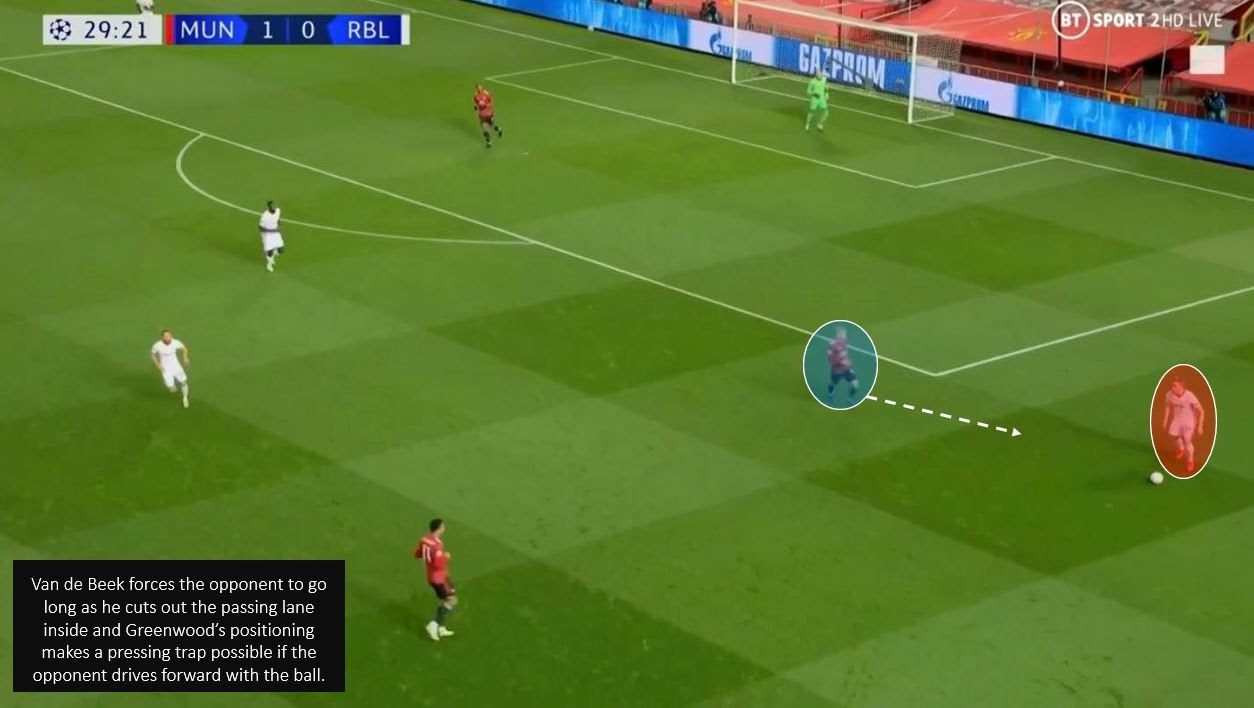 Against Leicester however, you can see that United adopted a different approach. Once they forced the ball to go wide thanks to Fernandes and Martial's cover-shadows in the middle of the pitch, Rashford was tasked to close the passing lane on the outside. Pogba was often doing the same on the opposite side and I have other examples from other games where United closed the wider area to force the play inside.
When you don't use the touchline to set a pressing trap and decide to prevent the opponent from driving forward with the ball at his feet, you need to pack the inside of the pitch in order to recover the ball quickly. However, United failed to do it.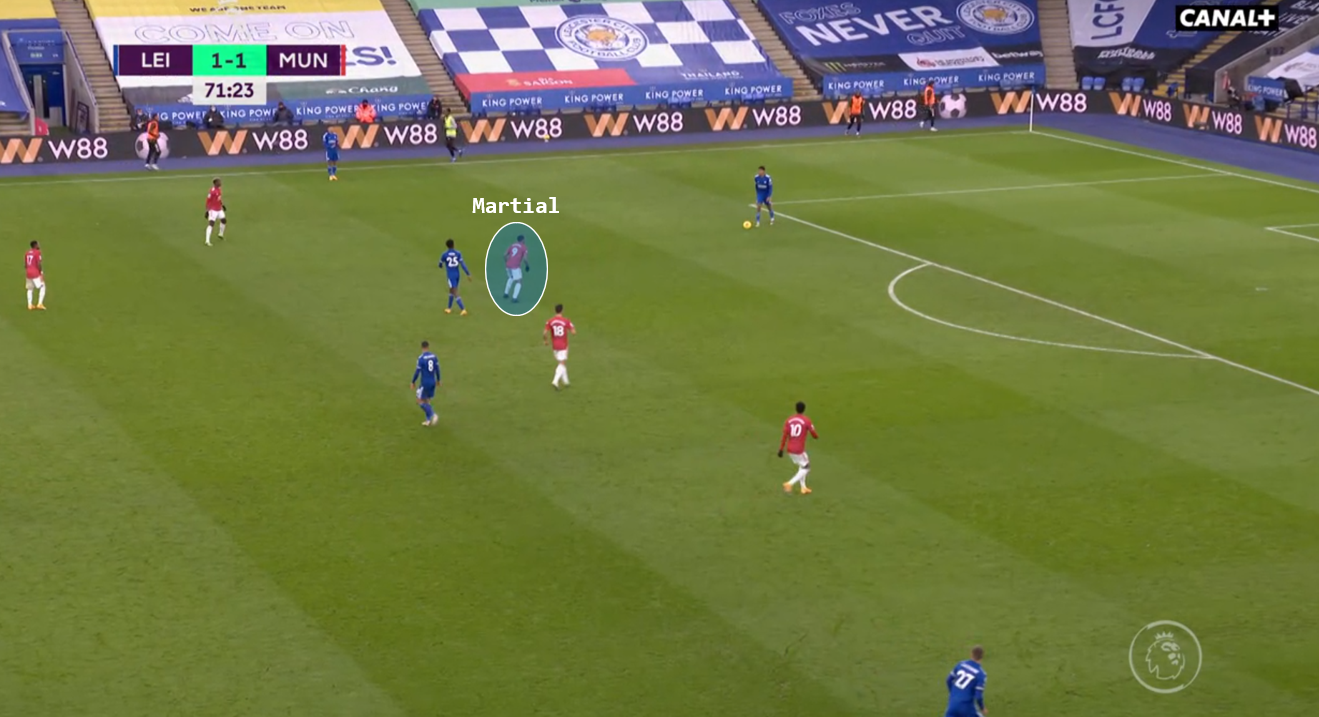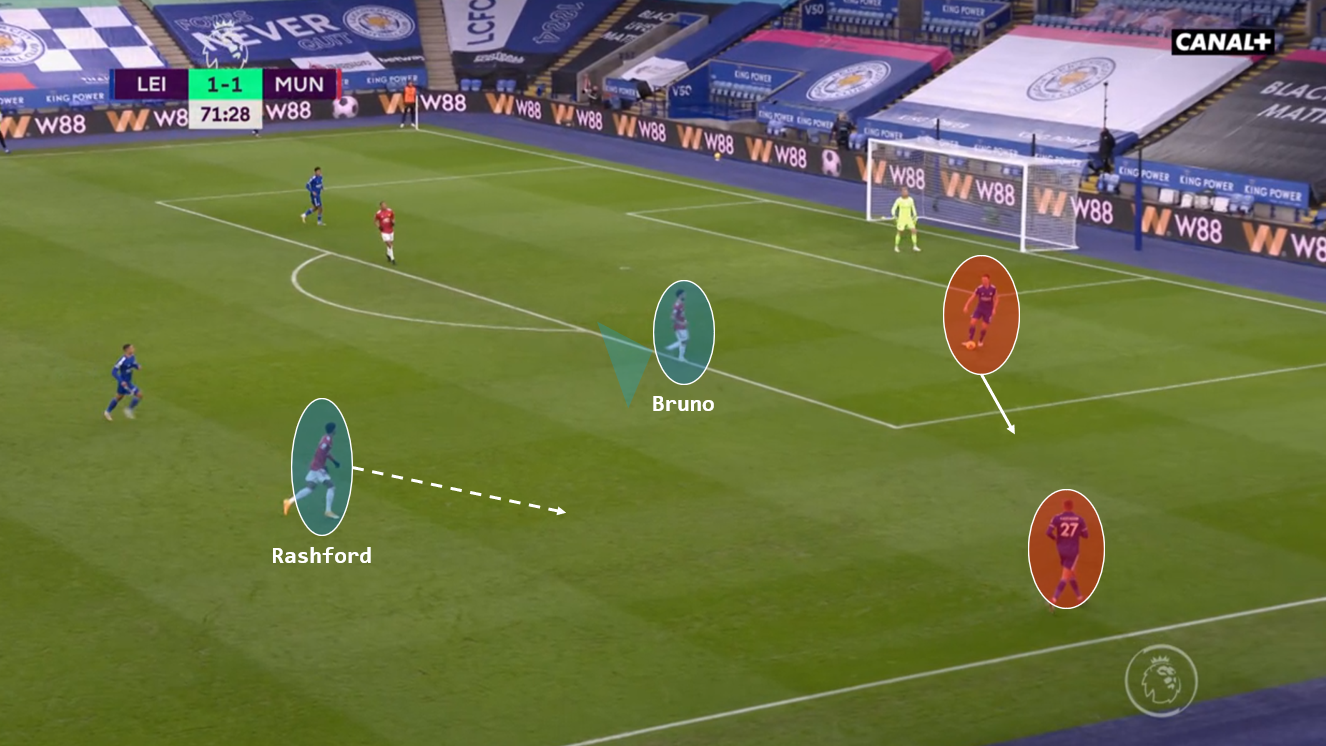 Once Timothy Castagne – who is a right-footer with a good left-foot that would've allowed him to carry the ball forward if Rashford showed him the outside- received the pass from Johnny Evans, Rashford showed him the pass towards Youri Tielemans and Castagne logically found Tielemans into space. The issue United encountered here is that nobody was there to contain Tielemans and the Belgian was able to turn and face the play. He had enough time to find James Maddison higher up the pitch who was able to carry the ball into United's half.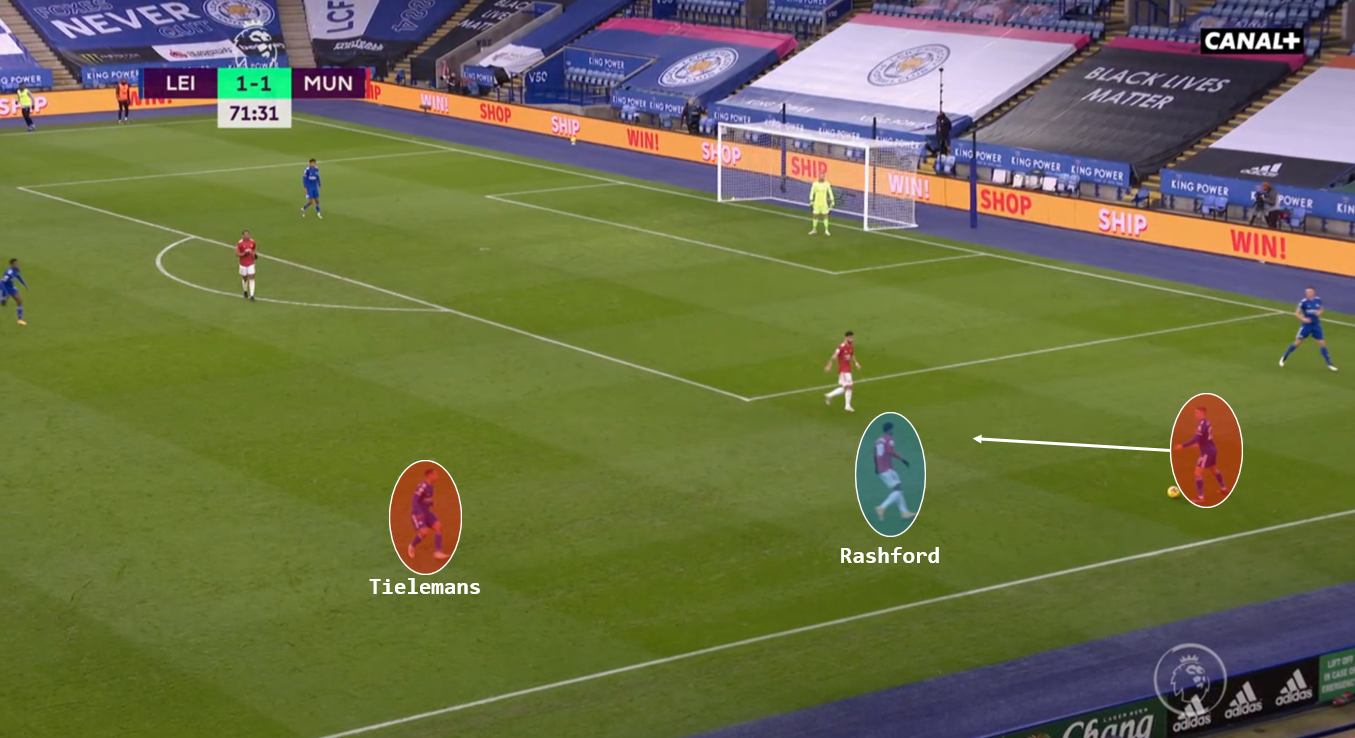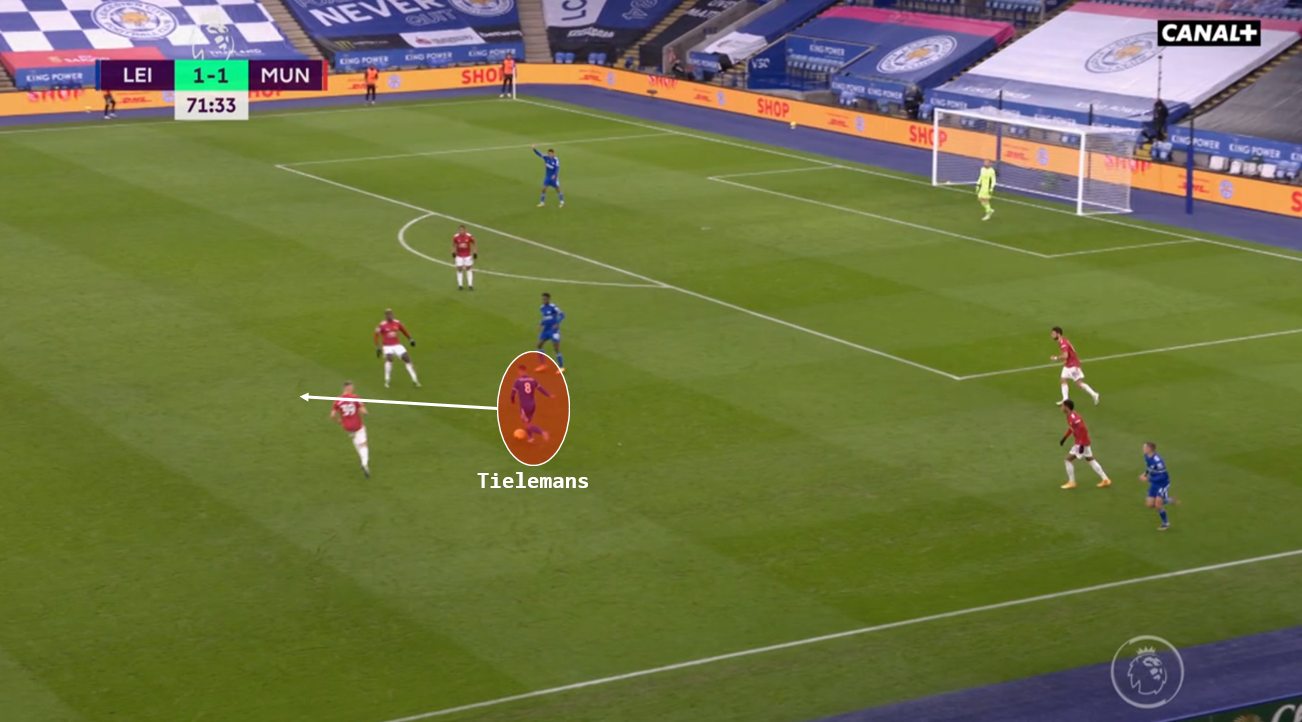 We can definitely see United have improved in their pressing structure this season but they are still inconsistent in doing it, the same as the way they approach their build-up. In a chess game, if you are able to execute the first move, it's great but useless if you haven't prepared for the second and this is exactly what is happening for United right now.
They execute the first move well but the second move hasn't been anticipated. Another reason as to why they struggle in this part is their commitment. If you want to recover the ball when you are in your opponent's defensive third, you need to be 100% committed and United players aren't always committed in that regard. They often step out to only close passing angles when an approach where they also have the will to take the ball off their opponent's feet would be great.
United have known a bigger issue than their inconsistent pressing when they are in their own half. They are still conceding from crosses towards the back post, something that already cost them a Europa League final last season. In the last 15 minutes against Brighton this season, the Seagulls overloaded the right side of the pitch to find a free player through quick combinations. Those quick combinations resulted in Brighton players being isolated at the back post on multiple occasions.
In the still below, nobody is covering Solly March at the back post as United players are attracted to the middle of the penalty box.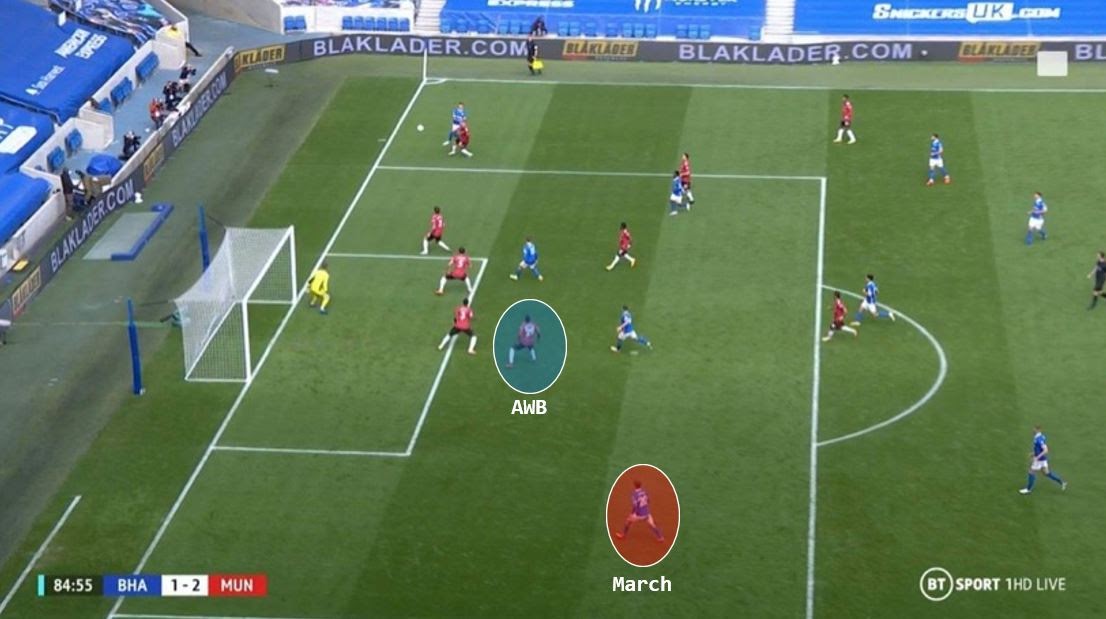 This movement resulted in a goal from Brighton in the 94th minute, with Fernandes and Wan-Bissaka not communicating about March's positioning.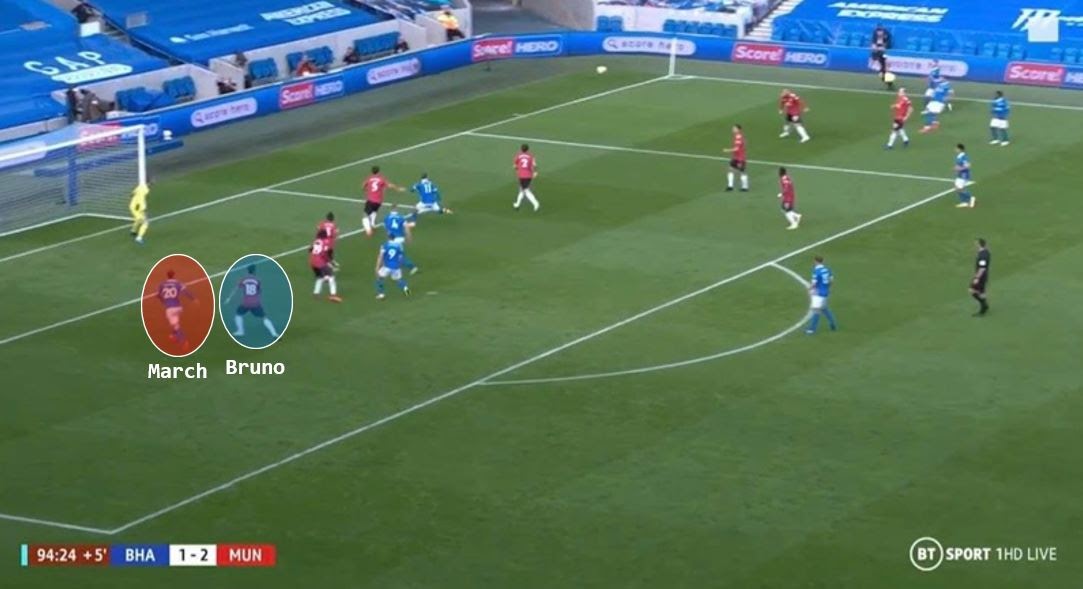 This lack of communication already was an issue against Sevilla in the Europa League and something United's coaching staff should have tried to solve as quickly as possible but it has happened later on this season and cost United multiple times already. Their last Champions League game of the season against Leipzig is one example out of many, and it cost the Red Devils their ticket for the Round of 16. It even happened both during this game, once on Wan-Bissaka's side and once on Alex Telles' side.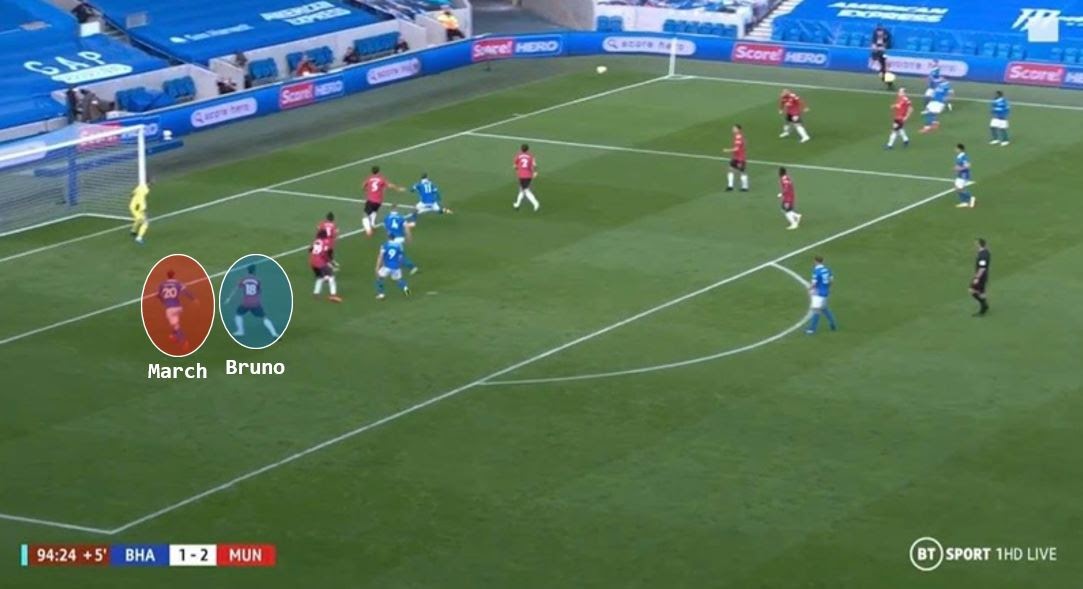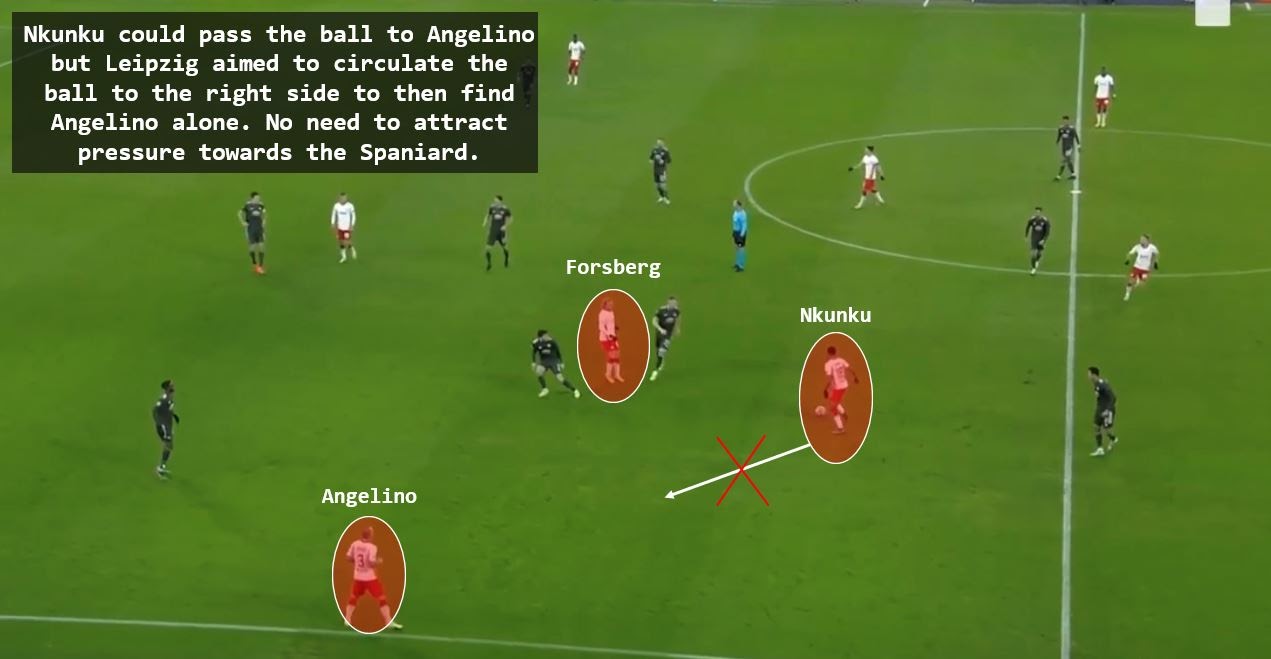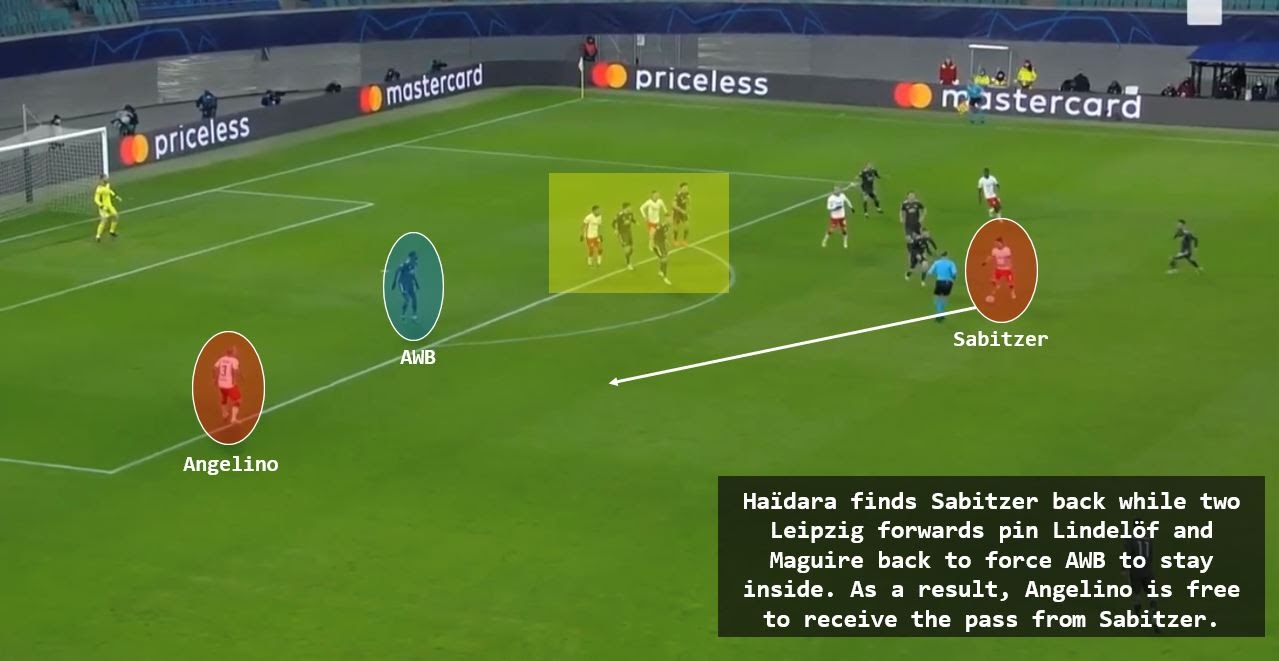 In the stills above, we can see that Amadou Haïdara was alone at the back-post because Shaw's commitment higher up the pitch during the press forced Telles to defend the closest Leipzig player to David De Gea. Once again, it's a situation where United's press was exploited by the opponent.
United's Struggles to Defend Set-Pieces
Manchester United are out of the Carabao Cup semi-final after their 2-0 loss against Manchester City. The Cityzens were able to take the lead from a set-piece, which raised questions regarding a major weakness in United's game.
29% of their goals conceded so far this season have been from set-pieces. One goal was Martial's own goal vs PSG and another one was James Ward-Prowse's direct free-kick. However, there are still 5 other set-pieces United conceded from this season and it's way too much. In this part, I will look at the goals conceded from set-pieces by United this season to reflect on the issues and what could be improved upon.
Firstly, let's take a look at the setup. United use a mix of zonal and man-marking, with the striker and the advanced midfielder at the near post. Sometimes, there is an extra-man when both Martial and Cavani are playing. This is seen below.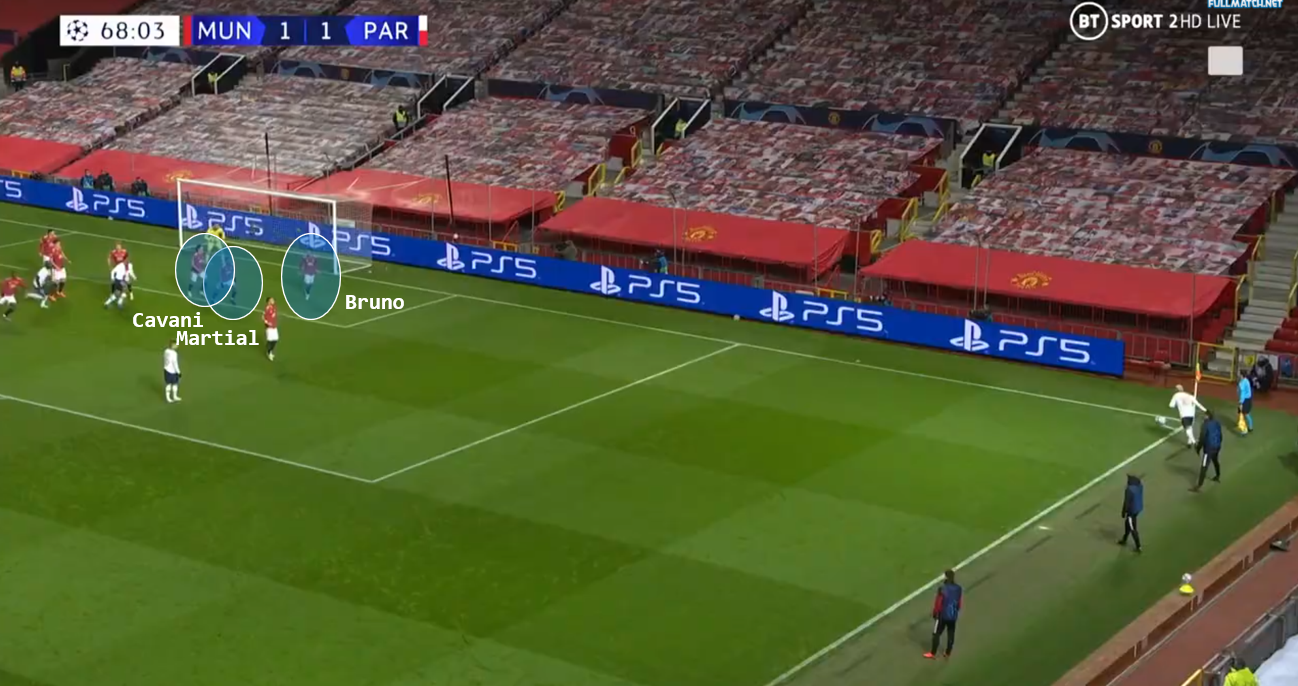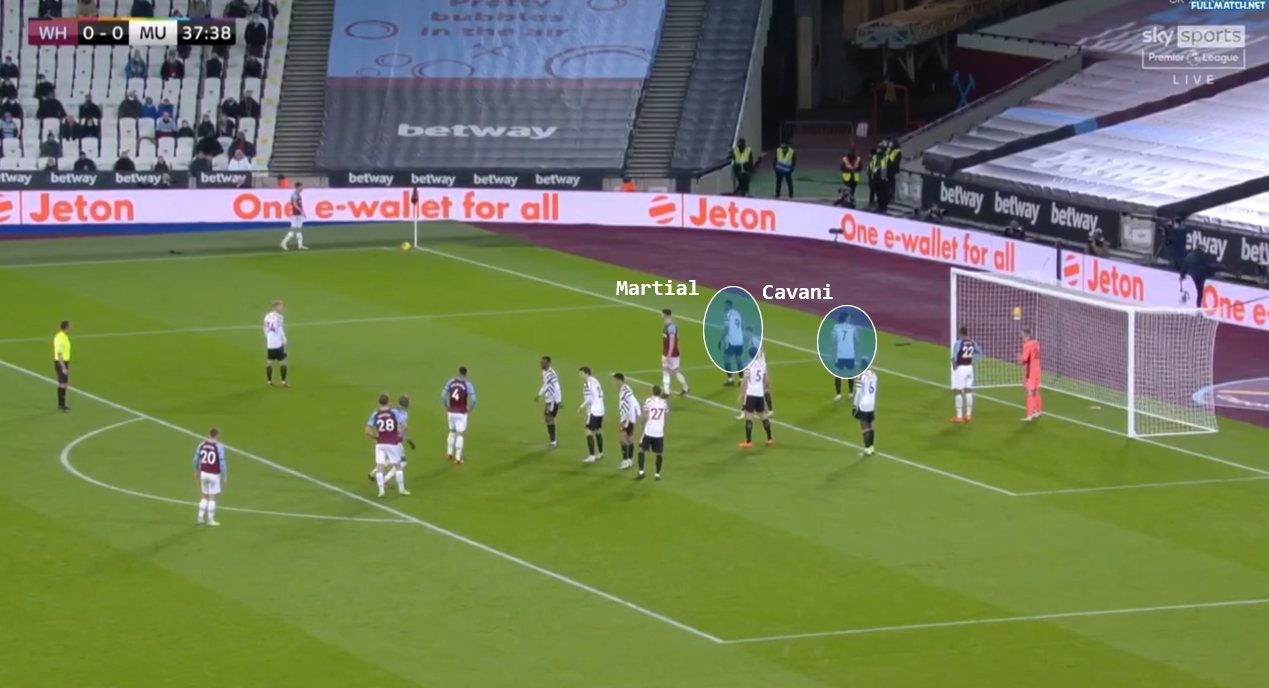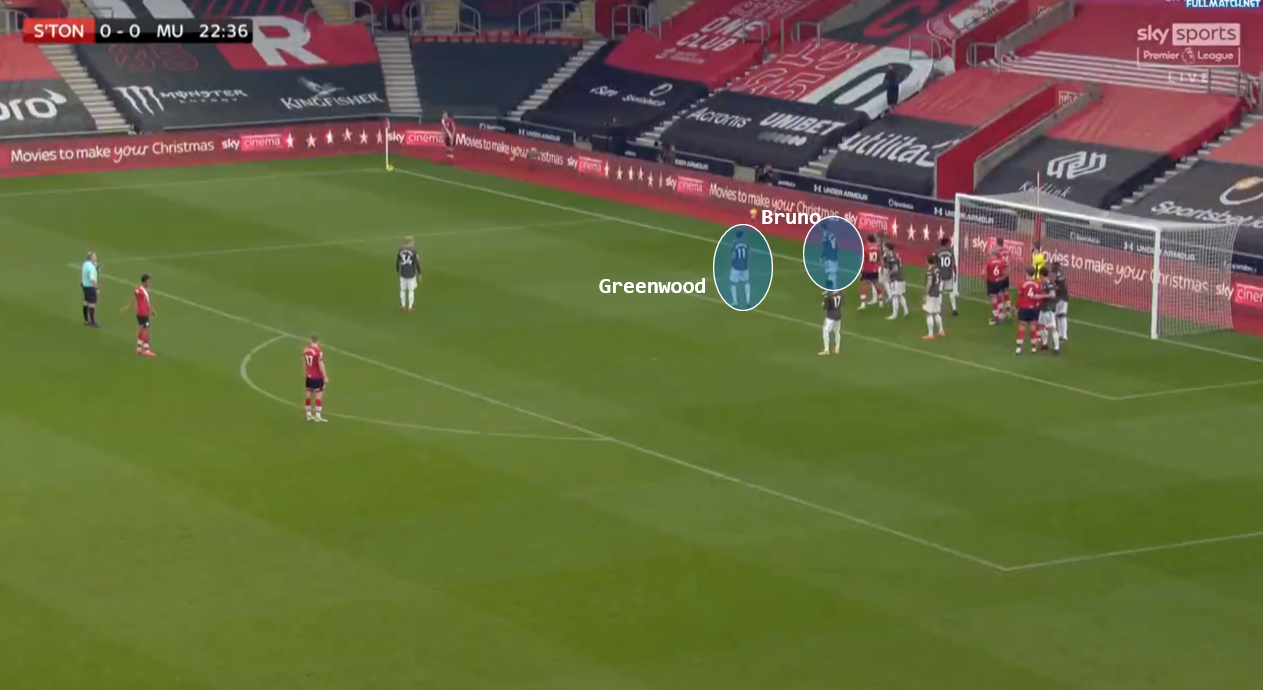 I'm not necessarily against Fernandes and Martial as United's first men at the near post but you will see that it cost United twice. The thinking behind this is that the first man will inevitably be beaten by the set-piece taker so there is no need for a player over 6 feet (i.e. Cavani or Shaw) instead. This is seen below with Martial being too short to get the ball.
When you use zonal-marking, you need one of your three tallest players to be in the middle of the 6-yard box and one at the back post. You generally need one at the near post as well but United decided to have two of their tallest players in the middle instead. 
When you add Lindelöf to both McTominay and Maguire already in the middle, you can question why one of McTominay or Lindelöf isn't at the near post preventing the situation highlighted below to happen. You might now tell me that zonal-marking is the issue but most teams are now using a mix of zonal and man-marking, like United.
Rafa Benitez's Liverpool were using zonal marking when defending corners and this aroused a lot of debate. In the majority of cases it was shown that zonal marking was more efficient than man-to-man marking.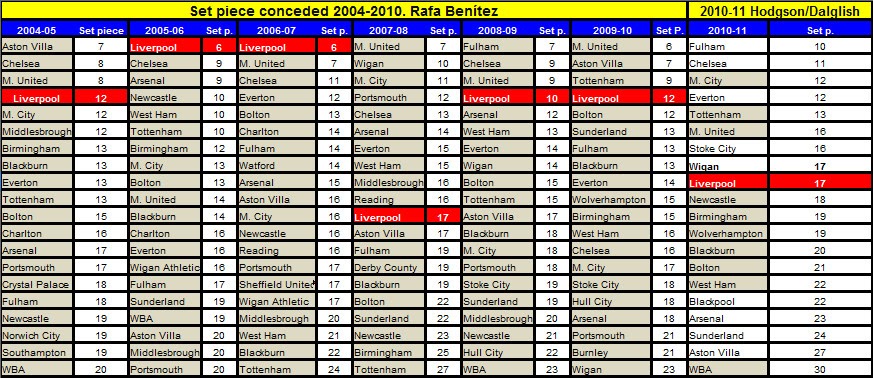 Benítez also said that the system shouldn't necessarily be blamed for conceding goals at set pieces but it will always depend on the determination, concentration and ability in the air of the players at the moment of delivery of the set piece.
This is what I want to come to. Even though it's proven to be more effective, zonal-marking will suppress something extremely important when defending set-pieces: Accountability. If you are marking a zone instead of a man, you can rapidly become distracted by a lack of focus: this is accountability, which was highlighted by Maguire against City yesterday.
United were in a numerical superiority in the box but despite this numerical superiority, they conceded and Maguire was the main culprit; you can see him losing his focus which prevented him from clearing the ball out.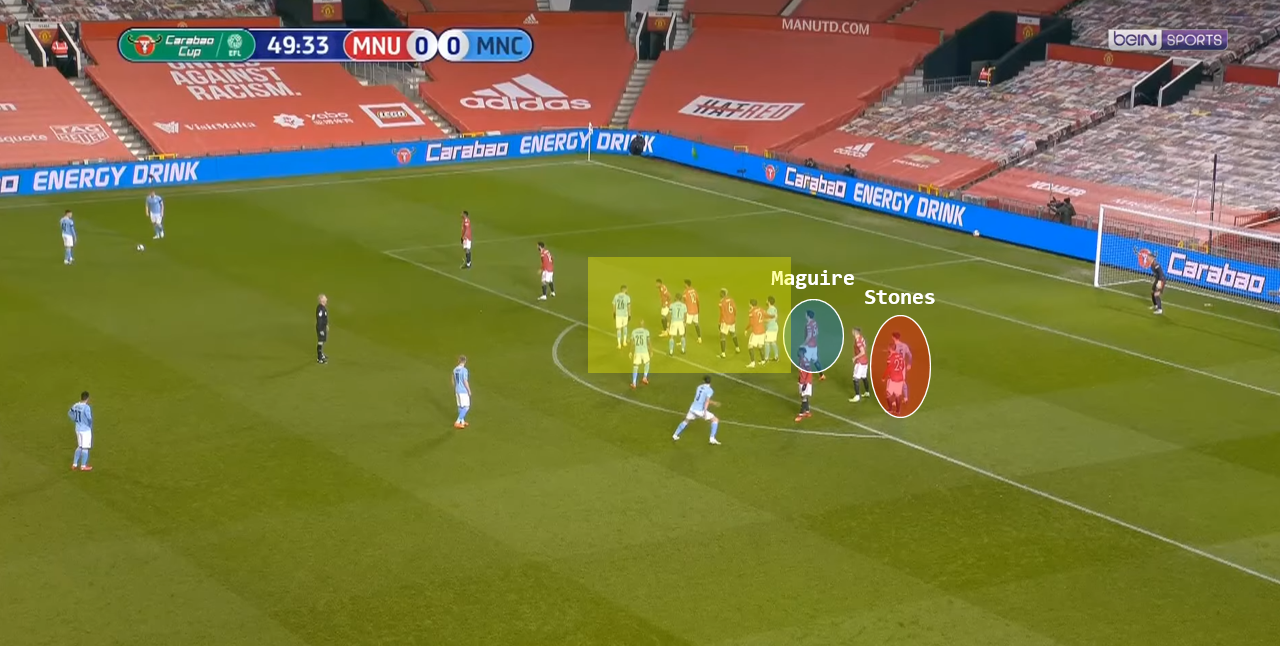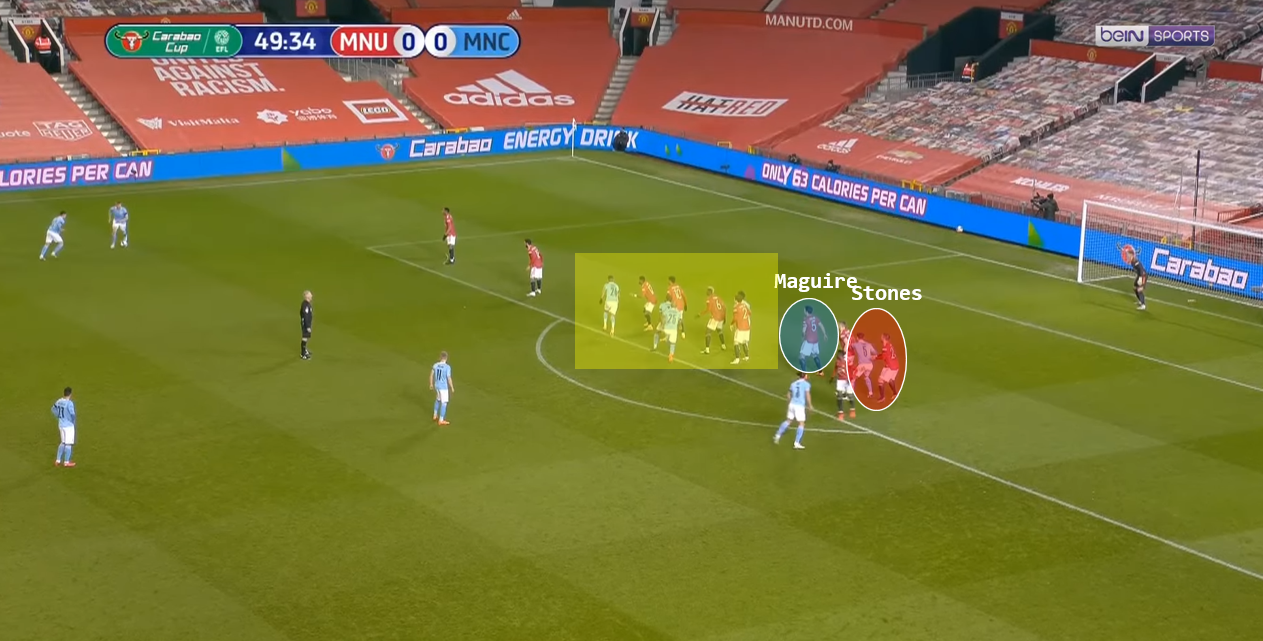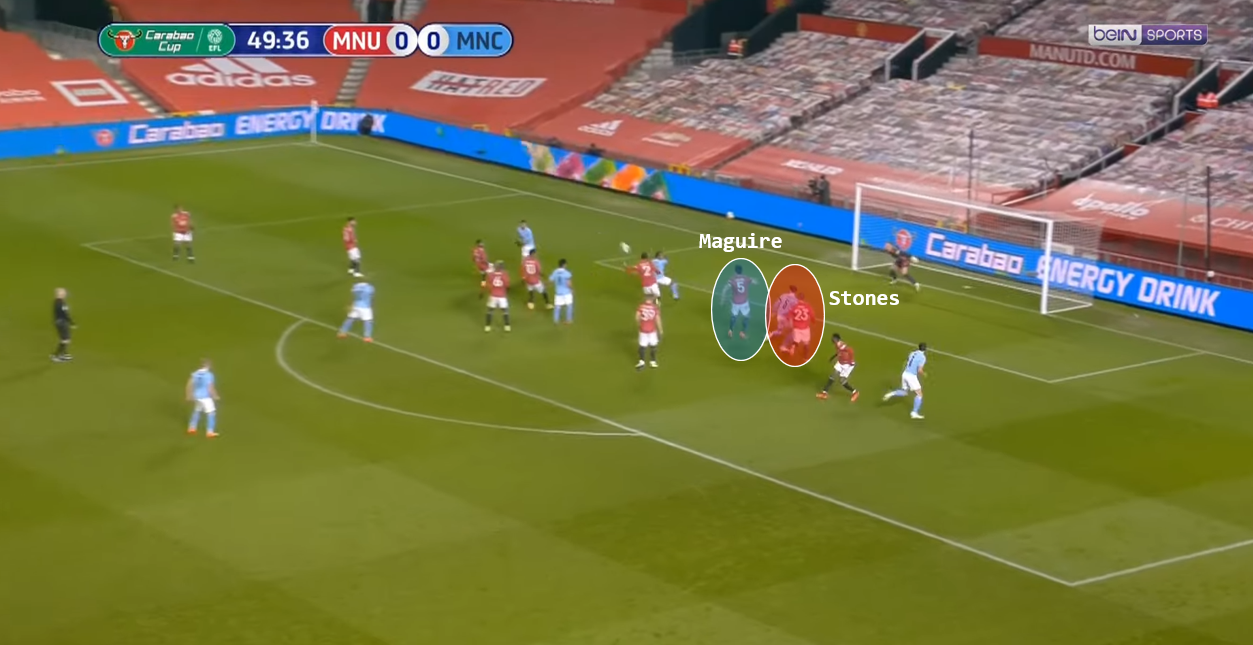 But accountability is something that is worked upon after a few months and United are definitely working on these situations, as the setup is almost always the same. So, why haven't they worked on this yet? I don't know.
Another case of lack of accountability is depicted below, against West Ham. Declan Rice beats Martial at the near post while both Telles and Pogba don't defend their areas and let Tomáš Souček alone at the back post.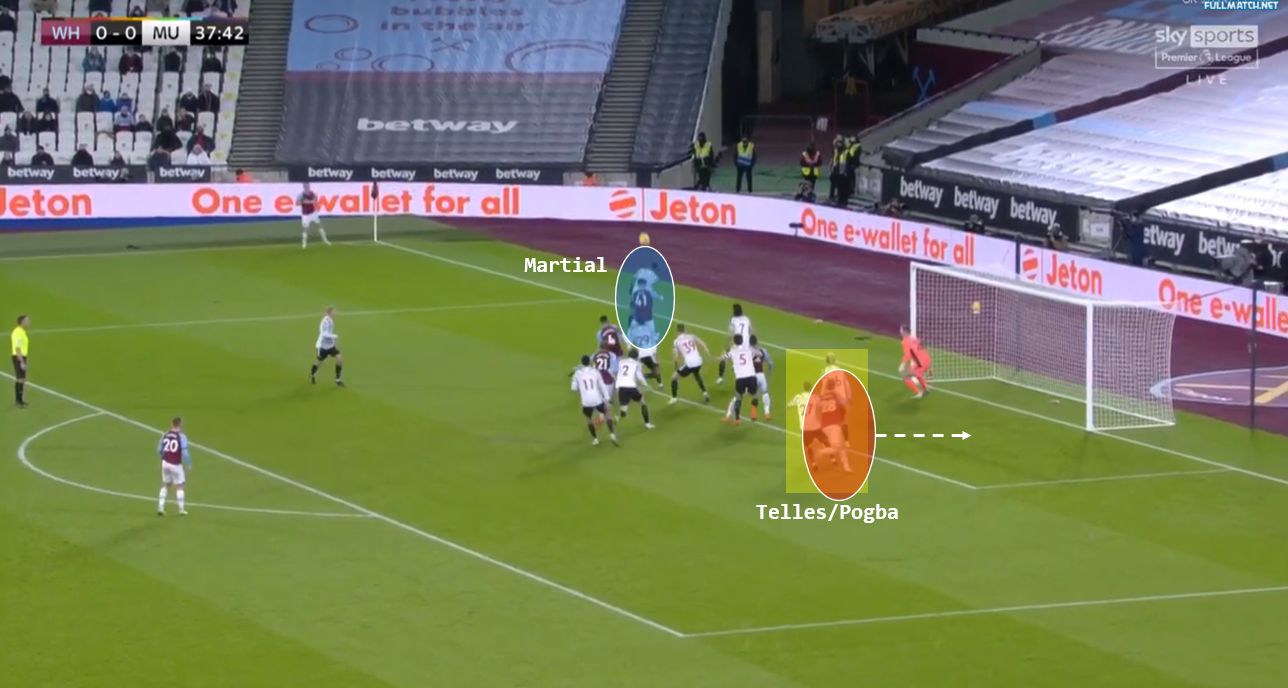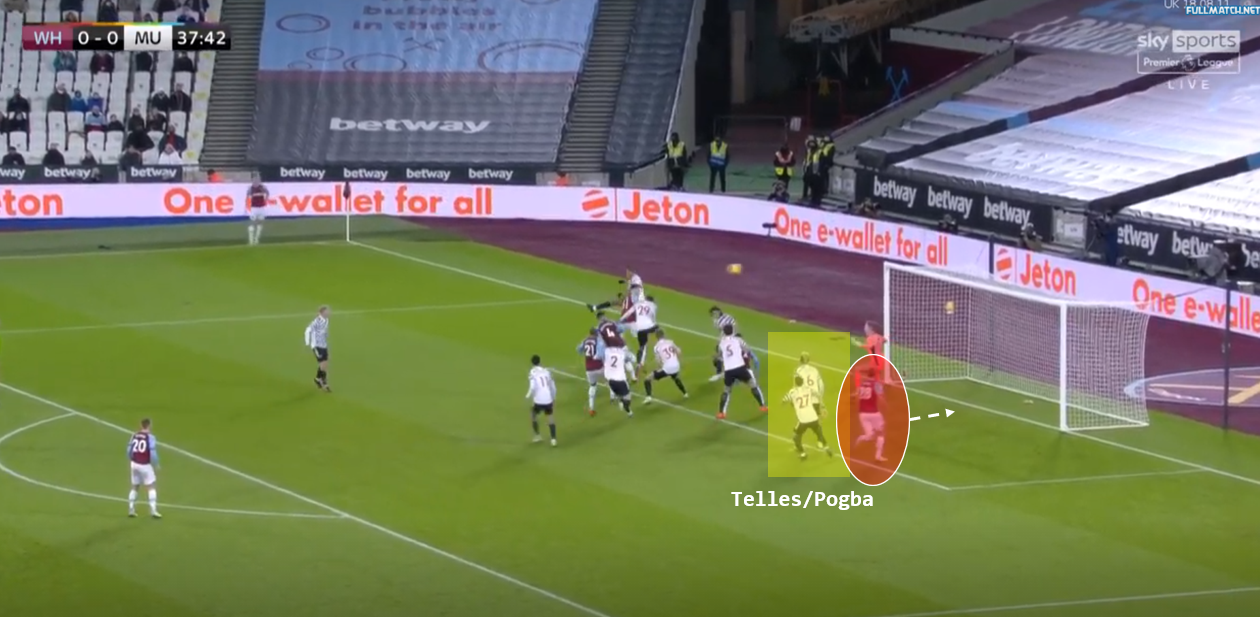 Against PSG, both Martial and McTominay didn't cover the area they should have covered, which resulted in a goal from PSG. Against Southampton, Jan Bednarek beat every United player at the near post to score because he is taller than all of them.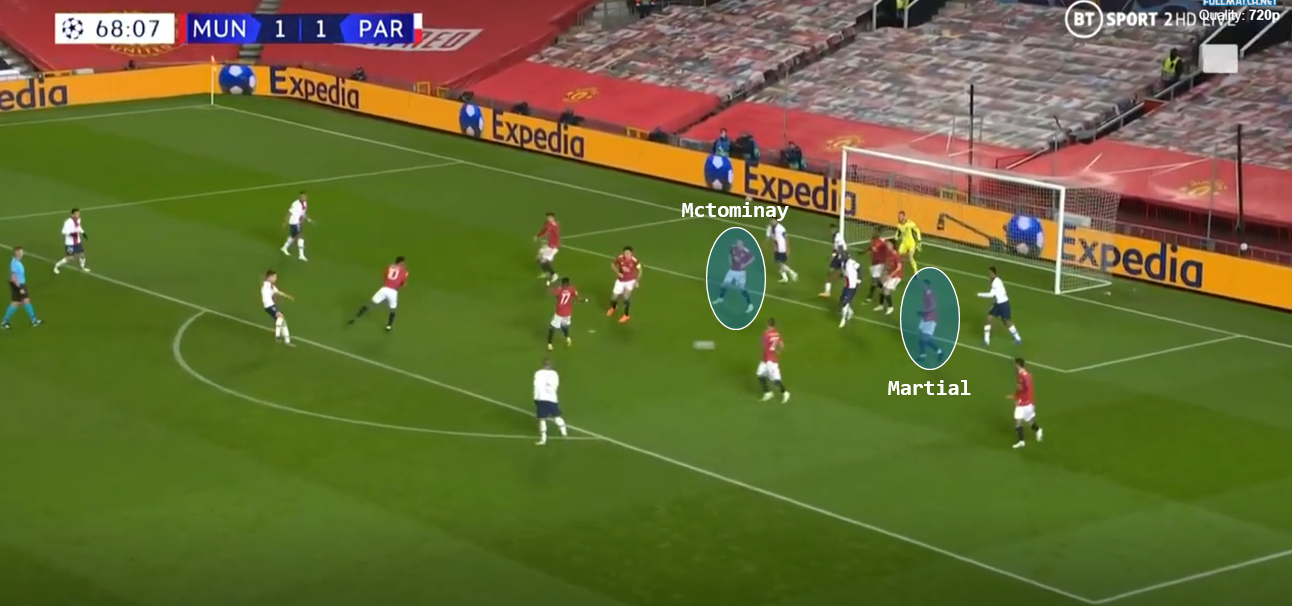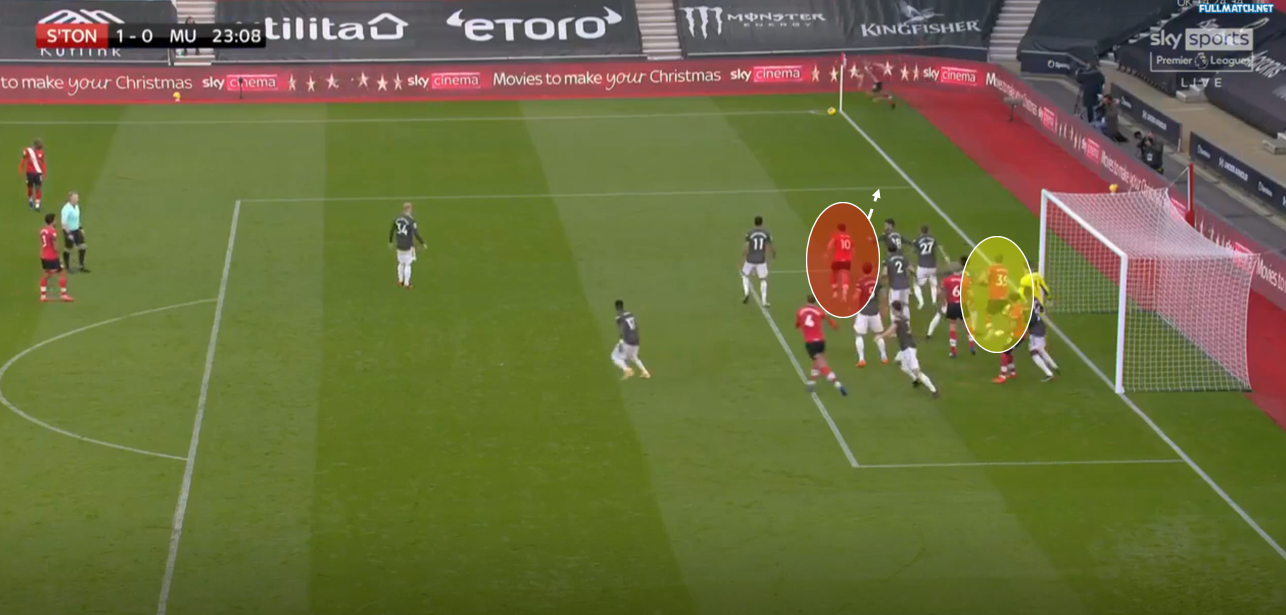 So, what would I do to solve these issues? Firstly, work on accountability on the training ground. Too many sloppy moments that could've cost more against West Ham and Southampton and that have cost a lot against PSG and City.
Then, I would probably put McTominay or Lindelöf at the near post when both Shaw and Cavani are not playing. Otherwise, both at the near post would be enough to prevent a goal from there to happen. Offensively, it isn't much better either. 
As it is seen in the graph below, Manchester United are bottom five for their proportion of goals coming from set-pieces but are also bottom ten when it comes to the proportion of shot-creating actions from set-pieces compared to SCA from open play.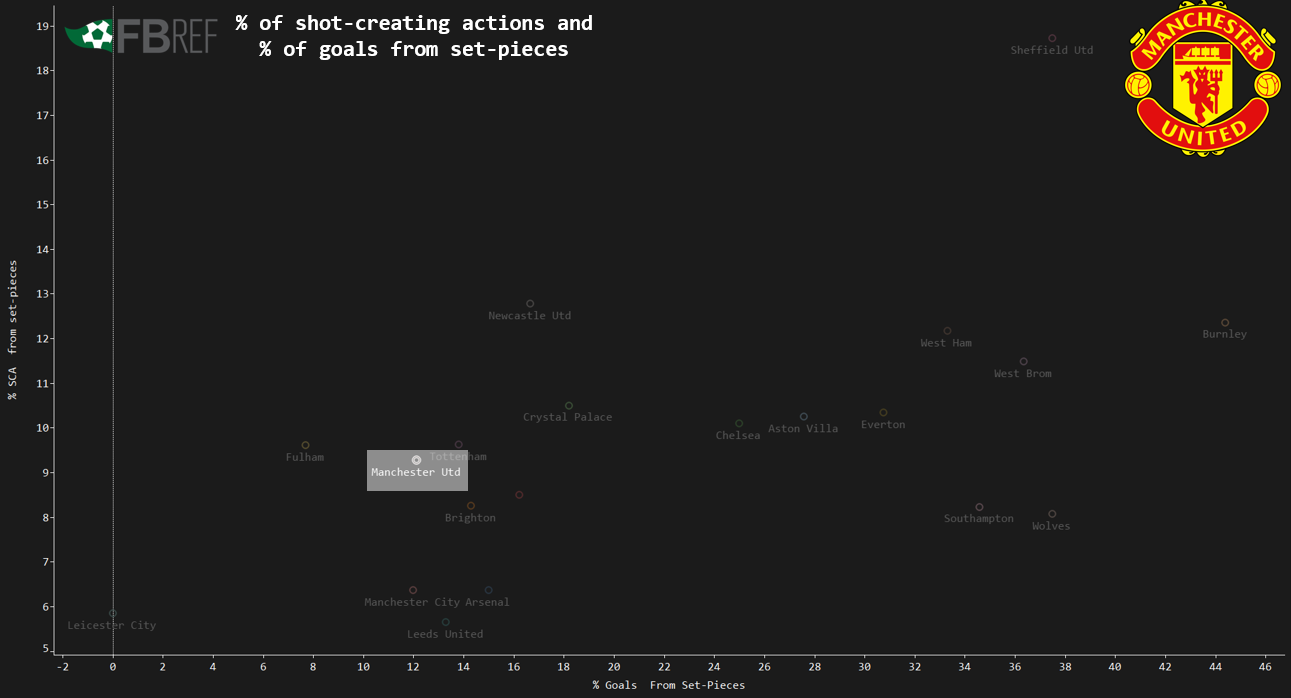 Photo: FBRef
United have struggled on set-pieces since the start of Solskjær's tenure and this is something they should work upon quickly, especially defensive set-pieces where they have conceded in crucial moments this season.
Conclusion
Manchester United find themselves atop the Premier League in January for the first time since 2013 — the final season of Sir Alex Ferguson's tenure. While they have been eliminated from the UEFA Champions League and the EFL Cup, there is a sense that those exits could be blessings in disguise, as they will focus the bulk of their resources in league play. Nevertheless, there are still plenty of inconsistencies and worrying patterns that United will need to work on over the rest of the season if they are to edge out the likes of Liverpool and Leicester for their 21st Premier League title.
By: @JKFootball
Featured Image: @GabFoligno / Peter Powell – PA Images / Matthew Peters