Tactical Analysis: Mikel Arteta's Arsenal — 2019/20
Having departed Pep Guardiola's coaching staff at Manchester City, Mikel Arteta arrived at Arsenal in December 2019 with new ideas on the pitch and behind the scenes. From his first game in charge, his playing ideologies and tactical framework were on full show. Despite being dealt with a relatively poorly built squad, he began putting the pieces together and building confidence within the roster.
Following a disappointing exit of the Europa League to Olympiacos, the coronavirus-mandated break began. Arteta saw it as an opportunity to work on the team individually and collectively, and they would go on to end the season by lifting the FA Cup at Wembley Stadium.
This tactical report will be formatted as an opposition analysis would be, as we break apart Arteta's game model, looking at the objective and common patterns of Mikel Arteta's tactics throughout the thirds and phases of play while also using individuals metrics to target key individual performers.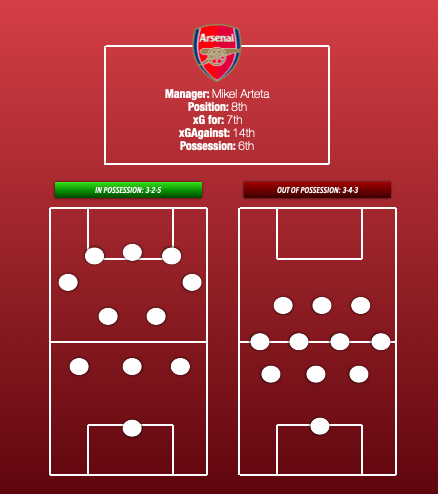 Who creates and scores goals for Arsenal?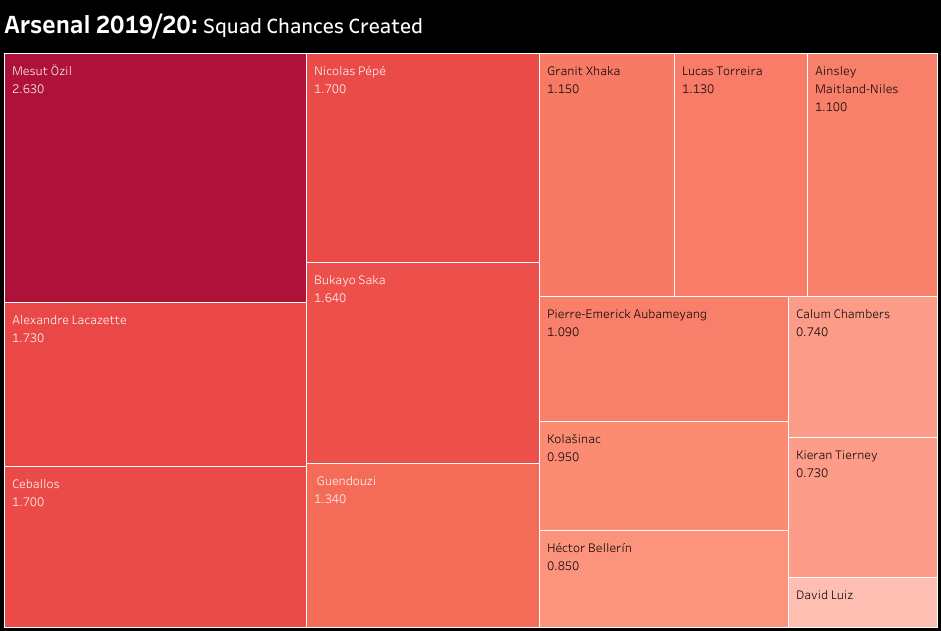 Arsenal's chances created from open play in 2019/20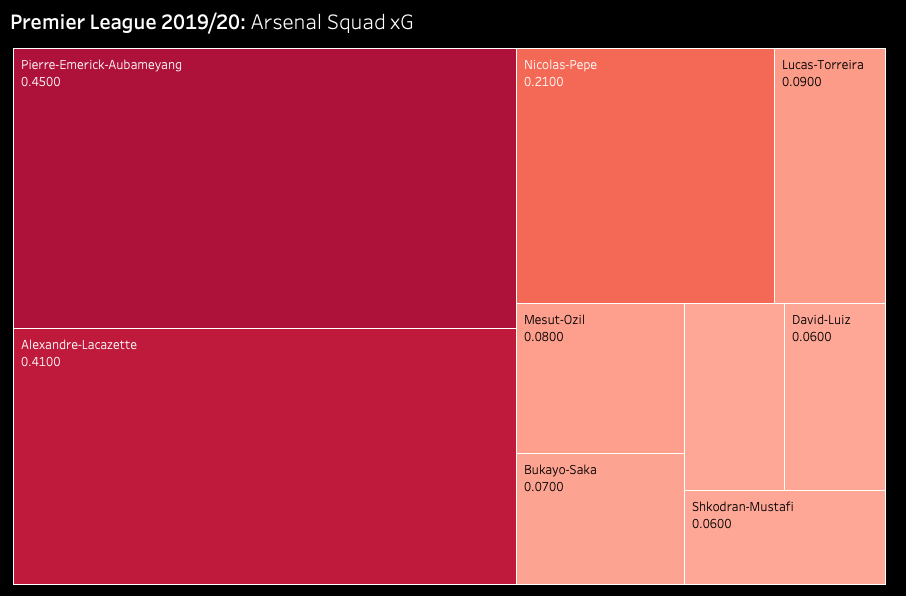 Arsenal's expected goals (xG) from 2019/20
Average positions from Arsenal's last five matches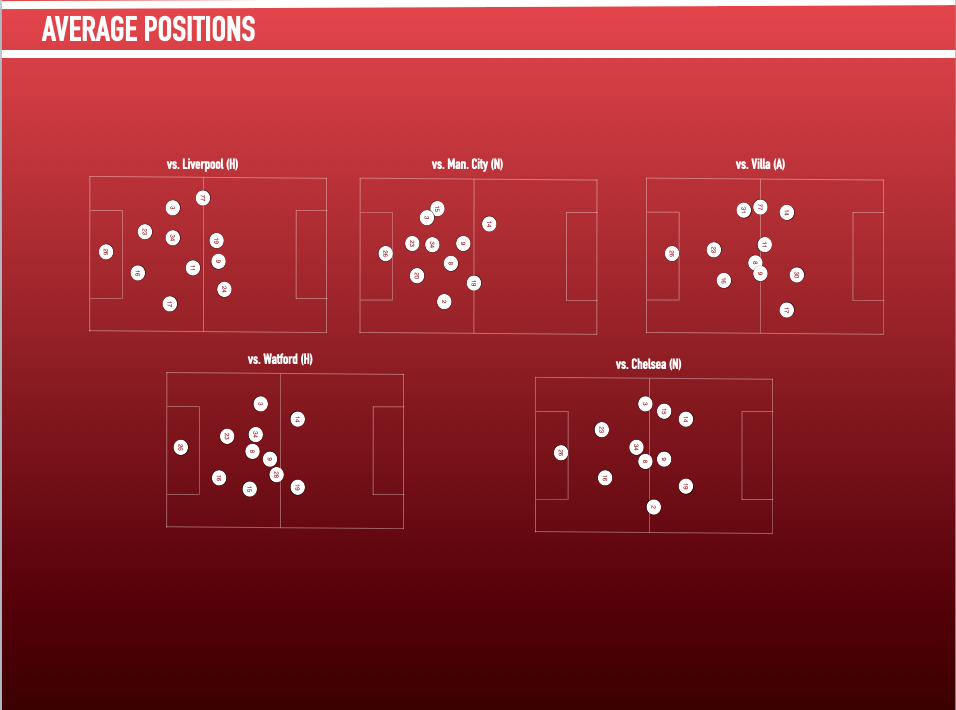 In Possession: Defensive third
Objective(s): Attract pressure into own defensive third to open space in advanced positions through deep positioning. Create a central or wide overload utilizing an inverted wingback. Bypass the entire defensive block through the passing range of the goalkeeper. 
General: Within their defensive third, Arsenal play out from the back. Their 1-3-4-3 formation shapes into an asymmetric 3-5-3 in this phase. The left sided center back shifts out wide and positions himself as a fullback would, on the touchline providing width.The goalkeeper steps out to maintain three players within the defensive line. This frees up the left wingback to join the second line and act as an extra midfielder.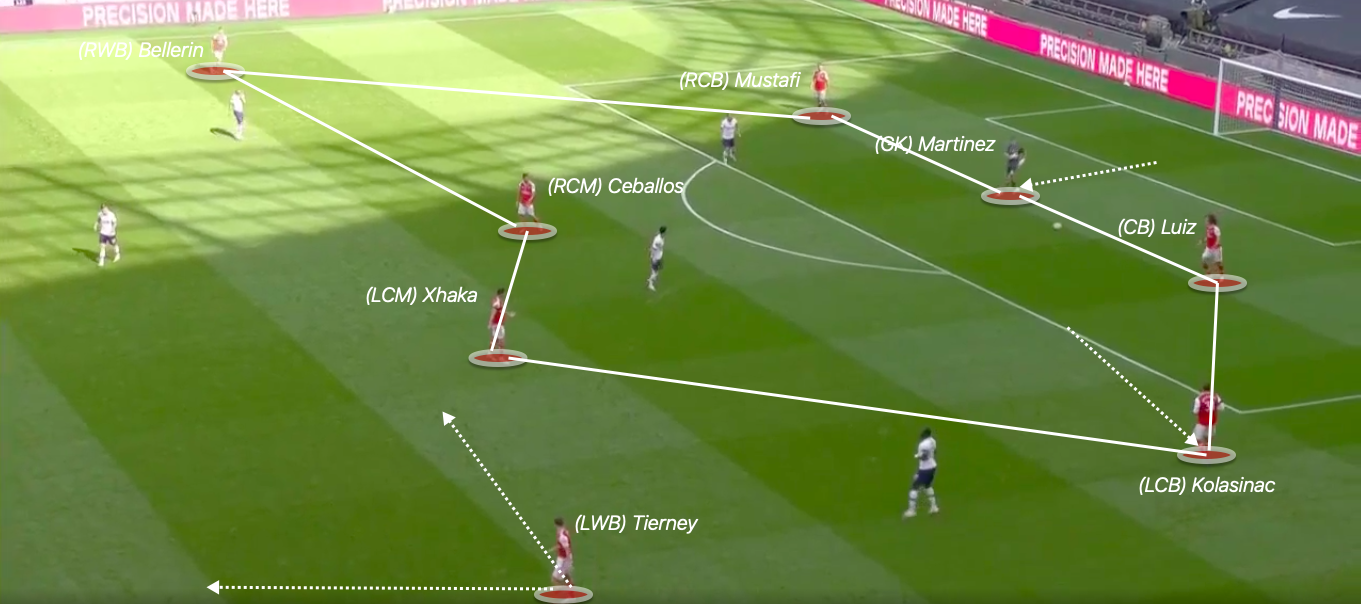 Figure 1: Arsenal's asymmetric 3-5-3 vs. Spurs (A)
Patterns
Center backs will commit players to pressing them before passing. 
Right sided forward (Nicolas Pépé) will drop into the right half space in an attempt to drag a center back with him and offer a new passing angle to the right sided center back if not tracked.
Left wing back will move into the middle, creating a 3v2 overload in midfield against teams with an opposition double pivot. 
Against teams with a midfield three, the left wingback creates a 2v1 against opposition defensive midfielder with center forward. 
Utilize pace of forwards and passing range of goalkeeper in behind the defensive line. 
Goalkeeper joining defensive line creates 3v2 overload against teams who press with two players in first line 
Both central midfielders drop toward the top of the box to drag the opposition's double pivot with them.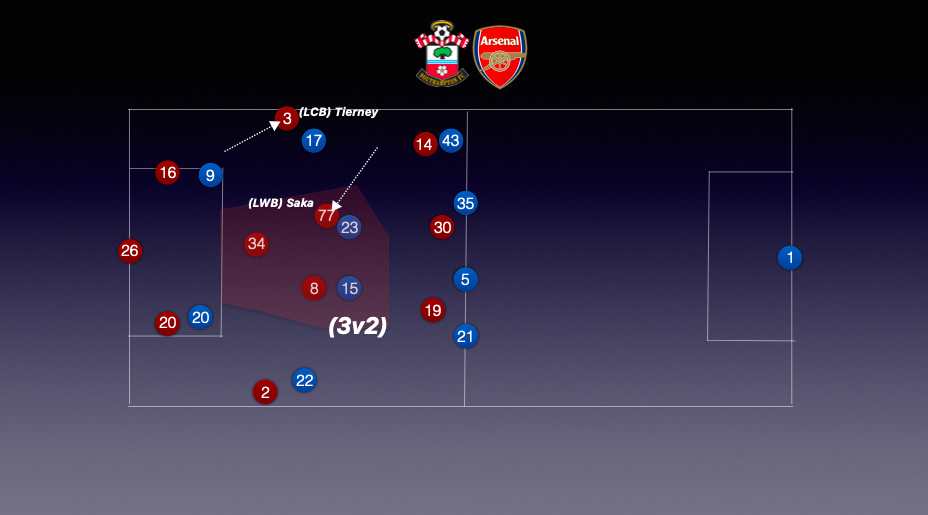 Figure 2: Left wingback inverting to create 3v2 overload against opposition midfield vs. Southampton (A).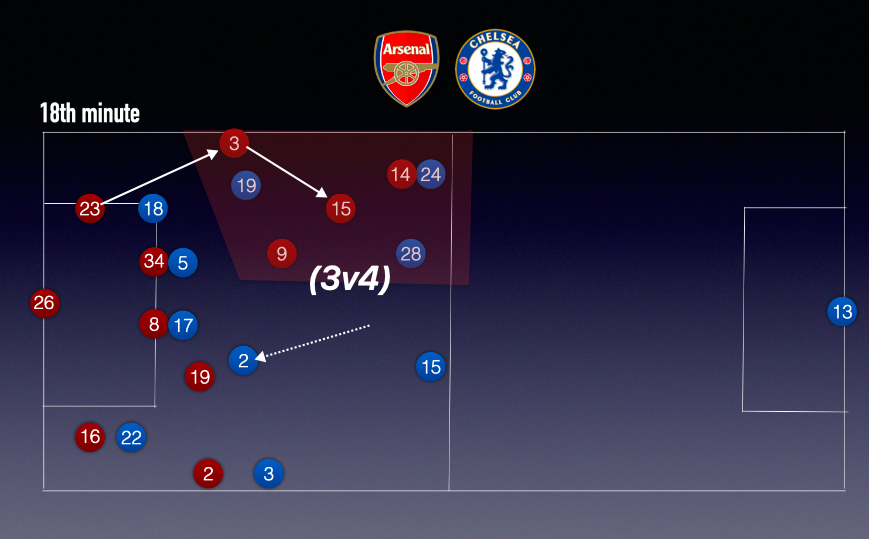 Figure 3: Right sided forward drops, bringing left center back with him toward penalty box. Center forward drops to create 3v4 wide overload.
Weaknesses
Nicolas Pépé (RW) is not particularly comfortable when receiving the ball with his back to goal. 
Héctor Bellerín (RWB) uncomfortable when playing forward and is

sometimes positioned too high up the pitch, which creates a positional imbalance.
Both the central midfielders Dani Ceballos and Granit Xhaka (RCM and LCM) have poor movement off the ball, which can make it hard to access them from the defensive line.
In Possession: Middle third 
Objective(s): Overload one flank to switch to the underloaded. Utilize the center forward to create a central overload. Create passing angles through dynamic movements between the lines. 
General: Within the middle third, Arsenal's shape turns into a 3-2-5. Forwards move inside positioned very narrowly while the wing backs are allowed to come forward to provide width. Without an attacking midfielder in the team the center forward is tasked with linking flank to flank and midfield to attack. 
Patterns
Center forward drops into midfield to create 3v2 against teams with double pivot, potentially can drag an opposition defender with him 
Center forward switches play from overloaded to underloaded side
Ball circulated between defensive line, David Luiz (CB) or Shkodran Mustafi (RCB) will make long diagonal pass to the left wingback 
Counter movements between wingback and wide forward, wingback makes penetrative run in-behind defensive line or forward drops to freely receive passes. 
Despite how influential Alexandre Lacazette has operated at times as a (CF), no attacking midfielder in the line-up causes them to have limited passing options and angles especially for Ceballos at (RCM).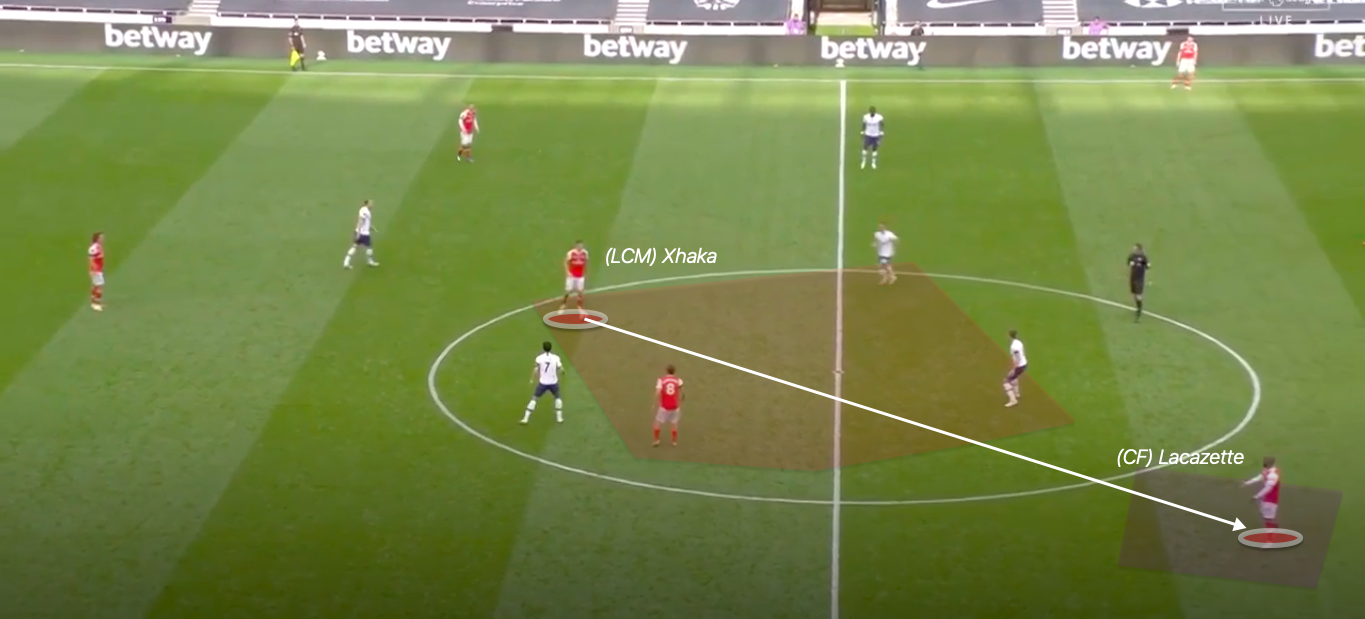 Figure 1: Lacazette (CF) drops into midfield to create 3v2 overload against Spurs' double pivot.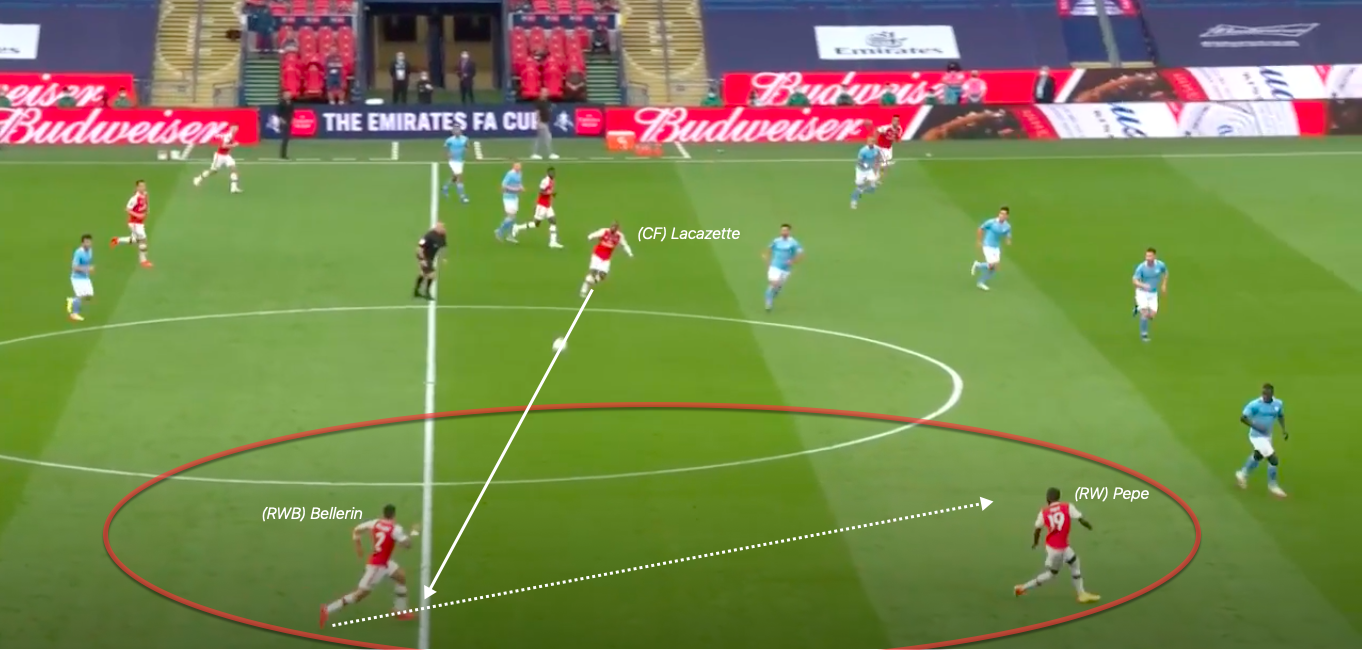 Figure 2: Lacazette (CF) creates passing angle into center from overloaded left flank, turns and switches play quickly to underloaded side where Arsenal have 2v1 against City's left back.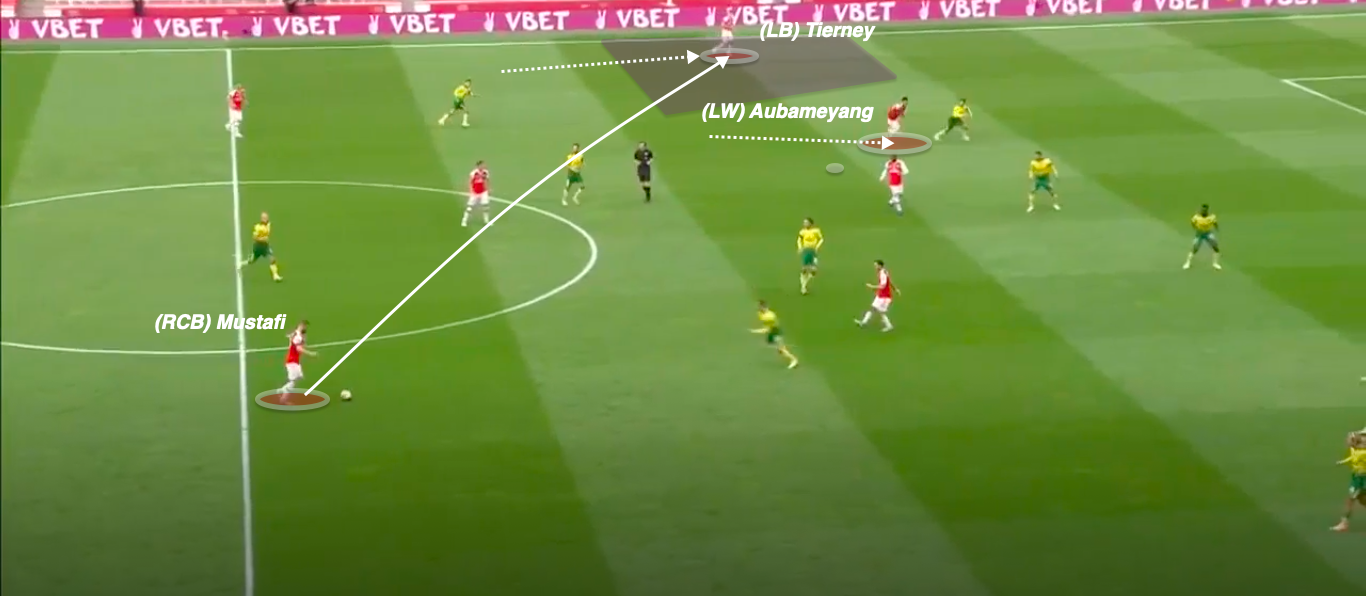 Figure 3: Ball circulated to Mustafi, on the opposite side Aubameyang (LW) moves inside dragging the right back with him opening space for Kieran Tierney to push into. Mustafi makes a long diagonal pass to Tierney. Tierney and Aubameyang have a 2v1 advantage against the Norwich fullback.
Figure 4: Countermovements between Reiss Nelson and Bellerín. Nelson (RW) drops deep within the right half space, Bellerín pushes forward and makes a run in-behind the left back.
Weaknesses
Eddie Nketiah's (CF) movement and positional sense creates unbalance and lack of fluidity in passing sequences on the right.
Cédric Soares's (RWB) lack of penetrative movements against defensive blocks
Lack of balance of width at times, wingbacks will not be in line with each other allowing for defending team to collapse onto the ball near side
In Possession: Attacking Third
Objective(s): Create chances through crosses from the flanks targeting the runs of the wide forwards. Create net through positioning to retain possession through counterpressing. 
General:  Since Arteta has taken over, Arsenal have scored 45 goals. In the attacking third Arsenal play at a quick tempo. They primarily find space within the wide areas which can sometimes leave a large reliance on chance creation to the wingbacks.
Against teams playing with a back four, a 3-2-5 is implemented. However, if the opposition decides on defending with five players in the last line, Tierney will overlap on the left with the left wingback moving into the left half space making a 2-2-6 formation.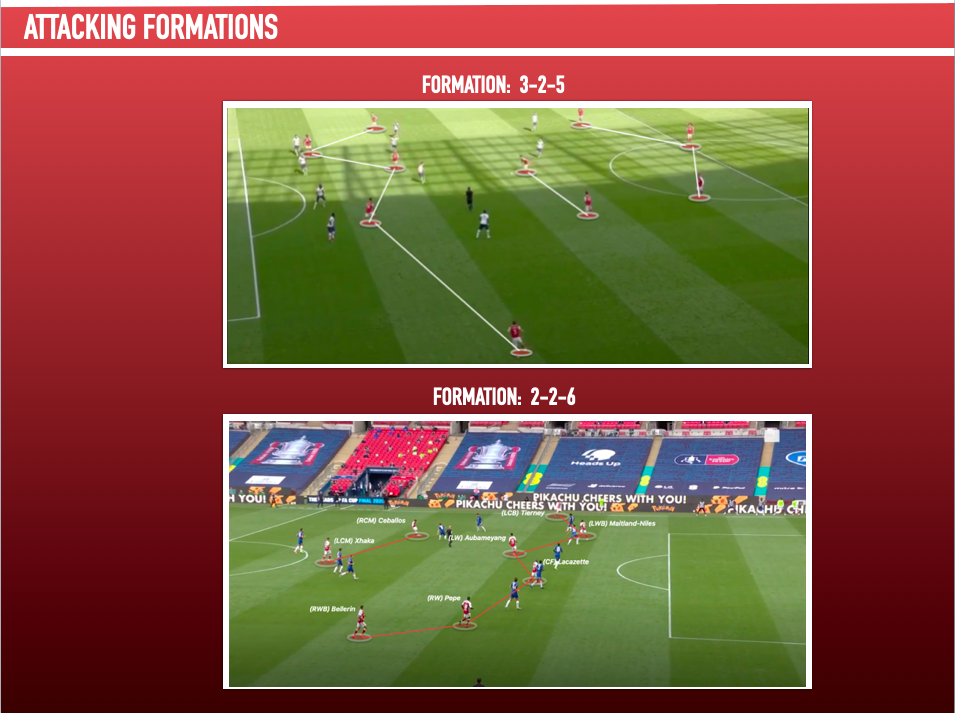 Figure 1: Arsenal's formation when positioned within attacking third.
Patterns
Circulates the ball between double pivot to find the wingback in space.
Five players in offensive line creates 5v4 overload against teams defending with four players in defensive line, disorientates defenders' decision making. 
Against teams that utilize a five player defensive line: Ainsley Maitland-Niles (LWB) will move inside into left half space as Aubameyang (LW) enters the central channel, allowing Tierney (LCB) to enter the offensive line to create a 6v5 overload. 
Aubameyang (LW) starting position wide on the left makes a back post run when cross is coming from the right, or near post when service is coming from the left he moves toward the near post. Often ghosting into the box from the blind side of the right fullback. 
Pépé (RW) starts from a wide starting position on the right and moves inside toward the penalty area to get onto the end of cross or pullback. 
Pépé (RW) crosses to back post to find run of Aubameyang (LW) in behind the right back, a common sequence especially when opposition is in defensive transition.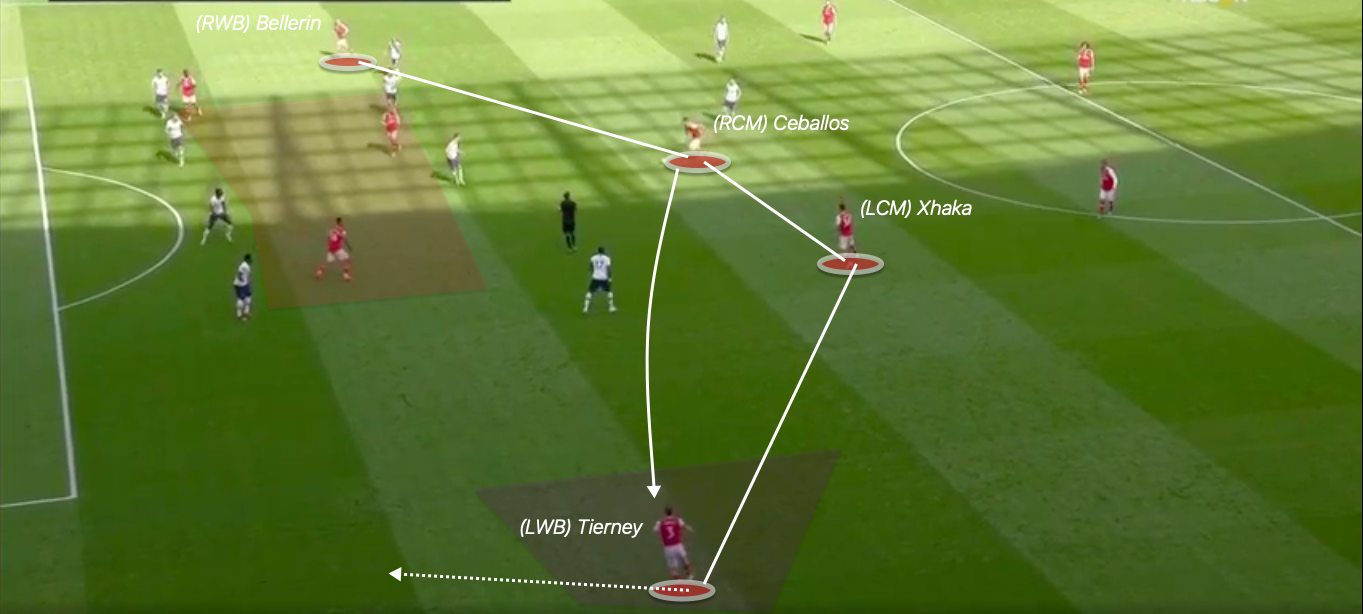 Figure 2: Forwards positioned narrow, each in their vertical zone. While the wing backs are in line with each other providing the width. Ceballos (RCM) sees Tierney in space on the left, receiving with time and space to cross to the near post where Aubameyang is making a run.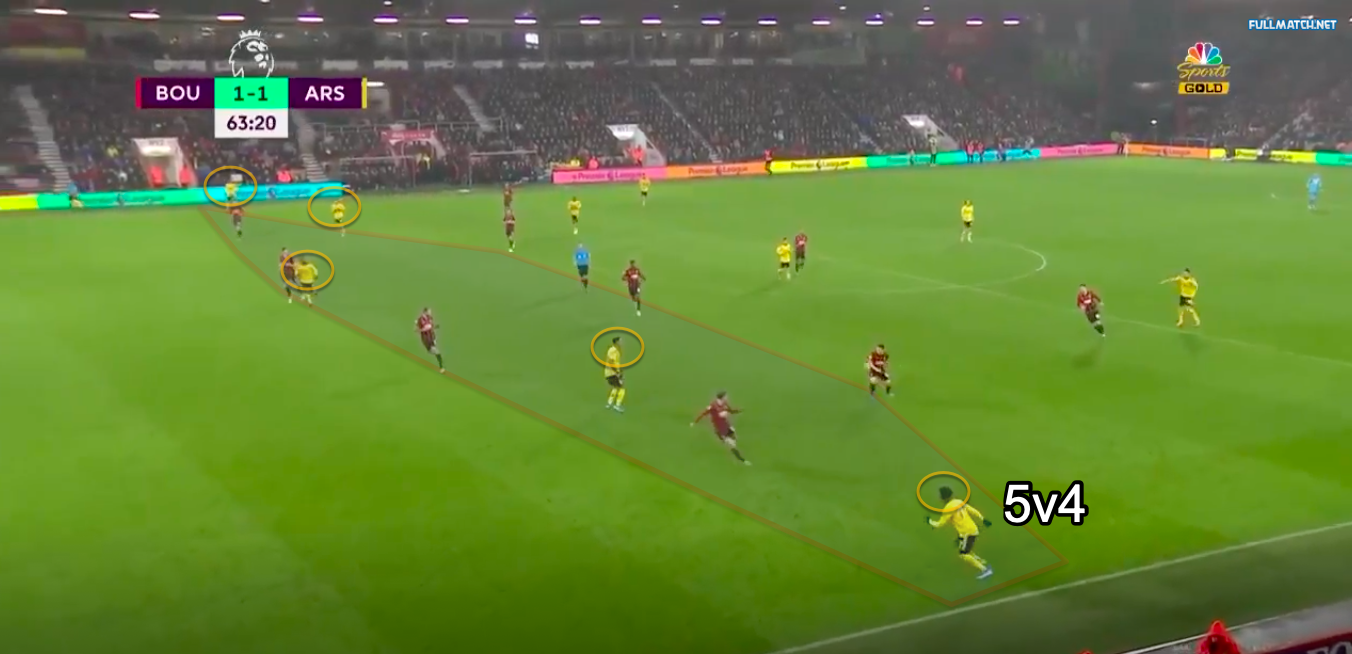 Figure 3: Five players in the offensive line creates 5v4 overload against the opposition defensive line. Right back left in a 2v1 scenario with Aubameyang and Bukayo Saka.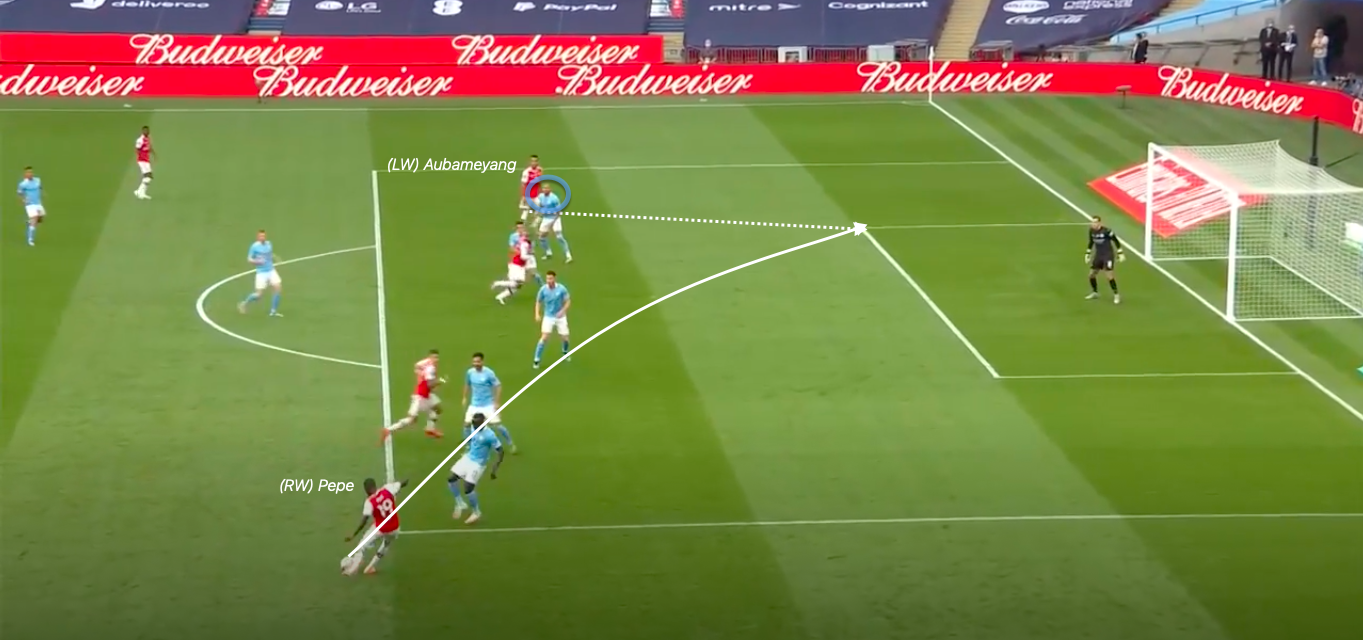 Figure 4: In transition, Pépé (RW) from the right looks for Aubameyang making a blind side run against Kyle Walker (RB) toward the back post. Xhaka (LCM) makes an underlapping run offering a different option.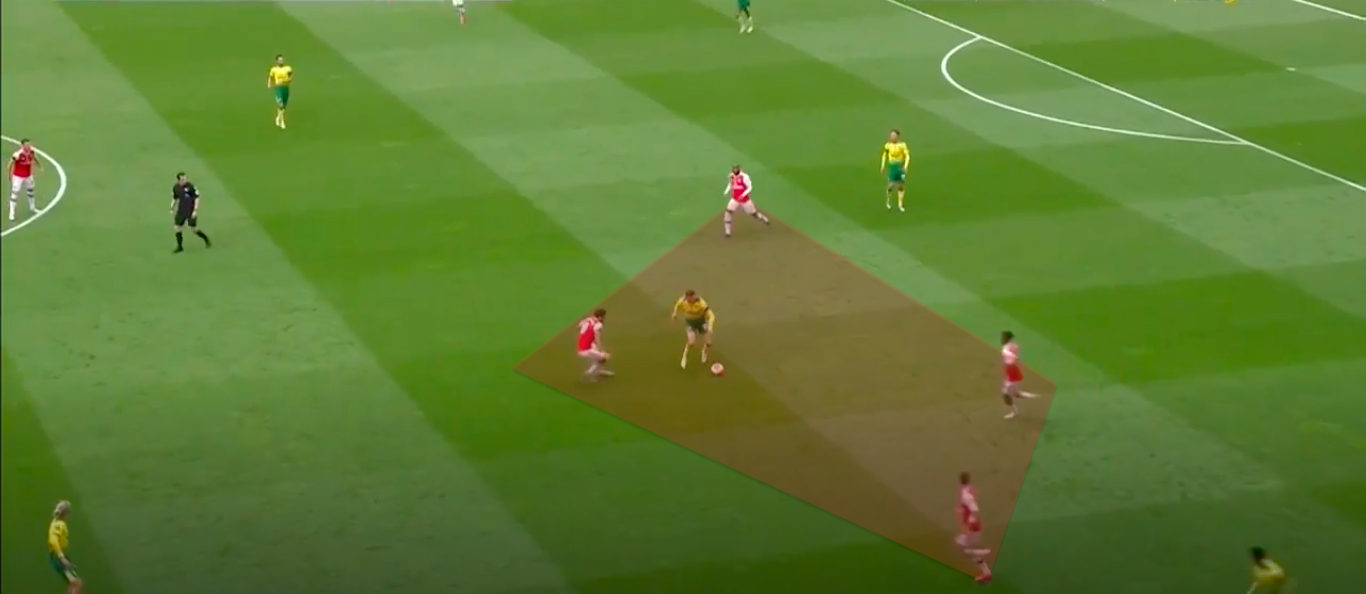 Figure 5: With so many players naturally positioned in advanced positions, it creates an effective counter press as they outnumber players in the immediate area. As the ball is given away, they can quickly close down the player receiving.
Weaknesses
Continued inconsistent positional balance in width.
Absence of positional understanding between Bellerín (RWB) and Pépé (RW). Bellerín is often seen confused on whether to overlap, underlap or come inside. Often crowds Pépé's space in-turn attracting more defenders. 
Double pivot unable to circulate ball flank to flank due to lack of variation of passing angles between them and no support of an attacking midfielder. Additionally makes it more difficult for them to play directly to the forwards. 
Rarely against teams in deep blocks, the ball near side midfielder will make an underlapping run between the center back and wingback. 
No consistent positional rotations to disorientate opposition defensive positioning. 
Spacing between forwards particularly when Nketiah (CF) plays, often forwards are found occupying the same vertical zones. 
Press out of Possession
Objective(s): Create a turnover before the opposition can progress through their defensive third. 
General: Out of possession Arsenal utilize two shapes throughout the thirds. Within the attacking and middle third they utilize a 1-3-4-3 and inside their own third an asymmetric 1-5-2-3. The defending starts with the forwards as the front three are tasked with going man for man with opposition defensive lines.
This means the opposition are forced to at minimum have three players in their defensive line during this phase otherwise having to play through a numerical disadvantage of a 2v3. Even when the numbers are equal their cover shadows will cover central passing lanes.
Forcing the center backs to make the least progressive pass available backward to the goalkeeper where he is left to the option of sending it long where Arsenal can win the first or second ball to regain possession. In some cases against teams who's center backs play at a slow tempo they have been able to regain possession directly from them. 
If a goalkeeper plays a long pass to a wingback/fullback, Arsenal's wingbacks have time to engage them high up the pitch. If an attacking midfielder drops deep into the left or right half space that side of the pitch can get compressed.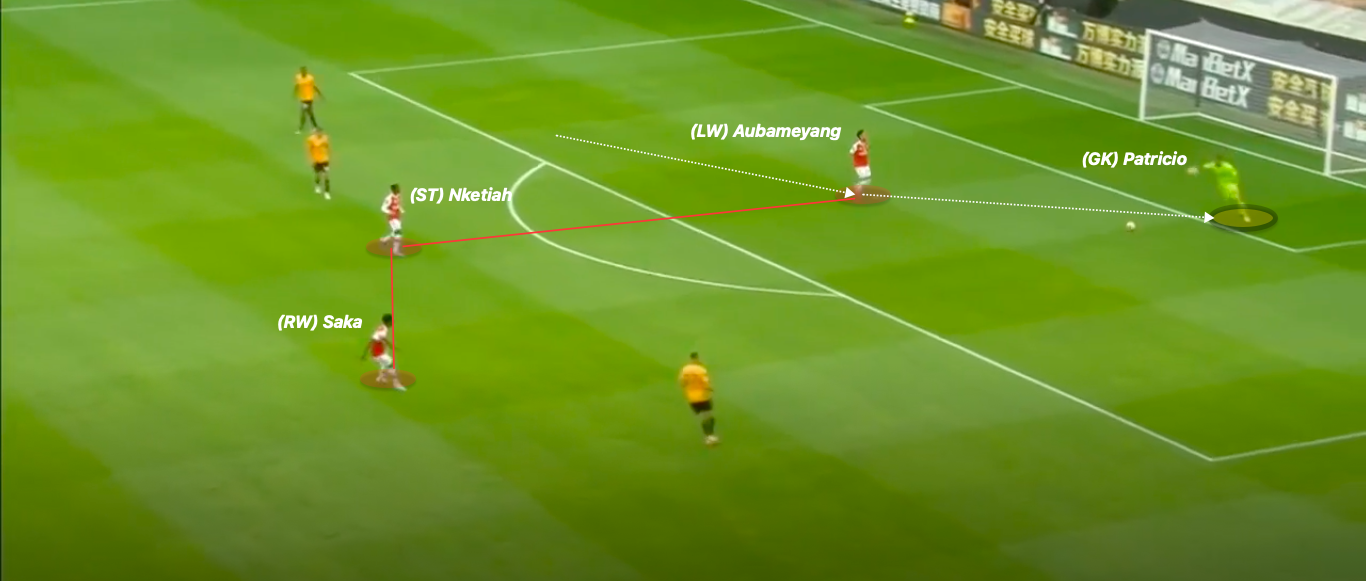 Figure 1: 3v3 against Wolves' center backs, Willy Boly's only passing option is the goalkeeper Rui Patrício. Aubameyang can carry his momentum sprinting forward toward Patrício to force him into making a long pass.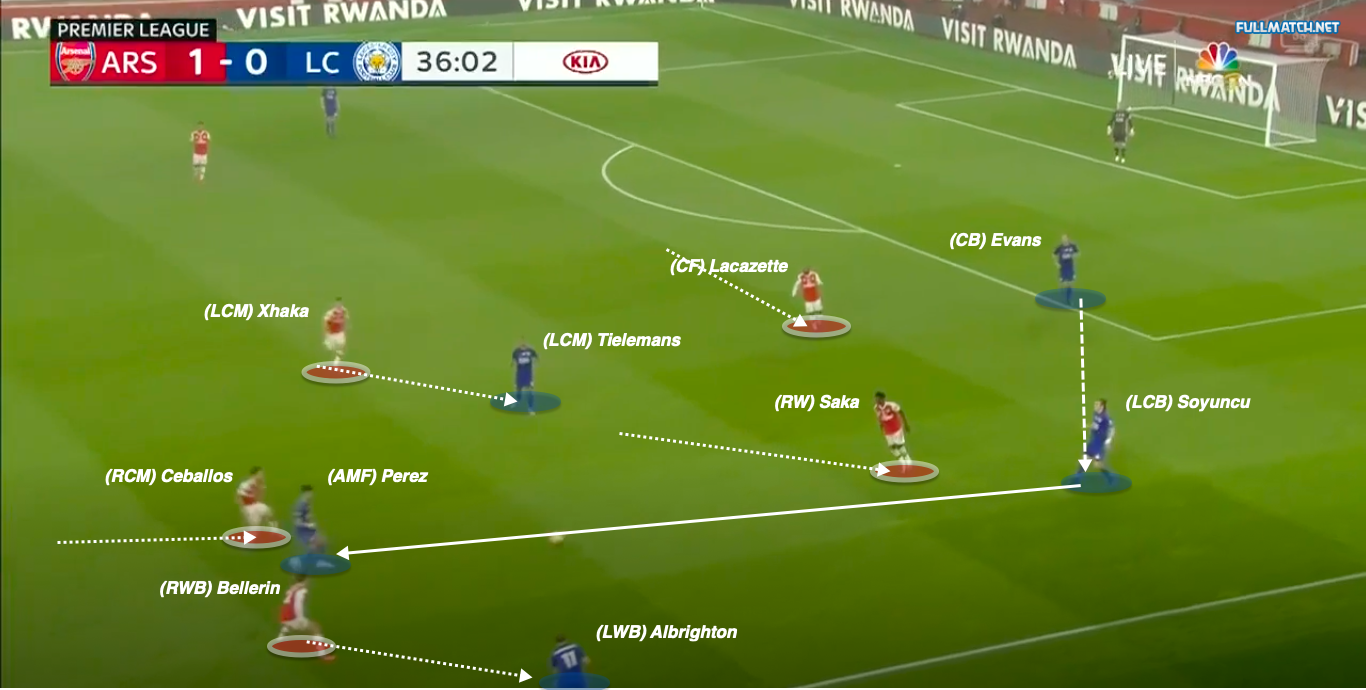 Figure 2: Leicester's attacking midfielder Ayoze Pérez drops deep in right half space to create a new passing angle for Çağlar Söyüncü, however Arsenal can quickly compress space in the zone he is in before he even receives the pass setting them up to regain possession.
Weaknesses
Midfielder can drop into the defensive line to create 4v3 against Arsenal's first line of pressure. 
Spacing between the second and last line has left them very exposed to inside forwards receiving between the lines and turning to attack the defensive line. 
Double pivot positioning can be manipulated and stretched against a three player midfield.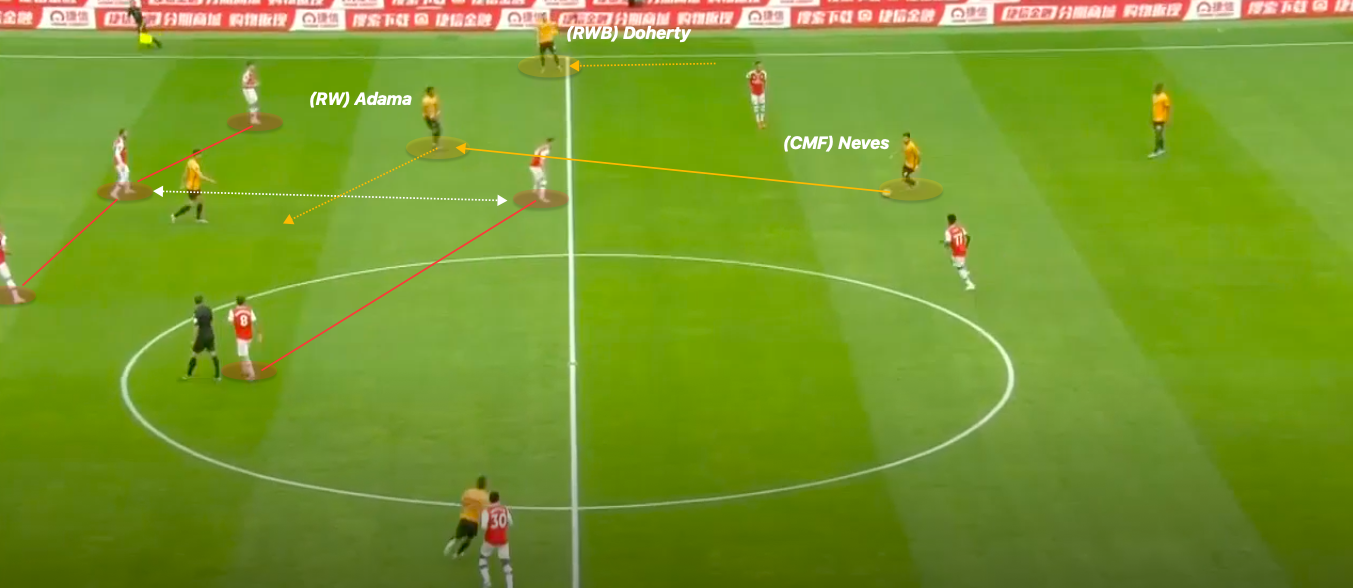 Figure 3: Adama Traoré receives a pass from Rúben Neves between the lines and due to the spacing between the second and third line he has the time and space to attack with the ball toward the backpedalling defenders.
In Possession: Set-pieces
Arsenal created the 16th least amount of shots from set pieces in the league. It seems like an area however that Arteta has been working on as we can see from some of the commonly found routines below. Additionally they created three shooting opportunities from set pieces in each of their last two Premier League games which is more than their usual zero-one.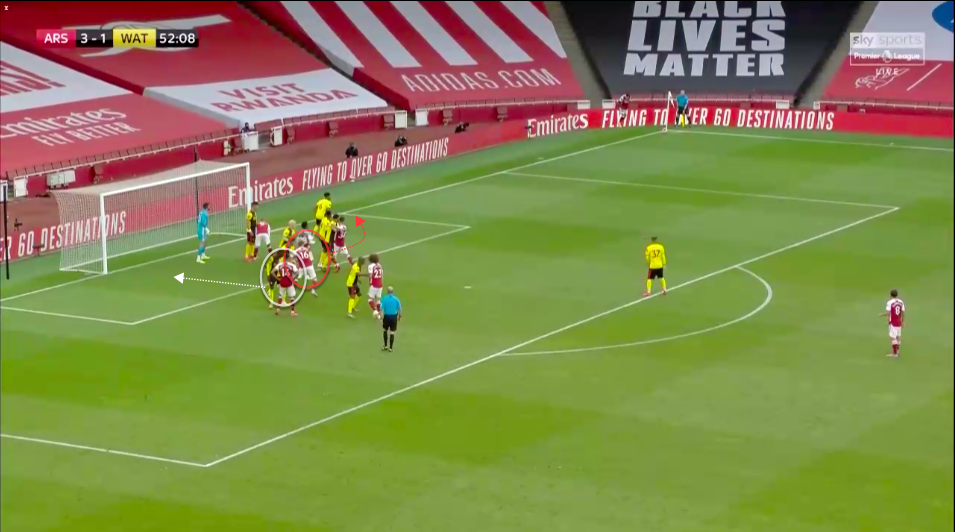 Figure 1: Rob Holding (circled in red) makes a curved run to the front post. As Holding goes to the front post, Aubameyang makes a run behind his defender to the back post. Holding makes a flick onto the back post where Aubameyang is positioned. 
Figure 2: Corner taker plays 1-2 with nearest player, who plays it back to the corner taker for a cross to the back post.
Conclusion
Significant Strengths : Arsenal are at their best when the ball is in their own half. The use of Maitland-Niles as an inverted wingback when playing out the back to create a central or wide overload has been a problem that some of the world's best coaches in Pep Guardiola and Jürgen Klopp have not been able to account for. With dragging the opposition so far forward the likes of Aubameyang has flourished in making runs against unsettled defenses and isolated center backs who cannot keep up with his pace. 
Key Players
Pierre-Emerick Aubameyang:

Arsenal's top scorer is a priceless weapon, in every pattern of play the end goal is for the ball to end with Aubameyang making the last touch. 
Alexandre Lacazette:

Without an attacking midfielder within the side the demands of the Frenchmen greatly increased. With each  passing game, he's improved technically and tactically, c

reating new passing angles through pressure and at times a vertical option for the midfielders while connecting the front three together in transitions and maintaining the ball moves at a quick tempo. All in all, he's become the false nine Arteta needs. 
Ainsley Maitland Niles:

Maitland-Niles is arguably the biggest reason for the team's recent success. His role has opened dynamic avenues of attack for the Gunners. 
Areas to Improve
Variation in attack:

Some will immediately point to the absence of an attacking midfielder for this problem. Which is completely fair. Generally the lack of vertical penetration will only become more of a problem, especially against organized defensive blocks as more teams analyze Arteta's team. 
Positional patterns:

Arteta's positional play is not perfect with problems in position balance vertically and horizontally. This will take time, and potentially better players to understand the tactical demands of such playing ideologies. 
Set pieces:

As aforementioned in the last section, despite set pieces getting more attention in the last few games overall they were among the worst in the league for results from set pieces. With a revamp in backroom staff during preseason this could potentially be becoming an improved part of Arsenal's game. 
By: Craig Moniz
Featured Image: @GabFoligno