Tactical Analysis: MLS Semifinals
MLS Conference finals brought the fans two games who surprised everyone, with both favorite teams being knocked out of the competition and missing the 2019 MLS Cup final. A lot of credit has to be given to the Seattle Sounders, a team that is in great form, very organized defensively and with excellent attacking players; and also to Toronto FC, a team that was able to correct some mistakes during the game, was able to stop Atlanta's attack and, the most important for Toronto, they put their chances away almost perfectly.
It ends up being a Seattle-Toronto final for the third time in four years , with both teams wanting to win after getting through different series with plenty of tactical details, intensity and unlimited emotion. From now on I will try to highlight some moments and particular details that ended up deciding each final.
West Conference: LAFC – Seattle Sounders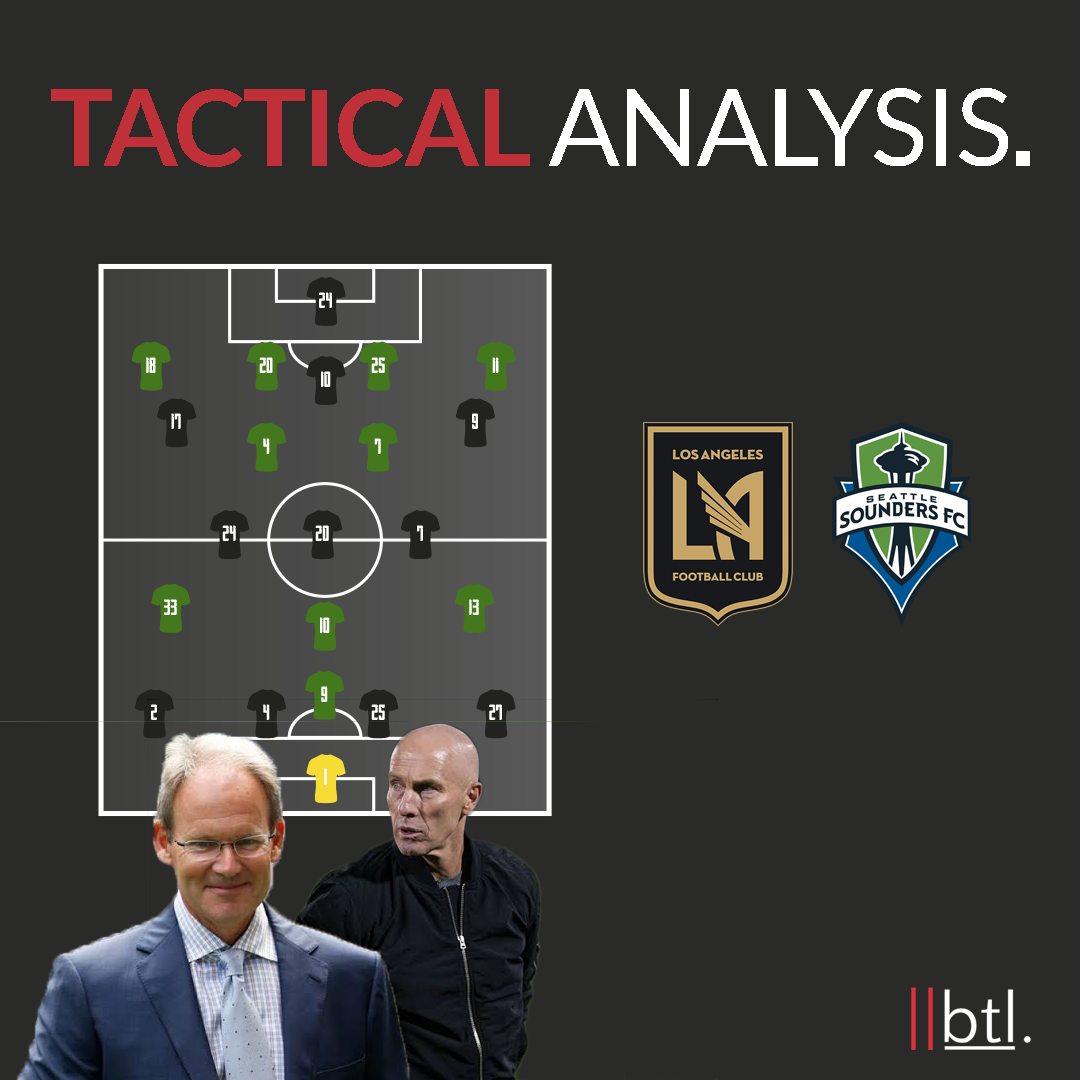 The candidates LAFC, coached by Bob Bradley, struggled against an experienced and professional tactical lesson from the Sounders. Despite the individual talent available for LA, some of their biggest weaknesses were exposed, something that was rare during the regular season.
A 3-1 loss in a game where LA was unable to perform their quick and dangerous attacking style, struggling a lot to break Seattle's organized lines throughout every single moment of the game: defensively compact, knew when to take the ball away from LA and possess efficiently and with a lot of players supporting the attack while preventing a counter. Transitions were the moment that ended up deciding the game, with quick attacks from Seattle and a great positioning to avoid LAFC's counter threats.
With no surprises, both teams only had once change compared to the semi-finals. The Sounders were forced to replace Román Torres due to a hamstring injury (replaced by Arreaga), while the LAFC brought in Zimmerman to the center of the defense, pushing Blackmon to right-back (Beitashour was left out after a disappointing performance in "El Trafico").
Seattle presented themselves with their usual DNA: full-backs wide and up to support the attack (mostly with Smith on the left side), Morris showing up inside to combine with Ruidiaz and the Uruguayan Lodeiro left with the creative role of the attack, with freedom to move wherever the ball is. I find it curious that one of the most tactically rigorous teams in the league has the ability to basically play with a classical number 10, giving Lodeiro mainly offensive responsibilities.
An example of Seattle's asymetric formation in attack: width provided by the left-back and by the right-winger, while inside the trio Morris-Lodeiro-Ruidiaz have a lot of freedom in their movements. The fact that none of the center midfielders are in the image just proves how careful Seattle was about LAFC's counter attack threats.
Against a really organized defense, LAFC was never able to put their A game on the field. Brian Schmetzer prepared his team to the smallest details, positioning their players in a 4-4-1-1 without the ball, managing the space in between the middle and defensive lines, blocking any chance for LAFC to combine in the final third.
Lodeiro was the man in front of the 4 midfielders and, even though he has less defensive responsibilities than his teammates, his role of man marking LAFC's defensive midfielder Atuesta was very important to take away the player who initiates most of their attacks.
 An example of Lodeiro blocking Atuesta's passing line and forcing LAFC to play through the outside, something they tend not to do.
At halftime, the Sounders were winning by 2-1 and their plan was working close to perfection. Looking for quick transitions, using Ruidiaz as a target man and Morris running underneath him. The positional map at half-time illustrates a defensive minded team who sends players in quick attacks: center backs and center midfielders low on the field, Lodeiro (10), Morris (13) and Ruidiaz (9) in central areas and two players wide open for transition, bisecting the team between attackers and defenders.
In the second half, LAFC tried to change their game plan in order to give the ball to their best players: Vela and Rossi. Without many chances, Bradley tried to send their full-backs to central positions, isolating Vela and Rossi on the wings. This idea gave them more possession, forced Seattle to stay back, but did not translate into goal chances. Seattle proved that their organization and experience could beat the best roster in the MLS, making them pay for their lack of offensive ideas.
Both full-backs highlighted in attack, playing in central positions.
Eastern Conference: Atlanta United – Toronto FC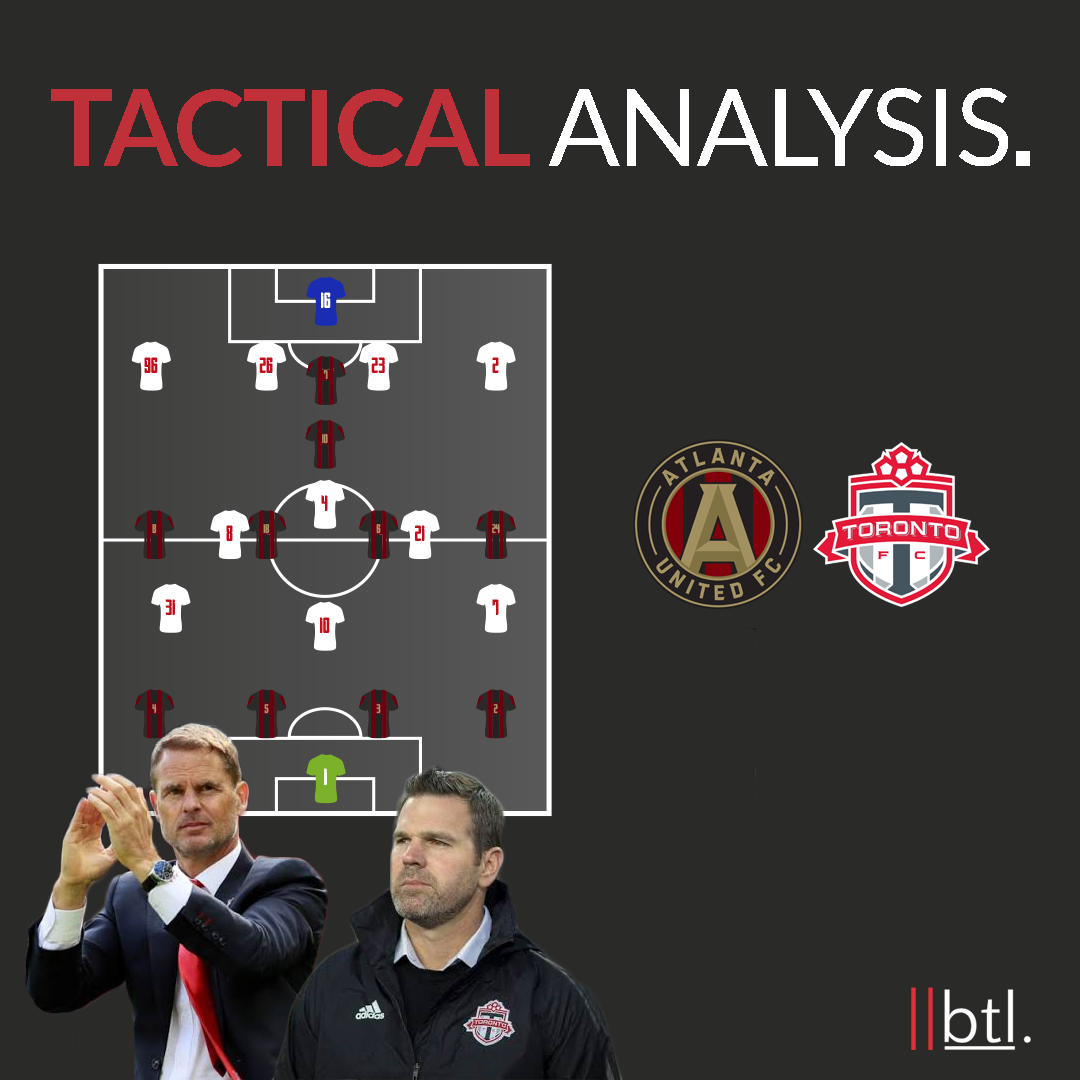 The champions fell in a game with a lot to say. Atlanta United being the clear favorites and they showed during most of the game. Playing at home, Atlanta was not able to translate their offensive production and possession into goals, committing a lot of defensive mistakes, insisting in a passive style of possession and looking always too comfortable on the ball.
Both teams presented themselves with no surprises. Atlanta showed up with their possession style, trying to occupy different spaces on the field and trusting their front 4 to be creative and dangerous from central positions. Toronto kept Pozuelo, their biggest offensive threat, as a striker, taking away some of their creativity in the midfield while dropping their lines from the beginning with their typical 4-3-3.
Gonzalo Pity Martinez and Julian Gressel's amazing performances were not enough for Atlanta to reach the MLS Cup final.
The first 15 minutes were electrifying, with two goals and a penalty saved in a short period of time. Toronto tried to defend with a high line and press Atlanta's build up process, but neither of these strategies worked, ending up being punished for their mistakes.
Without pressing the ball, the defensive line did not react and Pity Martínez ended up in a 1v1 situation with Westberg twice in just three minutes (assisted a goal and was fouled for a penalty missed by Josef Martínez). Atlanta's goal comes from a failed high press attempt from Toronto, where Barco showed up behind Toronto's front five, got the ball with no pressure and was able to turn at the defense. The back line did not drop, there was no pressure and Barco was able to give a great ball to Pity Martinez.
Barco behind the pressing line, gets the ball with no pressure and Toronto tried to defend with 50+ yeards behind their line.
The play that ended up with a foul in the box was very similar: Toronto's front five stepped up to press (without really pressing the ball), Larentowicz had space and time to give a great ball to Pity Martinez, who was being followed by Michael Bradley in between the center backs.
 5vs5 situation and a high defensive line. A lot could go wrong… And it wasn't a goal only because Westberg saved a controversy penalty call taken by Josef Martínez.
Toronto's answer was immediate, even before being able to get into Atlanta's box. Collective mistake due to lack of communication and cover of the back line, with Parkhurst following Pozuelo for almost 25 yards and no one covered for him, leaving the back line in a 3vs4 situation in front of the box. Neither Gressel (right-winger) or a midfielder covered for Parkhurst, making it enough for Benezet to have space and score a beauty from outside of the box.
Parkhurst highlighted, who forced the right-back to close inside and leabing Benezet free on the back side.
Pity Martinez looked unstoppable for Atlanta in the first half. The Argentinian showed up in opened pockets, in between marks and forced defenders to either step to him or leaving their man free. A big take away about Toronto that Martinez was able to explore in the first half was to move Bradley away from his comfortable space in front of the defenders. Toronto's midfielders did not cover Bradley in those instances, leaving space free to be explored by other Atlanta players.
Bradley in one of the many situations he had to decide between two men. Without teammates covering in central positions, Toronto could have had a nightmare first 45 minutes if Atlanta would have been able to explore this situation a bit more and lead to chances in the box.
On the ball, Toronto was harmless most of the time, and I bring you two reasons that justify their single shot inside the box during the entire game
Good preparation and defensive organization from Atlanta, pressing the ball right after losing it, not giving much space to Toronto play and applying a man marking defense in the midfield.
Lack of offensive options for Toronto. Having Pozuelo as a striker means that other players need to attack the space he leaves when dropping to look for the ball. That did not happen and for long periods Atlanta's center backs were way too comfortable in defense.
1) Man to man defense for Atlanta, not giving much space for Toronto's midfielders to have the ball and support their defenders. 
2) Pozuelo dropping to receive the ball and there is no one attacking the space in front of the defenders.
At this point of the season, Atlanta must be asking themselves how was it possible to lose this game. Well, good news are that they can only blame themselves for their defensive and psychological mistakes, punished with a late second goal that was embarrassing to watch. After reacting well to a counter attack and forcing DeLeon to take a negative touch, no one from the back line stepped to him, giving him enough space to score a beautiful and decisive goal. Tough way to end the season for Atlanta, but a lot to learn from this experience.
By: Rodrigo Carvahlo
Photo: Gabriel Fraga