Tactical Analysis: Monaco vs. Paris Saint-Germain
On November 20, Monaco welcomed Paris Saint-Germain at the Stade Louis II, in search of a victory to continue their two-match winning streak. Meanwhile, Thomas Tuchel's side looked to build on their impressive form prior to the international break and add onto their lead at the top of the Ligue 1 table.
With star striker Wissam Ben Yedder missing out on the match after testing positive for COVID-19, Niko Kovač started 19-year-old Willem Geubbels as the center forward for Monaco, with Kevin Volland playing alongside him. Benjamin Lecomte was unavailable due to injury, forcing Kovač to play Vito Mannone in goal. Moreover, with both of Monaco's starting fullbacks (Caio Henrique and Djibril Sidibé) injured, Chrislain Matsima was shoehorned at right back whilst Fodé Ballo-Touré got the start on the left.
Neymar and Marquinhos both began the match on the bench, with Tuchel looking to rest his star forwards for the midweek match against RB Leipzig, but Neymar was subbed on in the second half for Ángel Di María. On the other hand, new signings Rafinha and Danilo Pereira started in the center of the pitch for the first time so far.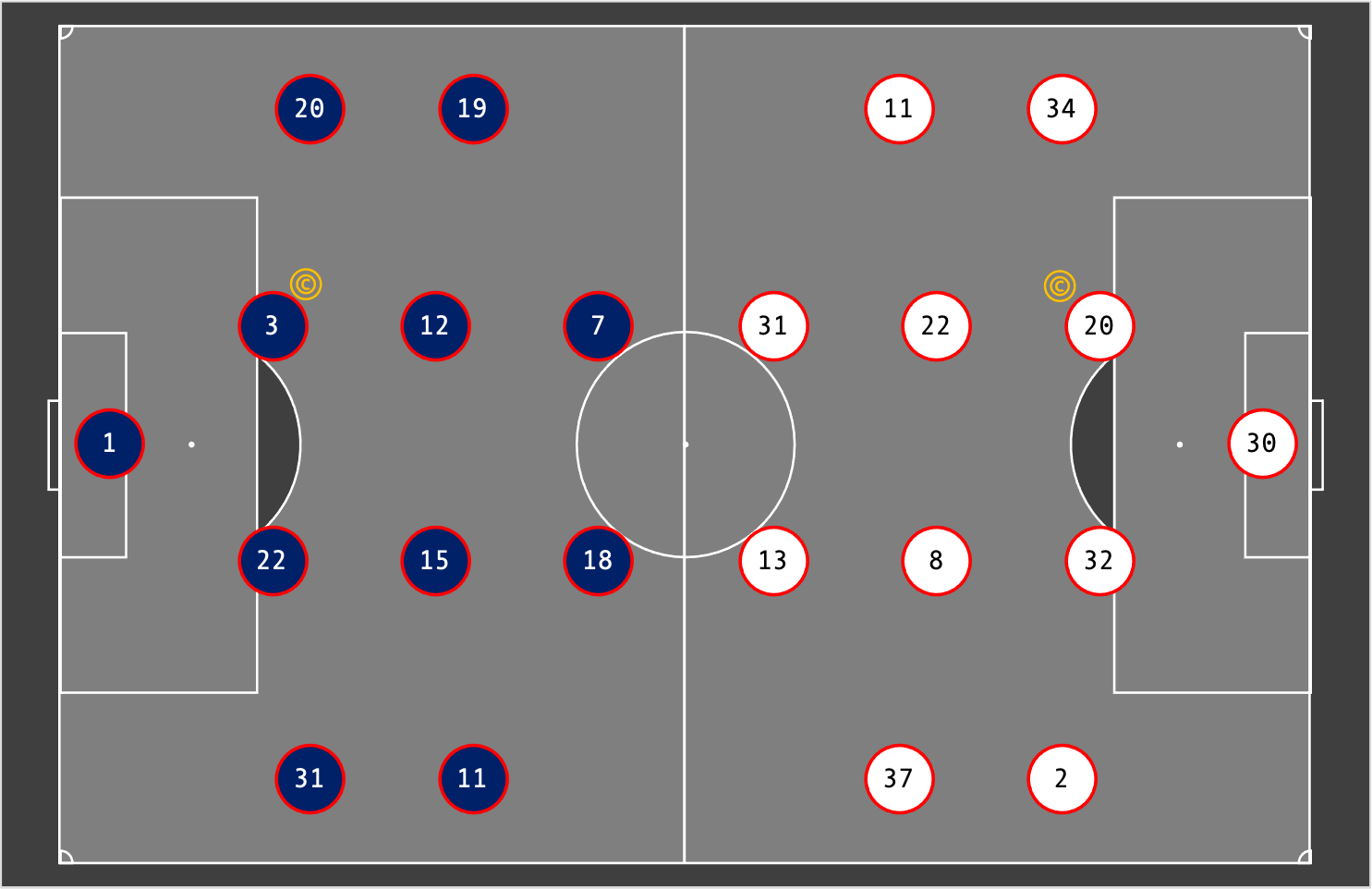 Monaco pressed in their normal 4-4-2 shape with the exception of Volland (31) positioning himself between PSG's two central midfielders and Geubbels (13) pressing the ball carrier. The idea was for one of the wingers to help with Volland in pressing the midfield duo, depending on which side PSG tried to build up from.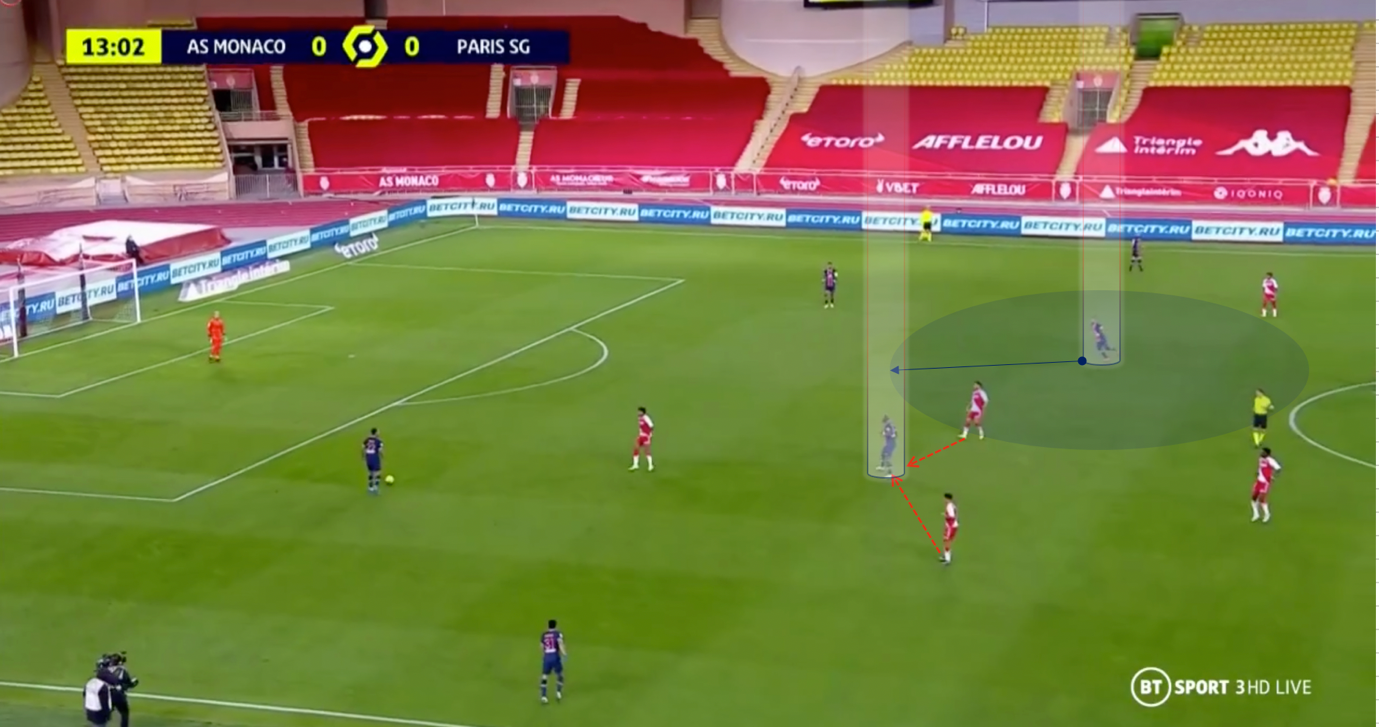 This approach wasn't as effective as Kovač would have hoped for because of the double pivot's reluctance to push up the pitch so as to not allow space in behind that could be exploited by Kylian Mbappé and Di María, leaving Rafinha with ample time and space to receive and progress the ball.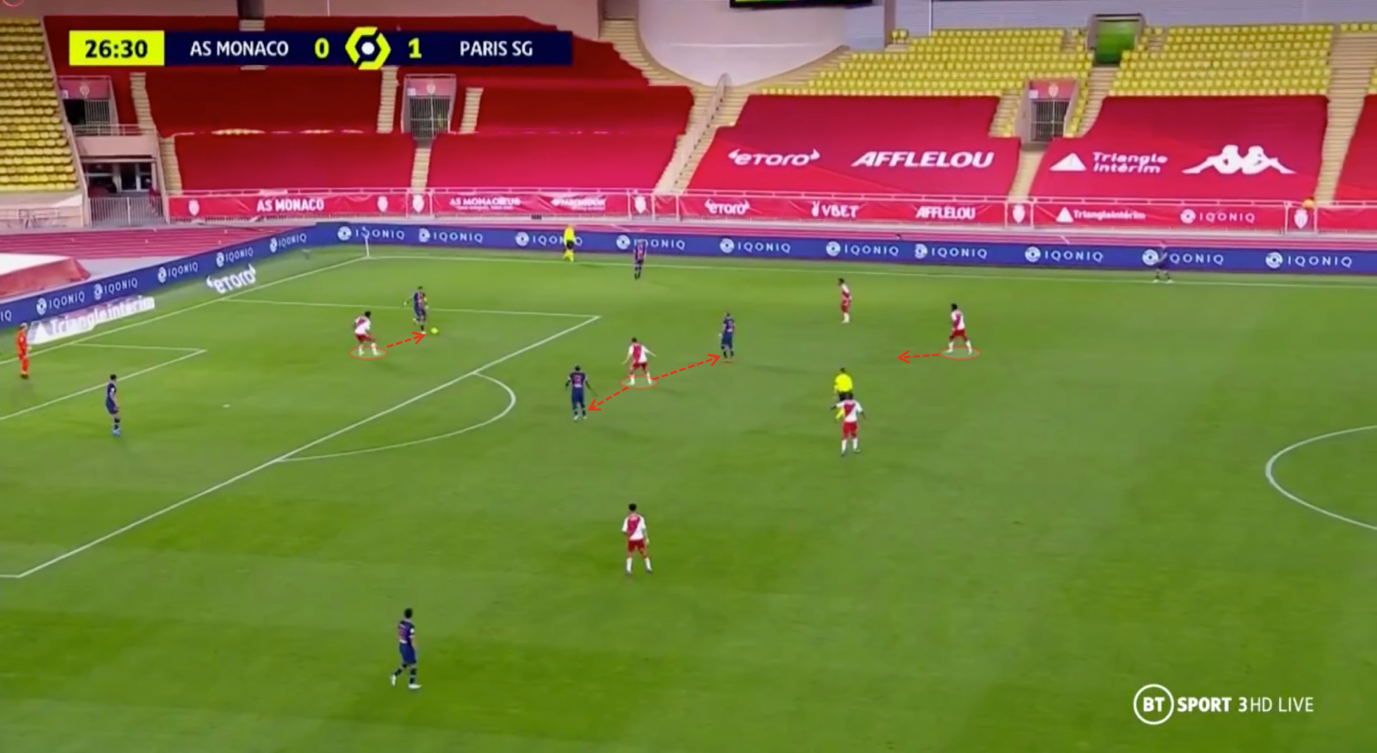 On the other side of the pitch, Tuchel took advantage of their similar set up in midfield (2v2) and had each of his players stay close to their assignment. Due to the lack of passing options, Axel Disasi and Benoît Badiashile were forced into playing long balls which were often won by PSG players.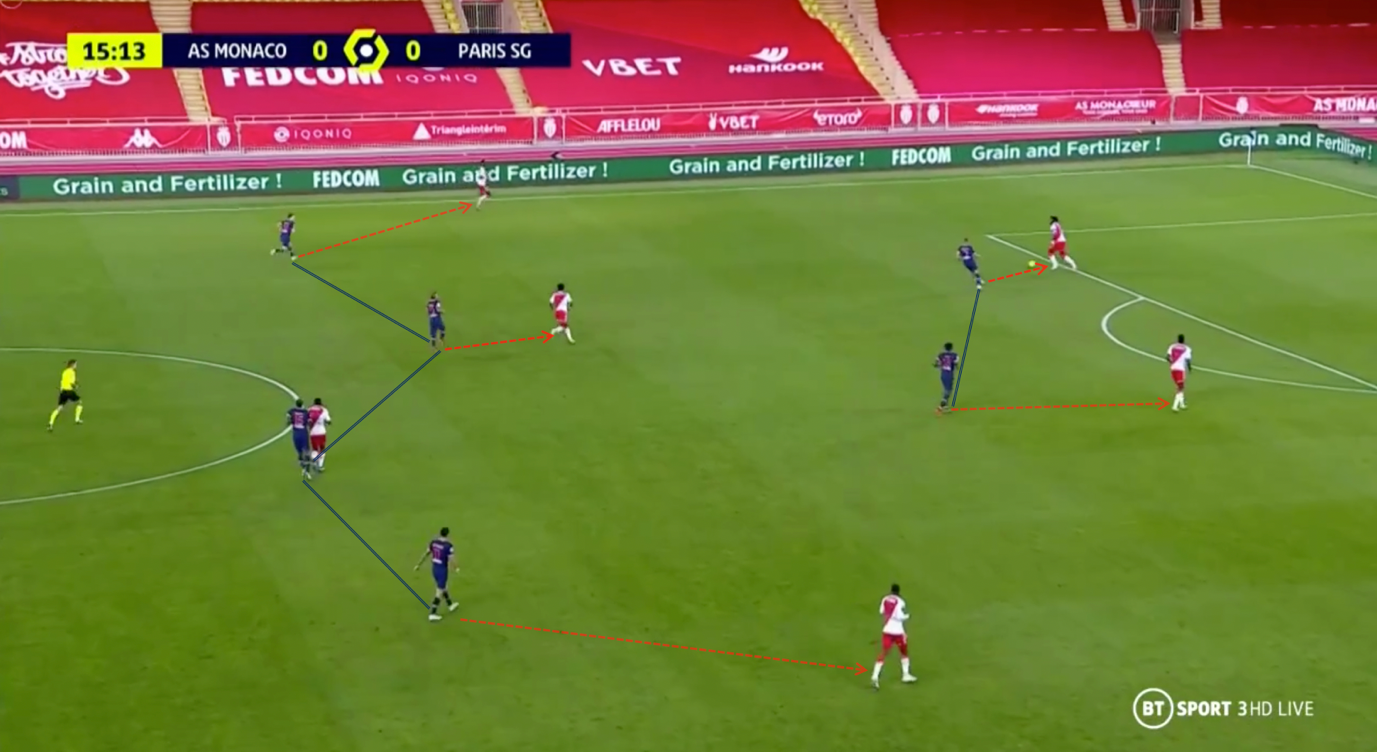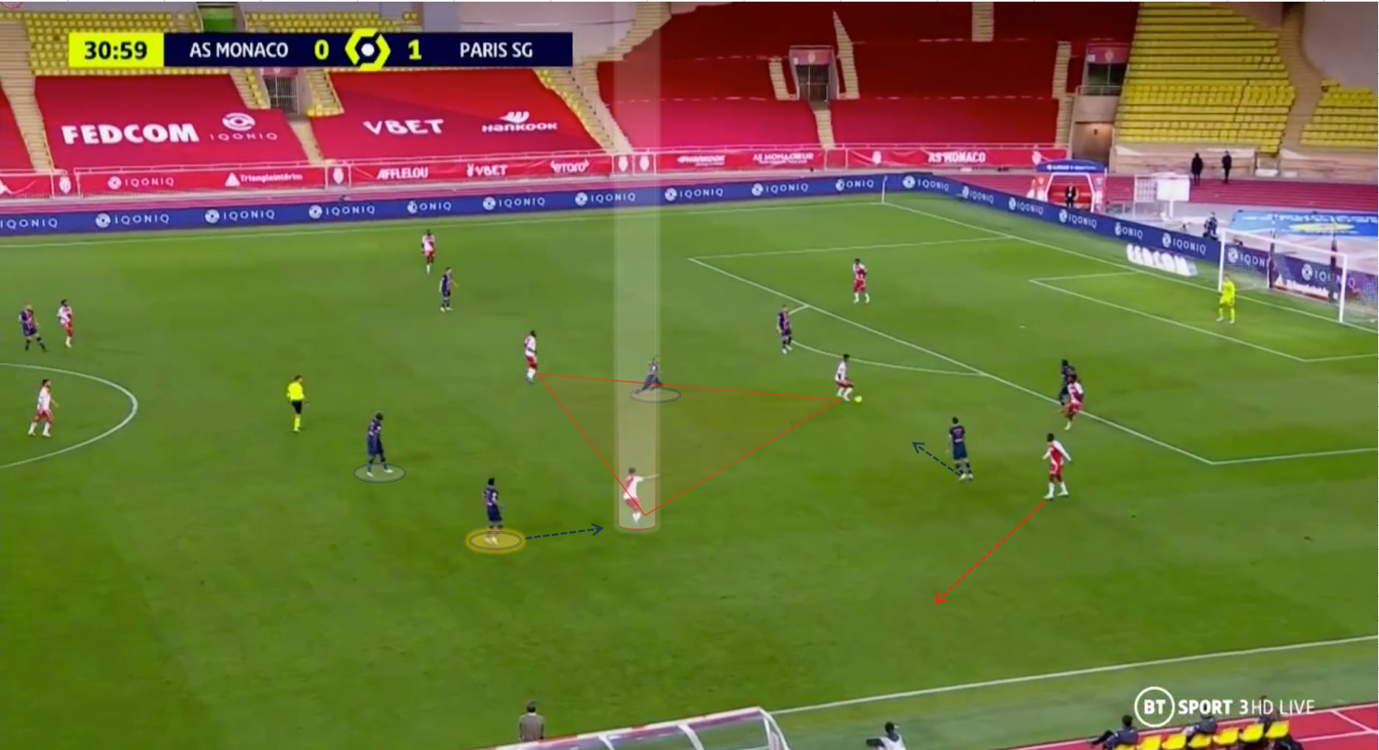 Monaco tried to find solutions through one of their more versatile players, Sofiane Diop, who would drop deep to provide more options in midfield and drag Colin Dagba out with him, which would open up the left flank to be exploited by overlapping runs.
The hosts were far too static in the first half due in part to a lack of numerical superiority in midfield, and often found themselves in situations where their attacking players were isolated in advanced positions. Mbappé came back to haunt his old stomping grounds with a brace, giving PSG a 2-0 lead going into the break.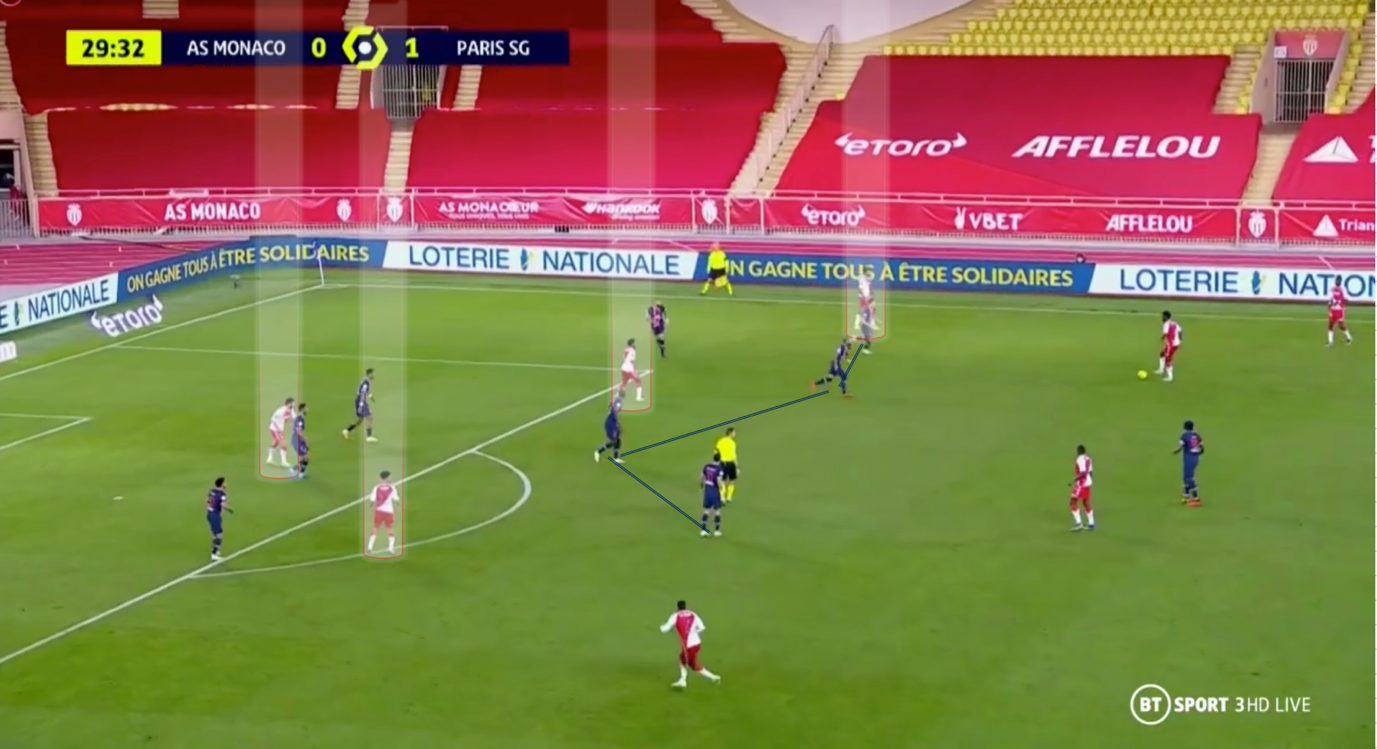 In desperate need for an answer to PSG's dominance, Kovač made two subs at halftime: he switched the ineffective Ballo-Touré for Caio Henrique at left back, and subbed off the young Geubbels for veteran midfielder Cesc Fàbregas. These two changes helped sway the game in Monaco's favor.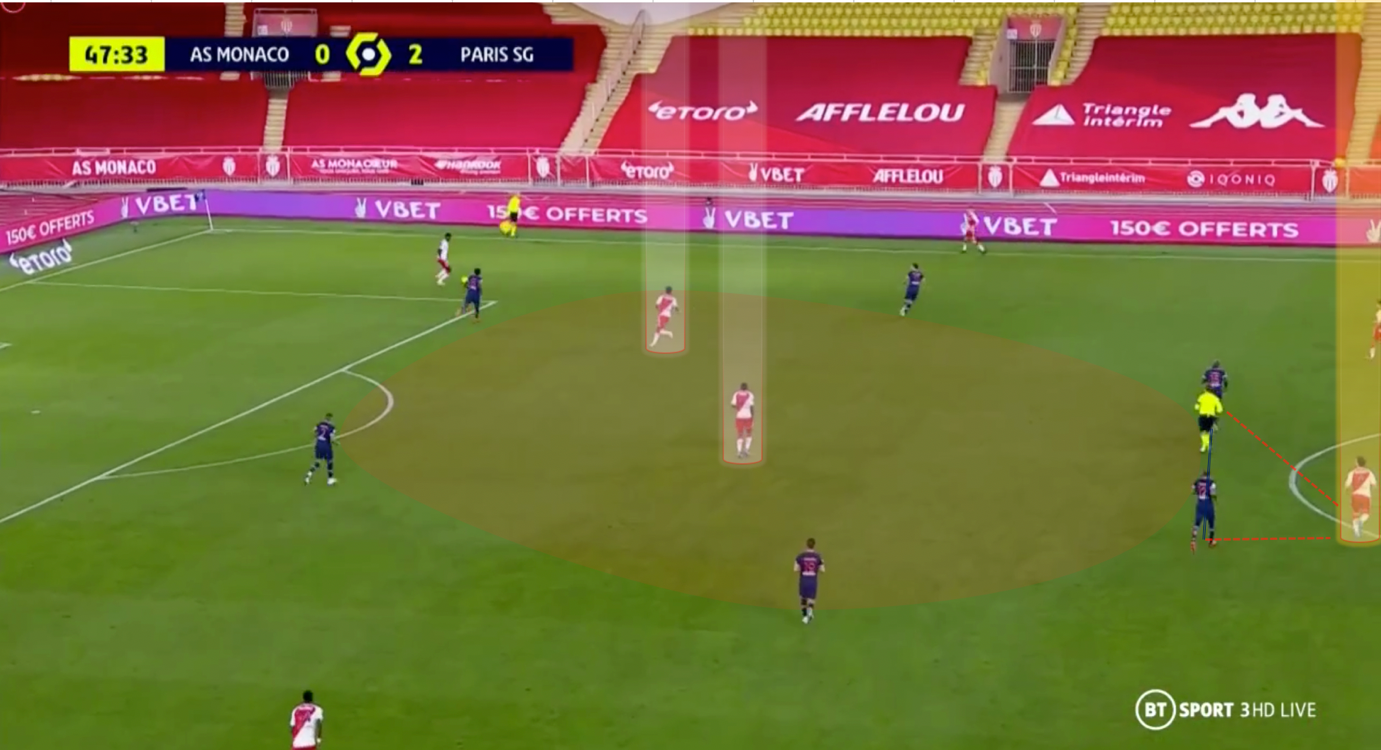 Monaco went with a 4-2-3-1 to start the 2nd half, with Fàbregas playing in front of the midfield pivot of Aurélien Tchouaméni and Youssouf Fofana. Fábregas's individual quality and danger on the ball meant that PSG were forced to commit resources to deal with his threat, leaving space for both Fofana and Tchouaméni to exploit.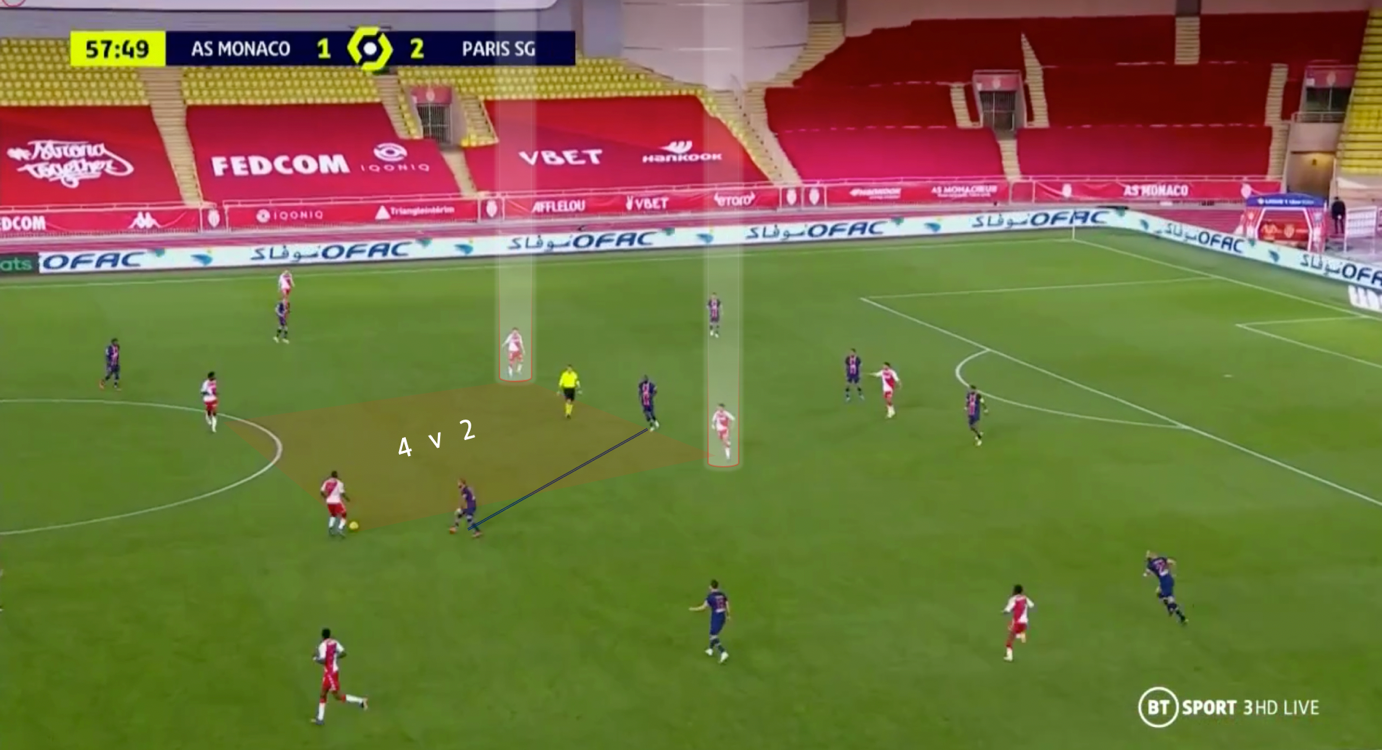 While PSG still operated with a double pivot, Monaco took advantage of this to create a numerical superiority in midfield, with Diop occasionally tucking inside to outnumber PSG's midfield even more. After a brace from Volland evened the score, Tuchel was forced to make a triple substitution, having previously subbed on Neymar for Di María.
To slow down Monaco's momentum, Tuchel took off Mbappé for 18-year-old attacking midfielder Kays Ruiz-Atil, whilst also subbing on Leandro Paredes for Danilo and Mitchel Bakker for Layvin Kurzawa, who had a dismal performance against his former club.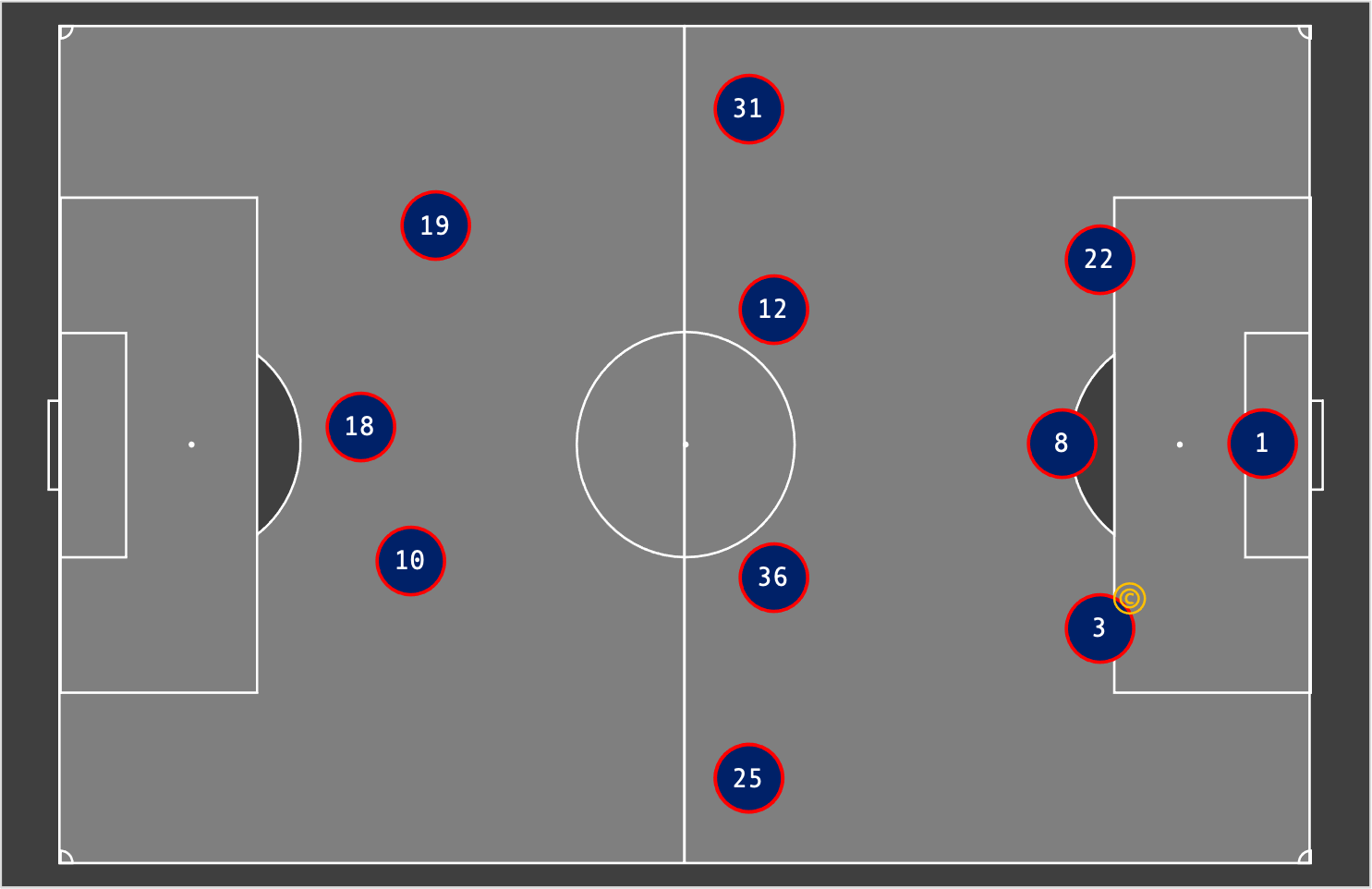 Paredes (8) would drop deep to help aid the build-up as he is much more adroit on the ball than Danilo and is willing to take risks to break the lines. This allowed the full backs to push further up and stretch the pitch to give the midfielders, Rafinha (12) and Ruiz-Atil (36), more space, whilst Neymar would also drop deep to provide fluidity to PSG's attacking play.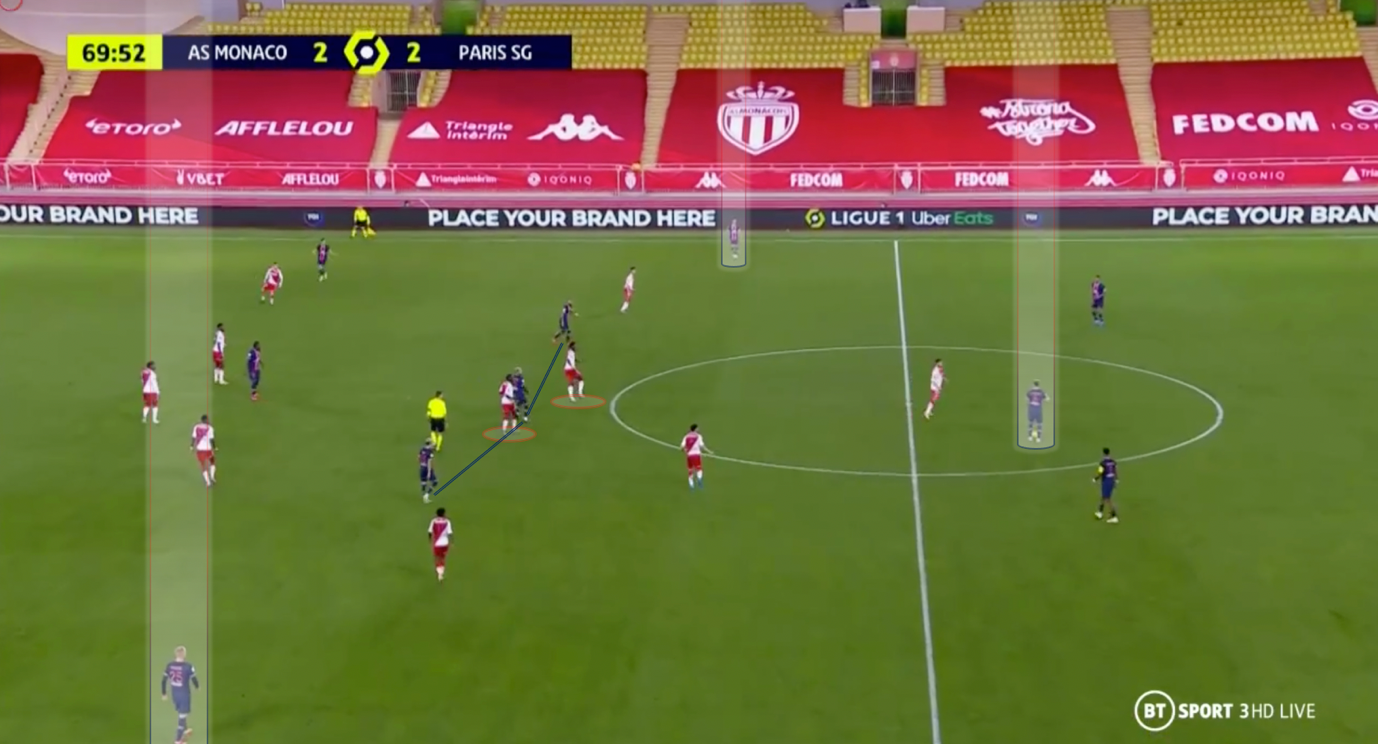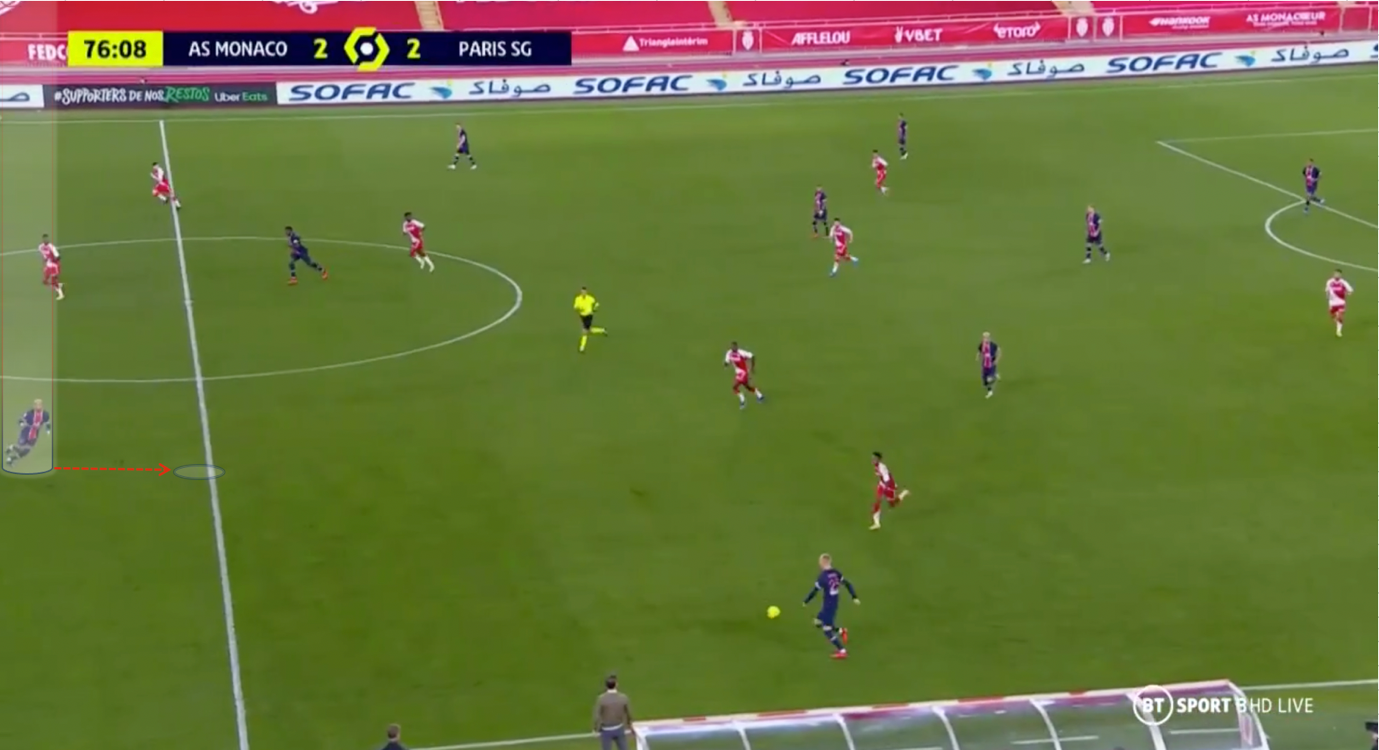 Monaco continued to mount wave after wave of attack, and in the 83rd minute, they finally found a breakthrough. Having been closed down by Fàbregas, Dagba played a back pass to Abdou Diallo, who lost control of his touch and gave the ball away to Volland. The German forward muscled off Diallo to the best of his abilities, but when he fell to the ground, referee Clément Turpin had no qualms about giving Diallo his marching orders.
Fàbregas stepped up to the spot, hesitated, and blasted his shot past Keylor Navas and into the right corner, giving Monaco their first victory over PSG since August 2016. It was a worthy reward for the Catalan midfielder, who had registered six progressive passes, three passes into the penalty area, and three key passes in the second half.
After 11 matchdays, PSG currently hold a slim two-point lead over Lille at the top of Ligue 1, whilst 5th-placed Monaco are tied with Lyon and Montpellier on points. Kovač's side will be looking to continue their impressive form in the coming weeks as they prepare to take on Lille and Marseille in their respective stadiums.
By: @peIota_al10
Featured Image: @GabFoligno / Valery Hache – AFP