Tactical Analysis: Napoli vs. Atalanta
After controversially receiving a 3-0 defeat and being deducted a point for failing to play their scheduled match against Juventus, Napoli thrashed Atalanta in a match that was expected to be a close contest. Poor structure and individual errors from Atalanta saw Napoli score four goals in the first half and put the game to bed with relative ease.
Whilst Atalanta were underwhelming, Napoli looked fit for a title push under Gennaro Gattuso. Their front 4 (Matteo Politano, Dries Mertens, Hirving Lozano and Victor Osimhen) combined in lethal form, even with Lorenzo Insigne sidelined due to a hamstring injury.
Line-ups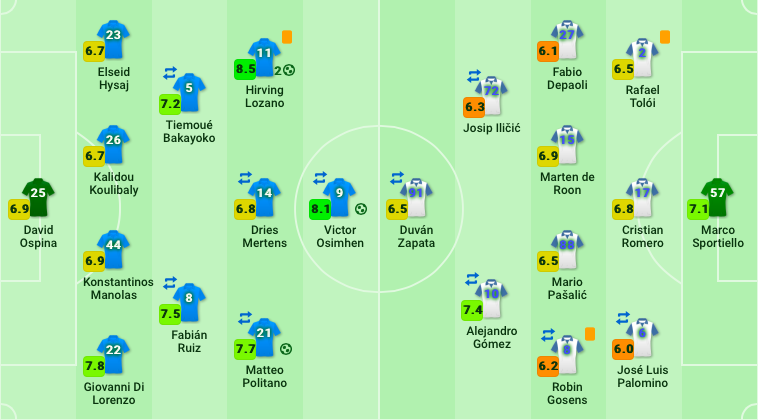 Photo: SofaScore
Napoli set up in a 4-2-3-1 and were happy to drop deep into a 4-4-2 shape when Atalanta had the ball, as seen below.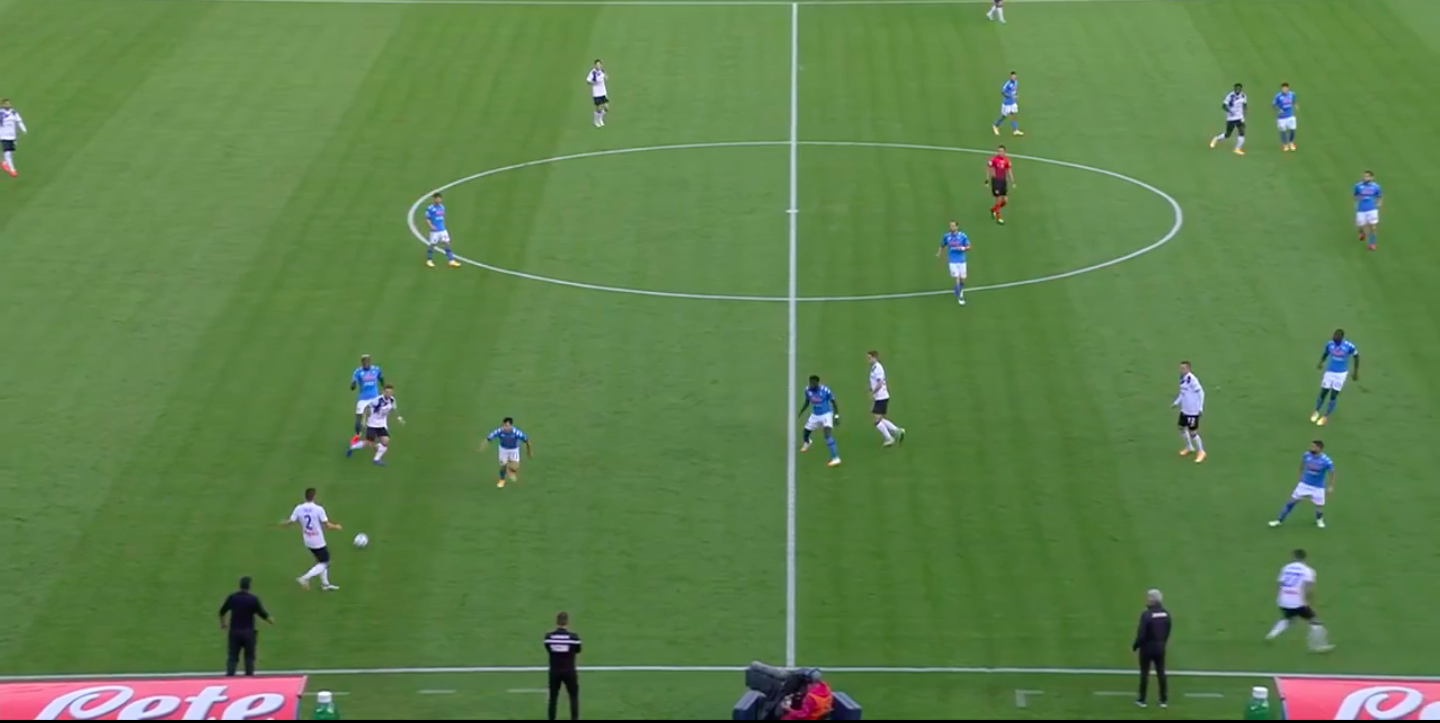 On the other hand, Atalanta were neither here nor there when they lost the ball. They set up in a 5-3-2 out of possession, but it was so disorganised that it's hard to actually define what Atalanta were doing when they didn't have the ball.
They didn't always press and they didn't sit back in their shape. This meant that Napoli had time on the ball whilst Atalanta's poor structure provided them space to play passes into their front 4.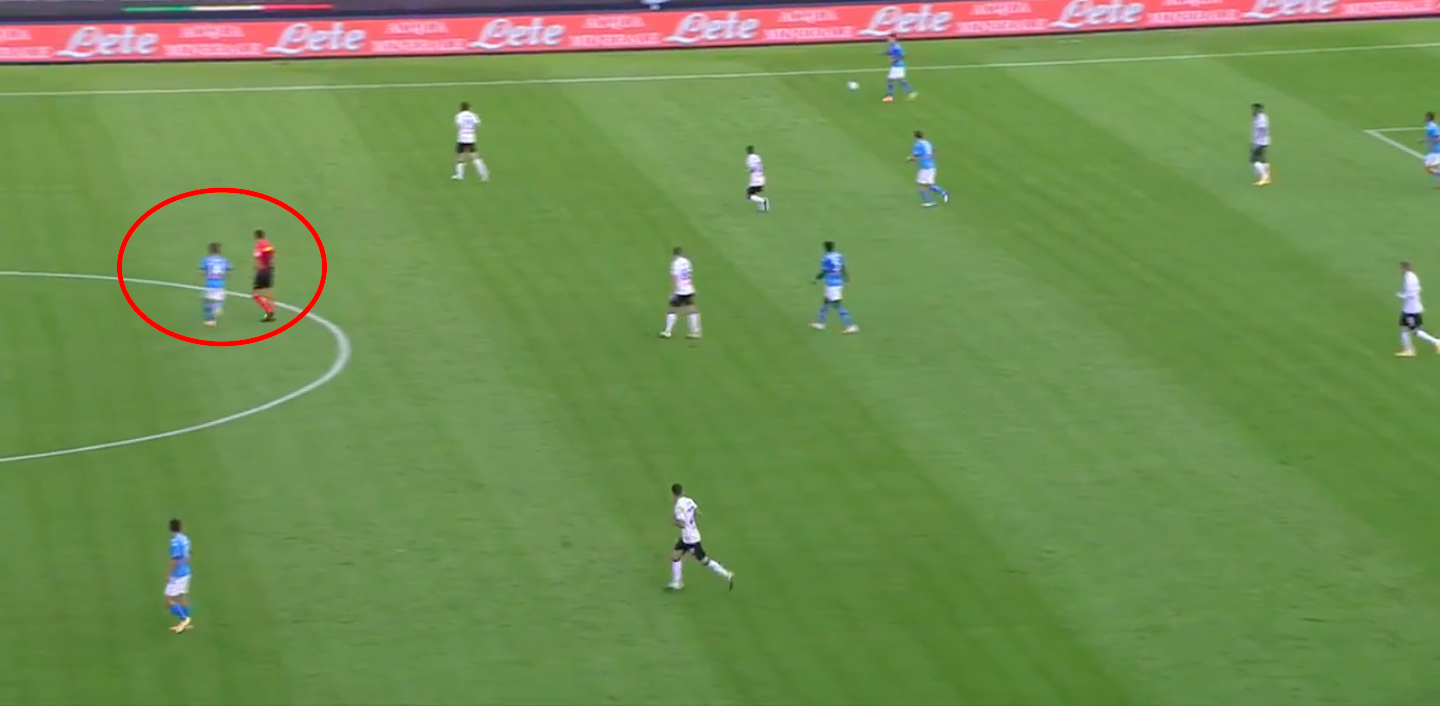 Atalanta have 6 players in advanced areas, but nobody has pushed up to put pressure on Napoli right back Giovanni Di Lorenzo. One of the midfield 3 or one of the wing-backs should've instead pushed up to the Napoli full-backs. Atalanta needed to put pressure on the ball to stop Napoli players from having the time to pick an accurate pass into their teammates.
The pressure on the ball reduces the angles that a player can pass into and reduces the time that he has to play a pass (which often reduces its accuracy). None of Atalanta's midfielders tracked Mertens, and the Belgian found himself unmarked on multiple occasions, allowing him to get in behind Atalanta's midfield and create promising attacks.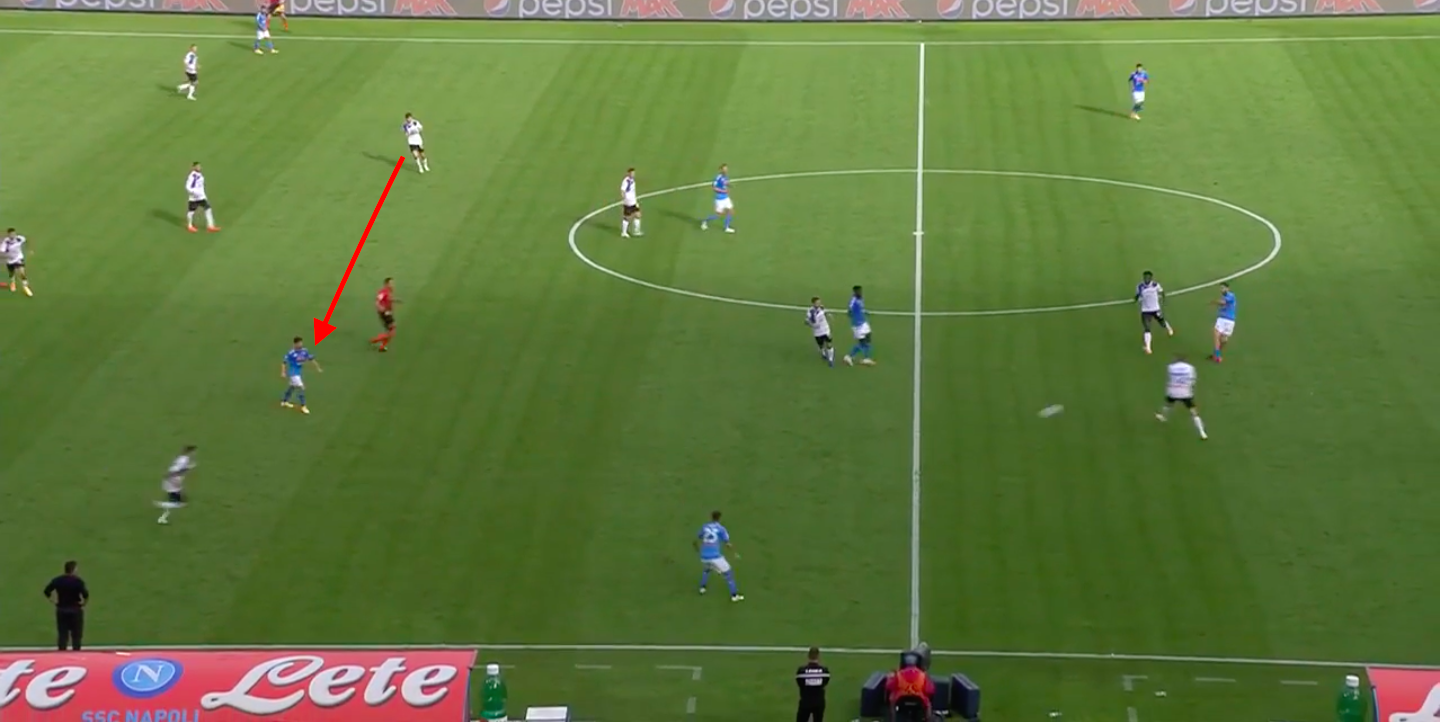 Here's an example of Atalanta's midfield 3 not working well. Mario Pašalić and Papu Gómez are marking Napoli's double pivot (Tiémoué Bakayoko and Fabián Ruiz) so Marten de Roon should be behind them in the #6 position, but instead, he's on the left of midfield.
If de Roon had started in the #6 position, he'd naturally track Mertens' movements. Alternatively, de Roon could've marked Ruiz and Pašalić could've tracked Mertens; either way, Mertens should not be able to receive in space whilst unmarked.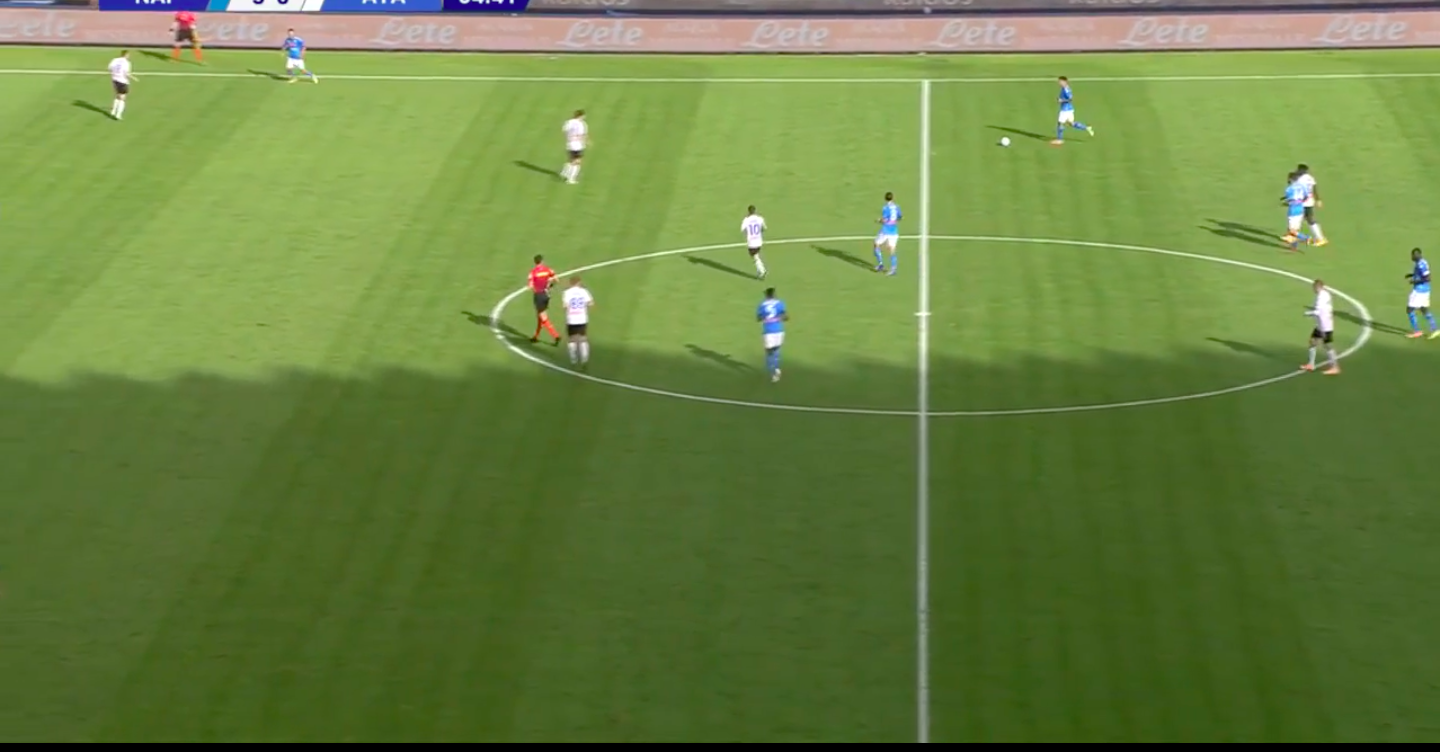 Here's another example of Atalanta not putting pressure on the ball. Di Lorenzo again has time and space to pick the perfect pass due to the acres of space behind Atalanta's midfield 3. Atalanta's back 5 needs to push up in order to make the block more compact, or the midfield needs to drop deeper.
Individual Errors
Atalanta's game was plagued with individual errors. Osimhen tortured Atalanta's defence with his pace in behind and his aerial threat. Atalanta's centre-backs struggled to win aerial duels and misjudged several long passes which allowed Napoli to win the long balls and break on the counter.
This meant that Napoli could consistently progress play with simple long balls into their attackers (mostly Osimhen). The backline also struggled to deal with Lozano and Politano. Whilst both wingers are promising 1v1 attackers, Atalanta's defenders made it far too easy for them to cut inside and shoot (if Atalanta's midfield were deeper, they could have helped to defend Napoli's wingers).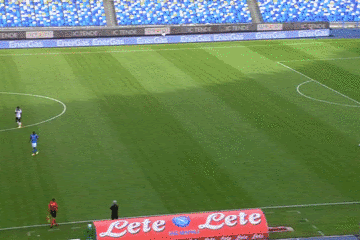 Lozano opened the scoring with an early brace, whilst Politano added a third goal in the 30th minute. The fourth goal came shortly before halftime; David Ospina boots a goal kick into the direction of Osimhen, Cristian Romero completely misjudges the trajectory of the pass, allowing Osimhen to control it on his chest, and take a touch past José Luis Palomino, who initially backed off in order to block the passing lane into Lozano. Osimhen does superbly to beat Marco Sportiello from long range and fire home the first goal of his Serie A career.
Here's Osimhen's goal. Cristian Romero completely misjudges the flight of the ball, Osimhen picks the ball up and fires it in. Marco Sportiello's positioning was also poor for the goal. This goal sums Atalanta's poor individual performances up.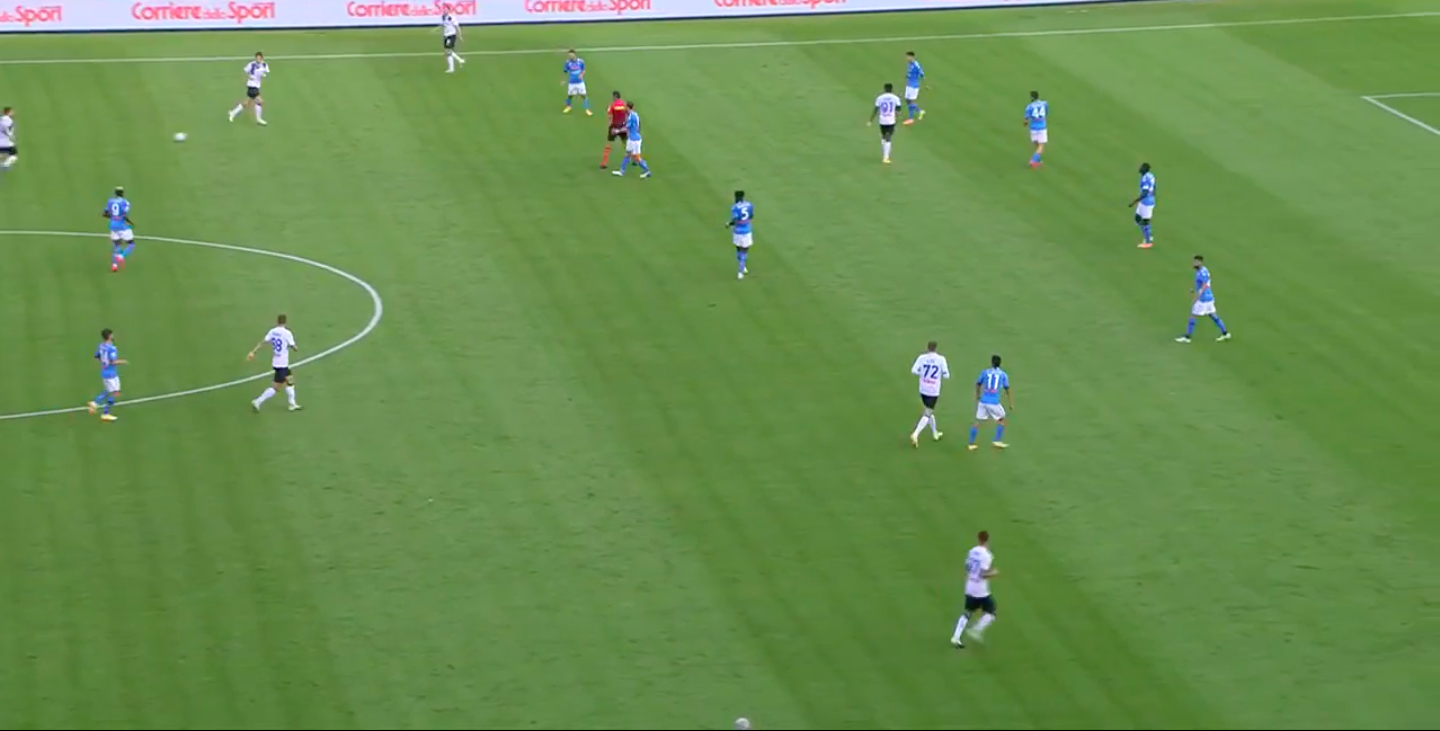 On the ball, Atalanta lacked any real threat. Their front 2 (Duván Zapata and Josip Iličić) were too far apart from one another. For example, Zapata often received passes but Iličić was too far away from him for them to combine with his Slovenian teammate.
In general, the front 2 didn't do enough to involve themselves with play. They didn't run in behind or drop deep to offer themselves as outlets which meant that Atalanta often struggled to create chances (especially in the first half).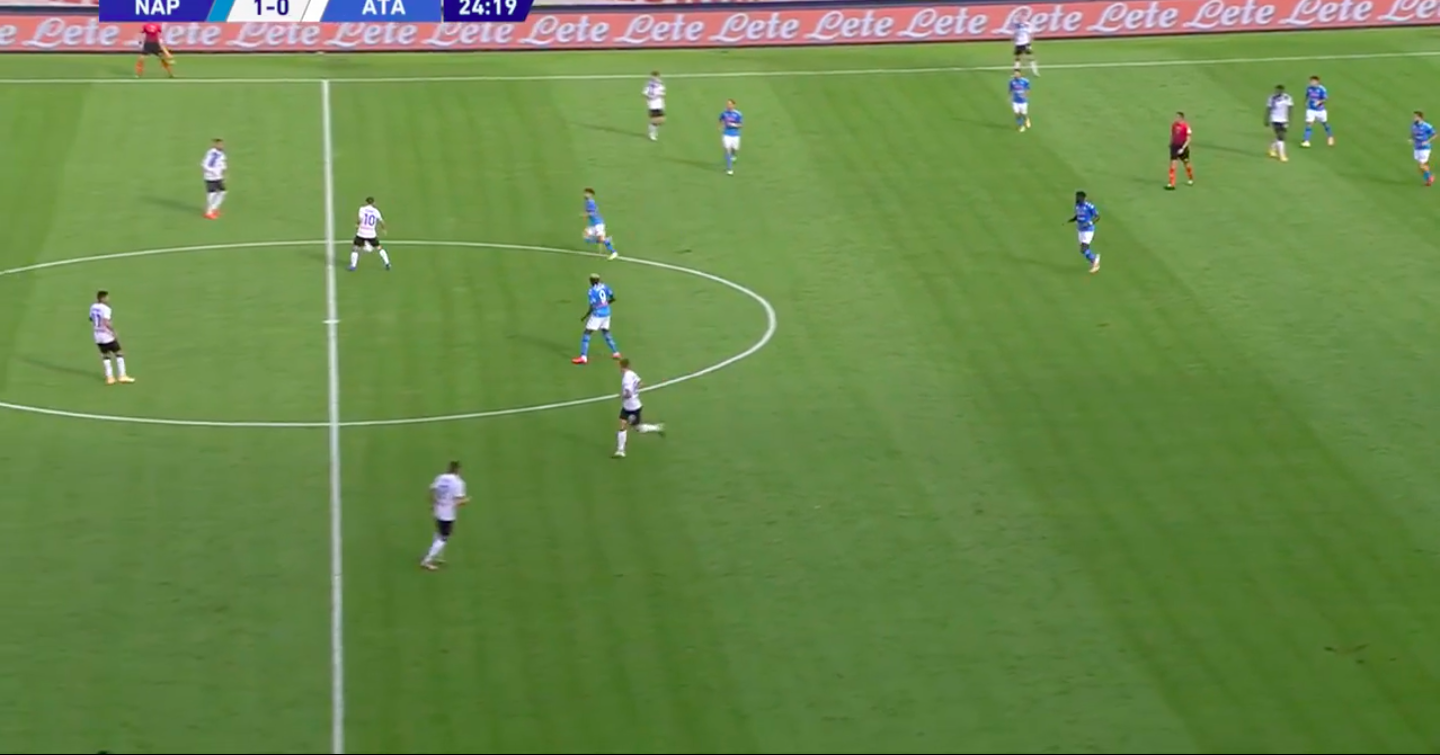 Atalanta's midfield was too flat and narrow, lacking a strong presence in between the lines to break down Napoli's defense. Gómez dropping deep to assist with build-up hurt La Dea more than it helped them. If the Argentine picked up positions in between the lines, he could've helped Atalanta to connect the midfield and attack.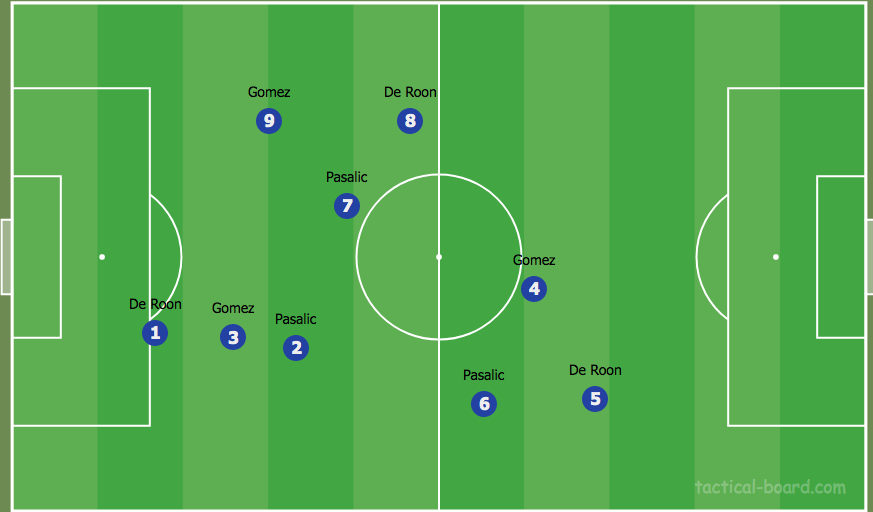 Whilst Atalanta's game plan was riddled with errors, Gian Piero Gasperini will take consolation from the fact that they looked more secure defensively and threatened Napoli with their press in the second half, leading to Sam Lammers's goal in the 69th minute.
On the contrary, Napoli looked strong all over the pitch. Kalidou Koulibaly won aerial duels and dealt with whatever attacking threat that Atalanta sent their way. Bakayoko provided Napoli with defensive cover in midfield and helped give Napoli the defensive security that Atalanta lacked. 
With Lozano, Mertens and Insigne providing width, Ruiz marshaling the midfield, and Koulibaly sniffing out attacking threats, Napoli have what it takes to make a serious push for the Scudetto under Gattuso. Moreover, having purchased Osimhen for a club-record €70 million, they finally have a central forward with the speed, aerial ability, and end product to spearhead Napoli's attack.
By: @Tacticalnovic1
Featured Image: @GabFoligno / Francesco Pecoraro / Getty Images