Tactical Analysis: North London Derby
The North London derby holds a special place in the heart of Arsenal fans given the history and their dominance over Tottenham, but last weekend, Arsenal went into the derby as underdogs. The Gunners locked horns with their crosstown rivals on Sunday at the Tottenham Hotspur Stadium, and the home side would go on to take the lot with two first half goals and an overall dominant performance.
Line-ups
Spurs manager José Mourinho brought Toby Alderweireld back into the starting line-up along with Giovani Lo Celso who replaced the injured Tanguy Ndombélé. As for the away side, Mikel Arteta started Alexandre Lacazette in a #10 role after previously successful performances in the UEFA Europa League.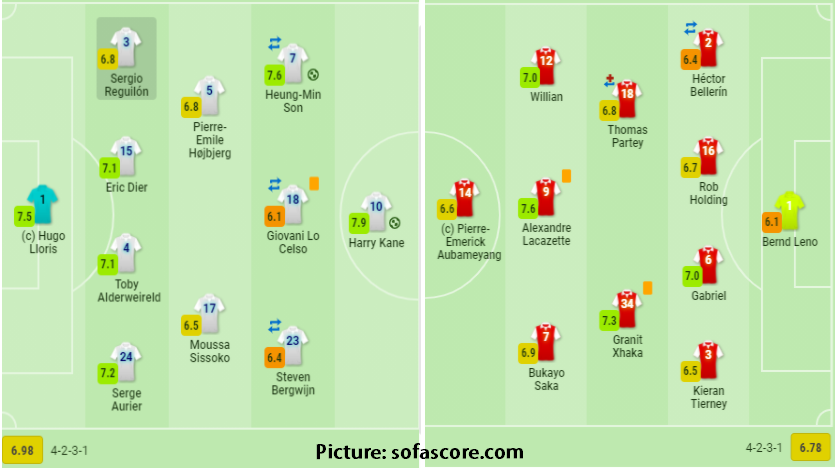 Photo: SofaScore
Positional Problems
Let's start by analyzing the positional issues that caused Arsenal problems throughout the match, including the first goal. The fullbacks, Héctor Bellerín and Kieran Tierney, assumed high positions to maintain Arsenal's high defensive line in possession, making them vulnerable to counter-attacking threats. Spurs would look to exploit this potential weakness, and they found success in the 13th minute.
Steven Bergwijn found Harry Kane in the center circle with a headed pass, but rather than tracking back and following Son Heung-min's overlapping run on the left flank, Bellerín ran inwards to apply pressure on Kane. Kane took just two touches to control the ball and evade Thomas Partey, before spraying a pass to Son.
The South Korea international found himself isolated against Rob Holding on the left wing before cutting inside and curling the ball past Bernd Leno and into the bottom right corner. Bellerín should have been marking him closely to cut off his angle; instead, he was nowhere to be seen.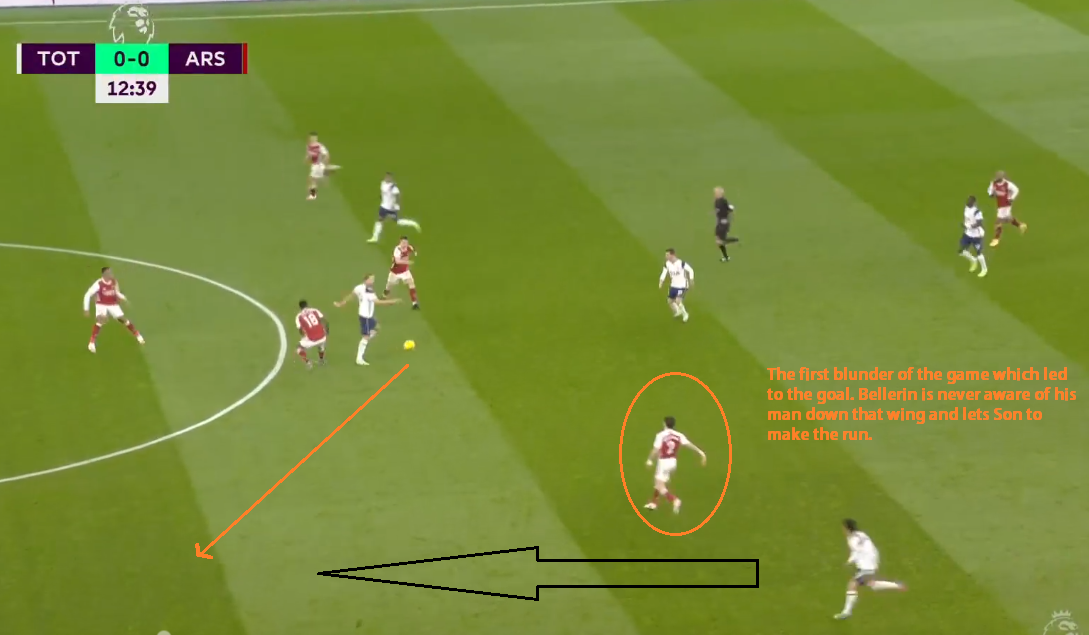 Partey made his first start since November 8 in a 3-0 defeat to Aston Villa, and the Ghanian showed some positive signs by making forward runs and creating progressive passes as well, although he was taken off before halftime after suffering a recurrence of his thigh strain.
His midfield partner, Granit Xhaka, lasted the full 90 minutes, but fared even worse. Xhaka often occupied positions that should have been reserved for Gabriel in defense, and the Swiss's positioning as a makeshift left-sided center back boded poorly for Arsenal on and off the ball.
There were many instances in the game, especially in the second half, where all the midfielders were positioned ahead of the Spurs' first line of defense. This might aid in building up from the back with short passes, but against a team that doesn't press so highly and prefers to hit on the counter, it gives them time to reshape. This caused Arsenal to struggle to find incisive passes behind the Spurs midfield or defense.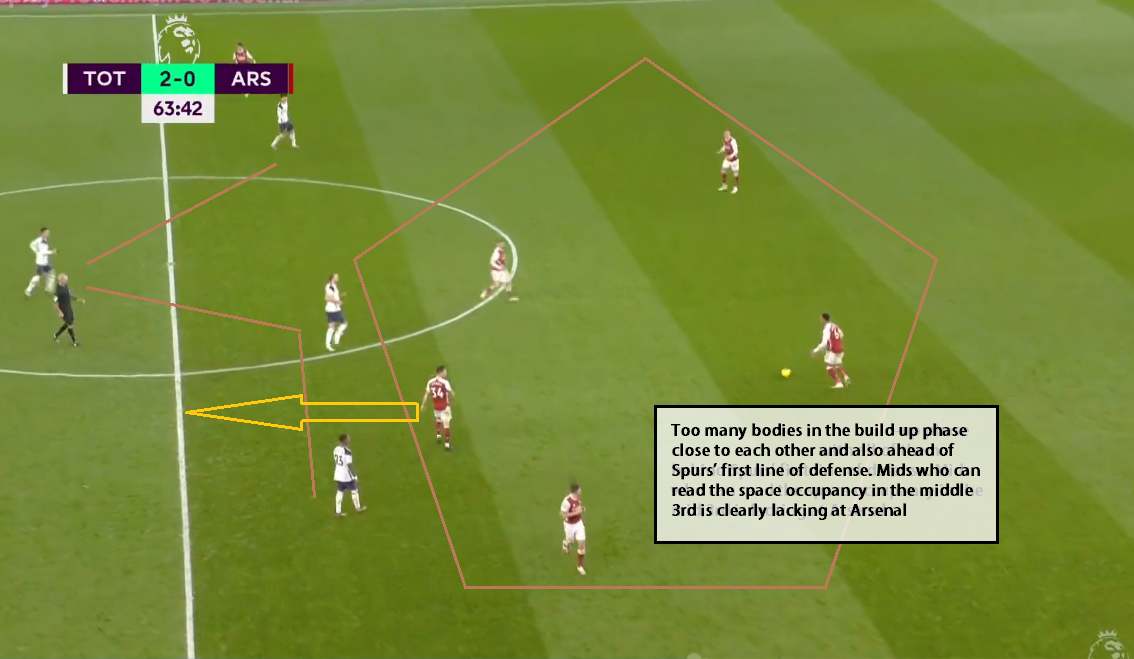 Unlike Mesut Özil, Lacazette is a central forward, not a central attacking midfielder. Shoehorned into an unnatural position, Lacazette struggled to do the fundamentals of a #10: occupy the half-spaces, spray passes inside the penalty area, and feed his attacking teammates with through balls.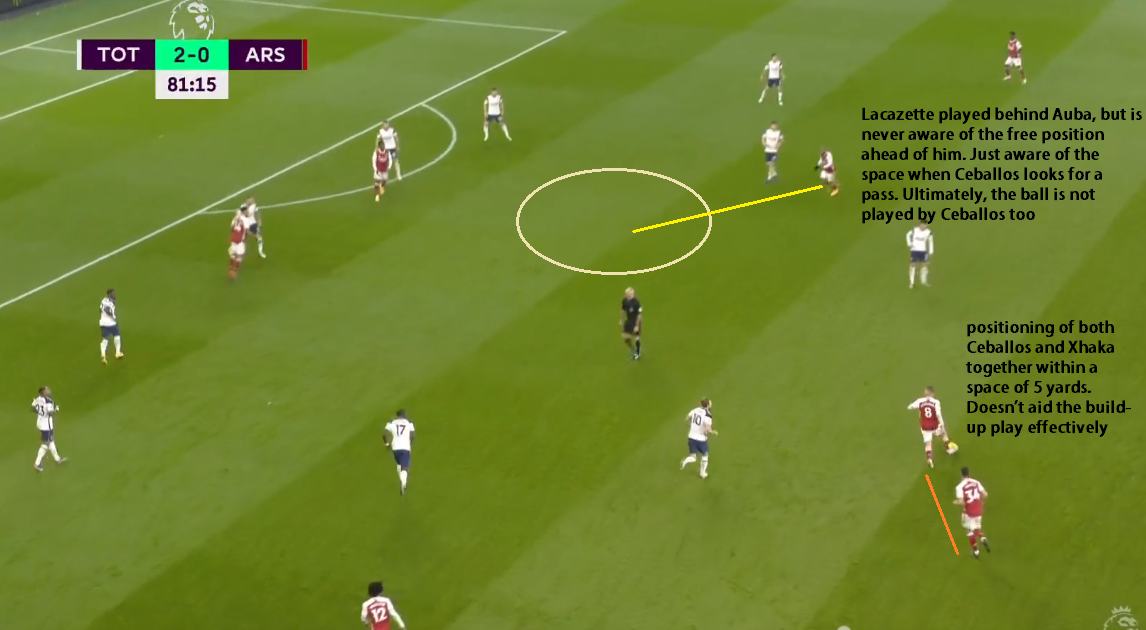 The Midfield Conundrum 
With Arteta opting for a 4-2-3-1, Partey and Xhaka were both responsible with orchestrating the first phase of build-up and advancing the ball into the opposing half. However, with Xhaka occupying positions akin to a left-sided center back, Arsenal struggled to penetrate through the middle and progress the ball into the final third of the pitch.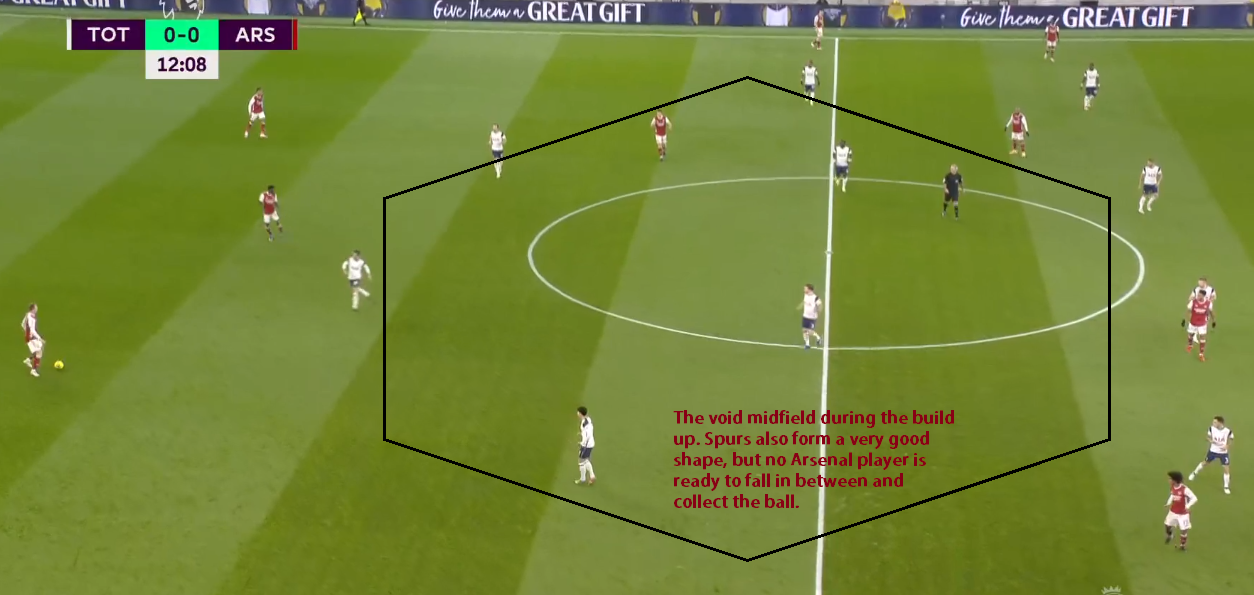 With Partey picking up a hamstring injury shortly before the break, Arteta was forced to turn to Dani Ceballos on the right side of his double pivot. Ceballos and Xhaka both dropped deep to form a makeshift back four, with Bellerín and Kieran Tierney pushing forward to provide width.
However, this caused an even greater gap between Arsenal's midfield and attack, and even when Lacazette tried to drop deep and carry the ball forward, he wasn't quick enough to turn and pick out a teammate in space, meaning that Spurs could easily prepare for the Frenchman's attempted action.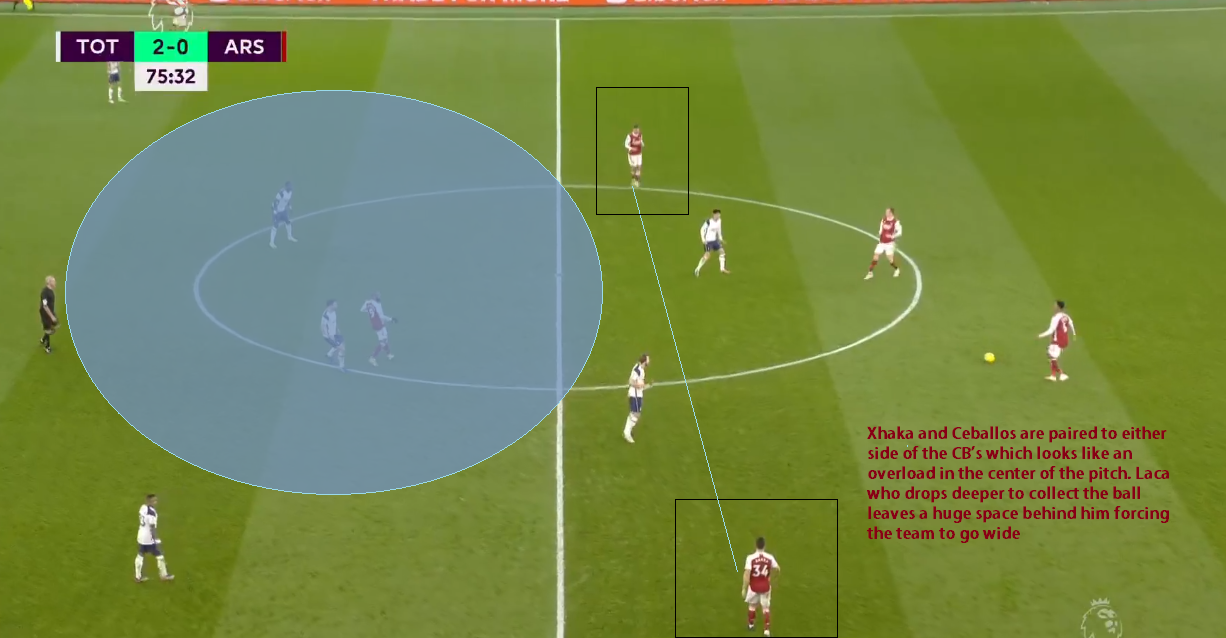 Decision-making in Middle and Attacking Third
"For him, winning is a consequence of playing well with the ball on the ground, respecting his plan, staying in position and always keeping possession. He puts everything in place to get the ball up to the final third of the pitch and then trusts his team to finish the job in the only area of the field that can't be planned for," Thierry Henry on Pep Guardiola.
Like his mentor Pep Guardiola, Arteta is a firm believer in using triangles and short passes to progress the ball into the final third. However, Arsenal struggled to churn possession into goalscoring chances due to a lack of individual quality in the final third as well as ineffective decision-making from their players.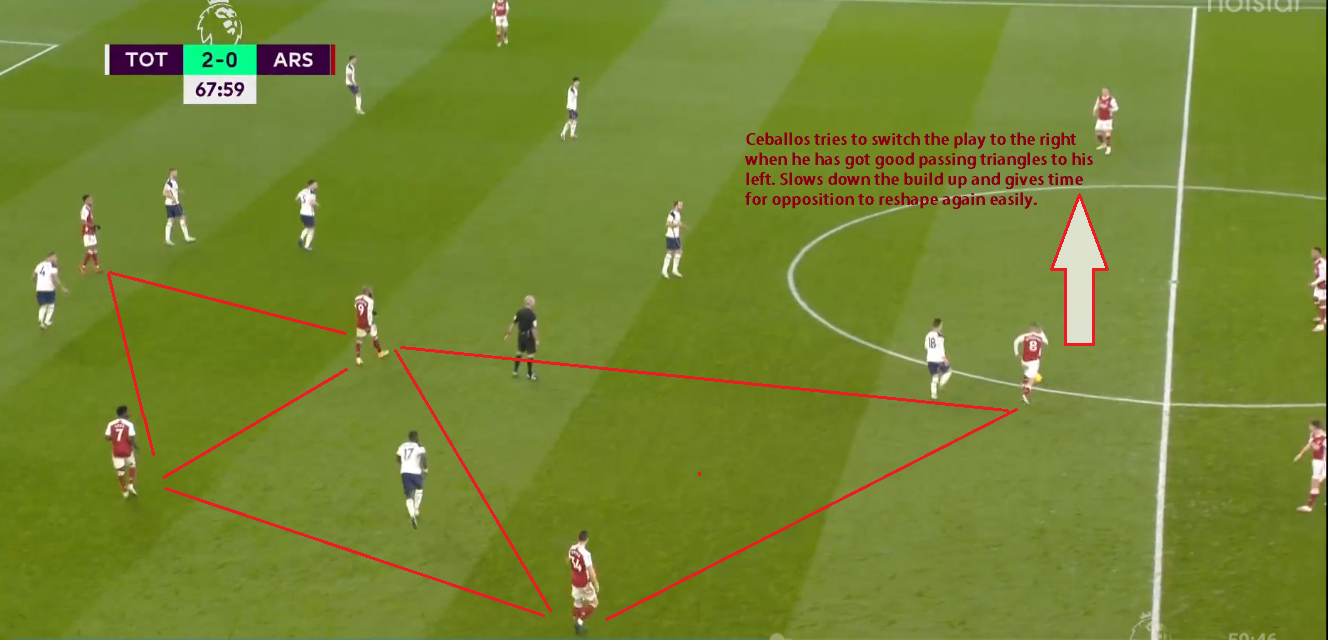 Whilst the Gunners enjoyed 70% possession, they struggled to find a way through Tottenham's defense due to various factors; Arteta's naïve game plan, Mourinho's defensive tactics, and reactive rather than proactive decision-making from their players.
In the below example, Pierre-Emerick Aubameyang has plenty of space to collect the ball and make an underlapping run, but he instead waits for Bukayo Saka to play a cross despite being marked tightly by both Bergwijn and Serge Aurier.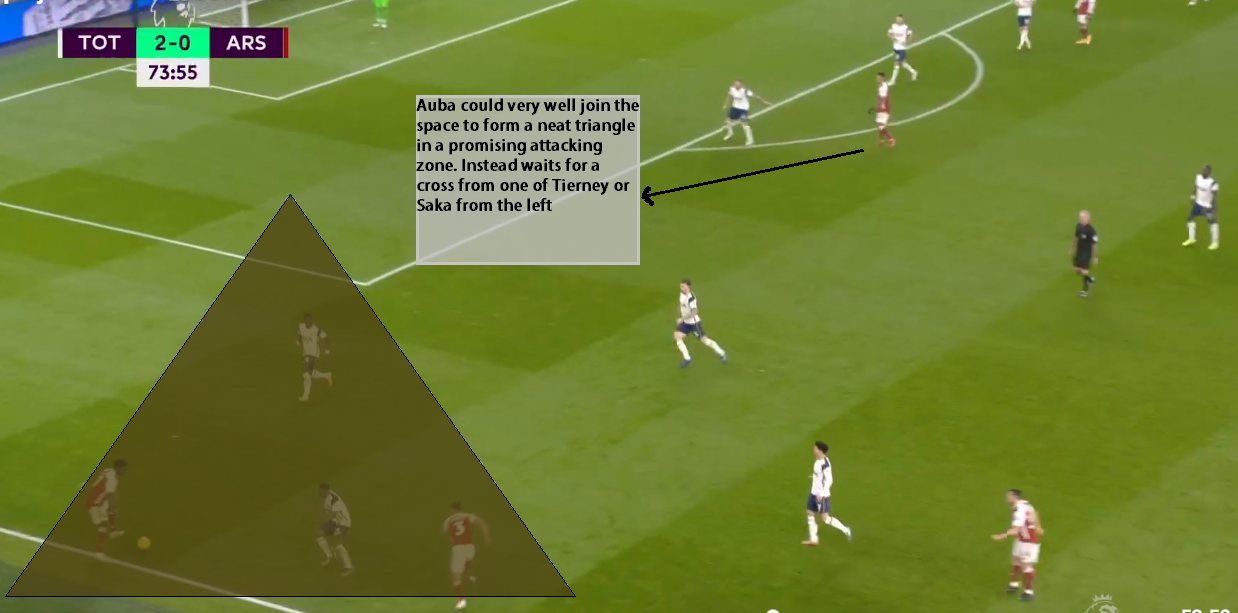 Whilst Arsenal had 11 shots in contrast to Spurs's 5 shots, they had just 2 shots on goal in comparison to the home side's 3 shots on goal. Clear-cut goalscoring opportunities rarely come against in-form Mourinho sides, but even when they did come, the Gunners squandered them.
If Lacazette had played this through ball with just one touch, he could have split Eric Dier and Alderweireld and find Aubameyang in a goalscoring position, but he delayed his pass, took two touches, and threaded in the pass for Bellerín, not Aubameyang. Arsenal fans would be forgiven for missing the speed of mind and incisive passing of Özil on Saturday.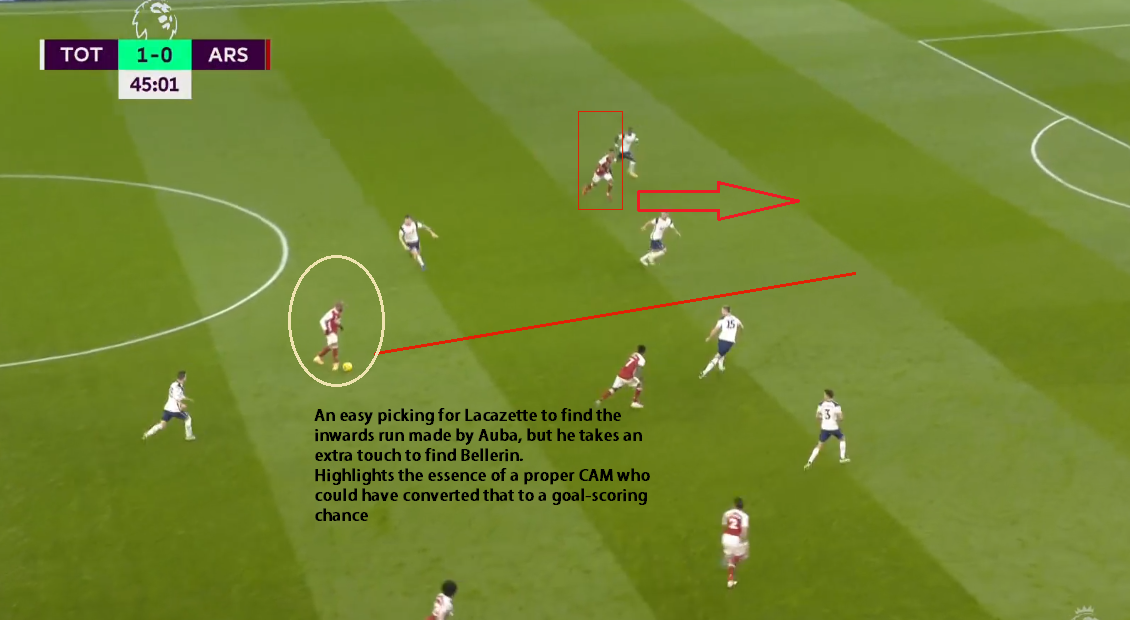 Instead of teeing up Aubameyang in a goalscoring position, Lacazette's through ball found Bellerín at the edge of the box, and the Spanish defender's attempted pass was intercepted by Aurier before it could reach Aubameyang. The Ivorian did not hastily clear it though; he found Lo Celso in ample space in midfield.
Both Lacazette and Bellerín made the wrong decision in this instance. Whilst Aubameyang was clearly making a run in behind Aurier, Bellerín decided to cut it back instead of playing the riskier, less conservative option. Instead, Aurier can easily recover possession and find his Argentine teammate in space.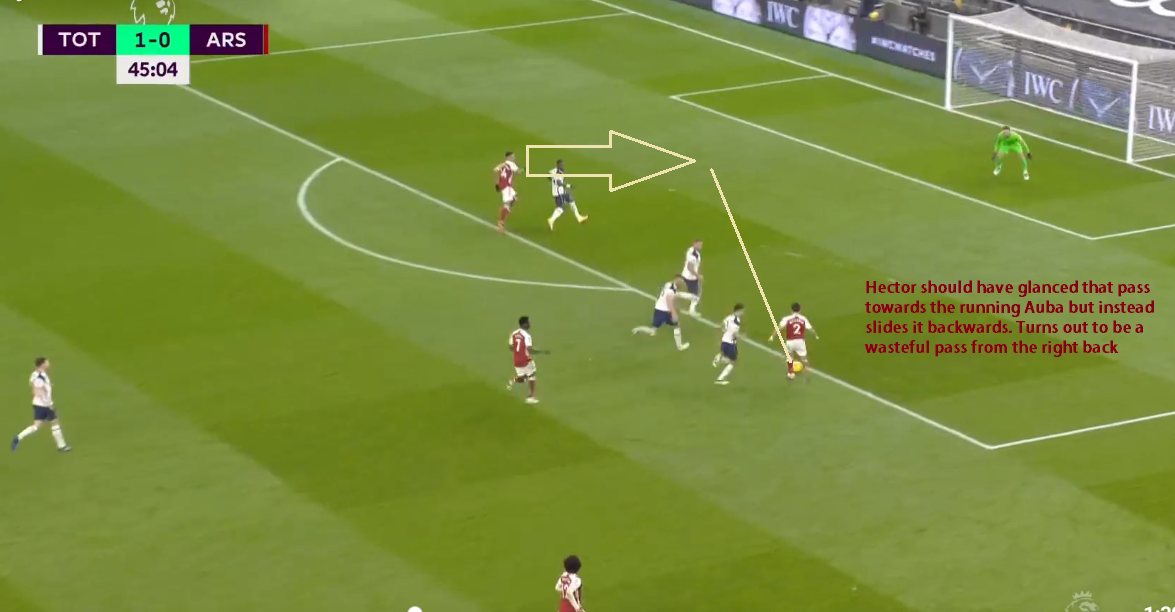 Lo Celso received on the half-turn and immediately found himself in a 4v2 numerical advantage against Gabriel and Holding. He bursted forward before finding Son in space, who cut it back for Kane, who doubled Tottenham's lead shortly before halftime.
Not only did Arsenal miss Özil's incisiveness and precision in his through balls, but his ability to link midfield and attack and break down deep, compact defenses. Özil may never play another match for Arsenal again, but the Gunners cannot afford to exit the January transfer window without signing a long-term replacement for the German playmaker.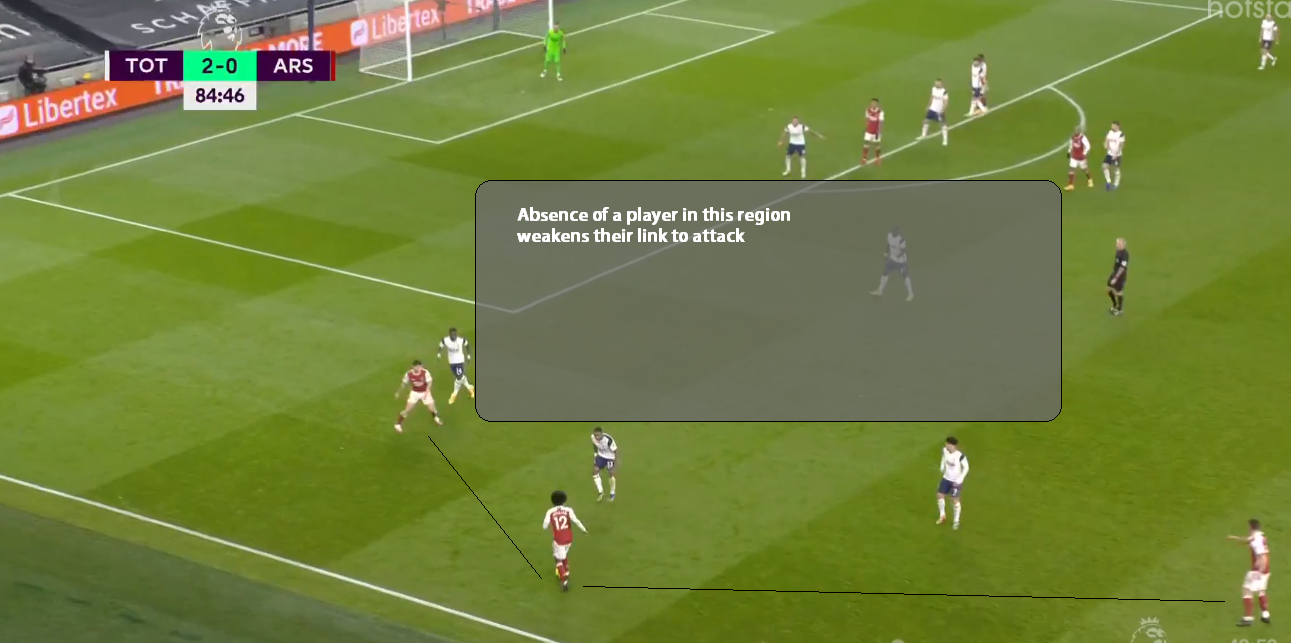 Risk in Threading Passes
Arsenal spent the majority of the second half camped inside Spurs's half, but their only major chance came in the 68th minute. Tierney played a through ball into Saka, who advanced past Aurier and fired a cross towards Lacazette, whose header bounced backwards. Willian collected the ball and teed up Bellerín for a cross, who found Lacazette in space, but the Frenchman's follow-up header was comfortably saved by Hugo Lloris.
Arsenal's failure to convert possession into goalscoring chances throughout the match can be attributed to the risk involved in attempting to progress play with short, threaded passes. By attempting to build the play with a more horizontal style, Arsenal failed to open up Tottenham's defense and find attackers in advanced positions.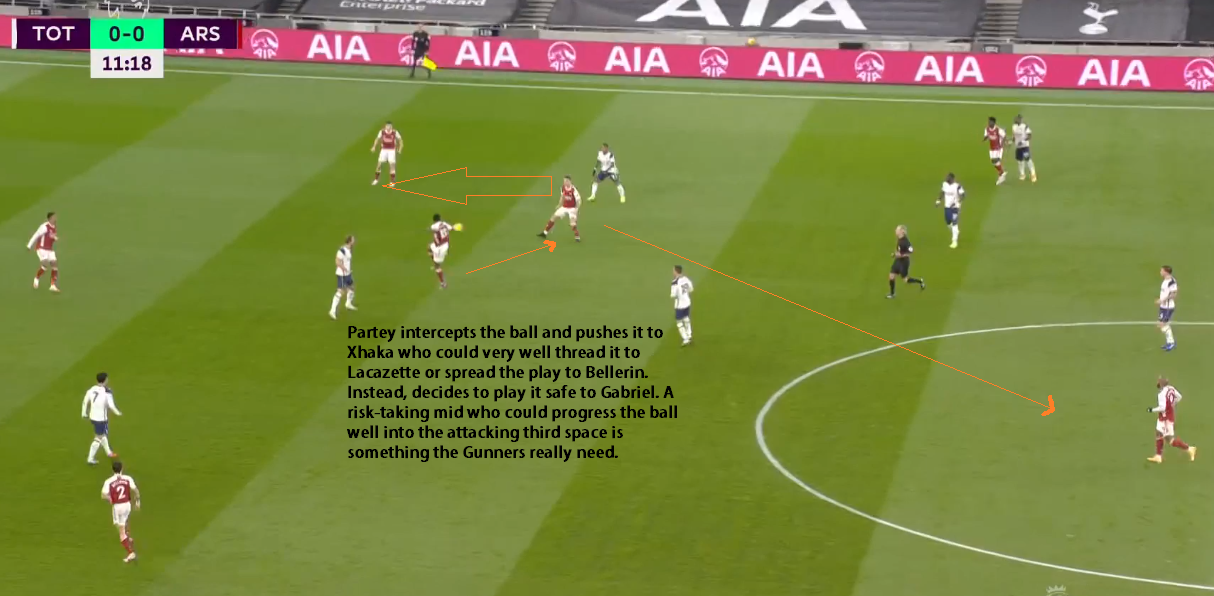 In the end, despite attempting 9 corner kicks and 44 crosses, Arsenal failed to find a way through Tottenham, and the hosts even came close to a third goal in a free kick in the 81st minute, but Kane's header sailed wide of the goal.
They never came close to testing Tottenham with their crosses, perhaps owing to their lack of aerial threats in attack. It calls to mind Albert Einstein's famous quote: "The definition of insanity is doing the same thing over and over again and expecting a different result."
Conclusion
José Mourinho's game plan worked to perfection, and Tottenham's victory in the North London Derby keeps them atop the Premier League table, level on points with Liverpool yet ahead on goal differential. On the other hand, Arsenal fall to 15th in the league; they are closer to the relegation zone (6 points) than top four (7 points).
The result can be best summed up by Mourinho's post-game comments: "This ball possession story is more for sports philosophers than for me. No one has ever seen me say 'I lost that game but I had more possession'. What matters is what you do with the ball, and with the ball, we scored two fantastic goals today. And when we had it, we never lost it in conditions where the opponent could hurt us."
Perguntei para o Mourinho:

1) Diziam que o auge dele tinha passado:
"Meu auge passou quando ganhei 3 títulos no clube? Imagina os outros que não ganham!"

2) Ganhar com menos posse de bola:
"Posse é para os filósofos do futebol. O que me interessa é o que você faz com a bola." pic.twitter.com/65SkNxj18l

— Renato Senise (@renato_senise) December 7, 2020
By: Sathiya Chakravarthy
Featured Image: @GabFoligno / Stuart MacFarlane – Arsenal FC