Tactical Analysis: Palmeiras vs. River Plate (First Leg)
As the Copa Libertadores edges ever closer to its conclusion, two of the tournament's juggernauts find themselves head to head in a two-legged semi-final. Those teams, Palmeiras of Brazil and River Plate of Argentina, are a couple of the most storied clubs in all of South America. To add an extra layer to the intrigue, the remaining two teams on the opposite side of the bracket are Santos and Boca Juniors, completing a fascinating parallel.
From the beginning, the lineup card put out by both teams immediately shows intent on either side. Palmeiras, the underdogs in this matchup, feature two wingbacks in a 3-4-3 (or a 5-4-1) shape. A likely sign that they'd be playing defensively, trying to keep the scoreline tight for the second leg.
On the flip side, River Plate used their customary 4-1-3-2 formation, with manager Marcelo Gallardo using Enzo Pérez as the anchor man shielding the center backs. Their balance between attack and defense likely meant River Plate would attack this game on as you'd expect from a team expected to win the match.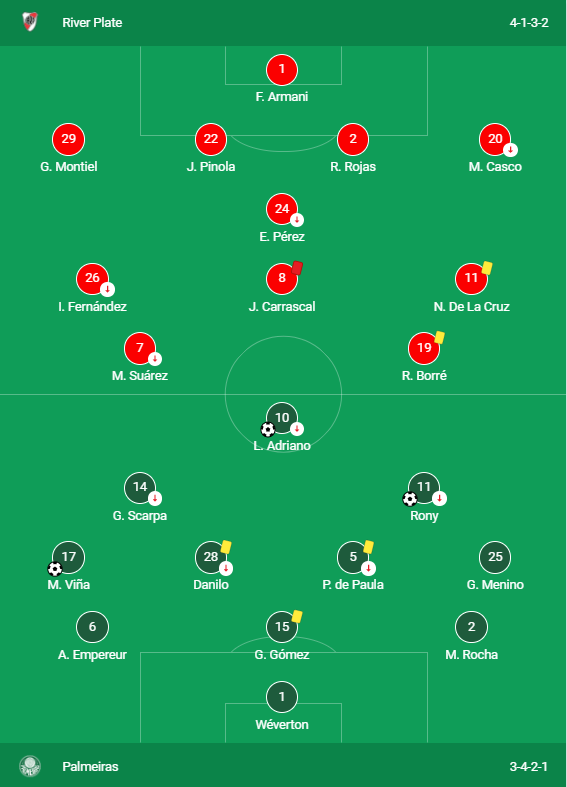 Photo: Google
As expected and aforementioned, Palmeiras started this game very defensively. Their 3-4-3 shape looked more like a 5-4-1, 5-2-2-1, or a 5-2-3 while out of possession. This settled into a very narrow shape that would cause River Plate issues all over the field. 
Their shape did vary depending on which third they were defending in though. Despite having a defensive mindset, their shape in the defensive third was very different from that in attack and midfield. This can be shown below, first in the central part of the pitch.
Palmeiras uses their formation to create a diamond along each wing, using the wingers as the uppermost tip and the center backs as the bottom tip. Wingbacks and center-mids covered the other edges, creating an impenetrable object as strong as a… diamond. See what I did there?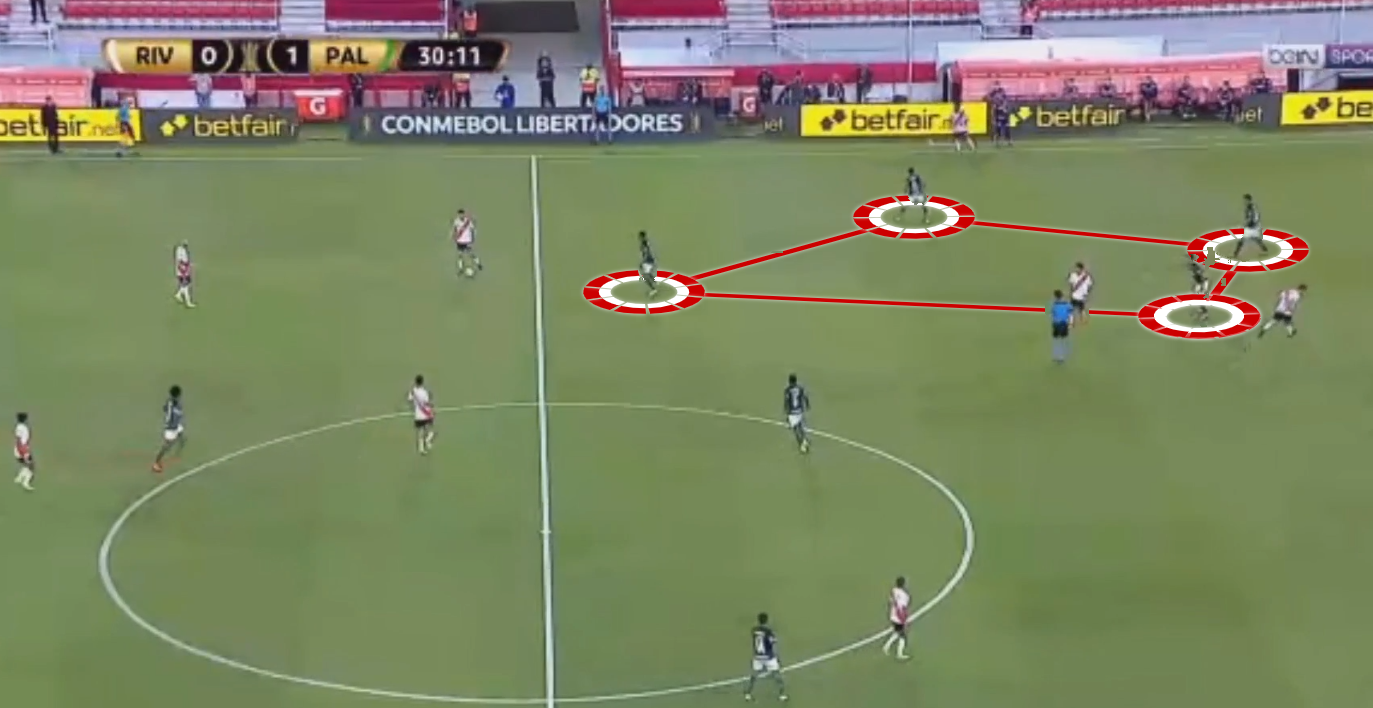 All telestrated images made using KeyframeSports (@KeyframeSports).
Meanwhile, the shape drastically changed once River Plate managed to break that first line of defense. Center-backs would shift slightly inward as the wingbacks dropped in to create a five, although this could vary based on the point of attack. Wingbacks were often used as the players that would approach the fullbacks as they stepped forward and looked to cross from deep.
Unlike the match against Boca Juniors last weekend, where River scored twice from deep crosses, this wider defense was able to prevent those crosses from ever even being taken in the first place. Unfortunately for River Plate, this seemed to almost entirely nullify any chance at attack they had. Their forwards struggled to find space in behind, and the midfielders made it almost impossible for passes to break the lines and get the ball to the feet of the forwards. 
An example of their low block formation can be seen in the image below, where two of the forwards dropped deeper to act as left and right midfielders creating the block of 4.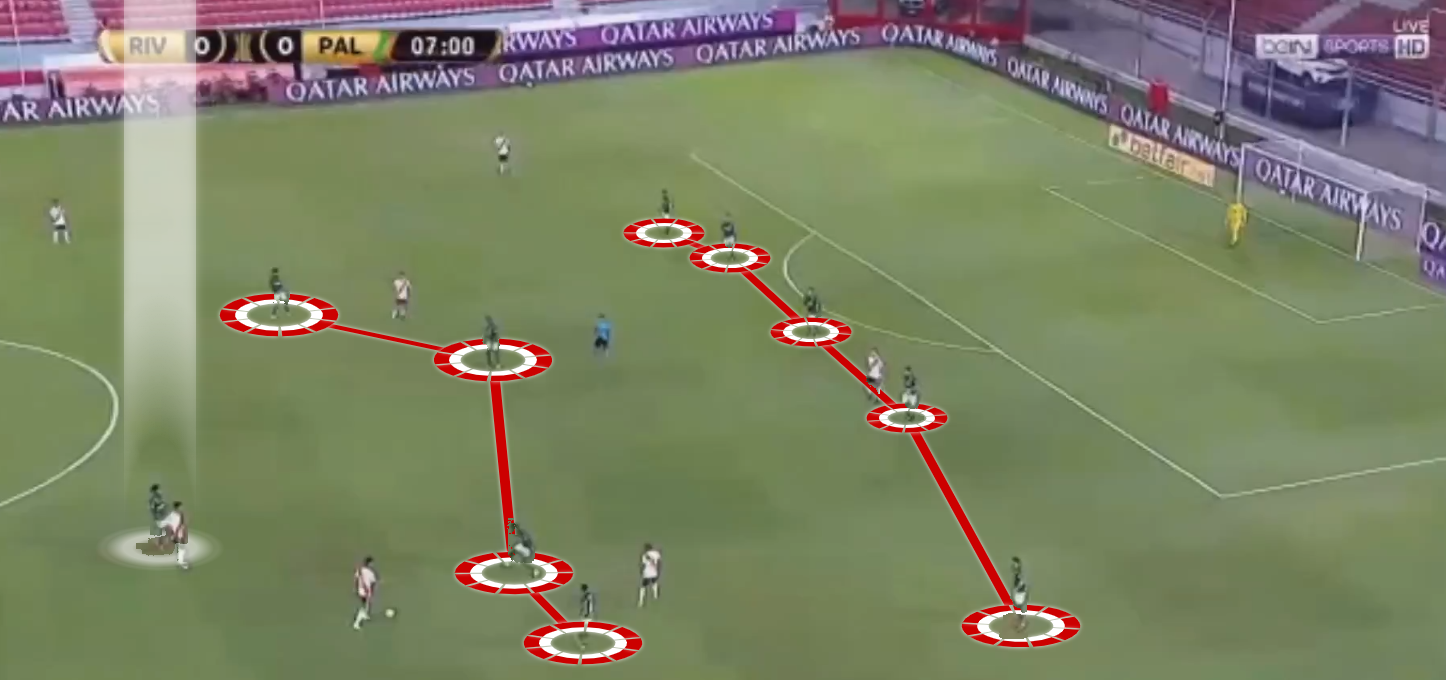 It's important to note the narrowness in that defensive line and how that impacted this game. Not only did it make crossing near pointless from all perspectives, but it also made any space between the defenders cease to exist. Rafael Santos Borré and Matías Suárez were given almost no room to do anything and were forced to take deeper touches, Suárez specifically.
Of course, the expectation is that my next paragraph will talk about how River Plate countered this defensive action. Unfortunately, they really didn't, or at least did a very poor job of it. Their seeming response was a focus on crosses from the byline, which were hard to execute because Palmeiras hardly gave space in those areas. 
For most of the match, the left and right center-backs were able to mark off the half-spaces and prevent many balls from getting through, while the central defender, Gustavo Gómez, marshaled the defense. River Plate still attempted to force the ball around the horseshoe. 
All that praise for Palmeiras does not mean River Plate didn't create any chances though. In fact, their xG was actually higher overall than Palmeiras. One of the main ways that this was done was through circulation in the midfield that caused quick switches of play. One example of this can be seen in the clip below. 
Generally speaking, the only way that River Plate were truly able to break down Palmeiras was to disorient their defense through quick passages of play or fast transitions, this will be seen in the next clip. 
They were, as expected, over-reliant on the cross in their play. Fortunately, this still garnered a few chances for the Argentinians, who found themselves in dangerous areas multiple times. Often this chance would be around the back post, as defenders would frequently lose their man over their shoulders. 
Their difficulties were also found in their build-up structure which, at times, looked devoid of purpose. Enzo Pérez, the defensive midfielder, was caught in no-man's-land frequently, it was generally shambolic. Their build-up lacked a distinctive shape, especially compared to the last game where it was well structured.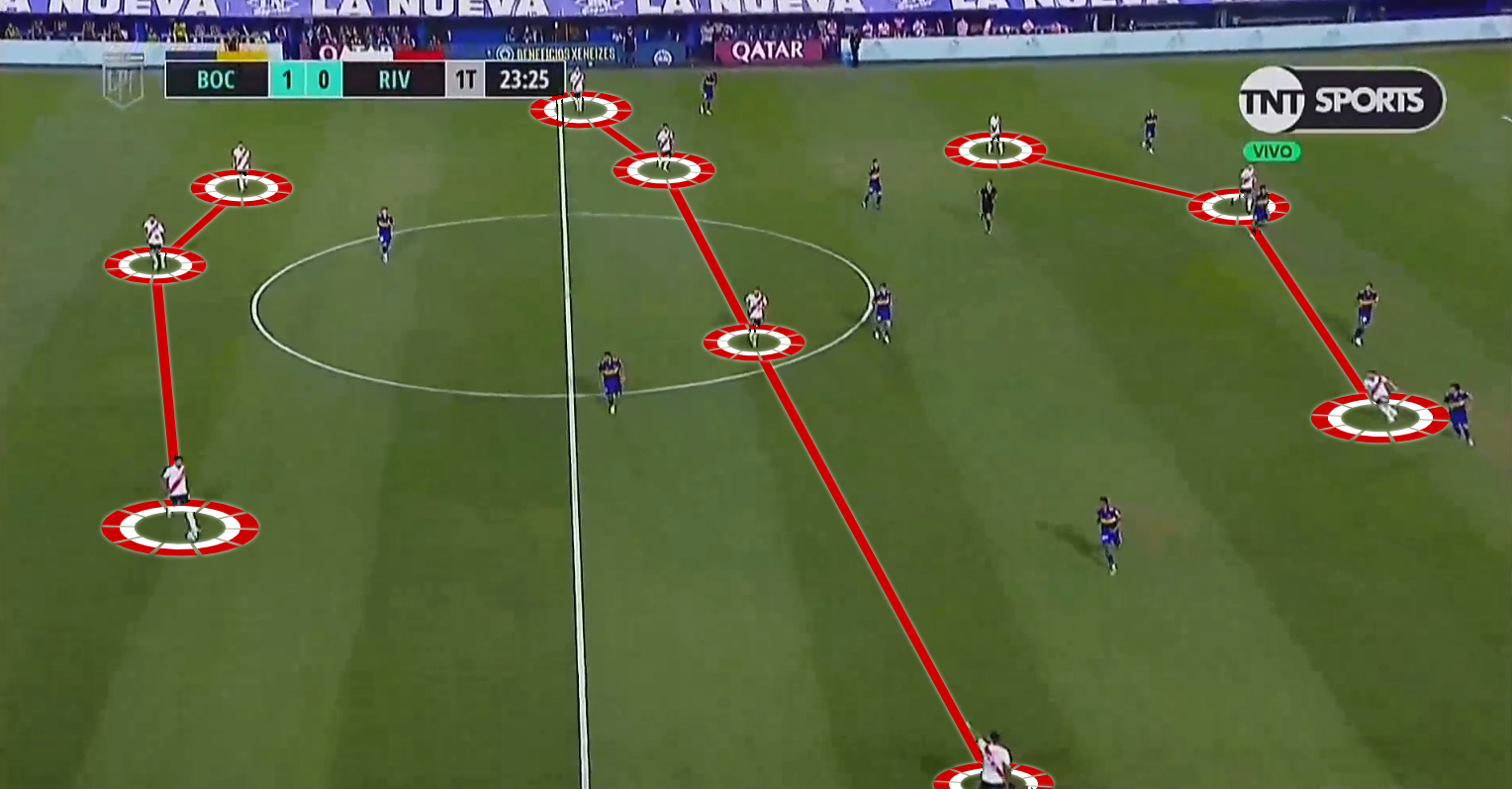 This caused a plethora of expected issues when trying to create, but the main one was simply a lack of ideas. Overloads were attempted on the wings, but subsequently closed down the instant the wingback would step towards the attacker. Infrequently, River put together some combination play and were able to find space near that byline. 
Evidently, this would not be enough to win them the game, as they were ruthlessly punished by Palmeiras for their lack of transitional awareness and disorganized defense. This can be seen in the following paragraphs, which break down each of their goals.
First, we see the disorganization within the defense. In the first goal, there were roughly three players attacking the box from Palmeiras. Despite the lack of offensive firepower, River's fully staffed defense made a mess of an easy clearance. Highlighting just how important it is that a center back and a goalkeeper are in constant communication with one another. It is also worth noting that the ball did take a deflection, and it's a bit tough to give River goalkeeper Franco Armani too much flak for letting this one in the net. 
The second goal of the match comes almost immediately after half time. A predictable counter-attack launched by the Brazilians caught River Plate completely off guard, and with a silky move, Luiz Adriano was in on net uncontested.
It was a trend throughout the game that transitions killed River Plate, as almost every scoring chance came from them. Their midfielders did not turn and come back fast enough, nor did the defenders themselves. 
And although this one resulted in a goal, numerous other instances in the match almost resulted in goals. For example, the offsides seen below saves River Plate from once again, another poor transition defensively, while Palmeiras transition offensively well. 
The final goal completed the disorganization duo, as River Plate are fooled by a trick free kick in a comedic fashion. Gustavo Scarpa runs over the ball, faking his run down the line, before turning back and kicking the cross that would score the goal. 
Matías Viña finally gets the goal he deserves after playing a spectacular match all day, and the Brazilians are 3-0 ahead. Oh, and the free kick came off a red card from River Plate's most threatening forward, Jorge Carrascal. A major gut punch to Los Millionarios, who will miss him in the next match.
The final taste of this match would come in the final ten minutes, where Palmeiras continued to hammer the weary and defeated River Plate defense. Despite already being up by three goals, Palmeiras attackers bomb forward creating a very near scoring chance. And it would be far from the last one seen from that sequence. 
This clip also highlights the impressive speed and combinations that Palmeiras used to dissect the mishappen defense from Los Millionarios. Quick passing sequences leave a Palmeiras player with plenty of time and space, but the finish was poor.
The match concluded with 3-0 being the final scoreline, giving the Argentinian River Plate a tough match to prepare for, as they travel to Brazil to play a very capable Palmeiras. Unfortunately, their disorganized defense and lack of discipline would come to haunt them for the second match in a row. 
Portuguese manager Abel Ferreira will be delighted with his team's performance in this match, as they took a hold of his game-plan and turned it into a winning formula. Marcelo Gallardo will be feeling quite the opposite emotions, as his men struggle against another top side for the second match in a row. 
By: John Zuidema / @jwzfootball
Featured Image: @GabFoligno / Marcos Brindicci – AFP