Tactical Analysis: Persija Jakarta vs. Persib
On Matchday 28 of the  Liga 1 Indonesia season, a huge clash between the two most popular teams in Indonesia took place between Persija Jakarta and Persib Bandung.
The fully confident Persib Bandung had a strong run of form in the last 5 matches with 3 wins and 2 draws, while on the other hand, Persija had picked up just 1 win, 1 loss, and 3 draws from their last 5 matches and currently sit in the 8th spot.
Persib Bandung was looking to consolidate their position in the league and make a move at second place while Persija was looking to end a run of bad results.
These two teams needed three points to maintain their position in the competition and their pride was at stake. Hence why this match earns its moniker, the Indonesian El Clasico. The match ended with 0-2 for Persib; let's take a look at the tactics behind this game.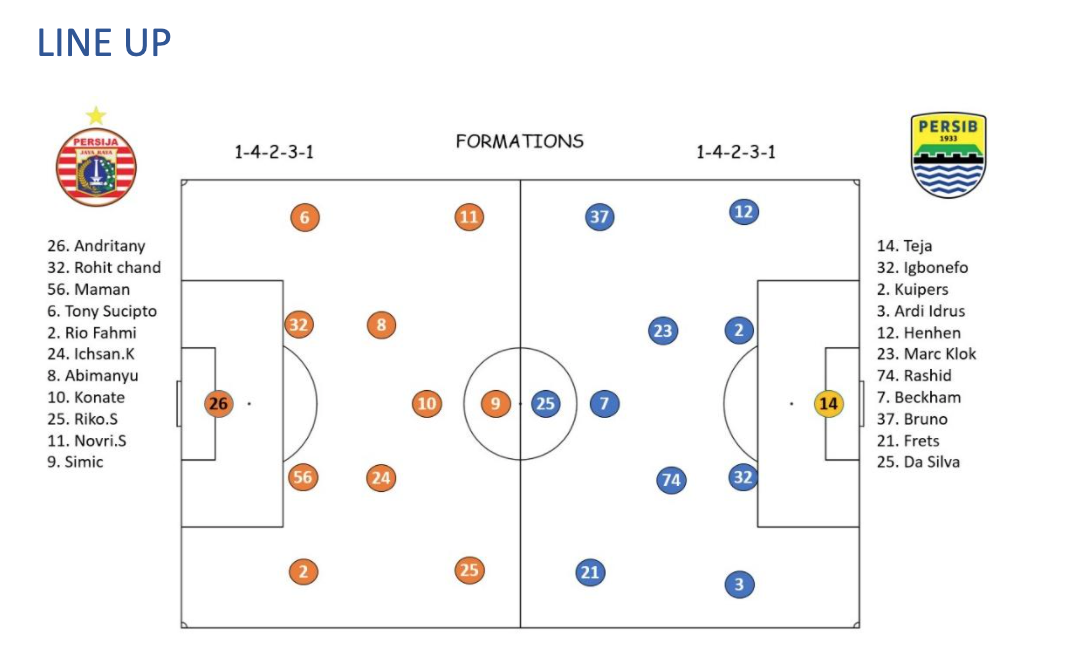 Persib were able to maintain a numerical advantage over Persija's first line of pressing throughout the match.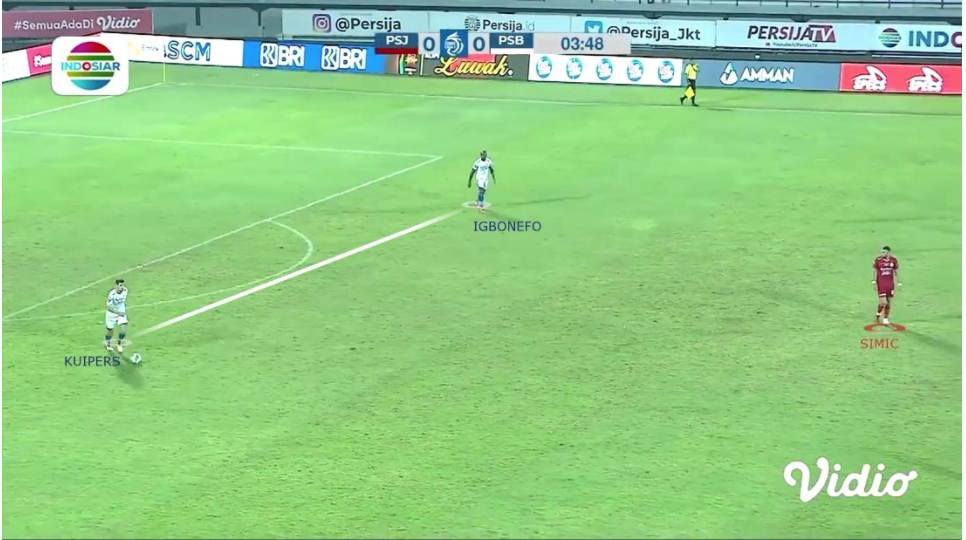 Marko Simic directed the Persib defender to one side. Nick Kuipers could make the progression with his dribble because there is no option nearby when Simic has been eliminated.
Persib midfielders are way too far from him and if the ball is directed to the winger, Persija already set the trap. Kuipers maintained the ball and gave it back to Victor Igbonefo to build up from the back again.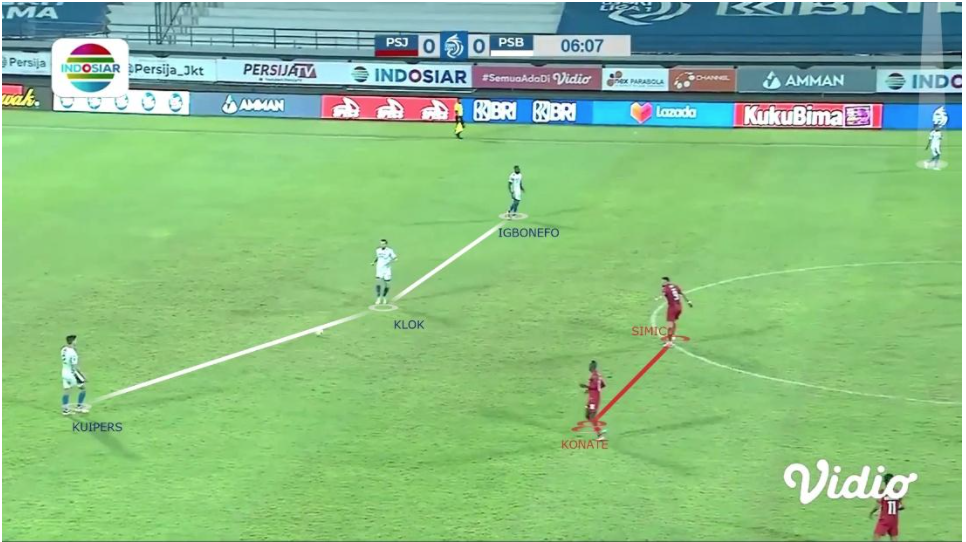 Those shapes are created while Persib tries to maintain superiority on the attacking build-up phase with 3vs2 on the first attacking build-up phase. Marc Klok drops deep, equal with Igbonefo and Kuipers, allowing Persib to eliminate the first pressing line of Persija with ease.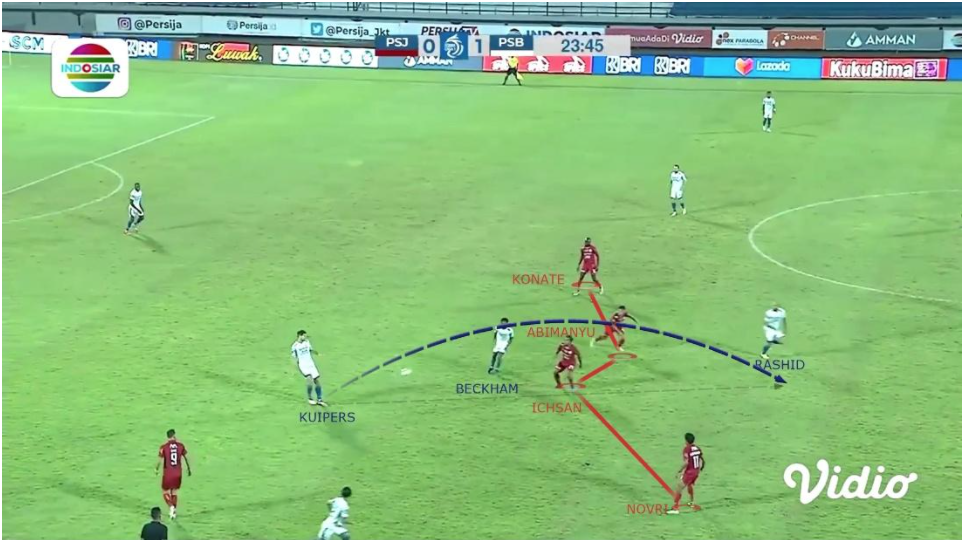 Persib can eliminate the Persija pressing block as Beckham Putra drops to trigger Ichsan Kurniawan to mark him and open up space; Mohamed Rashid can expose the space and progress the ball up front. 
In this match, Persib's midfield trio is giving a huge on dynamics of the game and contribution on goal advantage or other advantages that will become the advantageous situation of making chances to create goals.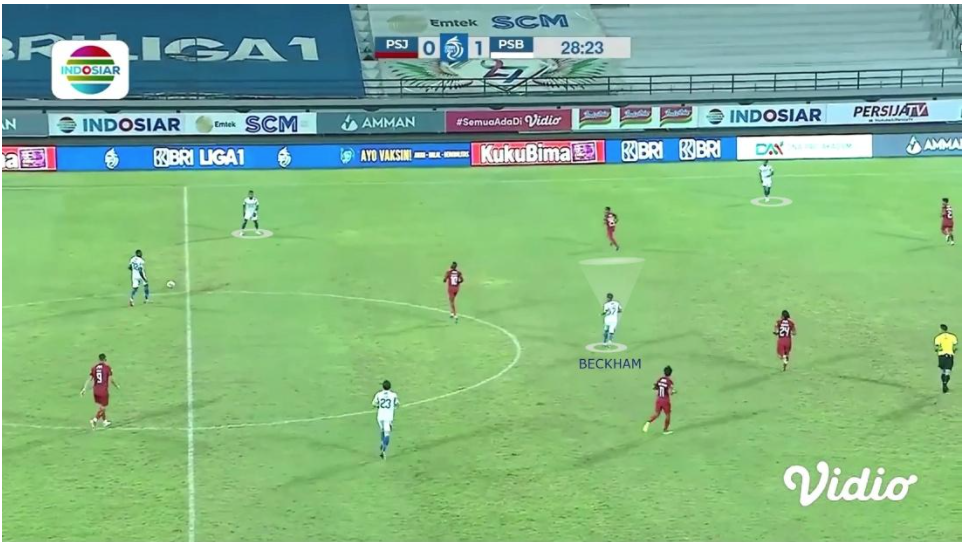 Beckham as a midfielder has such a good situational awareness, knowing when to move forward and when to offer support for a three-player combination.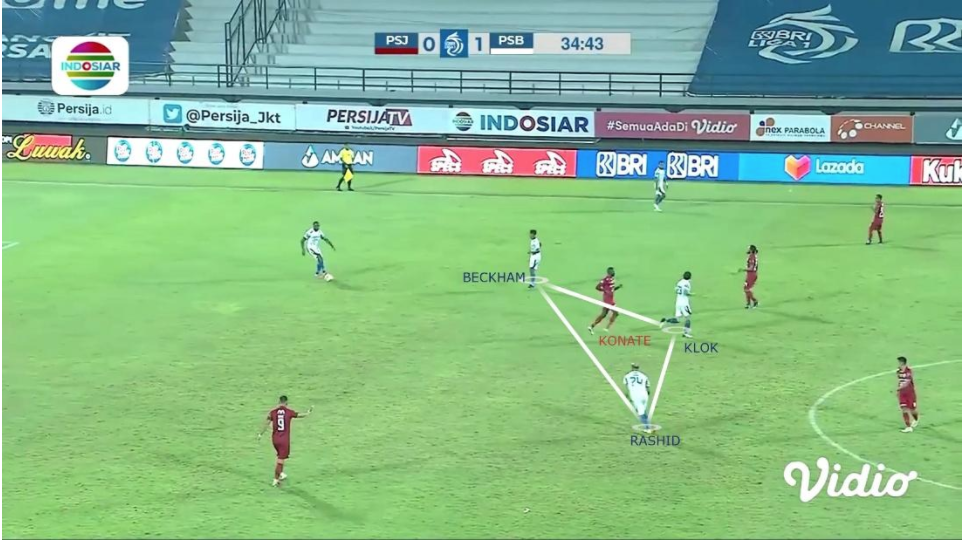 Beckham drops to make Ichsan mark him. Igbonefo passes it to Beckham and then gives it back to Igbonefo. Persib maintain possession.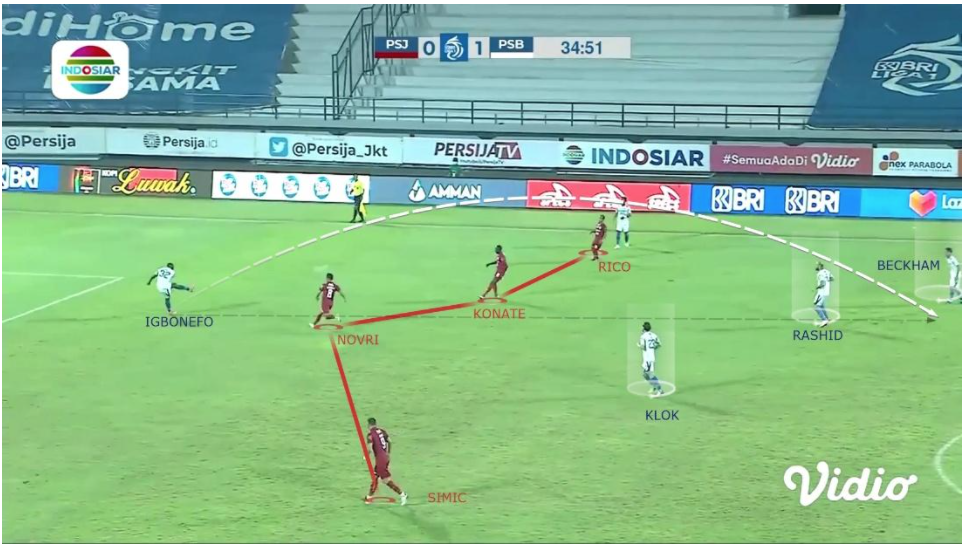 Persib can play constructively once again from the middle. They can eliminate Persija's pressing block. Persib is superior in the middle. 3vs2 situation. Beckham straight into vertical play to Da Silva. Da Silva was able to receive the ball and take advantage of disorganized Persija's back four. Unfortunately, Andritany was able to block it.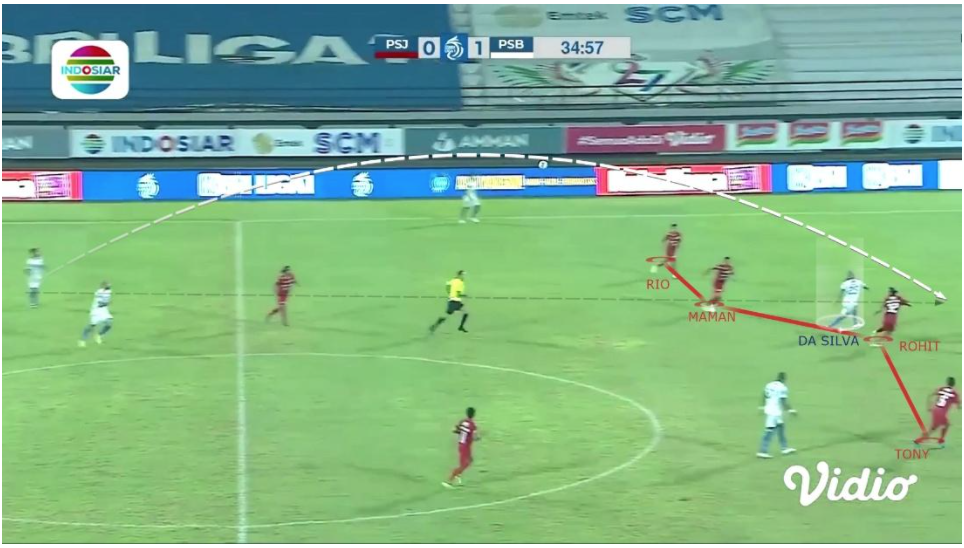 Persib is also having a diverse variety in building an attack scheme. When it's not working, attackers back pass to Ardi. Ardi Idrus maintained possession of the ball then circulated it to Henhen Herdiana side to side, with Henhen pushing high to help Rashid. Persib is also able to maintain possession of the ball and superiority (Wide Overload).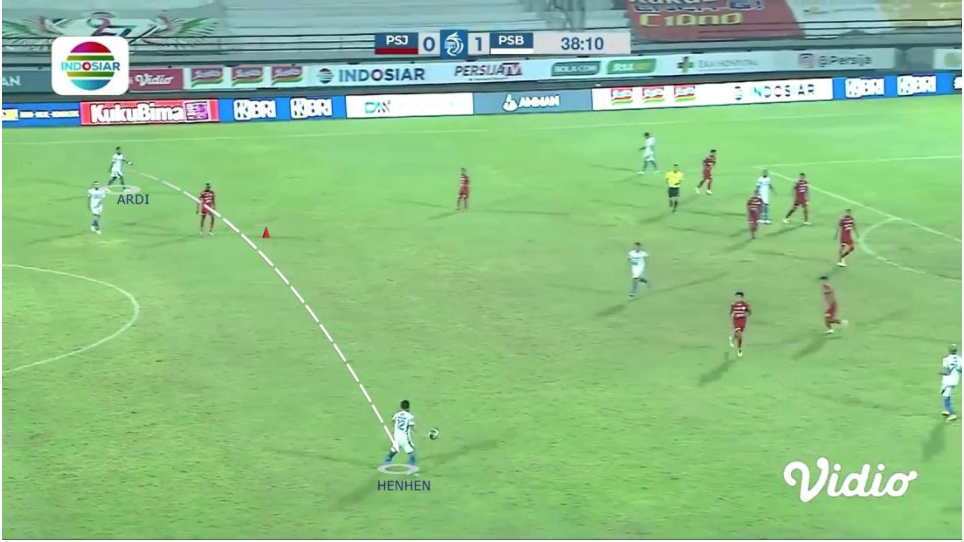 When receiving the ball, Bruno scans and sees Frets Butuan. Bruno conducts the switch play to Frets Butuan because his position and Frets were side to side. Persija's back four become disorganized. Frets were able to receive the ball and then finished it. His shot was able to stop by Andritany and results in a corner kick.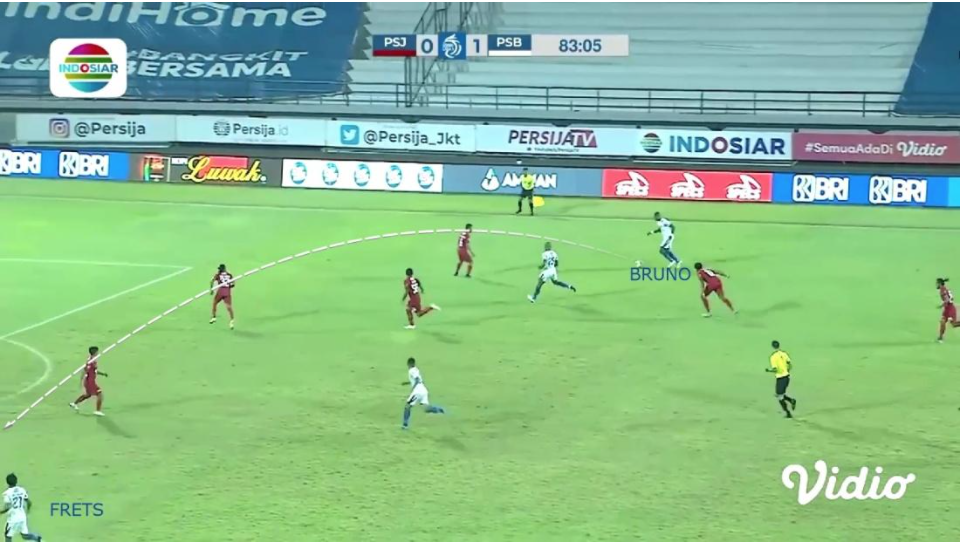 When the Persib attack is failing, Persib does an individual or group press to prevent Persija's attacking transition.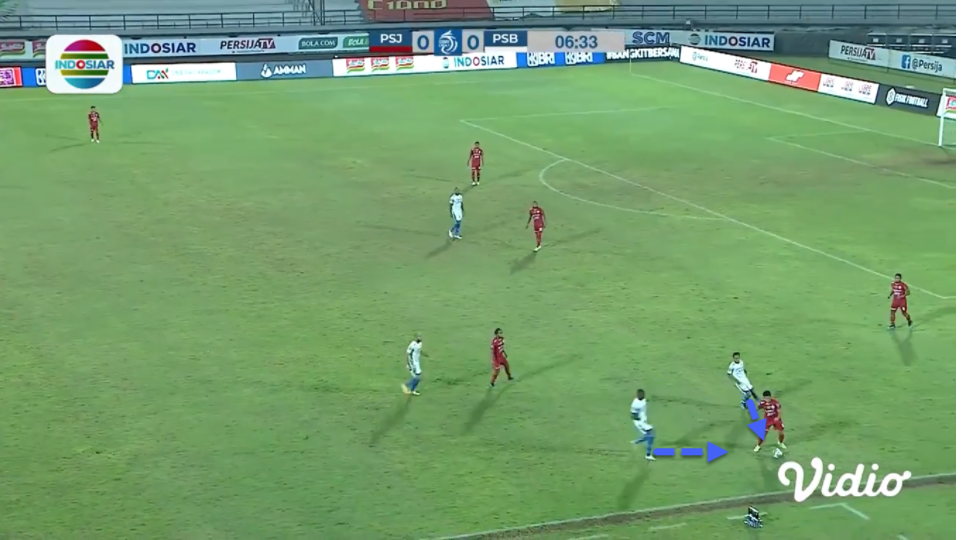 When Persib loses the ball, Persib does a tactical foul. Beckham Putra lost possession of the ball when attacking, before committing a tactical foul. This was done to prevent Persija's quick positive transition.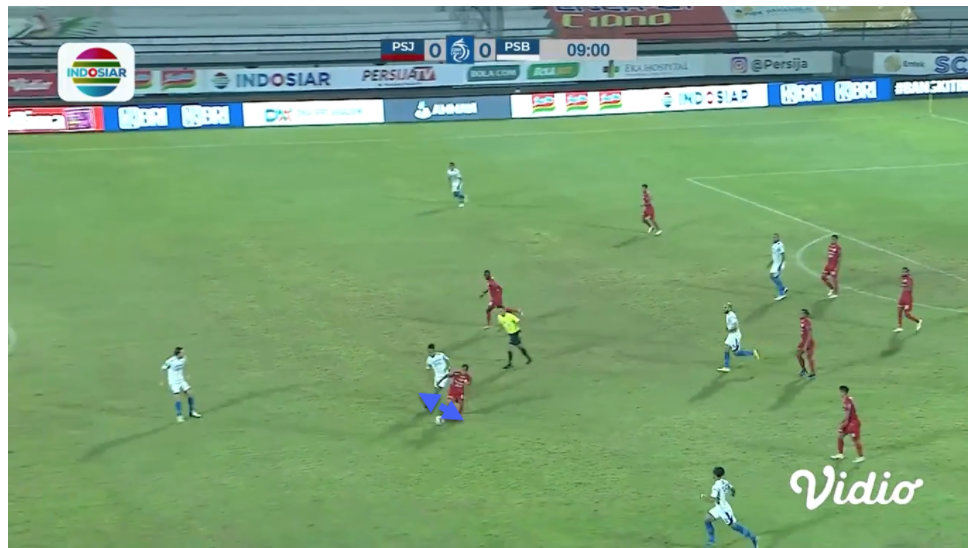 Persija's 1-4-2-3-1 mid/ low block. The distance between vertical and horizontal areas is retained very well. They were aggressive in maintaining pressure all around the area. Maman was able to intercept the pass from Persib.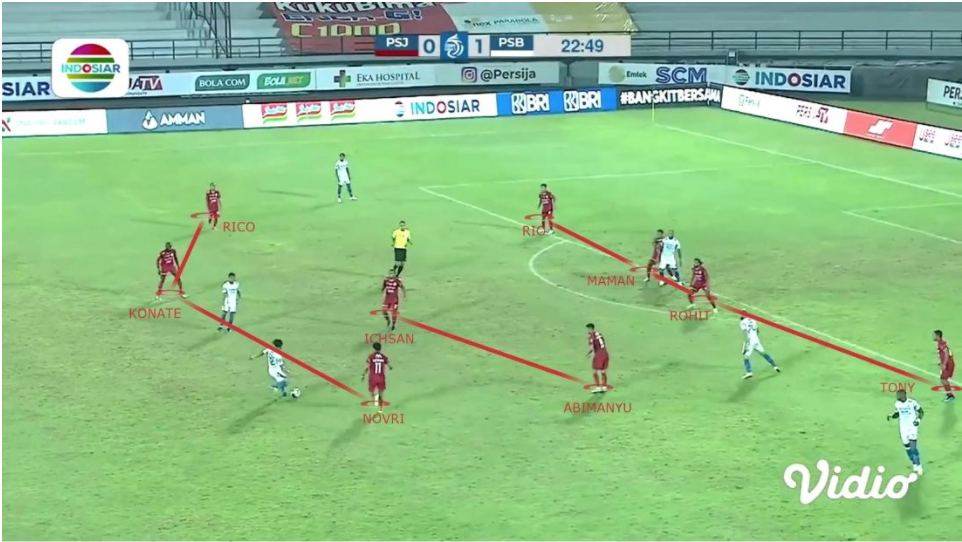 The shape turns into a 4-1-4-1 with Ichsan dropping deep whilst Konate fills the position to mark zone 14. The wingers have to gain width when the ball is played into that area to avoid Persib's passing up front.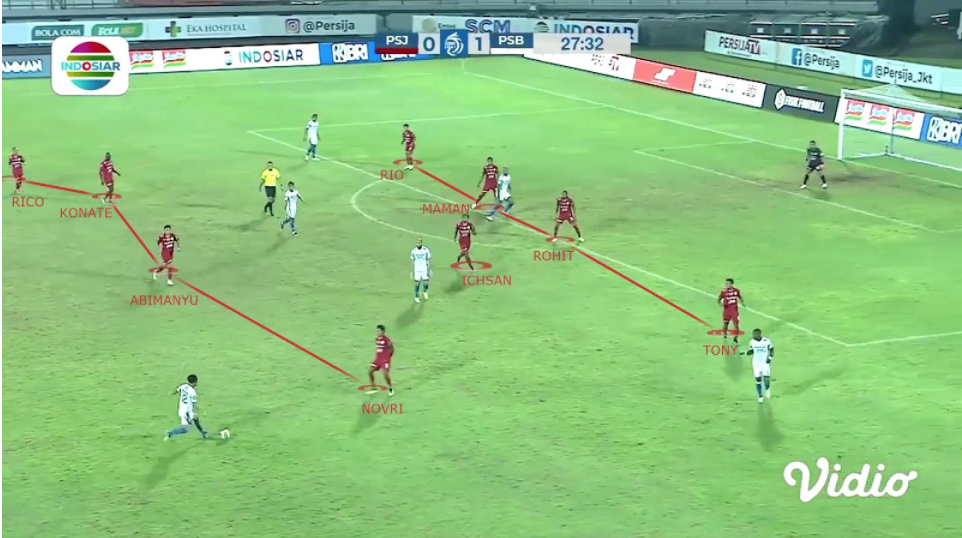 When Persija is building up, Persib's frontline directs Persija to one side. When Rio Fahmi received the ball, he was overwhelmed because Persib was superior numerically in the middle.
This limits the options for Rio and ends with a direct pass to the front, as he ends up losing possession of the ball. Persib's pressing trap poses difficulties on Persija from playing constructively.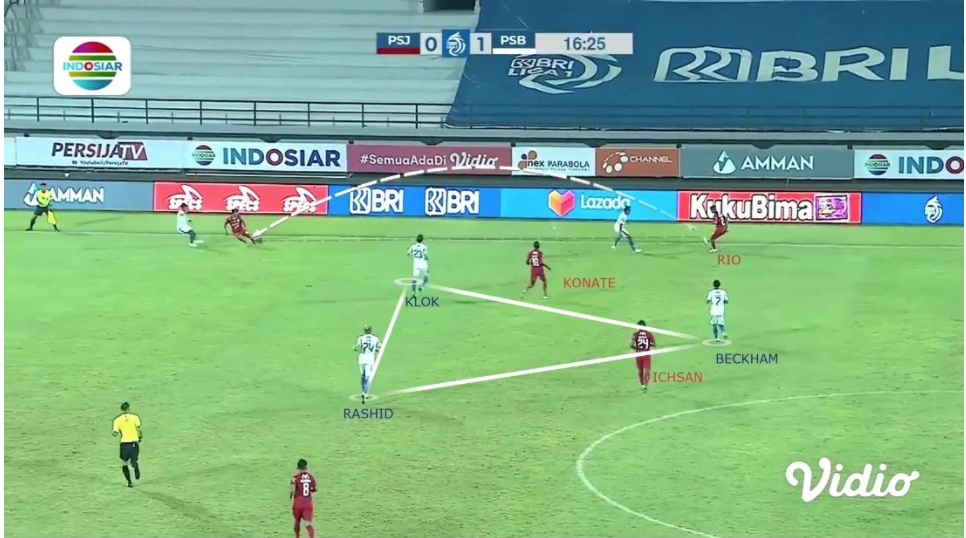 Persija are finding it hard to play constructively. They always find difficulties in penetrating Persib's block and always direct the ball upfront which ends with losing possession of the ball. Persija are trying to find a flaw in Persib's block and are trying to be patient in building play from the back.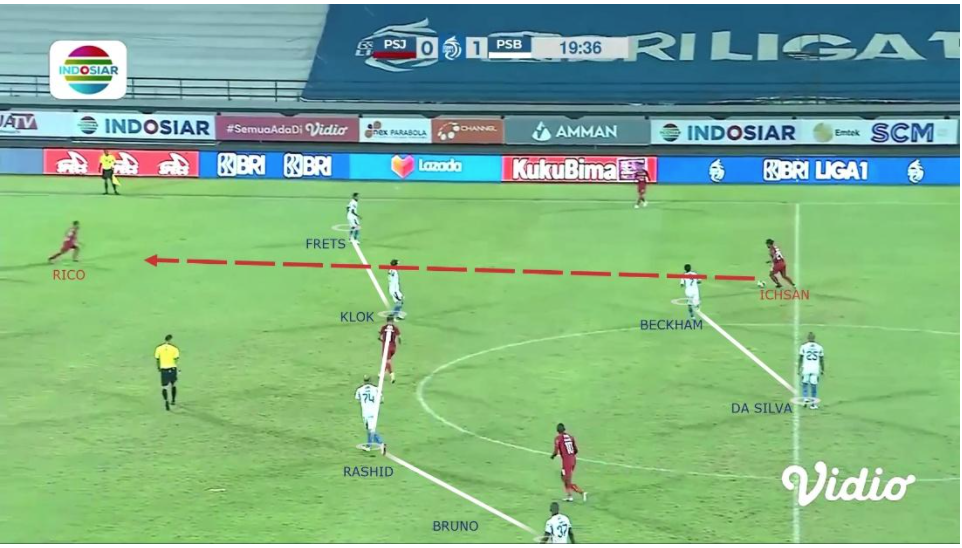 Persija patiently builds up from the back, maintaining ball possession through circulation. Abimanyu and Ichsan rotate on dropping deep to bait Persib's player. Persija was finally able to build up the play from the middle. Ichsan can play the progression pass to Rico that is already in Persib's space.
A few times Persija was able to get their momentum in the positive transition phase. After getting the ball, they run, attacking space and playing in a 1v1 situation. Konate, Rico, Novri/ Osvlado are so deadly in this kind of situation.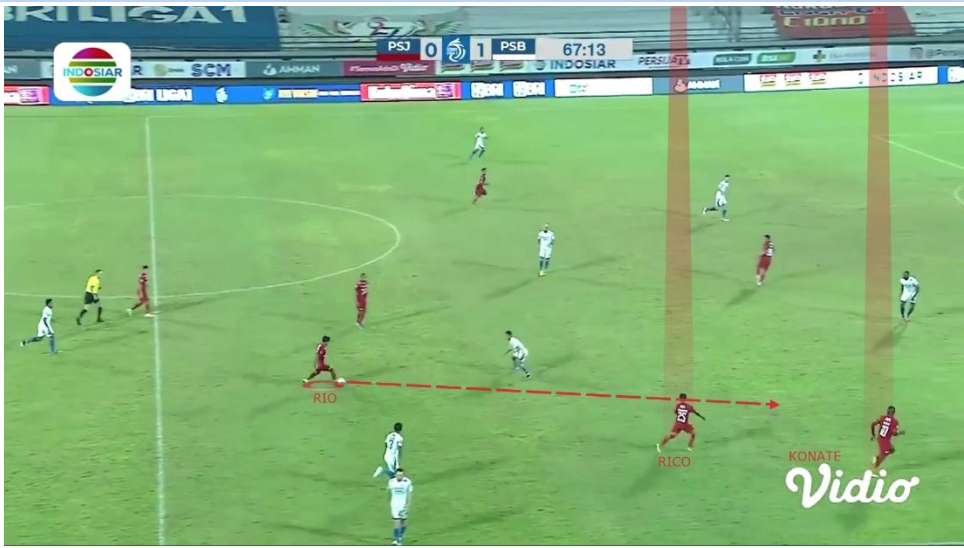 Persija had the opportunity through this situation. Starting from Klok's miss-pass, Rio was able to intercept the ball and then pass it to attackers that already exploiting empty spaces.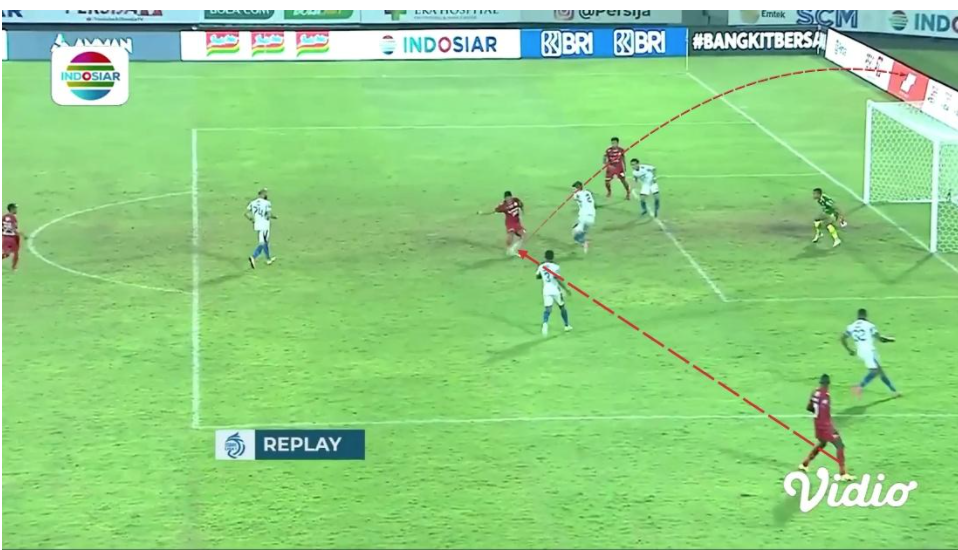 Persija's effort from positive transition is finally paying off as Persija can enter Persib's penalty area. Konate passes it to Taufik but unfortunately, Taufik Hidayat's execution is still far away from the goal.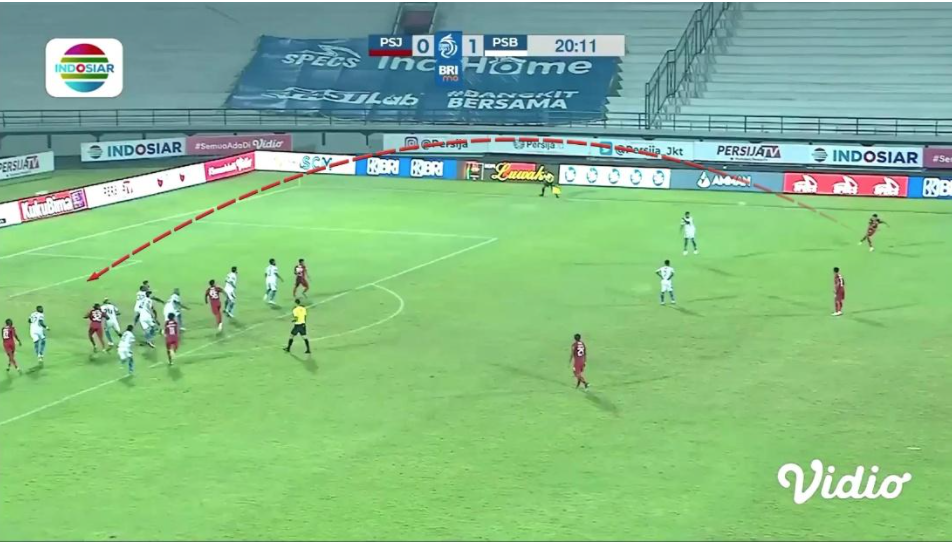 Finding it difficult to create chances from open play, Persija nearly scores the goal through a free-kick. Abimanyu directed the ball to the opponent's backspace.
Simic was able to remove himself from Igbo when Abimanyu swings the corner. Teja amazingly saves it and seals a corner for Persija.  This match ends with 0-2 for Persib, with Persib making their goals from set-piece schemes.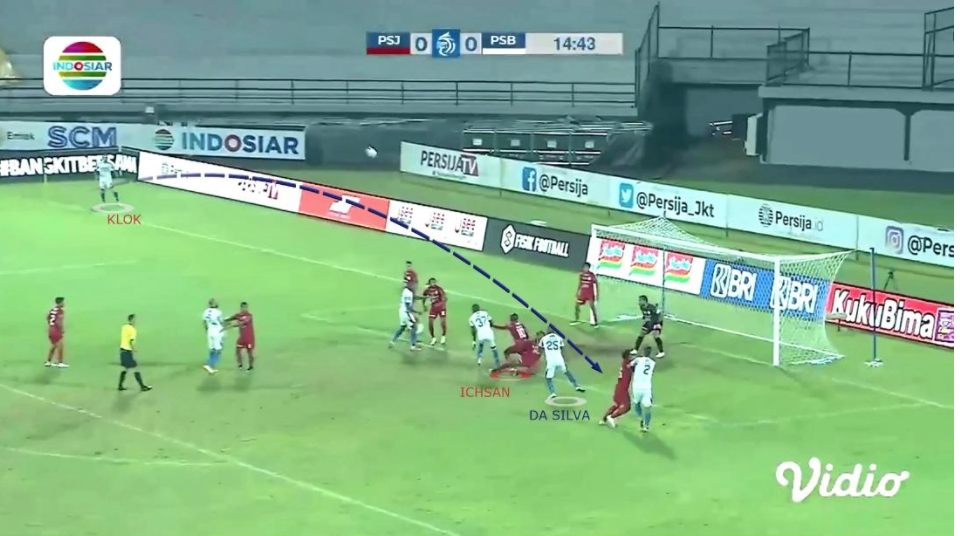 In the first goal, Marc Klok swings the ball into the far post. Da Silva escaped from Ichsan Kurniawan and was able to receive the ball, then finished it perfectly.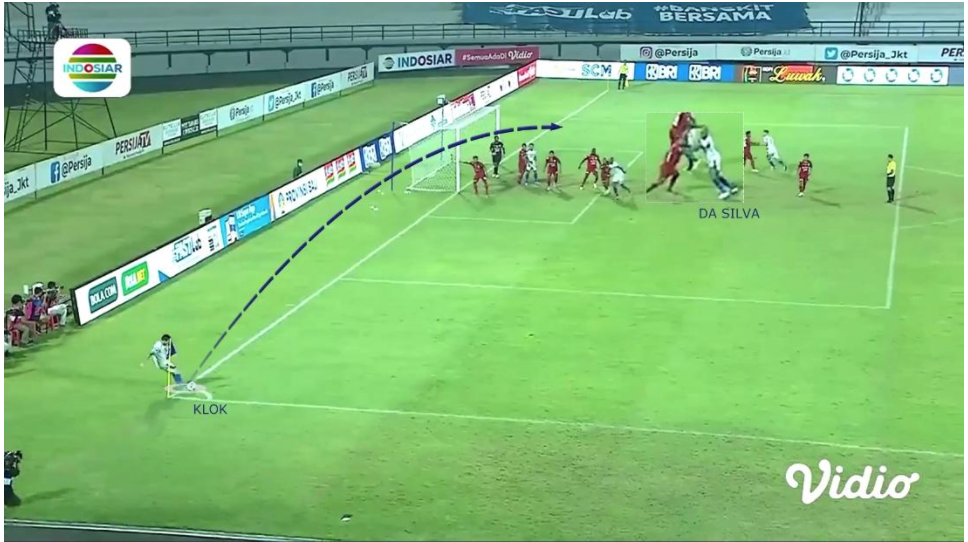 In the second goal, Klok aims it to the far post. Da Silva again, dismarking from Ichsan Kurniawan,  slots it home for Persib
When the ball was swung by Klok, Da Silva moved to his markers with a high tempo. This forces Ichsan to become unbalanced and fall. Da Silva was able to finish it easily. 
Conclusion
In the first 45 minutes, the game belonged to Persib Bandung who were able to dominate the play over Persija Jakarta. However, Persija started the second half quite well and were able to match Persib's midfield play. 
Persib Bandung were able to end their winless three-match streak against Persija, picking up a massive win that will boost their confidence towards the end of the competition to prolong their positive trends and try to win the championship.
By: Arya Luthfy / @Luthfyfalsyah7
Featured Image: @GabFoligno / Persib YouTube channel