Tactical Analysis: Portugal vs. Germany
On May 29, a Chelsea team led by German manager Thomas Tuchel and a German triumvirate of Antonio Rüdiger, Timo Werner and Kai Havertz defeated Manchester City in the Champions League Final in Porto, stifling a Portuguese contingent of Bernardo Silva and Rúben Dias, whilst their compatriot João Cancelo remained on the bench. On June 6, Germany edged Portugal in the UEFA European Under-21 Championship Final in Ljubljana, racking up their third title via a goal from Lukas Nmecha.
The third humiliation in as many weeks came on Saturday as Germany tore a hapless Portugal side to shreds, shifting the entire balance in Group F. Portugal's unconvincing (and simultaneously lopsided) victory against Hungary, France's thrilling win over Die Mannschaft in Munich, and a shocking draw between France and Hungary set up an all-important match between Joachim Löw's side and the reigning European champions.
Neither Löw nor Fernando Santos made any line-up changes from the first match, with Löw sticking to his new-look 3-4-3 formation with Joshua Kimmich and Robin Gosens operating as wingbacks whilst Toni Kroos and İlkay Gündoğan formed the double pivot. This seemed to work in Germany's favor as the 2014 world champions enjoyed one-way traffic in Portugal's half early on and nearly opened the scoring within five minutes via Gosens, but it was disallowed due to a handball on Thomas Müller.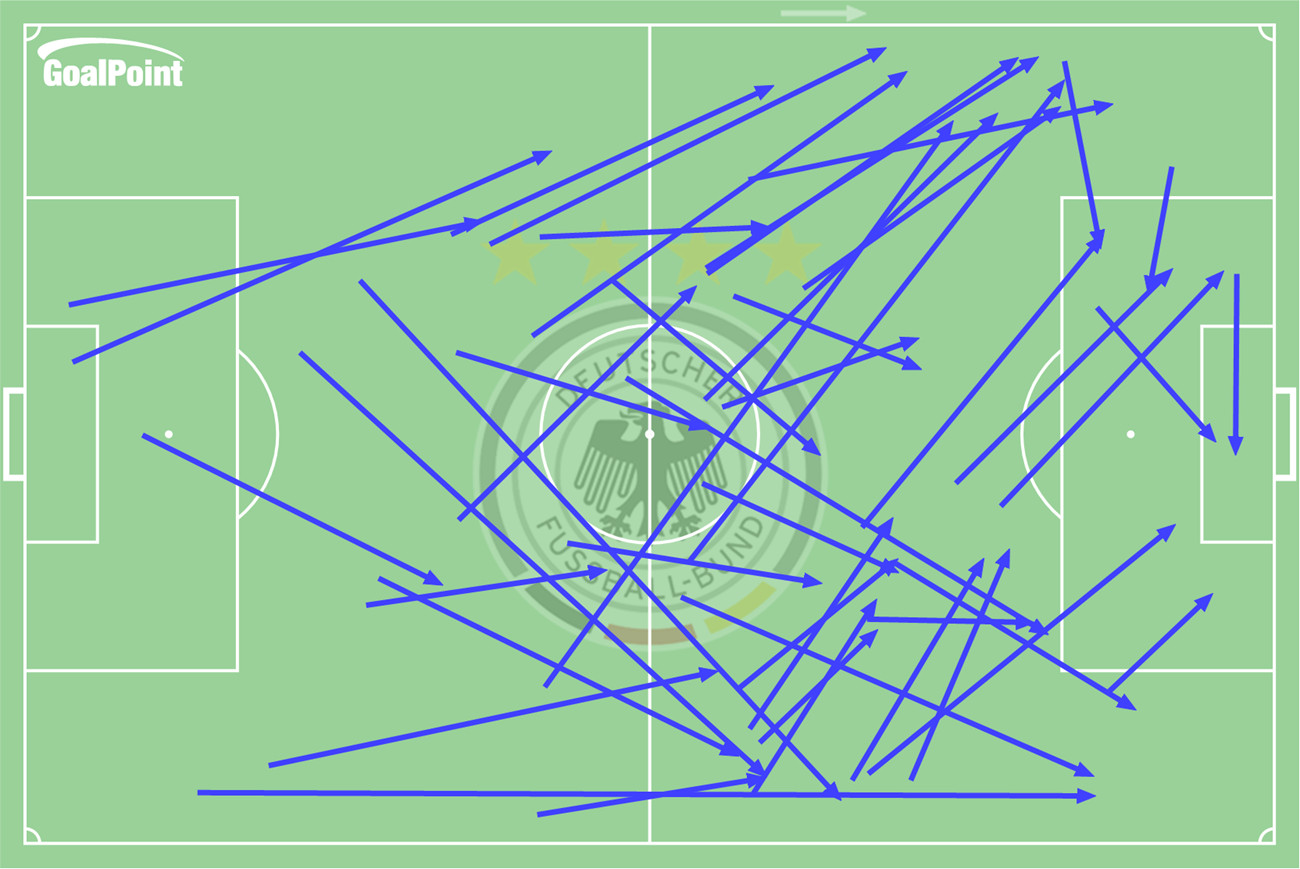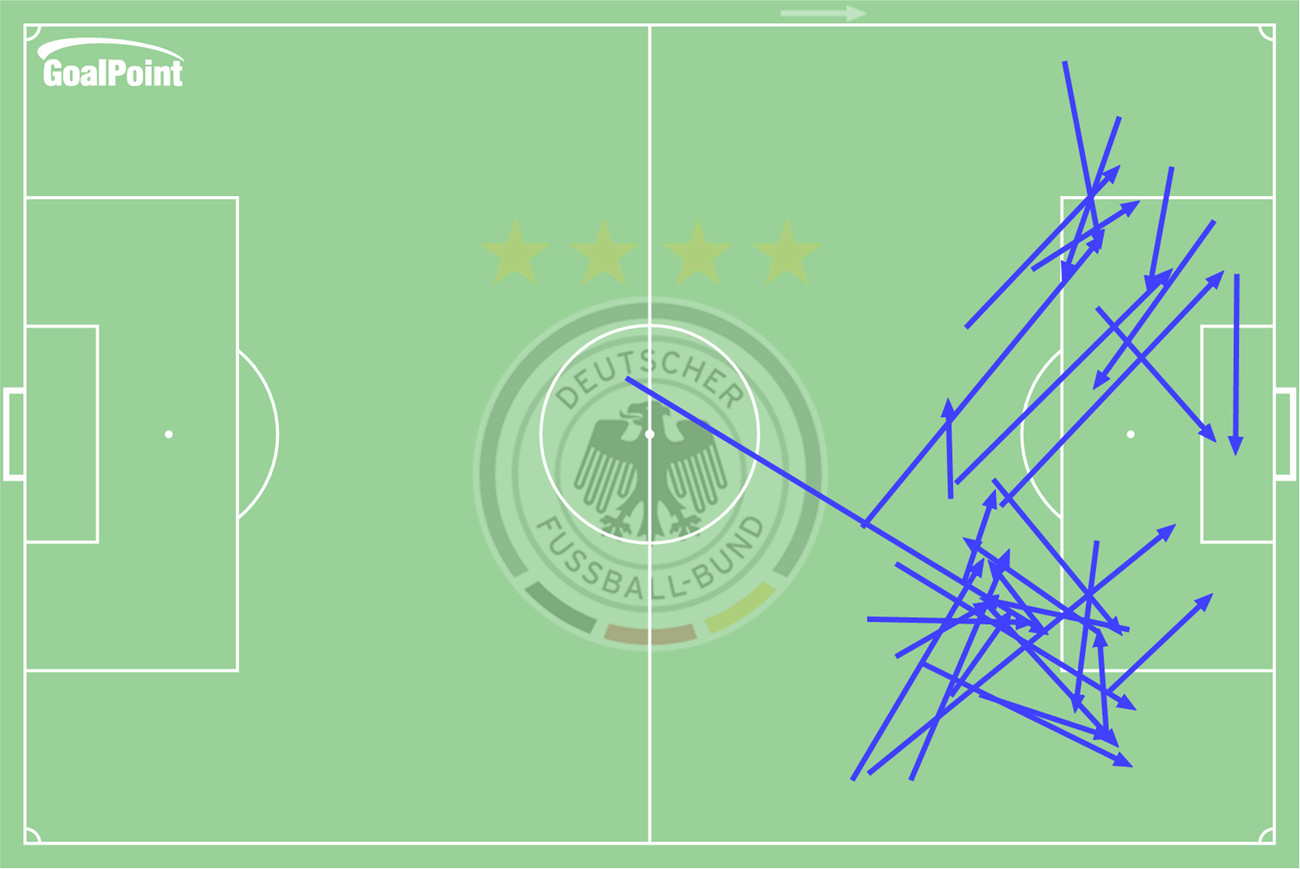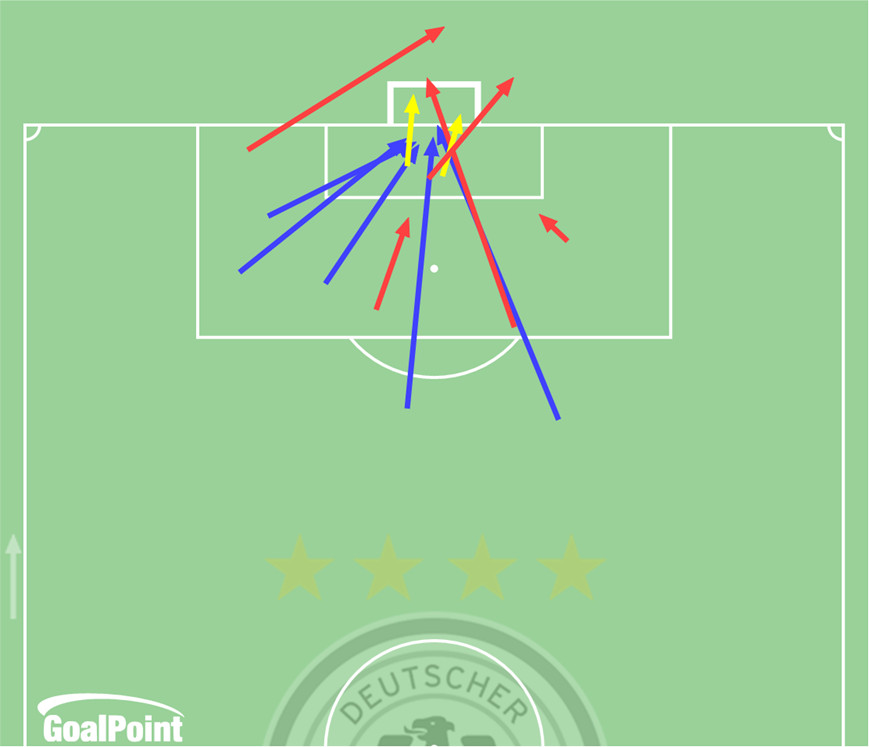 A look at Germany's approximative passes, high-value attacking passes and high shots demonstrates how the hosts created danger on the flanks and overwhelmed the defending European champions.
Rather than their vastly superior opponent, it was Portugal who grabbed the opener as Cristiano Ronaldo deflected Kroos' corner kick into the path of Bernardo Silva and charged up the pitch, sneaking past Havertz and Matthias Ginter and opening up space for Diogo Jota to receive a pass from Bernardo, with the Liverpool forward doing well to control it and dink the ball to Cristiano, who calmly converted in front of an empty net.
Germany refused to bend their original plan and continued to pin back Portugal, and twenty minutes after the opener, they found their reward. Kimmich picked up a pass from Müller on the right flank and switched it to the opposite flank for Gosens, who had ample time and space to receive as Serge Gnabry's narrow positioning had dragged Nélson Semedo inside and allowed the Atalanta wingback to volley a cross towards Havertz, whose shot rebounded off Dias and into the back of the net.
Unkeen to stand on ceremony, the Germans found themselves in the final third shortly after with Pepe blocking a cross from Müller…and directing it back to him…to allow the Raumdeuter to deftly volley it towards Havertz. Rather than attempting to shoot, Havertz glanced the ball towards Kimmich, whose cross was diverted into the back of the net by Raphaël Guerreiro, making them the first European nation to concede two own goals in a single match at a European tournament.
Man of the Match: Robin Gosens
If Germany's first-half performance did not seal the three points, the ensuing quarter-of-an-hour ensured their victory. Müller played a quick one-two with Kimmich before spotting an unmarked Gosens on the left flank, who once again, used just one touch to spray a low cross towards Havertz, who made no mistake with the finish. Germany's fourth and final goal came in the 60th minute as Kimmich found Gosens in the middle of the box with an inch-perfect cross, as the Atalanta man headed home from close range.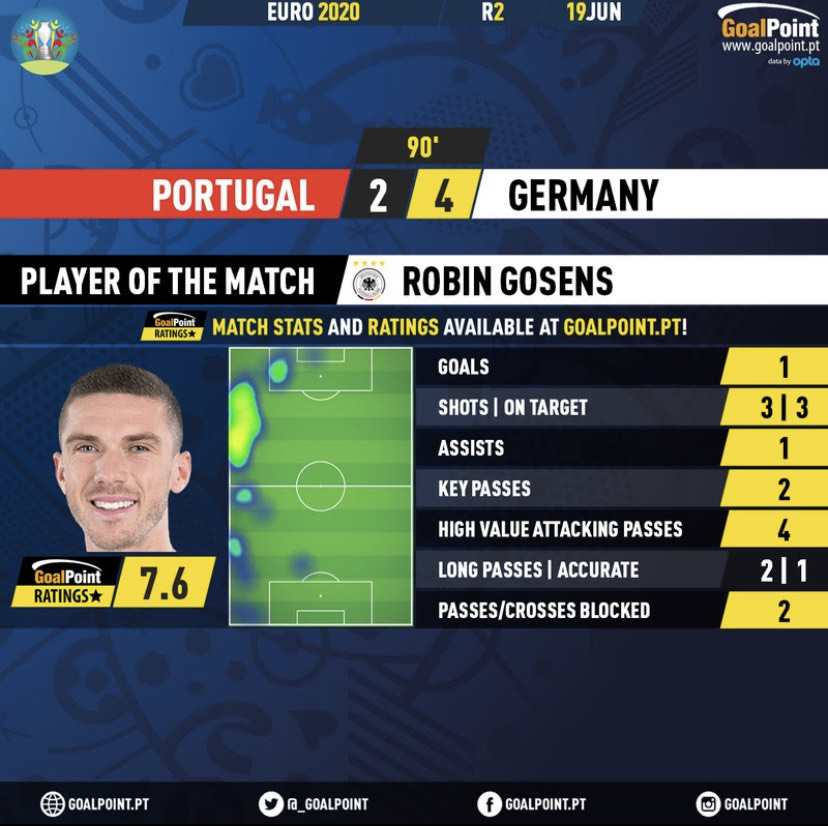 Retaining his place on the left flank ahead of Marcel Halstenberg and Christian Günter, Robin Gosens delivered a barnstorming performance and consistently punished Nélson Semedo in the final third.
It was a tremendous performance from Robin Gosens, who, at 26, has established himself as one of the finest wingbacks in world football for club and country. Having amassed an incredible 22 goals and 16 assists over the past two seasons for Atalanta, Gosens' excellent end product was once again on display in the Allianz Arena, and it saw Portugal take a 'Banho de Bola,' as the Portuguese newspaper Record put it — a "footballing bath.'
Born in Germany to a German mother and a Dutch father, Gosens was eligible to play for either country but made his debut for Die Mannschaft on September 3, starting a UEFA Nations League match against Spain as well as the following match against Switzerland, but Löw's constant chopping and changing of his system meant that Gosens never got a chance to assert himself as the first-choice left back. Between Philipp Max, Marcel Halstenberg, and even Emre Can, Germany's starting LB for this summer's Euros was anyone's guess.
And yet, not only has Gosens started each of Germany's four matches this month, he's delivered a performance for the ages in a must-win match against Portugal and rewarded Löw's trust — not only in him, but in his highly controversial 3-4-3 formation. Playing in a similar system to that of his swashbuckling Atalanta side under Gian Piero Gasperini, Gosens' runs proved to be a constant thorn in the side of Portugal's defense.
Whereas in the French match, Gosens often had the ball at his feet as he looked for a solution in the final third, this time, he was constantly making runs in behind Portugal's defense, taking advantage of Germany's underloaded left flank and Portugal's lack of pressure off the ball. With Bernardo Silva — as well as Renato Sanches — often failing to track back, Nélson Semedo was forced to deal with Gosens and Havertz, Müller and Gnabry, who often swapped positions in an attempt to send the Seleção's slow, uncoordinated backline into further disarray.
Löw purposefully chose to play Gosens and Kimmich high and wide so as to form a front five and overwhelm Portugal's defense, which allowed for them to boast a numerical advantage and enabled them to have a free man at the far post — often Gosens as Germany's right-sided build-up sought to pull Portugal's defenders further away and leave him with ample space to either attempt a cross or a shot. It worked like a charm, and although Portugal grabbed a consolation goal from Diogo Jota, they failed to make a serious contest and put Germany under pressure in the final half-hour.
Conclusion
Portugal can take solace from the fact that they are currently the top-ranking third-placed team with a total of three points — level with Germany — and a +1 goal differential, but not much else. They were outplayed, outfought, outmuscled, and outcoached by a vastly superior side that proved that, even with a lame-duck coach, a polemical formation and a crop of aging stars, they should never be written off.
Die Mannschaft will now be looking to continue their forward momentum in Wednesday's final group stage match against Hungary at the Allianz Arena, whilst Portugal are set for a rematch of the Euro 2016 Final against a stuttering France side at the Ferenc Puskás Stadium. They will be aware that, in order to win and ensure their spot in the knockout round, Fernando Santos will need to make several changes to a team that has sleepwalked through their first two Euro matches.
By: Zach Lowy / @ZachLowy
Joachim Löw's Master Plan
Joachim Löw didn't use a different lineup or formation from his previous game against France, but he only recognized the basic principles he needed in 3-4-3 attacking, although not picking the right players for this method against France they were very well suited against Portugal's man-oriented zonal marking system.
When you attack in front of an opponent using man-oriented pressing, you have to attract them towards the ball carrier position, so it is not that complicated. Thomas Müller, Kai Havertz and Serge Gnabry occupy the central spaces and stay close to each other, the wing-backs push up high the side line diagonally, while the double pivot controls decisions, long balls for the wing-backs or short vertical at the center, it depends on the opponent.
On the other hand, the nearest pass option orientation pressing was successful, except for dealing with counterattacks and protective coverage, which remained a problem for them. The 3 + 2 shape allowed them to stretch the field vertically and horizontally via both wingbacks, with Joshua Kimmich and Robin Gosens enjoying plenty of freedom in the attacking third.
Whilst Robin Gosens stole the show in Munich with a heroic performance on the left flank, his partner on the opposite side constantly threatened Portugal and his high-value attacking passes reflect how much attacking freedom he was given by Joachim Löw.
It begins with the 3 CBs circulating the ball and then pass to one of the CMs, who then decides whether to pass vertically to central areas, or send long diagonal pass towards the wing-backs, and when that happens one of the front trio waiting for a back pass under the penalty area while the other duo climbs vertically towards the box to receive the cross alongside the other wing-back.
Fernando Santos tried to repeat what Didier Deschamps had done by allowing Germany to use their flanks and then shut them down, but he fell into the trap of Löw's fluidity. In fact, the system would not have succeeded without Havertz and Matthias Ginter, the first was magical in choosing the right timing to move or fall into the middle to provide help and create a numerical overload, and the second was effective in using progressive passes on the right side, which was an indirect reason to hammer past Portugal.
Boys Against Men
While it is clear that Löw outcoached Santos, Germany's individual performances were certainly a decisive factor for the hosts. In fact, Matthias Ginter's numbers clearly expressed that. He made 69 passes, of which 64 were accurate (93%), while against France he made 56 passes, only 47 finding their desired target (84%). Ginter played as a right back, which gave Joshua Kimmich more freedom to move down the flank and right half-space with Kai Havertz and Thomas Müller falling next to him, allowing Germany to play behind Portugal's second pressing line.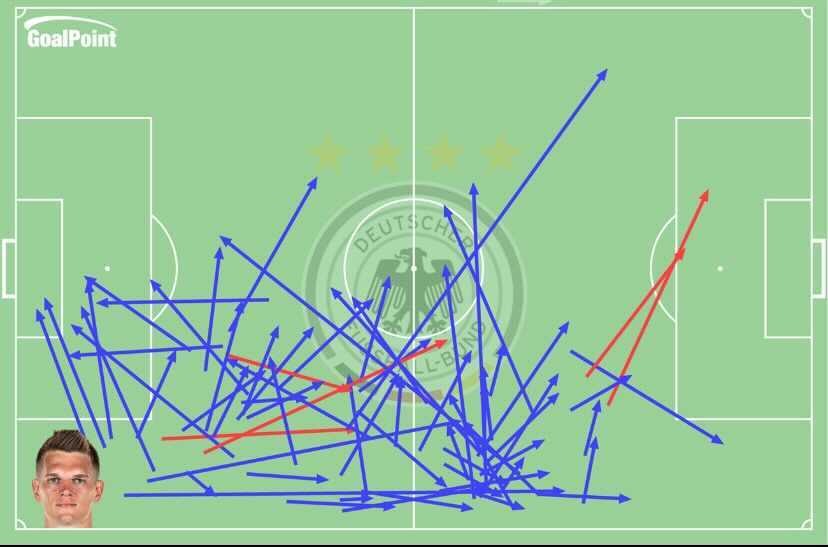 Matthias Ginter was once again one of Germany's strongest performers in the backline, and despite conceding two goals, he offered plenty of positives both on and off the ball.
The third goal gives a quick idea about fluidity and good use of width, Kimmich began to move vertically down the flank while Havertz went to the sideline to drag Raphaël Guerreiro, Ginter pretended to play a long pass towards Kimmich to get William Carvalho busy and then passed to İlkay Gündoğan. Diogo Jota pressed Ginter, who found Gündoğan again, while Kimmich and Müller switched positions, Gündoğan passed to Havertz on the sideline, then from one touch, Havertz passed to Müller who turned and passed to Kimmich then moved to get it back and clearly passed to Gosens on the other side.
Toni Kroos also showed a good defensive performance, and away from his obvious offensive contributions, he was clever in reading the game and closing the passing lanes which allowed him to recover the ball in advanced areas. His 4 interceptions and 2 defensive actions on the opposition half were effective to rob Portugal of possession and allow Germany to retain possession in the final third.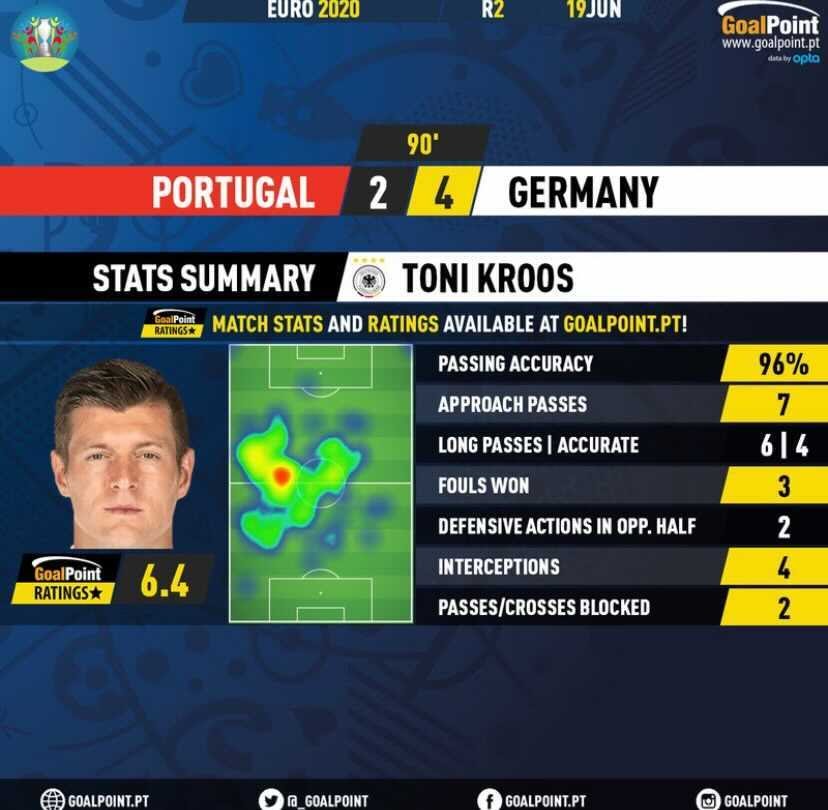 Apart from his stellar performance on the ball, Toni Kroos was an unsung hero in his defensive actions, reading the game masterfully and winning the ball back in his own half.
By: Omar Mokhtar / @OmarMokhtar6643
Featured Image: @GabFoligno / Matthias Schrader – AFP