Tactical Analysis: RB Leipzig 3-2 Manchester United
Six weeks after suffering a 5-0 loss in Old Trafford, Julian Nagelsmann's RB Leipzig narrowly defeated Ole Gunnar Solskjaer's Manchester United at the Red Bull Arena in order to progress to the UEFA Champions League Round of 16, where they will join Paris Saint-Germain from Group H. On the other hand, United will drop to the UEFA Europa League, where they will look to improve upon last season's semifinals finish.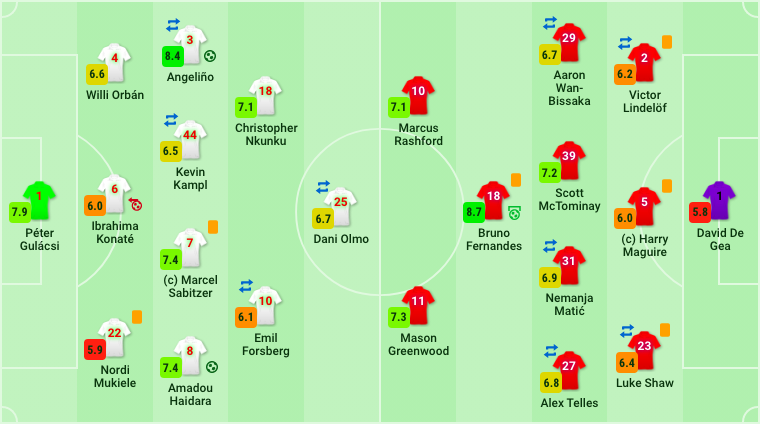 Photo: SofaScore
Rather than go for the 4-4-2 diamond that saw United defeat Leipzig in October, Solskjaer opted for a 3-4-1-2, with Mason Greenwood and Marcus Rashford starting up top with Bruno Fernandes. On the other hand, Nagelsmann went with a 3-4-3 with Dayot Upamecano dropping to the bench after last weekend's 3-3 draw against Bayern Munich.
Whilst Leipzig set up with a 3-4-3 on the ball, this changed to a 5-3-2 out of possession with Dani Olmo and Emil Forsberg blocking passes into midfield whilst one of the midfield three or the wing-backs would track the ball whenever it moved wide.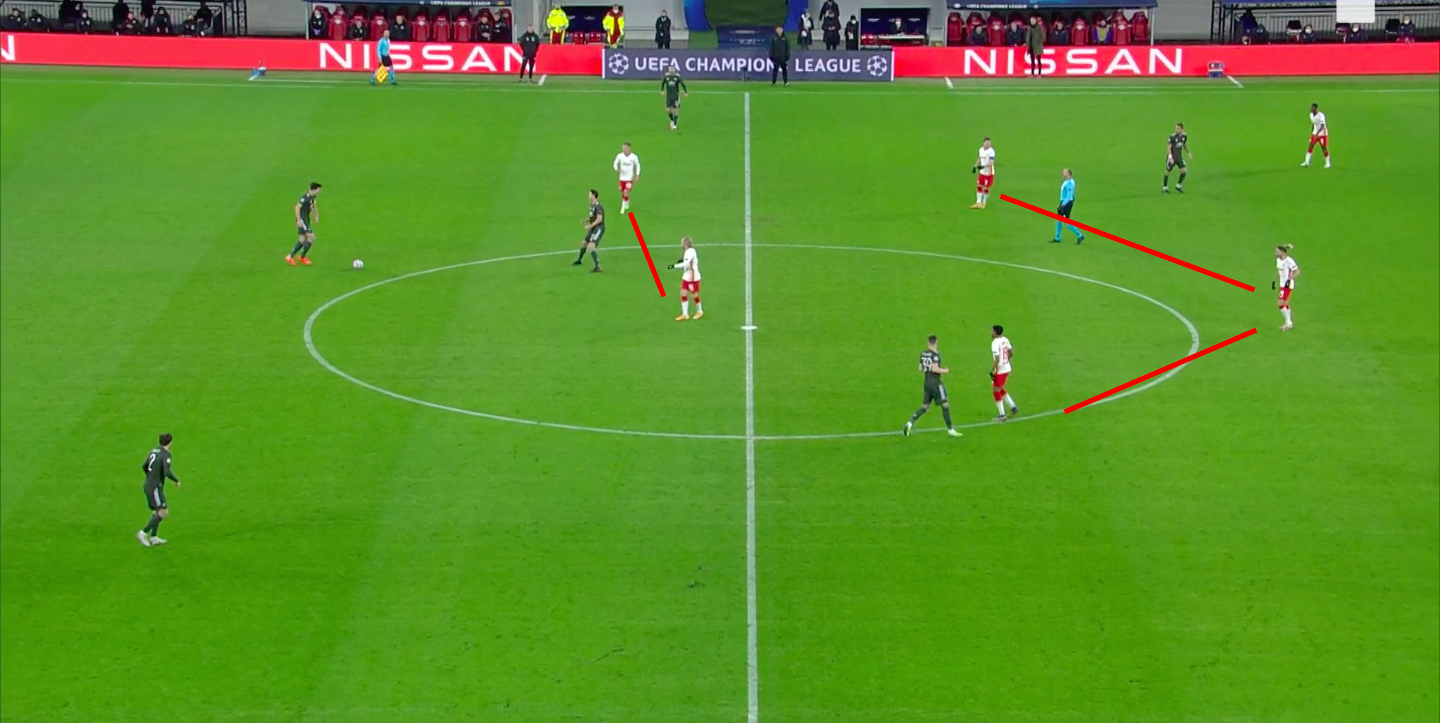 Leipzig's press was effective as they could remain tight to Manchester United's players in build-up. The German side often forced turnovers and managed to break up play by putting the ball out for a throw-in or forcing United to play backwards, preventing them from sustaining possession and gaining a foothold in the game.
On the other hand, United set up in a 5-2-3 shape off the ball, with United's front three staying high up the pitch in order to receive the ball in advanced areas and quickly launch into attacking transitions. Solskjaer would have expected his side to contain Leipzig's attacking threats and force turnovers in order to counter.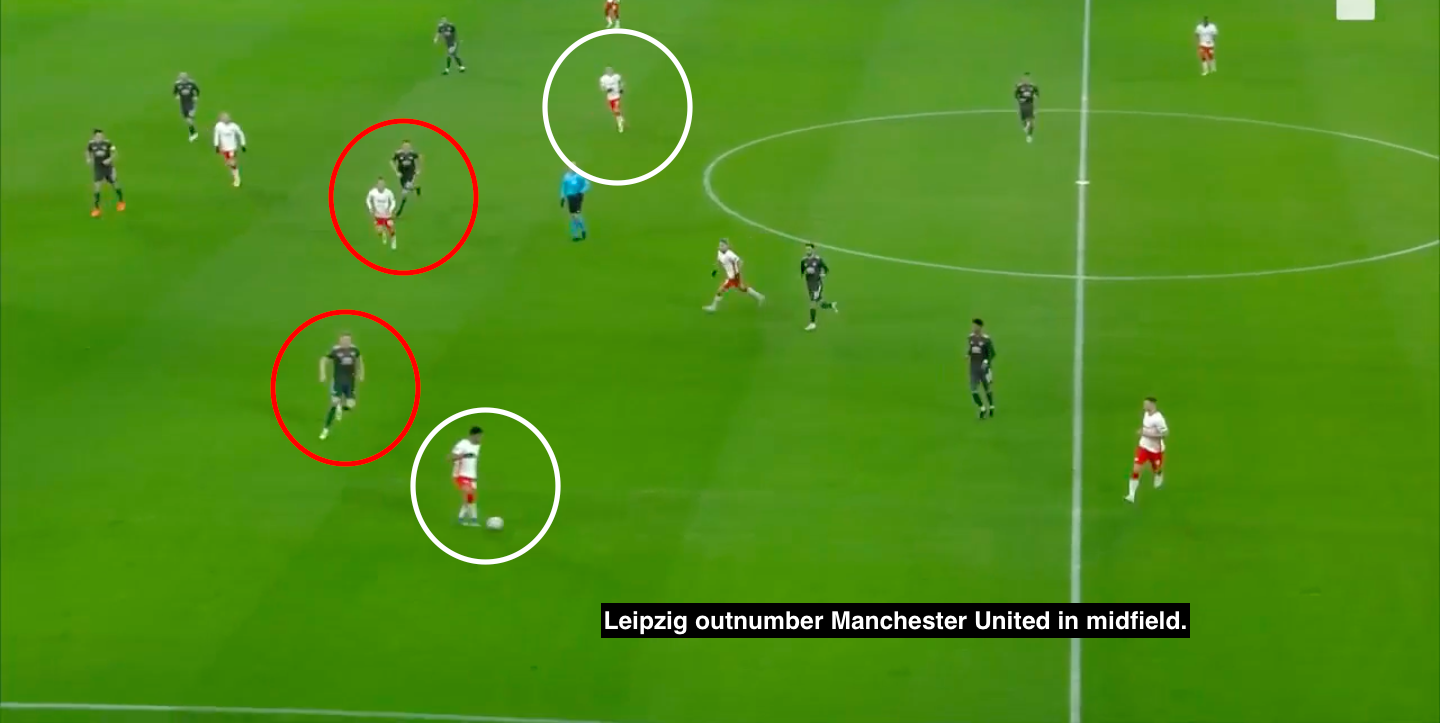 Solskjær's game-plan was to bank on his front three thriving up against Leipzig's back three and creating havoc on the counter-attack. However, with Nagelsmann's midfield three outnumbering Solskjaer's midfield two, Leipzig always had a spare man in midfield, allowing them to circulate the ball out of pressure.
United struggled to put pressure on Leipzig's players and get near the ball, and as a result, they failed to force transitions and test the backline. Instead, they defended with seven men behind the ball for extended periods of the match.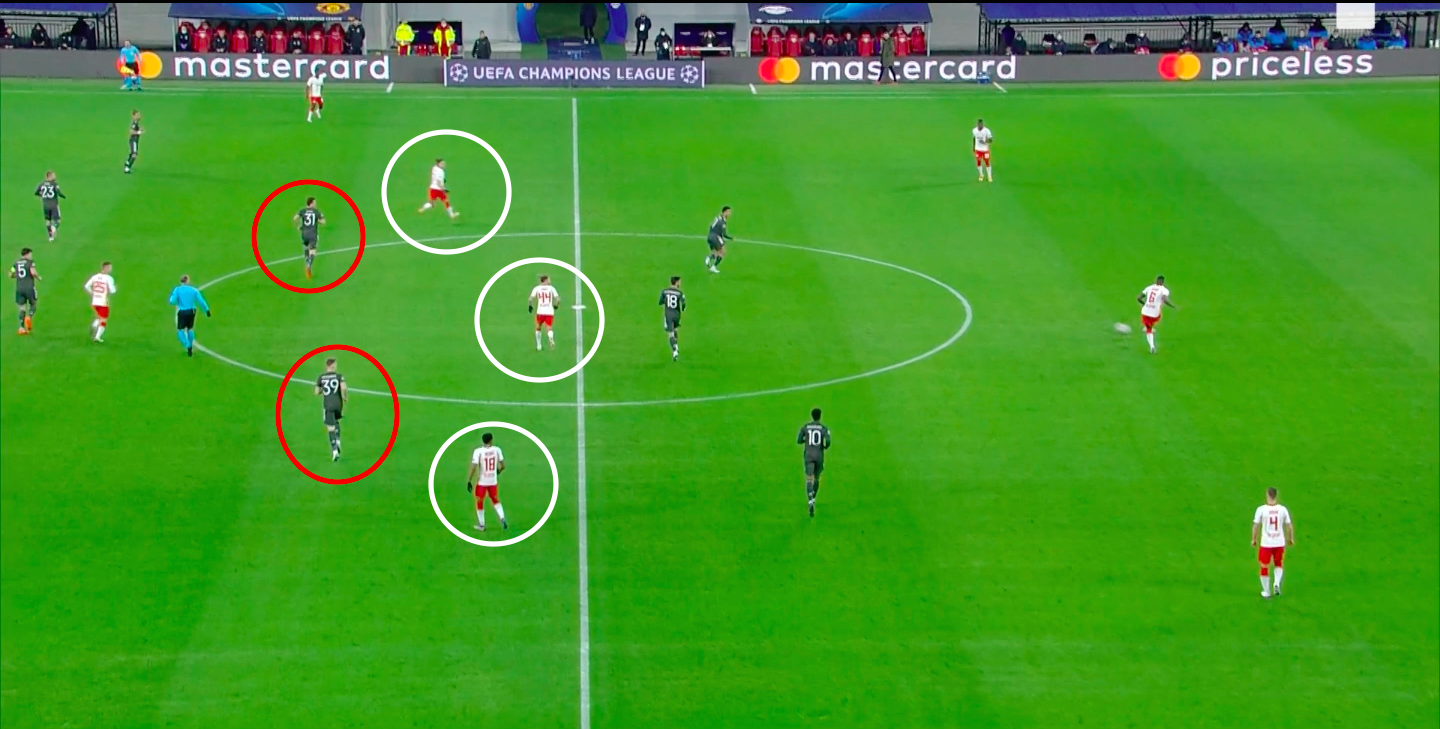 In this move, Ibrahima Konaté passes to Marcel Sabitzer, who is loosely marked by Nemanja Matić. Manchester United's press was poor in this move as they didn't effectively block passes into midfield, and they would have been better off dropping the wingers and sitting off in a 5-4-1 shape if they weren't going to press intensely.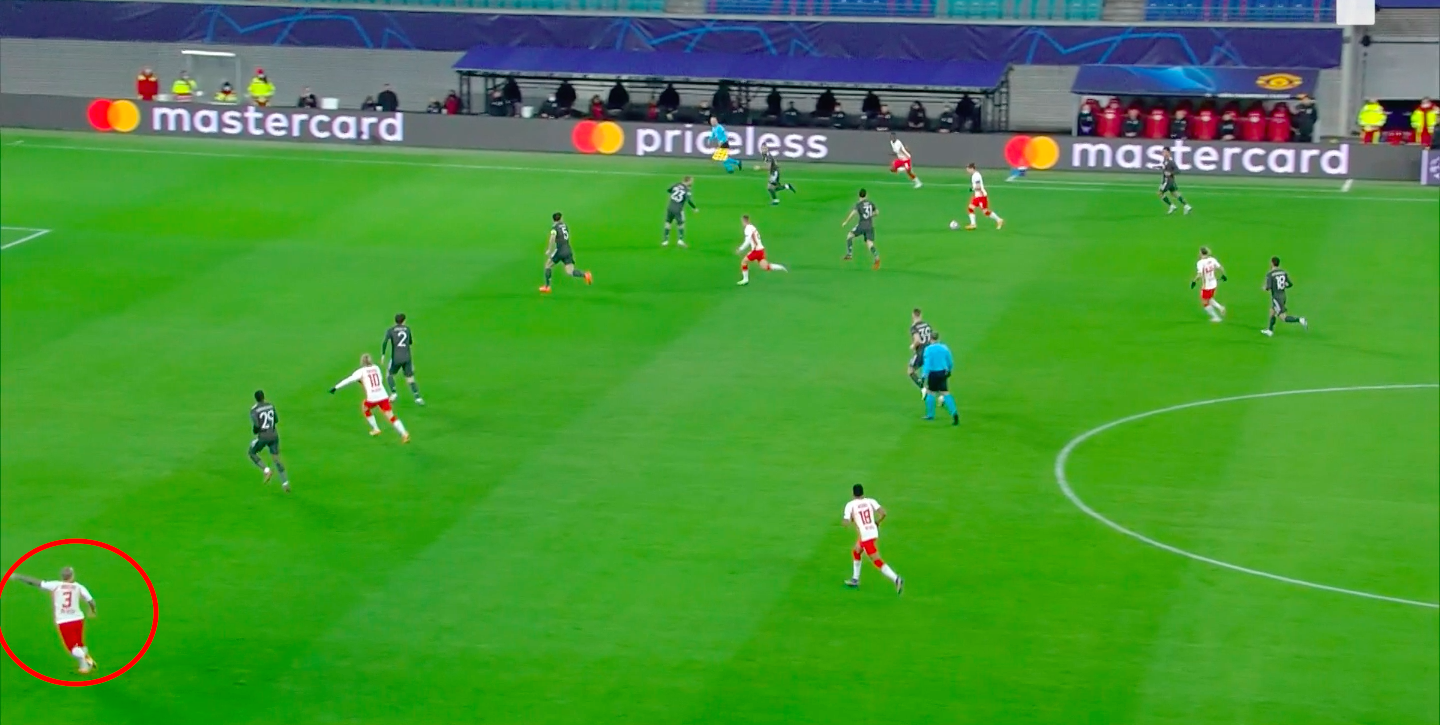 Matić couldn't close Sabitzer down because he would leave Olmo open in the middle of the pitch if he did press him, leaving the Austrian free to receive and drive forward, before switching the play to Angeliño, who scored with a first-time finish to put Leipzig ahead in the second minute. 
Leipzig's midfield three and front two congested central areas and allowed Leipzig to have a numerical superiority in midfield. When the spare man received the ball, he often wasn't closed down and had the time to pick out dangerous passes, such as switches of play to one of the wing-backs.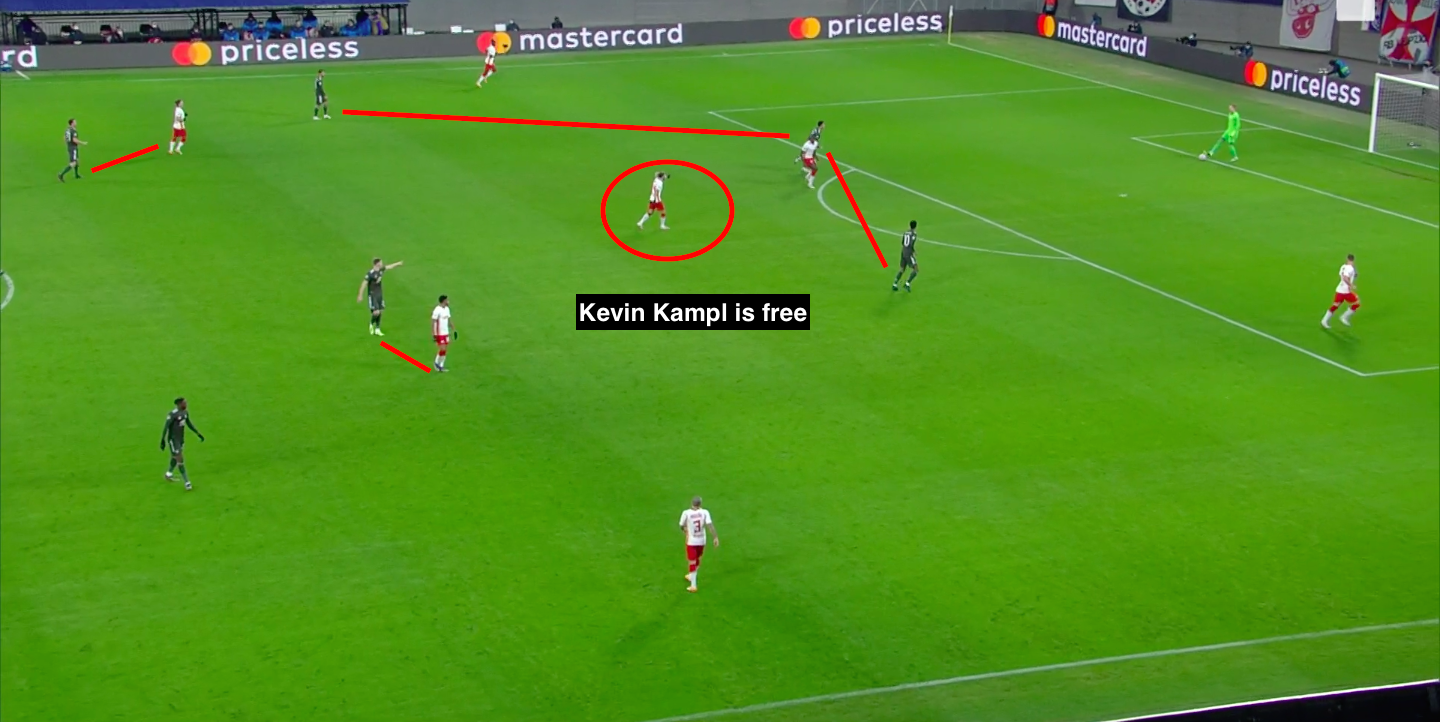 Leipzig used this numerical superiority to play out of United's press. In this example, Matić is tightly marking Sabitzer whilst Scott McTominay is marking Christopher Nkunku, allowing goalkeeper Péter Gulácsi to play a simple pass to Kevin Kampl, who can advance the play forward into midfield.
Nagelsmann's side continued to use their numerical advantage in midfield when they scored their second goal through Amadou Haidara in the 13th minute. Haidara's attempted pass to Forsberg falls into the path of Sabitzer, who is slowly picked up by McTominay.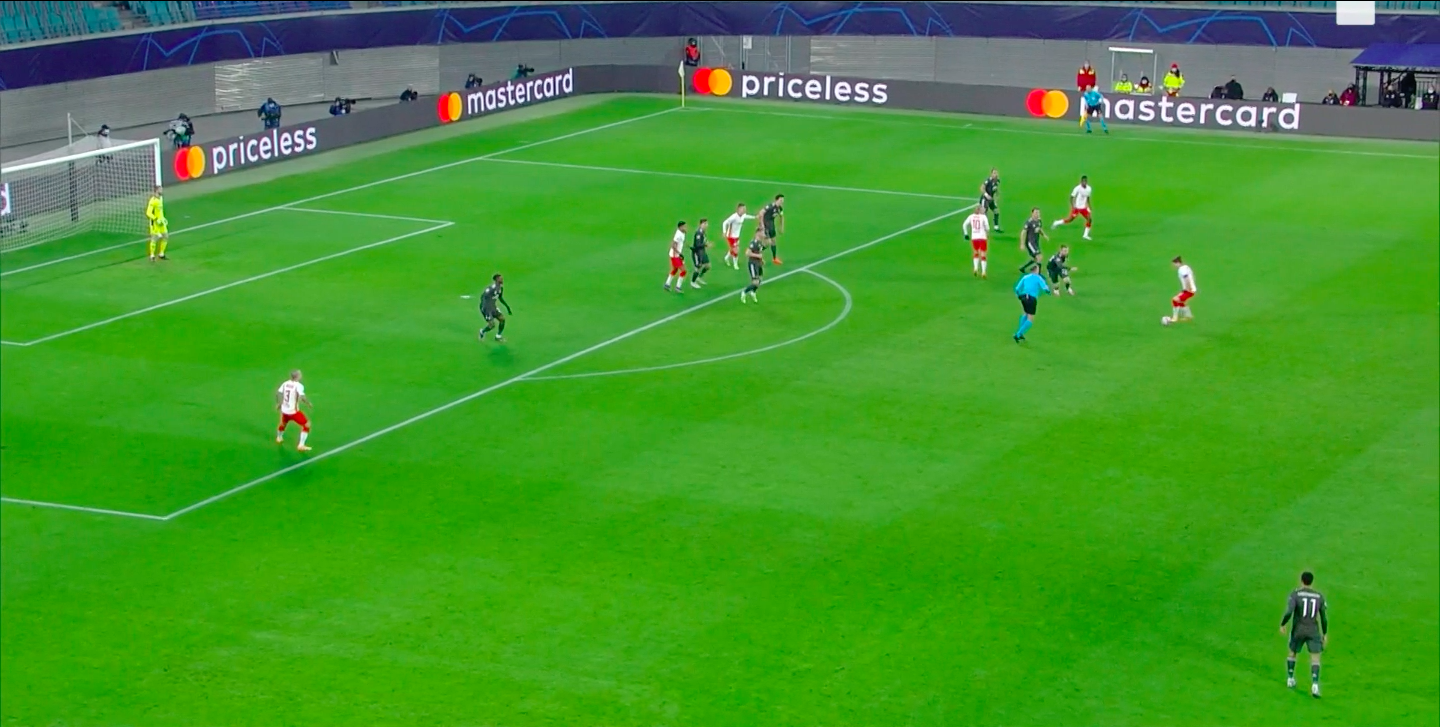 With ample time and space on the ball, Sabitzer switches the play to Angeliño on the left flank, who receives the ball unmarked due to Aaron Wan-Bissaka's narrow positioning. Angeliño plays a phenomenal cross towards the far post, and the Malian midfielder converts with an excellent volley to double Leipzig's lead in the 13th minute.
United were slow in possession and struggled to create chances against Leipzig's narrow 5-3-2, choosing to play conservative passes rather than circulate possession out wide to create space in between the lines. In the below example, Harry Maguire could've switched the play but instead played a short pass to McTominay.
Solskjær could be heard telling his players that they 'need to move the ball quicker' during the game. Because United struggled to progress play, especially in the early part of the game, they failed to put Leipzig's defense under any sort of threat during the first half.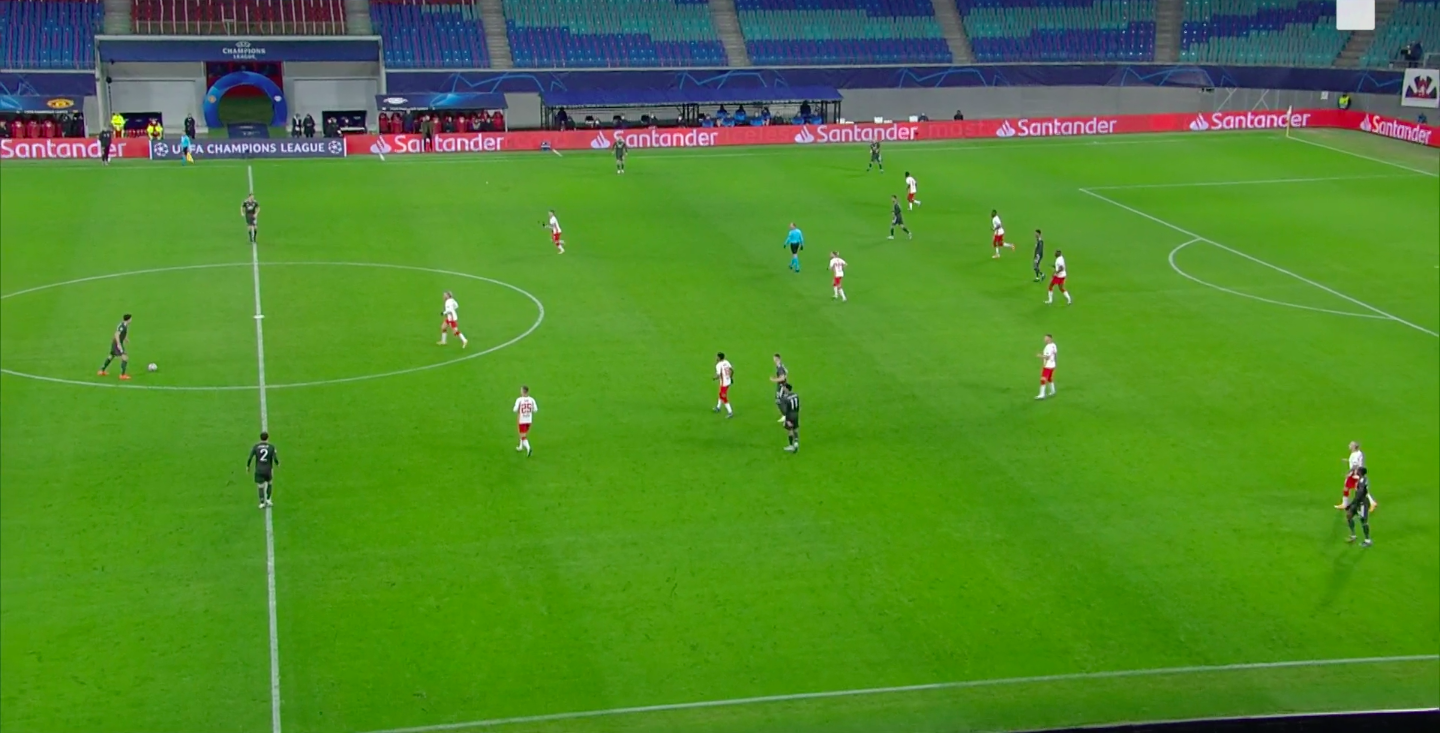 After the first 30 minutes, United switched to a 4-2-3-1 on the ball, but they struggled to create chances as Leipzig were prepared to sit deep. Justin Kluivert, who came on for Olmo in the 56th minute, added a third goal after Maguire let a deflected cross run past him, with the English center back expecting goalkeeper David De Gea to mop the ball up; instead, Kluivert latched onto the ball and scored to make it 3-0.
United kept pushing and came alive somewhat with the entrance of Paul Pogba for Matić, and would go on to score two minutes within three minutes via a penalty from Fernandes and a corner kick that saw Konaté concede an own goal. However, it was too little too late for United, who will be playing in the UEFA Europa League knockout round for the second straight season.
By: Rahul Mall
Featured Image: @GabFoligno / DeFodi Images – Getty Images