Tactical Analysis: RB Leipzig vs. Borussia Mönchengladbach
The top clash in the Bundesliga this weekend saw RB Leipzig take on Borussia Mönchengladbach, with the game seeing Julian Nagelsmann take on Marco Rose once again. Clashes between the two managers are always tactically interesting, with Rose's pressing concepts usually making a strong opponent for Nagelsmann's flexible structures. Mönchengladbach got off to an early 2-0 lead via goals from Jonas Hofmann and Marcus Thuram, Leipzig mounted a fierce comeback to claim all three points
This tactical analysis will therefore focus on the solutions posed by both teams, before then examining Julian Nagelsmann's decision to switch the system and how this switch was a compromise that allowed Leipzig to win the game.
Line-ups
The match started with the teams in both of these shapes below, RB Leipzig went with a 4-2-3-1, with Dani Olmo as a ten, with Marcel Sabitzer and Tyler Adams forming a double pivot behind. While Marcel Halstenberg started as a left-back in the absence of Angeliño, who missed out the game, Mönchengladbach's shape was far more fluid, with player's roles and positions change when in or out of possession.
The general formation for Gladbach was a 3-1-4-2, with an almost triangle midfield of Denis Zakaria (6), Jonas Hofmann, Hannes Wolf (eights), with Valentino Lazaro starting in the absence of Stefan Lainer who missed out due to injury. This system rotated slightly in possession, as I will cover in the analysis.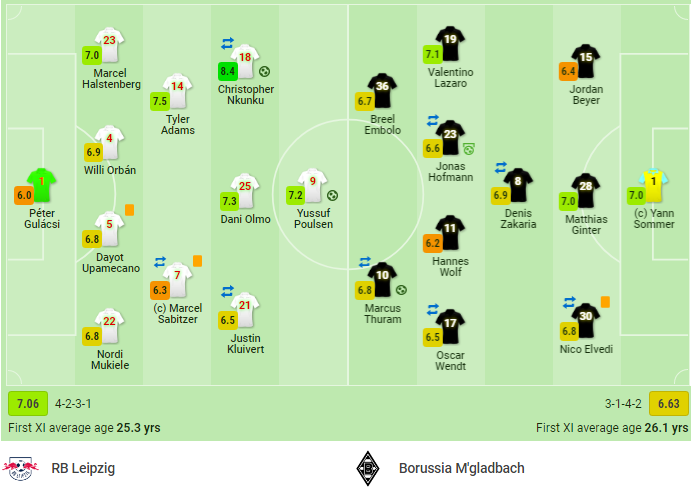 Borussia Mönchengladbach's 3-1-4-2 press
Rose chose to use a position-oriented zonal marking pressing system in the defensive phase, there would be no active pressure on the Leipzig player who carried the ball, but an area that controls their positioning. He continuously directed the pressing trap into the space in which Tyler Adams would likely receive the ball, where he made one of Marcus Thuram or Breel Embolo mark Adams and cover-shadow him to prevent any possible vertical passes as well as horizontal ones from Nordi Mukiele and Halstenberg.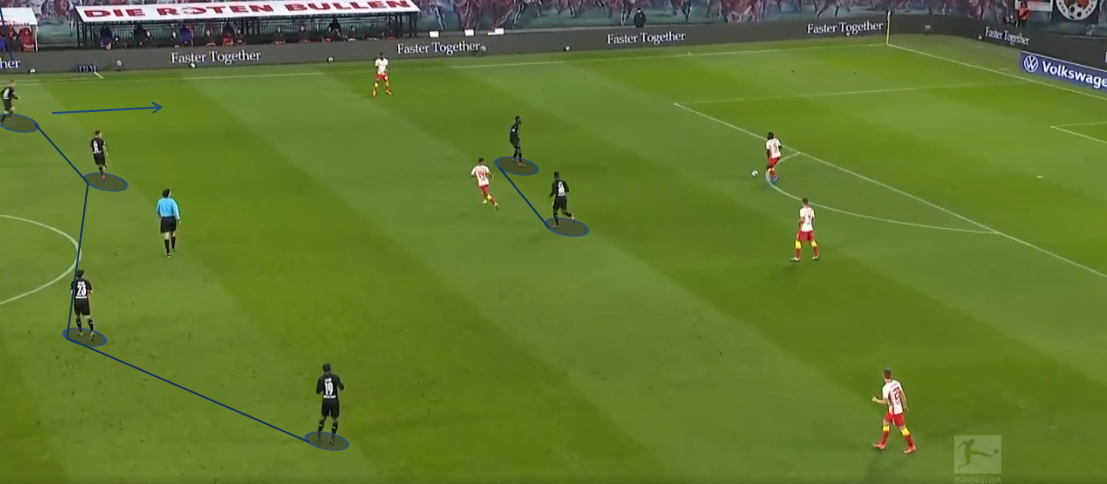 When the ball reached Leipzig's fullbacks, Rose used pressing triggers to close down players on the wings and start attacking transitions. He used an asymmetric structure to shut down Leipzig's build-up from the sides; if the ball was on Leipzig's right side, then Oscar Wendt would push higher up to become a winger and press Mukiele while Wolf and Hofmann would close the passing lanes behind them, the team block moves slightly to the left, Valentino Lazaro becomes a right-back and returns to cover, forcing Mukiele to play the long ball or return back again to defenders or Péter Gulácsi.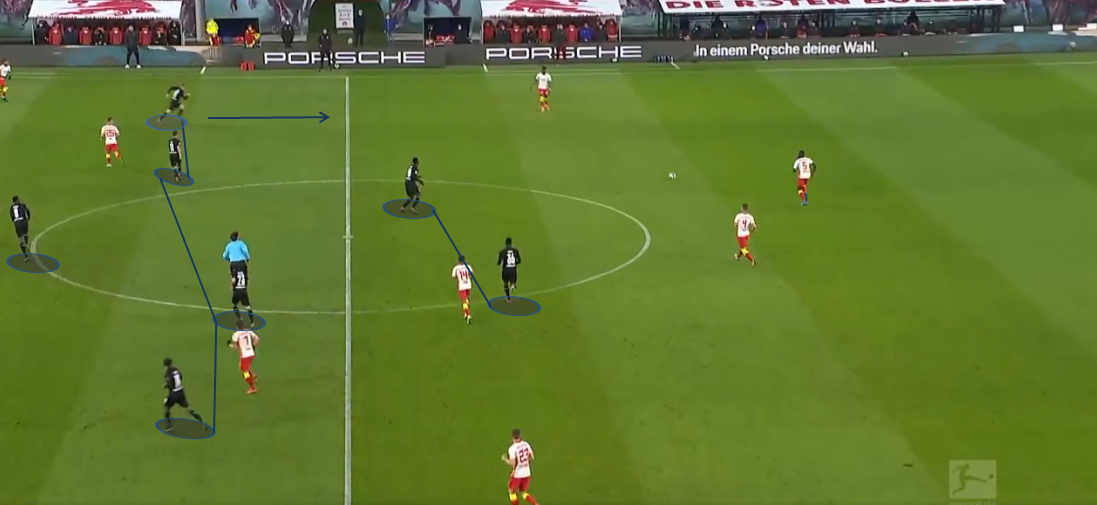 And vice versa if the ball is on the opposite side when Gladbach switches to a low block, the structure turns into a 5-3-2.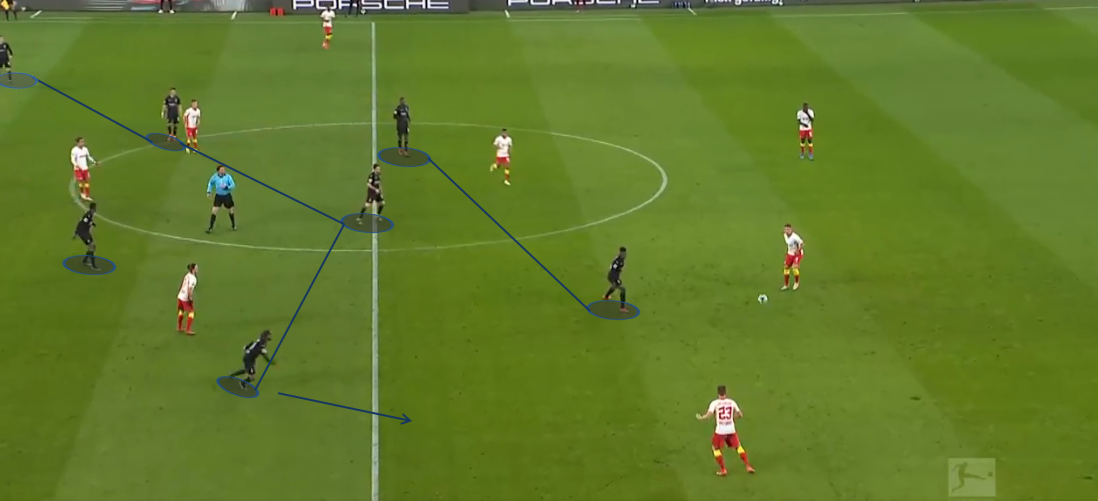 The system was running fine at first, if Nico Elvedi did go to mark Nkunku, Mukiele would have plenty of space to exploit going forward. In turn, Oscar Wendt would go to press Mukiele whilst Wolf would mark Olmo in the right half-space. Leipzig struggled to play out from the back, as Dayot Upamecano and Willi Orbán were forced to pass horizontally between themselves.
On the other side, the same work was being done, But there was a problem with the understanding between players and positioning (Jordan Beyer, Valentino Lazaro and Jonas Hofmann). The 20-year-old Jordan Beyer was constantly coming out of position to mark Kluivert, As a result, he was leaving a certain space between himself and Lazaro and With Hofmann not used to playing as a left midfielder, he easily lost his position, Thus, Leipzig makes the best use of the left half-space.
Leipzig's Build-up
In the first phase of build-up, Leipzig went with a 2-1-4-3, with Dayot Upamecano and Willi Orbán spreading out whilst the fullbacks push higher up the touchline. Tyler Adams drops back to the ball side to ensure numerical superiority whilst Sabitzer and Olmo dropping into the half-spaces.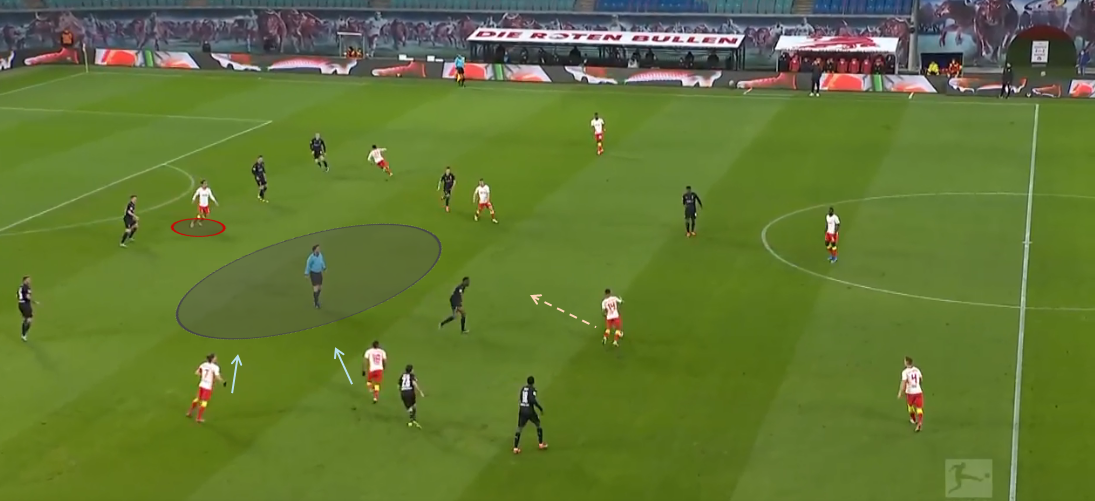 Julian Nagelsmann's idea was always looking for space in Gladbach's defense, and Adams was used by Nagelsmann as the progressor of the build-up. Adams would drop between the lines to offer himself as a passing option for the back four.
The main idea was to take advantage of the left half-space by taking Gladbach's defense out of position, very cleverly, Nagelsmann used his left back Halstenberg to create numerical and qualitative superiority, Halstenberg has great receiving and passing abilities as well as an amazing sense of position like his teammate Angeliño.
Therefore, Halstenberg was always positioned on the left half-space while Kluivert was positioned between Beyer and Lazaro, making it easy for Sabitzer to ask for the ball in a threatening space.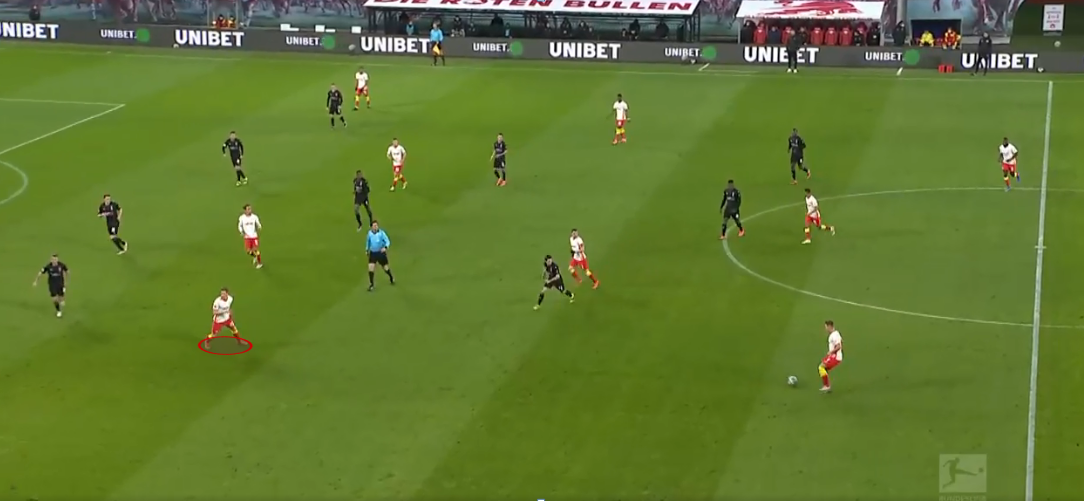 On the right side, it did not work much due to Zakaria's tendency to cover that side, his physical and dynamic ability to fill spaces. There Leipzig was being strangled and Gladbach created transitions.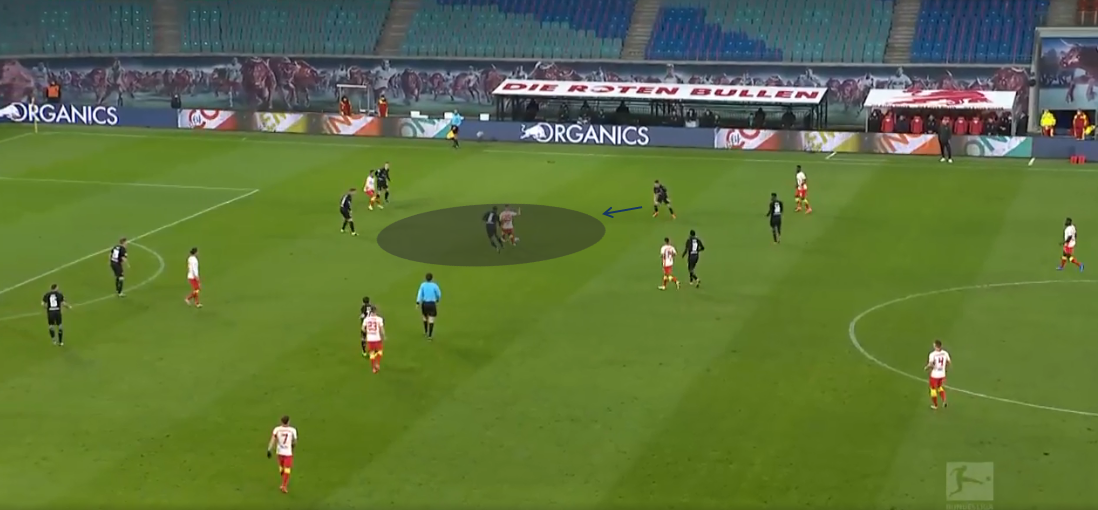 Other times, Halstenberg would go to the touchline, leaving the left half-space for Sabitzer and Nkunku, who would switch sides with Kluivert. Meanwhile, Yussuf Poulsen falls to drag Matthias Ginter with him, creating a central space that can be used by the player that comes from behind.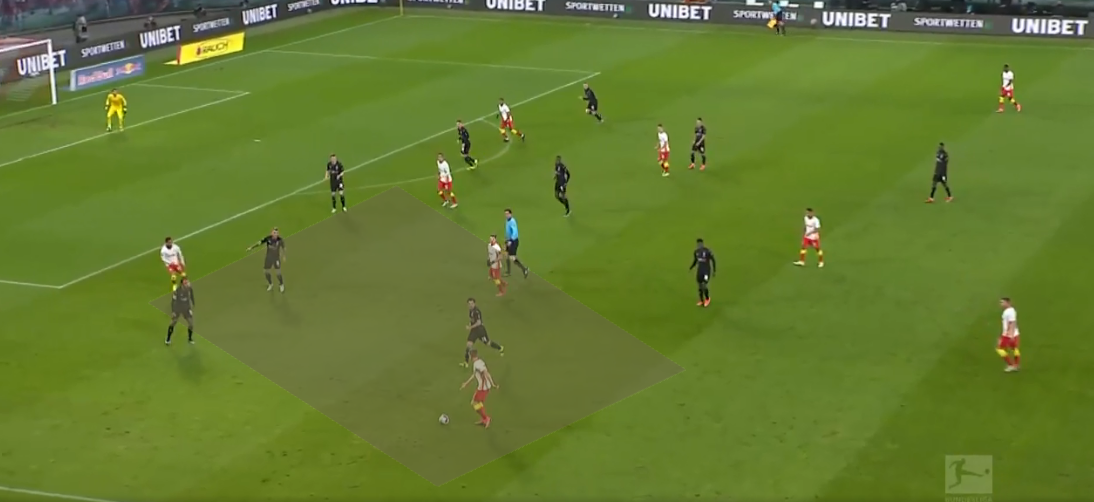 Leipzig used a back three too in build-up where Halstenberg turns to a left centre back, thus creating 3v2 overloads over Marcus Thuram and Breel Embolo, and Tyler Adams moved to the left. This enabled Willi Orbán to deliver the ball more accurately in advanced areas to Olmo.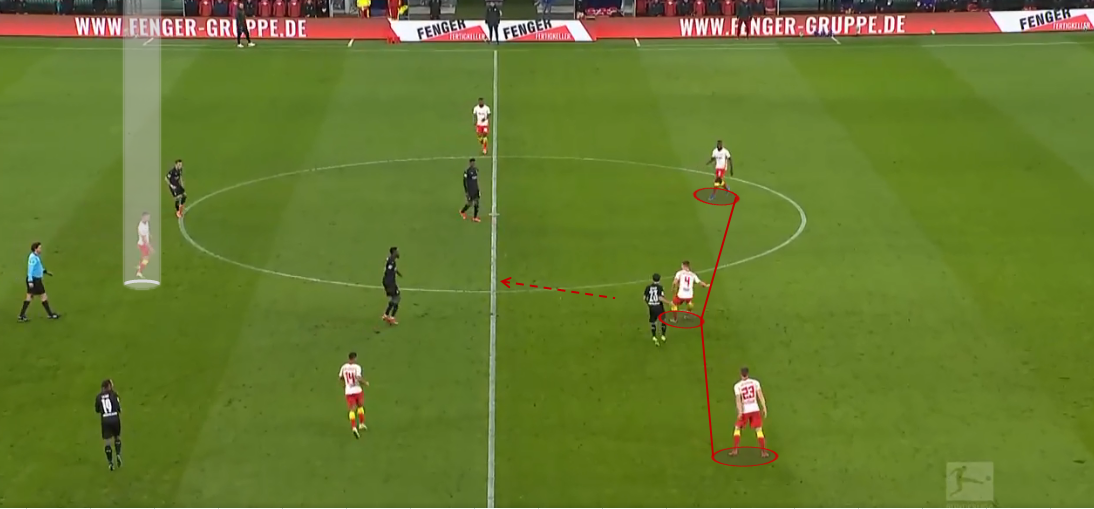 Mönchengladbach's Build-up vs. Leipzig's Press
In the offensive phase, Mönchengladbach went with a 4-3-3, where Beyer turns into a right full-back, Wendt turns into a left full-back while Lazaro becomes a constant right winger. Rose relied on the straight vertical balls using his strong forwards and taking advantage of their ability to hold the ball and wait for their teammates to make runs and transitions, the vertical passing was frequently performed by defenders and a midfielder.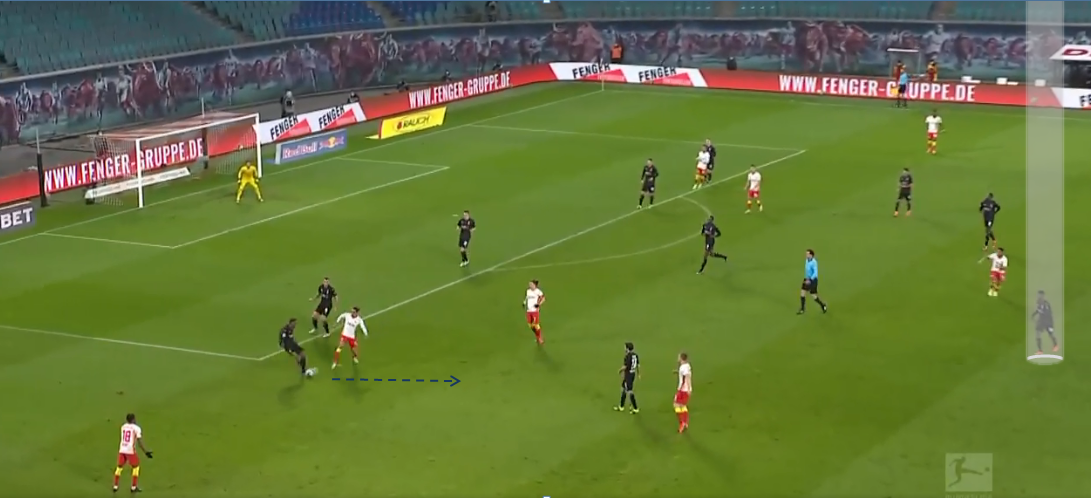 Nagelsmann chose to use a space-oriented man-marking pressing system in the defensive phase where they focused on protecting their central space around their position and if Gladbach moves into that space, they will be aggressively pressed as they force them to go out to the sides. Nagelsmann's idea was to press Gladbach's player with the ball while the rest of the team closes down the available spaces. 
Dani Olmo pushed higher from the central midfielder to join the first pressing line and press Gladbach's centre backs, pressing as a front two along with Yussuf Poulsen. Leipzig's wingers pressed very high against Gladbach full-backs where possible. Even with Olmo pushing higher out of the midfield, Leipzig still had two central midfielders available to press.
Tyler Adams did a decent job of nullifying this overload movement by Embolo. Wolf shifts across to the left side of the pitch and takes Kluivert with him, Gladbach creates a more asymmetric structure with Jordan Beyer tucking in, and so the far Oscar Wendt can push high and wide. Hofmann moves inside to overload the ten space, and Adams follows when the ball is played long by the goalkeeper, and so Adams can intercept the ball.
At the break, Nagelsmann made a few changes of his own, bringing in Alexander Sørloth for Sabitzer who has a yellow card, Nagelsmann instructed Nkunku to play as attacking midfielder alongside Olmo and go deep into the field with Sørloth and Kluivert sticking to the flanks to stretch the pitch, while the full-backs join the inner corridor, and this forced Lazaro to go and meet Sørloth on the touchline, and made Jordan Beyer always ask himself a question: Should he go to cover Lazaro or stay to mark Leipzig's player on the left half-space?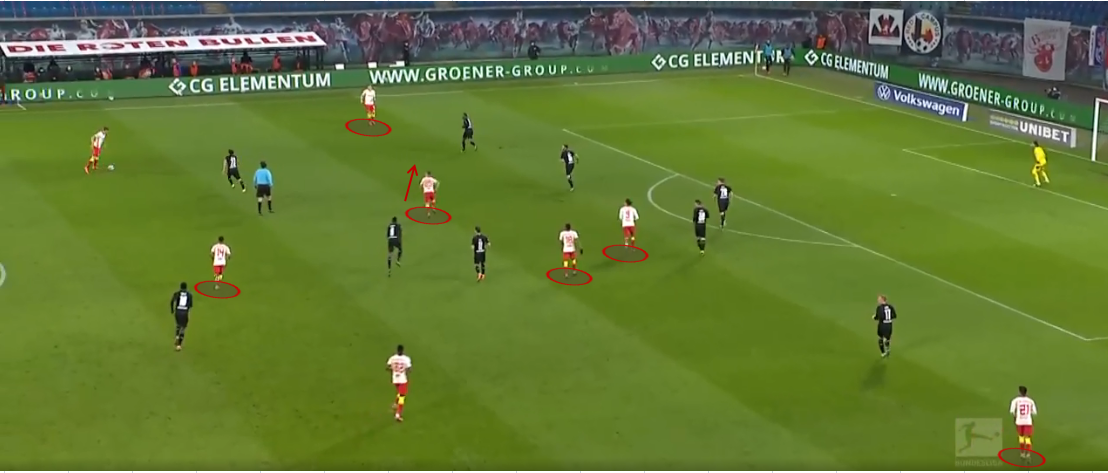 The trio of Nkunku, Olmo and Poulsen constantly occupied the central areas. Halstenberg passes the ball to Sørloth, Olmo occupies the left half-space, Poulsen comes behind him to attract Ginter, then space is created for Nkunku, and Gladbach players could not control their position well due to their opponent's move off the ball.
In Leipzig's first goal scene, Olmo received the ball on the left half-space, Beyer had to go and meet him early, Lazaro focused on shutting down Sørloth who decided to storm into the penalty area, This created plenty of space for Halstenberg to make the cross comfortably, Sørloth's move attracted Ginter and made Nkunku free to score.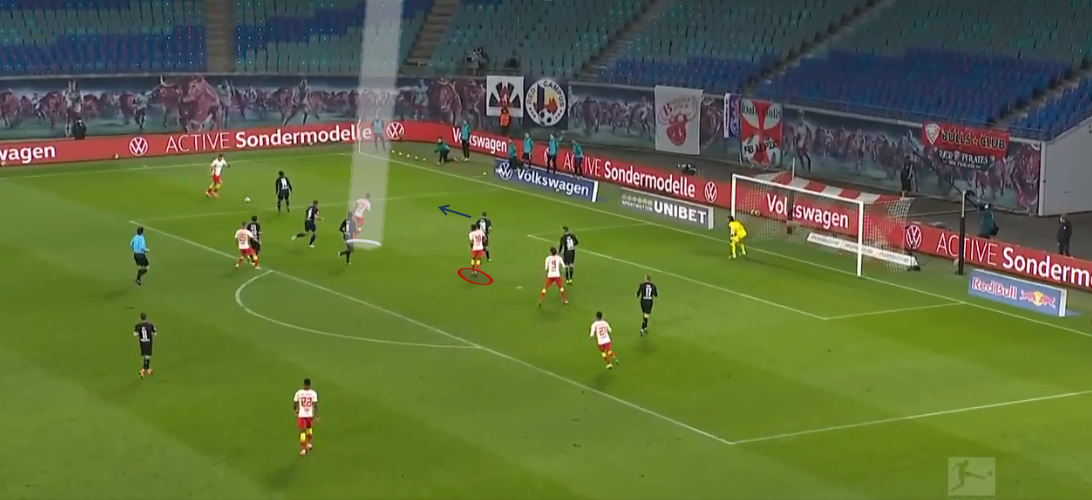 Once again, Olmo is positioned in a central area (zone 14) and asks for the ball, while Nkunku makes a full scan for the area around him to make a run,  Halstenberg and Sørloth take their positions, and these combination movements gave Leipzig an impressive comeback. Furthermore, it also helped Leipzig to counter-press intensely and win the ball back quickly.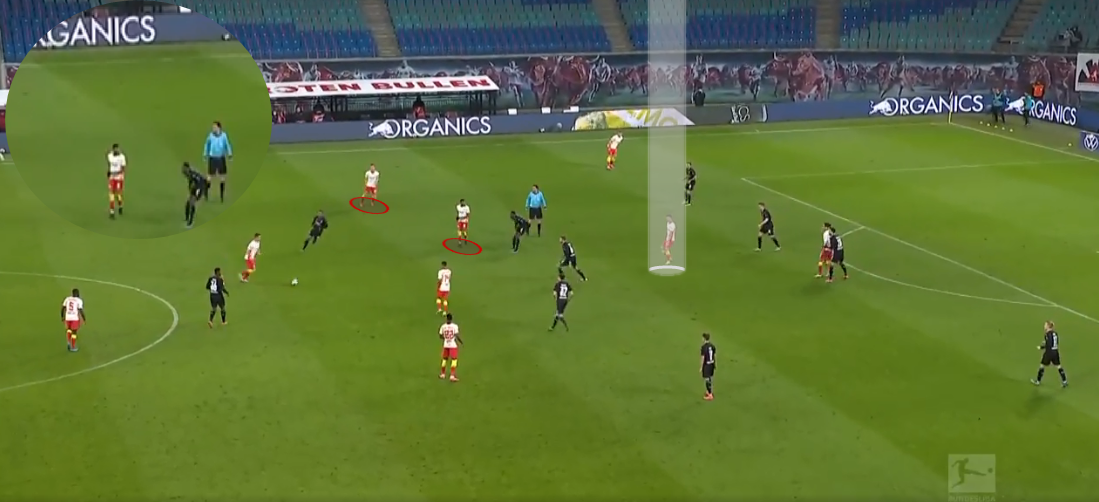 Conclusion
From coming back from a two-goal deficit and defeating Borussia Mönchengladbach, Julian Nagelsmann is proving again why he is one of the most exciting managers in football at 33 years of age. Leipzig trail Bayern Munich by just two points and will continue to make a strong push for their first ever Bundesliga title.
Whilst Die Fohlen currently sit 9th in a jam-packed race for Champions League football, and it looks like they are close to bid farewell to the Champions League after the first-leg defeat to Manchester City, they can certainly use that to fuel them going forward as they go up against the likes of Leverkusen, Eintracht Frankfurt and Borussia Dortmund (DFB Pokal) in the coming weeks.
By: Omar Mokhtar
Featured Image: @GabFoligno / Ronny Hartmann / AFP