Tactical Analysis: Real Madrid 1-1 Atletico Madrid
On February 25, Carlo Ancelotti's Real Madrid faced off against Diego Simeone's Atletico Madrid at the Santiago Bernabeu. Angel Correa received his marching orders in the 64th minute, Jose Maria Gimenez opened the scoring for the visitors 14 minutes later, whilst Alvaro Rodriguez came off the bench and scored an equalizer against 10-man Atleti. They settled for a tense 1-1 draw, spelling another setback for Los Blancos' hopes of retaining their La Liga title.
Real Madrid set up in a 4-3-3 formation with Karim Benzema spearheading the front three alongside Vinicius Junior and Marco Asensio. Rodrygo, alongside Eduardo Camavinga and Luka Modric, dropped to the bench following the side's 5-2 victory against Liverpool, whilst David Alaba was unavailable after suffering a hamstring injury against the Reds.
As for Atleti, Simeone made several changes following their 1-0 victory against Athletic Club with Stefan Savic replacing Jose Maria Gimenez in central defense and Pablo Barrios and Saul Niguez coming in for Correa and Rodrigo De Paul, who was ruled out due to injury.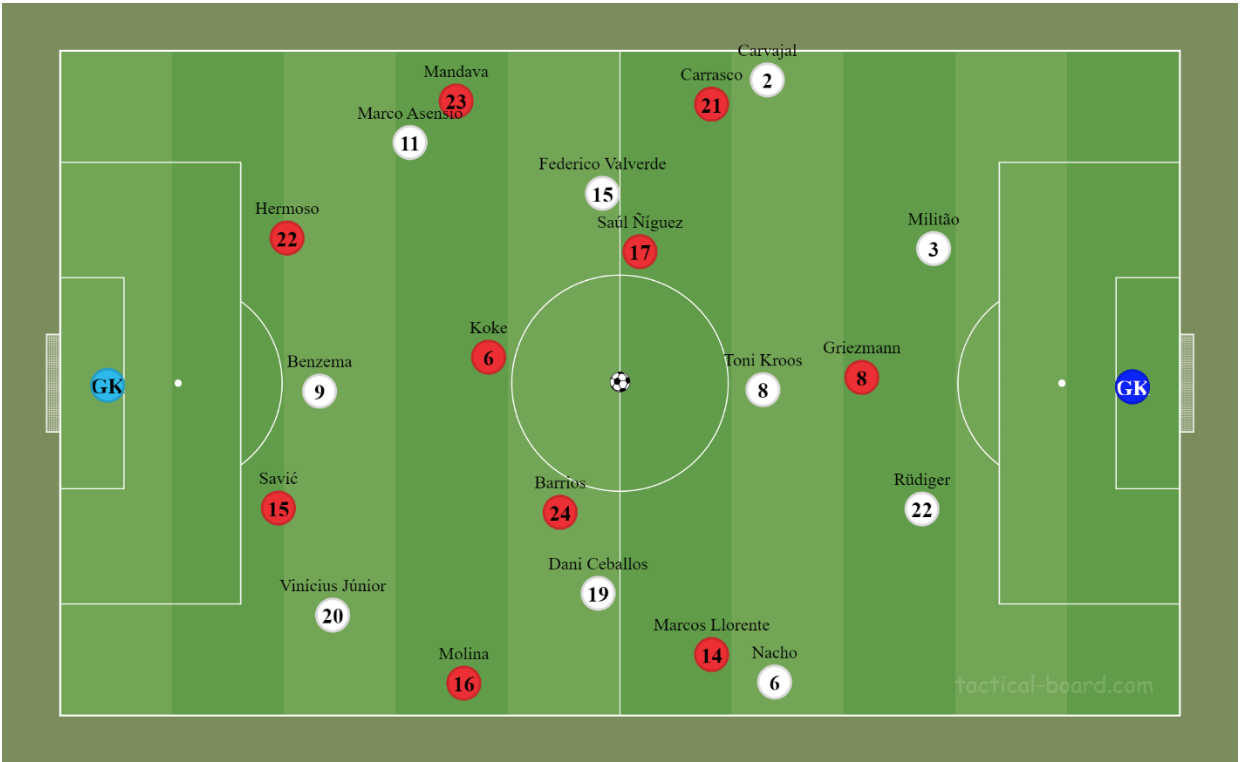 Real Madrid's Possession Play in the Final Third vs. Atleti's Low Block
A common thread through the game was Real Madrid's insistence on progressing the ball with Toni Kroos dropping between centre backs, giving him time and space on the ball to pick his passes. In addition to this, both Real full backs Dani Carvajal and Nacho Fernandez pushed high to overload in the flank area, resulting in a 3-4-3 tactical shape with Dani Ceballos and Federico Valverde as a double pivot. Atletico started with a hybrid 4-4-2 structure that changed to a 4-5-1 or 5-4-1 dependent on the game state.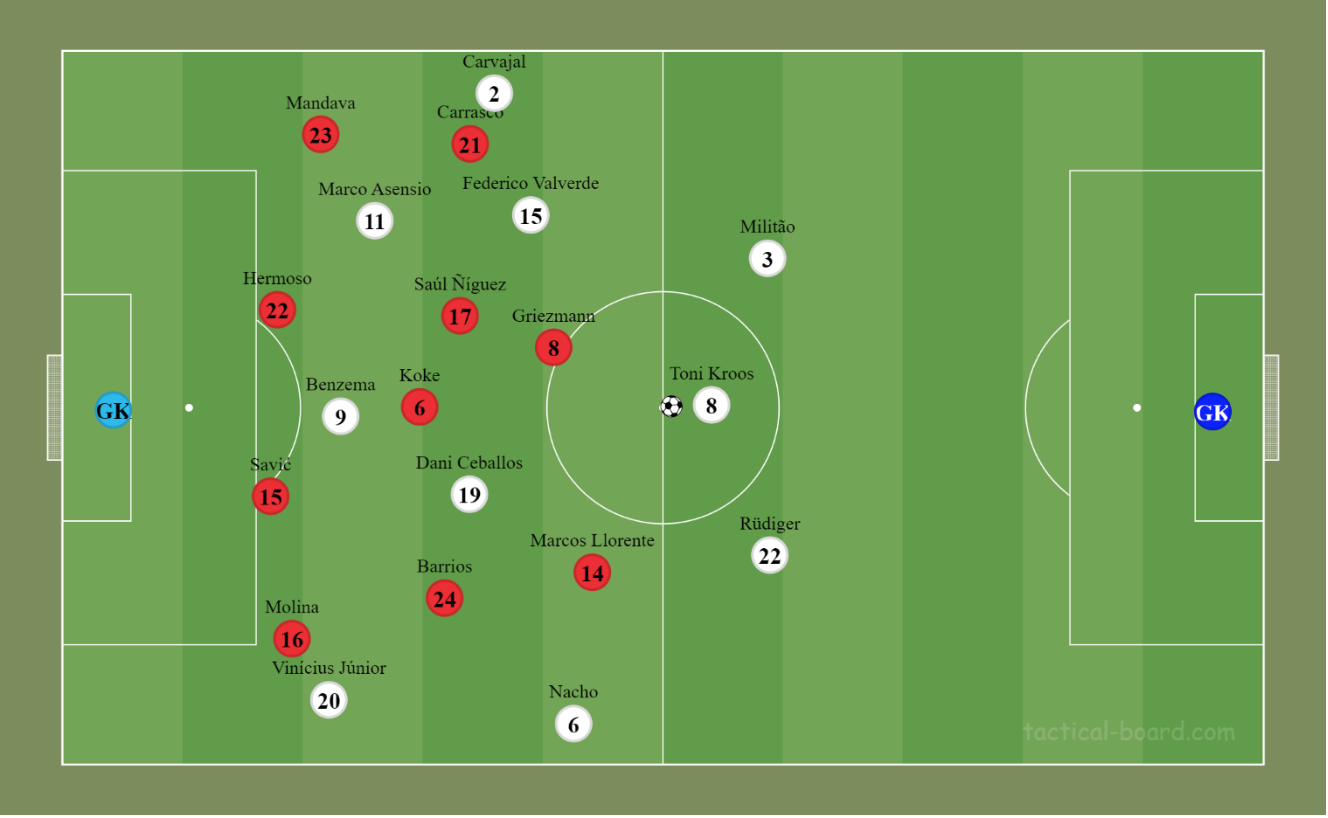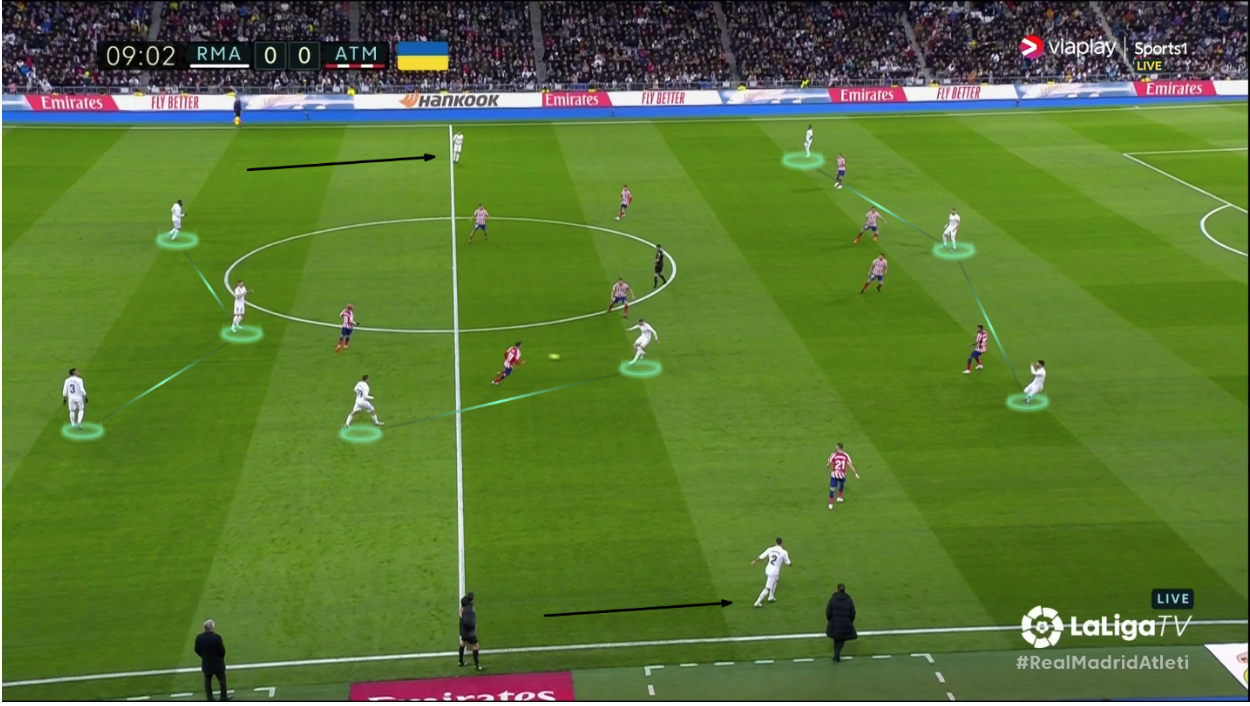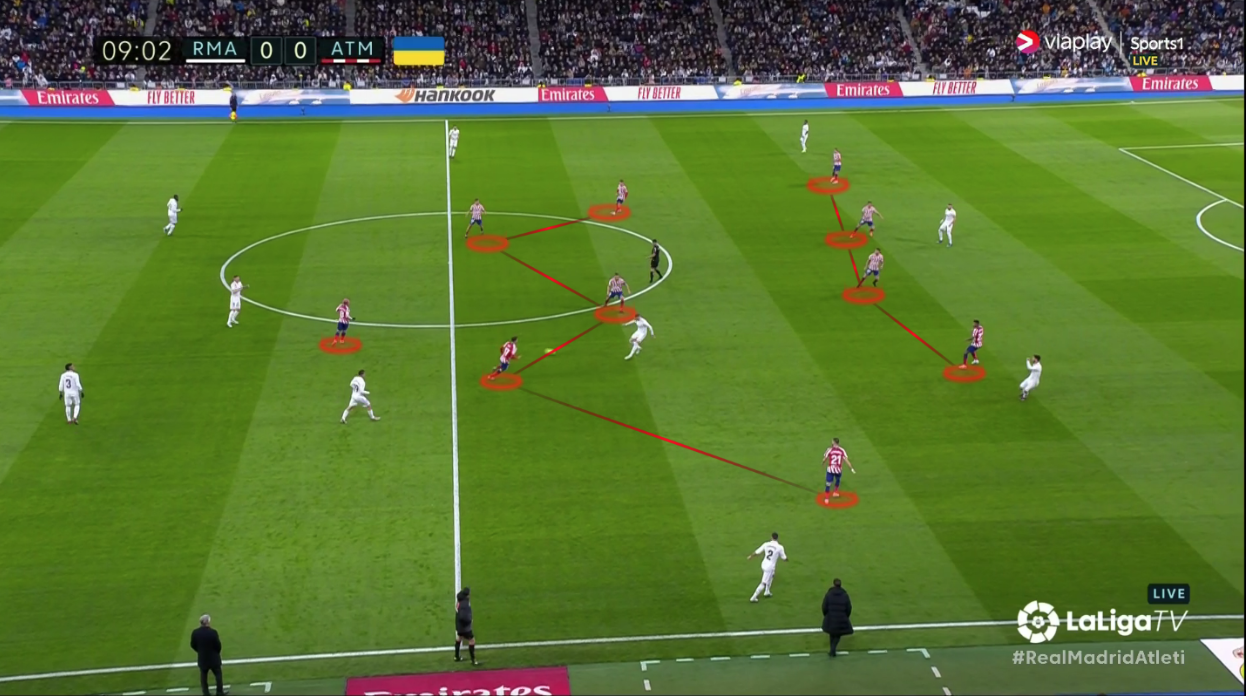 At the beginning of the match, Real Madrid tried to create a situation of numerical superiority but Atletico closed the space down very well with three players on Carvajal's side, who was positioned on the line to allow Asensio to attack half space. Crucially, Antoine Griezmann was tasked with leading a one-man press with Yannick Carrasco man-marking Carvajal. With Griezmann working hard to close the passing lanes down, Atleti's midfielders – mainly Saul Niguez – were able to close down Ceballos and Valverde very aggressively.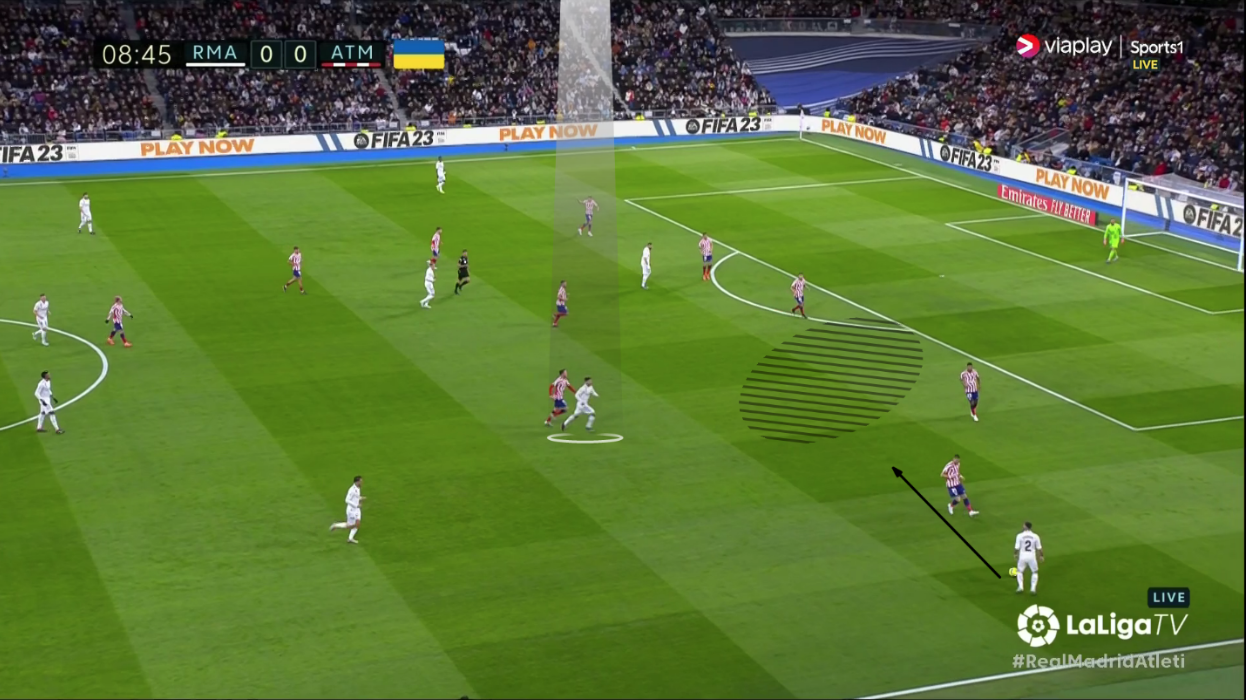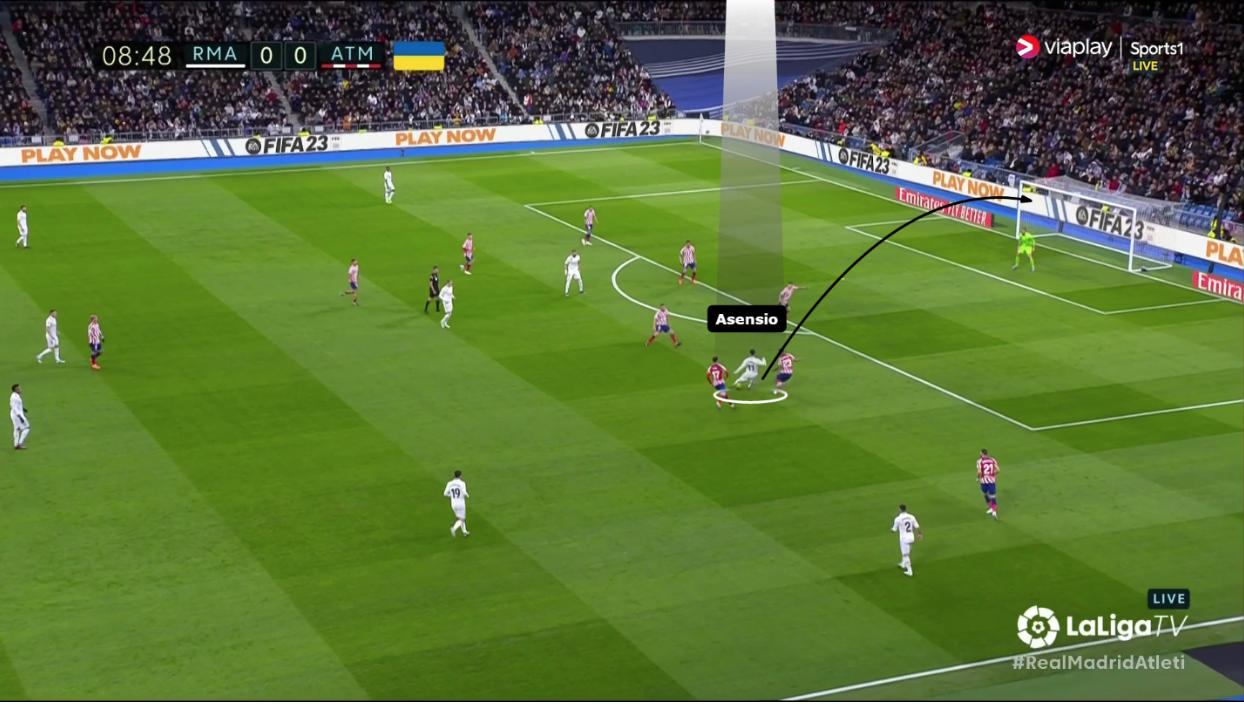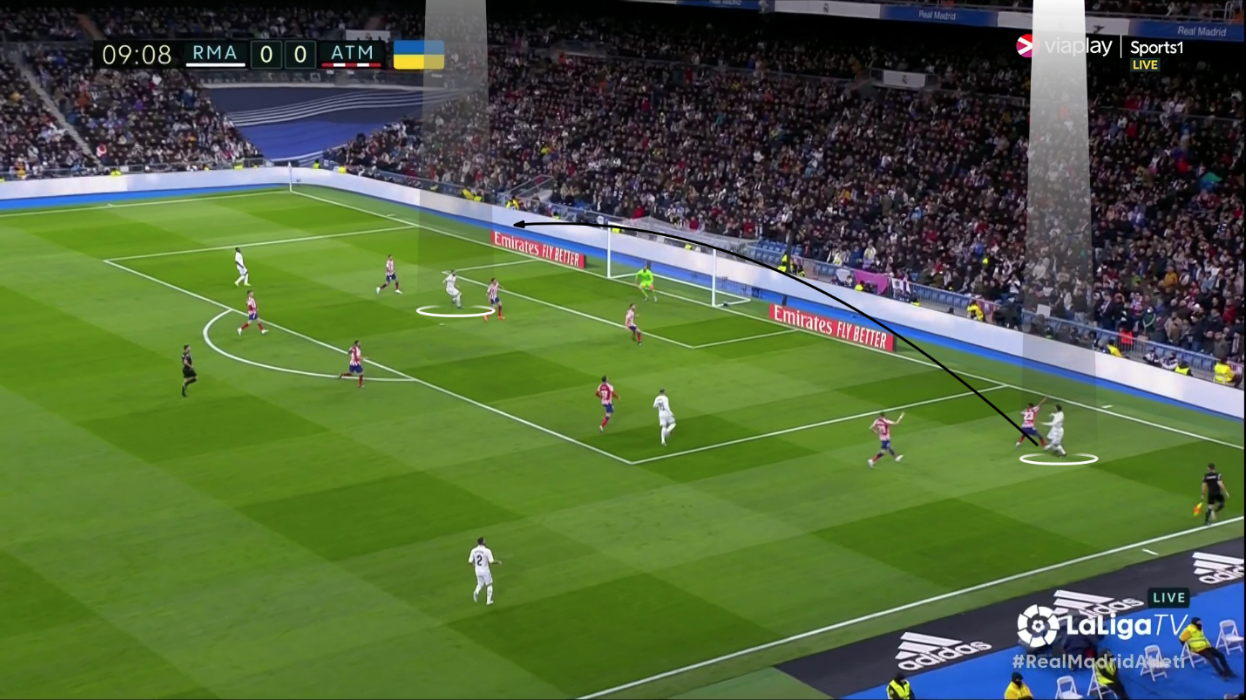 In order to combat this, Eder Militao would often emerge from the three at the back in possession for Real to provide an option in the half-spaces. This allowed Real to manipulate space in Atleti's half to allow them to put crosses into Benzema.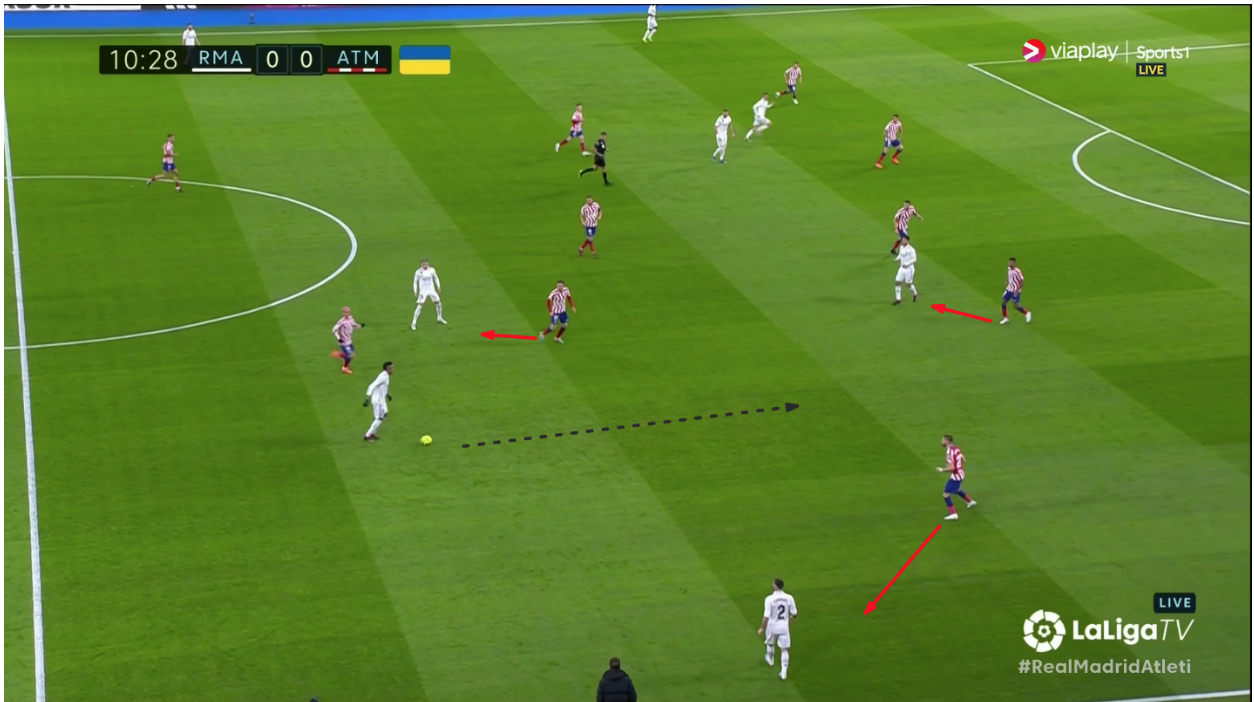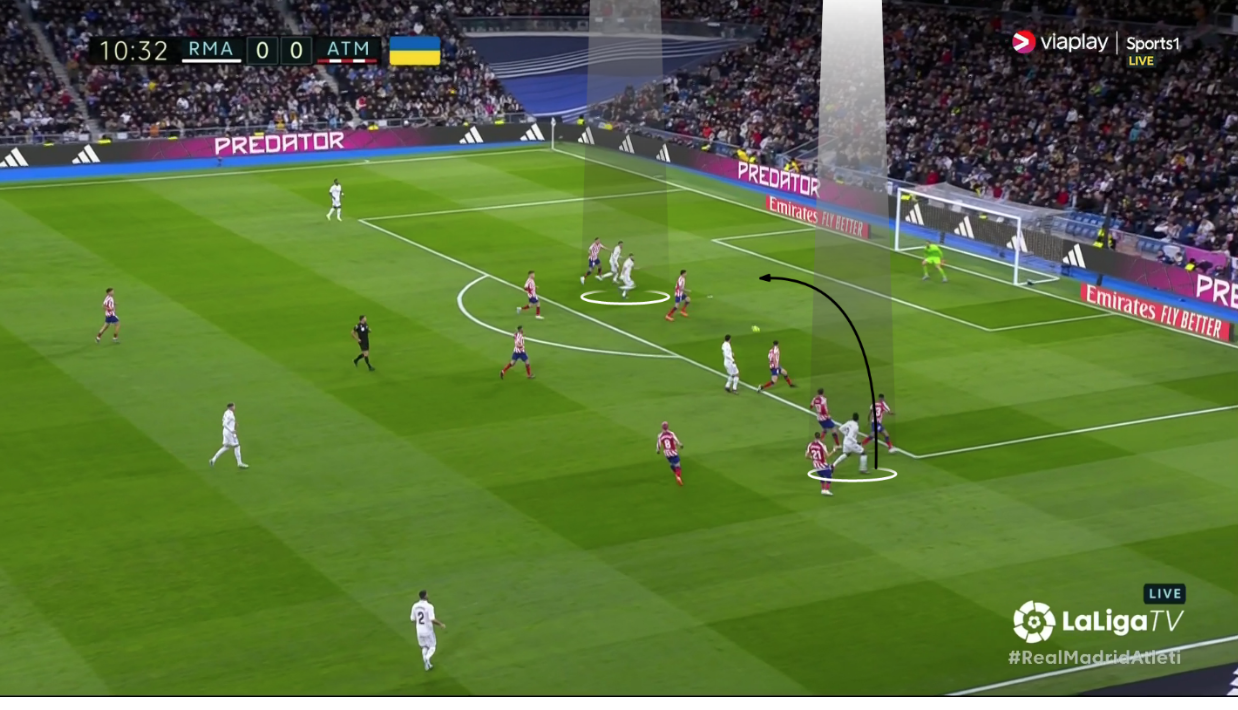 On the opposite side when the ball was with Vinicius, Molina hurried out to mark him with Llorente pressing Nacho and Koke and Barrios shifting to the ball area. This persistence to shift across whenever Vincius received the ball resulted in Atleti having a defensive overload of 4v3, making it difficult for Vinicius' influence on the game to play a big part.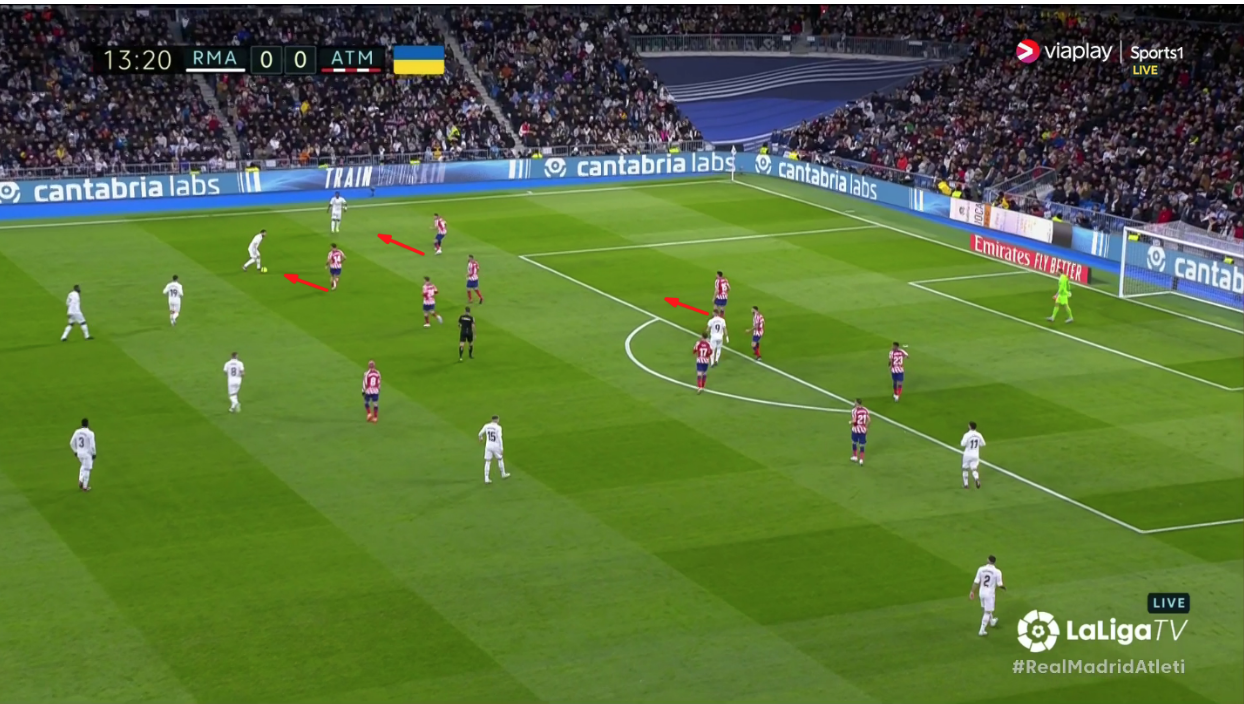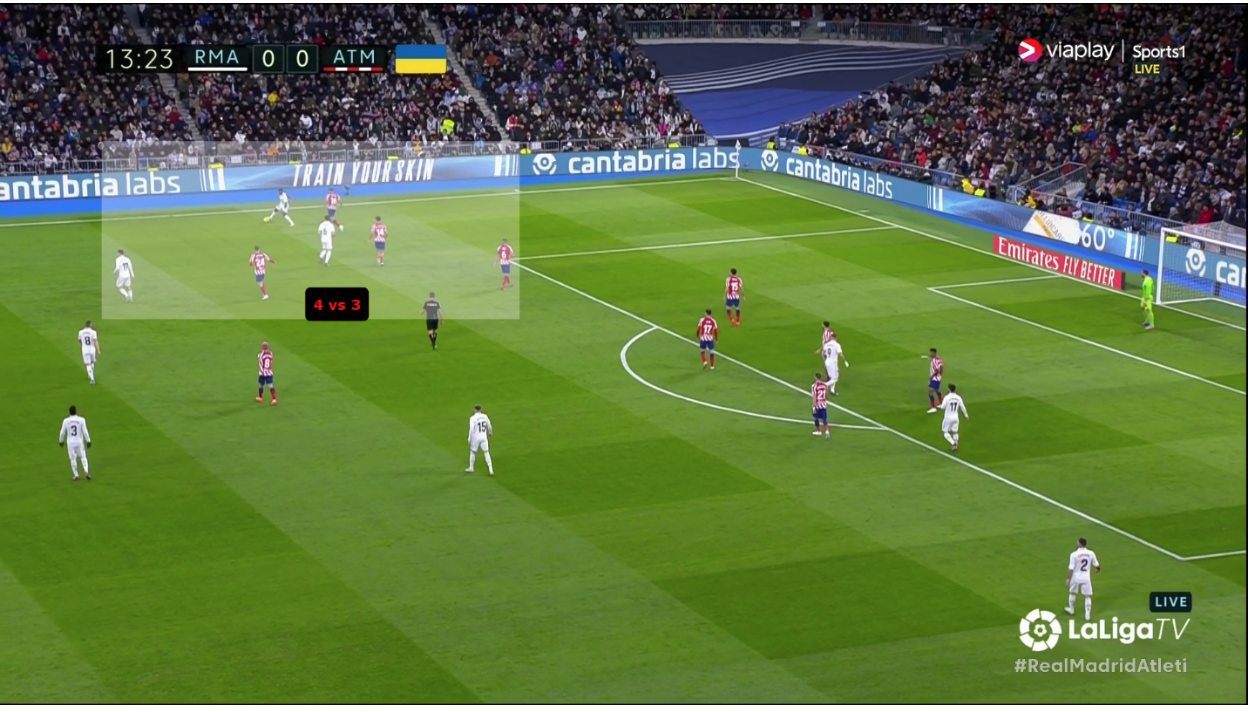 After 15 minutes, Simeone changed the structure to a back five with Carrasco operating as a left-sided wingback, allowing Reinildo Mandava to close down the left half-space. With Carrasco continuing to man-mark Carvajal, Real would then try to switch play to the other side, but Atletico shifted well and kept Benzema isolated.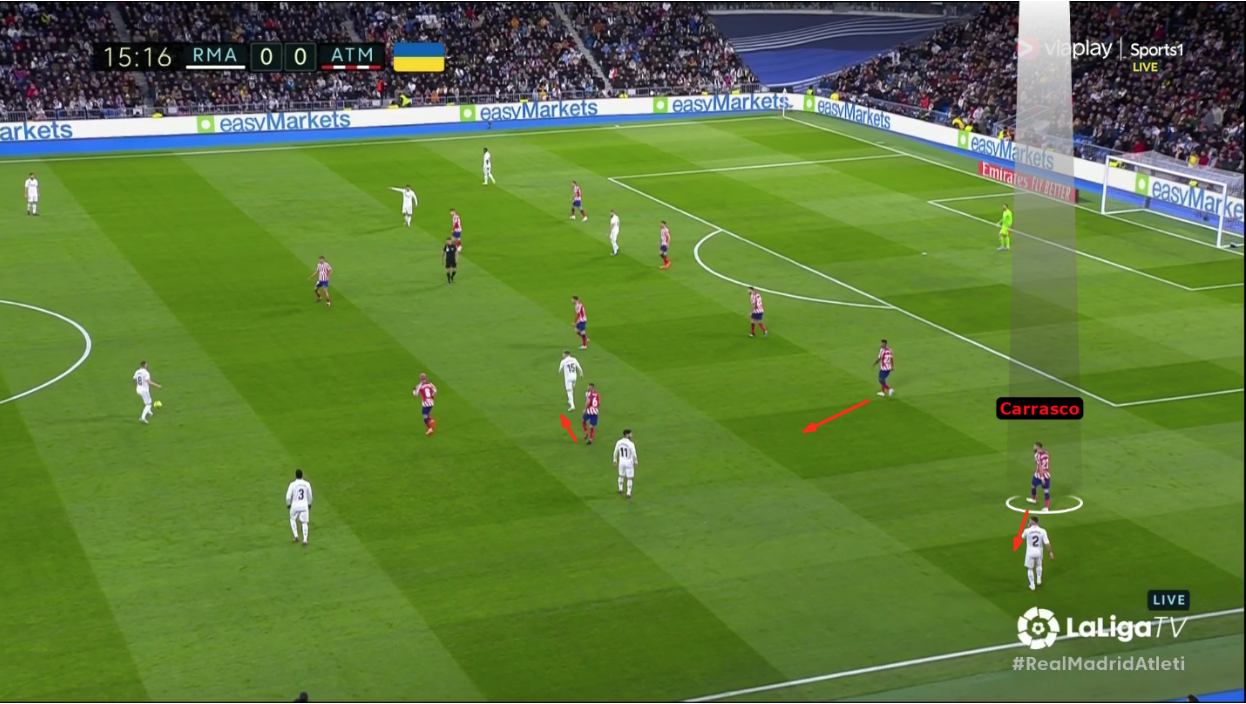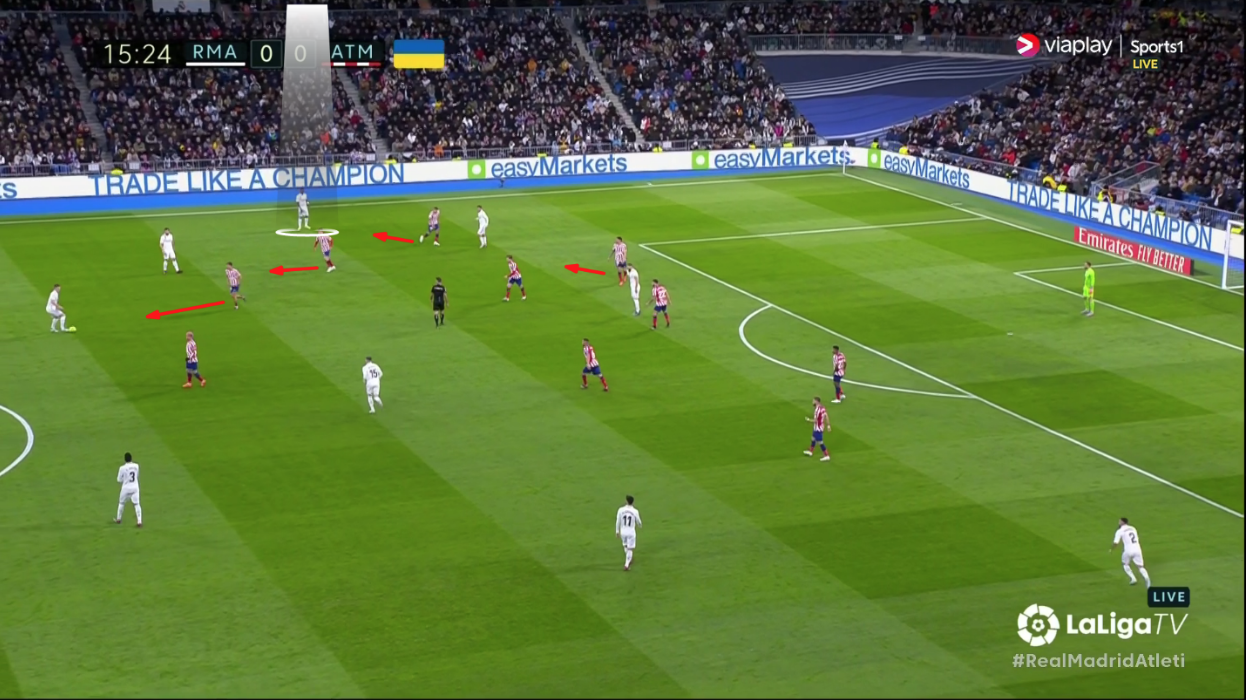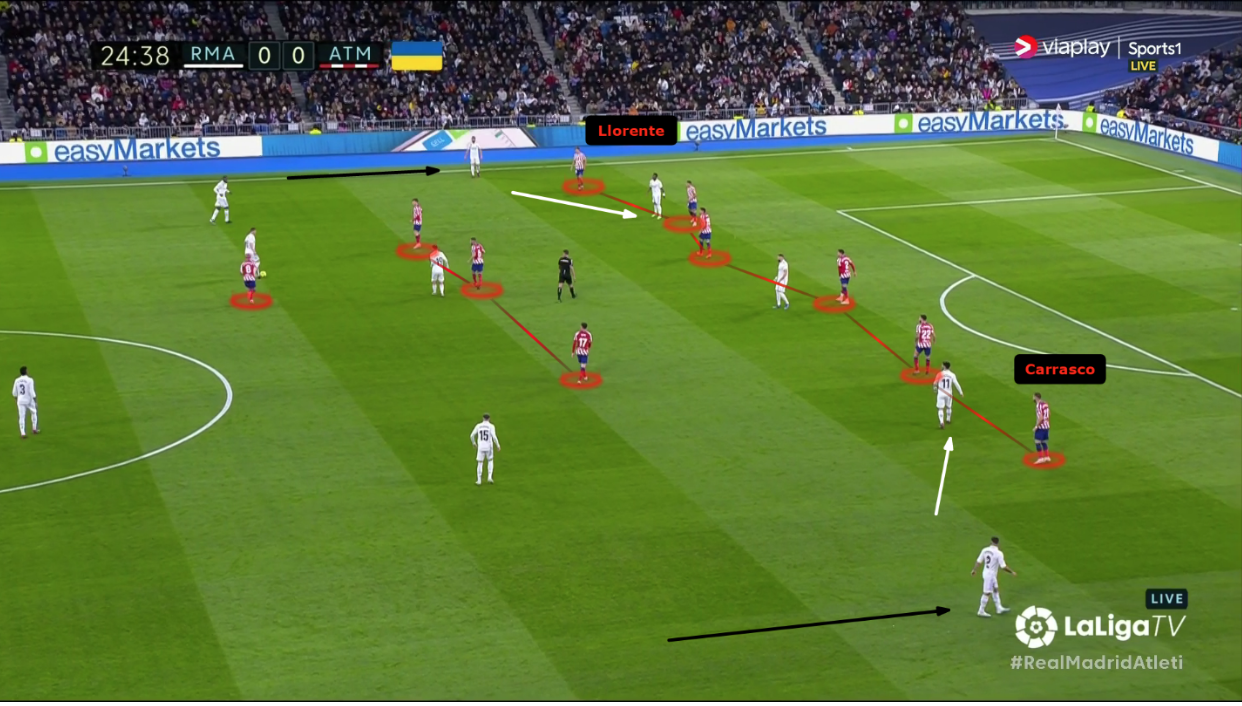 Second-half Changes
The first change would come in the 23rd minute as Reinildo Mandava suffered a season-ending injury and was withdrawn for Gimenez, whilst Correa replaced Barrios at the break and Thomas Lemar came on for Llorente in the 57th minute. Real's first changes would come in the 63rd minute as Aurelien Tchouameni, Luka Modric and Eduardo Camavinga replaced Asensio, Kroos and Ceballos.
Ancelotti shifted back to a 4-3-3 with Camavinga occupying the half-spaces and linking up with Vinicius down the left. This, coupled with Correa's expulsion in the 64th minute, would see Real have far more possession in the final third, but they struggled to threaten Jan Oblak in goal.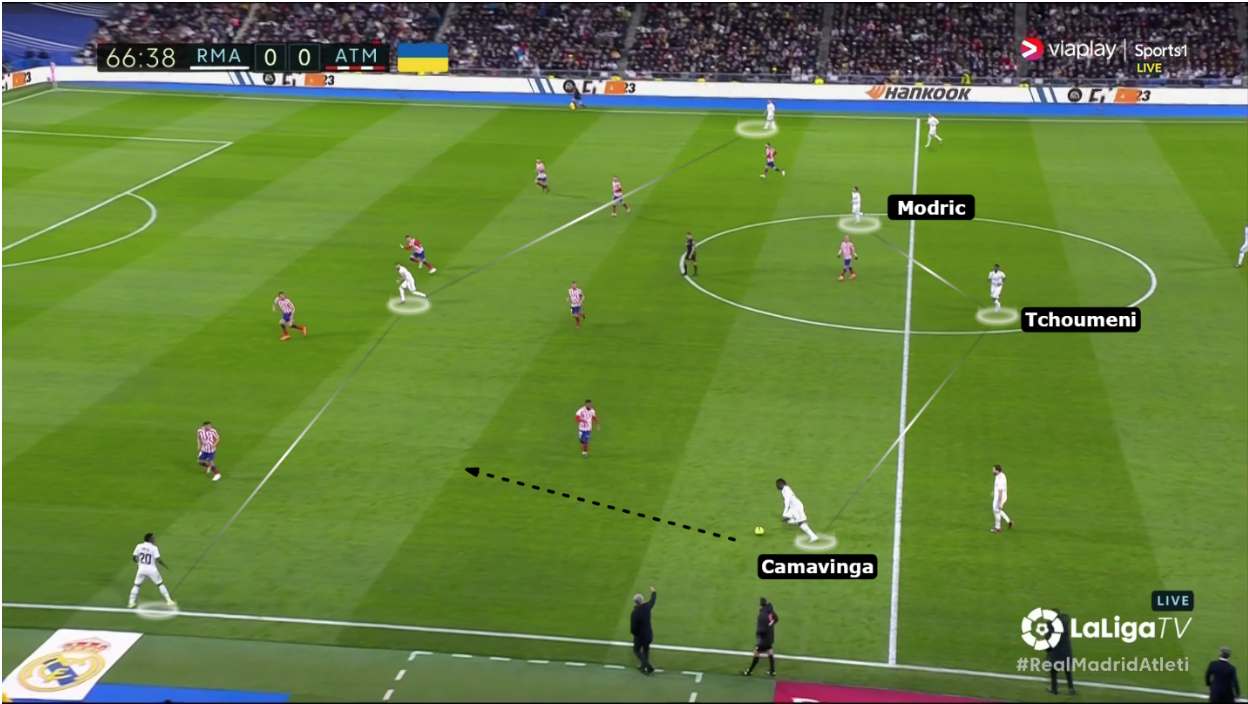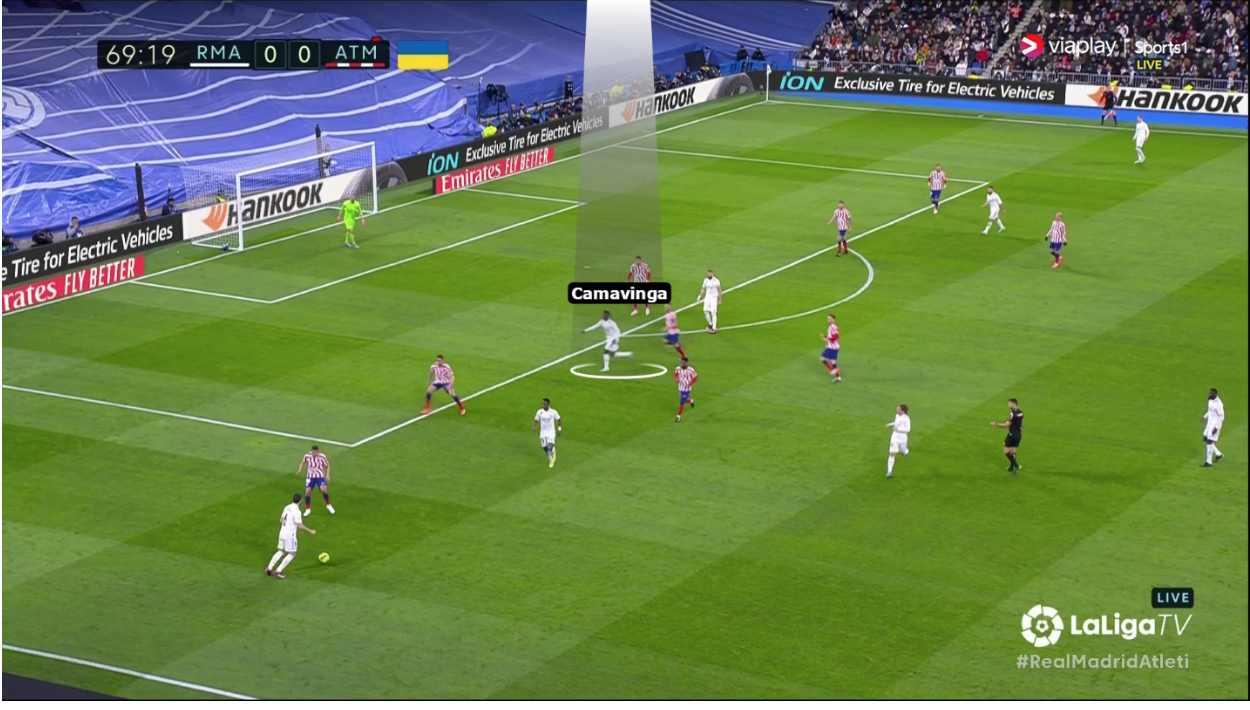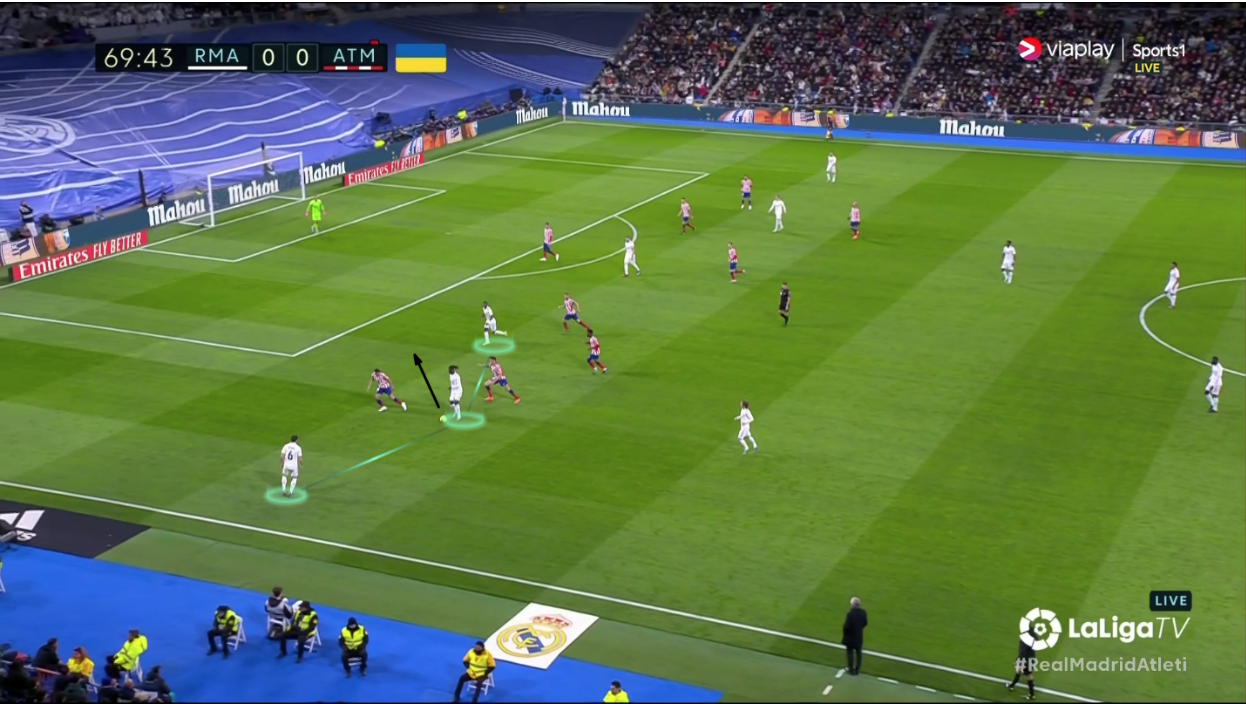 After Correa's red card, Simeone changed the structure to a 5-4-0 compact system, with the Rojiblancos operating in a deep block and depending on attacking transitions.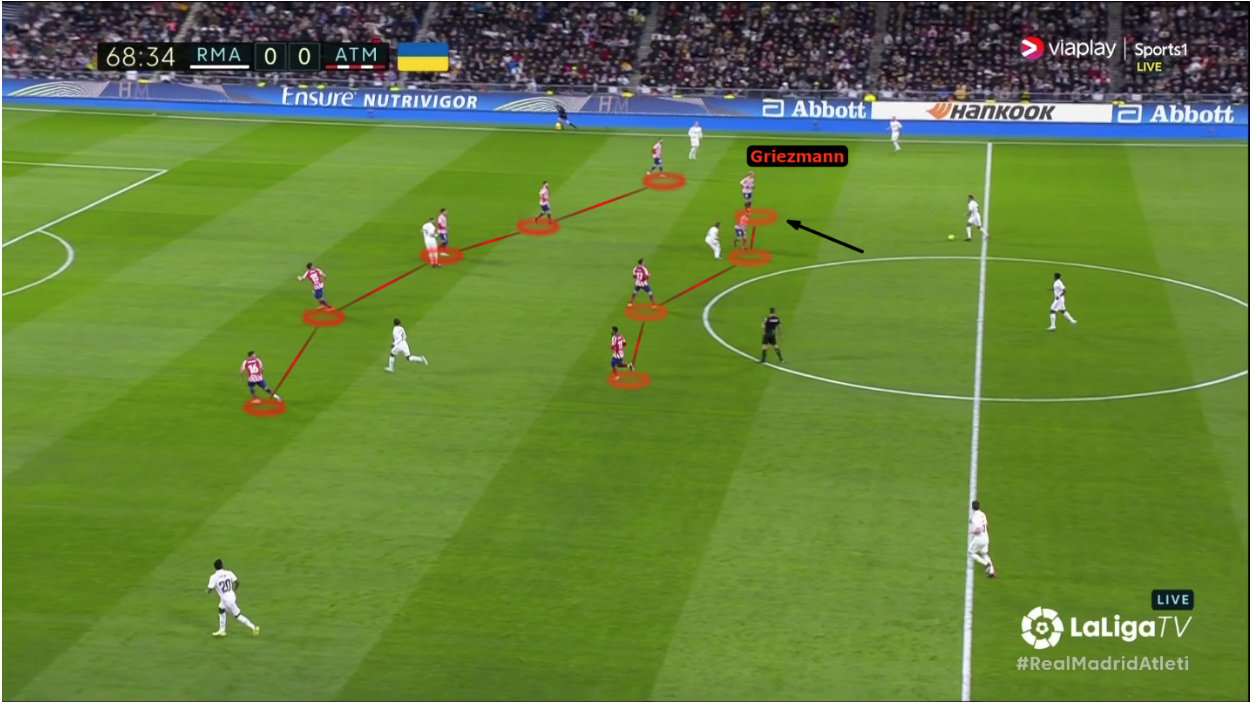 The 77th minute would see both sides make changes — Simeone brought on Alvaro Morata and Axel Witsel for Saul and Koke, whilst Ancelotti subbed on 18-year-old forward Alvaro Rodriguez for defender Nacho Fernandez. Gimenez broke the deadlock immediately after, heading home from an Antoine Griezmann free kick, with Ancelotti quickly reacting by bringing on Lucas Vazquez for Carvajal at right back.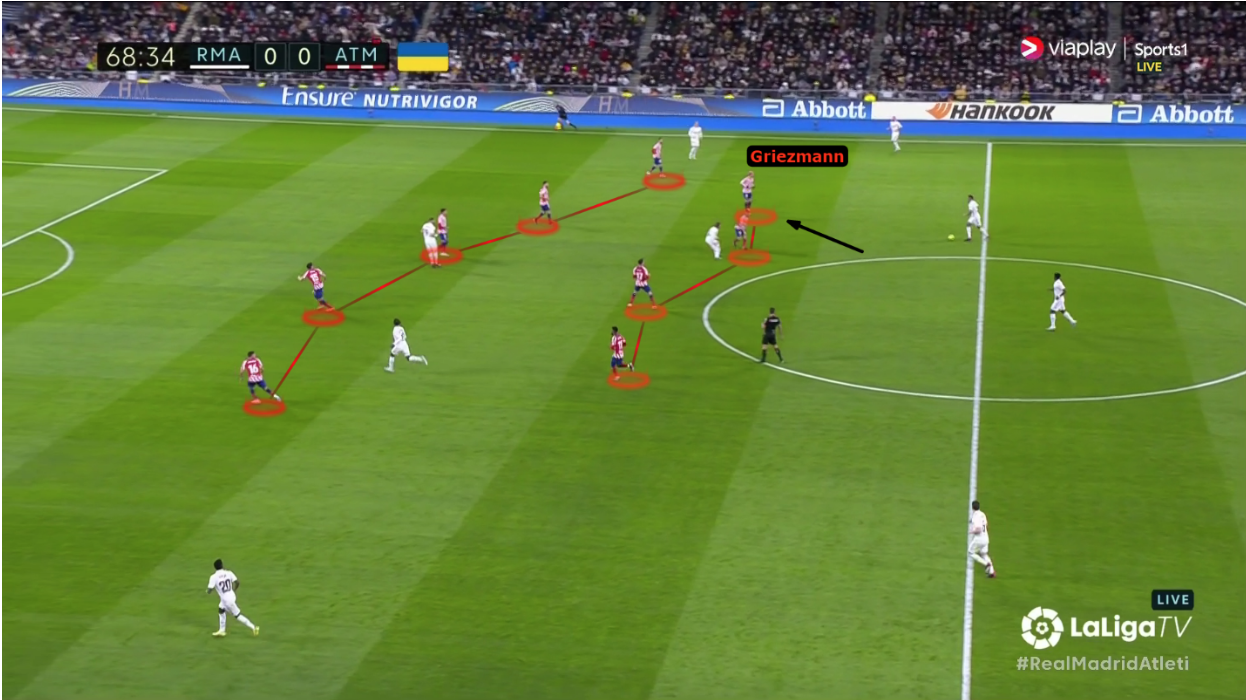 Alvaro had made his league debut a week prior, grabbing an assist five minutes after coming on in a 2-0 win against Osasuna. This time, the teenager made himself a nuisance for Atleti's defense, operating as a second striker alongside Benzema and heading home Modric's corner in the 85th minute to equalize for Los Blancos.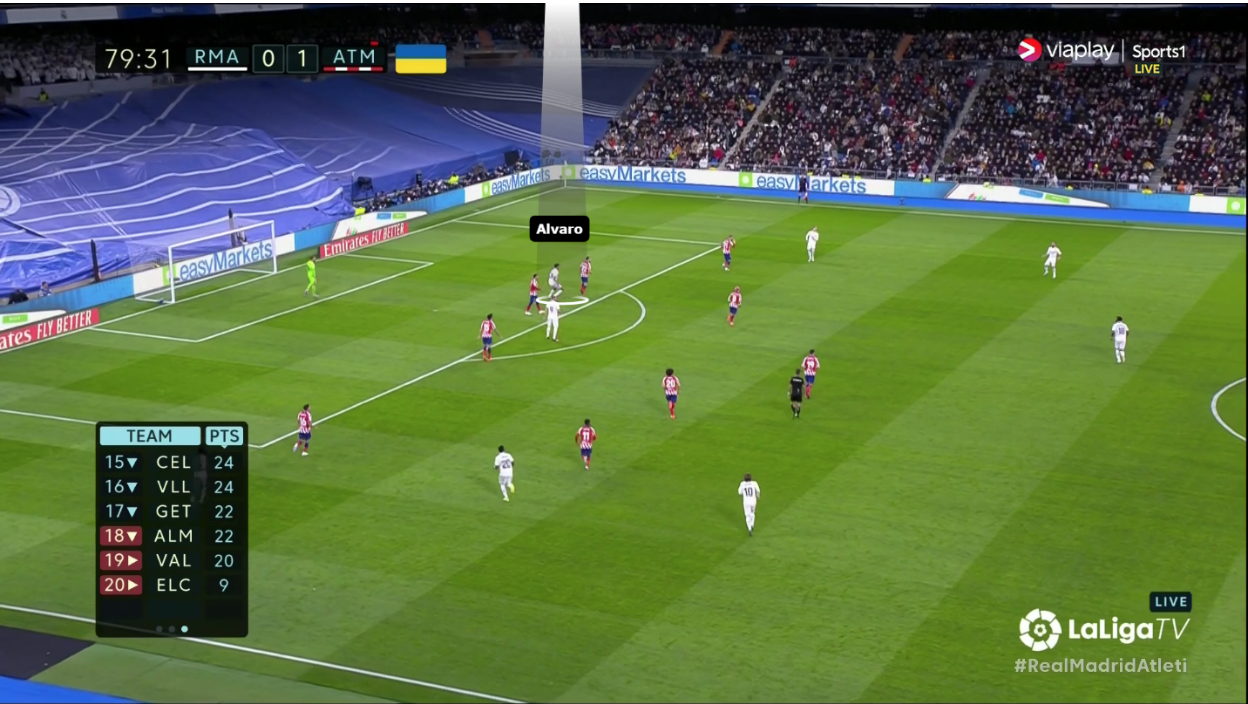 Real Madrid's Attacking Transitions
Benzema was always going to be vital for Real Madrid's offensive transitions, providing a target man presence to receive passes and link up with Vinicius, running into open space and exploiting his speed and skills in 1v1 dribbles. Simeone needed to stop Benzema by having a player close to him and another player marking Vinicius, whilst Atleti's rest defense would cut out the passing lane and push forward. Koke would typically mark Benzema whilst Molina or Savic would follow Vinicius.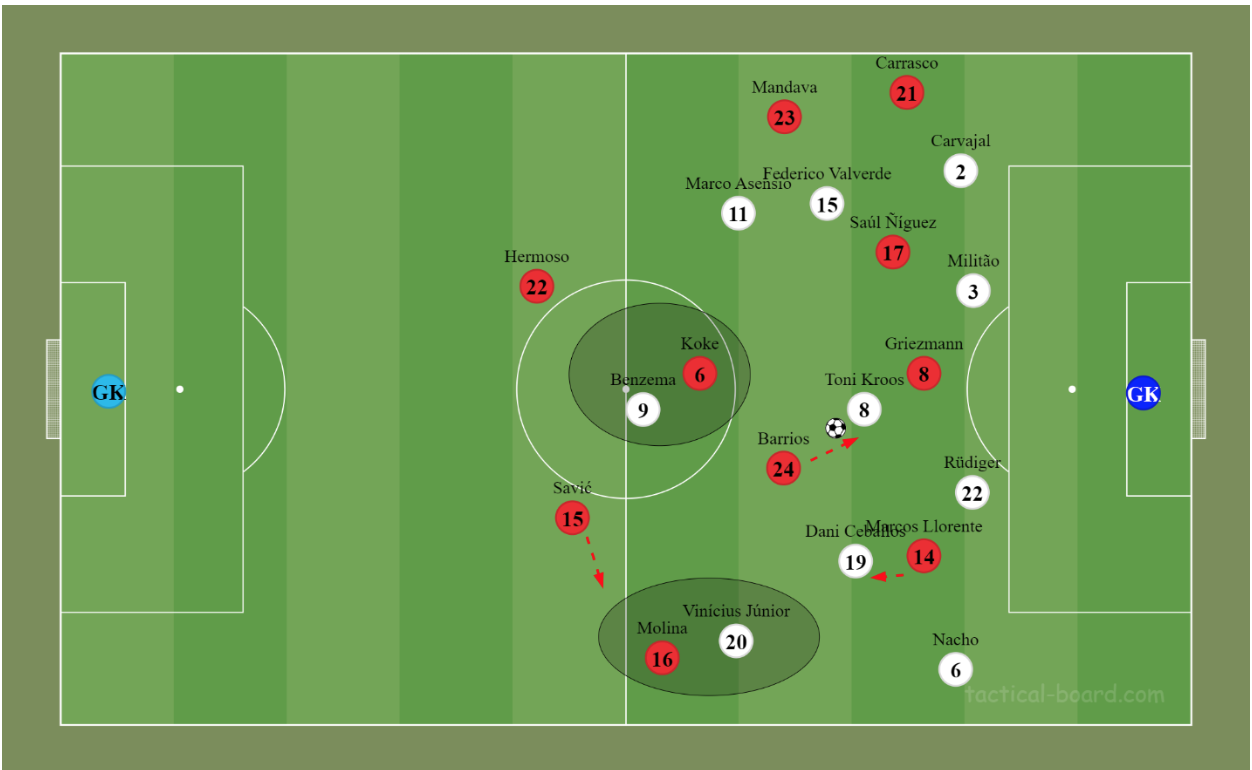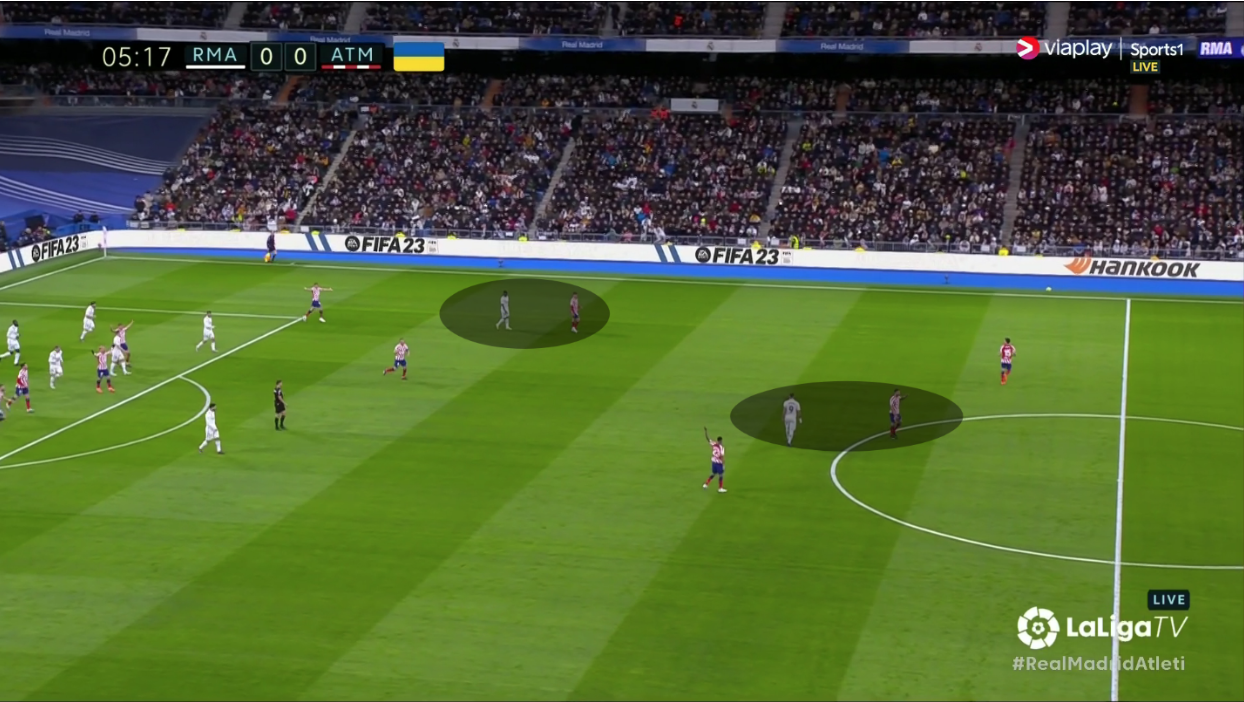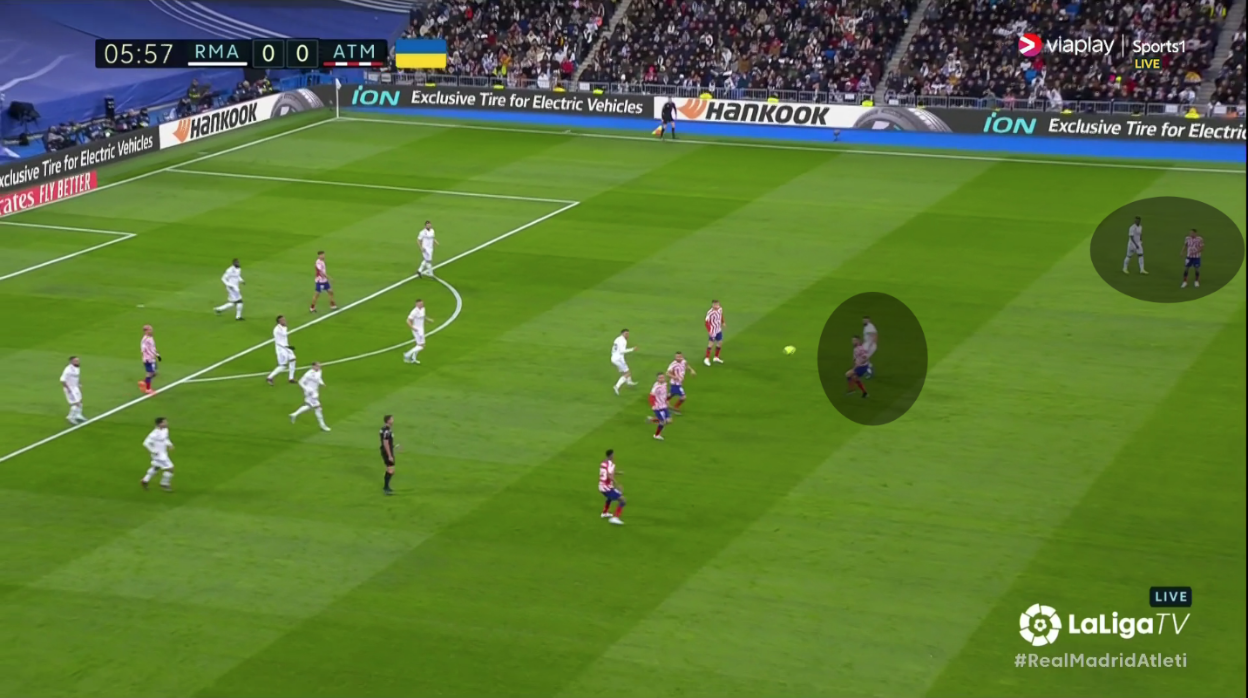 Atletico's press sometimes began in an advanced area to force a Real Madrid player into a long or – what was often the case – a misplaced pass.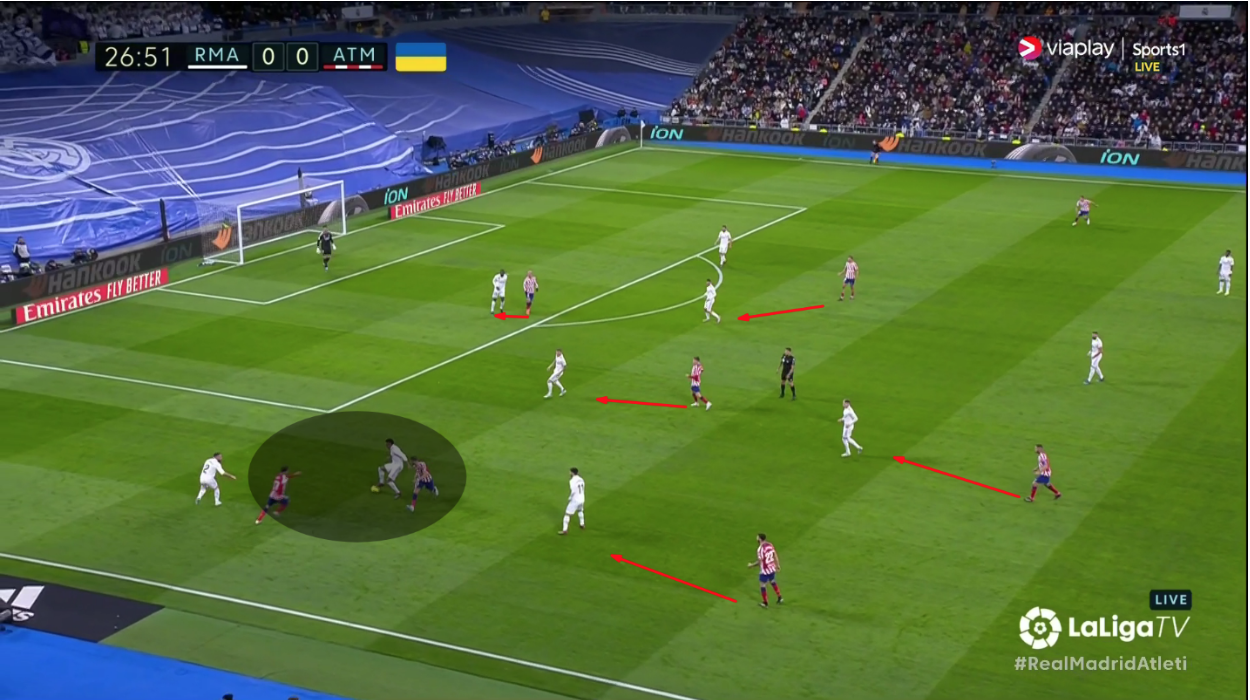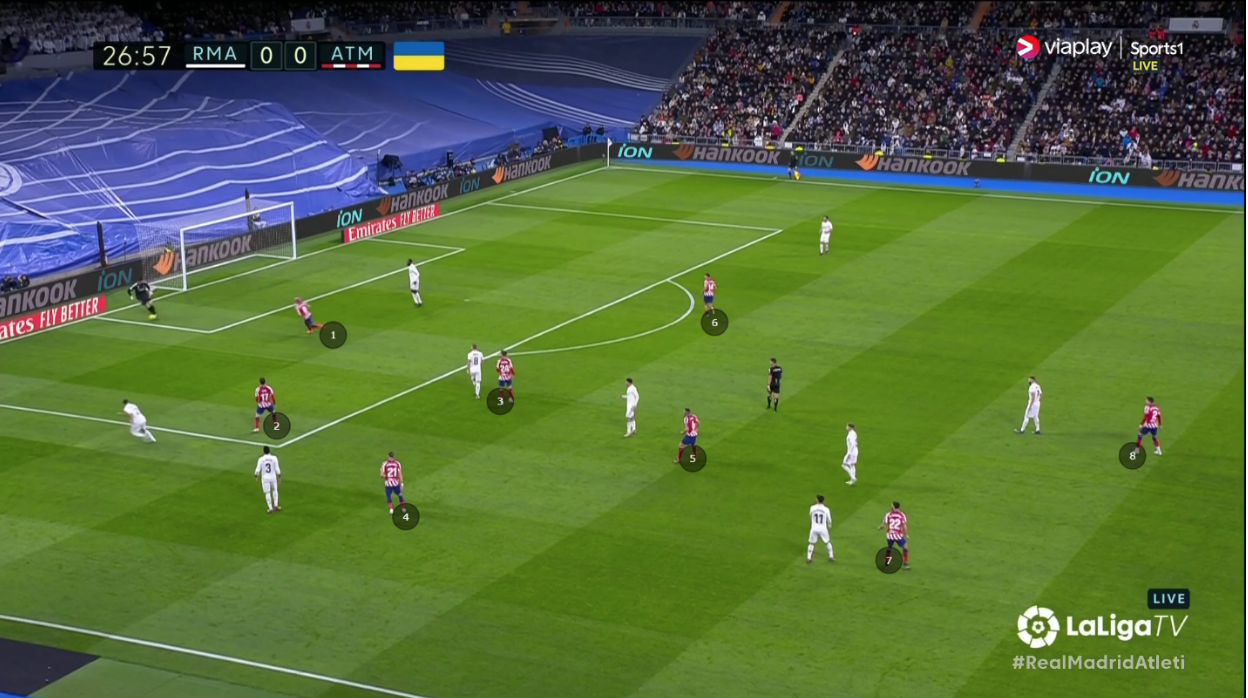 How Real Madrid Defended Against Atleti
Atleti operated in a 3-2-5 structure in possession with one of the wingbacks pushing high and the other staying behind, with Saul as a second striker to give Griezmann more freedom to move outside, receive the ball, and link up with the winger. On the other hand, Real Madrid was positioned in the 4-3-3 shape, switching to 5-4-1 in the last phase, with Benzema staying alone in the first line of pressure and Kroos closing the depth in an attempt to isolate Griezmann from the ball.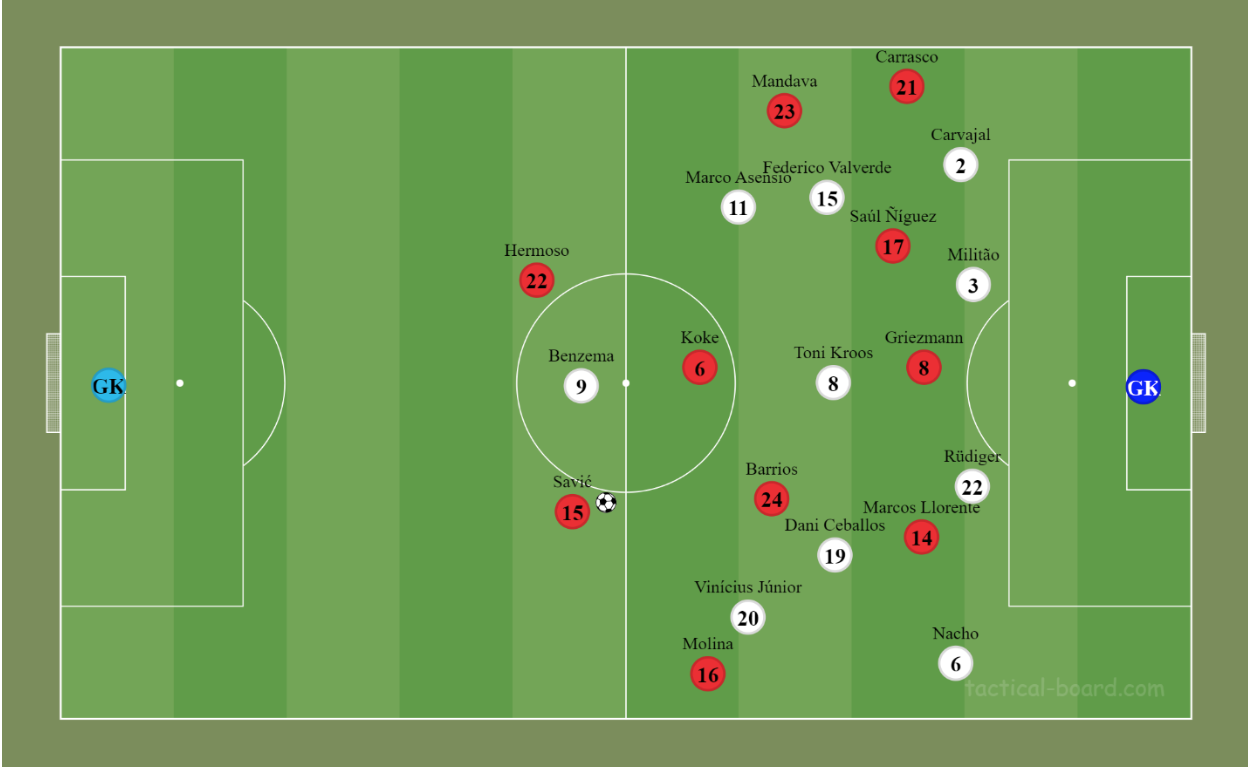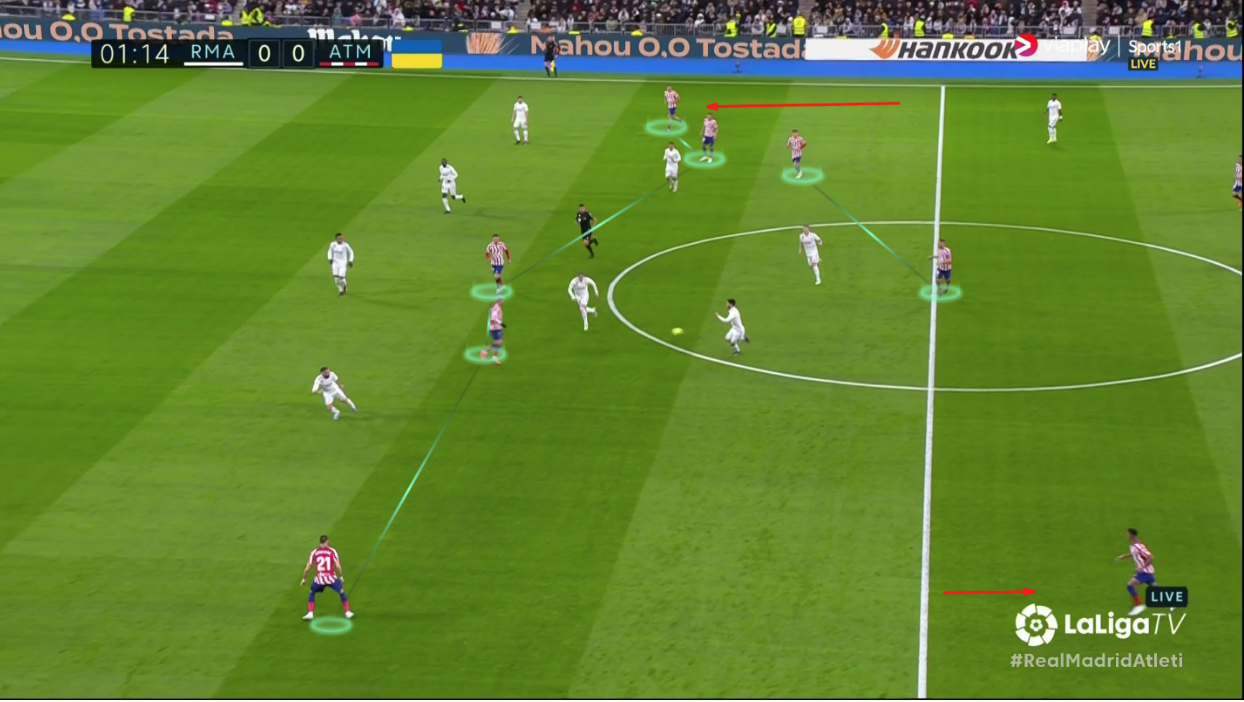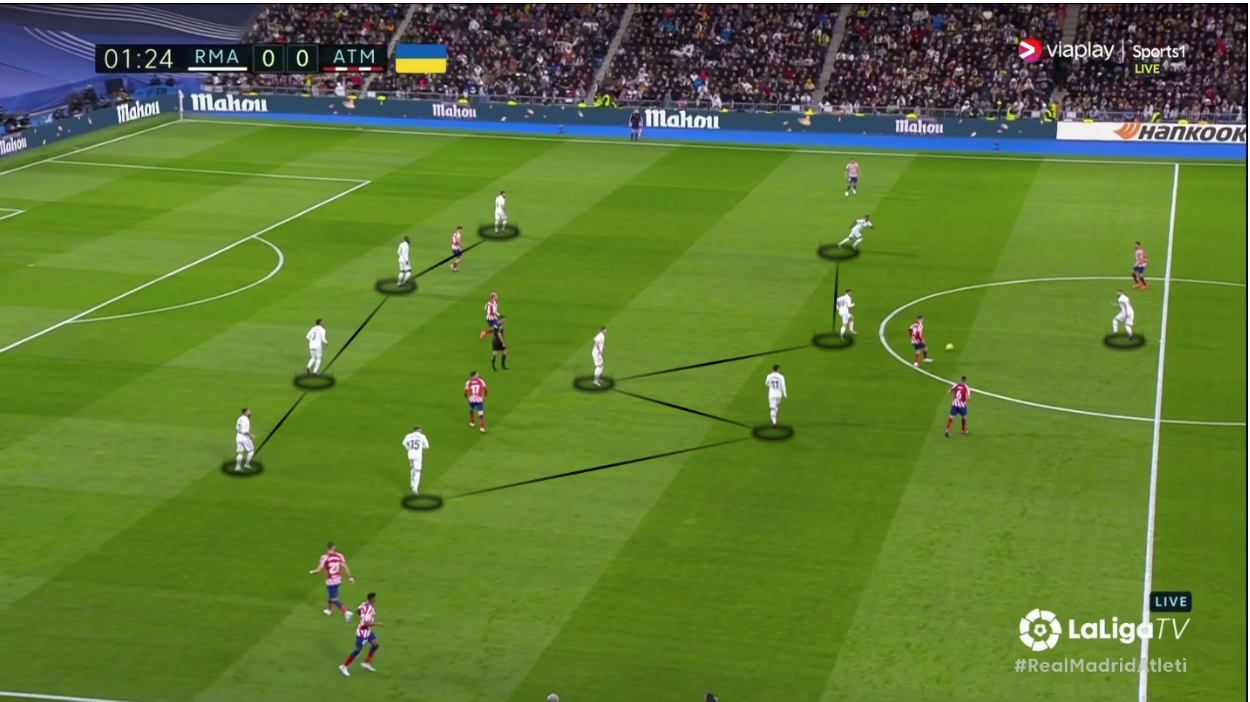 While Atletico looked to rotate the ball in possession, Asensio comes out to put the press on Koke, Valverde marks Carrasco and Carvajal stayed with the advanced fullback Reinildo Mandava. It became clear that Saul was falling between the lines to drag Kroos away from marking Griezmann, who was going out to receive the pass and link with another player to be a target man to receive the ball.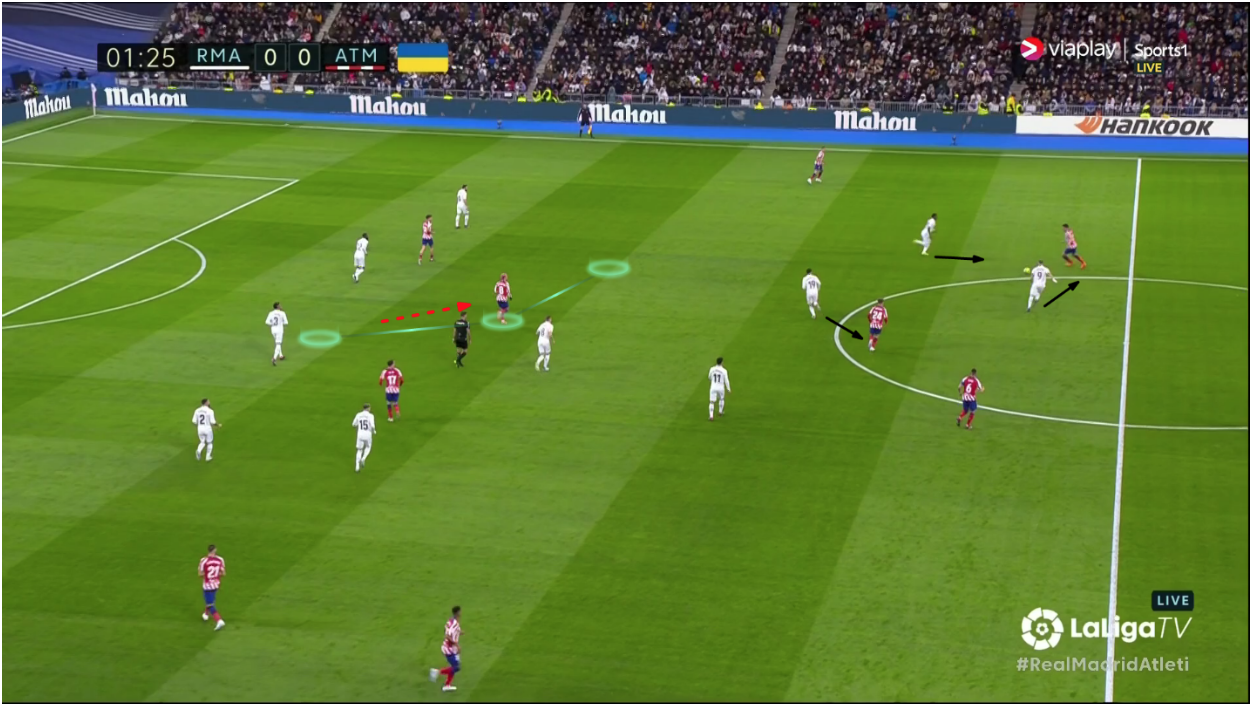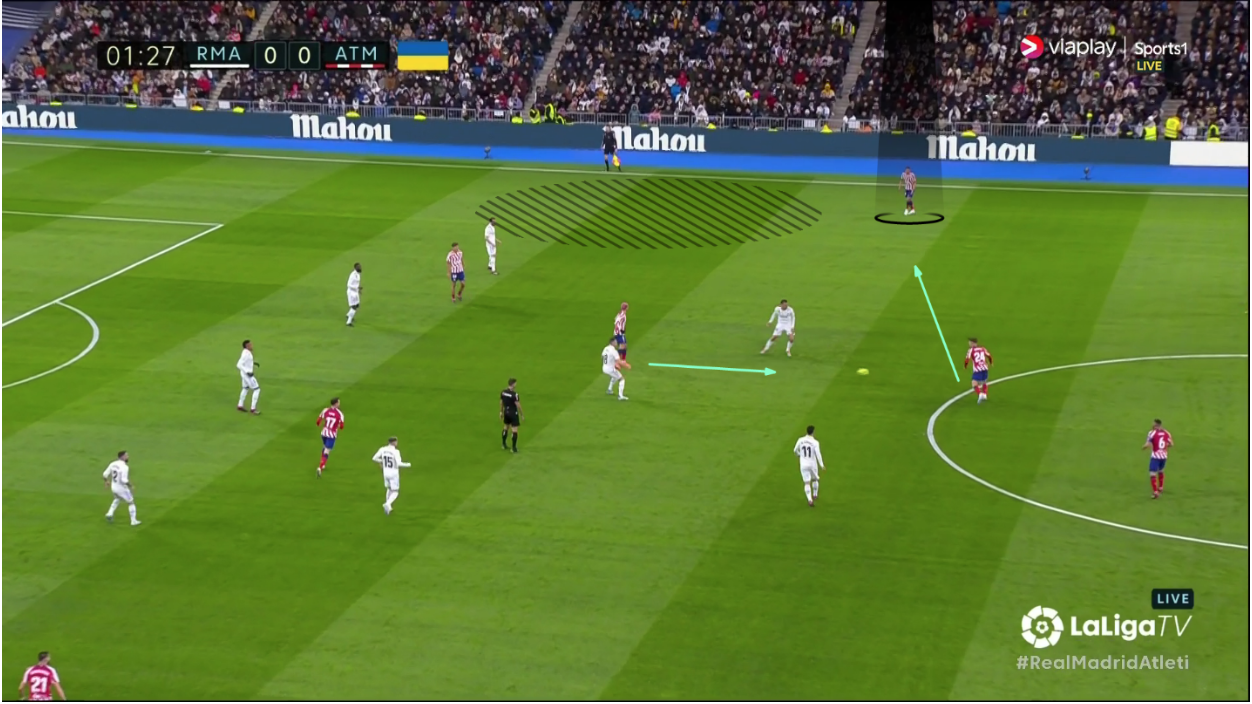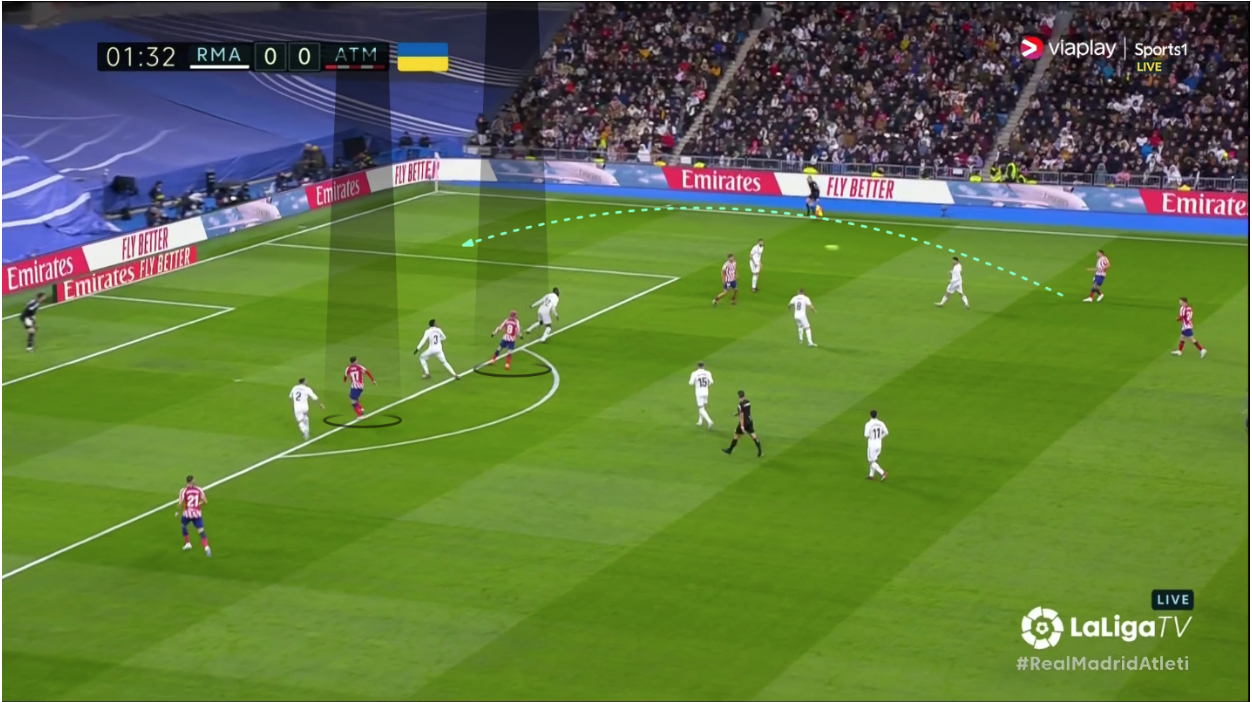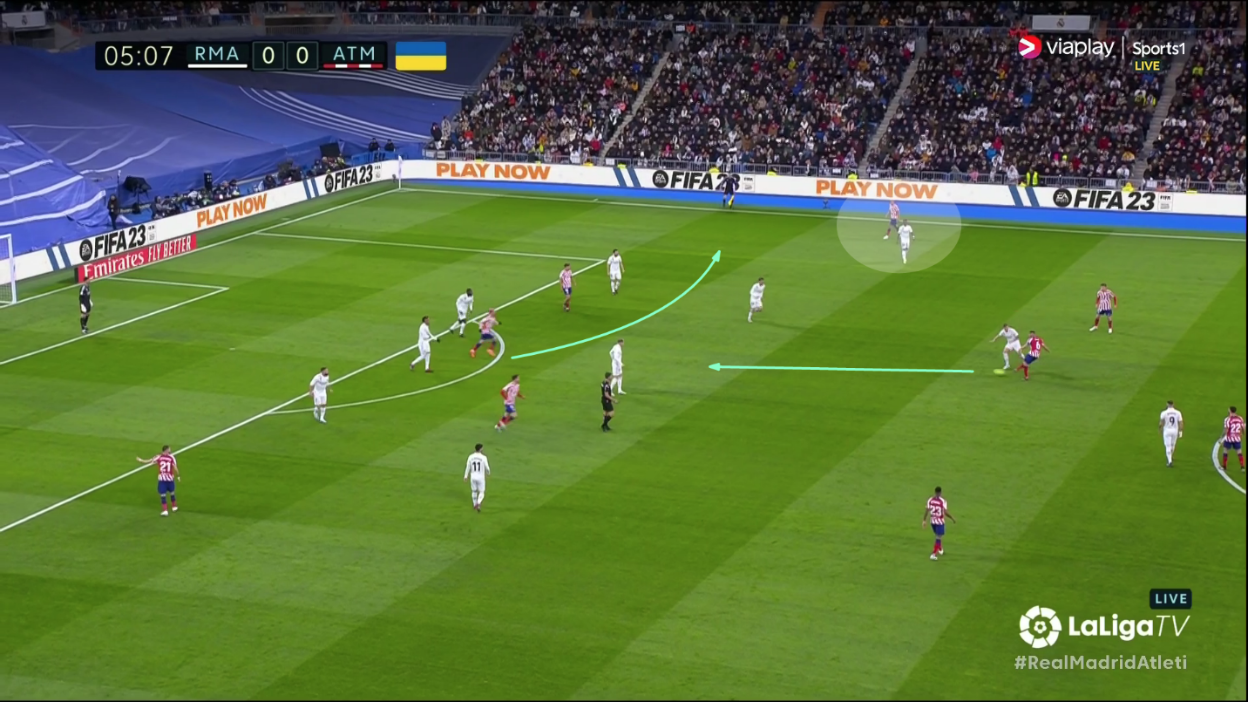 Moreover, Simeone had clear tactical instructions to create 1v1s for Carrasco to link with Griezmann or play a cross in the penalty area. Reinildo Mandava's forward runs assisted Carrasco to find pass options in the same side, but Real Madrid's center backs dealt very well with crosses.
While the game ended in a stalemate, the contest provided a great opportunity to study these two managers' tactical ideas. Both Simeone and Ancelotti have proven themselves as managers who are well-versed in the art of tactical pragmatism. This game, while giving neither manager a 'performance of the year' level of result, was evidence of the degree of tactical knowledge both managers possess.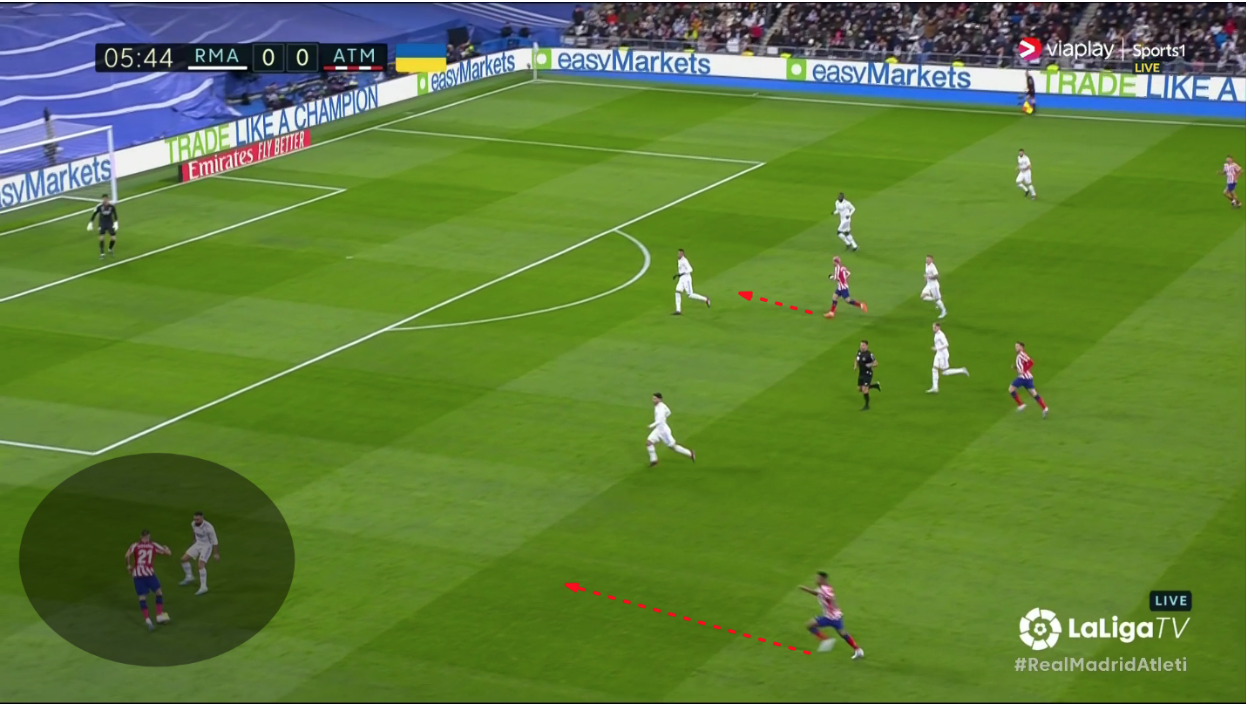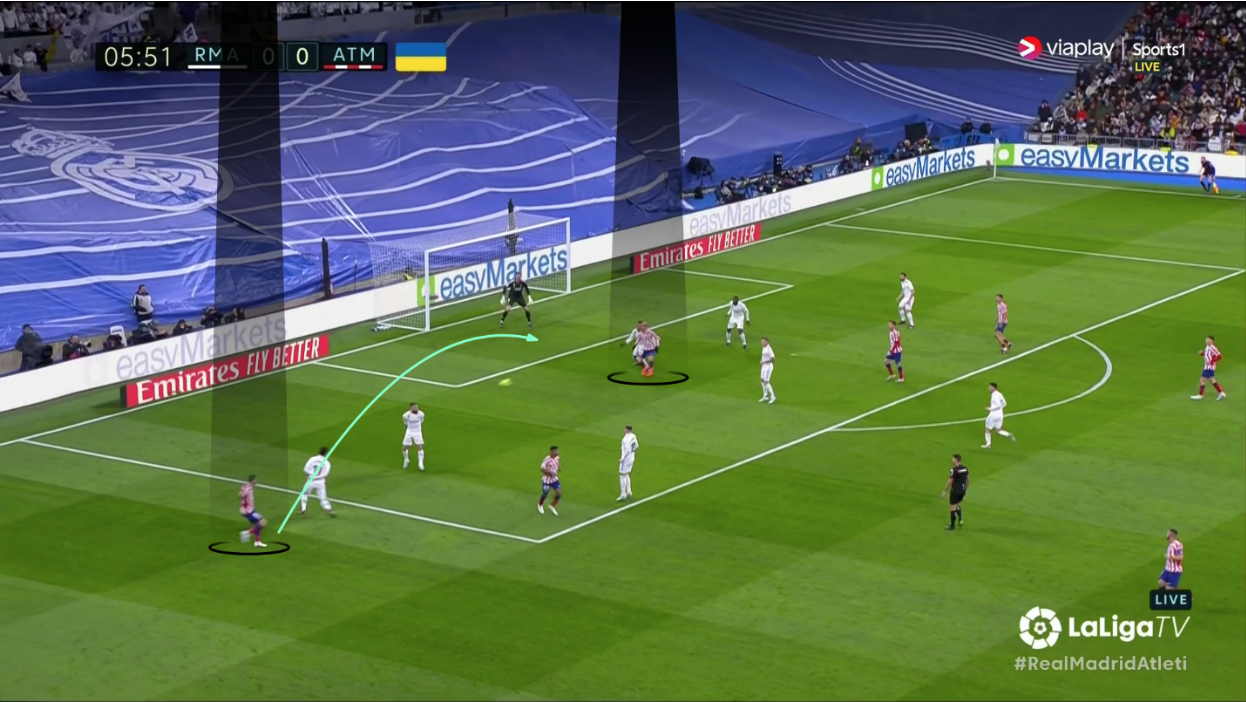 How Real Madrid Defended Transitions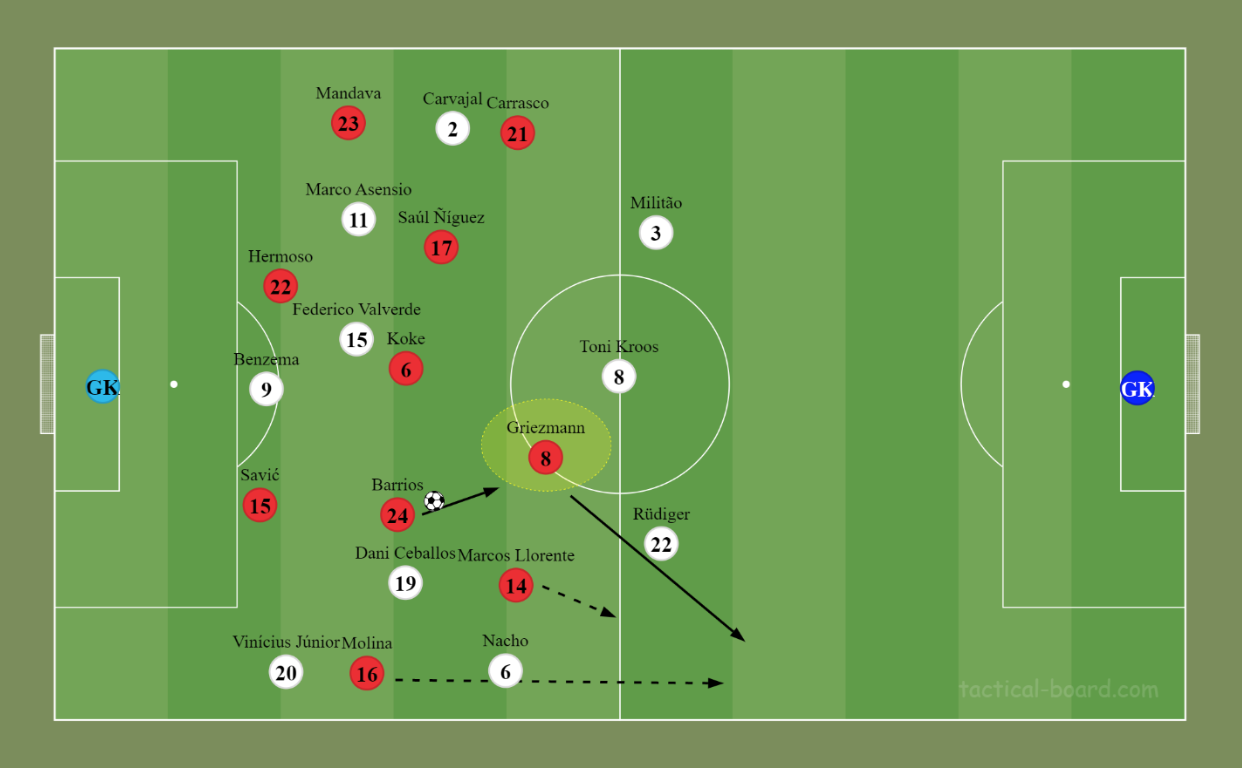 Evidently, it was Griezmann who determined the shape of Atlético attacks through the transitions by always dropping in to receive the pass and then the link with Molina or Llorente in the space in the back of Nacho, to exploit the weak area defensive behind Vinicius, who is not quickly returning to the defense phase. Additionally, Kroos could not cover this space on his own or pressed Griezmann to cut out the ball.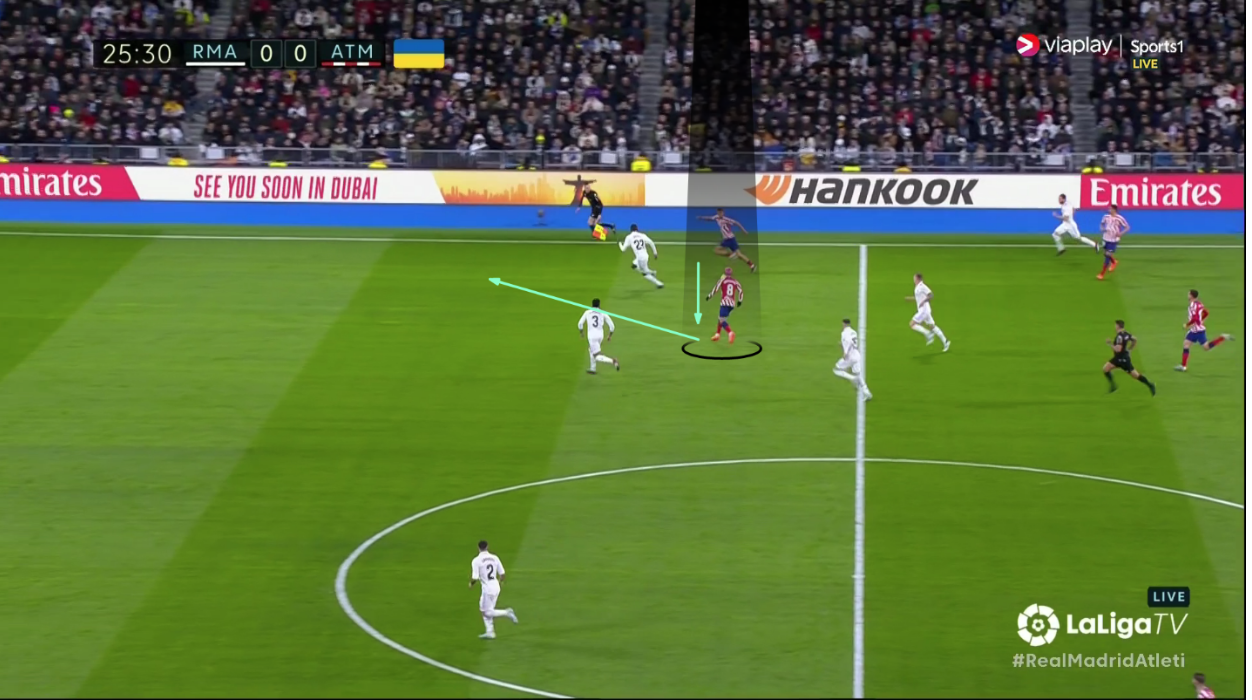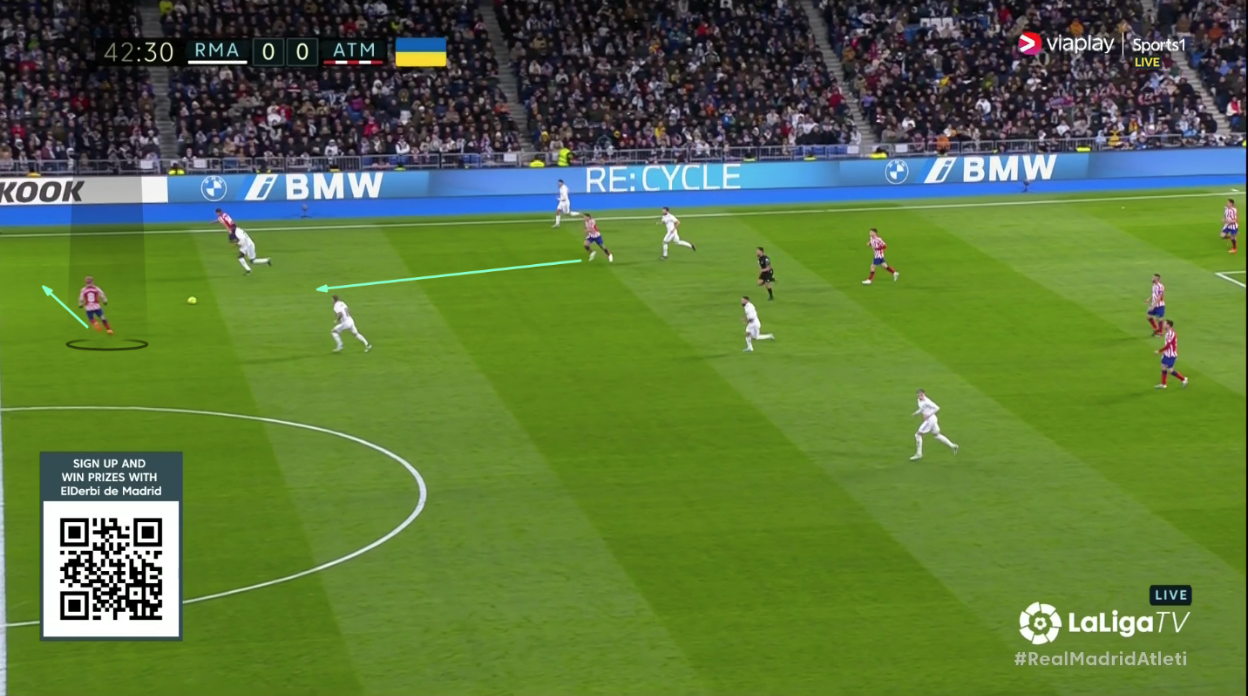 After this 1-1 draw, Real Madrid would lose 1-0 to Barcelona in the first leg of the Copa del Rey semifinals before drawing 0-0 to Real Betis in the league. Atleti, meanwhile, would thrash Sevilla 6-1 in Madrid. Real Madrid currently sit nine points adrift league leaders Barcelona with 14 games left, as well as eight points above Atleti. As for Simeone's side, they sit one point above fourth-placed Real Sociedad, four above Real Betis and eight above Villarreal.
By: Mohammad Bani Atta / @TacticalZone14
Featured Image: @GabFoligno / Gonzalo Arroyo Moreno