Tactical Analysis: Real Madrid vs. Chelsea (First Leg)
In the rain in Spain, Chelsea gave a brilliant account of themselves in a game where they did more than enough to win and may come to rue their chances. In a zone of Madrid under construction: Valdebebas, literally a stone's throw away from Madrid airport, I'm not sure many would have predicted a Champions League Semi-Final would be held at one of the training facilities of the European behemoth, but hey ho COVID-19 and all that.
Chelsea and Thomas Tuchel had a plan, and for 25 odd minutes, the plan worked to perfection but lacked clinical execution that could've put them out of sight. Put succinctly, Chelsea brilliantly transitioned the ball through Madrid's lackadaisical press to create attacking opportunities for Timo Werner and Christian Pulisic to drive forward with N'Golo Kanté in particular, joining them.
Perhaps benefitting from the fact that they were much used to playing in the 3-5-2 system with the correct personnel whereas Madrid looked a little shaky in the opening period in the same formation, possibly missing Sergio Ramos and Ferland Mendy in defense.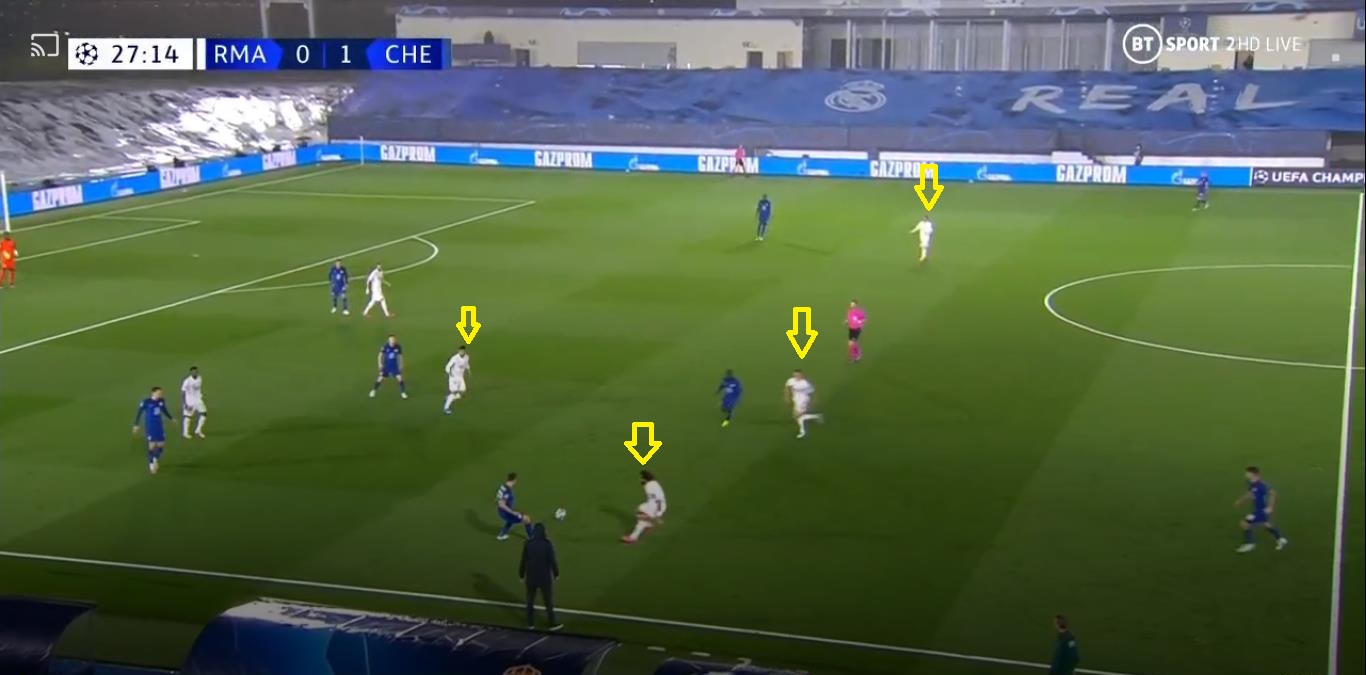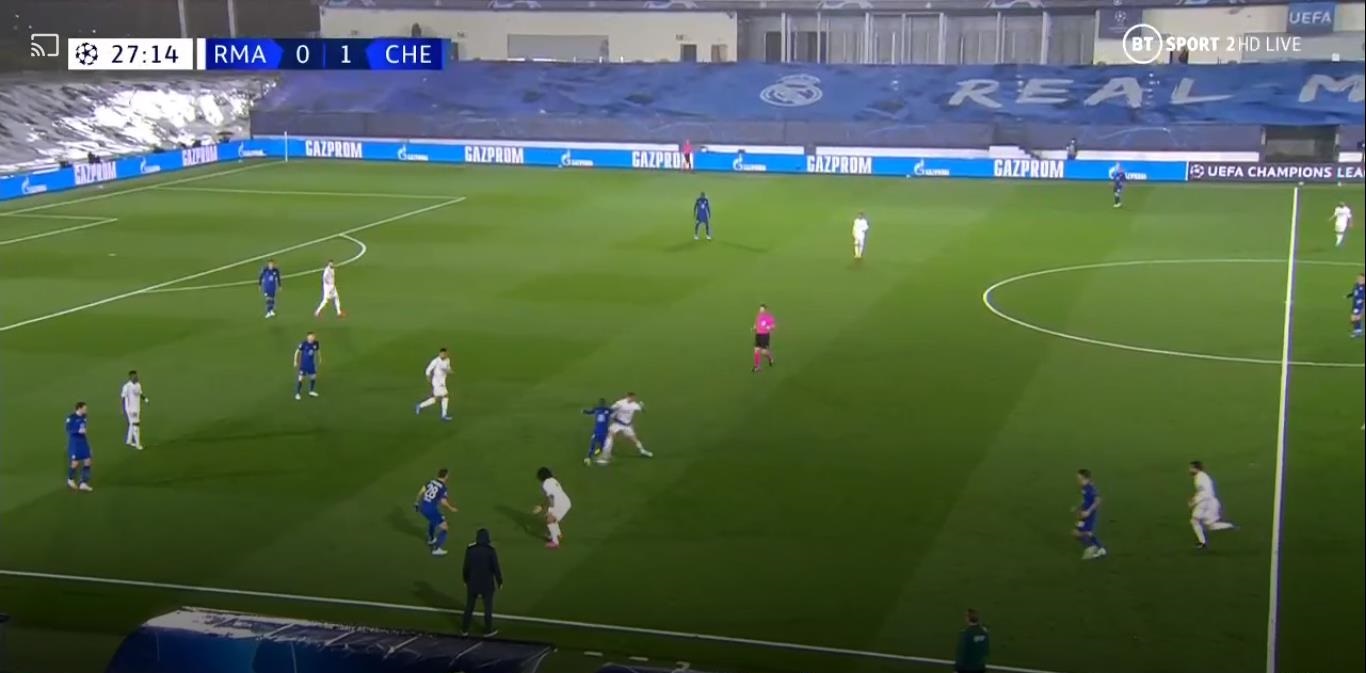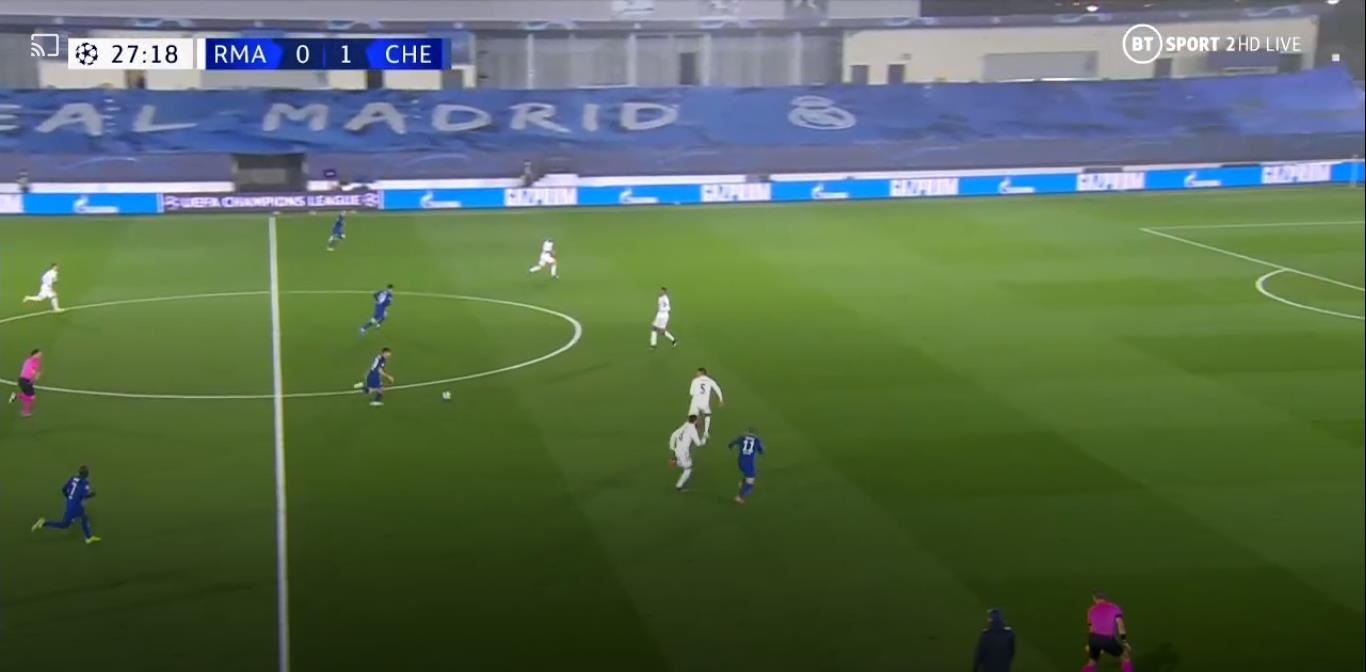 As Madrid pressed, the important midfield trio of Casemiero, Luka Modrić and Toni Kroos pushed up the field with Marcelo as a left wing-back drifting inwards, Chelsea invited the midfield players to close them down before quick exchanges resulted in Kanté passing swiftly through in transition to Pulisic which led to them having a 3 vs 4 at the back with Marcelo caught up the pitch, however, Chelsea failed to capitalise. 
Symmetrically, with Marcelo, Casemeiro and Kroos pressing high up the pitch and this time one of the three centre-backs in Nacho joining them, Kanté rapidly provided the pass to Pulisic again to break through and bear down on goal with Werner and Mason Mount in tow as Madrid were left short at the back.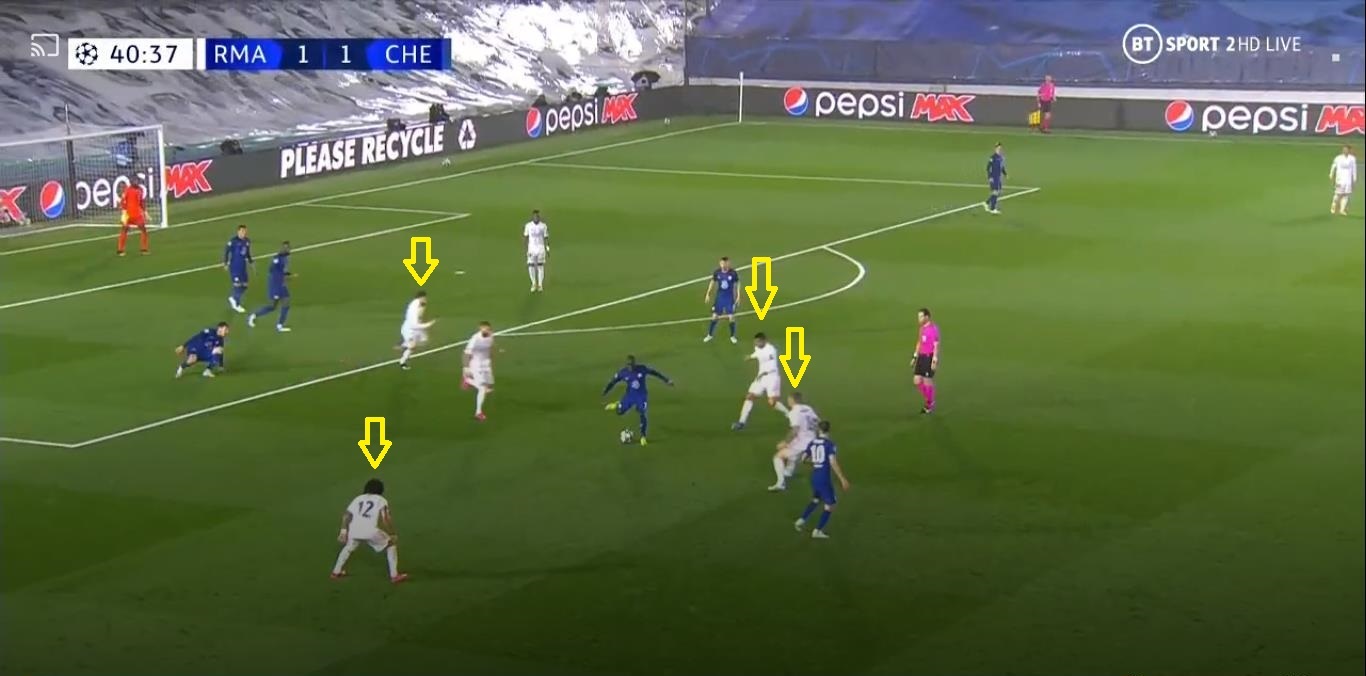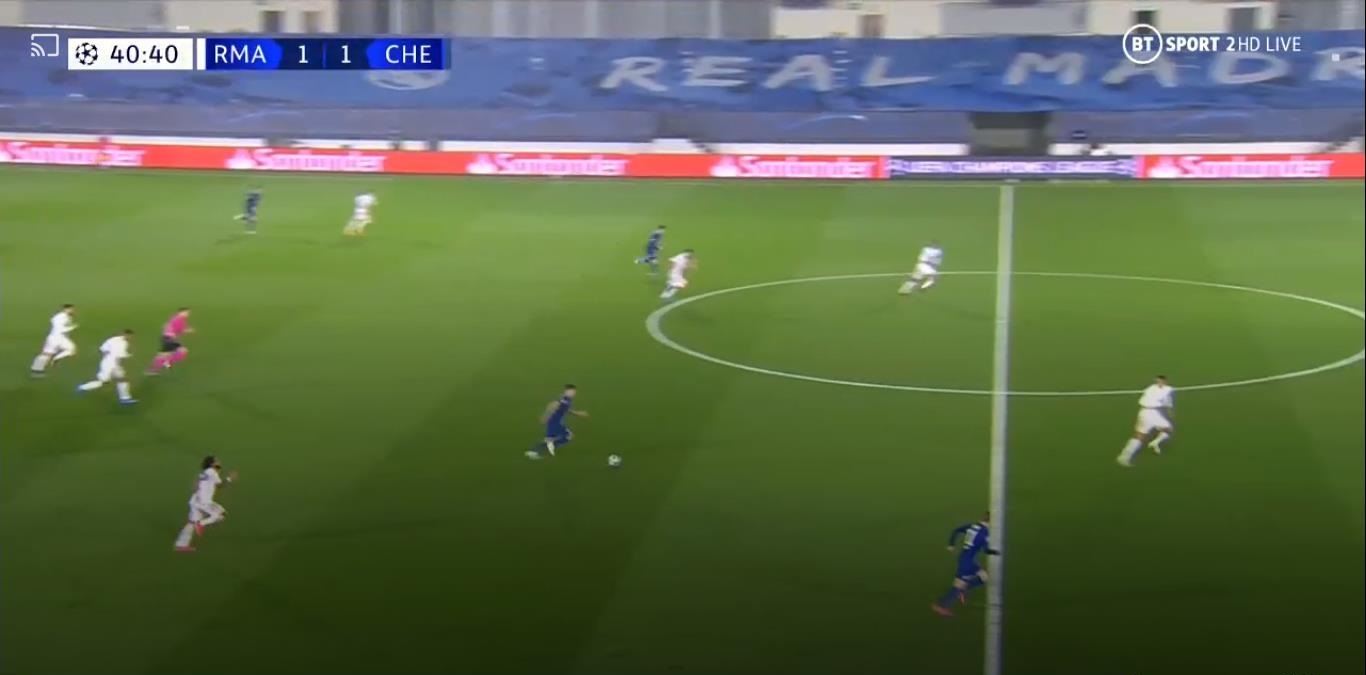 Madrid suffered a torrid opening 25 as the positioning of Casemiro-Modrić-Kroos being purposefully high, coupled with Kanté's willing lung-busting runs to join the attack gave them a massive headache. Zinedine Zidane's tactic of using the midfield trio so high in a press Chelsea were completely unperturbed by, were a massive reason Chelsea had so much joy early on.
Although it may have been a unique idea from Zidane and his management team to press Chelsea, they never looked like they were going to take the ball off them and rather played into their hands. Just look at the positioning of  Casemiro-Modrić-Kroos here and how deep they are in attack, Nacho gets drawn to the ball and is caught up the pitch, so when the ball ricochets to who else but Kanté, Chelsea are away again with Marcelo screaming in exasperation.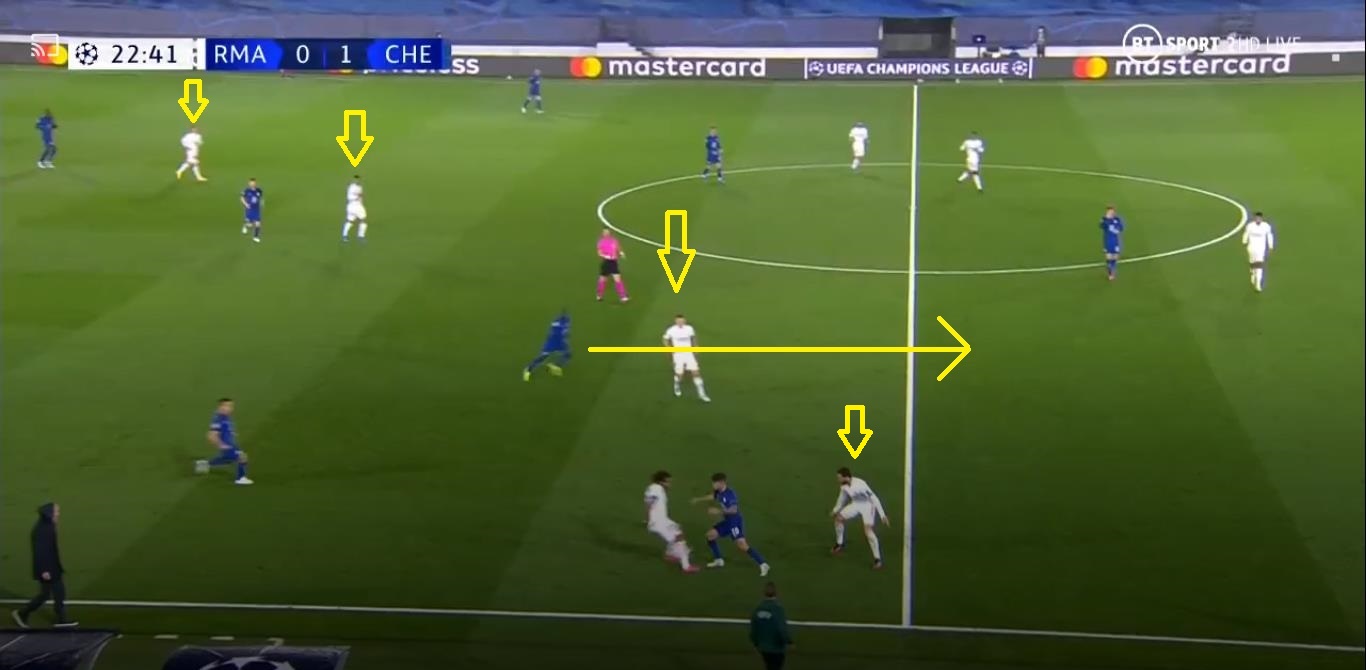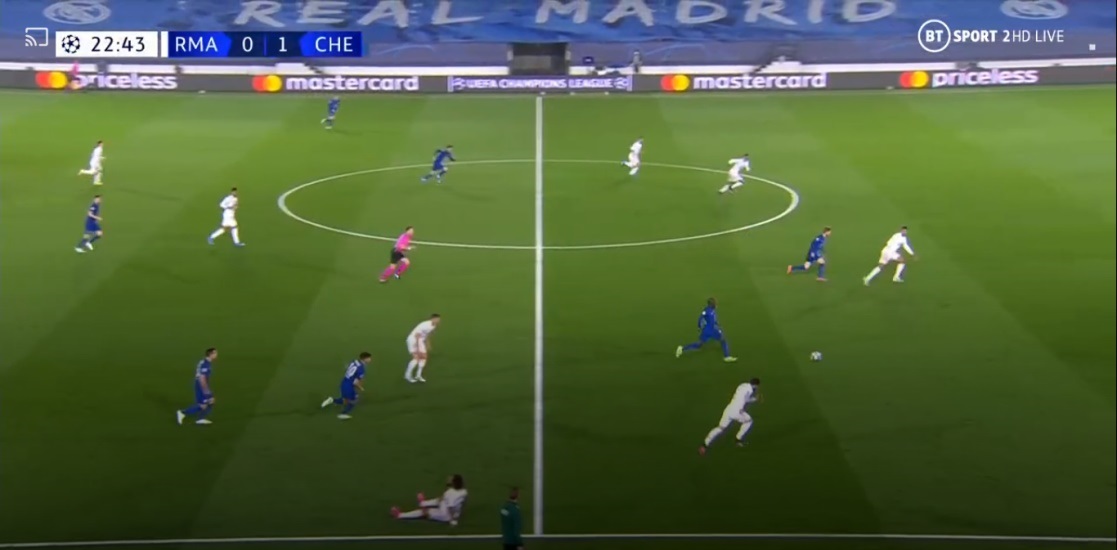 Kanté had an excellent game and it looks as though Tuchel has rediscovered the Frenchman's best form as the box to box midfielder looked like the Kanté of old vs Madrid. It was a case of rinse and repeat, lure players in, this time it is Vinícius Júnior attempting to help reclaim the ball with Marcelo and Nacho, quickly pass through them, two of the three midfield too high, and Chelsea are through again with Marcelo out of position on the left and Nacho once again failing to steal the ball in Chelsea's half, as their passing was too slick for Madrid.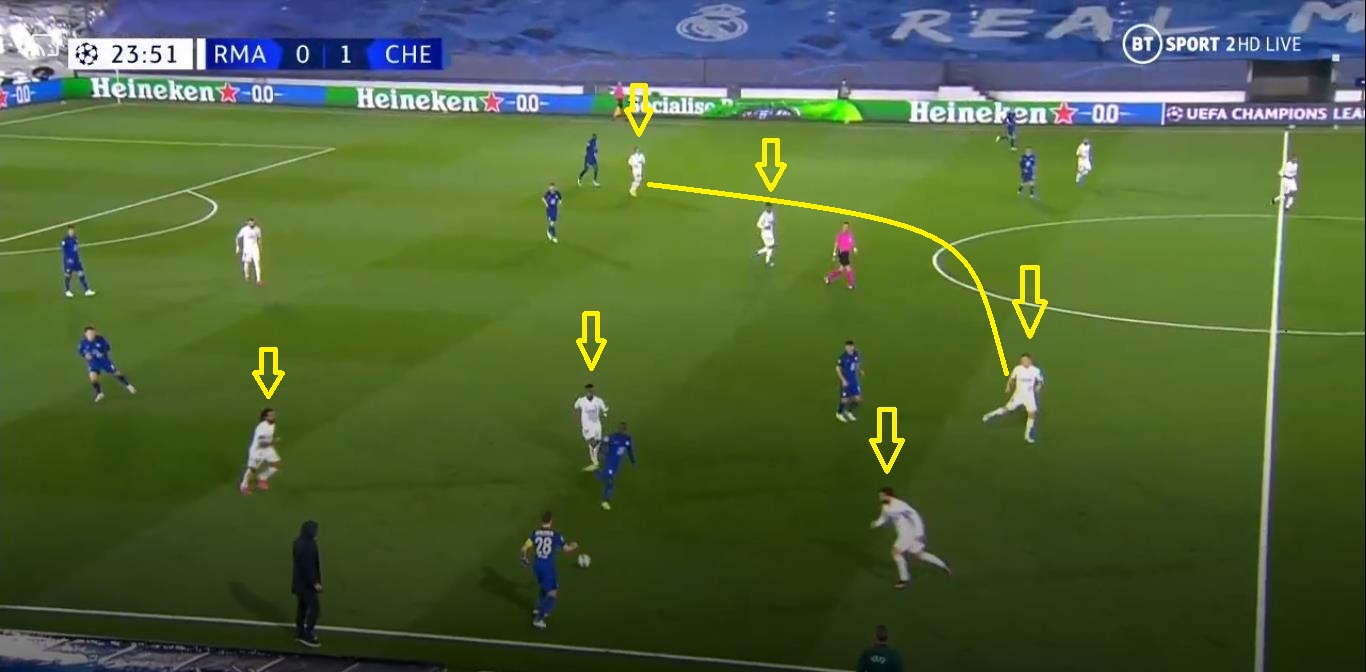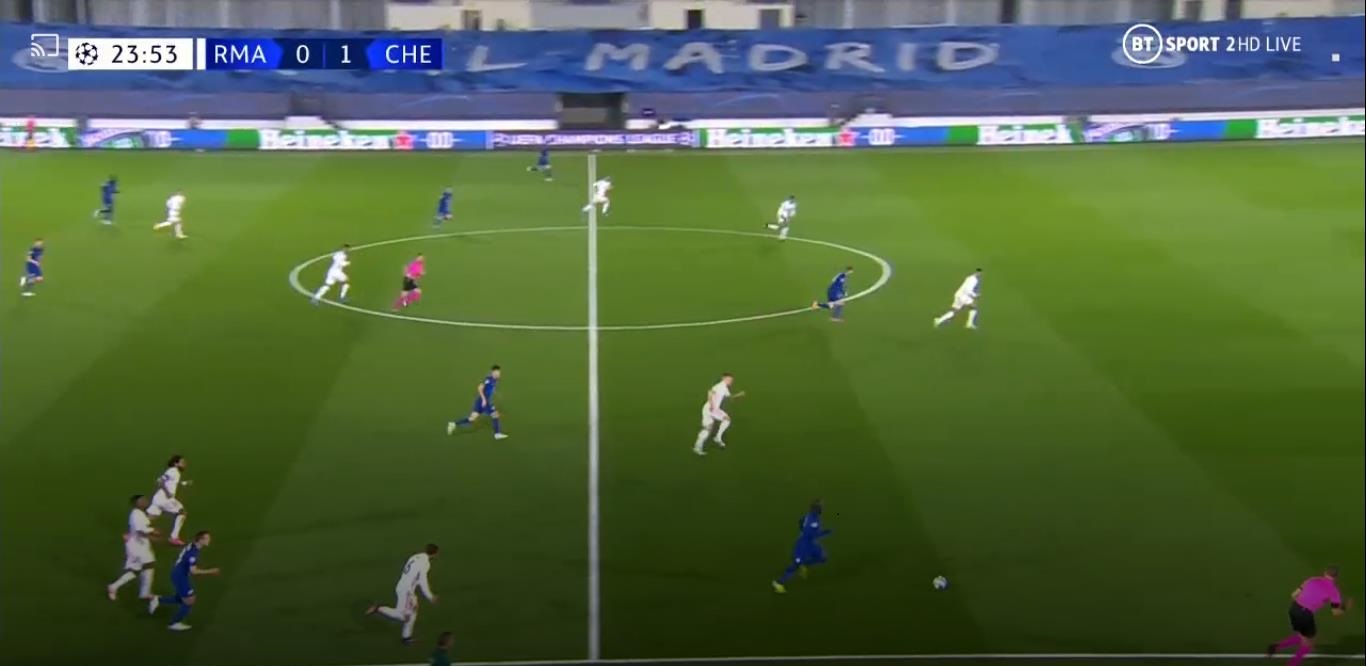 The Frenchman was able to aptly join the forwards and the tricky Mount upfront as Jorginho was calmly mopping up in front of the back four, which allowed Ben Chilwell and César Azpilicueta in particular on the right exploiting the space constantly left by Marcelo. What I found particularly fascinating is how well Chelsea dragged Madrid's back three forward when they had the ball, enticing them to dispossess them to no avail, leaving their shape discombobulated in the back five.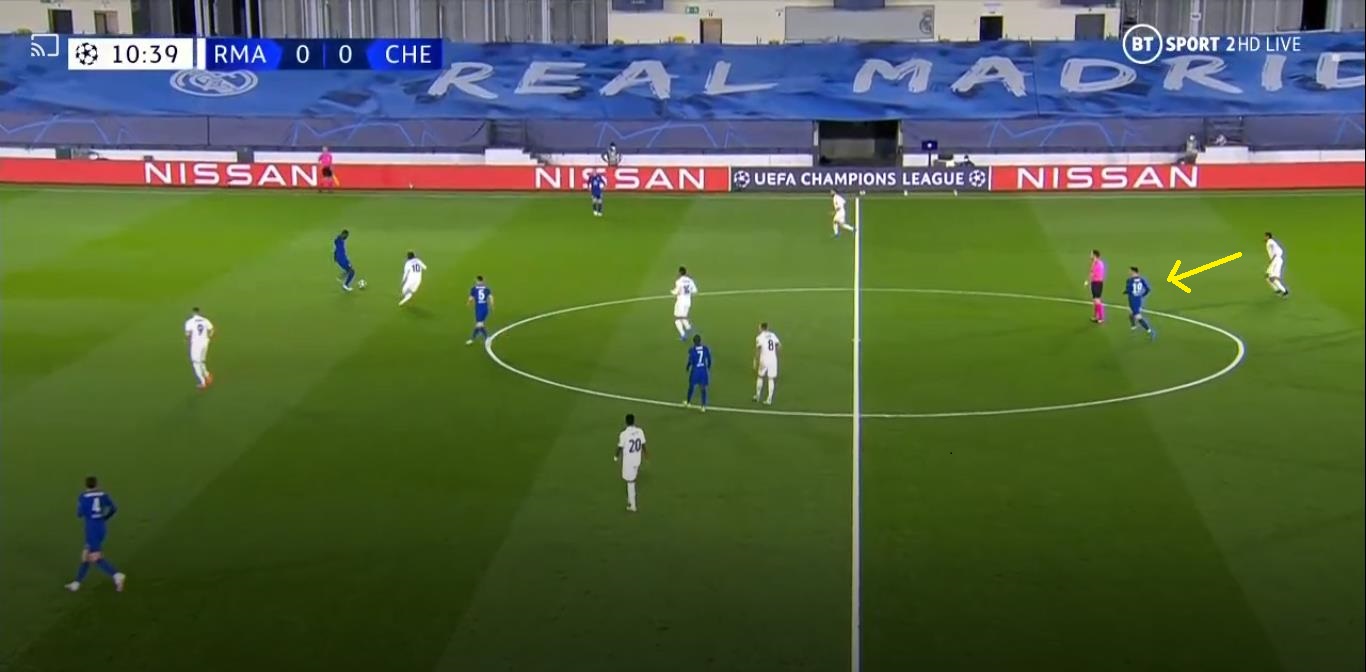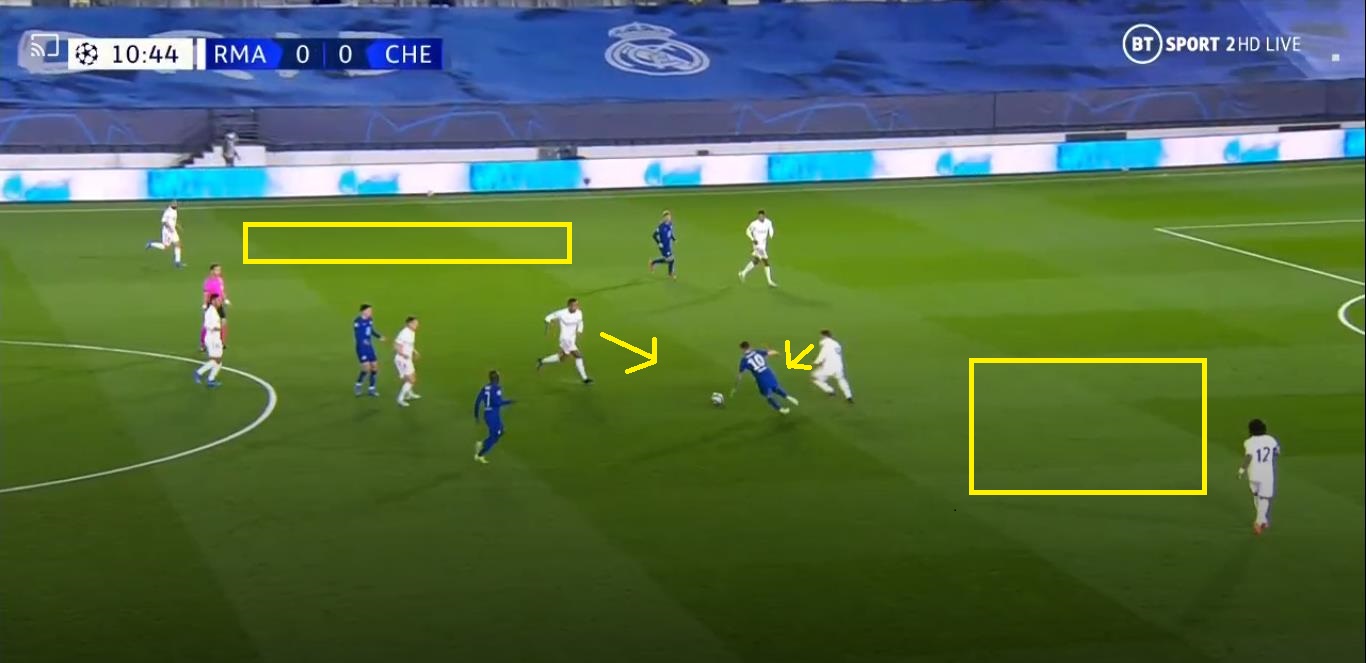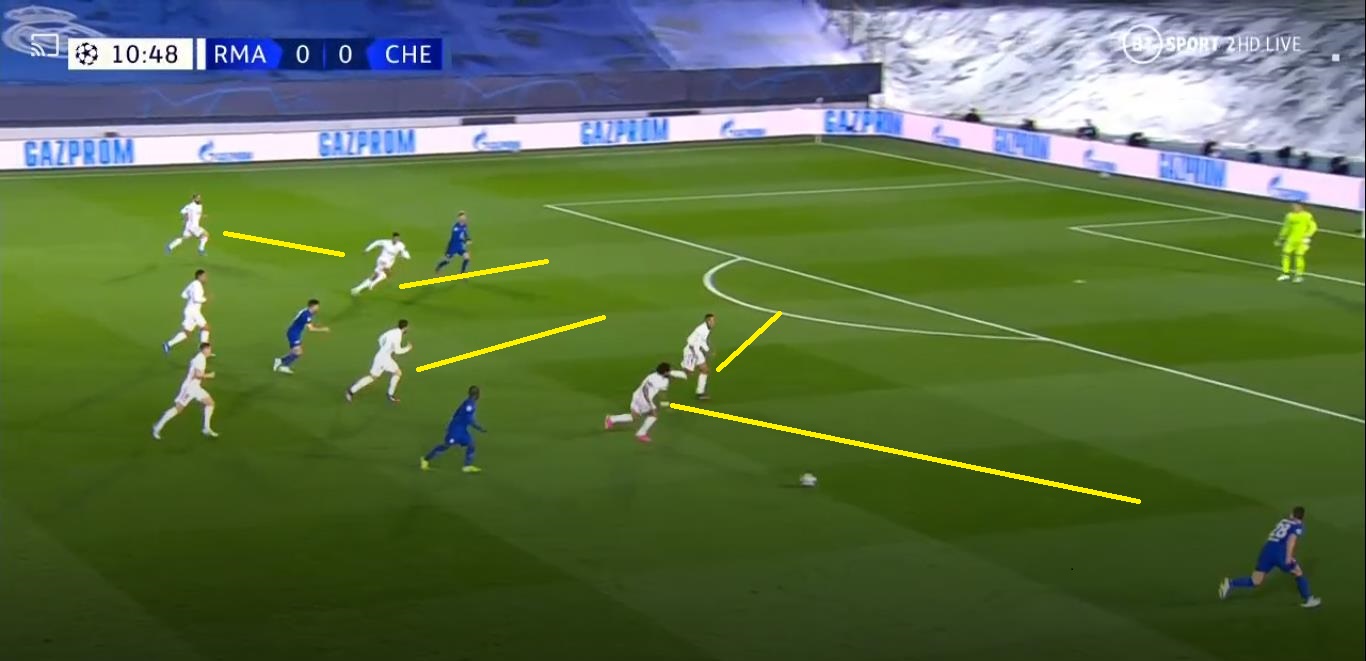 Éder Militão gets sucked into marking Mount, and when the ball is played into Pulisic, Nacho now feels like he must make a challenge with Marcelo and Dani Carvajal deserting their positions to leave wide spaces on the left and right being far apart, dragging the back five's shape across the line, which left them scampering back as the ball is played into Azpilicueta to cross for Werner.
Continuing on the narrative of the back three of Madrid pushing up close to Chelsea's attackers and not winning the ball, it was Militão in particular who attempted to get tight but was fooled by the mousetrap. For the guilt-edged chance that Werner should've converted, the midfield is high as Madrid try to attack but are thwarted by the rigid defensive Chelsea shape and midfielders Kanté and Jorginho's position.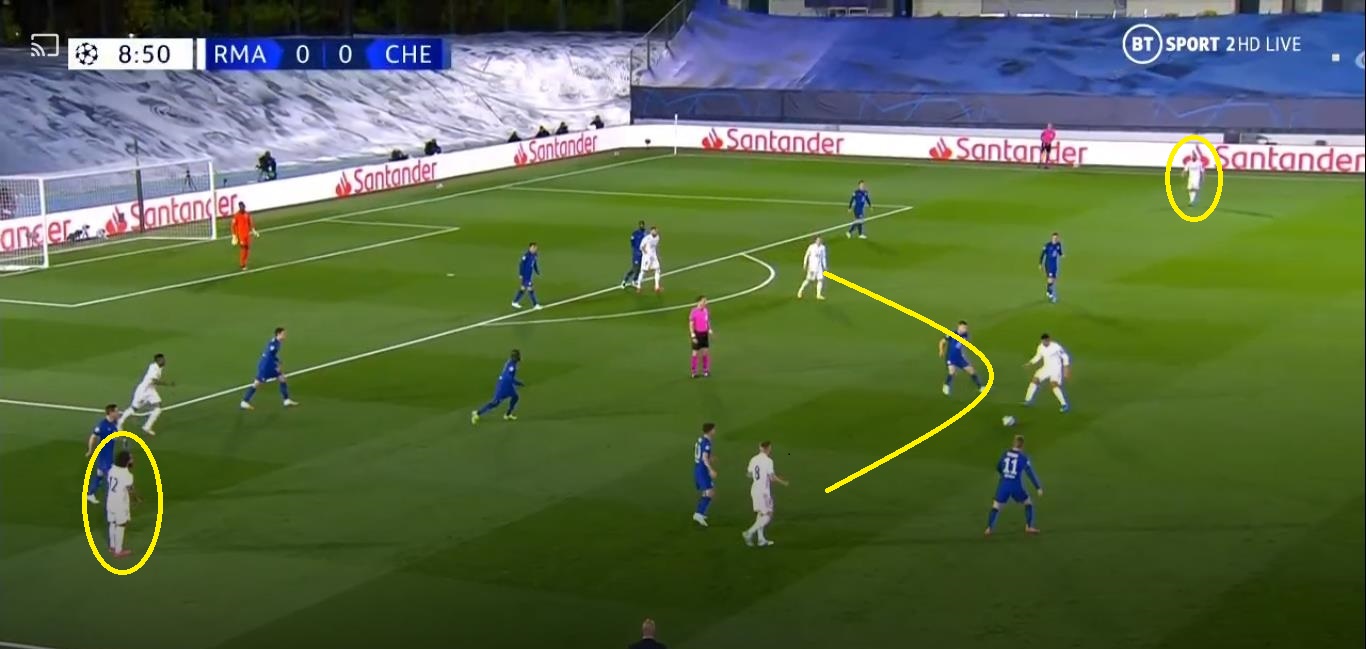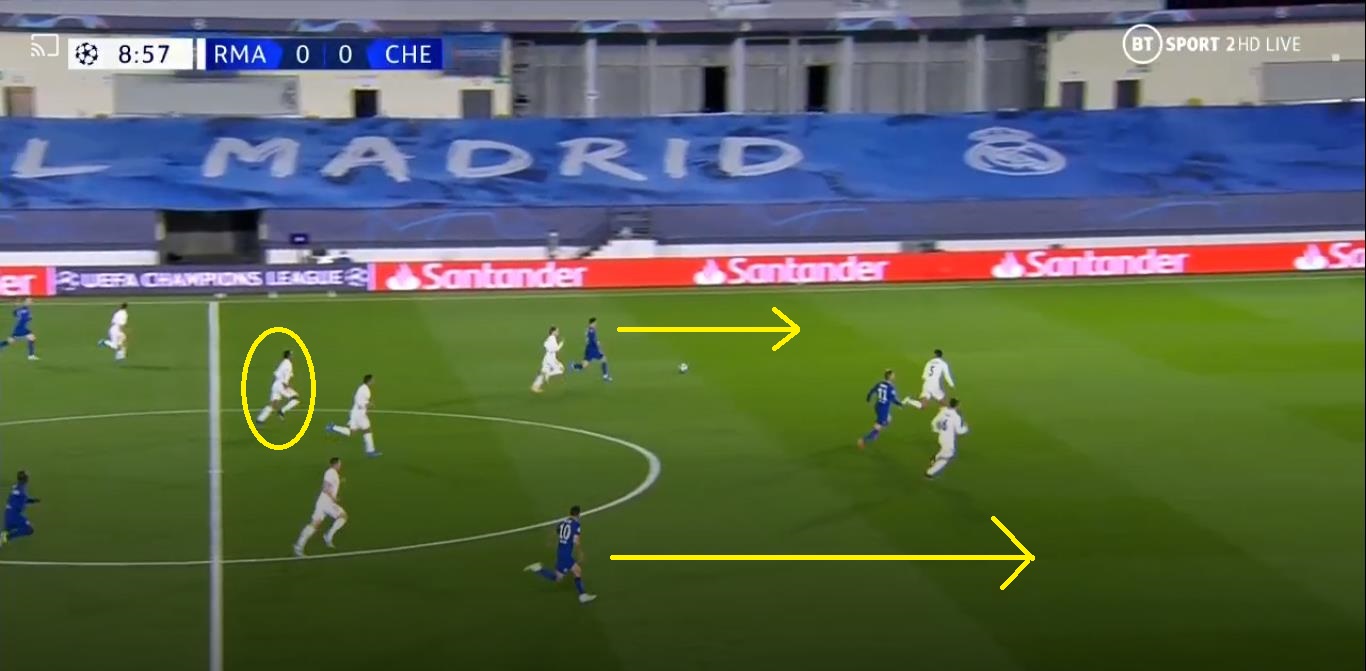 Jorginho wins the ball and with wing-backs Carvajal and Marcelo attacking. Militão gets drawn towards Mount and as the Englishman turns him there are gaps in the back three spaces as well as on the right and left, which led to Werner's one on one from Pulisic's cushioned header where he really should've made it 1-0.
 This was precisely the recipe Chelsea utilised to take the lead, as Militão was preoccupied with Mount and didn't know whether to stick or twist, as it occurred he pulls out of position five yards forward so when the ball is played over the top for Pulisic there is only two of the three centre-backs marshaling him as Pulisic provided a cool finish to give Chelsea the lead.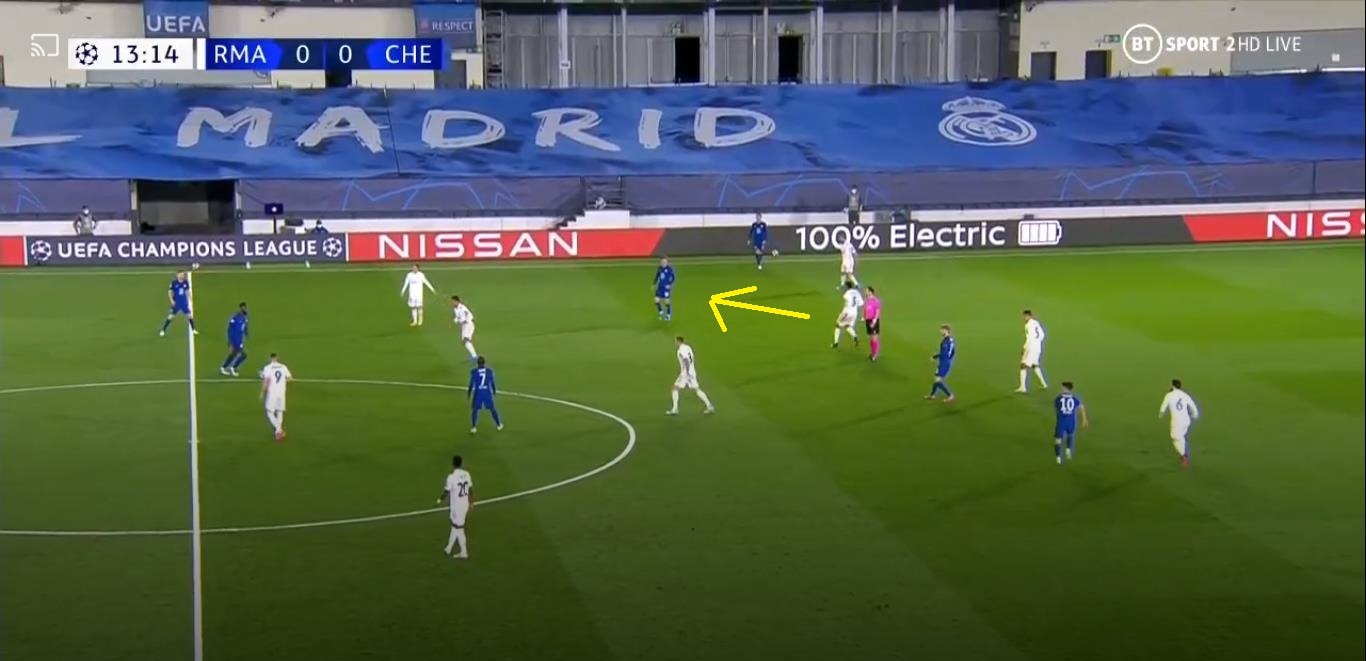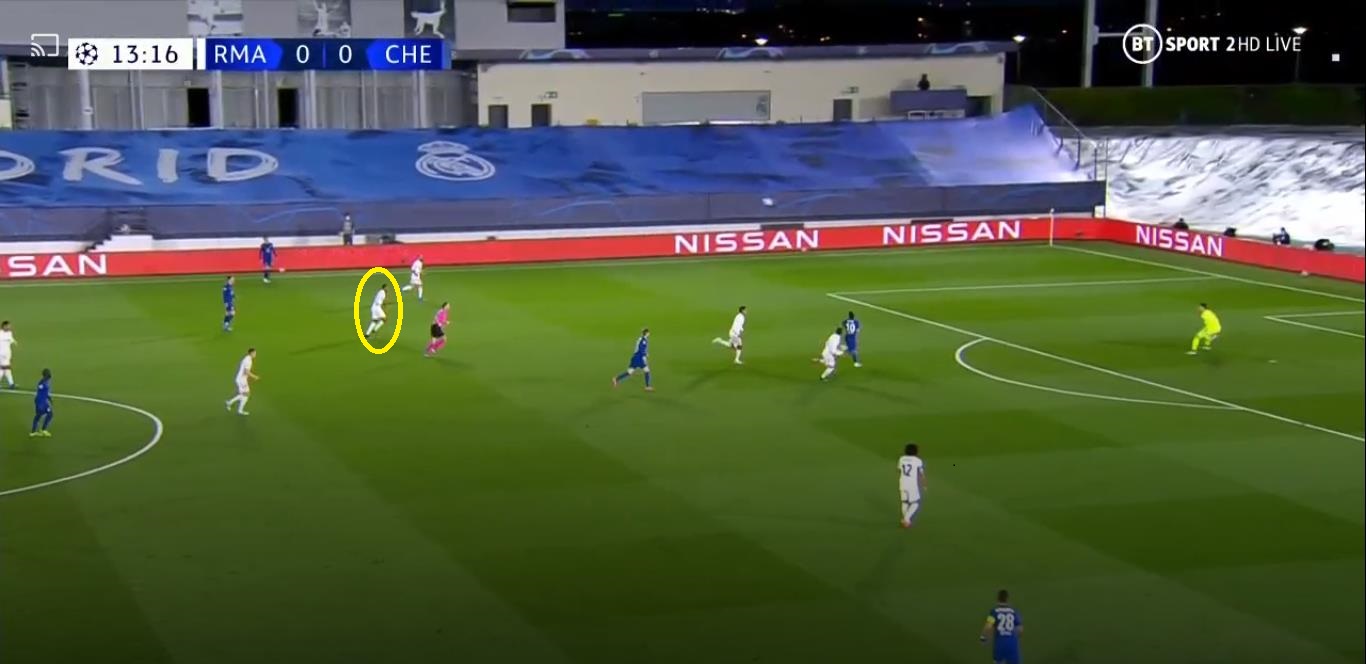 Chelsea's dominance should've probably resulted in more than a solitary goal, you would sense Tuchel will be flying back to London feeling frustrated, especially after Karim Benzema converted a brilliant half-volley from Madrid's only shot on target. The only other opening Madrid created was Benzema once again, out of absolutely nothing where Madrid sprung a few passes together and his wicked shot clipped the post, if Madrid are to offer more in the second leg the imperious Frenchman needs more support.
Zidane was reportedly seething at halftime saying 'We can't keep letting them run!' The French coach put the brakes on and clearly saw his side suffering and getting it wrong. If the midfield trio were indicative of Chelsea's dominance for much of the first half, they dictated the labored tempo in the 2nd getting exactly what they want stopping Chelsea's momentum in their tracks as Madrid prioritised defence, much like against Liverpool in the quarter-finals.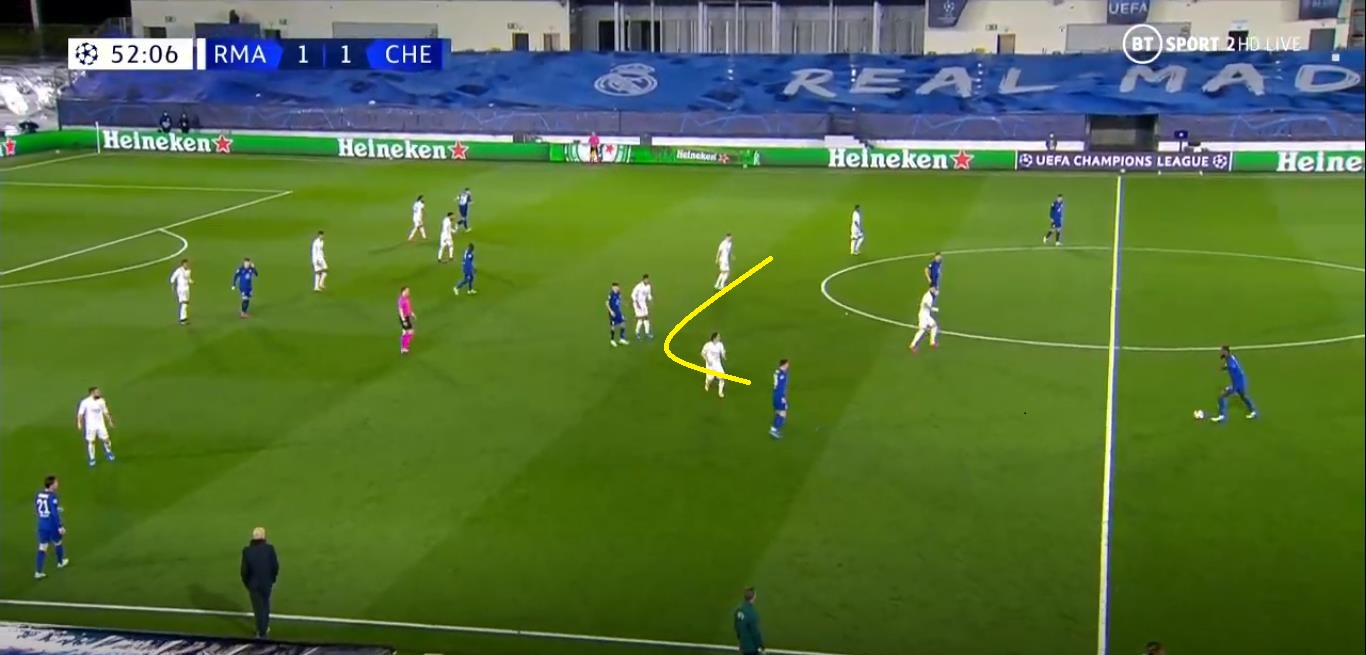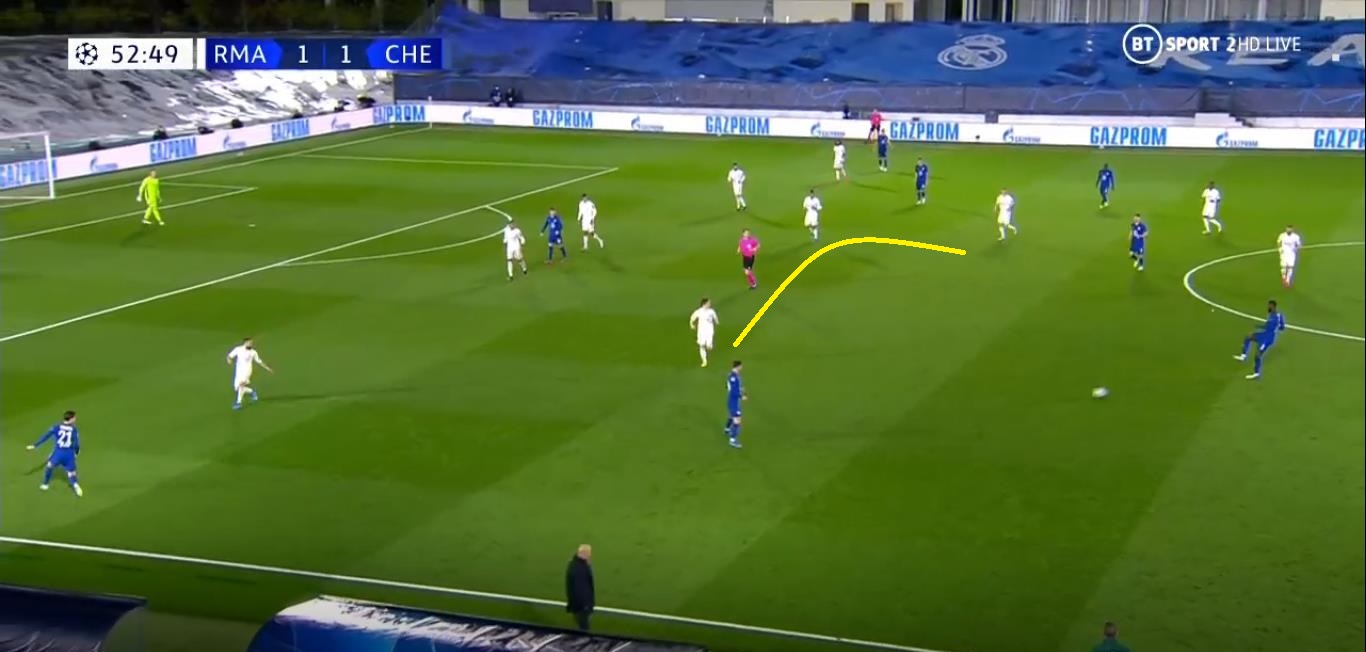 Saliently, Zidane asked his tenured midfield to sit in front of the back five and restore shape, essentially stifling Chelsea and not allowing them to easily take them on as they had done so frequently in the first 45 minutes. Casemiro especially was a lot more useful when sitting in front of the defence in taking more control and balance of the midfield, this was more in line with the tactics we thought we would see from Madrid with the midfield positioned a lot deeper.
When one of the midfielders did push forward, the defence got touch tight this time on the forwards as they had learned from the first half and were most likely instructed by Zidane as shown with Militão having a much better 2nd half.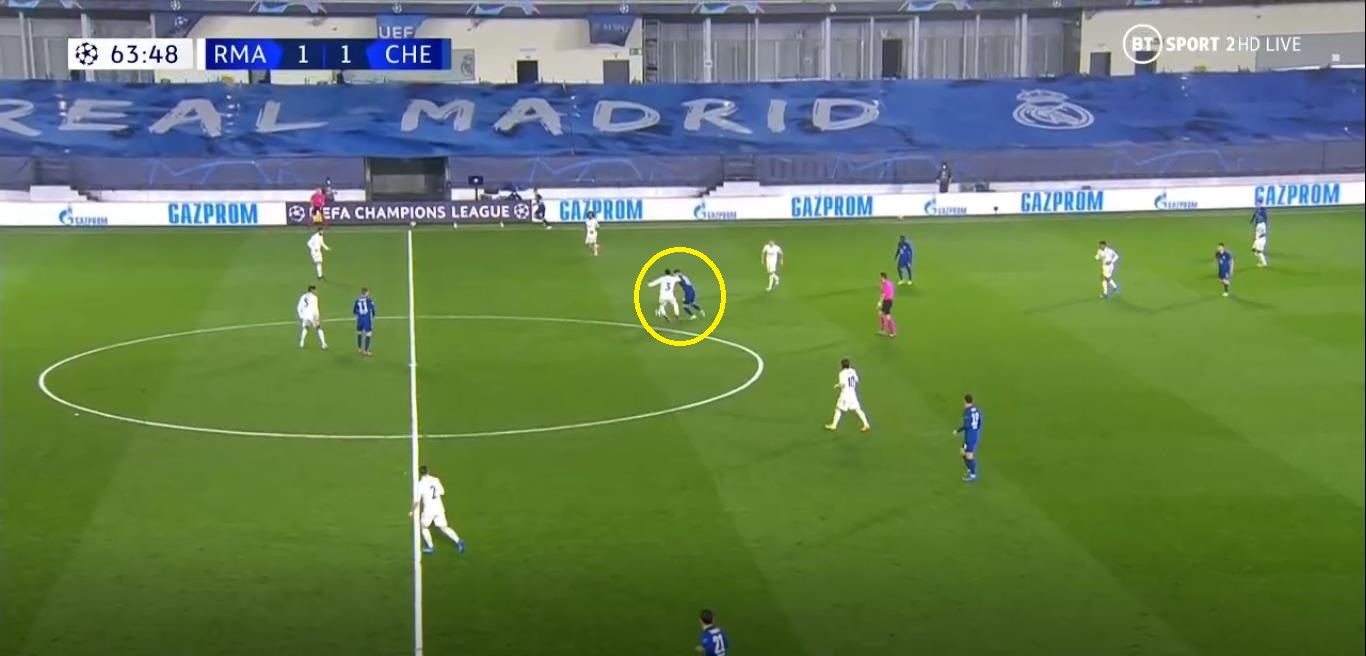 There was such a wide chasm in the positioning of Modrić and Kroos in particular in the 2nd half as Madrid were spooked by Chelsea's well-drilled attack. The German and Croatian combination dropped back into defence frequently in the 2nd half to thwart Chelsea and run the game from the back. It did provide a lot more defensive solidity but essentially Madrid still looked largely bereft of attacking intent.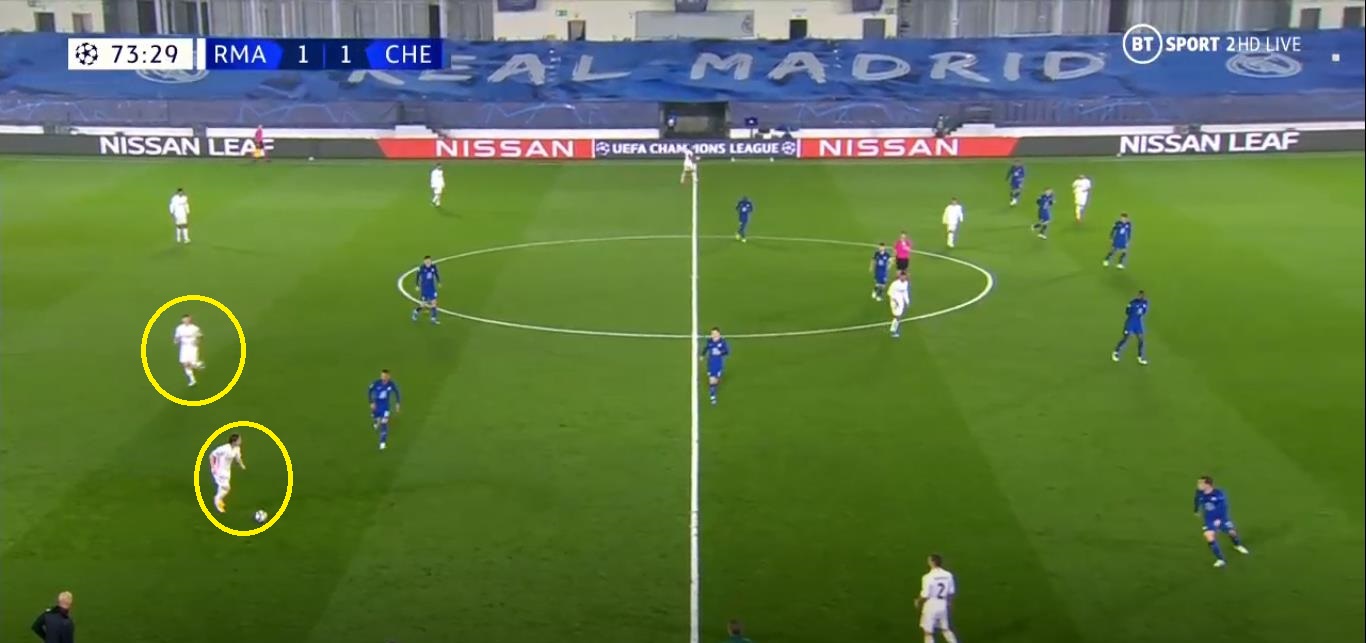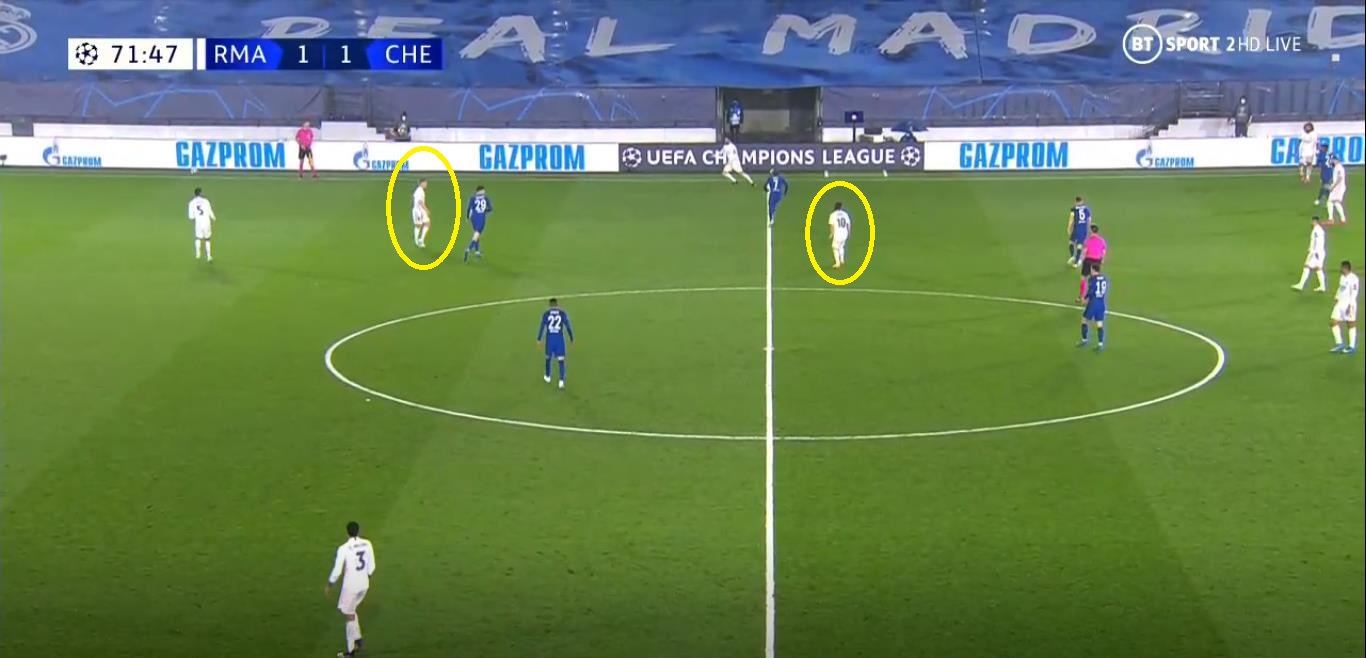 Thomas Tuchel and Chelsea have the advantage, having scored a vital away goal, but with Sergio Ramos back next week it may provide Madrid with more defensive solidity and the onus to attack more, especially being more expectant of the Chelsea attack this time. Chelsea's attack wreaked havoc fabulously for 30 minutes, and if they can produce anywhere near that again next week we may see a third Champions League Final appearance for the Blues.  
By: Dharnish Sizlak
Featured Image: @GabFoligno / Soccrates Images – Getty Images